If you're trying to decide where to stay in Tulum and are looking for an honest Papaya Playa Project review, then you've come to the right place.
Just south of Cancún in Mexico's Yucatán Peninsula, Tulum used to be an off-the-beaten-path, sleepy beach town, but the secret's officially out. It's now become one of Mexico's most popular destinations.
With so much growth in recent years, it's no surprise that the hotel scene has seen exponential growth as well, and there are now hundreds of options to choose from—which can be really daunting, especially if it's your first time visiting.
While there are a ton of amazing options that you could spend a lifetime trying out, it's likely that you've already heard of the Papaya Playa Project or at the very least seen pictures of it floating around Instagram.
A project by the Design Hotel's team, it's one of the most popular hotels to stay at in Tulum (they're known for their epic beach parties) and also one of the most photogenic because of its unique architecture and rooftop pools.
Since we stayed here on our last trip to Tulum, I wanted to do an in-depth Papaya Playa Project review, to share my honest thoughts on our stay and tips on when you should or shouldn't book this hotel for your own trip.
Keep reading for my full Papaya Playa Project review that will go over everything you need to know to plan the perfect trip. 
But first, you might be wondering…should I stay in Tulum town or by the beach during my trip?
While you can choose to stay in Tulum town which is about 15 minutes from the main beach area without traffic (it's worth noting that there's often a fair amount of traffic though), staying on the beach will give you a whole different experience.
If you're in search of the hipster/boho beach vacation vibe that Tulum is known for, I'd recommend staying on the beach side of town, which is also referred to as "the hotel zone."
So, they call it the hotel zone for a reason—there are a lot of hotels along the beach road, like a million. But my favorite thing about Tulum is that it doesn't have the giant high-rise hotel chains like you'll find in other parts of the Riviera Maya.
The hotels in Tulum are much smaller, boutique-style spaces that feel intimate, connected to nature, and they are impeccably designed (the interior design everywhere is truly stunning). This is why I recommend staying on the beach for first-timers to Tulum who can stomach the prices.
If you want to read an in-depth guide on all the different areas of Tulum to stay in, I'd recommend checking out this post I wrote on how to decide where to stay in Tulum.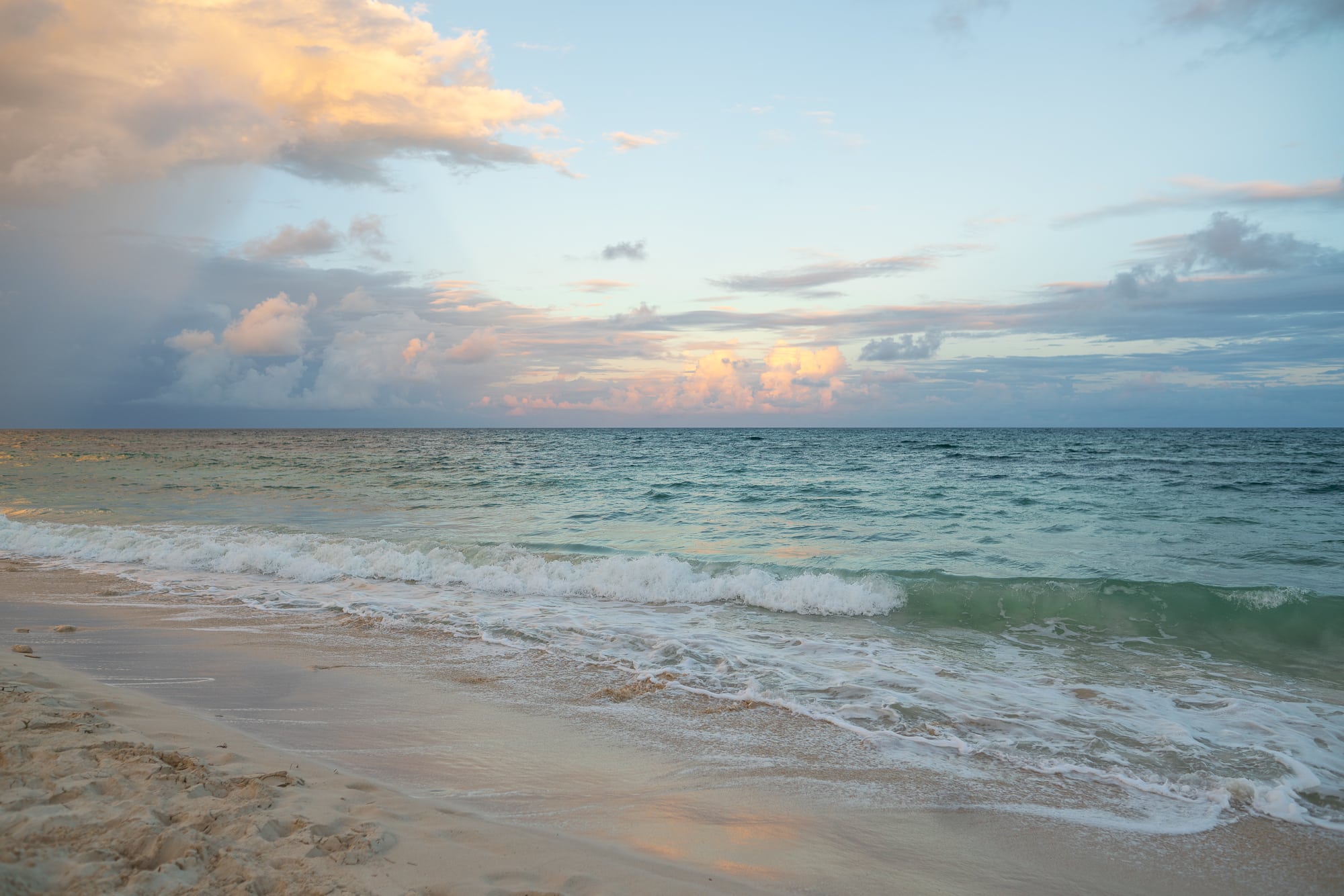 Why You Should Stay at Papaya Playa Project Tulum
As one of the most iconic hotels in Tulum, chances are you've seen this place splashed all over Instagram. Part of the Design Hotels group known for their collection of boutique, luxury hotels around the world, the Papaya Playa Project looks like it's right out of the pages of a magazine.
Between the beautiful beachfront guest houses that are nestled in the jungle, the private room-top pools, their impressive focus on sustainability—and of course—the amazing nightlife, you can stop your search here if you're looking for the quintessential place to stay in Tulum.
---
---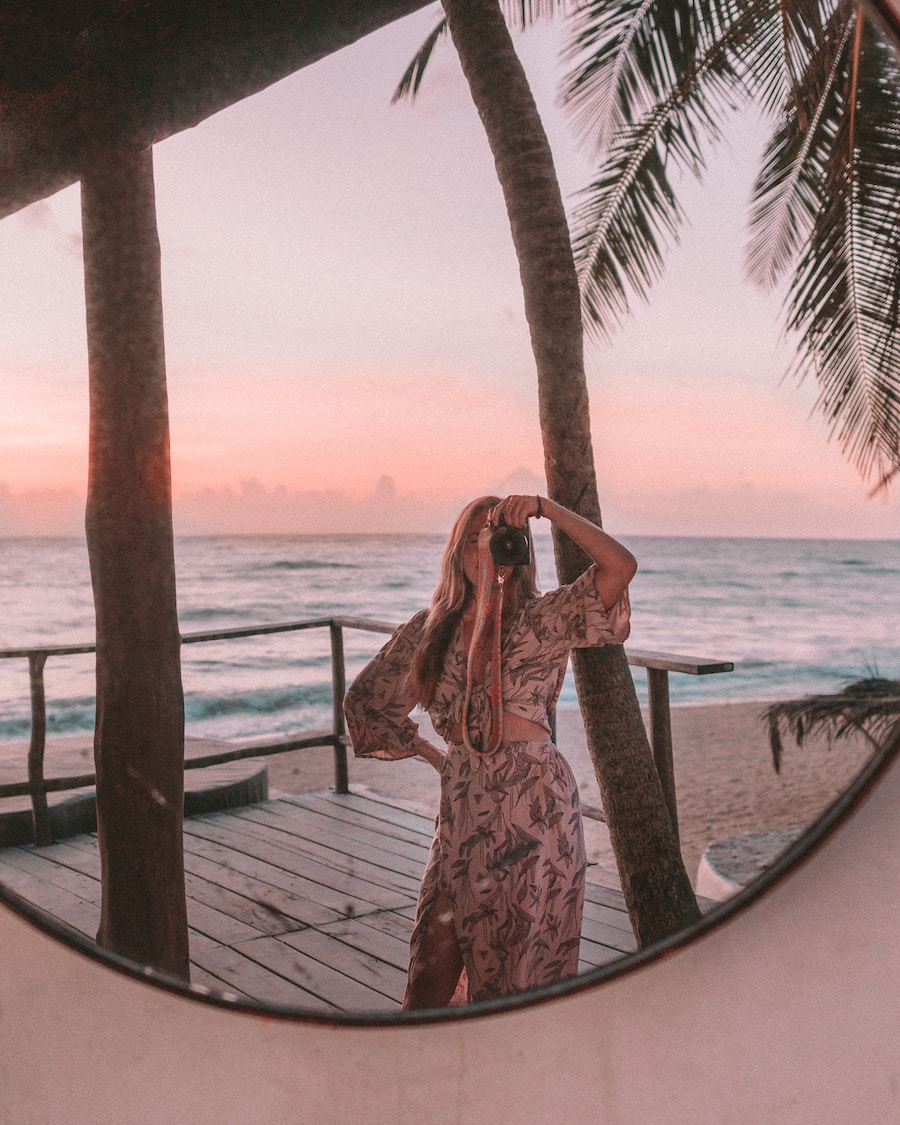 Favorite Features of the Hotel
The Unique Design and Layout
One thing I love most about the Papaya Playa Project in Tulum is the unique design and layout of the space.
It's basically a cluster of treehouses and cabañas that are tucked into the jungle…but that are also right on the beach. You get the best of both worlds here (let's just say, it's very Instagrammable). 
The property is super expansive too, so there are tons of little nooks to discover during your time here. You could honestly just park it at the hotel for your entire stay in Tulum and feel like you did a lot, though I would recommend going off property to get the full Tulum experience 😉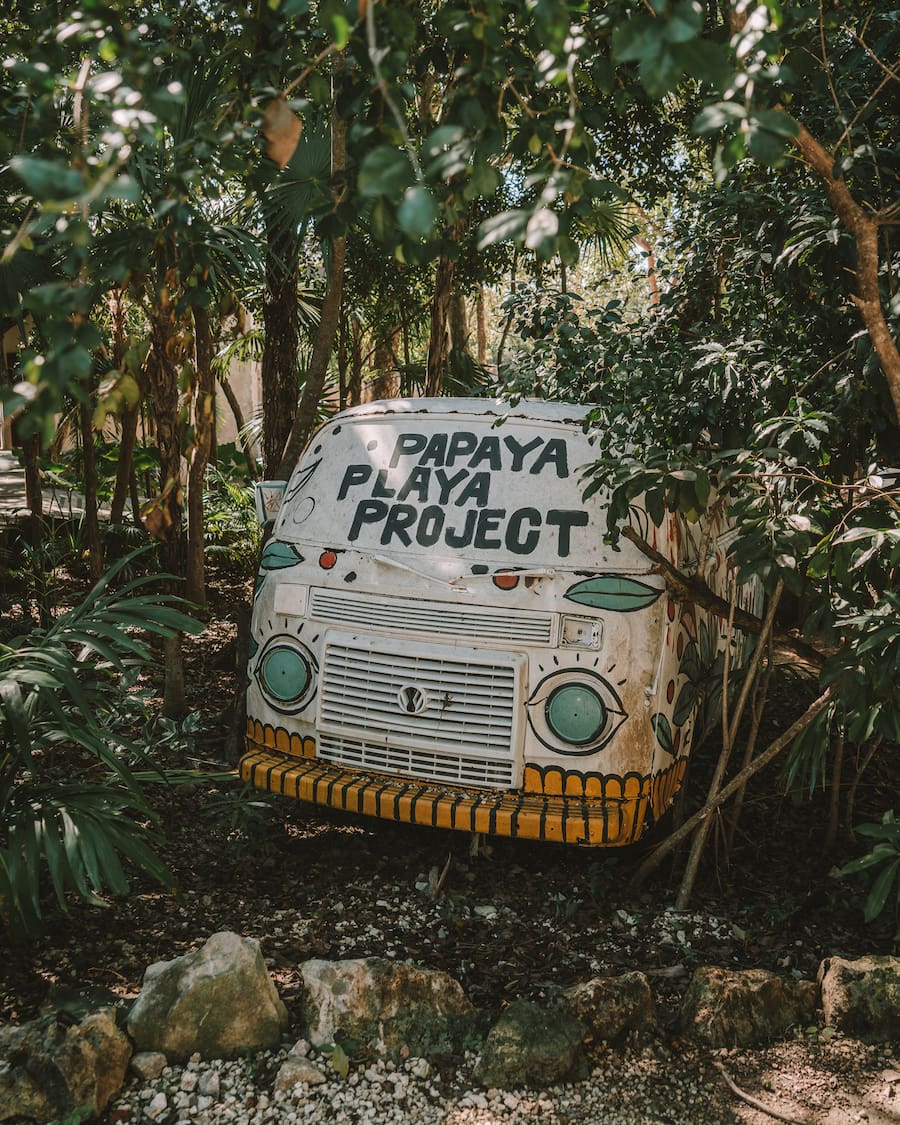 The Secluded Stretch of Beach
Another top feature of the hotel for me is the stretch of beach that it's on. Being on the north side of the beach road, you'll have fewer tourists walking up and down the sand past your cabana or beach lounger than if you were further south where more of the bars and restaurants are clustered.
The beach area here feels a lot more private and secluded, and that's not the case for a lot of other hotels in the area.  
Exciting Nightlife
But Papaya Playa Project is anything but sleepy. While you can still get your fair share of R&R here, the hotel is also known for its nightlife—especially the wild full-moon parties that go late into the night.
Weeknights can be quieter, but I wouldn't necessarily recommend that travelers with kids or those looking for true peace and quiet stay here. It can get loud on the weekends…but it's also a lot of fun. 
Helpful Free Concierge
There are also great amenities like secure parking on site (not every hotel in Tulum offers parking) and a free concierge who you can communicate with you via text and help book things like off-site activities and last minute dinner reservations.
We wanted to grab dinner at Habitas on our first night but were getting to the reservations a bit last minute. The PPP concierge was super on it, was able to get us in easily, and texted us every step of the way to let us know when we were confirmed.
Commitment to Sustainability
Lastly, it's hard not to be impressed by their dedication to sustainability and preserving the beautiful nature on and around the property.
The resort has managed to preserve 93% of the surrounding jungle through their building process, and they've made it their mission to achieve a zero emissions and zero contamination community.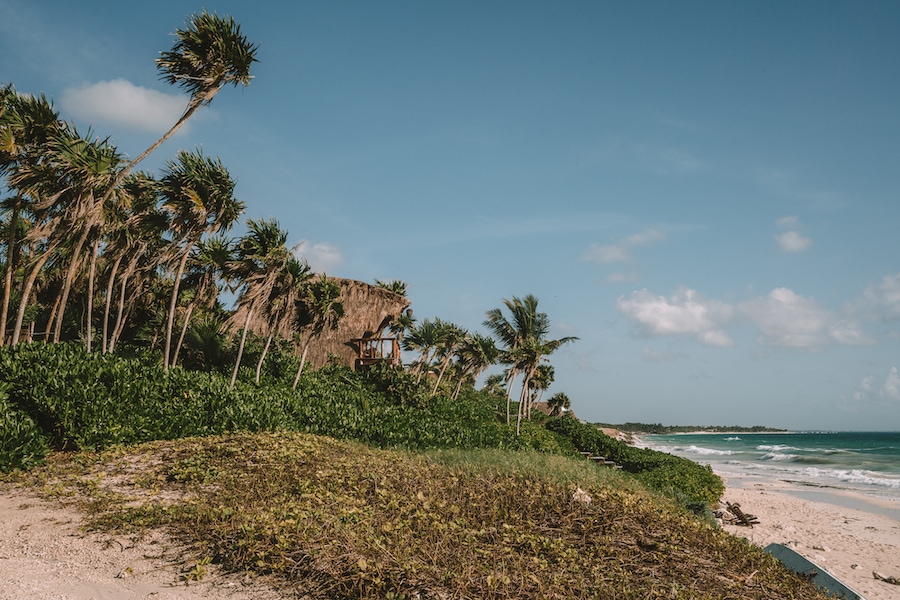 Location of Papaya Playa Project on Tulum Beach
Paying attention to the location of things is super important in Tulum as traffic can get hectic and you want to give yourself enough time to get to tours and dining reservations.
What you need to know about Papaya Playa Project is that it's on the northern end of the main road of the hotel zone, which means that it's one of the closest hotels to the road that leads out of town to the ruins, the cenotes, downtown, and the airport.
While this can be a pro because it's super easy to get in and out of, the con is that it's a bit further from the south side of beach road where most of the popular restaurants, bars, beach clubs, and shops are.
Traffic can get intense too (it took us an hour in a cab to get from PPP to a lunch spot a few miles south down the road), so just keep that in mind if there are a lot of places on the southern part of the beach that you're planning to spend time at.
Luckily, the hotel has free bike rentals that make getting around a little easier though, so be sure to take advantage of them!
I do think a pro of the north side of the beach is that it's generally a little quieter and less touristy overall. So one suggestion would be to consider splitting up your week and staying at two hotels in different areas of the beach so you don't have to do a ton of traveling in between.
Property Highlights
Tulum is a boho beach paradise, and if you're looking for the quintessential Tulum experience, you'll find it here.
Located on acres of unspoiled jungle right on the ocean, Papaya Playa Project Tulum offers visitors 900 meters of private beach, beach clubs, restaurants and bars, yoga and wellness experiences, easy access to outdoor activities, art installations, and more.
Here is a full list of the resort's amenities:
900-yard exclusive and isolated beach
Beach Club and Restaurant
Mixology Bar
24-hour Coffee Shop
Room Service
Roca Raw Vegan and Seafood Restaurant
Playa Solar Alternative Beach Club
Jungle Shala with Temazcal and wellness activities
Immersion Program for artistic, spiritual, and wellness experiences
Yoga
Art Walk with unique installations and art experience
Kite surfing, kayaking, and paddleboarding
I mean, what else could you want from your Tulum experience?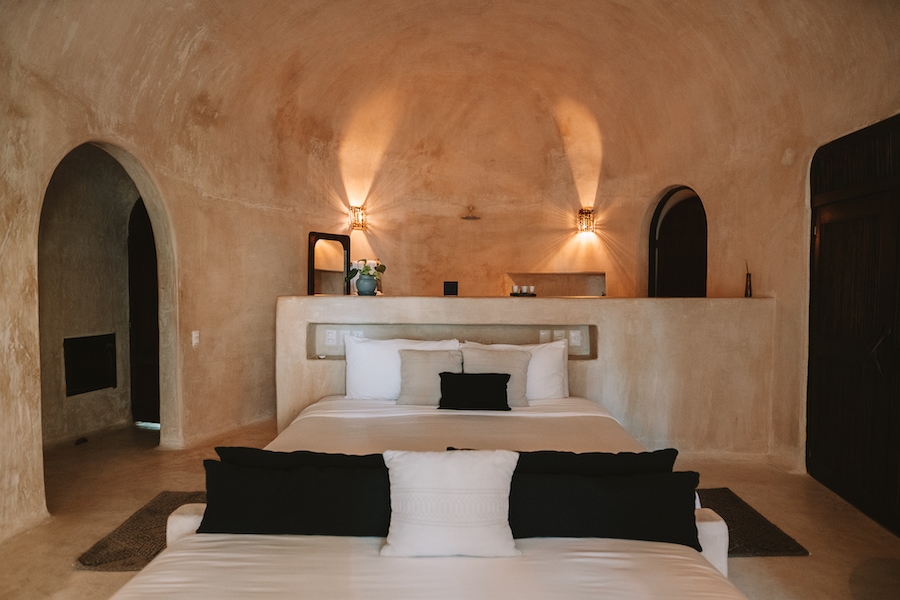 The Rooms at Papaya Playa Project
There are close to 100 rooms in the resort with three main types of accommodations to choose from: villas, casitas, and cabañas.
What's quite unique about this hotel is that they have options to suit a wide variety of budgets—villas are the most pricey, with casitas being more mid-range and cabañas providing the most affordable option.
The Villas
The villas are the most luxurious option and have extra amenities like a private butler, in-villa dining experiences, private beach cabanas and more—and they are spacious with multiple rooms, so a good option if you're traveling with a group.
They're definitely the priciest option, but you'll get an unforgettable experience staying in one if you can swing it. 
The Casitas
The casitas are smaller than the villas and are perfect for couples or close friends traveling together (note: there's only one bed). There are multiple casita options to choose from—some have ocean views, others offer jungle views, and there are new casita lofts that offer views of the beach, high-ceilings, and a large private terrace.
And no Papaya Playa Project review would be complete without mentioning the "Private Plunge Pool" which is basically your own private dipping pool right outside your casita. It's the amenity you didn't know you needed but that will quickly become your new obsession. 
The Cabañas
If you want the Papaya Playa Project experience but you're on a stricter budget, the cabañas will be the best option for you. Smaller and without all the bells and whistles of the villas and casitas, the cabañas have more of a rustic/backpacker vibe yet you can still experience the rest of the property's incredible amenities.
Personally, I don't think I'd spend the money to come to PPP and opt for a cabaña because they don't have the luxurious vibe or pool access that the resort is known for, but if that doesn't bother you, then these are definitely the most economical option. 
When I was at Papaya Playa Project, I stayed in a jungle casita with one of the rooftop pools, which is such a fun perk. I loved the traditional Mayan architecture mixed with the contemporary decor, and the private pool was just as amazing as Instagram makes it look.
However, I will say that on our particular rooftop there wasn't really any seating room around the pool, you literally have to be in it to enjoy the roof (not sure if this is the case for all casitas).
The biggest con for me regarding the room was the lack of any view from the bottom floor—we were sort of wedged in between other buildings and had a tiny sliver we could see out to the ocean.
Because of that, the lighting was super dim in the room; the only view was from the rooftop pool. The mood lighting could be great for a romantic couples retreat, but is less ideal when you're trying to put on makeup and do your hair before heading out for the night.
This can easily be avoided by paying closer attention to what kind of room you're booking—the hotel was super booked out when we were there, so options were limited.
---
---
Food and Drink at Papaya Playa Project
Tulum has some incredible bars and restaurants that you'll want to check out while you're in town, but for days when you'd rather just hang at the hotel, there are several solid options for drinking and dining on-site.
Roca Restaurant is located in the Playa Solar Beach club and serves fresh, raw vegan dishes and raw seafood bowls created from organic and (mostly) local ingredients.
Also at Playa Solar Beach Club, Spirits Bar is where you can grab a drink, like mezcal (no trip to Tulum is complete without sampling some mezcal), cocktails, beer, or wine (they have a great selection of natural and organic wines). 
The typical spot for eating and drinking at the resort though is the main restaurant on site. It has an amazing double-decker bar that overlooks the beach and the restaurant serves food that's influenced by Mayan and Mexican traditions.
They serve breakfast (some of which is included with your stay), lunch, and dinner, as well as offering a select menu for the beach club. 
While the food was good here, it wasn't a stand-out part of the stay for me. I wouldn't say you should forego some of the other top spots in the area to only eat here, however I'd need to try more of the dishes at PPP's eateries and we had quite a limited time.
If you're looking for other options nearby, Habitas which is within walking distance is an amazing option for dinner and I also love Posada Margherita for their authentic Italian cuisine by the sea.
Check out my full Tulum Restaurant Guide here.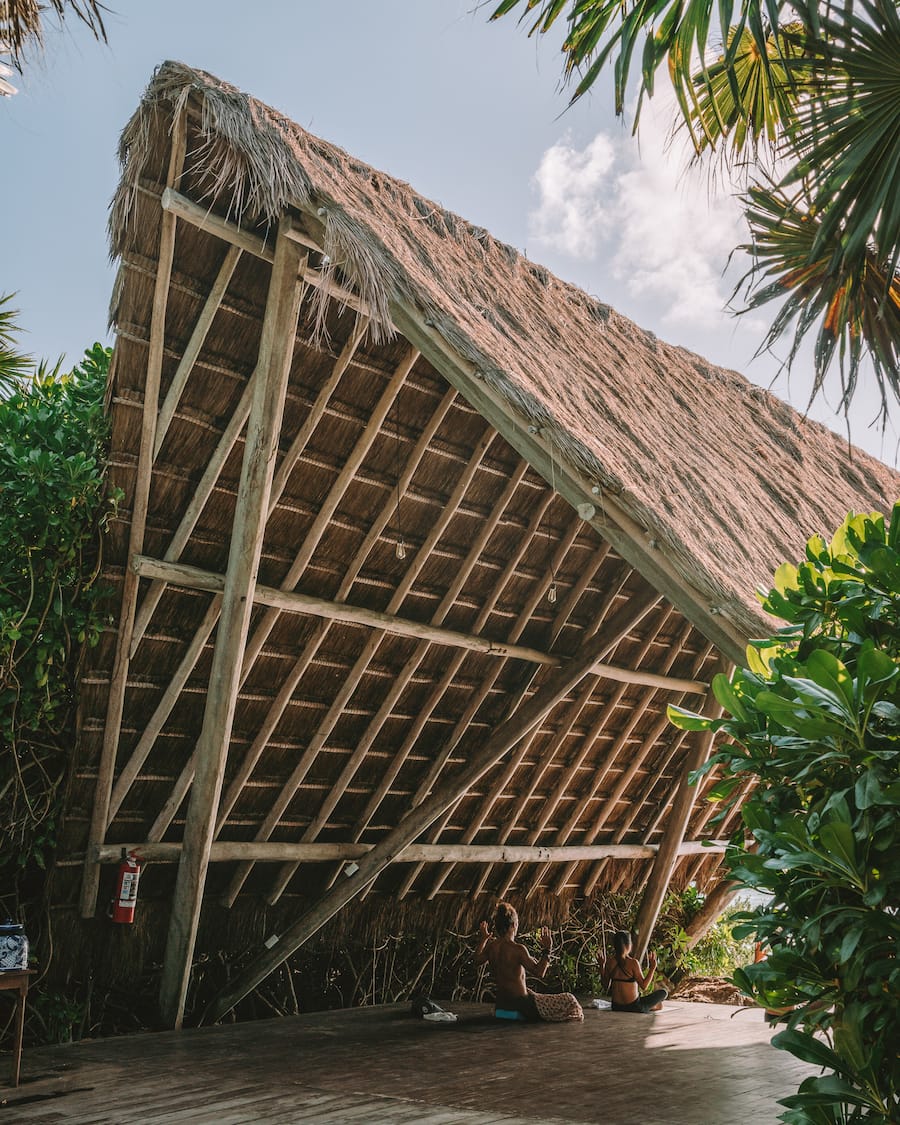 Spa + Wellness Options
To counteract Tulum's inevitable overindulgences, Papaya Playa Project offers some great spa and wellness services.
There are yoga classes (check out the sunset seaside yoga), workshops, a juice bar with fresh juice and smoothies, traditional Temazcal Mayan steam baths, and a spa with all types of different massages and other indulgent treatments.
Be sure to check the hotel's Events & Activities calendar before you book to see if there's something you're interested in attending. 
A Few Helpful Hints for Your Stay
The hotel is known for full moon parties that take place the night of the full moon and weekend parties that can be loud late into the night. This isn't the best place for travelers with kids or those looking for a quiet stay. Book on a weekday instead if you're seeking peace and calm.
This hotel is on the far north end of the hotel zone on the beach, so it's a bit of a walk down the beach and road to get to many of the restaurants, etc —take advantage of the free bike rentals to get down the beach more easily
If you're struggling to make dinner reservations at some of the more popular restaurants in Tulum, make sure to check to see if the PPP concierge can help

The hotel is located about 75 miles from Cancún Airport and the drive takes a little under 2 hours

There is free parking on site for hotel guests
I hope this Papaya Playa Project review gives you a better idea of what staying at this popular Tulum hotel is really like. If there's anything specific I didn't cover in this post feel free to leave a comment and I'll do my best to answer!
---
---
Planning a trip right now? Don't miss my go-to websites for booking everything from flights and tours, to accommodation and more:
---