Update: This hotel has since been revamped and reopened as the Oaks Hotel & Resort
If you haven't already heard of Port Douglas, let me give you a little inside scoop. This beautiful town located in the Northern part of Queensland, Australia, is the perfect launchpad for exploring natural beauties of the area like the Great Barrier Reef and Daintree Rainforest — plus, the town is a charmer in and of itself. Cairns, which you may have heard of, is another tourist mecca for seeing the top sights that Queensland has to offer, but after hearing much chatter about it being a major party scene, we opted for the quieter Port Douglas and decided to stay at the QT Hotel in town. Read on to find out why the QT is one of the best Port Douglas hotels to stay at during your visit to Queensland, Australia.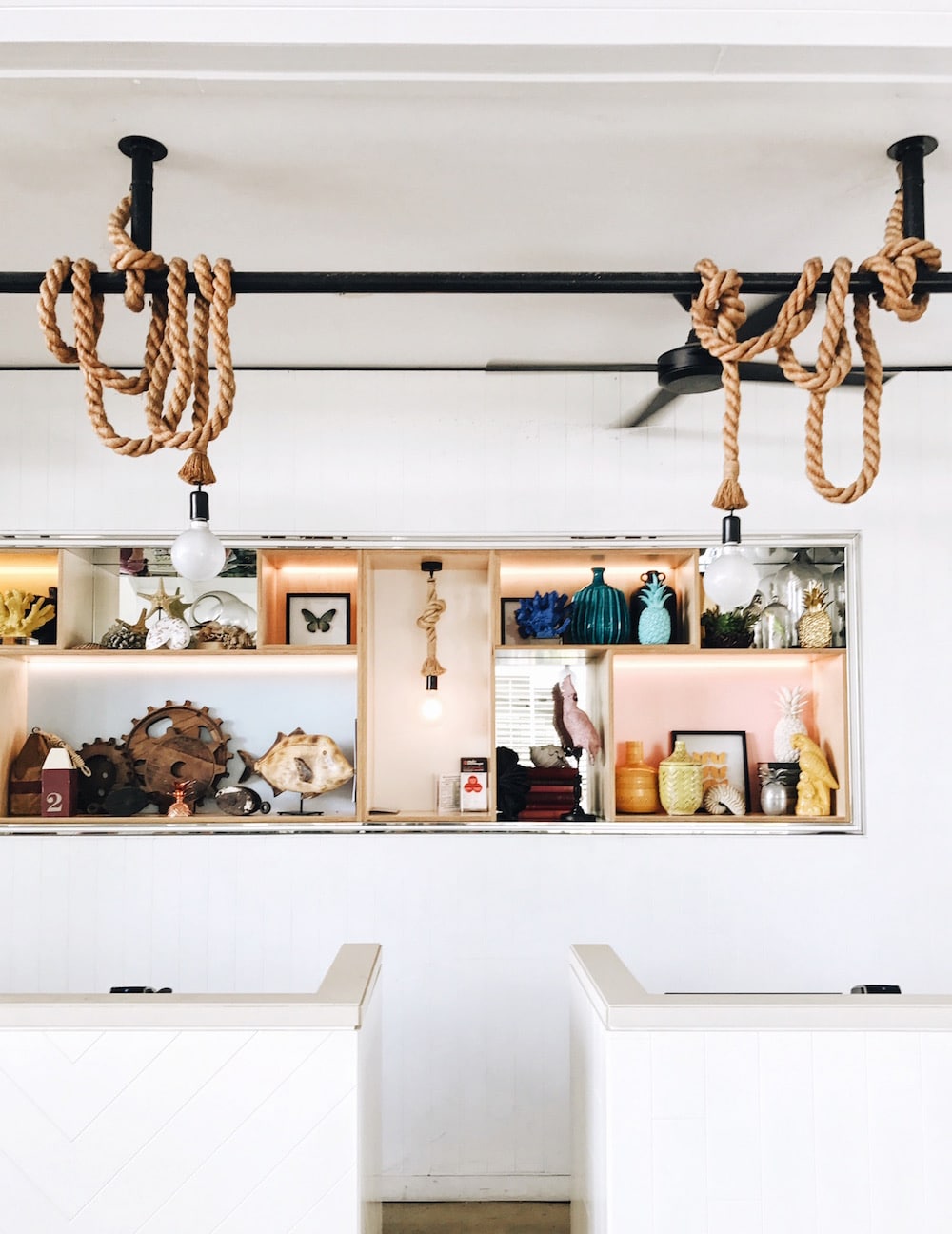 Why We Decided to Stay at the QT Port Douglas
I had never stayed at a QT hotel before the one in Port Douglas, but even from their website and photos you can tell they have a lovely quirk about them that's unique from many other hotels. I loved the more intimate boutique vibe, tropical inspired interiors and colorful accents throughout the property. The QT brand also puts a premium on design and art — which if you know me, is something you know I value highly — and it shows with one quick tour of the hotel grounds.
Their Port Douglas property is its own little oasis within this coastal tourist destination. Just a quick shuttle into the main drag in town (there is only one), I found this hotel to be the most convenient to everything we wanted to see, and the staff were super friendly and accommodating when we needed any extra help booking tours or getting around town.
We ended up staying for a total of four nights, and I'm so happy we chose the QT. It proved to be the perfect place to call our "home away from home" in between outings off exploring beautiful Queensland.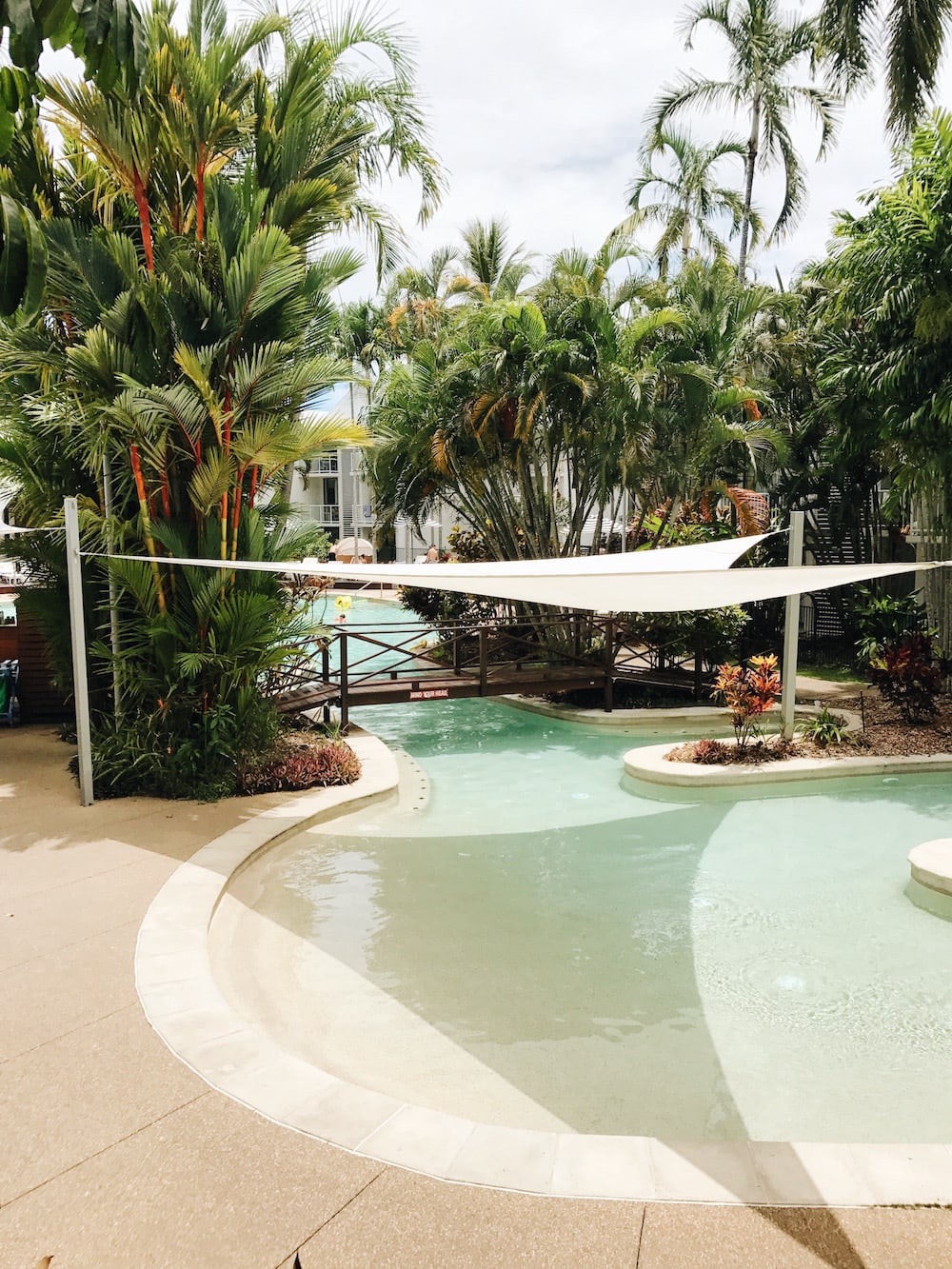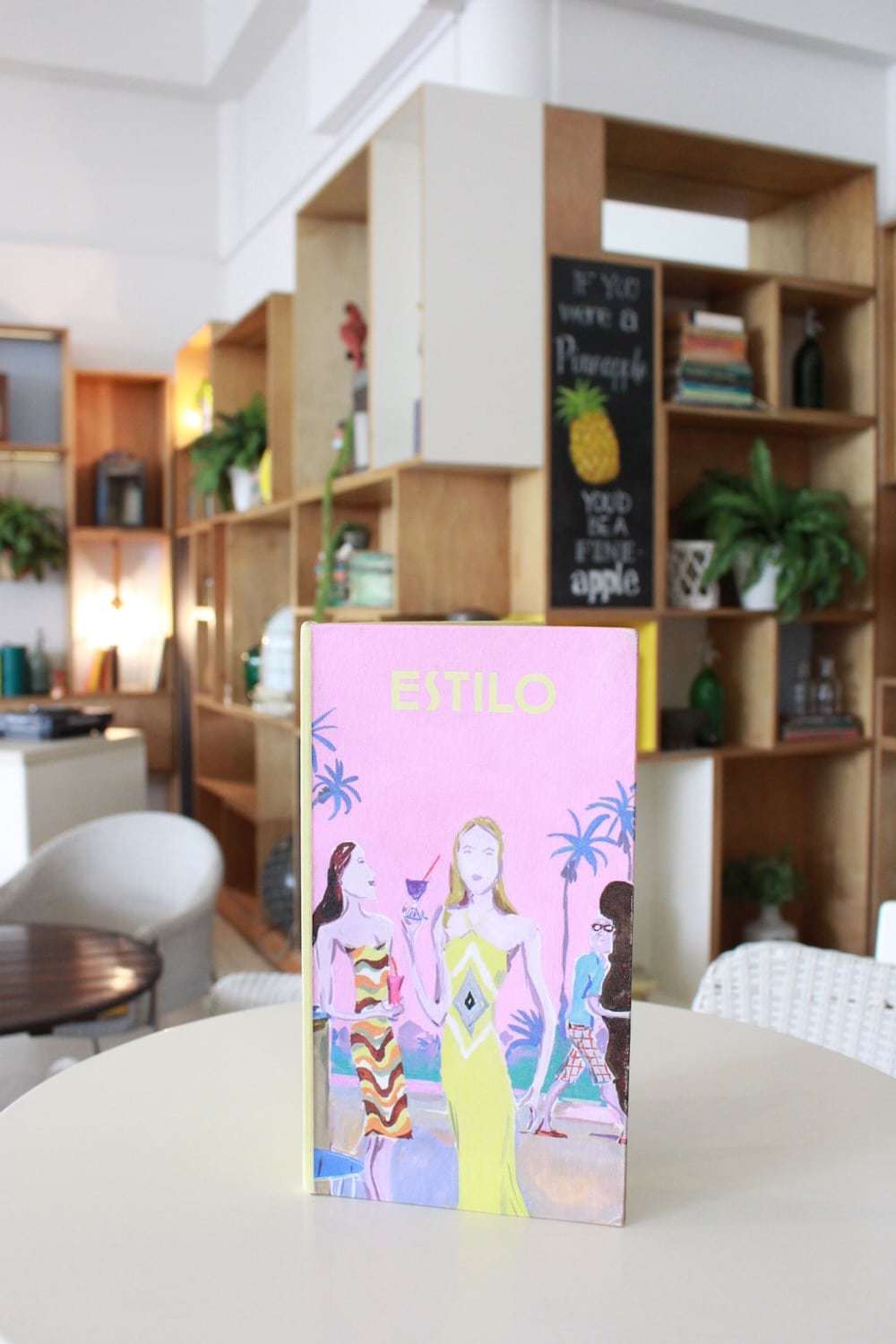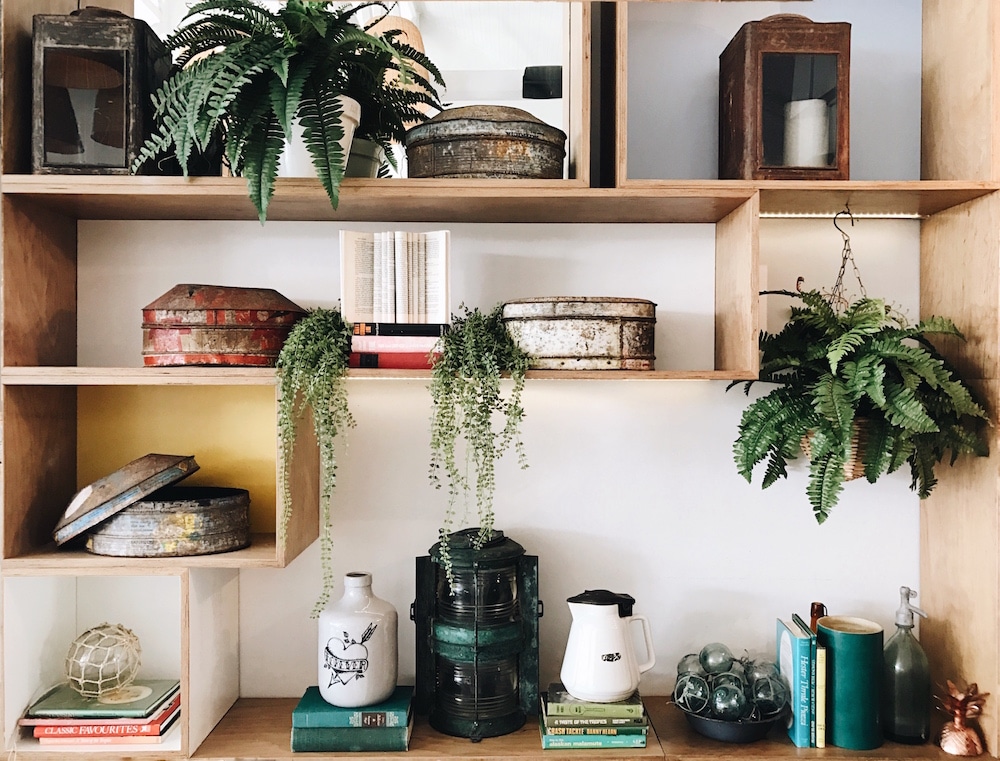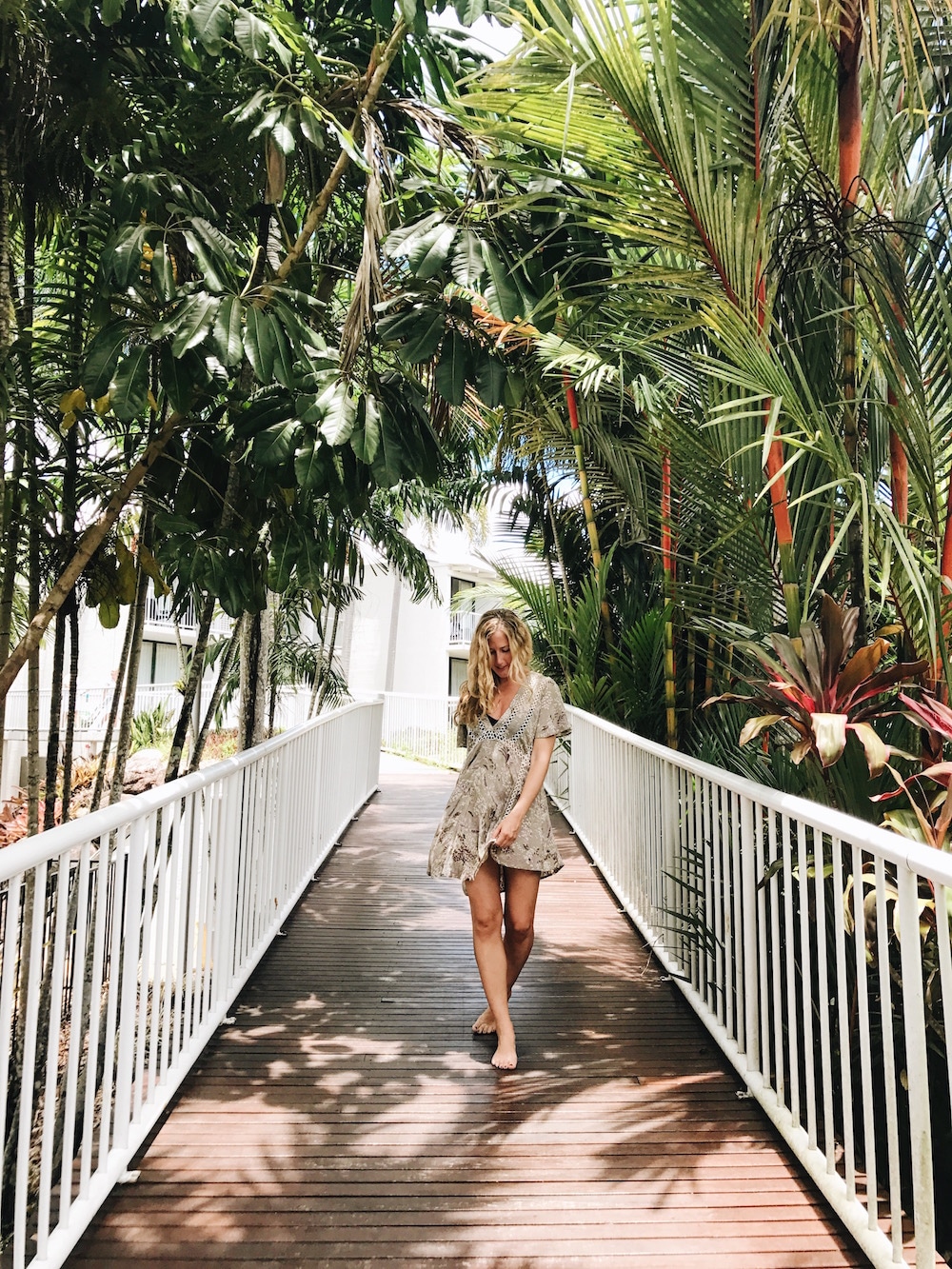 What Can You Expect During Your Stay? 
We stayed in one of the 1-Bedroom Villas, which is an apartment style room that features a kitchen/living space and a separate bedroom and bathroom with a private little balcony. While the rooms were a great place for us to relax in some much needed AC (we were there in the dead of summer), we spent most of our time lounging by the lagoon style pool, sipping delicious cocktails at the Estilo lounge or perusing QTique, the hotel's on-site store that offers quite the selection of quirky gifts and curiosities.
I think my favorite part of our stay there though was the buffet-style brunch, which is probably the best hotel spread I've ever encountered in all of my travels — yes, I'm making that statement. From pastries, sausage, chia seed pudding, and yogurt to tropical smoothies, hash browns, fresh fruit, and eggs, there were literally so many options I couldn't possibly have room in my stomach to try even half of them over the course of our stay. Prices for the all-you-can-eat breakfast at the Bazaar restaurant are $28 per adult.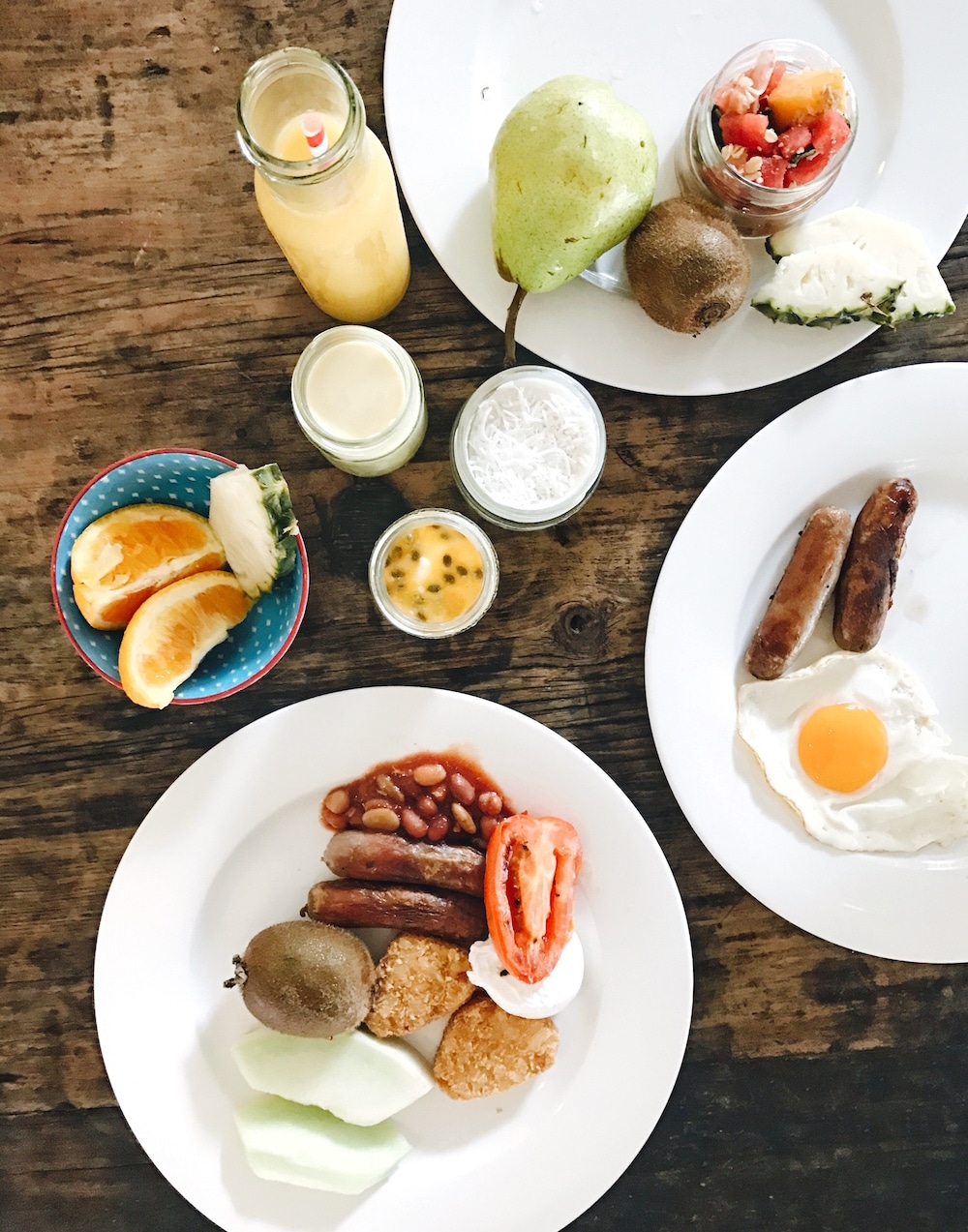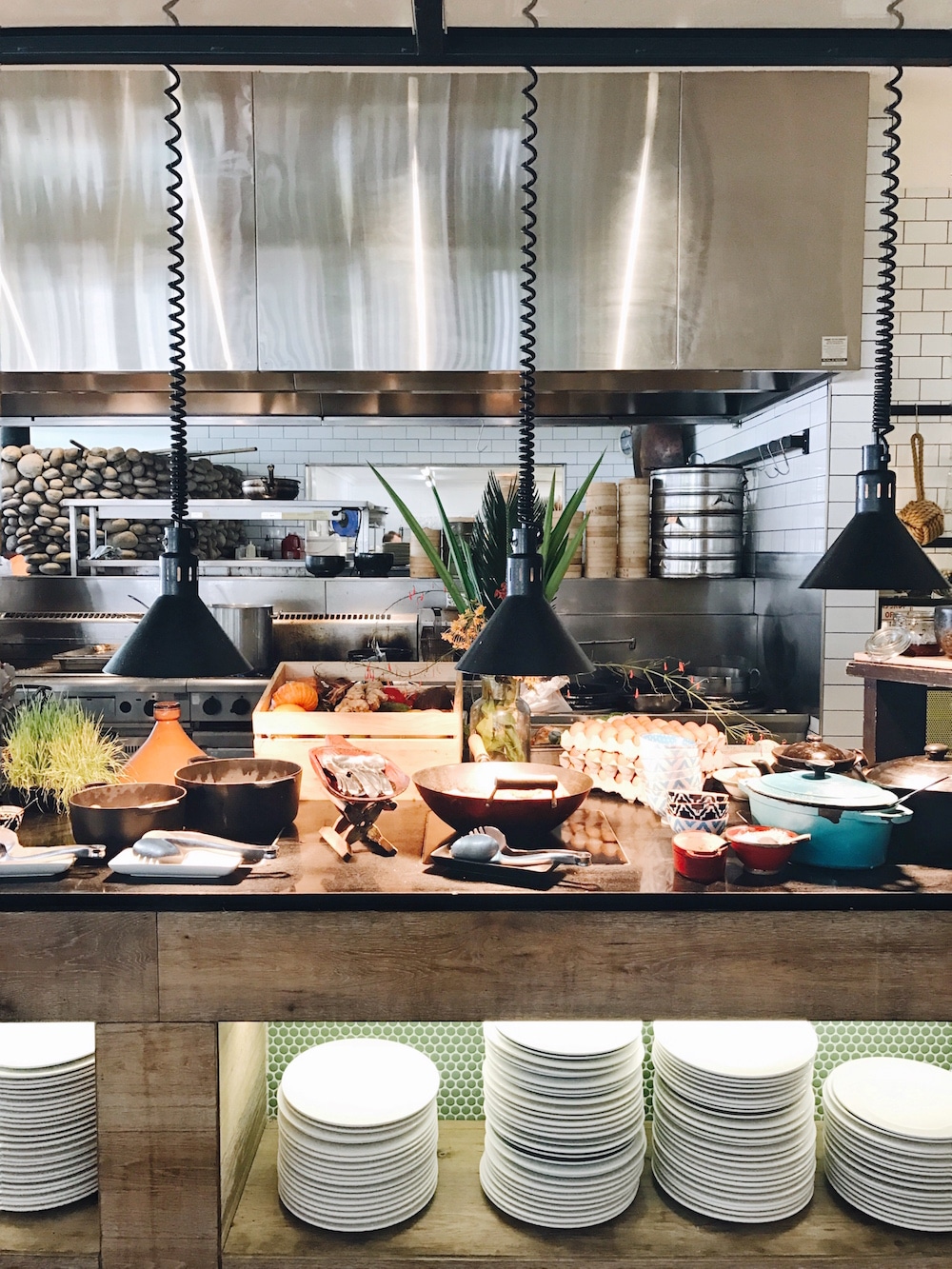 While we opted to check out the restaurants in town rather than indulge in the QT's buffet-style dinners as well, we did take a quick peruse one night, and I can tell you that it looked just as epic as brunch. Final verdict: the QT knows how to satisfy those that travel for the food!
Other fun amenities available to guests include use of the property's retro bikes, free parking and an outdoor Moonlight Cinema during the winter months.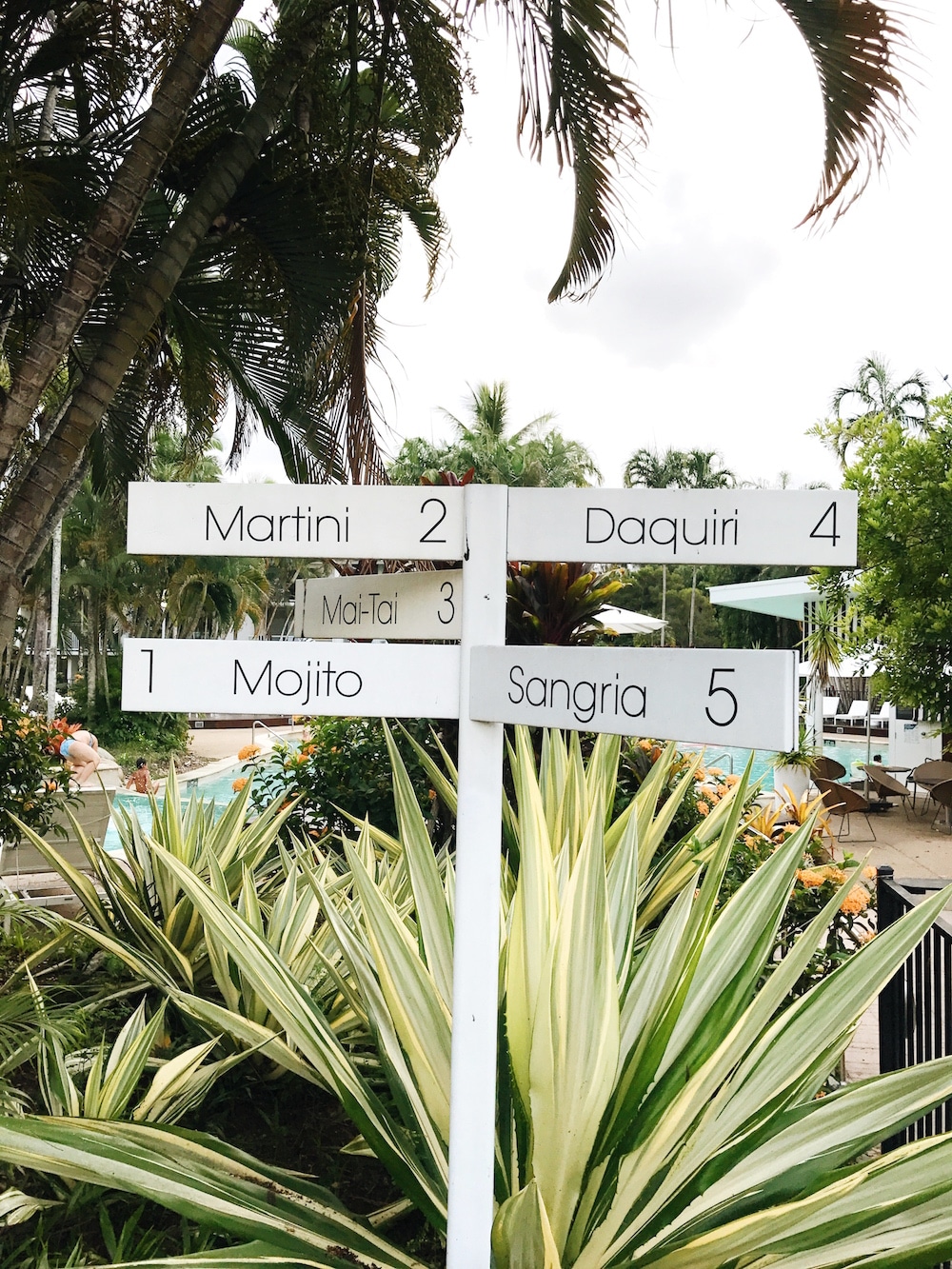 How to Get There
Cairns is the closest airport in the area, which means that unless you are renting a car, you'll have to figure out how to navigate the hour-long trip to Port Douglas. Here's a little word to the wise. Do not take a cab. They are ridiculously expensive (about $200 for a 1-hour ride) and there is a shuttle that will take you there for a quarter of the price, so long as you are willing to wait a bit longer.
We found car rental options in Queensland to be quite expensive as well in comparison to US prices. Though we were a bit worried about getting stranded without the use of our own vehicle, we ended up being just fine using the local shuttle and booking tours through operators with hotel pick-up. Unless Port Douglas is the starting point to a longer road trip, I would just stick to local transport like we did — you'll save loads of money that way!

What to Do in Port Douglas
The Great Barrier Reef
If you're planning on visiting the area, you're probably already aware that the Great Barrier Reef is a huge draw for tourism in Port Douglas. We did a day cruise aboard Tropical Journeys and it was such a fun day out on the water. The day tour included up to three dives (or snorkel tours depending on your area of interest), plus plenty of time for tanning, relaxing and enjoying a cold beverage during the journey back to shore.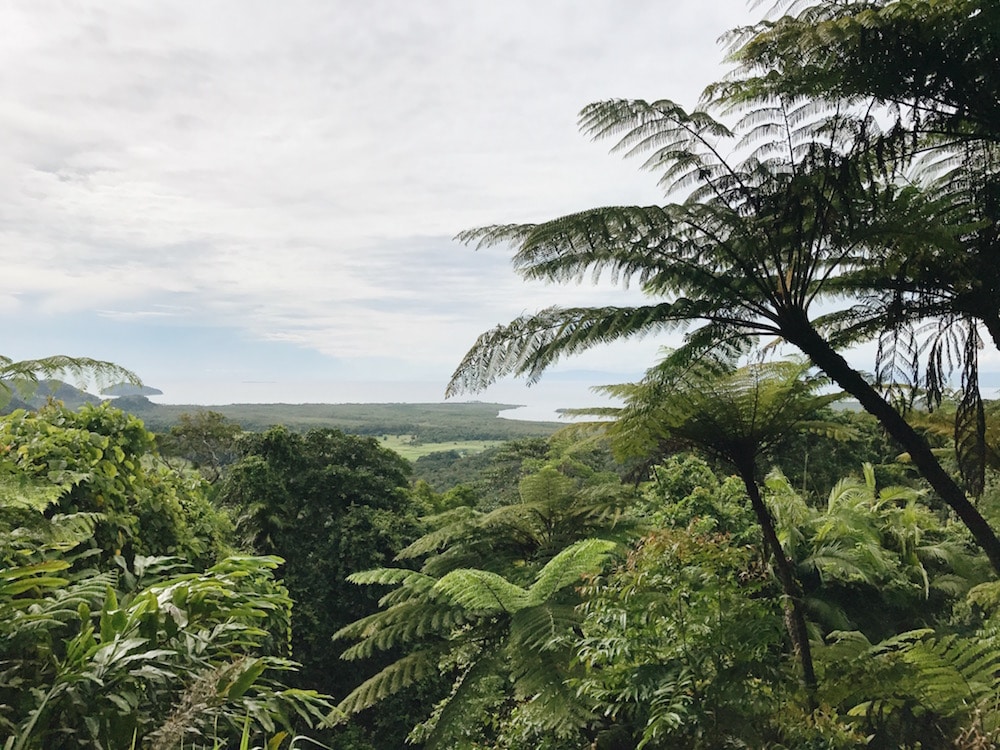 Daintree Rainforest
We also spent an entire day exploring the Daintree Rainforest, which is a UNESCO World Heritage Site and also the oldest rainforest in the world — nuts, right? The tour that we booked through Daintree Tours included stops at Cape Tribulation, the famous Daintree Ice Cream Company, Mossman Gorge and a crocodile cruise (we unfortunately did not see any crocs that day).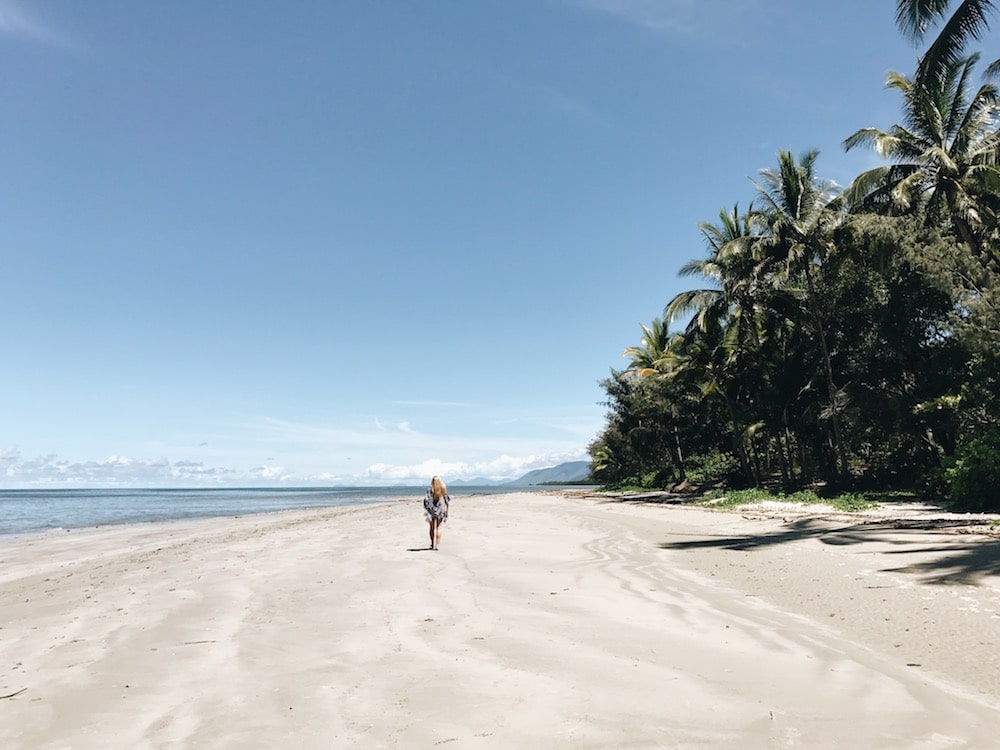 Four Mile Beach
Definitely a must during your visit to Port Douglas is Four Mile Beach, which is a completely untouched strip of white sand beach that is an easy walk away from the main part of town. From the QT Hotel, you literally cross to the other side of the main road and walk about ten minutes to get to a cut-through path (wear bug spray for this bit). As I mentioned before, we visited during the dead of summer when it was excruciatingly hot and it was stinger season, which means you can't swim without a stinger suit unless you want to risk being murdered by a jellyfish (the rumors about everything being deadly in Australia are not rumors). For this reason, the beach was completely deserted and we encountered maybe five other humans over the course of several hours spent there. Silver linings!
Note: Stinger season in the area lasts from about November to May, so if wearing a stinger suit at the beach and on dives doesn't sound like your idea of fun, make sure to visit Port Douglas during the winter months.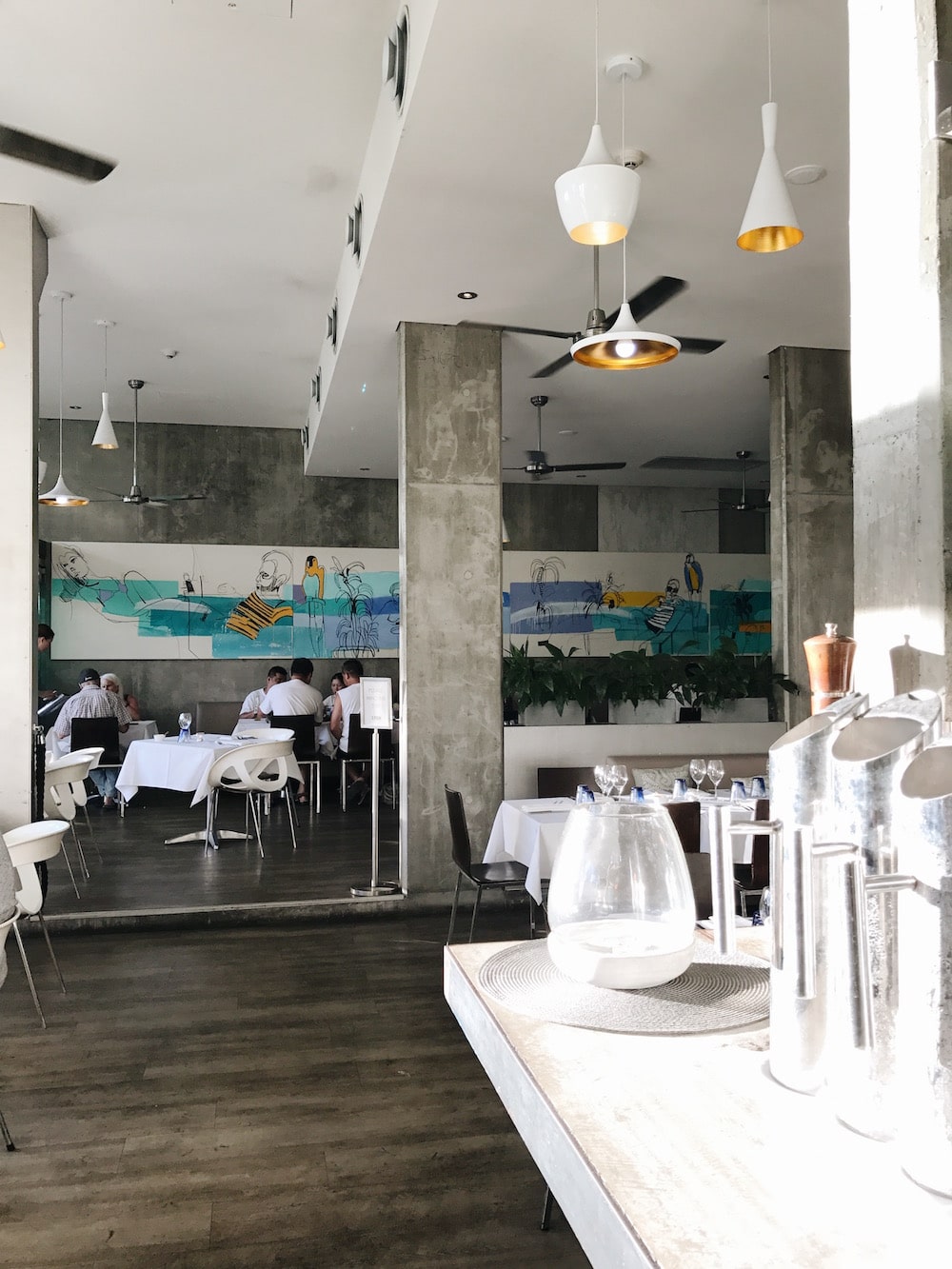 Explore Town
For how small the town of Port Douglas is, it is surprisingly chock full of cute shops and tasty restaurants — plenty to keep you busy over the course of a three-day stay. Some of our highlights included dining at Watergate, where we tried crocodile for the first time in the form of spring rolls (surprisingly delicious)! 2 Fish restaurant (pictured above) also serves up amazing seafood and has won multiple awards in Australia for it.
For your morning caffeine fix, check out Sparrow Coffee, in partnership with Ahoy Trader. The downtown area also gets surprisingly lively on certain nights of the week, so if you like to enjoy a few cocktails and dancing, make sure to ask the locals which days of the week are the best nights to go out downtown!
***
Live Like It's the Weekend was graciously invited as a guest of The QT Hotel Port Douglas, but as always, all my opinions are my own and I would never promote anything I don't freaking love. 
PIN IT FOR LATER