If you're a foodie at heart, then I can guarantee one thing: you'll LOVE visiting Tulum. This place is a paradise for food lovers, and even after a full week of eating my way through the area I still feel like there's so much more to try next time I go back! From authentic Mexican taco spots to homemade Italian pasta to raw vegan joints and everything in between, there's really something for everyone in this chic, coastal town. Well, except if you're looking for a McDonalds. You definitely won't find one of those here 😉  Keep reading for my full restaurant guide to Tulum and make sure to reference the map below during your next trip so you don't miss a spot!
MY TOP 5 FAVES

Charly's Vegan Tacos
You'll notice quite a few vegan and plant-based spots in Tulum, but what I love about Charly's is that it doesn't feel overtly vegan. Anyone can go here and enjoy chef Charly's healthier take on authentic Mexican cuisine in this open air setting. Order the taco trio to get a taste of multiple unique flavors!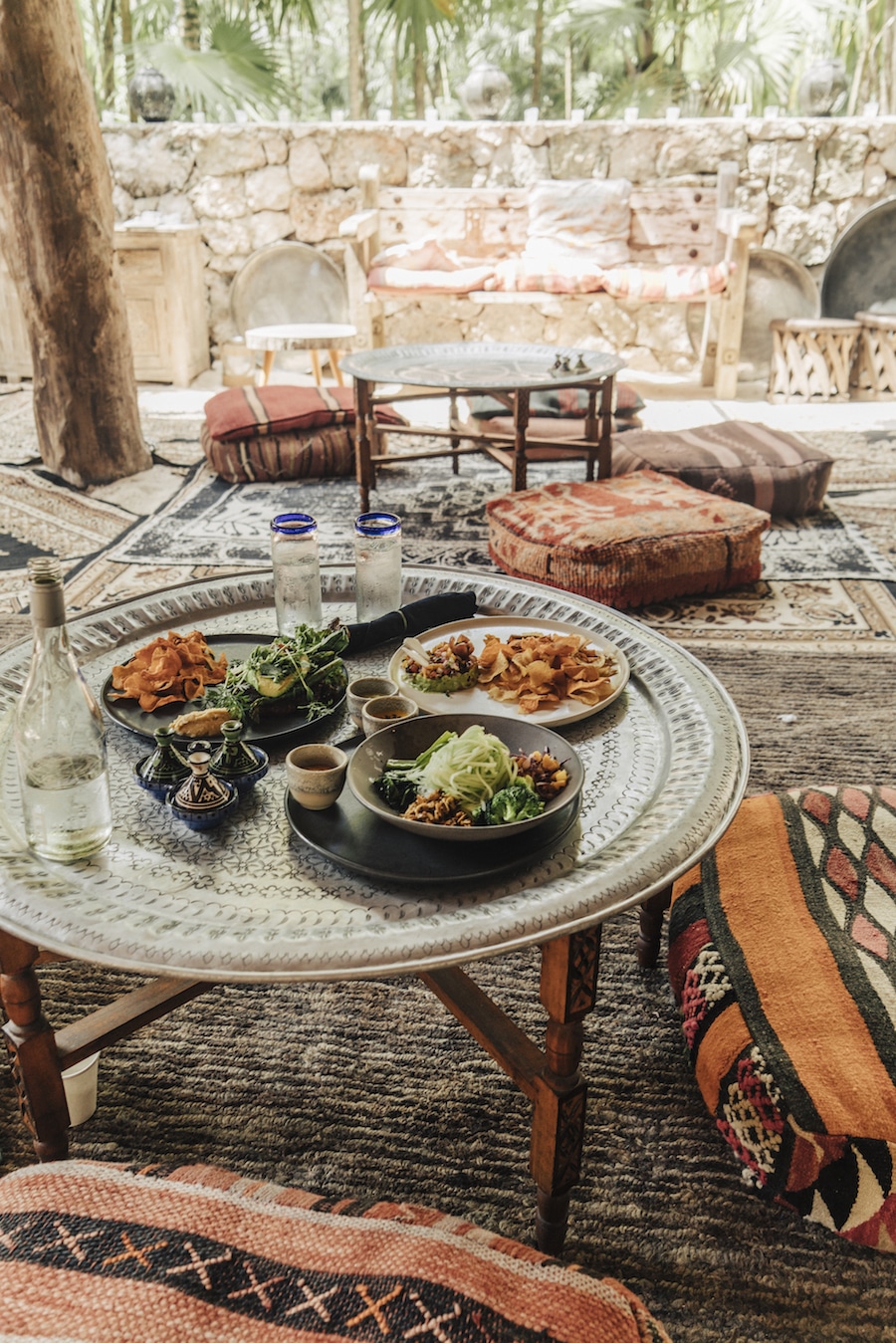 Macondo at Nomade
This Instagram-worthy spot inside the Nomade Hotel will give you all the Moroccan feels and leave you feeling satisfied in the healthiest way possible. Focusing on organic and superfood ingredients, Macondo is a great place to get everything from from nutrient packed smoothies to delicious veggie sushi and quinoa bowls.
Posada Margherita
This is one of the most beloved restaurants in all of Tulum, and for good reason! They make all of their pasta fresh on site and everything is so, so delicious. I love that they also hire many Italian staffers, so you really feel like you're in Italy!
Rosa Negra
One of the few places in Tulum that takes reservations, Rosa Negra, is a must for dinner during your stay in the area. Everything has a bit of a wow-factor — from the Latin American flavors to the creatively presented cocktails and large portion sizes. This is a great place for large groups, birthday/bachelorette parties and for trying a bunch of dishes and sharing!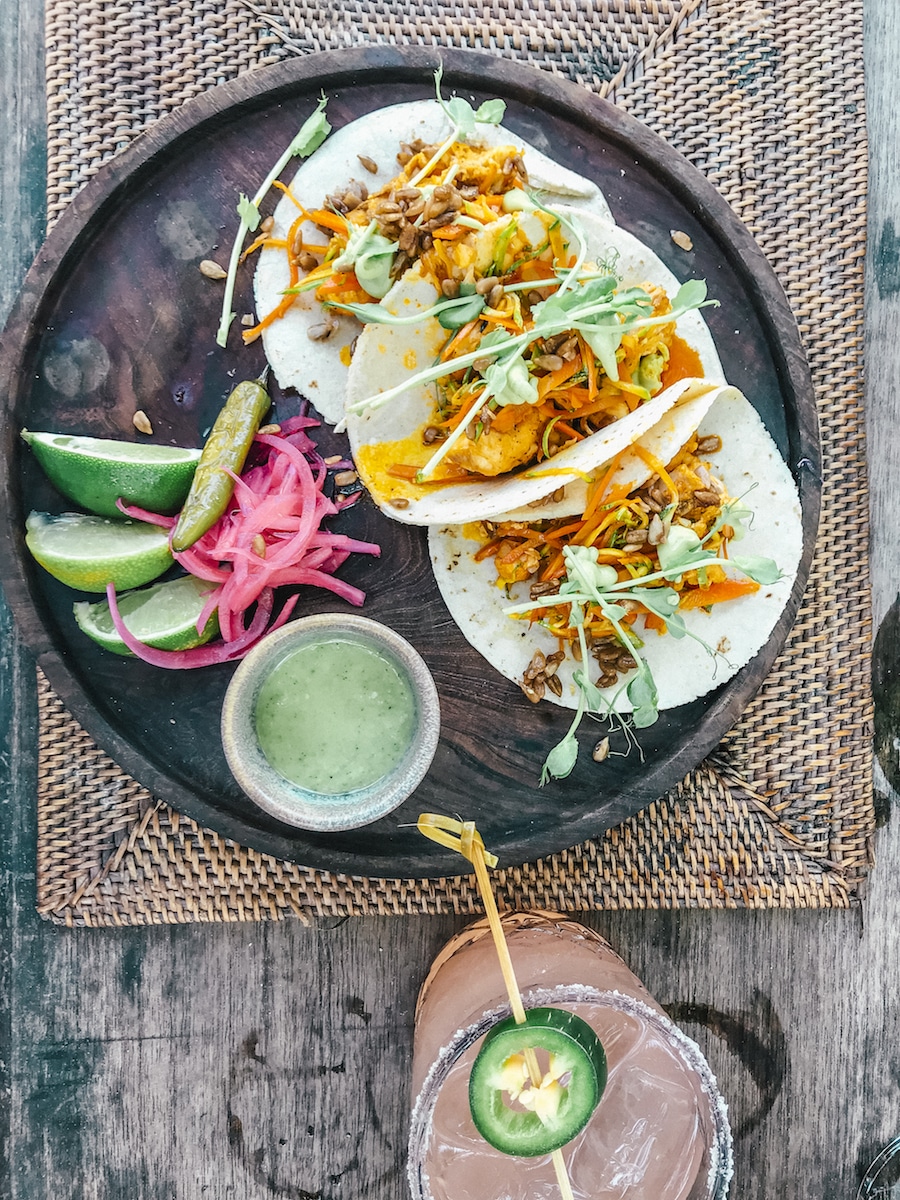 Maresias at Be Tulum
Considered by many to be the best hotel to stay in Tulum, Be Tulum is also a great place to go for an al fresco lunch if you can't necessarily afford the $500+ per night price tag. The menu is to die for — I especially loved the octopus tacos.
MORE TULUM RESTAURANTS YOU CAN'T MISS
Raw Love
Located within the property of the Ahau Hotel, this is simply one of the best spots in Tulum for all vegan, raw, healthy foodie lovers. Pick a hammock and eat your heart out.
Hartwood
I sadly didn't get to dine here during our stay as they are closed on Mondays and Tuesdays and there is typically a long queue to get in, but word around town is that if you're willing to wait in line (for potentially two hours or so) then it's worth it. According to their website, they take dinner reservations the month prior by email only, so if you'd like to walk in it's recommended to go early around 5:30 pm and be willing to wait!
Gitano
I also didn't have the chance to dine here (although I did come for drinks and loved the ambiance), but it receives consistently rave reviews, although unlike Rosa Negra across the street, prepare to be served much smaller portions of food for a similar price tag.
Kitchen Table
This restaurant is located on the opposite side of the beach from most of Tulum's popular spots, but it's worth the taxi ride if you're not staying nearby. Kitchen Table has been built right into the jungle so it basically feels like you're eating in a treehouse. They do accept reservations here but only for 6pm or 9pm time slots and only maximum one week in advance. If you need to make same-day reservations they will accept by phone only.
Humo
One of the most upscale restaurants in Tulum town, Humo, is located a bit away from the main strip but boasts a really nice ambiance and delicious food. Definitely a must try if you're staying away from the beach or headed into town for a night of exploring a more local scene.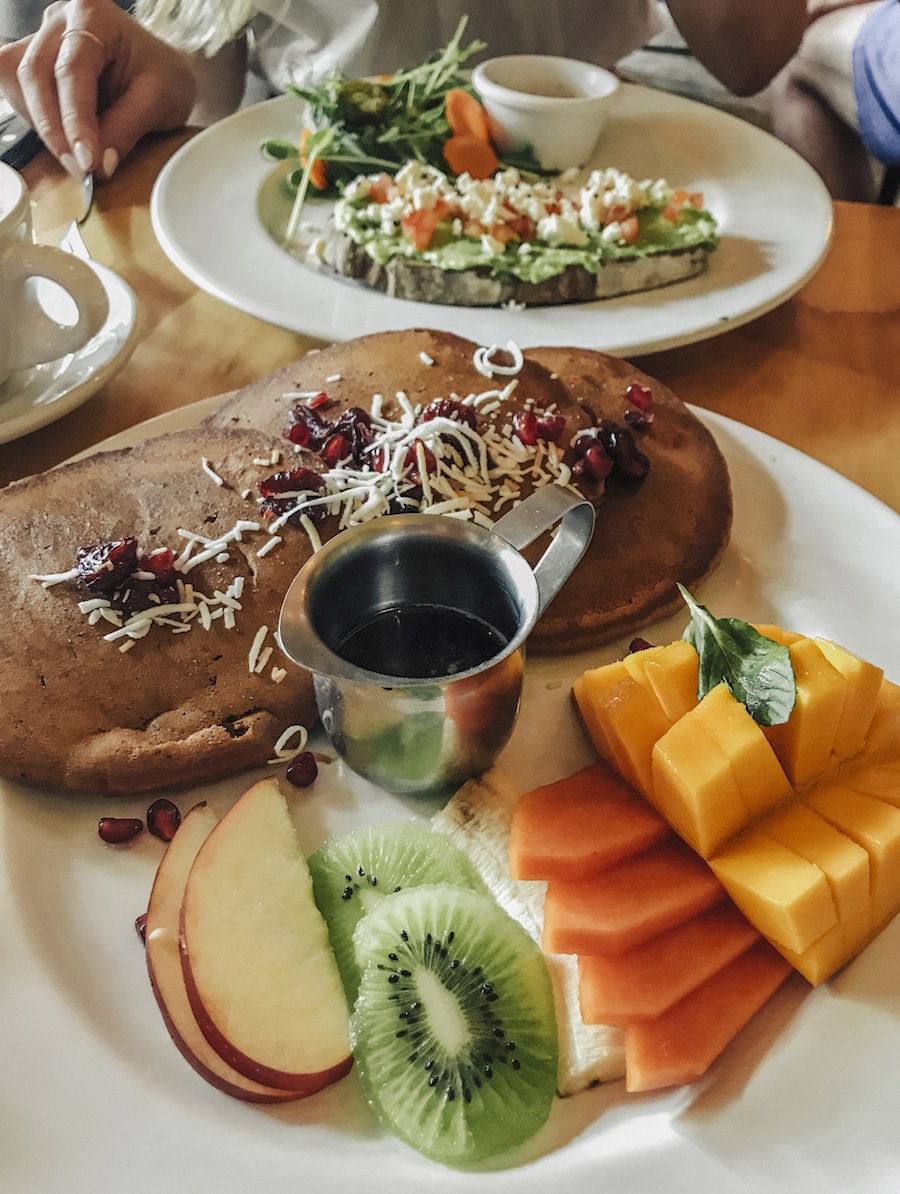 Del Cielo
I almost thought I was back in Venice Beach at Del Cielo, it was just too cute! They have delicious pancakes, healthy breakfast bowls and green juices. This is a great healthy option in town for brunch.
Burrito Amor
Famous for their — you guessed it — BURRITOS, this spot creates quite a queue for dinner as tourists line up to snag a table in the restaurant's small palapa-like space.
Antojitos La Chiapaneca
Hands down the best place for the most authentic local tacos in Tulum. This taco stand is located on a busy corner in Tulum town and might take a minute to find a seat — but it's worth it. If you're on a budget, this is the place to go. I had three tacos here for a whopping $2.13 USD.
BEST SPOTS FOR SWEETS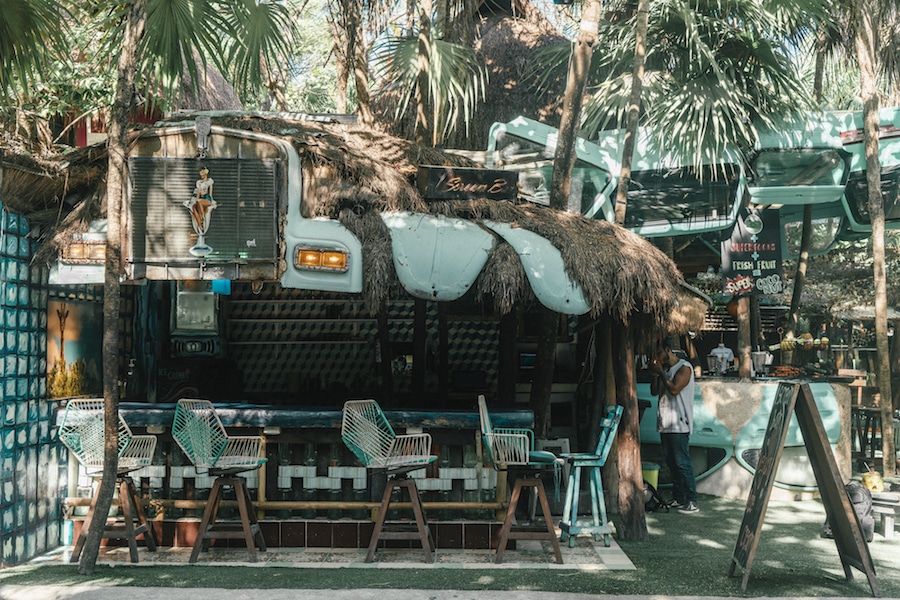 I Scream Bar
To satisfy your sweet craving without the guilt, head to the I Scream Bar which whips up homemade vegan ice cream in a hipster bar setting made from bus parts. As the name might suggest, this spot is also a bar, so it's a great place to sit for awhile, enjoy a cold one and do some people watching.
Origami
Located directly next to the I Scream Bar, this is a more guilt-inducing alternative and is probably the best gelato in Tulum.
BEST PLACES FOR GREAT COCKTAILS

Kin Toh at Azulik
Built on stilts above the jungle, Kin Toh is a must visit if only for one overpriced cocktail. This is more for the ambiance than the drinks themselves as you'll feel like you're in a treehouse made completely of bamboo. It's a sensory experience to say the least and unlike anything I've ever seen before. Make sure to head there right at sunset for one of the best views in Tulum.
Gitano
For some of the best mixology in Tulum, head to Gitano, which also happens to have the coolest Friday night party, kicking off around 11 PM.
El Batey
Known as the best mojitos in Tulum, El Batey is located on the most popular tourist strip in town and often hosts live music to accompany its rum-infused concoctions.
Pasito Tun Tun
This mezcal bar is a bit unassuming at first glance, but don't miss the opportunity to order up one of their delicious cocktails and enjoy some live music on their back patio. Their Guavahazelnut cocktail was probably the best drink I had all week! So unexpected but so yummy.
Rosa Negra
Back on the list for cocktails as well — see above!
BEST FOR COFFEE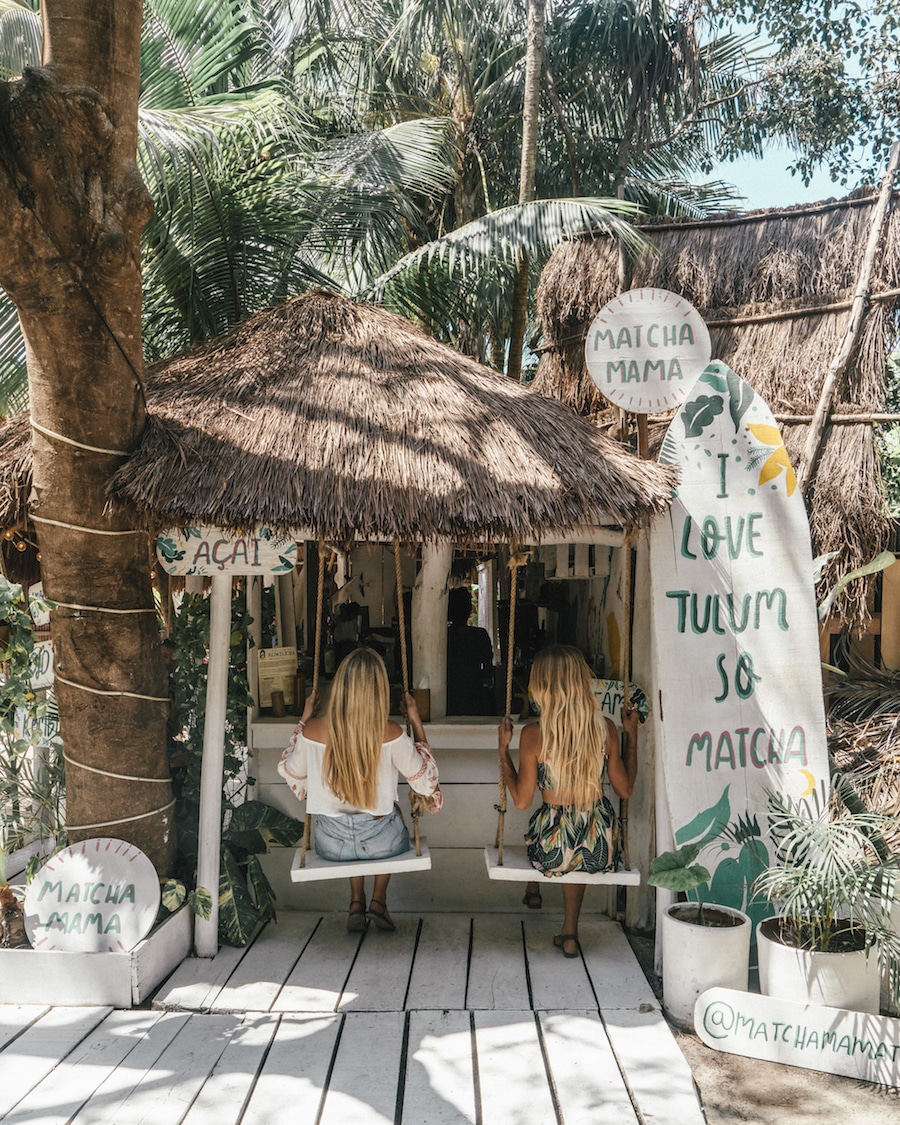 Matcha Mama
Probably one of the most popular Instagram spots in Tulum, Matcha Mama is the perfect place to start the morning with a cold brew coffee and a healthy smoothie or acai bowl. Camp out on one of the swings and take in all the jungle vibes while you fuel for the day ahead.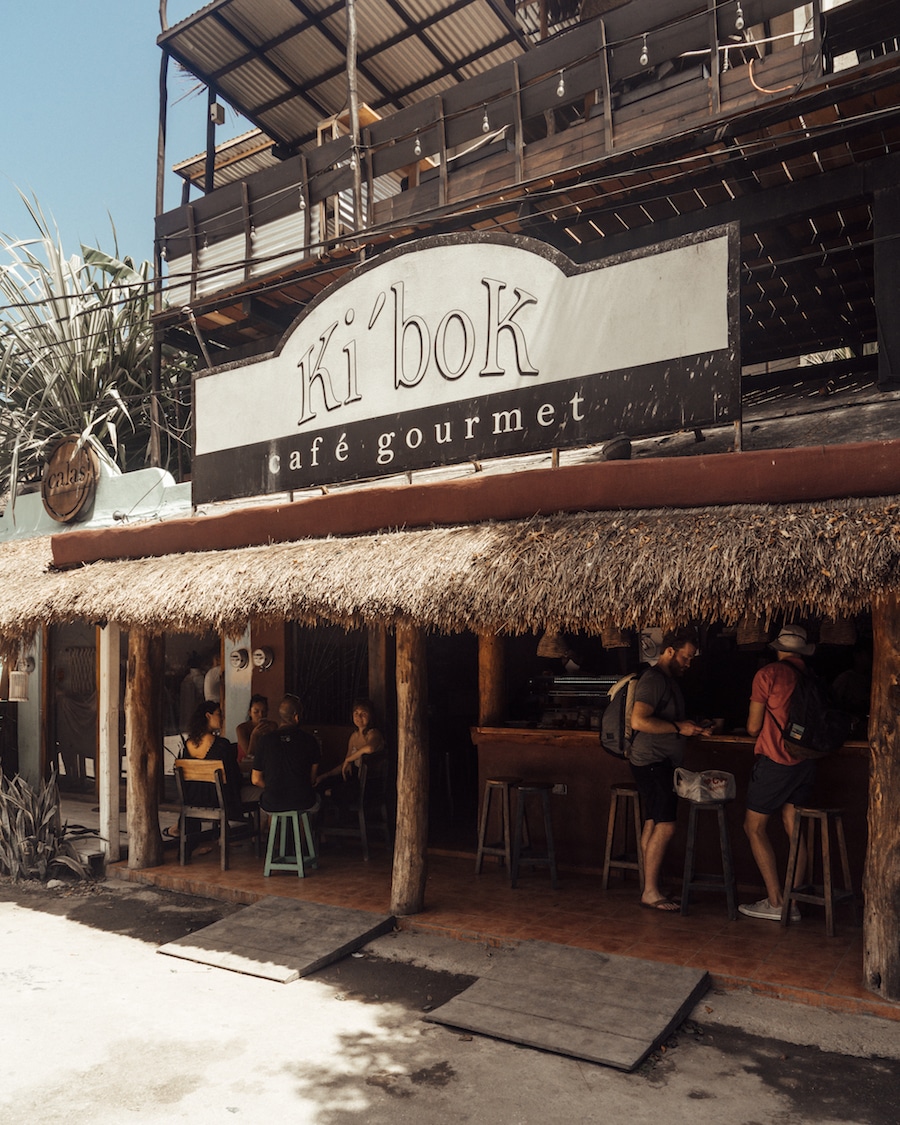 Ki'Bok
Considered the best coffee in Tulum, this spot is located in town and is the perfect pick me up to kick off a long day of adventures.
Loved this restaurant guide to Tulum? Have some favorite spots in Tulum that I missed? Let me know in the comments below!
LIKE THIS POST? PIN IT FOR LATER