Road trips have always been my favorite way of exploring—and when it comes to the American West, there's no better way to take in the dramatic and varied scenery. From driving through the towering Rockies, to passing through sprawling salt flats, you get a front row seat to all of it from the car. This particular Salt Lake City to Yellowstone road trip is such a great loop to do if you're looking for an epic USA road trip that features a LOT of variety: think epic landscapes through plenty of National Parks, paired with city adventures and off-the-beaten path spots as well.
This past June, my friends at Away Lands and I embarked on this 2 week journey through five states in the American West, starting out in Salt Lake City, Utah, then looping through Colorado and Wyoming, with little slices through Montana and Idaho along the way. This post will mostly focus on our time in Utah, Colorado and Wyoming though as that's where we really spent the majority of our time.
This itinerary definitely has a heavy dose of nature, but there's really something for every type of traveler to enjoy. If you love taking in a city through its food and drink culture, you'll love stopping in Denver to check out the blossoming brewery scene. If wildlife gets you most excited, you'll go nuts driving through Yellowstone where bison traffic jams are a real thing. Love hiking? Photography? Street art? Don't worry, I've got something for you too.
Normally I would craft an ideal itinerary based on what I personally experienced, shifting the blog post to cater to my readers based on anything I missed or things I would do differently. After sharing this trip on Instagram though, so many people have asked for our exact itinerary, so that's what I'm going to give you here.
I have, however, left off a few things that I would absolutely NOT recommend (like the terrible Mexican restaurant we stopped at en route to Aspen where we were served the saddest looking guacamole of our lives—but that's a story for another day). If there's anything I would add to the itinerary that you shouldn't miss, I've also made notes where applicable.
So what are some of the highlights you can expect in this itinerary?
Well, there are a lot. Think adventures driving over the sprawling salt flats in Utah, technicolor geothermal springs in Yellowstone, epic sunrise hikes in Arches National Park, exploring the brewery scene in downtown Denver, and soaking up the scenery at a quirky hot springs resort between Salt Lake City and Moab. That's just a small taste.
Keep reading below for our exact Salt Lake City to Yellowstone road trip itinerary so you can start planning an epic adventure of your own.
How to Use This Salt Lake City to Yellowstone Road Trip Itinerary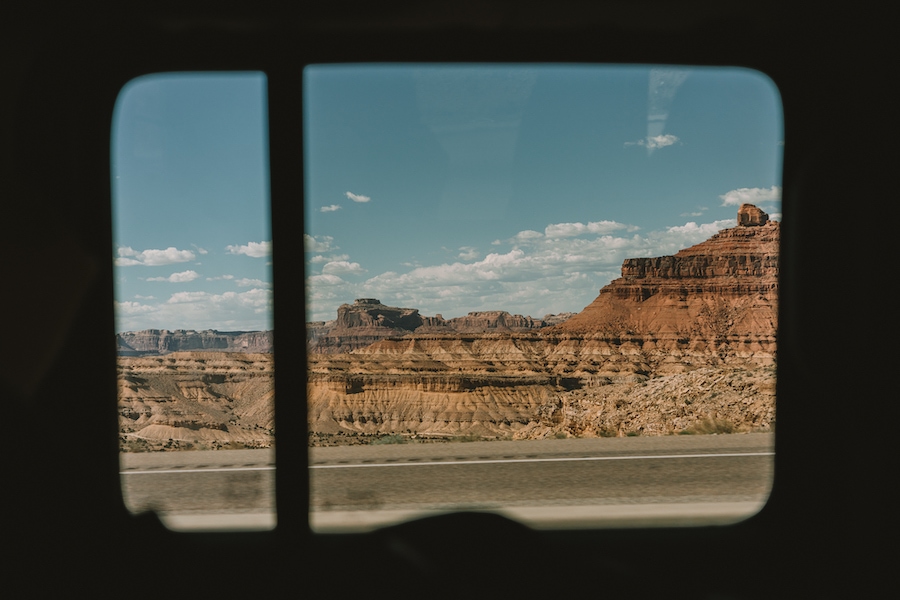 This is the EXACT itinerary we did for our recent road trip through Utah, Colorado and Wyoming, starting in Salt Lake City and ending in Yellowstone and Grand Teton National Parks (then flying back out through SLC). You can choose to following this itinerary to a tee or use it as inspiration to craft your own epic adventure!
Keep in mind that as a travel blogger I have certain priorities that may not be the same as you—like getting the best photos and trying to pack in a LOT so I can recommend as much as possible to my readers. Keep that in mind as you read through this post and adjust this itinerary however you like for your own travel style.
A note on accommodation in this post: This was a partnership trip with Marriott where we stayed at all Marriott properties of various category levels throughout the itinerary. If you wanted to do the complete trip on Marriott points you could do that which is awesome and this post will give you suggestions for hotels for each spot where you could use those points. However, if you've been a reader for awhile you know that I also love boutique hotel accommodation, glamping etc, so I've included other accommodation suggestions in each section to cater to those preferences as well.
---
Read More USA Parks Posts
---
What to Know Before You Embark on This Trip
How Many Different Stops are on This Itinerary? – This itinerary includes 7 different overnight stops, staying at most places for 2 nights.
How Much Time Do You Need? – We did this road trip in exactly two weeks and I wouldn't recommend trying to do it any faster. You could certainly add more time to the itinerary, taking things at a slower pace or adding more stops and sites into the mix.
Driving Time – The total amount of driving time for this trip getting from one overnight stop to the next is approximately 36 hours, so 2.5 hours a day on average. This doesn't factor in driving time between the different sites on the itinerary on off driving days. This is just the amount of driving time getting between each overnight location. There are some days where we took longer, more scenic routes, so you could cut down on driving time if necessary.
Getting Around – It should be pretty obvious that to do a road trip you need to have a car. But just in case you didn't get the memo: you need to have a car 🙂
Get Gas When You Can – In some parts of this itinerary there can be long stretches without gas. As a rule of thumb on road trips, I always try to fill up when I have access to a station when I get down to half a tank and the same applies for this trip.
What Time of Year Should You Do This Trip? – Summer is a classic time to do a USA national parks road trip, but it's also the busiest time of year for many of the parks as people have time off with their families. To beat the heat and tourists, you might want to look into doing this trip in May or September. We did this entire trip the first 2 weeks of June.
How Much Should You Budget – This will fluctuate depending on what kind of accommodation you choose and how expensive gas is at the time, but I will say that after accommodation and gas expenses we spent about $700 per person total for the 2 weeks on things like meals, road trip snacks, tours, parking, etc. This comes out to about $50 per day.
Elevation – The majority of this trip is done in locations at high elevation, so if you are prone to headaches or are out of shape, you might notice this a lot more. It's a good idea to be conscious of drinking a lot of extra water or pack any altitude medication you might need.
Start In: Salt Lake City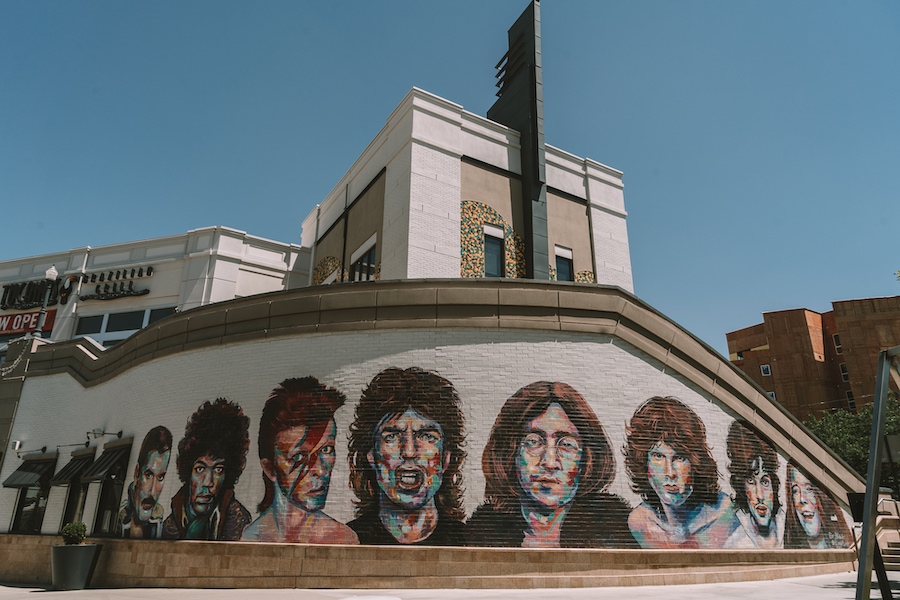 The two main cities that this itinerary hits are Salt Lake City and Denver, so you will want to fly (or drive) to either one to begin this trip. I loved starting the trip in Salt Lake City because it's less chaotic of a city than Denver and also has a giant Costco right in town that you can hit up for snacks and supplies after picking up your rental car.
Salt Lake City is pretty slow paced, so it's a nice way to start out the trip, but you can certainly begin and end in Denver if that's better for you.
If you plan on renting a car, I would book one as soon as you can as prices have been through the roof lately and vehicles have been booking up fast!
Need to rent a car?
Check prices from some of my favorite providers below:
Stop 1: Explore Salt Lake City (2 nights)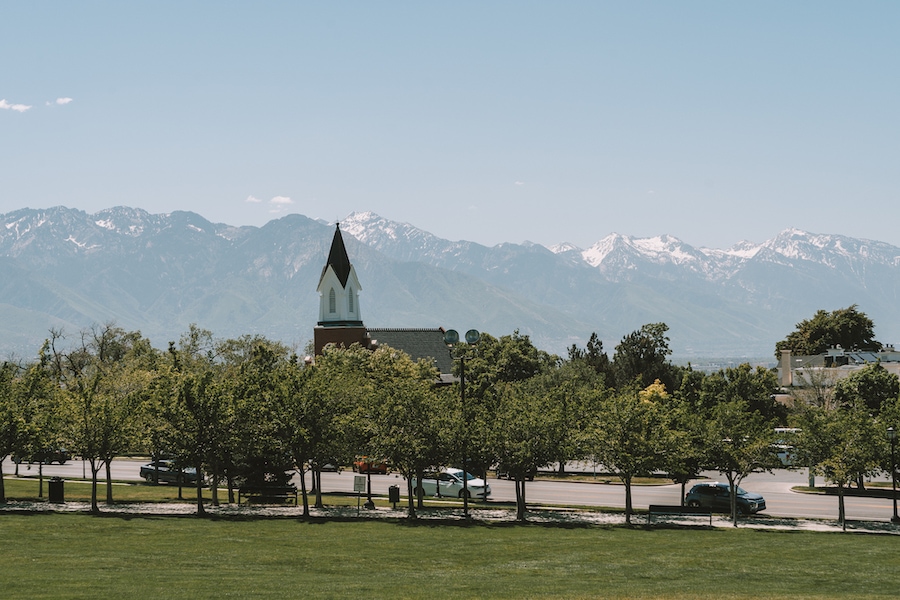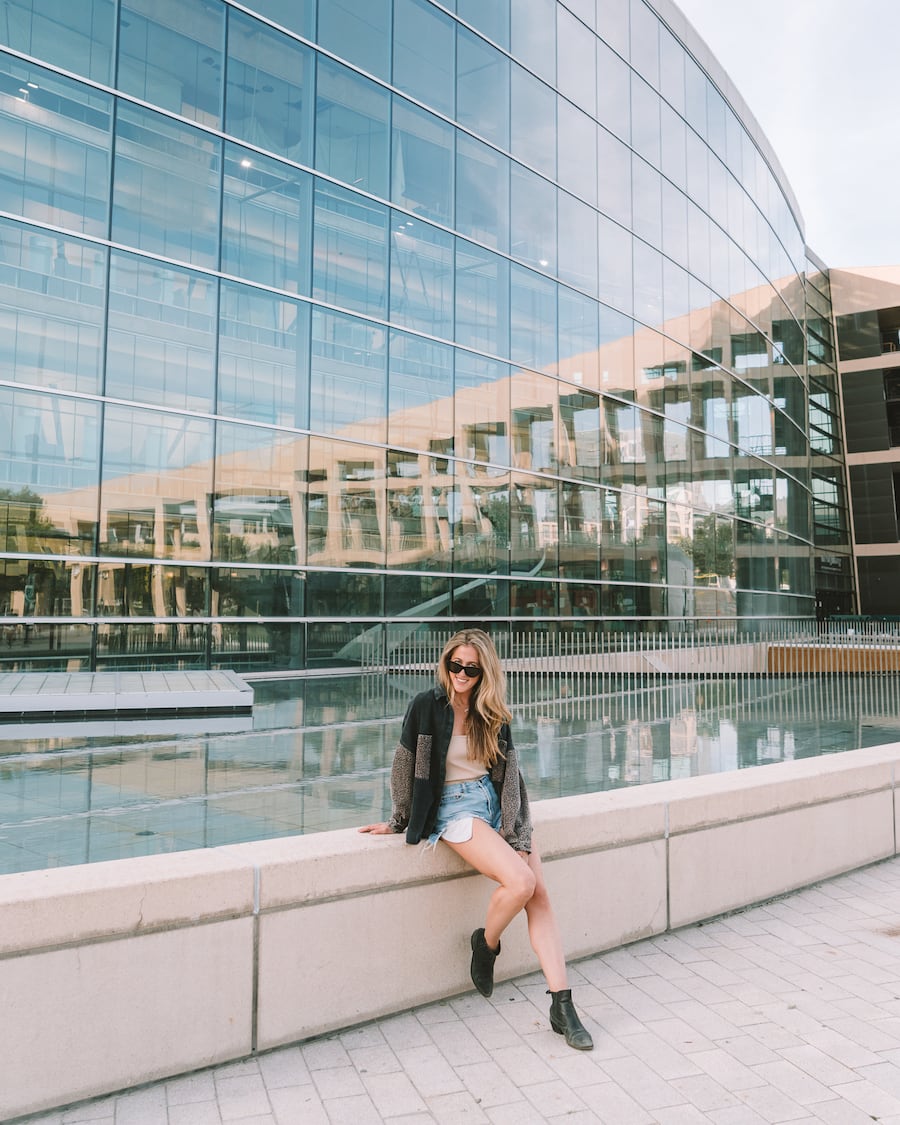 While many places on this itinerary are ones I have traveled to in the past, Salt Lake City was a completely new stop for me. I'll be honest—it was never a city that was high on my list, but I have to say it pleasantly surprised me.
A relatively small city with a population of 200,000, SLC feels super clean and calm compared to big cities I'm used to like Chicago, LA and New York, which makes it the ideal first stop on this itinerary to get acclimated to being in the car for awhile. Driving and parking around here is super simple, so you won't be dealing with crazy drivers or tons of traffic.
My favorite thing about Salt Lake City is the fact that it's located in a mountain valley; it has the same kind of scenic vibe as a quaint mountain town, but with skyscrapers and a lot more sprawl. Having a picture perfect mountain backdrop at every turn really gives the city so much charm.
Keep in mind that you're already at over 4,000 ft in elevation once you land in Salt Lake, so don't forget to drink plenty of water and pack some ibuprofen if you're prone to headaches.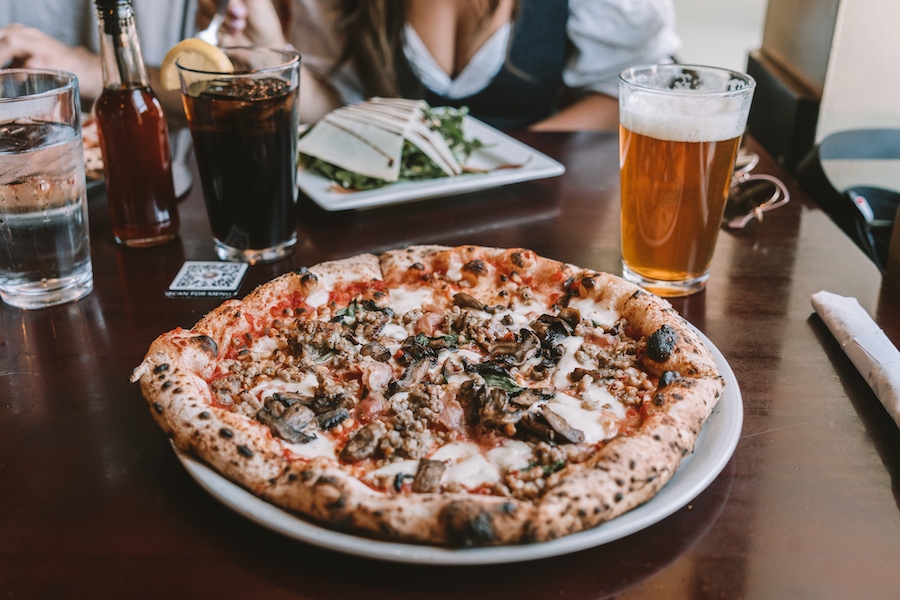 What to do in Salt Lake City
Stop into Settebello pizza for some of the best Napoli style pizza. In fact, they were one of the first pizzerias in the US to be officially certified by the VPN (Associazione Verace Pizza Napoletana).
If not for the books, visit the Salt Lake City Public Library for its stunning architecture. This is the perfect place for a casual stroll with a coffee in hand.
Grab a melt-in-your-mouth biscuit with a side of limeade at Biscuits and Limeade. We saw this spot on a ton of top foodie spots lists of SLC and it did not disappoint.
Take a day trip out of SLC to get your epic road trip photos on the sprawling Bonneville Salt Flats at sunset (it's 1.5 hours East of SLC, but SO worth it).
Peruse the iconic bookshelves at Ken Sander's Rare Books. This place is quirky and legendary in SLC and a must-visit for book lovers.
Fuel up with a coffee and pastry from the cutest little French bakery, Eva's Bakery.
Go on a mural scouting adventure through the city. For some of my favorites, visit the "Legends of Rock" mural at the Gateway Mall and "Belief in the Making" near Ken's Rare Books. This post by Wayfaring Views gives a great deep dive into all the best street art in SLC.
See some of the best views overlooking the city from the Natural History Museum.
Put your name in for dinner at the original Red Iguana—a Mexican food staple in SLC since 1985—and make sure to order up the mole.
You can probably skip:
Capitol Hill – Unless you're a huge history buff, than you can probably skip this stop in my personal opinion, but we did get some nice views from here.
Have more time?
Check out the Red Butte Garden for a scenic stroll located in the foothills of the Wasatch Range.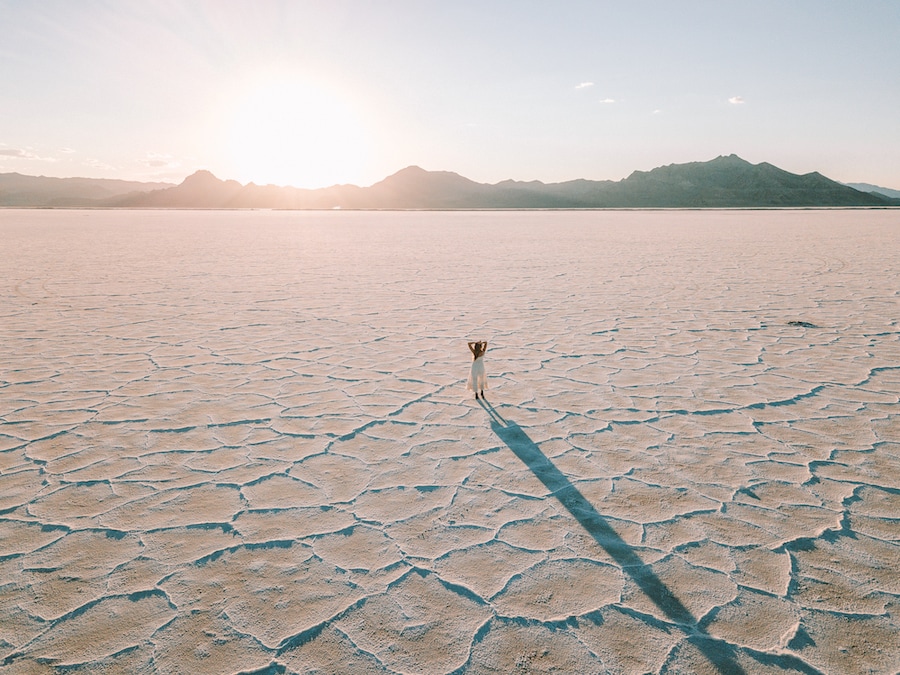 Where to Stay in Salt Lake City
AC Hotel – This Marriott property has a nice design and business hotel feel. The best part about staying here was the location. We could walk to a lot of great things in the city like Eva's Bakery and Settebello in no time.
The Kimpton Hotel Monaco – This is another nice option also located right in the heart of downtown SLC.
Stop 2: Moab (3 nights)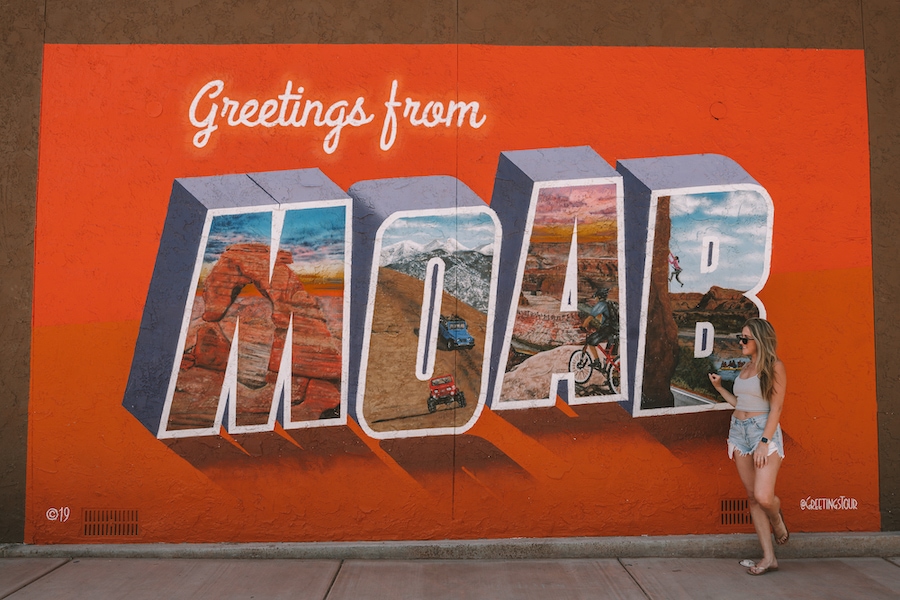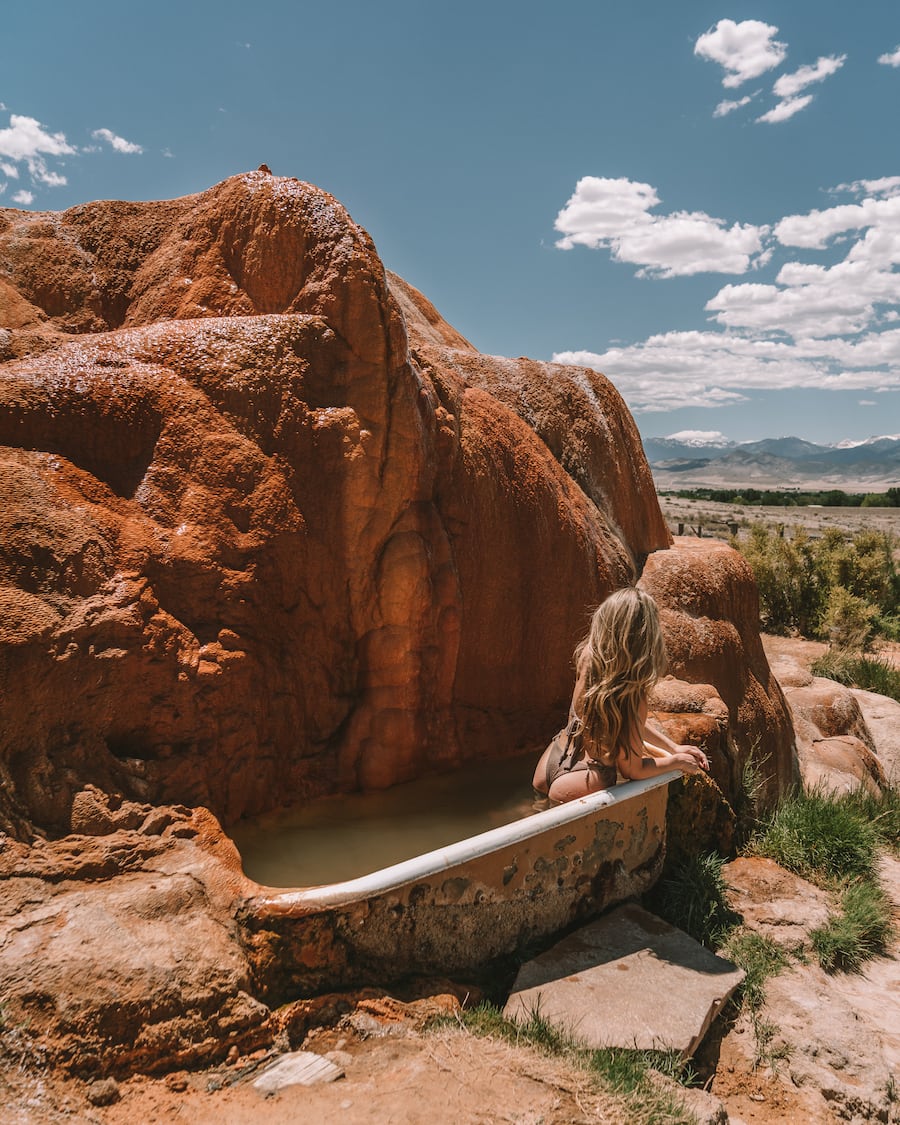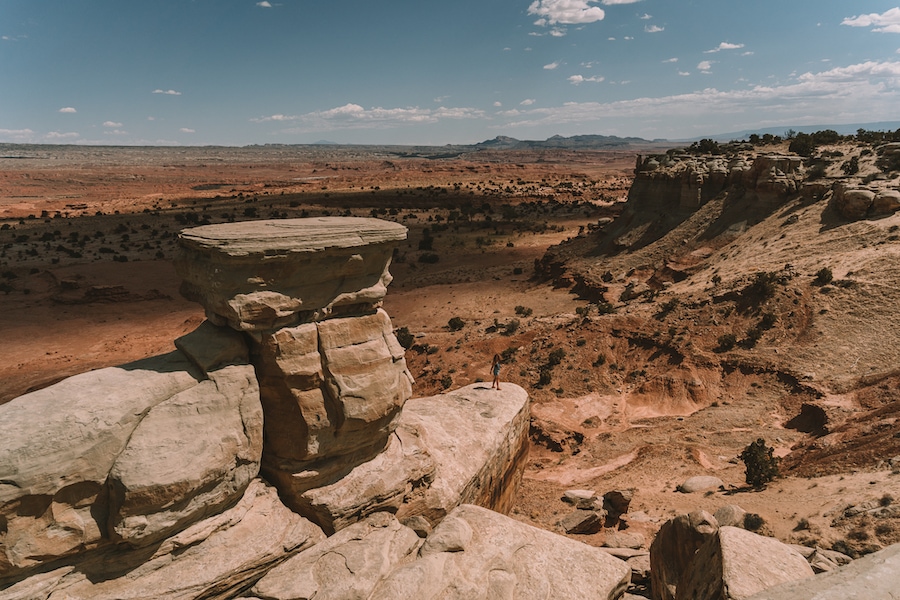 Once you depart Salt Lake City and make your way towards Eastern Utah, you'll be leaving city life behind for some of the most epic landscapes in the United States.
Utah is one of those places that is wild and absolutely jaw-dropping. If you've never been to Utah before, I guarantee you'll have your face glued to the window the entire drive. I wouldn't recommend napping during this portion of the car ride 😉
The coolest thing about Utah is how incredibly varied the landscape is. One hour you'll be hiking through epic sandstone arches and the next you'll find yourself peering out over a deep canyon as far as the eye can see. The best place to base yourself for all of it? Moab.
While the town of Moab itself is pretty tiny and is really situated around one main drag of restaurants and small shops, it's without a doubt the best place to base yourself when exploring some of Utah's most popular national parks. Arches National Park is the most popular and well-known near Moab, but Canyonlands is my personal favorite (think the Grand Canyon, but less touristy), so don't overlook this one.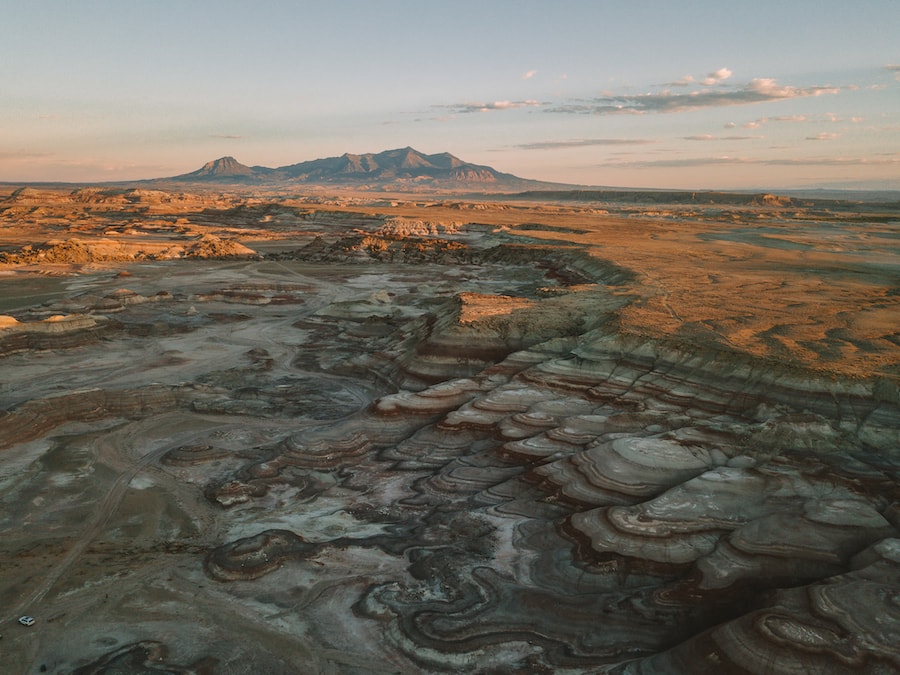 Below, you'll find a list of everything we did during our time in Moab, plus a few things you can't miss on the drive from Salt Lake City. Make sure to depart SLC early in the morning to give yourself time to stop at a few of these epic locations because it's a long driving day.
Getting from SLC to Moab (Driving time: 7.5 hours):
You could drive the straight shot from Salt Lake to Moab in a little under 4 hours, but we chose to drive the long way in order to hit a few bucket list locations along the way. In total the driving time for this day was 7.5 hours—it's a lot, but so worth it!
As you can see from the map, we drove straight south from SLC to Mystic Hot Springs, then cut over on Highway 24 towards Mars Desert Research Station. We actually hit Goblin Valley first and then backtracked a bit to go to the Mars Desert Research Station for sunset light, but if you don't care about photography this is unnecessary. Then we connected back up to the 70 freeway to finish the trip to Moab.
Stops to Make on the Way to Moab:
Make a reservation at the quirky Mystic Hot Springs for a soak in one of their many open-air tubs.
Do a roadside detour to Salt Wash, for a first taste of Utah's epic landscapes.
Spend a few hours exploring the unique sandstone hoodoos of Goblin Valley State Park.
Go off the beaten path at the Mars Desert Research Station in Hanksville, Utah.
What to do in Moab
Spend a day in awe of the natural arch formations in Arches National Park – Hike the Delicate Arch Trail at sunrise to beat the crowds, then pop over to Sand Dune Arch and Park Avenue.
Grab a bite at Moab's Food Truck Park (our favorite were the acai bowls at Rainbowls).
Take an off-the-beaten-path adventure to the Potash Ponds (keep in mind it's highly recommended to have a 4wd vehicle if you want to come here).

Eat the most delicious beef cheesesteak of your life and wash it down with a hard kombucha at

98 Center

(seriously—don't miss this one).

Spend some time mid-day cooling down by the pool (if you're visiting in summer, I highly recommend booking a hotel with a pool as temperatures can be over 100 degrees).
Explore Canyonlands National Park for the day. Some must-see spots are: the Green River Overlook, Murphy Point Trail, and Mesa Arch.
Treat yourself to a donut at Doughbird right in downtown Moab.
Eat giant burritos at Moab Garage Co.
If you have more time:
Spend more time in Arches National Park exploring these other highlights: The Windows Section, Balanced Rock, Landscape Arch and Double Arch.
Cool down from the heat with a pint at Moab Brewery (we missed this spot on my most recent trip, but I've been on a past trip and it's an absolute must for a local vibe).
With a similar vibe to Canyonlands, Dead Horse Point State Park is close by and another place to catch a beautiful sunset over the canyon.
Capitol Reef National Park is 2 hours from Moab, but you could technically squeeze it in on the way in from Salt Lake City instead of visiting Mystic Hot Springs, Goblin Valley or the Mars Desert Research Station.
Book a fancy(ish) dinner at Desert Bistro to cap off your stay in Moab. I went here on my first trip and while I felt like it was slightly overpriced, it's one of the only fine dining restaurant options in town. FYI, they are closed on Tuesdays.
Do a pit stop at the Moab Rock Shop—if you're traveling with kids, a visit to this quirky store is a must. Here you'll finds all kinds of gems and fossils to admire.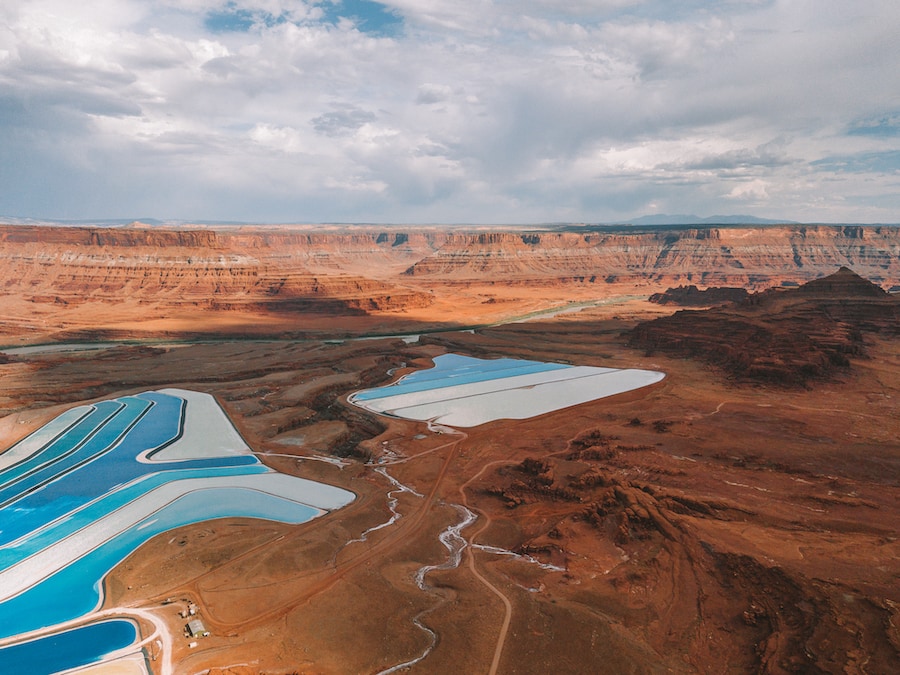 Where to Stay in Moab
Element Moab – We stayed at this Marriott property which was super convenient for easy access to all the parks, plus they had a pool which was a huge plus for cooling off in the scorching mid-day heat.
Under Canvas Moab – I stayed here during my first visit to Moab. If you want the super romantic and photogenic glamping vibe for your stay, you'll love this place. However, keep in mind it's not going to be as comfortable of a stay in the hot summer temps. I would definitely go back here if I was visiting in spring or fall.
Stop 3: Aspen (2 nights)
Known as an affluent ski resort town where celebrities go out to play in winter, Aspen is quite a different vibe from Moab. It still has a small town feel, but you'll notice that the no-frills eateries and crystal shops you find it Moab are replaced with designer boutiques, high-end coffee houses and a contemporary art museum that you'd find in the pages of an architecture magazine.
Aspen was a quick 2 night stop for us, but the highlight was taking the shuttle up to Maroon Bells to hike the trails surrounding the Elk Mountain range. The scenery is gorgeous and a great change of pace to breathe in the mountain air after spending time in the blistering Utah heat.
Getting From Moab to Aspen (Driving time: 4 hrs 41 mins):
The way from Moab to Aspen is pretty straight forward following Google Maps, starting out on US-191, taking that to 1-70 East and then continuing onto the CO-82 E toward Aspen.
Stops to Make on the Way to Aspen:
If you want to witness the ultimate pot of gold of bizarre places in Utah (and grab some delicious jerky for the road while you're at it), stop at Papa Joe's Gas and Go (as it's labeled on Google Maps), however the sign out front says Jackass Joe's UFO Jerky. This place is quite a scene. Here's the thing though: you DO NOT want to get gas here. It's ridiculously overpriced. Instead, use it as an entertaining bathroom stop and maybe pick up some jerky if you feel so inclined.
Do a quick pull-off at the Utah sign for a classic Instagram pic.
Spend an hour or two exploring the lush and picturesque Rifle Falls State Park, where the crown jewel is a 70-ft triple waterfall that can be taken in from various viewing platforms.
What to do in Aspen
Take the shuttle up to Maroon Bells hiking area for a good sweat sesh and scenic views of the Elk Mountain range (ps – make sure to book reservations here).
Stop by Local Coffee House for a latte and forbidden rice porridge with a side of buttermilk biscuits.
Stroll the streets of downtown Aspen and pop into any boutiques or stores that catch your eye—but be prepared for some hefty pricetags.
Hit up the W Hotel's rooftop pool and bar scene at the Wet Deck, which is open to guests and the public from 11AM daily.
Dine at the W Hotel's Living Room restaurant (the truffle ricotta gnocchi is a must).
Pop into the Aspen Art Museum for a selection of innovative and immersive contemporary art exhibitions.
If you have more time:
Relax after a day of hiking at the Aspen Brewing Company, known for their award-winning craft beer.
Explore the historic Wheeler Opera House, built in the lat 1800s
Pay your respects to John Denver with a picnic or meditation session at the relaxing John Denver Sanctuary
Make sure to check Aspen's event calendar to see if your trip overlaps with some of the town's annual festivals like the Food & Wine Classic and Jazz Aspen Snowmass.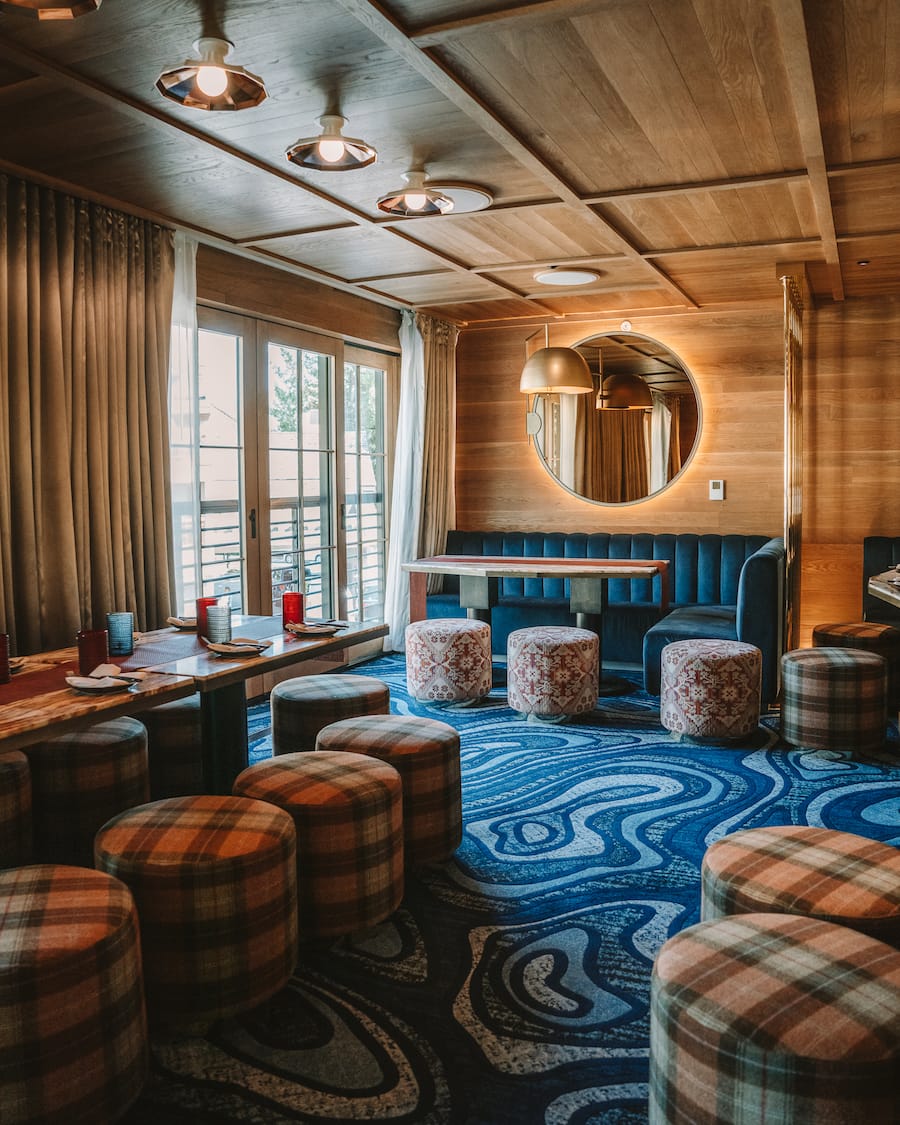 Where to Stay in Aspen
W Aspen – This is where we stayed for the trip. If you like bold design and fun party vibes with a beautiful view, the W is a great choice.
The Little Nell – For the ultimate luxury 5-Star experience, The Little Nell is a no-brainer.
Hotel Durant – For something a bit more budget friendly (which is hard to come by in Aspen), check out this highly reviewed hotel, located a half mile from the city center.
Stop 4: Denver (2 nights)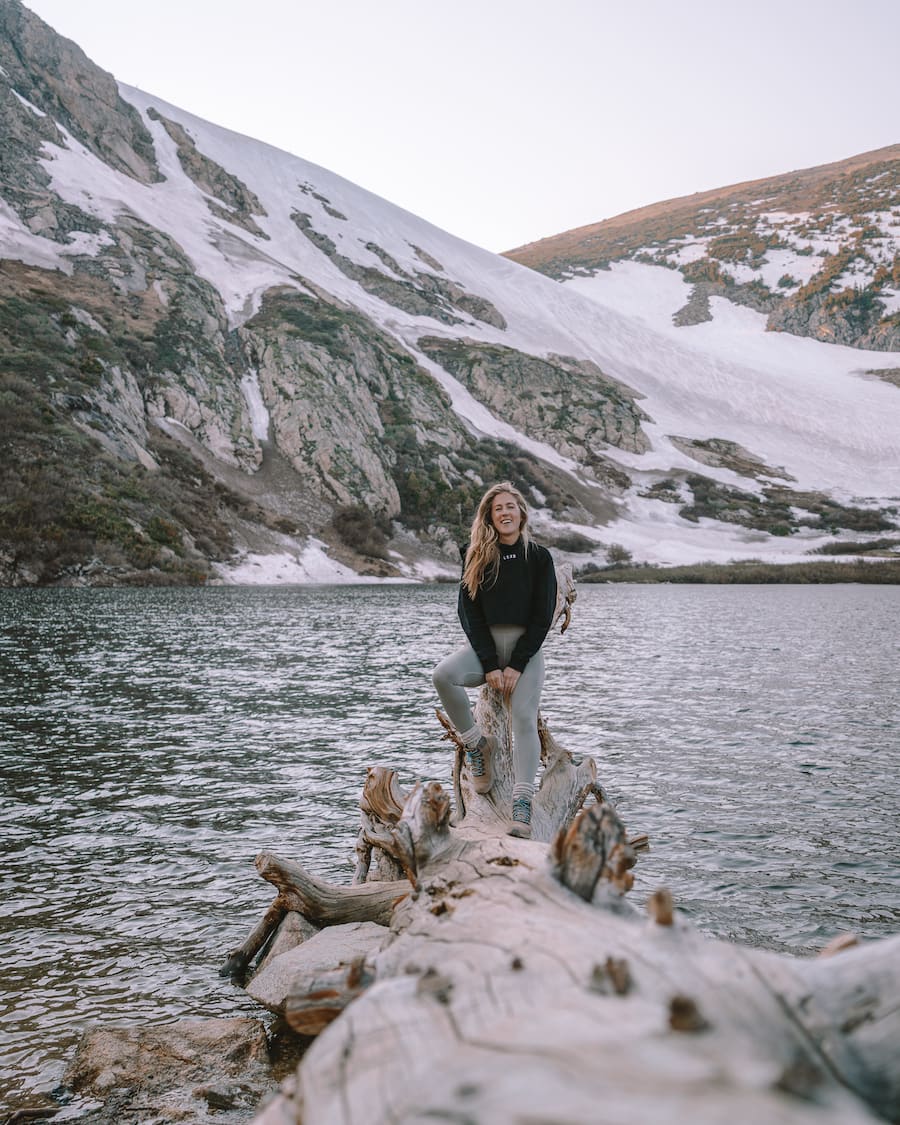 After departing Aspen, our next stop on the list was Denver, which is a city I've briefly visited several times before. We accessed the city by the famous Independence Pass, which is highly recommended if you have the time.
Every time I travel to Denver, I'm always struck by how fun of a city it is. There are tons of awesome restaurants and bars, the brewery scene is booming, and there's so much to do no matter what kind of activities you're into. We tried to get a nice overview of the city during our brief time here and feel like we accomplished quite a bit!
Getting From Aspen to Denver (Driving time: 4 hrs):
In the late spring through summer months, you'll want to take Independence Pass from Aspen to Denver; it's considered one of the most scenic byways in America. The total driving time is right around 4 hours, but we gave ourselves the entire day to casually make the drive with plenty of stops along the way.
Stops to Make on the Way to Denver:
Stop right outside Aspen at Grottos Trail to explore some hidden ice caves (yes, even in summer)!
Take Independence Pass and stop at the Continental Divide for some of the most scenic mountain views (keep in mind the road is closed for winter Oct-May).

Grab lunch in a former silver mining town,

Leadville

, which used to be the second most populous city in Colorado (it's now about 3,000 people). We enjoyed the pizza and outdoor backyard ambiance at

High Mountain Pies

.

For an easy sunset hike before you hit Denver, stop at St. Mary's Glacier, which is a 2.4 mile busy out and back trail with alpine lake views. The trail can be a little tricky to follow as there are a lot of split-off trails, so I'd recommend downloading the trail map from Alltrails offline before you begin.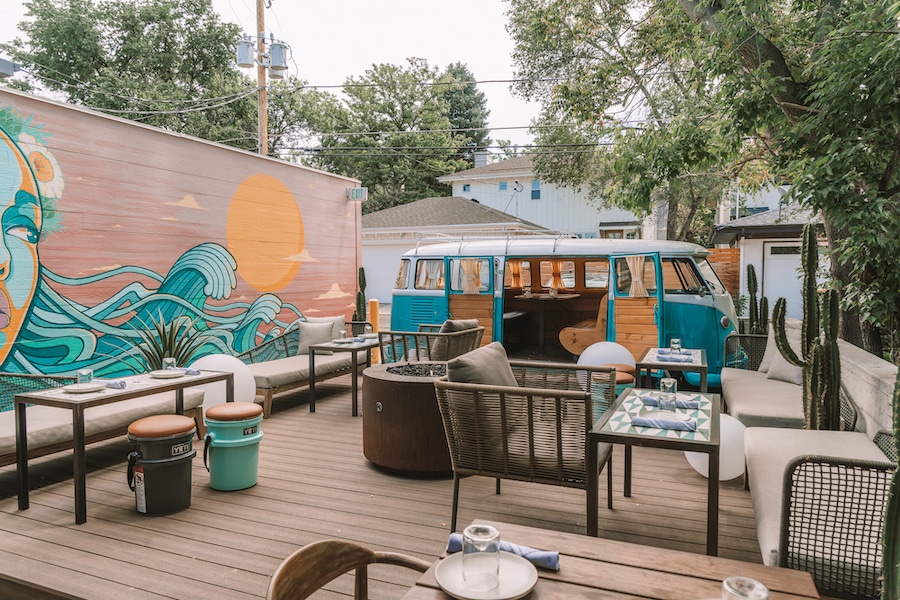 What to do in Denver:
Check out the modern architecture (by architect Daniel Libeskind) and exhibitions at Denver Art Museum.
Travel back in time at the city's 100-year-old Union Station and grab a drink upstairs in the glamorous Cooper Lounge.
Then pop across the street from Union Station for a coffee or cocktail at the beautifully-designed coffee and spirits bar, The Wild.
Spend a relaxing morning exploring the wide variety of gardens at the Denver Botanical Garden.
Head to the industrial RiNo Art District where you'll find tons of cool street murals, a million breweries and the Denver Central Market for a selection of fun eateries.
In RiNo, head to First Draft, a brewery where you can pour your own beer and get charged by the ounce—meaning, you can try out a bunch of different beers without committing to a full pint!
Get out of the main city center and head to Wash Park for a yummy Mexican-inspired lunch at Perdida, where you can dine inside a vintage VW van.
Sip on artisanal cocktails at globally renowned craft cocktail bar, Death & Co, which recently opened its second outpost in Denver inside the Ramble Hotel.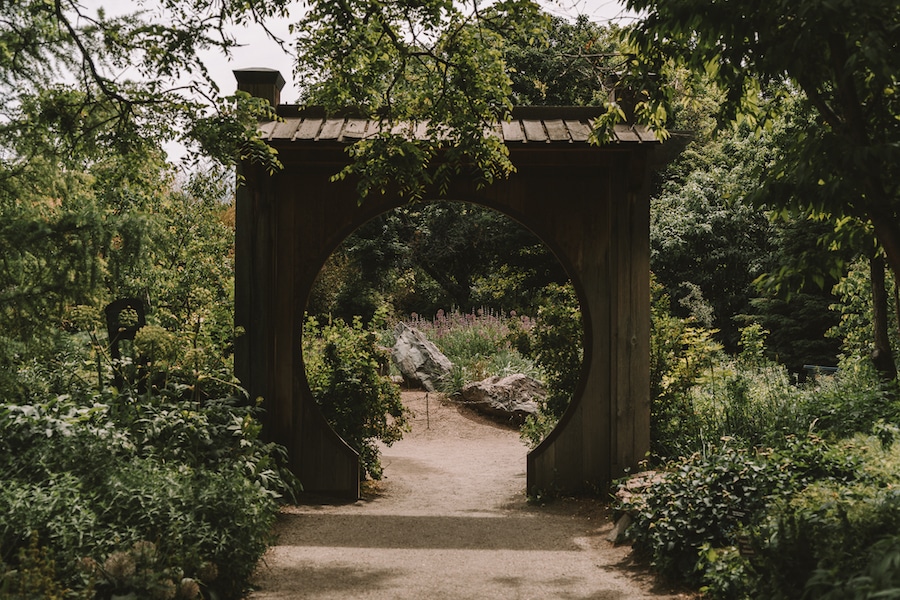 You can probably skip:
The 16th Street Mall – This is a mile-long pedestrian-friendly thoroughfare with free trolleys traveling up and down it throughout the day. While you could certainly walk it or take the shuttle along it, I found the mall to have a lot of big chain restaurants and shops and didn't find it all that charming.
If you have more time:
I'm sad we missed this one, but Larimar Square is said to be one of the most charming areas of Denver, coming alive at night with outdoor dining and beautiful string lights. Definitely come here at happy hour into evening for the full ambiance.
Grab tickets for a show at Red Rocks Ampitheatre– this has been on my bucket list for SO long, but the timing never seems to work out. If you can, I'd highly recommend checking their concert schedule before your trip to Denver for the most iconic outdoor concert experience.
Do a day trip to the college town of Boulder, which is just 30 minutes outside Denver and known for its beautiful scenery, hippie-ish vibe and award-winning breweries.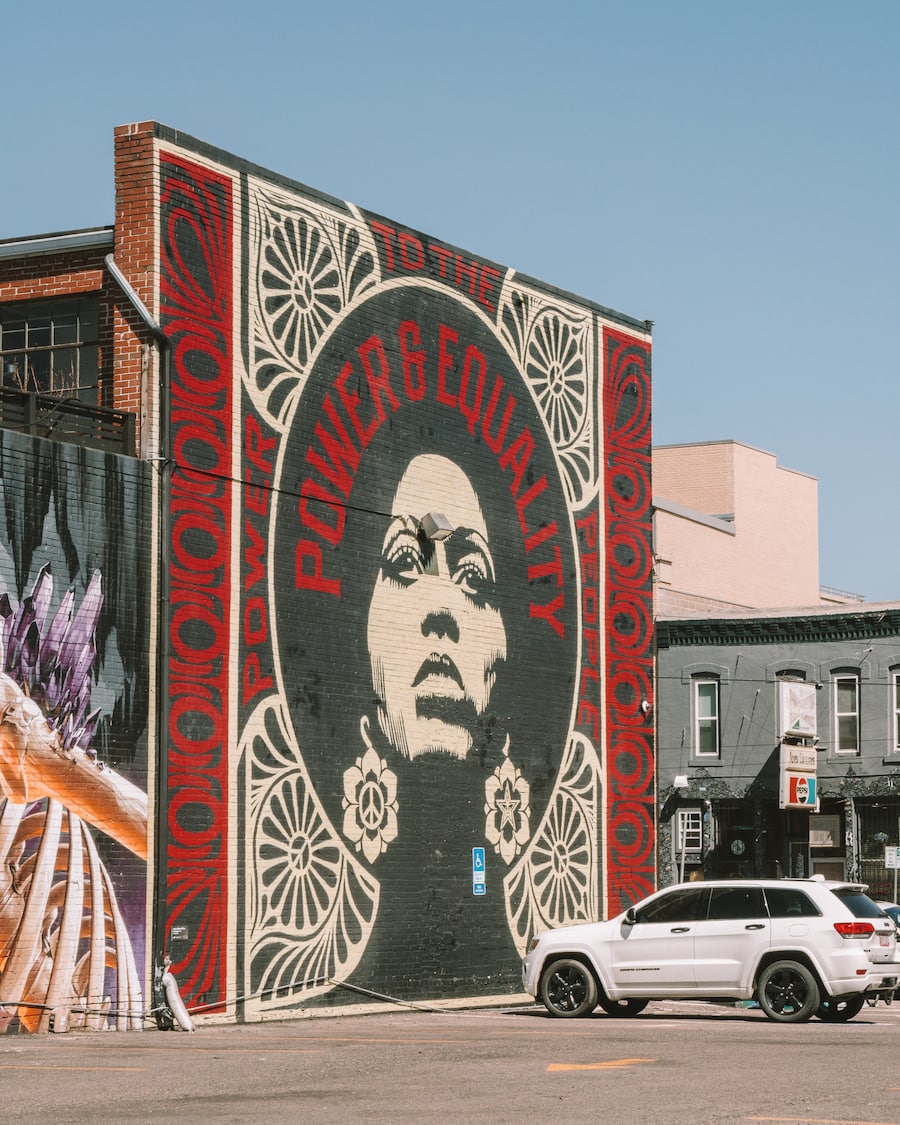 Where to Stay in Denver:
Sheraton Denver Downtown – In keeping with our Marriott properties throughout the trip, we stayed at the Sheraton in downtown. The hotel was well-designed and very clean, but I didn't love the location or the super business hotel feel. Next time, I would book something in Larimar or RiNo.
Ramble Hotel – This was the first hotel to open in the trendy River North district and takes on a beautiful vintage feel, despite its new roots in the city. For design-savvy boutique hotel lovers, you'll go gaga over this place. But the best part is that famed cocktail bar Death & Co is only as far as the lobby.
Stop 5: Caspar, Wyoming (1 night)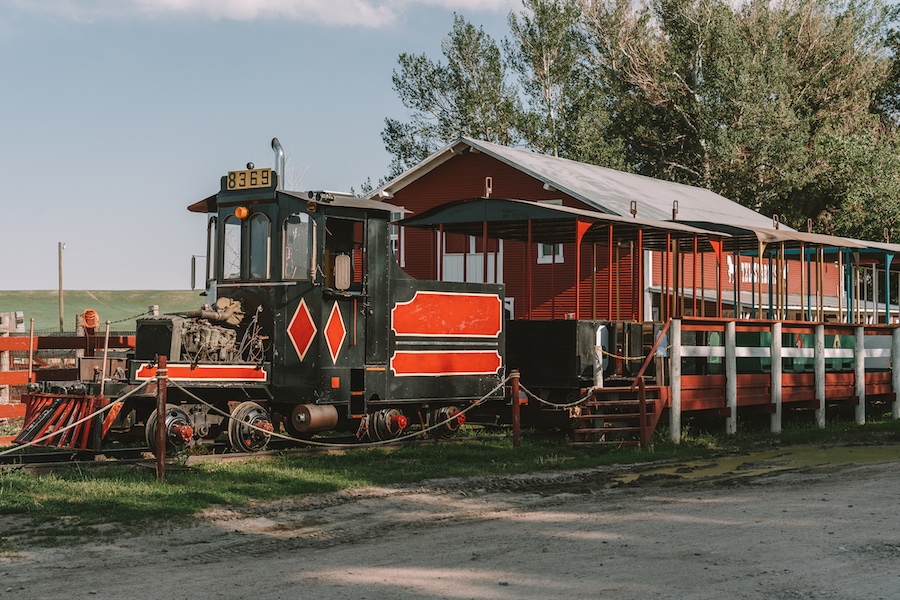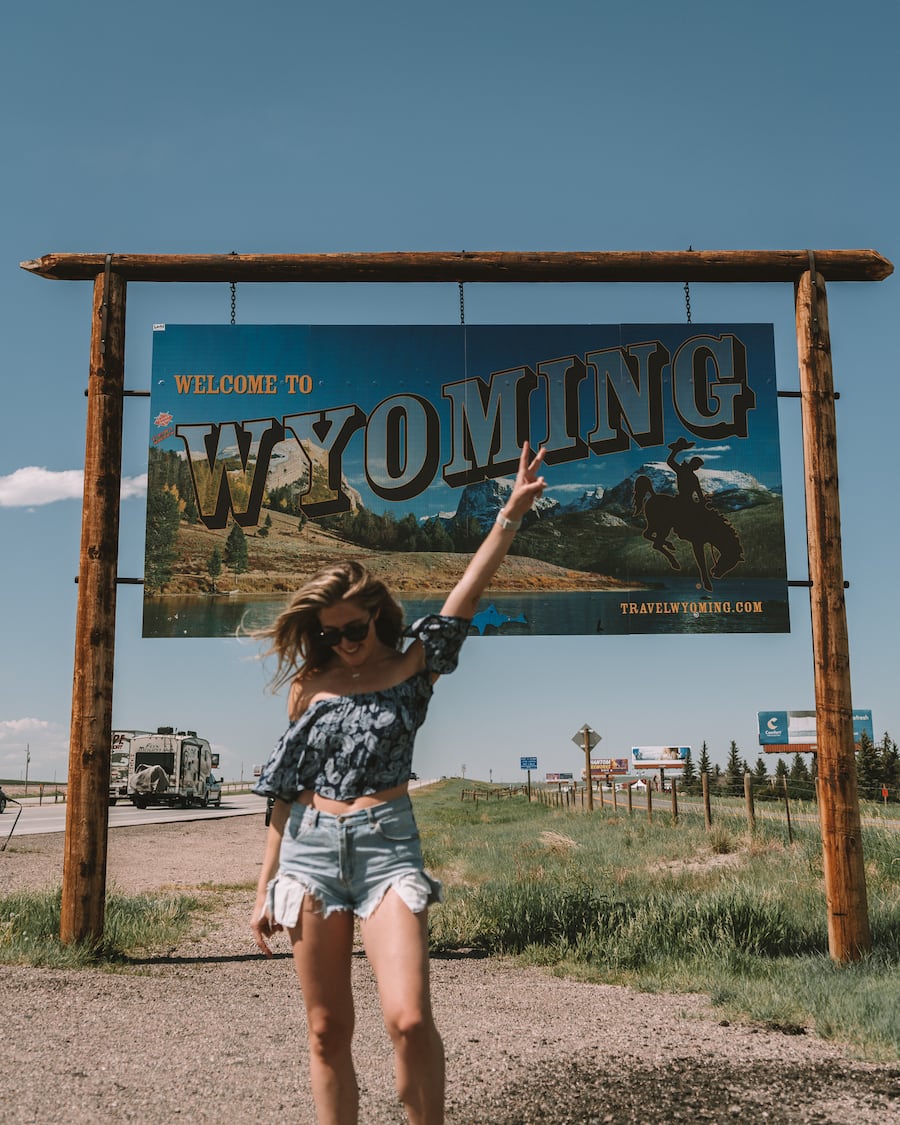 After our time in Denver, it was time to head into Wyoming to finish out the third leg of the trip. As a note before you leave Denver, this is good time to restock on road trip snacks or anything you might need for the car as things can be a bit harder to come by easily in Wyoming.
We made sure to pick up bear spray at the Costco outside of Denver as well since we knew we might have a bear encounter in Yellowstone or Grand Teton (which sadly did not happen).
Caspar definitely wasn't one of the most memorable stops on this road trip, but it's a helpful one to break up the trip and will give you more of a taste of Wyoming outside of Yellowstone and Grand Teton. The most hilarious and fun thing we did between Denver and Caspar was without at doubt Terry's Bison Ranch in Cheyenne. If you've ever dreamt of hand-feeding bison or just getting up close and personal with them (like, very up close and personal) then you need to come here.
Getting from Denver to Caspar, Wyoming (Driving time: 4 hrs):
Getting to Caspar from Denver takes about 4 hours and is a pretty straight shot up the 1-25 N freeway. This driving day was pretty light on stops, but if you plan on visiting Terry's Bison Ranch, you'll want to check train times to make sure you arrive in time for the last ride.
Stops to Make on the Way to Caspar:
Have a one-of-a-kind opportunity to hand-feed bison on the Bison Train at Terry's Bison Ranch.
Stop for photos at the Wyoming sign (this is one of the most photogenic state signs on the trip in my opinion).
What to do in Caspar:
For the ultimate indulgent classic American breakfast head to Eggington's. The menu is extensive to the point of overwhelming, but if you want me to make it easy for you, just order the breakfast tamales and pecan French Toast. Trust me, you'll thank me later.
Stroll down to the Lou Taubert Ranch Outfitters to stock up on any western supplies you might need for the remainder of the road trip. Think endless shelves of cowboy hats and boots, leather belts, and much, much more.
If you have more time:
If you're looking for more outdoor adventure, head to

Fremont Canyon

where visitors can go kayaking, fly fishing, climbing or just take in the pretty canyon views.
Where to stay in Caspar:
Residence Inn, Marriott – All of the hotels you'll find in Caspar are going to be pretty basic hotel chains. We stayed at the Residence Inn by Marriott which is one of the most highly rated hotels in the area and even had an indoor pool and gym. You can find cheaper options in Caspar, but if you are a Marriott Bonvoy member, this one is the way to go.
Stop 6: Yellowstone National Park (2 nights)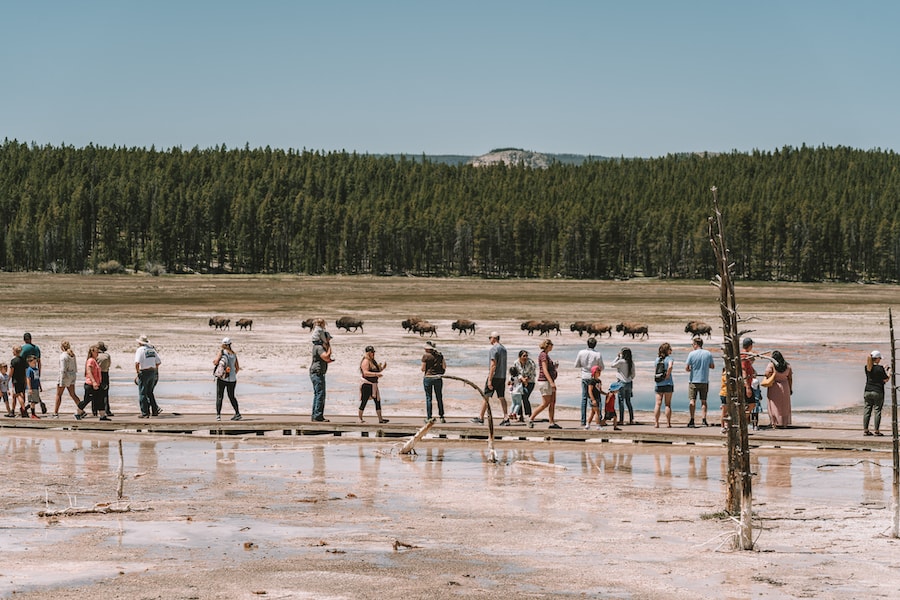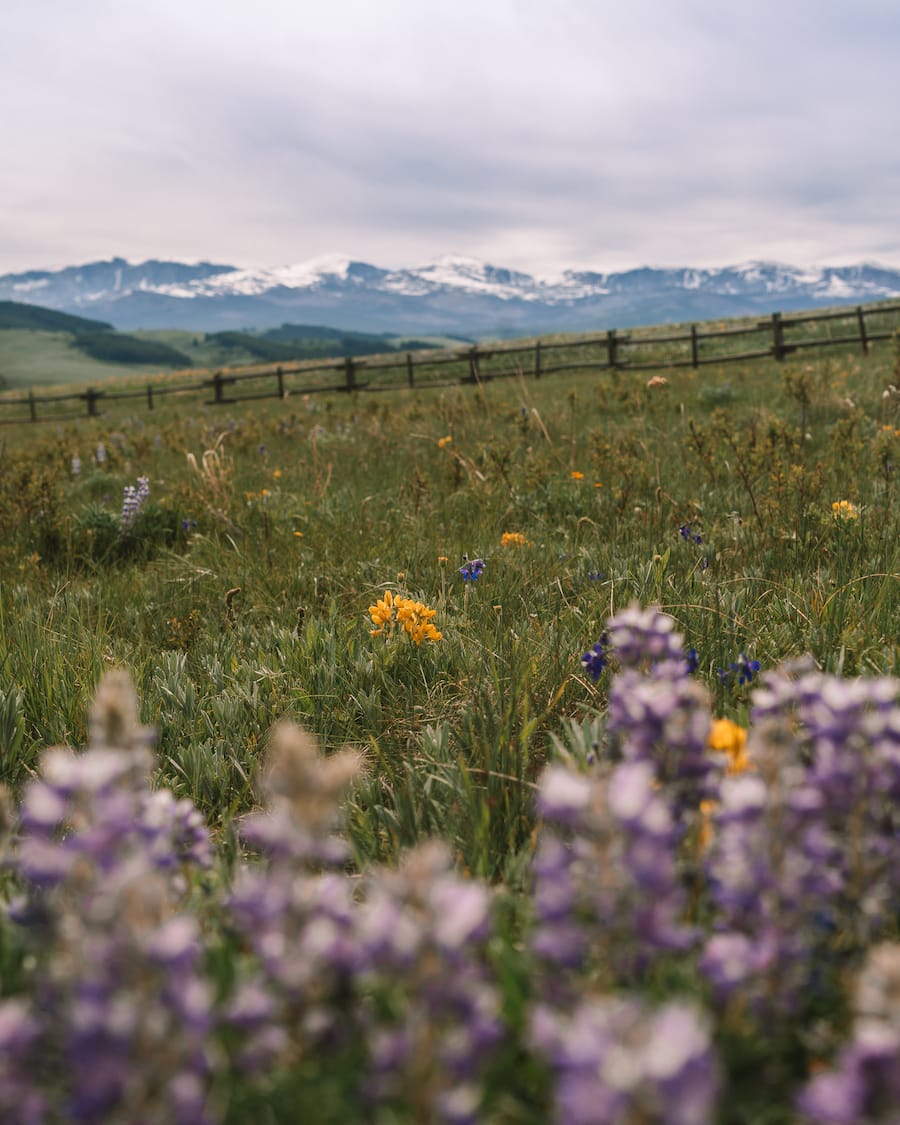 One thing I love about this Salt Lake City to Yellowstone road trip itinerary is that it ends on such a high note. While I love Colorado and Utah, the scenery in Yellowstone and Grand Teton National Parks just can't be beat. It's so freaking gorgeous and offers so much variety in what you can explore.
If you're going to extend your time in any of the stops along the way, I would do so in Wyoming where you'll want to take on a slower pace. Something about the mountain scenery just does that to me.
You could easily add a third night to the Yellowstone portion of the itinerary as there's just so much to see in this massive park—and same goes for Grand Teton and Jackson, which technically you could separate out into two mini sections of their own. I definitely felt like we were rushed at the end of this trip and wish we could have chilled out a bit more!
Getting from Caspar, Wyoming to Livingston, Montana (Driving time: 7 hrs):
This is where the itinerary gets a little tricky because there are a lot of very different options of where you could base yourself near Yellowstone, and where you choose to do so is going to determine where you drive to this day.
We personally decided to base ourselves in Livingston, Montana while exploring Yellowstone for a couple reasons. 1) Because there was a Marriott property there and as I mentioned earlier in the post we were only staying at Marriott properties for this trip because of my friend's work project. #2) Livingston is north of Yellowstone, so it allowed us to explore the northern tip of the park and then hit the more southern spots on our driving day down to Jackson, Wyoming.
If you choose to overnight somewhere else in Yellowstone, you'll have to adjust this section, but I think Livingston is a nice option if you don't want to camp inside the park or splurge on one of the hotels within Yellowstone itself (they are limited and book up very far in advance too).
Regardless, this will be one of the longest driving days of the trip. If you stick to our itinerary and stay in Livingston, it will be approximately 7 hours. It is possible to do a more direct route and shave off an hour, but off of a local recommendation we decided to take the more scenic route, driving through the Big Horn National Forest and stopping at Ten Sleep Brewing Co along the way for a break.
Stops to Make on the Way to Yellowstone:
Stop in the historic town of Buffalo, Wyoming located in the foothills of the Big Horn Mountains.
Take the scenic route along the US-16 W through the Big Horn National Forest.
Make a pit stop at Ten Sleep Brewing Co to stretch your legs, grab a beer in the tap room and fuel up on a fry bread at the on-site taco truck.
What to do in Yellowstone:
Take in the technicolor views of Grand Prismatic Spring and don't miss a more aerial view by heading to the Grand Prismatic Spring Overlook, accessed by the Fairy Falls trailhead.
Walk the boardwalk to explore the travertine terraces of Mammoth Hot Springs.
Drive through Lamar Valley for some of the best wildlife spottings in Yellowstone.
Head to the Grand Canyon of the Yellowstone's Artist's Point for a stunning waterfall viewpoint.
Grab lunch at the Roosevelt Lodge, where you can order bison tamales (so good!) and enjoy a beer before your next adventure.
Stroll the .6 mile loop of Porcelain Basin in the Norris Geyser Basin—one of the most unique geothermal areas in the national park.
Old Faithful – We actually didn't do this on our most recent trip (I visited on my first trip to Yellowstone), but you can't go to Yellowstone for the first time and not see the park's most iconic feature.
If you have more time:
Explore more of the Grand Canyon of the Yellowstone – there are so many viewpoints and hiking trails in this section of Yellowstone that you could spend a whole day here. If you have more time, add Inspiration Point, Lower Falls and Uncle Tom's Trail to the list.
Visit Boiling River, one of the only hot springs you can actually swim in in Yellowstone (note: I visited here on my first trip to Yellowstone but it was closed this time around due to Covid. Make sure to check closures on the park website before attempting to visit and carefully read all signage as some areas are not safe to swim).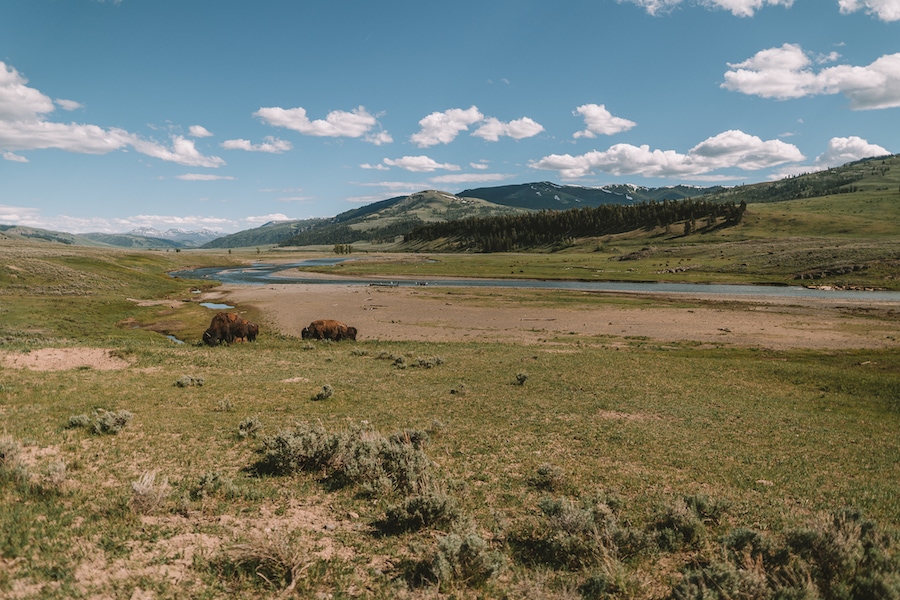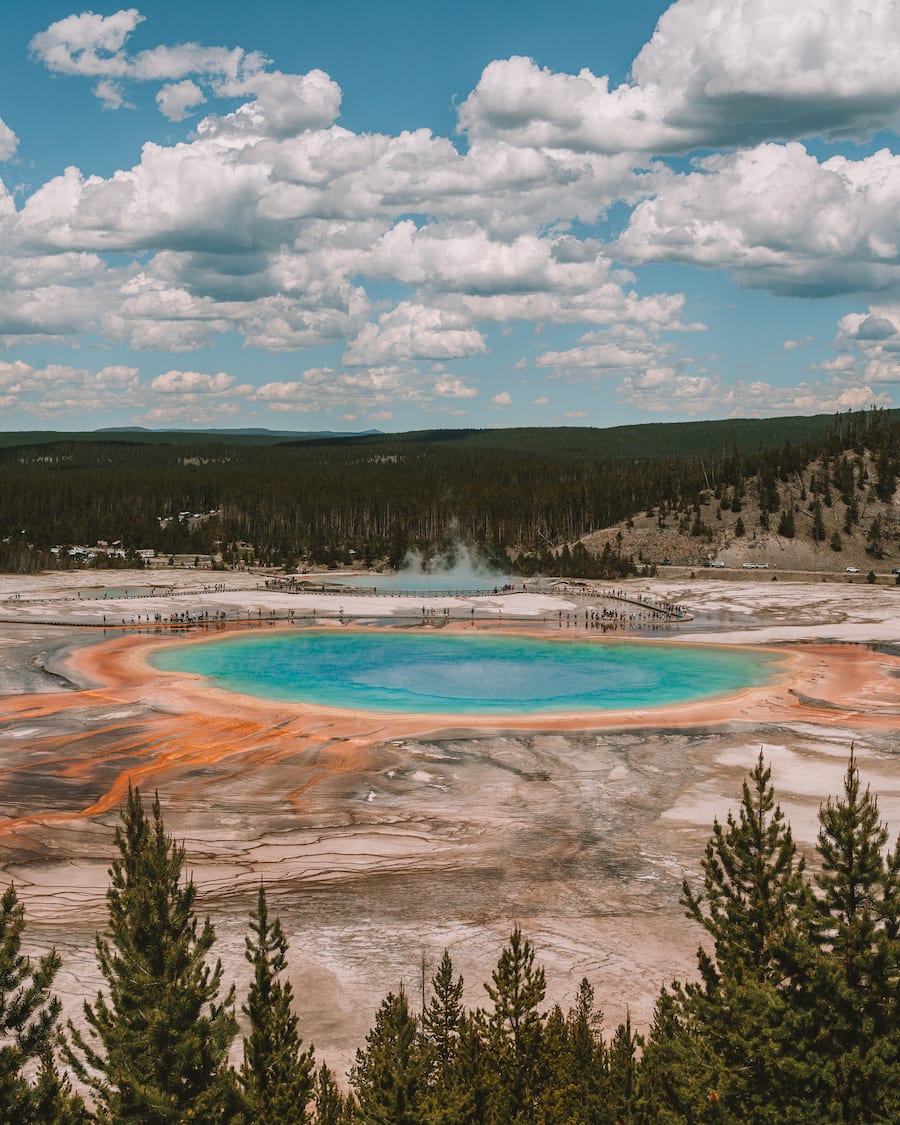 Where to stay in Yellowstone:
Fairfield Inn & Suites in Livingston, MT – This is the Marriott property we stayed at while in Montana which was great and offered complimentary breakfast each morning—so helpful in helping us getting our mornings started earlier. Honestly, so little of your time is going to be spent in your hotel while at Yellowstone that I wouldn't worry too much about picking the perfect hotel. Find something in your budget that's close enough to where you want to be. This hotel worked great for us.
Old Faithful Inn – If you want the iconic Yellowstone experience and would prefer to stay inside the park for the utmost convenience, book a room as early as possible at the Old Faithful Inn.
Stop 7: Grand Teton National Park/Jackson, Wyoming (2 nights)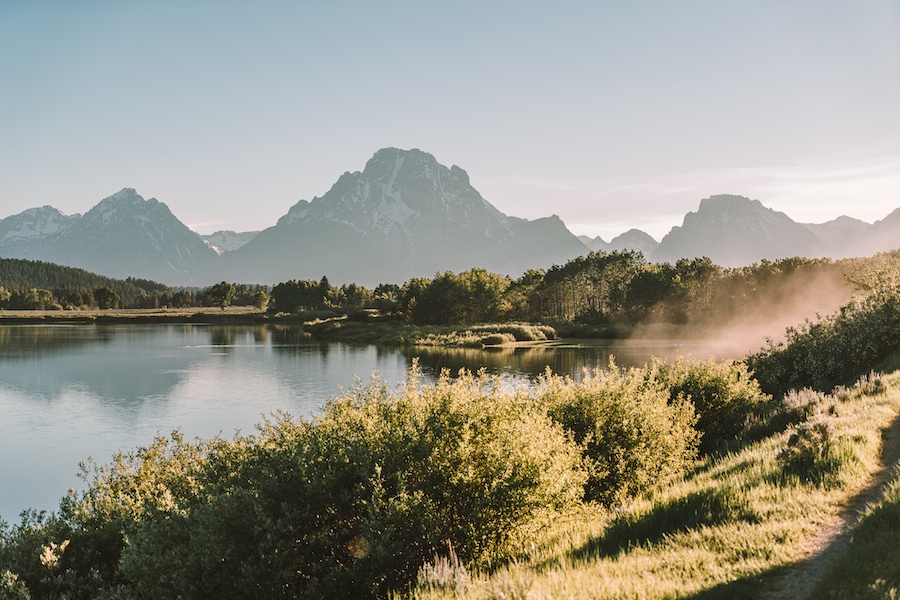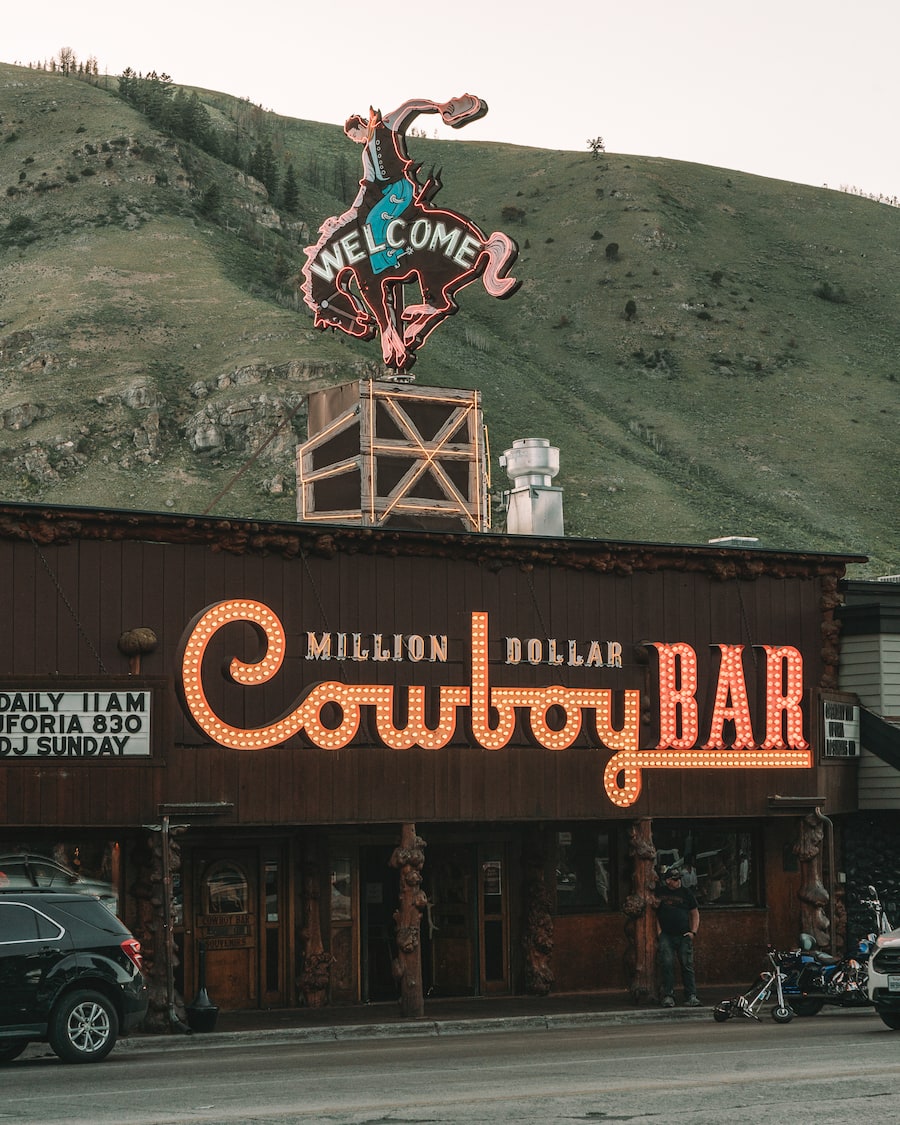 Ah, Grand Teton National Park. Probably my favorite national park of all time, solely for its sheer beauty. Every turn is like a picture perfect postcard. Plus, as far as old west towns go, they don't get much better than Jackson, Wyoming, which is where most people base themselves when exploring this region.
Getting From Yellowstone to Grand Teton/Jackson (Driving time: 4.5-5 hrs):
This is a pretty straight shot south from Livingston, Montana down to Jackson, WY which on Google Maps should theoretically take about 4.5 hours, but you're bound to hit a bit of traffic driving through the southern portion of Yellowstone (especially if you're traveling in summer).
We chose to save some of the more southern sites in Yellowstone for this day so we could hit them on our way out of the park and reduce our backtracking time on the previous days. The Upper Geyser Basin (where Old Faithful resides) and Grand Prismatic Spring are good sites to catch on our drive out of the park as they're some of the most southern attractions in Yellowstone.
Stops to Make on Your Way to Grand Teton:
Stop in any last places you missed in Yellowstone on your way through the park to Grand Teton.
Stretch your legs at the Jackson Lake Overlook, a gorgeous easy pull-off with postcard worthy views of the Tetons.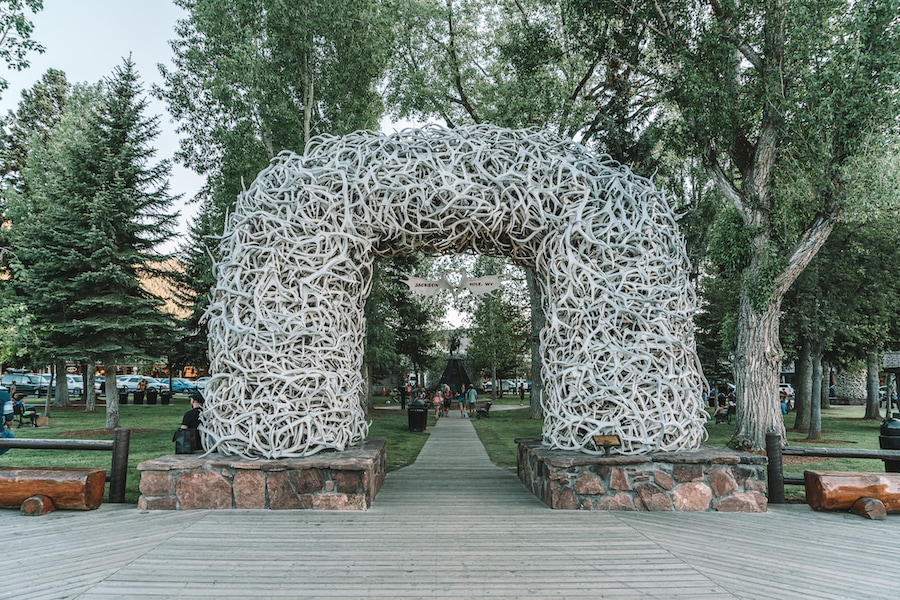 What to do in Grand Teton National Park and Jackson:
Get a real workout in on the 8 mile Delta Lake Hike which rewards you with epic alpine lake views.
Catch sunrise or sunset at the beautiful Oxbow Bend (but don't forget the mosquito repellant)!
Snap a pic at one of the most scenic barns in the world at the Mormon Row Historic District.
Treat yourself to some fine dining to cap off the trip at Snake River Grill in Jackson. For a sinful treat, make sure to order up the branding iron of green chile onion rings.
You simply can't visit Jackson without stepping foot into the Million Dollar Cowboy Bar, "Wyoming's landmark watering hole." Grab a saddle (yes, the bar seats are literally saddles) and order up a drink at this iconic establishment since 1937.
Hit up everyone's favorite breakfast and coffee spot in downtown Jackson: Persephone Bakery.
Pose under one of the town center's antler archways, if that's your thing.
If you have more time:
If you're not pressed for time, it's definitely worth it to drive the entire 42-mile scenic loop through Grand Teton National Park which will take you past many of the area's best spots. This blog post provides a great in depth overview of what's along the route and how to get to it.
Drive up Signal Mountain for views overlooking the Teton range and Jackson Lake.
Schwabacher Landing – We only had time to choose one epic sunset spot during our time in Grand Tetons and ended up choosing Oxbow Bend. However, Schwabacher Landing is another favorite of photographers for its picture perfect backdrop and reflections you can get of the mountains in the glassy Snake River.
Explore one of the easiest trails in Grand Teton: the hike to Taggart Lake. This 3 mile round-trip journey requires minimal effort but offers a high reward.
Take the Aerial Tram at Jackson Hole ski resort up 10,000 + feet and grab the world famous waffles at Corbet's Cabin. I did this on my first trip to Jackson and loved getting a bird's eye view of the surrounding area.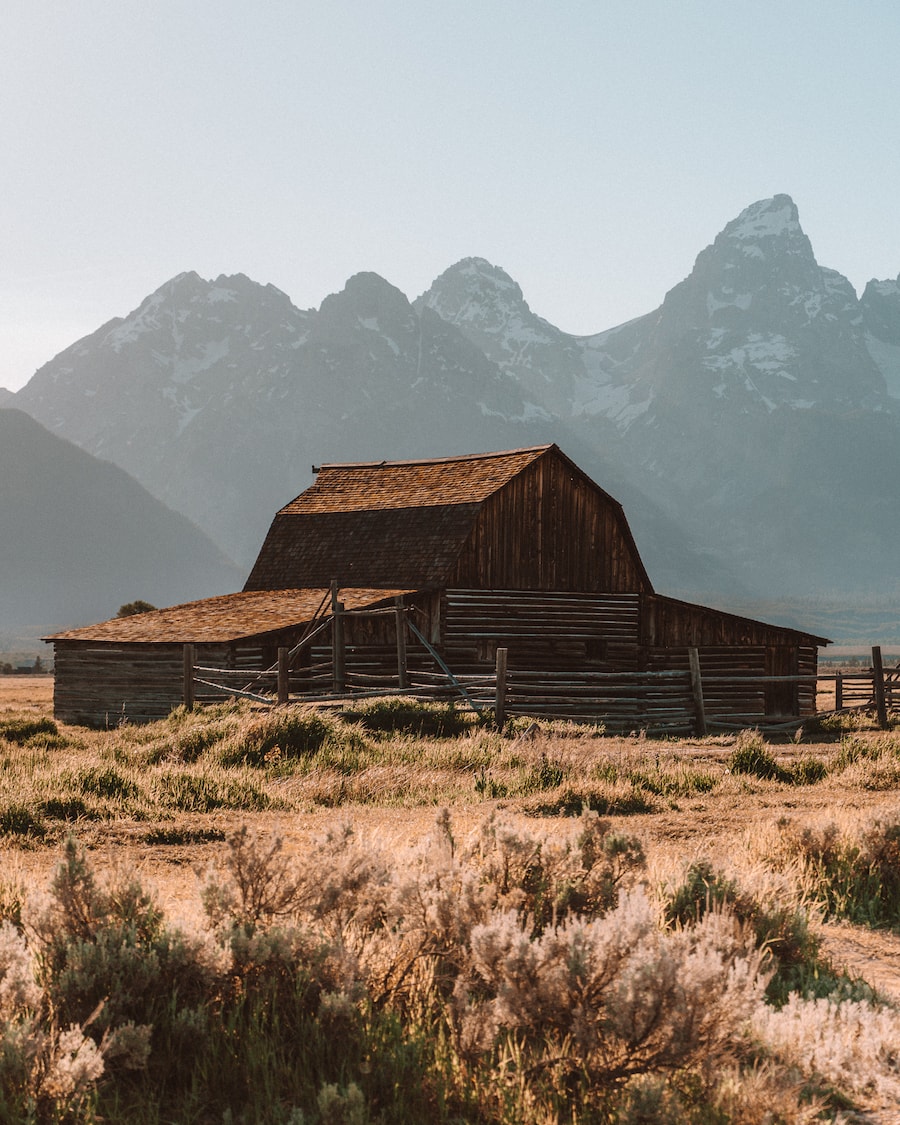 Where to Stay in Grand Teton National Park:
The Cloudveil – This newly opened boutique hotel in Jackson is the perfect place to cap off your trip. Yes, it's a Marriott property so you can earn points and it's definitely the nicest one we stayed at the whole road trip. It's also situated directly in town so you can walk from here to anything within the main town center.
Fireside Resort – On my last trip to Jackson I stayed a couple nights in this cute tiny home village in Wilson, Wyoming which we loved and had a much more home-away-from-home/Airbnb feel to it.
Last Day: Drive back to Salt Lake City and Depart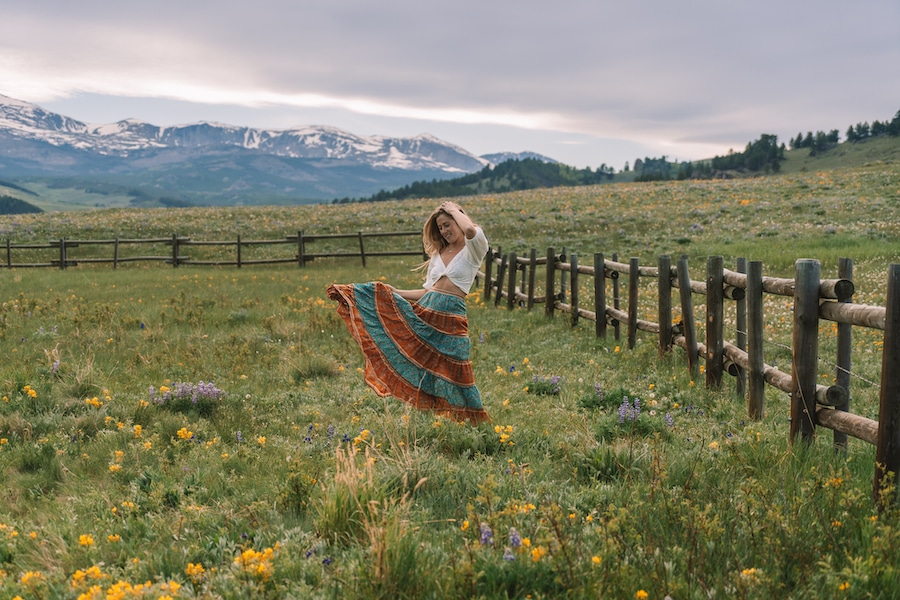 Driving time: 4 hrs, 45 mins
The final drive back to Salt Lake City from Jackson is just under 5 hours, so depending on what time you're flying out you'll want to plan accordingly. We left early in the morning to catch an evening flight, but you might want to add an extra night here in Salt Lake City to preserve your sanity and feel less rushed.
I hope this 2 week road trip itinerary through Utah, Colorado and Wyoming gave you tons of inspiration and tips for your upcoming trip! Have questions? Leave them in the comments below!
---
Planning a trip right now? Don't miss my go-to websites for booking everything from flights and tours, to accommodation and more:
---