I'll be honest — I had a lot of questions before my trip to San Pedro de Atacama, Chile. Questions like, what should I pack? How do I even get there? Will I get sick from the altitude? What are the best things to see in the region? But especially, in the beginning planning stages, I mostly needed to know how many days to spend in San Pedro so that I could get my flights booked and start getting my ducks in a row.
Of course, how long you spend in one area is a bit specific to the type of traveler you are. If you like to travel super slowly, then you can spend as long as you'd like here. This post is really more geared towards people with limited time to travel but who want to make the most of their time in this stunning part of Chile. If this sounds like you, then read on, because this 6 day San Pedro de Atacama itinerary will help you figure out exactly what to do with your limited time and most importantly — what order to do it in so you don't spend your entire trip feeling ill from the altitude.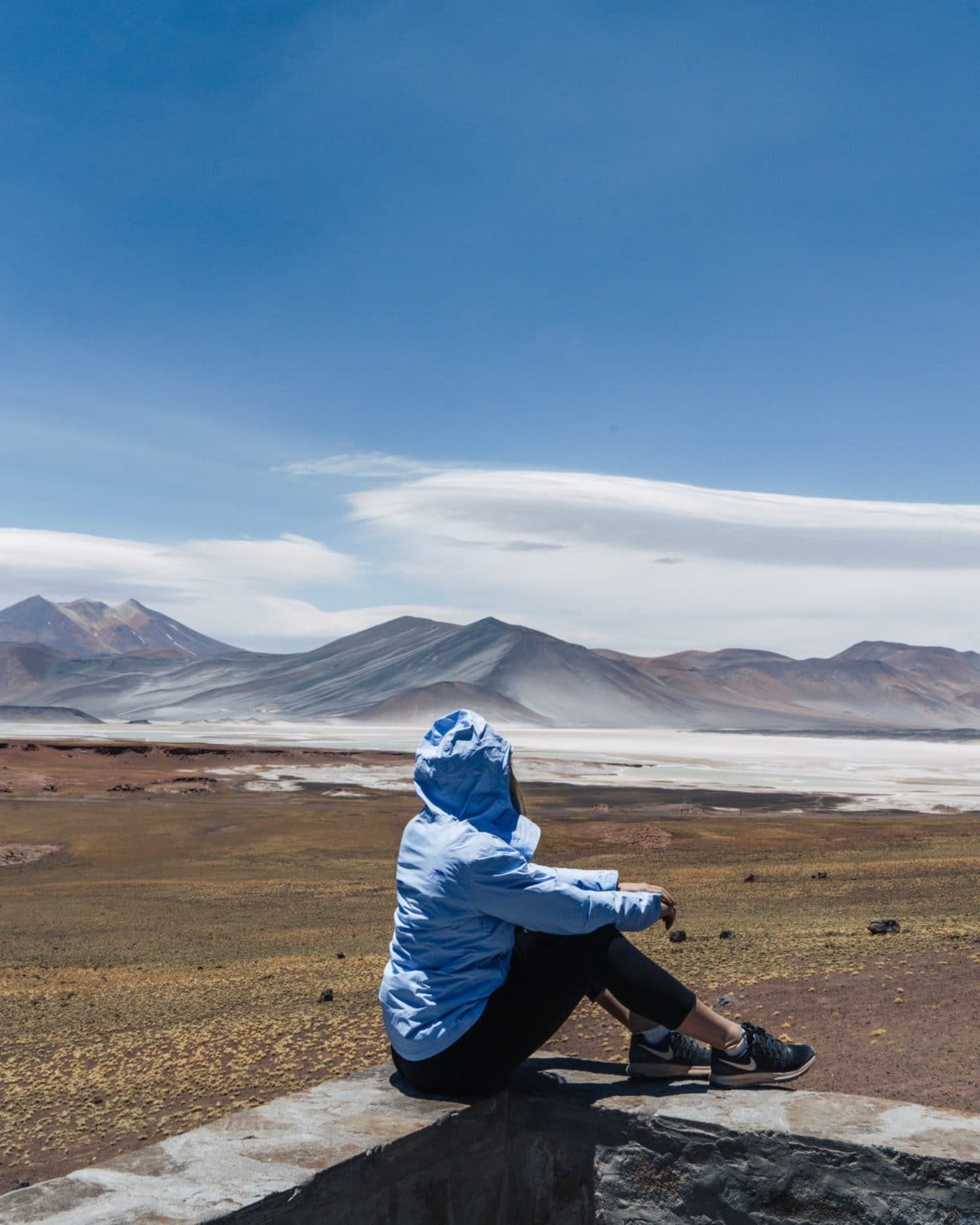 First, let's talk a little bit about altitude sickness 
If you've never been in super high elevation before, this might sound like one of those phony ailments that people make up just to have an excuse to chill in bed all day. Well, let me tell you, this shit ain't fake. The highest elevation I've ever personally experienced was at Rainbow Mountain outside of Cusco, Peru (5,200m / 17,060 ft) and by the time I reached the top I felt like a huge weight was pressing on my chest so I could barely breath. And don't get me started on the headaches.
But all in all, I've been pretty lucky when it comes to this affliction. Some people are definitely more susceptible than others, and if you've never traveled in high altitude locations before, then you'll want to take extra precautions to make sure it doesn't sneak up on you and ruin an otherwise epic trip.
Symptoms of altitude sickness can include:
Headache
Nausea
Dizziness
Loss of appetite
Vomiting
Fatigue and super low energy
Sleep issues
Shortness of breath
In extreme cases, the following can occur:
Confusion
Issues walking
Shortness of breath while resting
A cough that produces a white or pink frothy substance
Coma
Don't worry, the above list is very unlikely to happen in San Pedro de Atacama, Chile and if you drink plenty of water, limit alcohol intake and focus on deep breathing in high altitude areas you'll likely be just fine other than feeling a bit short on breathe or headachey.
Here's the good news: 
If you acclimate and slowly work your way up to higher elevations, you'll be less likely to be affected. And if you do get hit by altitude sickness, you can always reduce your elevation and symptoms should subside.
Why this itinerary is awesome
I've put together this itinerary with two main purposes in mind. 1) To help you do and see the best of the Atacama Desert if you have a limited time to spend, and 2) To organize your activities in such an order that helps you to acclimate properly to the elevation and avoid losing down time during your trip from feeling ill.
OK, ready to do this? Let's get to it.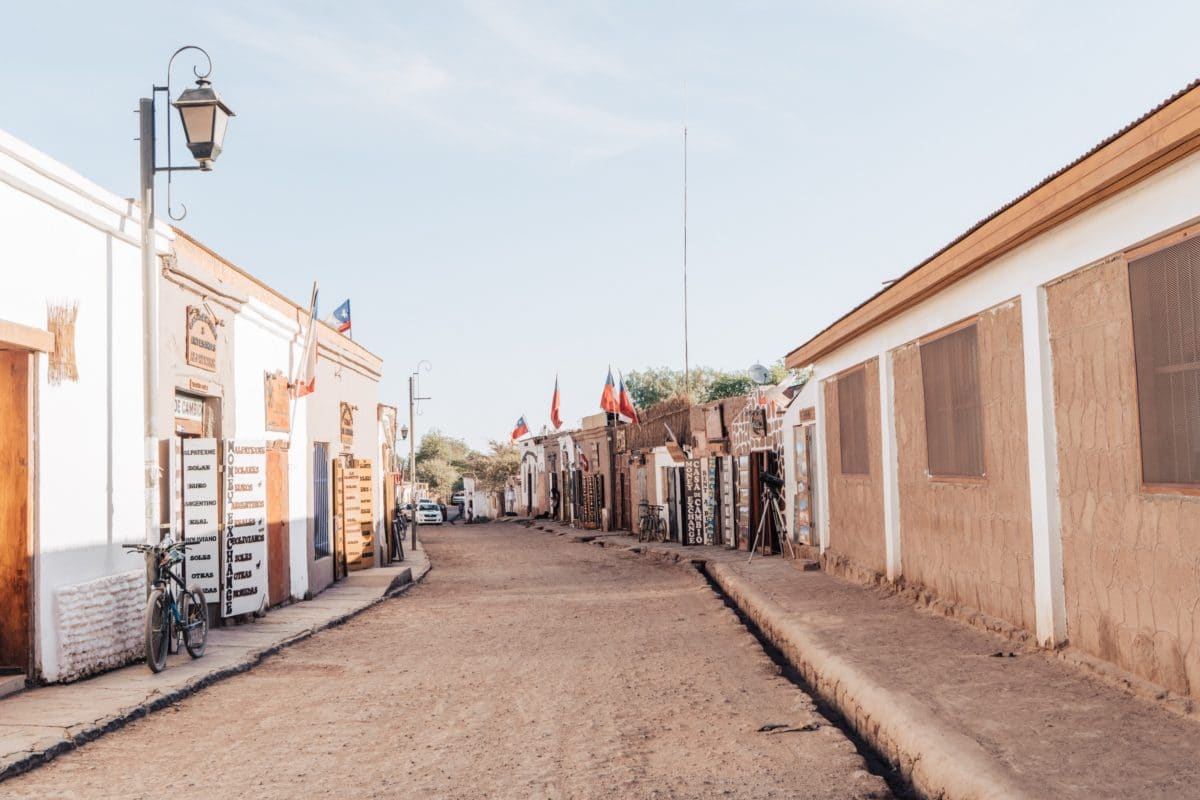 HERE'S YOUR 6 DAY SAN PEDRO DE ATACAMA ITINERARY
Day 1: Fly into Calama, Chile and check into your hotel 
First thing's first: you'll need to get to San Pedro de Atacama, which to be honest, is not the most easily accessible place I've ever traveled to. There are a few ways to do this.
Option 1: Cross over from Bolivia
If you are coming from Bolivia, as people often do since San Pedro is just on the other side of the Bolivian border from the popular Uyuni Salt Flats, you can find tours that will bring you through the salt flats and then finish the trip in Atacama. I didn't personally do this so I can't tell you exactly who to book with, but if you're researching your trip to Bolivia, check out local bus options from La Paz or tours that will allow you to continue on to Atacama. There were definitely several people I met doing the opposite route (Atacama into Bolivia), so just know that it won't be hard to make this work.
Option 2: Fly into Calama
If you'll be flying in, the closest airport to San Pedro de Atacama is Calama, which is about an hour drive outside of the center of town. It's basically impossible to fly here direct unless you're coming from Concepcion (in the south of Chile) or Santiago, so any international flights will direct through Santiago first.
The two main airlines that fly here are LATAM and Sky Airlines. Once you arrive in Calama, there are transfer companies available at the airport (about $29 USD for roundtrip) or you can book your transfer ahead of time with your accommodation if provided (I stayed at Tierra Atacama Hotel & Spa and they include transfers).
Option 3: Rent a car
If you're doing some big South American adventure, then you may have chosen to rent a car to allow you more freedom in getting around. If you go this route, just make sure to allow ample time for border crossings and ensure your vehicle is properly equipped to drive in rugged terrain and high elevation. You can also fly into Calama airport and rent a car from there. I particularly love Rentalcars.com because they have great prices and make the rental process super simple.
Arriving in San Pedro: Since it takes a bit of effort to get to San Pedro, you'll likely arrive in the afternoon or evening, so the best thing to do is spend that first day getting acquainted with your surroundings, checking into your hotel or hostal and maybe poking into town for a bite for dinner. If you haven't pre-booked tours, then you'll want to head into town to scope out the different tour operators (more on that below).
If you arrive in the morning, you can schedule a tour for the afternoon (I would recommend Valle de La Luna which is a lower elevation tour and the closest to town). Many Valle de la Luna (aka Moon Valley) tours leave around 4 PM in the afternoon and go through sunset.
Dinner: Eat at Adobe, which is a casual indoor/outdoor restaurant in the center of town and offers a wide selection of dishes with great healthy options as well. They often have live music and the vibe is generally fun and relaxed — perfect for your first night in town.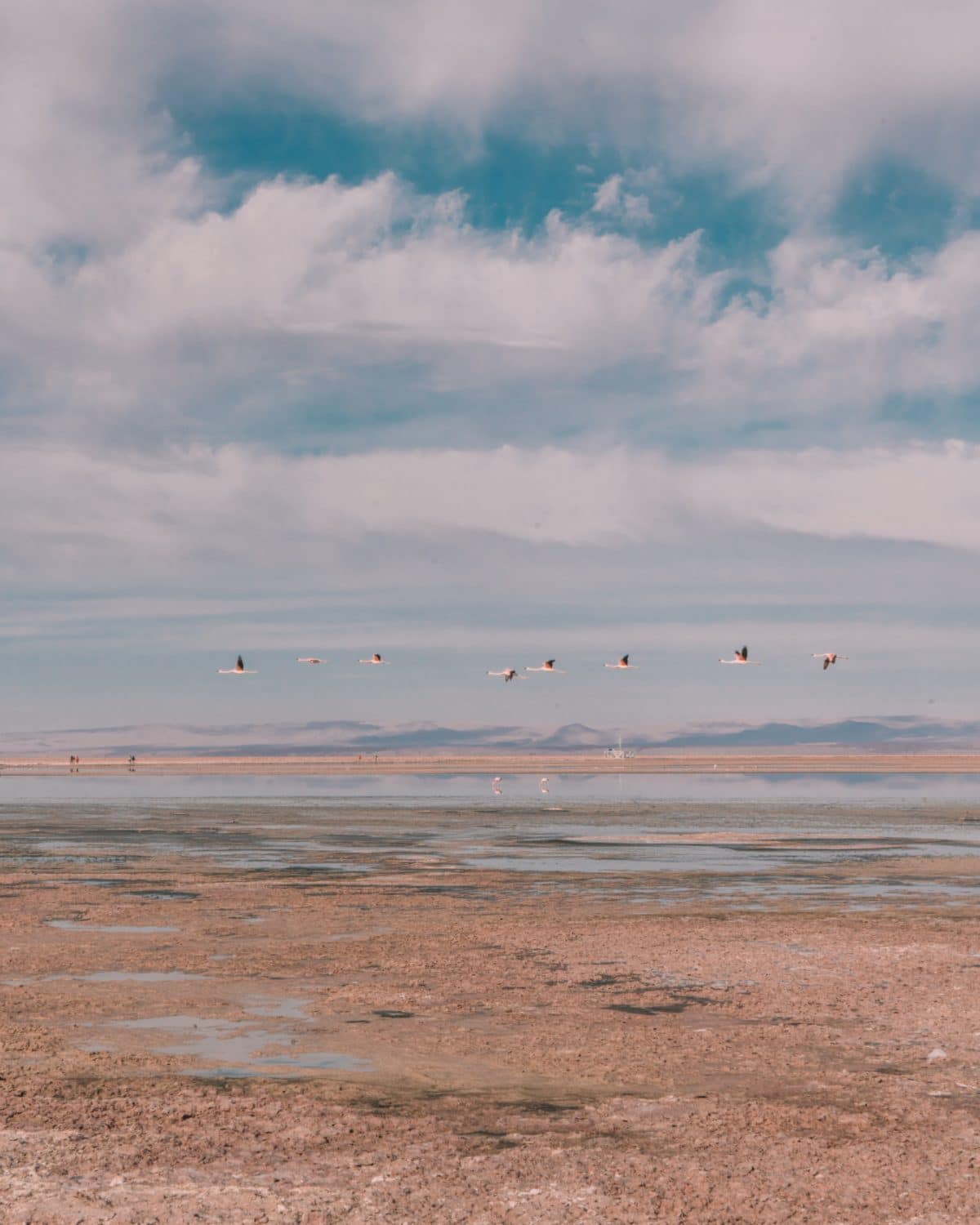 Day 2: Visit the Chaxa Lagoon and Valle de la Luna 
On your first full day in the Atacama Desert, you'll want to dive right in, exploring some of the most beautiful spots on offer. Since you've barely just arrived, it's still important to allow yourself time to acclimate to the elevation which is why you'll want to stick to sites like the Chaxa Lagoon and/or and the Valle de la Luna if you didn't visit it on Day 1. These are both under 3000m and around the same elevation as the town of San Pedro de Atacama, so doing these tours first will decrease your chances of falling prey to altitude sickness.
If necessary, you can pretty easily fit both tours into the same day by doing a morning tour of the Chaxa Lagoon and a sunset tour of the Valle de la Luna, typically starting at around 4 PM. Many of these tours also stop in the nearby town of Toconao, which is quite small but has a charming town square with a beautiful church tower.
Side note: If you're a photographer or want to get the best shots, you might even want to do some of these tours twice (I did the Chaxa Lagoon tour both in the morning and at sunset and they were completely different experiences).
Dinner: To celebrate night two, head to La Estaka, one of the slightly fancier restaurants in town but worth every penny. So delicious with fresh and healthy menu options.
Other restaurants with top ratings include: Baltinache, Sol Inti, and Pizzeria El Charrua.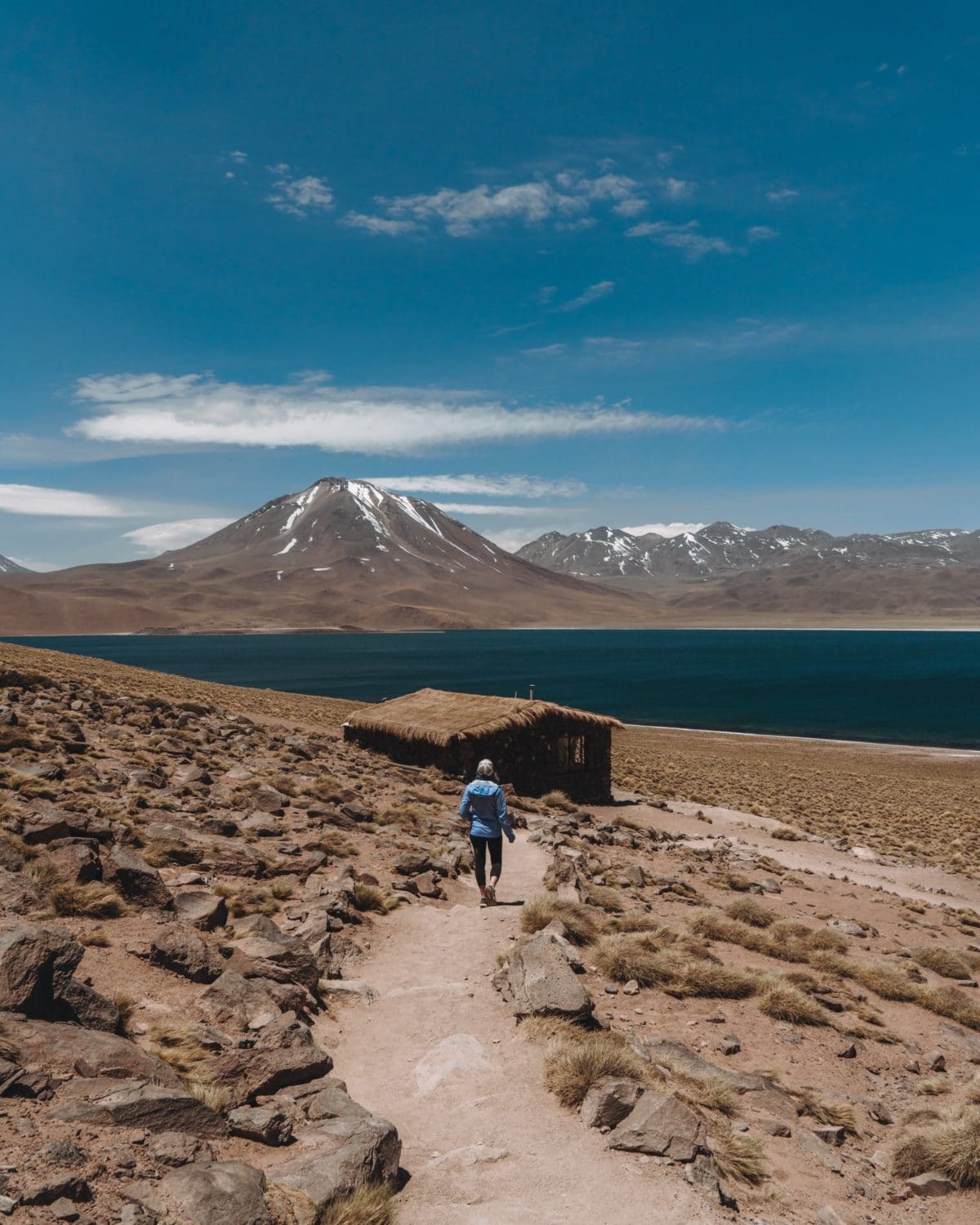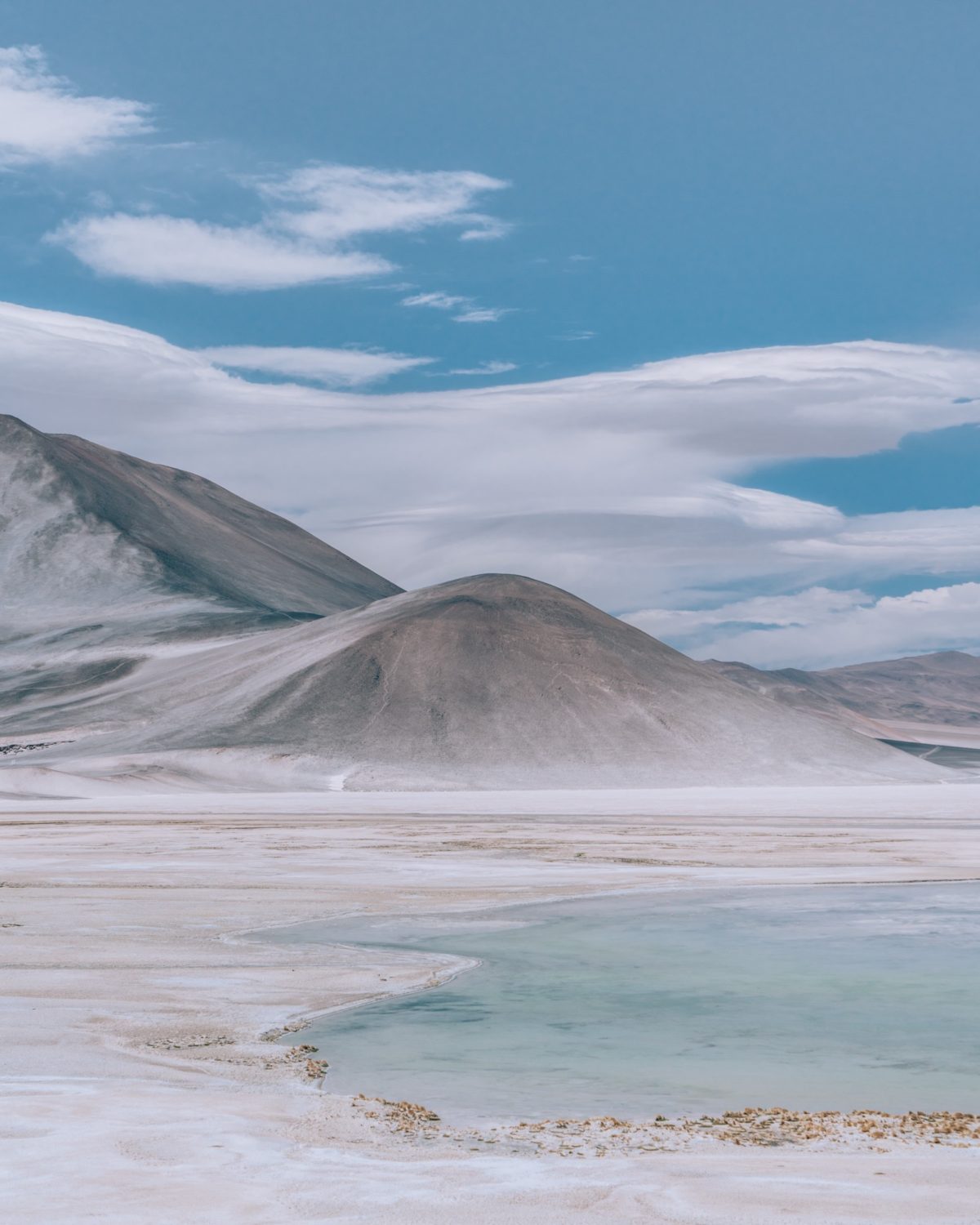 Day 3: The Altiplanic Lagoons and surrounding area 
On your third day, book a full day tour the Altiplanic lagoons area including the Piedras Rojas (Red Rocks) and surrounding sites. This tour is pretty far from town, so it's best to find a longer excursion that covers good ground in the area including Miscanti Lake & Laguna Miniques (right next to each other), the Los Flamencos National Reserve, Salar de Aguas Calientes, and the Piedras Rojas so you can avoid doing the drive twice. Many tours to this area will also make stops at the town of Socaire, which is not a must in my opinion but often included.
The altitude is significantly higher in the Altiplanic Lagoons and there's a much greater chance for cold weather and wind in this area. Make sure to bring a ton of water with you on these tours and pack layers in case you get chilly!
Day 4: Tatio Geysers + Relaxation
Start the morning bright and early with a tour of the Tatio Geysers. This geothermal area is north of town and takes you through some gorgeous desert views with the Licancabur Volcano as a backdrop. If you've been to Yellowstone or Iceland perhaps and witnessed geothermal activity before, these geysers may not blow your mind, but what's cool about the Tatio Geysers is that there are so many in one consolidated area. Plus, along the way you'll likely see a bunch of wildlife like flamingos and llamas — and you're guaranteed stunning 360 degree views.
Most tours of the Tatio Geysers leave early in the morning, offer breakfast as part of the tour and then stop a few quick places along the way back. We arrived back from our geyser tour around Noon, just in time for lunch.
If you have another tour you want to fit in the afternoon, feel free to plug that in here. Otherwise, I recommend spending the rest of the day relaxing at the hotel (many hotels have pools, so this is the perfect time to take advantage), or shop around town. You want to make sure to schedule in down time during your trip (it is your vacation, after all), plus if you're feeling sick this will ensure you've buffered in some time to recuperate.
Lunch: Roots Cafe – I loved this little hole in the wall cafe off a side street from the main drag. We were able to find yummy juices and healthy salads here and the playlist was on point.
Evening: If gazing up at the starry night sky is your thing, then make sure to book one of the San Pedro de Atacama astronomy tours, which is popular in the Atacama Desert due to its position away from much light pollution — or pollution in general for that matter. Most tours take guests to the astronomical observatory (the largest in South America) where they can check out the stars with the help of a state-of-the-art telescope.
Day 5: Salar de Tara or any high altitude tours 
Salar de Tara is a gorgeous part of this region in Chile that was sadly closed to visitors during my visit, so I wasn't able to see it, but I'm hoping that for your trip it will be back open and ready for visitors to enjoy. If not, the most important thing to note is that you should save the higher altitude tours, like Salar de Tara, for the end of your trip once you've had some time to acclimate.
To celebrate your last night, go get a drink at ChelaCabur, the main bar in town that's always hopping. It's best not to drink too much alcohol when you're trying to avoid altitude sickness, so saving any beverages to the last night is ideal.
Day 6: Fly Out
It's time to pack up, and make your way to Calama Airport to fly back home.
San Pedro de Atacama Sites in Order of Elevation:
Laguna Chaxa: 2299m
San Pedro Town: 2407m
Toconao: 2438m
Valle de la Luna: 2508m
Altiplanic Lakes: 4140m
Tatio Geysers: 4320m
Salar de Tara: 4860m
Quick Tips for Visiting San Pedro de Atacama, Chile
Make sure to bring plenty of layers as days can get extremely hot, while evenings (and higher elevation sites) can drop down to colder temps!
When booking a hotel, try to find one that is in close proximity to Caracoles Street (the main area of town) or offers transport or bikes to and from town for your convenience
Tours can be booked ahead of time or easily in town when you arrive. However, know that there are an overwhelming amount of agencies selling tours in San Pedro, but some of the best tour companies aren't represented. Do your research ahead of time based on your interests/price point and book ahead if you can. You don't want to skimp on quality, as your safety in high altitude is important and on many of the cheaper tours, you'll be lumped in with 30 other travelers and not given adequate attention
The top recommended tour company I've heard of over and over again is Cosmo Andino Expediciones
The Atacama desert is the driest place on Earth, so make sure to pack your lotion, chapstick and any hair products you might want for this arid climate
There are only a few ATMs in the village of San Pedro and most tour operators only accept cash, so it's best to come prepared with money before arrival
READ MORE:
LOVED THIS POST? PIN IT FOR LATER