One thing that surprises me over and over again during my travels is that most travelers I meet along the way don't have any efficient ways of tracking their expenses. And when I inevitably tell everyone about my favorite app, Trail Wallet, no one ever seems to have heard of it! Trail Wallet is definitely one of the best travel budgeting apps out there, and I just can't believe more people don't know about it — which is why I'm sharing it with all of you!
This app was a game changer for me during my year-long trip across four continents, not only because it helped me to stay on track with my budget, but it simultaneously relieved a ton of financial stress as I always knew the status of my bank account.
RTW travelers, however, aren't the only ones that will find this app super handy. In fact, now that I'm focused on shorter trips rather than longterm travel in recent months, I still log a new trip in the app with every new destination I visit. I've even continued to use it as my day-to-day budget app back in Los Angeles.
By the way, I did not get paid or sponsored to write this blog post. This is simply a tool that I've personally used and love, and as a thank you to the incredible fellow travelers that created it I want to share it with as many people as possible, because I believe that budgeting intelligently is a huge part of traveling stress-free. So without further ado, here's a little tutorial about how to get started with Trail Wallet and an explanation of some of my favorite features!
How to Get Started With Trail Wallet 
Step 1: Trip View vs. Month View
To get started on Trail Wallet, first decide if you'd like to organize your budget by Month View or Trip View.
The Month View (left below) will show you all of your spending by month regardless of when your trips started or ended. With Trip View (right below), you can track spending for any period of time — so for example, if you traveled to three different countries within one month you can have them all logged separately.
I personally use the Trip View because I like to compare different countries to one another and see how they stack up in terms of budgeting for food, accommodation, etc.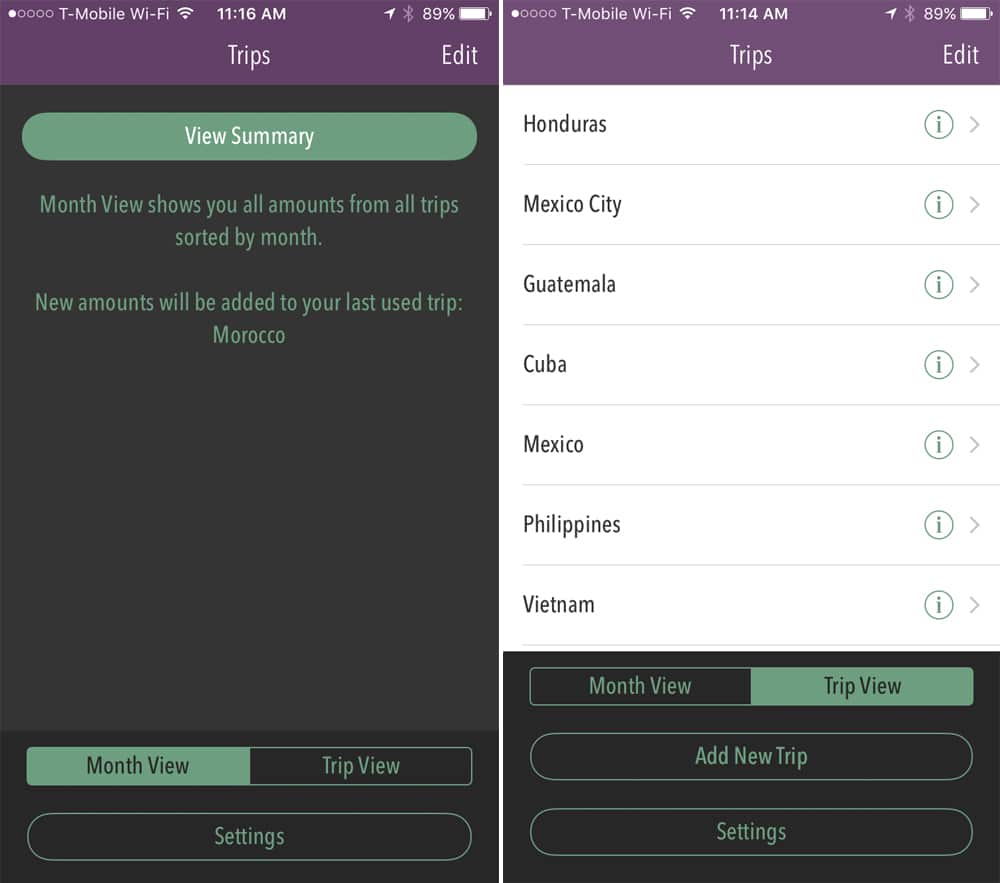 STEP 2: Add Basic Information to Your Trip
First thing's first. You need to add and name your trip! Once your trip shows up in the main trips list, I like to immediately click the information icon on the right to adjust my settings.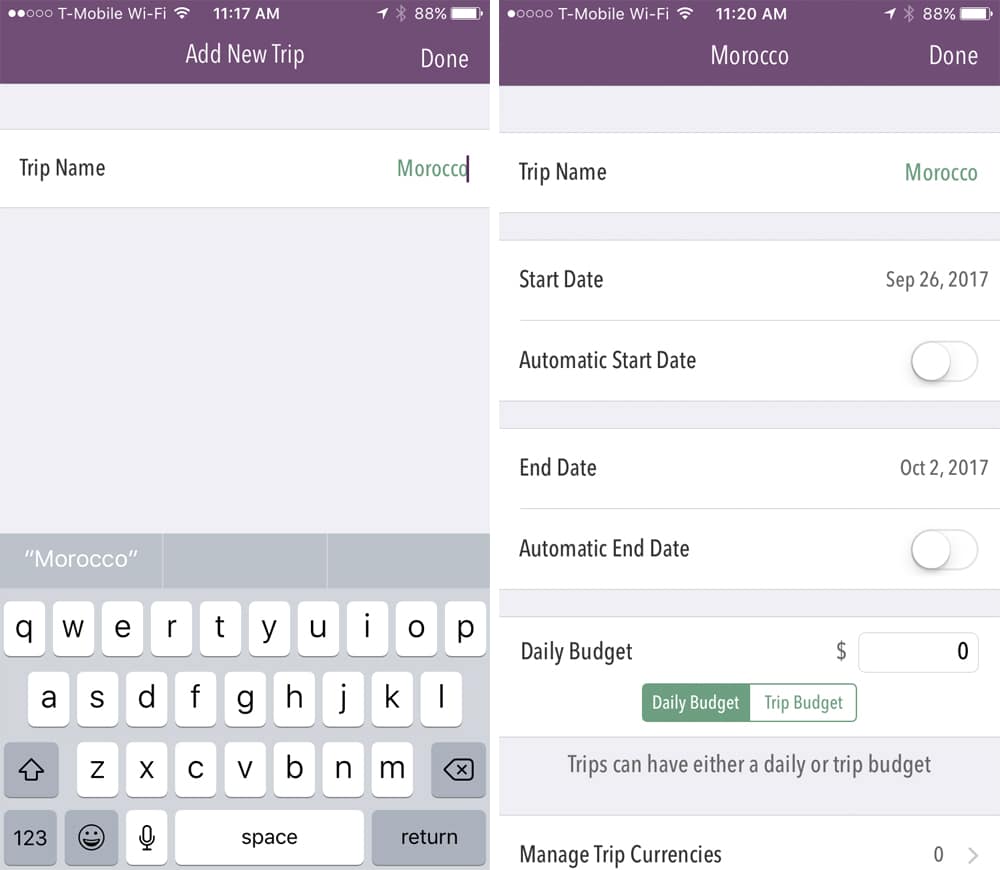 On the information page, you have the options to adjust your start and end date, set your daily or trip budget based on how much you'd like to spend, and manage your trip currencies (this feature is one of my favorites)!
With Trail Wallet's currency feature, you can use multiple currencies within a single trip, and the best part is that the app calculates everything back to your home currency for you! This is incredibly helpful in countries with confusing currency conversions (ahem, anywhere in Asia) that make it difficult to conceptualize how much you're spending in USD — or whatever your home currency may be.
Trail Wallet also updates to the most recent exchange rate to ensure the accuracy in your daily spending.
STEP 3: Adjust Settings + Categories
On the settings button, navigated to from the bottom of the home screen, you'll be able to choose a theme for the app (probably my least favorite feature), update your home currency, and create your categories.
Creating customized categories is important as they will allow you to assess your spending at the end of each trip to get a better understanding of where your money was spent.
Below is a list of the categories that I personally use, which may or may not work with your lifestyle. These have been adjusted over time as I've learned the buckets in which I spend my money most frequently. They also reflect what I'm most interested in tracking.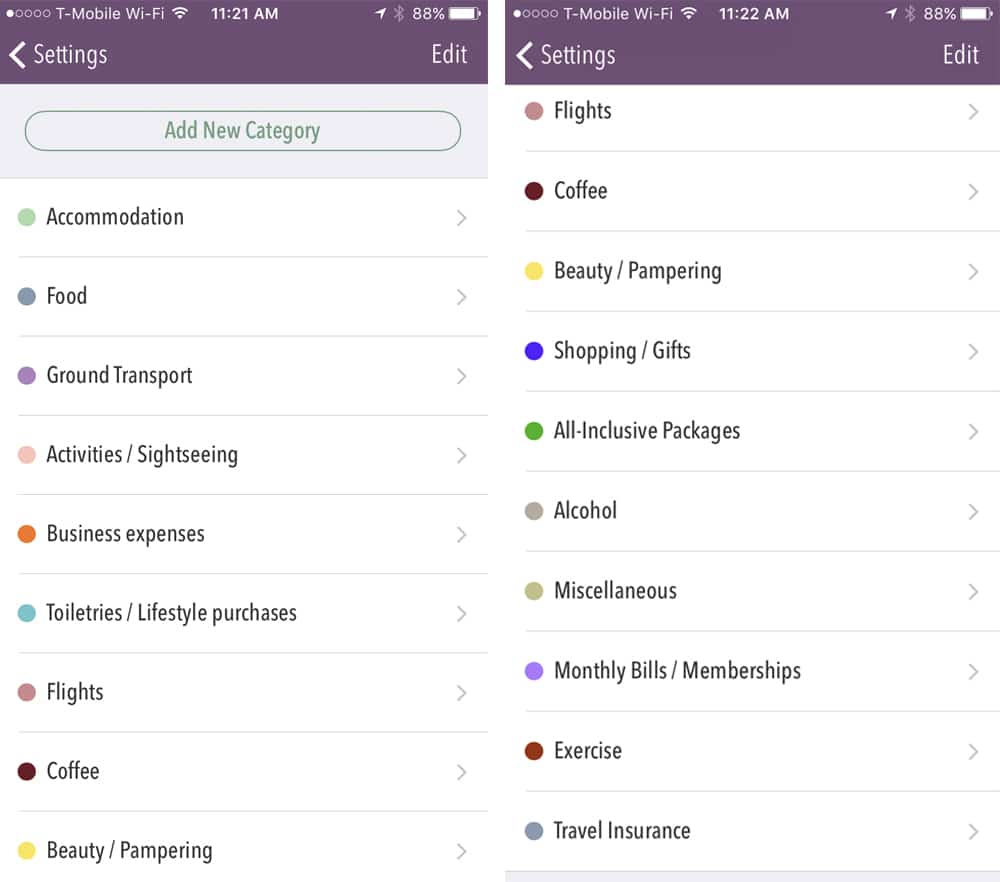 Logging Charges Once a Trip Starts 
Once you're ready to start logging expenditures in the app, click through to the corresponding trip and use the plus sign at the bottom of the page to add any new charges.
QUICK TIP: In order to get the most out of Trail Wallet, it's best to get in the habit of logging your charges as soon as you make them so you never forget to add one. This can be tricky at first, but now it's become second nature for me. 
On this page, you'll see where you can adjust your currency by clicking on the box in the top left. In the "Notes" section, I always write what the charge was for and try to be specific with the vendor in case I can't remember if I logged a charge later on and need to reference back.
You can then set a category and date to your charge. One awesome feature of this app is that you can spread out a single charge over as many days as you'd like. So for example, if you are booking a villa in Bali where you are staying for 2 weeks for $280 and you don't want it to skew an entire day of your spending, you can spread it out over 14 days so it shows up as only $20 per day. My only gripe about this feature is that I haven't figured out an easy way to edit these split charges once they are divided up, so I recommend trying to get it right the first time!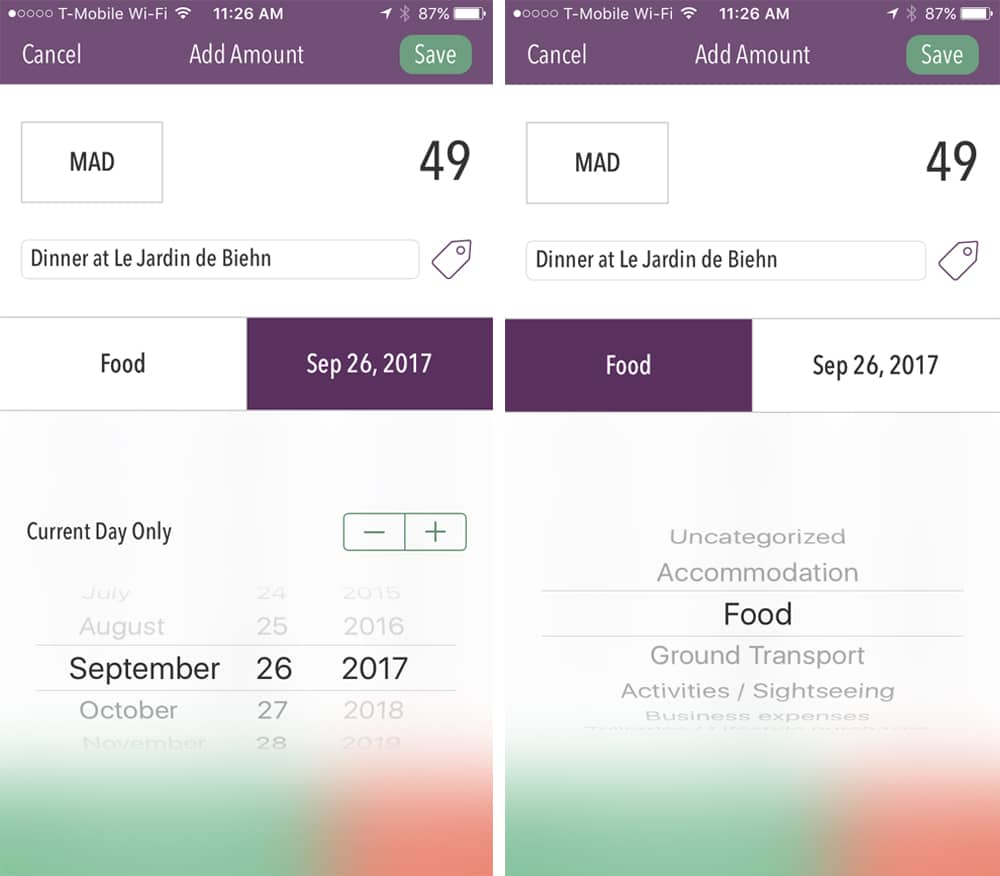 Analyzing Your Spending 
After your charges have been logged and you're ready to analyze your spending, Trail Wallet provides several awesome ways to do so.
Since I am a visual person, I love their pie chart feature which you can find in the bottom left-hand side of the Summary screen. The pie chart quickly gives you a visual breakdown of how your funds are being spent, and if you want further details on any given category, all you have to do is click the corresponding color block and the category will detach with further details (as seen on right below).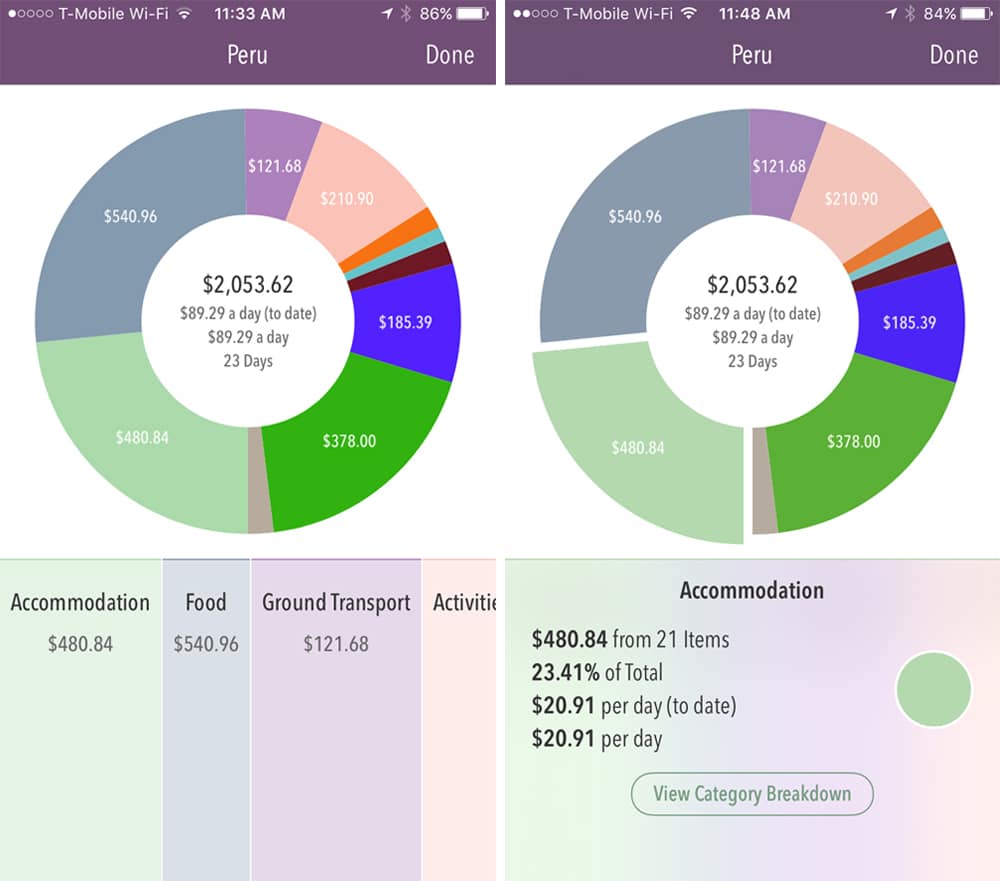 If you'd prefer to see a full day by day breakdown of your spending for the month or trip you're viewing, just click the clock icon on the bottom right on the Summary page for a comprehensive list.
The two screenshots below show the list view of all charges for the trip (left) and the list breakdown when utilizing the tag feature (right) which allows you to further organize your spending.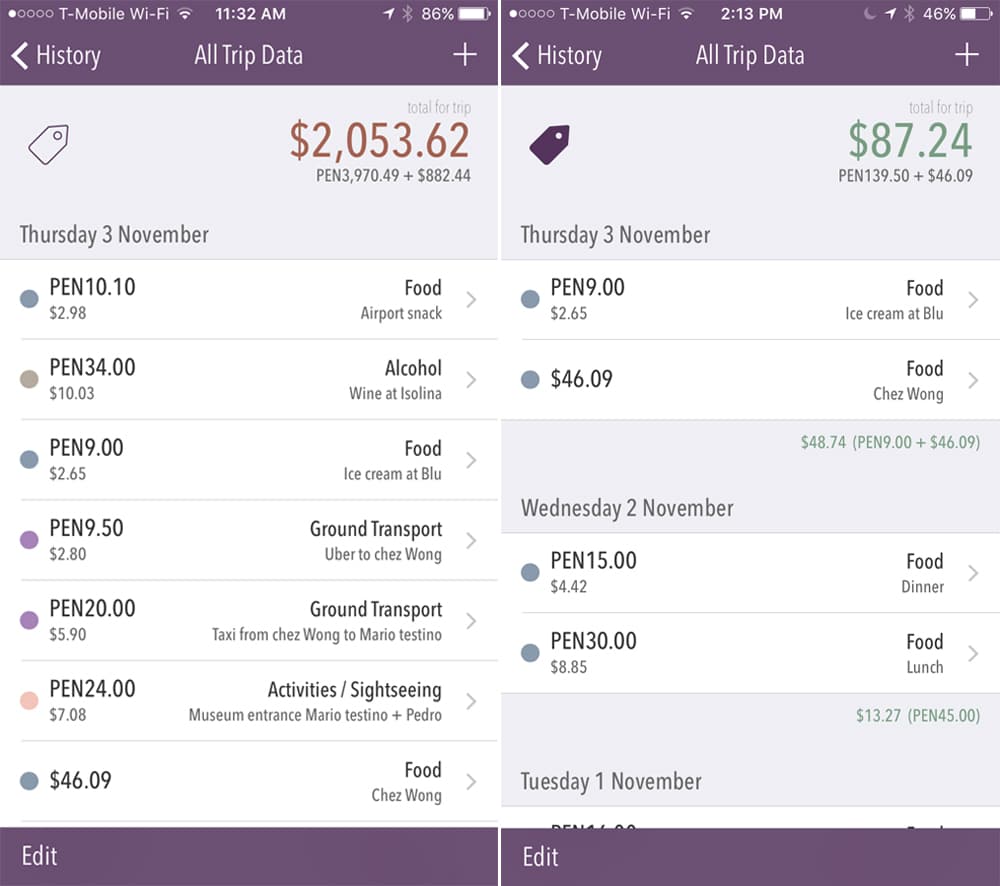 All in all, this app has been so helpful during my travels and the creators have done an amazing job of including features that are both functional and easy to use.
So to sum everything up….I can't travel without Trail Wallet because… 
Adding a charge takes no more than 10 seconds, which allows me to develop a good habit of budgeting and tracking expenses with minimal effort
Trail Wallet relieves stress because I never get "time to check the bank account" anxiety
It keeps my spending in check daily so my budgeting always stays top of mind
It allows for the ability to download/email spending reports to myself
It's incredibly helpful when writing my blog posts so I can reference back costs of various activities 
Trail Wallet eliminates the need for other currency converters 
The "adjusted budget" feature helps me quickly calculate how much I can spend each day for the remainder of my trip so I don't stray from my budget 
Its interface and pie chart feature is perfect for visual people like me! 
Totally sold on Trail Wallet? You can download the app HERE.
PS – You can try the app out at no cost, but I recommend just spending the measly $4.99 to purchase unlimited access because I promise you won't turn back! It's the price of a coffee, after all 😉
Do you guys have any amazing budgeting tools that you love to use for travel? Shoot me a comment below!
PIN IT FOR LATER