There's nothing quite like a Sequoia National Park winter. Walking through groves of the largest trees in the world, covered in snow, with little to no crowds is a true winter wonderland experience.
No matter what time of the year you visit, this national park offers a magical experience…although, in my opinion, wintertime is super underrated!
Since I live in Southern California, it's not too often that I get to experience snowy weather or freezing temps (not complaining). Every once in a while though, I find myself craving a trip somewhere with actual winter weather, which is why last season some friends and I found ourselves booking it up to the mountains on a couple days' notice to seek out some winter magic amongst the giant sequoias. 
While visiting Sequoia National Park in winter is wonderful, there are definitely more things you need to consider when preparing for your trip than if visiting in the warmer months. Especially for native Californians who aren't exactly used to putting chains on car tires or dressing for freezing temps, finding out how cold it can actually get in the park can come as quite a surprise to first-time visitors.
That being said, I'm breaking down everything you need to know about visiting Sequoia National Park during the snowy season so that you can expect smooth sailing (or sledding if you so choose). From packing and safety tips to must-see sights and experiences, this guide will ensure that you make the most out of your Sequoia National Park winter experience!
What to Expect When Visiting Sequoia in Winter 
Upon arriving at the entry of Sequoia National Park, you might be surprised to find that there is no snow. Don't let that fool you! There is very little elevation at the entrance of the park, but as you continue the climb, it gets snowier and snowier.
Be sure to keep this in mind when it comes to driving. You'll want to be comfortable and prepared to drive in icy conditions on back mountain roads with winding turns.
Tire chains or socks are often required (pay close attention to signage), so you will want to know how to put them on before your visit and have them on hand depending on the conditions. Also, if your car is simply not equipped for the snow, I suggest getting a rental that is. 
During the snowy months (November to March) the weather is incredibly cold in Sequoia National Park. The days tend to average slightly above freezing then drop well below at night, with an average snowfall of 37″. Here's a monthly breakdown for reference:
November: average high 43° / low 23°
December: average high 36° / low 17°
January: average high 37° / low 18°
February: average high 36° / low 16°
March: average high 42° / low 19°
Always keep an eye on the National Park Service website, as they are consistently updating it with important safety information as well as anything you might need to know before your visit. You can check their website here for real-time closures and weather conditions.
Speaking of closures, be mentally prepared that you won't have access to all the sites and trails that are available to visitors in the summer. However, there's still plenty to see, and the good news is you'll likely have many of the top sites to yourself since winter in the park is a much less popular time to visit. 
An important safety tip: There is little to no cell phone service in Sequoia National Park and fewer staff during winter months, so it's a smart idea to always let someone know where you are headed before venturing into the park and to download Google Maps offline before your visit.
---
Read More National Park Posts
---
Is it Worth Visiting Sequoia in Winter?
Yes! If you can handle the cold, Sequoia National Park in winter is a MUST. You won't be able to do everything you can in summer, but it's super magical to see the sequoia trees dusted in snow—or in our case when we visited, completely covered.
Perhaps the biggest perk of visiting in winter? WAY fewer crowds. The park sees over 1.2 million people in a year, the majority of them visiting between June and September.
As you can imagine, it gets very crowded in those summer months, resulting in long lines and expensive accommodations. Hotels and lodging options are cheaper and more available during the winter, making it way easier to plan a last-minute weekend getaway from Los Angeles or anywhere you might be traveling from!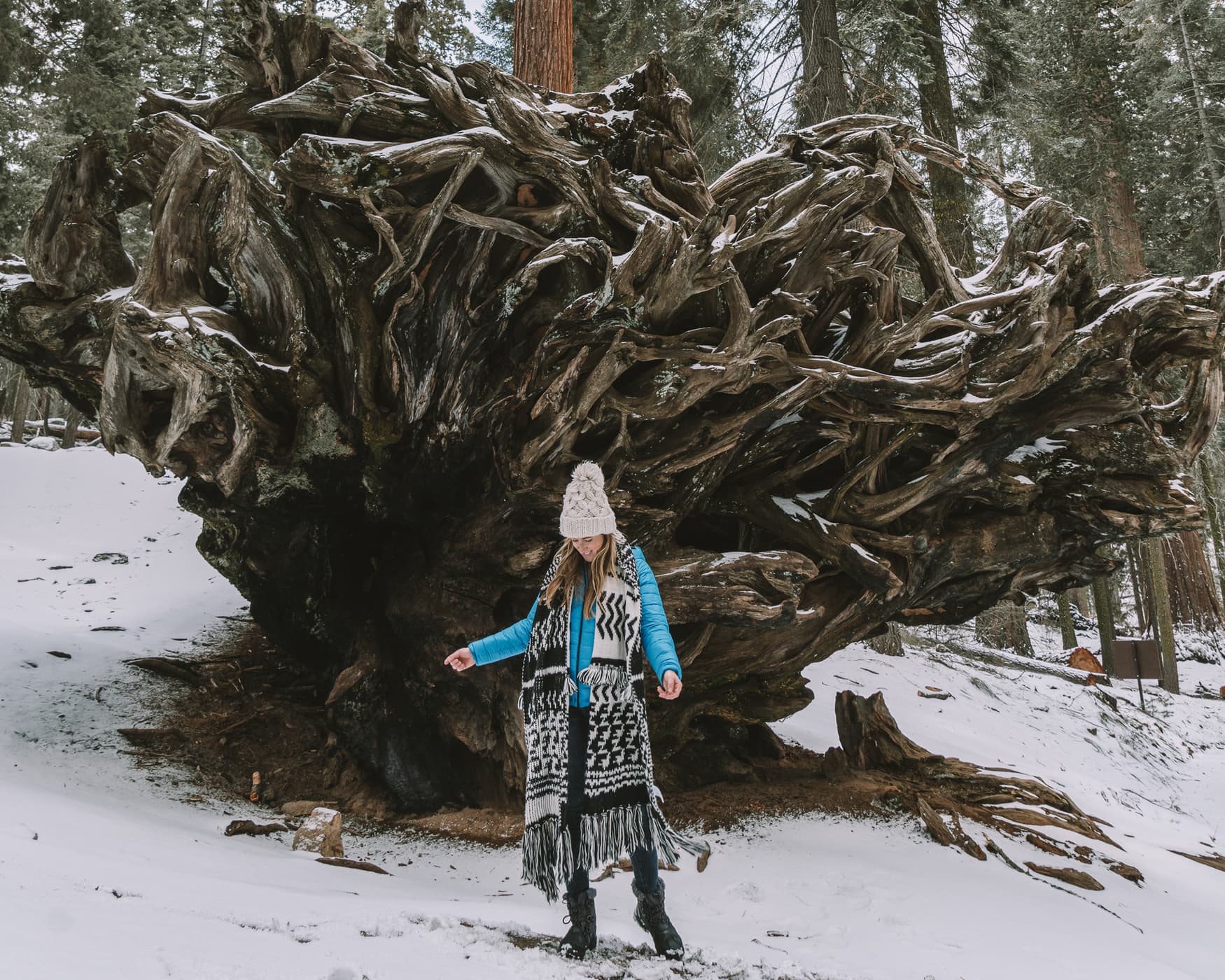 What to Pack for Sequoia in Winter
When it comes to packing for your Sequoia National Park winter adventure, it ultimately comes down to what activities you plan to participate in. That being said, basic hiking and sightseeing are pretty much guaranteed, so let's start there!
People often associate California with warm temperatures year-round…but that is NOT the case in Sequoia. You definitely want to pack warm winter clothes and accessories. Since the temperatures tend to fluctuate during the winter, you might encounter lots of snowmelt, so be sure to bring as many waterproof items as you can—particularly jackets, gloves, wool socks, and boots.
As you explore the park through different parts of the day, the temperature will also change, so wear layers when possible and keep extra items handy in the car so you can properly adjust. I recommend packing a heavy-duty parka AND a lighter jacket (waterproof if possible!) so you can be prepared for whatever weather might come your way.
Perhaps the most important item to pack for a winter trip to Sequoia National Park are tire chains, as they are required to be carried at all times during this time of year due to unpredictable weather conditions. Road safety is super important, so don't miss this one. You'll see signage around the park clearly stating when chains are required.
Here is a general checklist for what to pack:
Thermal layers
Parka and a lighter jacket 
Snow boots – Not just regular winter boots! You'll want to bring boots made for snow and wet conditions or your feet will be freezing in no time.
Wool socks
Gloves – Consider a tech-compatible pair so you don't have to take them off to use your phone or camera. Waterproof is helpful as well!
Hand warmers – Seriously…these saved us!
Winter hat 
Scarf
Tire chains for your car 
Water-resistant backpack
Headlamp – Very helpful if you plan to explore after dark!
Portable Battery – Tech gadgets are known to die much faster in higher altitudes, so these can come in handy if you plan to use your phone/camera often.
Emergency Kit – It's always good to be prepared when spending time outside especially when it's icy, so bring a small emergency kit for any minor aches, scrapes, or bruises.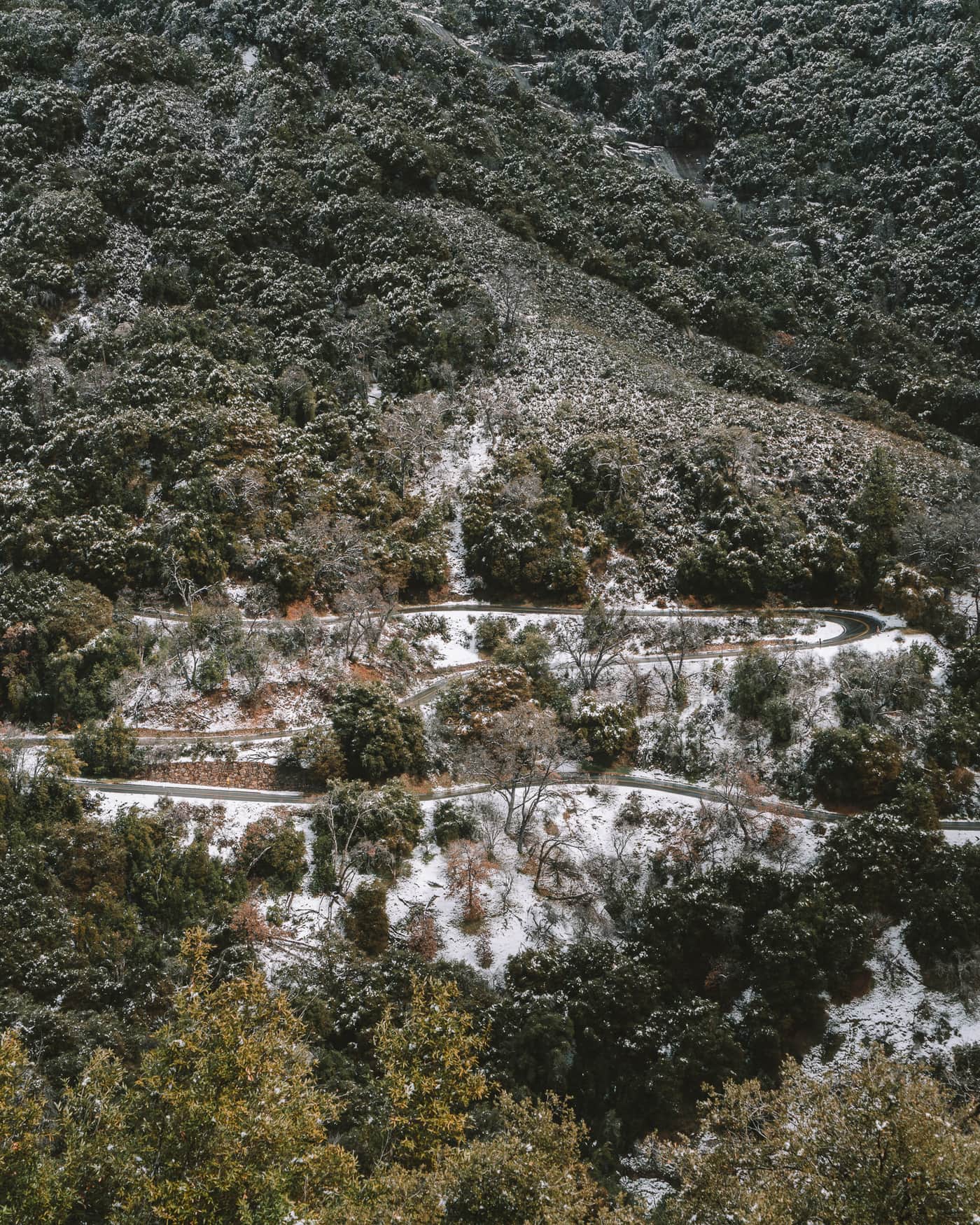 What to Expect on the Roads in Winter
With an average snowfall of 37″ during a typical Sequoia National Park winter, traveling in and around the park can get dangerous. Like I said before, snow chains/socks or snow tires are required during certain conditions. Plus, there are some seriously steep, narrow, and winding roads in the area, so you'll want them on deck at all times regardless of requirements.
That being said, signs all around the park clearly state when chains are needed. If you're not sure where to get them, there are plenty of shops outside of the park where you can buy or rent snow chains. A few options include A-1 Totem Market and Gifts, Kaweah General Store, or Vasquez Snow Chains.
Here are a few other important things to note before driving in Sequoia in winter:
When snow chains are required, the speed limit automatically becomes 25 mph, no matter what the posted signage reads. You can always call (559) 565-3134 EXT 1 for current road conditions.
Fuel up before entering the park! There are no gas stations inside the park, so you may travel some distance before you can fill up again.
For current road closures and other winter updates, you can also check out this page on the National Park Service website.
What to See and Do in Sequoia in Winter
General Sherman's Tree
Arguably the most famous attraction and most popular of the Sequoia National Park hikes, General Sherman's Tree is open in the winter and one of the easier spots to access year-round. The tree itself stands at 275′ tall and 36′ in diameter, making it quite the show-stopper! The snow in winter only adds a dreamy touch as well.
General Sherman Trail is short and flat and only about half a mile from the trailhead parking lot. During the summer months, this parking lot fills up fast, but there is a second larger parking lot further away.
However, this lot closes during the winter, so you'll want to snag a spot at the trailhead parking lot which tends to fill up fast. I recommend heading here first thing in the morning or late afternoon when it is less crowded.
Tunnel Log and Parker Group Sequoias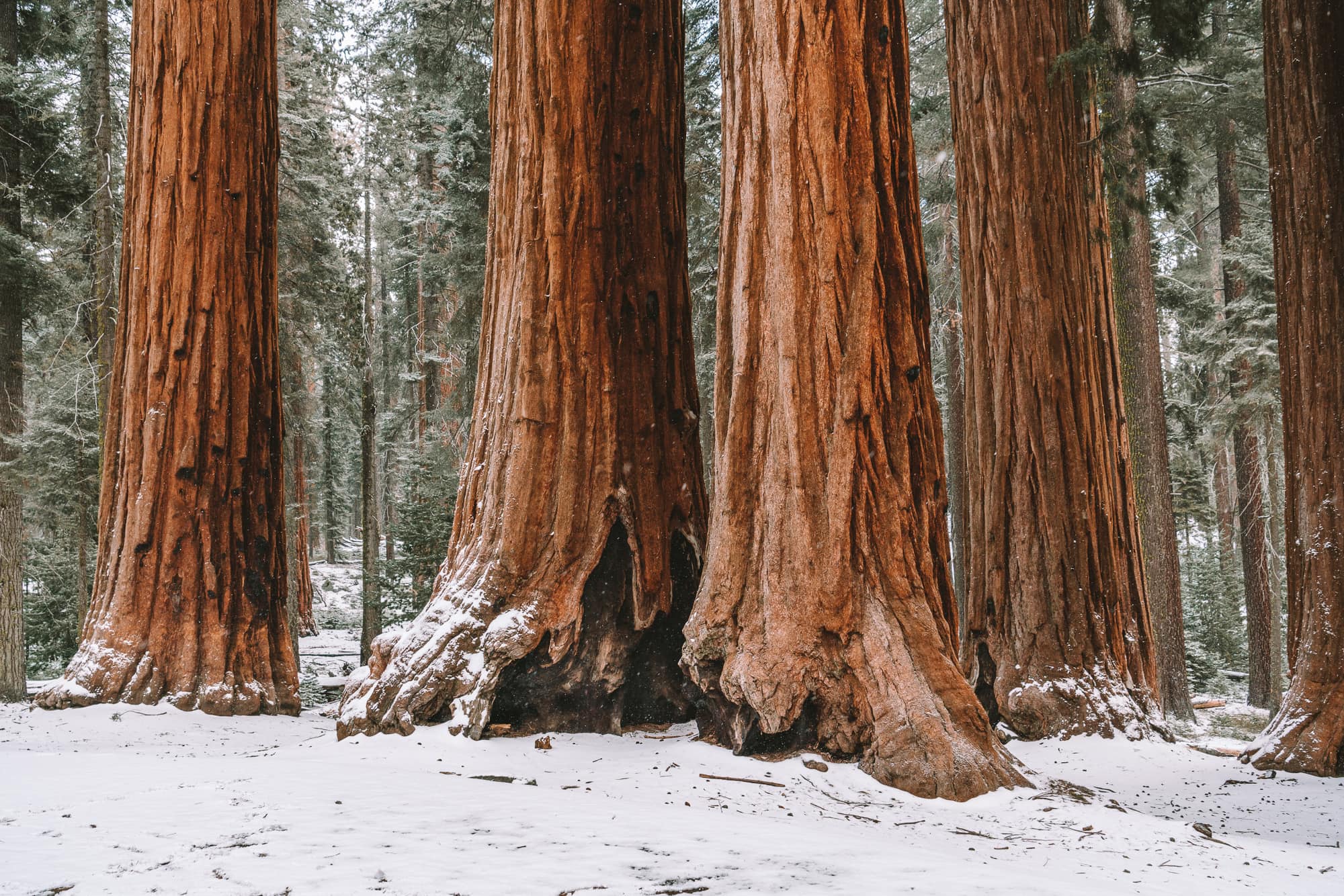 The Tunnel Log and Parker Group Sequoias are two must-sees that are conveniently located on the same path. The Tunnel Log is a famous fallen Sequoia that you can drive through during the summer months. Though the road is closed to cars in the winter, it remains open to pedestrians, allowing you to walk through the tunnel instead!
After falling on Crescent Meadow Road in 1937, the park rangers deemed it easier to cut a tunnel through the massive sequoia rather than destroying and disposing of it, leading to one of the most iconic sights in the park.
If you continue about .2 miles down Crescent Meadow Road, you'll arrive at the Parker Group. The Parker Group is a dense cluster of sequoias named after James Parker, the acting superintendent of the park from 1893 – 1894. The color and size of this cluster of trees are magnificent and especially awesome for photo opps!
Congress Trail
Close to the General Sherman Tree is the Congress Trail. Since it is fully paved, this trail is a great option for winter travelers. That being said, it can still get icy and slick and fully covered in snow depending on the conditions, so always be cautious.
This relatively flat loop is only about two miles long, and it leads you to plenty of other worthwhile sights. One is "The President," which is the third-largest tree in the world. A couple of others are "The House" and "The Senate," two even more impressive groves of sequoias that are exceptionally stunning in the winter. They're also awesome spots for photos!
Big Trees Trail
Big Trees Trail is another great hike during winter that in my opinion is one of the easiest and gives you some of the most bang for minimal buck. It follows a flat boardwalk and is only about 1.2 miles round trip. You will want to park at the Giant Forest Museum parking lot and head out from there. The loop walks you along Round Meadow, one of the best habitats for sequoias in the world!
Grab Food in Three Rivers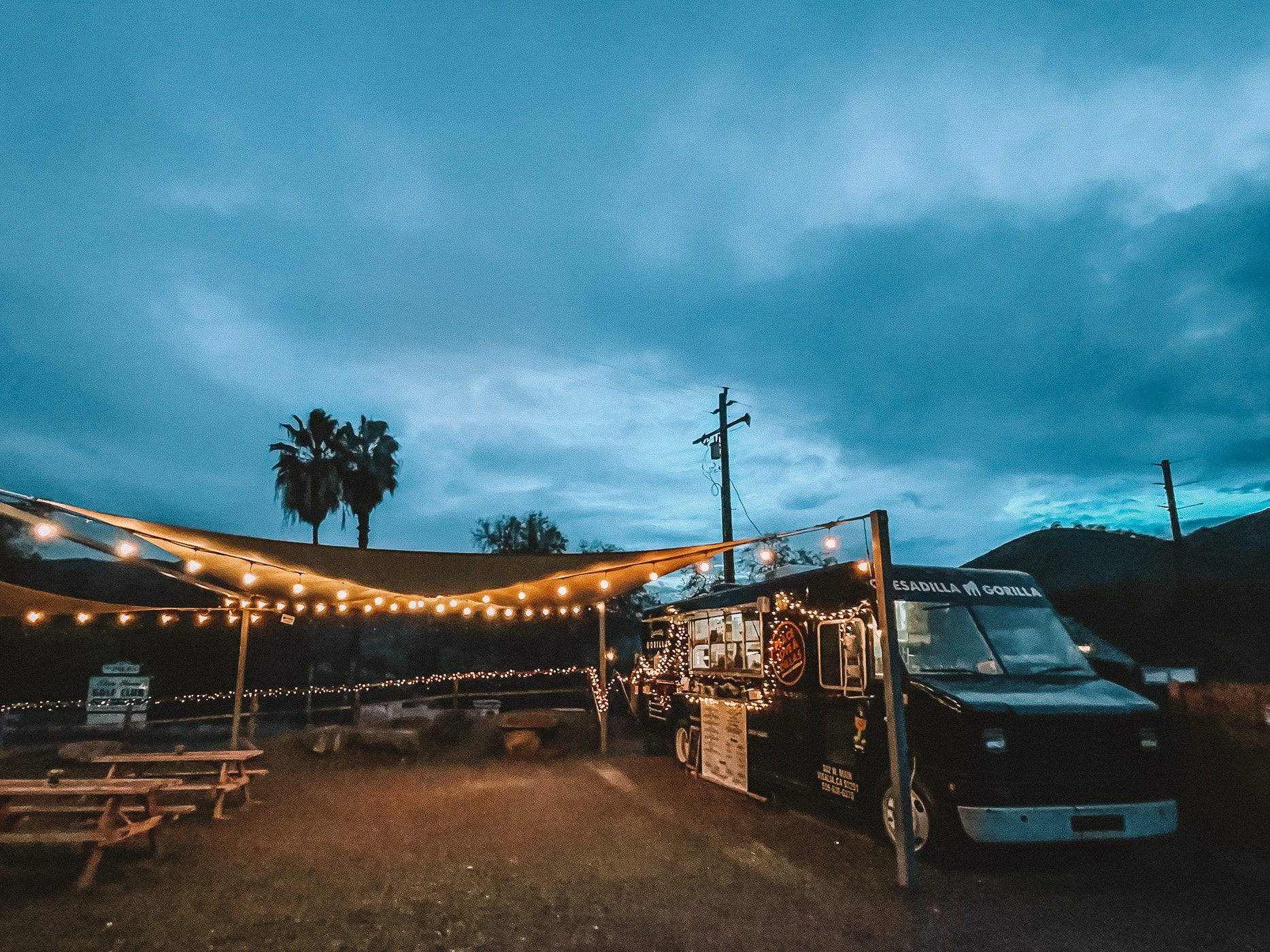 The charming town of Three Rivers is only about a 10-minute drive from Sequoia National Park. This is the closest "city" to the park and offers a decent amount of dining options. Some of the best places that we ate at during our trip were Quesadilla Gorilla and Sierra Subs (for sandwiches). Sage Roots was also a cute spot for breakfast, coffee, and tasty smoothies.
Go Snowshoeing
Snowshoeing is a major activity in Sequoia National Park during winter. If you aren't familiar with snowshoeing, it is pretty much hiking through heavily snowed areas. Snowshoes help to distribute your weight over a larger and more stable area, making it easier to walk on top of the snow as opposed to sinking in.
If you are already an avid snowshoer, you're definitely in for a treat! Be sure to bring your own snowshoes if you have them. If not, you can rent a pair and join the park rangers on a snowshoe tour or explore the park with naturalists from the Sequoia Park Conservancy. During the winter, these tours depart from John Muir Lodge and Wuksachi Lodge every Saturday and Sunday.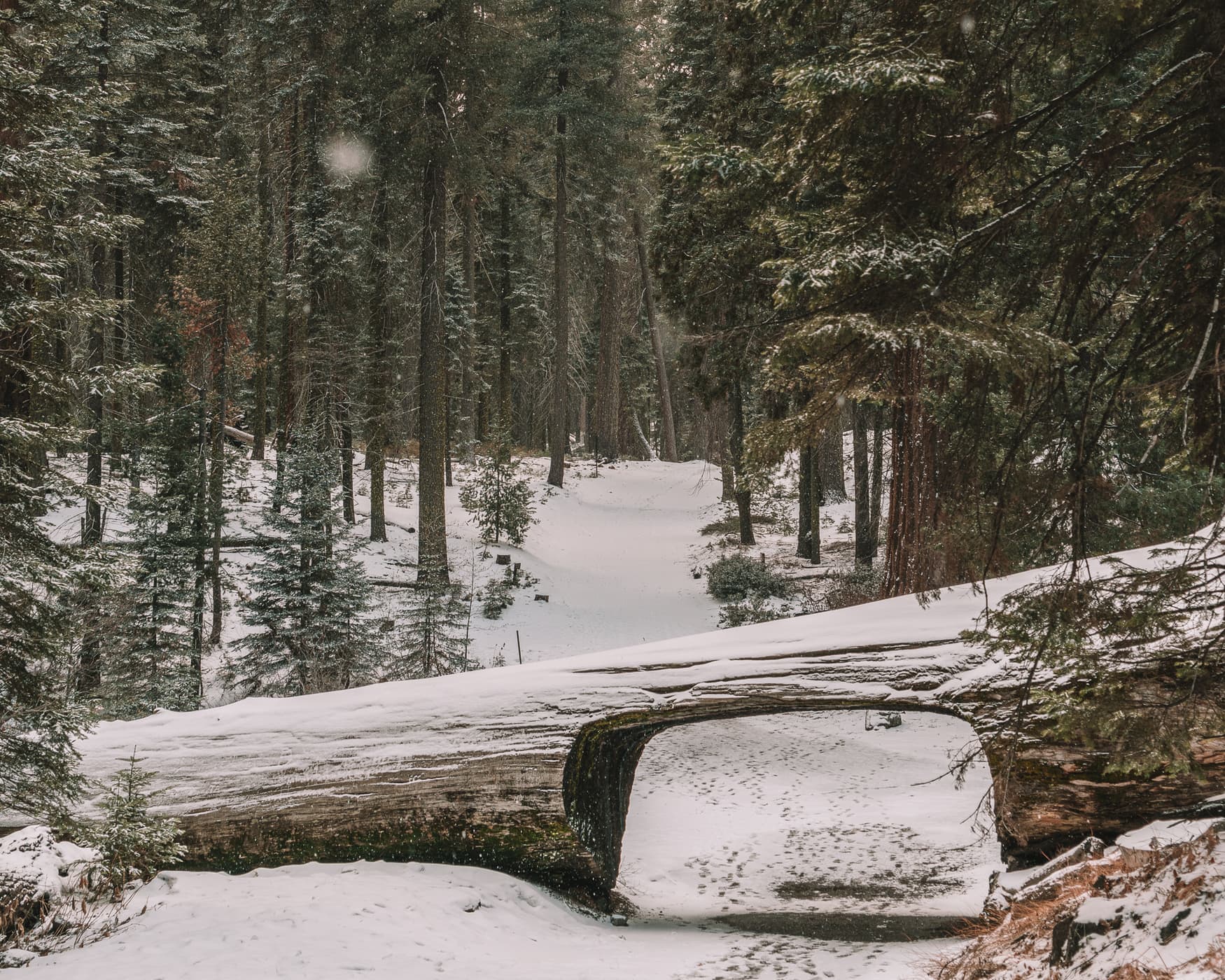 Where to Stay in Sequoia National Park
One of the best parts about visiting Sequoia in winter is the cheaper hotel rates! While there are a few lodges located in Sequoia and the neighboring Kings Canyon National Park, not all are open year-round.
You can also find some great options in the nearby towns of Three Rivers and Visalia. The only downside is you'll have to spend time driving to the park each day, but luckily, there isn't much traffic in winter, just slower driving if the conditions are poor. Three Rivers is the better option, located only 10 minutes from the park entrance while Visalia is closer to 45 minutes from the entrance gates.
Wuksachi Lodge is Sequoia National Park's signature hotel. Located in the center of the park, the stone and cedar lodge is beautiful. It is open all year and is a convenient option for anyone looking to skip some driving time. It usually books up months in advance, so be sure to plan ahead for this one.
Buckeye Tree Lodge in Three Rivers is an updated, stylish lodge only a quarter-mile from the entrance to Sequoia National Park. The lodge includes a variety of rooms and cabins to choose from, and most have breathtaking river views!
The Darling Hotel in Visalia is a solid option for anyone looking for a more modern and luxurious stay. That being said, staying at The Darling Hotel means you'll need to be on board with the 45-minute drive to the park each day. However, the boutique hotel has chic mid-century vibes as well as a rooftop lounge with beautiful views and a locally-inspired restaurant.
Looking for something more private? Check out these amazing rentals below in Three Rivers!
If you want more of a wow-factor, this hillside home is perfect for a couple of guests and it features a wrap-around porch with spectacular views!
Stay with up to four guests in this Rock Creek Retreat in the center of Three Rivers.
If you're traveling with a larger group, this stunning hilltop accommodation fits up to eight guests and boasts beautiful views overlooking Lake Kaweah and the Sierra Nevadas.
More rental options in Three Rivers:
Did this post inspire your to visit Sequoia National Park this winter? Let me know in the comments below!
---
Planning a trip right now? Don't miss my go-to websites for booking everything from flights and tours, to accommodation and more:
---