Visiting the Sheikh Zayed Grand Mosque is a must during any trip to Abu Dhabi or other nearby locations in the UAE. It's one of the largest mosques in the world — and in my opinion — one of the most beautiful. I realize there can be a lot of questions surrounding logistics about visiting this incredible site, so I've broken down everything you need to know before visiting Abu Dhabi's Sheikh Zayed Grand Mosque below.
Quick Tips for Visiting the Sheikh Zayed Grand Mosque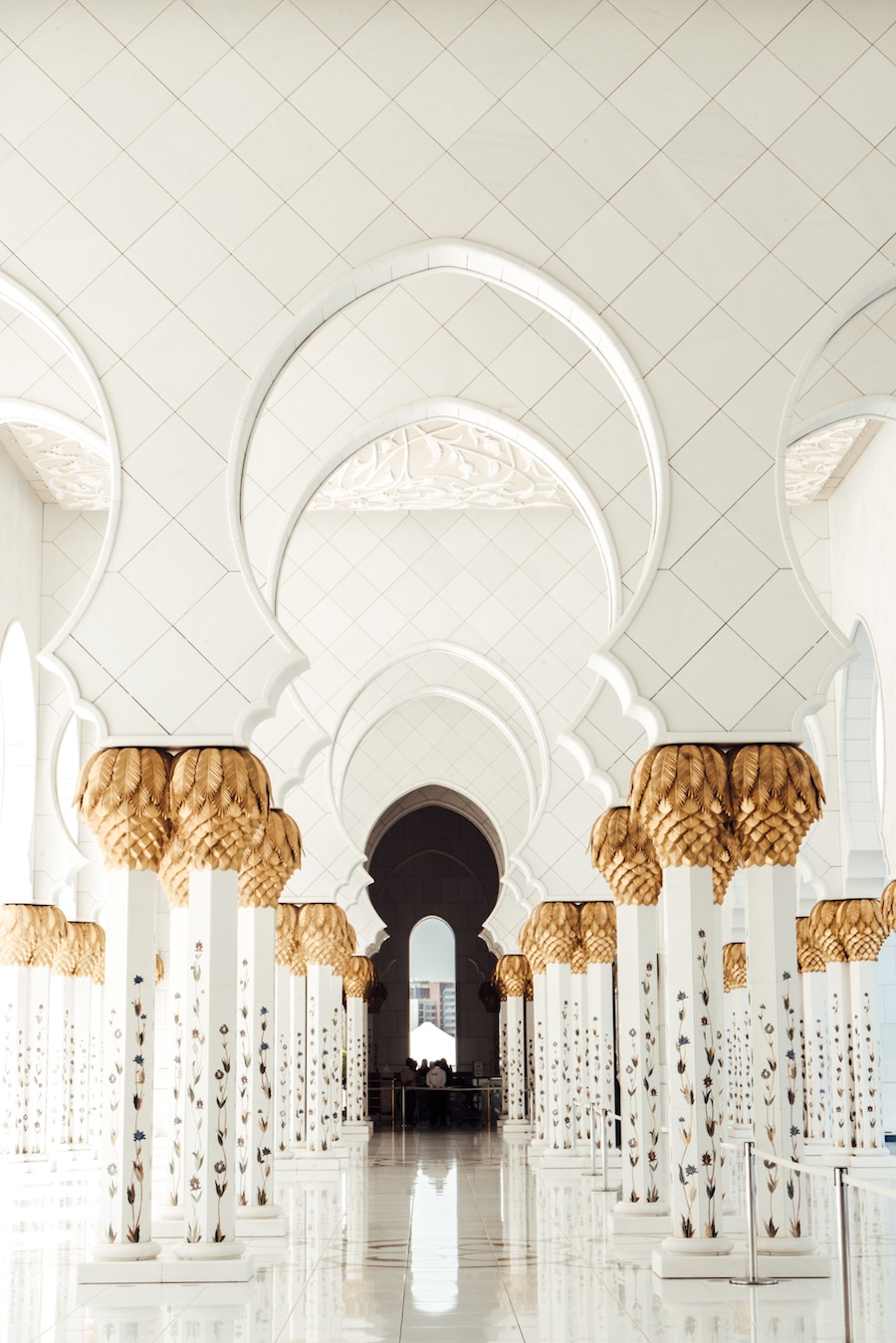 Getting to the Sheikh Zayed Mosque
If you are staying in Abu Dhabi, taking a taxi is simple and will drop you off right at the entrance. There is an easily accessible taxi stand to get picked up from on your exit as well. For those self driving, there is a parking lot on site for visitors. If you're staying in Dubai, don't let that deter you from visiting this grand structure. I met plenty of people during my time there who were in visiting for the day. It's definitely doable!
Entry Fee
Entrance is free! You will have to enter through a small structure featuring a security X-ray machine and changing rooms where you will be given the traditional clothes to wear.
What to Wear to the Sheikh Zayed Mosque
This is a Muslim site, so modest dress (full body coverage) is required of women — ie. ankle length trousers/skirt, head coverage, nothing too tight. There is a handy guide on the mosque's website that will give you a better idea of what's acceptable dress, however the mosque provides traditional abaya prior to entry as well.
When I visited, there was the option of blue and the metallic/pink abayas but I've also seen people wearing black. Your shoes don't matter as you will have to remove them anyways. Wear socks if you're weird about walking around barefoot. Also bring sunnies as it can get quite bright and sunny during the day, especially reflecting off the white domes.
Skintight clothing is not accessible at the mosque, but I would recommend wearing something underneath the abaya that isn't too bunchy or full of material as you will probably be uncomfortable pulling the abaya over these types of garments. Note that it also gets quite hot in Abu Dhabi, so dress accordingly and know that you'll be hotter in the full coverage.
What Time To Go
The mosque is open from 9 AM to 10 PM most days except on Fridays when the mosque is only open to visitors after 4:30 PM. Schedules may alter during the holy month of Ramadan, so make sure to check the schedule before you plan your visit during this time.
How to Do a Tour
Guided tours are free and are available on a walk-in status. It is advised that you show up around 15 minutes before the scheduled tour is to start and the tours usually run for 45 minutes to an hour. Check the website for tour times.
If you'd rather do a more curated and intimate tour or book a longer tour that explores other parts of Abu Dhabi and Dubai, check out some of these top-rated experiences below!
How to Get Good Photos
No need to be the first one inside to get good photos here. Visitors are not allowed to walk through the center of the mosque, which means photos get a clear view pretty much any time of day (unless you want clear photos of the hallways)! Sunrise viewings are not possible, so if you're more interested in golden hour light, go for sunset which gives the mosque an entirely different look and mood! I didn't get to do the free tour, but I've heard you're able to jump the ropes during the tour allowing for better photos than the average visitor.
Refreshments
The only place nearby for food and drinks is the Coffee Club which serves salads and sandwiches, so make sure you fuel up before the adventure.
How Much Time Do You Need
About 1-2 hours is a good amount of time to allow yourself to view all parts of the mosque and enjoy refreshments afterwards if you'd like.
What Not To Bring
Personal food and refreshments are not allowed inside the mosque and will probably be confiscated at security. Also, if you are a professional videographer or have very large professional equipment with you beyond just a simple DSLR, you may be questioned. This is not official information, but I was told by friends on Instagram that tripods are not allowed inside the mosque. There is also a mention in their FAQ that professional media personnel are required to fill out this Media Form. Don't look conspicuous and you'll probably be fine.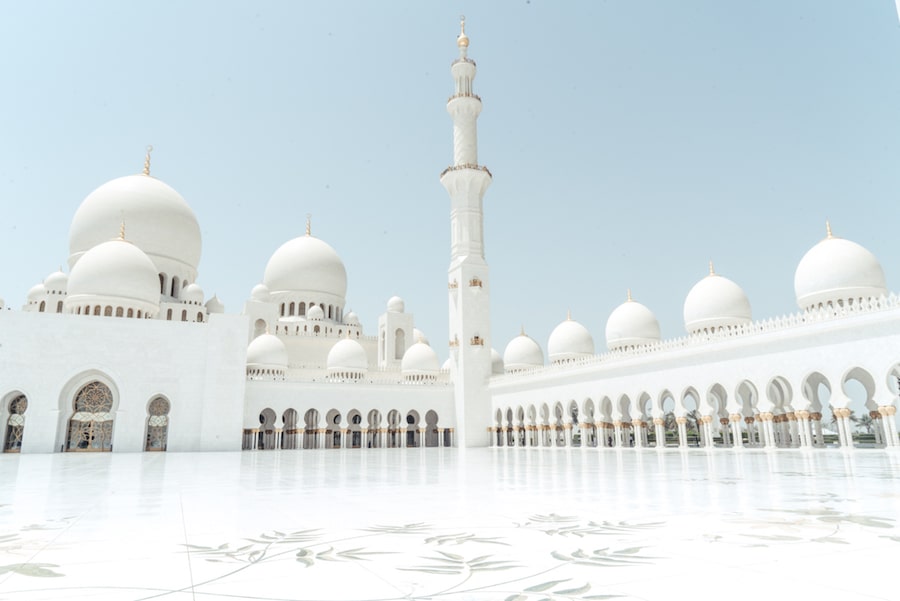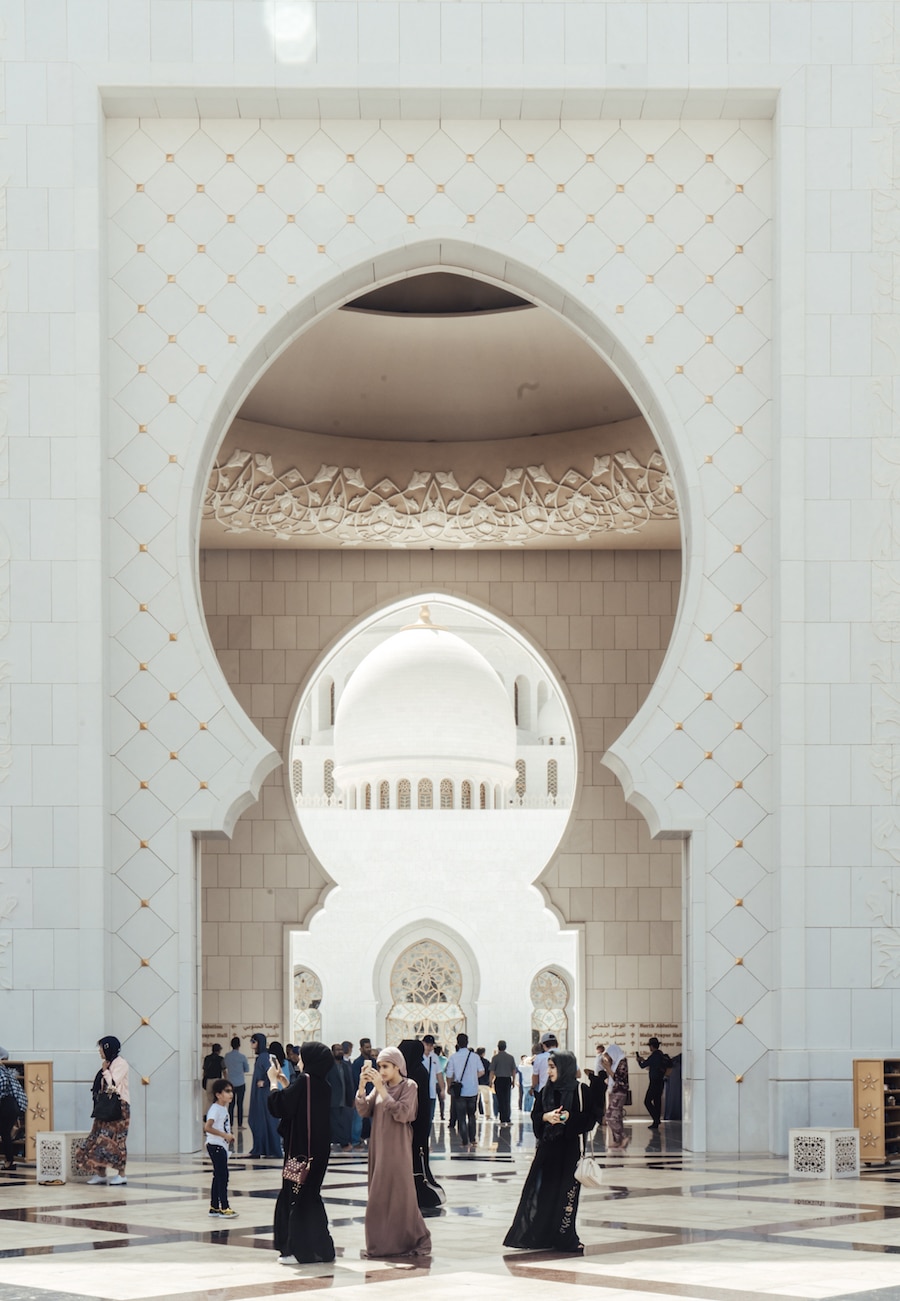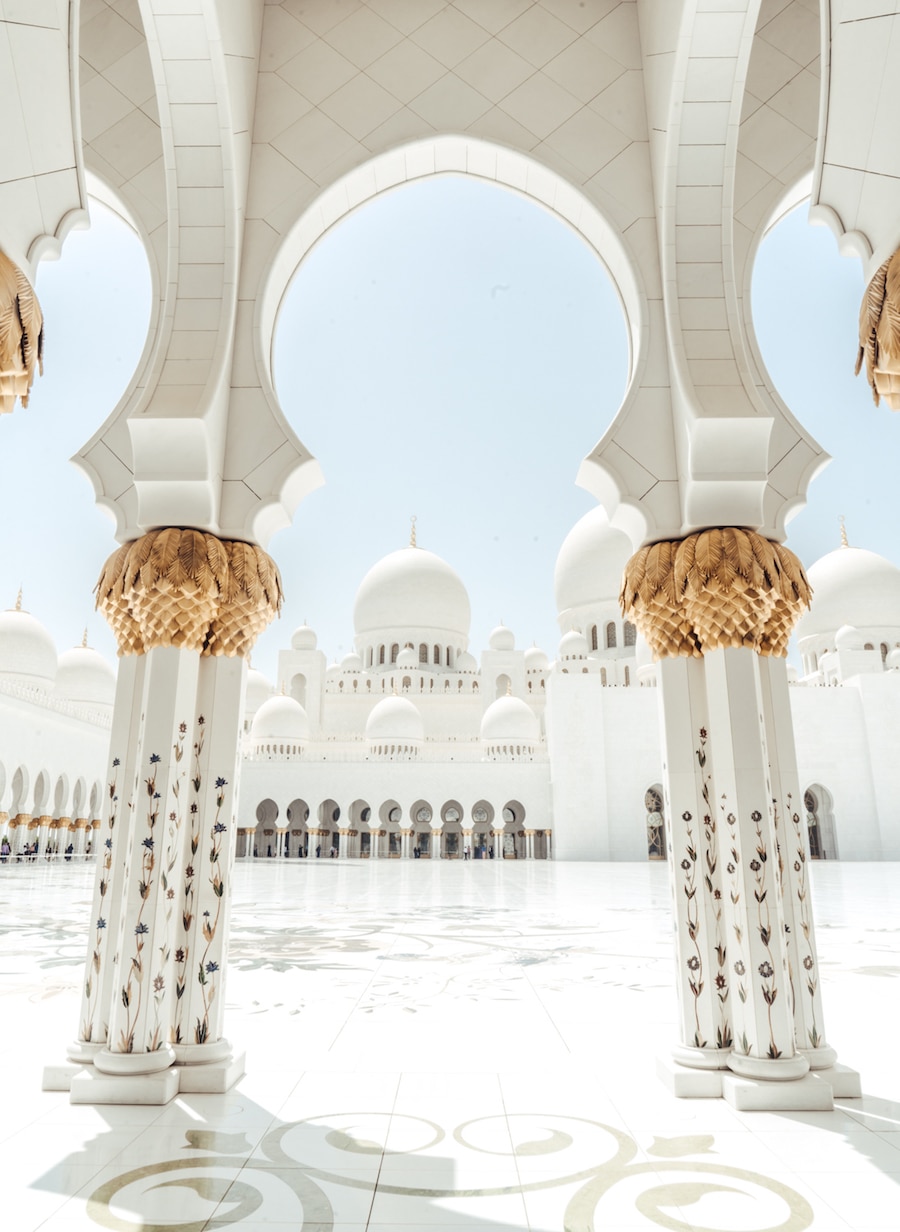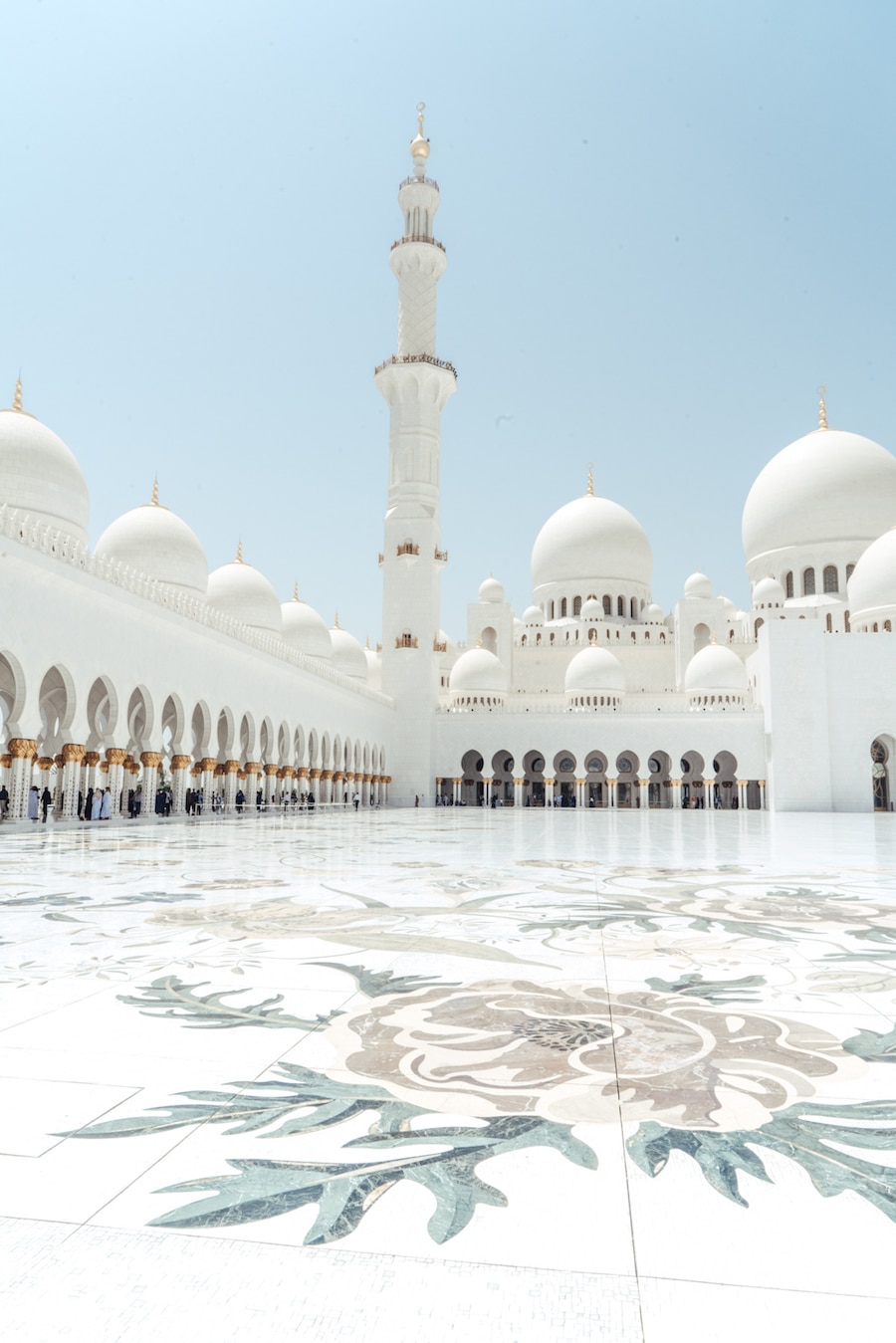 Check the Sheikh Zayed Mosque website for more info.