I think at this point I've been to almost 30 U.S. states, and while of course I want to visit ALL of them at some point, that will come with time. But out of all of the states I have been to thus far, Utah has to be one of the most beautiful. I've been lucky enough to visit on two separate occasions in the last year and I've decided that it's pretty much the ultimate road trip destination, so if you're looking for a great adventure with friends, your family or a loved one, this is definitely one to tick off your bucket list! Ready to start planning your own Southern Utah road trip itinerary? Here are the stops you won't want to miss along the way.
THE ULTIMATE SOUTHERN UTAH ROAD TRIP ITINERARY
Day 1: Fly Into Las Vegas 
If you're not already in the area or within driving distance to Utah, you'll have to fly in and rent a car. The biggest airport to fly into is Las Vegas McCarran International (or Salt Lake City if you want to do the itinerary in reverse). St. George, Utah which is the closest city in proximity to Zion National Park also has a small airport, but flight options may be more limited depending on where you're coming in from.
If you fly into Vegas, drive the two hours over the state line to St. George, Utah just note that there is a time change between Nevada and Utah! If you have time, don't miss a quick pit stop in Valley of Fire State Park which is a beautiful detour if you fly in early enough in the day.
Read my full guide to St. George, Utah for more info on what to see and do in the area.
Total Driving Time: Two hours (or three hours if you add in Valley of Fire)
Sleep: The Amira Resort & Spa, St. George
Bonus: If you spend extra time in this area, you can find great hikes located in Snow Canyon State Park and the Red Cliffs Desert Reserve.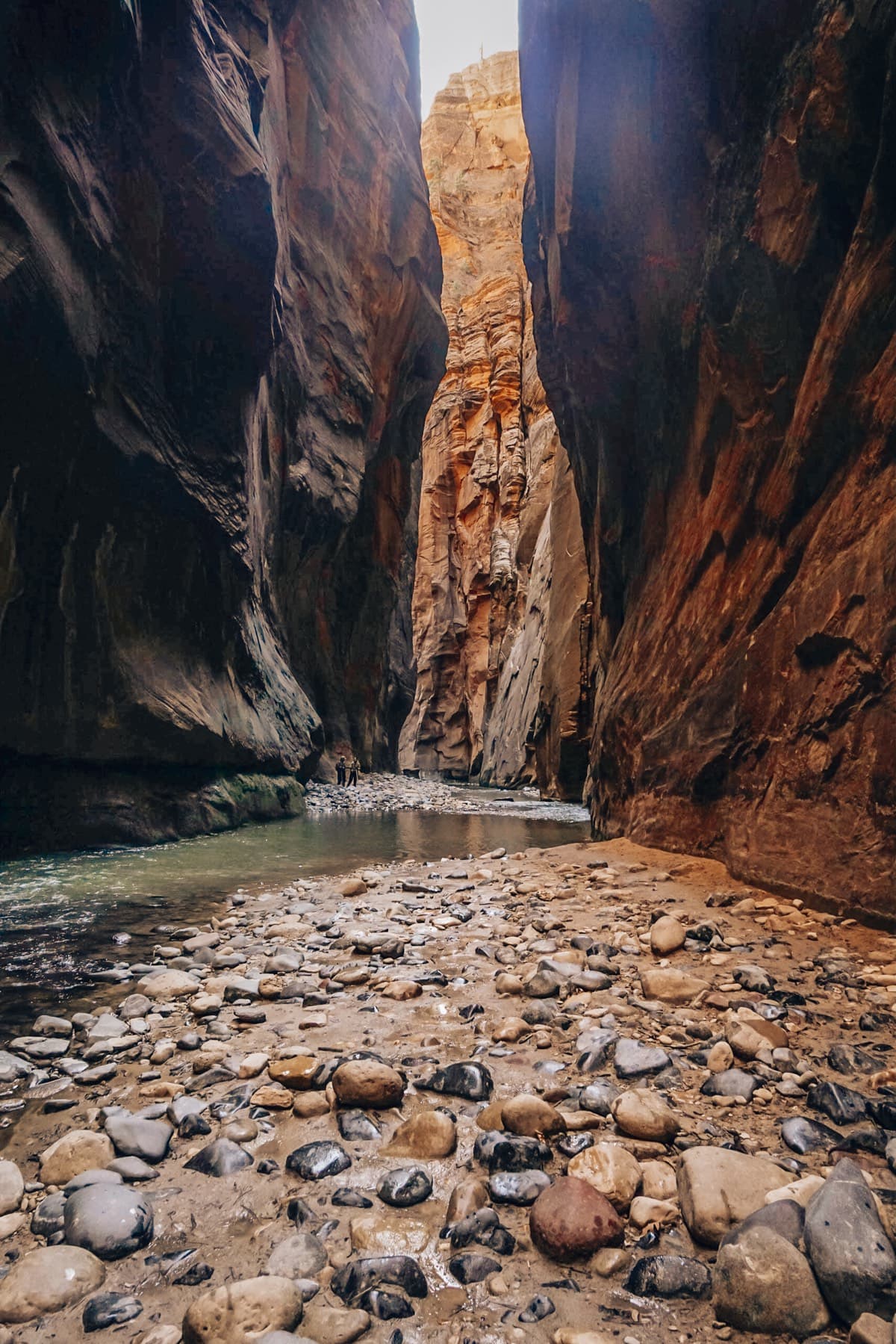 Day 2: Zion National Park
Start the morning early, driving from St. George to Springdale, with a pit stop in Hurricane at River Rock Roasting Company to fuel up for the day. Spend your first full day exploring all that Zion National Park has to offer, including must-do hikes like The Narrows, Angel's Landing, Emerald Pools and the beautiful drive through the park along route Route 9.
Total Driving Time: 1 – 1 1/2 hours
Sleep: Under Canvas recently opened their Zion glamping location
Day 3: Bryce Canyon National Park
Start your morning with a drive along route 9 cutting through the park for a little shortcut on your way to Bryce Canyon, where you won't want to miss the park's sprawling landscape of warm-toned hoodoos, which are basically jagged, spiral-like rock formations.
Spend the full day exploring the different trails of Bryce through sunset, the most magical time in the park. Once dark, drive an hour and a half south to Kanab, Utah, a sweet little town known to be the base to try your hand at The Wave lottery.
Total Driving Time: Approximately 2 hours
Sleep: Basecamp 37, a family-owned glamping camp located on the most beautiful piece of land with views for miles.
Day 4: Kanab & The Wave
Full disclosure: I attempted this and had no such luck. If you're hell bent on hiking through the Wave, then your best bet is to apply for a permit well before your trip. According to this article on Bearfoottheory.com, there are about 50,000 applicants per year and only about 15% of those gain access — but you could be one of the lucky few to hike this unique landscape! To find out more about how to apply for access to the wave online or through the walk-in lottery, check out this informative article by Bearfoot Theory. Note that walk-in permits will be given for the following day, so plan your itinerary accordingly.
If you aren't one of the lucky few to get into The Wave, you can still explore other cool hikes in the area like the Escalante Staircase. You can also use this day to relax in nature at Basecamp 37 or explore the charming town of Kanab. Some good local options for food and coffee in Kanab are Peekaboo Canyon and Kanab Creek Bakery.
Total Driving Time: Depends on the activity you choose for this day.
Sleep: Night two at Basecamp 37
Day 5: Hiking the Wave or Page, AZ
Option 1: Hiking the Wave
If you get accepted for the walk-in Wave lottery, then this will be the day of your hike so alter your itinerary accordingly. If you don't get accepted or don't have an interest in hiking The Wave, then move on to option 2.
Option 2: Lake Powell & Page, Arizona
Ok, ok. I know, this isn't Southern Utah. But here's the thing. There are only a limited number of roads that will get you from place to place and you basically have to drive back into Arizona to get from Kanab to other parts of Southern Utah, so you might as well see what the area has to offer, right? I knew you'd say yes 😉
If you only have one day to spend in this area, then you can't miss Antelope Canyon and Horseshoe Bend. With some extra time, you can also plan on swimming in Lake Powell or visiting some of the viewpoints that overlook the lake and Glen Canyon Dam.
When planning a visit to Antelope Canyon, you must book a tour ticket in advance if you want to ensure access. We visited Lower Antelope with Ken's Tours who I thought did a great job. We also booked the earliest morning tour so that there were less people and it was cooler inside the canyon (sometimes if it gets too hot out they will have to cancel the tour). For those interested in witnessing the light beams, you'll want to book a tour in Upper Antelope around mid-day (11 AM to 1:30) for the best possible chance of witnessing the rays, however it will have to be a sunny day so your chances are still hit or miss.
Horseshoe Bend on the other hand is super easy to simply drive up to and experience, with only a short hike up the road to the actual viewpoint. Depending on what kind of photos you want though, you'll want to research when the light is best as the shadows can be quite strong over the river at certain times of day.
Total Driving Time: 1 1/2 hours
Sleep: There aren't amazing hotel options in the Page, Arizona area in my opinion unless you're going super luxe and want to stay at the Amangiri (which is absolutely stunning, but in that case I wouldn't leave the hotel!).
If you want to stick around for the night, your best bet is to check Booking.com and just go for something basic and cheap. If you're camping, the Lone Rock campground is a good option, but you have to be driving a car that can handle soft sand terrain (trust me, we learned this the hard way) to be able to access the parts of the beach close to the water's edge. Do not risk it! We got stuck and had to be towed out at 2 AM, but that's a story for another blog post!
Day 6: Monument Valley 
After you've explored the beauty of Page, your route will take you back north towards Utah into Monument Valley, a classic American landscape that's been featured in plenty of Western films over the years as well as some major motion pictures like Forrest Gump.
There are plenty of ways to explore this desert gem, whether you want a brief overview or a deep dive. You'll definitely want to drive through the park's 17-mile loop to some of the best viewpoints like John Ford's Point. Other options for exploring the area are on foot by hiking or on a tour on horseback.
Total Driving Time: 2 hours
Sleep: As the name suggests, The View Hotel has stunning views overlooking Monument Valley and is conveniently situated for all of your adventures. The Monument Valley Tipi Village is also an option for a unique accommodation experience.
Day 7: Moab and Arches National Park
Probably my all-time favorite area in Utah, Moab, is a gem that stands out from the rest of the state. I wrote an entire guide to Moab if you want a an extensive look into the area, but the main things that you need to know are: Arches National Park and Canyonlands.
Wake up early at Monument Valley to drive up to Moab so you can do a tour through Arches the same day. There are tons of formations to see that are easily self-drivable. Skip any strenuous hikes you want to do and save them for the following morning at dawn when the temperature will be cooler.
Spend the evening eating dinner in town to get a feel for the local vibe of Moab. Some favorite spots are Peace Tree Cafe, Desert Bistro and Moab Brewery.
Total Driving Time: The drive from Monument Valley to Moab, Utah takes about 2 hours and 40 minutes, but total driving time will depend on what you choose to do and see in Arches National Park and Moab town.
Sleep: Moab Under Canvas
Day 8: Arches National Park & Canyonlands  
Start your morning with a hike to the Delicate Arch in Arches National Park, then visit any remaining areas of intrigue (Landscape Arch, Double Arch and Corona Arch are well worth seeing) in the park before making your way to Canyonlands. My favorite viewpoints in Canyonlands are at the Mesa Arch and Grand View Point Overlook.
Total Driving Time: About 1 1/2 – 2 hours
Sleep: Moab Under Canvas
Day 9: Drive to Salt Lake City, return rental car & fly out!
Total Driving Time: 4 hours
Bonus: If you have extra time in Utah, these beautiful parks and scenic areas are also worth checking out: Dead Horse Point State Park, Goblin Valley State Park, Capitol Reef State Park and the Bonneville Salt Flats.
Helpful Tips for a Road Trip Through Southern Utah
This trip is easiest done in a larger 4-wheel drive vehicle that can handle the elements as the West can be unpredictable when it comes to weather and road conditions. It's possible to do in a small sedan but be very cognizant of the road conditions before you go anywhere and be extra careful if there are any heavy rains as flash floods are a real thing out here!
Drink plenty of water and make sure you have extra on hand especially during the summer months to prevent dehydration and heat stroke.
If you plan to complete this full itinerary, it's worth it to buy an America the Beautiful Pass which will cover entrance fees for many of the parks for your entire vehicle for $80 total. Most Utah parks cost about $30-$35 per vehicle each time, so if you visit just three of them you'll be saving money with the annual pass.
Always fill up your gas tank before entering into a national park or when you hit half way on the tank as there can be long stretches of road without fuel stations in this part of the US.
Make sure to check each park's website before you visit for weather alerts or closures to avoid disappointment if areas of the parks are closed.
PIN IT FOR LATER