When I was younger, buying stylish luggage was one of those things that always fell into the "someday" category. I'd receive beat up hand-me-down suitcases from family members, but never wanted to pull the trigger on spending so much on a single item that seemed more practical than fun. I mean, who likes packing and all that it entails anyway?
But now that travel is part of my everyday life, the brands I travel with are of a lot more importance. And of course, I don't just want something with great functionality. I want luggage that reflects my personal style. Luckily there are plenty of brands that are doing it right when it comes to pairing practicality with super cool aesthetics — and I'm breaking them all down in this post.
Over the last few years, I've officially said sayonara to all those old beat up suitcases from the past and replaced them with newer, sleeker luggage (currently I travel with both the checked and carry-on styles from Monos—you can use my code LIVELIKEITSTHEWKND10 to take 10% off your order). People have different needs for the bags they use though, so I thought I'd share some of the top brands I've been eyeing recently.
Here are some of the most stylish luggage brands to keep an eye out for this year!
The Most Stylish Luggage Brands to Add to Your Wishlist
1. Monos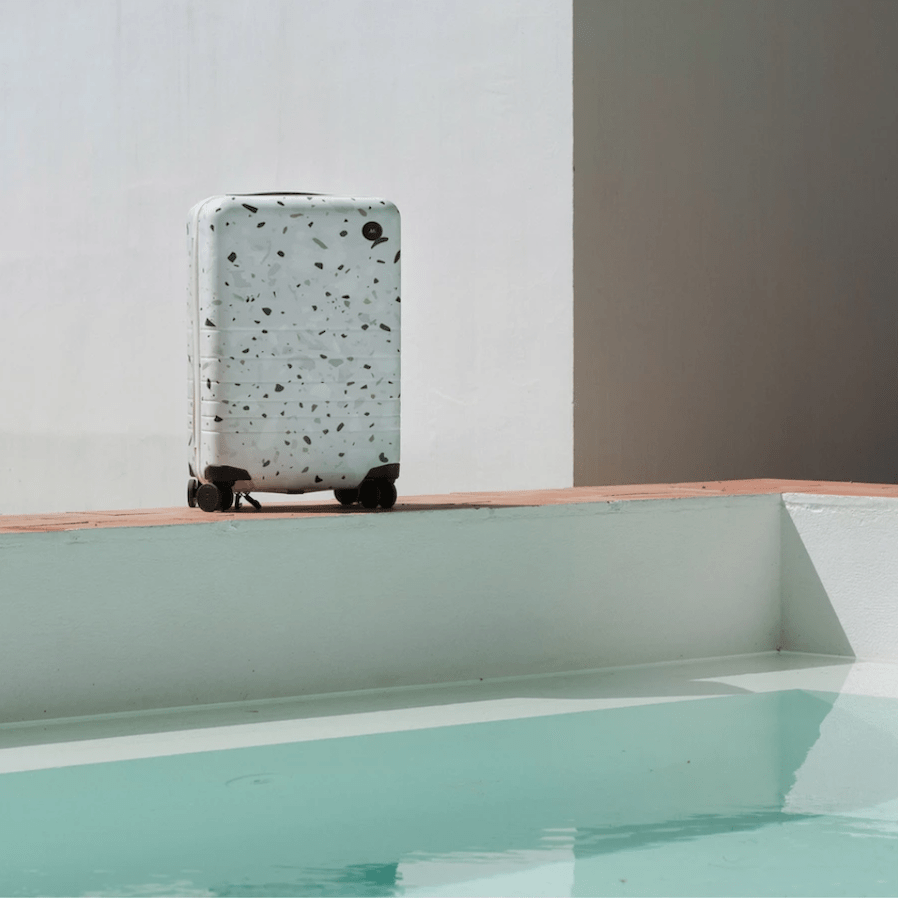 Canadian brand Monos brings minimalist, sleek—dare I say, sexy—designs to their luggage styles. As a direct-to-consumer brand, Monos is looking to create quality pieces that are both functional and well-designed at accessible price points by cutting out the middle man, and their strategy seems to be working (they sold out their initial launch pre-orders in just 3 hours).
If you're wondering where the name comes from, it's inspired by a concept in Japanese culture, "mono no aware," meaning the profound appreciation of the beauty in fleeting moments, which I love.
Everything in their collection is pretty minimal, with designs and colors that stand the test of time. However, they do have limited edition collections that bring bolder designs into the mix for those that want to make a statement. I'm especially loving their desert taupe, olive green and blue haze hues from the collection at the moment.
Use my code LIVELIKEITSTHEWKND10 to take 10% off your order.
Carry-on luggage starts at $220. Shop Monos
2. Level8
Looking for luggage that is both simple and sleek at a good price point? Level8's whole motto is "Premium Quality at Factory Prices." They prioritize efficiency, ease, style, and of course, quality. Their products are durable and made with high-quality materials, making this brand a great option for travelers hoping to make a long-term investment with their purchase.
I personally love that their bags feature "ultra-quiet" 360-degree wheels, making them a great option when navigating through the airport with all of your belongings.
Plus, when it comes to style, Level8 has a pretty impressive variety. In addition to being able to choose from several different colors and hues, their luggage is also available in cool finishes including textured, matte, and aluminum.
Carry-on luggage starts at $156.99. Shop Level8
3. Roam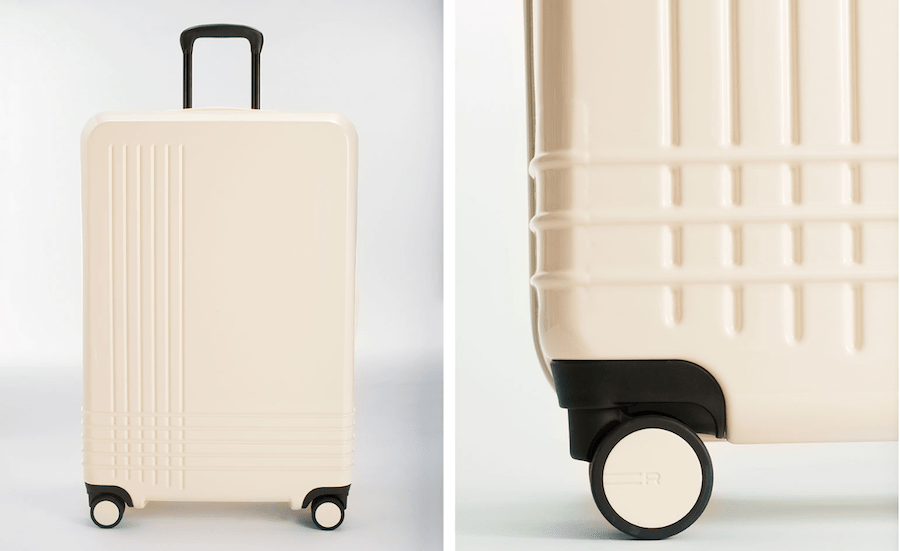 If you've been hard-pressed to find luggage that suits your style and color preferences, then Roam is the brand for you. This more recently launched luggage line is the world's first completely color customizable premium luggage. With seemingly endless color combos at your disposal, you can literally choose the colors for 9 different elements of your suitcase, from the more prominent front and back shell hues down to the tiny details, like the color on the zipper and wheels.
Roam currently offers four different sizes of polycarbonate-shell bags, and with founders who clocked time working on the TUMI brand, you can expect them to be serious about not only style, but quality too.
Carry-on luggage starts at $450. Shop Roam Luggage
4. Away
If you're active on Instagram, then it's likely you can't stop hearing about the brand Away, which seemingly shot to IG stardom in the luggage space. As a previous partner of Away, this is my current luggage that I travel with, although I'm interested in dabbling with the other brands listed in this post.
What I think makes Away so hotly coveted is their selection of neutral and classic colors that are always on point, in addition to their high profile limited edition collaborations that introduce more unique designs throughout the year (I partnered with them on their Karlie Kloss collection).
Just this fall, they've launched their new Expandables collection, which comes in durable nylon and expands in size for maximum flexibility from trip to trip.
Carry-on luggage starts at $225. Shop Away Luggage (take $20 off your first set of luggage with this link).
5. Béis
Founded by actress and influencer Shay Mitchell, the Béis brand is all about femininity and neutrals. Pretty much everything in the line comes in nude or black to go along with their overall branding, which looks super sleek and more expensive than the cases actually are.
I love that in addition to their stylish hard-case luggage, Béis offers an extensive collection of travel accessories. They've thought of everything — from toiletry bags and passport holders to even flat iron covers — which means that everything in your travel gear arsenal can be cohesive in color and branding from the moment you pack your bags to that final flight coming home.
Carry-on bags start at $198. Shop Béis
6. Douchebags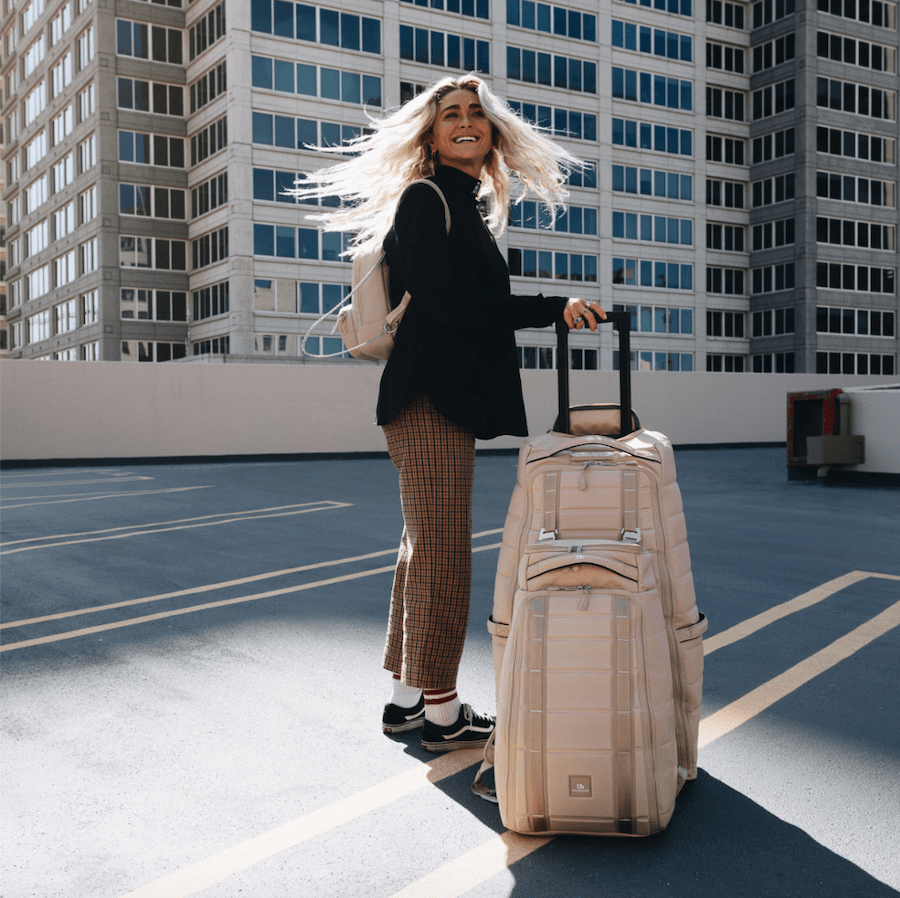 With brand ambassadors like Gypsea Lust and Do You Travel repping the collection, Douchebags is creating the products that other influencers and photographers want to travel with. After all, the brand was founded by instagram influencer and photographer himself, Jon Olsson.
What makes the Douchebags line especially unique is that in the current luggage landscape of boxy hard-shell cases, they've come up with a design that is truly one of a kind in its construction, while sticking to chic, neutral colors that are still covetable and easy to travel with. Even better, their patented hook-up system allows luggage sets to easily be attached to one another, putting the weight on the wheels for hassle-free mobility.
This is a line meant to come along on all your most epic adventures — from nature photography trips to skiing and biking adventures, Douchebags has created functional products that make every kind of trip more effortless.
Carry-on luggage starts at $299. Shop Douchebags
7. Horizn Studios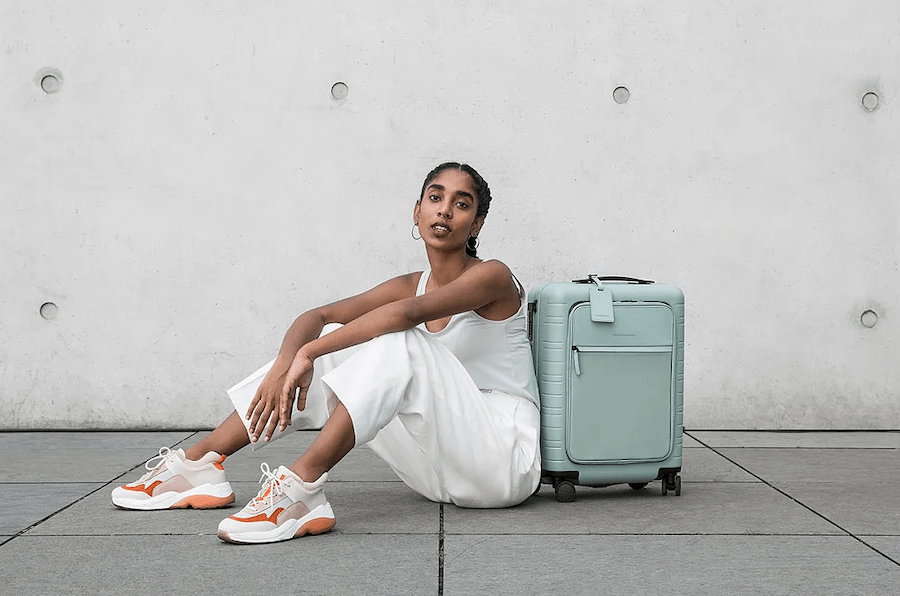 I first spotted Horizn Studios displayed in a shop in the Copenhagen airport and had to get a closer look because it was so stunning and different than any luggage designs I had seen in the past. The bag pictured above is the one I first saw in person, and I was immediately drawn in by the beautiful color. Turns out, the rest of their designs are just as cool.
If Horizn Studios' stylish luggage designs haven't already sold you that this is one of the coolest travel brands out there, then let their partnerships speak for themselves. So far, Soho House, BMW and Design Hotels are all collaborators on limited edition luggage pieces with the Berlin-based brand.
Carry-on luggage starts at €190. Shop Horizn Studios
---
Read More Travel Gear Posts
---
8. Lipault
This 10+ year old Paris-based brand has established themselves as the go-to for women who are looking to be both fun and bold in their travel choices. From rose gold luggage sets to bright monochrome colors in every style, Lipault offers stylish luggage at an accessible price-point that is fashion-forward and lightweight.
If you're looking for something to make your travels more fun — not to mention, be able to grab your bags faster on the baggage claim carousel — Lipault should be on your radar.
Carry-on luggage starts at $220. Shop Lipault
9. Rimowa
While Rimowa is probably the most pricey collection in this list, their sleek, classic designs will stand the test of time — no matter what timezone you find yourself in along your travels.
Rimowa has a long-standing history as one of the best luggage brands out there. From their heritage that dates all the way back to 1898, they've spent over a century looking for solutions to continuously innovate and make better products for travelers.
For those seeking something more fun and bold, Rimowa's customizable options allow shoppers to personalize their suitcase by changing up details like the colors on the wheels, adding a luggage tag or even personalizing with stickers to ensure you never mix up your belongings at baggage claim.
Carry-on luggage starts at $540. Shop Rimowa
10. Arlo Skye
Arlo Skye's tagline is literally "travel pieces for the design obsessed" — and it's not hard to see why. Founded by Louis Vuitton and Tumi alums back in 2016, Arlo Skye combines quality materials and functionality with designs that make travelers feel confident in their style.
In addition to classic zippered suitcases, I love that this brand offers zipper-free frame cases, which typically require less repairs down the road and are thus sturdier options for frequent fliers. And true to the brand's global spirit, they've sourced the best of the best materials from all over the world, from Japan to Germany.
Carry-on luggage starts at $350. Shop Arlo Skye
11. Calpak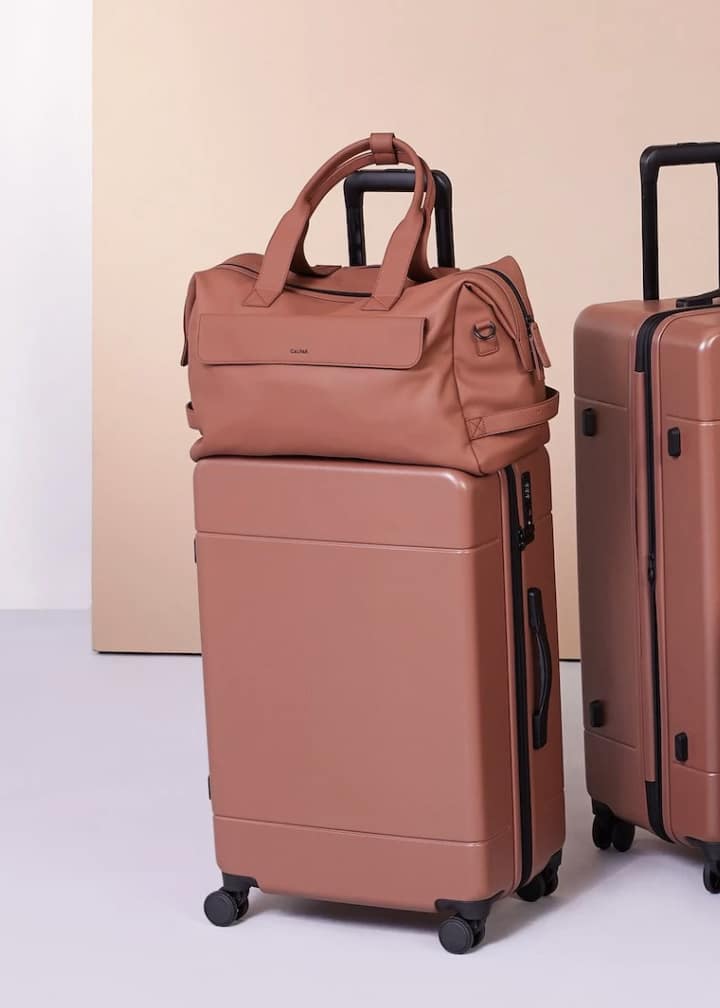 Family owned and operated brand Calpak has been making travel look good since 1989. Their mission is to deliver pieces that are just as beautiful as the items you pack in them, while providing quality along the way.
I was initially attracted to Calpak's designs when I discovered their marble printed hard-case luggage, which was different than anything else I had seen at the time. Now I'm loving their new Hue Collection, which brings monochrome luggage sets to market in fall and winter appropriate colors.
Beyond your essential luggage pieces, Calpak is a one-stop shop for pretty much everything you could need for a long journey ahead — from travel wallets and silk sleeping masks to laptop backpacks and everything in between.
Carry-on luggage starting at $95. Shop Calpak
12. July
July is an innovative luggage brand based out of Melbourne, Australia. The luggage possesses a futuristic appeal that is modern, sleek, and minimalistic. That being said, the brand's main focus is on durability. Everything from the design to the materials used revolved around the idea that luggage should last a long time.
July ensures that each piece of luggage has reinforced corners, an adjustable handle with more than three heights, and speedy wheels that last a lifetime. The curved corners also add extra durability and the scratch-proof texture on the exterior of the suitcase protects the clean appearance of the luggage even after several uses.
Carry-on luggage starting at $245. Shop July
What are your favorite stylish luggage brands right now? Know of one I forgot? Leave me a comment below to let me know!
***
Please note: This post contains affiliate links, which means I may make a small commission on sales at no extra cost to you. By purchasing products based on my recommendations, you are supporting this site and the continuation of free content in the future. Thank you!
LOVED THIS POST? PIN IT FOR LATER
---
Planning a trip right now? Don't miss my go-to websites for booking everything from flights and tours, to accommodation and more:
---