I recently had the pleasure of sharing my favorite stylish Savannah spots with interior design mecca One Kings Lane, and wanted to make sure none of you missed out on benefitting from this post! Below is most of the original copy from the story, but make sure to click through to the full post on the One King's Lane blog for additional images and recommendations. Happy travels!
Endlessly charming, this sultry city is equal parts proper Southern belle and sassy Georgia peach. There are the squares—22 of them—offering cool green repose on hot summer days. There are the cobblestone streets and flickering lanterns. The oak trees bearded with Spanish moss. The alfresco mint juleps on wrought-iron balconies. But there's also a creative current running through the city, resulting in a new standard of restaurants and inventive shop concepts.

One of our favorite travel Instagrammers to follow, Michelle Halpern—who beautifully chronicles her adventures on her site, Live Like It's the Weekend, and companion Instagram feed, @livelikeitsthewknd—just returned from Savannah, where she was ensnared by the city's magic. "I'm newly Savannah obsessed," Michelle says. And she should know a thing or two about happening destinations: She just spent a nomadic year abroad hitting 14 countries, from Australia to Vietnam to Cuba to Peru.

Below, Michelle gives us a rundown of her favorite stays, eats, and shops in the Hostess City.
WHERE TO STAY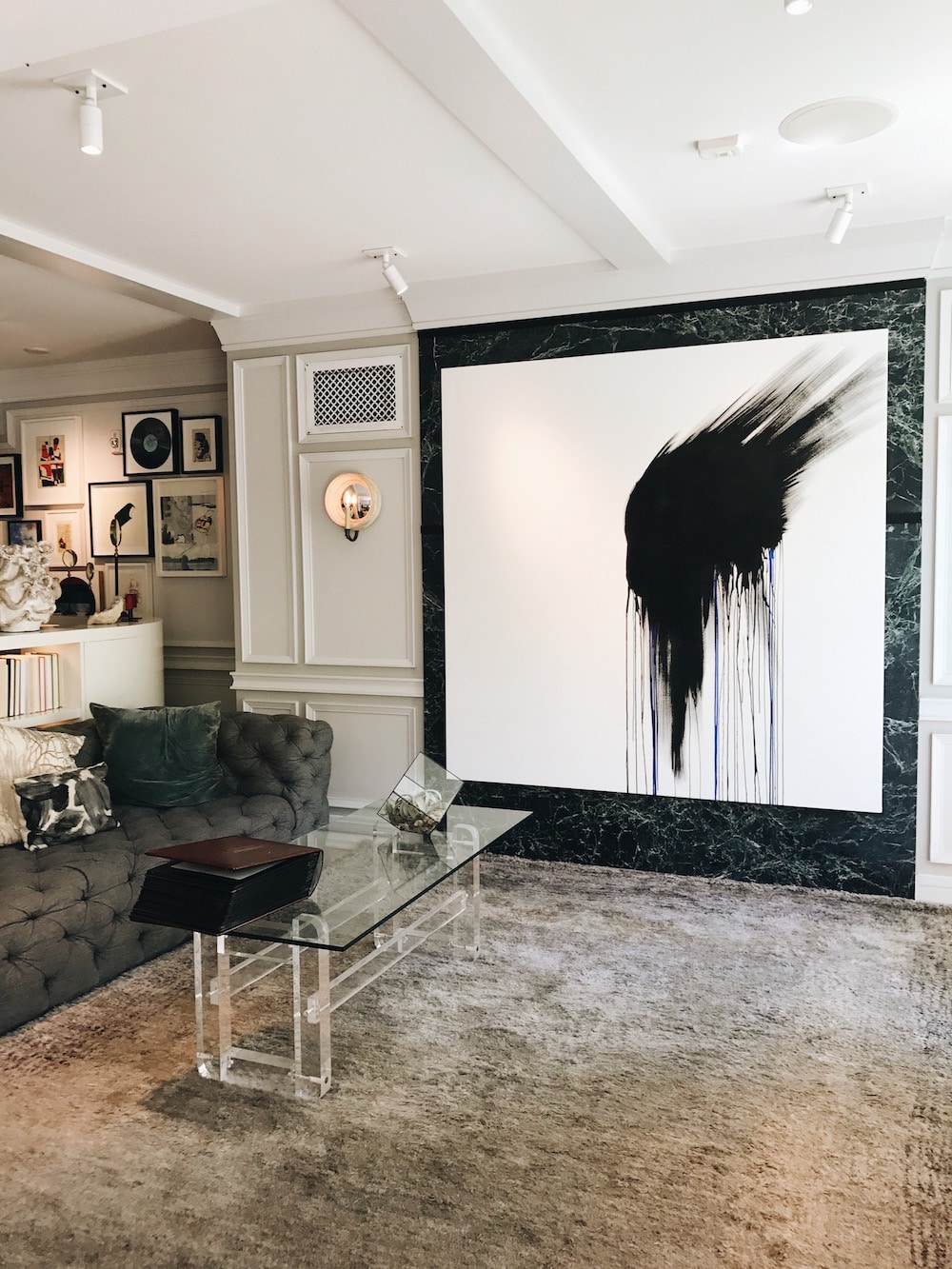 The Kimpton Brice 

"I don't like to think of ghosts standing over my bed," laughs Michelle, "so the last time I was in Savannah, I went for something more modern." She opted for the buzzy Kimpton Brice, with its black-washed brick facade and interiors melding the good bones of historic architecture with abstract art, cool gray chesterfields, and rows and rows of bookshelves arranged by color. "They also do a nightly happy hour with free drinks," Michelle says. "I was there during Derby, and they did mint juleps. It's a mini social in the lobby area."

The Andaz Savannah 

With its well-designed lobby and roof-terrace pool, Andaz Savannah "is another lovely modern option." Standing on the site of the old Savannah Daily Newsbuilding, it's just a few blocks inland from River Street and across the way from Congress Street, a nightlife hub that comes alive on weekends. "The seating area in the lobby bar is the perfect place to relax with friends for a predinner cocktail or flip open your laptop for a quick work sesh," says Michelle. "It's just the right mix of elegance and ease."
WHERE TO EAT
Mrs. Wilkes Dining Room 

This ultimate Southern dining experience has provided a never-forget-it, trip-making experience for thousands of visitors to Savannah. "I heard about it from an Uber driver," says Michelle. "She said, 'You have to go.'" It's open every day from 11 a.m to 2 p.m., but people start lining up at 10, if not earlier. Once you make it inside, you'll be seated at big communal tables. "It's like a big Southern Thanksgiving with strangers," Michelle says. Then the soul-soothing food starts coming out (served family-style, of course): fried chicken, okra, macaroni and cheese, collard greens, black-eyed peas. It's all you can eat—and eat you will. "It's one of those experiences you can't find anywhere else," says Michelle.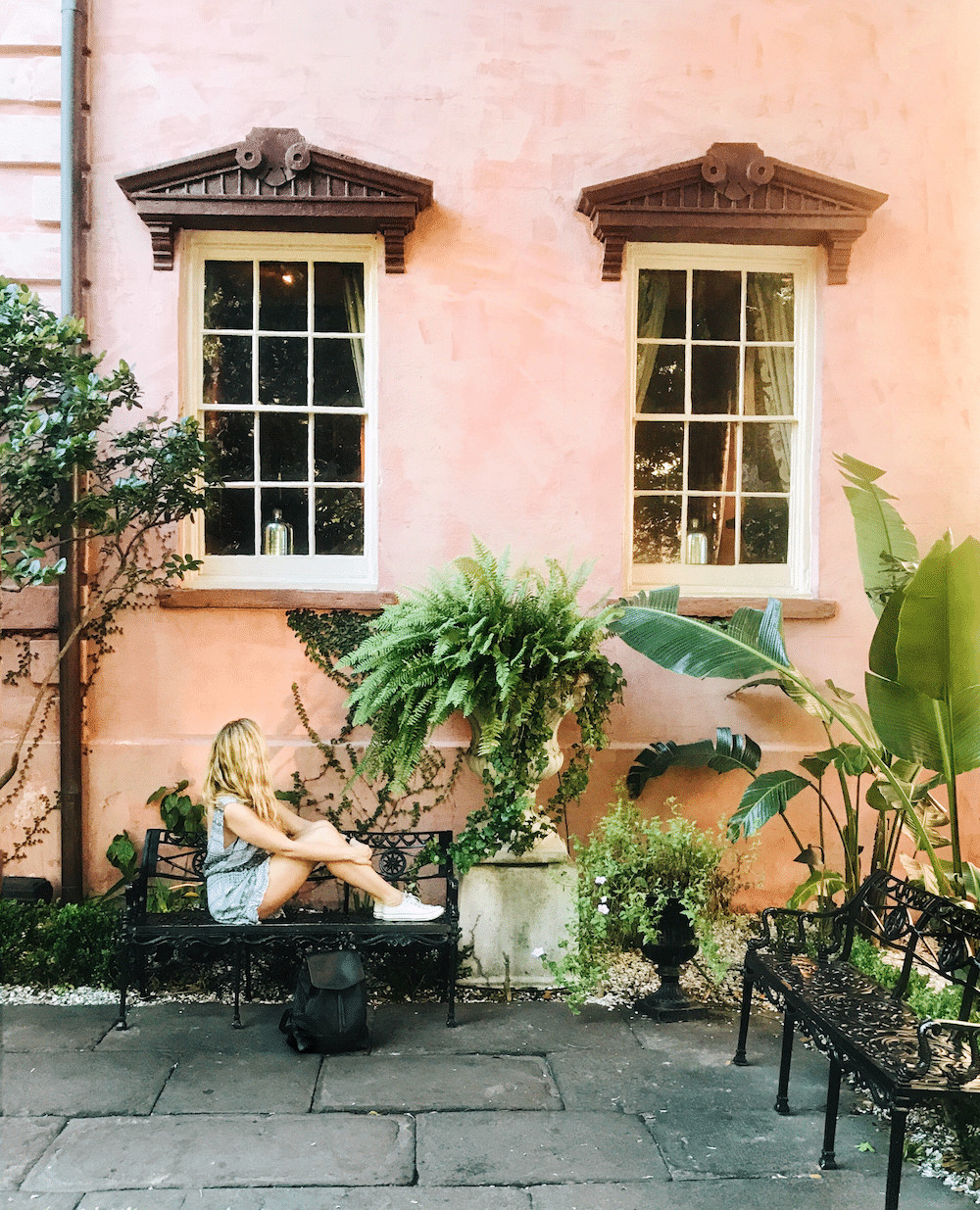 The Olde Pink House

"Another Savannah staple, The Olde Pink House is exactly what it sounds like," says Michelle. "An old pink house!" Sit at a table in the gracious main dining area, or do what Michelle did and sneak in a fourth meal of the day—appetizers and cocktails in the Planters Tavern downstairs. "It goes very well with the haunted vibes of Savannah—very dark with dripping candles and a fireplace, like a fancy dungeon," Michelle says. "And the food is classic Southern stuff: crab cakes, fried green tomatoes."

The Grey

With a name that pays homage to its Greyhound bus depot origins, The Grey is "very sleek," Michelle says, "a place for the cool crowd in Savannah, with really good food and cocktails. It would be a great date night out." A menu "with Southern roots"—think roasted yardbird, Carolina gold rice, and creamed corn—is served in a dining room complete with a horseshoe bar, leather banquettes, and the original bus-ticket window.

The Collins Quarter

The Aussies have arrived with this "light, bright" café where you can experience a typical Aussie breakfast, including "avo smash—what we call avocado toast," says Michelle, who traveled all over Australia last year. "Collins has a great vibe, cute decor, and a fun menu: Biscuits Gone Wild (biscuits with sausage and smoked bacon gravy), Got Georgia on My Swine (brioche French toast with bacon and vanilla ice cream)." While it's a favorite for brunch devotees—with a wait that gives you ample time to admire the raw brick walls and the red-leather booths—dinner is also a worthy experience.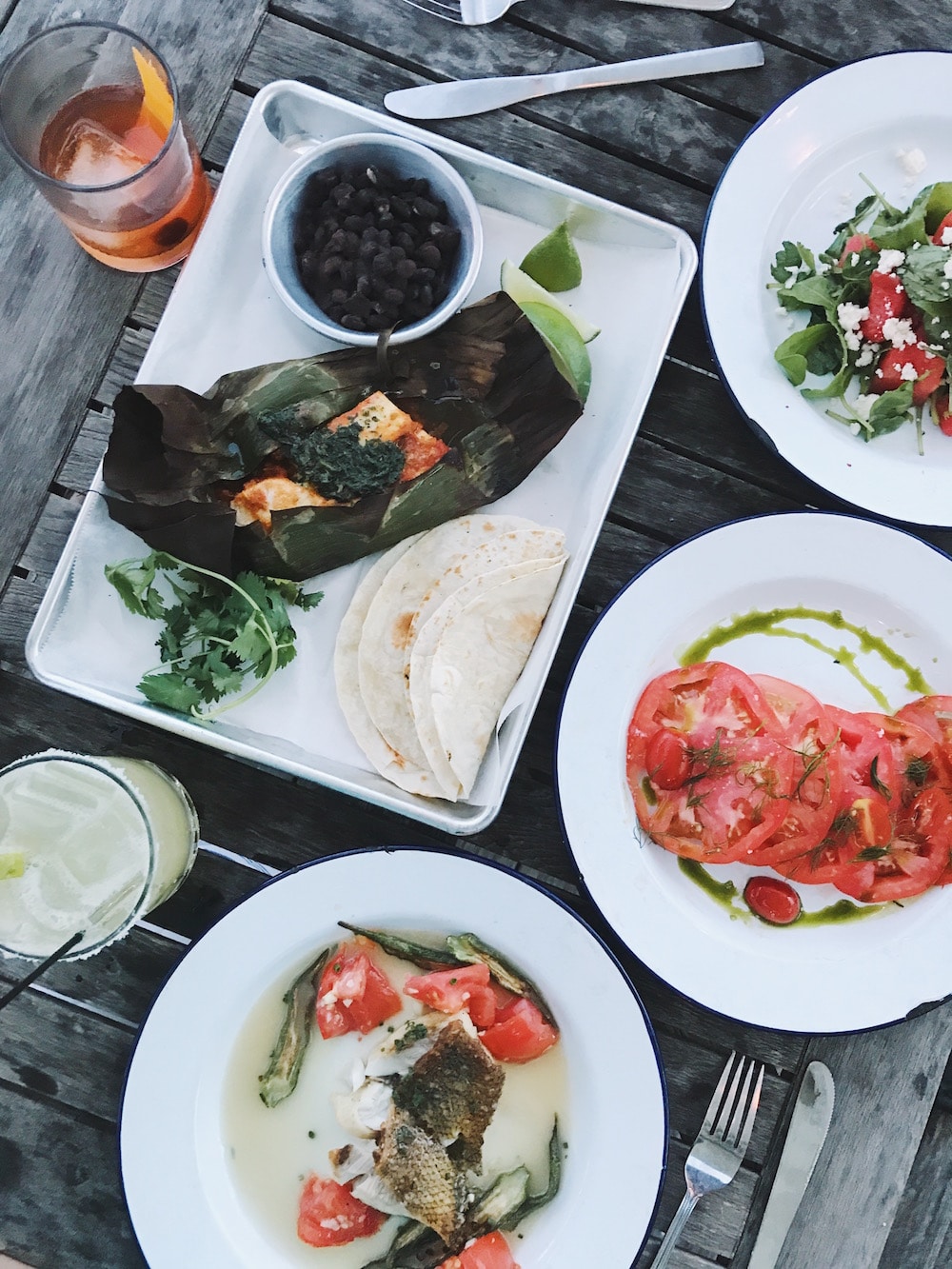 The Wyld Dock Bar

A worth-it sojourn outside historic downtown, this alfresco eatery sits on the banks of a creek and is "a bit like a Maine lobster shack," Michelle says. Drinking Moscow mules and gin-basil smashes and digging into smoked-fish dip and crab cakes, diners lounge dockside under a sail hung for shade. Bocce courts and hammocks add to the leisurely vibe, ensuring that meals stretch on for hours.
WHERE TO SHOP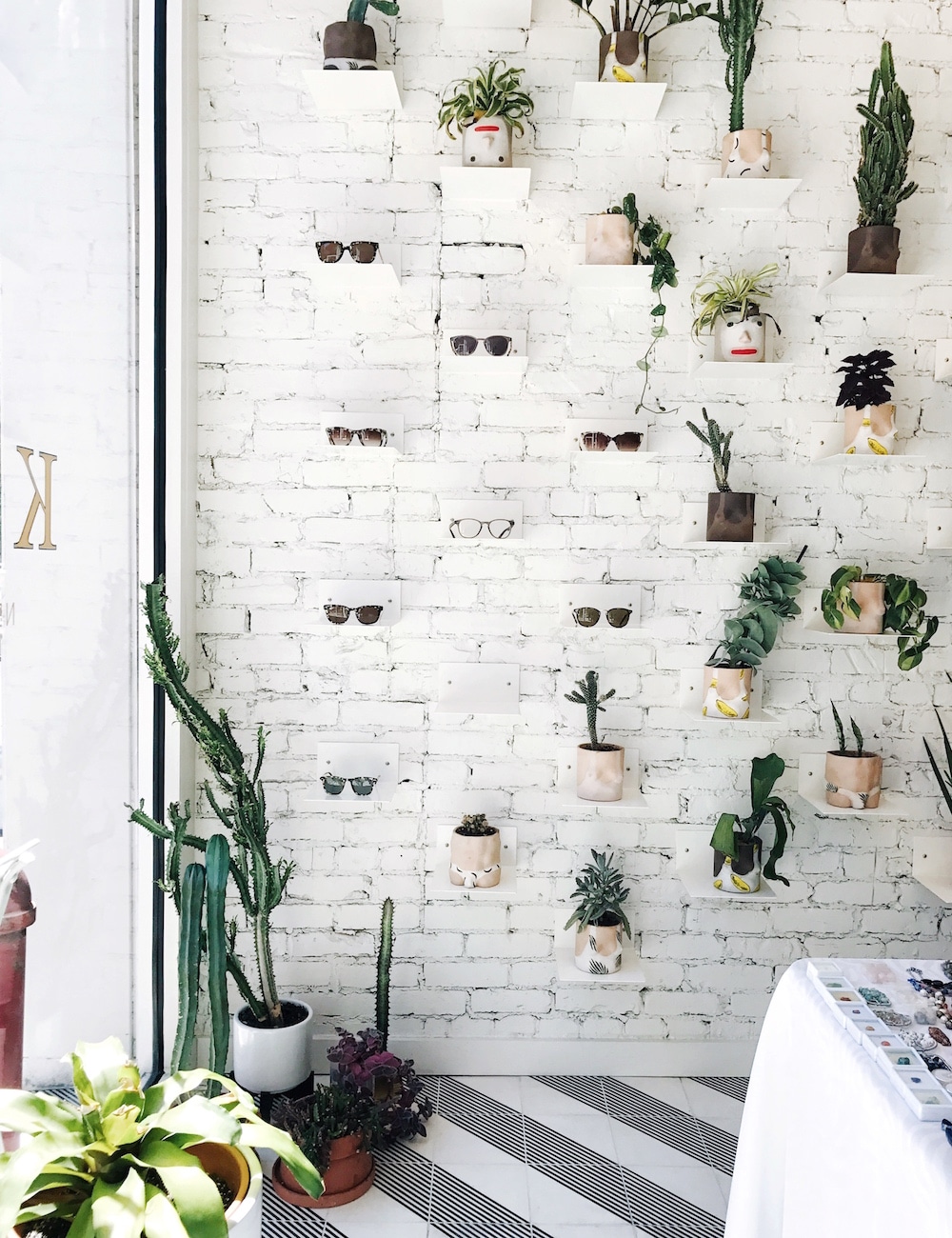 Krewe

"The sunglasses are so cool," says Michelle of this on-the-rise sunnies company, "and they really know how to create an experience." Inside the pint-size shop, floating shelves display potted succulents, greenery, and sunglasses, and the flooring is half original wood, half gray-and-white stripes. "I was just passing by and had to come inside," Michelle says.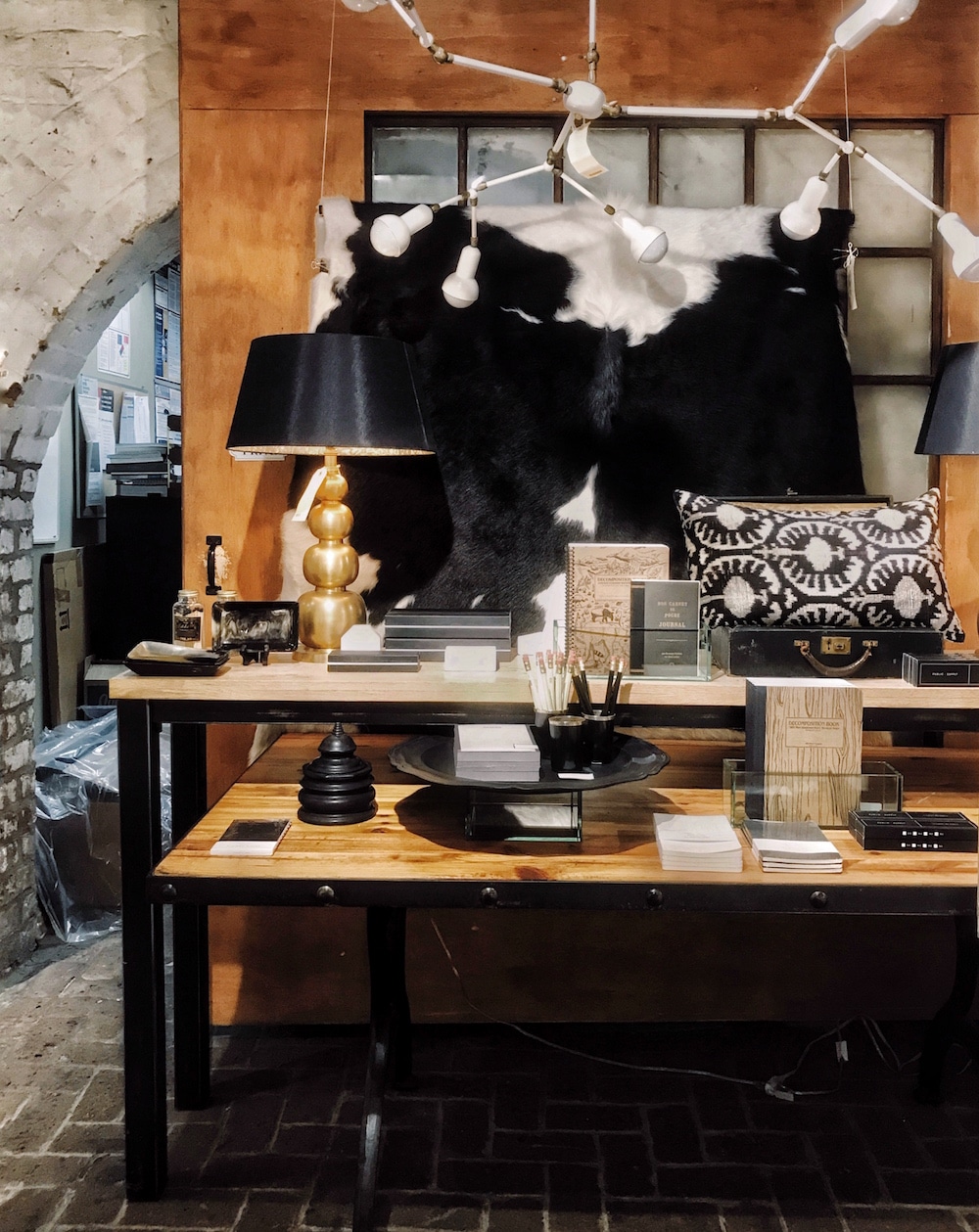 The Paris Market

This two-story Paris-inspired shopping mecca stocks a dreamy French-accented assortment. "They sell everything," says Michelle, "from all the things you'd want in your bathroom to handbags to macarons. It's the best place to pick up a gift for someone or at least to do some window-shopping."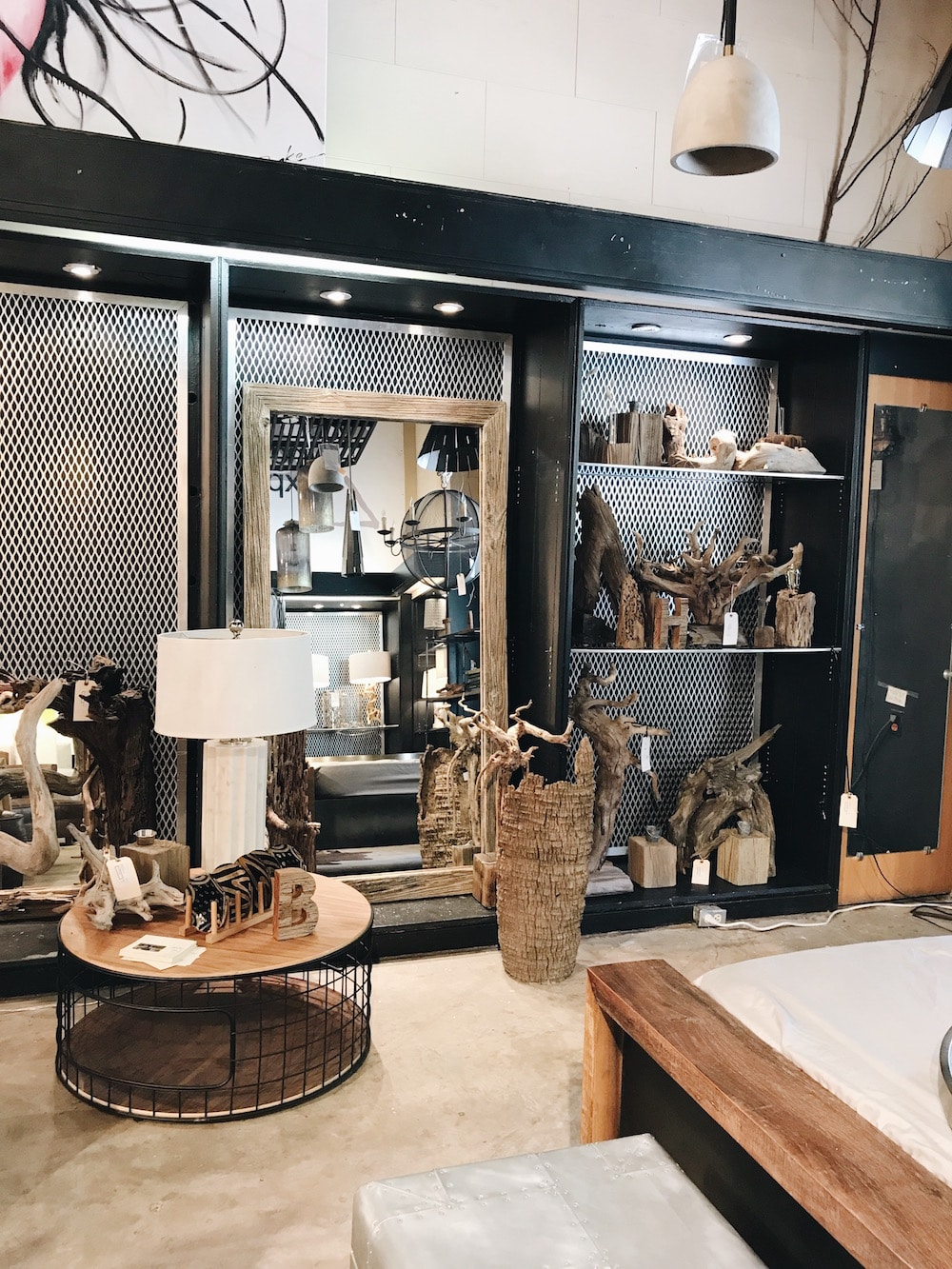 24e Design Co. 

The design-savvy should add this shop to their must-do list. With an eclectic array of home goods, the mix is Southern but contemporary: Tulip chairs, throw pillows, crisp linens… As Michelle says, "It's really good eye candy even if you're not in the market."

The Impeccable Pig

Part of a small family-owned Southern chain, this boutique stocks fun, floaty pieces in vibrant prints and inventive cuts. "They do the same print in different pieces—like in a dress or shorts—which I love," says Michelle. "I might have bought a top or two."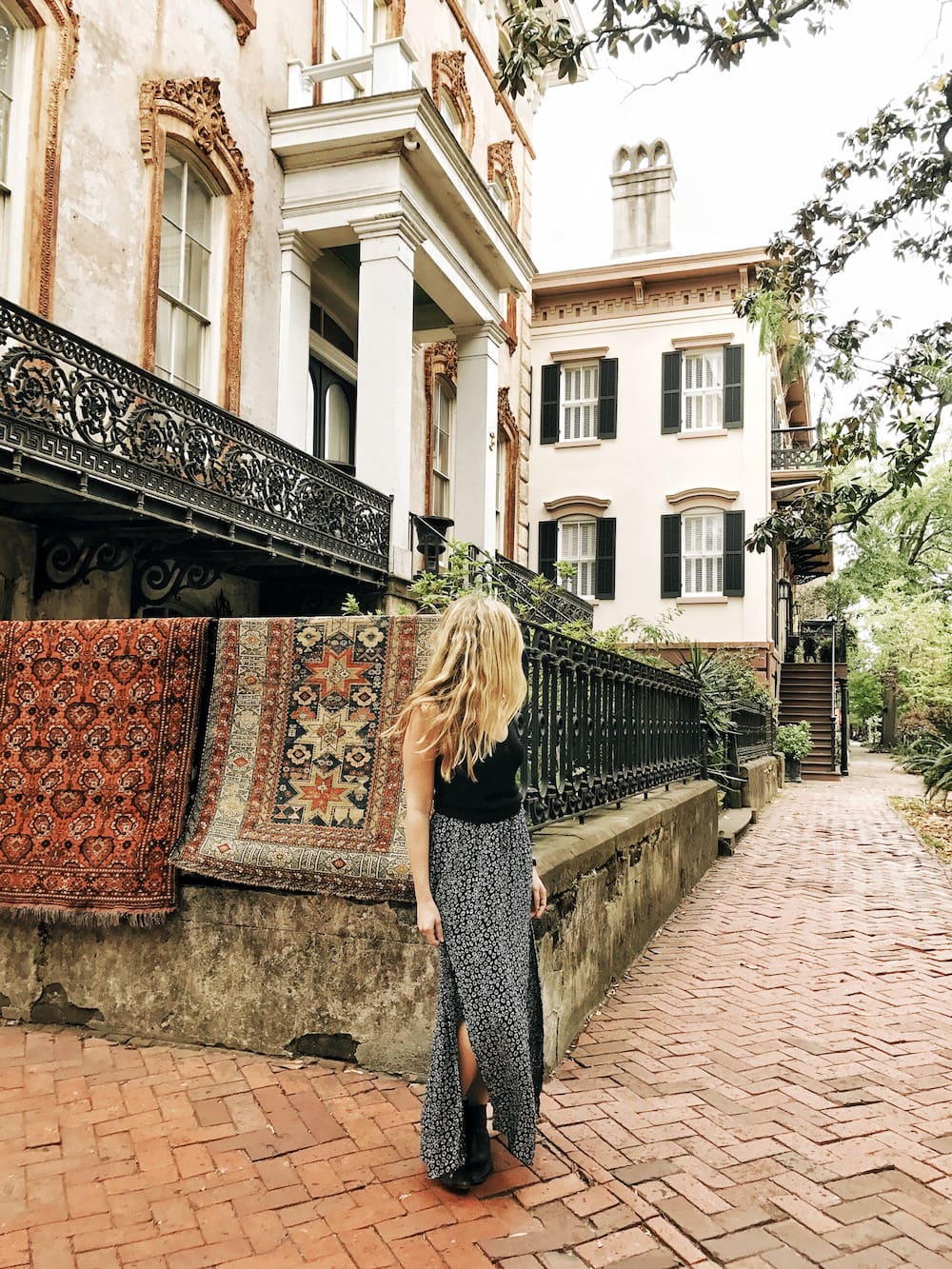 Alex Raskin Antiques

In "one of the most beautiful buildings in Savannah," this antiques shop is a vision (the New York Times calls it "the Ikea antidote"), filled with handsome pieces that look as if they were pulled straight out of a historical novel—or the mansion next door.
WHAT TO DO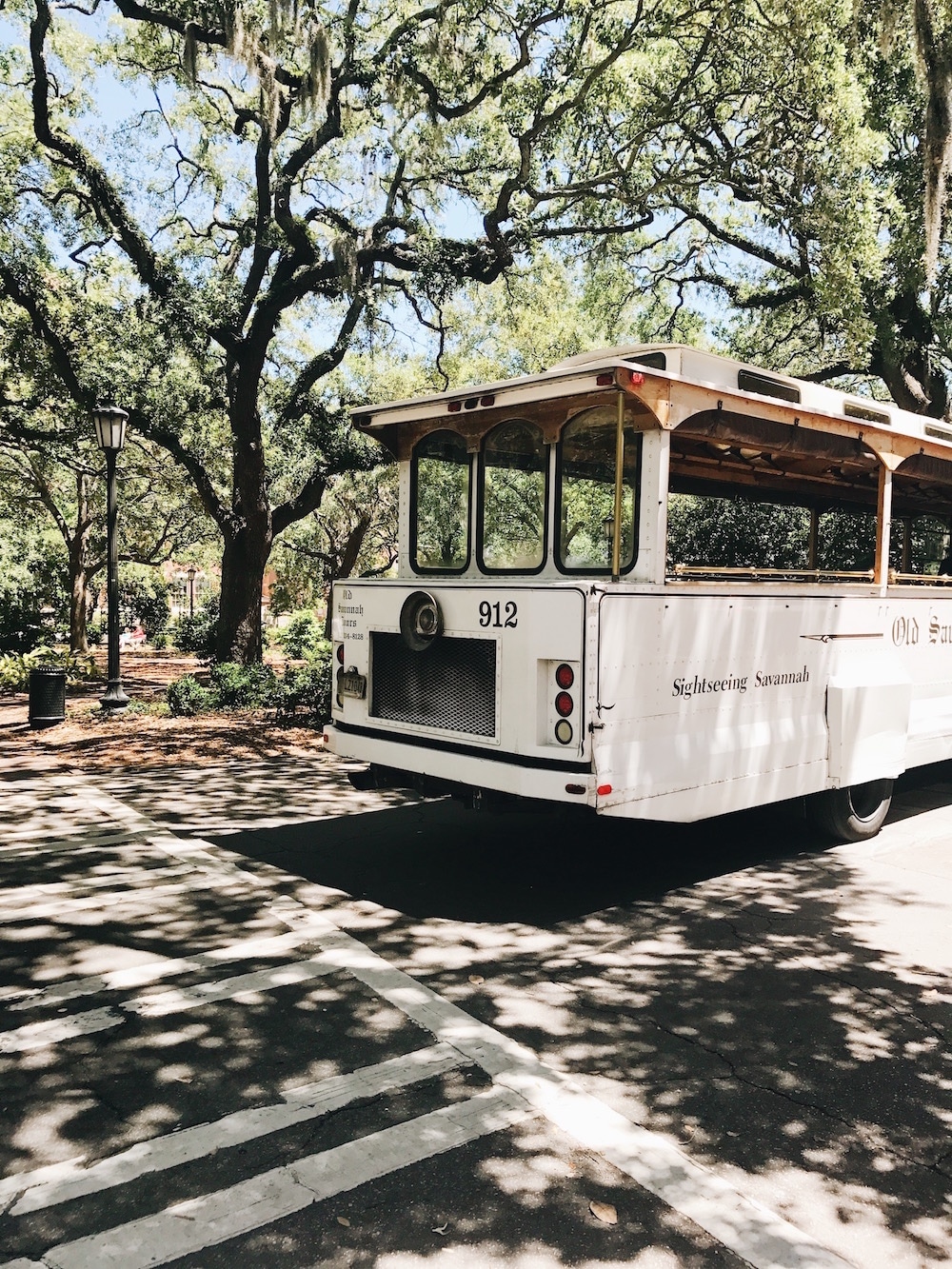 Old Savannah Trolley Tours

"Normally I'm not much of a tour person," says Michelle. "But the trolleys are supercute." The old-school trolleys offer a hop-on/hop-off look at the city, with an all-in-good-fun take on city history that includes character appearances by folks such as Forrest Gump, who opened a box of chocolates in Savannah's Chippewa Square.

Rainbow Row 

"Rainbow Row is the most charming stretch of pastel houses, with beautiful flowers wrapped around the porches," Michelle enthuses. "Just be respectful, because people really do live there!"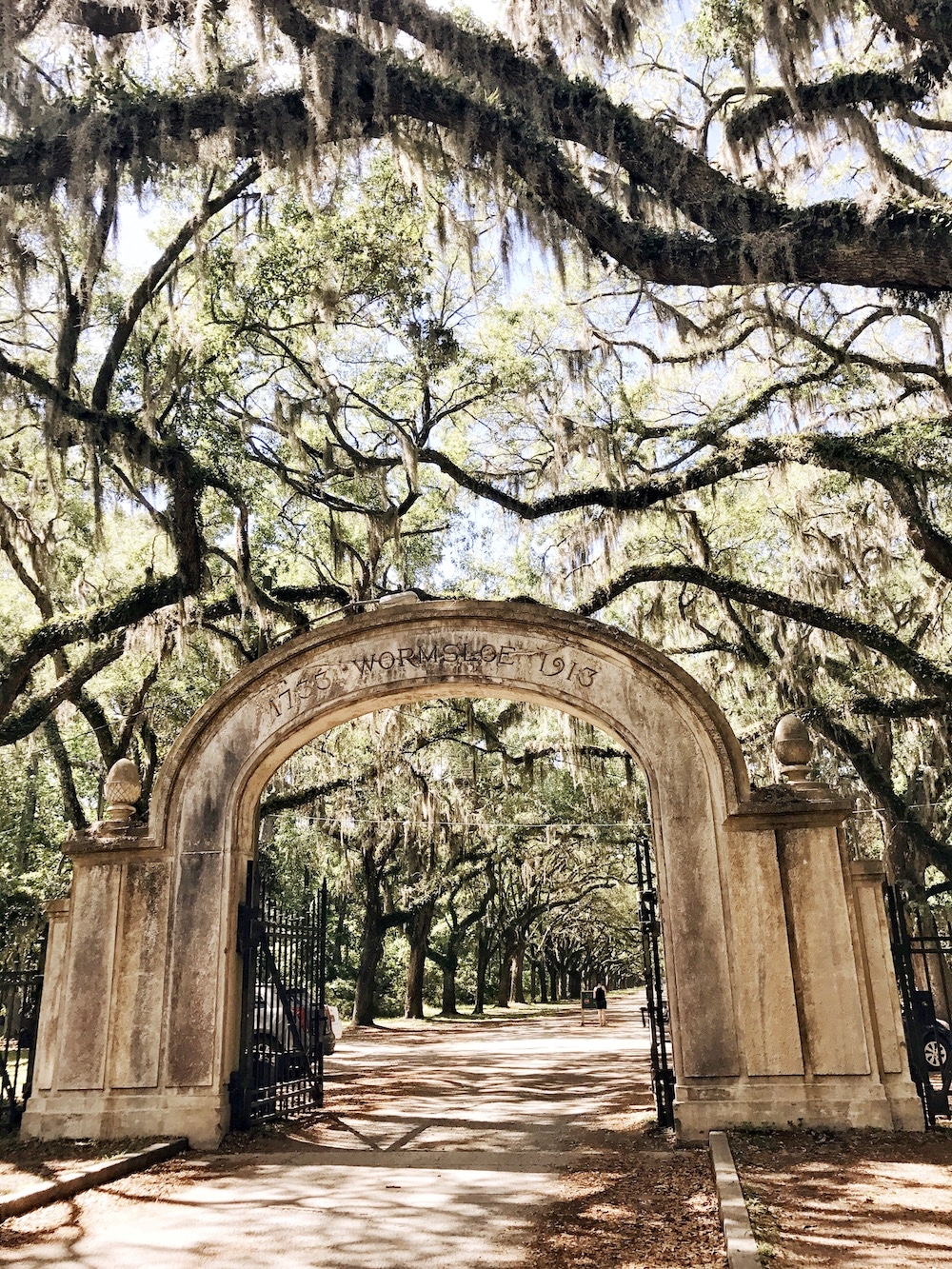 Wormsloe Historic Site

A bit outside the city, the former plantation of Wormsloe has a 1.5-mile avenue of oak trees that plays like an Instagrammer's dream shot—that symmetry, those shadows. Even better: "It's not at all overrun," says Michelle.

Bonaventure Cemetery

The city's best-known families are buried in Bonaventure, made famous on the book cover of Midnight in the Garden of Good and Evil—though the melancholy Bird Girl statue has since been moved to the Jepson Center for the Arts. "It's a beautiful place to walk around during the day," Michelle says. "So many of the old stories milling about the town have ties to this cemetery."
***Head over to the One Kings Lane blog to read the whole story***
PIN IT FOR LATER