Joshua Tree is one of my absolute favorite weekend getaways from Los Angeles. This desert oasis is a favorite destination for city-dwellers looking for a quick escape that feels far away…without actually requiring much driving time at all. In fact, Joshua Tree is only about 2.5 hours from LA. 
While nature lovers will find plenty of things to do in Joshua Tree National Park (which sees over 2.4 million visitors per year), creative types will also find joy in the unique shops, art culture, and slow pace of this dynamic desert town.
Joshua Tree is one of my favorite spots to visit and probably one of the places I've traveled to the most in California because it's so easy to get to from LA. But beyond proximity, it's also one of the most unique places I've visited in this state. There's really nothing else quite like it!
Nestled in Southern California where the Mojave and Colorado deserts meet, Joshua Tree features incredible opportunities to get out in nature, major artsy vibes, a surprisingly good food scene, and a dreamy landscape for magical photos. Plus, the design-oriented home rental scene here is poppin' for anyone who appreciates thoughtful bohemian and modern decor.
Even though it's gained popularity in recent years, it still has that remote, middle-of-nowhere feel. That being said, if you're not familiar with Joshua Tree, you might find yourself getting bored after the first couple of days. I'm here to make sure that doesn't happen!
Keep reading for some of my favorite things to do in Joshua Tree so that you can make the most of your trip and experience the best that this hidden gem has to offer!
Why Joshua Tree Should Be on Your Bucket List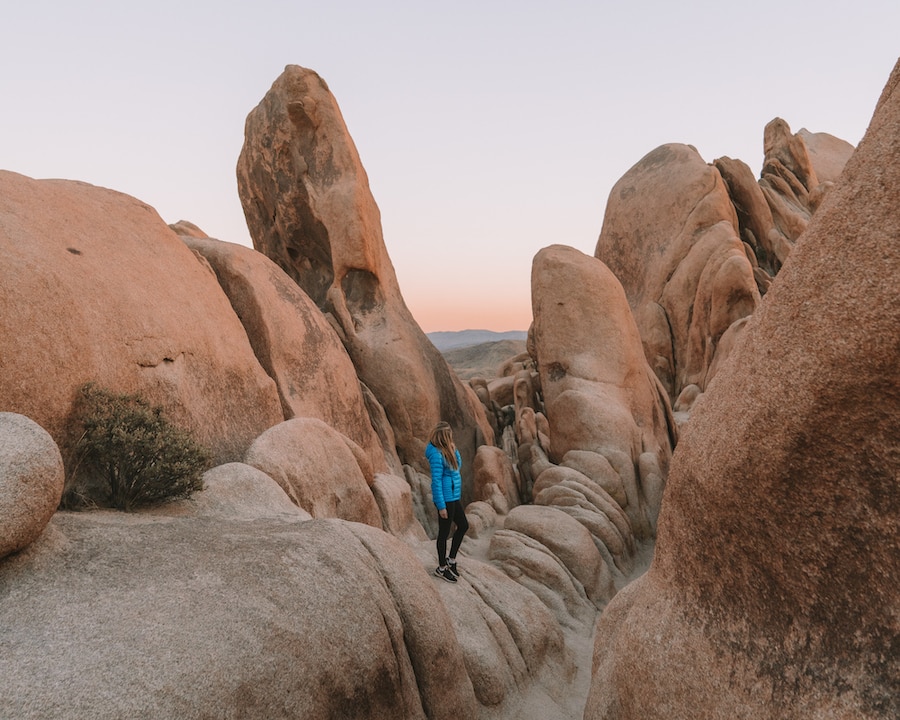 There really is a wide variety of activities to enjoy in Joshua Tree. If you love the outdoors, you'll be wowed by the beautiful, high-desert scenery and the signature Joshua Trees that are scattered literally everywhere. You'll also experience unbeatable stargazing (definitely keep your eyes peeled for shooting stars and visit during the new moon if this is high on your list).
When it comes to the actual town, Joshua Tree is full of hip vintage shops and art galleries. Even foodies will love checking out all of the local restaurants that have a fun western flair. However, if you're looking to just disappear into the desert for some peace and quiet, it's pretty easy here to feel like you're the only person around for miles.
A Few Quick Tips Before Your Trip to Joshua Tree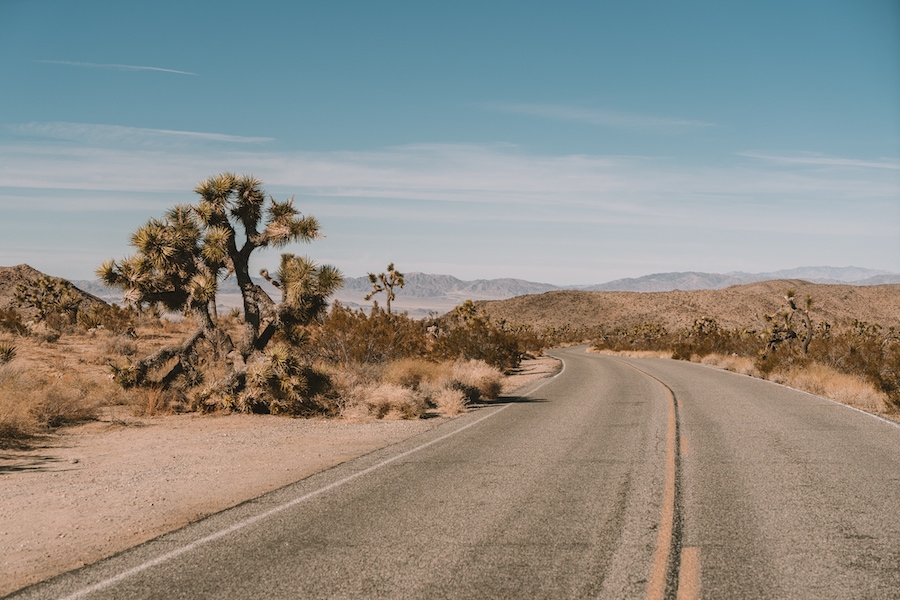 It's worth noting that while you can do all of the outdoorsy stuff anytime (just beware of the sweltering temps in the summer), a lot of places in town are closed during the week, so plan accordingly if you want to hit the shops and restaurants. Weekends are your best bet if you want to experience everything Joshua Tree has to offer. 
Most accommodations book up quickly—especially on weekends—so if you've got your heart set on a certain rental or Airbnb, I'd recommend booking as far in advance as possible to ensure you don't miss out.
You need a car to get around Joshua Tree. It's not the kind of place where you can take public transport or easily hop in an Uber or Lyft, so having your own car is essential.
If you're flying in, the closest airport is in Palm Springs. It's one of those amazing, super tiny airports that feels like it's from a bygone era of air travel. LAX is about a 2.5 hour drive away, and McCarran Airport in Las Vegas is just under three hours away. 
A lot of the attractions in the Joshua Tree area are spread out, so I highly recommend mapping out your must-do items ahead of time and planning your itinerary accordingly, so you don't waste time zig zagging back in forth in the car. If you're looking to hit a few different spots in one day, factoring in driving distance between places is essential.
---
Read More Joshua Tree Posts
---
When Is the Best Time of Year to Visit Joshua Tree?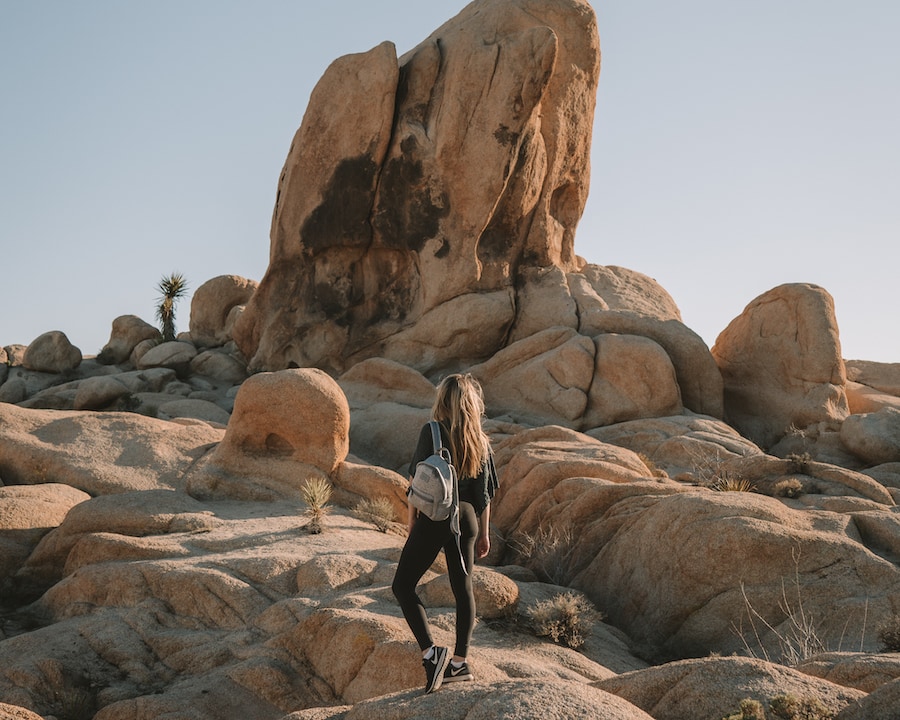 Don't forget that Joshua Tree is in the high desert, which means that in the summer months, it's hot. I'm talking 100+ degrees Fahrenheit hot on certain days. That doesn't mean you shouldn't visit in summer, but you'll certainly need to be mindful of avoiding peak heat in the middle of the day and making sure you have plenty of water on-hand so you can stay hydrated. 
Typically, spring and fall are the best times to visit weather-wise (and the wildflower blooms in spring are definitely a sight to see). It can also get pretty chilly in winter—temps tend to be in the 60s during the day but then drop below freezing overnight. It's even possible to see some snow in winter in the higher elevations. That being said, there are plenty of things to do in Joshua Tree during the winter as long as you bundle up!
Joshua Tree and the surrounding areas are also home to all sorts of festivals and events, so it's worth doing a little research before traveling to see if there's anything in particular that you want to plan your trip around.
Desert X is a really cool outdoor, contemporary art exhibit that pops up in the nearby Coachella Valley in the spring. There are also music festivals, film festivals, a night sky festival, and plenty more to check out!
Top Places to Stay in Joshua Tree
While there are a few hotels in town, I've found that Airbnb and home rentals are the way to go. Joshua Tree has exploded with some really amazing vacation rentals that are beautifully designed (you'll honestly feel like you're in a design magazine) and located on properties that have swoon-worthy desert views. Whether you're into glamping, cozy cabins, or modern architecture, you'll definitely be able to find a spot that suits your style.
 I have a lengthy post dedicated to the dreamiest Joshua Tree Airbnbs that you can check out here, but these are a few of my tried-and-true, personal faves:
This stunning Spanish ranch from the 60s is like stepping into a white-washed design dream. Clean, white walls show off decor from the owners' travels to places like Morocco, Oaxaca, and Mexico City, giving the space an eclectic, global feel. The location is great too and is close to some of Joshua Tree's local gems. However, it's still remote enough to give you peace and privacy.
CHECK RATES FOR SEVEN ARCHES:
The Habibi House is a charming 1950s desert ranch home in Joshua Tree with a gorgeous design and one of the best locations near town. It also has tons of outdoor space (perfect for larger groups) where you dine alfresco or watch for wildlife with a glass of wine. On cooler winter nights, you can cozy up to the classic wood-burning stove to stay warm.
CHECK RATES FOR THE HABIBI HOUSE: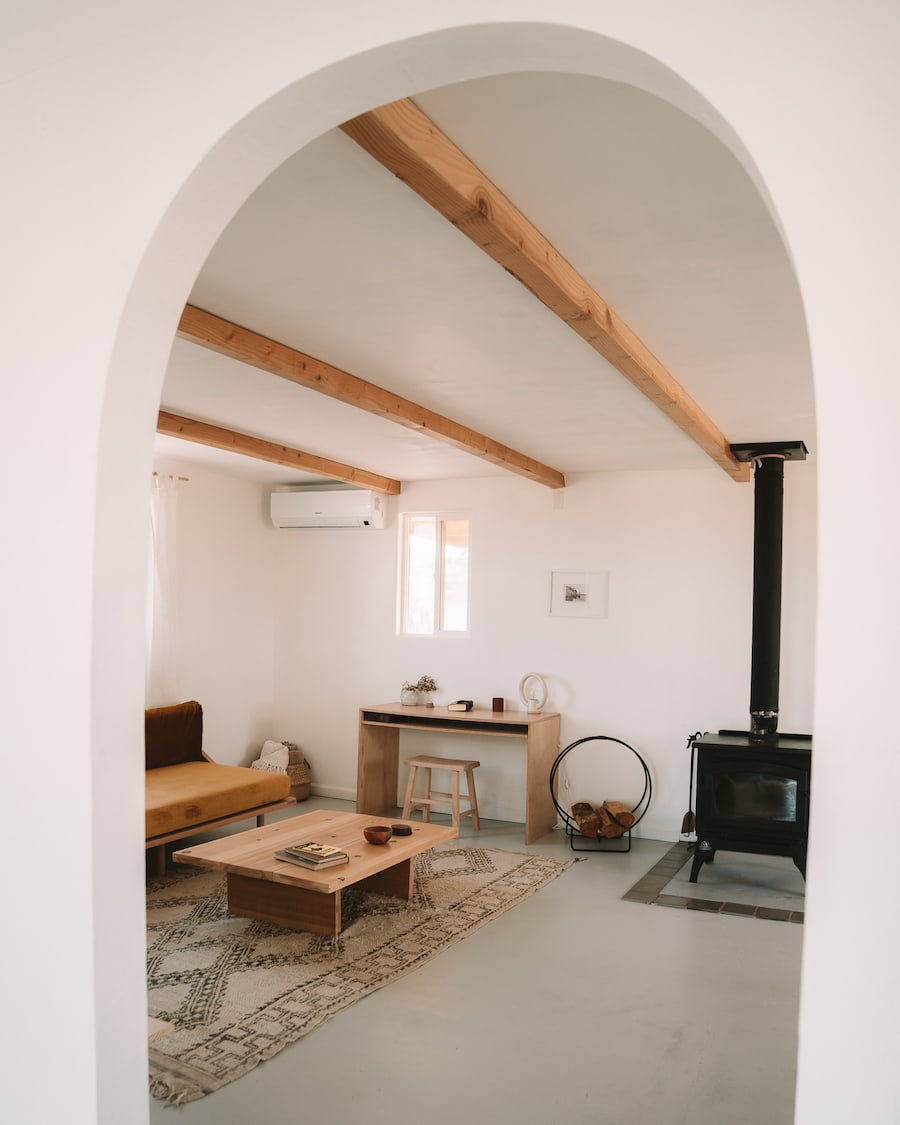 The adorable pink outdoor shower might be reason enough to book this sweet and secluded spot. Given the moniker "El Rancho" by its LA-based owners, the space has been lovingly renovated with thoughtful and cozy design touches. Personally, I loved staying here! However, it's worth noting that you 100% need a higher clearance 4wd vehicle to access this remote home. Read a more detailed review of El Rancho here.
CHECK RATES FOR EL RANCHO:
A renovated homestead cabin that sits on 22+ acres of land with sweeping views, Campover Cabin has all the modern amenities you need plus stunning, panoramic desert views where you can catch epic sunrises. The design here is a hipster paradise. Think global pieces and accents from around the world, a vintage record player and quirky black and white photos as decor.
CHECK RATES FOR CAMPOVER CABIN: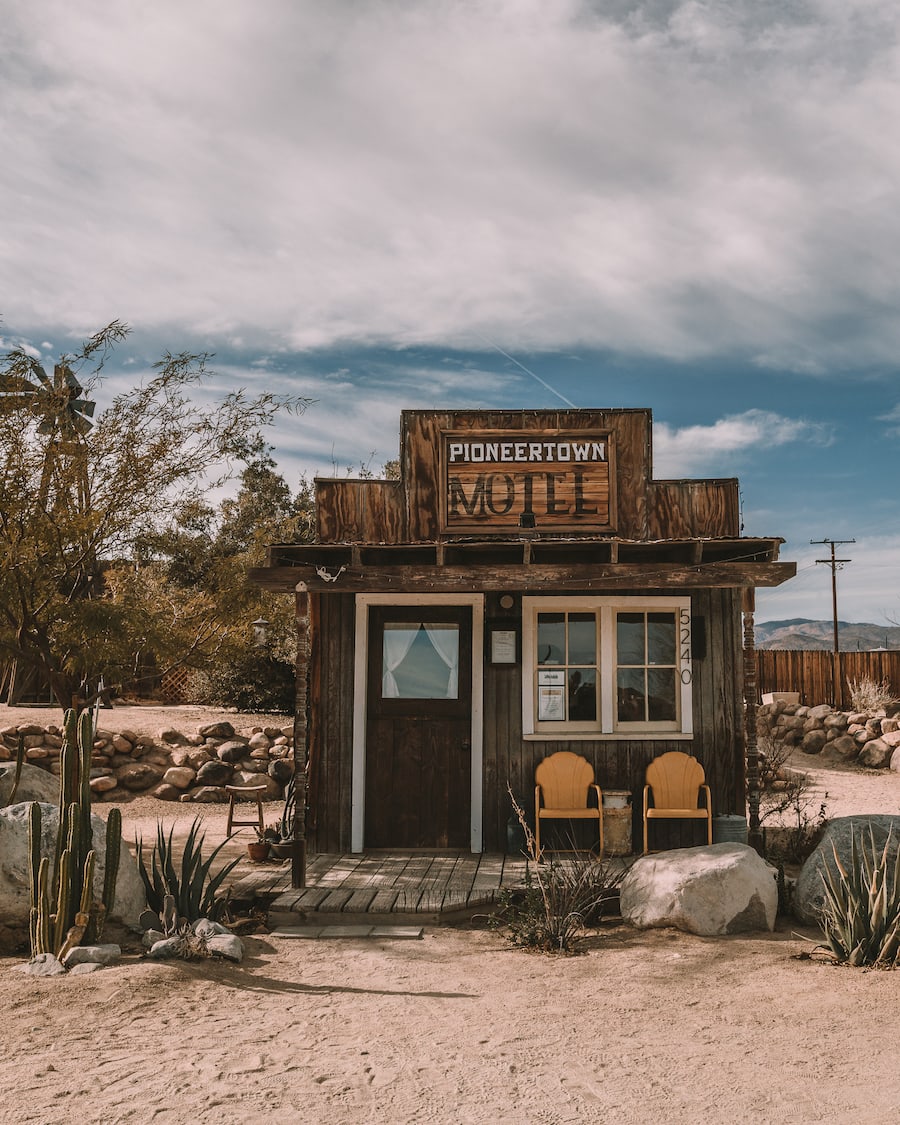 If you feel more comfortable booking a hotel, I recommend staying at the Pioneertown Motel. It has a great location right in Pioneertown next to Pappy & Harriet's (the most popular food and music venue in town) with the Red Dog Saloon on-site which serves up great food and drinks. However, this is a renovated motel, so don't expect 24 hour room service or the kind of amenities you'd expect at a more traditional hotel.
CHECK RATES FOR PIONEERTOWN MOTEL:
Campsites
Camping is the most affordable way to go when it comes to accommodation in Joshua Tree. Plus, this is one of the best places in California to go camping. The scenery is stunning, it's quiet, and the large boulders add a unique element of privacy and wind protection around many of the campsites.
This is also the best way to experience some of Joshua Tree's epic stargazing. You can find more information on booking one of the 500 campsites in the park here.
Prefer to stay in the swankier town of Palm Springs? Check out these local options:
Since Palm Springs is only about 45 minutes away, you could always consider staying at one of the swanky hotels there and then day-tripping it into Joshua Tree.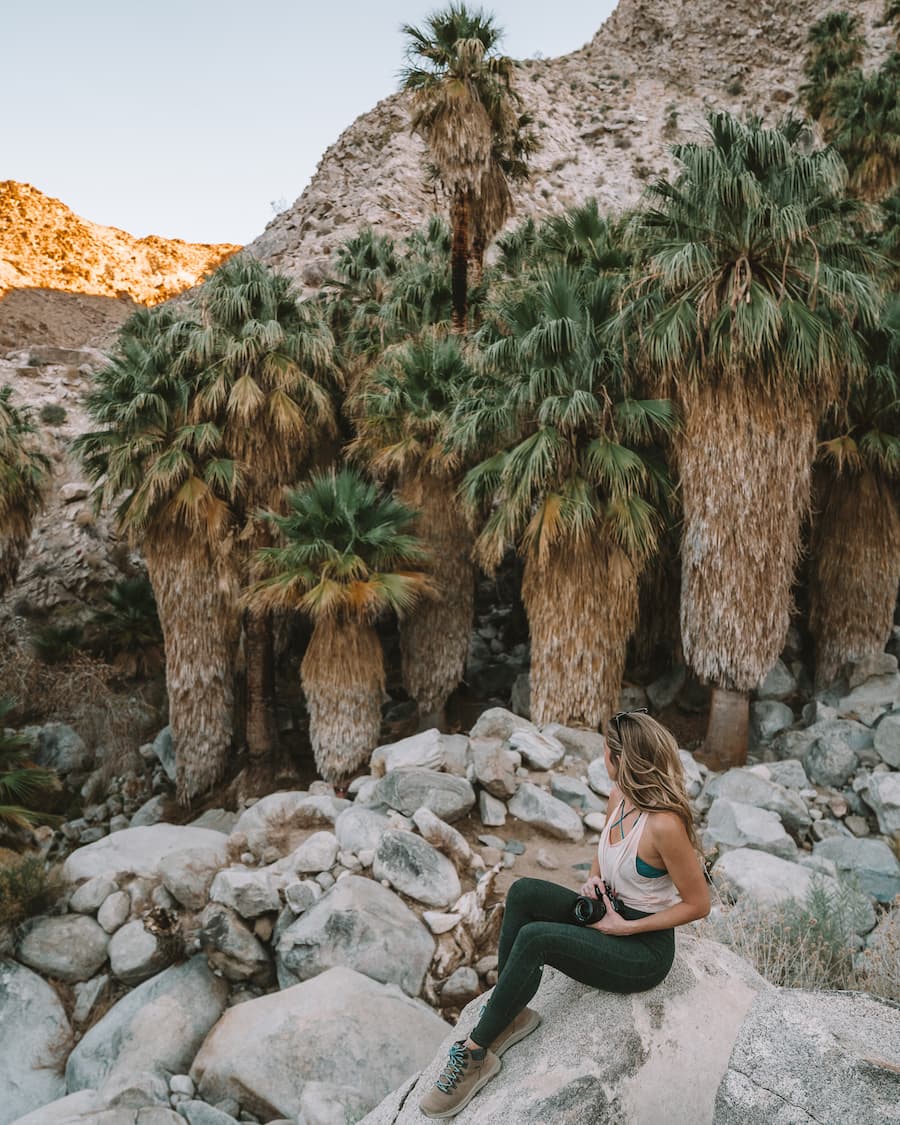 The Best Things to Do in Joshua Tree National Park and Town  
As I mentioned earlier, some of the best things to do in Joshua Tree are pretty spaced out from one another, so you'll want to plan ahead to make sure you hit all of the destinations on your list without feeling like you're rushing back and forth all over town.
I will say, Joshua Tree is a place to come to when you're looking to relax and unwind, so try to avoid jamming too much into your days. Don't worry about seeing it all. You'll have a great time no matter what you end up doing—and you'll want to save at least a few things for your next trip…and trust me, there will definitely be a next trip! 
Visit Joshua Tree National Park
This is the star of Joshua Tree and an absolute MUST on your trip. You'll for sure want a full day of exploring minimum, so be sure to keep this in mind while planning. The park is open 24 hours a day, year-round with the busy season running from October through May (there is an entrance fee of about $30).
Pro tip: Visiting multiple national parks on a longer road trip? Make sure to pick up an annual America the Beautiful pass to save money on park entrance fees throughout the country!
The park is great for hiking, rock climbing, photography, and even just more relaxed nature walks. If you're not feeling super active, even driving through the park is worth it to take in the sweeping desert landscapes.
You can stop by the visitor center when you arrive for a full rundown of the many hiking trails, but a few of my personal favorites are Arch Rock Nature Trail, Cholla Cactus Garden Trail, and Fortynine Palms Oasis Trail.
Go Stargazing
There is little to no light pollution in Joshua Tree, so it's an incredible place to observe the night sky (one of the best spots in the country actually). If you're into astrophotography, you're also in for a major treat. Joshua Tree National Park is designated as an official International Dark Sky Park, so exploring after dark will give you an entirely different experience than what you'll get during the day.
Pro tips for the best stargazing: Time your trip near a new moon so there is less light in the sky, and visit during Milky Way season if you want the best photographs! This post has some great info on when is best to catch the Milky Way.
Do Some Shopping
There are a bunch of cool, funky shops in Joshua Tree, selling all types of gems from antiques to bohemian decor to exotic plants. Some of my favorites are Acme 5 Lifestyle, Hoof and the Horn, and Moon Wind Trading Co. Grab a cute pink bag of coffee beans from Joshua Tree Coffee Company to bring home too.
Check Out the Local Art Scene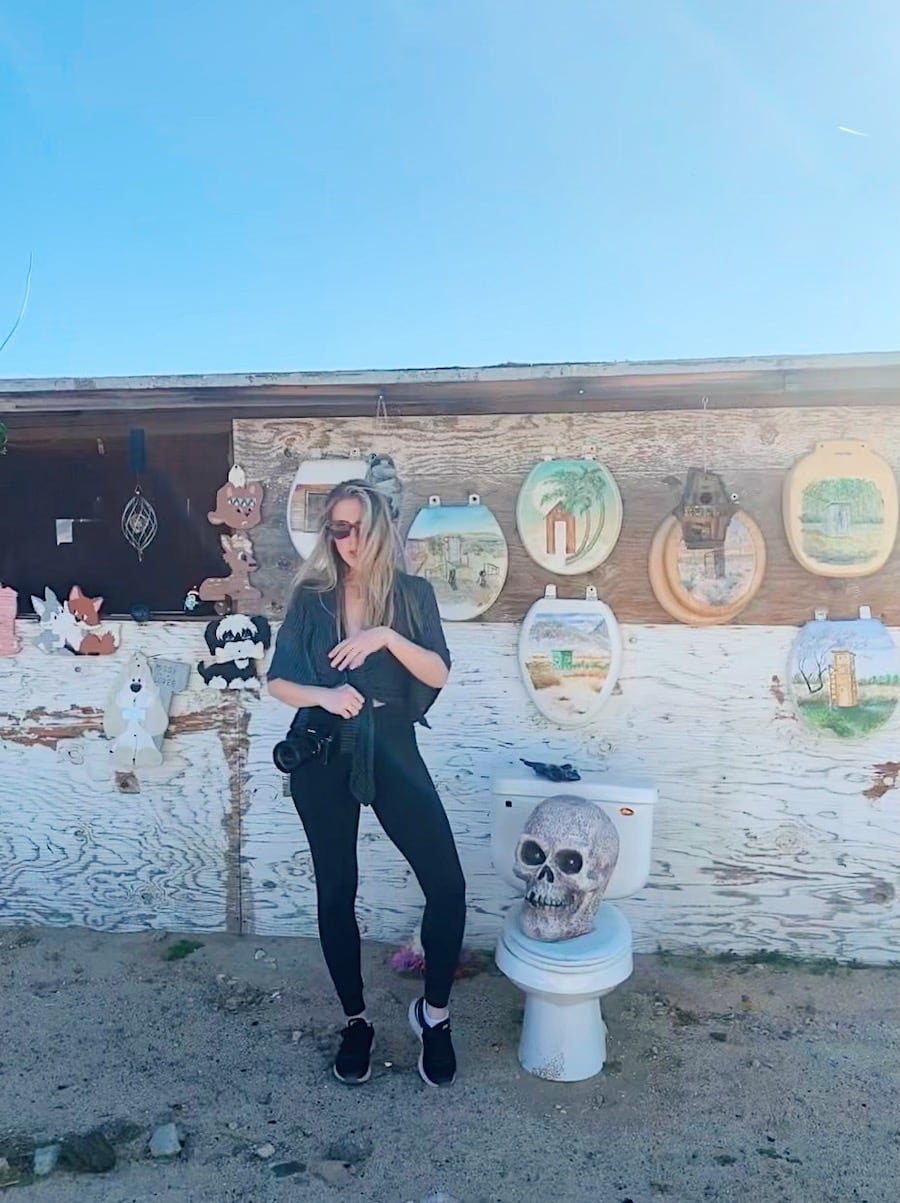 There are a number of art galleries in town that you can stroll in and out of, but if you only have time to visit one, I recommend The Glass Outhouse Art Gallery in Twentynine Palms (which is only a few miles from the park). There are galleries indoors and outdoors, but make sure to walk through the recycled art gallery outside!
This place is a quintessential spot (in my opinion) that screams Joshua Tree. It is the ultimate quirky, wacky and weird adventure—basically it's one of those things that you just kind of have to see for yourself.
Immerse Your Senses in a Sound Bath
If you're looking for a more spiritual or restorative experience, head over to The Integratron for a signature 60-minute sound bath. The space is really amazing and sitting in a room surrounded by a sea of crystal singing bowls is guaranteed to soothe your body and mind.
Visit Giant Rock
Supposedly, Joshua Tree is home to the largest free-standing boulder in the world! Giant Rock is a 7-story high roadside attraction that has an interesting history. The road to the boulder can be pretty rough, so it's best to take a vehicle with 4WD here.
Explore Pioneertown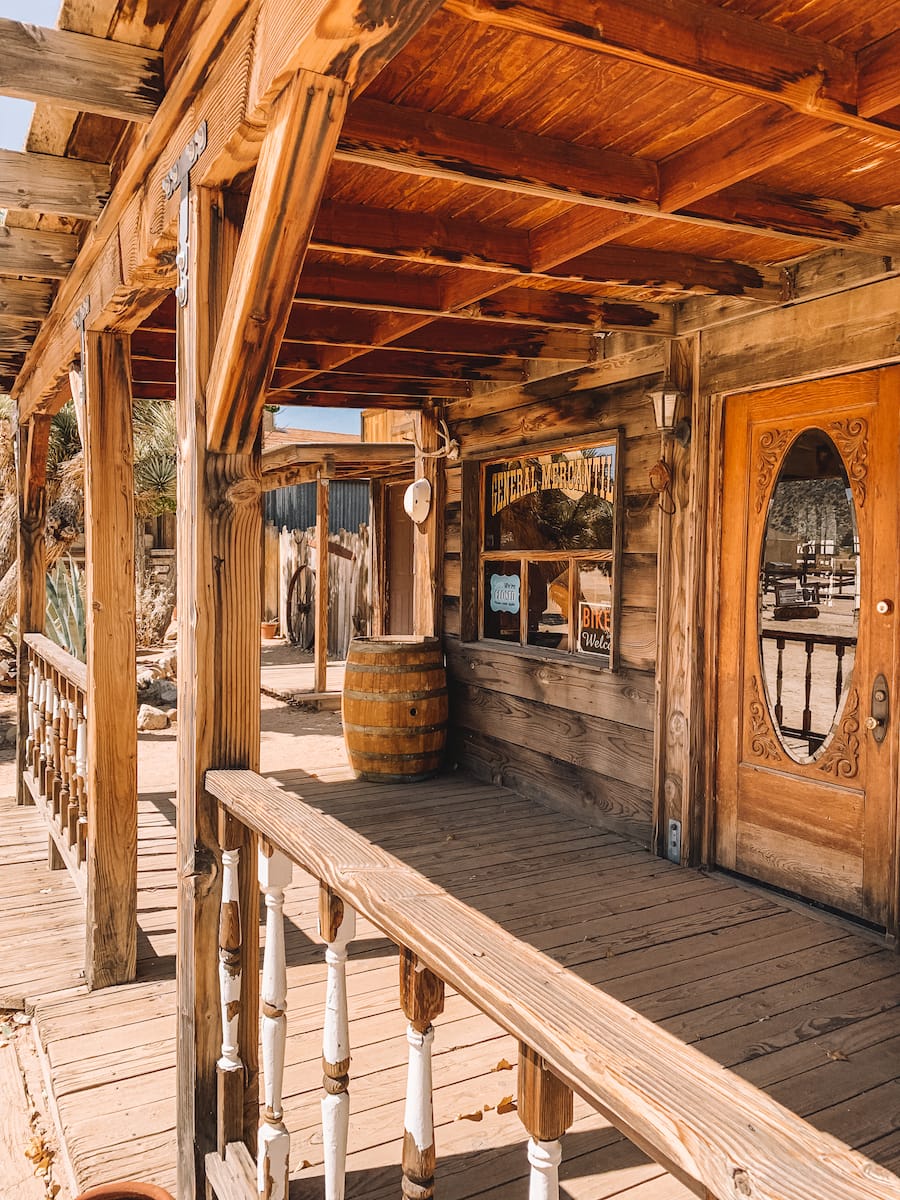 Pioneertown is a 1880's-themed western town that is super unique to walk around. A ton of western films were shot here in the '40s and '50s, and Downtown Mane (not Main) Street has a few shops that are open on the weekends. Though you can't actually walk into most of the buildings, this is a great place to snap some cool and unique photos and will transport you to another world.
Day-Trip to Palm Springs
If you find yourself wanting to explore outside of Joshua Tree, Palm Springs is just a short drive from the center of town and has a completely different vibe (however, I recommend doing a separate weekend here since there is so much to do and see). There are a ton of bars and restaurants in town and architecture lovers will be in awe of all the hip mid-century homes.
Where to Eat in Joshua Tree
For a little town in the middle of the desert, Joshua Tree has a solid food scene. While renting an Airbnb makes it easy to cook most of your meals at home, you need to check out at least one or two of these local spots while in town. 
This place is pretty much a must-visit if you're in Joshua Tree and it's personally my favorite on the list. They have the best BBQ (the ribs are insane) and there's usually live music on the weekends. They're not open every day during the week so doublecheck their hours before you go.
Craving healthy salads and sandwiches to fuel up for a day of hiking? The Natural Sisters Cafe is a great spot for organic and plant-based drinks and bites. They also have some tasty baked goods that are great for bringing along on hikes or trails.
Crossroads Cafe is a favorite when it comes to breakfast and lunch. It's the perfect place to fuel up before heading in or out of the park. In addition to Pappy & Harriet's, I definitely consider Crossroads Cafe to be a must-visit while in Joshua Tree and it's conveniently located right near the entrance of the National Park.
This western-style saloon is open for lunch, dinner, and drinks. Joshua Tree Saloon is "the gateway to Joshua Tree National Park" and has a local vibe, karaoke nights, and live music.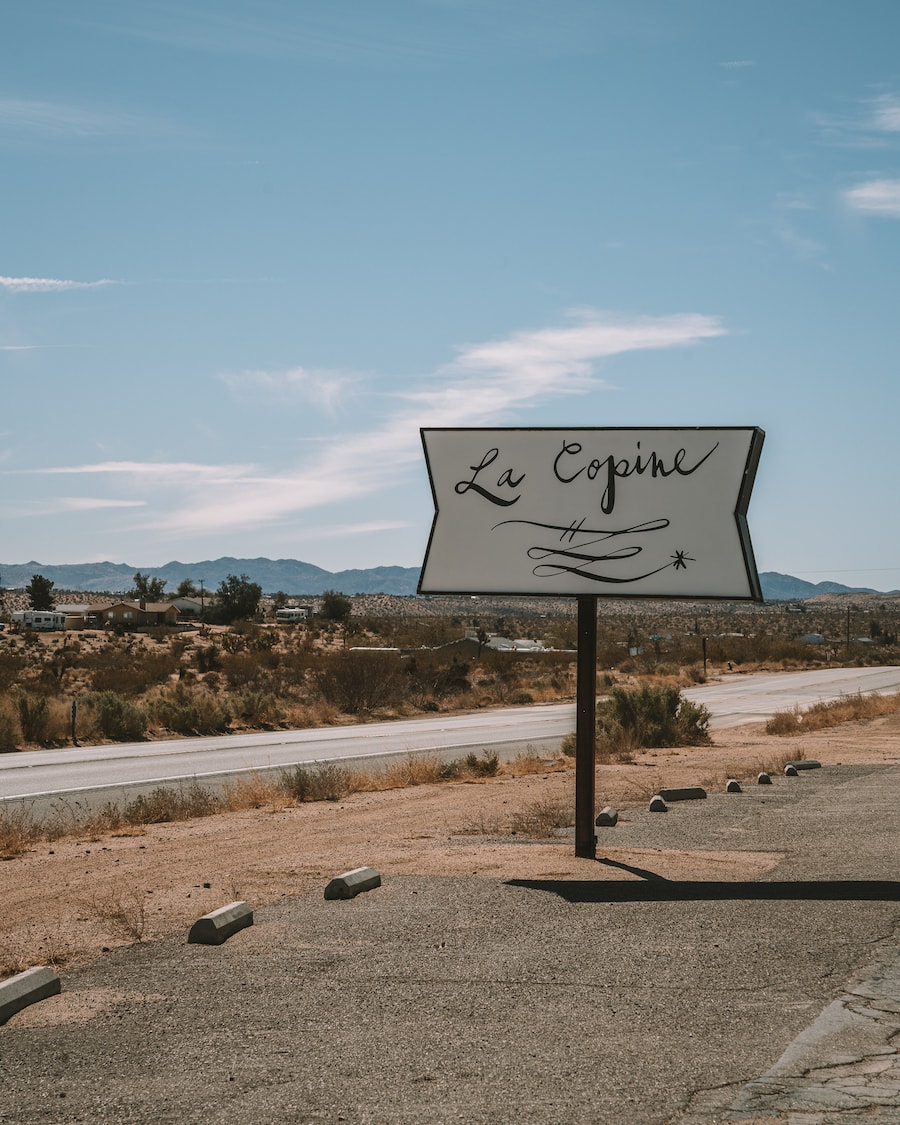 La Copine is a chic lunch restaurant with an eclectic menu. This is the place to go if you're looking for more of a fine-dining experience. It's super close to The Integratron, making it a good place to stop after your sound bath.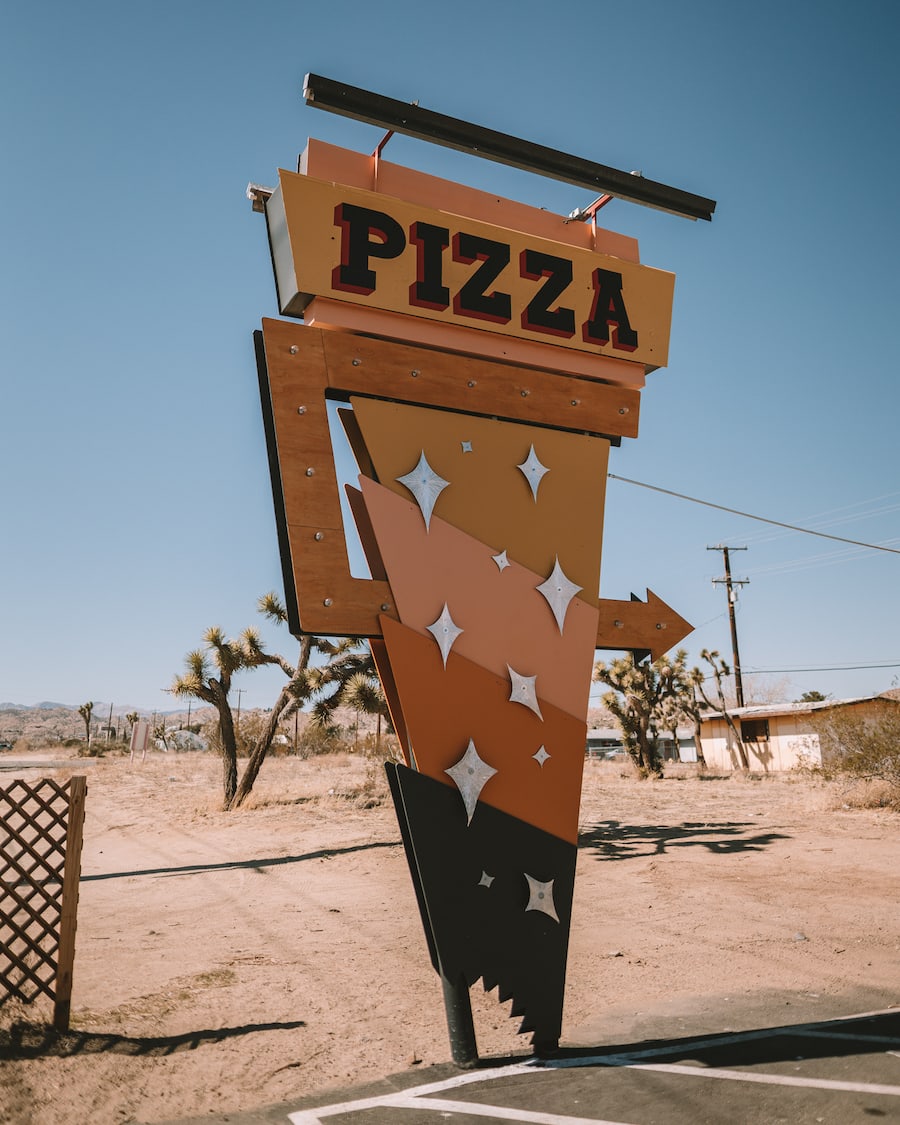 New York pizza in the middle of the desert? Yep! Big menu, delicious pizza. Trust me on this one.
Did this post inspire you to plan a trip to Joshua Tree? Let me know in the comments below!
---
Planning a trip right now? Don't miss my go-to websites for booking everything from flights and tours, to accommodation and more:
---