To be honest, Mendocino is one of those places I'd heard about from Northern California-based friends but never really had on my radar as a must-visit destination. California has so many stunning locales to choose from that a small town like Mendocino can easily get overlooked, and I didn't know enough about the area to keep it on top of my list. But after visiting the quaint coastal community as a stop along the way up our Northern California road trip last month, I'm already itching to go back to dive deeper into this beautiful town.
The best things to do in Mendocino are wide ranging — from outdoor adventures and taking in the stunning scenery to exploring the food and wine scene and hidden gems downtown. However, my favorite aspect to Mendocino was the intentional and slower pace of life that instantly comes over you as you begin to breathe in the fresh air that whips in across the rugged coastline.
Mendocino is a place that has a little something to offer everyone, and this list is just a way to jumpstart your itinerary if you'll be visiting with limited time. If you fall in love with the area like I did, I invite you to talk to locals, stay a little longer, and dive deeper into the plethora of hidden gems to be discovered here.
As I did on my first encounter with Mendocino, most people tend to shoot up here for a long weekend from bigger cities like San Francisco or Sacramento (it's about a 4 hour drive from either). A big attraction beyond the obvious natural scenery is the fact that jaw-dropping coastal views and magical Redwood forests are literally within a short drive from one another, which provides a unique mix of scenic experiences.
Any time of year is good to visit Mendocino, but expect to pack layers year-round and even more in winter — although it doesn't snow in this part of California. Fog is a constant companion along the Mendocino Coast in the mornings and typically burns off through the day, and with Northern California weather you'll still want to be prepared with a light jacket even in the summer months as temperatures can vary greatly throughout the day.
So now that you know what to expect for your trip to Mendocino, here are some of the best things to see, eat and explore in this gem of a community up the Northern California coast.
Russian Gulch State Park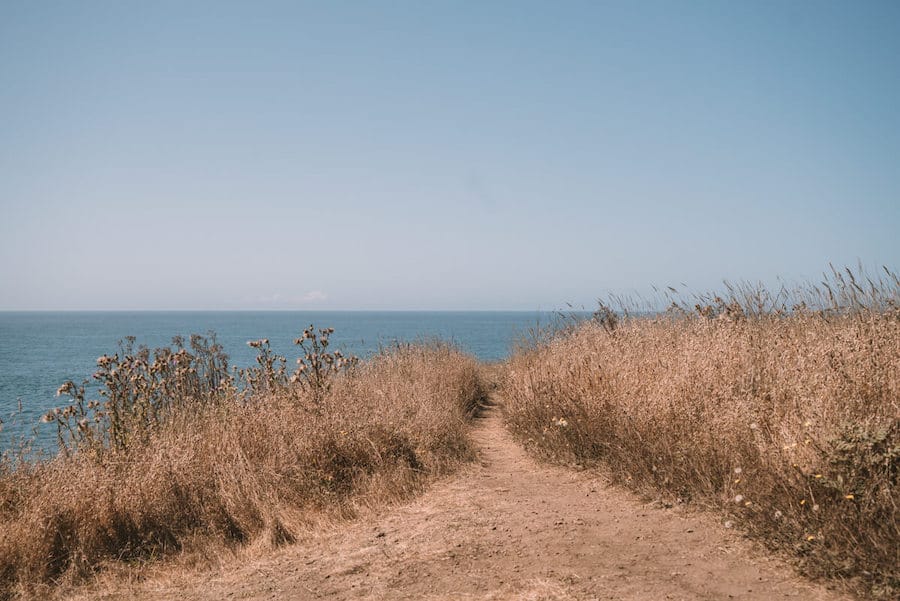 Russian Gulch State Park is one of the top things to do in Mendocino and is quite expansive, with 15 miles of trails to be enjoyed. It was the very first thing I did upon arriving in town and it was quite the introduction to the area, especially if you're a sucker for stunning rocky coastline (I mean, who isn't)? Heads up: there is an $8 cash entrance fee, so make sure to bring bills along on the adventure.
The most famous points of interest are views of the Frederick W. Panhorst Bridge (as seen in the photos above), the Devil's Punch Bowl and a 36 foot high waterfall that can be accessed by the park's main loop trail.
If you just want to spend a casual hour in the park taking in the ocean views, stick to the coast for a nice easy walk that spans along rocky cliffs and will take you to an area with picnic seating and to several angles of the bridge as well as stunning windswept headlands.
Spend a Night at the Glendeven Inn & Lodge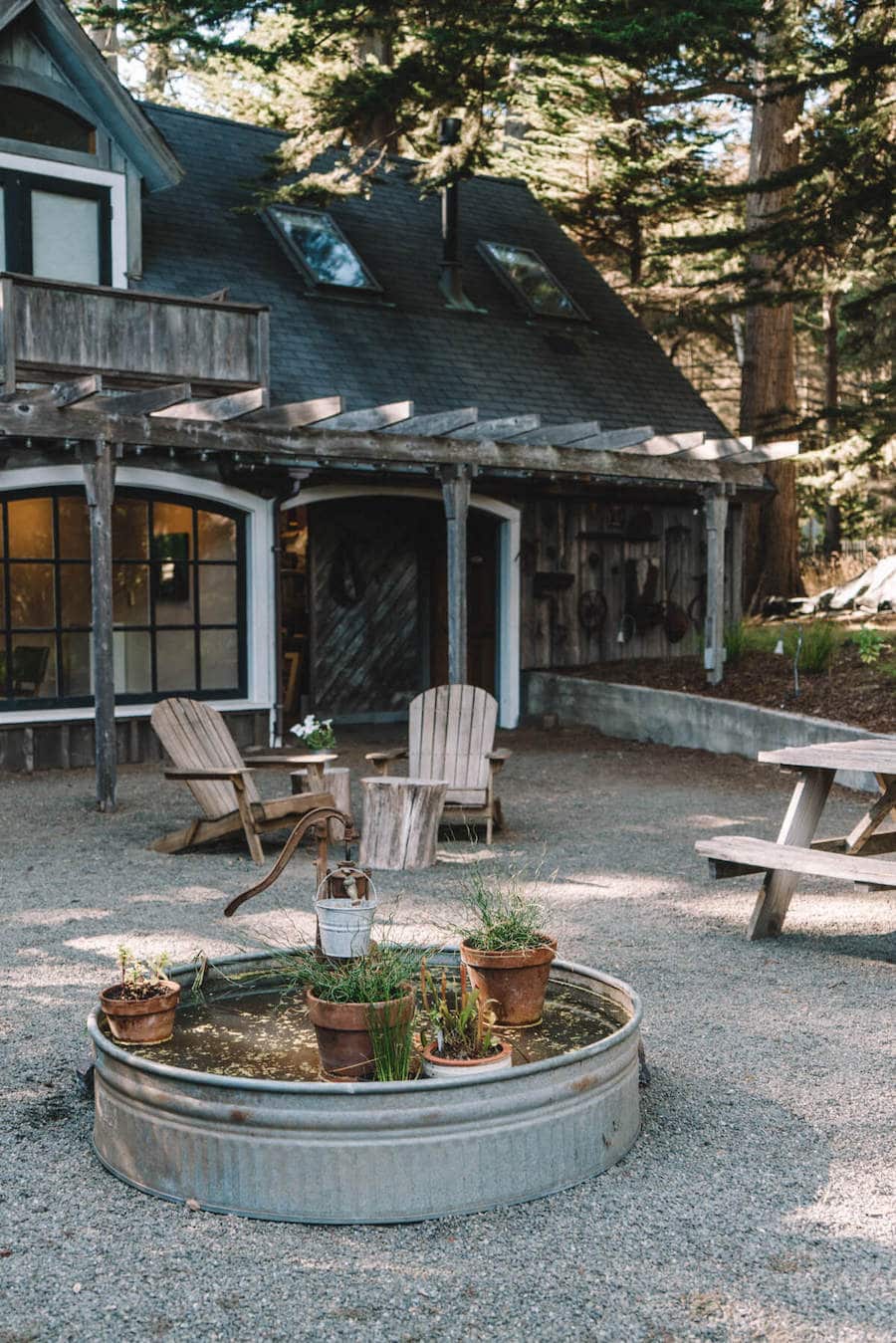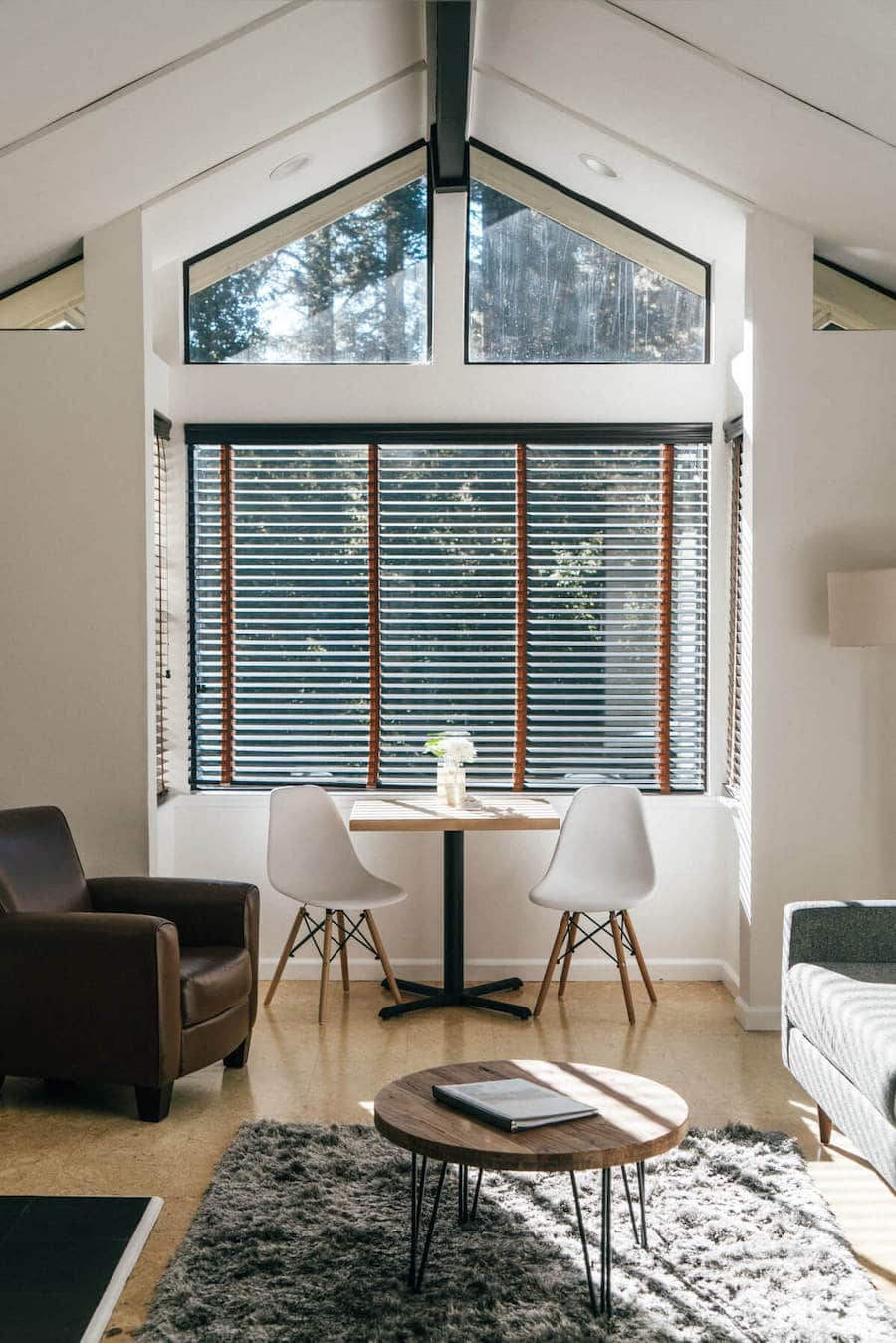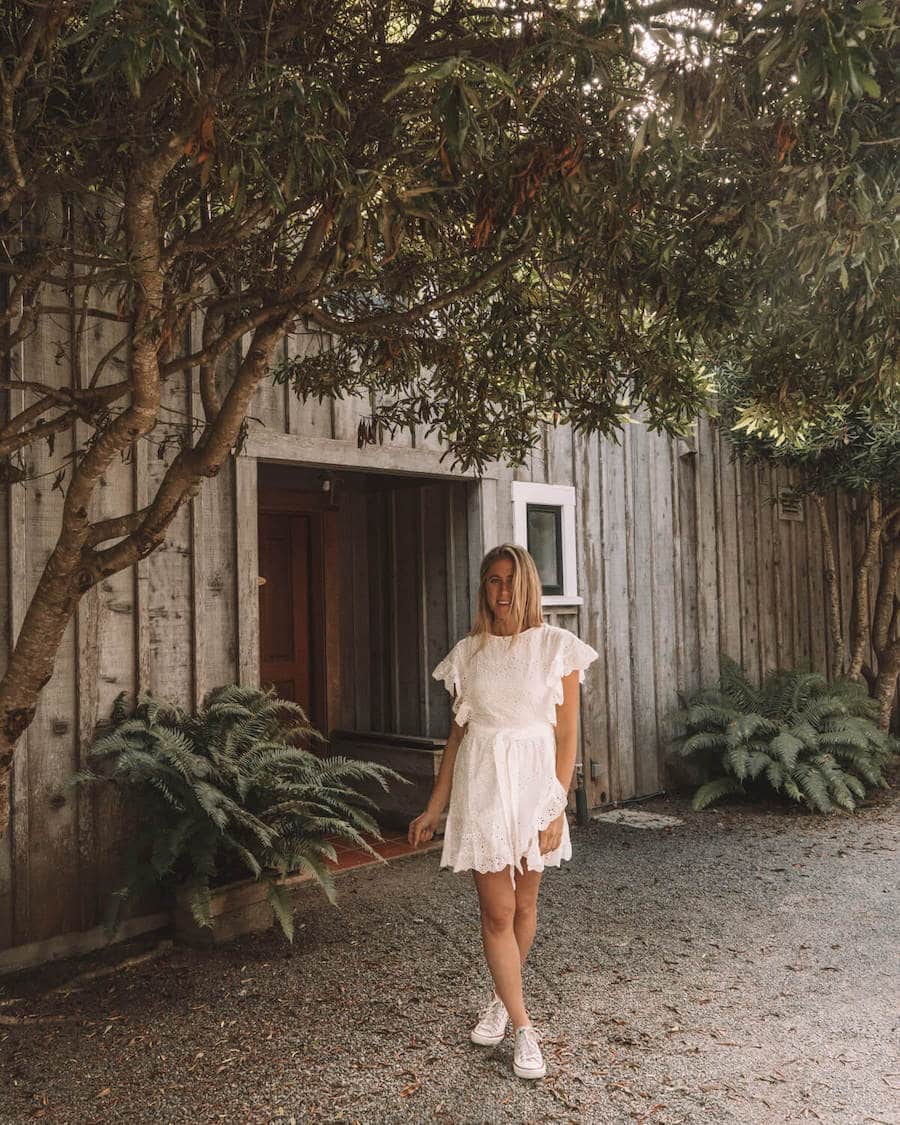 If you plan to stay overnight in Mendocino, Glendeven Inn & Lodge is the place to do it. This quaint farm-style hotel has both a classic inn side and more modern European-inspired lodge complex, each with only 10 rooms and adults-only accommodation. Around the property, guests will find chickens (which provide the eggs for the daily farm-to-table breakfast), roaming llamas, a greenhouse, and views of Van Damme State Park surrounding the property on three sides.
I was blown away by the fresh daily breakfast delivered to each room at 9 AM and the intimate setting throughout the hotel. We stayed in the more modern lodge rooms and loved the views looking out to the llama farm.
The best part about a stay here is that everything within Mendocino is at your doorstep. You can literally walk out from the property to the Cobbler's Walk in Van Damme State Park and everything else is a short drive away.
Shop Local Artisan Treasures in Town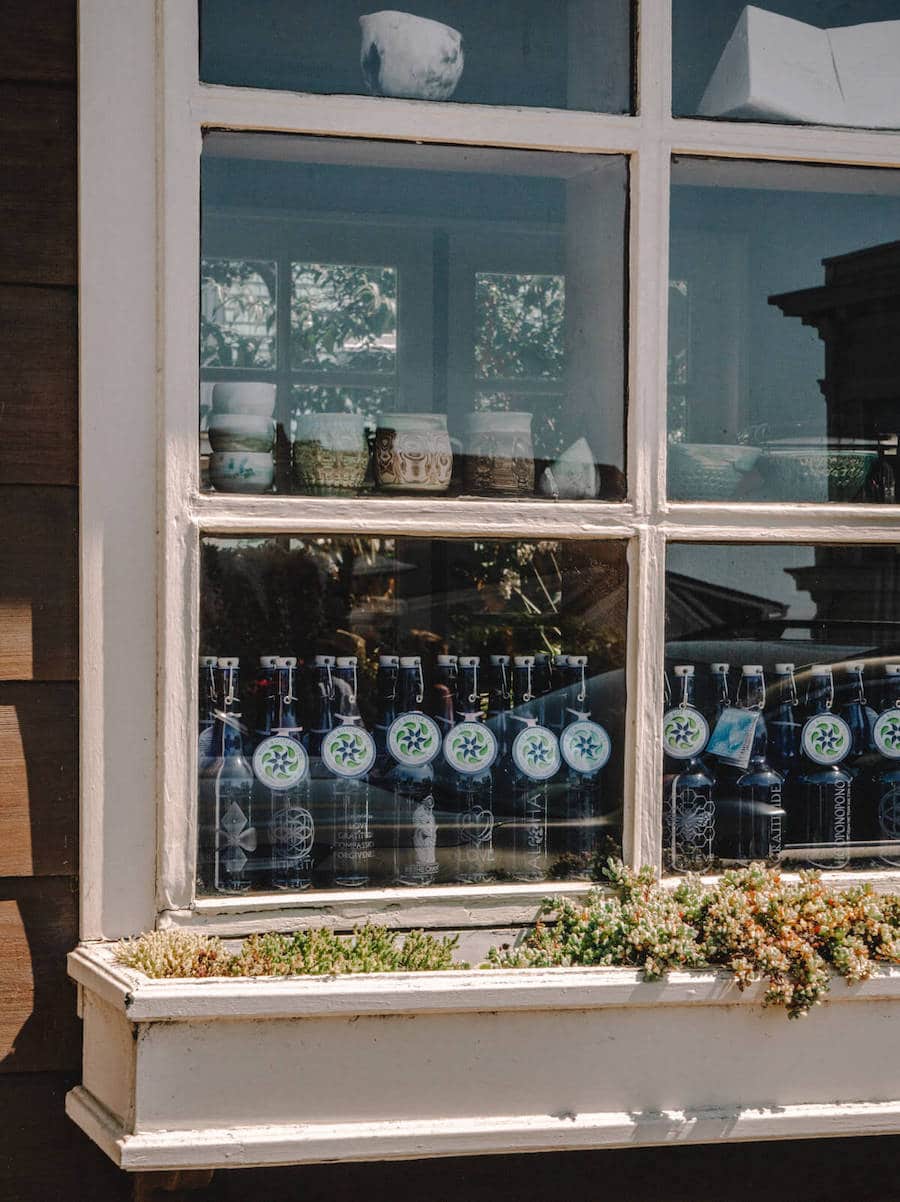 With a population of just around 900, the town of Mendocino has an intimate vibe that feels both eclectic and artsy. A lot of San Francisco residents have decided to trade city life for this peaceful coastline and have brought with them an array of artistic and creative influences.
With just a few streets connecting one main downtown area (fyi, "downtown" might be an exaggeration — it's small), Mendocino is a piece of cake to explore on foot. Take your time to peruse the book shops, galleries and boutiques selling local goods and support the community by picking up a few goodies to bring home as a memento or gift to friends.
Jug Handle State Natural Reserve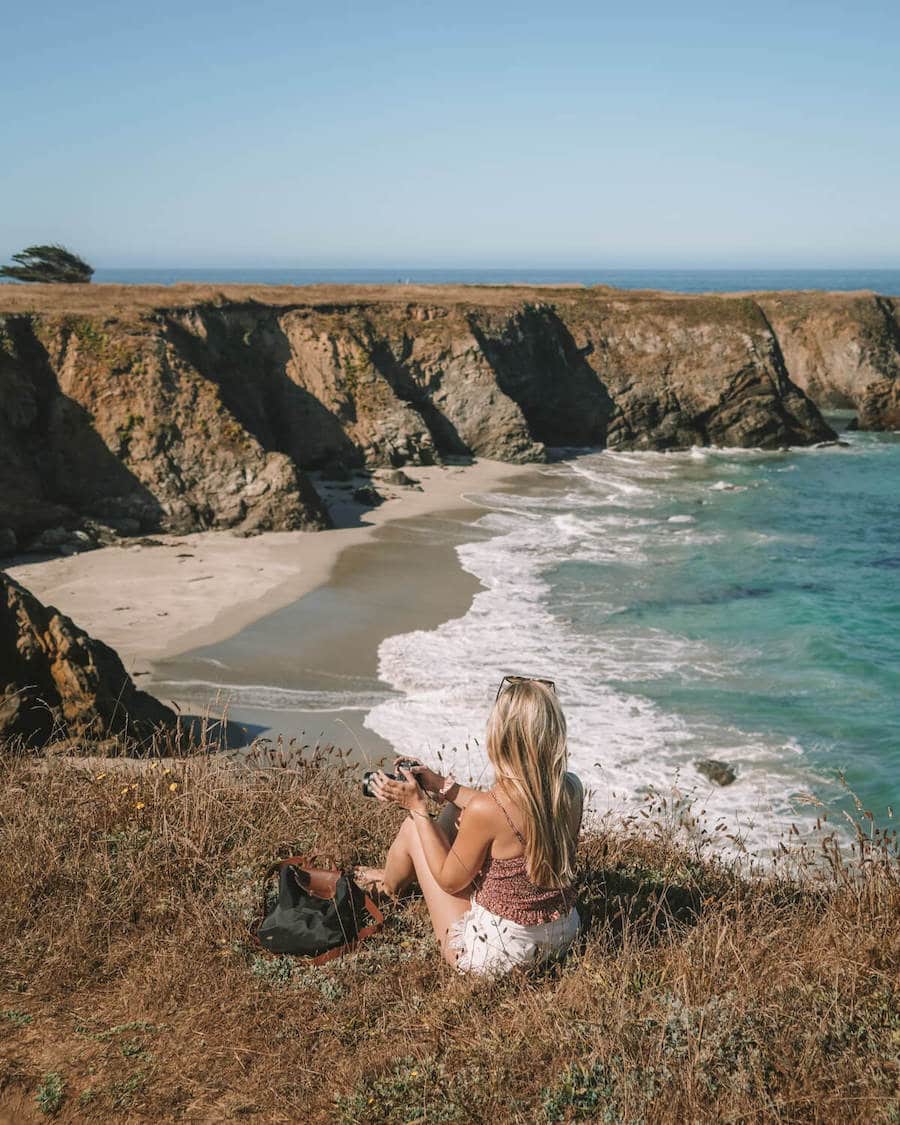 Just 5 miles north of Mendocino is the beautiful coastal park of Jug Handle State Natural Reserve. Right off of Highway One, the reserve is super easy to access and two short trails directly off the parking lot lead you to two very different scenic views.
Off to the right, a trail leading down to the beach provides epic views from the sand of the sheltered Jug Handle Beach. When we were there mid-day in early September there wasn't another soul in site. We then walked back up to our starting point at the parking lot and took the other trail on the left out to the headlands which offer unobstructed panoramas of coastline from north to south.
There is also a 2.5 mile nature trail here called the Ecological Staircase which brings hikers along on half a million years of ecological progression. This spot is a bit of a hidden gem, but don't miss it during your trip to Mendocino!
Take an Outrigger Canoe out on Big River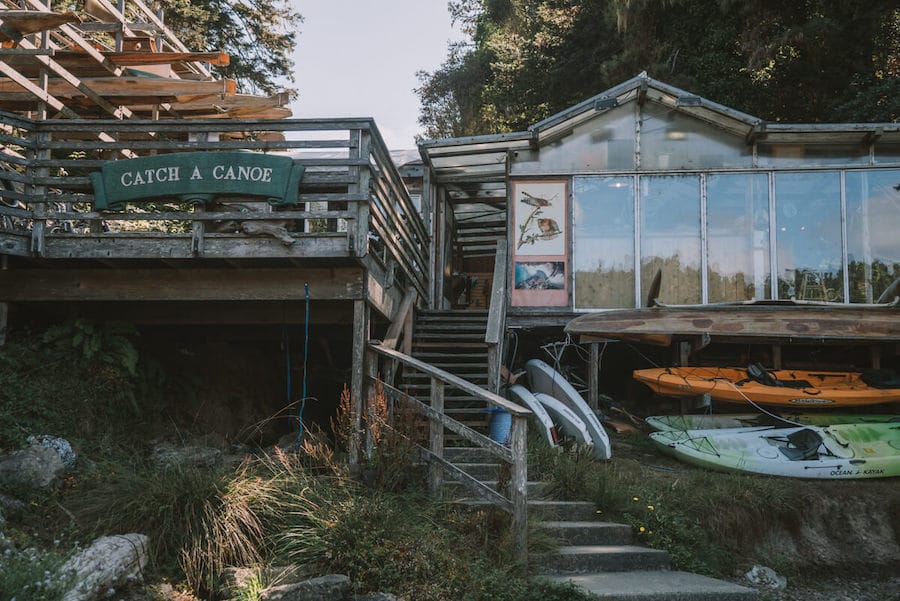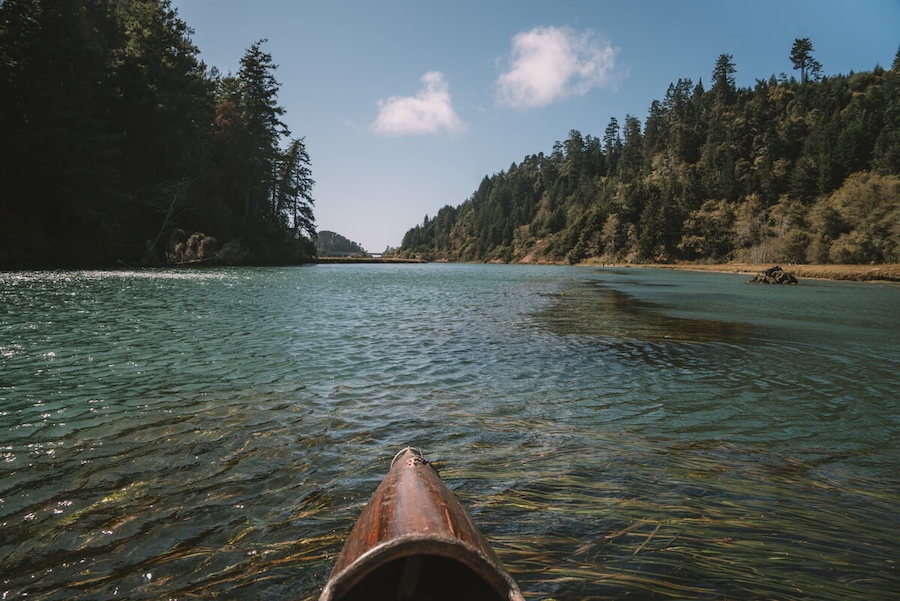 With plenty of views overlooking the ocean in Mendocino, it's a nice change of pace to get out on the river that cuts through Big River Estuary and dumps out into Mendocino Bay directly south of the main town.
Catch a Canoe is a great local provider right along Big River that offers a plethora of activities including guided tours, bike rentals and outrigger canoes. We took the wooden Polynesian-style canoes out on the river for a couple of hours, keeping our eyes peeled for wildlife including harbor seals, river otters, and various birds depending on the season.
If you want a more peaceful paddle, try to head out in the morning when waters are calmer. As the winds pick up in the afternoon you'll definitely get more of a workout paddling against the current.
Visit Glass Beach in Fort Bragg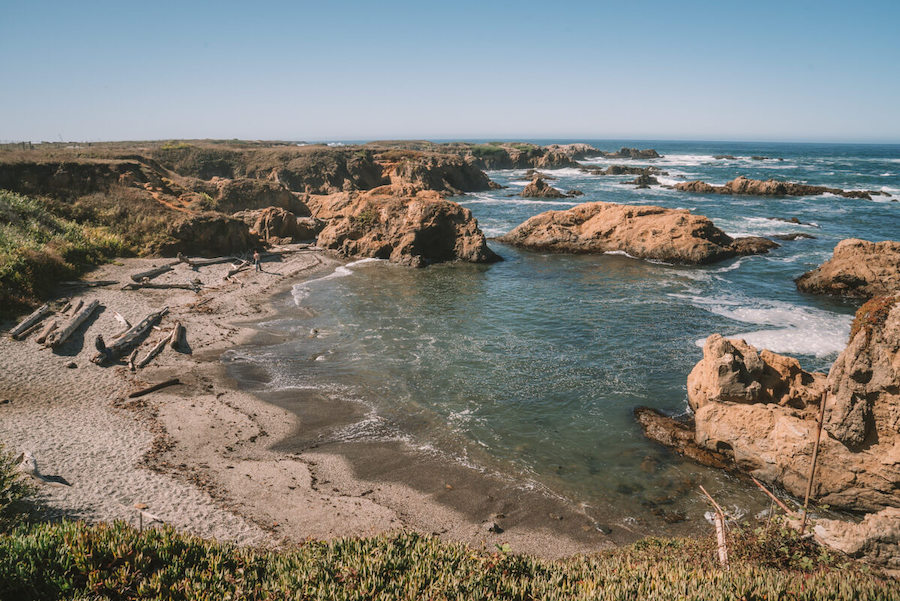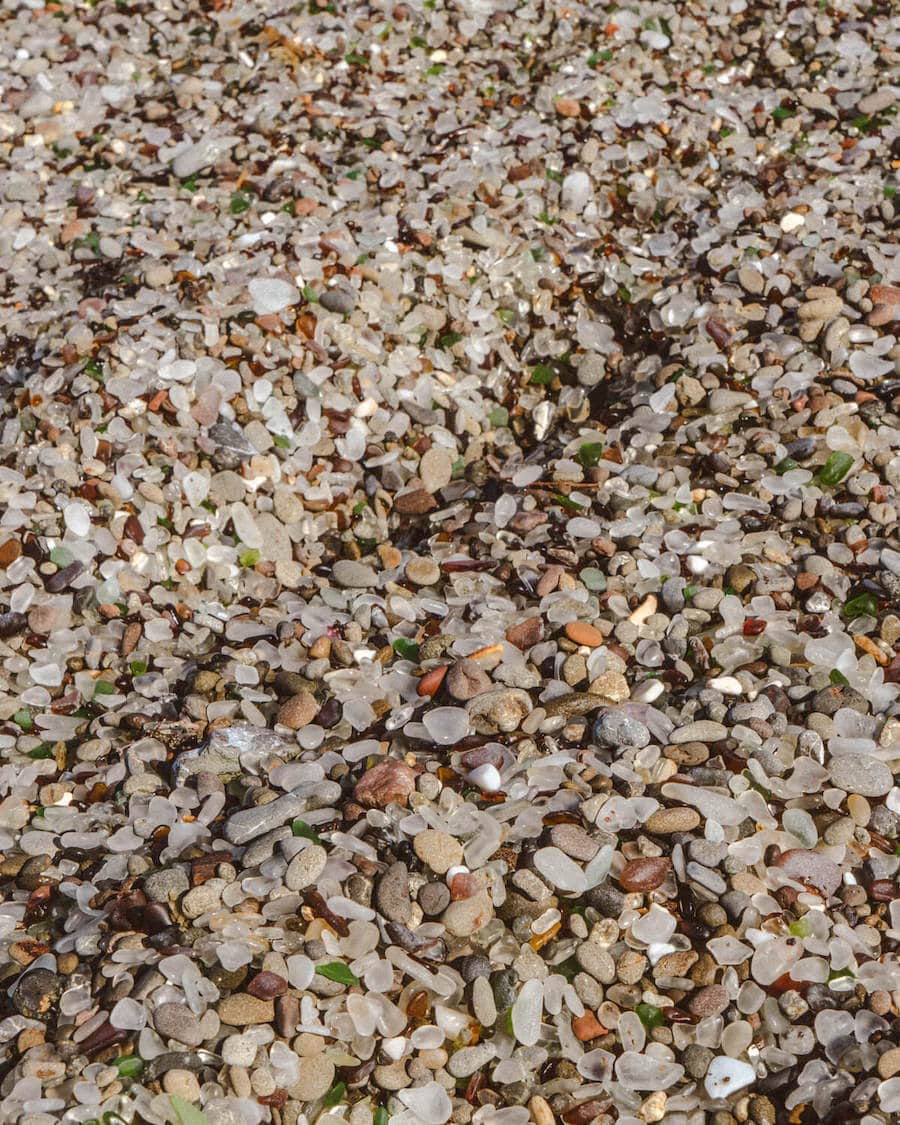 Probably the most famous beach along this part of California's coast is Glass Beach in Fort Bragg, about a 15 minute drive north of the town of Mendocino. Located in MacKerricher State Park, Glass Beach doesn't look like much from above, but once you take the narrow path down to the sand you'll realize it's actually made up entirely of seaglass of all different shapes and colors.
For photography enthusiasts, I'd recommend going during sunrise or golden hour to get a better glow off the seaglass for the best shots.
Take in All the Views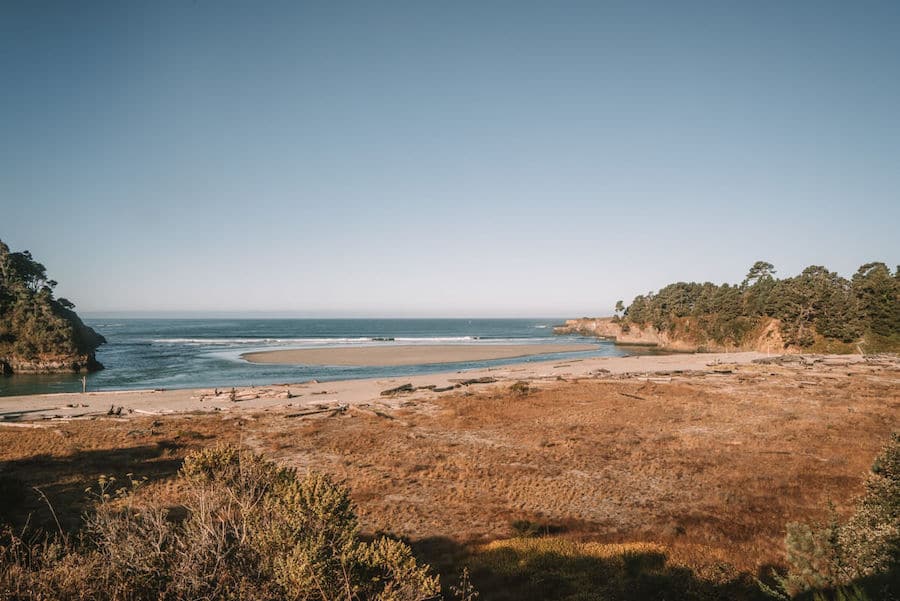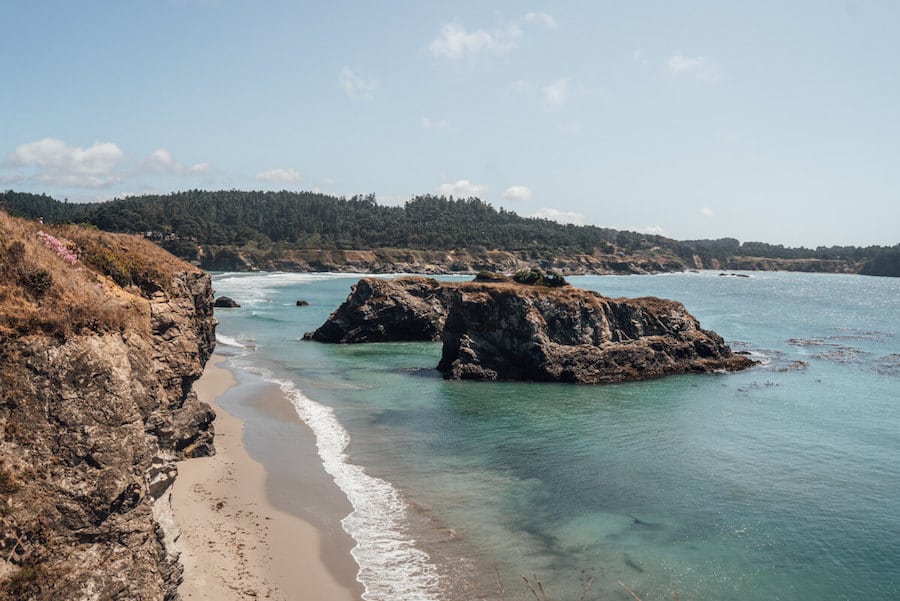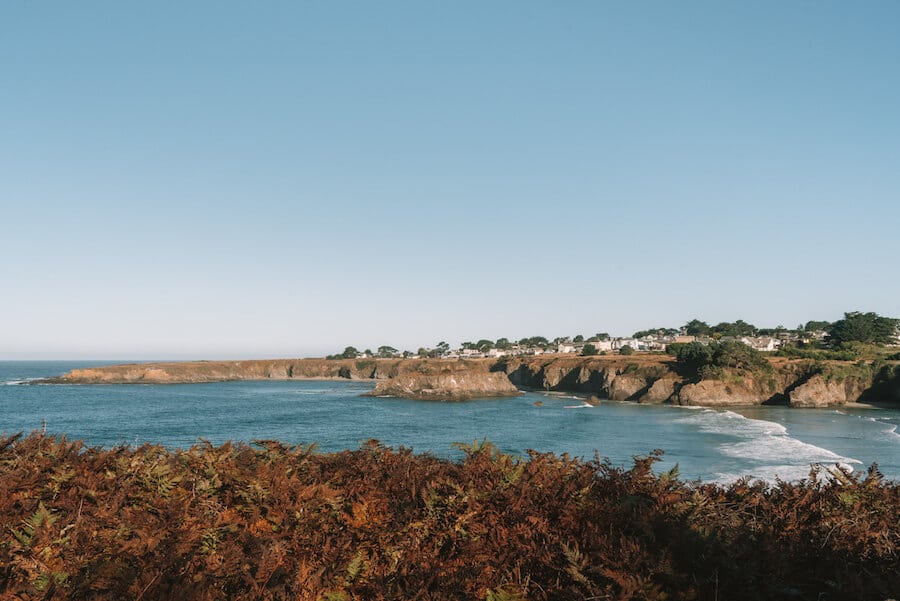 Visiting Mendocino is all about appreciating its natural beauty and luckily there are plenty of places to do this from. Some of the best coastal views that can't be missed can be found at Mendocino Overlook, Russian Gulch State Park, Jug Handle State Natural Reserve and from the main downtown area.
If you park in town near the Mendocino Hotel, you'll see a dirt path that runs out towards the cliffs below and all along the ridge across Mendocino Headlands State Park. Grab a coffee to go and take a morning stroll for beautiful views overlooking Mendocino Bay. To get similar views from a different elevation, pop down to Big River beach to catch the scenery from the sand.
Eat Local Downtown


Farm-to-table options are plentiful in Mendocino, and there are a slew of restaurants to choose from downtown. Our personal favorites during this inaugural trip to this area of California were Flow, which has awesome views of the ocean from their second floor deck. This is a great option for lunch in the sun.
For dinner, make a reservation at the more upscale French restaurant Cafe Beaujolais, which has white tablecloths but still retains a laidback vibe (everything in Mendocino is pretty laidback, which is a huge plus). This is a historic restaurant located inside an 1893 Victorian farmhouse. I was pleasantly surprised by the kale salad as a starter and devoured their seafood pasta.
Go Wine Tasting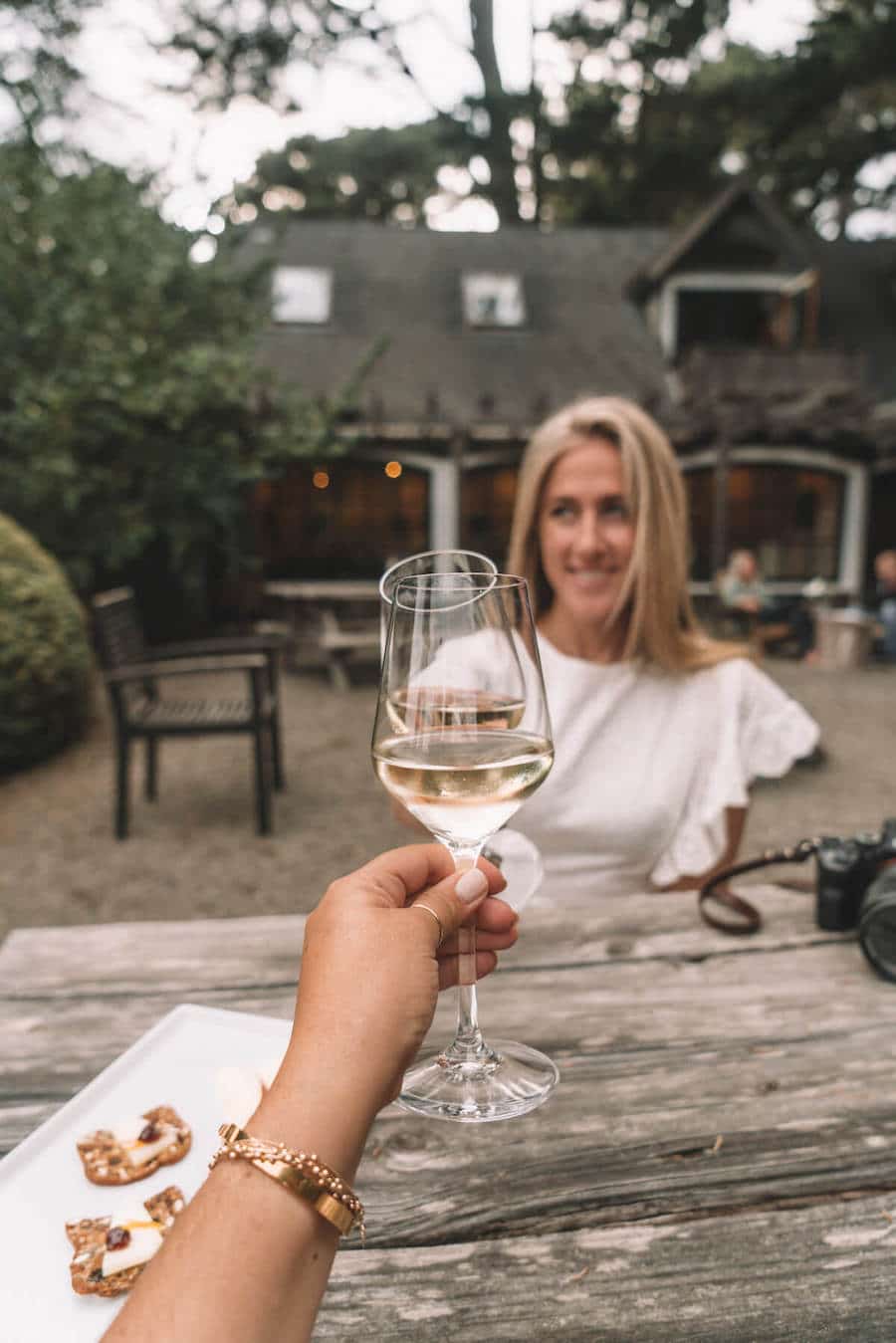 Mendocino County is one of the top wine regions in California, so if you have time and love wine like me, then don't miss this as part of your itinerary. The Mendocino County wine region is one of the largest and also most diverse growing regions in the state due to its variety in climate, and a huge plus is that the region is also one of the leaders in organically grown wine grapes.
While we didn't get to pay a visit to any of the local world-class wineries in Mendocino on this visit, we did sample some of the local wine at restaurants in town and at the Glendeven Inn & Lodge.
If you're looking for a few recommendations of wineries to visit, the following seem to be the favorites in the area: Navarro Vineyards and Winery, Lula Cellars, Toulouse Vineyards, Phillips Hall and Goldeneye Winery.
Pick Your Adventure at Van Damme State Park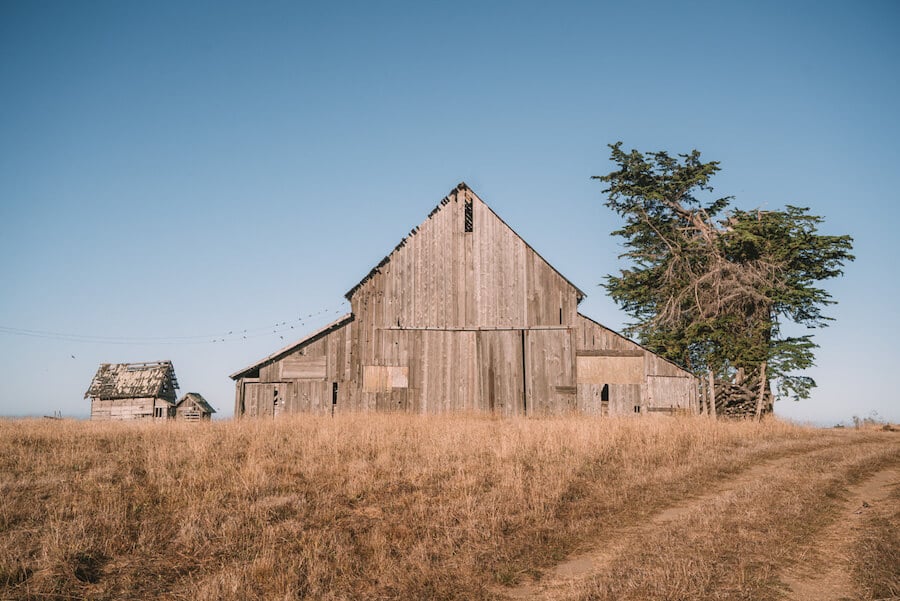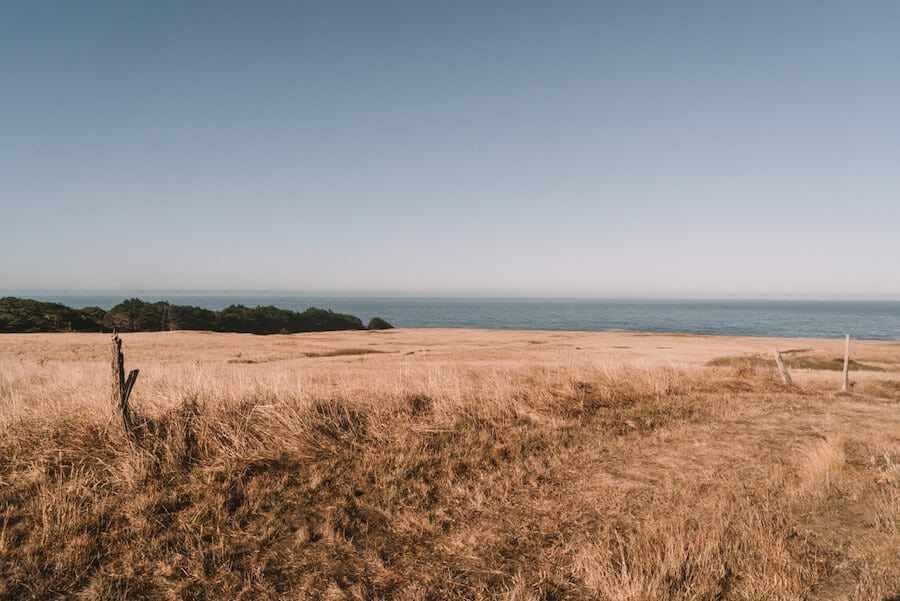 1,831 acres of land make up Van Damme State Park, a true paradise for active visitors to Mendocino. Jogging, cycling, hiking, bird watching, fishing and kayaking are all options to explore and the park offers year-round camping for front row seats to all of its beauty.
Depending on how much time you have to explore, some of the highlights for visitors to the state park are the Fern Canyon Scenic Trail and the shorter Pygmy Forest hiking trail.
We were lucky enough to be staying at the Glendeven Inn & Lodge, which is surrounded by the state park on three sides, and could walk out to the headlands in the morning to start our day with these scenic views.
See the Redwoods By Rail Bike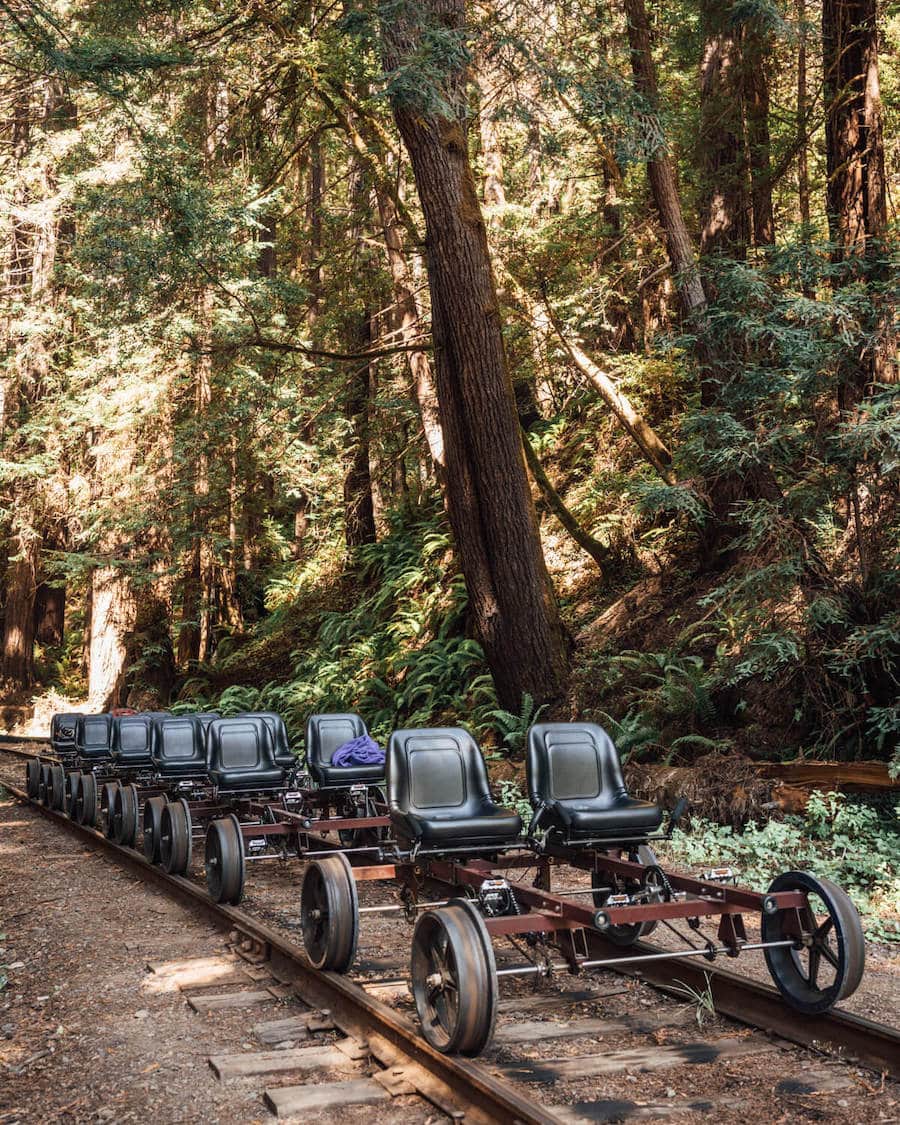 One of the most incredible things to do in Mendocino is explore the majestic Redwood forest — and it's quite a unique thing about the area that you can literally be at the coast and amongst towering Redwoods within about 5 minutes drive. For a fun way to explore the Redwoods, purchase a ticket on the Skunk Train in Fort Bragg (just north of Mendocino) or take rail bikes out on the tracks.
The rail bikes tour is a more intimate experience than the train, with just 10 or so bikes going out on the tracks at once. It's not cheap — about $79 per bike which fits two people — but is a much more enjoyable experience in my opinion to be out in the open air and get some exercise while you're at it.
After the tour is completed, treat yourself to a fresh-caught crab sandwich at Princess Seafood nearby and wash it down with a beer from North Coast Brewing Co.
Have I convinced you to visit this area of Northern California? I hope this post gave you some great ideas of what to do in Mendocino for your next coastal adventure. Feel free to leave any comments below if you have any questions.
Planning a trip right now? These are all the websites and services I love for booking everything from flights, tours, accommodation and more:
READ MORE
Pin It For Later