I'll just come out and say it—Santa Fe is one of my favorite cities in the US, and it always surprises me that more people haven't been! The New Mexico capital is magical and I hope this post shows you why it's worthy of a visit and that there are SO many awesome things to do in Santa Fe.
Whether you've already started to plan a trip here or are curious about planning one in the future, this post will give you tons of ideas for ways to spend your time in "The City Different." From epic shopping adventures to historic train rides and the best margarita in town, I promise you'll be kept plenty busy with all the things I have in store for you in this post.
But first, why do I love Santa Fe so much? Well, let me count the ways.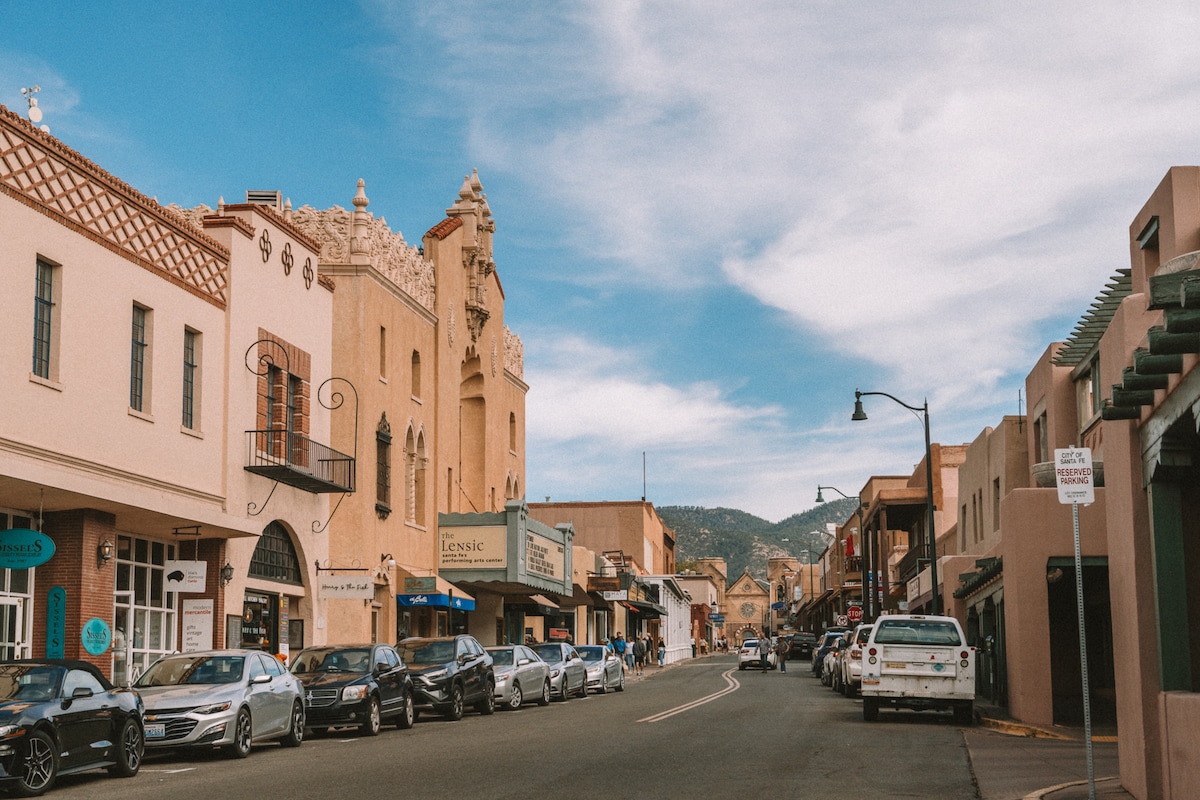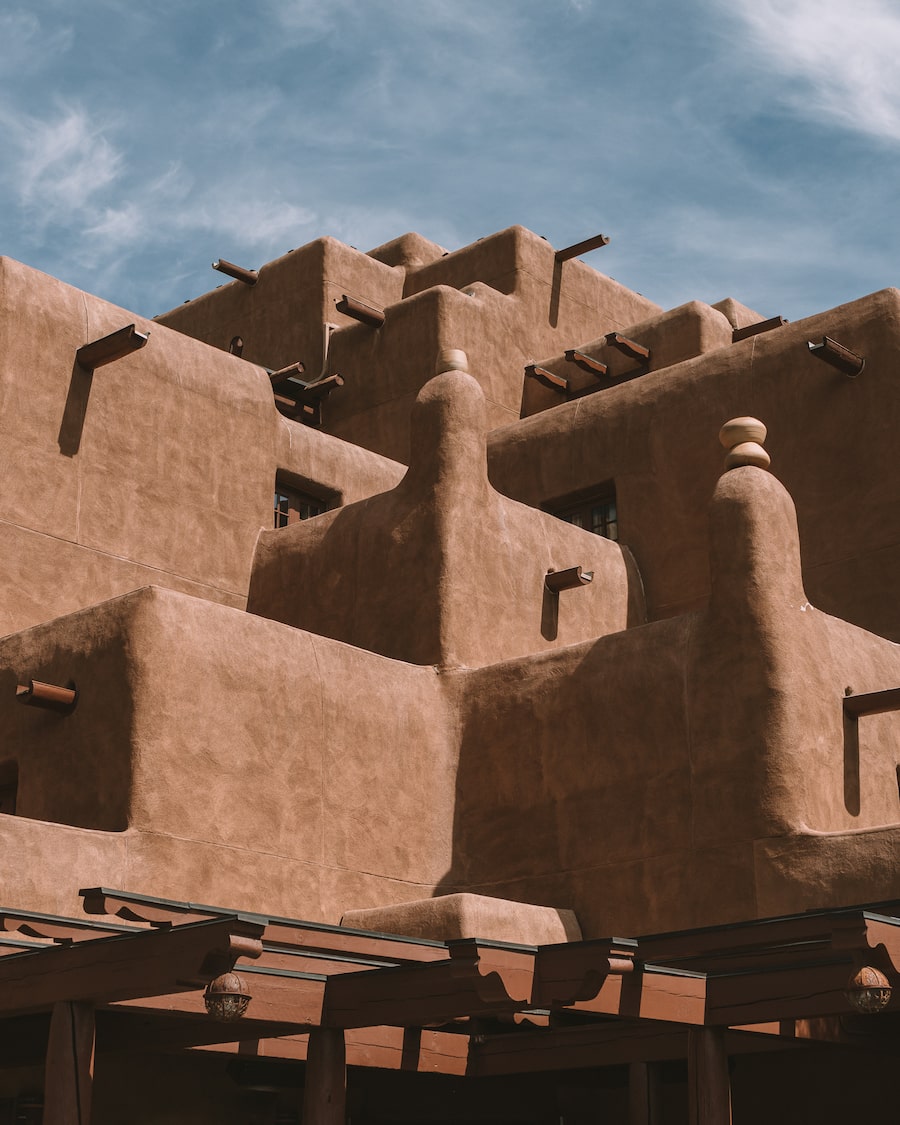 This New Mexican city has so much charm. Between the incredible adobe architecture and Native American heritage and the wildly creative community that calls it home, Santa Fe is a truly unique place that is brimming with creative energy around every corner. It's no wonder that one of the most famous artists of our time, Georgia O'Keeffe, decided to call this beautiful area home.
Another awesome thing about Santa Fe: It's quite small! At least for a capital city at least. With only 80,000 or so residents, Santa Fe is quite manageable in size and it's super walkable. It's small enough to feel like you can truly get your bearings and experience the best of the city even in a short trip.
So let's get onto the best things to do during your time in Santa Fe!
The Best Things to do in Santa Fe, NM
1. Take Home Unique Goods from The Plaza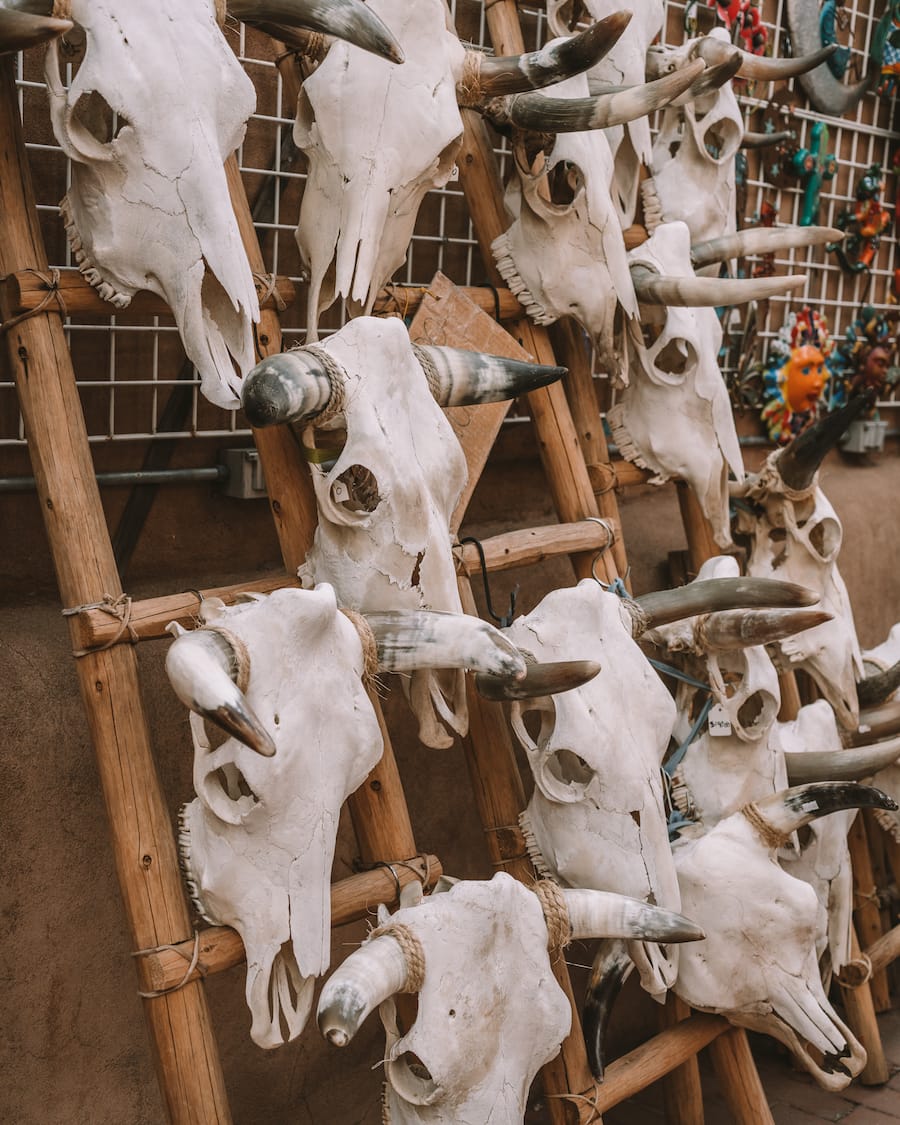 You'll no doubt find yourself here on any trip to Santa Fe. The main plaza downtown is incredibly walkable, and it's where you'll find a ton of the city's top restaurants, museums, historic churches and the most incredible shopping.
I love that beyond a single Starbucks and Häagen-Dazs, there isn't really much here in the way of chain establishments.
Instead, you'll find tons of independent hotels, galleries and boutiques hawking all kinds of Southwestern attire. If you've been in the market for a hand-made cowboy hat or some turquoise jewelry, you've come to the right place. At the O'Farrell Hat Company, you can even put in an order for a custom hat, although you'll have to wait about 16 months for it to be finished.
Some of my favorite shops you can't miss in Santa Fe are Rainbow Man for all kinds of funky trinkets, Parts Unknown for hats/boots/dresses that feel very Santa Fe, and Seret & Sons, which is a massive warehouse sized store (over 50,000 square feet!) of incredible furniture and decor pieces from places like Tibet, Afghanistan and other parts of Central Asia.
2. Ride the Historic Sky Railway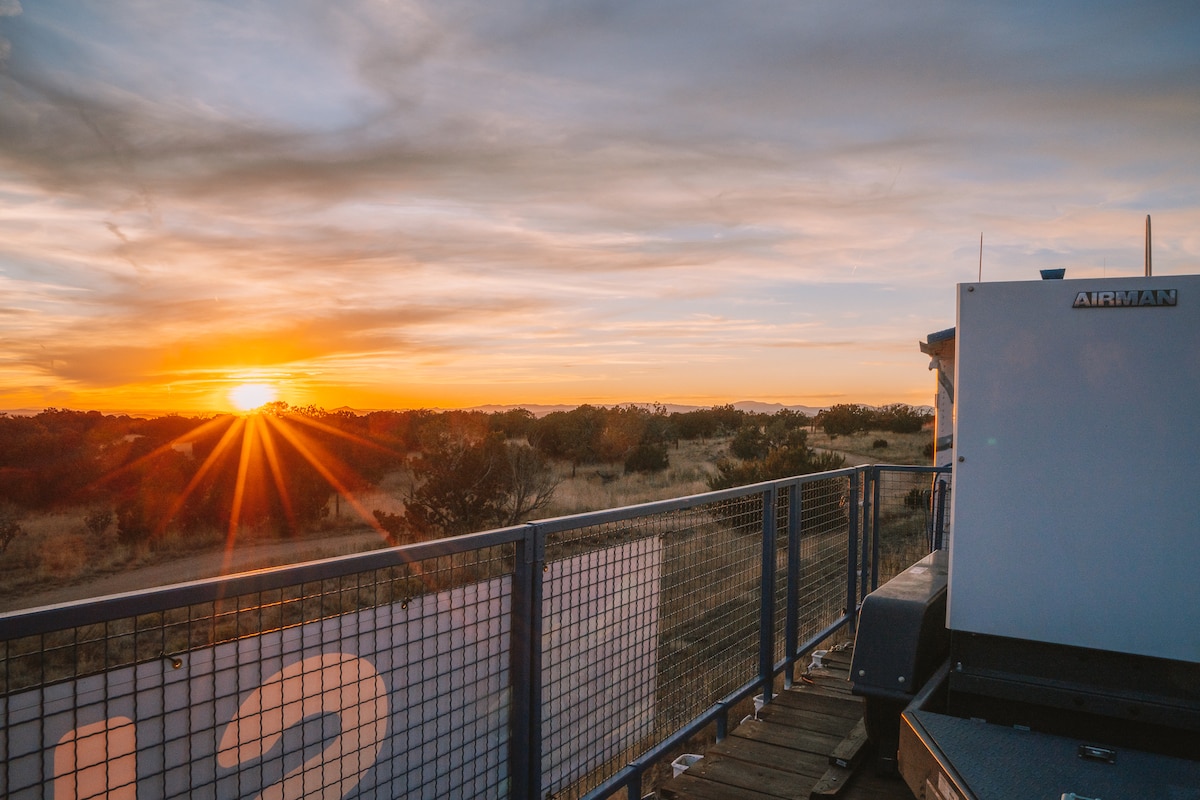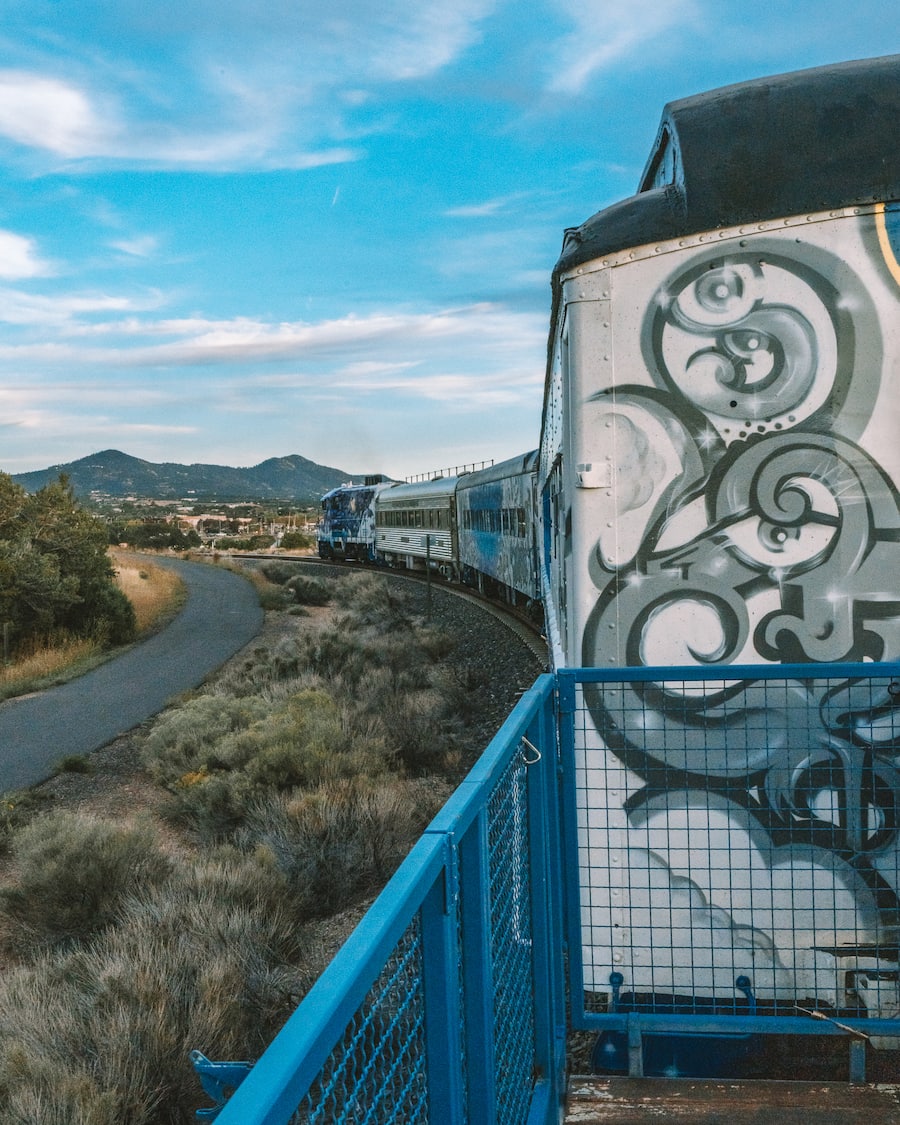 One of the most unique things to do in Santa Fe is to book a ride along the Sky Railway, a refurbished train that offers a variety of curated trips for visitors and locals to Santa Fe along the historic rail route between Santa Fe and Lamy.
There are tons of different options you can choose from depending on your vibe like Flamenco themed rides, stargazing rides after dark and more. I personally loved the sunset ride because it's one of the best places in the city to catch a beautiful New Mexico sunset.
3. Try Sipping Chocolate with Chile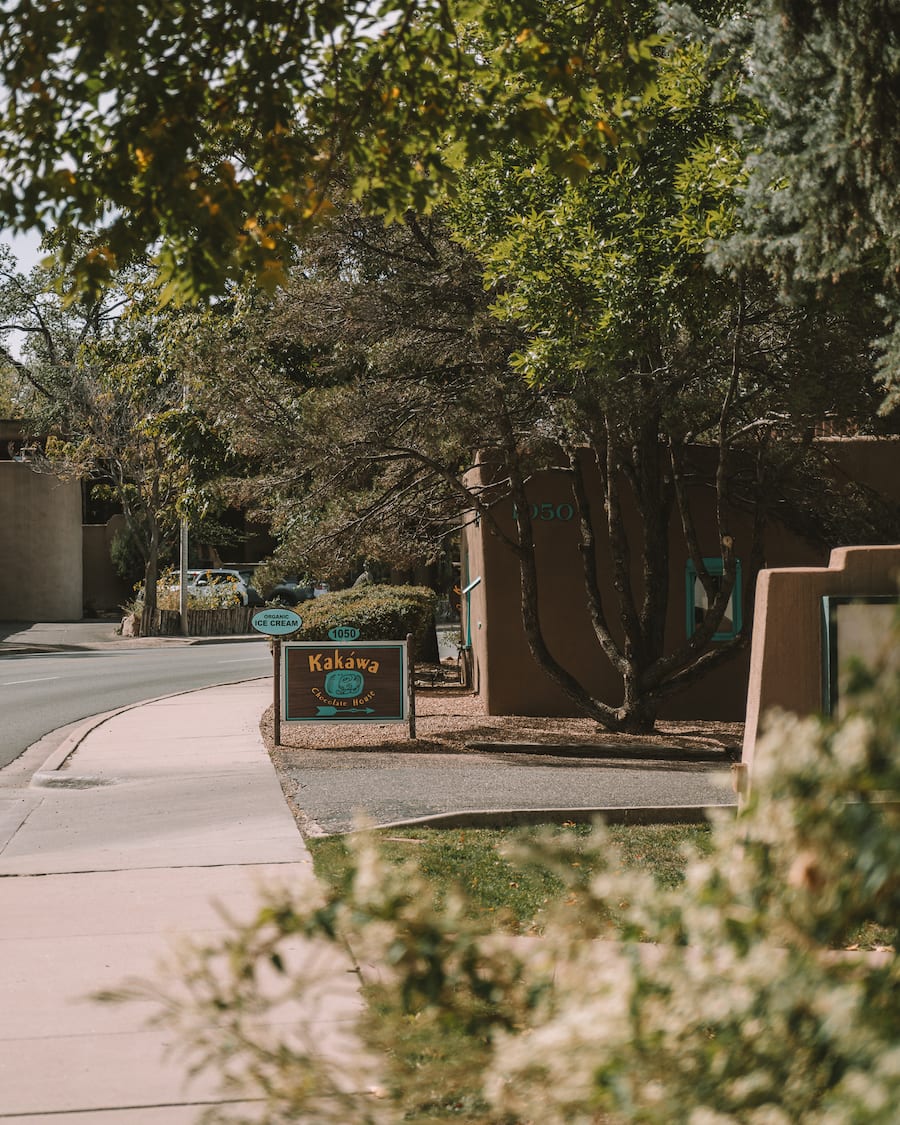 Kakawa Chocolate House isn't your average chocolatier. Based in Santa Fe, these guys specialize in drinking chocolate elixirs and specifically take inspiration from ancient cultures and communities between the time periods of 1000 BC to the mid-1900s AD.
I've revisited this place every time I'm back in Santa Fe. The truffles are absolutely delicious—try the mezcal and goat cheese and sage if you're into unique flavors.
What really makes this spot unique is their menu of sipping chocolate elixirs. Some of them even have a classic Santa Fe chile kick so be careful if you're spice sensitive 😉
If you're visiting Santa Fe in fall or winter, this is a perfect way to warm up between gallery hopping along Canyon Road.
4. Go Gallery Hopping Along Canyon Road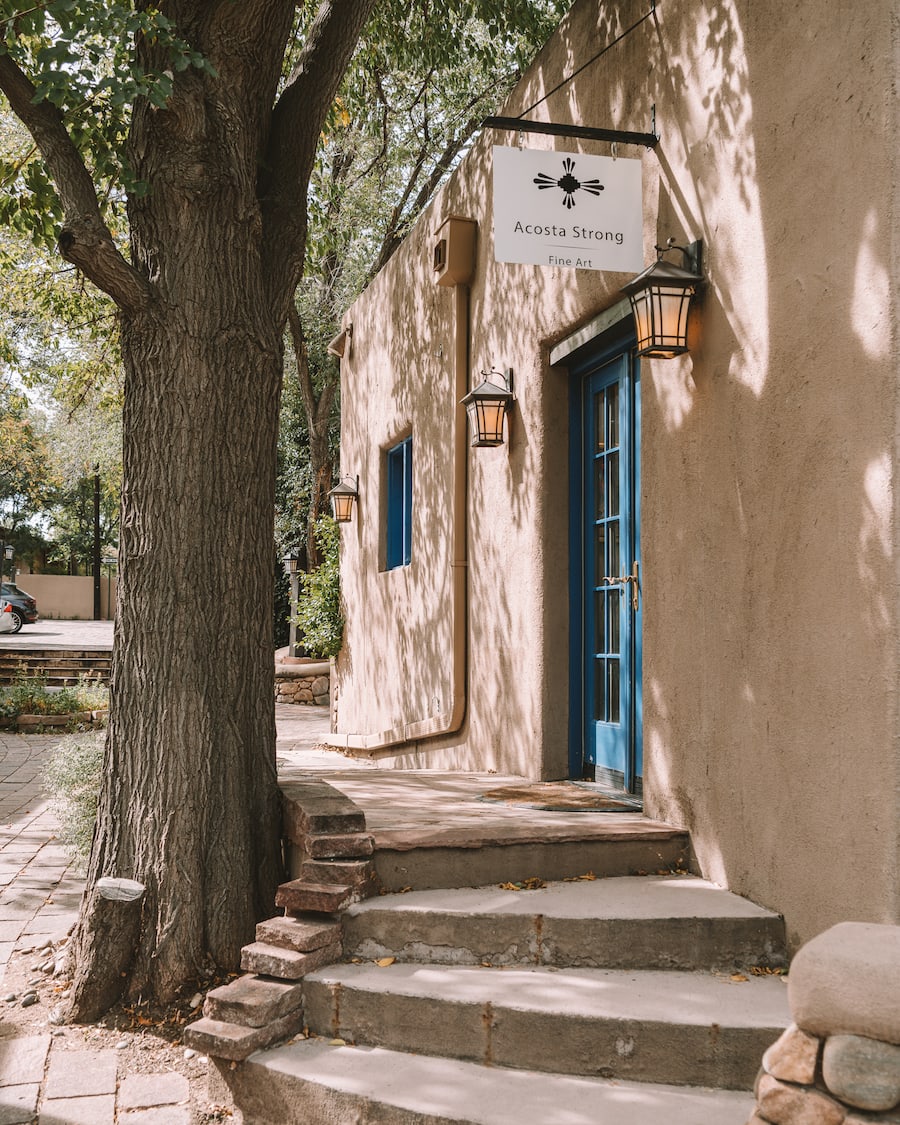 Canyon Road is where you'll find the highest concentration of art galleries in Santa Fe and perhaps in the entire country. Within just a half mile, you can explore over 80 art galleries, plus many boutiques, restaurants and even a wine garden within easy walking distance from the main Santa Fe Plaza.
This is a must if you're an art fiend or collector. Even if you're not, this is still a great place to get outside of the busiest section of downtown and go for a nice stroll.
5. Try Christmas Chile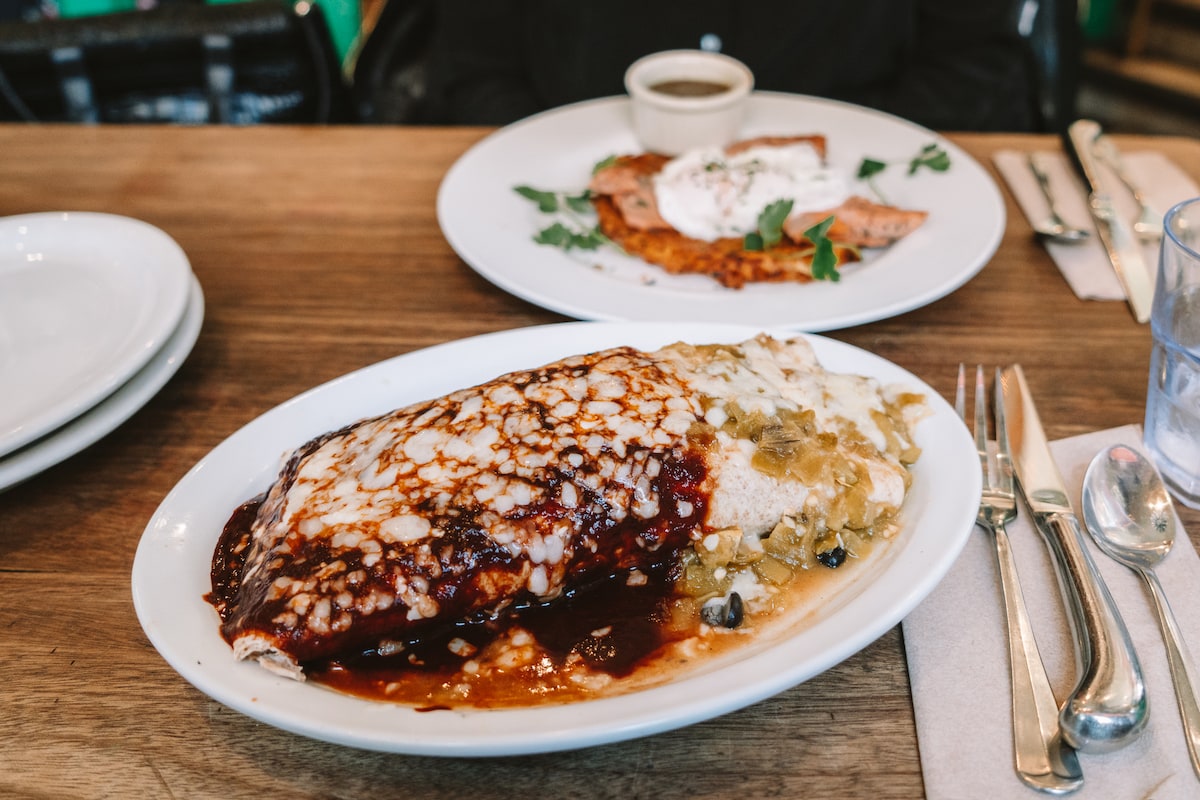 There's one common question you'll get at most Santa Fe restaurants if you've ordered some sort of New Mexican fare and it's this: red or green? They're talking about their famous chiles of course. The beauty of ordering it "Christmas" style is that you get the best of both worlds.
Red is the spicier option but even as someone who is pretty sensitive to spice I found that most red chiles I ate weren't too much for me to handle.
Some favorite places in town to grab enchiladas, breakfast burritos or other dishes you'd want to get with Christmas chile are Cafe Pasqual's, The Shed and Tia Sophia's (go here for breakfast and get the breakfast burritos).
6. Stay in the Only Native-American Owned Hotel in Santa Fe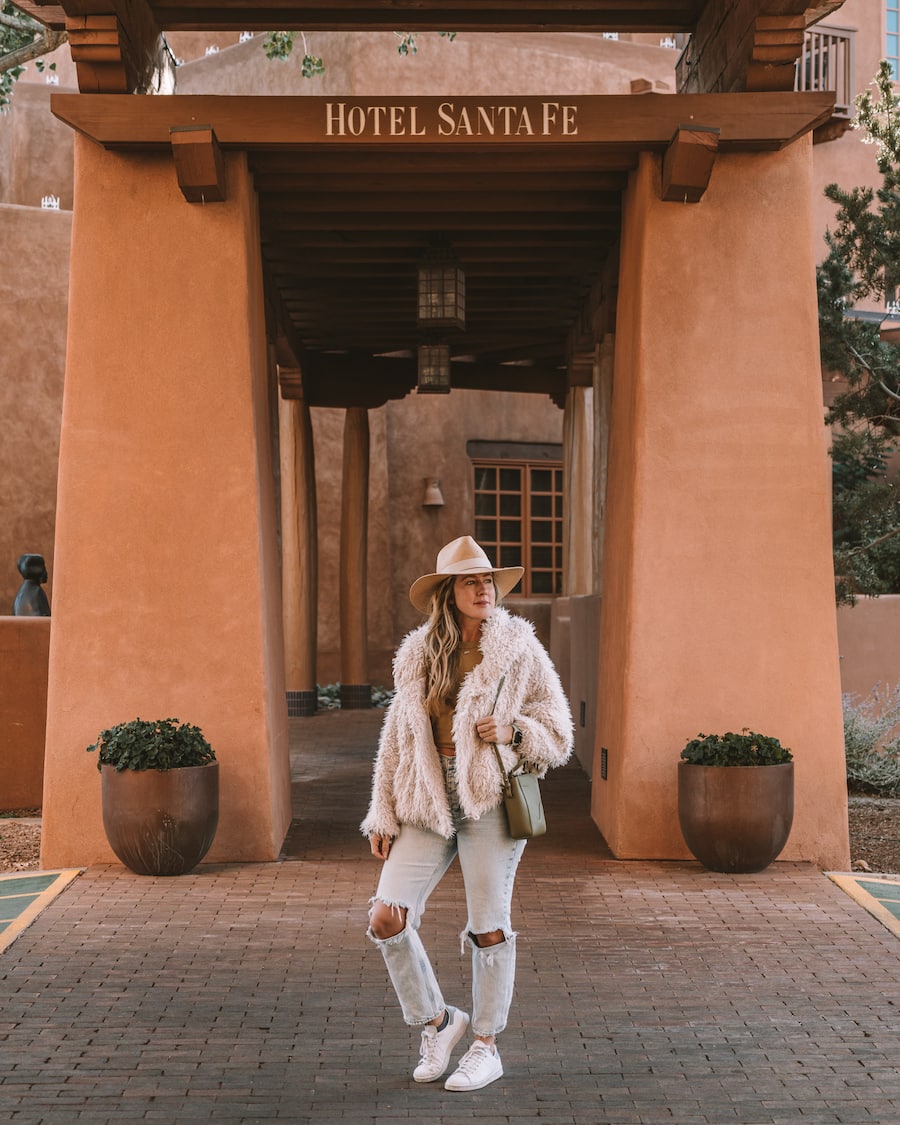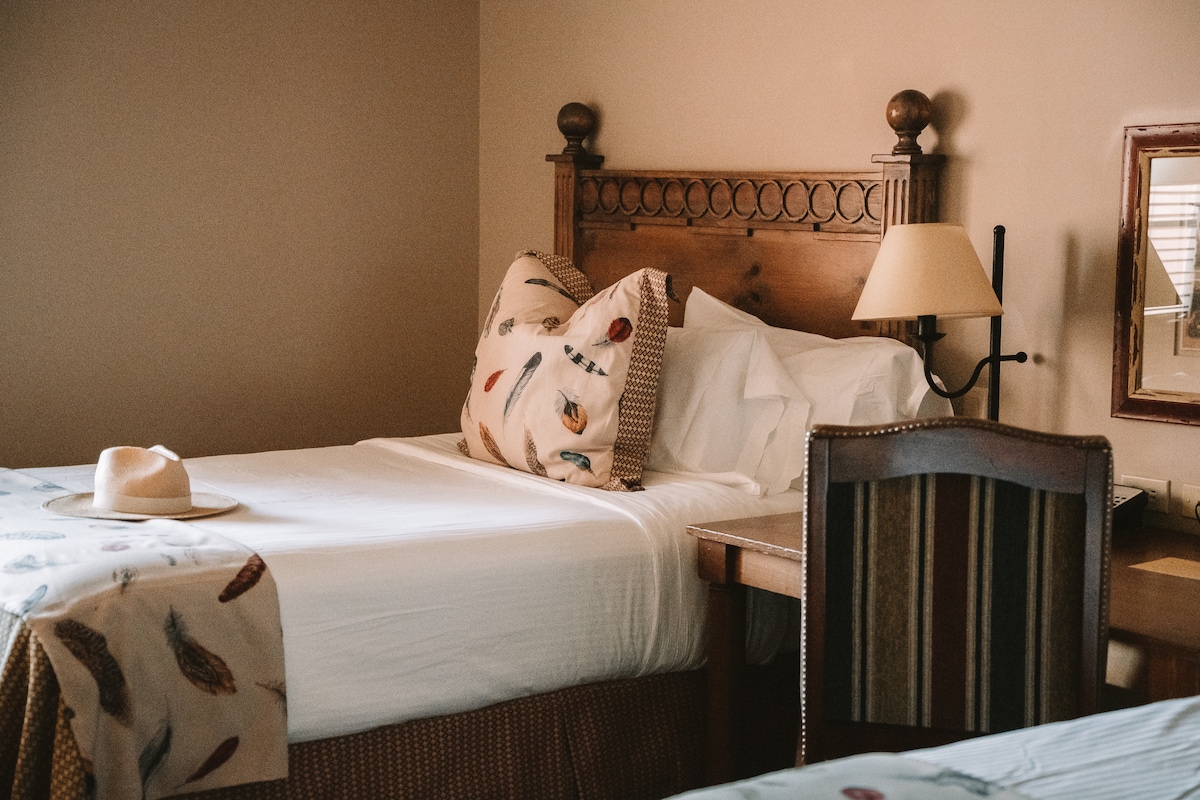 There are many beautiful hotels and resorts in Santa Fe, but Hotel Santa Fe is the only Native-American owned hotel in the city. This hotel truly embodies the spirit and heritage of the Pueblo people who are at the root of Santa Fe's culture and history. Hotel Santa Fe is situated in the up-and-coming Railyard Arts District, but it's only a 10 minute walk from the downtown plaza.
Through a stay here, you'll have access to Native-American inspired spa treatments, their multi-million dollar art collection that celebrates their Native-American heritage, authentic cuisine at restaurant Amaya, and live music weekly by a Native flutist.
They also have an incredible free shuttle service that will literally drop you anywhere downtown for free! Everything is so walkable you'll barely need it, but it was such an incredible amenity to have during our stay.
7. Experience the Wild World of Meow Wolf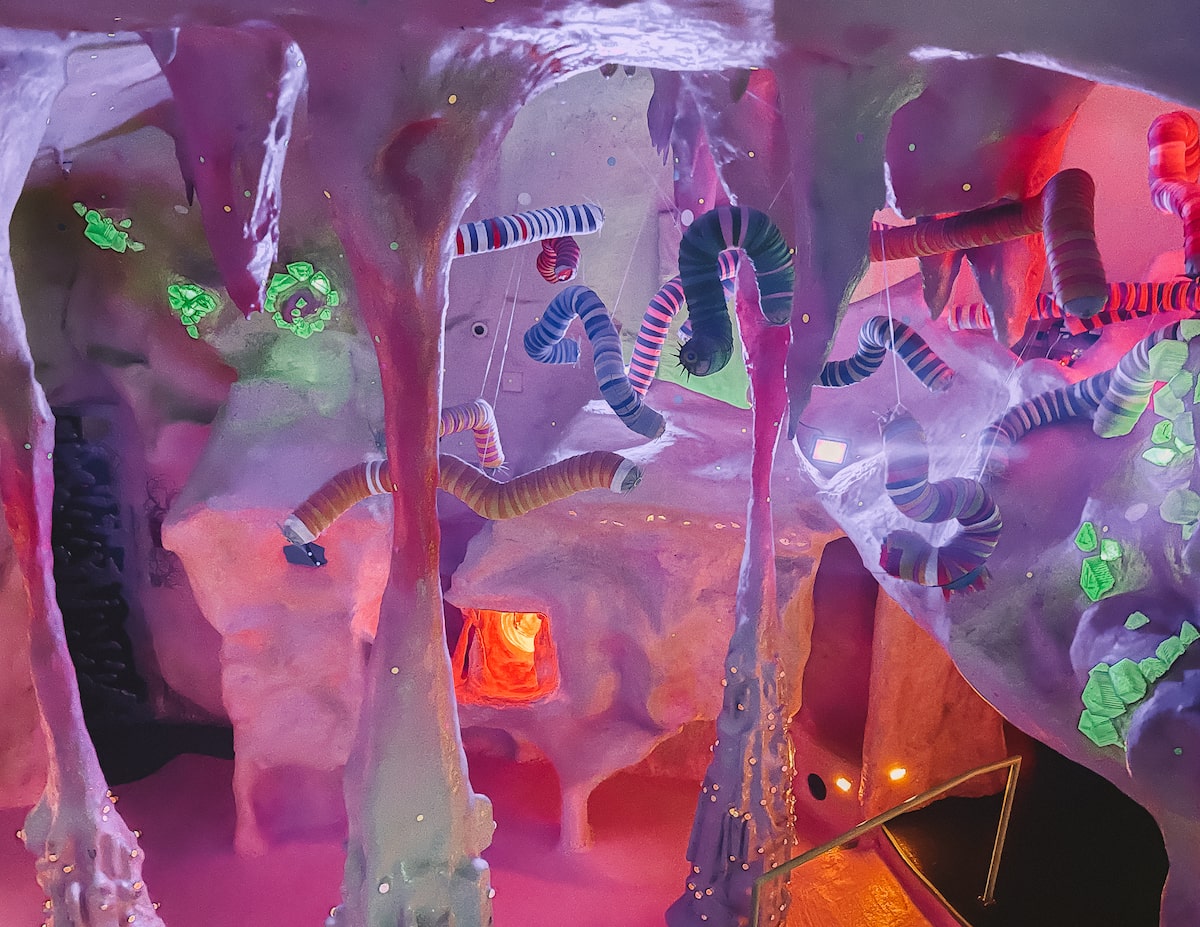 If you've never heard of Meow Wolf, then buckle up because you're in for a wild ride. This is an absolute must if you're in Santa Fe and I guarantee it's unlike anything you'll probably ever experience. Plus, it originated in Santa Fe which makes it one of the best things to do in "The City Different".
Think of Meow Wolf like stepping into a completely different universe filled with psychedelic, whimsical and interactive art installations that will tap into your inner child and simultaneously make you go, "what THE HECK?!" It's almost impossible to fully describe to anyone who hasn't experienced it for themselves.
Meow Wolf has been taking the country by storm and opening experiences in various cities, but Santa Fe's version "House of Eternal Return" is the original exhibit.
We spent 2 hours here roaming around, but you could easily spent more so definitely set aside a full morning or afternoon for this experience. Check here for ticket availability.
8. Visit the Railyard Arts District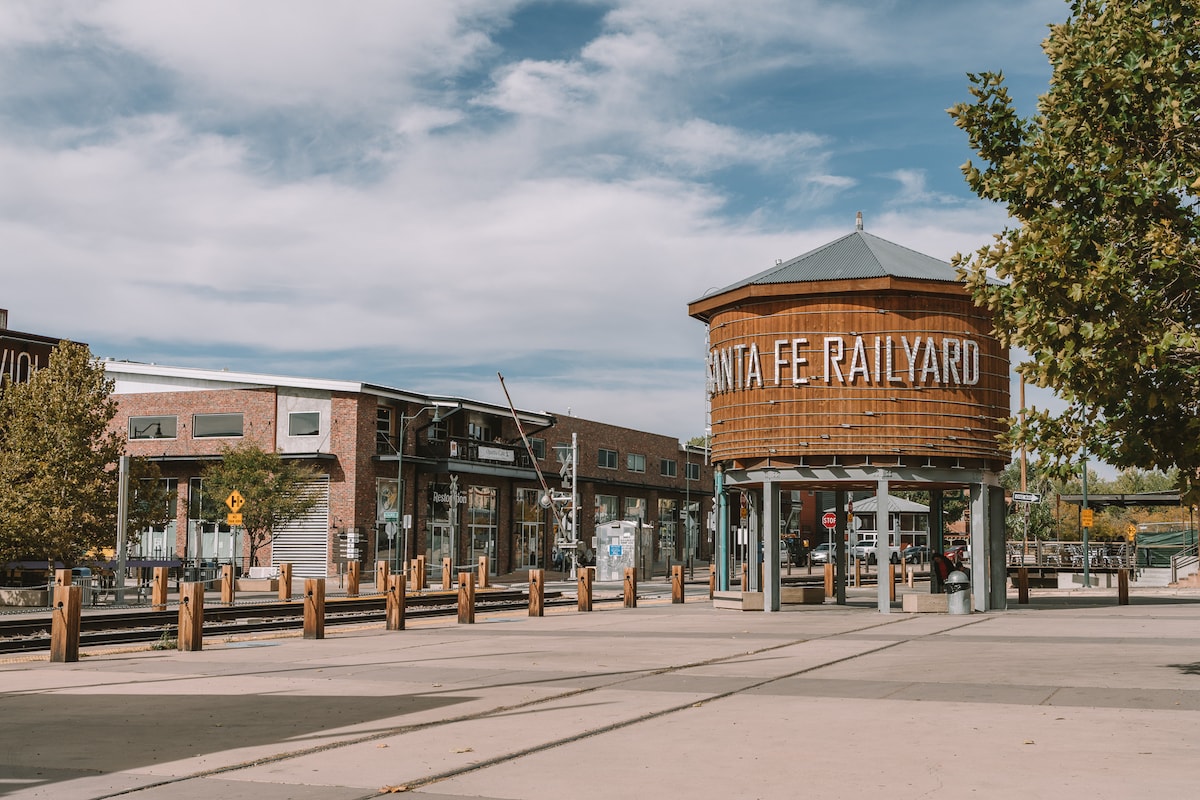 After an extensive redevelopment project, the historic Railyard reopened in 2008 to Santa Fe locals and visitors as a contemporary public space for people to enjoy arts, culture and recreational activities in the city.
While you'll notice that a lot of Santa Fe attracts an older crowd, this is the place to be to tap into the younger social scene and is a great place to spend a day that feels very modern compared to the cultural charm of downtown.
A few favorite spots to check out in the Railyard are cocktail lounge Altar Spirits which often has live music, Second Street Brewery, The Violet Crown and The Sky Railway.
9. Relax and Recharge at Ten Thousand Waves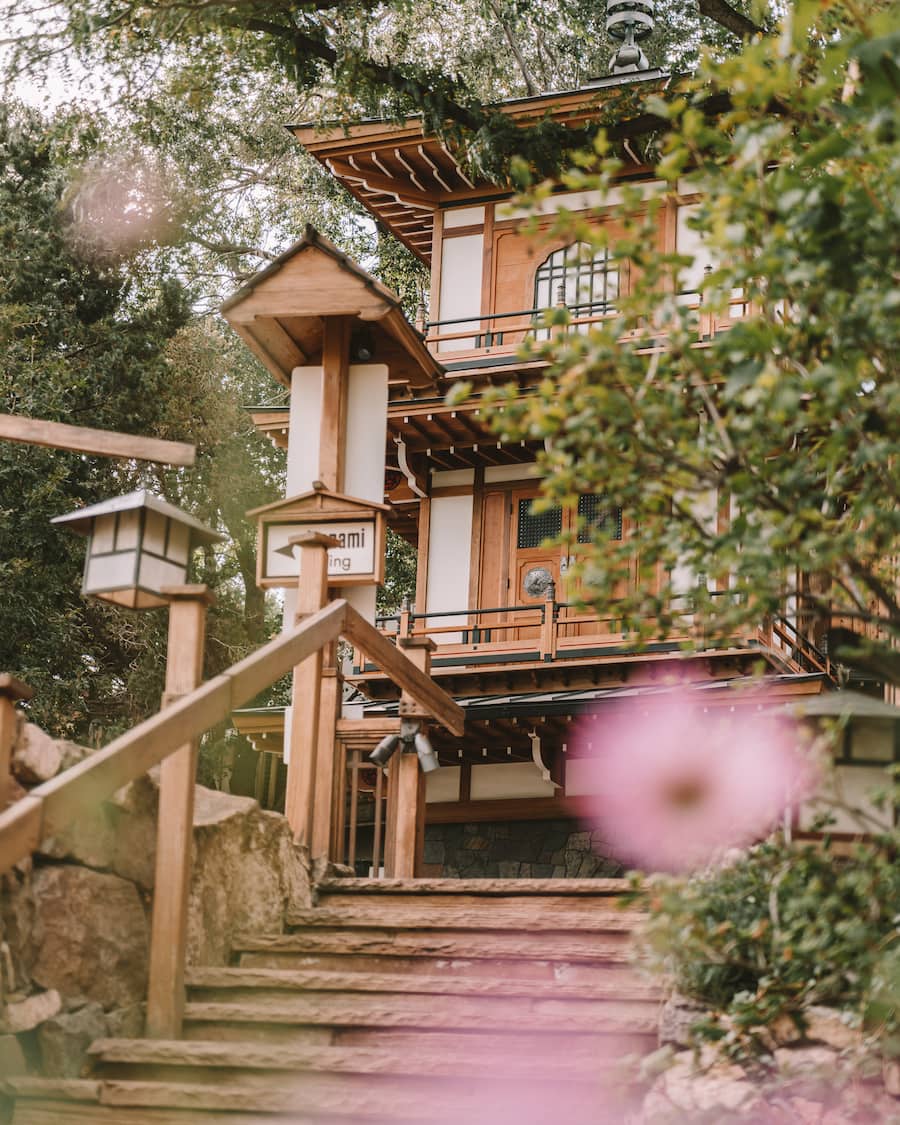 If rest and relaxation is on the agenda for your trip, then Ten Thousand Waves is one of the best things to do in Santa Fe. This Japanese-style spa feels like an unexpected slice of paradise that will transport you to a mountain hot spring onsen in Japan without ever leaving New Mexico.
There are several ways to experience Ten Thousand Waves, whether it's with a spa treatment, soaking tub reservation, dinner at their incredible restaurant Izanami or even booking an overnight stay. If you have time, I recommend making an afternoon of it and making early dinner reservations before heading to the spa for an evening treatment and soak.
Reservations fill up quickly, so make sure to book as far in advance as you can.
10. Try a Tea Elixir at Crash Murder Business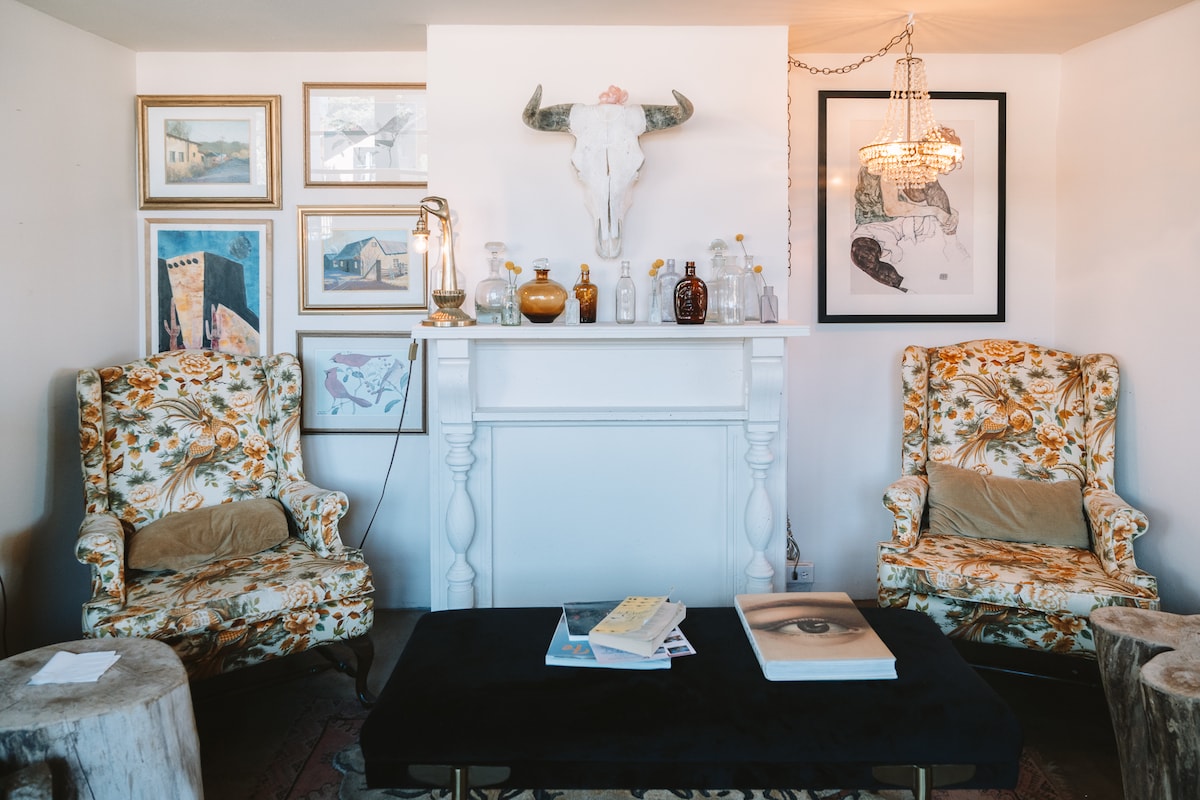 Despite the slow service, we really enjoyed our beverages or "elixirs" rather at this newly opened Santa Fe coffee shop. If you're sick of the old Starbucks latte, Crashmurderbusiness is a nice spot to check out that will give you something a little more exciting to sip on.
It's a unique concept that serves coffee and tea drinks with a quirky twist, and even quirkier names to boot. For example, I ordered the Parliament of Owls, an Earl Gray tea concoction paired with orange blossom honey, cardamom, and charred cedar bitters, which definitely was not the most bizarre thing on the menu but it WAS delicious!
Next time I'll be ordering the Glory of Unicorns which is served with "sparkle maple syrup."
11. Sip Your Way Through Santa Fe's Margarita Trail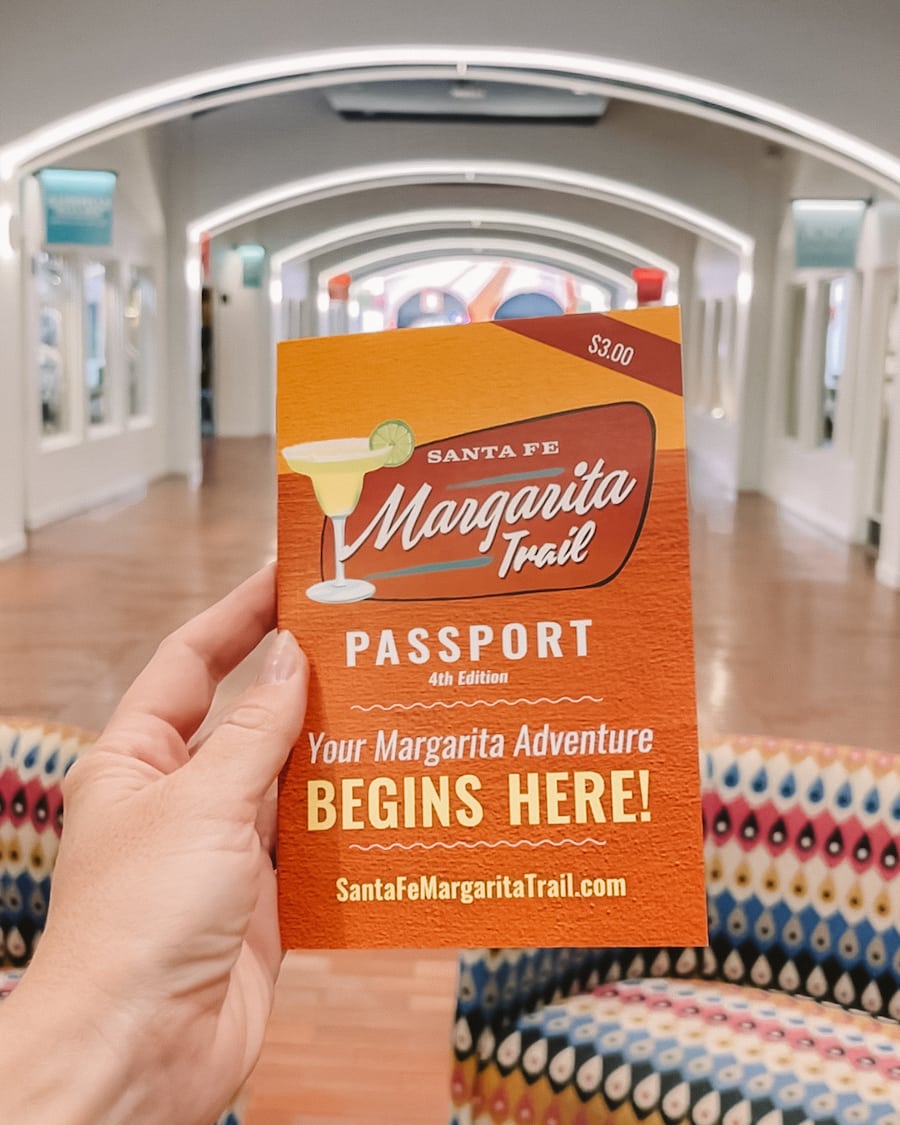 If you're traveling to Santa Fe on a girls trip or with a group of friends, the Margarita Trail is a fun activity to take part in while you sip your way through the streets of the City Different.
I actually didn't know this existed on my first trip to Santa Fe, so this was a fun surprise on my recent trip and a new way to interact with Santa Fe's fun dining establishments.
How it works: Pick up a Margarita Trail "Passport" at the tourism office in downtown or download their app and check out their extensive list of participating restaurants and bars that have created a signature margarita specifically for the Margarita Trail.
When you purchase the designated margarita at any of these spots, they'll stamp your passport and you get various prizes and freebies depending on how many stamps you pick up along the way!
12. Go for a Hike Along the Aspen Vista Trail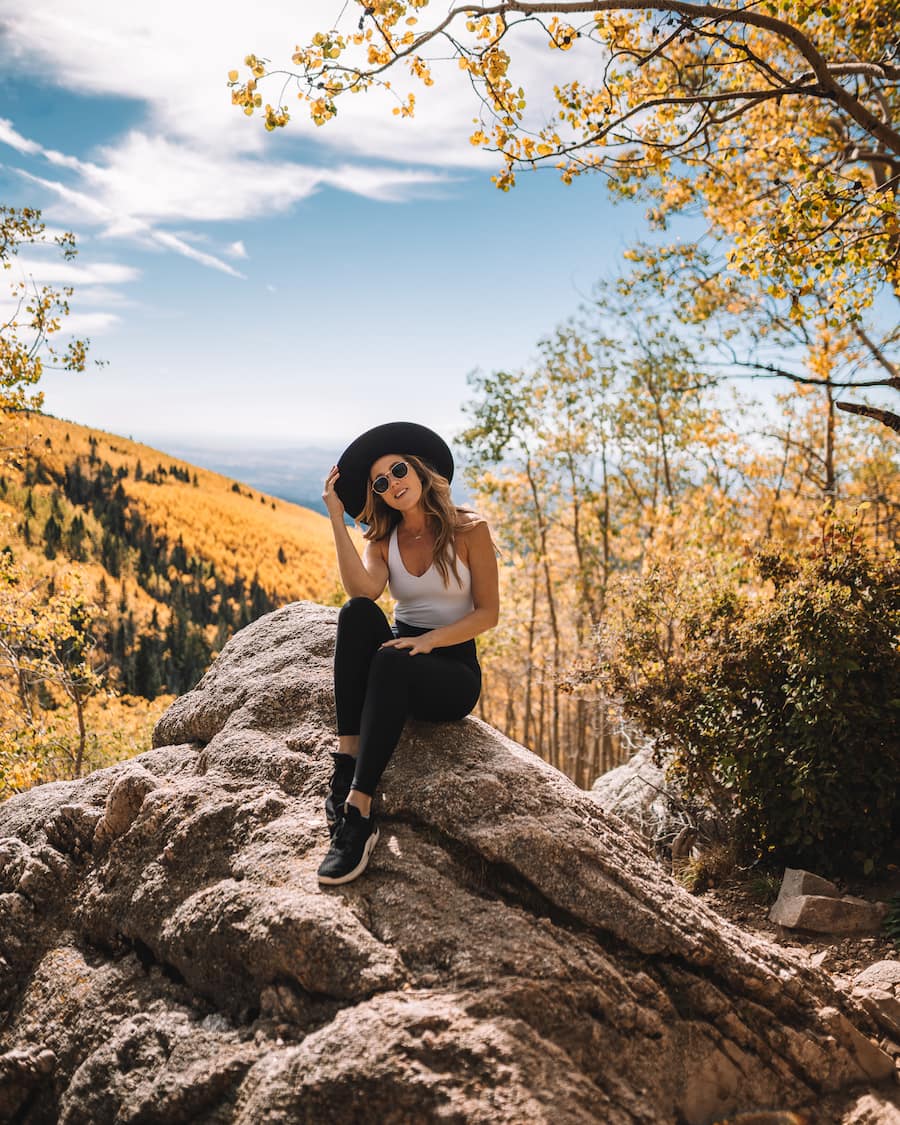 Whether or not you're visiting Santa Fe in fall when the Aspen trees are in their golden glory, you'll still enjoy this moderate 6-mile out and back trail.
If you're not used to hiking at elevation, the incline can feel a little bit more challenging than normal, but the great thing about this trail is that you can choose your own adventure and turn around at any point if you don't feel like hiking the full route. If you're traveling with a furry friend, this is also a great spot to bring them off leash and is a favorite local spot for dog owners.
13. Explore the Historic Churches of Santa Fe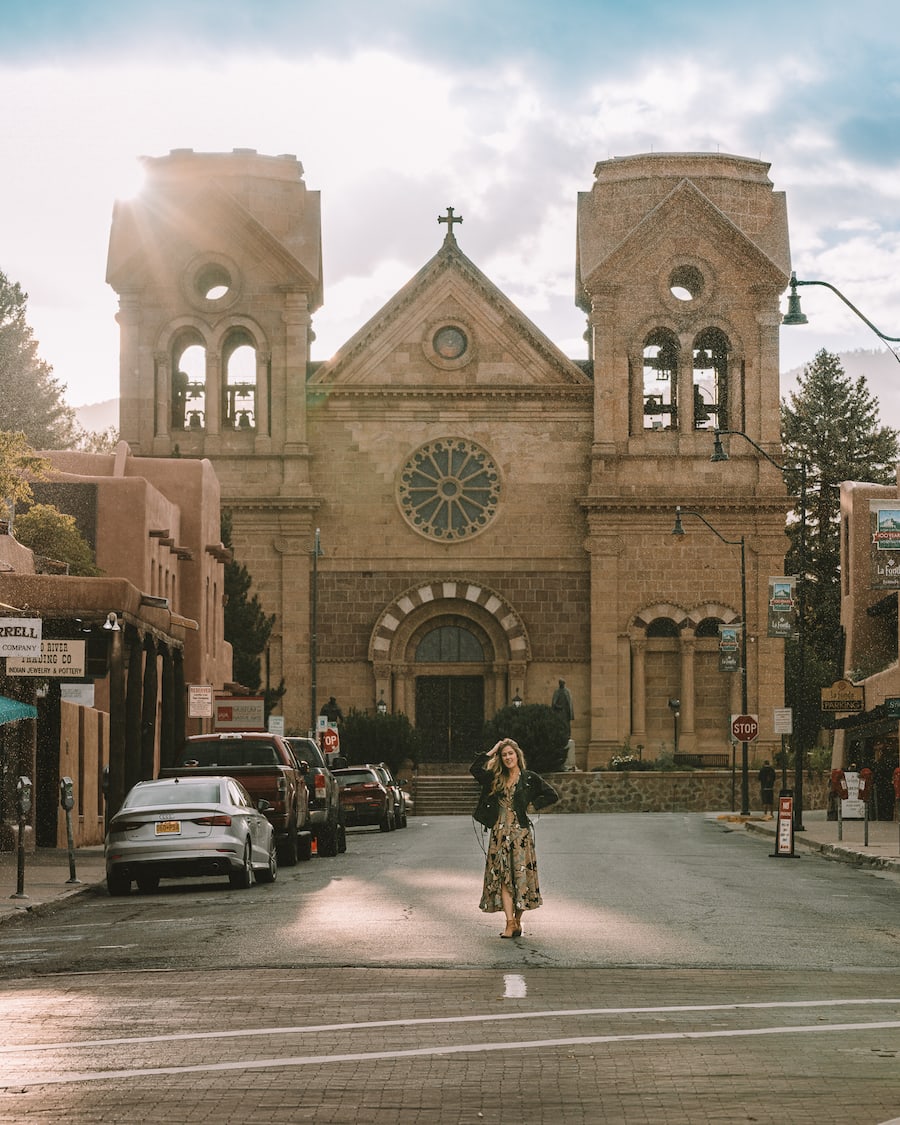 I'll be the first to admit that visiting churches is typically not on my must-visit list in most destinations, but the ones in Santa Fe are some of my favorites due to their unique adobe architecture and colorful interior murals.
A few you can't miss: the San Miguel Chapel, which is also considered to be the oldest church in the continental United States, the Loretto Chapel, and the Cathedral Basilica of Saint Francis of Assisi, which is like the shining centerpiece of downtown Santa Fe. These are all within walking distance of each other and all beautiful and unique in their style and architecture.
14. Taste New Mexico's Finest Sparkling Wine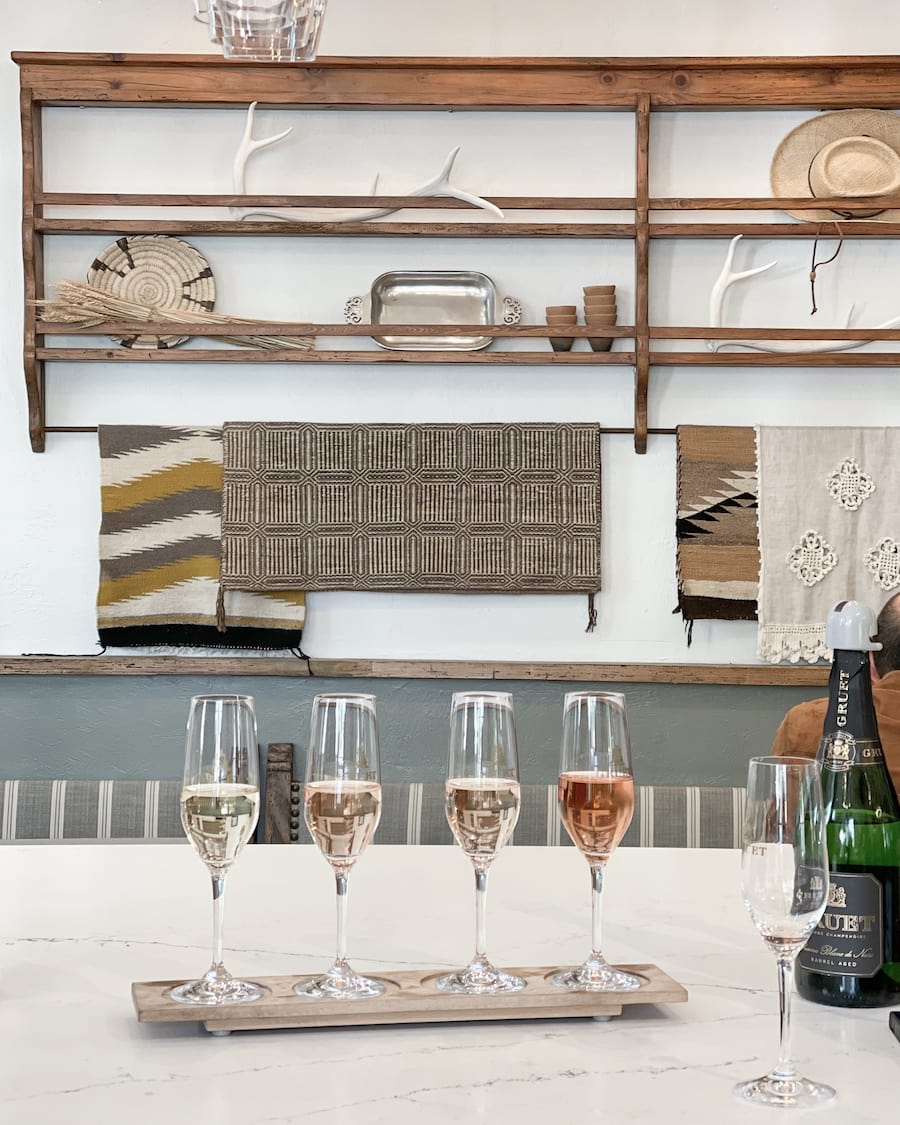 If you're a fan of authentic French champagne you won't want to miss a tasting at Gruet. The Gruet family who began making fine Champagnes in Bethon, France in the 1950s, brought their traditional methods of winemaking to New Mexico in the 1980s when they planted an experimental vineyard in Engle, New Mexico.
Turns out, New Mexico's sandy loam soil and climate would make for ideal conditions for crafting the perfect bubbly.
Since then, Gruet has only grown throughout the state and has birthed award-winning sparkling wines. Their tasting room located inside the Hotel St. Francis is one of the best places in the country to taste test sparkling wines, and it's surprisingly affordable for a generous flight.
15. Take a Day Trip to Bandelier National Monument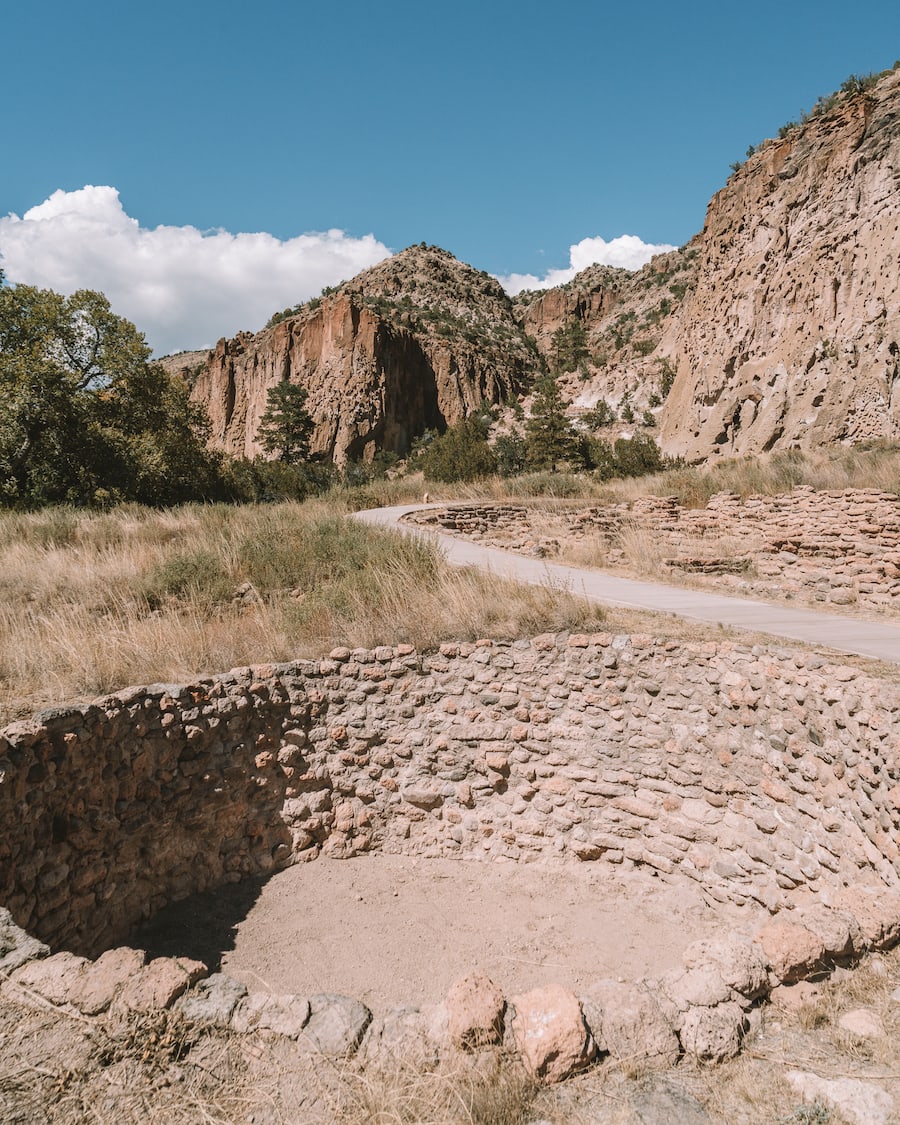 If you have extra time to take a day trip outside of Santa Fe, Bandelier National Monument should be on your list. This is a 33,000+ acre park filled with preserved petroglyphs and dwellings of Ancestral Puebloans. The coolest park of Bandelier is that you still have the opportunity to actually climb ladders up into these dwellings for a unique look at how Native-American cultures used to live in these parts of the Southwest.
I would factor in about 5-6 hours for a day trip out to Bandelier including the driving time out from Santa Fe, plus an hour for lunch in their amazing on-site cafe (they claim to have the best burgers in New Mexico)! It's also good to know that depending on the time of year/day, you'll need to park in the main visitor lot and take a 30 minute shuttle into the actual park. You can find more helpful info on visiting Bandelier here.
16. Enjoy a Tapas Dinner at La Boca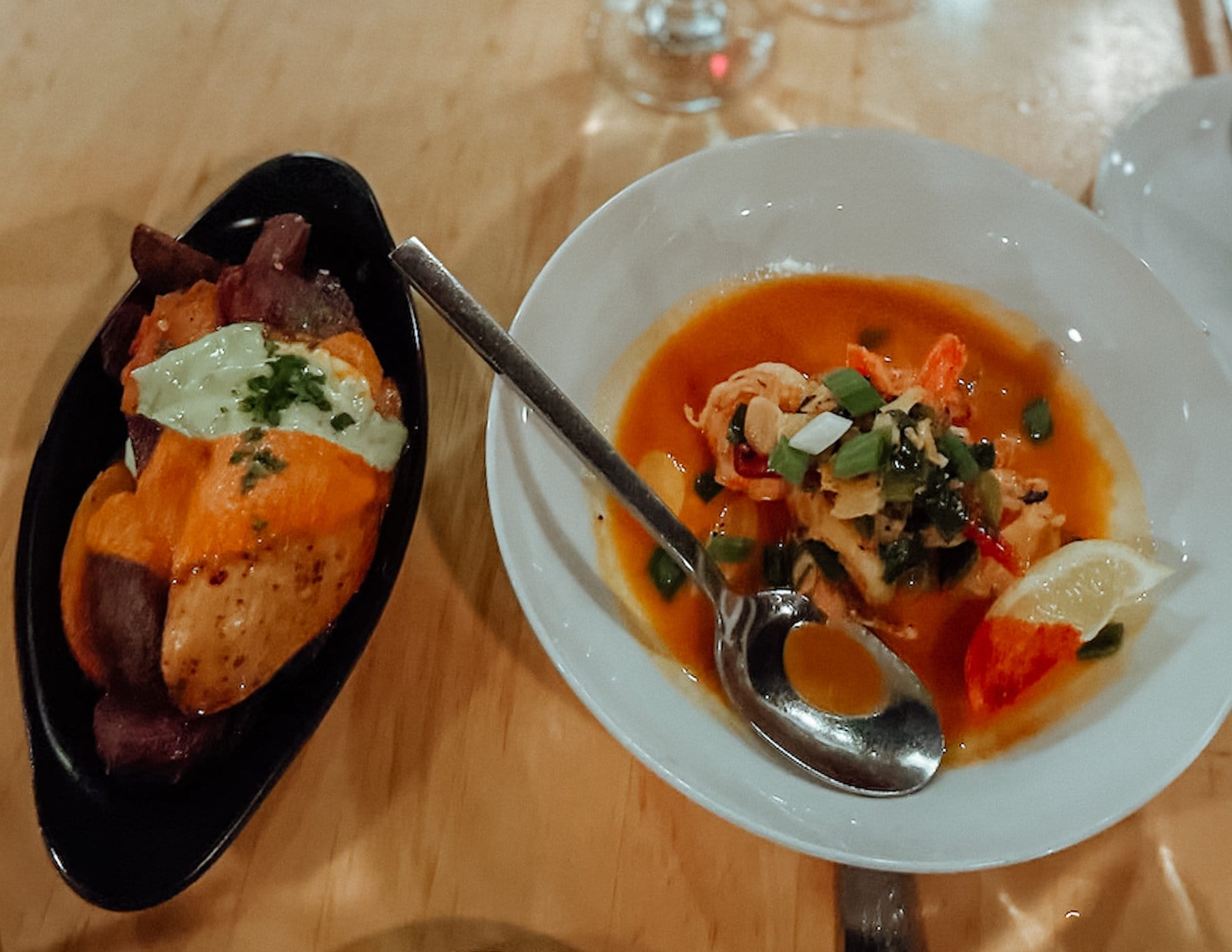 There are so many great restaurants in Santa Fe, but if you're sick of Mexican fare which we definitely were by the end of our trip, then you'll want to head straight to La Boca, which was a breath of fresh air after a week spent indulging in burritos and Christmas style chile.
La Boca is an upscale, Spanish style tapas restaurant with an incredible wine list and inviting atmosphere. We enjoyed everything we ate here, but the grilled Roman artichokes with orange zest and mint were definitely a favorite.
17. Have a Margarita at the El Rey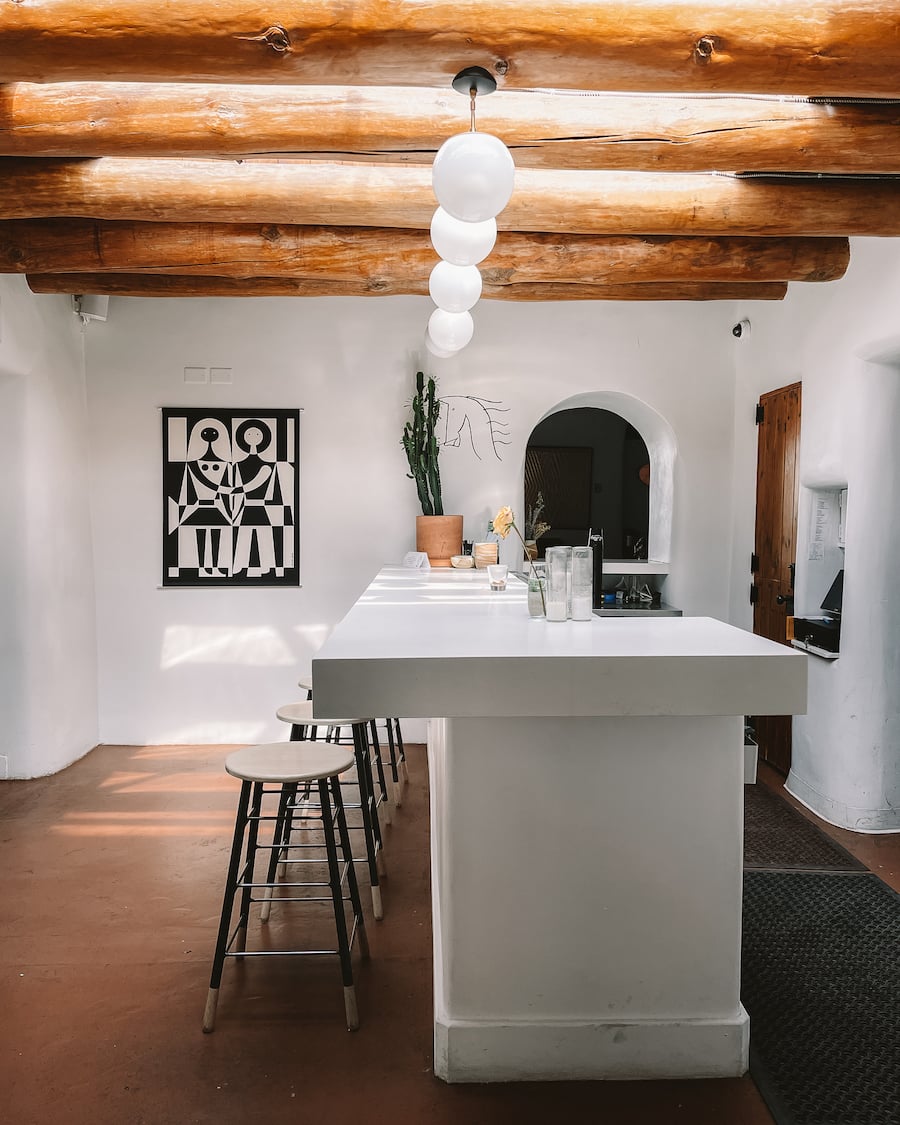 I consider myself a margarita connoisseur and our favorite in Santa Fe was without a doubt the mezcal margarita at El Rey Court.
The El Rey is a renovated roadside motel with hipster vibes, and their tiny bar inside is open to the public if you're in the know. It's not the most busy or exciting bar if you're looking for a lively vibe, but I think it's worth it to swing by here on a sunny afternoon to sip a margarita on their patio and get a stamp in your Margarita Trail passport while you're at it.
18. Get a Bird's Eye View at Cross of the Martyrs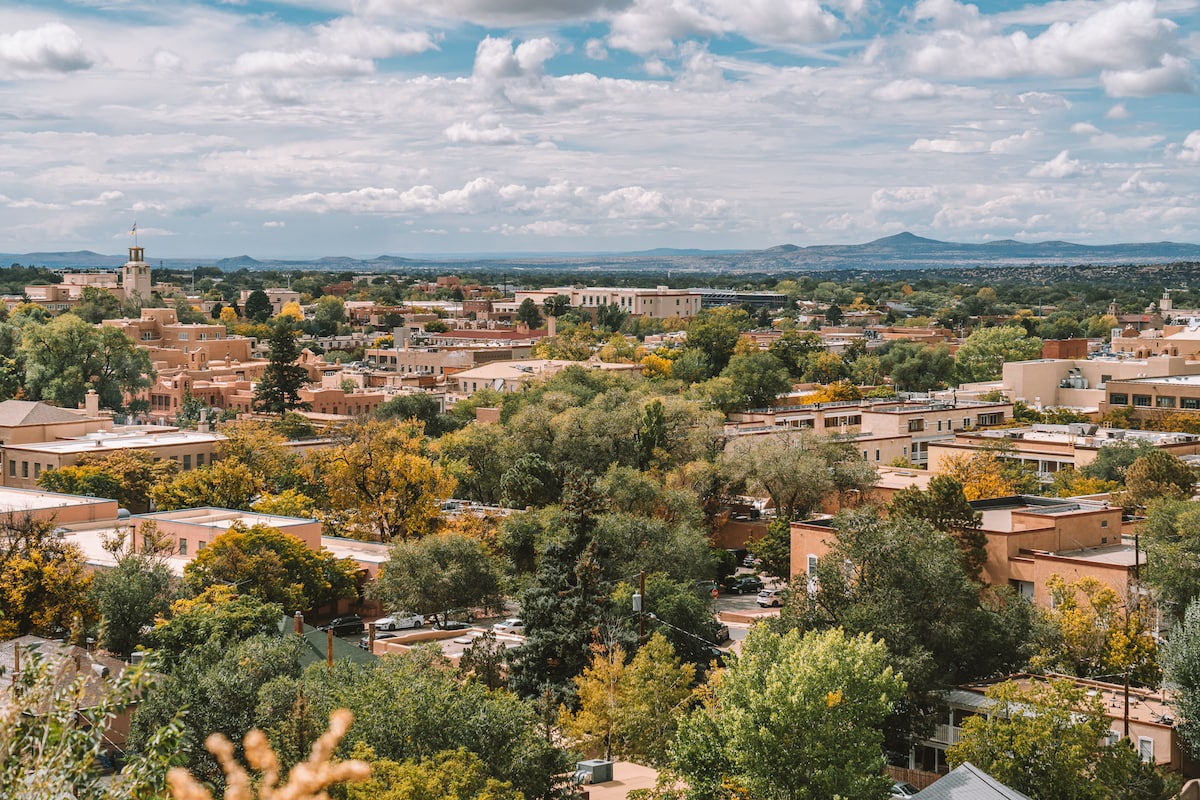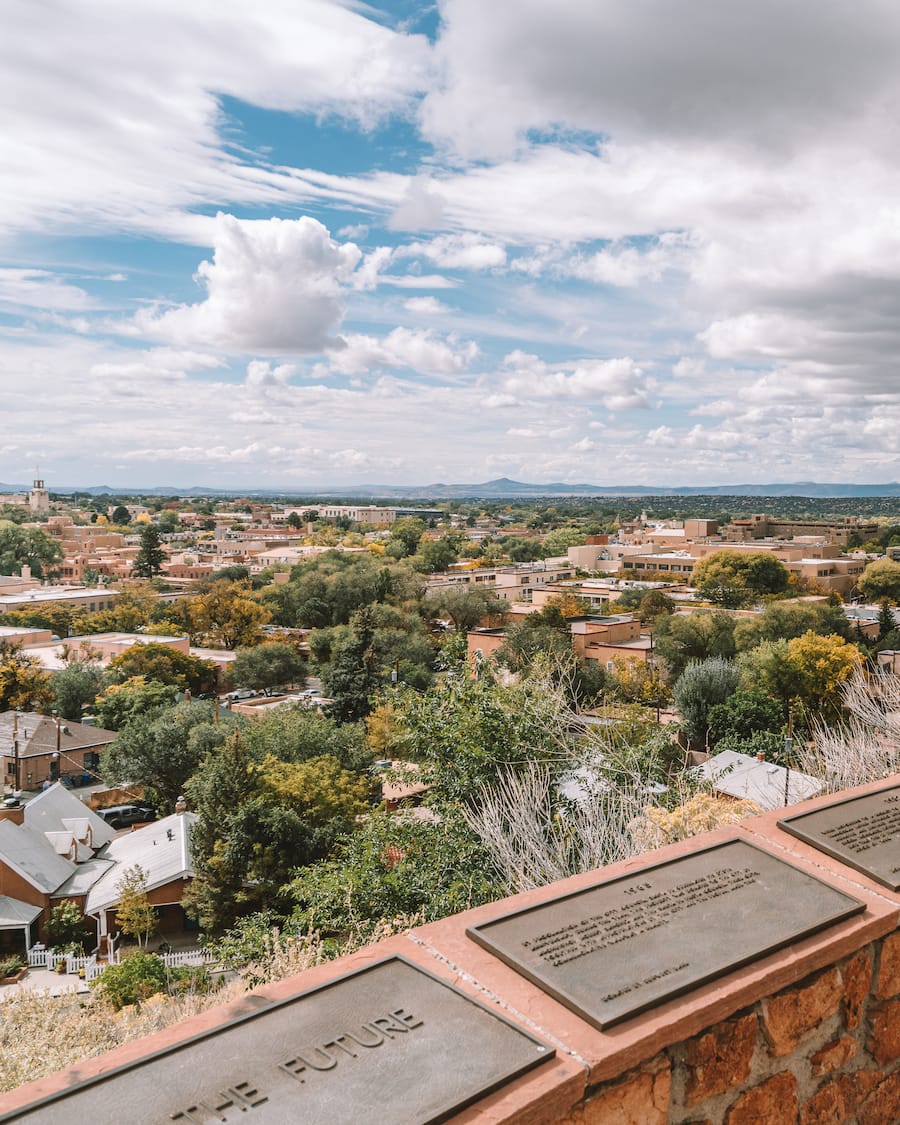 Santa Fe is not a city full of peaks and skyscrapers—the city sits within the foothills of the Sangre de Cristo Mountains, so needless to say it's pretty flat. And on top of that, most buildings are not allowed to build above 45 feet, which means getting a great overlook over Santa Fe is challenging.
Your best bet is to head to Cross of the Martyrs for a birds-eye view over downtown. Plus, you'll get an easy workout and history lesson along the way.
19. Visit the Iconic Georgia O'Keeffe Museum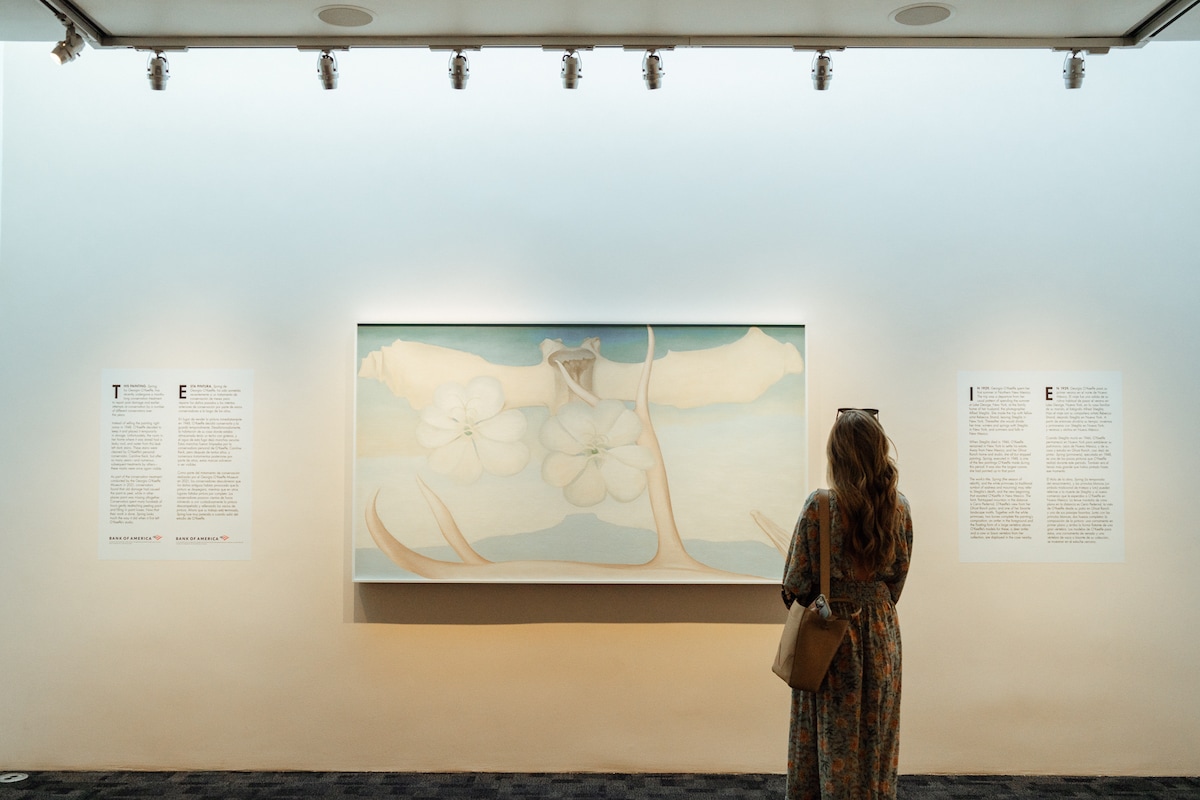 The name Georgia O'Keeffe is synonymous with New Mexico culture and no trip to Santa Fe would be complete without partaking in some sort of activity inspired by the renowned artist. There are several different ways to do this depending on your level of interest.
If you're willing to make the drive about an hour outside Santa Fe, you can tour Georgia O'Keeffe's home and studio in Abiquiú or take a horseback ride through her other iconic property The Ghost Ranch—highly recommend this one, especially if you can snag the sunset tour.
However, if you'd rather stay in downtown Santa Fe, you'll find the Georgia O'Keeffe museum which houses a large selection of the artist's works and a great showcase of portraits of the artist in her later years.
20. Watch Sunset from the Rooftop at La Fonda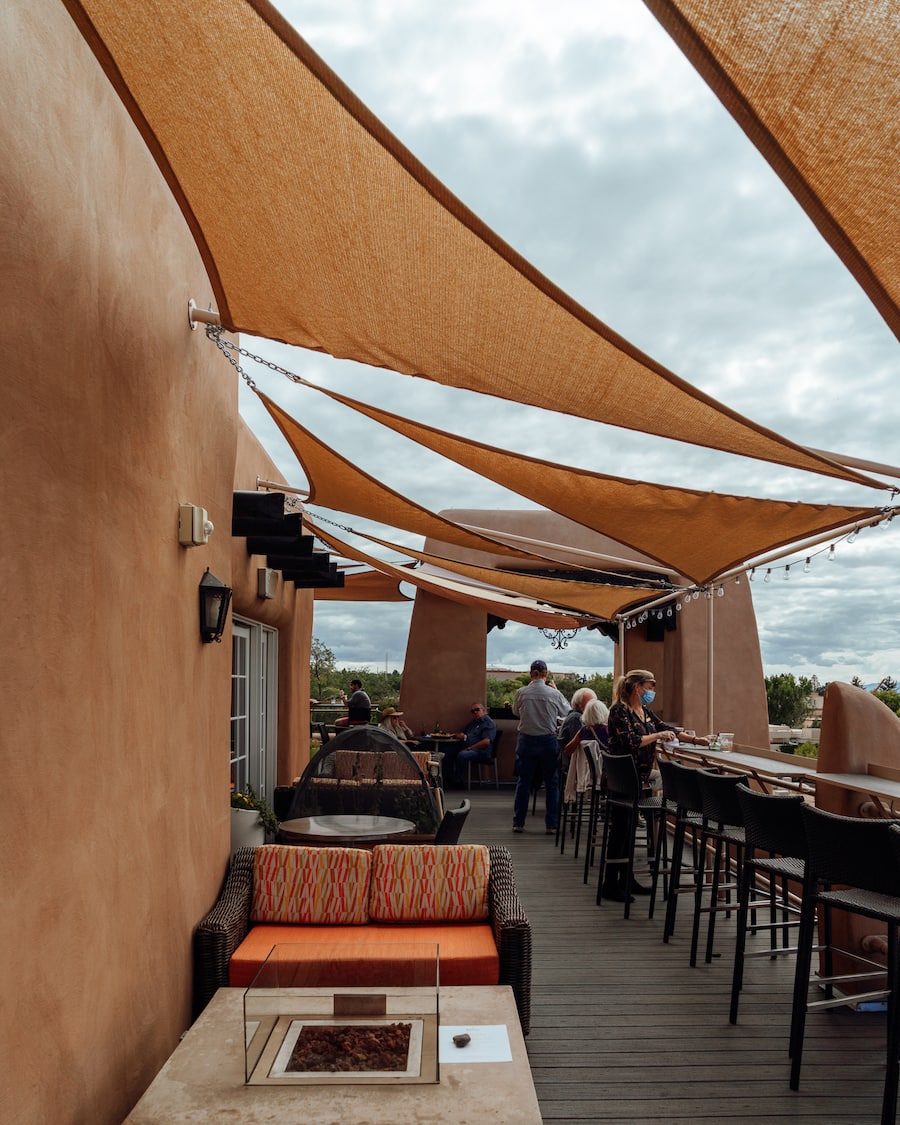 La Fonda is one of the few buildings in downtown Santa Fe that was allowed to build higher than the typical 45 foot city limit, and thus its rooftop is one of the best places in the city to catch a sunset.
This place is also one of the busiest spots in the plaza, so it's best to make a reservation or show up pretty early to snag a spot. Also pro tip: If you're looking for a public bathroom while exploring downtown Santa Fe, the restrooms in the bottom floor of La Fonda on the Plaza are always my go-to.
21. Drive the High Road Out to Taos for a Day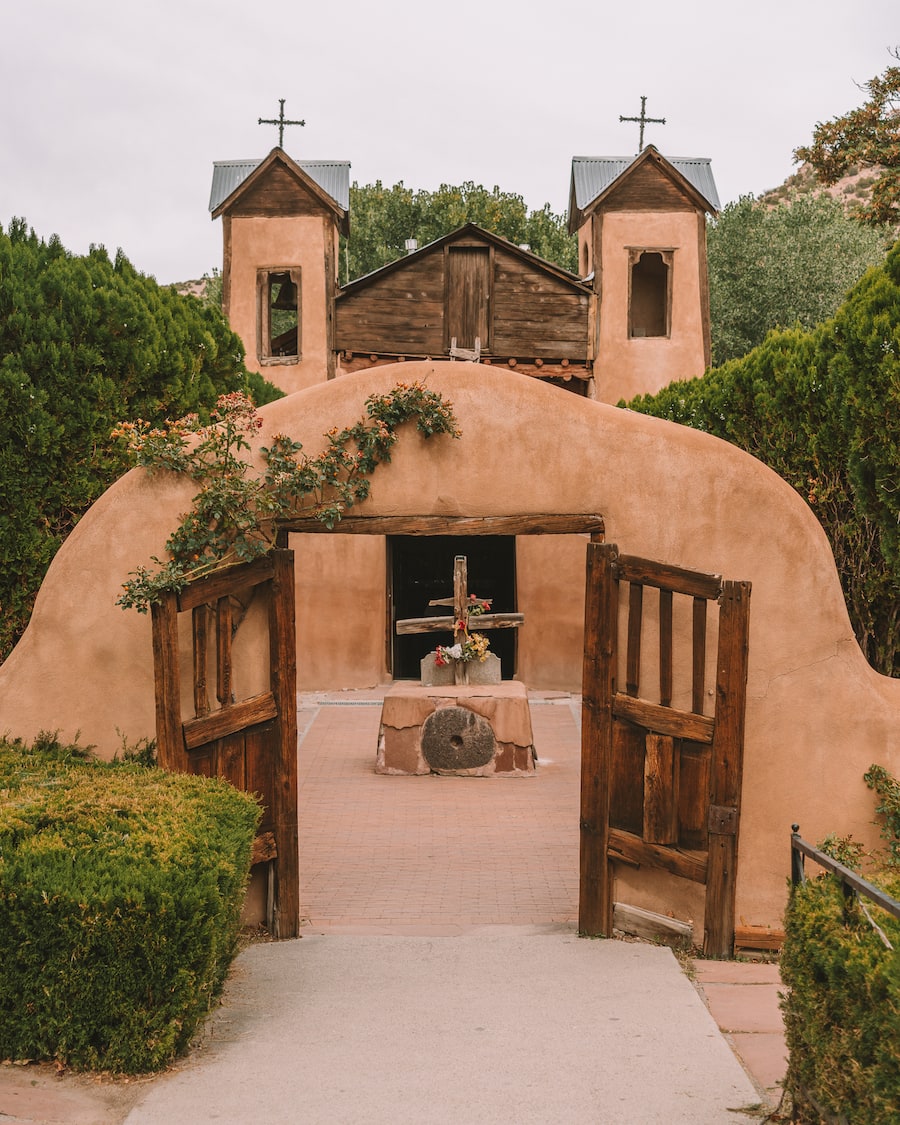 Taos is another beautiful New Mexican town to explore just 1.5 hours from Santa Fe. I spent a couple nights out here last year and loved the gorgeous high desert scenery and rich Native American history.
If you're itching to get outside of Santa Fe, the High Road to Taos is a beautiful scenic drive between the two towns that has many points of interest to stop at along the way including churches and Spanish colonial towns and several National Historic Landmarks. You can learn more and check out a map of stops here.
***This post was sponsored by the City of Santa Fe, but as always, all of my opinions are my own and I would never promote anything I don't freaking love.***