Let me just start by saying that there is SO MUCH to see and do in Utah—where do I even begin? I've traveled through the state on at least five separate trips now, and each time my Utah bucket list only seems to grow longer and longer.
If you're not super familiar with Utah, let me give you the deets. Located in the heart of the Mountain West region of the United States, Utah is a huge state with five amazing national parks to explore (known as "The Mighty Five"), and dozens of national monuments and recreation areas.
It's a paradise for outdoorsy types, photographers, geology nerds and hikers, but because there are so many incredible sights to see, narrowing down your Utah bucket list can get really tough.
Let me just make one thing clear: Don't expect to see and do everything on a single trip.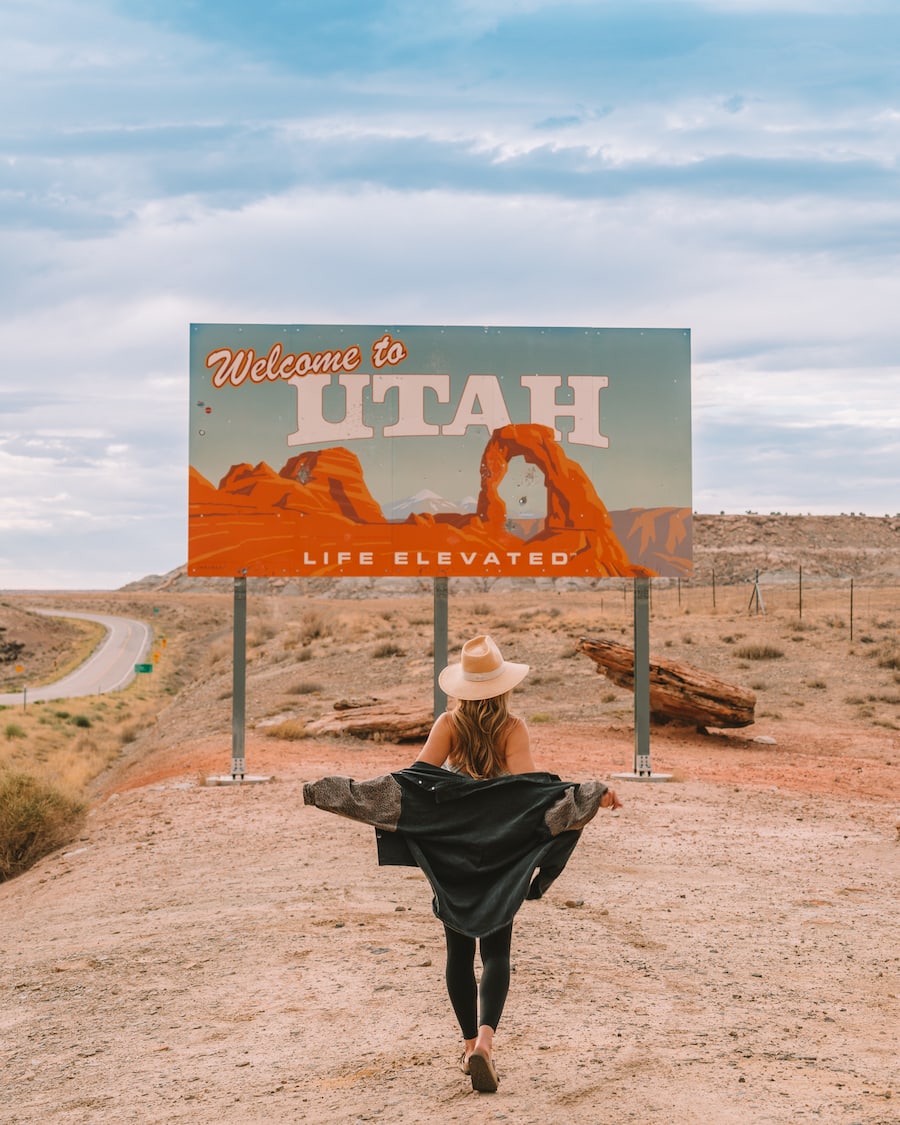 You could spend months traveling around to try and hit all that Utah has to offer, but hopefully if you're able to, Utah is a place you can return to time and time again, seeing new sights each time.
Even after my many weeks spent in Utah over the years, I still haven't seen it all, but I've covered enough ground here to help share the spots you can't miss.
Utah is truly one of the most beautiful states in the United States, and whatever your timeframe or itinerary, you're guaranteed to have fun exploring here. In this post, I hope to help you discover not only the must-see spots in Utah, but also some of the more under-the-radar places that you'll want to add to your Utah bucket list!
PS—If you want a handy Google map of all these spots so you can visually see where everything is located, make sure to scroll to the bottom of the post!
The Best Things to Do in Utah
Ready to get exploring in Utah? There are mountains, canyons, rivers, lakes, hoodoos, salt flats, sand dunes, and forests. Ocean is probably one of the only natural features you won't find in Utah!
Because it's such a scenic state, road tripping is the best way to get around, but you could always fly in to one of the major cities like St. George or Salt Lake City and explore a few spots that are closer by. Whatever route you decide to take, Utah won't disappoint, and you'll probably be planning your return trip to the "Beehive State" before you even leave.
Here are the must-see places in Utah you add to your bucket list, starting with the most popular spots: the Mighty Five, Utah's beautiful national parks!
Zion National Park
One of the most visited National Parks in the United States (and THE most visited in Utah) is Zion National Park, located in Southwest Utah. It's probably the #1 thing you should add to your Utah bucket list, however it can get really busy in the peak season (Memorial Day through Labor Day). If you're looking to avoid the crowds, consider traveling during the shoulder or off season.
The 57-mile Zion Canyon scenic drive winds through the park's main section, with pull-offs for scenic overlooks and trailheads for many of the park's most popular hikes. There are hikes for all levels of difficulty, but if you're up for a challenge, you've undoubtedly heard the tales of Angel's Landing, which some call the scariest hike in America—think narrow walkways with steep drops on either side.
Another great one is the Narrows which offers a really unique hiking experience where you're literally hiking through the Virgin River for the majority of the time (dress appropriately, you will get wet).
Pro tip: If you want to avoid the shuttles, schedules and crowds at Zion, rent e-bikes here so you can cruise around the park on your own terms!
Read More: A Guide to the Best Things to do in Zion and St. George
Arches National Park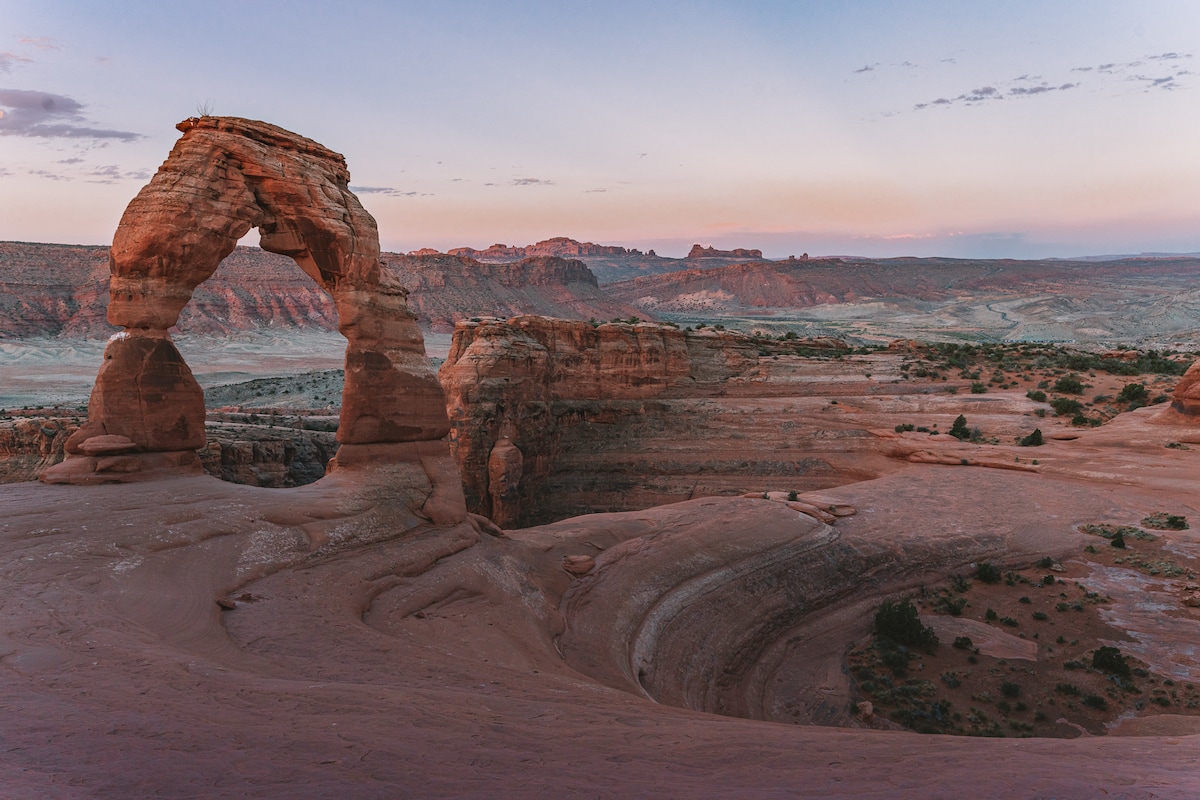 Just minutes from the town of Moab, Arches National Park is another highly touristed park that is known for its 2,000+ natural stone arches that dot the dusty red landscape. This is a great park for all fitness levels because there are plenty of arches that are visible from the 36-mile scenic drive that cuts through the park, meaning you don't even have to get out of your car to see some of them.
If you are looking for a workout, there are plenty of hikes to choose from, the most popular being the hike to Delicate Arch (it's even featured on the Utah license plate). The trail can get very crowded and very hot in the summer, so I recommend starting on the hike before sunrise to beat the crowds—and to catch a gorgeous desert sunrise, of course.
Read More: Best Hikes in Arches National Park
Prefer to explore with a guide? Here are some top rated tours in Arches National Park
Canyonlands National Park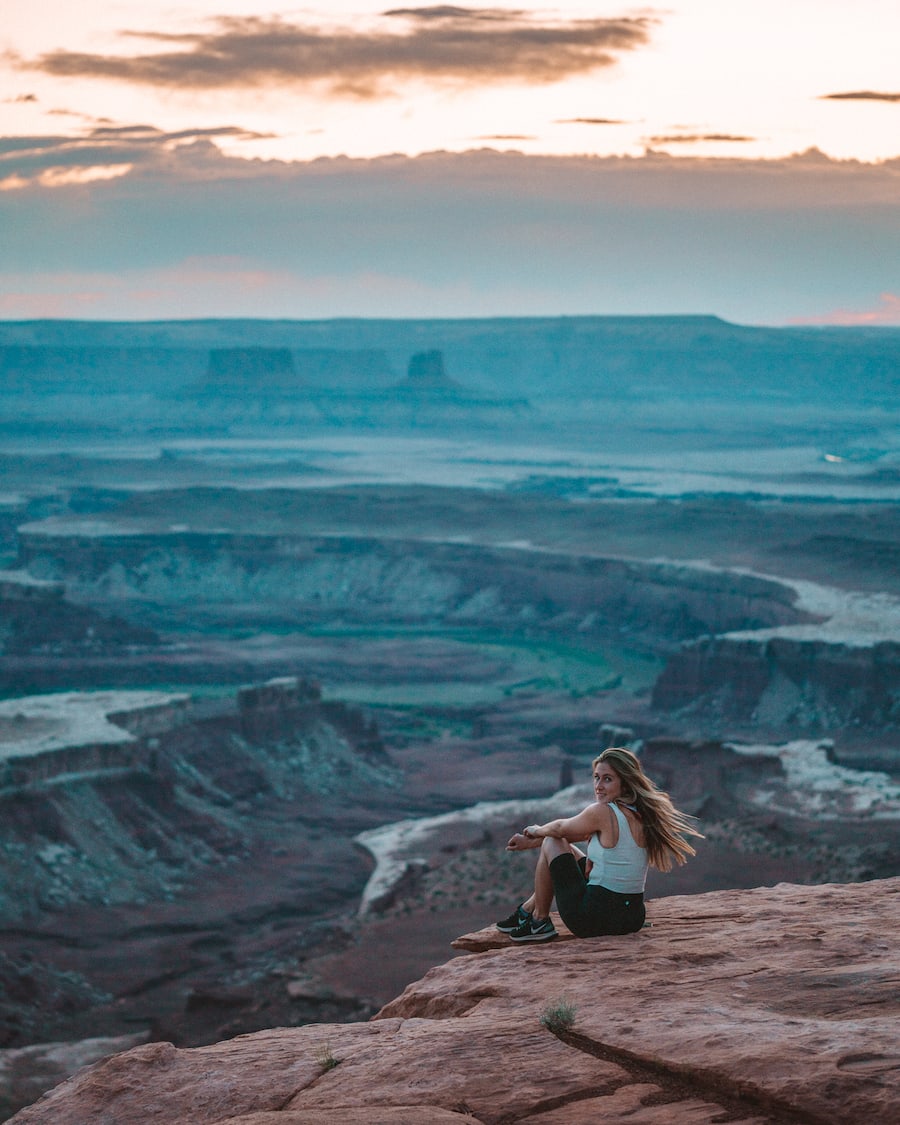 While Zion and Arches get all the attention, I personally think that Canyonlands National Park is one of the most beautiful parks in Utah. It's WAY less crowded than the other parks, but has some of the most spectacular scenery in the state, and it's basically the Grand Canyon of Utah.
Hiking is the best way to explore (I love the Murphy Point Trail), but there are some really easy drive up spots here that give you spectacular views with very little effort like the Mesa Arch Trail and the Green River Overlook. Plus, the park has a great scenic drive that offers pullouts with amazing views along the way.
---
Read More Utah Posts
---
Bryce Canyon National Park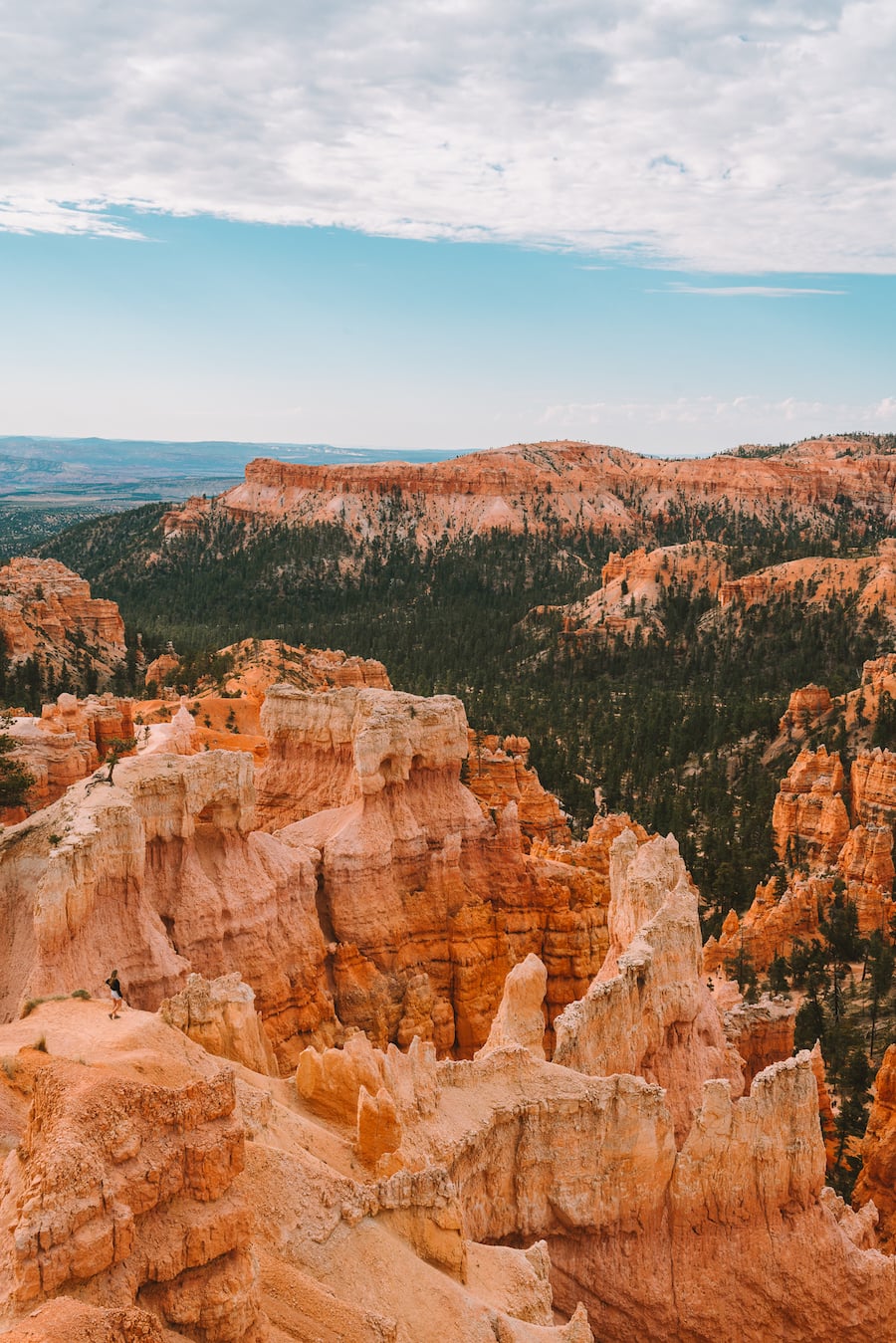 Only about 2 hours from Zion, Bryce Canyon National Park can easily be visited in tandem with Zion, but you'll definitely want at least a day in each. The geological wonder of this park is the hoodoos: irregular columns of rock that are more concentrated here than anywhere else on Earth.
The elevation is a bit higher in Bryce, so expect temps to be cooler. In winter, you can even catch a unique scene here of the hoodoos dusted with snow.
The main spots in Bryce Canyon can be easily explored within a day, but don't miss the Navajo Loop Trail and Queen's Garden hike combo, and scenic viewpoints at Bryce Point, Inspiration Point, Sunset Point, and Sunrise Point.
Prefer to explore with a guide? Here are some top rated tours in Bryce Canyon
Capitol Reef National Park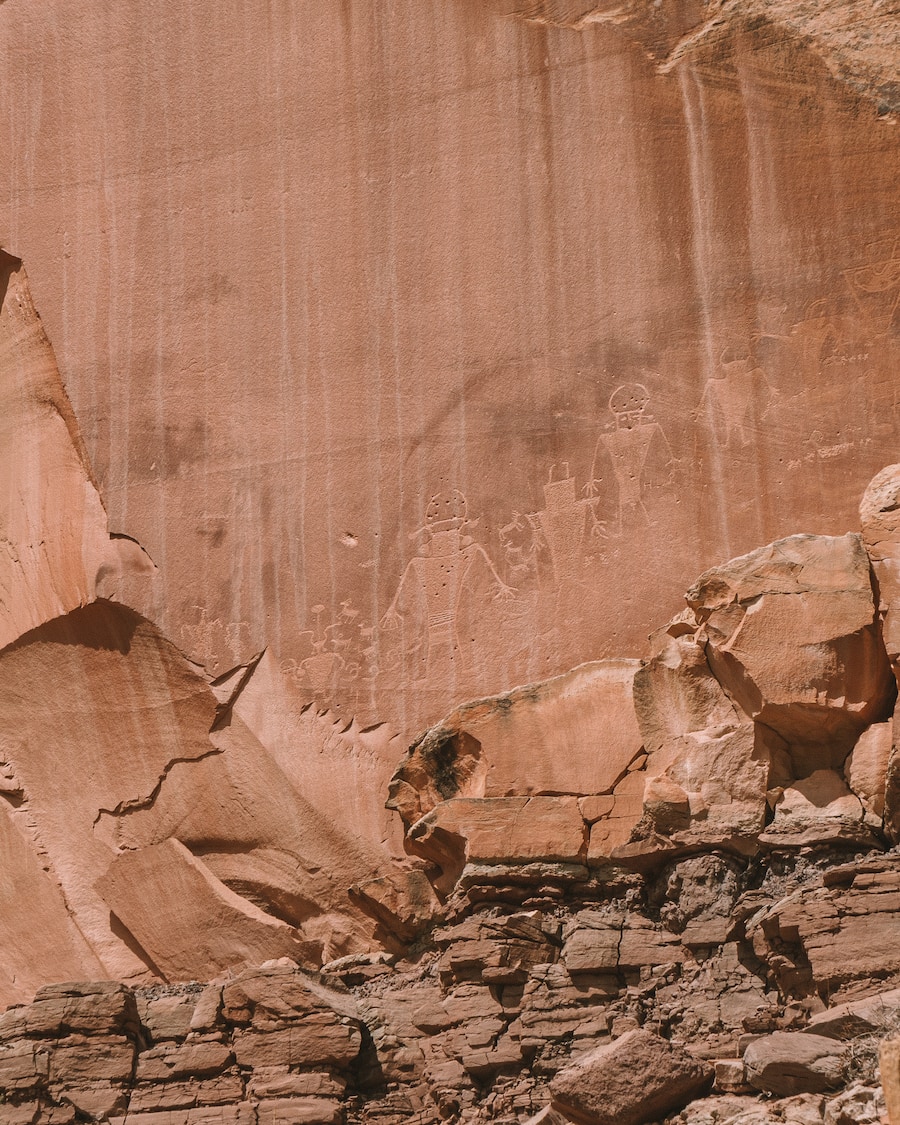 Out of Utah's "Mighty Five," Capitol Reef National Park sees the least visitors—but that doesn't mean it isn't worth visiting. Capitol Reef is super underrated in my opinion. We absolutely loved the scenery here on our recent visit and nerded out over all the cool geology and petroglyphs!
Capitol Reef is a bit more remote, located in the heart of red rock country in the center of the state. It's a 3+ hour drive from both St. George and Salt Lake City, but if you're planning on visiting Bryce Canyon and Canyonlands, it's worth adding Capitol Reef to the list too as it's about halfway between the two parks.
Capitol Reef NP has canyons, cliffs, domes, and the famous Waterpocket Fold, a 100-mile long wrinkle/warp in the Earth's crust. The park is great for hiking, biking, driving, stargazing, and much more. Plus, it might be one of the only national parks where you can fuel up with some homemade pie and ice cream on park grounds (check out the Gifford Homestead) 😉
Lake Powell
If you're looking for time on the water during your Utah trip, Lake Powell is a must. A man-made reservoir (contrary to popular belief, Lake Powell isn't technically a lake) on the Colorado River in Southern Utah, this vacation hot-spot is visited by millions annually. Come here for boating, waterskiing, swimming, fishing, camping, hiking, and more.
Monument Valley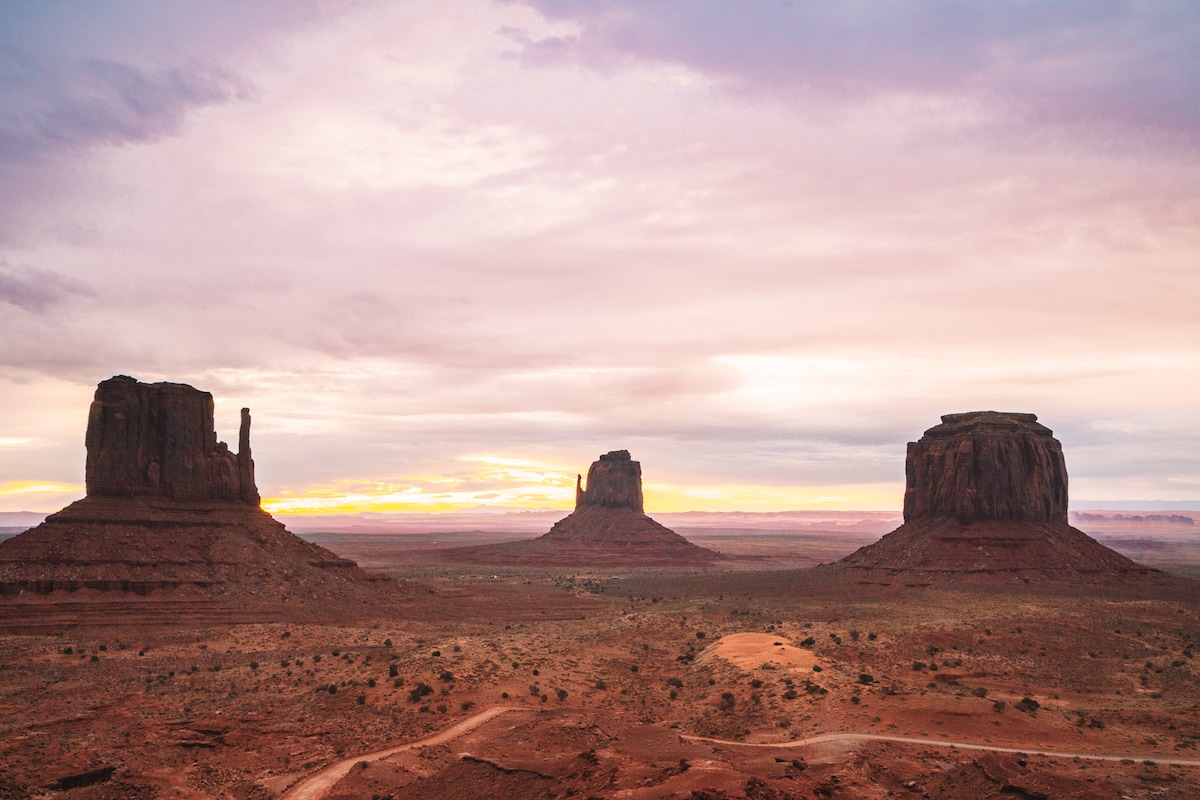 Monument Valley means "valley of the rocks" in Navajo, and the landscape here is dotted with an iconic collection of sandstone buttes that tower over the desert floor in the Navajo Nation's Monument Valley Park. The quintessential picture of the American West, the park is recognizable from the many movies and TV commercials that have been filmed here.
Take Valley Drive, the 17-mile scenic drive that runs through the park to soak up the scenery and take photos at the many pullouts. The visitor center offers some solid views as well. If you'd like to dive a bit deeper and have more time, I highly recommend booking a tour with a local Navajo guide, who can often take visitors to off-the-beaten path trails and non-accessible spots to the public. This is also a great way to learn about the land and culture of the Navajo people whom this lands belongs to.
Prefer to explore with a guide? Here are some top rated tours in Monument Valley
Mystic Hot Springs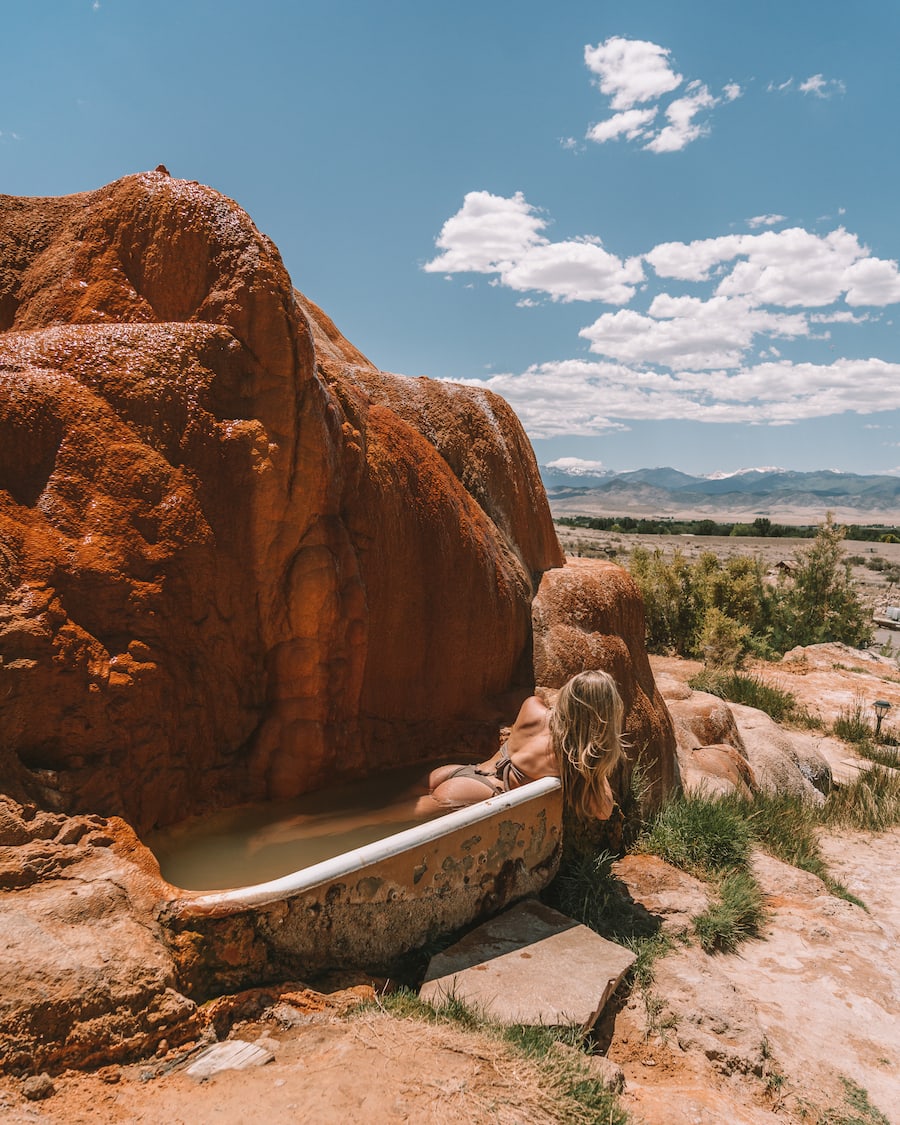 If you're headed between Salt Lake City and Moab, make sure to make a stop at Mystic Hot Springs. Hot mineral water flows into smaller soaking pools (that are basically just outdoor bathtubs) with temperatures between 92 and 102 degrees Fahrenheit.
I initially wasn't jazzed about dipping in the hot springs at noon in 90-degree Utah heat, but I have to say, it was much more pleasant than I expected. However, I'd probably still recommend booking a time slot later in the day around sunset—and yes, you do have to book a reservation online in advance.
Bonneville Salt Flats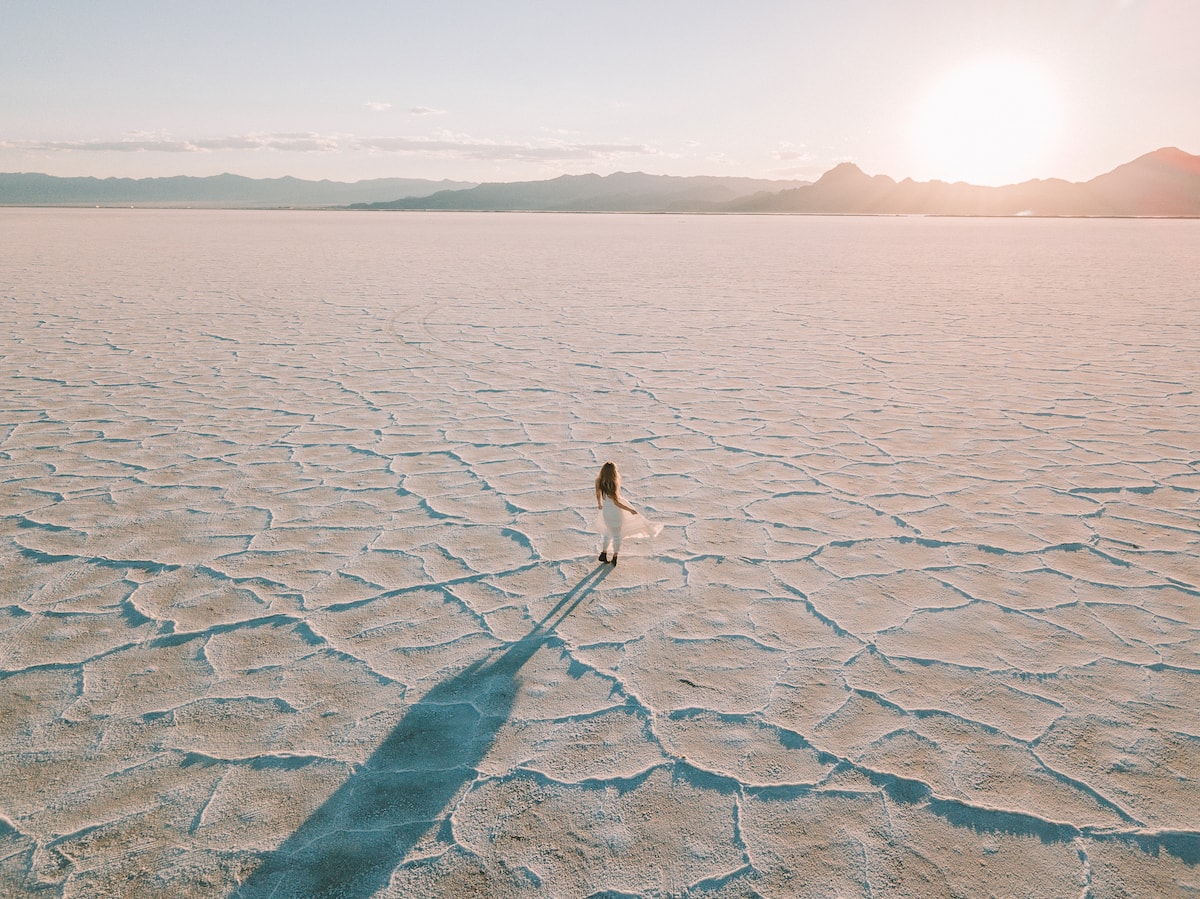 About an hour and a half west of Salt Lake City, Bonneville Salt Flats is definitely one of the most unique to see in Utah. A perfectly flat, natural salt flat that stretches for miles and miles with no vegetation, it's a sight to be seen, and what's really cool is that you can drive your car out on them depending on weather conditions, which is super fun and makes for great photos.
Read More: Ultimate Guide to the Bonneville Salt Flats
Natural Bridges National Monument
Located in Southeast Utah about two hours south of Canyonlands National Park, Natural Bridges National Monument is a beautiful park that features three sandstone bridges that can be viewed from an overlook or accessed by hiking trails. In honor of the Pueblo Indians whose ancestral home the park sits on, the bridges are named "Kachina," "Owachomo," and "Sipapu."
Stay in a Cabin or Airstream at Yonder Escalante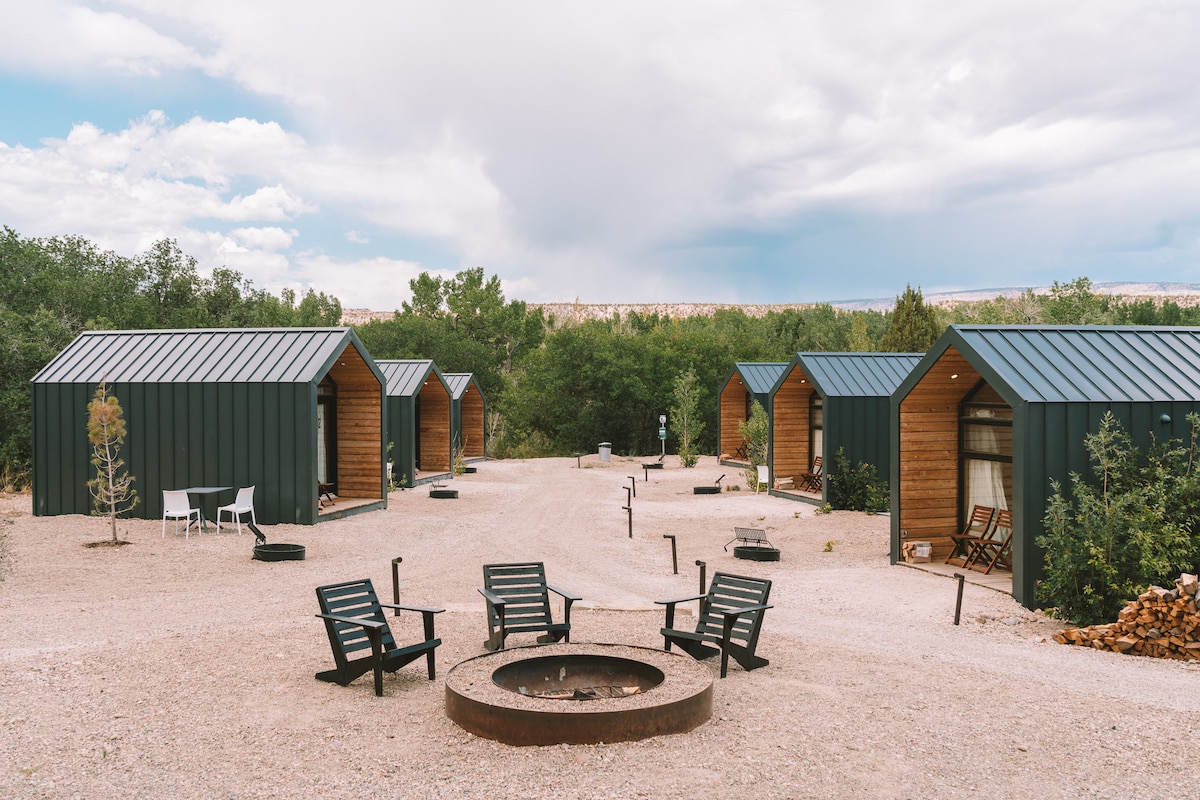 Though more of a place to stay and less of a "thing to do" in Utah, Yonder Escalante should definitely be on everyone's Utah bucket list. Close to Grand-Staircase Escalante and Bryce Canyon, the property has 22 modern cabins, 10 Airstreams, and 67 RV sites where you can car camp or bring your own RV.
This is one of my favorite places I've stayed in the U.S. hands down. The ambiance is relaxed and friendly, plus the accommodations are super unique and quirky while still providing the ultimate modern comforts.
You'll love the cool amenities here like nightly bonfires, gorgeous outdoor showers, and even a drive-in movie theatre where you can watch classic movies in one of their restored classic cars.
Goblin Valley State Park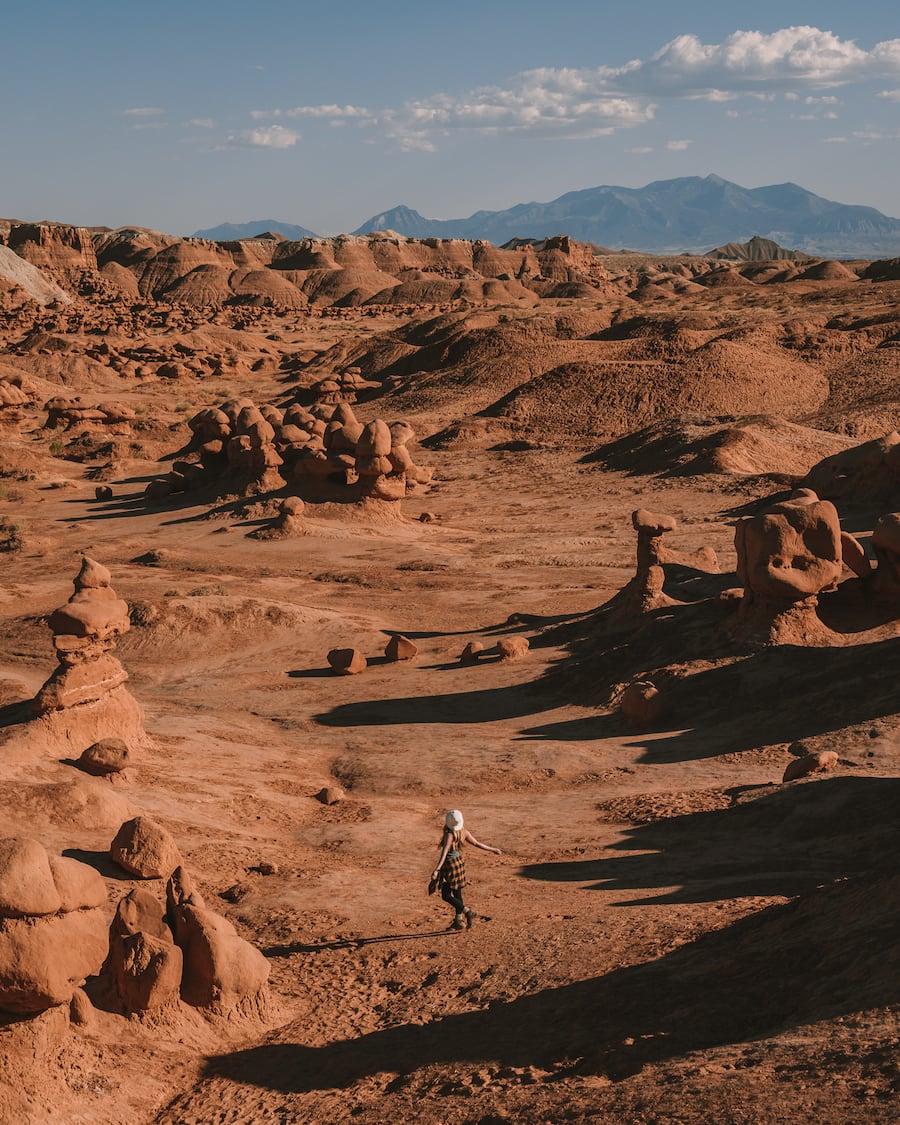 For fans of hoodoos who visited Bryce Canyon National Park and are looking for more, Goblin Valley State Park features thousands of these quirky formations, which are also locally referred to as "goblins"—hence the park's moniker.
Just an hour-and-a-half west of Moab, you can hike, mountain bike, or even play disc golf in this otherworldly landscape—and it's an International Dark Sky Park to boot, making it a great place for some stargazing.
Dead Horse Point State Park
After visiting Dead Horse Point State Park, you'll quickly understand why it's one of the most popular places to photograph the sunset in Utah. Situated 2,000 feet above the Colorado River at the end of a mesa, Dead Horse Point State Park is a good spot to stop in between Arches and Canyonlands National Parks.
It offers some pretty spectacular views of the Colorado River winding through the surrounding canyons and it only takes a short hike to see them. You won't want to forget your camera here!
Experience Glamping in Utah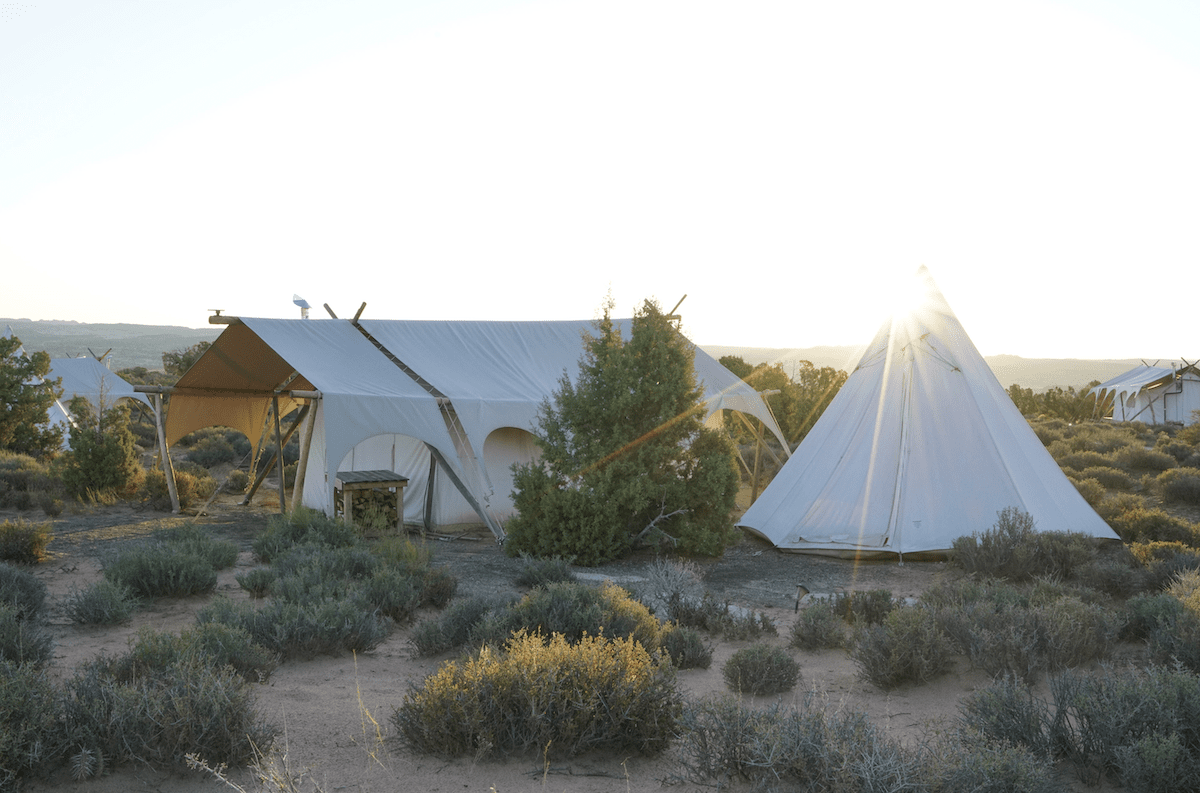 A luxurious version of camping that usually involves an actual bed, indoor plumbing, and often some trendy bohemian decor, glamping has gained popularity over recent years and Utah is one of the best states in the U.S. to experience it.
Especially for those that are new to camping—or simply not that interested in getting that up close and personal with nature—glamping is a nice medium ground to start.
There are tons of glamping spots all throughout Utah, but some of my favorites I've stayed at are Under Canvas, who have safari-inspired tents in several locations including Moab, Zion, and Lake Powell-Grand Staircase, Wander Camp (also multiple locations, with a bit more bare-bones accommodations), and BaseCamp 37° just outside of Kanab, Utah.
Potash Evaporation Ponds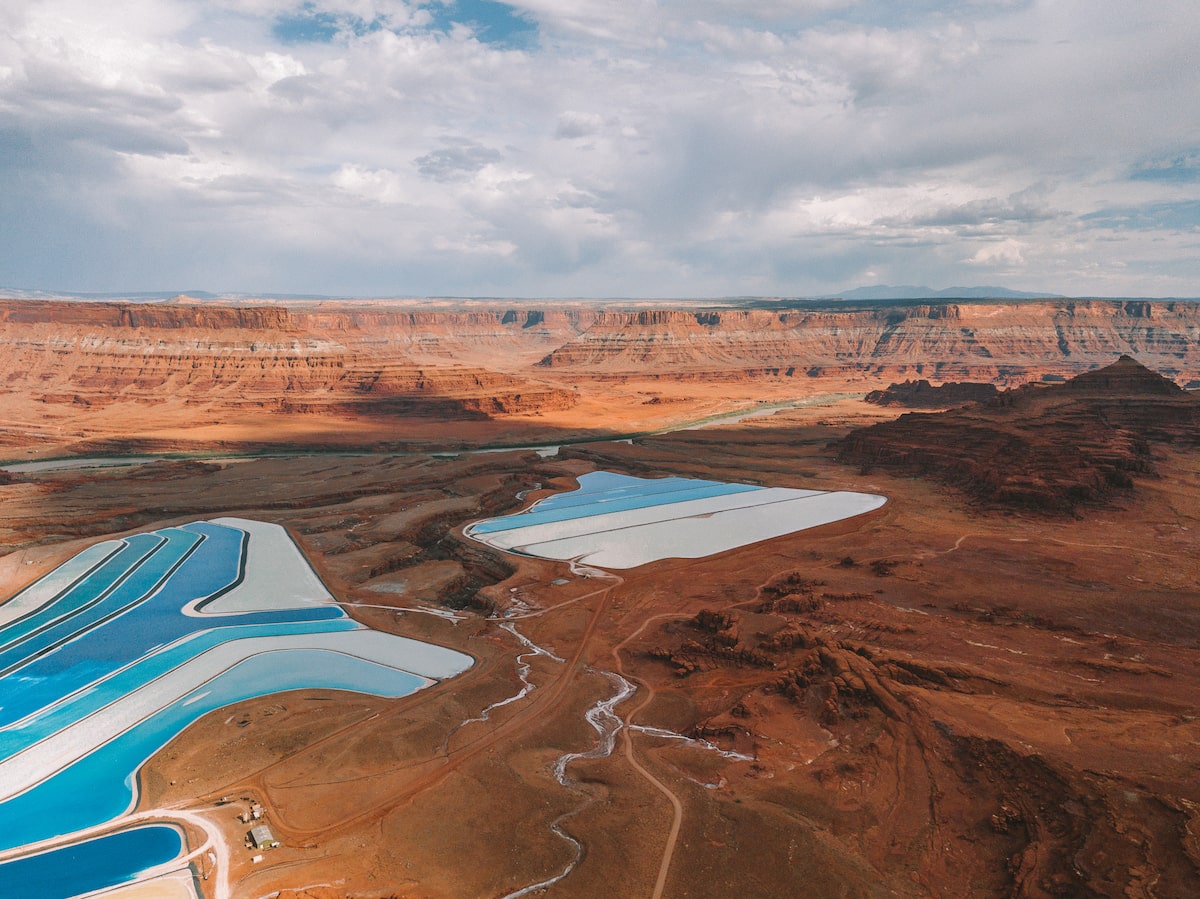 Electric-blue ponds in the middle of the Utah desert? Yep, that's right. The Potash Evaporation Ponds just outside of Moab are man-made ponds that are dyed blue as part of the process of mining potassium chloride, also known as potash.
I won't get into the science of it all (it's worth looking up for those who are interested), but from a visual standpoint, they're pretty stunning to see and worth a visit if you're in the Moab area (especially from May to September).
Keep in mind that a 4wd/high clearance vehicle is highly recommended if you plan on making the drive out here, and it's always recommended to download offline Google Maps beforehand so you don't get lost!
Explore Park City
Best known for the Sundance Film Festival that takes over the city every January, Park City Utah is a mountain town less than an hour from Salt Lake City. There are world-class ski resorts everywhere, including the Utah Olympic Park where the 2002 Winter Olympics were held. There are also plenty of great bars, restaurants, and shopping for those who aren't planning to hit the slopes.
If you're planning a big road trip around Utah and want a change of pace from the more remote areas, Park City is a great place to get your fill of luxury and foodie culture before heading back out on the desert trails.
Diamond Fork Hot Springs
If you're visiting Salt Lake City and are looking for a little time in nature too, Diamond Fork Hot Springs is a must. About an hour's drive from downtown SLC, a 2.5-mile trail leads to these scenic outdoor hot springs with striking blue water in Diamond Fork Canyon.
There are multiple pools of varying temperatures that you can take a dip in, but it can get pretty busy on weekends, so if you're able to go during the week, there's a good chance you'll beat the crowds.
5-Star Luxury at Amangiri
If you're looking for a once-in-a-lifetime luxurious experience during your time in Utah, then look no further than Amangiri. But it will come with a hefty price tag. This is one of the most expensive hotels in the USA and in the world. It's a luxury, 5-star hotel and resort in Canyon Point, Utah with impeccable design and incredible minimalist architecture inspired by Navajo culture.
This iconic property has sweeping views of the Grand Staircase-Escalante National Monument, and a stay here should seriously be on everyone's Utah bucket list. I have yet to stay here, but it's probably my #1 bucket list hotel of all time, and one I've been dreaming of staying at for years.
If you're looking to book this desert dreamscape, this one might be best saved for a very special occasion…because rooms can easily go for $4,000 or more per night.
Coral Pink Sand Dunes State Park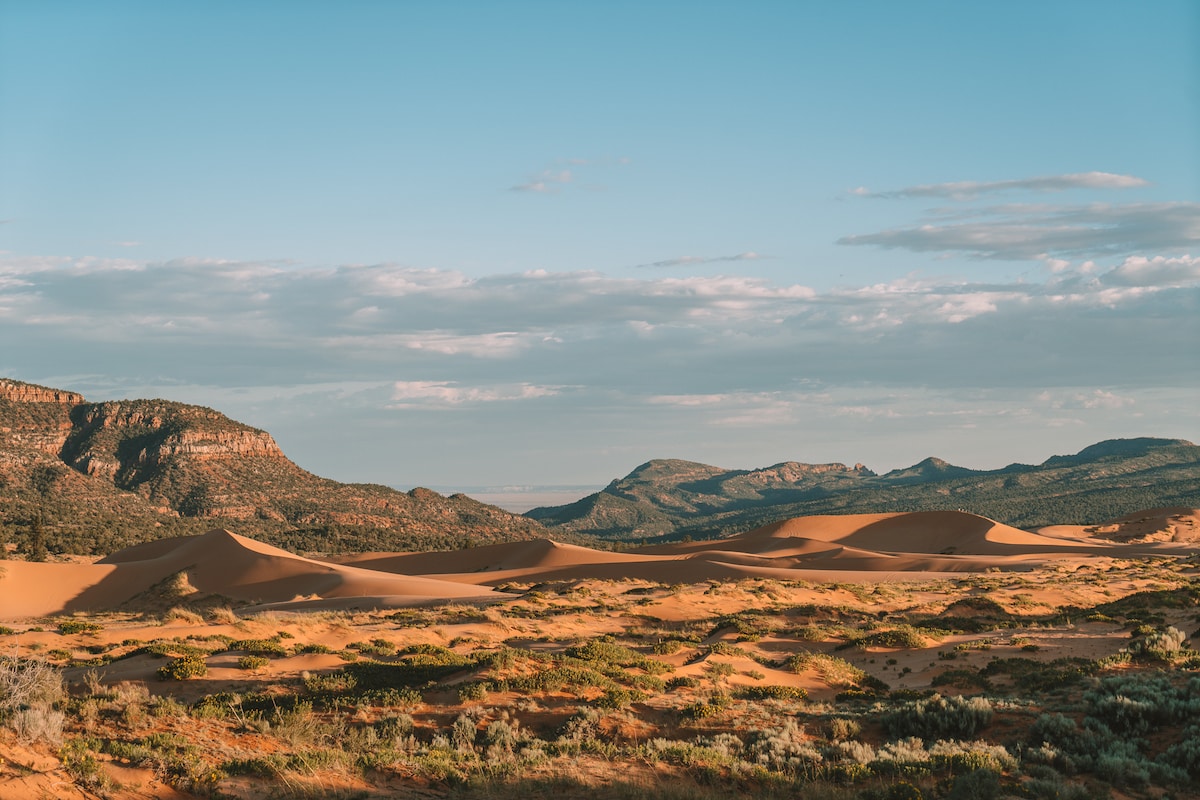 Southeast of Zion National Park, Coral Pink Sand Dunes is a desert park known for its pink-colored sand dunes that are sculpted by the changing winds. Hiking, ATVing, and dune sledding are super popular activities here, as is photographing the beautiful scenery.
These sand dunes are pretty small compared to other major sand dunes in the U.S., so you don't need more than half a day to explore here, but there are great campsites bordering the dunes that are first-come-first-serve if you want to make it into an overnight or weekend adventure.
Reflection Canyon
Reflection Canyon is an extension of Lake Powell in Glen Canyon National Recreation Area in Southern Utah, and it is a great option for experienced hikers. To get here requires a very challenging 15+ mile hike through Glen Canyon backcountry, ending with a stunning view of Reflection Canyon.
There is little cover on this hike, so be mindful if you're heading out mid-day or in the summer months (March to November are the best times to visit) and be sure to have plenty of water and sun protection when checking this breathtaking canyon off your Utah bucket list.
Explore Salt Lake City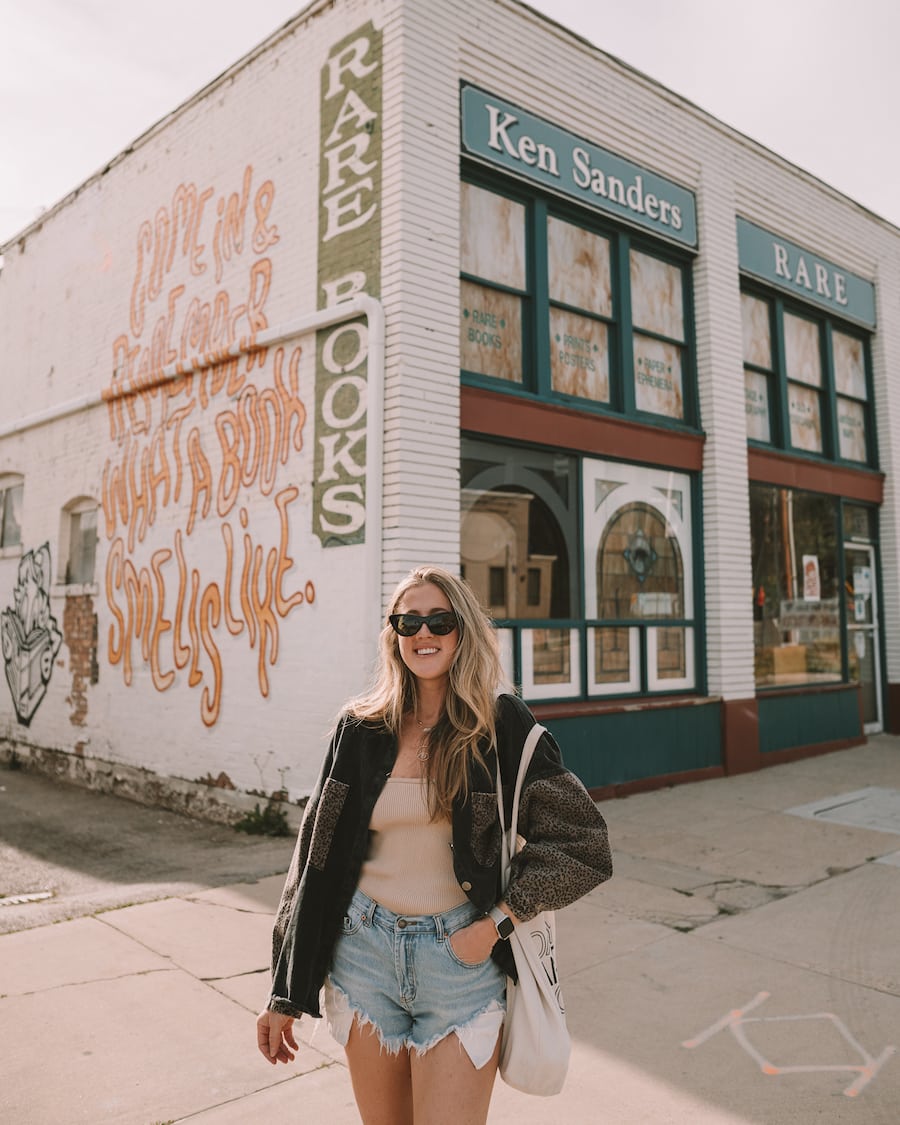 If you're flying into Salt Lake City, I highly recommend spending at least a day exploring Utah's capital. Surrounded by mountains (that are home to some of the country's best skiing in the winter), this beautiful mountain city is the most populous city in Utah and a great base as you set out on your Utah adventures.
It's also home to many attractions such as Temple Square, museums, parks, restaurants, breweries, and tons of surrounding nature—like the famous Great Salt Lake that the city is named after. Plus, don't miss all of the incredible street art all throughout the city.
Read More: Salt Lake City to Yellowstone Itinerary
Prefer to explore with a guide? Here are some top rated tours in Salt Lake City
Grand Staircase-Escalante National Monument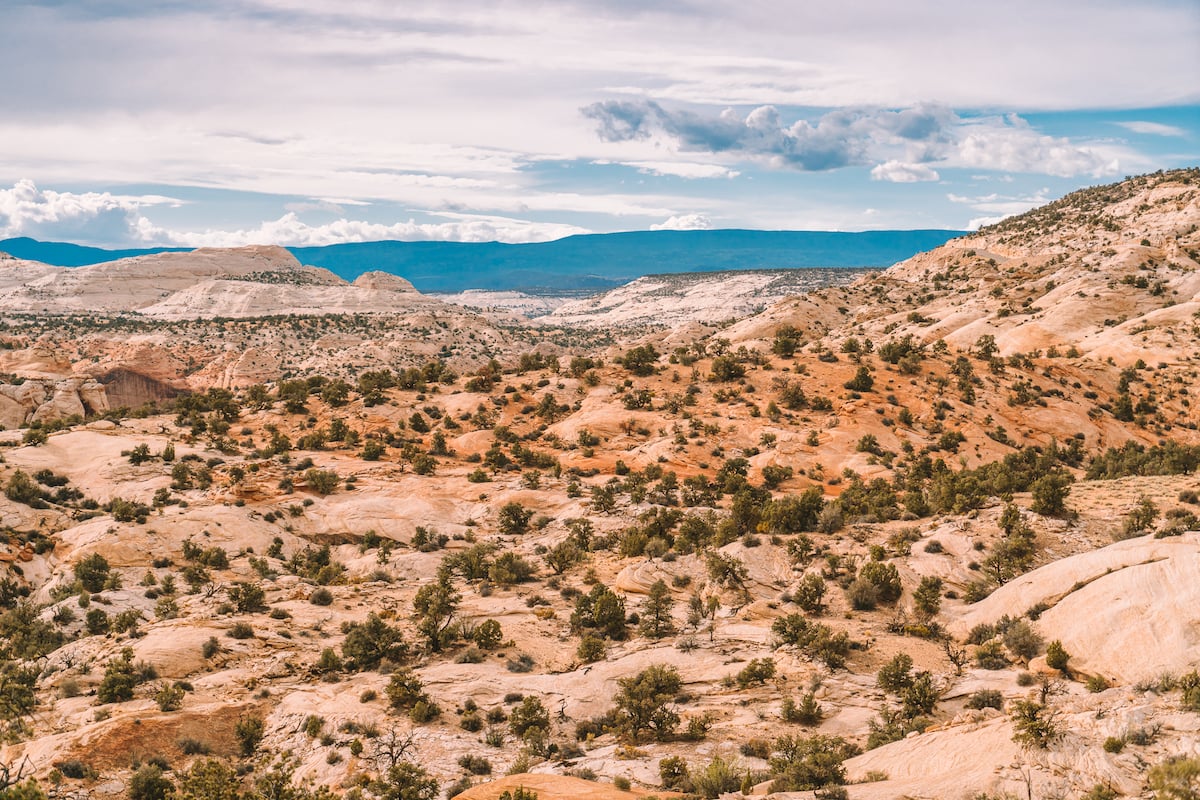 Spanning nearly one million acres, Grand Staircase-Escalante National Monument is a huge expanse of wild and rugged public land in Southern Utah. There are slot canyons, natural bridges, sandstone arches, spires, rivers, forests, and more to explore in this diverse desert landscape.
If you have the time, a backpacking trip is the way to go, but there are plenty of great day-hikes too, like Lower Calf Creek Falls, Peek-a-boo and Spooky Slot Canyons, and the hike along the Escalante River to the Escalante Natural Bridge.
The Wave
Hiking around The Wave at Vermilion Cliffs National Monument will make you feel like you're walking through a real-life Salvador Dali painting. This one might be cheating a little bit, as it's technically just over the Arizona border near the Utah state line, but most people access The Wave via Kanab, Utah, so I'm including it here.
This visually surreal landscape is a really popular spot that you've most likely seen all over Instagram, but it requires a permit to access, so make sure to enter the lottery and plan ahead if you're looking to visit. If you're lucky enough to win the lottery, I'm sure you'll find that it lives up to the hype.
White Pocket
Another one that isn't technically in Utah is White Pocket Recreation Area, located just over the Arizona border. Most tours kick off in Kanab, Utah to visit here, so it's a great place to explore while on a Utah road trip.
Hiking here is truly breathtaking and the cotton candy-esque swirling colored rocks are unlike anything you've ever seen before. If you don't win the lottery for The Wave, visiting White Pocket is a great alternative as it's quite similar with it's unusual rock formations but doesn't require a permit to visit.
However, it is highly recommended to have a 4wd/high clearance vehicle as the roads to get here are unmaintained and have deep sand. If you aren't super confident with your driving skills, a guided tour is your best bet so you don't get stuck out there. We went with Dreamland Safaris and had an incredible experience.
Pretty sure White Pocket now tops my list of favorite landscapes in the U.S., and you need to add it to your Utah bucket list!
"The Bowl" Vortex
Located near Lower Sand Cove, the hike to "The Bowl" offers stunning views of the southwest Utah landscape, unique vegetation, and Navajo Sandstone features that are amazing to see in person. This hike is pretty moderate in skill level, but there are definitely some challenging parts with little shade, so make sure to bring lots of water for this one.
Once you reach the "vortex", you'll find a bowl-shaped rock formation that was carved by wind and water erosion. It seriously looks like it belongs on another planet, and in good conditions you can even descend down into it.
Buckskin Gulch
Buckskin Gulch is an impressive slot canyon that is the deepest in the Southwest (and many consider it to be the longest in the world). The entire hiking trail is about 20 miles, so it's not typical for visitors to hike the entire thing in one go, but it tops the bucket list for many experienced hikers/backpackers.
You definitely don't have to hike the whole way to experience the visceral beauty that is Buckskin Gulch, but you do want to be aware of your surroundings and prepared as this area is super prone to flash flooding and it can be incredibly dangerous when a storm rolls through.
This is one that is best explored with a guide if you're not an experienced hiker or someone that feels super confident in the outdoors, and luckily there are plenty of tour companies that offer trips to this area. You can opt for a multi-day hike or just an easier route that will give you an intro to Bucksin Gulch via the Wire Pass Trail.
Prefer to explore with a guide? Here are some top rated tours to Buckskin Gulch
The Great Chamber
Another iconic spot in the Staircase-Escalante National Monument is none other than The Great Chamber. I personally was so excited to check this one off my Utah bucket list, and it did not disappoint! Depending on the car that you have, there are a couple of options for accessing this incredibly giant cave. If you have a car that can drive in deep, soft sand, The Great Chamber is only about an hour's drive from Kanab.
If you don't have the right kind of car (4wd/high clearance recommended), I highly suggest going with a tour group. As tempting as it may be, hiking to The Great Chamber is pretty grueling, so unless you're a pro, I wouldn't recommend this. It's over 17 miles long round-trip, and there is pretty much no shade from the sun along the way.
Prefer to explore with a guide? Here are some top rated tours to Great Chamber
Bentonite Hills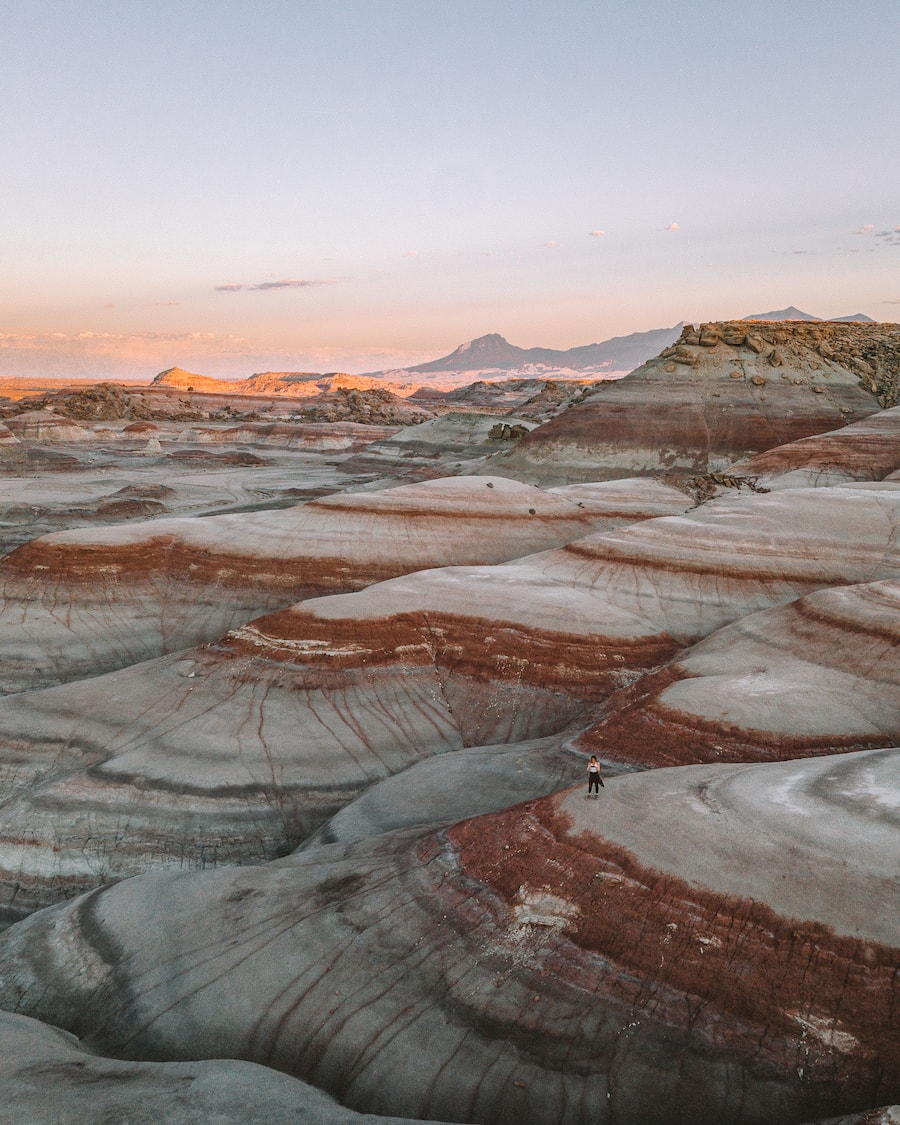 If you ever wondered what Mars looks like in person, Bentonite Hills is probably the closest that you can get without leaving Earth. Bentonite Hills is located in Hanksville, which is a little less than three hours away from Moab, making it an achievable day trip for those staying in the area. If you're visiting Capitol Reef, this is also a great stop to add to your trip.
It's technically located in the Mars Desert Research Station, so you can plug that into your GPS when trying to find it. Then, just drive past the station and continue onto the dirt road. If you can, plan your visit around sunset (it's truly magical)!
The Toadstools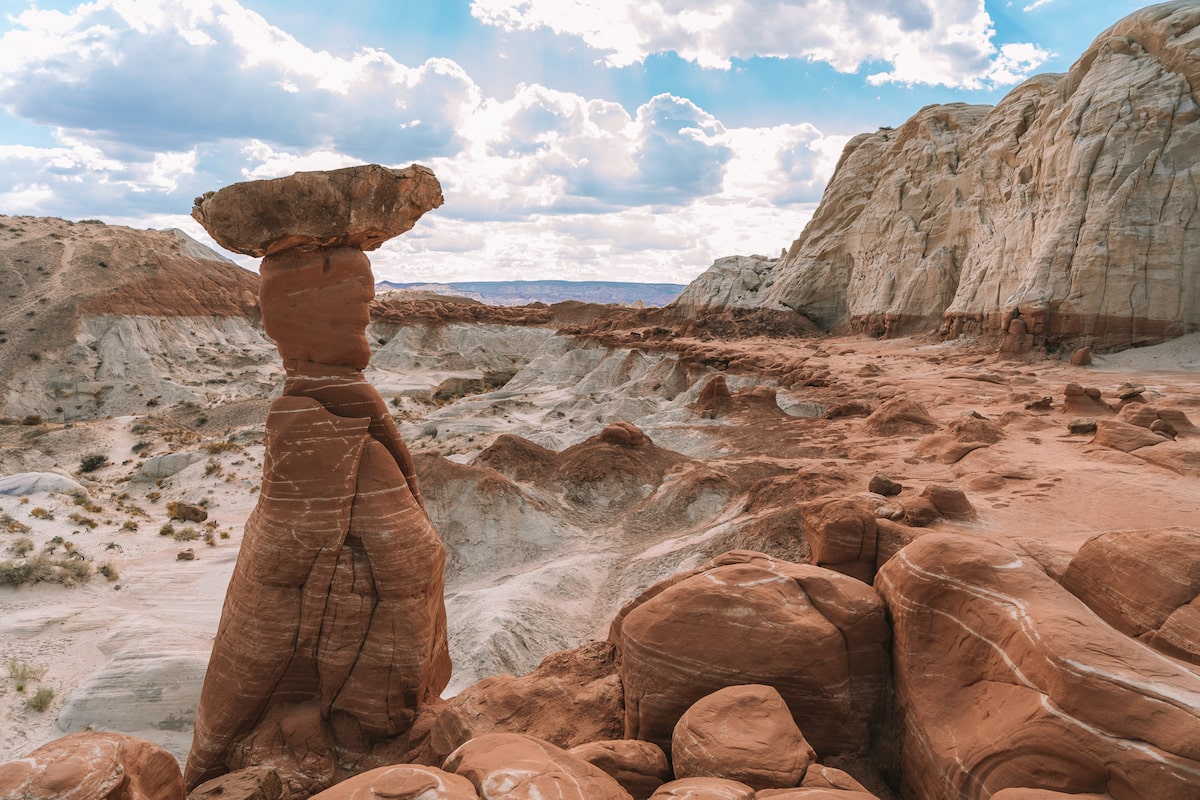 Described as a fantasy-like landscape, The Toadstools are yet another one of Utah's many geological phenomenons found in the Staircase-Escalante National Monument. The Toadstools can be accessed by a pretty easy hike that is only about 1.5 miles long, and once you arrive, you'll be greeted with huge balanced rock formations that sort of look like massive mushrooms.
I wouldn't say that this one needs to be at the very top of your Utah bucket list, but if you have a couple hours to kill near the Kanab area, this is a great hike that gives you a fun point of interest at the end with minimal effort required.
Pink Lake
You've probably heard about the Pink Lake in Australia, but what about the Pink Lake in Utah? This unique body of water is actually a part of the Great Salt Lake, and it is only a couple of hours from Salt Lake City.
The water is pink due to the extremely high salt content, and it is the perfect place to snap some cool photos (especially at golden hour)! If you have a drone to capture it from above, even better!
Still Want More Incredible Things to do in Utah? Check out these spots!
Kanarraville Falls
Zebra Slot Canyon
Peekaboo Slot Canyon
Spooky Slot Canyon
Best Friends Animal Sanctuary
Rainbow Bridge in Glen Canyon
Belly of the Dragon Hike
Hike Scout Cave in St. George
Visit Kodachrome Basin State Park
Snow Canyon State Park
Four Corners National Monument
Snap a pic at the Utah Sign
Goosenecks State Park
Valley of the Gods
Utah Bucket List Map
Check out this Google map of all the best things to do in Utah by location, so you can plan out your itinerary based on the areas you plan to visit.
Did this post inspire you to plan a trip to Utah? Let me know in the comments below!
---
Planning a trip right now? Don't miss my go-to websites for booking everything from flights and tours, to accommodation and more:
---