Planning a summer in Lake Tahoe and looking for all the best things to do? I've got you covered.
Lake Tahoe is without a doubt a top destination for summer travel in California. However, the lake straddles the border between California and Nevada, so we'll be covering things to explore on the Nevada side as well!
Situated 6,225 feet atop the Sierra Nevada Mountain Range, the scenery in Lake Tahoe is unreal, and having access to both the mountains and the lake means endless activity options—especially for outdoors enthusiasts.
The best way to experience Lake Tahoe in summer is to get out in nature.
Whether that means hiking, kayaking, relaxing on the beach, or going on a scenic drive to take in the views, there's really something for everyone. However this list includes fun things to do in Lake Tahoe beyond the outdoor adventures too!
With so many options, planning can feel a little daunting, but don't worry, I've done all the legwork for you and compiled a solid list of the most fun Lake Tahoe summer activities for you to add to your itinerary.
Read on to start planning your epic Lake Tahoe summer adventure!
Essential Tips for Visiting Lake Tahoe in Summer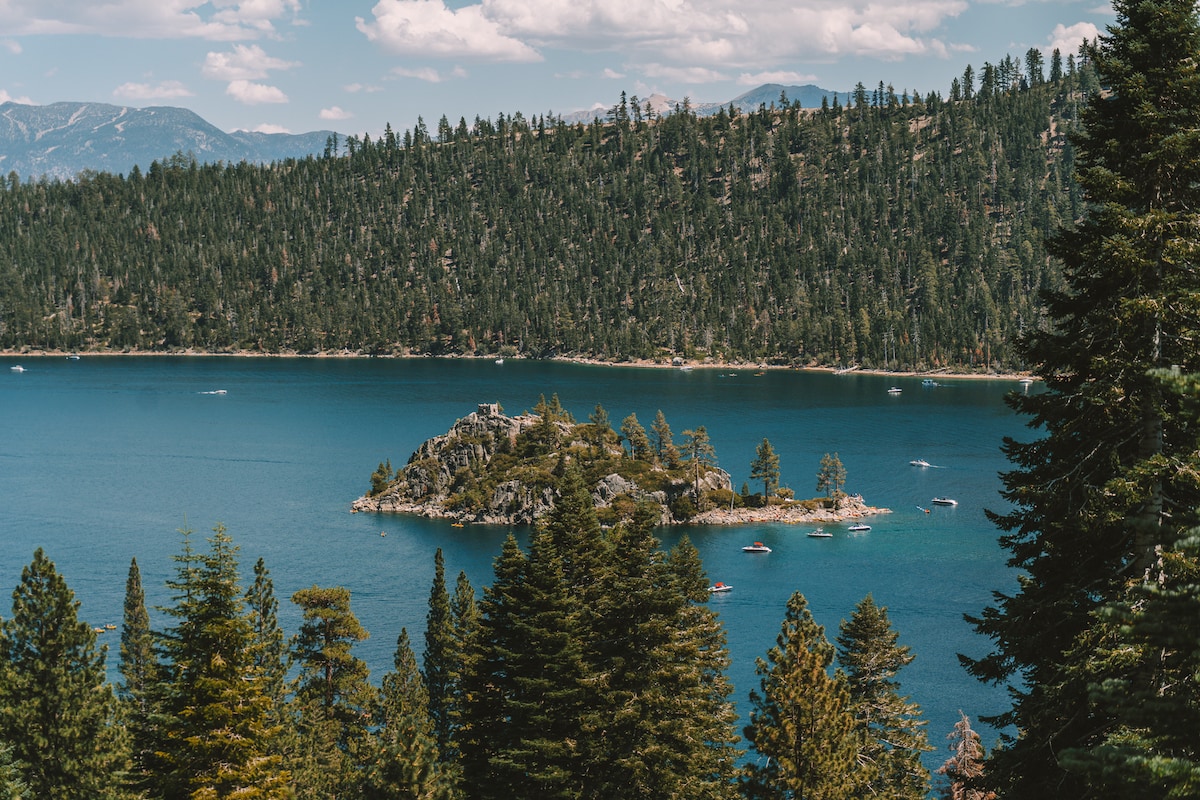 If you're planning a trip to Lake Tahoe in summer, here are a few helpful tips to keep in mind:
How to Get There: The closest major airport to Lake Tahoe is Reno-Tahoe International Airport which is about 60 miles away. Sacramento International Airport is about 120 miles away, and San Francisco International Airport is about 200 miles away. SFO is the furthest, but it could be a good option if you can't get a direct flight into Reno and don't mind a little bit of a drive (it's about 3.5 hours).
Getting Around: You will definitely want to rent a car for your Lake Tahoe trip. While there are some public transportation options that will take you to and from various places, it would be really difficult to experience all the best things to do in Lake Tahoe without the mobility a car provides. It's 100% worth it to spend the extra money on a rental car so you can enjoy the most beautiful spots around the lake and make your life 10x easier!
Parking: One of my top tips for traveling to Lake Tahoe in summer is to get to the beaches early as parking fills up fast (and by early, I mean 9 AM, 10 AM at the latest). There is a fee to park at many of the beaches too.
Purchase a Tahoe Regional Vehicle Day Pass: If you're planning to hit up a few destinations on your trip for hiking and beach days, it might be worth it to purchase the Tahoe Regional Vehicle Day Use Pass for $75 that will get you access to some of the most popular parks like, D.L. Bliss, Ed Z'Berg Sugar Pine Point, Emerald Bay, Kings Beach and Donner Memorial.
Avoid the Crowds: If you're visiting Lake Tahoe in summer, you'll be in good company—meaning it can get pretty crowded. If you can, plan your visits to the most popular spots on weekdays when all the weekend folk are back in the office. You'll have a little more space to yourself and hopefully you won't even have to battle it out for a parking spot.
Book Activities on the Lake in the Mornings: Due to weather and wind patterns, the lake is always calmest in the mornings and then progressively gets choppier later in the day. When booking boat tours and water sports, make sure to get out on the lake in the early AM to get that glassy, peaceful vibe.
Best Things to do in Lake Tahoe in Summer
Without further ado, here is my list of the top things to do in Lake Tahoe in summer.
1. Hit the Beach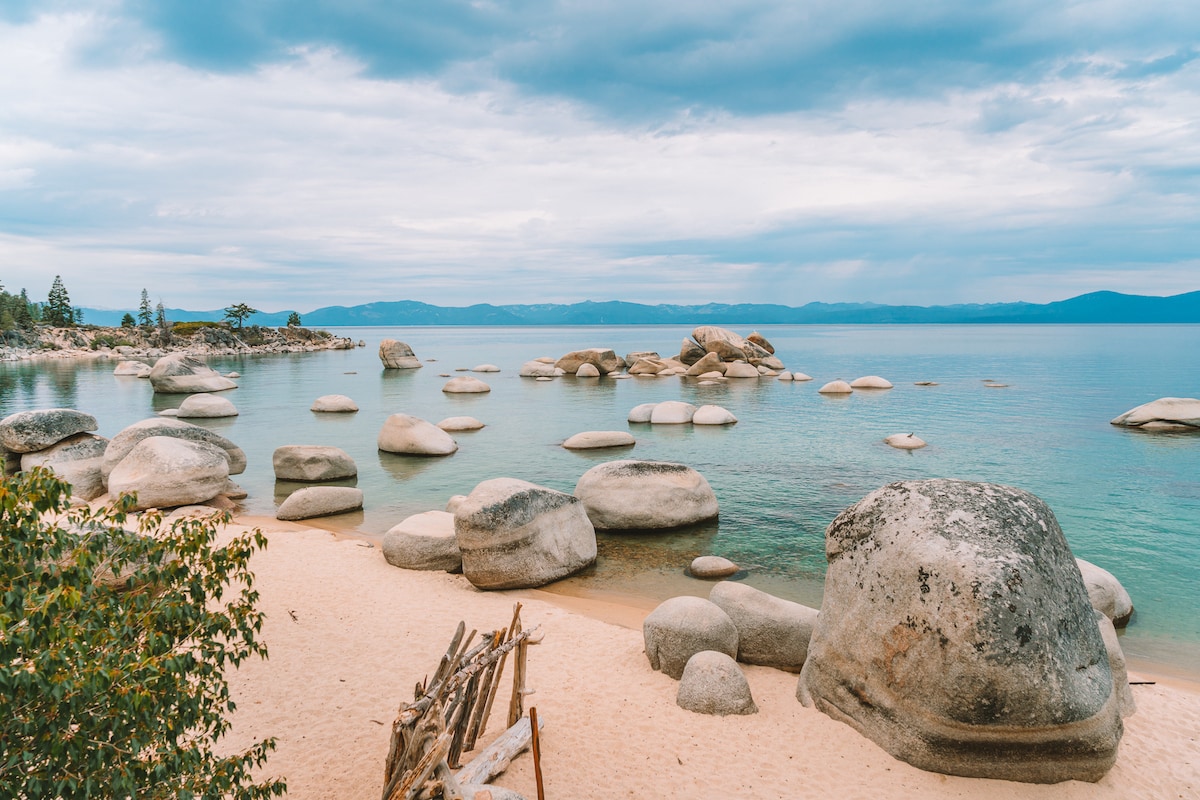 Lake Tahoe has 72 miles of stunning shoreline and there are way more beautiful beaches to explore than you could possibly see in one trip. My favorite beaches are on the east shore (the Nevada side of Lake Tahoe) and in South Lake Tahoe, California.
East Lake Tahoe Beaches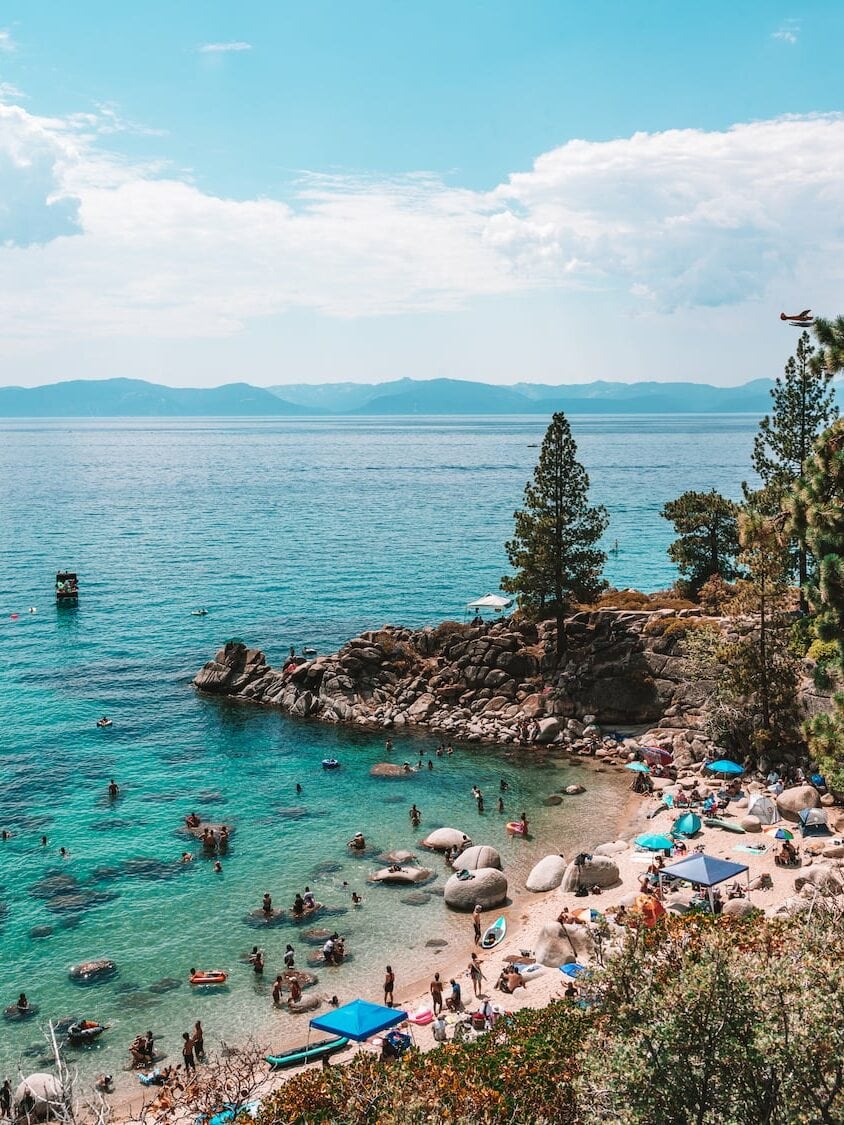 If you're on the Nevada side of Tahoe, there are a few beaches you absolutely can't miss: Secret Cove—which fair warning, is a nude beach—is incredibly beautiful and widely considered the prettiest beach in Lake Tahoe.
You absolutely don't need to go sans clothes to spend the day here, but don't be surprised if you see others letting it all hang out (and please be respectful if you do). Secret Cove is tucked away in a cove and requires a short hike to get to, making it feel extra private, hence the name.
If you want a similar vibe sans occasional nudity, Whale Beach is only about half a mile from Secret Beach and is really underrated in my opinion. The beach got it's name because the boulders on the beach look like cartoon whales!
Finally, Creek Beach which is also next door is a great family-friendly beach with a more open stretch of sand and is walkable from both Whale Beach and Secret Cove. You can easily hit all 3 in a day if you're looking to beach hop.
South Lake Tahoe Beaches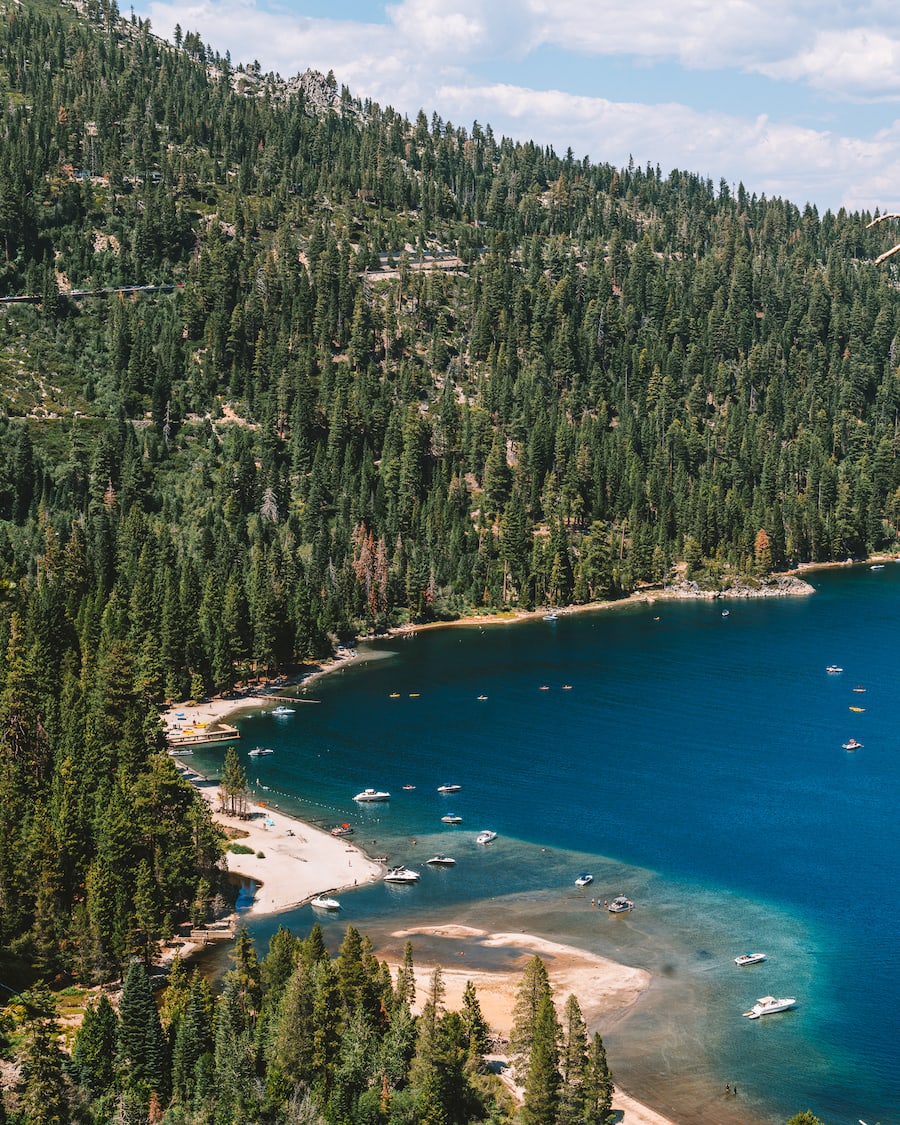 Sugar Pine Point is a really beautiful beach and a nice spot to hit if you're beaching it later in the day as the parking here is much easier than some of the other spots.
Emerald Bay State Park has a gorgeous beach located in a calm cove. To get here, you have to hike about a mile down, but it's totally worth it. You'll find that this is a popular spot where boaters come to park and hang out for the day. Parking is limited though, so get here early!
Finally, while I wouldn't say Kiva Beach is the most beautiful beach in Tahoe, it's an easy win because it's close to the heart of South Lake Tahoe and doesn't require any hiking to get to. It's also dog friendly too if you're traveling with your pup.
General Lake Tahoe Beach Tips
As I mentioned before, parking can get crazy at Lake Tahoe beaches in summer, and the lots fill up early. Try to get there first thing in the morning to make sure you can snag a spot.
A lot of beaches are located in state parks that require a fee to enter so keep that in mind and definitely consider buying the Tahoe Regional Vehicle Day Use Pass for $75 if you're planning to visit multiple beaches because it can end up saving you money.
Many of the best beaches require hiking to access them so I recommended wearing sneakers and not flip flops/sandals as a lot of the trails are on loose sand.
If you want easy beach access without the hassle, I highly recommend booking one of these lakefront hotels in Lake Tahoe, many of which have their own private beaches to enjoy.
2. Head to a Ski Resort (Yes, in Summer)
You should definitely visit Lake Tahoe in the winter for skiing, but did you know that a lot of the ski resorts stay open through summer too? At some resorts you can even ski into the summer months (especially this year after Tahoe experienced its second snowiest winter on record)!
At places like Heavenly, a lot of the shops and restaurants in the village are open year-round. Plus, there are hiking trails, zip-lining for kids, and even a gondola ride up the mountain that will give you panoramic views of the lake.
---
Fun fact: Did you know that Tahoe is the biggest of all the alpine lakes in North America?
---
3. Hike for the Best Views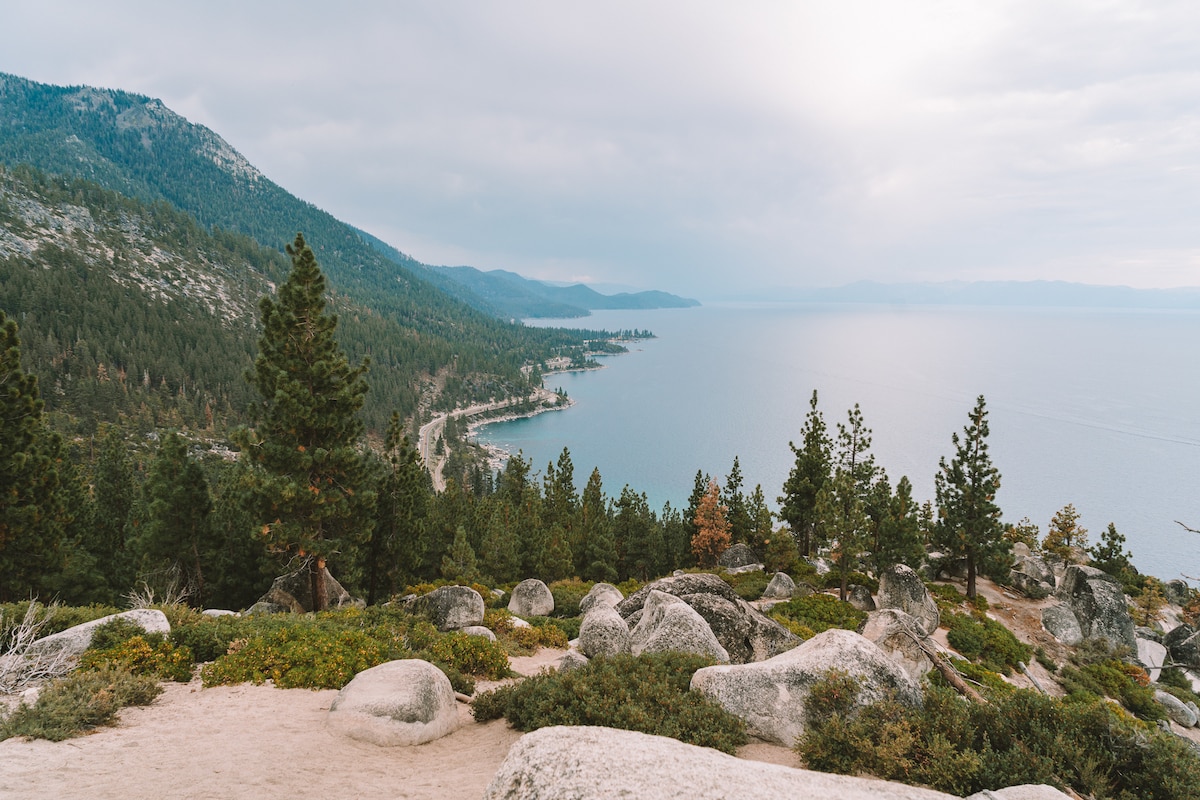 Being in the Sierras, it's no surprise that Lake Tahoe is an amazing destination for hiking. Whether you want a short, more casual stroll or a day-long trek, you can choose your adventure in Tahoe.
You should definitely prioritize getting in a hike or two while you're in the area because there are some really incredible trails that offer the most jaw-dropping views of the lake. While I could do an entire post dedicated to the best hikes in Lake Tahoe, below are a few of my favorites.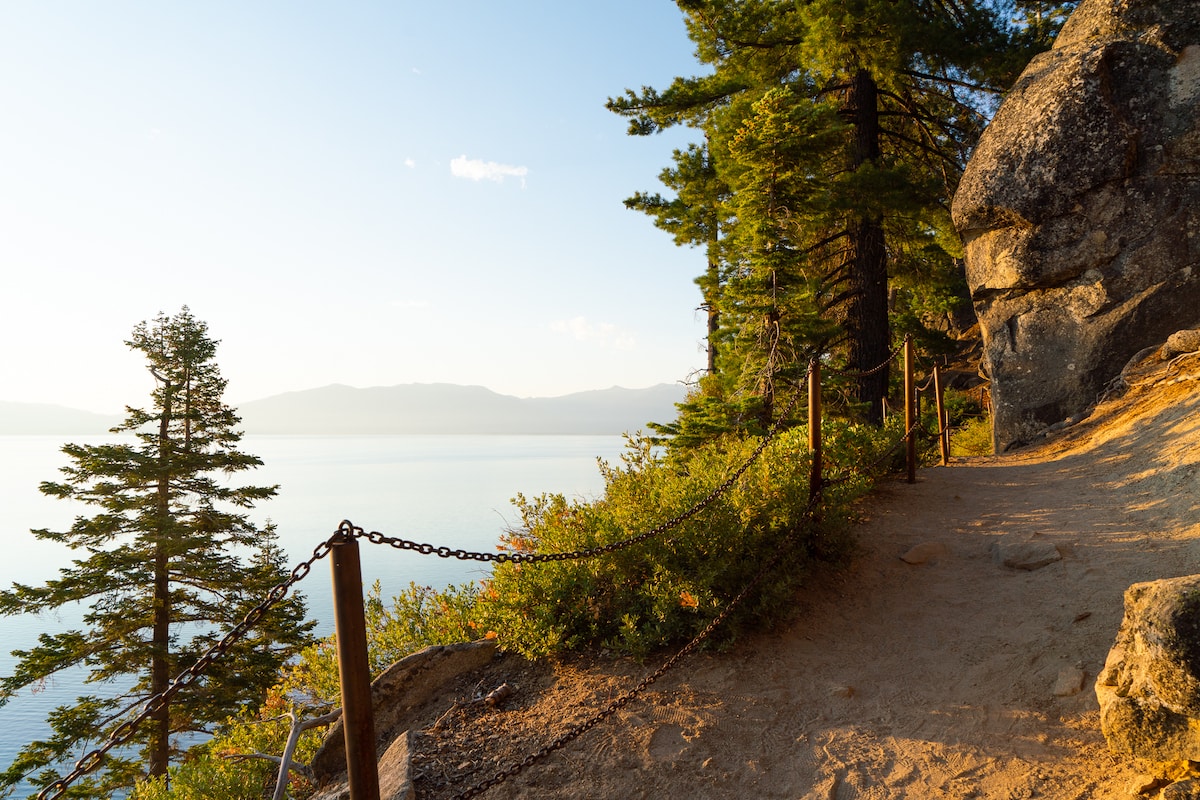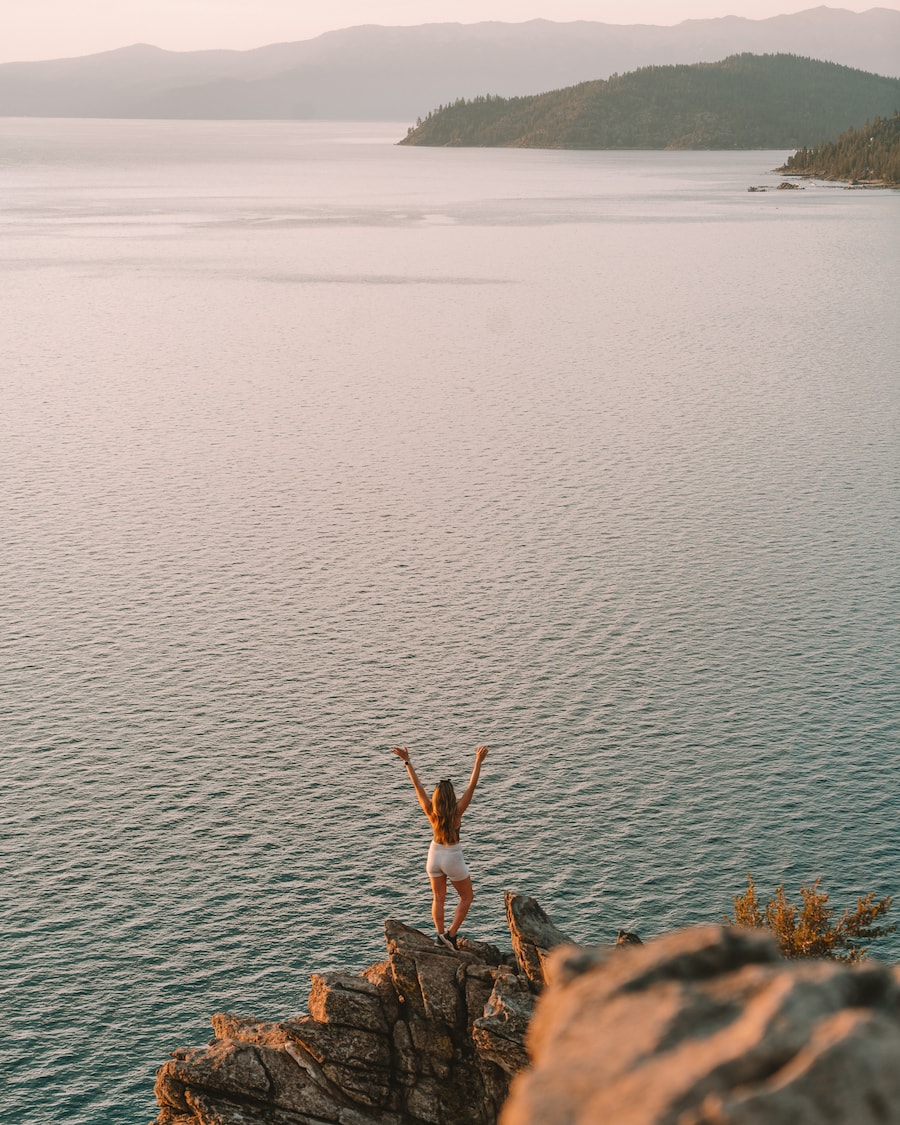 Rubicon Trail: Located in the South Lake Tahoe area, Rubicon Trail is a long one (it's 16+ miles out and back if you do the whole thing) that's listed as "moderately" difficult. However, you can really make this one as long or as short as you want. You can pick up the trail at D.L. Bliss State Park or Emerald Bay State Park and hike the 4.5 miles between the two points for consistent beautiful views of the coast.
Monkey Rock: Looking for a shorter hike? Monkey Rock in Lake Tahoe- Nevada State Park (on the east side of the lake) is a quick 2.5 mile out-and-back trail that will give you some epic, uninterrupted views of the lake. The trail gets its name because of a rock formation at the top of viewpoint that looks exactly like a gorilla—no exaggeration!
Cave Rock: A 0.8-mile out-and-back trail on the Nevada side of the lake, Cave Rock is one of the most popular viewpoints for sunset. The trail is an easy hike with one of the best views of Lake Tahoe, as long as you don't mind a little bit of a steep scramble at the end.
4. Book a Boat Tour on the Lake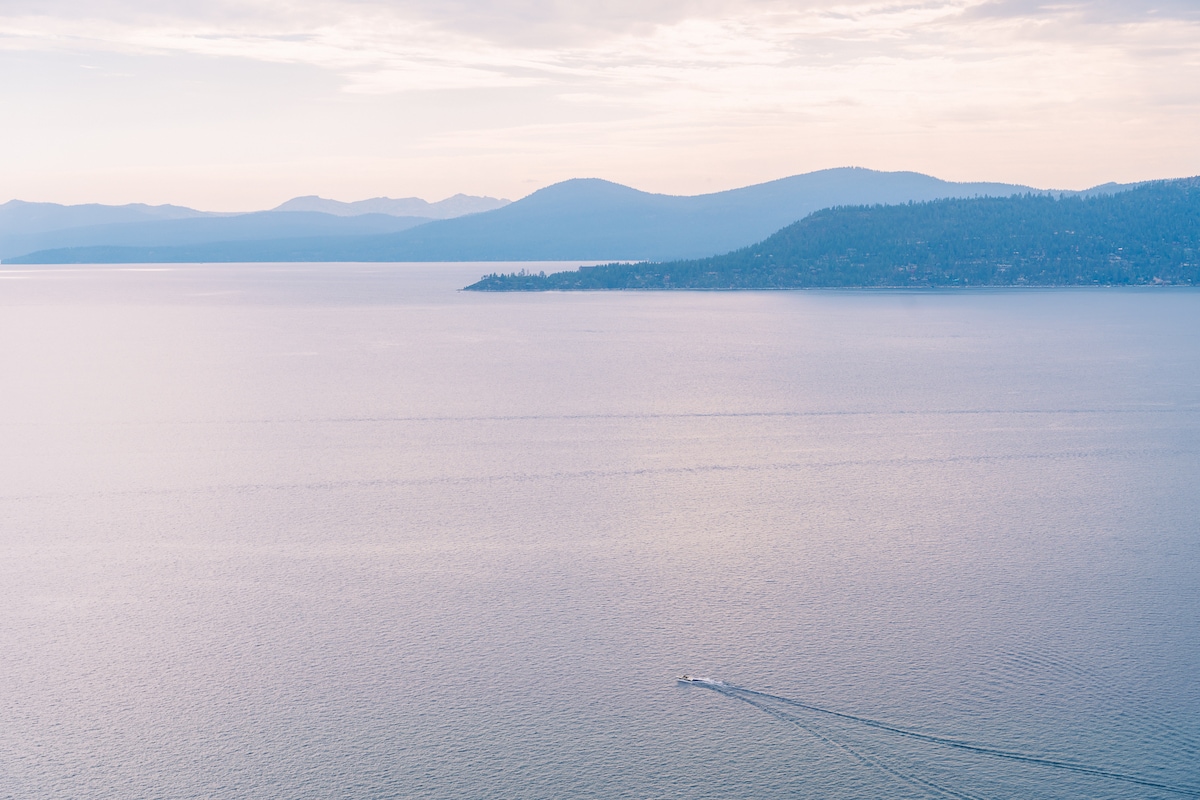 One of the most fun ways to experience Lake Tahoe in summer is to take a boat tour of the lake—and this might be one of the most fun things to do in California overall!
Not only is it a relaxing way to enjoy some time on the water, but you'll get a unique perspective of the lake and surrounding mountains that you can't get from shore.
Here are a few of the top-rated boat tour options and various excursions you can book.
If you're in South Lake Tahoe, Sail Tahoe Blue offers a 2-hour sailing adventure on their 18-passenger sailboat named "Blue." Beer, wine, and non-alcoholic beverages are included in your ticket price too.
Traveling to Lake Tahoe with friends? Book a private yacht (that includes a captain, don't worry) for up to 6 people that'll take you to spots like Emerald Bay, D.L. Bliss State Park, and more.
Wine and cheese on a private boat at sunset? Yes, please! This private boat tour for up to 6 people will take you around Emerald Bay, D.L. Bliss State Park, and Rubicon Bay, and you can even customize the itinerary based on your interests.
5. Grab a Beer + Bite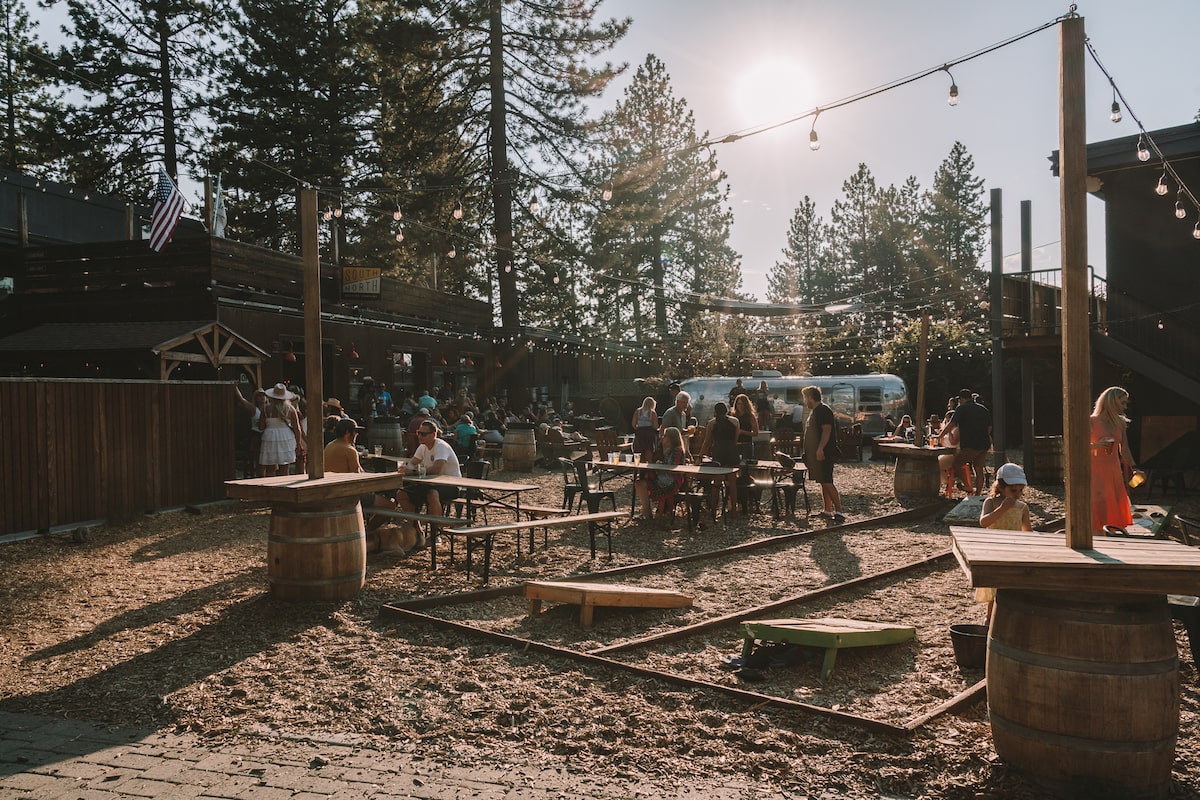 If I'm being honest…the food scene in the area isn't anything to write home about. However, Tahoe has plenty of places to kick back with a beer after a long hike or day at the beach.
Picking a place to grab a bite in Tahoe in summer is all about the atmosphere in my opinion.
Here are some fun places to go for a good beer and a bite: South of North Brewing, Himmel Haus, MacDuffs Pub (get the bread pudding—it's incredible!), South Lake Brewing Company, Alibi Ale Works, FiftyFifty Brewing Co., and The Hangar.
6. Visit Chamber's Landing Bar and Grill
The oldest bar on Lake Tahoe, Chamber's Landing is a cozy tavern on a pier in North Lake Tahoe that serves bar food like hamburgers, sandwiches, and salads.
Pro Tip: Order a Chambers Punch and sit out at the bar on the dock at sunset.
7. Take a Clear-Bottom Kayak or Paddle Board Out on the Lake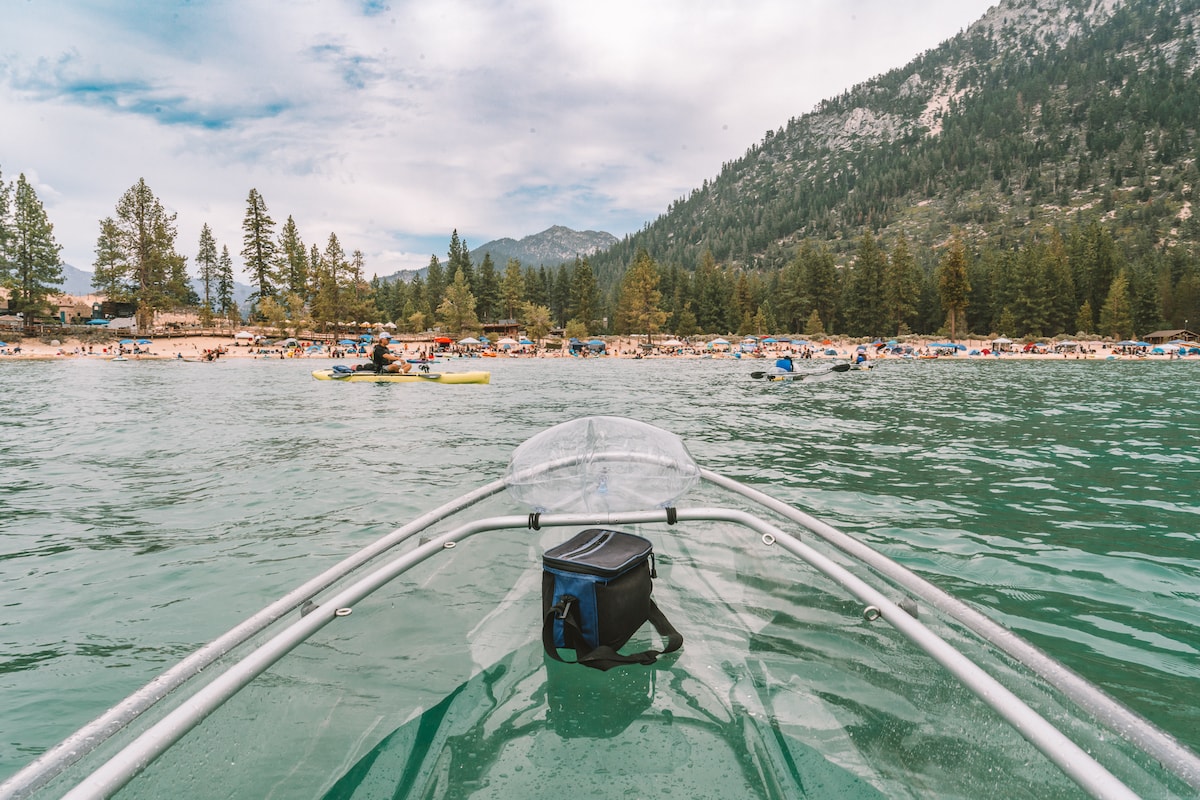 If you want to get out on the water, but prefer something a bit more active than a boat cruise, renting kayaks or paddle boards is a great option.
Clearly Tahoe is the most popular tour company on the lake that offers unique clear-bottom kayak tours (they even offer a nighttime LED lighted tour!).
At their Sand Harbor base they also provide a number of different rentals, including transparent kayaks and paddle boards that give you a really unique view up to 75 feet below the surface of the water.
If you're not familiar with the area and would rather have a guide lead you, it's definitely worth going on one of their clear kayak tours that bring you out to Bonsai Rock or along the shoreline. This was the tour we booked and it was super fun!
Pro tip: If you choose to rent at Sand Harbor, know that it's notorious for hitting parking capacity in the summer as early as 9 AM. If you choose to do self-rentals, you'll want to get there early to snag parking as there is no street parking in this area.
8. Live at Lakeview Free Concerts
A free weekly concert series, Live at Lakeview in South Lake Tahoe has live music right on the lake every Thursday from the end of June through August. Not only is there music, but they have local vendors, food options, and a beer garden too.
Check the full concert schedule here!
---
---
9. Take a Scenic Drive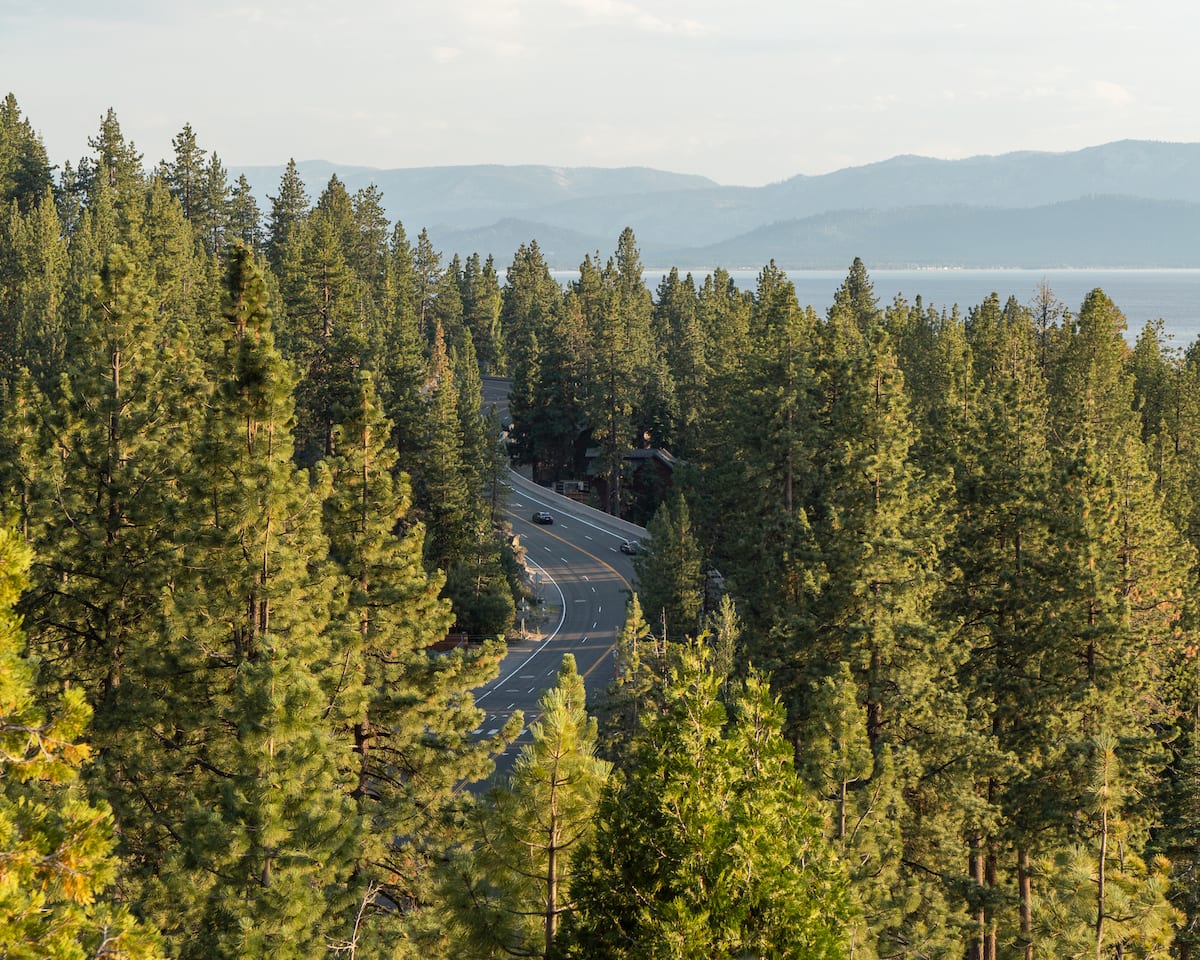 It's a 72-mile drive around Lake Tahoe, and while you can do it in about 3 hours, you'll want to take your time so you can stop at some of the most beautiful places along the way.
If you want to skip the full drive, don't miss the 28-mile stretch on the east side of the lake called the Lake Tahoe National Scenic Byway that offers some truly striking views of the lake.
Another personal favorite section of road can be found between South Lake Tahoe and Sugar Pine Point (although you'll also find some of the most terrifying roads with no guardrails here as well).
10. Visit South Lake Tahoe
If you're staying outside of South Lake Tahoe, you'll still want to visit this bustling lake town at some point during your trip. Here you'll find some of the best dining, bars and live music options in the area.
Also, if you're looking to burn some cash, South Lake Tahoe borders the Nevada state line, where you'll find several casinos just at the edge of town.
11. Explore Incline Village
Located on the north shore of Lake Tahoe, Incline Village is one of the biggest towns in Tahoe and is close to Lake Tahoe State Park and Sand Harbor (two places that are definitely worth visiting).
There are some great hikes in the area, beautiful public beaches, and some tasty restaurants to check out, including Bite and Lone Eagle Grille.
Incline Village is a great place to visit once you've exhausted all the things to do in South Lake Tahoe.
12. Hike to Cave Rock at Sunset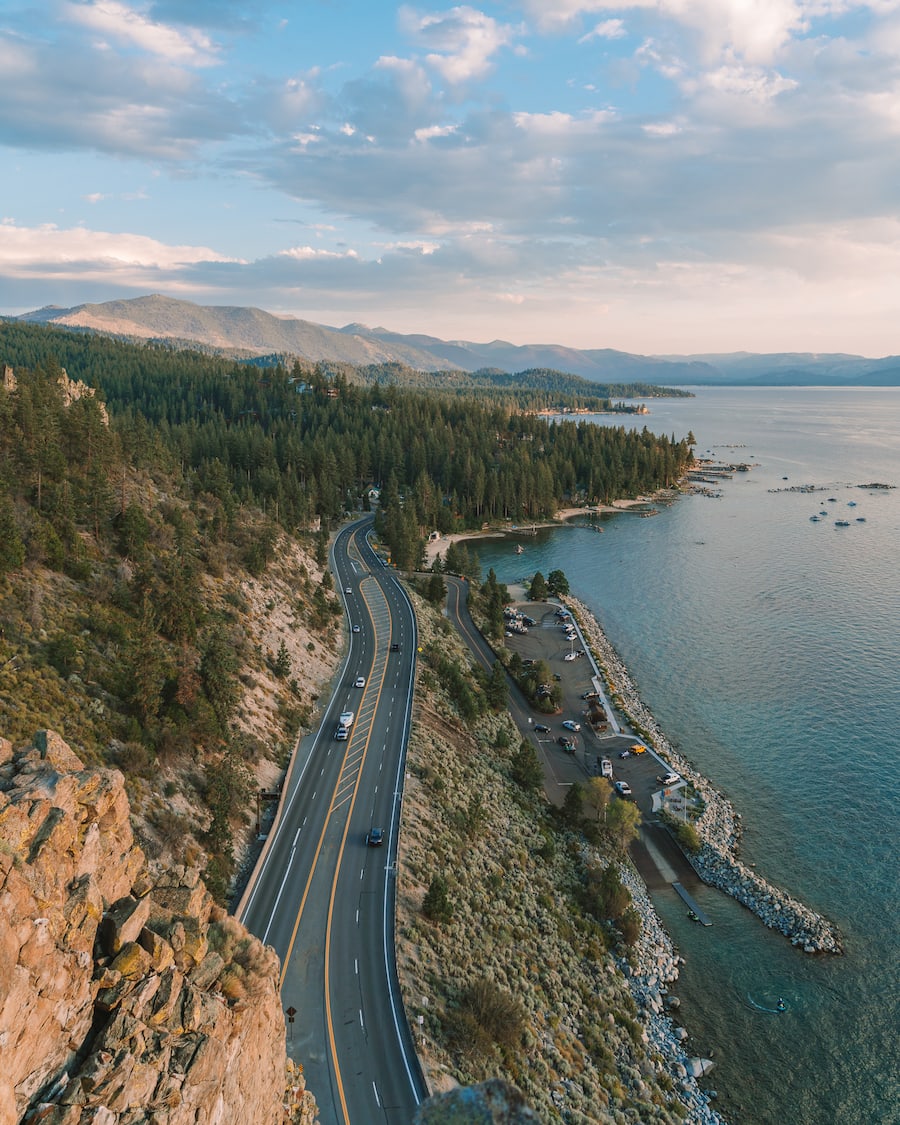 Even though I mentioned this hike earlier, it deserves its own spot as it's the #1 place to watch sunset in Tahoe in my opinion. Cave Rock is reached by a short half-mile hike from South Lake Tahoe.
After an easy hike and a short steep scramble up to the top of the rocks, hikers are rewarded with a 180-degree view of the lake—which is especially stunning at sunset, but beautiful any time of day too.
13. Tahoe East Shore Trail
Located in North Lake Tahoe, the Tahoe East Shore Trail is a beautiful, new 3-mile paved trail that has been dubbed "America's Most Beautiful Bikeway." This is both a walking and bike path that you can enjoy via whatever mode of transport suits you.
Either way, the scenic path offers beautiful views of the east shore of Lake Tahoe.
Bikes can be rented at the start of the trail behind the Tunnel Creek Cafe. Check here for more info.
14. Swim Out to Bonsai Rock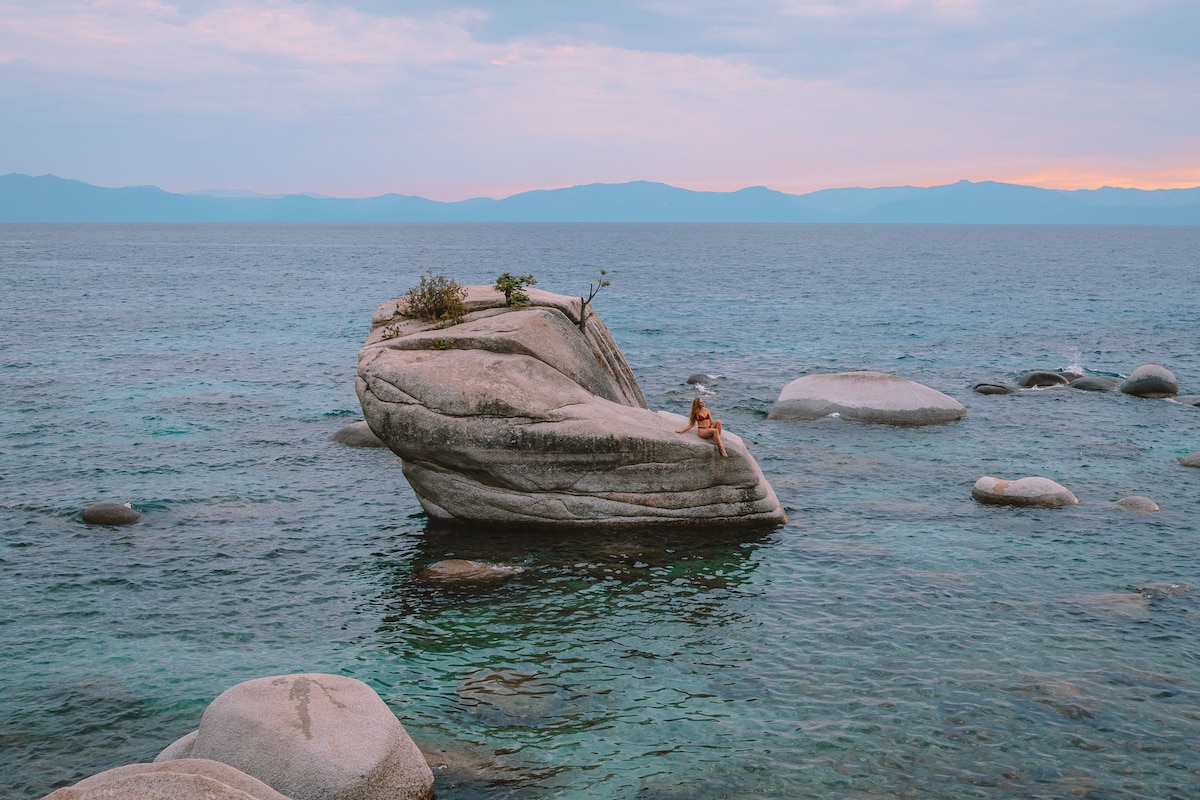 A great swimming spot on the east side of Lake Tahoe, Bonsai Rock (which is essentially a giant boulder in the lake with some little bonsai-like trees growing out of it) is a popular destination to swim, kayak, or paddleboard out to. It's also one of the most photographed spots in Lake Tahoe!
It's not an "official" Tahoe attraction, but worthy of a stop if you're into things that are a little more off the beaten path.
15. Book a Scenic Helicopter Ride
If you've seen Lake Tahoe from the land and the water, you might as well go the distance and check out the views from the above too! A scenic helicopter ride of Lake Tahoe isn't as expensive as you might think and it gives you a really different experience of the lake.
16. Grab a Coffee at Cuppa Tahoe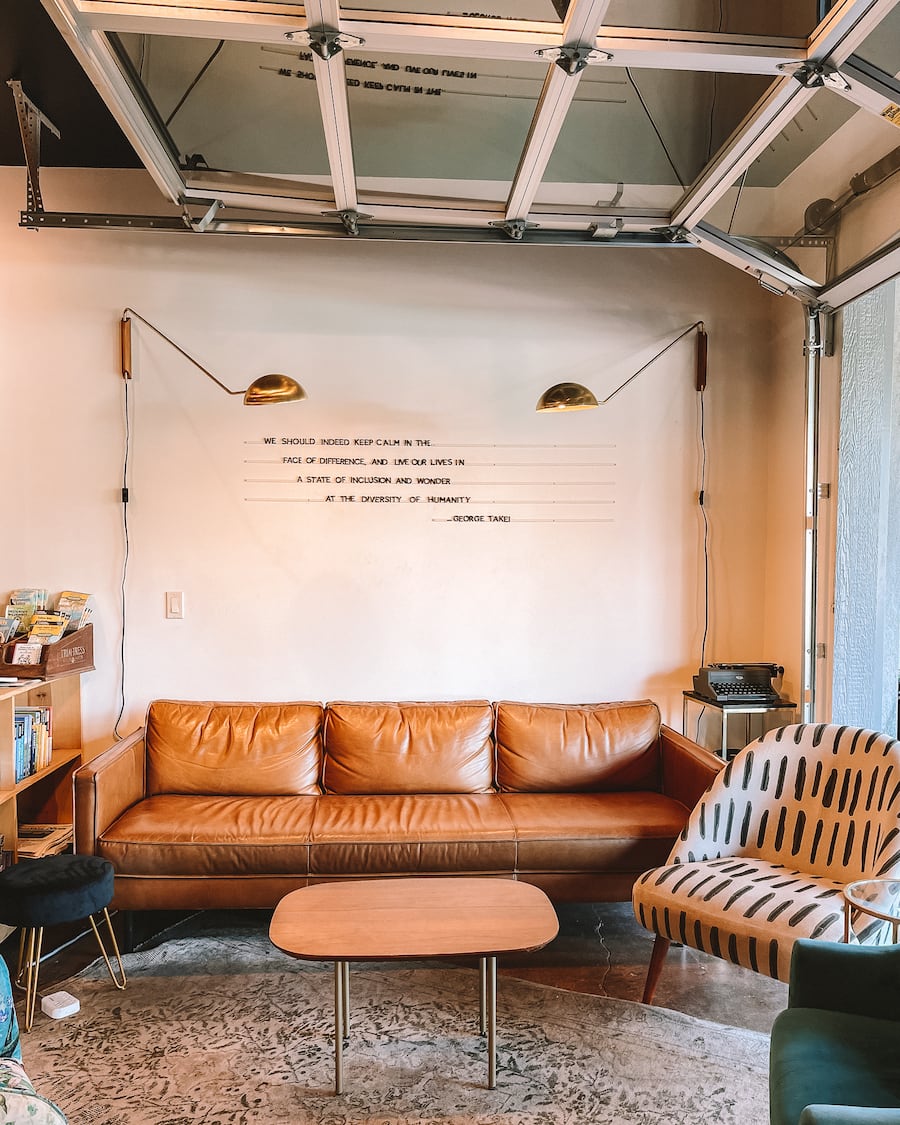 This is my favorite coffee shop in Lake Tahoe—it's like a bookstore, cafe (they serve coffee drinks, smoothies, and breakfast foods), and coworking space in one. Book lovers will absolutely love this place, as there are plenty of cozy little nooks where you can post up and read.
Cuppa Tahoe is located in South Lake Tahoe and are open 7 days a week from 7 a.m. to 7 p.m.
17. Book a Photography Scenic Tour
Tahoe is a photography-lover's paradise with beautiful scenery to capture pretty much everywhere you look.
Going on a photographic tour is a great way to see some of Lake Tahoe's most photographed sights and have an experienced guide/photographer there with you to help take your Tahoe photos to the next level.
18. Spend a Day in Emerald Bay State Park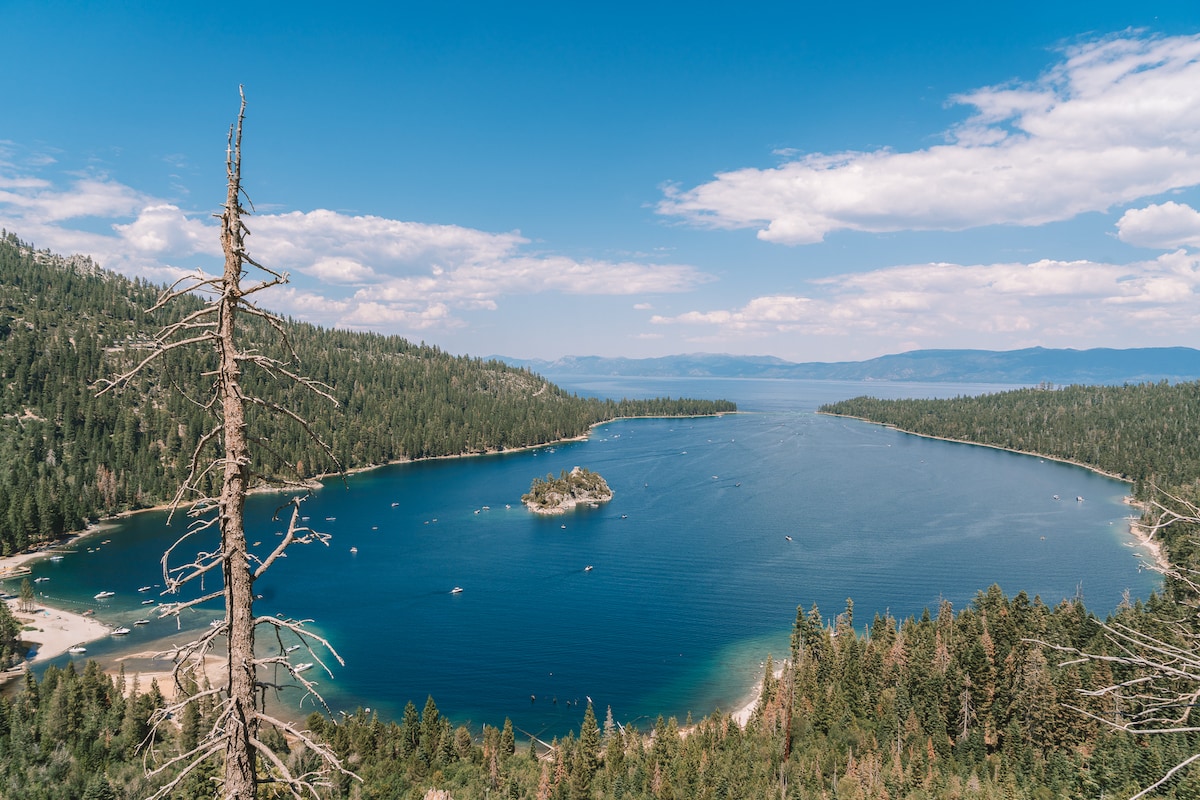 A short drive from South Lake Tahoe, Emerald Bay State Park is centered around Emerald Bay, which is designated as a National Natural Landmark, so it's picturesque to say the least.
There are plenty of options for hiking, biking, and watersports in the park, and Vikingsholm Castle, a 38-room historic Scandinavian mansion from the 1920s, is worth a tour too if you're interested in architecture.
19. Take a Day Trip to Truckee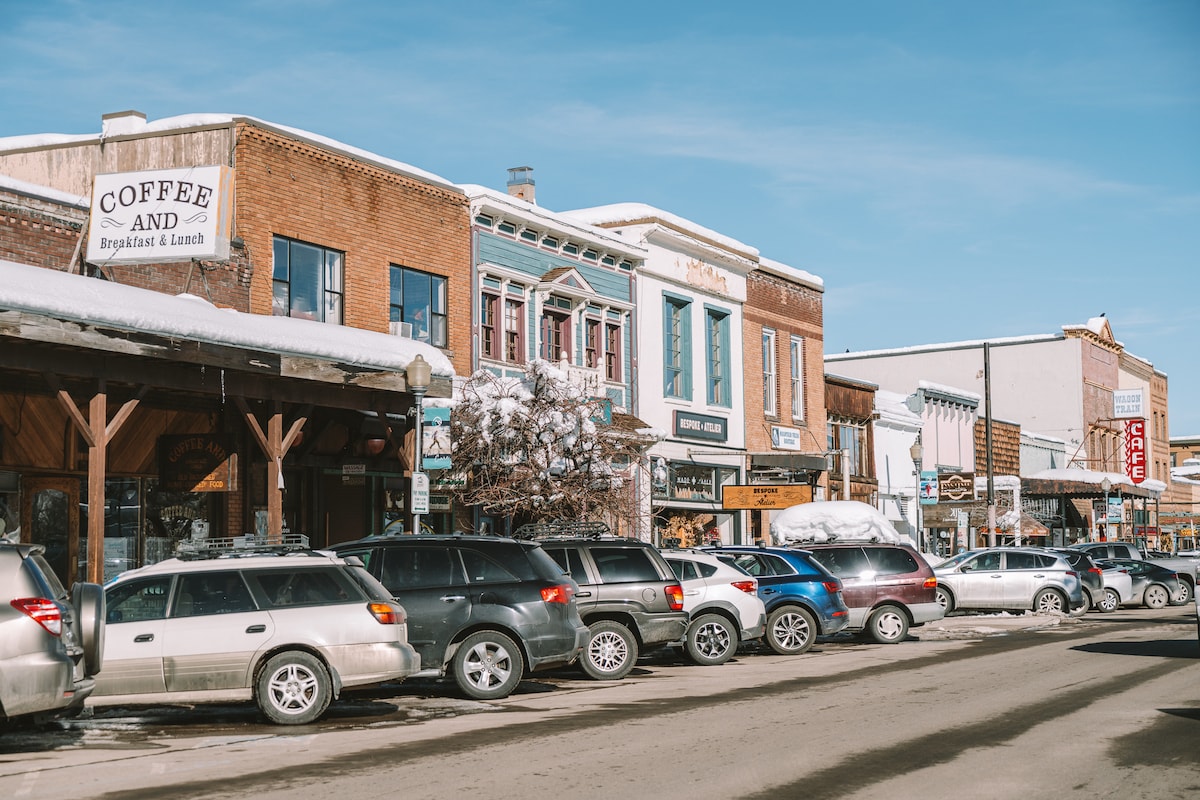 A cute little mountain town only 20 minutes northwest of Lake Tahoe, Truckee, CA is an easy day trip from the north side of the lake.
Like most places surrounding Tahoe, Truckee has some beautiful nature and there are tons of places to hike, bike, rock climb, and hang out by the water at the smaller Donner Lake.
The historic downtown area is really charming and has plenty of shops, restaurants, bars and breweries to explore. Don't miss the chance to check out "Music in the Park" on Wednesday nights all summer long at the Truckee River Regional Park.
20. Donner Memorial State Park
For the history buffs out there and those of you who are interested in…let's just say…the darker side of things, Donner Memorial State Park in Truckee, CA is worth a stop.
It's a beautiful park with places to hike and camp, and the museum in the park covers the fascinating story of the Donner Party, the ill-fated pioneers who got trapped in the area in the winter of 1846–1847 and had to resort to cannibalism to survive. Yep, you read that right 😳
21. Book a Fancy Dinner at Edgewood Resort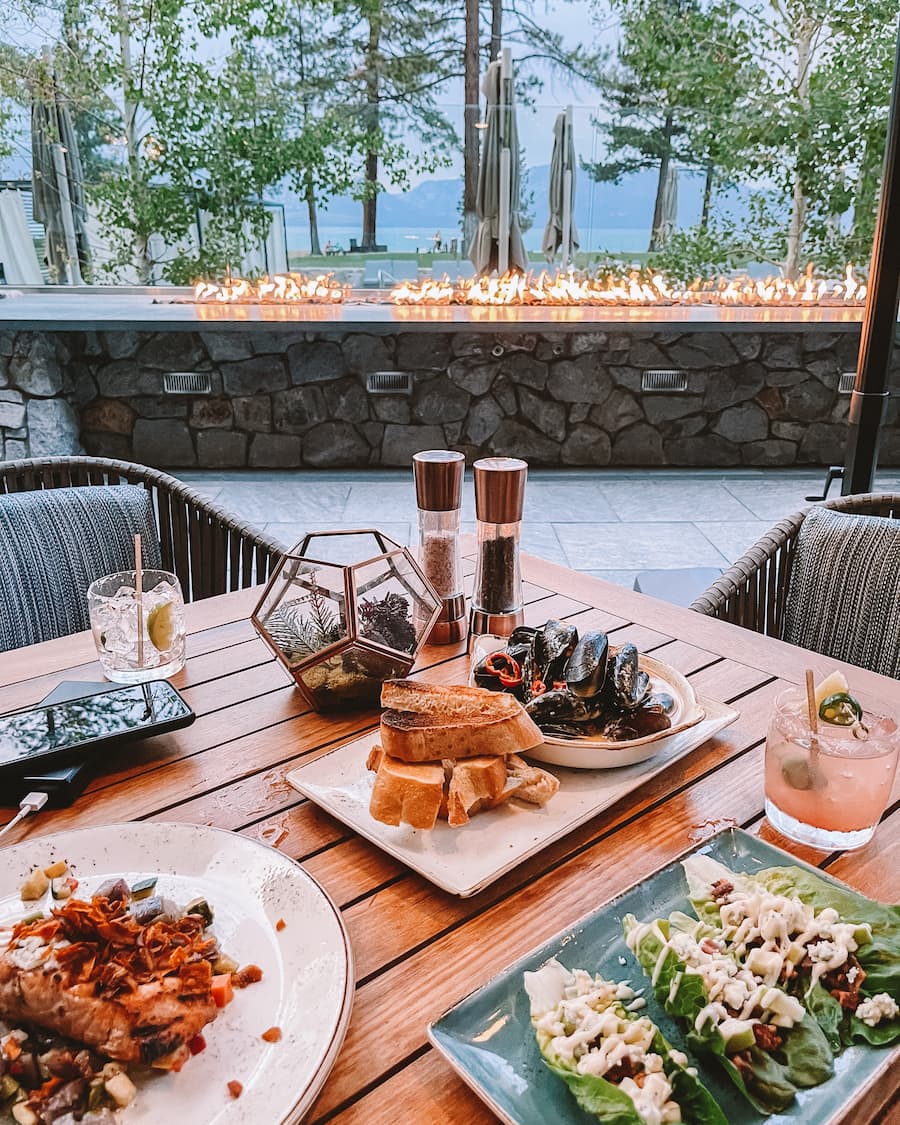 While Tahoe may not be known for having the most superb food scene in California, there are a few exceptions, and Edgewood Resort's Bistro Edgewood is one of them.
Located in the Edgewood Tahoe Resort in South Lake Tahoe, this restaurant is fine dining at its best and absolutely worth the splurge for when you've maxed out on pub food and are in need of a fancy dinner night.
Plus, the hotel is right on the water, so you'll get lake views while you dine.
22. Lake Tahoe Shakespeare Festival
Theater lovers will enjoy the Lake Tahoe Shakespeare Festival which offers shows almost every night from the end of June through August. These shows take place in Sand Harbor on the Nevada side of the lake in an outdoor venue with stunning lake views.
For ticketing and show information, visit the official Lake Tahoe Shakespeare Festival site.
Pin it for Later