Looking to discover the best things to do in Nevada City, California? By the end of this post you'll know exactly the best things you can't miss around town.
But first, let's clear something up: Nevada City, despite it's name, isn't in Nevada at all.
It's located in Northern California in the Sierra Nevada foothills about mid-way along the drive from Sacramento to North Tahoe, which makes it a great place to explore for those visiting Tahoe from the Bay Area.
Truthfully, I didn't know all that much about Nevada City until a recent project with Visit California took me up that way.
Since I'm always on a mission to explore every corner of California and share it with you, I was excited to discover a new part of the state I hadn't been to yet—and especially one that many people overlook!
We visited on our drive back to Sacramento from Tahoe for a few nights and it really surprised us in the best way. First off, exploring Nevada City feels like taking a step back in time to the height of California's Gold Rush.
But what makes Nevada City so multi-faceted is that just beyond the historic downtown, you'll find miles upon miles of gorgeous green spaces to get out in nature.
Another element I loved? Everything about this town is infused with rich history, yet Nevada City feels anything but "old." The town has attracted a lot of young artists and creatives, which makes it one of the most unique places to visit in California.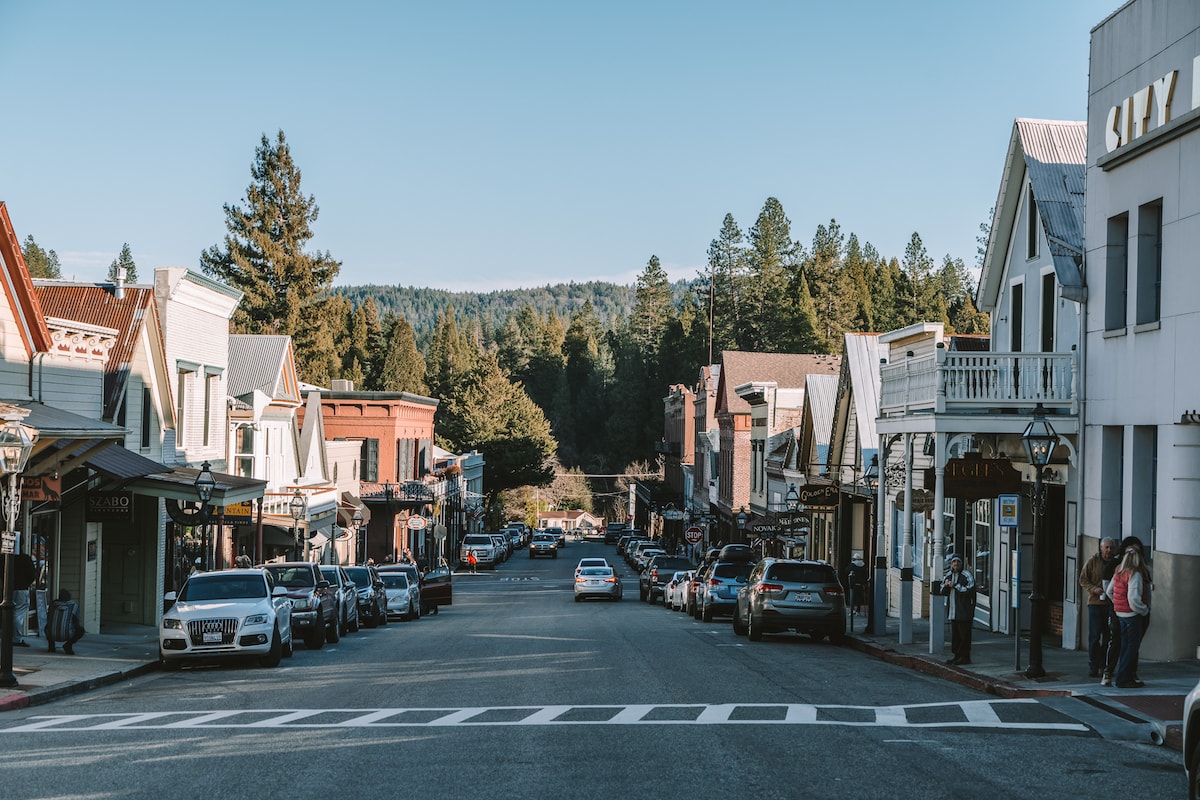 In short, there are plenty of things to do in Nevada City to please all kinds of interests.
Whether you want to get out for a scenic hike, try your hand at gold panning, discover some spooky ghost stories from California's gold mining history or sip down a delicious cocktail, you can do it all here, I promise.
So next time you're planning a trip out to this historic town in California, make sure to have this list handy so you don't miss the best things to do in Nevada City.
1. Explore Downtown Nevada City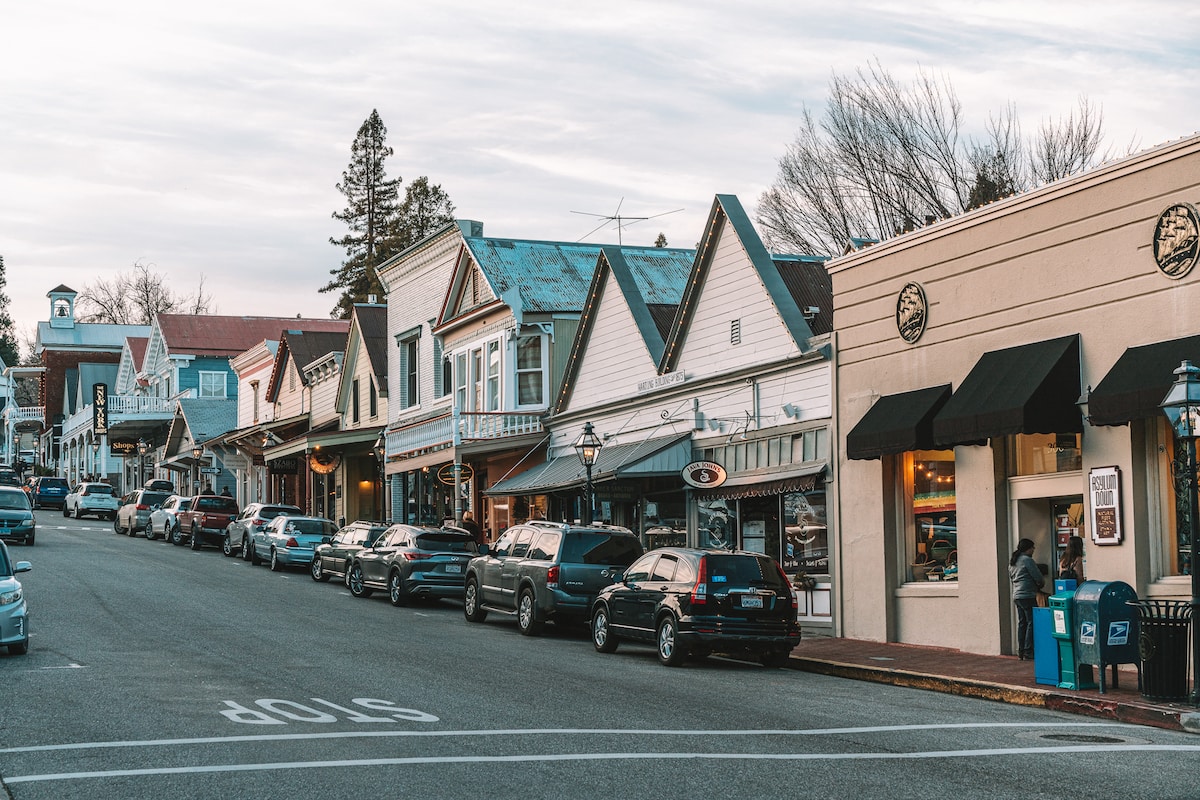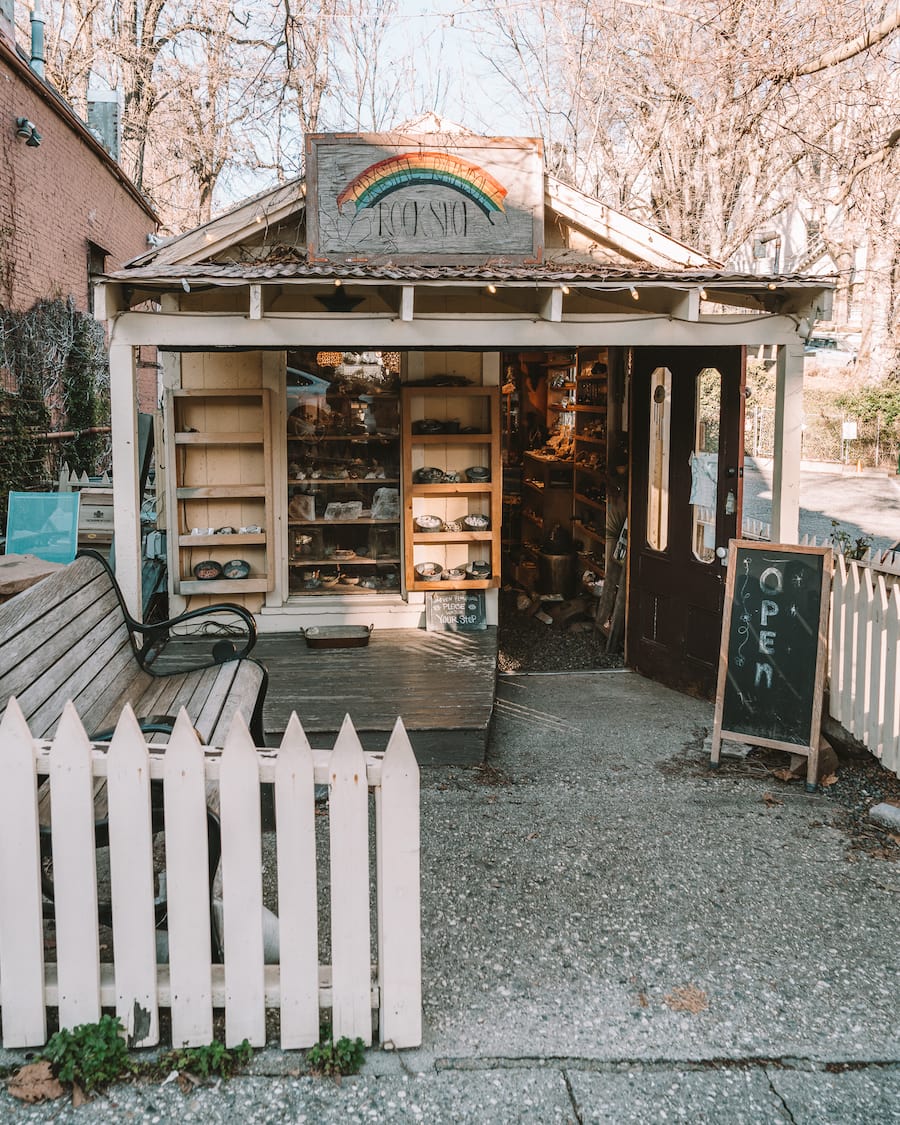 The most important thing to know about Nevada City is that it's a historic mining town with a ton of charm and a lot of quirky personality.
In fact, it is California's best-preserved Gold Rush town and was listed on the National Register of Historic Places back in 1985.
The best place to witness this history in action is right in the heart of downtown Nevada City along Broad Street. Heading to Broad Street first will help you get your bearings and set your explorations off on the right foot.
Here, you'll find a slew of funky shops, cafes, restaurants, and the iconic National Exchange Hotel, which has been a city landmark since the 1800s.
The National Exchange Hotel was recently renovated into a hip boutique hotel that maintains its Gold Rush-era personality with tons of old photographs, original architectural elements, and quirky wallpaper that both your great-grandmother and uber-stylish best friend would equally adore.
Around Broad Street you can also find plenty of funky shops, galleries, and cafes. Some of my favorite boutiques to peruse in the area are Crystal Rainbow Rock Shop (it's literally a tiny little hut full of crystals), Kitkitdizzi, I M Element and Rose Market.
Also don't miss the Nevada Theatre, which is California's oldest existing theatre building, originally constructed in 1865.
If you want a more structured walking tour of Nevada City, the Nevada City Chamber of Commerce has a great self-led walking tour here that you can follow with points of interest.
Pro tip: Meters here are still coin-operated, so have a few on hand if you want to snag the most convenient parking downtown!
2. Visit Empire Mine State Historic Park
This is probably one of the most touristy things to do in Nevada City, but I'd be remiss not to mention it because it's so important to the mining history of the area.
Located about 10 minutes outside of town in neighboring Grass Valley, Empire Mine offers guided tours and exhibits where you can learn about Nevada County's Gold Rush roots and the largest hard rock gold mining complex in California.
And before you say to yourself, 'I've visited one mine, so I've seen them all', trust me when I say this isn't your typical mining site. It's actually gorgeous, featuring gardens and well-manicured grounds, and walking trails as well as beautifully preserved stone buildings.
If learning about mining history isn't really your thing, even a stroll or a picnic lunch on the grounds here would make for a lovely afternoon. Plus, pups are also allowed (on-leash only).
3. Hike in South Yuba River State Park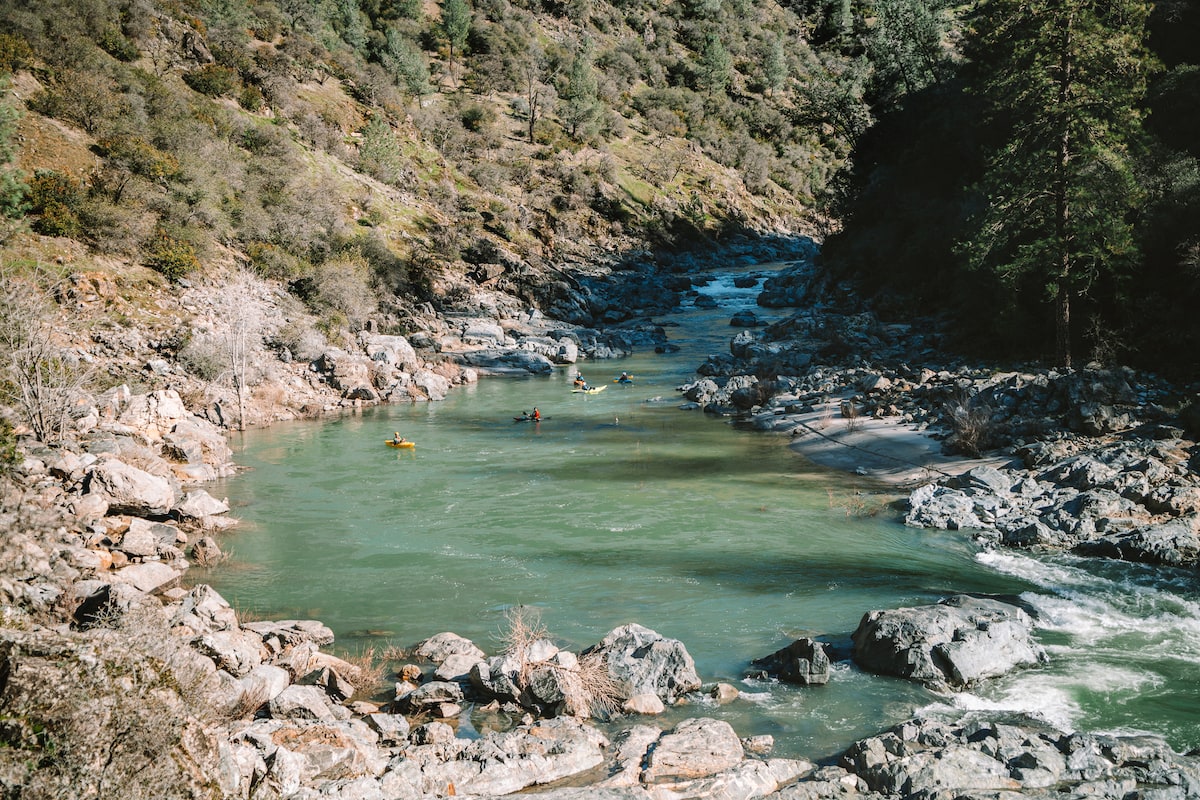 On a sunny day, jump in the car and drive over to South Yuba River State Park, which provides a number of beautiful hiking trails and historic bridges.
When you arrive, you'll park in the state park lot and pay $5 at the kiosk to park. Then if you cross the road and walk along the path toward the covered footbridge, you'll soon arrive at the Visitor Center where you can pick up more information and peep the historic Shell Gas Station.
I recommend hiking down the Buttermilk Bend Trail, which is an easy 2 miles out-and-back trail that follows the river the entire time. The views are really stunning and we spotted a group of kayakers making their way down some small rapids.
Just don't put "Buttermilk Bend" into Google Maps like we did if you don't want to end up confused along a private residential dirt road. Whoops 😬. Navigate to "Buttermilk Bend Trail" or the "Yuba River Park and Recreation Department."
Another popular trail is the Independence Trail, which is a bit longer at 4.4 miles out-and-back but is still considered an easy route.
This area is about a 25-minute drive outside of the main downtown of Nevada City.
4. Attend a Live Music Event
As I previously mentioned, Nevada City is full of creatives, hipsters and hippies attracted to the area's slower pace of life. So naturally, the live music scene has followed.
There are several places to catch some live music while you're in town, so make sure to check event schedules and ticket sites prior to your arrival so you can scoop any necessary tickets.
The first place I would look is the Center for the Arts in downtown Grass Valley. We saw an awesome show at this intimate venue, which is a one-minute walk from the Holbrooke Hotel, which makes for a great dinner and concert evening pairing.
Next, stop in for some cocktails at Golden Era Cocktail Bar with a side of live music which they usually offer on weekend evenings. The Stone House and the Miners Foundry are two other great places to look that regularly host live music events.
5. Grab Dinner in the National Exchange Hotel's Lola Restaurant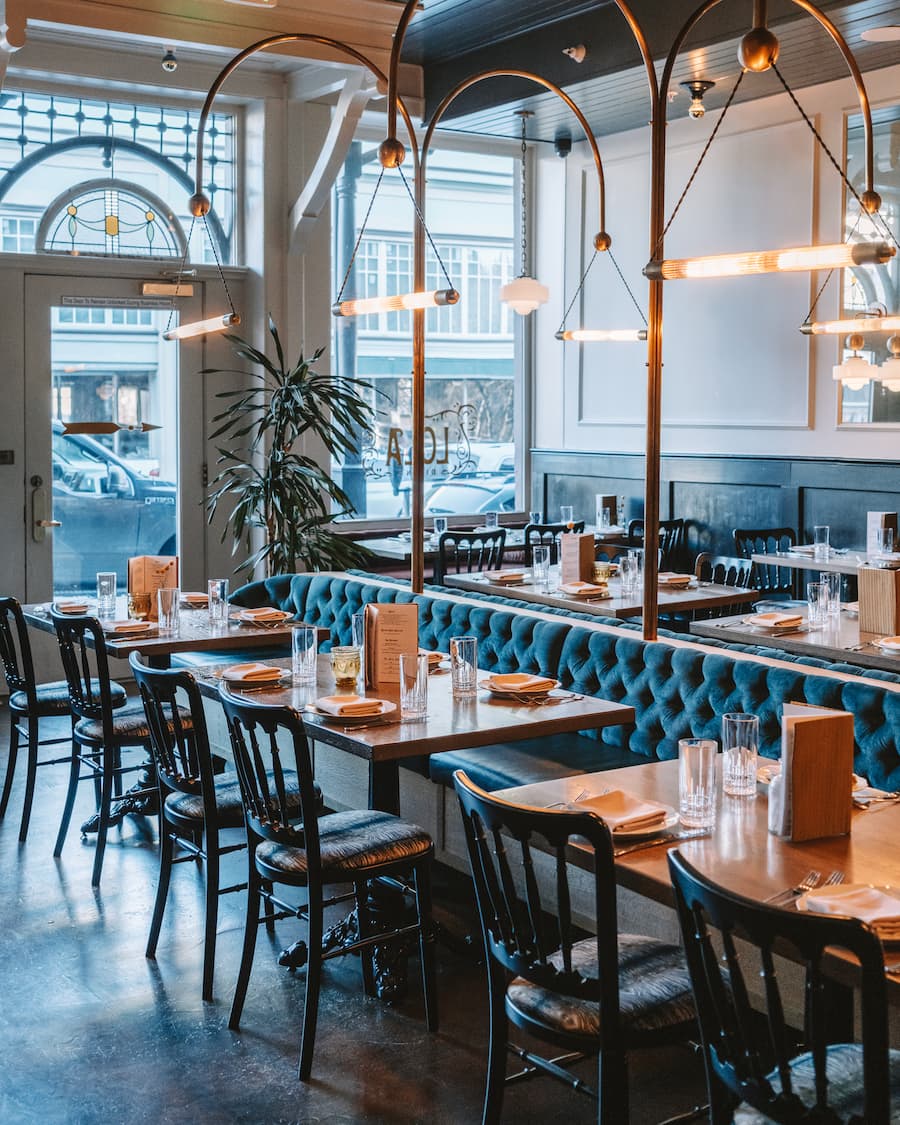 The National Exchange Hotel is a historic hotel dating back to the mid-1800s that has served as an iconic landmark of the community for almost two centuries.
It has been beautifully restored, including the stunning Lola Restaurant, their main eatery. The restaurant's interior features a mix of classic and contemporary decor, with a focus on photographs of women who were key to the community during the hotel's early days during the Gold Rush.
If you're a fan of bold wallpaper, Victorian decor, and unique gourmet eats, you'll love Lola Restaurant and the entire National Exchange Hotel!
The restaurant oozes moody glamour, which makes it a great place for a romantic dinner or evening out with friends. Plus, every dish we ate here was absolutely exceptional.
You can tell that Lola has really upped the ante for the local dining scene and the community is embracing it. We loved their unique cocktail list and creative menu combinations.
6. Stay at the Holbrooke Hotel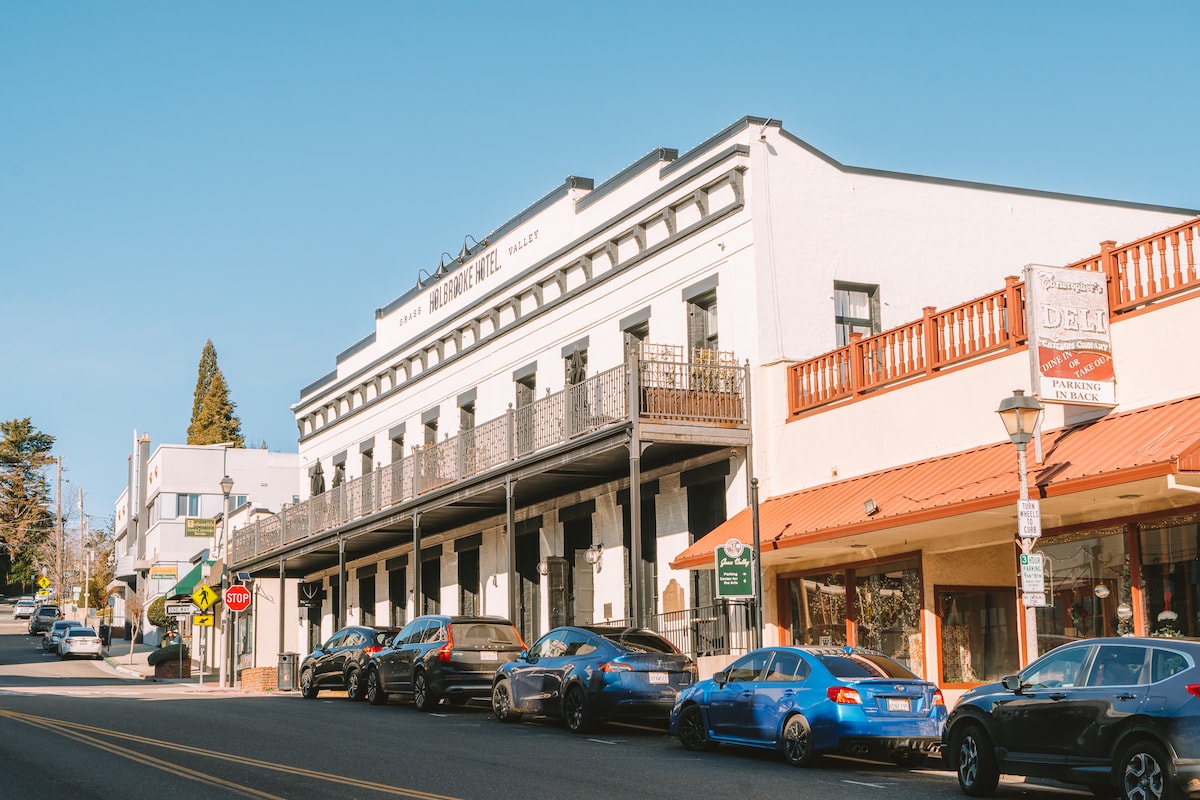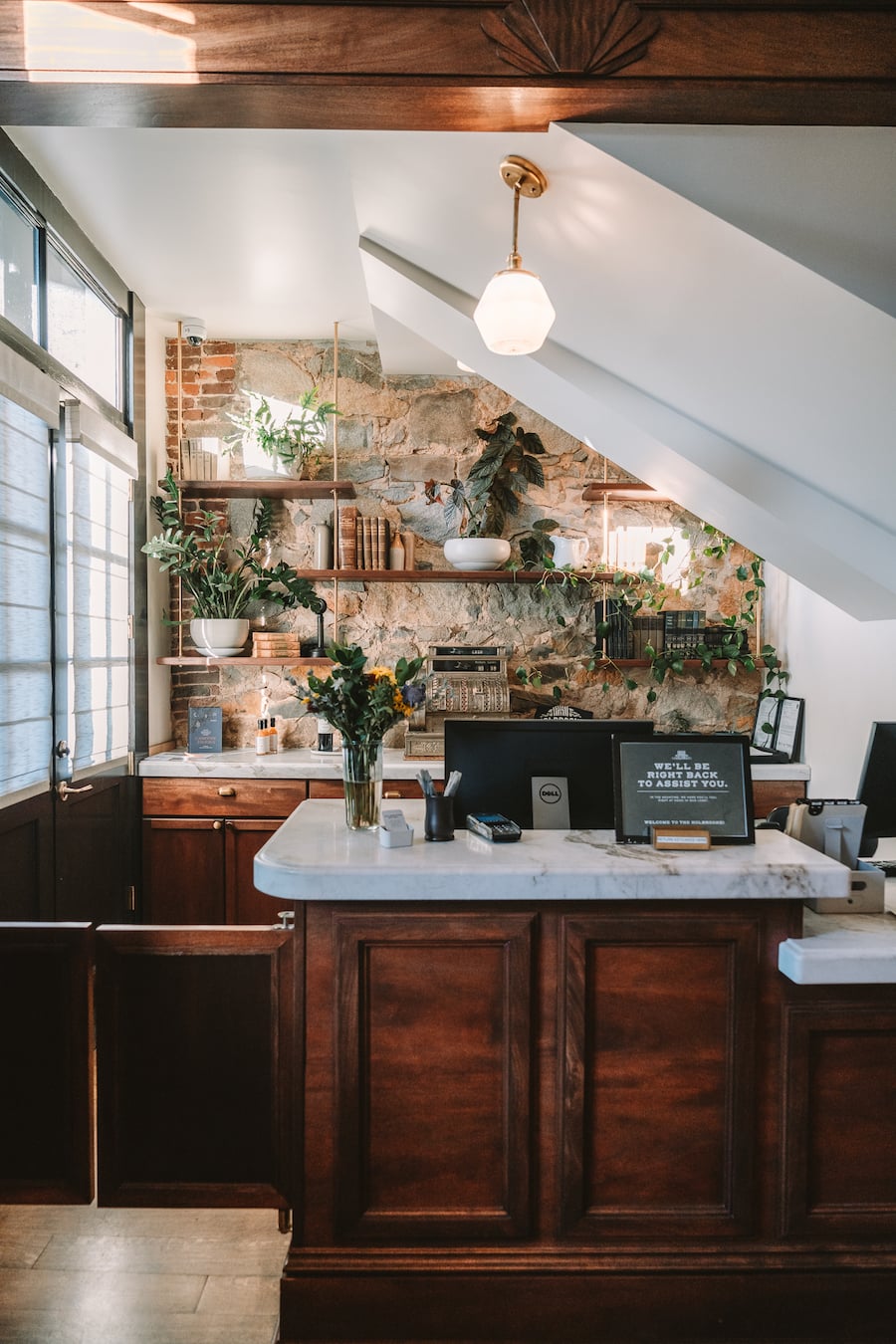 If you're looking for the best hotel in Nevada County area, look no further than the Holbrooke Hotel, which is where we stayed during our visit.
Located in the heart of downtown Grass Valley (just a few minutes from Nevada City), the hotel was built in 1852 and has played an important role in the town's history ever since.
The sister hotel to the National Exchange Hotel, the Holbrooke was also simultaneously refurbished while keeping many of its most stunning historical features intact.
Most notably, the back piece of the bar in the Golden Gate Saloon is original and gives the restaurant a true Wild West feel.
Since its renovation, it has now resurfaced as one of the top places to stay in the area and provides a top-notch experience, from its beautifully decorated rooms and gourmet dining at Golden Gate Saloon, down to its unique historic charm.
The Holbrooke is also a popular event space for weddings and larger gatherings.
Over the years, the Holbrooke has hosted many famous guests, including Mark Twain, Ulysses S. Grant, and John Wayne.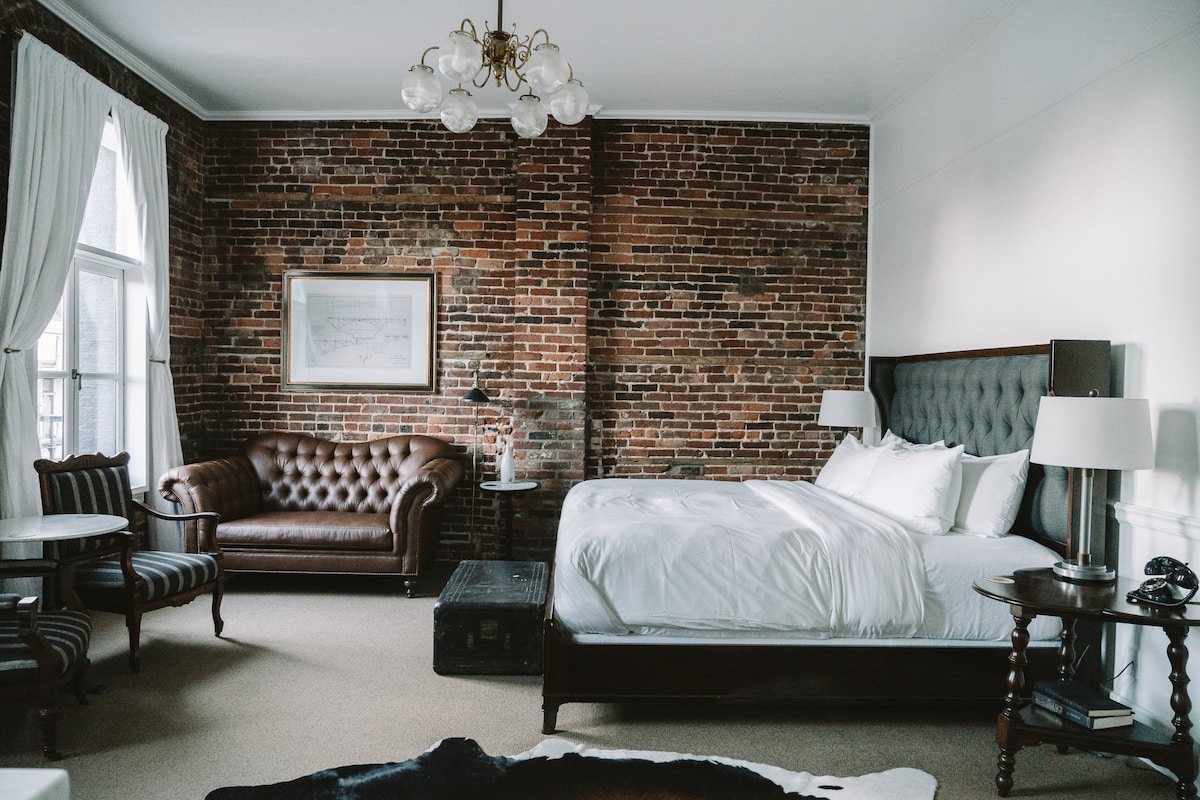 The hotel has 27 beautifully appointed guest rooms, each one unique and filled with antique furnishings and decor; my room even had a charming clawfoot tub and a spacious patio out to the street that overlooked Grass Valley!
If you're not staying overnight, it's still 100% worth a visit for dinner or even a drink at the bar. Visitors to the Holbrooke can also enjoy live music and events throughout the year.
7. Book a Class at Curious Forge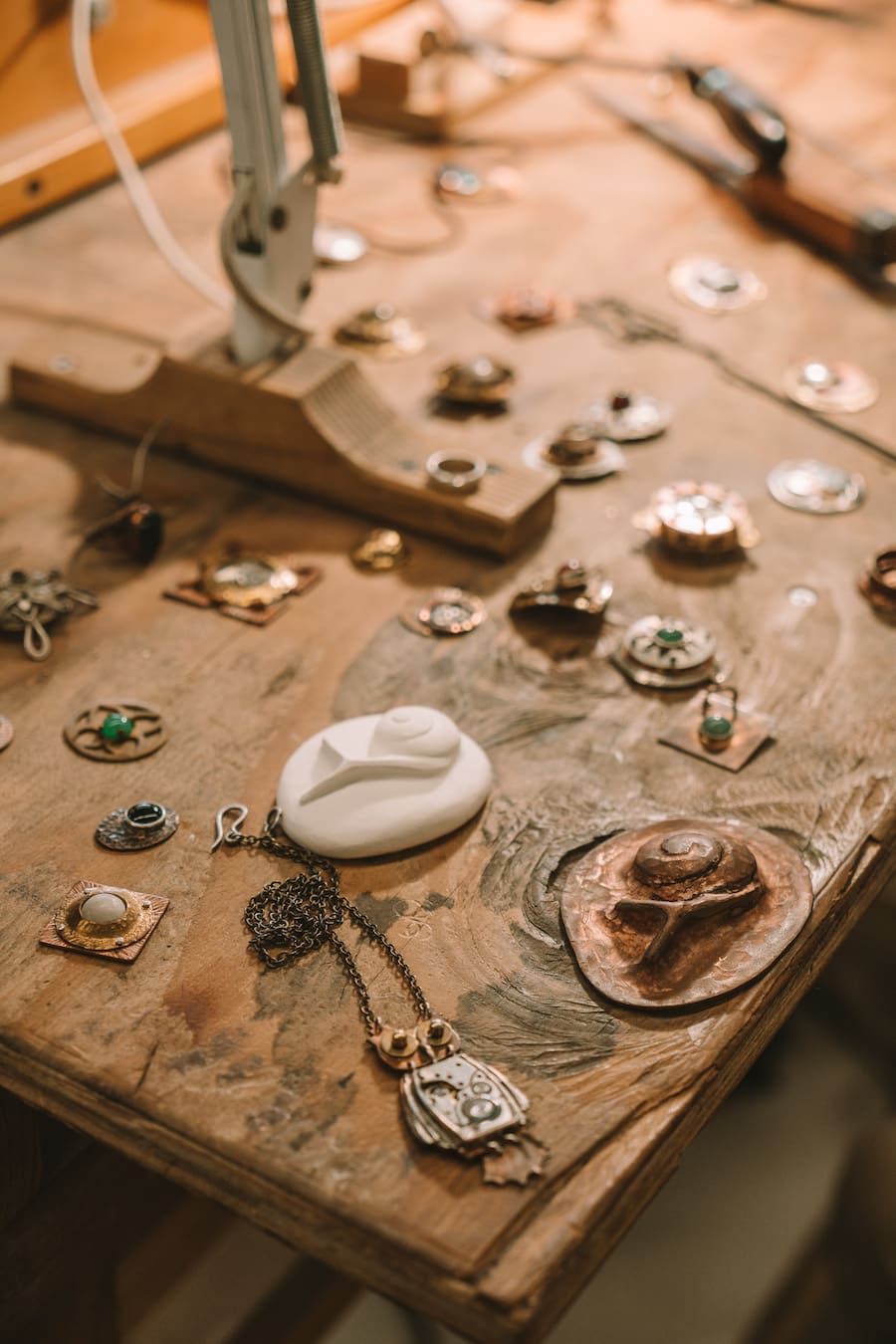 Curious Forge is a maker space and community workshop located just a short drive outside downtown Nevada City. It is a collaborative space where people of all ages and skill levels can come together to learn, create, and share resources.
We got the chance to tour this space on our trip which was super interesting and peeled back the curtain on how so many products we use in our day to day lives are made—and how much work goes into them!
Curious Forge is huge—about 20,000 sq ft of space—and here you'll find a wide range of tools and equipment available for community use, including 3D printers, laser cutters, CNC machines, and woodworking tools.
They also offer classes and workshops on various topics such as welding, blacksmithing, glassblowing, electronics, and more.
If you're someone that loves the creative arts or wants to try a new hobby, this is one of the most unique things to do in Nevada City that will help deepen your understanding of the local community here.
You can use the space and equipment to work on your own projects or attend a class to learn something new. Check out their schedule of classes here.
8. Go Wine Tasting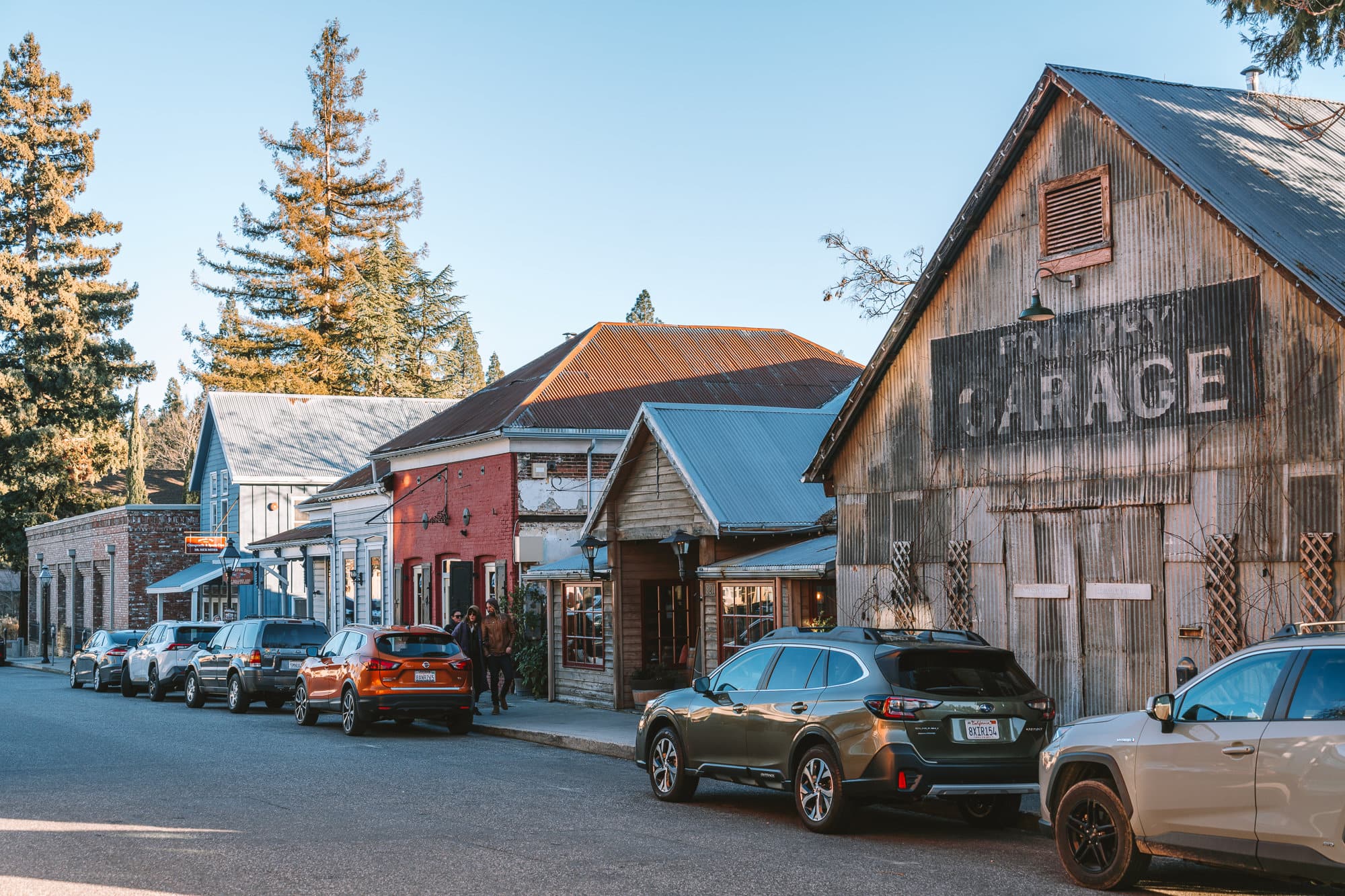 While not as well-known as nearby Napa Valley, the Nevada County wine region offers some excellent wines to try. Visit local wine tasting rooms like Nevada City Winery and Lucchessi Mill Street Tasting Room to get a taste.
Nevada City Winery is a larger more open space in downtown Nevada City, with some art and wine class offerings on certain days of the week.
Lucchesi is a smaller, more industrial-style tasting room in downtown Grass Valley with the sweetest owner! This one feels more intimate with a family-friendly vibe.
9. Spend an Afternoon on the Lake
Can't make the drive all the way to Tahoe? Well, Scotts Flat Lake is a popular recreation area located just a few miles northeast of Nevada City, California, and provides beautiful views for a day out in nature.
Here, visitors can enjoy a range of hiking trails, wildlife spottings (if you're lucky you might see everything from deer and bears to eagles), fishing, and swimming in the warmer months.
If you don't want to stay overnight right in Nevada City, this is also a great place to come camping as they have a range of camping spots available on a first-come-first-serve basis including waterfront tent camping and RV sites.
10. Try the Local Craft Beer
I don't know about you, but I love a good craft beer, and trying the local drafts is one of my favorite things to do anywhere I go.
Nevada City has several breweries nearby, including Ribald Brewing, Grass Valley Brewing Company, and Three Forks Bakery & Brewing Co.
The one I would definitely recommend is Three Forks Bakery & Brewing Co. We decided to stop into Three Forks on a whim and were pleasantly surprised to find out that not only do they serve up awesome local beers (I'm partial to the IPA selection), but they also have some incredible desserts.
I mean, who doesn't love a beer and sweet treat combo?
A server behind the bar was setting out a bunch of cups with some type of pudding in them that smelled insanely good, so I naturally had to inquire. She told me it was their popular butterscotch pudding, and after agreeing to try some myself I can confidently say it was DI-VINE. Maybe the yummiest thing we had on the whole trip.
Don't miss ordering this if you head to Three Forks!
11. Stroll Downtown Grass Valley
Less than 10 minutes drive from downtown Nevada City is Grass Valley, which has a smaller downtown feel but has more official residents (about 13,000 versus Nevada City's 3,000).
Head straight to Mill Street, which was under construction when I was visiting but is getting a beautiful facelift that will make the street more pedestrian-friendly and improve its accessibility.
There are some really cute shops along Mill Street—definitely pop into Mill and Main and Element + Loft. Along this road you'll also find Lucchesi Mill Street Tasting Room and the super retro Del Oro Theatre.
Also don't miss the Holbrooke Hotel, just across from Mill Street which is the central focus of Grass Valley's social scene.
12. Attend a Film Festival
If you time your trip right, you can partake in one of Nevada County's mot beloved annual events. Nevada City hosts several film festivals throughout the year, including the Nevada City Film Festival, which typically happens during the summer, and Wild & Scenic Film Festival, which falls over winter time.
NCIFF has been called by some, "The Sundance of the Sierra," as it has a strong focus on independent films, and USA Today even named it the #3 Best Film Festival in the US.
13. Indulge in the Local Ghost Stories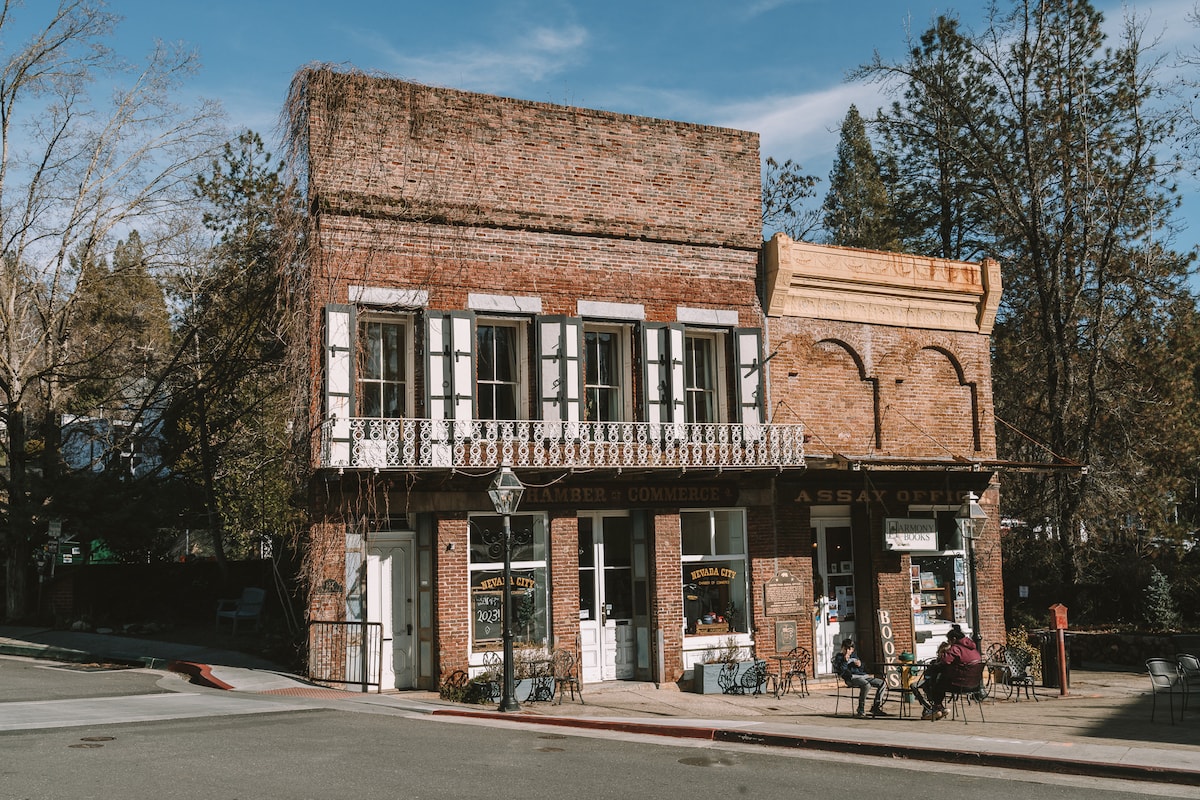 As you'll find with any mining town in the US, Nevada City, and Grass Valley are both chock full of ghost stories that the residents and hotel staff will gladly dole out upon request.
The two main hotels in the area—National Exchange Hotel and Holbrooke Hotel—are two good places to start on your hunt for spirits of centuries past. Both date back to the mid-1800s and welcomed plenty of interesting characters over the years.
Aside from doing your own deep dive into the stories by talking to the locals, if you want to go a step further, check out Mark Lyon's Haunted Nevada City Ghost Tour.
14. Visit Malakoff Diggins State Historic Park
One of California's 280 state parks, Malakoff Diggins State Historic Park is located in the Sierra Nevada foothills, just a few miles north of Nevada City. In the past, it served as the largest hydraulic mining site in the world.
This is a great place to spend an afternoon, and there are plenty of different ways to enjoy the area:
Explore the Historic Ghost Town: North Bloomfield was once a bustling Gold Rush-era town that was home to thousands of miners. Visitors to Malakoff Diggins can explore the town's historic buildings and learn about life during this important era in California history.
Hiking: The park has over 18 miles of hiking trails that offer stunning views of the surrounding Sierra Nevada mountains and the Yuba River. The trails range from easy to challenging, so there's something for everyone. Some of the most popular trails include The Rim Trail (3 miles), The Diggins Loop (3 miles) and the Humbug Creek Trail (6 miles out and back).
Gold Panning: Visitors can try their hand at gold panning in Humbug Creek, which runs through the park. It's a fun and unique activity that gives you a chance to experience the Gold Rush firsthand.
Bring a picnic lunch: The park has several picnic areas with tables, grills, and scenic views if you want to relax and enjoy a meal with family and friends.
Camping: The park has a campground with 30 campsites that are available on a first-come, first-served basis. It's a great place to stay if you want to spend more time exploring the park and the surrounding area.
15. Grab a Coffee or Healthy Bite at Heartwood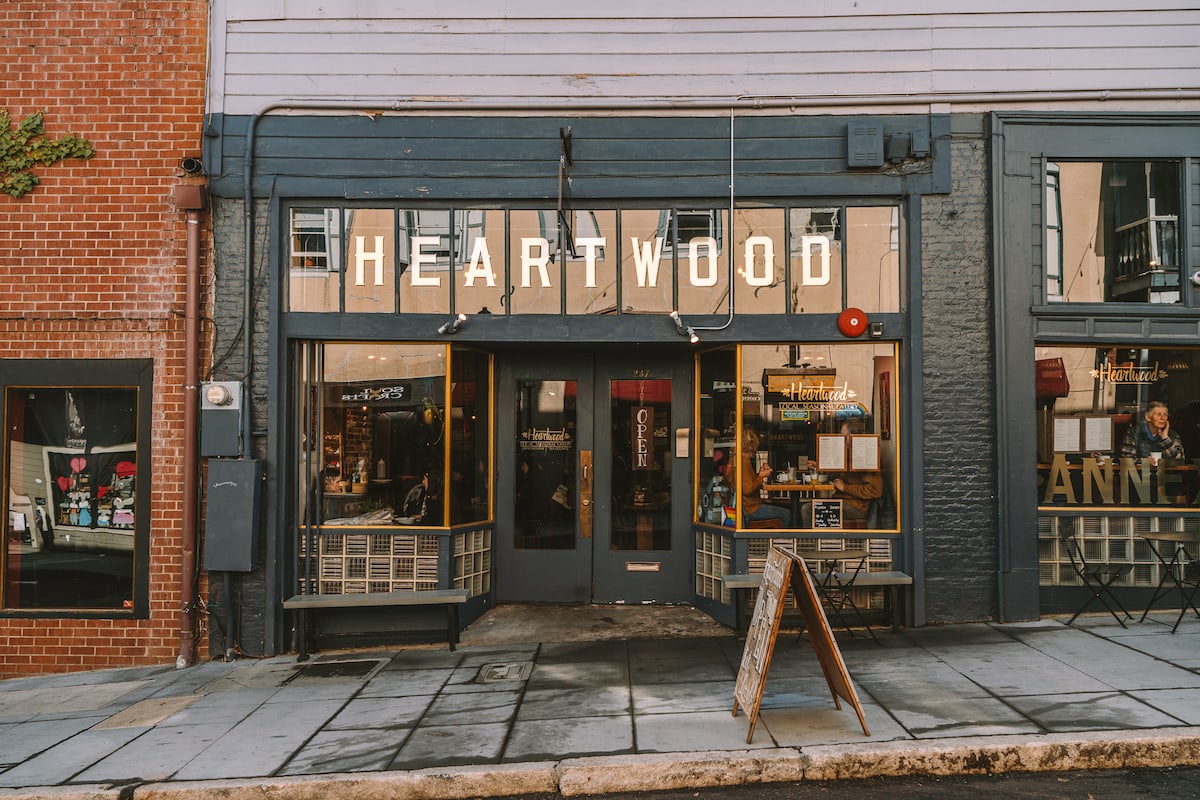 Out of all the places we ate during our time in Nevada City, Heartwood seemed to be the most poppin' with a constant line out the door, thanks to their local, seasonal ingredients and beautifully plated dishes.
On the menu, you'll find a range of soups, salads, and bowls, as well as a hefty toast menu—I mean, who doesn't love a toast?!—with items ranging from a savory chicken pesto toast and Shiitake toast to more sweet delights like "Gheelish Toast" loaded with ghee, cinnamon sugar, bee pollen, and salt.
They also have all your typical caffeinated beverages, along with some fun additional concoctions like "Alligator Juice"—an icy electrolyte-rich refresher with salt-preserved lemon pureé, water, or yerba maté iced tea.
Another must-try is the "Chocolate Tonic" which is a blend of TCHO drinking chocolate paired with medicinal mushrooms, cinnamon, cardamom, cayenne, maca, ashwagandha, coconut oil, and oat milk.
Things to do in Nevada City FAQ
Is Nevada City worth visiting? Yes, absolutely. Nevada City is one of the prettiest preserved Gold Country towns. Beyond its interesting history and charm, there is plenty to do here, from hiking, camping, and other outdoor adventures, to wine tasting and experiencing the live music scene.
What is Nevada City known for? Nevada City is known for its beautifully preserved Gold Rush era downtown, featuring plenty of hotels, theatres, and saloons that ooze historic charm.
Where Should You Stay in Nevada City? When in Nevada City, the two places you absolutely need to stay are either the National Exchange Hotel or the Holbrooke Hotel. They are sister historic hotels that were recently given gorgeous makeovers into beautiful boutique hotels. Both feel historic but have a different vibe. Holbrooke Hotel is located in downtown Grass Valley and National Exchange Hotel is located in downtown Nevada City.
What is the Best Way to Get to Nevada City? If you're flying in, the closest major airport is the Sacramento (SMF) Airport, about 50 miles from Nevada City.
I hope this post gave you plenty of ideas for things to do in Nevada City!
Let me know what you're most excited to do in the comments below.
---
Planning a trip right now? Don't miss my go-to websites for booking everything from flights and tours, to accommodation and more:
---
Pin it for Later!