Historically, I'm not a great sleeper on land, let alone on a long-haul flight. The combination of a cramped seat and altitude have never been particularly relaxing for me (I'm guessing you can relate 😉 ), but after years of professionally traveling all over the world, sleeping on planes has become somewhat of an unfortunate necessity. Over time, I've developed and refined a list of tips for overnight flights that have been a game changer.
Through practicing these tricks for long-haul flights, I've trained myself to maximize my opportunity to sleep on the plane, waking up (relatively) refreshed by the time I arrive in my destination.
While at first glance a red eye may sound like something to be avoided at all costs, there are definitely times when they're an advantageous choice. For example, if you only have a few days of time off work but want to visit an overseas destination, taking an overnight flight can help you maximize your vacation time and land with a full day ahead of you.
Plus, when flying from the United States to Europe or Asia, most of the flight options are overnight flights, giving you more range in terms of airlines, timing, and pricing. In some cases, you may not even have a choice between red-eye and daytime for long-haul destinations.
After spending COVID close to home, many of us are likely out of practice when it comes to mastering the overnight flight. But as the world starts to open up again with more and more people getting vaccinated, I hope this post will help you prepare so you have the best experience possible on your next long-haul journey or quick domestic red-eye.
Getting the right routine down can be revolutionary, turning your experience from something you dread to something you're able to enjoy. Keep reading for my absolute top tips for overnight flights to help you master sleeping en route like a travel boss.
Tips for Overnight Flights to Help You Sleep Like a Boss
Know When to Splurge on First Class or Extra Legroom
While it would be a dream to only fly first class for the rest of time, we all know this isn't a feasible option for most of us already paying a pretty penny to get to our destination. However, whenever booking an overnight or long-haul flight, it's always worth it to look into the cost of upgrading to boost your comfort and ability to sleep on your flight. Depending on the airline and specific flight path, sometimes there can be reasonable upgrades to any level.
However, whether you choose the upgrade or not is really dependent on your particular situation and budget and there are quite a few factors to consider. Let's take a look at some of them.
What Type of Plane Are you Flying?
First, you'll want to look into the plane you're flying. If you're taking a shorter domestic red-eye with little difference between economy and first class seats, a paid upgrade is probably not worth it. On the other hand, if you're traveling overnight to The Maldives with life-flat seats in business class, it could mean the difference between sleeping like a baby or waking up in paradise with a crick in your neck.
How Long is Your Trip in Total?
Another factor to consider is the total length of your trip. If you only have a few days and need to hit the ground running as soon as you arrive, splurging for an upgrade may be worth the cost. Getting a good night sleep on the plane will enable you to feel more refreshed and enjoy your trip and limit any downtime needed napping in your hotel room.
How Does the Upgrade Cost Compare to Your Hourly Wage?
I tend to look at the cost on a per hour difference. For example, if a 12-hour flight costs $750 for economy and $1,250 for business class, that's a $500 difference, divided by 12 hours makes it around $42 per hour increase for an upgrade. If the 12-hour flight is $750 for coach and $4,000 for business class, that's now around $270 per hour of upgrade.
Each person should make the decision based on their own budget, but take into account your hourly rate at work. Is it worth X more hours of work to you to have a more comfortable flight? With this mindset it can make justifying that extra $500 a bit easier.
Plus, some airlines like Aer Lingus, Aeromexico, Alitalia, Icelandair, Lufthansa, Quantas, and more, will even let you bid on an upgrade. Using the cost-per-hour math is great when bidding on an upgrade because you can bid exactly what it's worth to you.
Get Upgraded with Status or Miles
If you don't want to have to pay out of pocket for extra space, you can also score free upgrades if you have status with an airline or have racked up enough miles to use those towards upgrades. It's a lot harder to get free upgrades these days out of the blue, but asking politely with your gate agent never hurts. Keep your fingers crossed and maybe you'll get lucky!
Don't Forget That an Upgrade Doesn't Always Mean First Class
Lastly, remember that there are all different types of upgrades. Most airlines offer at least coach, coach with increased leg room, business, and first. Just because you aren't jumping to row one doesn't mean that some type of upgrade won't provide more comfort and value. A little bit of extra space can make all the difference when you're trying to sleep on a red-eye flight!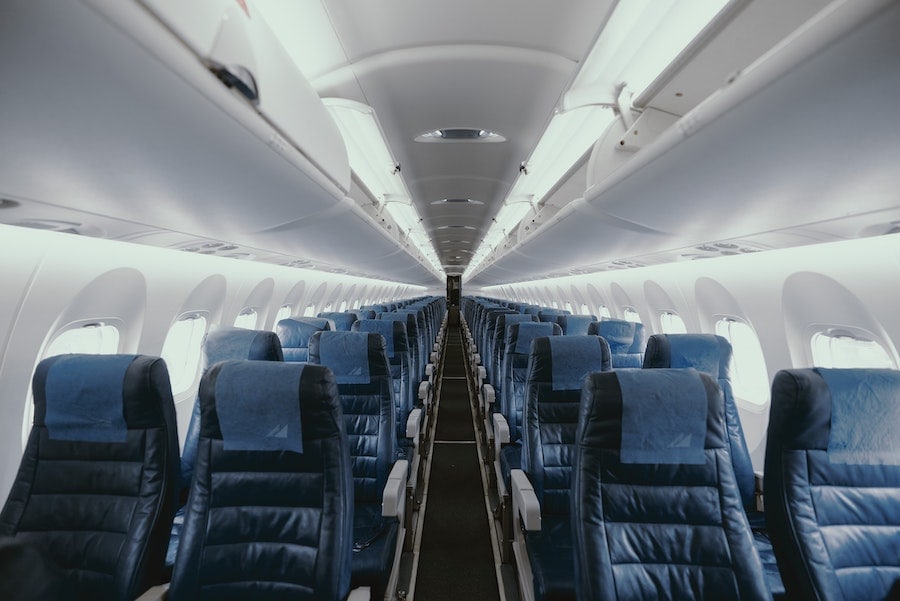 Book a Window Seat
If you want a key for how to sleep on an overnight flight, it's this: book a window seat. There's nothing worse than leaving your seat assignment up to chance and then learning you were assigned the dreaded middle seat. Save yourself the discomfort and book a window seat upfront.
Window seats are optimal for red eyes because you have control of the brightness of your row, plus an extra wall to lean against when you want to sleep (for me personally, this is crucial). Plus, you'll have the least amount of sleep interruptions in this seat from guests waking you up to climb out for a bathroom run, or flight attendants hitting your elbows with the beverage cart.
For me, getting the window seat is a non-negotiable to ensure maximum comfort with minimum disturbance on any flight and is one of my top tips for overnight flights especially.
Avoid Watching a Show or Movie Right Before Shut-Eye
One important tip for overnight flights—that most people ignore—is to turn off the screens. With the increase in popularity of blue light glasses, we all know that staring at a screen right before sleep isn't great for our health or ability to get deep slumber.
According to the Sleep Foundation, "Electronic devices, including computers, televisions, smartphones, and tablets, all emit strong blue light. When you use these devices, that blue light floods your brain, tricking it into thinking it's daytime. As a result, your brain suppresses melatonin production and works to stay awake."
With sleeping on planes being difficult enough as it is, give yourself a break and turn off the screens at least an hour before you're trying to doze off, and opt to pick up a paperback book instead.
---
Read More Travel Tip Posts
---
Wear Something Cozy That You Can Move in
If you're anything like me, you find it extremely difficult to sleep on a red-eye flight due to unregulated temperatures. One minute you're freezing you're ass off and cursing at the air vents that won't close. The next, you're sweating profusely and wishing you could strip down to a bikini. So how do you stay comfortable enough to sleep on an overnight flight?
Layers. Layers. Layers.
I've made the mistake of not bringing anything warm on the flight when heading to a tropical destinations (because why would I need a sweater in Bali?) and let me tell you, you don't have to learn that lesson the hard way more than once!
I'd recommend bringing comfy socks, an oversized scarf or shawl that can double as a blanket, and both a long sleeved shirt and sweater so you can add and subtract layers for optimal comfort. Make sure everything is easy to move around in too. You want the option to curl up in your seat, stretch comfortably when you get up for bathroom breaks, or generally not have to deal with waistbands digging into you while you're attempting some shut-eye.
Avoid Seats Near the Bathrooms and Galley
Equally as miserable as getting woken up from a neighbor climbing over your aisle seat (see tip #2) is getting woken up by slamming bathroom doors and food cupboards. While it may sound advantageous to be near the bathroom for easy access, if you want to sleep on your red-eye flight steer clear of common areas like bathrooms and the galley.
Bathrooms and galley areas tend to have the most light and the most noise, as people often gather here and chat. If you want to get some solid sleep on your red-eye flight, stick to the middle of the cabins away from these spaces.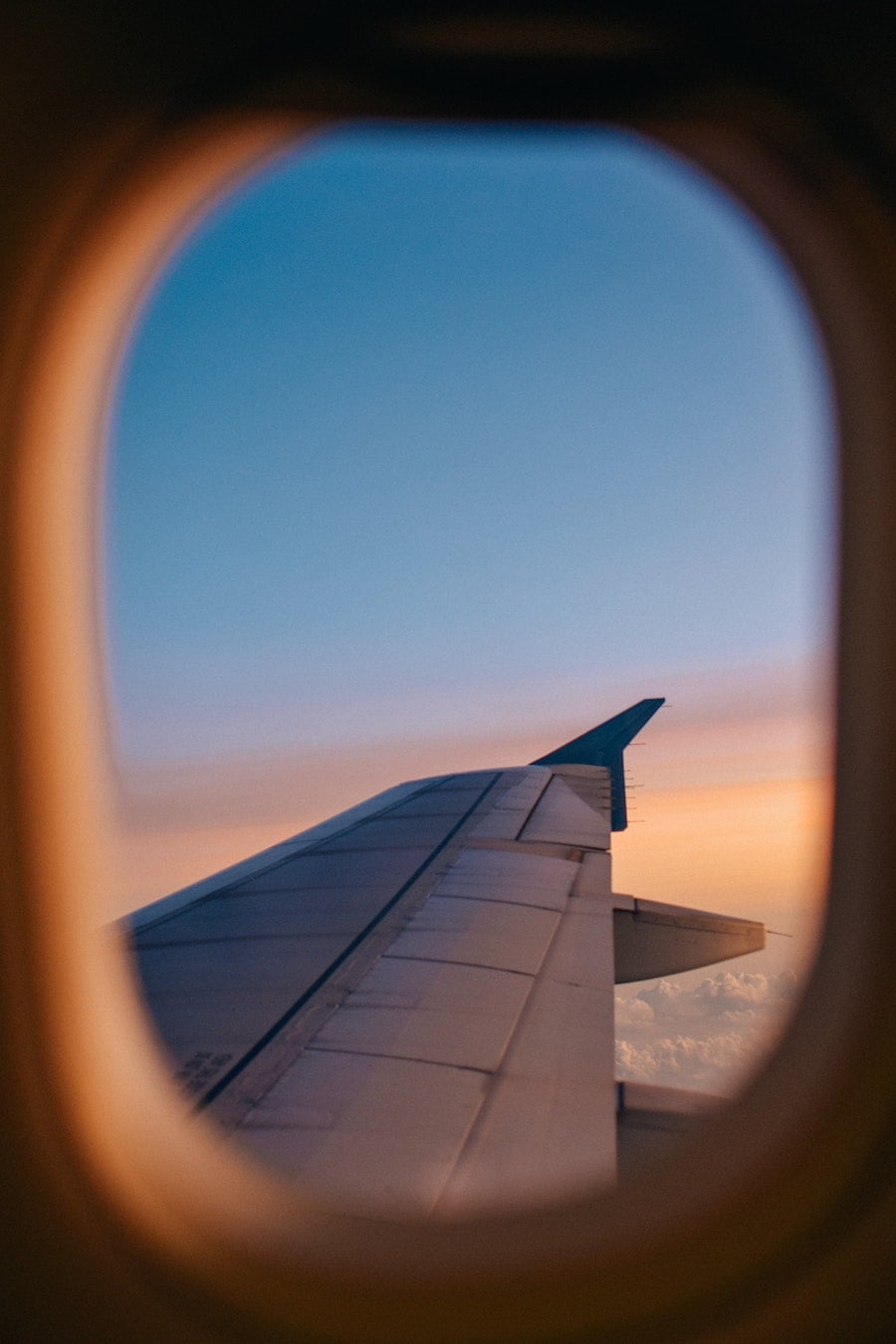 Get into Your Zen Routine
How do you typically wind down after a busy day at work? What does your go-to evening routine look like at home? While I know you can't recreate this perfectly at 30,000 feet, one of my top tips for overnight flights is to bring elements of this up in the air to mimic your nightly routine as closely as possible. This will set you up for successful relaxation mode.
Consider making (and downloading pre-flight!) a calming playlist on Spotify or some meditations on an app like Headspace or Calm. Breathing exercises (like inhaling for five and exhaling for five, all through the nose) or journaling are also solid options. Even a (travel-size, of course) essential oil like lavender or sandalwood can help ease you into a relaxed sleep-ready state.
For me personally, reading to exhaust my eyes is a pretty no-fail trick to sleeping on overnight flights. No matter what you pick, find elements of your home routine that work for you and stick to them as best as you can.
Wash Your Face
I don't know what it is, but I have a much harder time sleeping knowing that I have makeup on my face, especially if I have a eye mask on or am smushing my face into a pillow on the plane. Don't forget to bring some wipes to remove makeup before you pile on the eye mask and neck pillow. Plus, waking up with raccoon eyes from smudged makeup is not the cutest look for your highly-anticipated first day of travel ahead.
Even if you aren't a heavy makeup wearer, using a wipe is still a good idea before falling asleep—you'll be surprised (and grossed out) by how much dirt and grime accumulates from being in an airport!
Be Prepared with the Essentials in Your Carry-on:
Next on the list of must-know tips for overnight flights is to ensure you have all your essentials easily accessible. For me, a light-blocking eye mask is top priority. This one is the best I've personally found and it's only $10 on Amazon.
Another essential? Ear plugs or noise cancelling headphones. I'm a huge fan of the Bose headphones in my day-to-day life, but they're not always comfortable for everyone to wear in tandem with a neck pillow. There are many smaller options that could work better for sleeping on a red-eye flight like noise-cancelling Airpods.
The biggest game-changer for me in getting decent sleep on flights was finding the right neck pillow. I'm simply not the kind of person that can fall asleep sitting straight up with my head upright, and I tried many neck pillows over the years that didn't seem to help much—until I found this one.
If you want a good balance of support and softness, this neck pillow is a must-have and scrunches up into a tiny ball for easy transporting. I love that it can connect to your seat's headrest wings if you please for maximum support, and it also has a drawstring to make it as tight or as loose as you want.
Finally, make sure to have the essentials that will help you get tired. Whether that's a book, a soothing playlist, or some Melatonin or Advil PM to ease you to sleep. Just remember, don't pop any pills until you're already in your seat!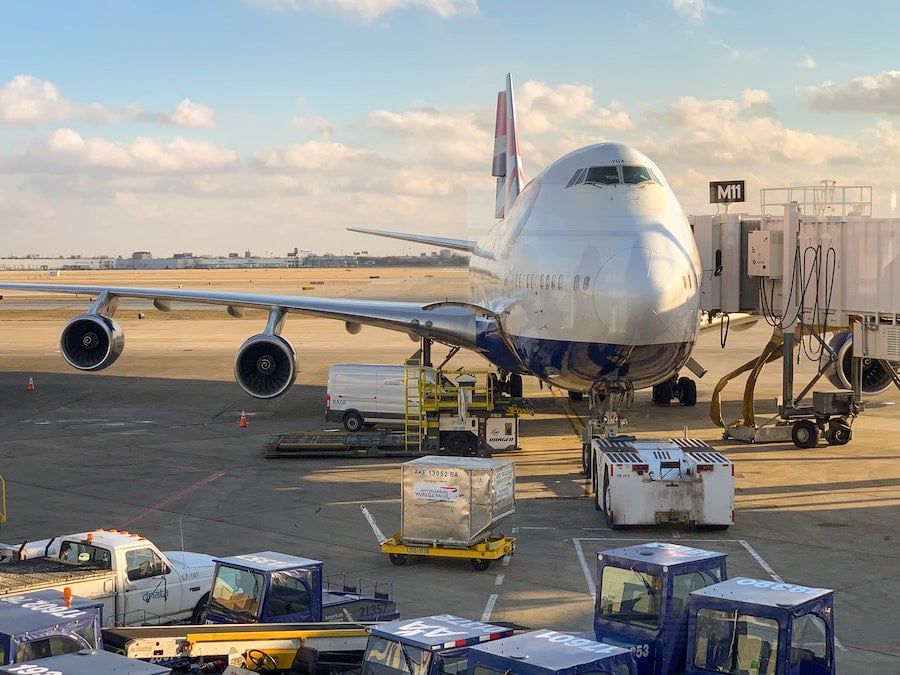 Book a Direct Flight if Possible
Maybe my most important tip for long-haul flights: take the most direct flight path possible. If you're newer to long-haul flights I understand the temptation to want to break it up and spend some time on land to stretch your legs, but trust me, this is not the way to go. The more stops you have, the more times you have to wake up, move around, and then re-acclimate yourself in a new seat.
Plus, more layovers take more time, which ultimately reduces the amount of time you have in your destination. The less time in an airport, the better!
Think Twice About What You Consume Before Your Flight
You know your body best, but things like caffeine, loads of sugar, or irritants that don't jive with your body like gluten or dairy can make for an uncomfortable flight. Stick to healthy foods that are easy to digest and skip the over-salted airplane snacks like peanuts when possible.
One of the most tempting things can be drinking the free alcohol on flights (trust me, I know), but this can also disrupt sleep or increase risk of having to get up to use the restroom. Find the right balance of staying hydrated (with water!) and not disrupting your flight with frequent bathroom breaks. And avoid the post-flight hangover so you land feeling your best.
Keep Your Itinerary Light on Day One of Your Trip
While you may want to hit the ground running as soon as you land, try to take it easy for the first day if possible. The pressure that you must sleep because of all the things on your itinerary can lead to unnecessary anxiety that actually will hinder your ability to get a good night's rest during your flight.
Instead, plan to check into your hotel or Airbnb, nap if you need, and give yourself space to explore at a leisurely pace. By giving yourself time to adjust to the time change and overcome jet lag you'll be in a much better position to enjoy the rest of your trip!
Did you find these tips for overnight flights helpful? Let me know in the comments below!
---
Planning a trip right now? Don't miss my go-to websites for booking everything from flights and tours, to accommodation and more:
---
Loved this post on tips for overnight flights?