This past year has been one of many firsts for me. For one, I launched this blog and put myself out there in ways I never have before. I traveled solo for the first time — in 10 different countries (4 were with travel buddies). I lived without a set address for a full 12 months. I chose a path of risk and uncertainty over a steady paycheck. I visited two continents I had never been to before. I kissed boys whose first language wasn't English (I know, I can't believe I hadn't done that before, either). I took 41 flights over the course of the year, a number I've never gotten remotely close to in the past. So much happened this year and it's quite overwhelming to sift through all of the memories — and almost impossible to pick my favorites.
In many cases, my favorite moments don't entail some crazy adventure and may just look like laughing 'til my abs hurt with friends. But for this post, I chose to deliberately select "moments" that you could recreate. Because of course there are special experiences with people I've met along the way, but I wanted to focus on things that you could experience for yourself as well. Would love to hear in the comments if you've done any of these before or what you'll be adding to your bucket list. Cheers to an amazing new year full of adventures!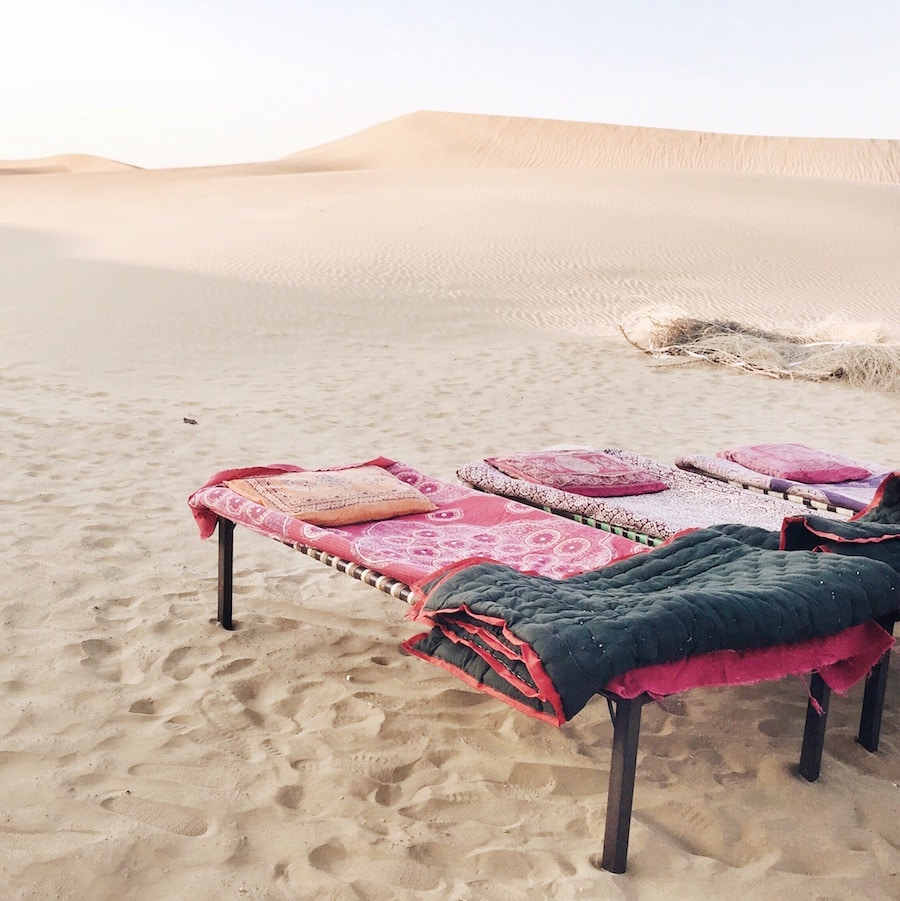 Sleeping Under the Stars in Jaisalmer, India
While I've done a bit of camping in my day, little compares to being completely exposed sleeping under nothing but a blanket of stars. I didn't get much sleep that night to be honest. Instead I stayed awake, wide-eyed staring into a sky full of shining dots (I never did see a shooting star) marveling at the vastness of our universe. I also desperately had to pee, but was too scared to wander into the dark of the dunes after our guide mentioned that "scorpions are attracted to light"… so there's that too. For many reasons, it was a night I'll never forget!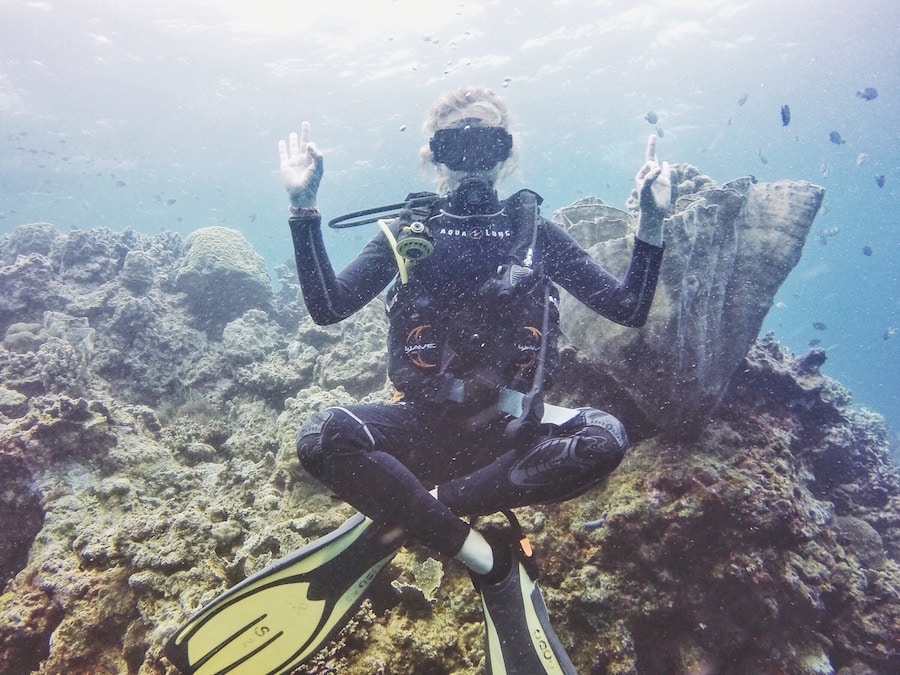 Scuba Diving Trips in Gili Trawangan, Cebu, Philippines & Utila, Honduras
One of the best things I've ever done in my life is learn to scuba dive. I'll admit — the first couple days I was pretty anxious. I didn't think I could do it. It was hard to get used to a restricted feeling of breath. But as soon as I put myself into that yogi mindset and got comfortable with my equipment, I started to see how incredibly peaceful it was under the water. So many people only ever see what is above the surface level, but being able to explore a destination under water brings an entirely different element to a place. I loved diving in Gili Trawangan where I first learned, but diving in Cebu, Philippines and Utila, Honduras (where I got my Deep Diving certification) were definitely huge highlights this year. I seriously can't wait to do my next dive trip.
Road Tripping to Salvation Mountain, California 
This was a spur of the moment trip that my Mom and friend Lauren and I planned the day before. After living in LA for four years, I had still never been to Salvation Mountain — the famous folk art site by Leonard Knight. As I was packing up all my final things in January before my year-long travel adventure, we had a spare day and decided to go do it. The drive is about four hours each way from LA, so it's not a short trip to do in one day by any means, but it was so worth it. We stopped along the way to visit the eery Salton Sea as the sun started to set and then continued on to Salvation Mountain for sun down and explored the various nooks and crannies all over the man-made mountain. Once arriving back in LA, we ended the night with some wine and a screening of Into the Wild, which is partially responsible for making the site so famous! If you're into art and unique experiences with a fair bit of quirk, definitely put this spot on your list.
Witnessing the Ghat Ceremonies in Varanasi, India
Varanasi is one of the main spiritual cities in India and is thus a place where Indians flock when a family member dies in order to carry out their cremation ceremony along the Ganges River. It's all very normal for Indian citizens, but witnessing the ceremonies as a Westerner is an incredibly eye-opening experience. It was also extremely difficult to watch bodies actually burning right before my eyes, as this concept is utterly foreign to Americans.
There is so much symbolism and tradition surrounding these ceremonies that I would highly recommend hiring a guide in Varanasi or at least somewhere in India to provide more insight — it was one of the more fascinating experiences of my year. I don't have photos of this because you're not supposed to photograph the ghats out of respect for the families, but anyone is able to walk through and watch as each family carries out their ceremonies. If you go, please just make sure to be respectful of the people there in mourning.
Waking Up Before Sunrise to See Machu Picchu, Peru 
Macchu Picchu is one of those visit-before-you-die kind of places — one of the new 7 Wonders of the World. I'll be honest and tell you that I was a little jaded before going. Don't get me wrong, I was excited to witness it in person, but I had seen so many images on Instagram, in magazines and on TV, I thought to myself how could it be just as amazing in person? Well, it was more amazing. Standing like a small ant amongst the monstrosity of the stones and mountains surrounding Machu Picchu was more surreal than I could have ever imagined.
We woke up at 3AM in order to be one of the first in line for the bus that shuttles you up the mountain. It was a painful morning but so worth it to enter Machu Picchu without the thousands upon thousands of tourists that will arrive later in the day. The day we arrived, the weather was changing by the minute — one second it would be bright and sunny and the next entire mountains disappeared in mist. I highly recommend paying for a full guided tour as learning about how the Incans actually built this magical place makes all of the difference.
Putting Down Roots in Canggu, Bali
Back in June, I decided to learn how to code in Bali with The Institute of Code. While I loved doing the course, it was really the people I met that were the highlight of my experience. I ended up staying in Bali for much longer than I anticipated (about 1 1/2 months) and worked another session with IOC on their marketing team, meanwhile creating a circle of friends that I'm still in touch with today. Setting up temporary roots in the Canggu area of Bali was one of my favorite memories from this year for a few reasons. First off, Canggu is such a cool area, with amazing healthy and delicious restaurants by the dozen, yoga studios, easy access to the beach and an incredible co-working space called Dojo that fosters productivity and allows remote workers to easily develop a sense of community. One of the lessons I've learned this year is that I need to slow down a bit more and call places home for a bit longer than 2 weeks at a time. Canggu was that place for me this year and I'm hoping to get back soon! If you are a digital nomad/remote worker, definitely check out Canggu as your next base.
Ringing in the New Year in Sydney, Australia 
I've never celebrated New Years in another country, and Sydney's did not disappoint as my first! Ringing in 2017 was the biggest the city has ever seen, with an estimated seven tons of fireworks being set off! The show paid tribute to the deaths of legends Prince and David Bowie with the bridge raining purple and fireworks shaped as stars in reference to Bowie's "Space Oddity." If you're a huge fireworks lover like me and want to see an epic show to ring in the new year, Sydney is definitely the place to go. It gets quite crazy by the harbor, so people camp out from the morning to get a good spot without having to stand like sardines. I was lucky enough to know a friend of a friend with apartment views. I couldn't have asked for a better start to 2017!
Salsa Dancing My Way Through Cuba
I love a good dance party, and Cuba is one of the those places where everyone seems to always be dancing — in the streets, in clubs, even our taxi drivers were always dancing! My favorite way to get involved with the local culture in Cuba was taking salsa lessons. It was so much fun to take the lessons themselves, but it was even more fun to put our skills to use when random Cuban men would ask us to salsa dance in the street (see photo above). Best time ever.
Kayaking in Ha Long Bay, Vietnam 
Ha Long Bay is one of those places you dream of visiting. It's probably one of the most beautiful places in the world. Sadly it was overcast the day we went so I didn't quite get the pictures I wanted. However, I'll never forget throwing kayaks off the boat and riding them amidst the massive limestone karsts with only the sounds of our paddles breaking the silence. It was definitely one of those moments where you forget about everything else in the world and sit in complete awe of the present moment.
Eating Local in Ebisu Alley, Tokyo 
Tokyo is one of my favorite destinations to date and I'm already dying to go back. It's one of those places that (if you're from the U.S.) is completely foreign in every way, yet still comfortable as it has its cleanliness, safety and Western comforts. It's another world. My favorite night in the city had to be going for dinner in Ebisu Alley with my friend Michelle. It's one of those famous Tokyo laneways where everyone is crammed in like sardines and each restaurant holds no more than a dozen people at a time. We were seemingly the only non-Japanese patrons and couldn't read any of the menus. It took a lot of guidance from locals and blind decision-making to figure out what to order, but we ended up meeting some new friends and ate about three dinners each — all of which were delicious! So much fun.
Checking the Taj Mahal Off My Bucketlist 
How could the Taj Mahal not make this list? It's probably the most beautiful building in the world, with an even more beautiful love story behind it. I had anticipated visiting for quite some time and though there was construction along the towers and the reflection pool was sucked dry, it was still the most beautiful thing I think I've ever seen. We woke up before sunrise to get amongst the first in line to see this World Wonder with our own eyes for the first time. Spending hours walking the grounds and taking photos from every angle was definitely a highlight of my year.
Releasing Turtles into the Sea in Sayulita, Mexico 
I'm obsessed with turtles, but if you have a soft spot in your heart for any sort of baby animals (who doesn't?!) then this is something you must experience. Of course there are many places around the world where you can be involved in a turtle release, but I did it for the first time this year in Sayulita, Mexico while I was living there for one month in September. I love the Campamento Tortuguero Sayulita sanctuary there as it's very community oriented and welcomes everyone in the area to easily join in their activities. They often update their Facebook page with announcements of when the turtles are hatching, so check there for updates. Watching these newborn creatures as they make their journey to the ocean for the first time is incredibly special and a beautiful way to witness the cycle of life in action.
Visiting the My Son Ruins in Vietnam by Motorcycle
Another first for me this year was riding a motorcycle (I had been on mopeds, but never a full-blown motorcycle). Some Spanish friends I met in Ho Chi Minh City were keen to opt out of the tour bus and instead hire motorcycles for the day for a trip to the My Son ruins outside of Hoi An. Traveling through the rural villages (and getting a bit lost in the process) outside of Hoi An with the wind cooling us down was the perfect way to travel there. Another reminder that it's sometimes much more about the journey than the destination.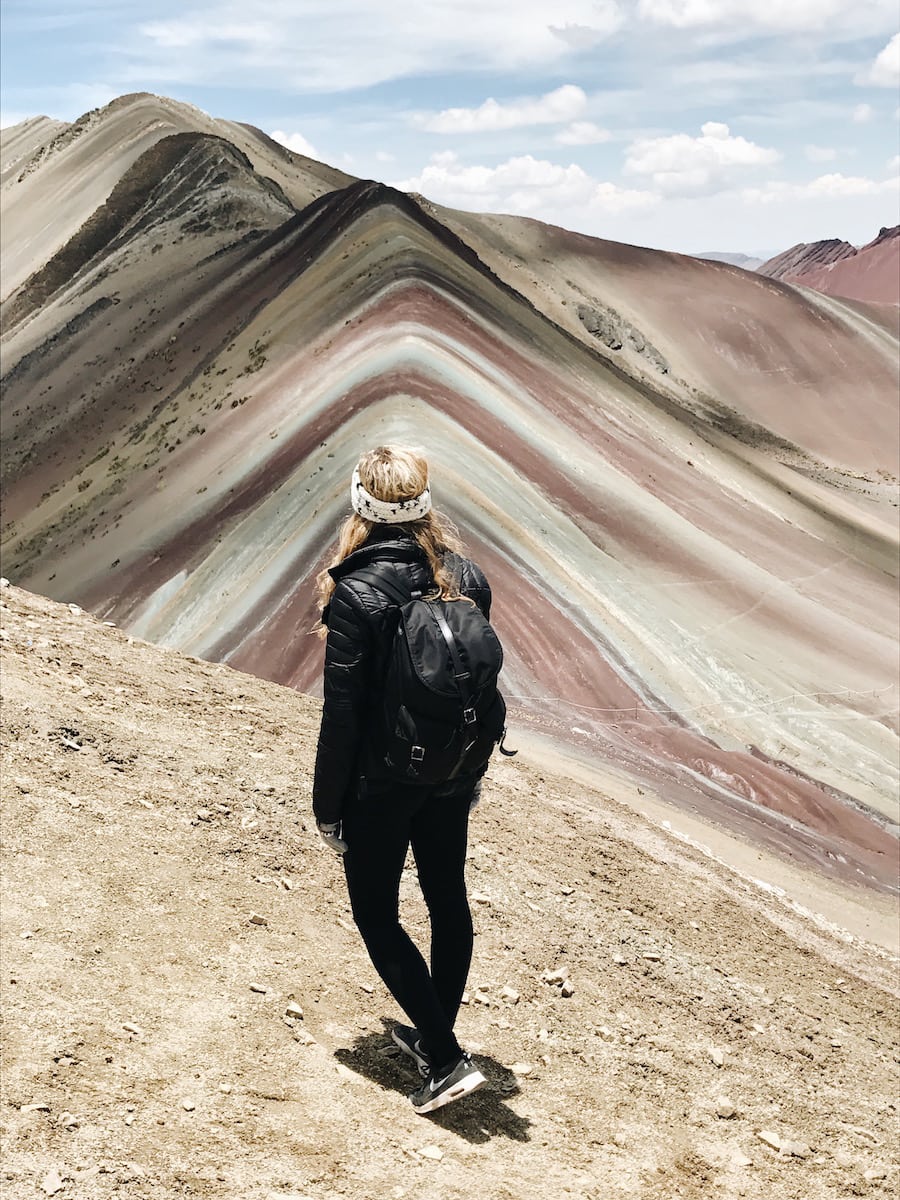 Hiking up Rainbow Mountain, Peru
Visiting Vinicunca Mountain (more commonly known as Rainbow Mountain) used to be much more difficult to access for tourists as it was only offered as part of a 5-day trek. However, it seems that just in the last year or so more and more tour companies are offering Rainbow Mountain hikes as a single day trip. With an altitude of approximately 5,000 meters (16,400 ft), it's definitely the highest elevation I experienced in Peru and thus was not easy as we approached the top. The view, however, was so worth it. With panoramic views of the Ausangate Glacier, rolling green hills and of course Rainbow Mountain itself, I'm so glad my friend Natalie and I embarked on this adventure despite having been a bit under the weather!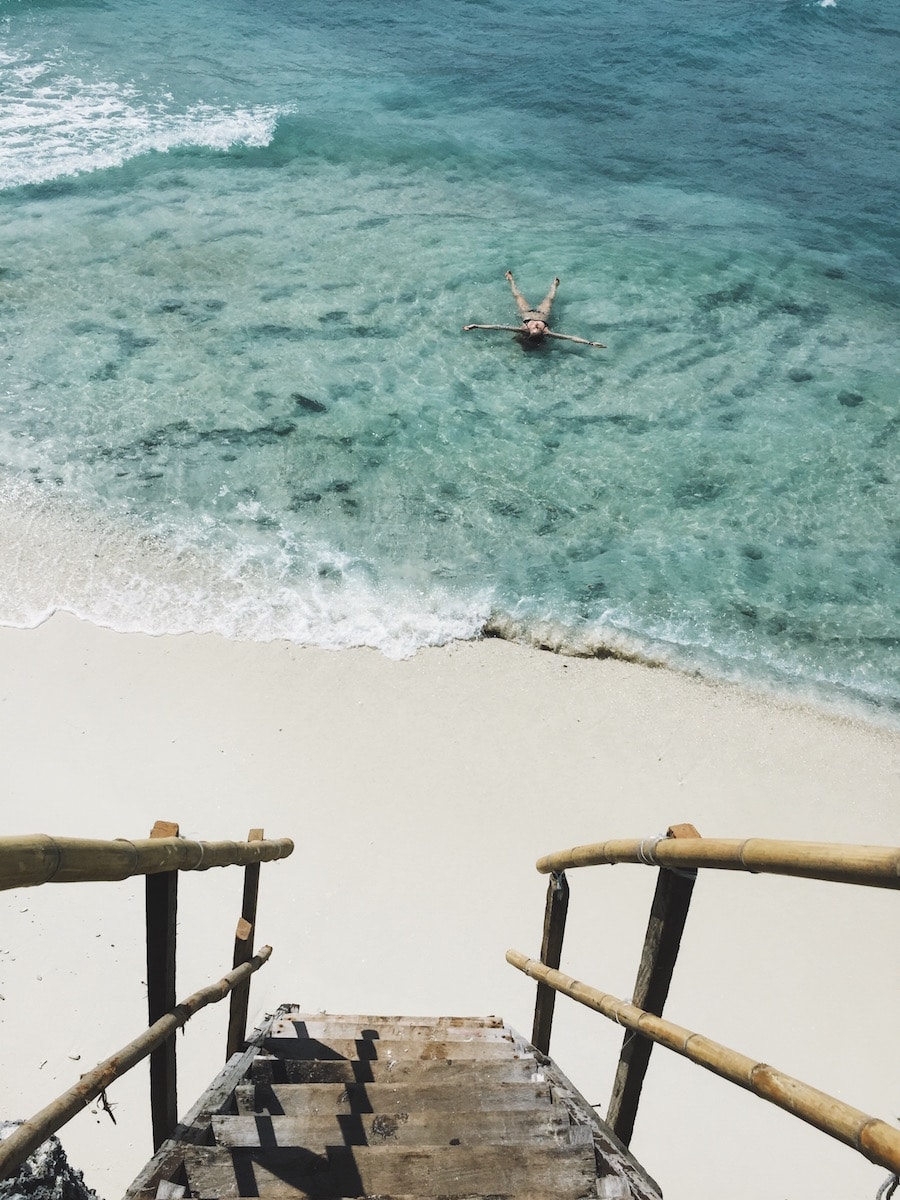 Floating in the Crystal Clear Waters of Sumilon Island, Philippines
Spending five days exploring the island of Cebu in the Philippines was definitely my most tropical destination of the year and Sumilon Island right off the coast of Oslob was the highlight of that adventure. Just a quick speed boat trip over from Oslob is this remote island oasis with pretty much nothing on it but white sand and the most turquoise water. I spent one of my most relaxing days of the year just taking in the sun, sand and gorgeous tropical colors. If you go here, make sure to enquire with locals about low tide as there is a massive sand bar that allows for much more room for sun bathing during the right time of day.
Swimming with the Manta Rays in Nusa Lembongan, Indonesia 
Just a 30 minute speed boat trip away from Sanur, Bali is the island of Nusa Lembongan, which is famous for its laid-back vibes and manta ray diving tours. Depending on the season (and a bit of luck) you can jump on a tour boat and snorkel or dive with the manta rays in various spots around Nusa Penida (the sister island), the most common spot known as Manta Point. We were lucky enough to spot two different groups during our day-long snorkeling tour and hopped in the water excitedly to marvel at these majestic creatures in action.
Road Tripping to the 12 Apostles, Australia
Can you tell I love road trips? My friend Jess who was born and raised in Melbourne had never been to the 12 Apostles along the Great Ocean Road — one of the more famous natural sights in all of Australia. We decided to finally make the trek while I was in town for 2 weeks in December and drove down from Melbourne on a gorgeous summer day just in time to witness these beauties before sunset. The flies — and tourists — were out in full force, but that didn't ruin the incredible beauty of the dramatic cliffs dropping to the beach and the limestone stacks standing strong in the ocean below. FYI, there are only 8 of the 12 original Apostles left, so this is a destination to get to sooner rather than later as they may not be around forever!
Hiking an Active Volcano in Bali, Indonesia 
When in Indonesia, hiking an active volcano is an absolute must and Mt. Batur is the easiest one to do as far as skill level goes. There are tons of tour operators running trips from Ubud — just make sure to compare prices and reviews before picking one. We were scooped up from our hotels around 2 in the morning to start the hike in the complete darkness with nothing but flashlights and a local Balinese trekking expert to guide us. The hike is about two hours straight up to the top for a magnificent sunrise viewing overlooking Mt. Agung, the highest point on the island. Depending on the weather, you can even catch views of the Gili Islands and Lombok in the distance. Your thighs will definitely burn the next day, but as they say — no pain, no gain!
The Parisien Cabaret at the Hotel Nacional: Havana, Cuba
Definitely one of the more hilarious moments in all my travels, the Parisien Cabaret is a show held at the famous Hotel Nacional and is often compared to the fancier show at the Hotel Copacabana. While cheaper and less professional, I would never regret seeing this show as it was honestly so fun and so amazingly cheesy at the same time. We were laughing throughout the entire performance. Pro tip: For even more hilarity, make sure to stay for the dance competition afterwards, but be forewarned that you may be forced to participate. Upon my initial refusal to join in, I was literally picked up off the ground still in my chair by one of the dancers and plopped onstage. Yup, that's me in the pink top dancing in the back.
Horseback Riding in Trinidad, Cuba 
I hadn't been horseback riding since age six and decided to dive into a four-hour long horseback riding session in Trinidad, Cuba, which would lead us through the countryside to a waterfall/swimming hole and then back again. Well, about one and a half hours into the ride, a massive storm started to brew and the hardest rains ever started coming down right as we reached our destination. Needless to say, we never did see the waterfall — instead we turned right back around and headed back to dry territory, but the way back was wet and muddy as ever. Despite missing the waterfall, seeing the countryside of Cuba and subsequently an amazing lightning storm by horse was definitely a beautiful experience (albeit a very painful one the following day)!
My First Temazcal Ceremony in Sayulita, Mexico 
I had never heard of a Temazcal before arriving in Sayulita, Mexico but it turned out to be such a special experience. The ceremony is an ancient tradition that takes place in a sweat lodge (essentially an igloo shaped structure with blankets over it to trap the heat in), in which a shaman places heated volcanic rocks in a center pit and tops them with various herbs and water to create incredible amounts of steam. This process is repeated four times, with singing and chanting and time to reflect baked in to the whole 2-hour long experience. Mexicans praise the Temazcal ceremony for its healing and detoxifying benefits, and I'd be lying if I said I didn't feel amazing after sweating for two hours straight while in a state of semi-meditation. This is something I'll definitely be doing again.