No matter how many times I pack for a new trip, the process never seems to get easier. But over the years of countless flights as a full-time travel blogger and travel to over 45 countries, I have learned which items are helpful as a female traveler (and which ones aren't)! These are my tried and true travel essentials for women that you need to have in your life.
This post is broken down into sections based on the types of women's travel essentials you need, whether that's luggage, beauty items to take with you on the go, or safety-focused products to keep you more protected in every country you visit.
Use my handy table of contents below to navigate to the section that applies most to you!
I'm hoping this breakdown of go-to travel essentials for women will help take some of the guesswork out of the packing process for you!
One thing I'll note: I like to travel in style as much as possible. Am I the ultimate fashionista? No, definitely not. But I prefer the things I buy to be both equally functional and visually appealing, which can be tricky sometimes when it comes to travel gear.
I've read many a travel essentials post in the past that recommended downright ugly products and I'm not going to do that here. I believe that travel gear can be both beautiful AND serve its highest purpose, so if that's your vibe too, you've come to the right place!
So let's get into it. After years of taking more flights and road trips than I can count, these are the women's travel essentials that are worth packing and have become must-have items on my packing list!
Luggage and Packing Essentials for Women
Let's face it. You're not going anywhere—not even your Grandma's house for the weekend—without luggage or some sort of packing device. These are my top travel essentials for women when it comes to packing and organizing my stuff!
Stylish Luggage
Throughout my 20s, I was using beat-up hand-me-down luggage that my parents had passed off on me. Finally in the last 5 years, I decided that as a self-employed adult it was about time I get my act together and invest in some cute and high-quality luggage that reflected a bit more of my style.
If you're ready to make the upgrade, I think everyone should have three types of staple bags that will cover you for any travel occasion: a standard Carry-On, medium sized checked suitcase and larger checked suitcase. Once you've invested in these sizes, you'll be set for a long time.
Pro tip: These also come in super handy if you ever find yourself moving 😉
Monos Luggage – This is my current favorite brand where all my luggage comes from. I like that for a more affordable price compared to luxury luggage brands like Rimowa, you're still getting something really well-designed and durable. Plus, they're extremely lightweight and I've never had issues going over my weight limit when checking luggage with this brand.
Monos Luggage Covers – This is my genius hack that no one seems to have caught onto yet! With the way that airlines are handling luggage these days, I find that avoiding marks and scratches is near impossible. Spending a little extra on luggage covers for your checked baggage will not only keep your bags fresher longer, but makes them WAY easier to spot on the carousel.
Day Backpack
This foldable Longchamp backpack has been my trusty day pack on every trip for over 5 years now and it still looks practically new! Why do I love it so much? Let me count the ways.
First: It rolls up to practically nothing taking barely any extra space in my suitcase, it's super lightweight and it's water-resistant. Plus, it has both a zipper and snap closure for added security and it's the perfect size to fit everything I need for a day outing without hurting my back.
It comes in a bunch of different colors, but I recommend a darker hue for longevity—I got the dark blue and mine still looks almost new all these years later!
Travel Jewelry Organizer
If you like to travel with a lot of jewelry, you need an organizer unless you want to spend hours detangling necklaces in your destination. This one by Quince is petite and gets the job done at an affordable price. Mejuri also has a great one. If you prefer more of a roll-up style, this one by Parker Clay has great reviews.
Foldable Tote
You can never go wrong with having an extra foldable tote on hand. They pack up super small without taking up extra space in your luggage and can serve a multitude of uses during your travels, from doubling as a shopping bag or beach bag, or extra carry-on on your flight home when you've overdone it on the shopping. This one is perfect for all your travels and is only $12.
Packing Cubes
My packing game completely changed when I started using packing cubes. Not only do they help you maximize space while packing, but they keep you more organized in your final destination. Instead of unpacking item by item, I can throw my packing cube for dresses or sleepwear in a drawer in minutes and feel settled in.
I've used super cheap packing cubes in the past that while affordable ended up ripping on me after many uses, so now I use these Monos compressible cubes that are way more sturdy and well worth the added investment!
Compression Bag
When packing for a winter trip, or whenever you're packing bulky items like sweaters that take up a lot of space, a compression bag will be your best friend. These vacuum sealed bags take all the extra air out of the bag, packing bulky items down to practically nothing. These ones have over 20,000 reviews on Amazon.
Sling Bag or Fanny Pack
I love a fanny pack or sling bag situation when traveling because they're just big enough to keep all your must-have essentials, and they allow you to be hands-free so you have more mobility for things like taking photos (which you know is my thing).
Plus, if you're traveling to a country where petty theft is more common, you can wear these in front for added security. There are tons of brands out there to choose from, but as you can see, I'm currently using the Monos Metro Sling everywhere I go.
Anti-Theft Bag
If you're not sure what an anti-theft bag is, essentially it's a purse or bag with extra built-in safety features to prevent theft while traveling.
My problem with anti-theft bags is that historically they have not been the most stylish in my opinion and in all my years and over 45 countries later I've never been the victim of theft so it doesn't feel 100% worth it for me to invest in this. If this is a priority for you, you can find the cutest anti-theft bags over on Pacsafe.
Camera Bag
This is a travel essential for me, but if you're not a big photography nerd then you can leave this one off the list. I wrote a whole post on the most stylish camera bags for women, but the one I personally use on every trip is this Wandrd bag that is robust enough to carry all my gear.
---
Find More of My Favorite Travel Products:
---
Beauty and Hygiene Travel Essentials for Women
Obviously everyone is going to have their own individual beauty routines and products they love, but this is what has worked best for me! Plus, you can use this list to ensure you don't forget any of the essentials and perhaps get introduced to some items you haven't tried before.
These are my go-to tried and true women's beauty travel essentials that have become necessary packing items on my list over the years.
Folding Toiletry Bag
I'm embarrassed to say that it took me so long to get one of these, but this is actually one of the more recent purchases on this entire women's travel essentials list. I used to use a standard pouch-style makeup bag, and while those are cute and fine, this clear hanging toiletry bag has changed the game in so many ways.
While it's a little bit bulkier than a standard makeup bag to pack, it actually fits literally everything hair and beauty-related I need to pack in one place instead of having my makeup in one pouch and then having a separate bag for things like shampoo/conditioner/larger liquids. It's also clear with a detachable TSA-approved small clear bag to make security at the airport a breeze.
But the thing I love MOST about this toiletry bag is that I'm no longer digging in a bottomless abyss for my beauty products and instead can see everything easily right in front of me. Plus, it has a hanging function, which makes it super useable whether I'm in a luxury hotel room or in a campground bathroom. Grab it for under $20 here.
Makeup Essentials
This list is going to be individual to you and what your typical makeup routine is. However, I'll share a handful of my go-to products that have stayed in my makeup bag for years and make for great natural, no-makeup makeup looks which is my travel MO.
Refillable Travel Pouches
If you have go-to lotions or liquid-based products that don't come in small travel sizes, then you're going to want to invest (and when I say invest, I mean like under $20) in some smaller refillable pouches for storing your products.
I love all of these ones by Kitsch as they're super cute and stylish and come in several different options, depending on if you prefer jars, bottles or pouches.
Hair Styling Essentials
As much as it pains me to have to pack all my hair products and tools as they can be so bulky, my hair is mega thick and high maintenance and I've learned over the years not to skimp in this area. This is definitely my most high maintenance area of packing. If you have easy travel hair, then bless your soul. If not, here are some hair essentials that have been my saviors.
Travel Steamer
I've turned all my friends onto this travel steamer. I've tried a handful of different ones in the past and this is hands-down the best one I've tried. It's not necessarily the smallest, but if you're headed to a wedding, business trip, or any destination where you need your clothes to look nice, you need something that WORKS.
Luckily I've been finding that more and more hotels are keeping steamers in their closets, but until I can rely on that I'll be packing this travel steamer that's under $40 on Amazon. For the steaming power you get for the size, you can't beat it.
Skincare Essentials
Travel always takes a toll on my skin, so it's worth it for me to pack a few extra items in my bags to make sure my skin it taken care of.
Hygiene Essentials
Travel Clothing Essentials for Women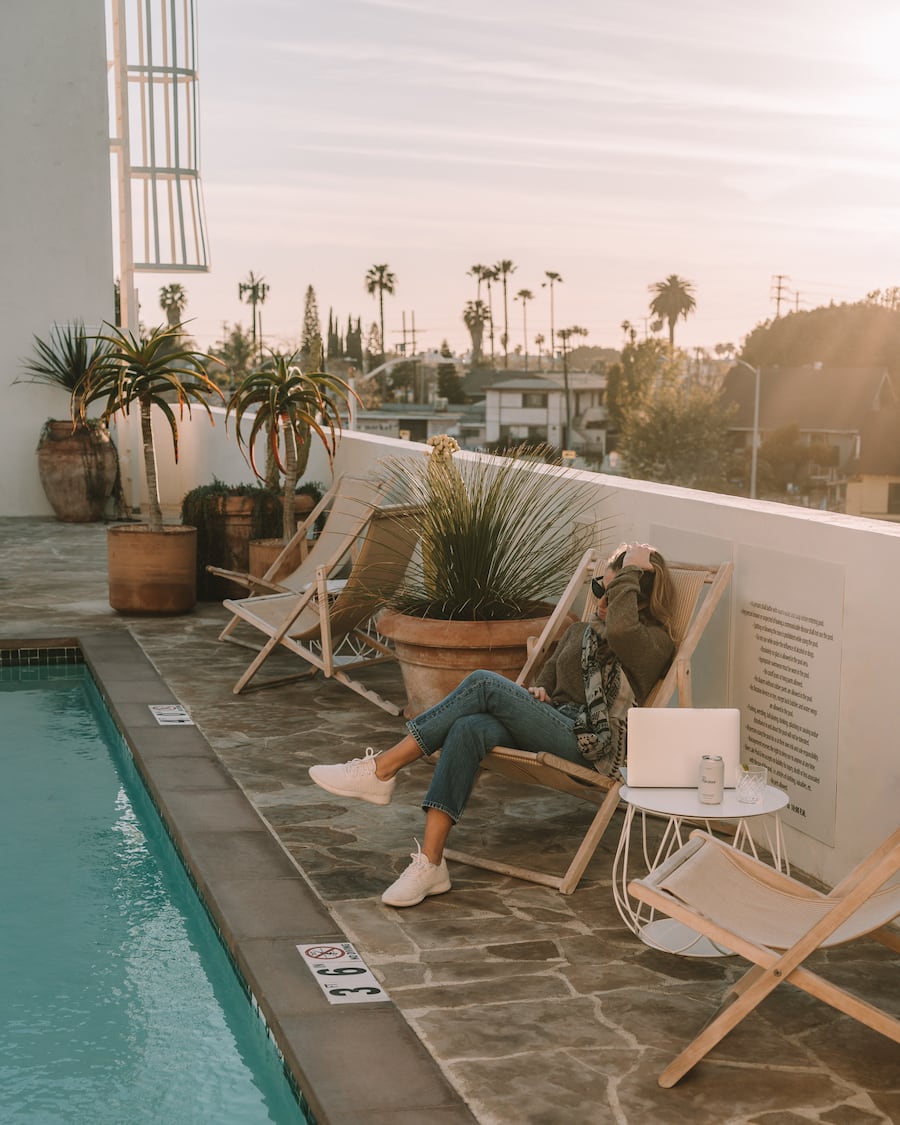 No matter what kind of trip I'm taking, these are the travel essentials in my wardrobe that I'm always packing.
Long Leggings
Perfect for wearing on flights for maximum warmth and coziness, these also get me through travel workouts or long walking days when I just want to be comfortable. These ones are extra awesome because they have a convenient pocket to store your phone or small items.
Comfortable Walking Shoes

This is a non-negotiable on any trip. My all-time favorite brands for great, comfortable travel shoes have been Allbirds and Vessi, who make 100% waterproof shoes that are actually cute!
Jeans
I'm a denim girl through and through, and no matter where I go, I always bring one pair of my favorite jeans. Honestly, I've been loving Abercrombie & Fitch lately and what they've done to rebrand their denim. They have a really great variety of fits that are flattering on curves and I'm living for it. Levi's is always another tried and true staple.
Warm Layers
If you're like me and always freeze in-flight, having extra warm layers is a must. Plus, you never know what weird cold spells you might run into on a trip. Always have a basic long sleeve and light sweater or zip-up on hand so you're prepared for any situation.
Packable Puffer
You never know what kind of weather you might run into traveling—and that even includes freezing temps on the plane! I've made the mistake of not packing a puffer on trips when I was headed to the tropics and ended up freezing mid flight.
Never again.
These ones are all super lightweight and pack down to practically nothing: Puffer from Lululemon, Abercrombie Packable Puffer, and this one for under $60 on Amazon.
Cozy Socks
No matter what the destination, you can never go wrong packing one pair of super cozy socks in your suitcase.
Waterproof Flip Flops
Even if you're off to a winter destination, I've always found it helpful to have a pair of flip flops for situations like spas, saunas, communal bathrooms in hostels, hot springs, etc. I've always bought this brand over the years and have been super happy with them.
Loungewear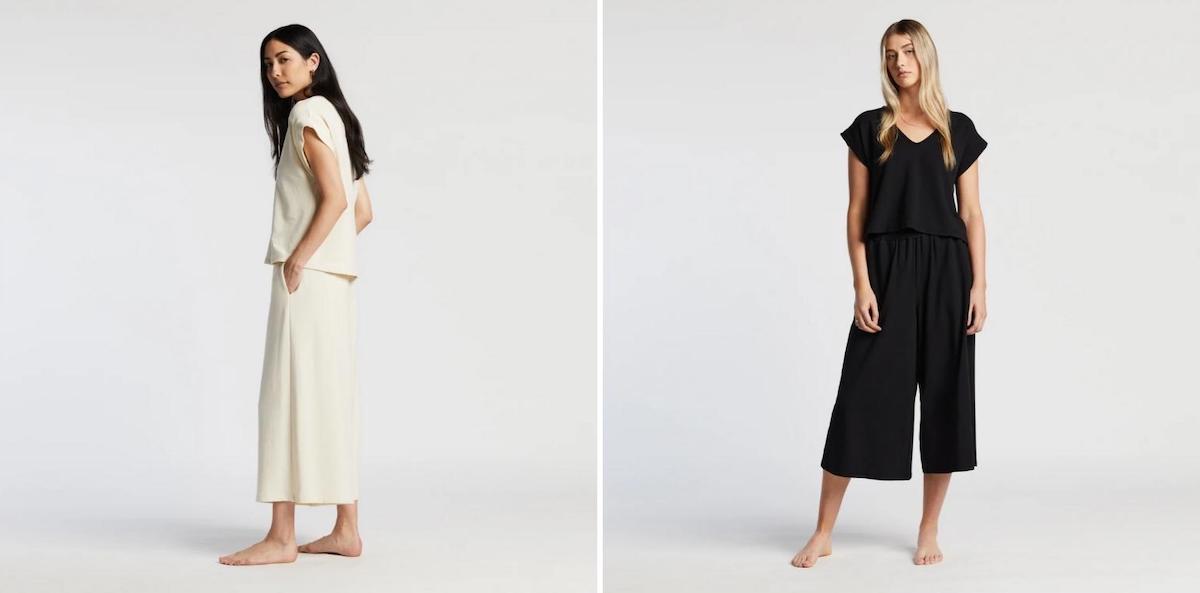 Of course, being cozy when sleeping in a new, unfamiliar bed is of utmost importance if you want to get good shut eye on the road. One of my favorite travel brands, Monos, just came out with the softest loungewear sets that you can sleep in and lounge around in all day.
Cheap Sunglasses
Losing your nice sunnies on vacation is a huge bummer, so grab a few cheap pairs that you won't be devastated over losing on your next trip.
Swimsuits
Even if you're headed to the North Pole, don't forget at least one swimsuit—there's always bound to be a hot tub situation in any destination you visit. Some of my favorite places to find awesome swimwear are Everything But Water (for a great variety of brands), Hunza G (which are one size fits all, super comfortable, stretchy and flattering), and Skatie who always have the best prints!
Hiking Shoes
I avoided buying real hiking shoes for a long time, but I've found over the years that hiking shoes and sneakers truly are not created equal. I highly recommend having a real pair of hiking shoes on hand for any trips that involve trickier terrain or plans to get out in nature.
These are my all-time favorite hiking boots that never give me blisters and are actually cute!
Yoga Shorts
I bought these affordable shorts in three colors and I'm obsessed. They're super comfortable and flattering and are easy to throw on in any travel situation, from heading out on hikes to hanging out at your hotel, to quick market runs.
The best part is they have pockets on either side, which I use all the time to store my phone on hikes so I can be hands-free.
Blanket Scarf
A great practical layer to have for cold plane rides, chilly tropical evenings and religious sites when you need to cover up a bit more. This one comes in multiple solid colors.
In-Flight Travel Essentials
For surviving your next long-haul, these are the most necessary travel essentials for women to help ensure you arrive in your destination refreshed, happy, and well-fed 🙂
Ear Plugs
After one sleepless night in a Singapore hostel that was located next door to a club, I learned the hard way never to travel without ear plugs ever again. They are also a life saver on flights so I can block all the commotion out. These are the absolute best ones ever! I swear by these every single night, even when I'm at home.
Neck Pillow
I've tried many neck pillows over the years and this one is hands-down the winner because it actually provides adequate support and has straps to keep your neck in place.
Liquid IV
If you suffer from feeling dehydrated after every flight, make sure to pack some Liquid IV on your next trip to make sure you're keeping your energy levels up and getting electrolytes.
Kindle Paperwhite
I've always been a fan of old-fashioned paperbacks, but I got sick of lugging heavy books around the world and having to buy new ones if I finished a book mid-trip. I'm obsessed with my Kindle Paperwhite because it lightens my load without lessening the number of books I can bring.
This is also an awesome gift to give to the traveling book nerd in your life!
The coolest features though are the water resistance to withstand accidental water contact and adjustable warm light setting that allows you to choose between cool and warm light on a wide variety of levels to be easier on the eyes. I find this so helpful as my eyes are adjusting to different brightness levels throughout the course of a flight.
Sleep Mask
This black-out sleep mask is still to this day the best one I've found that actually blocks out light—and for a price you cannot beat. It's under $10! The material is super soft and comfortable, and I love that it's adjustable to make sure it fits with the utmost comfort. I recommend ordering the black for full blockage of light.
Noise Cancelling Headphones
I'm a Bose devotee when it comes to my headphones and I love their over-the-ear style for noise-cancelling capabilities.
A Pen
Simple, but always useful. A pen is super helpful to have on flights for a myriad of reasons including filling out immigration forms, doing the crossword in the back of the airline magazine or just passing the time journaling your thoughts.
Go Macro Bars
Snacks are an essential travel item on any flight long or short and my favorite I've landed on over the years are Go Macro Bars. They don't make a mess, smell and bother your neighbors (we've all had that seat-mate), and they actually satisfy my hunger.
Go Macro bars are organic, vegan, gluten-free and certified non GMO, and still delicious which I can't say for a lot of brands I've tried. Try the Everlasting Joy flavor—it's my personal favorite!
Compression Socks
I'll be honest, I've never actually used compression socks but I hear so many people sing their praises that I'm including them on this list. If you suffer from bad circulation, discomfort or swelling in your legs, these could be a game changer for you.
Reusable Water Bottle
Nothing gives me travel anxiety quicker than realizing I just boarded a long flight without filling up my water bottle. Make sure you're prepared and have plenty of agua to stay hydrated on your next flight. I've been through a million water bottles but lately I'm lovely Stanley's products. This one has an awesome leak-proof cap and it comes in some really nice colors.
Travel Safety Essentials for Women
Since items like pepper spray or pocket knives aren't going to make it past TSA, the below products are going to come in way handier in helping you feel safe on your next trip.
Security Alarm Keychain
This personal alarm is a great alternative to pepper spray to help you feel safe if you're out and about alone. All you have to do is pull the pin for a loud alarm to sound, frightening off attackers and alerting others to an emergency situation.
I also love this sleek safety alarm that comes with a pretty gold keychain for a more aesthetic look.
Portable Door Lock
If you're staying in a hotel room or Airbnb alone and want some more peace of mind, these portable door locks add an extra level of protection so you can rest easy. This device prevents anyone from getting in the door—EVEN if they have a key to enter!
Keychain Flashlight
If you have to walk somewhere alone at night, this mini flashlight that attaches to your keychain will be your best friend.
Genius Women's Travel Essentials You Didn't Know You Needed
Hanging Travel Shelves
If keeping your clothes organized in your final destination is your MO, then you're going to be obsessed with this hanging travel shelf bag. You can essentially use it as a packing cube in your luggage, with all your clothing stored inside. Then once you get to your destination—voila!—you've got a makeshift closet, organized and ready to go.
Seatback Organizer
Seat pockets seem to be getting smaller and smaller on planes, so why not maximize all the space you can? This genius seatback organizer helps you make the most of your space and ensures you won't leave anything behind on the plane.
Travel Power Strip
If I had a penny for every time I've run out of plugs to charge all my things in a hotel room… This travel power strip with three outlets and three USB ports will save the day and ensure your Apple Watch, laptop, iPhone, ear buds and anything else you have are always charged and ready to go.
Resistance Bands
Getting travel workouts in on the road is challenging enough. It can be even harder to achieve if you're staying in an Airbnb, hotel or hostel with no gym access.
I love throwing in a set of resistance bands into my bag as they take up virtually no space and allow me to do tons of different challenging moves. If you need a little inspiration for how to do a resistance band workout in your hotel room, check out this awesome 30 Minute Intense Mini Band Workout on Youtube.
Medication Tracker Sticker
If you're someone that needs to take medication with you when you travel, this take-n-slide tracker seems way easier than separating all your pills out into day of the week carrying cases. Instead, keep your medication in their original bottle and then stick this on to keep track of whether or not you've taken your pills that day. Easy peasy!
Travel Laundry Bag
Some luggage brands (like my go-to Monos) already include laundry bags in their luggage, but if yours doesn't, this is a great thing to have on hand. Rather than throw your dirty items back in your bag with all the clean stuff, this moisture and odor-resistant bag will help keep the rest of your clothes fresh for the rest of your trip.
TSA-Approved Perfume Bottles
If traveling without perfume is a deal-breaker than you're going to obsess over these refillable perfume bottles that come in TSA-approved sizes. Plus, you won't have to worry about your glass perfume bottles breaking in transit—been there, done that!
Apple AirTag
With travel ramping up again more than ever, it seems that airlines are losing people's checked luggage in record numbers. Throwing an Apple AirTag in your bag is a comforting way to keep tabs on where your bags may be located, even when the airlines can't seem to figure it out, and it might just save the day.
Self-Cleaning Water Bottle
On a long trip, sometimes we don't have a kitchen to clean our water bottles—or maybe we just get lazy or completely forget to. This self-cleaning water bottle uses UVC technology to purify your drinking water, removing up to 99.99% of bacteria so you can drink your water, odor free. Use my code LLITW for 10% off your order.
Multi-Use Travel Mirror
This genius travel mirror is perfect for long days in transit, hostels, or really any situation where you won't have easy access to a mirror. I love that this one folds up nicely and can be used three different ways—handheld, hung up or propped up on a desk!
Airplane Phone Stand
With fewer planes offering screens these days, no one wants to hold their phone for hours while they binge watch shows mid-flight. This airplane phone stand is so genius and can be used in so many different ways well beyond the airplane.
Other Miscellaneous Travel Essentials for Women
Lastly, here are some things that are essential travel items, whether you'll physically need to pack them with you or not!
Medications – Of course, bring any prescriptions you are required to take regularly. But also, don't forget a few medications that you might need in an unexpected pinch like Benadryl, Advil, allergy medication, etc.
Travel Insurance – This is definitely a travel essential in my opinion. I've used World Nomads for years and have been super happy with their level of coverage and customer service. You can read how I saved $1,500 in a single trip thanks to World Nomads here.
Travel Credit Card – I refuse to spend money without getting rewarded for it, which is why I love credit cards like the Chase Sapphire Reserve and Capital One Venture Card because they help me rack up points quickly to use towards travel and provide other awesome perks like lounge access, travel credits and more. If this is all new to you, check out my post on 7 Things to Consider Before Choosing a Travel Credit Card
Debit Card with No Foreign Transaction Fees – If you travel abroad regularly, having a bank that reimburses for ATM fees and foreign transaction fees abroad can save you a lot of money. For this reason, I switched my bank over to Charles Schwab years ago and have never looked back.
Physical Copies of Passport and Other Important Documents – If you don't want to carry around printed copies of these things, at least save a separate digital copy to your Google drives so that in the event you lose your Passport or other important documents, you'll at least have some sort of proof of identity accessible. This is for worst case scenarios but always helps for peace of mind.
---
Planning a trip right now? Don't miss my go-to websites for booking everything from flights and tours, to accommodation and more:
---