There's no other place I'd rather call home in the U.S. than California—truly. While I was growing up on the East Coast I always dreamed of being one of those California beach babes with the flowing blonde locks driving a convertible down PCH. I have yet to get that convertible, but I have lived in LA on and off for almost 8 years now, and I can wholeheartedly say that my love for this state has only grown. And now it's time to share all the wisdom I've gained about this state with you all!
There's not many places in the U.S. where you can be soaking up the sandy beaches of the Pacific Coast, drive out into the desert, and sip your way through wine country all within a day's time (although I wouldn't recommend that rushed of an itinerary).
Continue on a little further north and you'll swap classic palm tree-lined Southern California beaches for Northern California's rugged and wild coastline, enchanting Redwood forests and yes—more wine country! There's something for everyone to love here —but also, it can be overwhelming trying to tackle it all in one trip. Spoiler alert: you can't.
That's why I'm here to help!
California is the third largest state in the U.S. and one of the most varied in geography and activities, meaning no matter your interests or travel style you can definitely find an epic adventure worth planning here. Even after living here for the better part of a decade, I still have so much on my bucket list that I want to see.
This travel guide to California is a great overview that will give you all the preliminary details you need to start planning that California getaway you've always dreamed of. From the best time to visit, what to expect from the weather, my personal favorite destinations throughout the state, and some road trip ideas to spark your wanderlust! I'm sharing all of my best California travel tips in this post, so keep reading!
The Best Time to Visit California
The beauty about planning a trip to California is that there is truly no terrible time to visit. There are better times to visit than others, sure, but overall California is known for having some of the best year-round weather in the United States.
Of course because the state is so large, best times for your visit may depend a bit on where you plan to go in California and what you plan to do. If skiing or snowboarding is on the agenda, you'll obviously want to come in winter.
Most people instantly assume that summer is the best time to visit California for sunny weather, and while the weather is great that time of year by the beaches in Southern California, desert destinations like Death Valley and Palm Springs are going to be brutally hot. Northern California is also particularly known for its finicky weather and foggy days during the summer season.
I personally think Fall (late September/October) is the best time to visit California if you're planning on doing a big road trip all around the state. During this time of year, the desert towns are starting to cool down and the weather is still perfect in Southern California to get in some beach time. San Francisco is also known for its Indian Summers, so traveling to Northern California in Fall will have clearer days and you can luck out with good beach weather. Added bonus: Fewer tourists and better prices on accommodation.
Like anything though, do your research on the specific places you wish to visit so you know what to expect because it can really range all over the state!
Read More: California in Fall
Read More: California in Summer
Read More: California in Spring
What to Expect From Weather in California
Overall, California is known for its Mediterranean climate characterized by dry, hot summers and winters that are more mild.
In Northern California you'll find that fog is very common in the mornings, but will typically burn off mid-day.
In Southern California by the coast, you'll experience pretty mild temperatures all year with highs in July/August and cooler temperatures in winter.
Inland California will have the most wide ranging temperatures, with the deserts scorching in summer (Death Valley has the hottest recorded temperature in history) and the high desert and mountains producing freezing temperatures in winter.
SUMMER
Summer is peak season in California due to the hottest weather along the state's popular beaches. In Southern California temperatures can definitely go up into the 80s and 90s, but inland it can get scorching to over 100 degrees.
Beware of the "June Gloom" in Southern California which is a real thing that sometimes burns off throughout the day but can produce really gray, gloomy days by the coast as summer kicks off. Keep in mind it can still get cool at night by the coast, so layers are recommended.
FALL
Fall is my favorite time to explore California since weather is ideal across many different areas of the state. It can still stay really warm into October in Southern California and the inland desert areas will cool down a ton, making trips there more bearable.
Some of Northern California's sunniest days arrive in early autumn, with high temps in the Yosemite Valley staying around 70-80 degrees in September and October.
WINTER
While winter in California isn't exactly the same as other parts of the United States, it is the wetter season in California and can get surprisingly cool, especially by the coast.
From December to February in Los Angeles for example, you can expect lows at night in the high 40s to low 50s and mid-day highs up to 69 degrees. Still, I've experienced fluke heat spells in the middle of January where temperatures got up to the 90s.
In Northern California, expect winter low temperatures in the high 40s and highs of around 58-60 degrees. If you plan to visit California for any snowy adventures, you'll want to plan your trip between December and late February.
SPRING
Some people will tell you that spring is the most beautiful season in California, and I can't argue with them too much. This is the time of year when the famous Superblooms come out to shine, so if you're interested in chasing wildflowers, you'll want to plan your trip around April. Expect pretty easy going temps of around 50-70 degrees throughout the day.
The Best Way to Get Around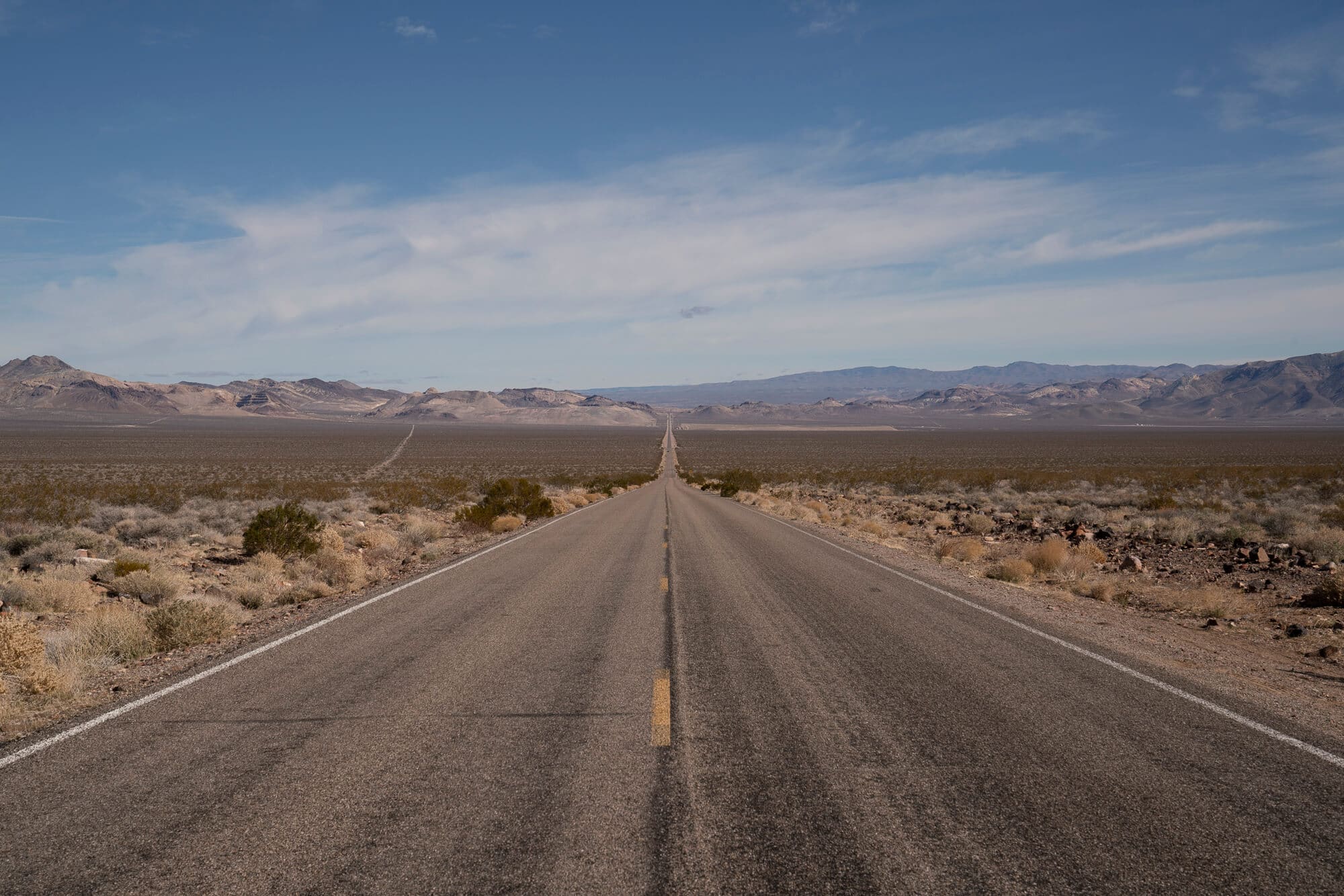 California is one of the best states in the country for planning an epic road trip, but keep in mind the state from top to bottom is long! It would take about 12 hours to drive straight from tip to tip (and that's with no traffic), so you can't expect to cover the whole state in a week.
If you choose to do a road trip, you'll want to fly into a major city like San Diego, Los Angeles, or San Francisco as a starting point for your adventure and rent a car locally. My go-to for rentals is always Rentalcars.com.
If you are only visiting California to explore a major city, you could get away with using only public transport and rideshare services like Uber and Lyft if you don't want to deal with renting a car. Out of all the major cities in California, San Francisco is definitely the most accessible with public transport, but if you're visiting LA or San Diego I would personally still opt for getting a car to make your life easier and keep you from racking up large Uber bills.
If you plan on doing some city hopping in Southern California and really don't want to drive, a fun option is the Pacific Surfliner Amtrak train, which goes from San Diego to San Luis Obispo, making stops in Los Angeles and Santa Barbara in between.
---
Read More California Posts
---
Packing For Your Trip
The name of the game when considering what to pack for a California adventure are layers and laidback attire. That means both shorts and longer pants to transition from day to night, light jackets and sweaters mixed in with tanks and tees, and items like sunglasses, hats and sunscreen are a must!
Californians are known for their laidback way of life, so unless you have specific red carpet events on your itinerary, I wouldn't worry about anything too dressy. Even at the nicer restaurants and locales around Los Angeles you'll find people wearing jeans everywhere.
Before you depart, make sure to take stock in what activities you'll be partaking in during your trip. There are tons of outdoor adventures to be had in California including surfing, snowboarding, paddle boarding, hiking, swimming, horseback riding, camping, even scuba diving! The list is endless so figure out what gear you might need for any particular activities (although you can rent most things locally if you don't already have what you need).
Warm Weather California Packing List:
If you plan to be out on a boat or camping, definitely pack warmer jackets/sweaters, beanies and scarves.
Winter California Packing List:
2-3 t-shirts and/or tank tops for layering
1 long sleeve shirt
Warmer jackets (leather jackets or light peacoats/shearling coats are ideal for California)
A couple cozy sweaters
Sunglasses
Hat (this is my all-time favorite hat brand that is very California)
Winter hat (usually you won't need it by the coast, but in the mountains and high desert it can get really cold at night)
1-2 pairs of jeans/pants
Cute boots like these are a wintertime California staple
Heavy-duty winter boots if you plan on being in the mountains
Good walking shoes
1-2 nicer outfits for evening or any fancier events
Crossbody bag or daytime market tote for carrying your daily essentials
Day backpack when you want to be hands-free (currently obsessed with this one)
Smaller bag for evening
Insulated water bottle so your water doesn't get warm in the heat (my go-to water bottle)
A good book (If you need a good rec, here are 10 books that changed my life)
Hiking shoes (the best hiking boots I've found that are actually cute)
Yoga pants or athleisure (my favorite brand is here)
Makeup/toiletries
Body lotion (California air can be super drying!)
Socks (include wool socks as well if going to the mountains)
Underwear/bras
Hair ties
Mittens (if spending time in the mountains or high desert)
Your camera!
Additional Items: Of course if you'll be doing specific activities like snowboarding, scuba diving, or anything that requires specific gear, factor that in too!
Budgeting For a Trip to California
Traveling to California is definitely not cheap, especially if you plan to stay in hotels, eat at hip restaurants, and partake in various activities (which is why I'm assuming you're traveling to California in the first place). But of course budget can vary so much from trip to trip depending on what you'll be doing.
For example, I recently did a road trip to Death Valley which involved staying in a pretty inexpensive cabin where we cooked our own groceries each day since there aren't great food options near the park anyway. Everything we did was out in nature (aka free!) and our only other expense was gas.
On the contrary, I've done trips to Napa and San Francisco where I've eaten out for three meals a day, stayed in pricey lodging and splurged on wine tastings and nice dinners, which all cost me big time.
How Much to Budget Per Day
In terms of accommodation, I would plan on spending at least $100/night, unless you're staying in hostels, camping sites, or private rooms in Airbnbs. Even some of my favorite glamping sites in California are over $100/night (some closer to $300) because they're in such high demand. If you'll be choosing more design-centric hotels or higher end resorts, you'll be looking at $300/night at the very least and above.
For food, you can easily walk out of a nice LA restaurant spending over $60/person for dinner and drinks. For lunch and breakfast you can find options more in the $20-$30 range.
Overall, I would expect to spend minimum $200/day and then add from there, factoring in your level of accommodation and any expensive meals or activities you've planned.
Luckily when it comes to activities, some of the best thing to do in California are out in nature, and there is tons of it at your fingertips to enjoy here for free!
Here Are Some Estimated Prices on Top California Attractions
Entrance Fee to Yosemite National Park: $35 per vehicle
Day passes to Disneyland start at around $139/person
Alcatraz tour cost: Approx $78/person
Hearst Castle tours: Starting at $25/person
Wine tastings in Napa: Average cost is about $20 per tasting/person
Skyspace Los Angeles tickets: Start at $28/person
Entrance Fee to Sequoia National Park: $35 per vehicle
Entrance Fee to Joshua Tree National Park: $30 per vehicle
*please note prices may change
Tips For Planning Your Itinerary
When I'm in the beginning stages of planning a trip, I always like to start with the fixed details and then work backwards from there.
Think about what you know about your trip for sure so far: do you have a set time off work when you can visit? Do you already have your flight booked into a particular city? Do you have a set amount of time for the trip? Write down these details so you can plan the best trip possible with what you've already got.
The next step would be to do your research and make a list of all of the top places on your California bucket list. This is the fun part! For this step, I like to use Google Maps as a trip planner because it helps me see my trip visually and get my bearings on what areas and attractions are closest to one another.
Once you've got your dream bucketlist California destinations saved on a google map, start piecing an itinerary together based on how much time you have for the trip, using the maps feature to calculate driving times if you'll be renting a car (pretty much a requirement for a California trip).
At this point you're probably going to have to whittle down your list and edit the stops if you've gone a little crazy with your California wishlist — I know, it's easy to do!
With so much driving between distances in California, I'd highly recommend spending at least 2 nights in each area/town on your list so that you don't experience driving fatigue and have some time to really explore each destination.
Driving times between popular destinations to give you an idea of what to expect:
Los Angeles to San Diego: 120 miles (about 2.5 hours)
Los Angeles to Palm Springs: 105 miles (about 2 hours)
Los Angeles to Big Sur: 297 miles (5.5 hours)
Los Angeles to Santa Barbara: 95 miles (about 2 hours)
Los Angeles to San Francisco: 387 miles (about 5 hours, 40 minutes)
San Francisco to Napa: 50 miles (1 hour)
San Francisco to Yosemite: 200 miles (3.5 hours)
San Francisco to Big Sur: 146 miles (2.5 hours)
San Francisco to the Mendocino Coast: 163 miles (about 3 hours)
San Francisco to Lake Tahoe: 272 miles (4 hours, 20 minutes)
San Diego to Joshua Tree: 166 miles (2.5 hours)
Where to Find the Best Accommodation in California
Every kind of accommodation style is at your fingertips in California, with the bigger cities having tons of hotel and home rental options and smaller towns often offering more quirky motel vibes and local bed and breakfasts.
If sprawling resorts are more your thing, California has 'em. Into the rustic cabin vibe? You can find those too. Some destinations in California have even become synonymous with their cool accommodations—like Joshua Tree, for example. Over the last five years it's become a hotbed for trendy Airbnb rentals with unique architecture and desert charm.
In the more nature-focused destinations, you'll find everything from rustic lodges and traditional camping to cool glamping options like yurts and airstreams. I even wrote a whole post on the best glamping in California.
There's honestly something for every kind of traveler when it comes to choosing where to stay in California.
Here are some posts I've written on a variety of accommodations in California to get you inspired!
My Favorite Sites For Booking Accommodation in California:
Not sure what sites to book your accommodation on? Below I'll share my go-to sites for booking hotels and home rentals when I'm adventuring around the state.
Booking.com
Booking.com for the widest variety of accommodation options with tons of filters to choose from so you can find your perfect match!
Airbnb
Airbnb for more laidback home rentals with tons of different options ranging from treehouses and yurts to luxury villas and condos.
Hotel Tonight
Hotel Tonight for last minute deals on top-rated and name brand hotels.
Plum Guide
If you're looking for a curated selection of the most epic and beautiful vacation rentals in the world, Plum Guide is where it's at. And some are a lot more affordable than you'd think!
California Travel Dos and Don'ts
The Dos
Factor in traffic when calculating driving times (especially if you're in or near Los Angeles). Waze is a great app for speeding up driving times!
Pack layers
Give yourself enough time to be spontaneous
Plan out your itinerary using Google Maps which will make your life a lot easier. I wrote a full guide on how to use Google Maps trip planner here.
Purchase an America the Beautiful annual parks pass ($80) if you plan on visiting three or more National Parks during your trip to California and beyond. You'll save money this way.
Give your budget some wiggle room as California is NOT cheap. If you want to truly try the best restaurants and local experiences that California has to offer, it's not going to be free.
Tip appropriately. A 20% tip is pretty standard now for any kind of service like taxis, serving staff, etc. $1-2 for a tip per drink at the bar is fine too.
Embrace California's healthy way of life. Check out the farmer's market for great locally sourced produce, hit up some farm-to-table restaurants (there are plenty), and try a local yoga class!
The Don'ts
Try to do it all. Trust me, that can take years. Focus on editing your itinerary to the top things you really can't leave California without experiencing!
Forget that it does snow in parts of California and higher elevation passes will be closed at certain times of year.
Fall for the tourist traps. It drives me crazy when people come to LA and all they want to do is see the Walk of Stars and the Hollywood Sign. I know some of these things can be exciting for newcomers, but if you really want to get a feel for what local California life is like, try to look beyond the obvious attractions.
Try to pack your days too tightly. Cities in California can be densely populated with a lot of traffic (especially Los Angeles). If you pick a particular neighborhood each day to explore rather than trying to zigzag your way around a city all day long, you'll save a lot of frustration and time sitting in traffic.
Where to Visit in California Depending on Your Travel Style
| | |
| --- | --- |
| Best Winter Destinations | Big Bear, Mammoth Mountain, and Lake Tahoe |
| Beautiful Coastal Escapes | Mendocino, Carmel-by-the-Sea, Catalina Island, Trinidad, Laguna Beach, Point Reyes, Big Sur |
| Desert Vibes | Joshua Tree, Palm Springs, Death Valley, Red Rock Canyon State Park, Anza Borrego State Park |
| Must-See Cities | Los Angeles, San Diego, and San Francisco |
| Top Wine Destinations | Temecula, Paso Robles, Santa Barbara, Napa, Sonoma, Mendocino, Santa Ynez Valley |
| Under the Radar Spots | Los Alamos, Cuyama Valley, Alabama Hills, Fort Bragg, Idyllwild, Elk |
| Peaceful Retreats | Ojai, Big Sur, Malibu, Carmel-by-the-Sea |
| National Parks | Death Valley, Joshua Tree, Yosemite, Redwood National Park, Channel Islands, Sequoia, Kings Canyon, Pinnacles, and Lassen Volcanic National Park |
| Music Festivals | Coachella, Outside Lands, FYF Fest, Stagecoach, Lightning in a Bottle, BottleRock Napa Valley |
| Other Fun Events to Plan Around | The springtime Superbloom, Comic-Con, Palm Springs Modernism Week, US Open of Surfing, Temecula Valley Balloon and Wine Festival |
| Lake Towns | Big Bear, Lake Tahoe, Lake Arrowhead |
Top Activities to Check Off Your California Bucket List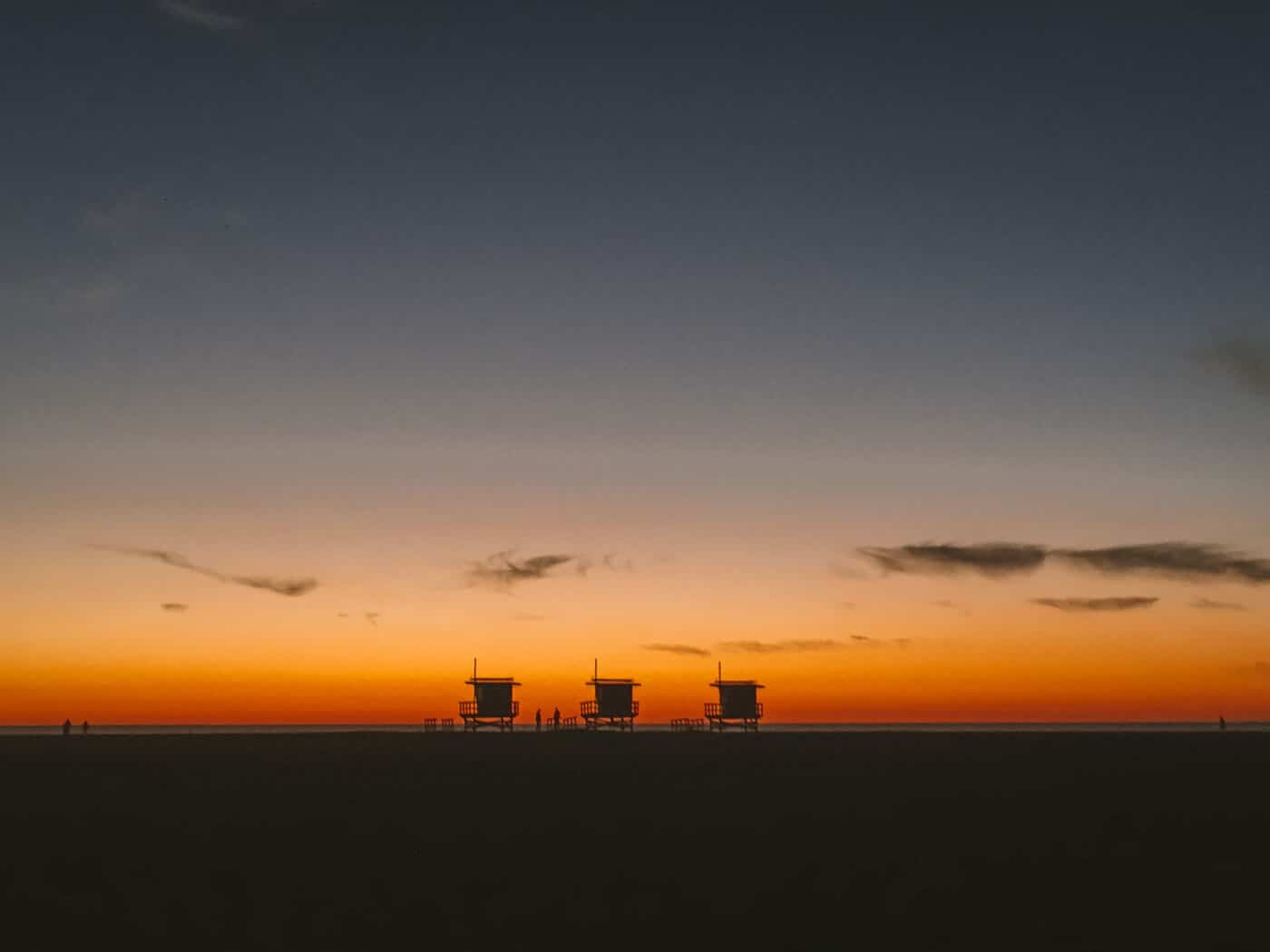 1. Venice Beach Boardwalk, Los Angeles
2. Alcatraz, San Francisco
3. The Golden Gate Bridge, San Francisco
4. The Hollywood Sign, Los Angeles
5. Disneyland, Orange County
6. Yosemite National Park
7. Salvation Mountain, Calipatria
8. Avenue of the Giants, Humboldt Redwoods State Park
9. McWay Falls, Big Sur
10. Mesquite Flat Sand Dunes, Death Valley National Park
11. Point Reyes Cypress Tree Tunnel
12. Badwater Basin, Death Valley
13. Pioneertown
14. The Santa Monica Pier
15. Historic Route 66
16. Griffith Park Observatory, Los Angeles
17. Wine Tasting…all over the state!
18. The Painted Ladies, San Francisco
19. Abbot Kinney Boulevard, Los Angeles
20. Joshua Tree National Park
My Personal Favorite Areas of California
Venice Beach
I've lived by the beach in Los Angeles for the entire time I've called this city home, and Venice is where I spend a majority of my time. It's a quirky beach town with plenty of creative energy and that's what I love so much about it. On a day trip to Venice, you can't miss a walk down the Venice Boardwalk (for the best people watching of all time), breakfast burritos at Great White (across from the Venice Sign), and a stroll down Abbot Kinney Boulevard.
Palm Springs
For a chilled out desert escape, Palm Springs is the place to be. Here, you'll spend your days working on your tan by the pool, biking through the quiet streets to check out all the mid-century modern architecture, hiking, and eating your way through the downtown area's hip restaurants. Life definitely slows down in Palm Springs in the best way possible.
Read More: How to Plan a Palm Springs Weekend Getaway
Joshua Tree
If Palm Springs feels a bit too mainstream for your taste, then check out nearby Joshua Tree, which is like the desert's black sheep of the family. It's still hip and funky in the best way, but it's definitely different. Here, you'll spend time taking in the alien planet landscapes of Joshua Tree National Park, exploring the old western movie set of Pioneertown and eating your way through the local diners and cafes with a side of live music.
Read More: The Best Things to do in Joshua Tree
Death Valley National Park
Death Valley is the most varied National Park in the state in my opinion and for that reason it's a photographer's dream! Within a single day, you can be climbing the Mesquite Flat Sand Dunes, exploring salt flats at Badwater Basin and watching the sun set over the magical rocky landscape of Zabriskie Point. The entire time you'll feel like you stepped foot on another planet!
Read More: How to Plan a Trip to Death Valley in Winter
Big Sur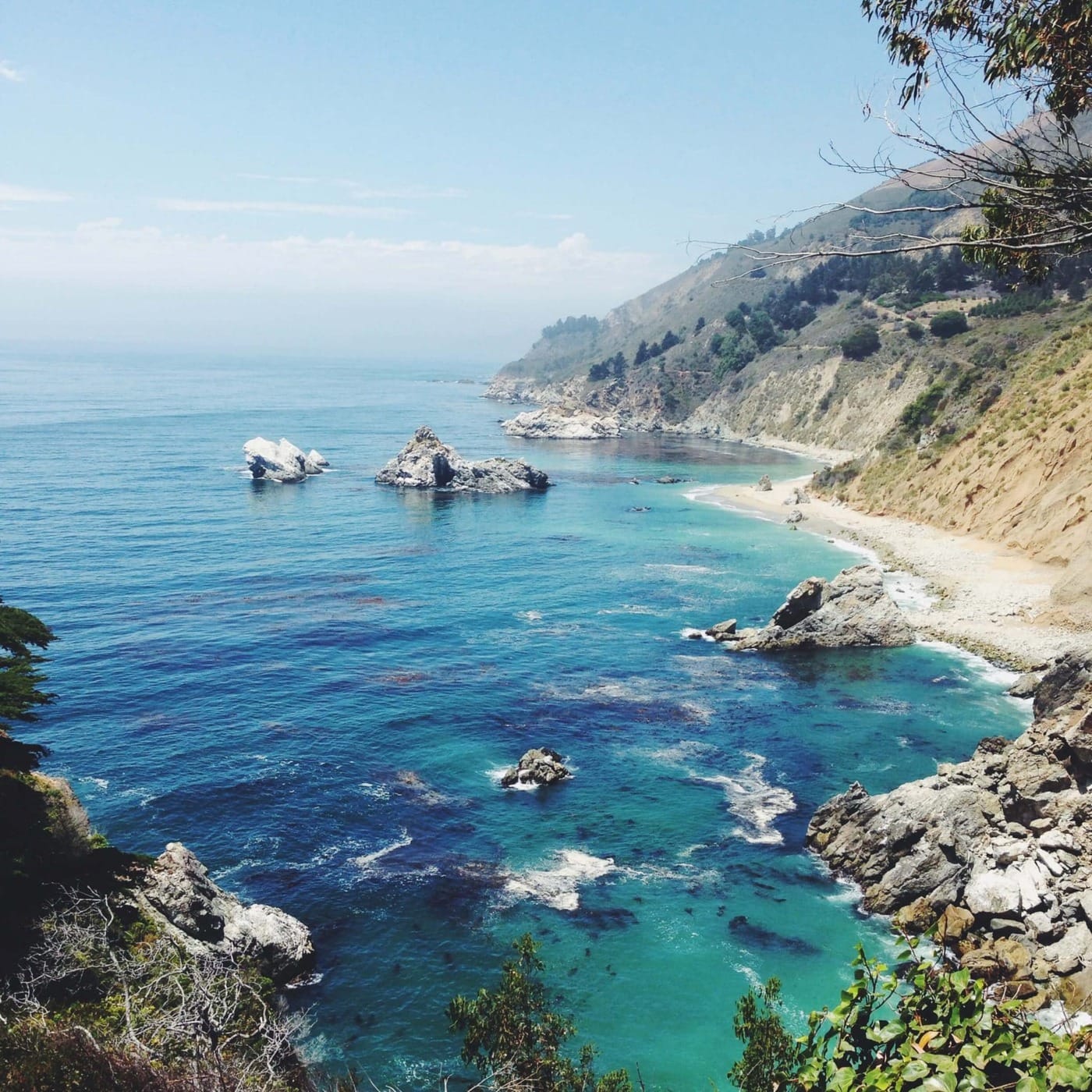 Big Sur is hands down one of the dreamiest escapes in California. It's got the classic rugged coastline of Northern California paired with magical forest, hiking trails, and waterfalls to explore. In the artist's community of Big Sur, you'll find everything from epic luxury retreats and lodge style accommodation to rustic glamping options, so you can truly choose your own adventure. While in town, make sure to splurge on a lunch or dinner at the Post Ranch Inn and grab baked goods at local favorite Big Sur Bakery.
Read More: How to Plan an Epic Road Trip to Big Sur
Trinidad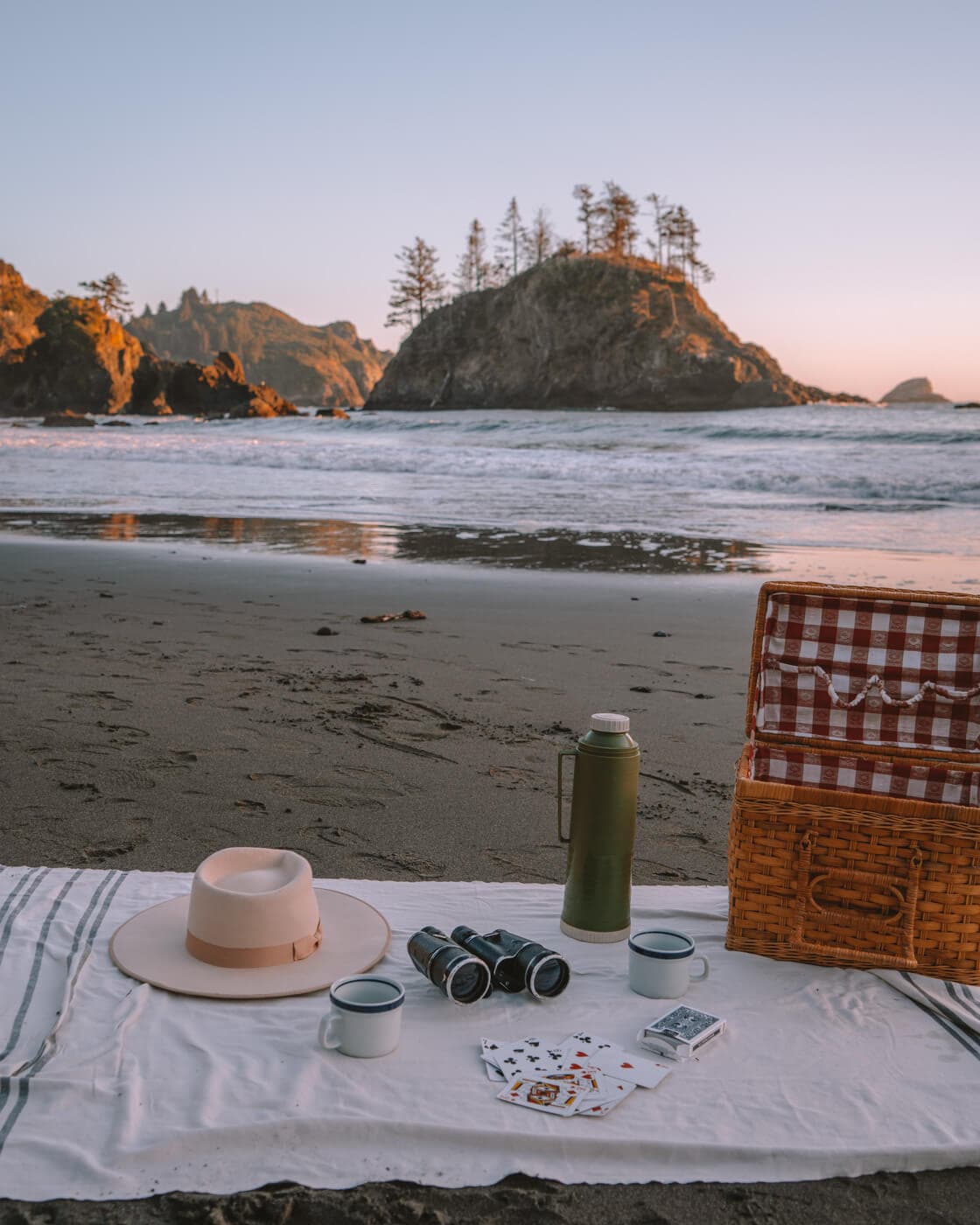 One of the most Northern coastal towns in California, Trinidad completely took me by surprise. It's got some of the most beautiful coastline I've come across that's totally different from the wide stretches of sand in Southern California I've become accustomed to. Trinidad is a bit of a sleepy town, but it's known for its access to both the coast and the incredible Redwood National and State Parks. Don't miss sunset sessions at College Cove and Moonstone Beach (my fave!) and a kayak tour with Kayak Trinidad.
Laguna Beach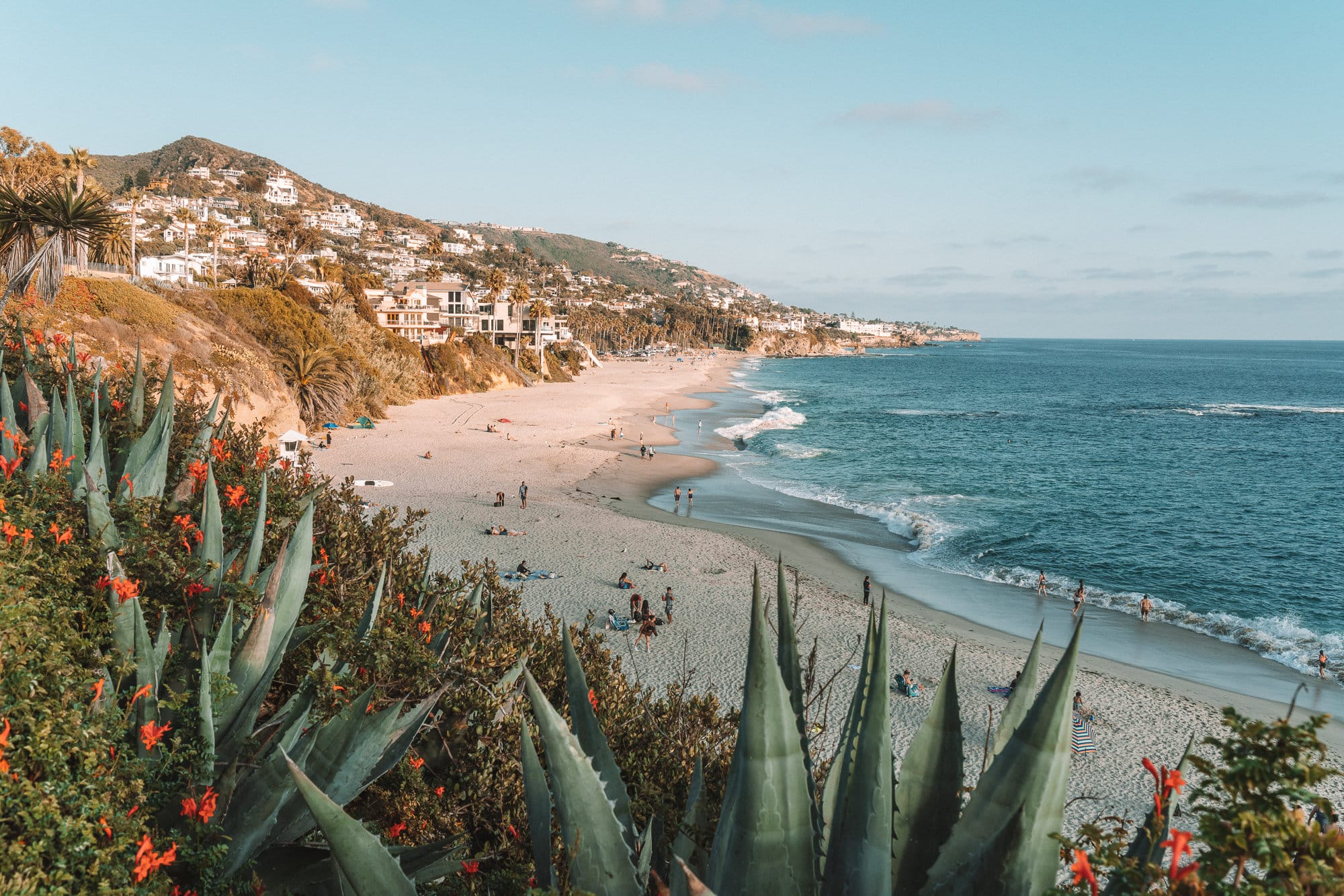 If you're in search of quintessential SoCal surfer vibes, it doesn't get much better than Laguna Beach. This part of California has some of the most stunning beaches in the state, beautiful weather year-round and a relaxed, friendly vibe that can't be beat. Spend a week here beach hopping, taking surf lessons, or eating your way through all the healthy cafes and restaurants to boost that Vitamin D.
Read More: The Ultimate Weekend Guide to Laguna Beach
5 Epic California Road Trip Ideas
If you're looking for for a few road trip ideas to get you inspired, here are some great routes to consider, from road trips that take you along the iconic Pacific Coast Highway, to winery tours and more.
The Desert Road Trip
Fly into Los Angeles and head inland for a quirky road trip through some of California's coolest desert communities.
Itinerary: Los Angeles, Joshua Tree, Palm Springs, Salvation Mountain, Death Valley, Alabama Hills
The Coastal Northern California Road Trip
I did a very similar road trip to Northern California recently and found it to be ideal for nature lovers. This itinerary will take you through some of the state's most beautiful coastline and Redwood forests.
Itinerary: San Francisco, Point Reyes, Mendocino, Fort Bragg, Trinidad
Read More: 11 Things You Can't Miss in Mendocino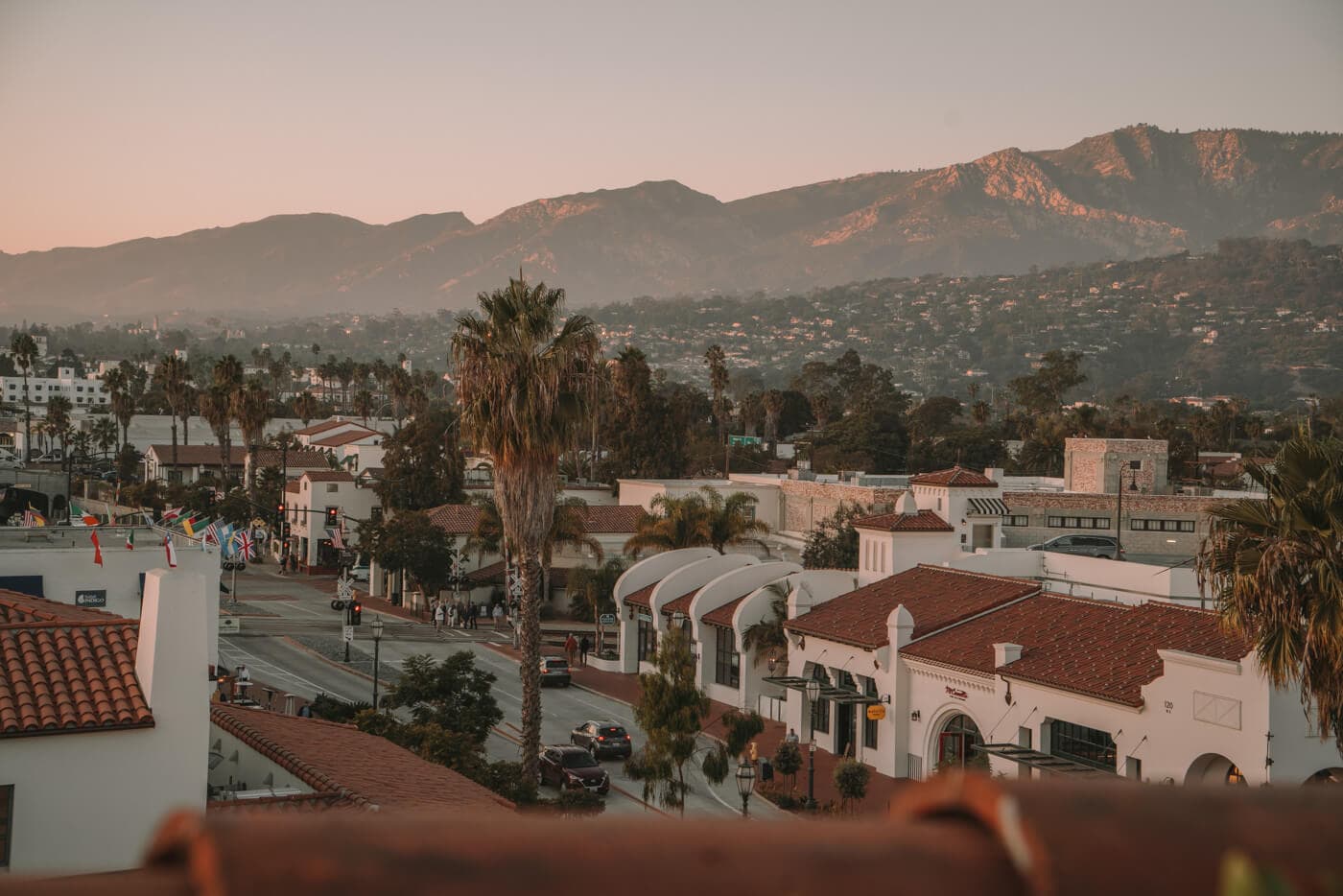 Pacific Coast Highway From Los Angeles to Big Sur
For classic Southern California vibes out of a movie, drive the Pacific Coast Highway from LA to Big Sur, preferably with the windows rolled down the whole way.
Itinerary: Los Angeles, Santa Barbara, Pismo Beach, Morro Bay, San Luis Obispo, Big Sur, Carmel
Read More: 15 Best Restaurants in Carmel-by-the-Sea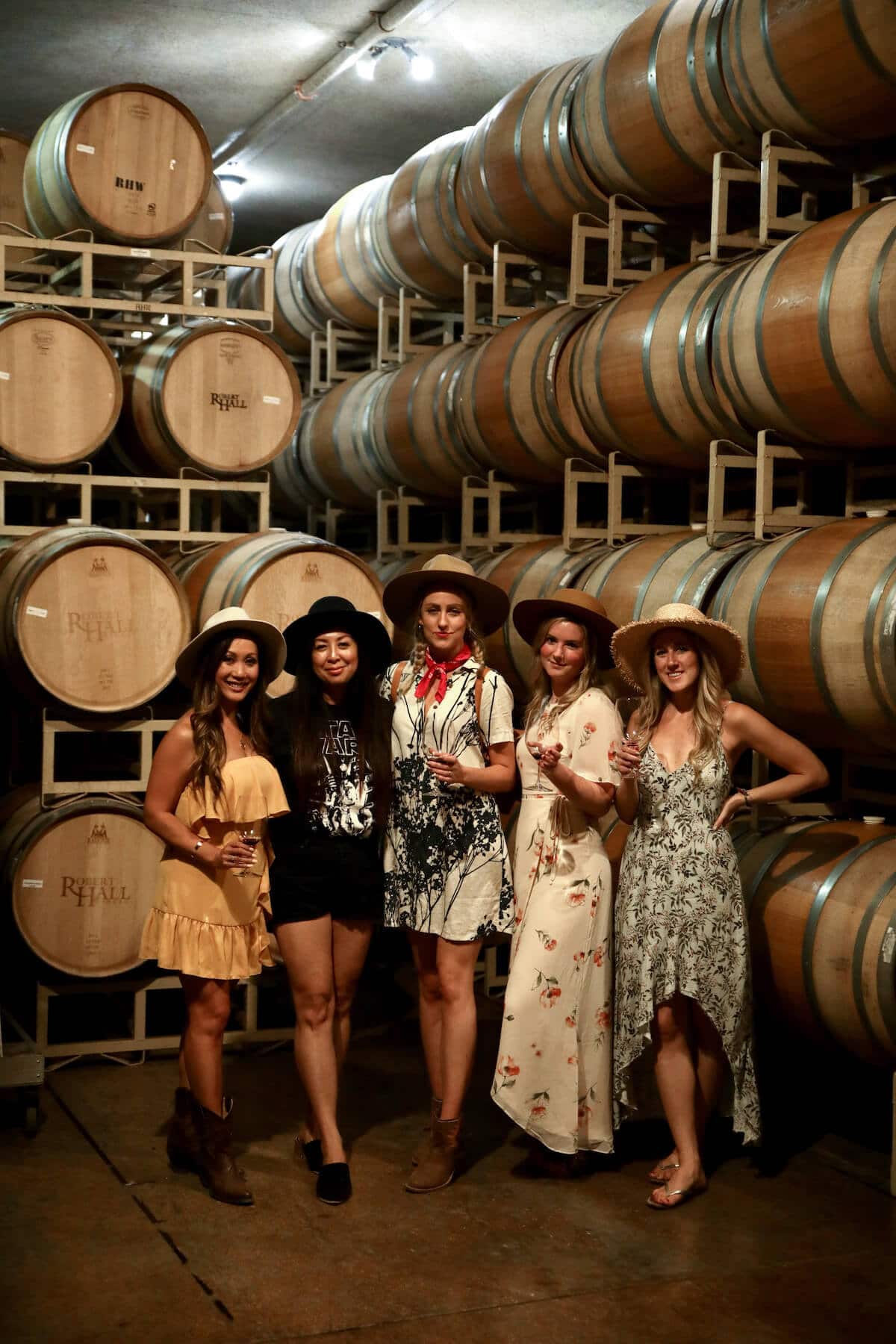 Central Coast Loop
For foodies and wine lovers, this is a great road trip that will take you through a mix of coastal and inland towns where you can eat and drink yourself silly the whole way.
Itinerary: Ojai, Santa Barbara, Los Olivos, Los Alamos, San Luis Obispo, Paso Robles
Read More: Exploring the Best of Low-Key Wine Country in Los Alamos
Read More: Weekend Guide to Ojai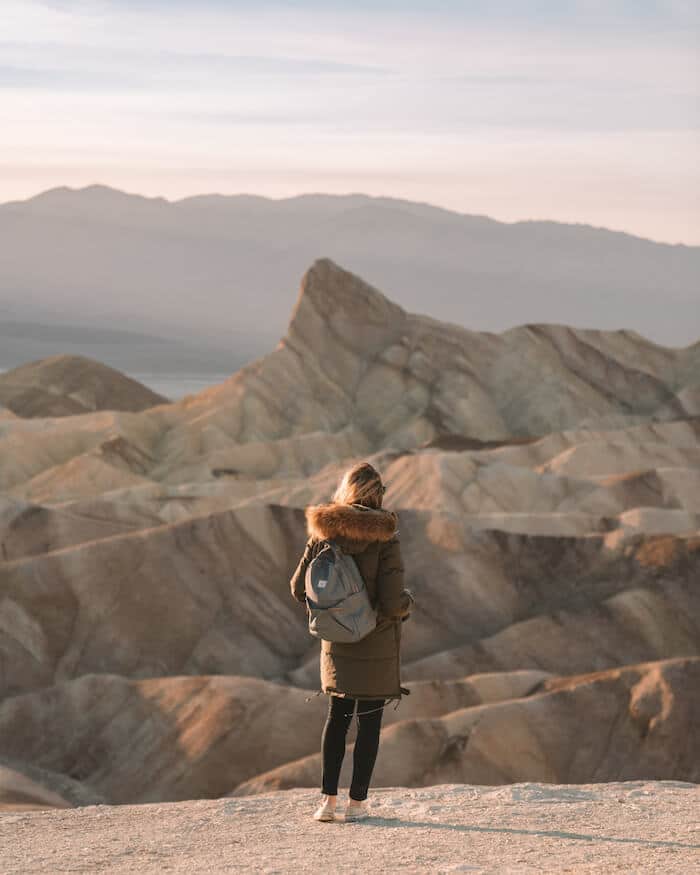 The National Parks Road Trip
For photography and nature lovers, experience some of the most varied landscapes in California with this epic National Parks road trip itinerary, starting south and driving North through the state.
Itinerary: Joshua Tree, Death Valley, Sequoia & Kings Canyon, Yosemite
Read More: A First Timer's Travel Guide to Yosemite
Phew! What a post. It was a beast to write, but I truly hope you found this California travel guide helpful in planning your upcoming adventures. Don't hesitate to drop any questions in the comments!
---
Planning a trip right now? Don't miss my go-to websites for booking everything from flights and tours, to accommodation and more:
---