Out of all of Hawaii's breathtaking islands, Kauai is perhaps the most magical, and this travel guide to Kauai is going to share everything you need to plan an incredible trip here.
Nicknamed the "Garden Island" thanks to its dense rainforest, Kauai has had a long list of adventure movies shot amongst its lush tropical jungle and epic coastlines—movies like Jurassic Park, Raiders of the Lost Ark, Avatar and Pirates of the Caribbean.
Starting to sense a theme here?
I first went to Kauai as a middle-schooler, but was really itching to go back and experience the island once again as an adult. But this latest trip to Kauai came about quite spur of the moment.
My boyfriend and I were looking for a last minute trip to take in December that would feel far away from city life in LA—and Kauai seemed to be the perfect pick.
It felt romantic and wild, adventurous and relaxing all in one. Plus, all of the Hawaiian islands are quite accessible from Los Angeles and there are really easy (and usually affordable) direct flights to get there! Needless to say, it didn't take us long to click 'book'!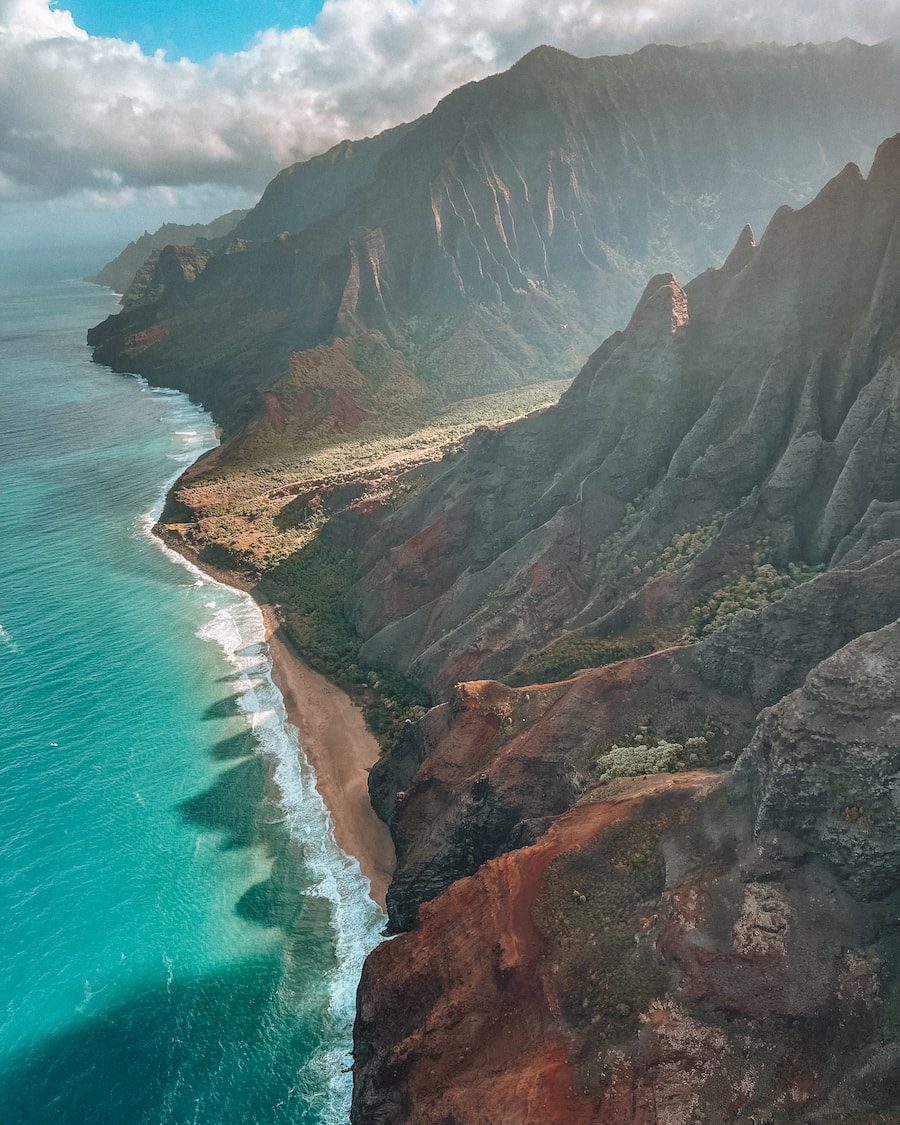 In this travel guide to Kauai, I'm excited to share more about Hawaii's most tropical island and why I think it has so much to offer for so many different types of travelers.
Whether you're a waterfall chaser, a dedicated hiker, looking to sit on a beach chair all day, or in search of the best poke bowls, you'll find something to satisfy on Kauai.
From the famous Nāpali Coast to the stellar surf on the North Shore, Kauai is home to an endless array of activities for every kind of traveler. That said, the hardest part is narrowing down everything you want to do on Kauai.
That's where I'm here to help. Keep reading for the ultimate travel guide to Kauai!
A Few Quick Tips Before You Go
Hawaiians have a deep sense of pride about their home. Always respect the locals and the island and if you are told you shouldn't do something or go somewhere, don't.
Leave no trace. This goes without saying anywhere you travel, but if we want Kauai to be here for years to come, please do your part to leave the land how you found it.
Rent a car! Renting a car is a must in Kauai. Since everyone wants to rent Jeeps here, they sell out pretty quick, so try your best to book as far in advance as possible. I always love renting with Rentalcars.com as they make it super easy to compare prices across many brands.
Plan your activities based on which side of the island you are staying on. I cover this more in the "Getting Around" section below, but in short: there is one main road that circles the island and there is no way to cut across it, so driving between different sections can be time consuming. Group your itinerary based on what side of the island you plan on exploring for this reason.
Be prepared for a lot of walking and hiking. 80% of the island is undriveable, and the Nāpali Coast makes it impossible to drive straight through the North Shore to the West. To see some of the most epic views and beautiful places on Kauai, you're going to have to hike to some of them.
Follow the local driving rules when crossing one-lane bridges! They can be pretty stressful and I found that the locals can be a little aggressive going across, but as long as you wait your turn, you'll be good. Don't make my mistake and get stuck having to back up off one 🙃
Prepare to get wet. Kauai is one of the top 10 wettest places on earth, and averages 451 inches of rain per year. If it doesn't rain while you're there, consider yourself one of the lucky few.
Plan weather-dependent tours early on in the trip as they often can get rescheduled due to weather. This especially goes for any helicopter or boats tour you might be booking.
What to Pack for Kauai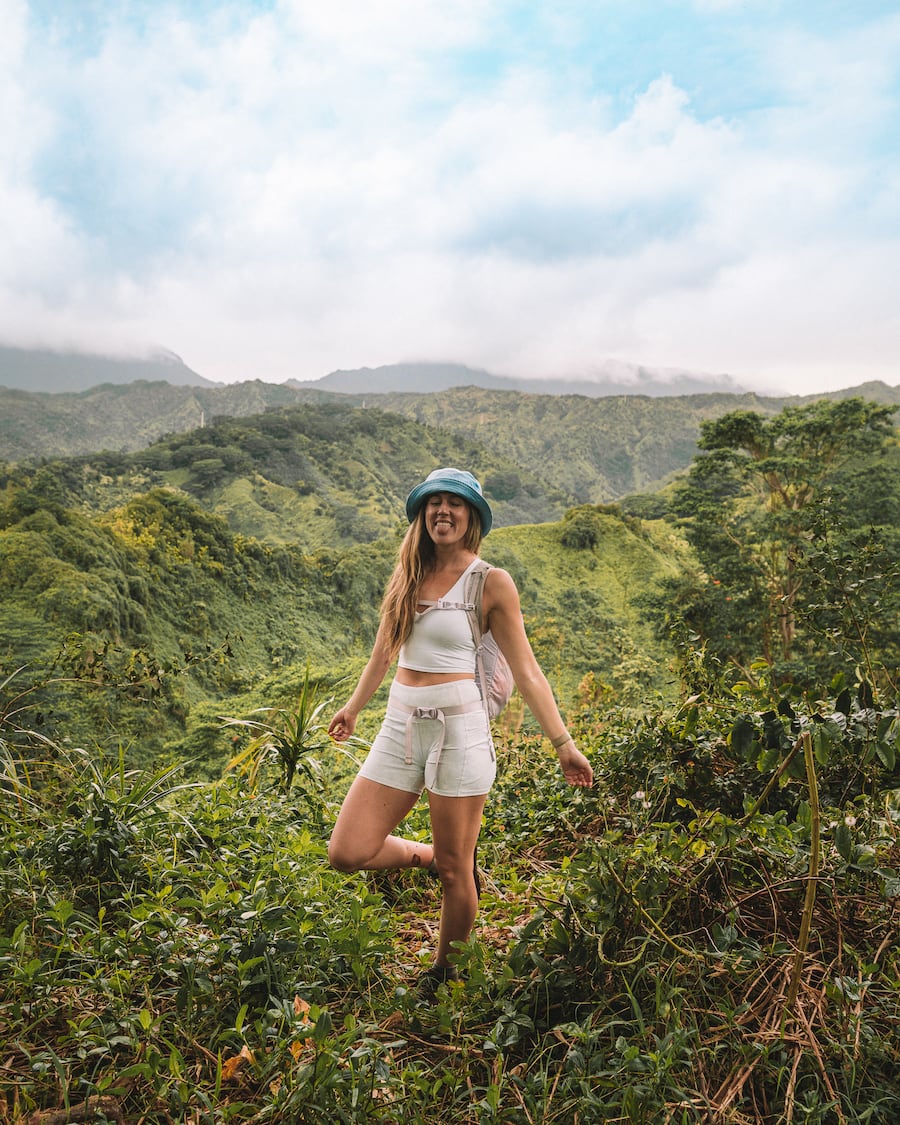 I'm including the packing section at the top of this travel guide to Kauai because packing appropriately can literally make or break your trip. Kauai is one of the wettest places on Earth and you need to be prepared! Below are the items I highly recommend bringing on any Kauai trip.
Swimsuits – This one is obvious…That said, if you're going to overpack anything, overpack swimsuits!
Rain Jackets – We ran into quite a bit of rain during our trip, and if you're planning on exploring the more rural parts of the North Shore, this is a must. Or at least water resistant clothing to keep you semi-dry.
Hiking Boots – Kauai is home to some amazing hiking, but the hikes can typically be very muddy and very wet, which doesn't make regular tennis shoes a great choice. I highly recommend bringing quality hiking boots with excellent grip. These are my favorite hiking boots that are actually cute too!
Hiking poles – If you want to do a decent amount of hiking or any of the longer hikes, it's 100% worth it to bring hiking poles. This was honestly the #1 thing I was thankful we packed and prevented me from being on my ass in mud on every hike. These are the exact hiking poles we brought, or if you want something more affordable, these ones have over 40,000 positive ratings on Amazon.
Bug spray – The mosquitos can get really bad, especially in the mountains. I love these mosquito wipes that are all natural and easily packable.
Windbreaker – Again, the weather can be unpredictable on the island, especially up in the mountains, so a windbreaker ensures that you're warm/protected while still being light and easy to carry.
Tote bag – A spacious tote bag that folds/packs easily is perfect to have in Kauai for beach days or day trips to throw extra needed items in the car.
Extra plastic or trash bags – Having extra bags for muddy boots or wet clothes is a must when traveling in Kauai so you don't destroy the rest of the items in your luggage—trust me on this one!
Foldable cooler bag – If you're looking to enjoy lunch or have a picnic on the beach, an easy-to-transport foldable cooler is great. If you don't want to pack one, there is also a large Costco near the Lihue airport where you can make a stop to grab one of these.
Light beach towels – If you just plan on hanging at the hotel pool, obviously your accommodation will provide these, but there are so many gorgeous public beaches on the island you don't want to miss—and you'll need your own towel. These turkish towels are super light and packable so they don't take a lot of room in your suitcase.
Reef-safe sunscreen – Protecting your skin should be a huge priority, but protecting the magical reefs of Kauai is also necessary, so be mindful when choosing which sunscreen you bring to the island.
Where to Stay in Kauai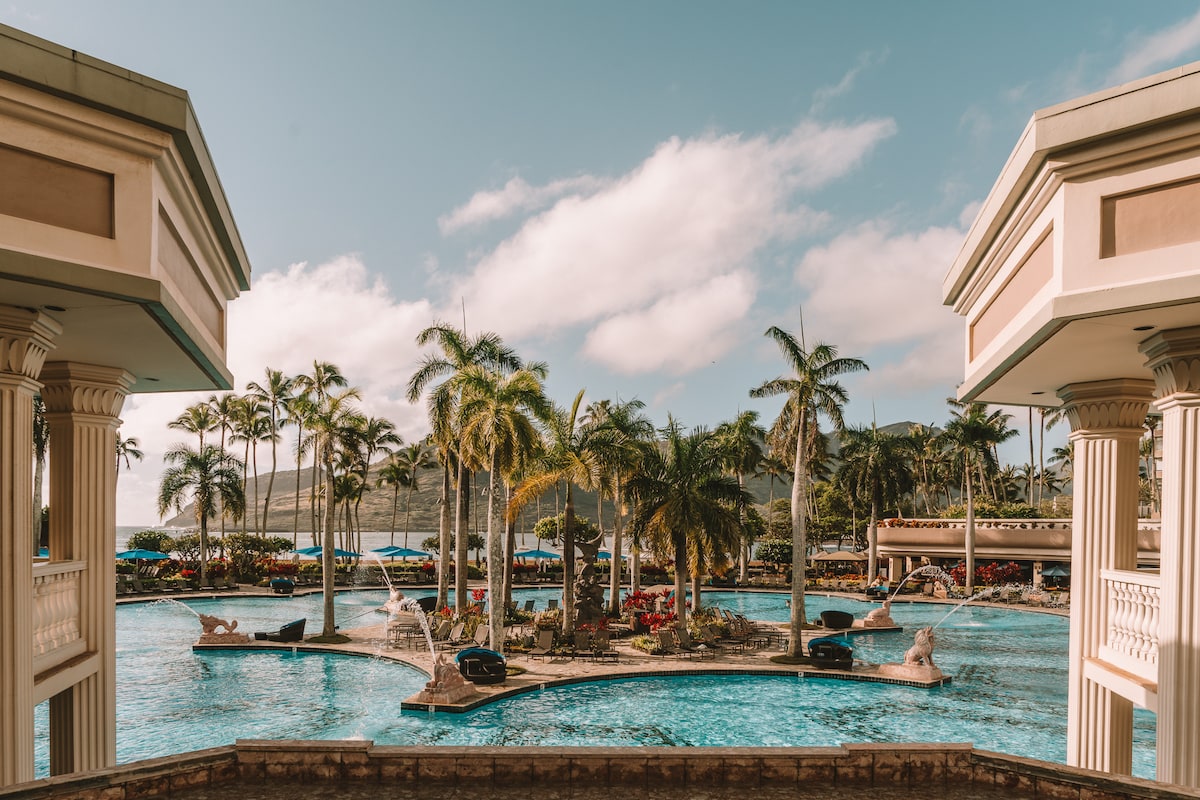 Wondering where to stay in Kauai?
There are four main sections of Kauai that you might want to stay in: The North Shore, East Side, South Shore and West Side. Each side has something unique and special to offer.
If you're staying in Kauai for more than three nights, I recommend splitting your time between two or more areas of the island so you can get a taste of different sections of the island.
For example, staying on the South Shore for a few nights and then the North Shore for a few will allow you to explore the best of the different parts of Kauai without spending all your time in the car driving between them all—there's only one main road that goes around the island and no major highways like you have in US cities, so especially if you get stuck in traffic, it can take a while.
But how do you pick which areas of Kauai to stay in?
This was probably the biggest question mark we had when planning our trip.
If you want my honest opinion, I would say definitely stay in Hanalei (North Shore) which is home to some of the most epic hikes and beaches and feels more local, and then if you have more time, book a few nights in the South Shore, which is considered the sunniest part of the island.
If you didn't want to move hotels at all, you could choose to stay in Kapa'a on the East Side which would at least split your distance between the North and South shores and give you access to both, though it would still be at least 40 minutes to get to either destination.
Here's a more thorough breakdown for you below!
North Shore
The North Shore is probably the most beautiful side of the island. It is incredibly lush and vibrant. This is also where a majority of the original Jurassic Park movie was filmed, and it looks exactly as it does in the movie.
I swear one day we were driving here around Hanalei and looked out the car window to see at least 15 waterfalls coming down the side of a mountain in the distance. You start to lose track of all the waterfalls you've seen in Kauai—it's nuts!
That said, the North Shore is prone to a lot of rain, so definitely expect to experience some cloudy and rainy spurts during your visit. We experienced mostly rain during our 3 nights on the North Shore and for this reason, I wish we would have booked more time up there to ensure we caught some sunny days.
Where to Stay on the North Shore
The two main places to stay on the North Shore are Princeville and Hanalei. Princeville is situated up on a bluff, offering stunning views of the Pacific. It is a fairly residential area with lots of vacation rentals and a few resorts like the Westin Princeville.
Hanalei is also a beautiful place to find accommodations, and it's only about 10 minutes away from Princeville. Hanalei Bay is stunning, and stretches for more than two miles, making beach days easy and abundant.
That said, while Hanalei has lots of great restaurants, there aren't too many big resorts, so you'll mostly find small inns or vacation rentals.
We stayed at this affordable vacation rental for a few nights and LOVED it. Super clean, spacious, and well-designed.
The most exciting hotel opening on the North Shore is the 1 Hotel in Hanalei Bay and it looks ABSOLUTELY FREAKING GORGEOUS. They've now started taking reservations and I literally want to go back to Kauai just to stay here.
East Side
Also referred to as the "Coconut Coast," the East Side of Kauai is centrally located and very budget-friendly. It is the most densely populated part of the island, meaning there are plenty of hotels and accommodation options.
Also, it is pretty easy to get from the East Side to both the South Shore and North Shore, so if you're looking to explore as much as possible, this might be the best place for you to call home base if you don't want to move around.
Where to Stay on the East Side
On the East Side, Kapaʻa is a great option because it's home to tons of great restaurants, shops, and businesses, and Lihue is where the airport is located.
We personally stayed at the Marriott Kauai Beach Club in Lihue for the first few nights of our trip because it was super close to the airport and also close by to where the doors-off helicopter tours take off. Our helicopter tour canceled the second day of our trip due to weather and rescheduled for the next day, so we were thankful to be based in Lihue for that.
From the Hilton Garden Inn Wailua Bay to the Marriott Kauai Lagoons, finding a place to stay won't be an issue on the East Side. That said, expect to find busier beaches and restaurants since it is a more crowded part of Kauai.
South Shore
The South Shore is definitely one of the more popular areas for tourists to stay when they travel to Kauai. The weather on this side of the island stays pretty sunny year-round, so if you're craving some sun and pool vibes, the South Shore is probably for you if you don't mind the plethora of big resorts.
Where to Stay on the South Shore
Poipu is definitely the most popular part of the South Shore for visitors, and it's home to some of the most beloved beaches and restaurants on the island. However, keep in mind you're mostly going to find big resorts and condo rentals here.
Some solid hotel options on the South Shore include the Sheraton Kauai and the Grand Hyatt Kauai (which is where we stayed). I highly recommend the Grand Hyatt which is stunning, right on the ocean and has really wonderful restaurants right on site—make sure to book reservations for dining well in advance!
West Side
The West Side of Kauai is the most remote part of the island, which may be exactly what you're looking for. Staying here means truly immersing yourself in nature and getting away from the crowds and tourists, which can be truly magical in a place like Kauai.
That said, much of the West Side is not accessible by car, meaning you'll have to boat or hike your way around to see the most beautiful parts.
There is also no direct connecting road from the West Side to the North Shore, so in order to get between the two you have to travel around the entire island through the South Shore and East Side first, making day trips to more distant sections of the island cumbersome.
Where to Stay on the West Side
If you're seeking remote adventure and exploration you will love the West Side and its highlights like Waimea Canyon and Kōkeʻe State Park.
However, accommodations are very limited. In fact, the Waimea Plantation Cottages is pretty much the main place to book for extended periods of time on the West Side.
The West Inn or West Kauai Lodging are other options if you're OK with something a bit more basic.
How to Get Around the Island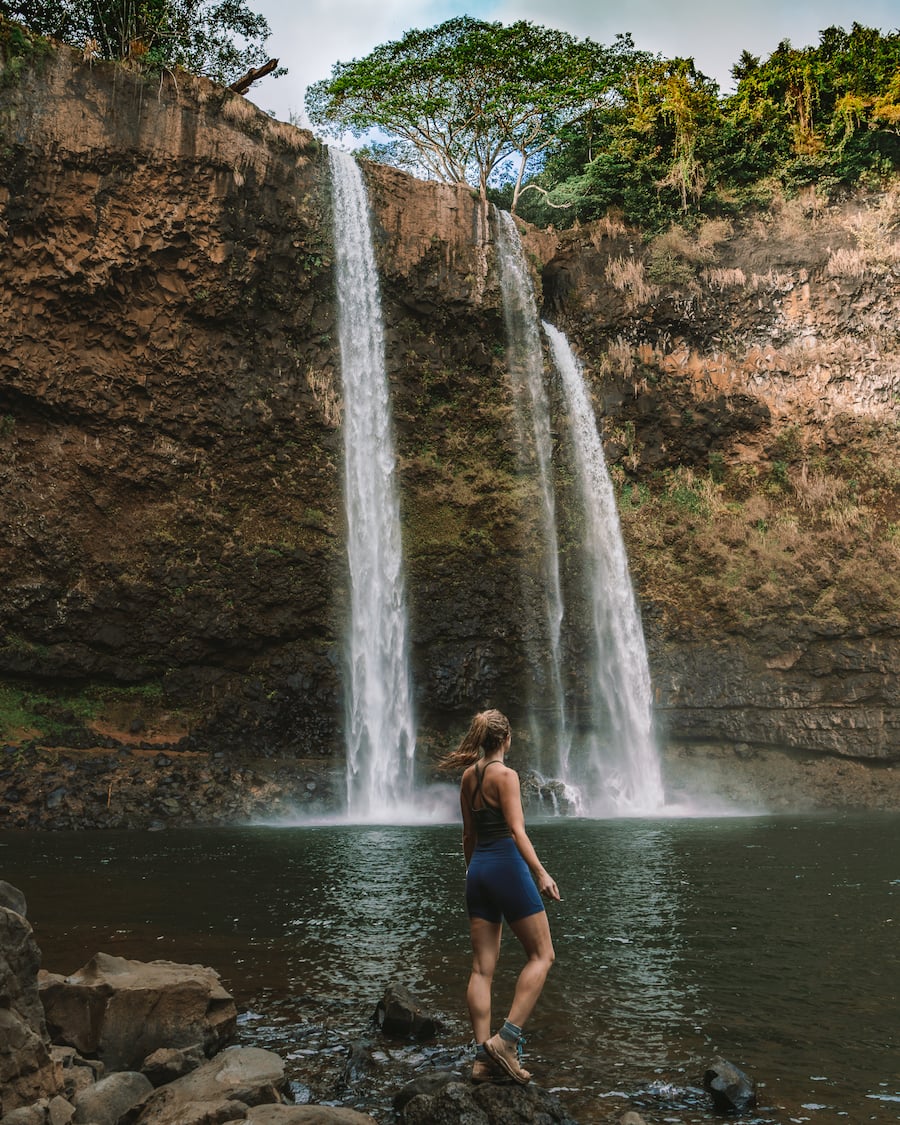 Out of all of the advice on this travel guide for Kauai, renting a car and getting around smartly is perhaps the most important. Kauai is not the place to rely on public transport when traveling.
Jeeps are a great rental choice for Kauai (and a top pick by just about everyone, of course), because they're great in rugged conditions. With that said, they go quickly with the demand.
A Note About Booking Rental Cars:
I personally use and recommend Rentalcars.com because they offer a simple solution for comparing rates across all the top brands, they'll price match if you find a lower rate, AND they offer free cancellations on most bookings!
We had trouble finding any Jeeps at all when we were searching for rental cars in Kauai or an affordable rental car since we booked our trip last minute.
In the end, we booked a large SUV with Turo, which is basically like the Airbnb of cars; it's a car-sharing marketplace that allows you to find rides and rentals from locals so that you can skip the rental car booking process altogether. It worked great for us and I would definitely do it again!
Something else to keep in mind is the fact that the island takes a while to explore by car. There are no roads that cut through the island, so you have to drive all the way around the coast to reach each shore and there's really only one main road.
If any road construction or blockages happen, it can cause a lot of traffic, so we found it's really helpful to give yourself extra time to get everywhere.
---
Explore More Tropical Travel
---
Where to Eat and Drink in Kauai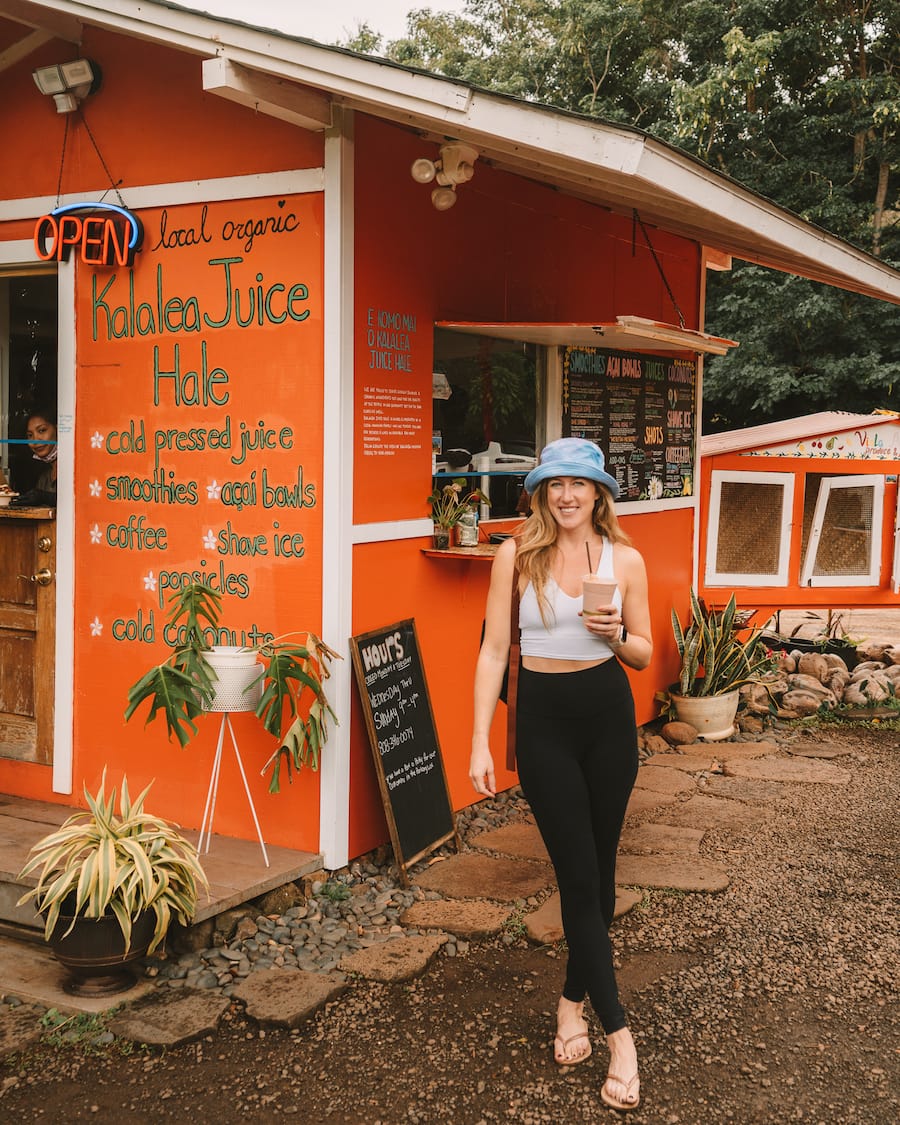 If you love fresh seafood like me, then the culinary scene in Kauai is gonna be good to you! That said, making your reservations at least a month in advance is super important if you're visiting during a busy season.
We tried booking out a couple of weeks ahead of time in December and couldn't get reservations at quite a few of our top picks. Here are some of the best restaurants in Kauai you won't want to miss!
Koloa Rum Tasting Room is the perfect place to hit up between activities for a fun and FREE rum tasting. The tasting room is located on an old plantation, and tastings occur every 60 minutes (starting at 10:15 AM).
I know this is a pretty big statement, but The Fish Express definitely has the best poke on the island! Even better, it's located right near the airport, so it should be your first stop right after you pick up your rental car. The poke here is seriously SO fresh and really is the best way to start any trip in Kauai.
Jo2 is a more upscale spot that combines French and Japanese cooking with locally sourced and fresh ingredients. This was without a doubt the most artful and unique meal we had in Kauai.
Bar Acuda is a cool and modern spot that serves up delicious tapas. For 15 years, Bar Acuda has prioritized using locally sourced and seasonal ingredients to create tasty and innovative shareable plates. This is definitely one you need to book ahead!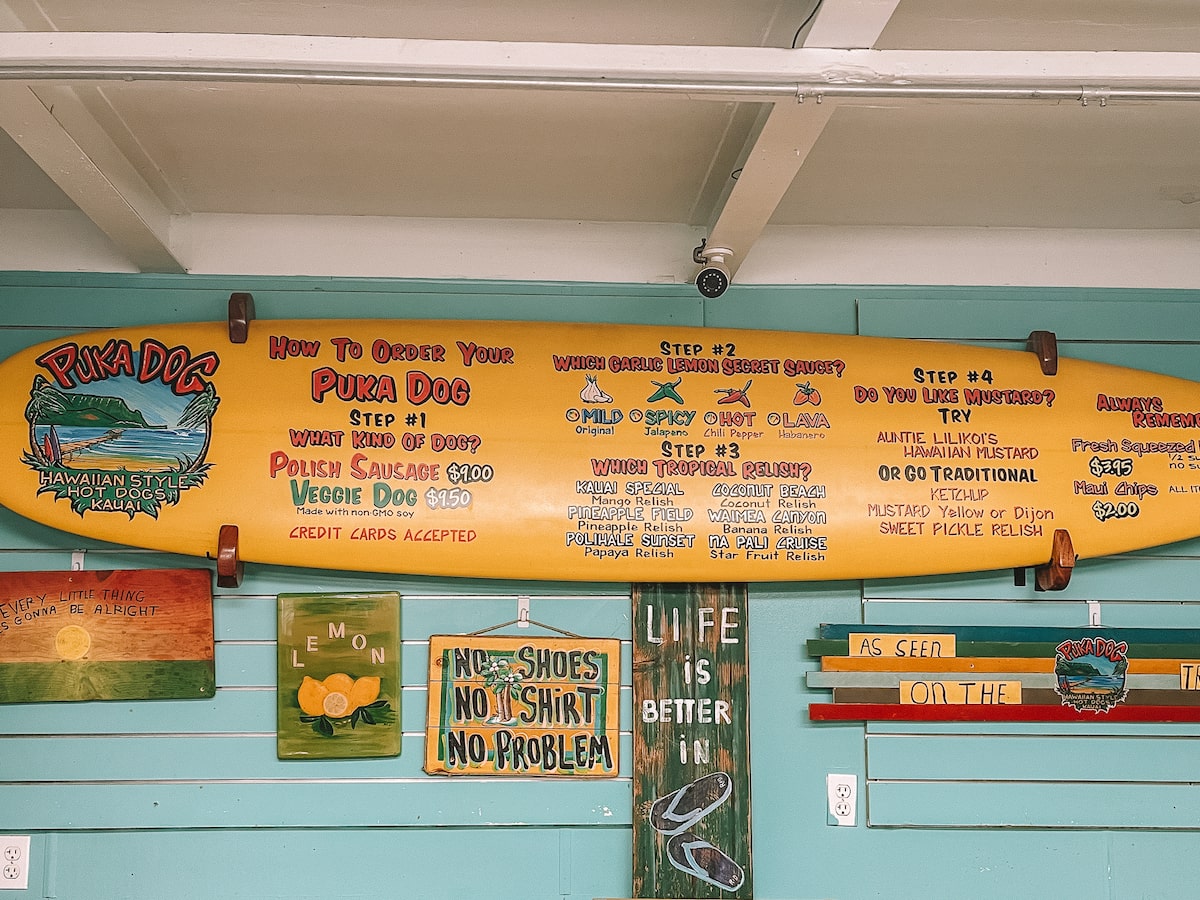 Puka Dog is a classic Hawaiian spot that is sure to cure your craving for a hearty hot dog. These Hawaiian-style dogs are beyond tasty, but what makes them unique are all the different relish options to choose from like mango, banana, and coconut.
If you're looking to grab a cold beer after the beach, Kauai Island Brewing Co. is the place to go. It is the oldest brewery and pub on the island, and it doubles as a full-service restaurant so that you can grab a bite while enjoying your beer.
Mark's Place is a casual and local hot spot that serves affordable and authentic Hawaiian-style plates. It's been around since 1998, and it is most popular for lunch. The mixed plate with chicken katsu, teriyaki beef, and beef stew is super filling, and the potato macaroni salad is out of this world.
Also, if you dare I highly recommend trying a spam musubi—I was initially grossed out honestly, but came to love these little Hawaiian snacks during our trip!
The Beach House Restaurant in Koloa is probably one of the most famous restaurants on the island. We didn't end up eating here, but it's a super romantic spot that pairs breathtaking ocean views with elevated coastal cuisine. A great pick for sunset!
Eating House is a historic concept by Roy Yamaguchi located in the heart of Poipu. This is definitely the kind of spot that requires a reservation, so be sure to book ahead. The menu puts a modern twist on traditional Hawaiian cuisine, and dinner here is definitely a worthwhile experience.
I'm so happy my friend recommended Japanese Grandma before our trip! This is an amazing sushi spot on the island that sets the vibe with live music and delicious dishes that are plated beautifully. We really loved this spot.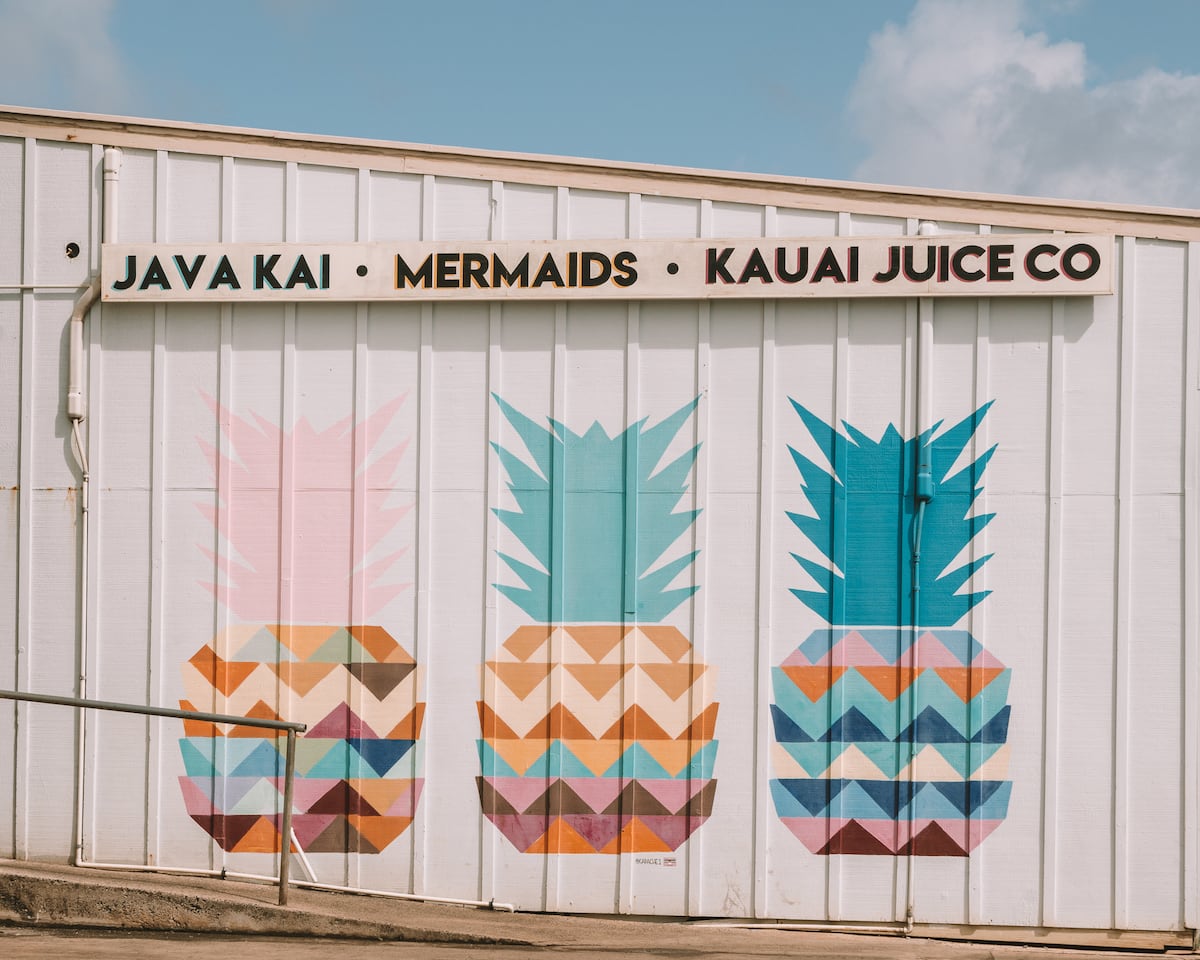 When it comes to grabbing a solid cup of coffee, Java Kai is my top pick. This charming coffee shop with surfer vibes can be recognized by its bright teal exterior, plus the coffee is high-quality.
Whether you're looking for coffee or a mid-day snack, Hanalei Bread Co. has you covered with organic goods. They have some solid lunch options like avocado toast and acai bowls, making it easy to enjoy a delicious pick-me-up on the go.
In addition to serving some authentic Tahitian and Hawaiian fare, Tahiti Nui is also a popular spot for live music and innovative cocktails in Hanalei. This family-run business has been around since 1963.
Shaved Ice is a must when visiting Kauai. While there are several options to choose from, Waikomo Shave Ice is one of the best and has a few different locations scattered across the East Side of the island. The flavors are all-natural, and there really is no better way to beat the heat than enjoying one of the frozen desserts.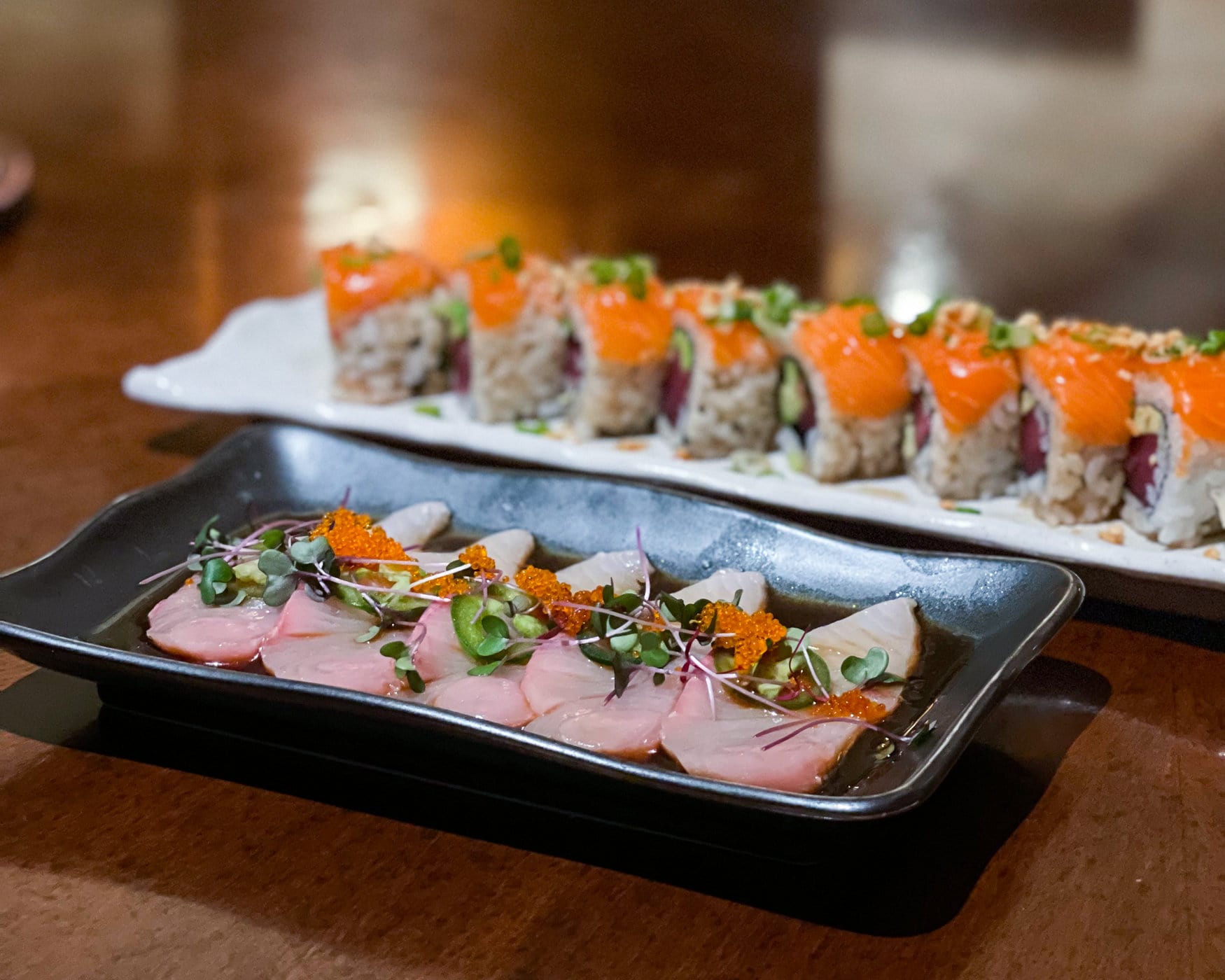 Located in the Grand Hyatt, Stevenson's Library specialized in sushi and upscale cocktails in a warm and intimate setting. In addition to cocktails, Stevenson's Library also features an extensive list of Cognac and Port.
Mamahune's is an awesome tiki bar in Kapa'a that serves up awesome, refreshing cocktails served in iconic tiki style glasses. The interior is super retro and colorful, and it's the perfect spot to let loose and chat up some fellow travelers.
Best Things to Do When Traveling in Kauai
When it comes to outdoor adventure, the possibilities in Kauai are literally endless. From hiking trails to secret waterfalls to breathtaking snorkeling spots, there is seriously so much to do and enjoy.
Though you might have to time your outdoor activities according to the weather on some parts of the island, you'll definitely be spending the majority of your time in Kauai outside.
Here are a few things you can't miss!
Doors-Off Helicopter Tour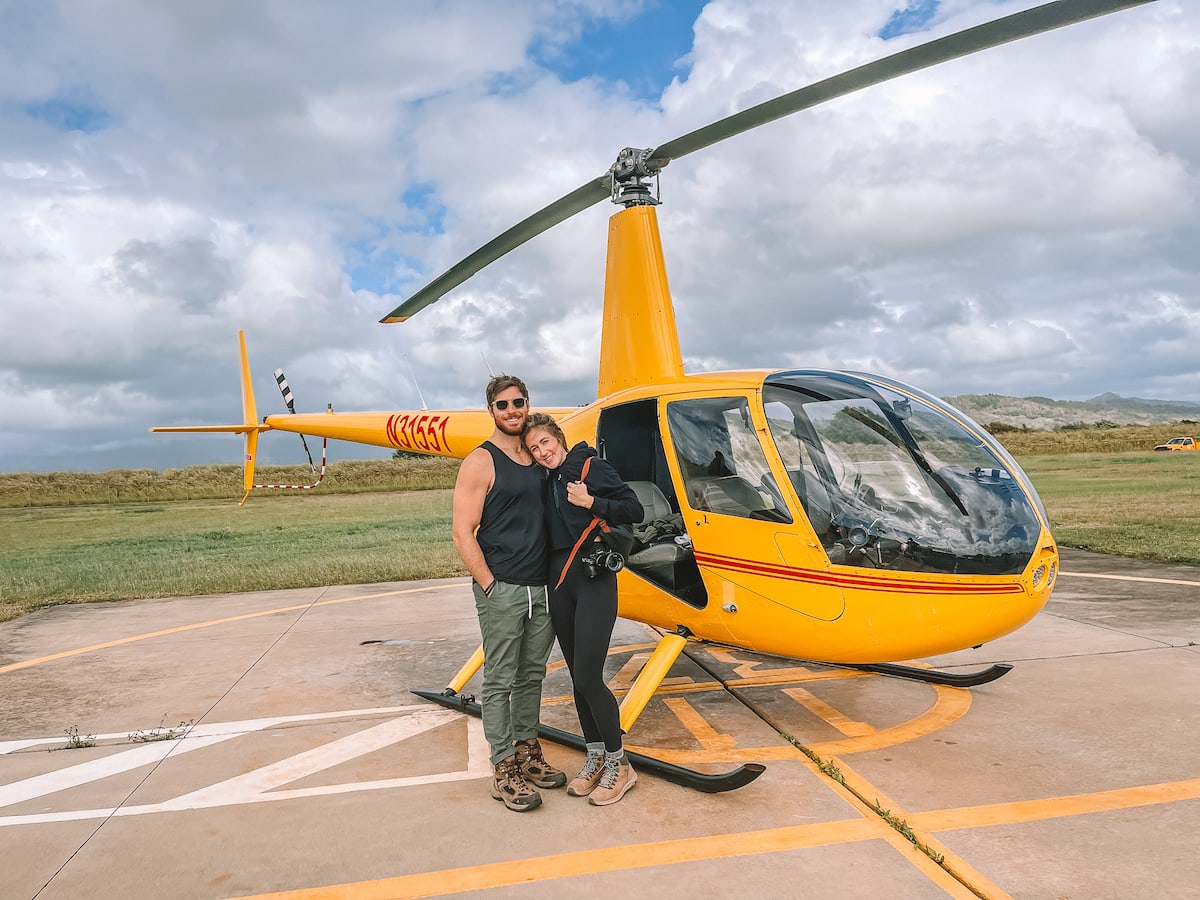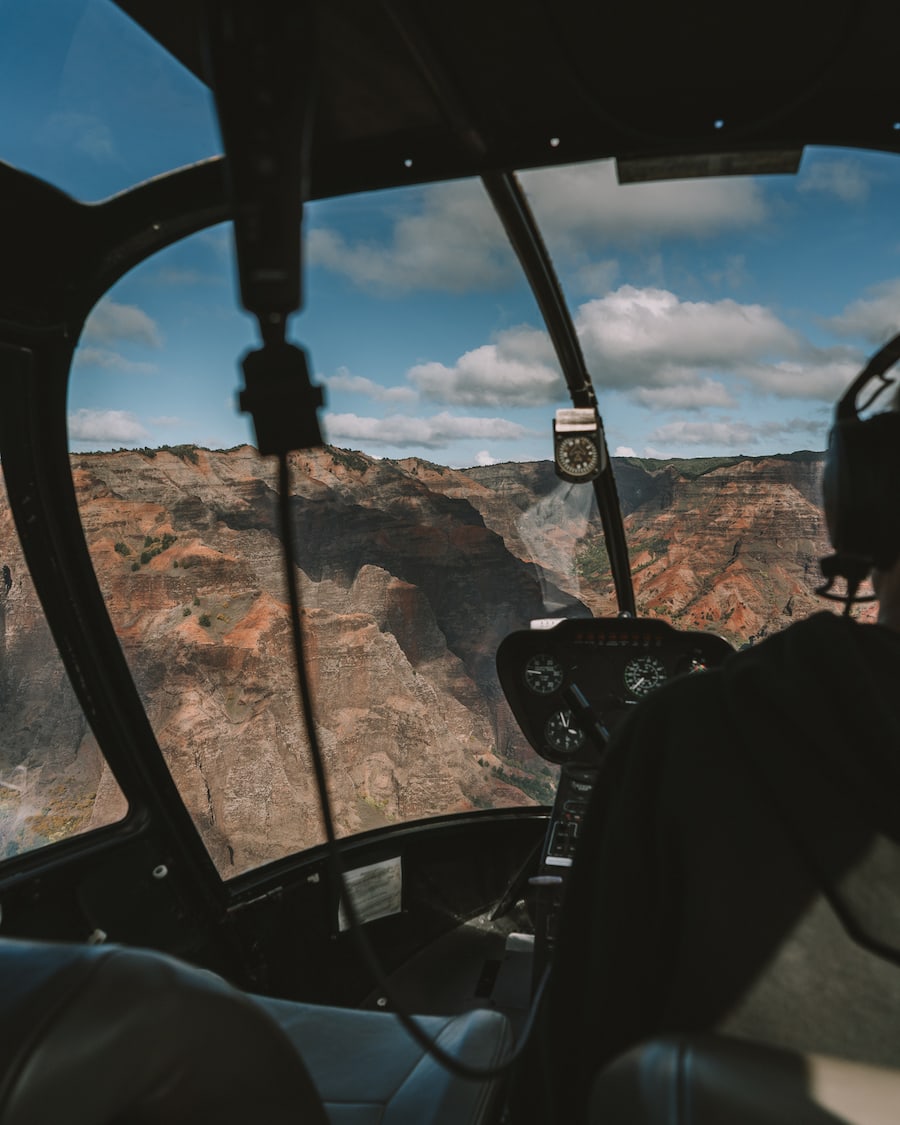 Even if you have a fear of flying or heights, I highly recommend building up the courage to take a doors off helicopter tour.
Enjoying an aerial view of this magical island is a truly surreal experience and the best way to get your bearings with a literal birds-eye view. Between the fresh air and unobstructed views, this is by far one of the coolest things we did in Kauai.
Snorkel at Lawai Beach
Lawai Beach is situated right in front of the famous Beach House Restaurant. When the water is calm, this is a wonderful place for snorkeling and there are tons of beautiful fish that swim throughout the reef. If you're lucky, you might even spot a sea turtle or two.
Wailua Falls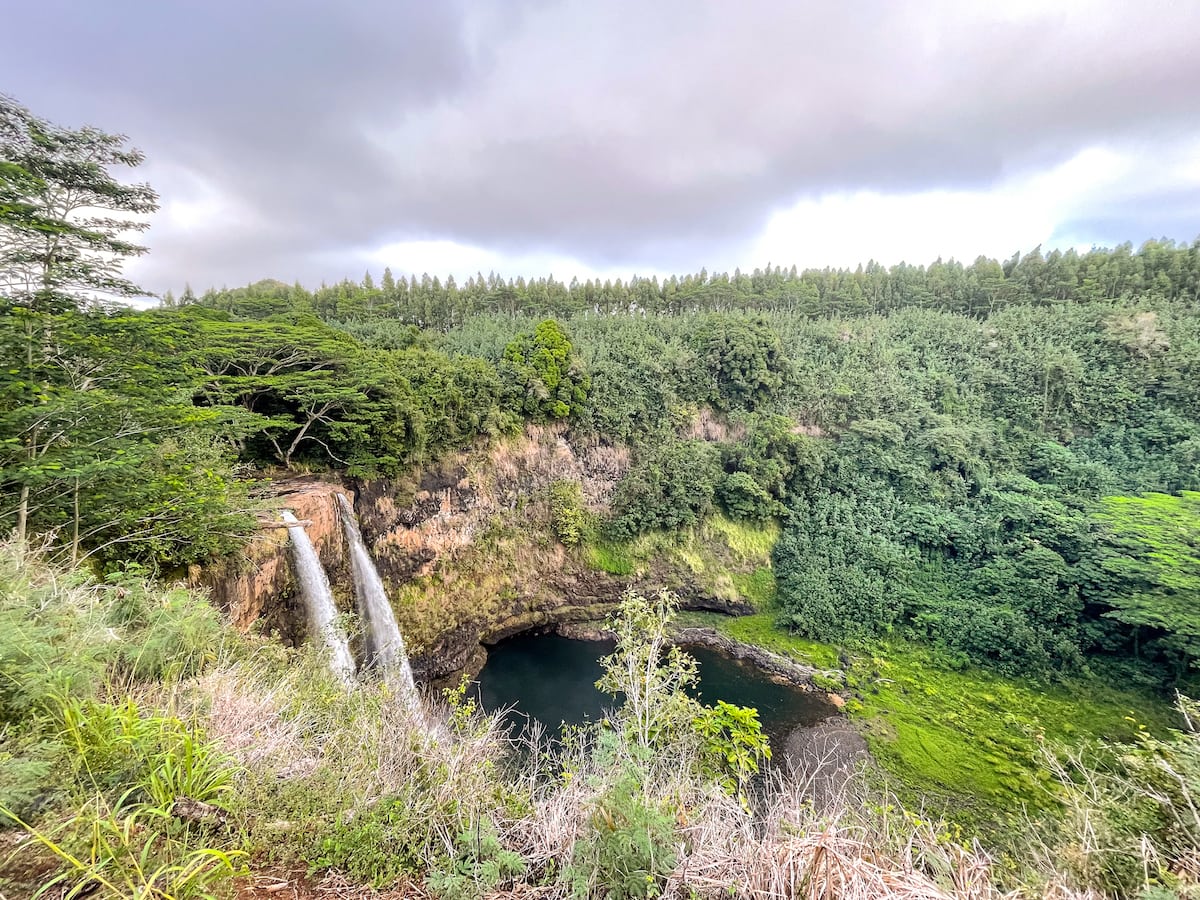 This 173-foot waterfall is a true stunner that will literally take your breath away. That said, the hike down to get here can be quite sketchy, requiring you to scale down lush jungle on ropes which can be a little nerve-wracking.
Still, if you're confident in your ability to stay sure-footed, it's 100% worth it. Fun fact: Wailua Falls was the waterfall that was always featured on Fantasy Island.
Visit Queens Bath
The Queens Bath natural pools are one of the most talked-about and famous spots in Kauai. That said, it can be really dangerous at high tide, so always explore with caution.
These scenic pools are beyond stunning, filling with crystal clear water, and set to a dramatic backdrop of lush mountains. If you're looking to experience the ultimate "mermaid moment," this is the place.
Explore Waimea Canyon State Park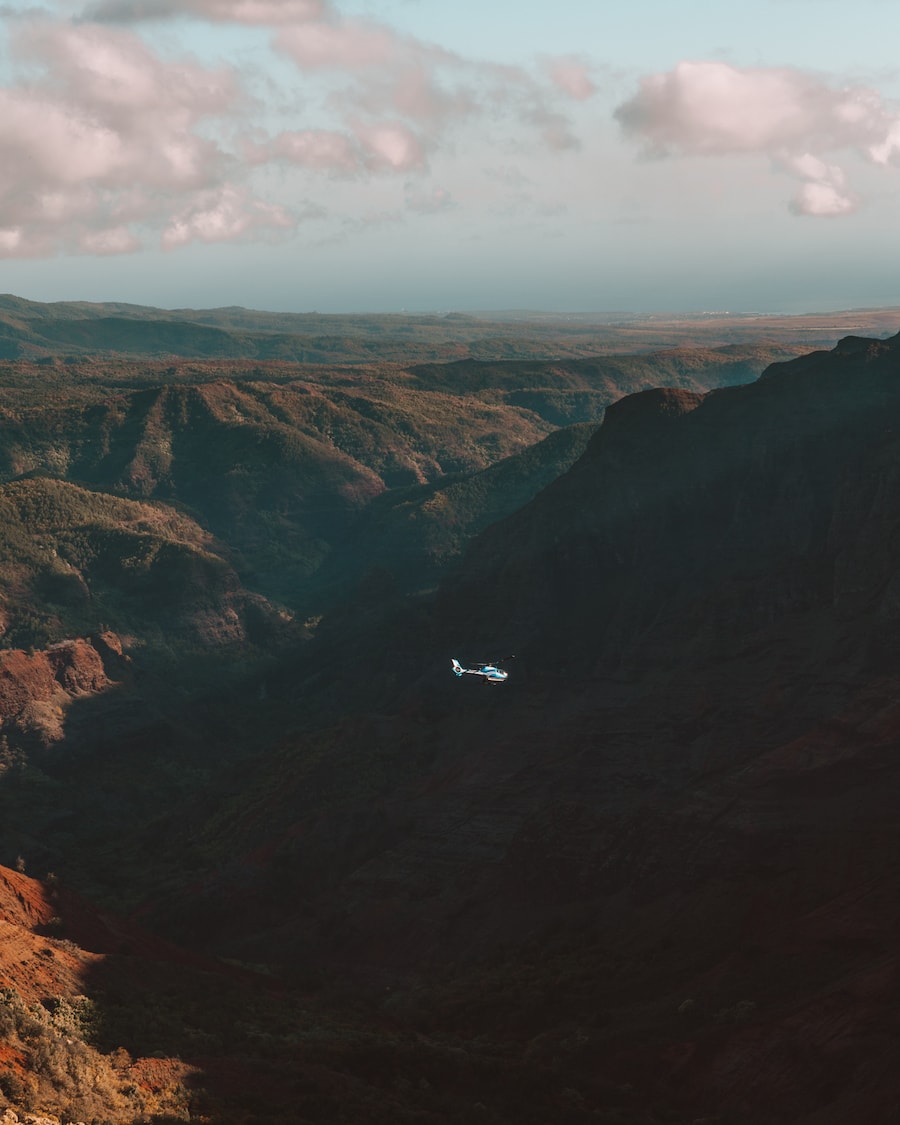 Waimea Canyon is considered to be the "Grand Canyon of the Pacific," and the views here are absolutely breathtaking. There are tons of hiking trails and waterfalls to explore, but the Kalepa Ridge Trail is one of the most scenic hiking trails in the park.
Though it only takes a little more than an hour to complete, there are parts of it that are very challenging and narrow, so be sure to come prepared and wear proper hiking shoes.
See the Turtles and Seals at Poipu Beach
Hawaii is home to some of the most amazing and magical wildlife, especially when it comes to ocean animals. Poipu Beach is home to tons of adorable Monk Seals and sea turtles, making it the perfect place to enjoy some snorkeling.
Hanakapi'ai Falls Along the Kalalau Trail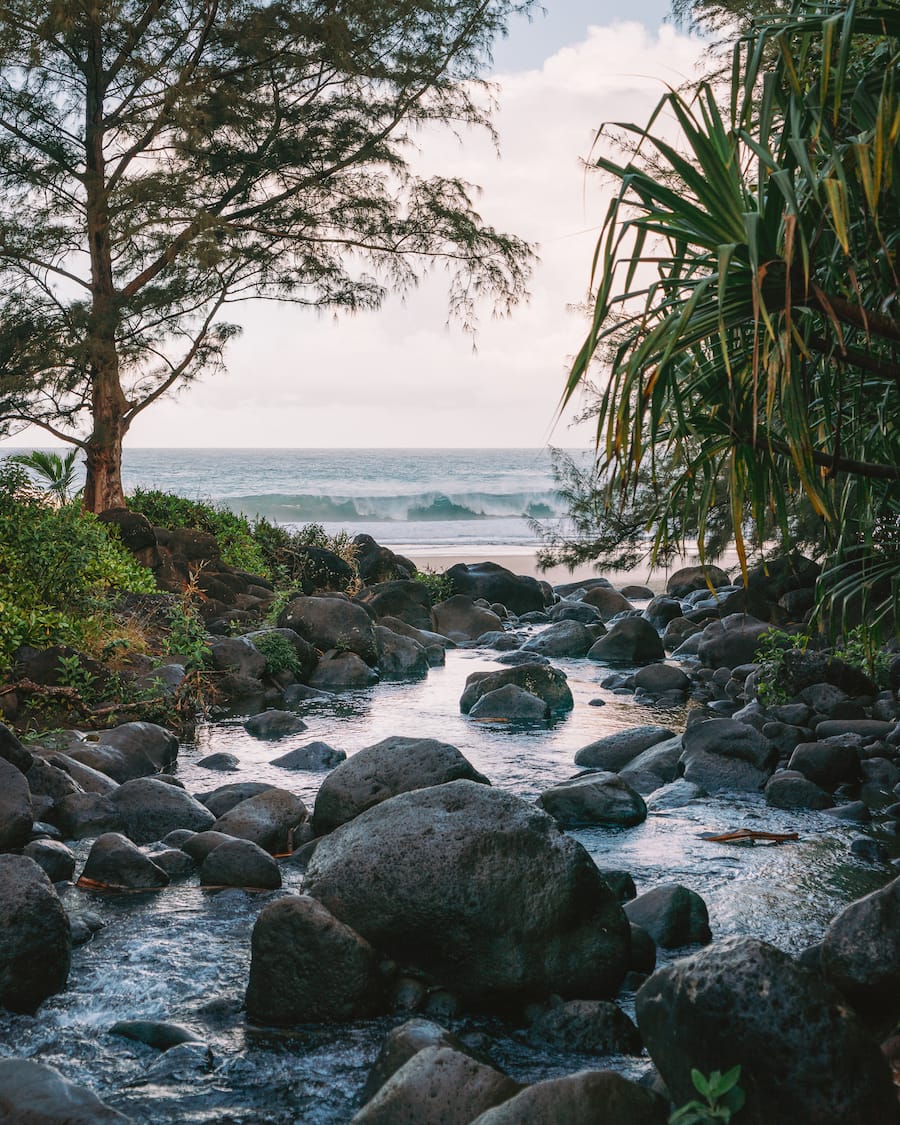 Hanakapi'ai Falls is a 300-foot tall waterfall that is located along the Kalalau Trail in Haena State Park and hiking here was definitely one of our absolute favorite things we did in Kauai, despite the fact that too rainy weather meant we couldn't make it all the way to the falls.
This is also one of the few places where you really need to plan in advance as entering Haena State Park requires a reservation.
If you plan on hiking past the falls, you'll need to purchase a camping permit for the Nāpali Coast State Wilderness Park as well. You can find more comprehensive information on how to book all reservations here.
Explore the Food Trucks and Shops in Hanalei Bay
Hanalei Bay is an iconic strip of beach that stretches for more than two miles. Located just up the street from the beach you'll find several amazing food trucks that have everything from poke to vegan fare. This is the perfect place to grab lunch before hitting the beach for a picturesque picnic.
Tunnels Beach in Hanalei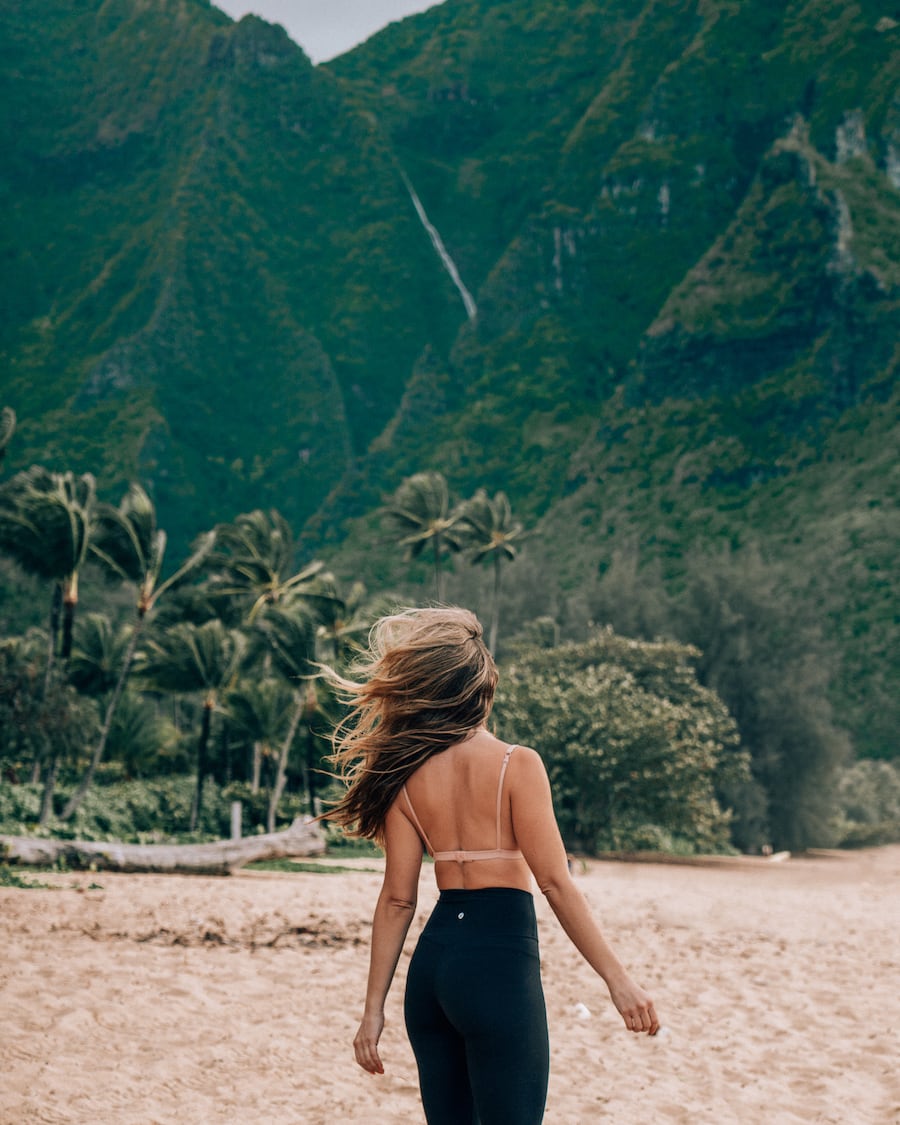 This is probably the most epic and beautiful beach in all of Kauai, so don't miss this one! It was pretty overcast the day we were here, but it was still stunning. Parking can get a little tricky later in the day, so be sure to get there early to snag a guaranteed spot.
View the Na'Pali Coast by Boat
There is nothing quite as amazing as taking in the Na'Pali Coast from the ocean. Captain Andy's has been offering chartered boat tours since 1980, and they have everything from yachts to classic catamarans. That said, the Wet and Wild Raft Expeditions are perfect for those seeking a little thrill.
Did this travel guide to Kauai inspire you to plan your next trip?
---
Planning a trip right now? Don't miss my go-to websites for booking everything from flights and tours, to accommodation and more:
---