I'll be honest — packing for Tulum isn't exactly like packing for any ole beach destination. Typically you can just throw some tank tops and mumus in your luggage and call it a day, but Tulum is one of the most stylish beach destinations out there, so if you want to look the part you've got to be equipped with a bit of insider info. Let this Tulum packing list post be your ultimate guide as you finalize your trip details to this unique slice of paradise in the Yucatan peninsula.
After reading this post, I'm confident you'll be more than prepared to pack for your trip without forgetting any of the essentials, so you can dive into your trip and enjoy all your bucket list Tulum activities worry-free.
But first, if you're still in the planning stages of your trip, make sure to check out more of these Tulum posts that will help you choose where to stay and what to do during your time there:
---
Read More Tulum Posts
---
OK, let's dive in!
What to Wear in Tulum
Tulum tends to attract a particular crowd. Sure, like any destination you can find the backpackers, yogis, and budget travelers, but by the beach you'll find that the crowd is quite upscale and stylish — think Manhattan-based creatives on a long weekend holiday or Europeans looking for a break from Ibiza.
While anything goes during the day — jean shorts, strappy sandals and a bikini is perfectly fine — people do get a bit more dressed up at night. If you don't care about fitting in with the crowd then I salute you — do your thang, girl. But if you want to play the part during your holiday, then I'd suggest whipping out your most fashion-forward beach coverups and sundresses and bringing along a cute little raffia clutch to dress things up a bit at night.
This isn't Vegas though. Laidback is still the name of the game and anything flowy and effortless will fit right in along the beaches of Tulum. Put together a cute outfit that's still comfortable and you should be just fine!
How to Use This Post
I've broken down all of the basic Tulum packing essentials so you can prep for your trip without being worried about missing a thing. However, I'd recommend downloading my printable Tulum packing list below so that you can check things off the list as you're packing for your own adventure at home. In the downloadable checklist, I've also included an essentials section that applies to any trip so you can reuse it for future adventures.
In the rest of this post, I've included information on the weather in Tulum, what kind of luggage to bring, all of the Tulum essentials and some of the brands I love to shop for in tropical destinations if you need to pick up some new pieces for your trip. 
Dressing for the Weather in Tulum
Tulum is pretty consistently 70-90 degrees Fahrenheit year-round. It's a tropical climate, which means the sun is very strong (sunscreen is a must) and you'll rarely need a sweater or jacket, but it's good to bring one just in case for any cooler evenings.
If you run hot, plan to visit Tulum in the cooler months from December to February, however know that this is also high season and there will be the most tourists. Hurricane season for the region starts around June and precipitation during this time rises, so it's best to avoid June to October if you want to lessen your chance of heavy rainfall or a hurricane literally raining on your parade. Check out these graphs from U.S. News & World Report below to get a good sense of the weather in Tulum!
What Kind of Luggage to Bring to Tulum
While you can get away with bringing rolled luggage in Tulum, note that hotels on the beach are not going to have elevators or perfectly cleared cement paths for you to roll your luggage. Depending on where you stay, you might be trekking your belongings over the sand. So if you do choose a traditional suitcase, make sure it's light enough to carry. You can also go with a backpack or convertible wheeled luggage as a more convenient option.
If you choose to stay in town or in the Aldea Zama area, you'll likely be fine with any kind of luggage you bring.
Do You Need Travel Insurance for Tulum?
While it's not something you will need to physically pack in your bags, travel insurance is still something you should consider purchasing before flying down to Mexico. I know this is one of those things that people hem and haw over and often decide to nix from the budget, and I get it — I'm right there with you on trying to pay as little as possible for my trips. But I think it's important to be smart and consider the benefits of travel insurance depending on what you'll be doing on your trip to see if it's right for you.
The biggest benefit I see with travel insurance is that it safeguards you from major financial distress in the off chance that anything should happen like a major medical emergency, requiring medical evacuation, getting in a car wreck abroad, etc. It's definitely a good idea to check with your health insurance back home to see if you're covered abroad, however U.S. health insurance companies often do not extend coverage to foreign countries.
If something were to happen while in Mexico that required major medical attention, would you be able to cover it out of pocket? If you were to get in a wreck in your rental car worth thousands of dollars in damage would you be able to pay for it without stress? It's good to ask yourselves these questions and purchase travel insurance if it will provide you peace of mind.
I've been personally using World Nomads for the last four years and love them. You can read my full World Nomads review here to learn more!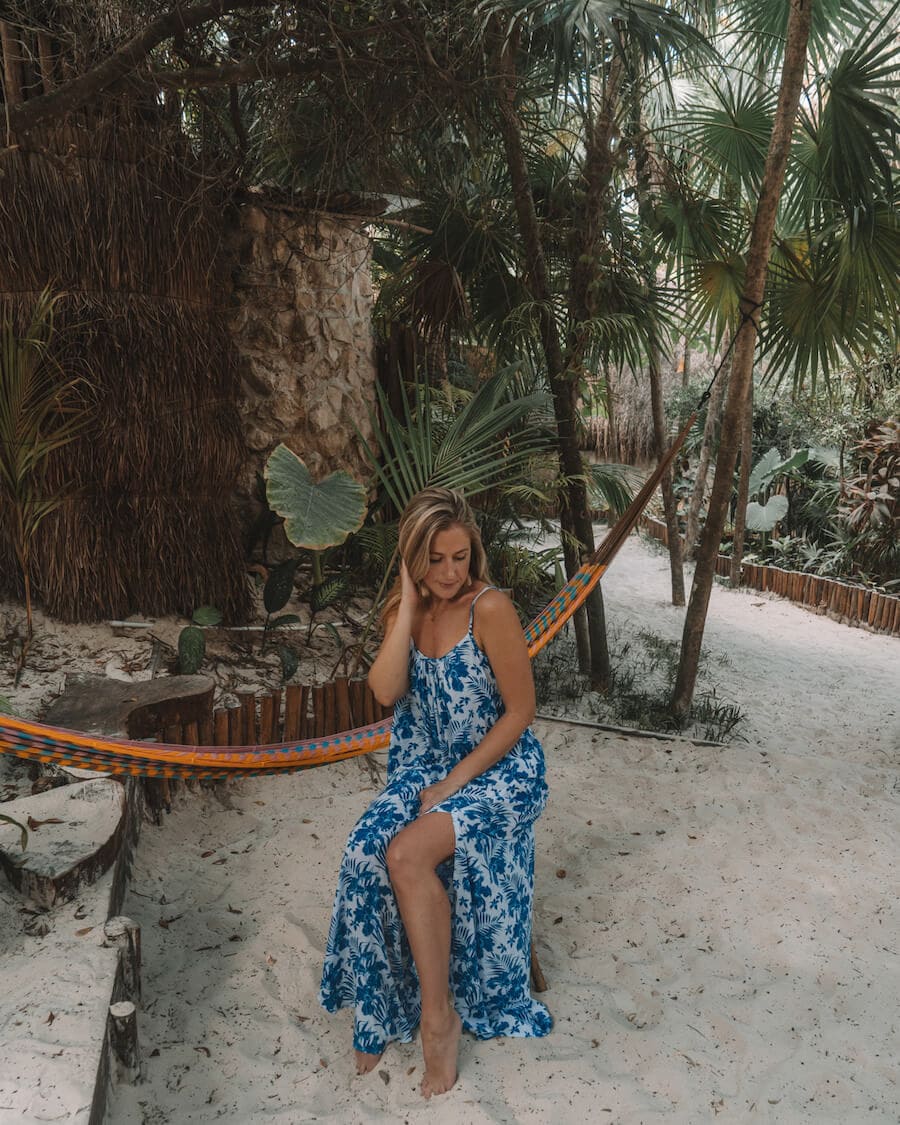 Essential Packing List for Tulum
The Must-Haves
Undergarments
4-7 Beachy rompers / sundresses / tunics
2-3 swimsuits
1 pair of denim shorts
3-4 tank tops and t-shirts
1 light cardigan for cooler nights
1 pair of daytime sandals
1 pair of evening sandals/wedges
Wide-brimmed straw hat
Crossbody bag or clutch for evenings
Pajamas
Light socks (if bringing sneakers)
Heavier layers for hotel rooms w/ AC (if you run cold like me)
White jeans for cooler nights
Insulated water bottle (my all-time favorite is this one)
Adapter (if you're not from North America)
Stomach meds for emergencies
Cash in pesos
A good book
Small packable day pack for excursions (this one has been my go-to for years because it's chic and packs down super easily)
Mosquito spray (Tulum can get very buggy – don't forget this!)
Camera
Extra Necessities for Activities
The below items aren't essential for your trip to Tulum, but depending on which activities you plan to partake in on your vacation, you'll want to consider adding some of these in. Read below to see if any of these items apply to you!
If you're visiting the Mayan Ruins
Sneakers or closed toed shoes to avoid scratches and stubbed toes
If you plan on snorkeling or doing activities in the water
Plastic bag for wet bathing suits so they don't get mixed in with your luggage
Underwater camera – GoPro is the best
Snorkel gear if you have your own
Quick dry towel
If you plan on staying in Tulum for more than 10 days
If you plan on booking a boat cruise
Dry bag for water activities if you don't want your gear to get wet
Dramamine for boat rides (if you suffer from motion sickness)
If you plan on exploring the local cenotes
Small packable day backpack for excursions
If you plan on taking yoga classes in Tulum
Yoga pants and workout tops for yoga classes
Yoga Mat – Typically you can borrow or rent mats, but consider bringing your own if you'll be doing yoga frequently
If you plan on getting around by bike
A headlamp if you plan on biking at night (the area by the beach can get VERY dark at night)
Good shoes that won't slide off while biking
Consider bringing a small backpack or a bag that you'll be able to carry while biking
Outfit Ideas for Tulum
Tropical Brands to Add to Your Tulum Packing List
If you're looking for a few go-to brands that I LOVE for tropical trips like this one to Tulum, here is a list of designers that are perfect for packing for Tulum. These are the ones I look to first to stock up on the cutest items for warm weather destinations.
Hunza G (all their suits are super stretchy!)
Did this post help you feel prepared for a trip to Tulum? Let me know in the comments below!
---
Planning a trip right now? Don't miss my go-to websites for booking everything from flights and tours, to accommodation and more:
---