Bali has become one of my favorite destinations to travel to and I have now spent about two and a half months total there over the last two years. Not only is Bali a beautiful destination filled with friendly and welcoming locals, but it's quite easy to pack for considering it's summer all year round! Warm weather locales are my favorite destinations to pack for because they often require clothing with less material and just fewer pieces of clothing in general — so good, right? In this post my aim is to break down how to think about packing for Bali based on your needs plus give you a full list of the items I packed in my suitcase on my latest trip to help you with yours! So let's do this.
The Ultimate Female Guide to Packing for Bali + Complete Packing List!
First Let's Talk About Packing the Right Bag 
Before you can actually decide what to pack for a trip to Bali, you have to consider what kinds of bags you're bringing to pack everything in. It helps to think about a few different factors when considering your baggage options.
How long will you be traveling for?
How do you plan to get around?
What activities do you want to partake in?
Are you bringing along valuables like camera equipment?
LET'S DISCUSS
How long will you be traveling for?
Long-term travel has become incredibly popular over the last few years, which means that for many, Bali may be just one of several stops. When this is the case, I try to plan my destinations based around similar climates so that I can think about my packing as one trip and just plan to do laundry along the way. However, if you're say, planning to visit Bali and then New Zealand and then off to Europe, then you're likely going to need checked luggage in addition to a carry-on bag. You'll want to get creative with items that can cross over to multiple destinations with the addition of some layers (denim, tees, and maxi dresses are great for this).
For my most recent trip, I actually had a stopover planned in Hong Kong after Bali, but it was super easy to lump that into my Bali packing strategy as the climates aren't too different.
If you're doing a quick trip, packing for Bali in a carry-on only is entirely possible seeing as that you don't need much on the island clothing-wise. I really love Pacsafe's Venturesafe backpack for carry-on only trips, which I'll talk about more below. If I'm traveling for longer, I'll take the Venturesafe® X40 PLUS in addition to a piece of checked rolling luggage and just use the backpack as my carry-on bag with all of my valuables inside.
How do you plan to get around?
Are you doing a motorcycle trip around the island that requires you to carry all of your belongings on your back or will you get from one area of the island to another by automobile?
If you're carrying everything yourself then of course you'll want to have everything fit into one bag on your back and ideally have something with a locking system or that's highly durable so you don't have to worry about theft. If traveling by car, you can be a little more relaxed about what kind of bag you carry since taxis in Bali have plenty of room for luggage.
If you plan on visiting one of the smaller islands close to Bali like Nusa Lembongan or Gili Trawangan, then you may want to consider only bringing a backpack or rolled luggage that can convert into a backpack as there are no vehicles on these islands and you may have to walk or scooter to your accommodation once off the ferry. Tuk tuks are also an option but won't hold massive amounts of luggage.
What activities do you want to partake in?
If you're a photographer like me, than you'll want to bring your camera gear along for the adventure and that means having some sort of camera bag or camera gear insert for your backpack. I'll confess that for quite some time I never had an "official camera bag" to carry my gear in and I felt completely disorganized and stressed about things getting scratched or damaged.
Having my Pacsafe Venturesafe bag this trip with a special camera gear insert in the bag's hidden back pocket was a game changer for making me feel like all my gear was safe and in one place.
Consider what other activities you'll be partaking in like surfing, yoga, hiking or scuba diving. Do you have your own particular gear you need to bring along like a day bag for hiking or your own surf boards? These are all items to consider.
Are you bringing along valuables?
If you're bringing valuables along on your trip, just make sure that whatever bag/bags you choose have some sort of ability to lock, whether that's with its own locking system or by using a padlock and connecting the zippers. This way if you don't have a safe at your accommodation, you can keep your valuables inside your suitcase locked up which makes it way less likely to get stolen.
If none of the above are options, you can also purchase a portable safe to bring in your luggage instead.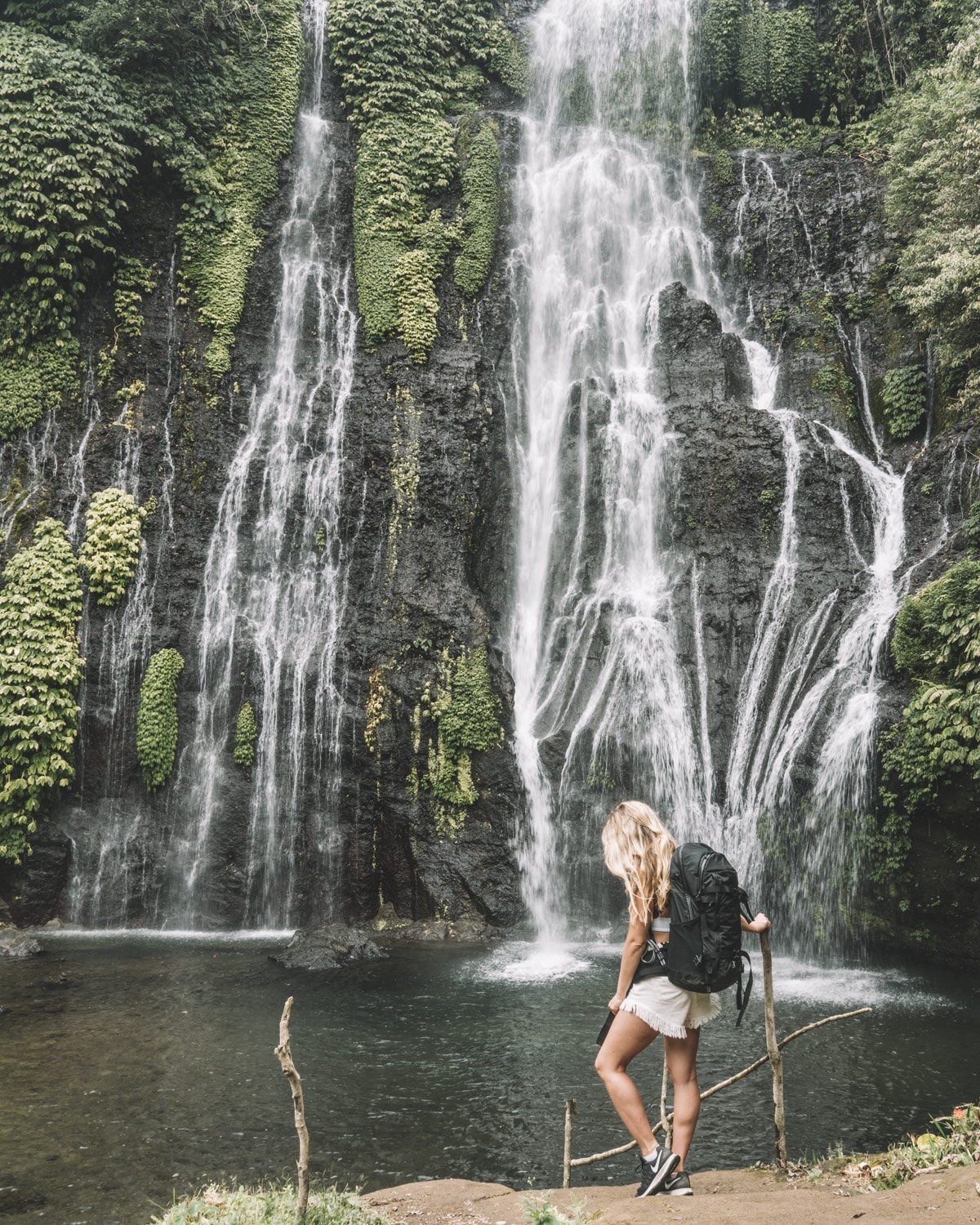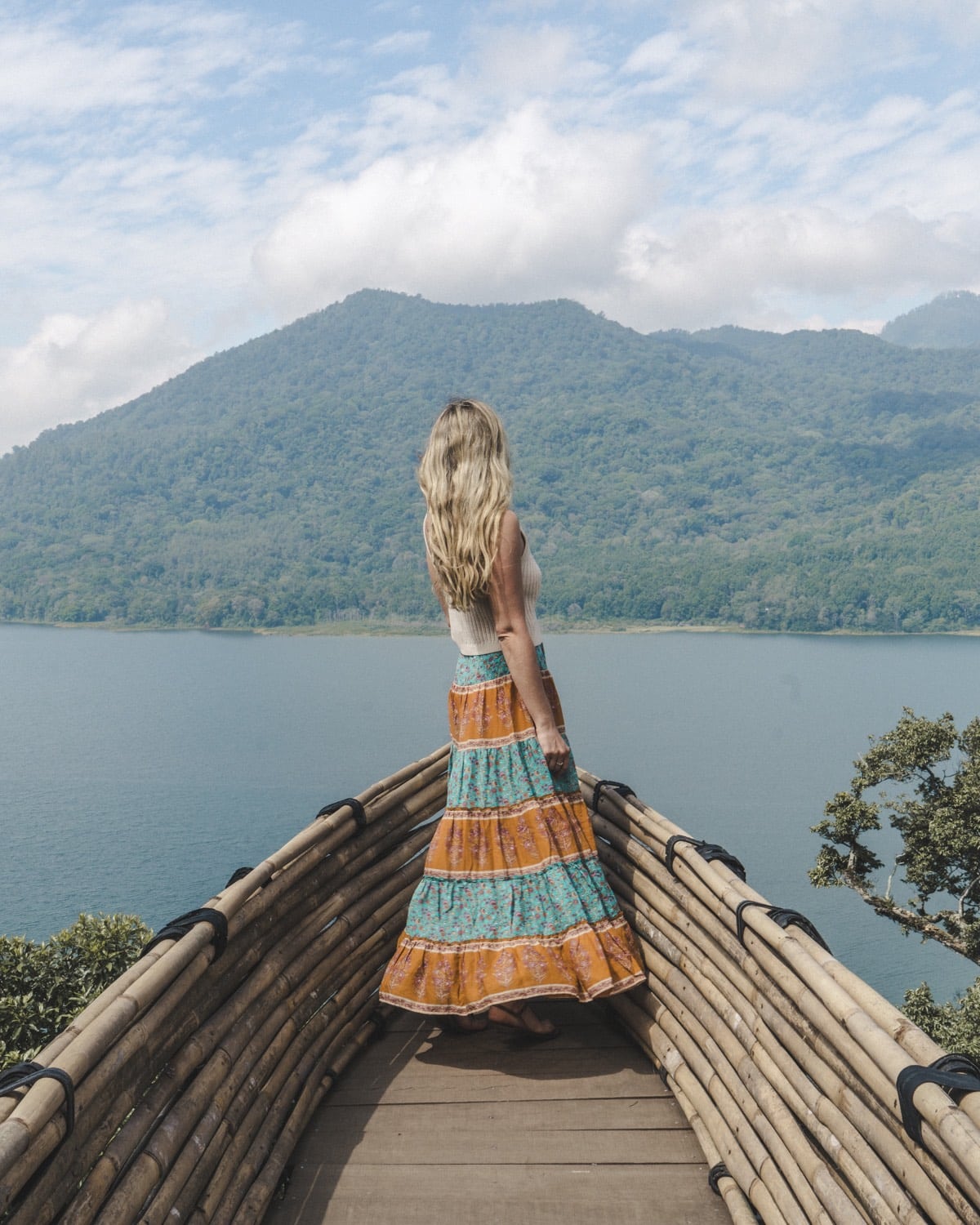 How I Packed for My Latest Trip to Bali 
It's easy for the average vacationer to just pack up a rolling suitcase and go, but for me I take into consideration that I'm usually traveling to a place for a bit longer (or at least doing a longer trip that spans multiple locations). Plus, I'm always off on adventures that require carrying around photography equipment, and I'm extra careful about the bags I bring as I want them to protect my valuables since said travel equipment ain't cheap!
I'm always traveling with my Macbook Pro, Sony A7RII and 24-70mm f/4 lens plus my fixed 35mm f/2.8 lens as well, and they were a huge investment for me personally that I'd like to protect. Not only are these items valuable monetarily, but they are also the core of my business and help me make money on a larger scale, so I can't afford to lose them or have them stolen.
For the reasons above, I brought one normal sized hard case luggage by Away to Bali and packed all of my clothes, accessories, and toiletries inside, and then used my Pacsafe Venturesafe® X40 PLUS as a carry-on, and put my most valuable items like my laptop, external harddrive, passport, cords etc, in there. The best part was that most of these items could be organized in a secret back compartment of the backpack with a protective camera insert so I felt that everything was extra secure.
In addition to these main pieces of luggage, I always like to carry a foldable tote or bag of some sort as I typically come home with more stuff than I left with (especially in Bali it's likely you'll pick up some fun items along the way!), AND a small day backpack like the Pacsafe Citysafe CX Anti-Theft Covertible Backpack.
Having a durable backpack in Bali is super important if you want to do any transporting around via scooter or walk around at night, as it's not entirely uncommon to experience theft from men on scooters pulling people off their bikes by their crossbody bag straps. This literally JUST happened to my friend and she was thrown from her bike. Sometimes thieves on scooters will do this to pedestrians as well, so if you have a durable bag that looks harder to steal you'll be at lower risk. Don't worry, this doesn't happen every day, but it's better to be prepared and keep you and your belongings safe.
Pacsafe is probably the best company out there for functional bags that protect you from these sorts of scenarios, as their materials are really strong and have features made specifically to reduce risk of theft, cut and runs and even data skimming.
Why I Chose Pacsafe Bags for This Latest Trip  
Their bags are super functional and look good
They load up their bags with systems that protect you from: theft, data skimming, cut & runs, pickpocketing
Many of their bags allow for versatility like adding a camera gear insert (sold separately) so you can use your bag for the purpose that suits you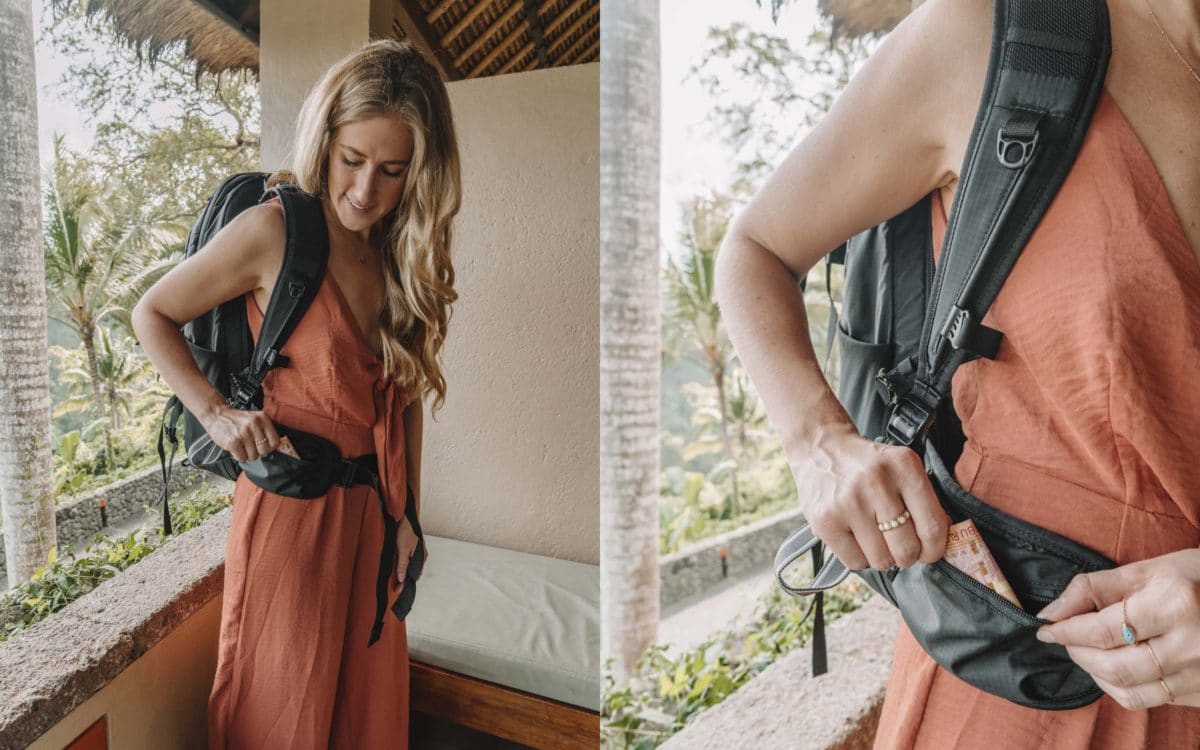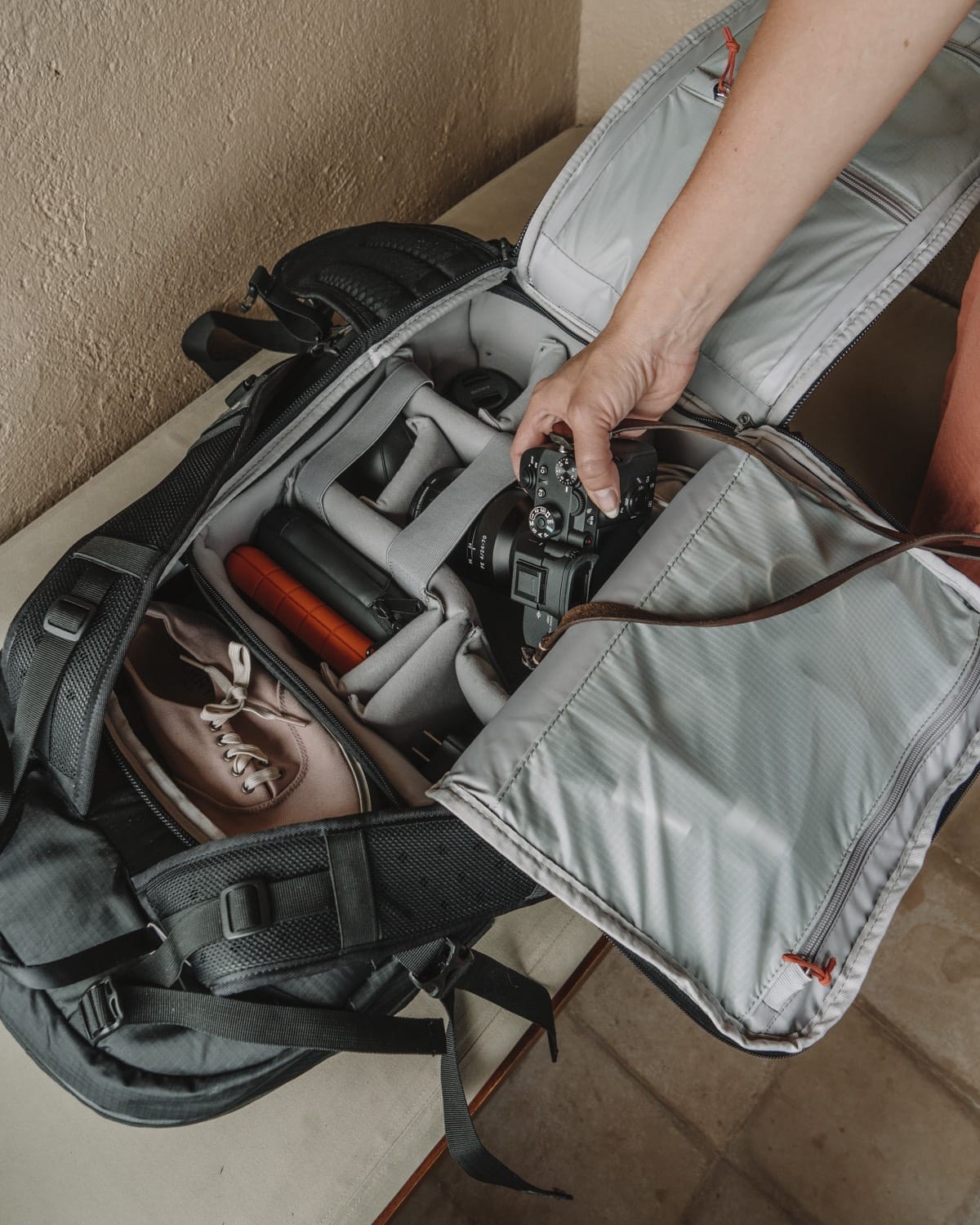 Main Carry-on Luggage: The Venturesafe® X40 PLUS
Made of nylon to protect your stuff from the elements
Has really comfortable straps and waist clasp to take the pressure off your back
It has a secret compartment that only opens from the back side to keep valuables extra safe
Holds up to a 15″ laptop in a protected compartment
Great carry-on size (just be careful about taking puddle jumper planes as it may not fit in the overhead compartment)
Easily accessible side pockets for water bottles
Small front pouch perfect for quick grab items like cash
It's versatile enough to use as your luggage or use as a day pack for a hike or a camera bag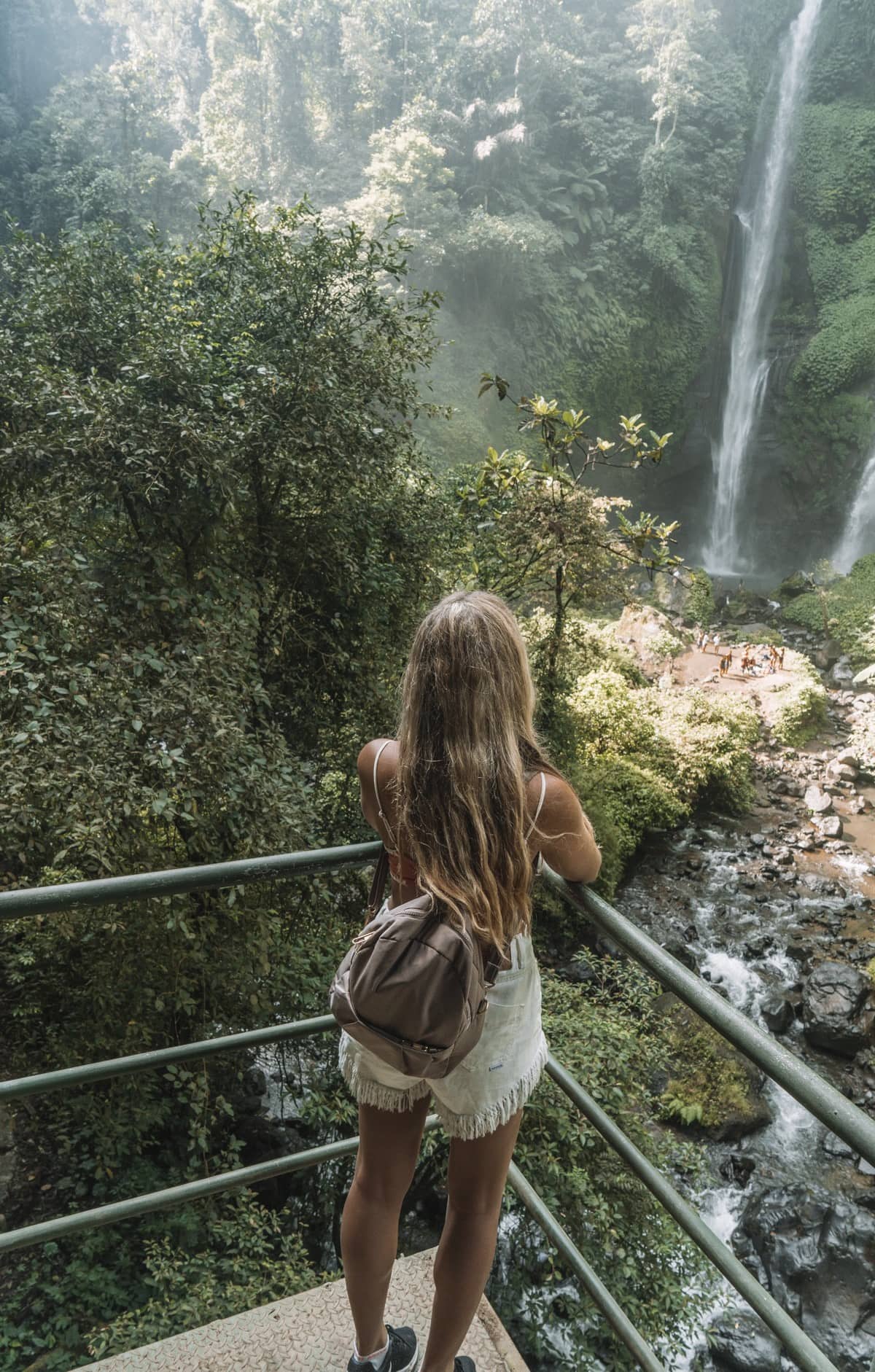 My Day Bag: The Citysafe CX Anti-Theft Covertible Backpack
One of Pacsafe's most stylish bags
Able to be worn as a backpack or crossbody by reconfiguring the straps (I prefer to wear as a backpack)
Anti-theft hooks and slash resistant material
Includes RFID safe blocking technology
My Bali Packing List 
Below you'll find a complete packing list for Bali including all of the items I had with me on my trip and anything I would suggest to bring for yours!
BAGS
Luggage
Camera Backpack
Small day backpack
Small day crossbody
CLOTHING ITEMS
Underwear
Bras
Flip flops
Comfortable walking shoes
Sandals
Denim shorts
Casual tank tops or crop tops (recommend in light colors, not black)
Lightweight dresses and rompers
Beach coverup
1 light sweater or long sleeved shirt
Yoga gear
Pajamas
Scarf to cover shoulders in temples
Sarong that can double as a beach blanket
Sunglasses
Straw hat (you can also buy them super cheap in Bali – I found mine for $20 USD)
Running shoes (if you workout on trips) + socks
Throw-away shoes (consider bringing a pair you don't mind ruining during muddy waterfall hikes, etc)
Swimsuits (make sure to bring more supportive styles if you plan on surfing or doing any water sports)
TOILETRIES
Mosquito repellent
Sunscreen
Deodorant
Makeup (whatever you personally use)
Waterproof mascara
Hairbrush
Razor
Shampoo + conditioner
Toothbrush
Toothpaste
Face cleanser
Body lotion
Tampons or menstrual cup
Hair tools or products needed to battle humidity
Hair ties
FOR THE FLIGHT
Neck pillow
Ear plugs
Eye mask
Reusable water bottle
Cozy pair of socks
TECH GEAR
Camera
Memory cards (I recommend bringing extra)
External hard drives
Lens wipes (especially if you're doing activities near water like waterfall hikes)
Dry bag for camera gear
Go Pro or underwater housing for camera
USB cords
Camera battery charger
Indonesia power adapter
Tripod
Dual USB charger
Kindle
Laptop (if you work on the road like me)
Laptop case
MISCELLANEOUS ITEMS
Prescription medications
Precautionary medication for Bali belly (if you think you have a sensitive stomach)
Bandaids
Seasickness tablets (if any of your Bali adventures involve taking ferries or other boats)
Hand sanitizer
Small umbrella or poncho
Laundry bag
Copies of passport and visa pages
WANT TO READ ABOUT SOME OF MY FAVORITE SWIMWEAR FOR SUMMER? CLICK HERE. 
***
This post was sponsored by Pacsafe, but as always, all opinions are my own and I wouldn't promote anything I don't freaking love.
PIN IT FOR LATER