Austin has been one of those cities that I've been wanting to visit for SO long but for some reason never quite found the right opportunity up until this year. Finally, this past September, I was able to spend a full week in the Texas capitol, taking my time to explore and get to know this city that I've heard so much about. I realize most people don't have a full week to spend here, so I tried to distill my trip down to the top experiences you could accomplish during a long weekend in Austin.
If you want to get a feel for what this live music capital is really about, then the below list should be the perfect intro of experiences to check off your bucket list — these are the ultimate must-do items to tick off in my opinion to ensure you get a healthy mix of outdoor adventure, true Texas flavor (literally and figuratively), and creative inspiration to inspire you to return again and again.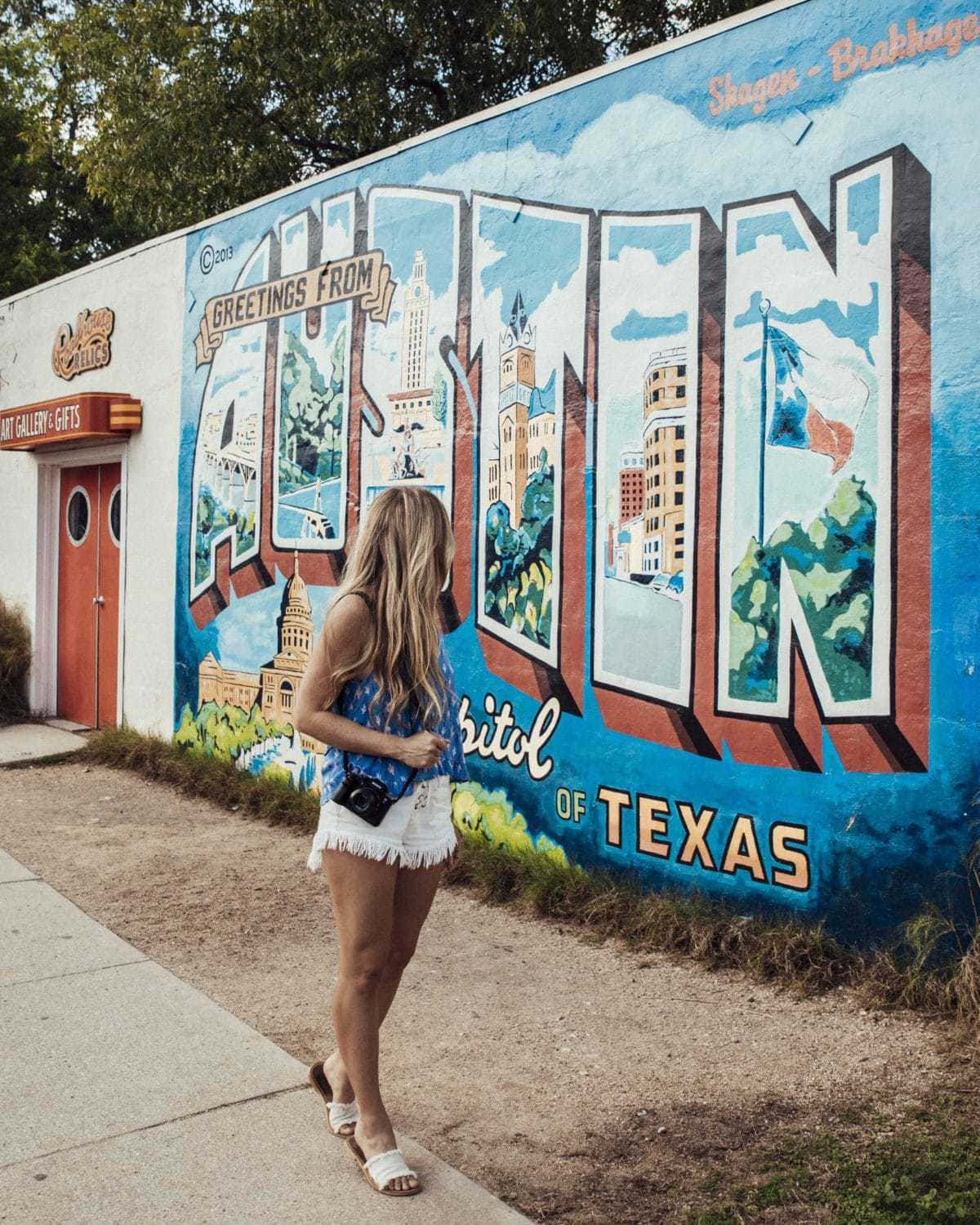 Go Mural Hunting All Over the City
I've visited many cities in my day and Austin might be at the top of the list when it comes to volume in the street art category. It literally feels like on every street corner there are new murals to admire — I even saw a few telephone poles that had been given some creative sprucing.
No matter where you go in Austin, you're bound to run into street art, but I especially enjoyed the East Austin neighborhood and South Congress Ave for walking around and taking in plenty of creative murals by foot.
You can definitely wing it, but if you want to make sure to hunt down the most popular ones in the city, reference the list below so you make the most of your mural adventures:
"Greetings From Austin" wall located at S 1st and Annie St
"You're My Butter Half" at 2000 E MLK Blvd
"I Love You So Much," located at S Congress Ave
Willie Nelson Mural at E Seventh St at Neches St.
Lunch at Franklin Barbecue
Eating at Franklin Barbecue is one of those ultimate foodie experiences that you have to do once in your lifetime — Bon Appetit famously named it Best Barbecue in America in 2011. But here's the catch, you'll have to work for it. The deal with Franklin Barbecue is that there is always a line up to get inside — rain or shine — and people wait for hours to get a chance to try their plentiful portions of succulent pork and melt-in-your-mouth ribs.
If you want to minimize your chances of waiting in line all day or missing out on the food altogether (yes…they do sell out), it's best to arrive before or around 8 AM on a week day to be able to get in on the first seating. The doors don't even open until 11 AM, but lines typically start to form around 7-8 AM. If you wait too long to go, you risk the chance of being turned away when they sell out of food for the day.
Inside, Franklin Barbecue is super casual so wear something comfy you don't mind waiting outside in — especially if you're visiting in late spring/summer/early fall consider the temperature. Pro tip: bring lawn chairs so you can sit while you wait.
(Thanks to my friend Joe Meadows of Opslock for the photo)
Explore South Congress
Probably my favorite area of Austin, South Congress is a mecca of funky shops, boutique hotels, retro signage, street art, foodie joints and everything in between. Start your journey around Allen Boots and meander down the street until you hit Torchy's Tacos to get a feel for the main area.
Below you'll find a list of worthwhile items to check out during your time exploring South Congress.
Where to eat on South Congress:
Jo's Coffee
Café No Sé
Home Slice
Torchy's Tacos
Gueros Tacos
June's
Sway
Perla's
Botticelli's
Legendary landmarks on South Congress Ave:
The Continental Club
The Austin Motel
Torchy's Tacos
Allen Boots
Hotels to scope out:
Hotel Saint Cecilia
South Congress Hotel
Hotel San Jose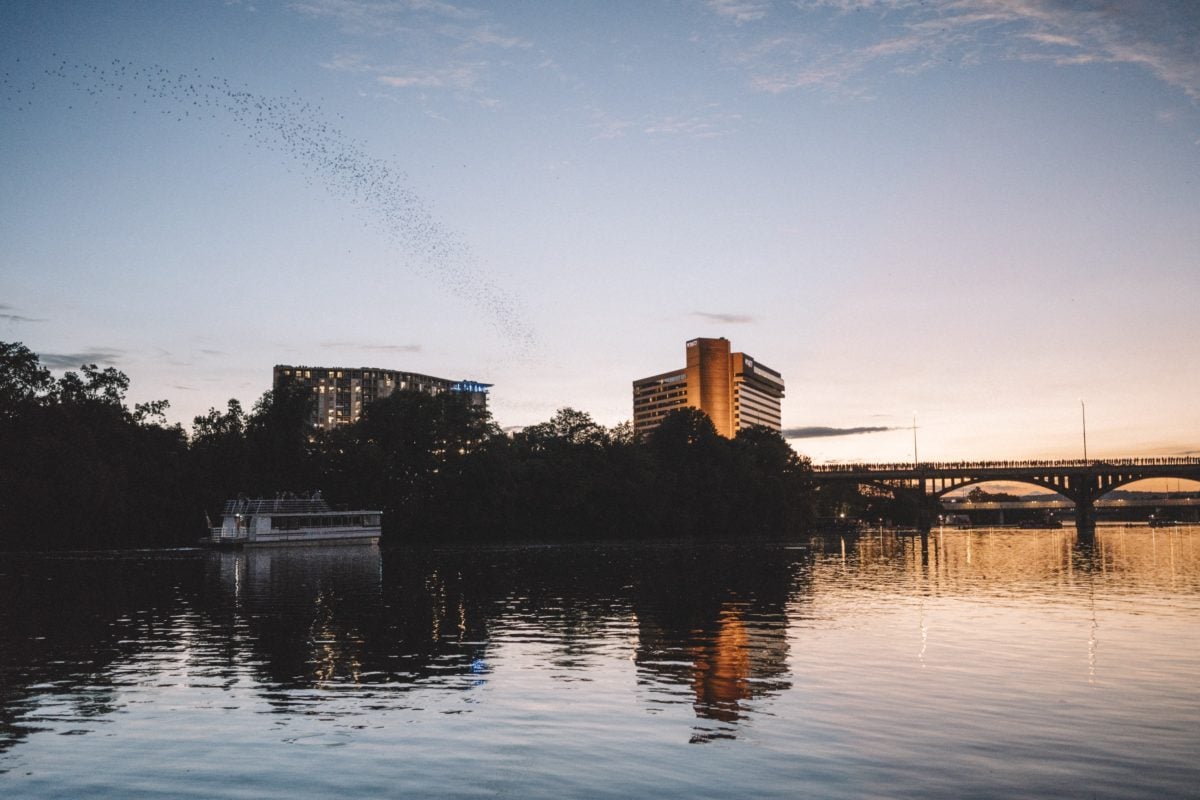 The Dance of a Million Bats
When I was first planning out my trip to Austin and someone mentioned I had to watch the dance of a million bats my immediate response was — um, what? I had no idea that each evening between March and October, over 1 million bats fly out from under the Ann W. Richards Congress Avenue Bridge and that it's quite a spectacle that people come out for in droves each evening.
Staying at the Four Seasons next to Lady Bird Lake, I was lucky that I could literally step outside to see this dance in progress, which usually commences about 15 minutes before sunset. In my head I sort of expected an onslaught of bats to emerge in mass chaos from under the bridge all at once — maybe like something out of a horror film. Instead, they did so in a beautiful dance that clearly has a method to the madness. From a distance, it looks like a wisping black cloud sweeping through the sky in waves. If you're visiting Austin during the spring to fall season, make sure to head down to south congress for an evening to witness the bats dance firsthand.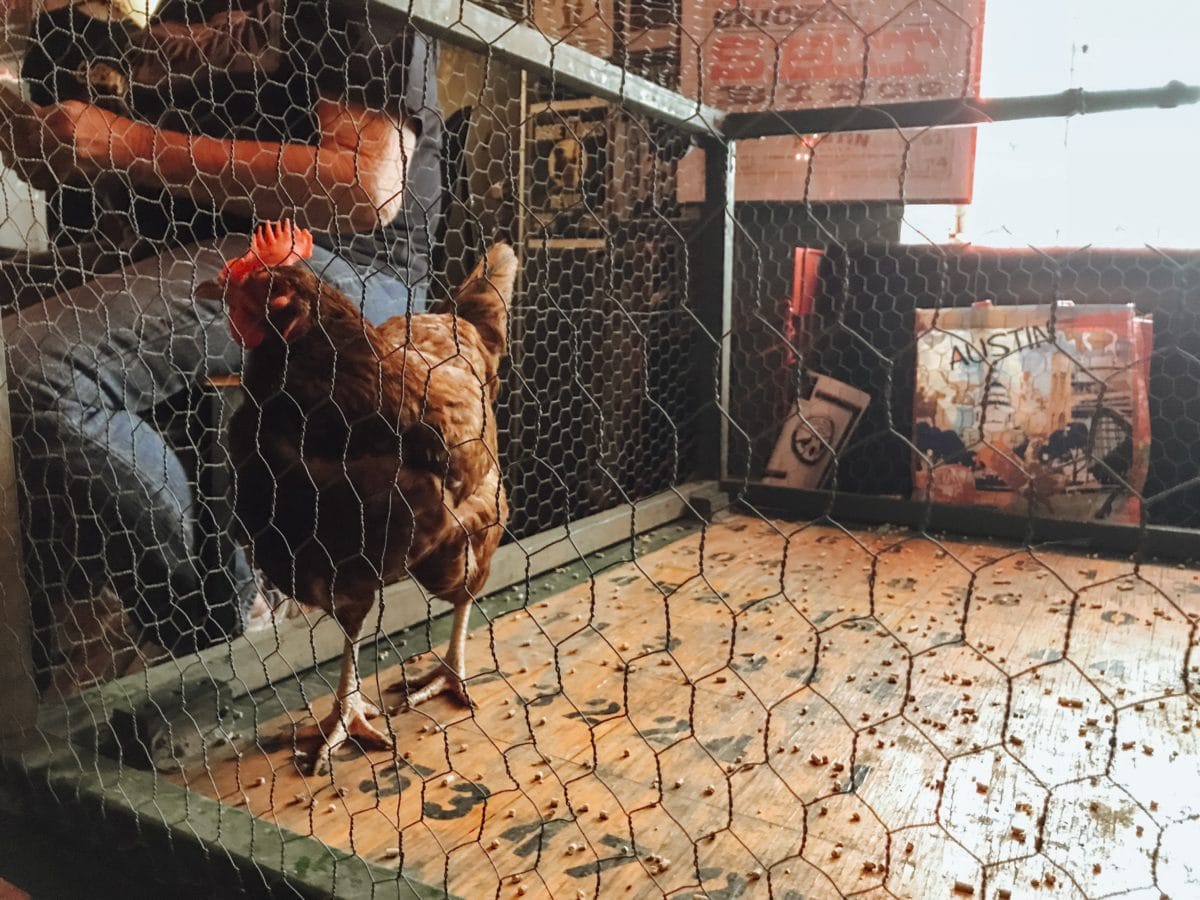 Chicken Shit Bingo
Probably one of the more unique situations I've found myself in this year, Chicken Shit Bingo is a classic Austin tradition that you probably won't find anywhere else. Ginny's Little Longhorn Saloon started the Sunday tradition of chicken shit bingo, which is basically just like normal bingo except all your luck lies on the backs of a chicken doing its business on a number you've been randomly given by the day's bingo organizer. What really makes the experience worth the visit is the atmosphere — live music, a cold beer in hand, and the camaraderie of other bar patrons itching with anticipation of a chicken shitting on a bingo board. It's all very bizarre and awesome.
While Ginny's Little Longhorn Saloon has been putting on chicken shit bingo every Sunday for more than a couple decades now, a competing bingo operator, C-Boys Heart & Soul, is drawing crowds for the same Sunday tradition over on South Congress. We actually went to C-Boys based on its proximity to where we were already during my Sunday in Austin, and it was definitely worth checking out as well.
Paddle Boarding on Lady Bird Lake
I was astounded by how hot it was in Austin in late September, and one of the best ways to combat the heat is to get out on the water. Paddle boarding on Lady Bird Lake is a common Austin activity, and with the river running right through the city, it's super easy to do as a fun workout that won't take too much time out of your day.
I found the process of renting super easy right at the Austin Rowing Club Boathouse which was just steps from the hotel I was staying at, but some other places in different areas of the city where you can rent boards include Rowing Dock and the Texas Rowing Center.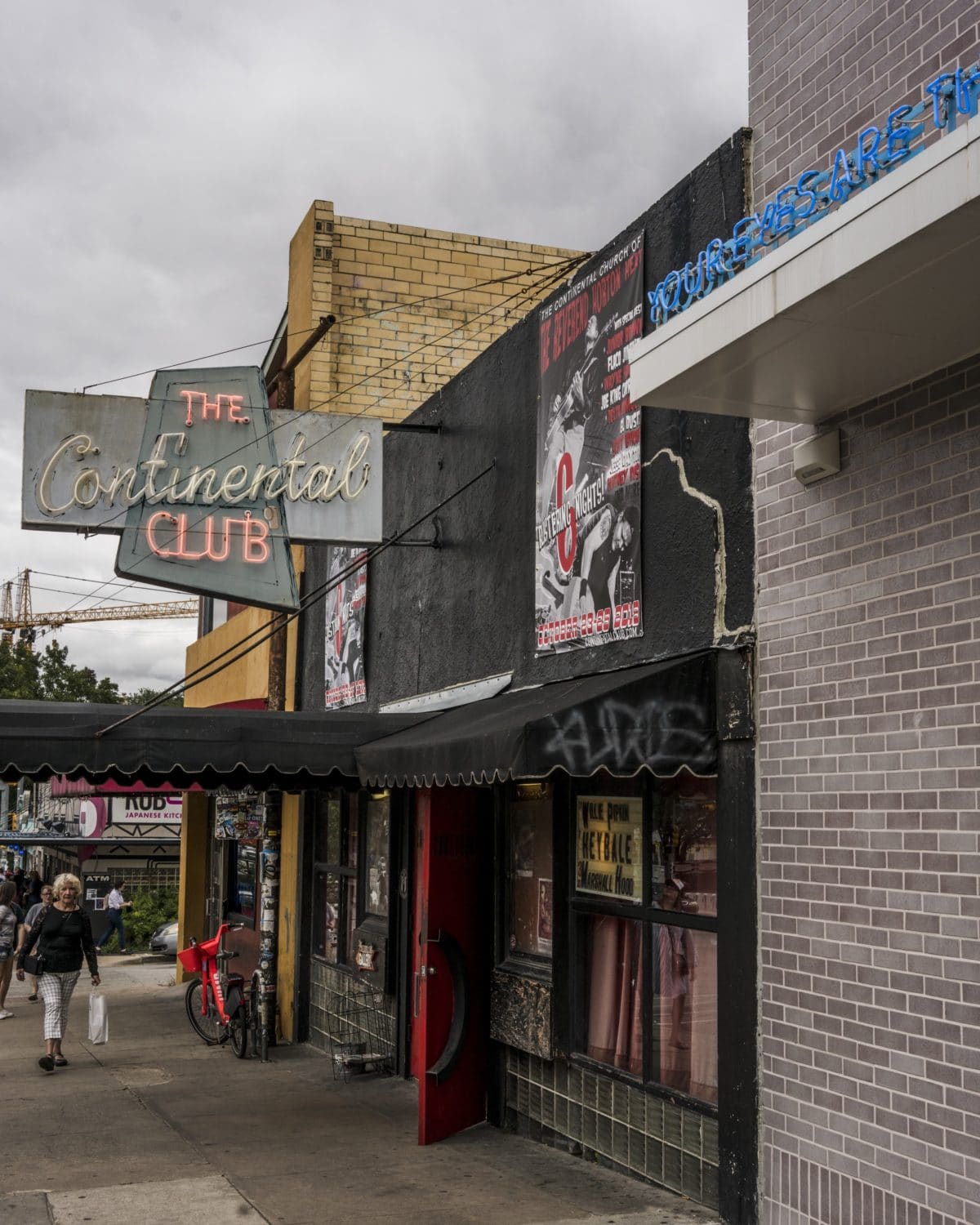 Catch a Live Show
Austin is one of the most vibrant hubs for live music in the world, so any trip to the Texas capital wouldn't be complete without taking in a show. While I was in town, I bought tickets for a First Aid Kit concert at ACL Live, which is a beautiful music venue in downtown Austin that is also the taping location for the PBS series, Austin City Limits, an acclaimed music series that is the longest running show of its kind in American TV history.
Other great music venues worth checking out in the city include The Continental Club, C-Boys Heart & Soul (which also hosts the aforementioned chicken shit bingo), Broken Spoke (if you want to get two-stepping), and Cheer Up Charlie's…literally the list goes on.
A Night Out on Rainey Street
I had heard people recommend a night out on Rainey Street over and over in anticipation of my trip to Austin, but no one really explained what was so special about this tiny little strip of bars that has become the go-to social scene for a more mature mix of locals and visitors looking to enjoy a few drinks minus the sloppiness of Sixth Street.
What makes Rainey Street so cool is its neighborhood feel. It's a historic district featuring a line-up of historic bungalow-style homes that have been converted into bars — yet just by looking at them from the outside during the day, you might not imagine how this area comes alive at night. The best way to enjoy Rainey Street is to do a little self-led bar crawl, starting at one spot and making your way down the street throughout the night for the full Austin feel.
Indulge in Some Texas Style Tacos
For lovers of Mexican food, Tex Mex is a whole new category to get on board with and a requirement for anyone visiting Austin for the first time. I honestly felt like all I did my entire trip was eat tacos — and of course, I loved every second. Guero's Taco Bar is an iconic taco spot in Austin that famously fed Bill Clinton in 1995 and renamed his order the El Presidente. Torchy's Tacos is also a staple of the city. My favorite tacos during the trip, however, were at a tiny food truck in East Austin called Discada, which served the most delicious two-bite tacos in mouth-watering flavors — you'll want to order five!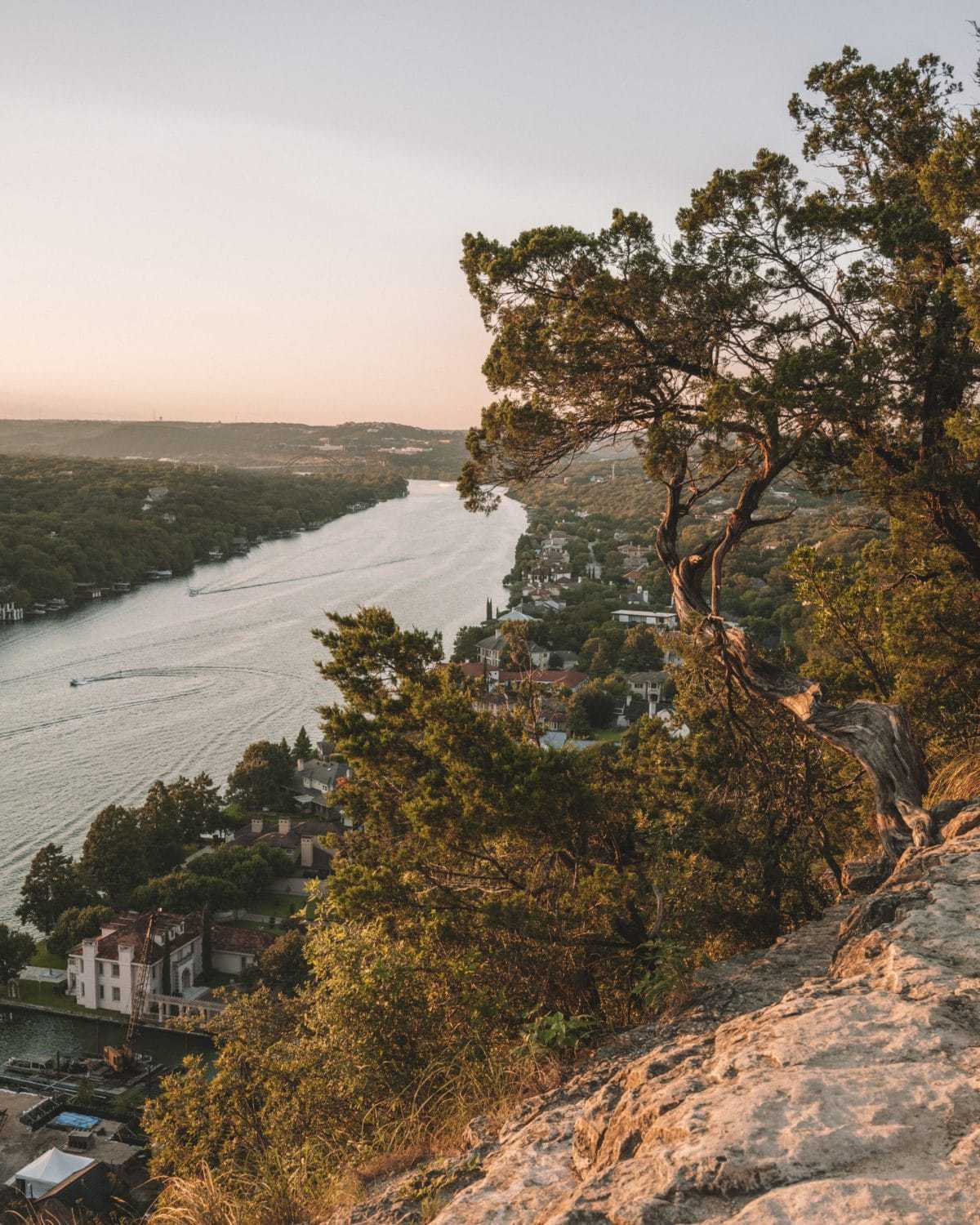 Sunset Over Mount Bonnell
In a city full of dive bars, music venues and restaurants to keep your itinerary full, it's nice to have a place to go to catch a bit of scenery and fresh air. Enter Mount Bonnell, which is a little bit outside of downtown, but worth the trafficky drive for sunset. At 775 feet, it's the highest point in the city and showcases incredible views overlooking the river and many of Austin's gorgeous waterfront homes. This is an easy spot to drive right up to, no strenuous hike required.
Barton Springs Pool
During the scorching hot Austin summers, Barton Springs Pool is a must-visit, but this manmade spot located in Zilker Park keeps to an average temperature of 68-70 degrees year-round making it ideal for swimming during any season. Keep in mind that prices for non-residents to enter for a daily pass are $9 and the pool is closed on Thursdays for rigorous cleaning and maintenance.
Blanton Museum of Art
One item that was high on my to-do list during my time in Austin was a visit to the Blanton Museum of Art — specifically to see the Ellsworth Kelly exhibit pictured behind me in this shot.
Inside the exhibit, you'll find beautiful stained glass window designs that cast a light show onto the museum floor and change throughout the day depending on where the sun is in the sky. It's worth it to call the museum ahead of time or do your research to find out what time of day during your visit will be best for seeing the colorful show — we went on a whim and showed up when the light wasn't so prominent making for a still beautiful but slightly disappointing visit.
What are you most excited to do in Austin from this list? Let me know in the comments below!
READ MORE
LOVED THIS POST? PIN IT FOR LATER