I don't know about you, but I'm a fiend for cool accommodations. Glamping tents? All about 'em. Romantic bubble domes made for stargazing? I'll gladly stay awake all night. Architectural masterpieces nestled in nature? I go gaga for every detail. One of the most exciting aspects of travel for me are the places we call home, even if just for a few nights. They can inspire us, and let's be honest–make or break our trip too.
I thought it was about time I shared all of the unique places to stay in California, because there are so many. Honestly, my bucket list just keeps growing endlessly.
From glamping-style accommodations to luxurious masterpieces of architecture, this post runs the gamut of unique spots in California to suit whatever your travel style–and budget–might be. Plus, I've tried to spread out these stays throughout the state so that hopefully no matter where you're headed on your California adventure, you can find some unique accommodations along your path.
I'd love to know in the comments below if you've stayed at any of these unique homes and hotels, or which one is highest on your bucket list!
Now, let's dive in to the most unique places to stay in California!
Malibu Dream Trailer in Malibu, California
This isn't just any old airstream–it's what dreams are made of. Book this eco-retreat airstream to hang out above the clouds and take in one of the best views overlooking Malibu and the Santa Monica Mountains. Romantic getaways? Surprise proposals? Just need a little splurge staycation? This spot is perfect.
The Pinecone Treehouse in Bonny Doon, California
This pinecone shaped treehouse is hands down one of the most unique places to stay in California, if not in the entire United States. This is the ultimate forest bathing experience, offering 360 degree views of the forest's upper canopy and magnificent Redwoods. Yes, please!
---
Read More Airbnb Posts
---
Invisible House in Joshua Tree, California
The ultimate experience in luxury, this Joshua Tree abode should be on everyone's architectural bucket list. With mirrored exterior walls, the home disappears into its desert surroundings effortlessly yet still manages to make a statement.
Blue Sky Center in New Cuyama, California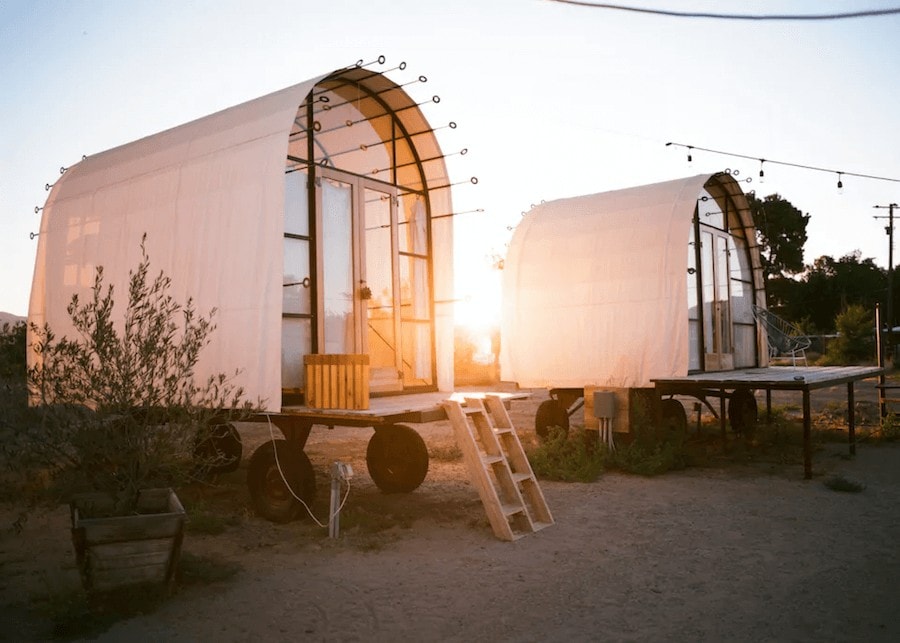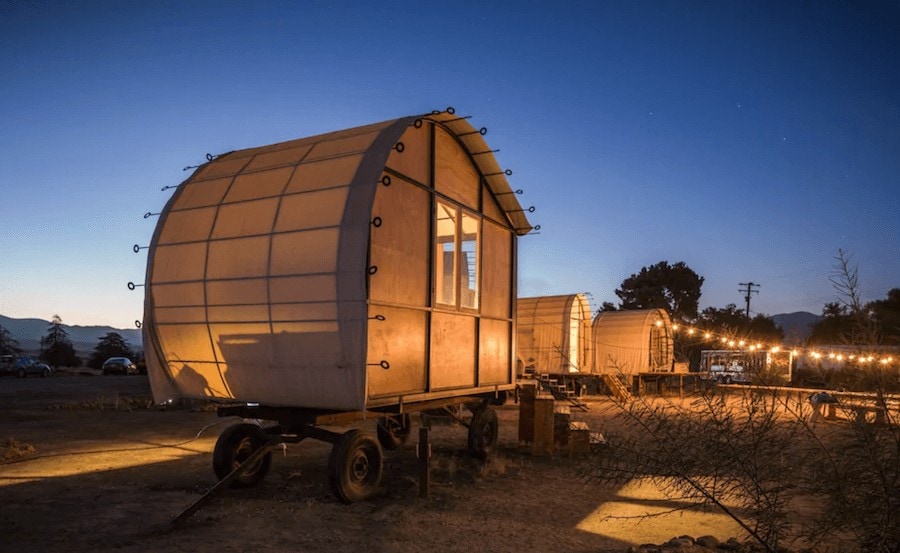 Have you ever stayed in a covered wagon? I hadn't either until I booked the Blue Sky Center in New Cuyama, California last year. This small campground is quiet and a bit secluded from it all. Ok, like real secluded; there's not much to do in the area, but that's the beauty of it. So sit back and relax and make this unique setting your space to practice the art of doing nothing.
Don't want to scroll through the whole post? Find a unique place to stay in your area of California:
Madonna Inn in San Luis Obispo, California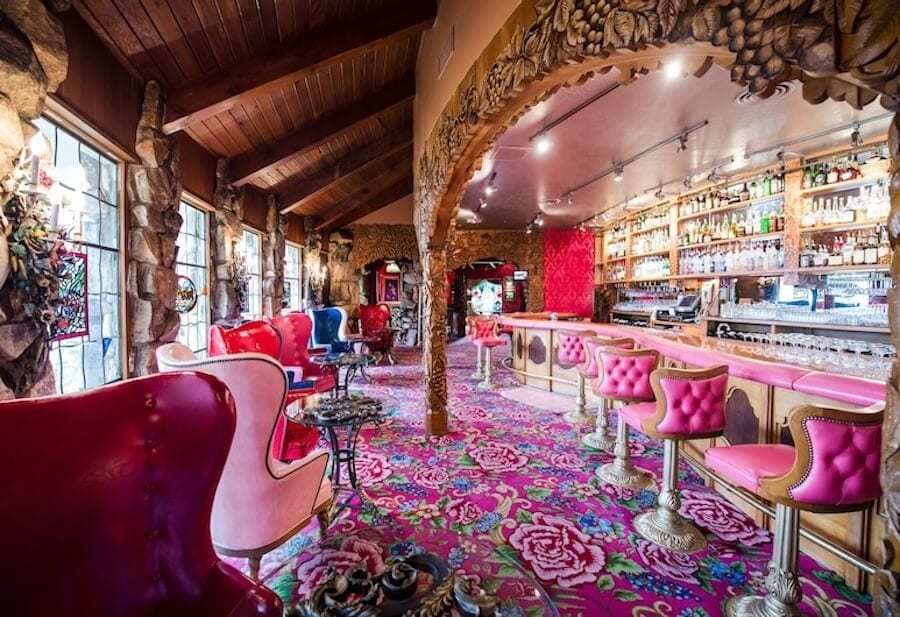 A bit of a California icon, The Madonna Inn is one of those places you have to experience at least once. Originally built in the 1950s, this San Luis Obispo staple has been welcoming visitors for decades, yet it remains true to its quirky roots. What makes it one of the most unique places to stay in California is its notorious love of the color pink as well as the many themed room options you can stay in. You'll find everything from floor-to-ceiling pink in the "Love Nest" to a "Golfer's Room" and even a cowboy themed suite featuring a bed on wheels.
AutoCamp in Yosemite, California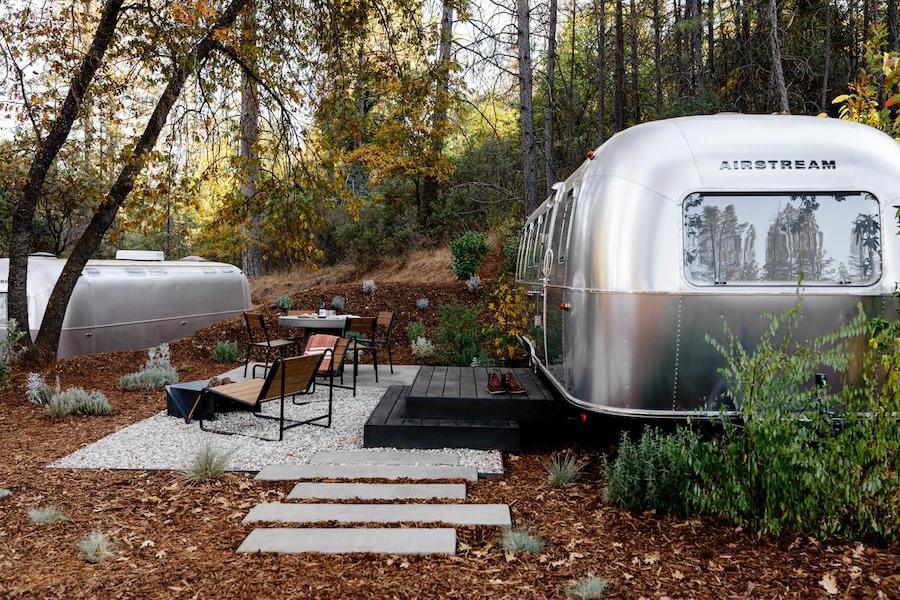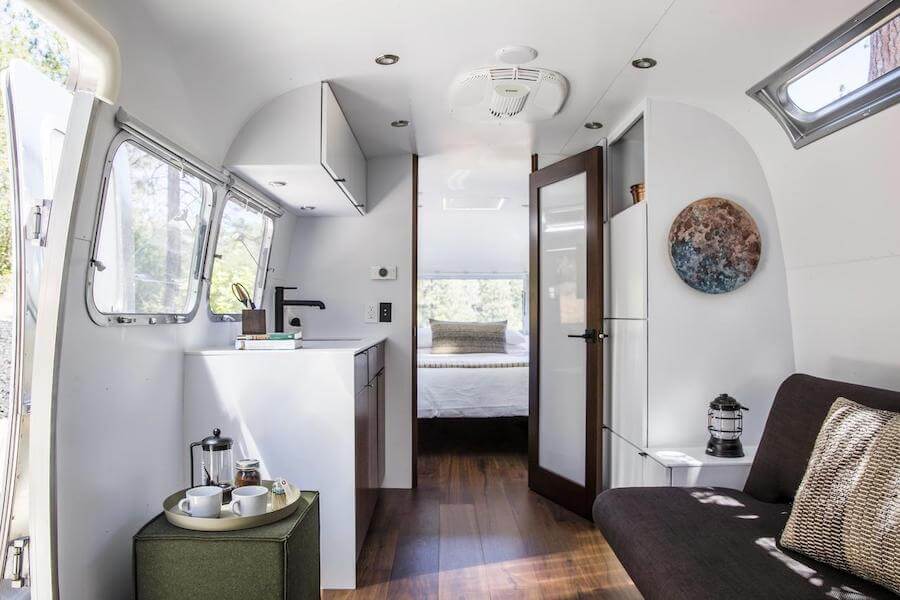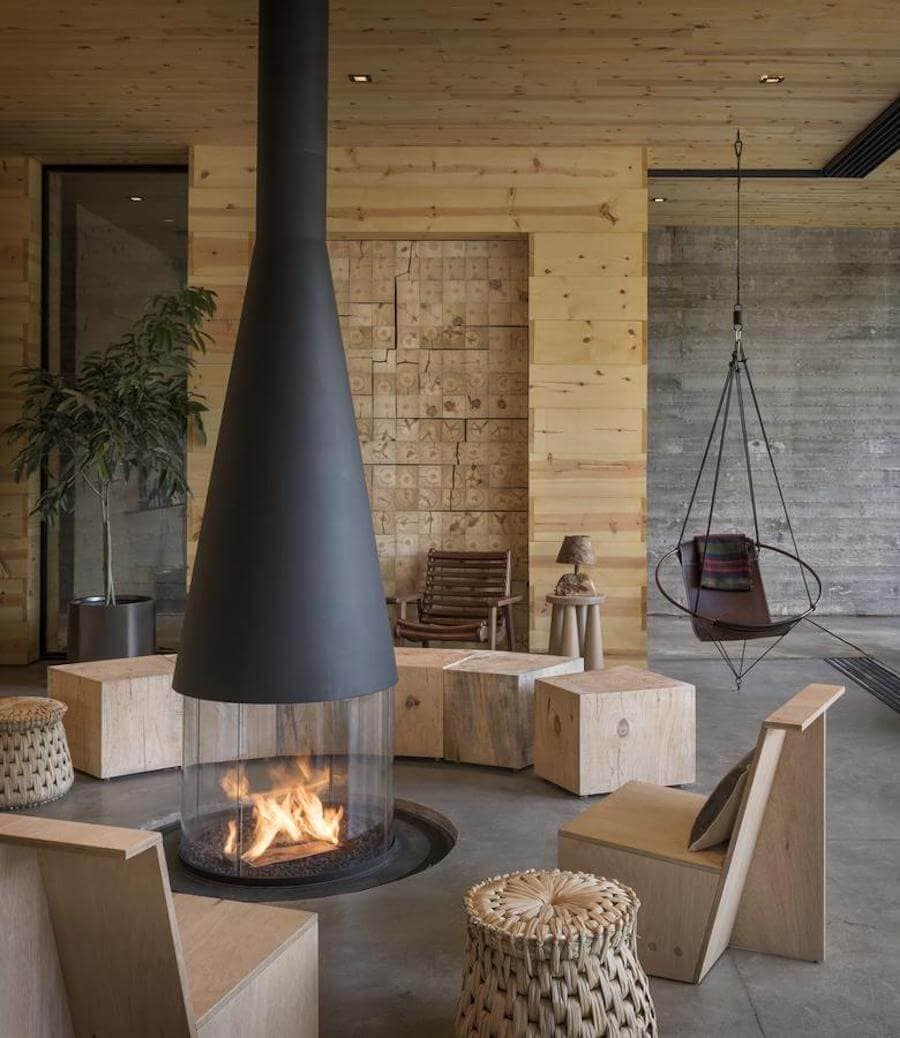 This luxury airstream campground outside Yosemite has made quite the buzz since it opened in 2019. Perfectly Instagrammable, outdoorsy yet comfortable, AutoCamp gives bougie nature lovers everything they could want from a glamping experience.
The Gaige House + Ryokan in Sonoma, California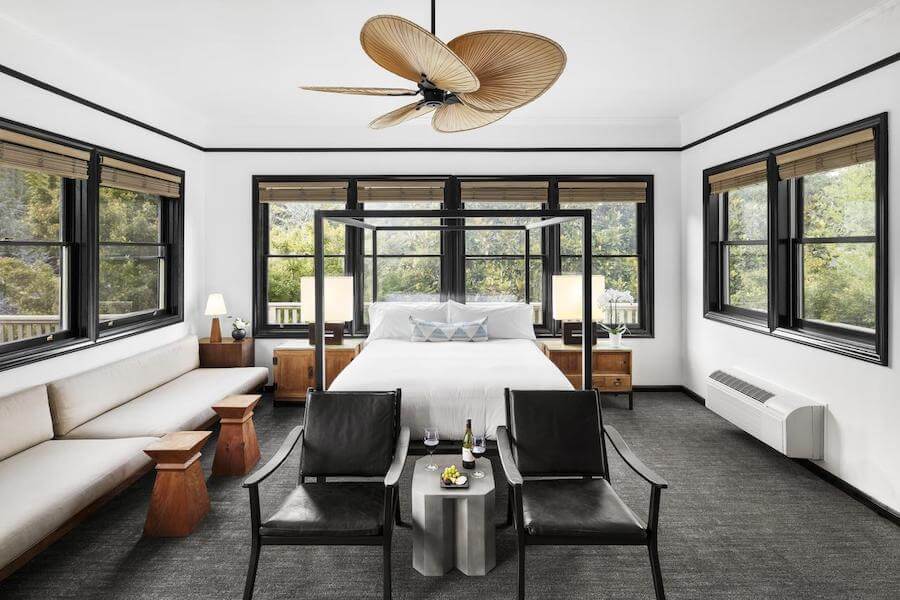 Want to pretend like you're on the other side of the world for a weekend? Located in Sonoma Valley, The Gaige House + Ryokan is a relaxing wine country getaway inspired by Japanese hospitality. Each of the 23 guest rooms feature beautifully designed layouts with unique details that call to mind past trips to Asia. On property you'll also find elements native to the ryokans of Japan like a private zen garden, meditation space, and wellness offerings with Shinrin-yoku (forest bathing).
Korakia Pensione in Palm Springs, California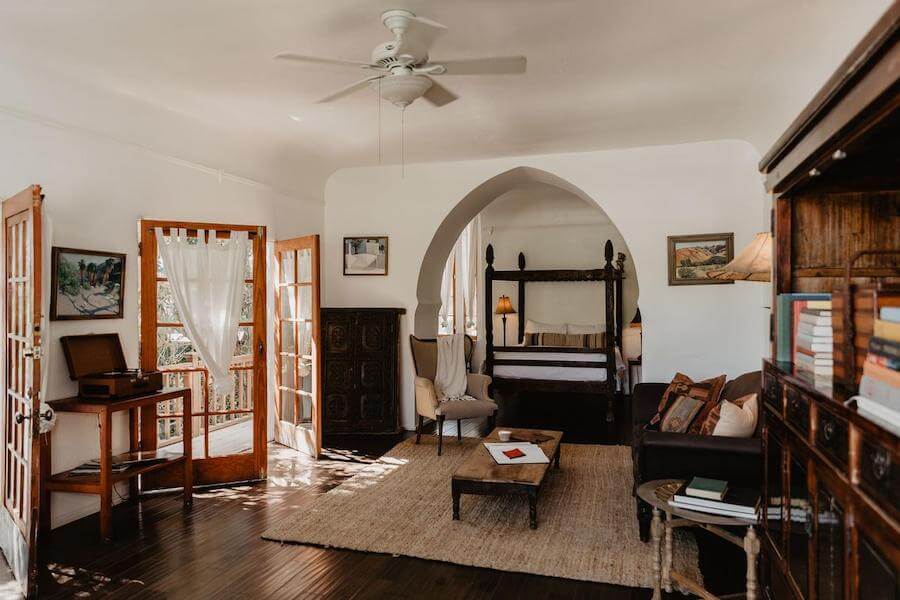 Escape to a Moroccan-meets-Mediterranean paradise at Korakia Pensione, a romantic gem in the heart of Palm Springs. Once a hideaway for old film stars, the hotel is now a popular spot for couples jetting off to the desert. Each villa and room offers a blend of architecture and design inspired by places in Southern Europe, North Africa, and the cities of Morocco to give you that true feeling of being worlds away.
Laurel Canyon Boxhouse in Los Angeles, California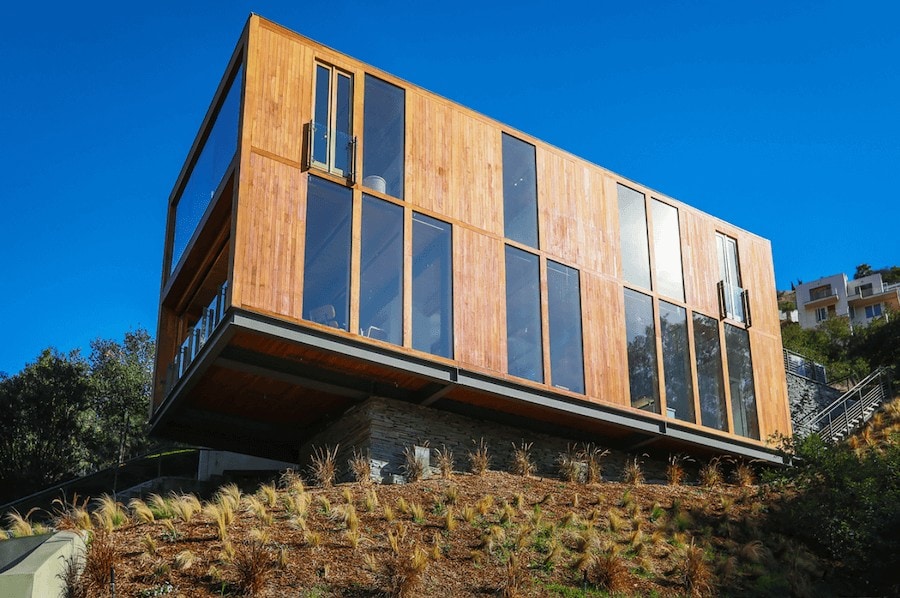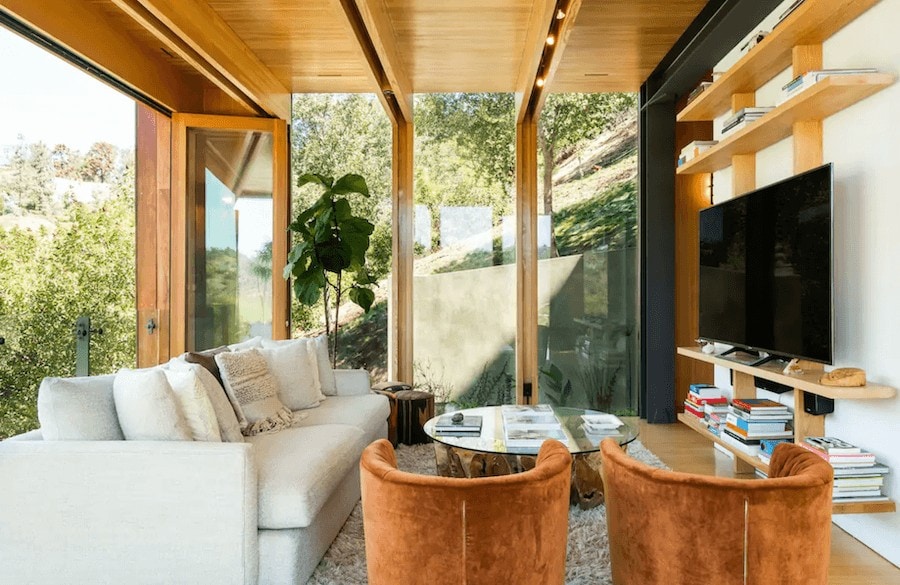 Constructed from almost entirely glass, the "Box House" is an architectural wonder in the heart of LA's Laurel Canyon neighborhood. With its luxurious open floor plan and 3BR space, it's the perfect perch in Los Angeles for anyone looking to experience that often hard-to-come-by zen in the City of Angels.
Geneseo Inn in Paso Robles, California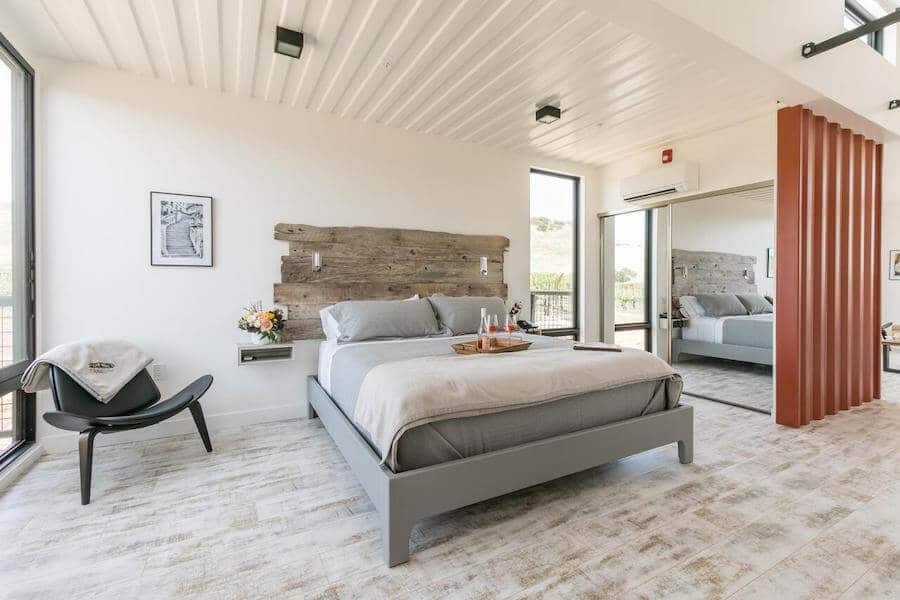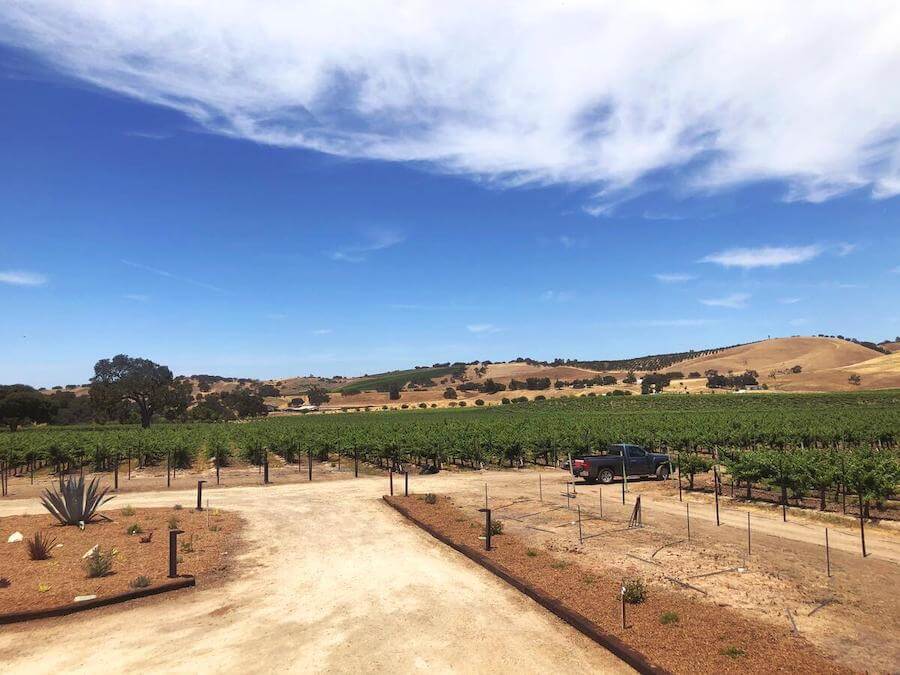 The Geneseo Inn is one of the top boutique hotels on my bucket list in California. Built from industrial shipping crates and located right amongst the vines at Paso Robles' Cass Winery, it's without a doubt one of the most unique places to stay in California.
Forest Camping Hut in Elk, California
For a treehouse setting that feels straight out of the jungles of Tulum, head to this forest hut in Elk, California. Don't expect WIFI or cell service here. This spot is totally off the grid for you to completely disconnect from technology and reconnect with nature.
Malibu Rocky Oaks Vineyard and Estate in Malibu, California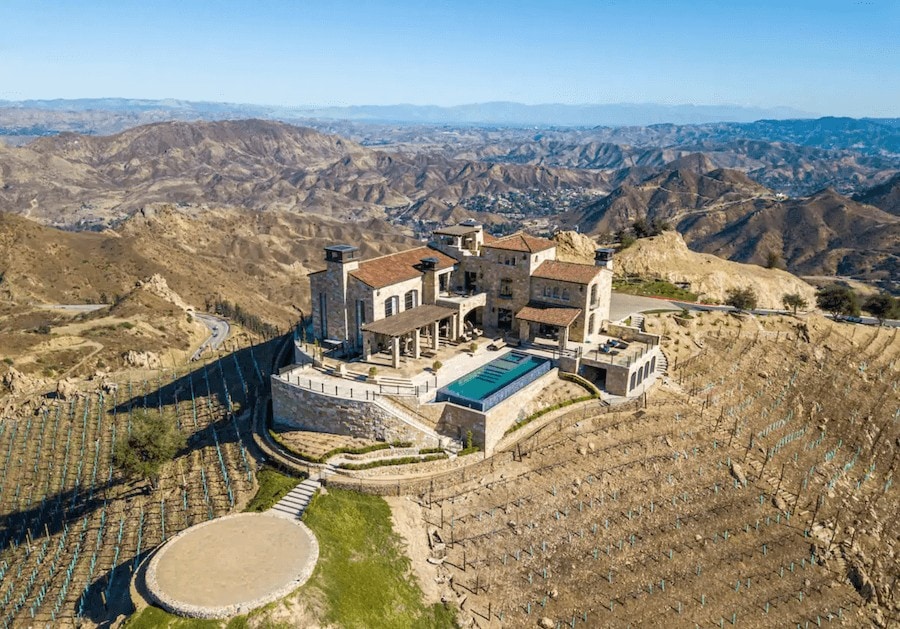 Known for its epic Instagram photos and Tik Tok videos, the Malibu Rocky Oaks Vineyard Estate is a one-of-a-kind Tuscan-style mansion perched high above the hills of Malibu. The views at sunrise and sunset are out of this world, and the home comes with all of the amenities you might need for a luxurious stay, including your own personal concierge service.
Getaway House in Big Bear, California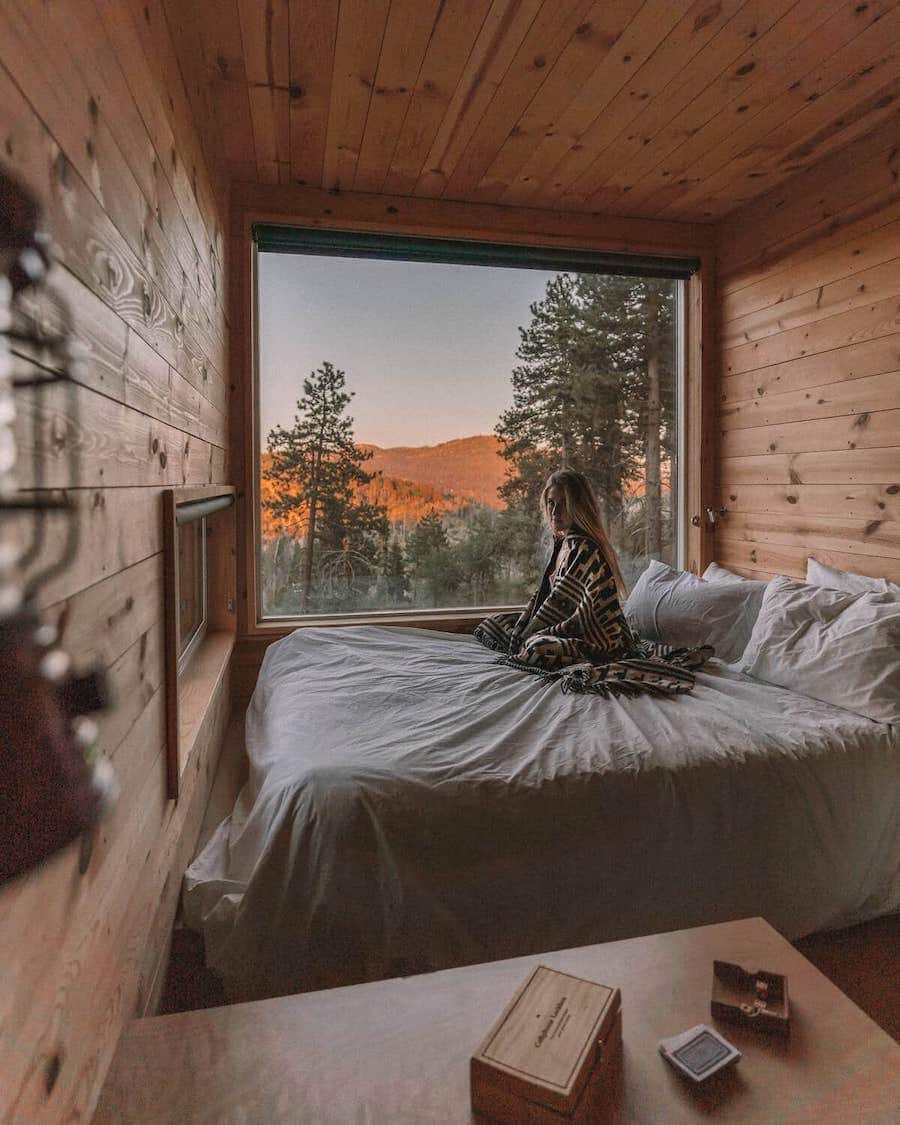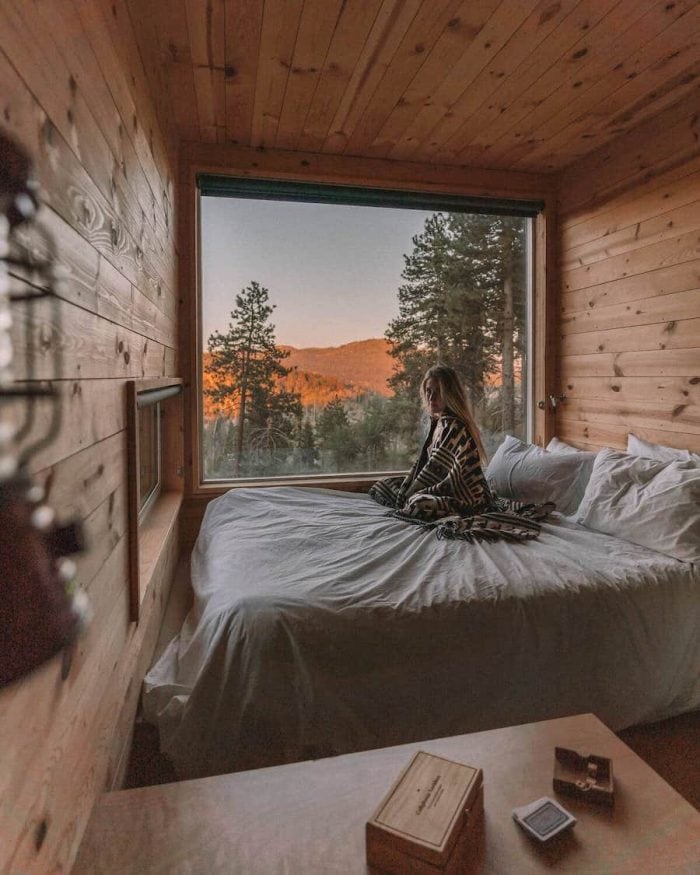 One of my personal favorite stays in California, Getaway House, is a unique campground for tiny home cabins featuring massive windows facing out into nature. It's the perfect secluded escape during these times and Getaway makes sure you have everything you need during your stay, like firewood, snacks and even reading material. If you're curious to read more, I wrote an entire Getaway House review.
Luxury Treehouse in the Sierras, Visalia, California
Treehouse lovers will swoon over this stylish abode high in the sky looking out onto views of the Sierras. This is a great place to base yourself if you're looking to explore the areas of Sequoia National Park or Kings Canyon.
Inverness A-Frame in Point Reyes Station, California
Who doesn't love an aesthetically pleasing A-frame? This one, located in Point Reyes Station, has a beautiful black exterior and a minimalistic, bohemian feel on the inside. Even better, the cabin is within ideal proximity to explore some of the most beautiful parts of the Northern California coast like Tomales Bay and Bodega Bay.
Treebones Resort in Big Sur, California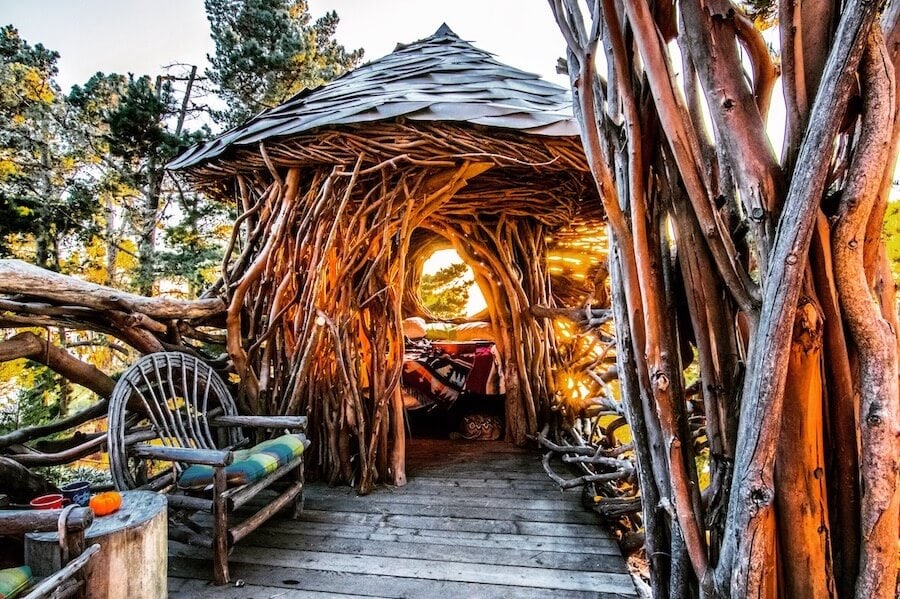 A Big Sur icon, Treebones Resort is the ultimate glamping experience on one of California's most beautiful coastlines. You can choose your adventure here: yurts, cocoon tents, campsites, "human nests"–Treebones has it all.
Old West Wine Country Rental in Temecula, California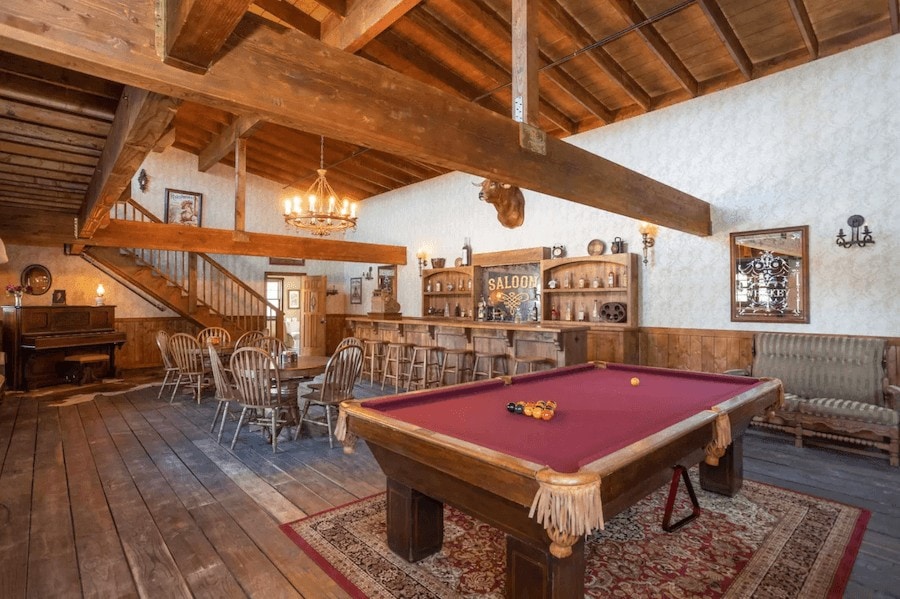 Ever dreamt of of waking up in your own version of Westworld? This ghost town Airbnb in Temecula feels like the closest thing to fulfilling those Old Western fantasies. Located on a 5-acre ranch, this property sleeps up to 8 guests and features a saloon, a self-playing antique piano and even a bank jail.
The Desert Wave in Palm Desert, California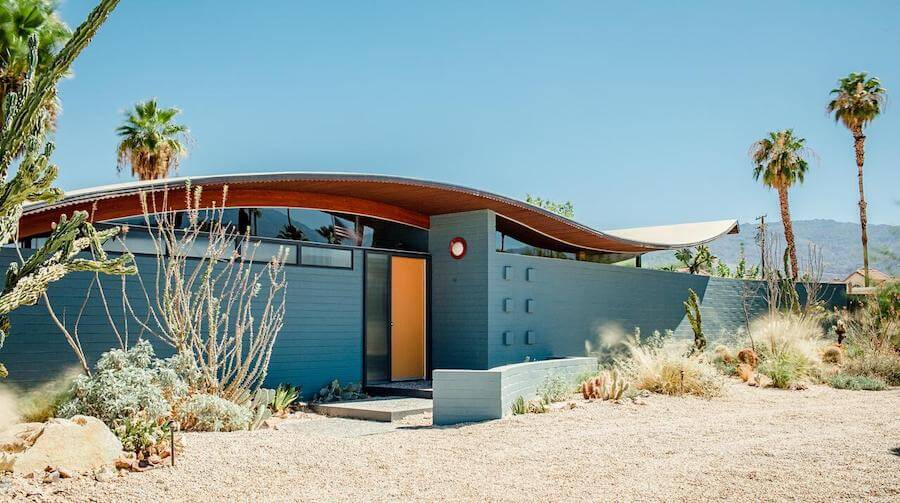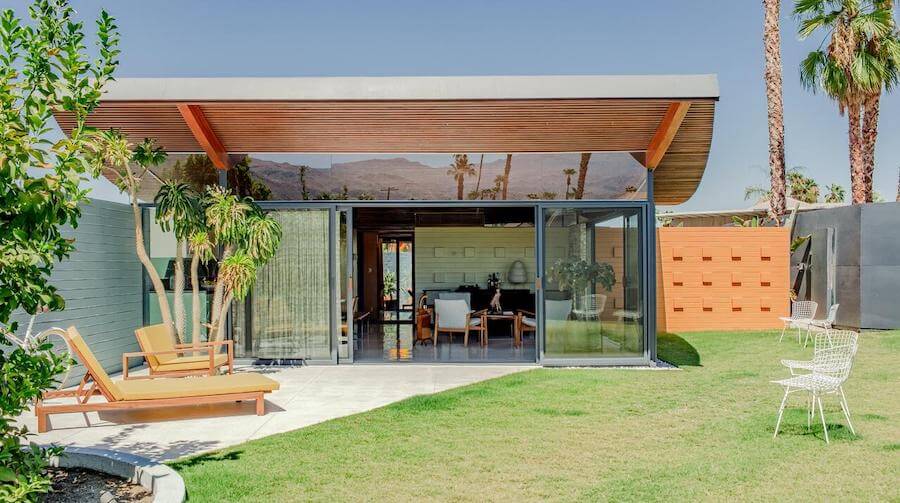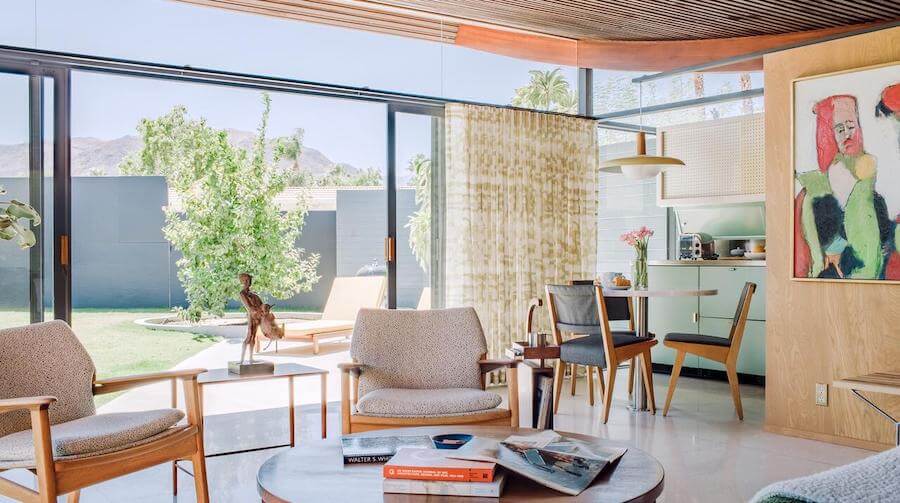 For architecture and design lovers, Modernism Week in Palm Springs is an annual event that can't be missed, but this nearby Palm Desert home is just as worthy of attention. Built in 1955 by renowned architect Walter S. White, the home (which is now available for rent!) first garnered attention due to its wave-like roof that seems to levitate above the rest of the home. For anyone obsessed with Midcentury style, you'll die over every detail here.
Mendocino Grove in Mendocino, California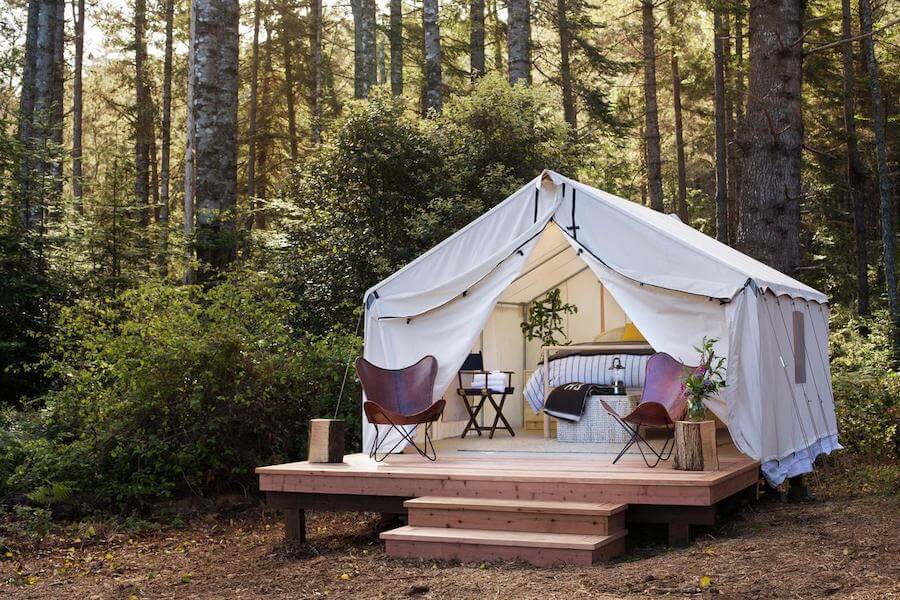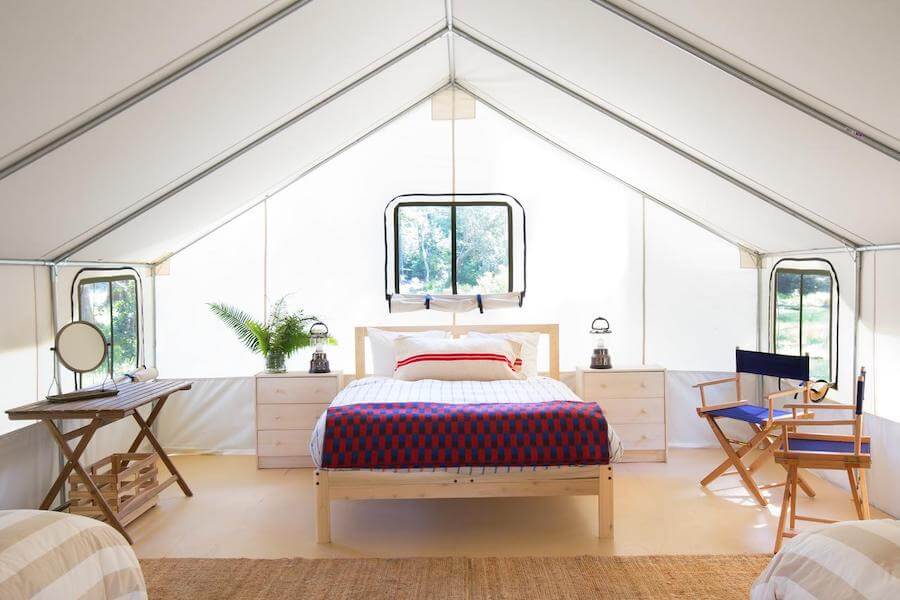 Spacious glamping tents with beautiful interiors and stunning natural surroundings are what make Mendocino Grove one of the most unique places to stay in California. Located in the charming seaside town of Mendocino, this is a great pit stop along any Northern California road trip itinerary.
Modern Stargazing Bubble in Joshua Tree, California
Why sacrifice a stargazing moment while you sleep when you can do both? These bubble domes in the desert of Joshua Tree were made for taking in the night sky–and of course for getting the most epic Instagram photos.
The Trailer Pond in Paso Robles, California
For a funky, retro stay in wine country, The Trailer Pond at Alta Colina is a great addition to Paso Robles. Each colorful trailer is from either the 1950s or 60s and comes outfitted with a double bed, kitchen, and views of the vineyard.
Which of these unique stays in California is your favorite? Let me know in the comments!
---
Planning a trip right now? Don't miss my go-to websites for booking everything from flights and tours, to accommodation and more:
---
Pin This Post