Visiting Mexico's premiere wine region, Valle de Guadalupe in Baja, California, is a trip I've been talking about doing for years now.
The combo of wine tasting in one of my favorite countries with the promise of incredible gastronomic food and hip, boutique hotels was like a whisper in the back of my head I couldn't get rid of.
And trust me—now that I've been, I can confidently say that it lives up to all the hype! If you're at all into food and wine travel, then this part of Mexico 100% needs to be on your radar.
I'm so excited to share this Valle de Guadalupe itinerary with you so that you can put together an epic trip to Mexico wine country for yourself.
Just two hours south of San Diego, this is an easy weekend trip for Southern Californians and is an amazing trip to do with friends, for a special occasion, or as a couple. I'm already scheming and plotting my next adventure back to the Valle!
Some things that really stood out to me on our first trip to Valle de Guadalupe:
The foodie experience here is truly 10/10.
Despite living in Los Angeles with access to incredible restaurants (and not to mention traveling the world for a living), our group came to the consensus that several of the meals we had on our trip were some of the best food we've eaten in a LONG time!
Winemakers take risks here in the BEST WAY.
After talking to some of the local staff and winemakers here it became obvious that wine industry professionals are flocking to the Valle because they don't feel the need to fit into the perfect boxes of the more traditional wine regions.
Here there are no "rules" and it allows wineries to experiment and break out of the mold, which provides a lot of awesome variety to visitors.
This area is going to be rapidly changing and growing.
To Americans, Valle de Guadalupe still feels like a hidden gem, but in reality this wine region has been around for over 100 years and produces 90% of Mexico's wines! They've only started to get worldwide recognition in the last decade or so though.
You better believe there is a lot more to come for this wine region. Valle de Guadalupe is one of those places that is going to be rapidly growing and changing which means you can visit for years to come and you'll be able to have a different experience every time!
The unique combination of rustic sophistication is unlike anywhere else.
The overall vibe here is a unique combination of rustic sophistication. It feels very much in-progress (there is a ton of new construction and building happening and most roads are unpaved), yet every experience we had felt upscale and hip in that "in-the-know" kind of way.
How to Get to Valle de Guadalupe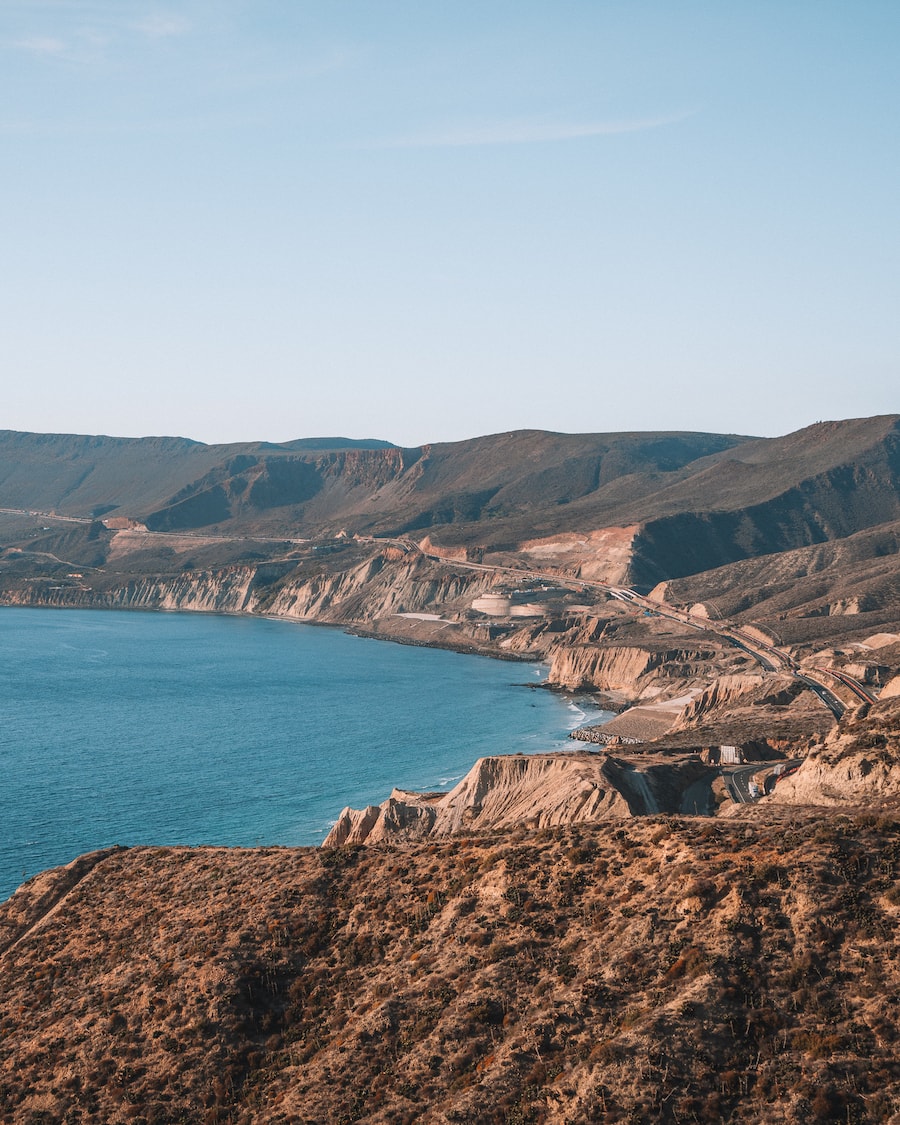 How to get to Valle de Guadalupe obviously depends on where you're coming from.
If you're starting your Valle de Guadalupe itinerary from California or other parts of the US, you will need a passport to enter Mexico, and it's also extremely helpful if you have a Global Entry card.
Keep reading for instructions below depending on whether you plan to fly or drive:
Flying into Mexico:
To get to Valle de Guadalupe, the closest airport to fly into is the Tijuana Airport. From there, you can either rent a car and drive a little under two hours to wine country or hire a driver.
Crossing at the San Ysidro Border Crossing:
If you would rather avoid flying or if you're coming from Southern California, you have a couple of different options. You can drive your own car across the border into Tijuana OR you can walk across the border and meet a driver on the other side (this is what we did).
If you need to leave your own car at the border there are multiple lots that provide overnight parking for a fee.
In order to get to the border crossing, type in San Ysidro Border Crossing into your Google Maps and navigate towards the PedEast crossing.
When crossing the land border, there are a few helpful tips that will make your trip go a lot smoother:
Avoid crossing the border during rush hour, as there are a lot of local Mexicans that commute over the border every day every single day. Early mornings and later in the evenings are typically safer bets.
Going across the border from the US into Mexico is much easier than coming back into the US and having a Global Entry card will help you massively expedite this process. If you're walking across the border, the normal Global Entry you use at the airport is fine, but if you're driving your own car across the border, you need to register your vehicle with SENTRI in order to use the expedited lanes. Find out more info here.
If you have Global Entry, follow the signs that say "SENTRI" in order to skip long lines
If passing the border on foot, make sure you've activated your Global Entry card as that is necessary for land border crossings and many people forget this step
If you don't have Global Entry and want to plan your border crossing strategically, you can monitor wait times here
Book a Tour:
The most simple option for visiting Valle de Guadalupe is just by booking a day tour that will take care of everything for you.
This tour will either collect your group at the border crossing in San Diego or just over the border in Tijuana
If you want a private tour that lets you customize your day to the wineries you want to visit, I recommend this tour
Planning Tips For Valle de Guadalupe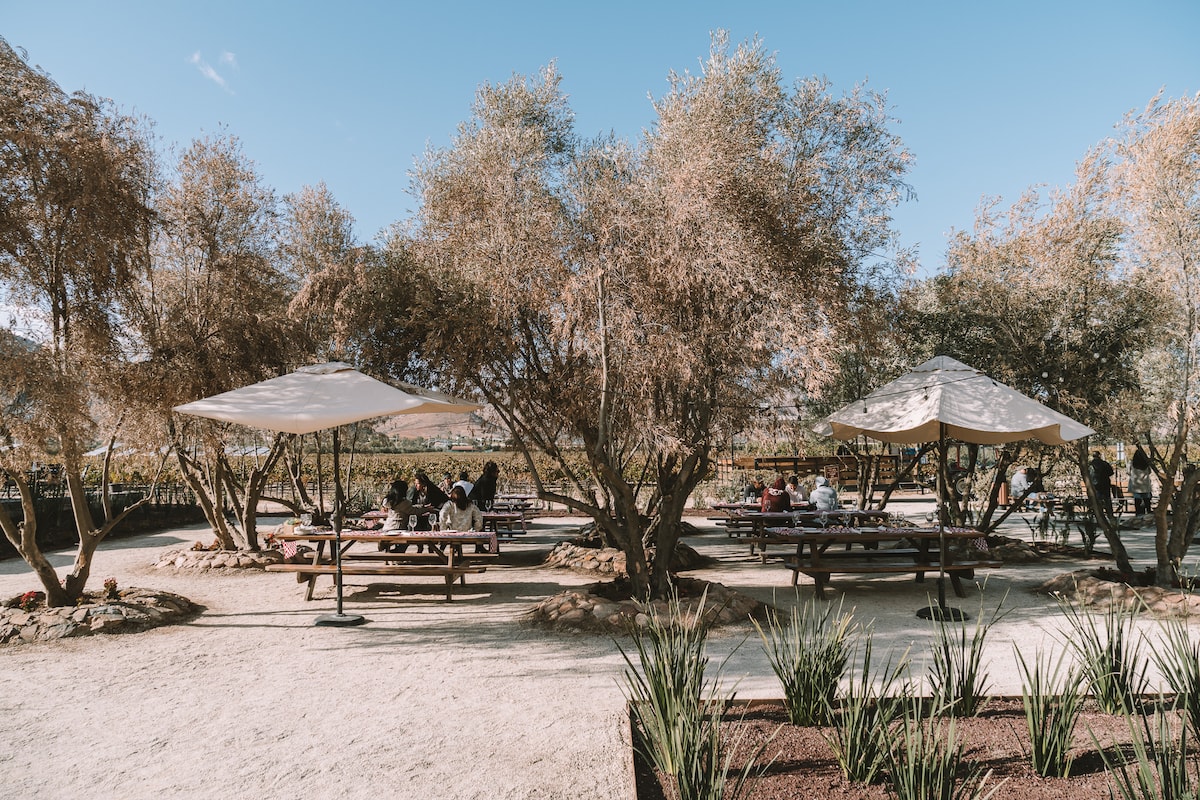 Valle de Guadalupe is located in Ensenada in the state of Baja, California. Note that there is also a Valle de Guadalupe in the state of Jalisco, Mexico—don't get the two mixed up! I made the mistake of packing based on the temperature for the wrong Valle de Guadalupe, which was not a fun surprise 😂
Driving is necessary to get between different restaurants and wineries in the Valle, so you can either drive or hire a driver for your stay. I highly recommend hiring a driver during your stay to avoid drinking and driving >> Here is the one I recommend!
I found this part of Mexico quite easy to navigate using English, but of course it's always helpful and respectful to learn a few words in Spanish before your trip
I wouldn't recommend packing high heels as the roads and walkways here are pretty rustic and primitive
Book reservations in advance for tastings and dinners, especially if you're visiting on a weekend! The best ones absolutely get booked up early.
Where We Stayed in Valle de Guadalupe
Encuentro Guadalupe is where we stayed for our full three nights in Baja. This hotel has a strong focus on sustainability and beautiful aesthetics, with architectural pods perched over the valley.
What I enjoyed most about Encuentro Guadalupe was definitely the overall vibe and aesthetic. The restaurant and pool area is absolutely stunning and the room exteriors are very unique—as a photographer, I loved this.
We also found the hotel to be well-oriented within the valley. Valle de Guadalupe is quite spread out, so you have to drive to everything regardless, but Encuentro Guadalupe is pretty central to all the wineries and restaurants.
Another bonus: If you're able to get a pod room here with views into the valley like I did, you'll enjoy beautiful sunrises here each morning and probably get some of the best views of any hotel in the region.
The biggest downside here for me was that the rooms are pretty far from each other and the road is not easy to walk, which is why the hotel employs a shuttle system that takes you everywhere.
It can make you feel a little beholden to the hotel staff for your schedule, so if you're traveling with a group, request rooms next to each other so it's not annoying getting between them.
Valle de Guadalupe Itinerary
Day 1: Make your way down to Baja, stop along the coast and finish off with an incredible dinner.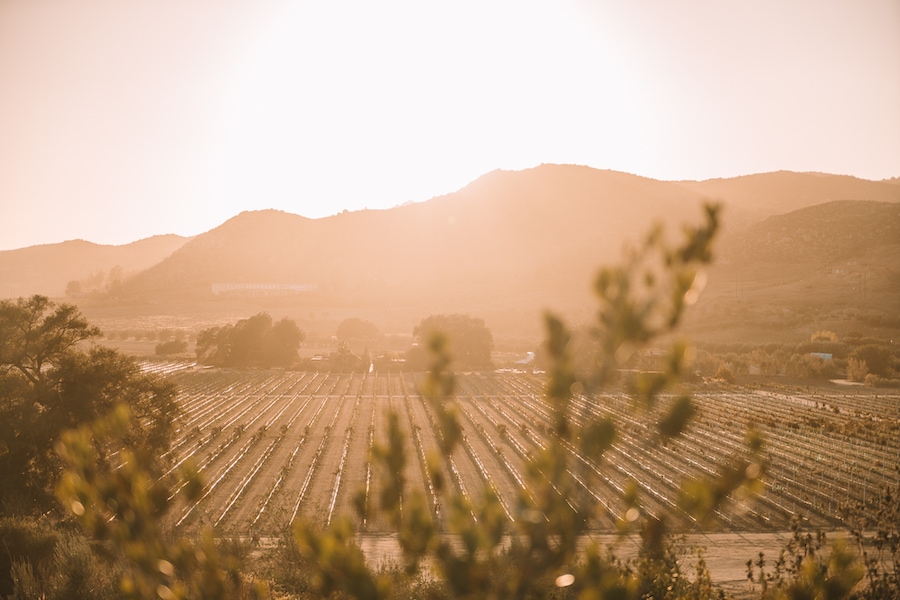 Much of your first day in Valle de Guadalupe will be spent actually getting there. It's not because it's difficult, it just requires a few moving parts depending on whether you'll be flying or driving/walking across the border, so you want to allow ample time for transport.
If you skipped over the section on how to get to Valle de Guadalupe above, make sure to go back and read that first!
Fly into Mexico or cross the border at San Ysidro:
We drove down from Los Angeles to the border crossing at San Ysidro, where we parked our car in overnight parking and then crossed the border on foot. Once we were through the border, we had a driver meet us on the other side in Tijuana. Book your own private driver here.
Start Your Journey Along the Coast:
Once you're on the road in Tijuana, head towards Valle de Guadalupe, which is about 1 hour and 45 minutes south of the border. I like driving the route along the coast for the best views through Rosarito down to Ensenada.
You also need to make a stop at Los Portales de Garcia, which is an incredible multi-level bar/restaurant that overlooks the Pacific Ocean. This place is a VIBE. We arrived about an hour before sunset and they were bumping the club jams and doling out impeccable cocktails.
This is a great place to be for sunset, but you'll probably want to continue on your journey inland to the Valle to check in to your hotel and get settled before the sun goes down.
Check Into Your Hotel:
As I mentioned above, we stayed at Encuentro Guadalupe, but a few other hotels that I would recommend checking out if you haven't booked already are: Contemplacion, Maglen Resort, Bruma or Casa Misiones Glamping.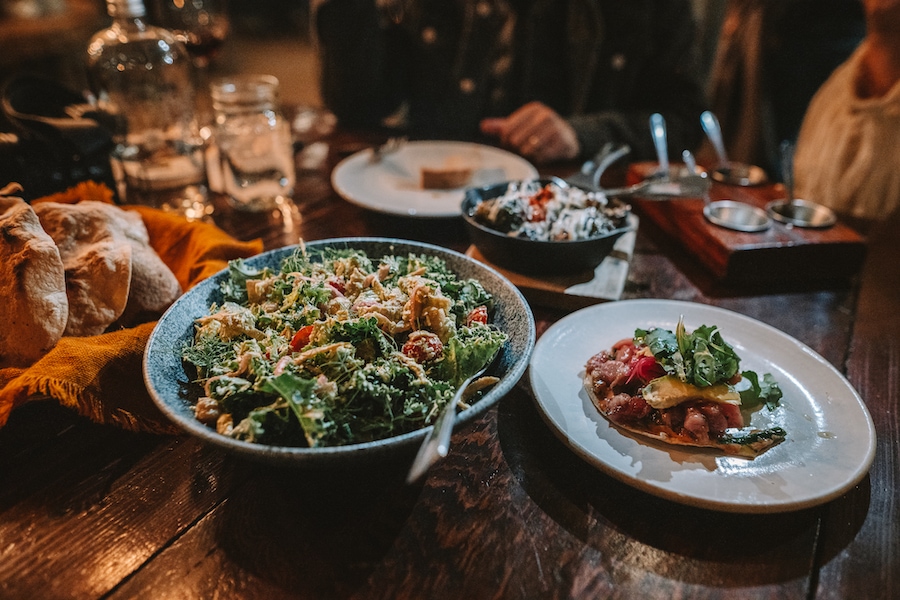 End Your Day at Finca Altozano:
To cap off your first day in Baja's beautiful wine region, head to your dinner reservation at Finca Altozano, which is one of the most popular restaurants in the area—and YES, you need a reservation! The most popular spots book up FAST in the Valle, especially on weekends.
Finca Altozano will provide incredible foreshadowing for all of the amazing food and wine you're going to consume over the course of the weekend. It's been a minute since I was really wow'ed by a restaurant and Finca delivered.
Don't miss the crispy brussel sprouts, kale salad and suckling pig. You can't miss this spot during your trip to Baja!
Day Two: Wine Taste via ATV, then Enjoy the Best Sunset Spot in Baja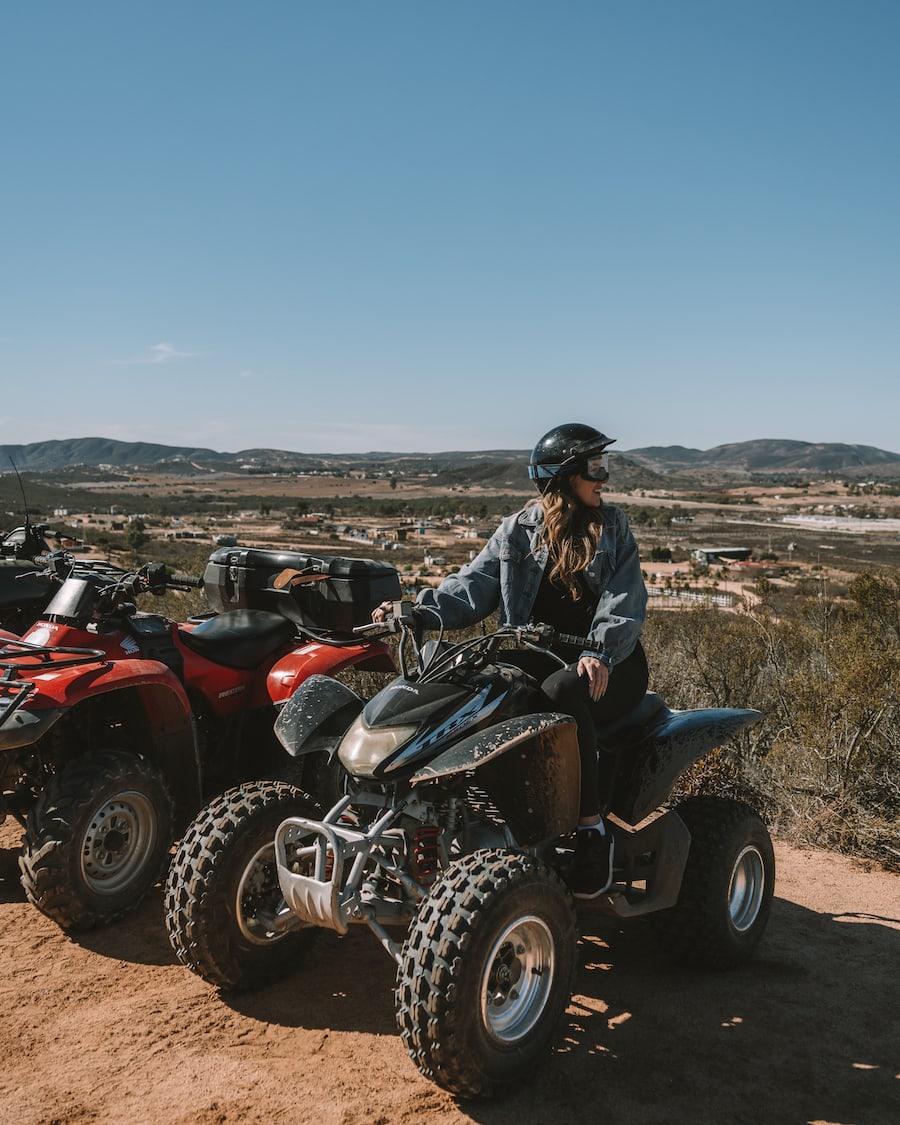 Take an ATV Tour Through the Valley:
Taking an ATV tour through Baja's wine region is a fun way to mix it up as a lot of the terrain here is on bumpy, unpaved backroads.
We did a tour with Off Road Tours Valle de Guadalupe which took us for a nice ride through the valley, stopped at one viewpoint, and then continued on to a relaxing winery.
Refresh Back at the Hotel:
After you've completed your ATV tour, you'll probably want to head back to the hotel to refresh as you'll get a bit dusty riding through the backroads of wine country.
Freshen up, relax for a bit and then get ready to head out on a fun day of wine tasting!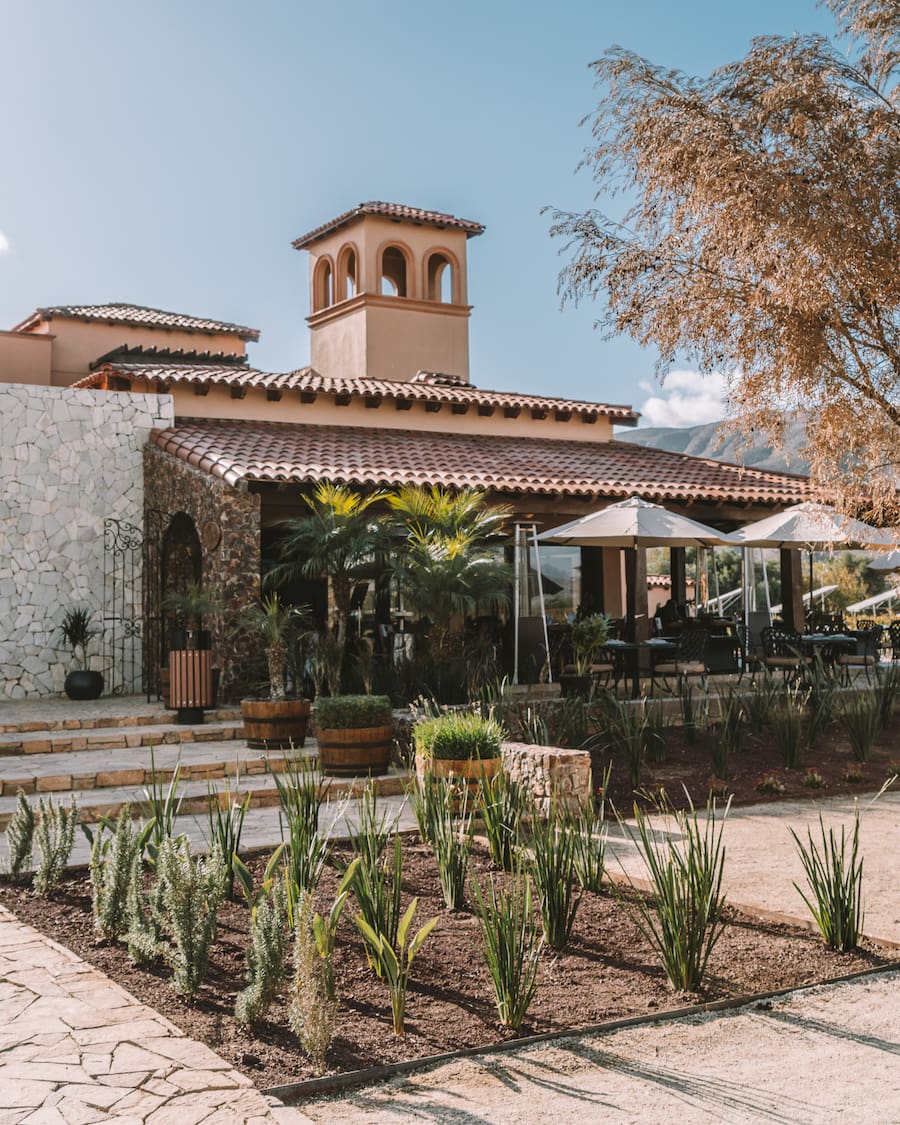 Head to Winery #2 for the Day:
For the rest of the afternoon, you can choose the top winery that you want to visit for a tasting. There are over 100 wineries throughout Valle de Guadalupe, so as you can imagine, it's a tough decision narrowing down which ones to visit!
What I loved most about the wineries in this area of Mexico is that they all have their unique flair and winemakers here aren't afraid to push the envelope a bit and experiment.
As one of our guides told us during the trip, there are no "rules" per se of the right and wrong ways to make wine in Valle de Guadalupe, so many winemakers flock here to take risks and try new things, which is why you can find so much incredible variety in this wine region!
Over the course of three days, the wineries we visited were: Don Tomas, El Cielo, Bruma Winery, and Vinos Lechuza.
You could visit a lot more, but we wanted to include some adventure activities in our itinerary like ATV'ing and a helicopter tour which took up extra time. Plus, we visited in November when the sun sets pretty early so the days were shorter.
If you visit during the summer, you could easily visit three wineries per day!
Here's a breakdown of the wineries we visited, plus some others that are high on my list for my next visit!
Don Tomas – This is the winery we stopped at along our ATV tour and it was super cute with the wine tasting area situated on a deck overlooking the vines and the bungalows where guests can stay overnight. These weren't my favorite wines of the trip, but the atmosphere was pretty and relaxed with a rustic feel.
El Cielo – This is a really popular winery and resort in Valle de Guadalupe and it's also the largest one we visited. It felt a lot more commercial and touristy than the rest, but the setting was beautiful with many different areas to sit, eat and drink wine. They also have a really cute wine trolley that takes guests out on a tour and tasting on Saturdays and Sundays.
Bruma – This was my favorite overall wine tasting experience. The grounds are incredibly designed with unique modern architecture and a 300 year-old Oak tree that acts as the emblem of the winery, stretching out from the fountain above ground down into the cellar. You can't miss this one during your trip!
Vinos Lechuza – This spot that focuses on unfiltered and organic wines was recommended to me by a friend who is opening a business in Valle de Guadalupe and I ended up loving it. It's smaller and more relaxed, but the experience felt much more intimate and every single pour was delicious—I ended up buying a bottle of each!
Vena Cava – This winery is one of the most popular in the Valle and features very cool architecture from renowned architect Alejandro D'Acosta, who utilized reclaimed fishing boats and other recycled materials to turn the space into a hip wine paradise.
Adobe Guadalupe – Located in a beautiful hacienda style space, Adobe Guadalupe prides themselves on being the largest breeder of Azteca horses in the world. If a wine tour on horseback sounds idyllic to you, don't miss this one.
Monte Xanic – Situated along a manmade lake, this award-winning winery is also one of the region's oldest and is committed to making some of the highest quality wines in all of Mexico.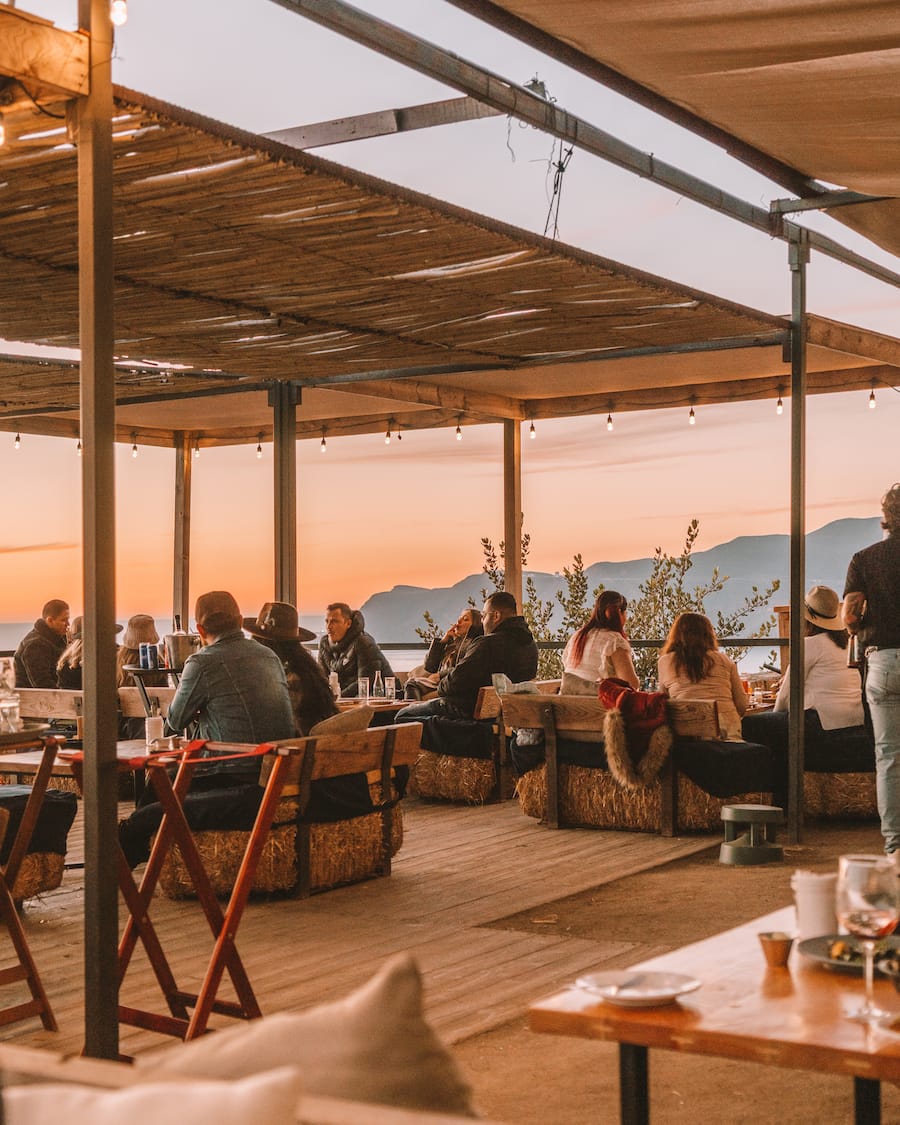 Grab Dinner and Sunset Drinks at Cuatro Cuatros:
This place is a little more out of the way than most since it's back on the coast, but I promise it's worth it!
This place is a SCENE for sunset and it has some of the yummiest food we ate on our trip. Think well-dressed Angelenos down for the weekend, dj sets and a party shuttle that drives you from the parking lot up to the restaurant overlooking the cliff.
Make sure to book a reservation specifically for Bura at Cuatro Cuatros as they have several different dining and drinking options. At Bura, the menu led by chef Adolfo Torres changes daily but is always focused on locally sourced and sustainably caught fresh ingredients.
Also, I know this sounds weird, but make sure to hit up the restrooms while you're here. You won't believe the ocean views as you do your business!
Drinks at Bloodlust
If you're still up for a final beverage or want to experience something different, check out Bloodlust, which is a unique vibey cocktail bar located in what looks like either a water droplet-esque spaceship or a garlic clove. I'll leave the interpretation up to you!
They had an alternative dj set going while we were here and some mood lighting, which was the perfect way to end the night.
---
Explore More Mexico Posts
---
Day Three: Enjoy an Authentic Mexican breakfast, Wine Tasting, and a Helicopter Tour!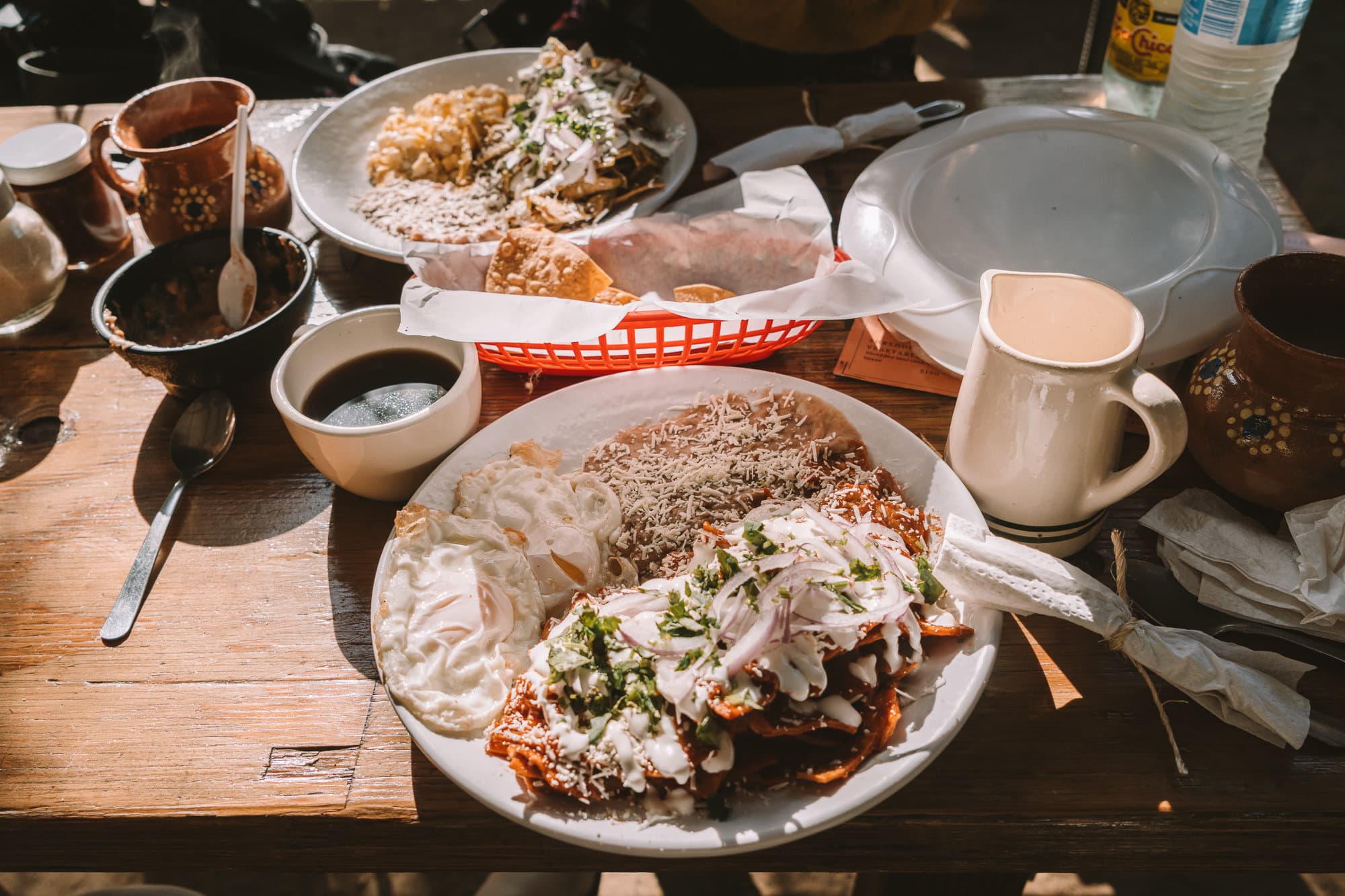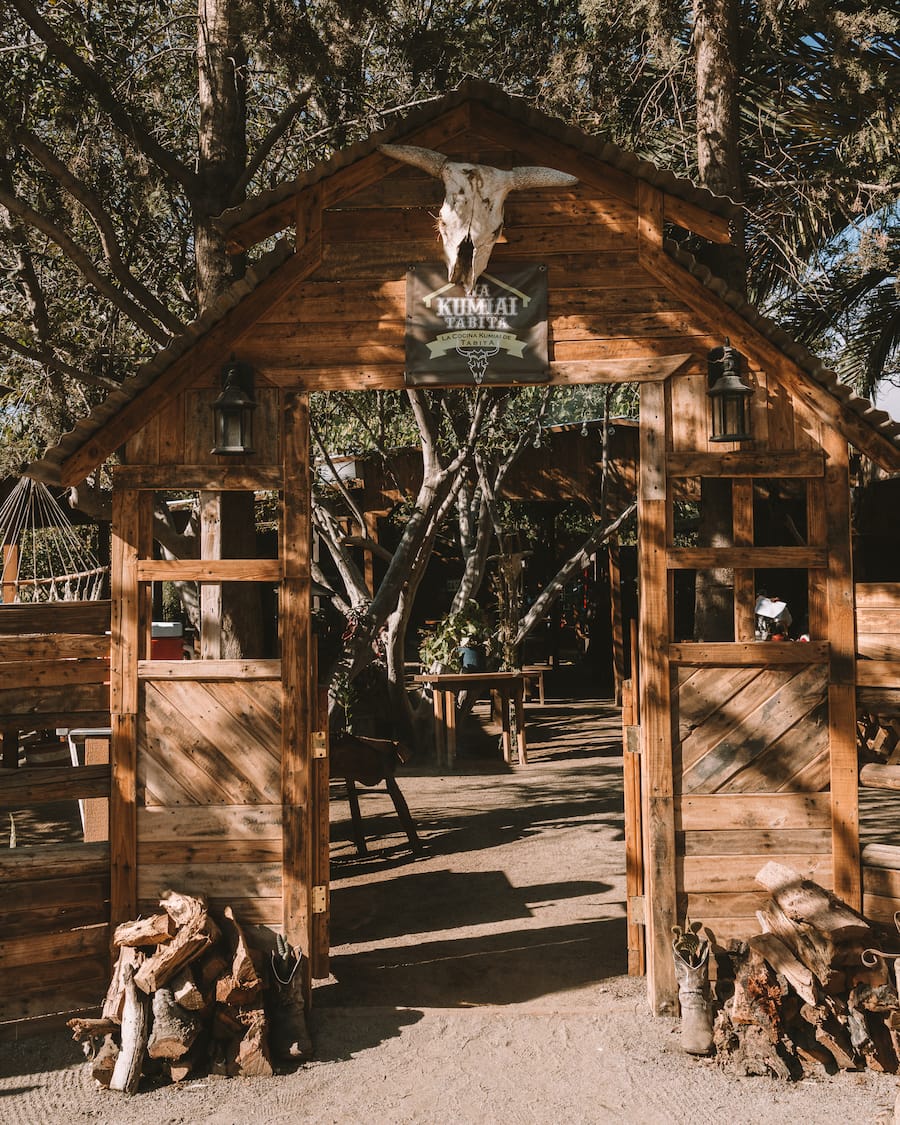 Breakfast at Wa Kumiai Tabita
Start your morning at Wa Kumiai Tabita which is known for their delicious handmade tortillas, made with love by the local indigenous community known as Kumiai.
The breakfast here was so phenomenal and was a nice change of pace from all of the gourmet meals we ate the rest of the trip!
I highly recommend trying the chilaquiles, acorn coffee and freshly made pineapple juice! Keep in mind, this spot is cash only and they don't take reservations.
Wine Tasting #1: Vinos Lechuza
For your first wine tasting of the day, my suggestion is Vinos Lechuza, a winery that feels very relaxed and nonchalant but recently had their wines placed on the menu at Thomas Keller's world renowned restaurant, The French Laundry!
My friend who spends half the year in Valle had recommended this place to me for their organic and unfiltered wines and it did not disappoint. I loved every single wine poured and ended up purchasing a bottle of each to take home.
Helicopter Tour
For a unique experiencing of witnessing the Baja coast from above, go big with a helicopter tour! This tour with Heli Baja took us across wine country over to the coast where we got incredible views of the Pacific Ocean and cliffs in Ensenada.
We even saw a massive shipwreck which I was not expecting!
Wine Tasting #2: Bruma
For your last and final wine tasting of the trip, you have to make it at Bruma, my personal favorite! This place is a design-lover's dream, with incredible architecture and structures made very intentionally with local and recycled materials.
The wine tasting room is built entirely around a 300 year-old Oak Tree that is the first thing you see when you arrive and then continues its way through the building into the wine cellar; it's truly unique!
Dinner at Fauna
After your relaxing tasting at Bruma, don't miss Fauna for dinner next door—reservation required! This was the absolute standout meal of our trip (and that's saying a lot, because everything we ate was incredible). I was shocked by how simple each dish looked while being packed with so much flavor.
Everything comes out communal style, so you can try many dishes throughout this epic culinary evening.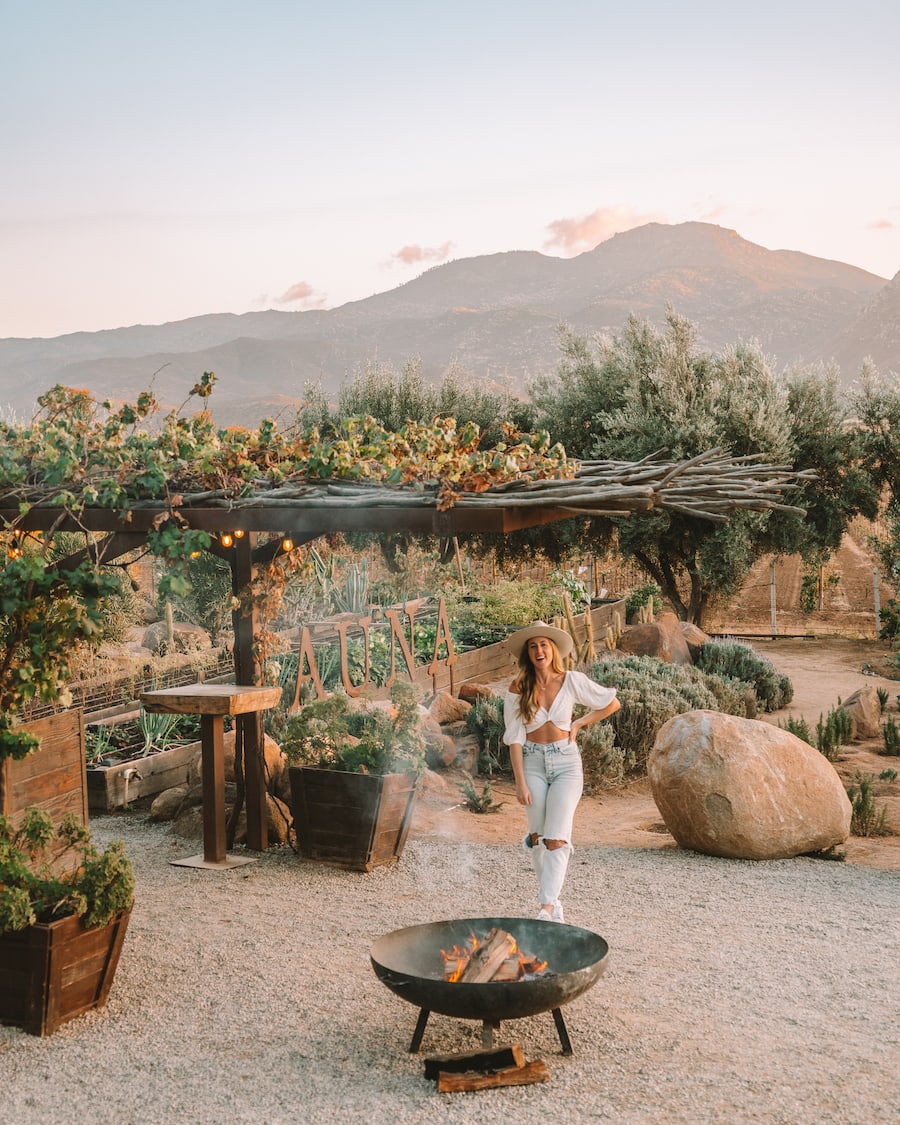 ***This post was sponsored by the Baja California Tourism Board, but as always, all of my opinions are my own and I would never promote anything I don't freaking love.***
I hope this Valle de Guadalupe itinerary gave you some ideas for your own epic wine tasting adventure!