If you're visiting Kauai, Hawaii for your very first time, then get ready for one of the most magical trips of your life.
There is something to marvel at around every corner in Kauai, but in order for you to truly take in each epic second, I'm sharing these Kauai travel tips that you need to know to make the most of your adventure.
These Kauai travel tips will help you avoid mistakes like waiting too long to book dinner reservations (yes, they book up!), not getting a permit for the island's most epic hike, and wasting tons of time driving back and forth across the island.
My goal is that this post will help you feel prepared to take on Kauai trip planning with confidence and ease. Because I know how special of a destination this island is, and if it's your one big chance to go, you want to make the most of it!
Nicknamed the "Garden Isle," Kauai is the oldest of all of the major Hawaiian islands, and it has a rich history and connection to the local culture. Despite the fact that it is part of the United States, it truly does feel like a world away.
Furthermore, there are a lot of aspects to Kauai that make it very different from traveling to the other Hawaiian islands.
Before you jump right in and start planning all of your activities, read through these pro tips so you know what you can expect once you arrive.
Here are my absolute top Kauai travel tips you need to know before visiting Kauai!
Top Kauai Travel Tips to Know Before Visiting Kauai
1. What is the Best Month to Visit Kauai?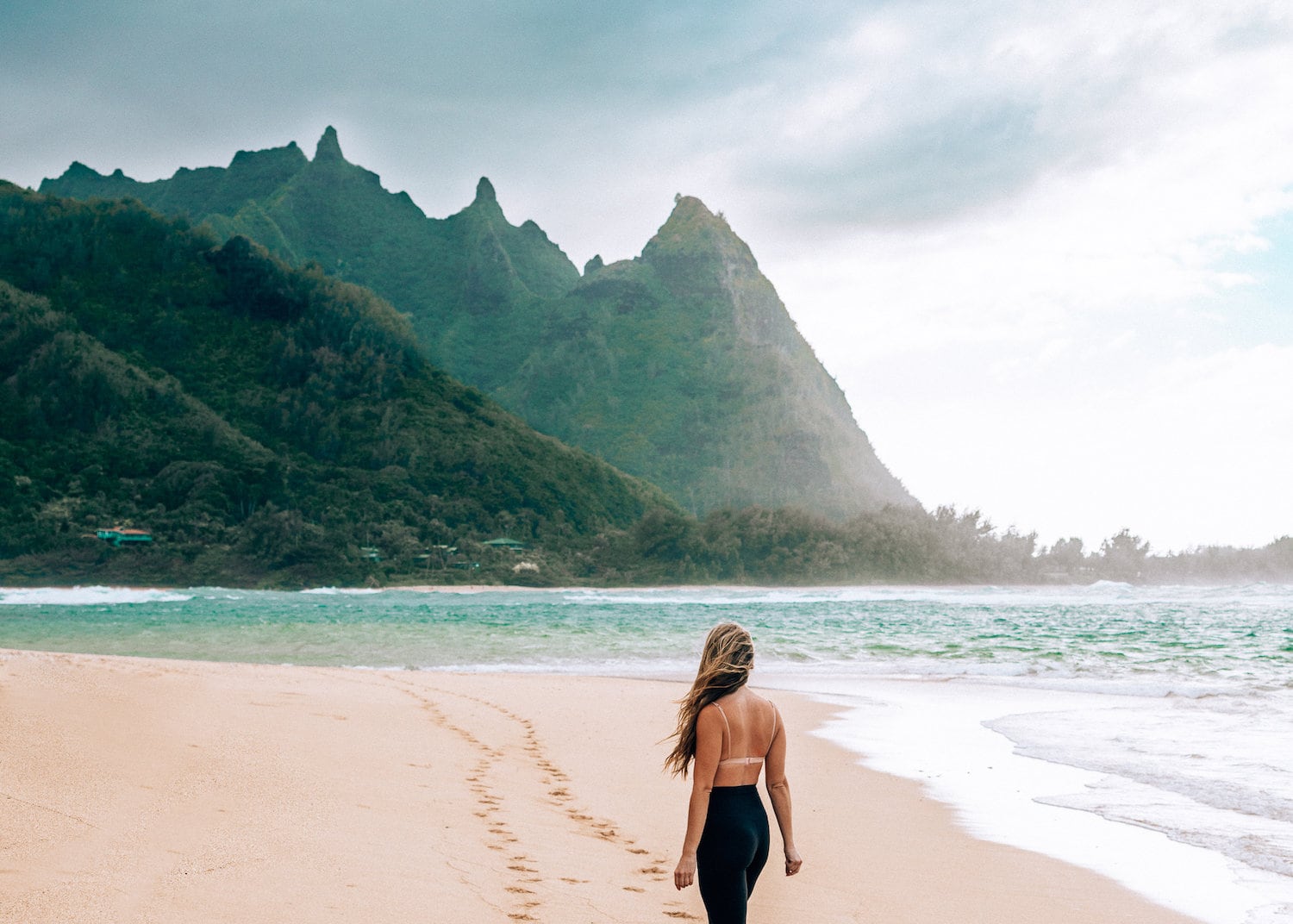 If you haven't started booking any of your Kauai travel, then you're in a great position to plan during the best time of year.
Like many places that attract a lot of family travelers, visiting Kauai during the summer means running into huge crowds and lots of tourists.
The prices for hotels and rental cars are also known to spike, making it the most expensive time of the year for visiting Kauai.
However, if you go during the shoulder season, you can find pretty great deals on accommodations, rentals, and excursions.
August to October or April to June are considered to be shoulder seasons. May is considered one of the best times to visit as this month offers great weather on Kauai and is also not too busy compared to other times of year.
If it's possible with your schedule, I definitely recommend planning a trip during these windows, however know that there's no truly "bad" time to visit Kauai. I visited during the rainy season in December and still had an incredible trip.
2. Plan for Bad Weather (Especially On the North Shore)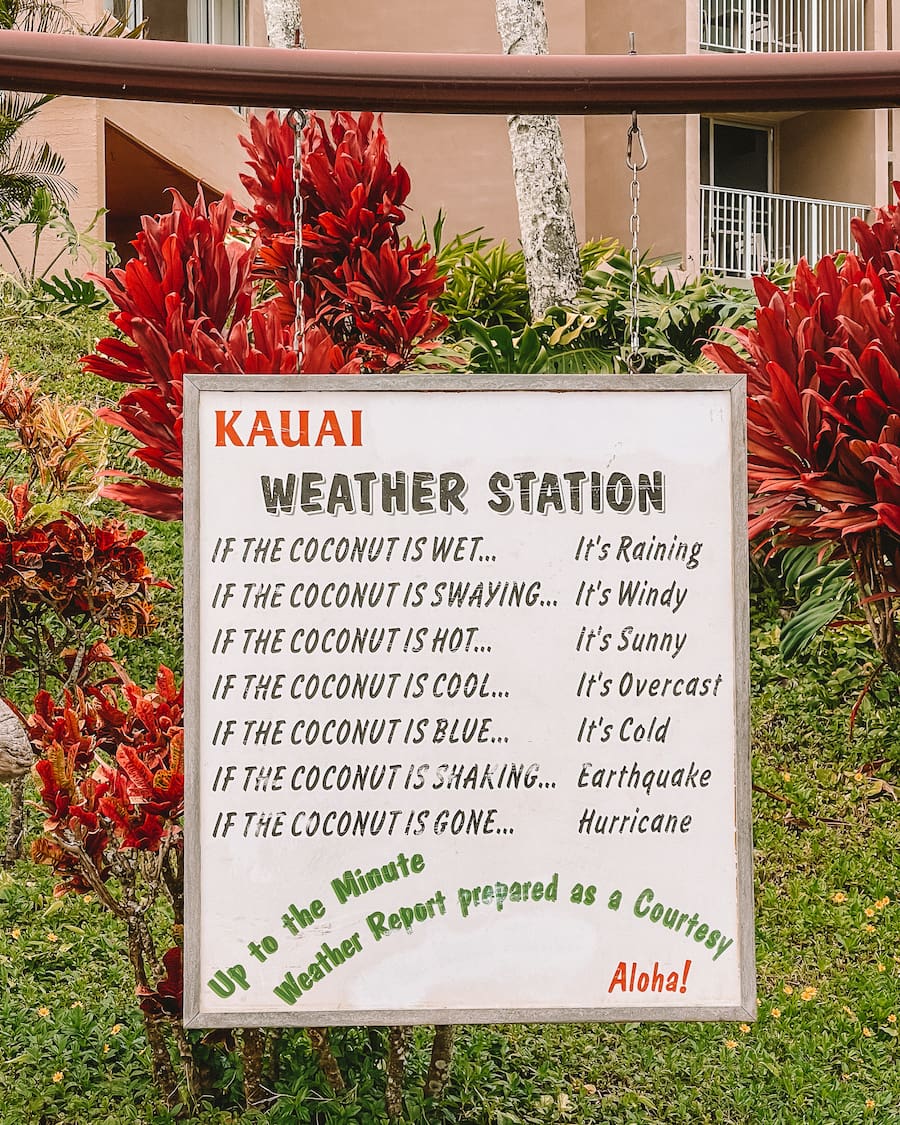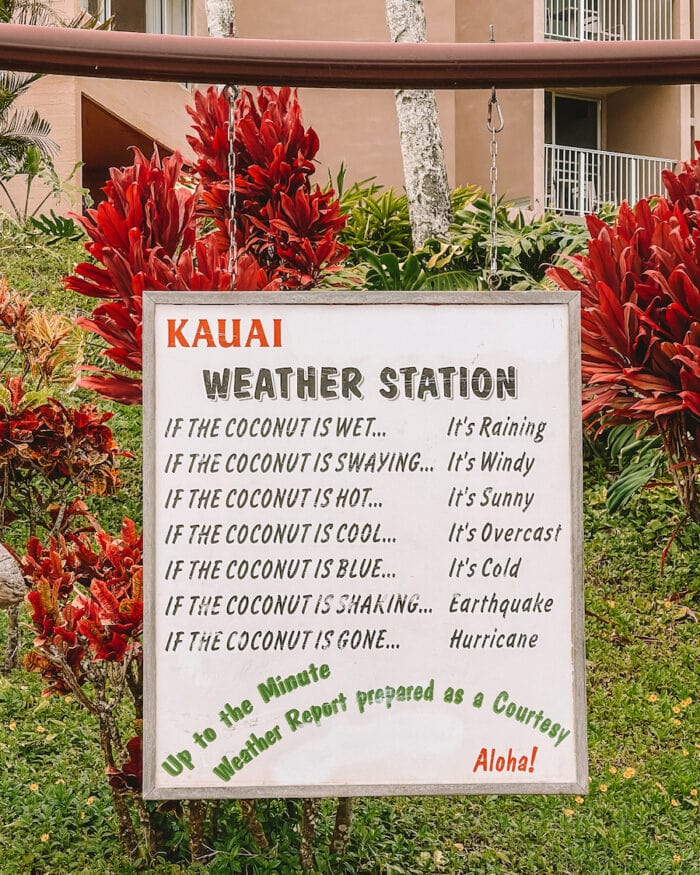 Ok, so I know I just said there's no bad time to visit Kauai. But here's the thing: there's always the chance here for bad weather!
Despite the time of year you visit, you still want to manage your expectations when it comes to weather in Kauai.
While most people picture blue skies and idyllic sunny weather when they envision Hawaii, Kauai is actually one of the wettest places on the planet.
In fact, Kauai averages over 460 inches of rain per year, so I always like to tell people to go into their trip expecting it to rain.
But don't worry, this doesn't have to ruin your trip! Kauai is incredibly beautiful even in the rain—and it makes it just feel a bit more adventurous.
Plus, rain in Kauai means more opportunities for majestic flowing waterfalls and plenty of rainbows. I've never seen so many rainbows in a one week span as I witnessed on Kauai!
Even if you plan on visiting Kauai in summer, it's good to arrive equipped with some essentials to help keep you dry in the event of rain. Things like waterproof hiking boots, a rain jacket and a small umbrella will go a long way.
The North Shore in particular gets lots of rain, so if you're hitting Hanalei, hiking the Kalalau Trail, or checking out the food trucks up north, definitely bring a poncho, umbrella, and some waterproof shoes.
If you plan on doing a lot of hiking, I can't recommend hiking poles for muddy conditons enough. They saved us!
All in all, remember that the rainiest season is from November to April, but the island can still get random spurts any time of year.
3. The Best Areas to Stay in Kauai
The two best areas to stay in Kauai are without a doubt Poipu (on the South Shore) and Hanalei/Princeville (on the North Shore).
Staying in Poipu:
In Poipu, you'll find that there are tons of big resorts and vacation rentals, and it's a bit more built up than the North Shore.
This is the sunniest side of the island and the most predictable when it comes to weather.
Poipu is really popular for families because the location is convenient and there are a lot of activities and options for accommodations that house bigger groups.
Staying on the North Shore:
The North Shore is in my opinion the prettiest and most charming part of the island, but it's also the wettest and most unpredictable when it comes to weather.
In Hanalei and Princeville you'll find the most dramatic beaches and epic hiking along the Kalalau Trail. Nice hotels are a bit more limited on the North Shore, but there are lots of vacation rental options on VRBO.
Make sure to check out my detailed guide on how to decide where to stay in Kauai.
4. The Best Hotels to Stay At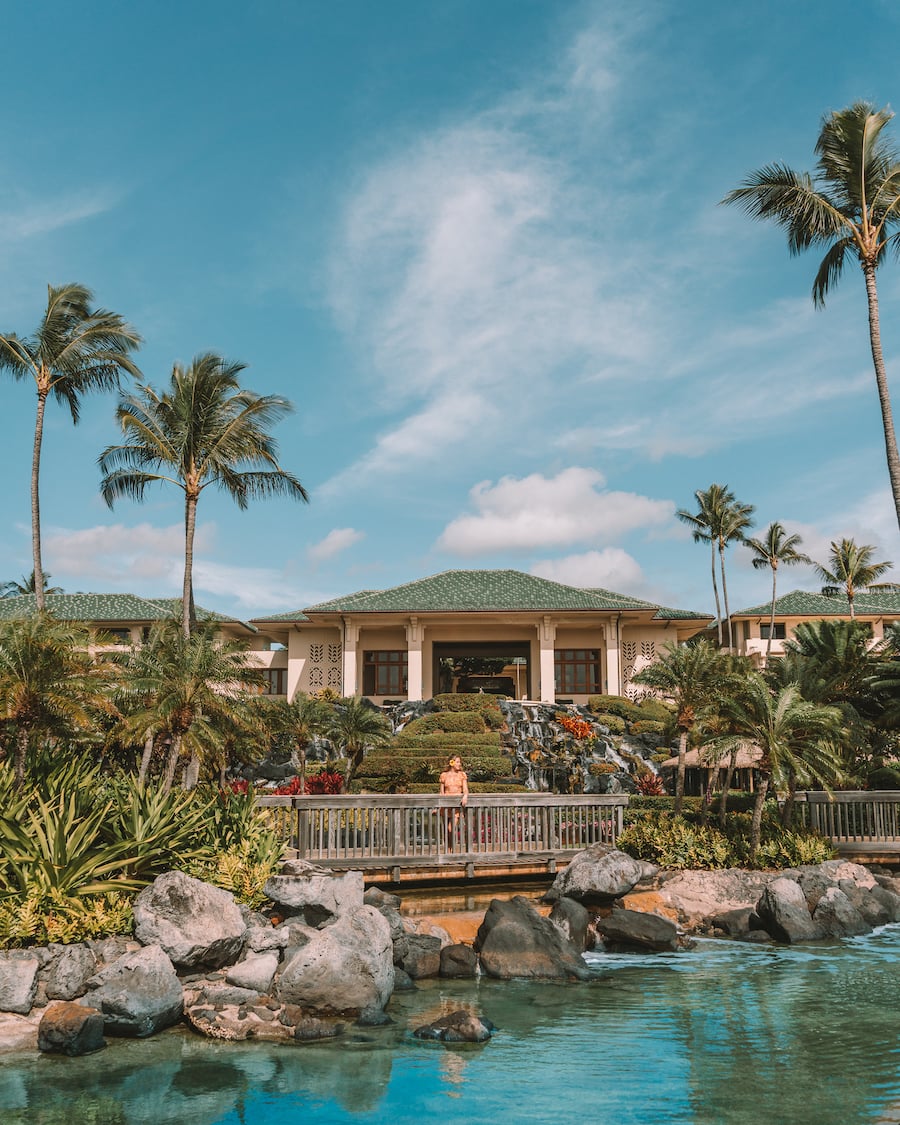 Want to stay at the absolute best of the best on Kauai and make your trip ultra memorable?
If so, then you really can't get better than either the Grand Hyatt Kauai Resort & Spa, which is located on the south side of the island in Poipu, or the 1 Hotel Hanalei Bay which just recently opened on the North Shore.
The 1 Hotel Hanalei Bay is truly the first luxury design hotel on the island in my opinion. It fills the gap where Kauai was previously lacking in terms of design-savvy boutique-style hotels, though this is still technically a resort.
These are the best of the best luxury hotels in Kauai, but if you want more options, make sure to check out my full guide on where to stay in Kauai.
5. You 100% Need a Rental Car and You'll Want to Book it Early
Yes—you need to rent a car when in Kauai and there's really no way around it.
Public transport is just not the move when visiting Kauai and if you plan on cabbing it from the airport to your resort and never leaving your hotel, well then you'd probably be better off booking a trip to Cancun.
There is so much to do and see in Kauai and you need a vehicle to make the most of the island.
You'll notice that people love to rent Jeeps in Kauai because they're great for rugged terrain and for warm, sunny days with the top down.
You certainly don't need a jeep, but for gravel roads, muddy conditions, and island driving they make for great cars. With that said, they tend to sell out fast!
The islands have a finite stock of vehicles, so once you know the dates you're visiting Kauai I would book your rental car as soon as you can.
We had trouble finding any Jeeps at all when we were searching for rental cars in Kauai or an affordable rental car since we booked our trip last minute.
I always prefer to rent with Rentalcars.com since they make it super easy to compare prices across many brands, they price match, and they offer free cancellation.
Pro Tip: If you're struggling to find a good rental car on Kauai, try Turo. This is basically like the Airbnb of cars.
It's a car-sharing marketplace that allows you to find rides and rentals from locals so that you can skip the rental car booking process altogether. I wouldn't recommend this over a regular rental car, but more of as a backup emergency option which is what we did.
6. The Highway Doesn't Connect Around the Island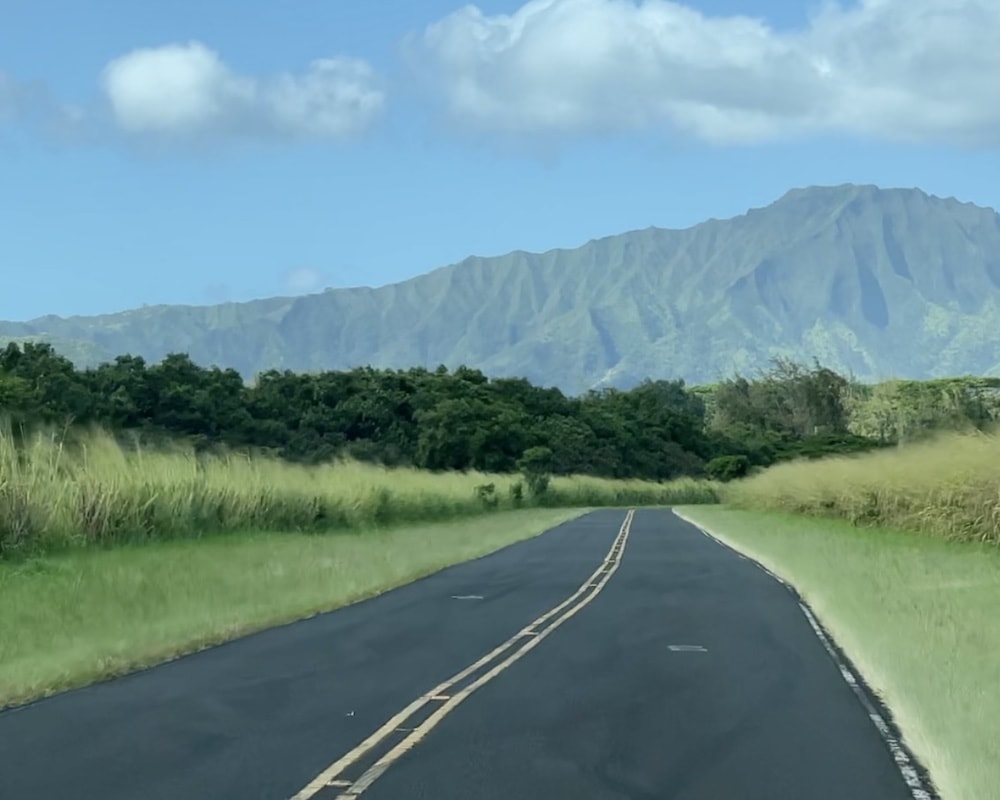 If you've never been to Kauai before, then you might be surprised to find out that there's really only one main road that wraps around the perimeter of the island—but it stops between the West Side and North Shore.
The rugged Na Pali Coast makes it impossible to drive straight through between the two.
Furthermore, there are no cut throughs between the South and North Shores or West and East sides of the island.
What that means is that there are no shortcuts to get between each side of the island, and everyone traveling from one end to the other has to essentially take the same route.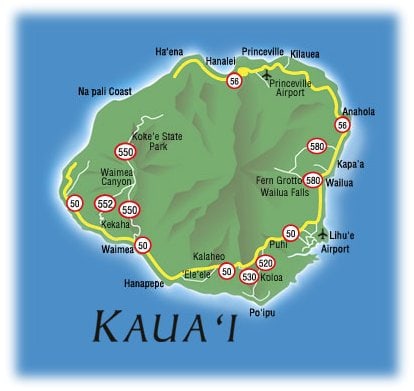 So how might this affect your trip?
Well, first off: expect to spend a decent amount of time in the car when traveling from one side of the island to the next. If you happen to hit construction or traffic, there aren't really alternate routes you can take.
This is also why I recommend breaking up your time in Kauai by staying on different sides of the island so you can cut down on your daily driving time and spend more time exploring.
7. Spending Seven + Days on Kauai is Ideal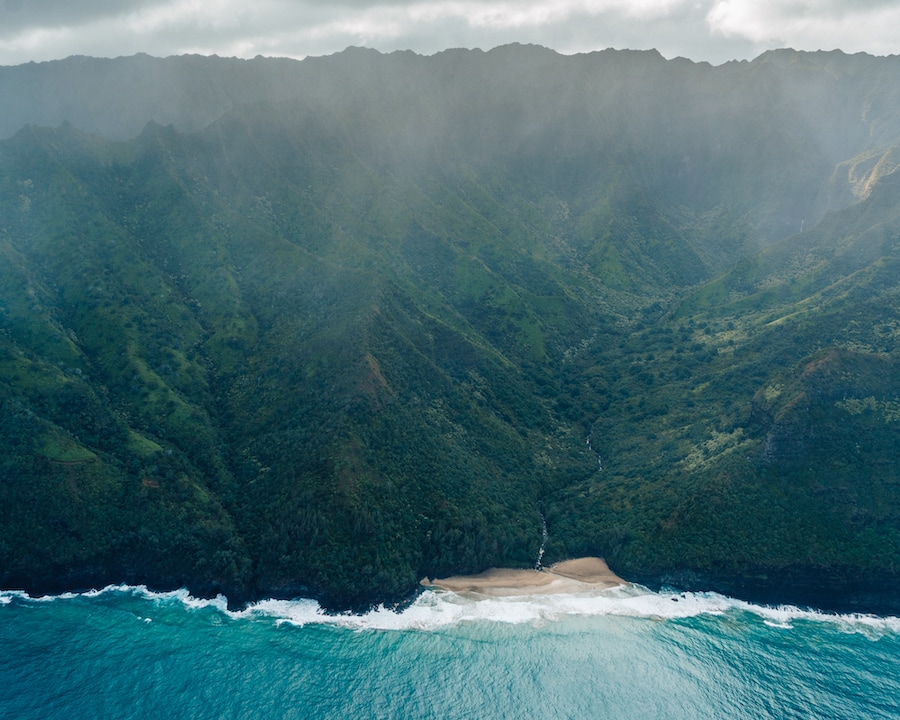 Kauai is not the place for a quick weekend getaway in my opinion. There is way too much to see, explore, and appreciate.
So, what's the ideal time to spend on Kauai? 7-10 days is much more ideal for planning a full itinerary on the island that allows you to truly see the best of Kauai.
There are four distinct sections of Kauai to explore: The North Shore, South Shore, East Side and West Side. And they all have unique things to see and do.
The North Shore: The North Shore is my favorite part of Kauai. It's lush and rainy and has epic hikes and beaches. Here you'll find Tunnels Beach, Hanalei Bay, Queen's Bath and the Kalalau Trail.
The South Shore: This is the sunny, resort-drive side of the island that gets the most idyllic weather year-round. This is the area to make fancy dinner reservations, soak up time by the pool, go shopping or play a round of golf.
The East Side: Closest to the Lihue Airport, this area is where all the helicopter and air tours depart from and you'll also find the charming town of Kapa'a here.
The West Side: The most rugged and remote of Kauai's coasts, here you'll hike in Waimea Canyon and along the Na Pali Coast for those iconic postcard views.
Planning a 7-10 day trip means being able to split your time up across a few different areas rather than having to rush around the island trying to see as much as possible.
8. Split Your Time Between Multiple Parts of the Island
Only have a few days on Kauai?
If you're determined to visit for a short time, then it's fine to stick to Poipu or Princeville for your entire stay, but one of my top Kauai travel tips is to switch up your accommodation during your trip to different parts of the island.
I see too many people just book a big resort in Poipu for a week straight and then only make one day trip out to Hanalei.
Good to stay for 7+ days?
If you're sticking around for longer, I highly recommend breaking up the trip with a couple different hotels or rentals on different sides of the island so you can really embrace all the unique sides of Kauai.
Doing this will also dramatically cut down your driving time so you can explore closer to where you are each day, rather than making big trips across the island.
9. The Food Scene is Well-Worth Exploring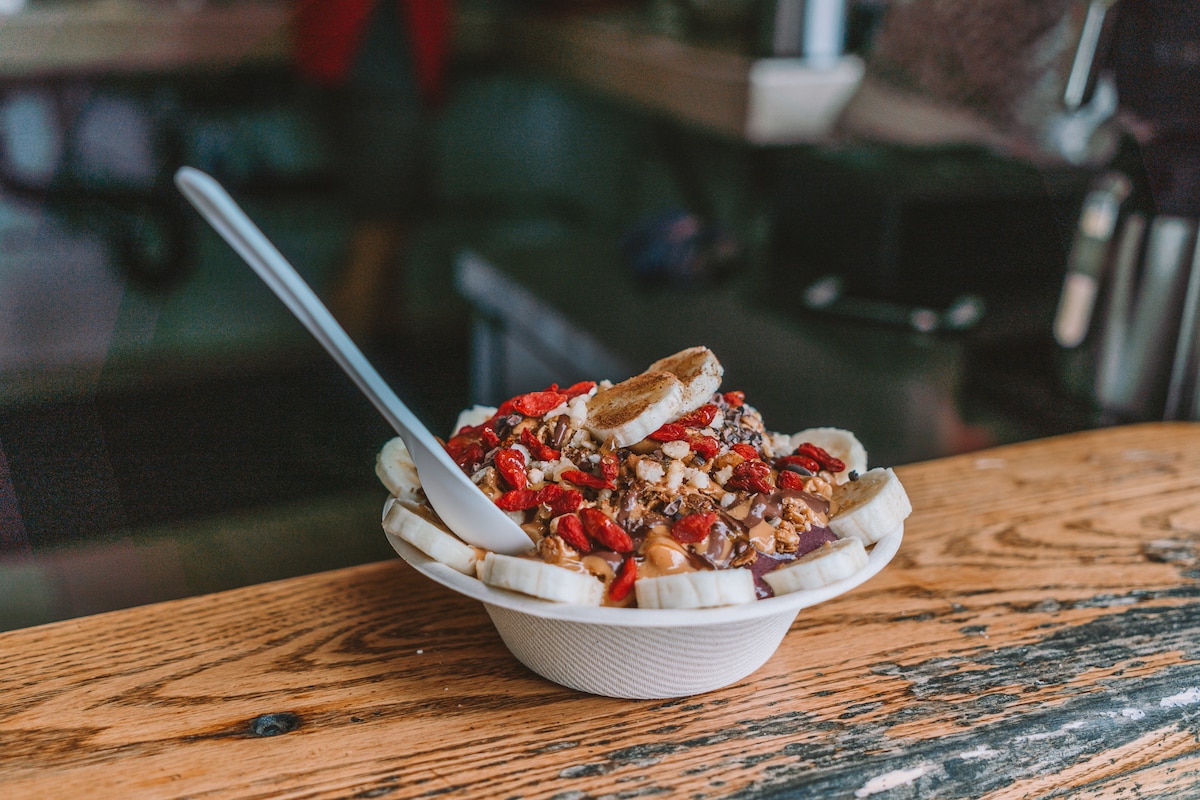 From food trucks and poke stands, to fine dining, Kauai is home to an incredible food scene. Of course, the seafood is beyond fresh and out of this world, making it an absolute must-try when in Kauai.
Honestly, I was really surprised with all the variety of foods on offer. And I recommend trying all of it.
There are tons of casual food trucks and poke shops where you can grab a quick bite on the go to take the beach (especially in Hanalei Bay), but you'll also find nicer spots like The Beach House, that make for a great romantic sunset dinner and book out at least a month in advance.
And of course, don't forget you have to try the shaved ice and Puka Dogs (basically, Hawaiian style hot dogs).
My absolute three favorite spots you have to check out while on Kauai are The Fish Express (best poke bowls on the island), J02 and Mamahune's for the best tiki drinks with a view!
10. To Get to the Best Places in Kauai, You'll Have to Hike There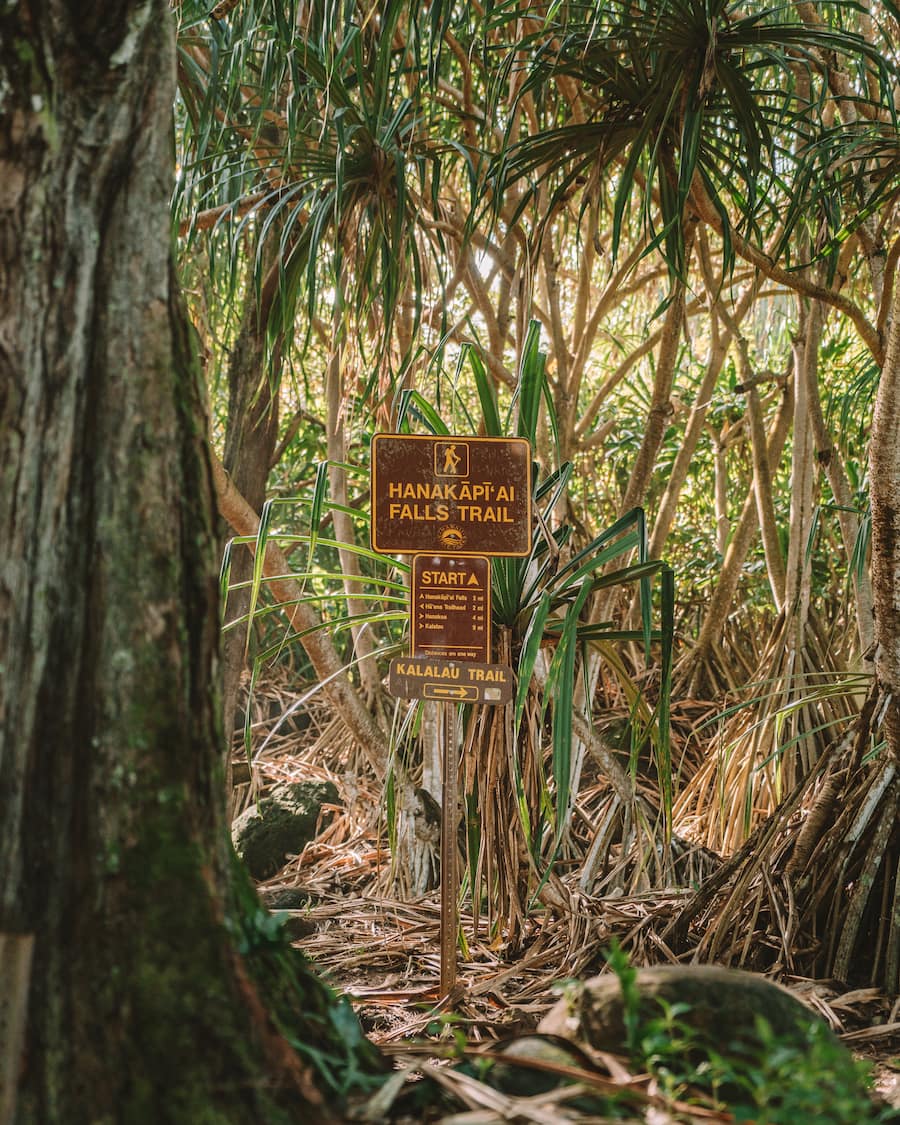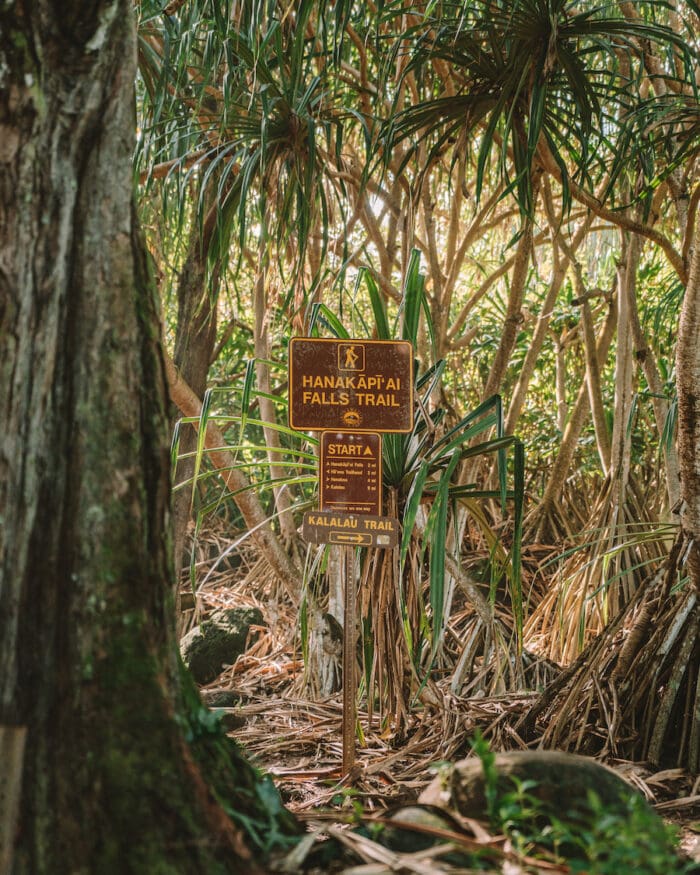 Here's the thing about Kauai: much of the interior and Na Pali Coast is inaccessible by car.
Which means if you want to witness some of the most beautiful parts of the island (trust me, you do), then you'll have to go on foot (or book a helicopter flight, but more on that in a minute).
If you're super into hiking, you'll love the trails in Kauai! It's truly a hiker's paradise.
Many of the best hikes go through the remote areas of the island, allowing you to really immerse yourself in nature and some of Kauai's most epic scenery.
The Kalepa Ridge Trail in Waimea Canyon (which is considered to be the "Grand Canyon of the Pacific") is one of the most scenic hiking trails in the park.
It's on the shorter side, but has some of the most photogenic views of the Na Pali Coast's iconic ridges.
The Kilalau Trail is probably the most famous on the island, but is also one of the most challenging and requires a permit.
Don't let that dissuade you though, as you can still really explore it as far as you'd like to go.
If you're willing and able, I highly recommend adding some hiking trails to your Kauai itinerary—it really is one of the best ways to see Kauai!
11. The Na Pali Coast is a Must-See (Either By Air or Boat)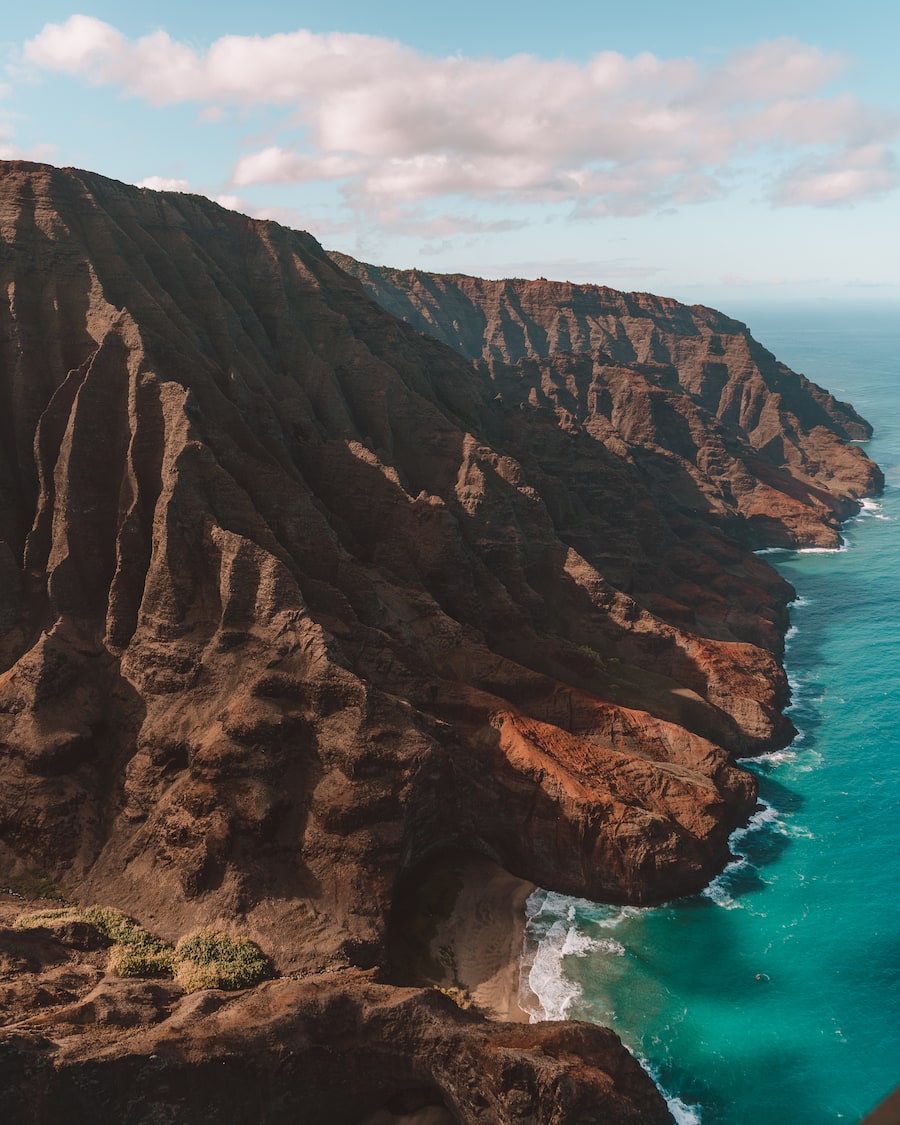 The Na Pali Coast is perhaps the most iconic part of the island. Whether you view it by helicopter or boat, this pristine and untouched coastline will absolutely blow your mind and take your breath away.
Choosing to take a helicopter tour is probably the #1 activity in Kauai for this reason. It allows you to see all of the inaccessible parts of the islands by air, including the Na Pali Coast.
If you prefer to get up close and personal via a boat, Captain Andy's has been offering chartered boat tours since 1980. They have everything from yachts to classic catamarans, but the Wet and Wild Raft Expeditions are perfect for those seeking a little thrill.
This is the top rated helicopter tour on Kauai for seeing the Na Pali Coast.
If you want to really jack up the adrenaline, you can also choose a doors-off helicopter tour, which is ideal for photographers and those who want an unobstructed view of the Na Pali coast.
12. The Must-Do Things in Kauai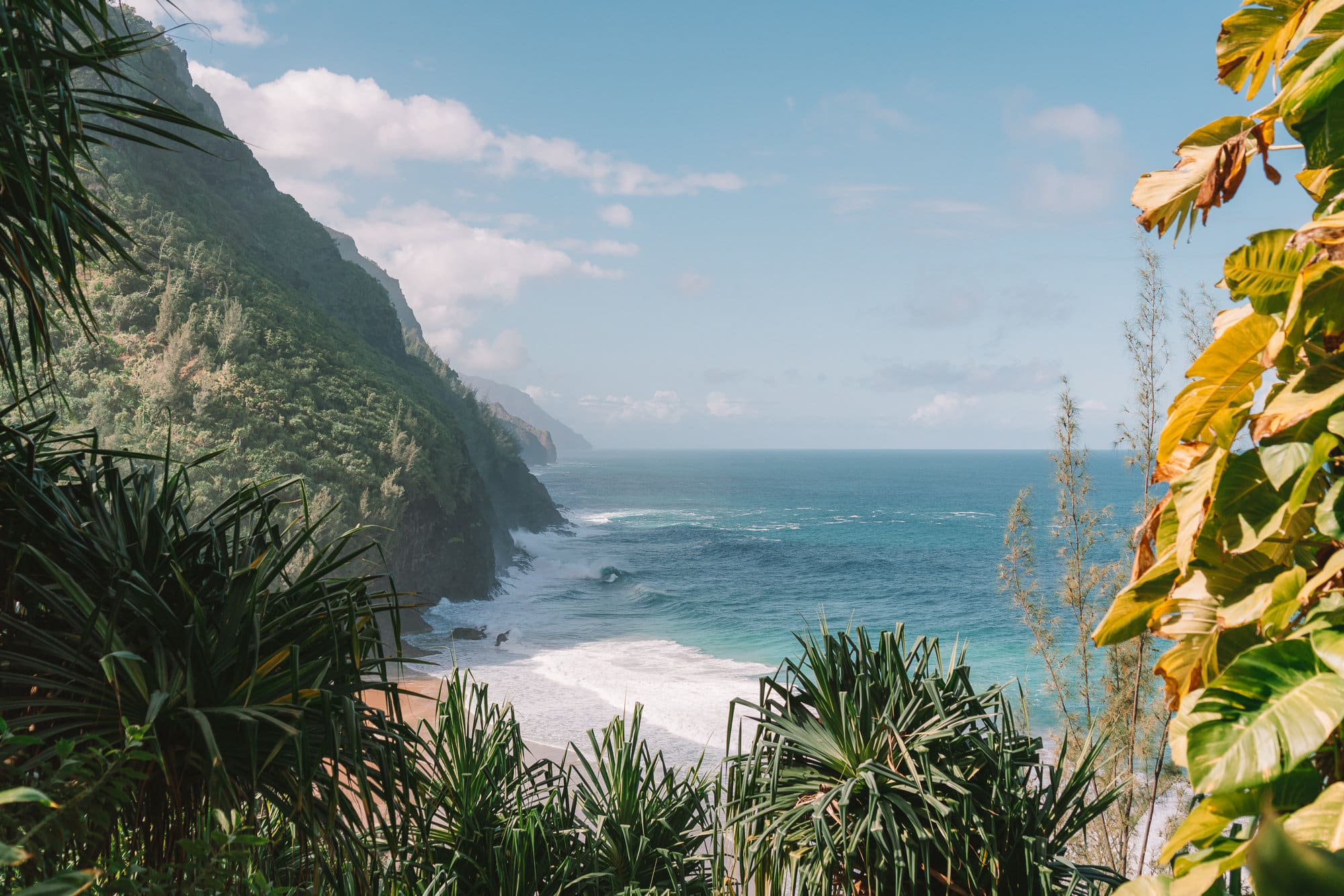 There are truly so many amazing things to do in Kauai but if I had to suggest just a few that will make your trip one for the books I'd suggest these three activities:
A Na Pali Coast Tour
As I mentioned above, whether you choose to do this by air or boat, you absolutely cannot go to Kauai without seeing the beauty of the Na Pali Coast.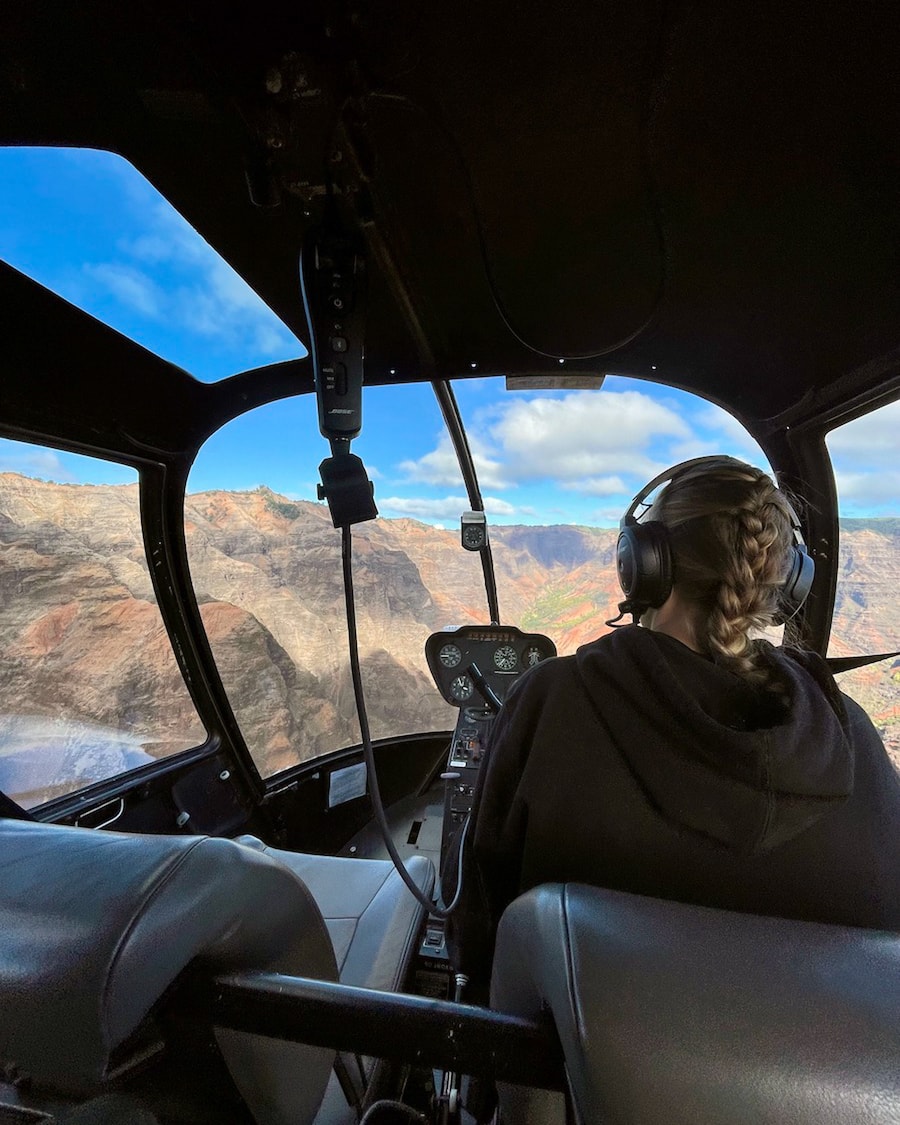 I personally think a Kauai doors-off helicopter tour is the way to go for the ultimate thrill, but if the thought of that terrifies you or it's not in the budget, you can opt a few other options:
Enclosed Helicopter Tour: For a less adrenaline-inducing helicopter tour, try this #1 rated enclosed helicopter tour by the best in the biz, Blue Hawaiian.
Scenic Flight: This 60-70 minute top-rated tour takes you on a full-island tour over some of Kauai's most epic sights via small airplane.
Raft Snorkel Tour: This half day snorkel tour is a two-for-one, giving you the best views of the Na Pali Coast and a look at the marine life off the coast of Kauai.
Hike the Kalalau Trail
In total, this trail spans 22 miles and is rated difficult, but you don't worry—it's not necessary to hike the entire thing to enjoy the beauty of this side of the island.
The first 2 miles of the trail are super popular for day hikers who depart from Hāʻena State Park and hike to Hanakapi'ai Beach (this is what we did)!
Find more information about hiking the Kalalau Trail in the next section!
Koloa Zipline
While I didn't personally do this one, it's one of the top-rated tours in all of Kauai and is an awesome activity option for families or groups traveling together with a range of ages. A little bit of an adrenaline rush, but nothing anyone can't handle!
Book this Koloa Zipline tour here.
13. Reservations are Needed for Hā'ena State Park
Out of all the activities to do in Kauai, visiting Hāʻena State Park (which is where the famous Kalalau Trail is located) is the main thing you really need to plan for far in advance as it requires permit reservations.
We were able to get a slot two weeks in advance, but spots were limited and I'm not sure if we just got lucky.
If you know this is something you 100% want to experience during your trip, book a reservation on the Go Haena site as soon as possible.
The Hawaii.gov site also has a lot of helpful information to help you understand what you need and don't need permits for, depending on what you plan to do.
14. Actually Pay Attention to Signage and Warnings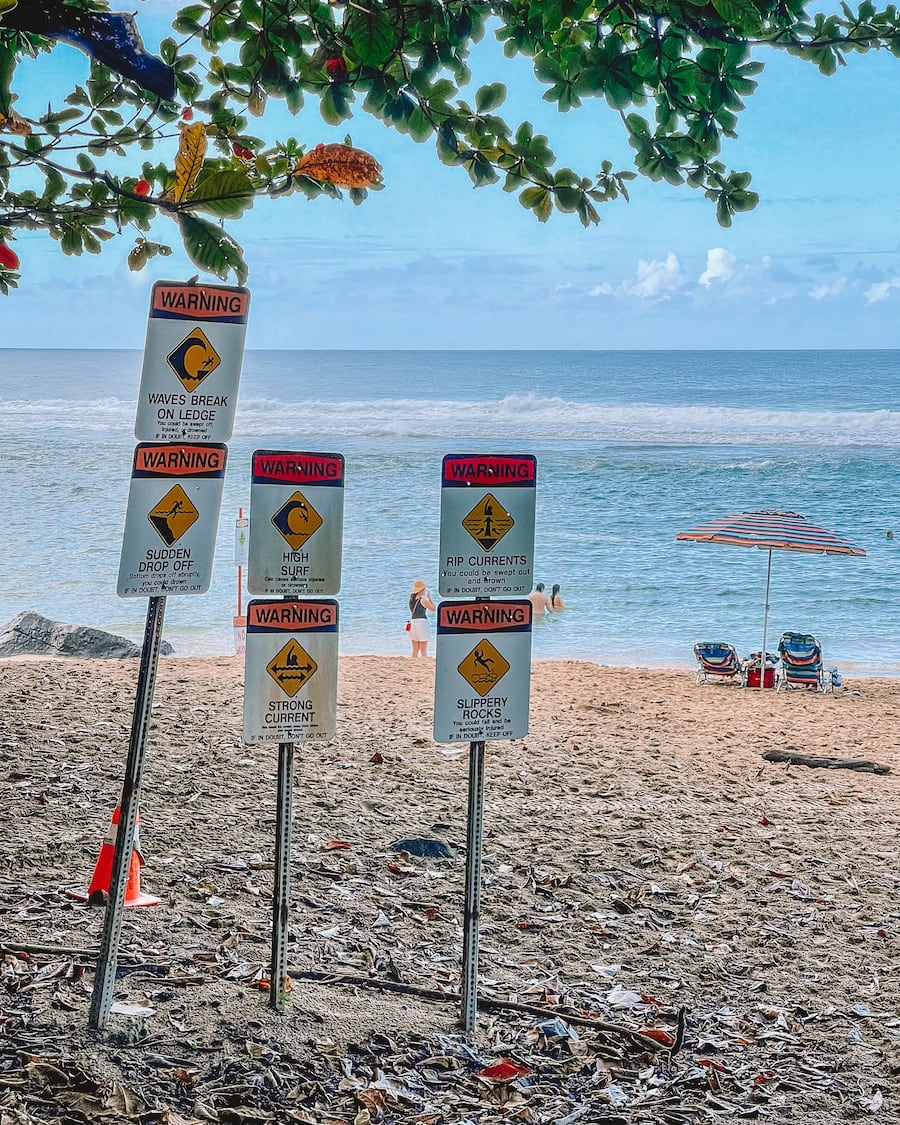 Part of what makes Kauai so magical is the fact that it is wild and rugged, surrounded by some of the lushest greenery and untouched landscape in existence. In fact, the majority of the island is uninhabited (80% to be exact).
One thing is obvious here: Mother nature rules, and she is meant to be respected.
With that in mind, paying attention to signage you see posted at hikes, beaches and tourist sites is super important to pay attention to in Kauai—and in all of Hawaii.
Various beaches have incredible dangerous currents or areas where many tourists have been injured in the past. The ecosystem of many of the hikes are also super fragile.
Leaving no trace is unbelievably important. This goes without saying anywhere you travel, but if we want Kauai to be here for years to come, please do your part to leave the land how you found it!
You'll notice for example that at some of the hikes, signs ask visitors to brush off the bottom of their shoes before entering a hike to make sure they're not carrying in any outside natural matter that could affect the ecosystem.
In general, be aware of the signage and rules at the destinations you visit to ensure that not only are you protecting the environment, but you're protecting your safety too.
15. Pack Bug Spray!
Don't forget this small but mighty packing staple if you're someone like me that constantly gets bitten alive.
Kauai is a super wet and lush environment, which means mosquitoes are inevitable—especially on hikes!
If you want to bring something that doesn't take up a lot of space and is a great alternative to the super toxic repellents, try this brand that sells awesome packable wipes.
It's my favorite mosquito repellant to bring on every trip.
16. Book Dinner Reservations a Month in Advance
Yes, I know I know this might sound insane, but I planned our Kauai trip on two weeks notice and there were A LOT of places where we struggled to get a reservation. I'm not kidding.
Sure there are plenty of more casual places you don't need to plan in advance, but if you have a few top restaurants you've got your eye on for your trip, I would book them as soon as you can.
A few that are always likely to book out are: Beach House, Bar Acuda, J02, Eating House 1849 and Tidepools at the Grand Hyatt Kauai.
For even more top restaurant recs, check out my full guide on where to eat in Kauai here.
17. Respect the Hawaiian Culture and You Will Be Welcomed
Over the last few years, local Hawaiians have run into a lot of problems with tourism.
From Covid, and locals being priced out of their own communities, to just plain disrespect of the islands and many of the local customs, there are many reasons why locals have become increasingly frustrated with visitors.
I have definitely heard plenty of stories of disgruntled Hawaiians and have witnessed it myself as well.
As you travel around Kauai, remember that you are exploring someone's else's fragile home and while yes, Hawaii does depend on tourism, there is a delicate balance between needing its existence and the impacts that tourism has had on Kauai and Hawaii in general.
I urge you to visit with a deep sense of respect for this land and the customs of the Hawaiian people, and have an open mind as you explore here.
If you enter the island with a sense of respect for the local people, rules, wildlife, and customs, you will be welcome. Hawaiians have a deep sense of pride in their home and it is not to be taken lightly.
READ NEXT: Ready to deep dive into your Kauai trip planning? Make sure to check out my Ultimate Guide to Kauai here.
Did you get some good value out of these Kauai travel tips?
Let me know in the comments below!
---
Planning a trip right now? Don't miss my go-to websites for booking everything from flights and tours, to accommodation and more:
---
Pin it for Later