Looking to explore a laid-back and walkable city with amazing bars, restaurants, and music venues? Throw in some outdoor activities, a few sports arenas, and over 150 breweries, and you've got yourself a jam-packed itinerary for the perfect weekend in Denver!
Denver is one of my favorite cities in the west to visit for a long weekend. It has a lively, fun and young vibe, tons of great places to eat and drink, and easy access to the outdoors.
One of my favorite things about Denver is that it has a small city feel and is super easy to navigate and explore on a long weekend.
In this Denver travel guide, I'll outline everything you need to know for your weekend in Denver. I have been to visit on three separate occasions, two of which were with my best friend who grew up there, so I promise to give you the inside scoop!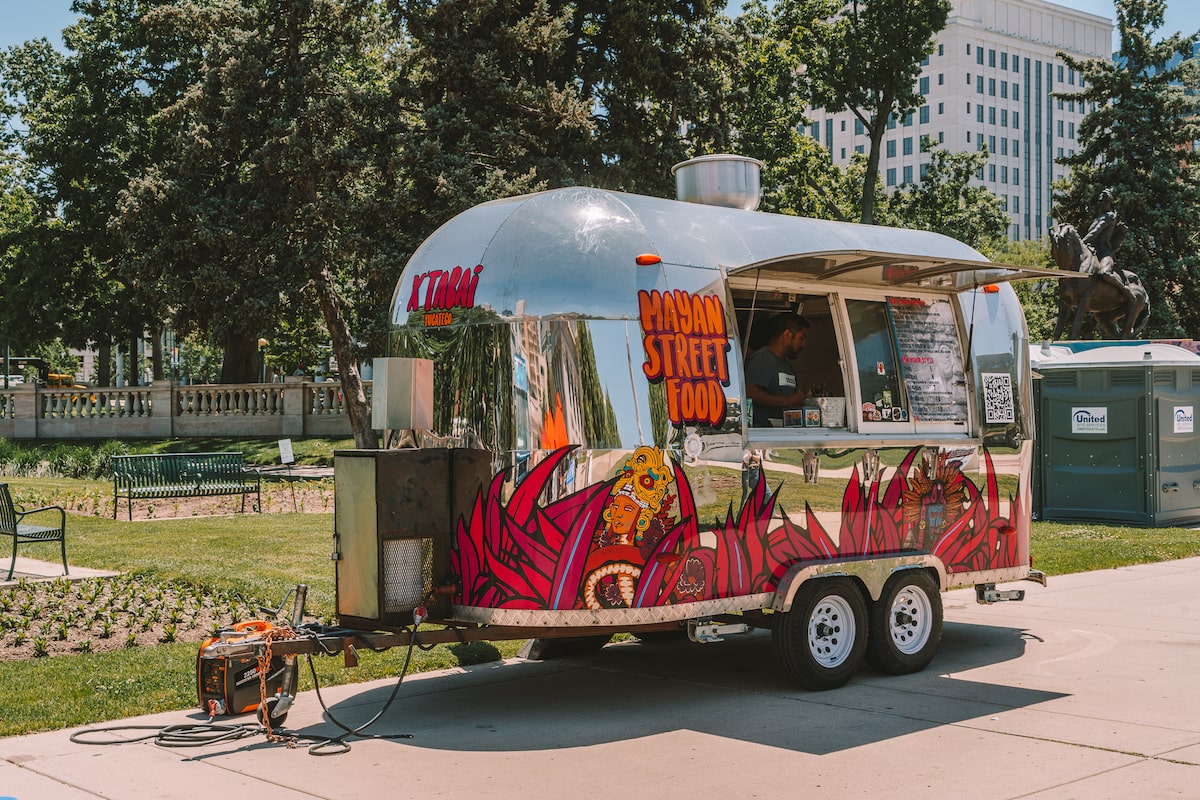 Why Denver Needs to Be On Your Bucket List
Often thought of as a mountain town, Denver is not exactly in the mountains (though it is high elevation!), but retains that "near the mountains" outdoorsy vibe.
You'll find more than 200 parks and over 850 miles of off-street bike paths within the city limits, making it one of the largest urban biking meccas in the country. If you love feeling a sense of nature while exploring a city, a weekend in Denver is definitely for you!
Quick Tips for Visiting Denver
Often referred to as the "mile high city", Denver is in fact exactly a mile above sea level. If you aren't familiar with the effects of elevation, you might be in for a little surprise. High elevation does some funny things like cause dry air and dehydration, increase the effects of alcohol and send golf balls ten percent further.
Elevation also puts you a little closer to the sun, so don't forget to pack that sunscreen!
A fun (and unexpected) fact about Denver is that it has over 300 days of sunshine a year. That's more than San Diego or Miami Beach! That said, quick bursts of thunderstorms are known to randomly pop up, but they usually pass within an hour.
I recommend planning your trip to Denver in spring or fall, when the weather is just right. It can get quite hot in summer (even in early June), which can be pretty miserable given the elevation.
Where to Stay in Denver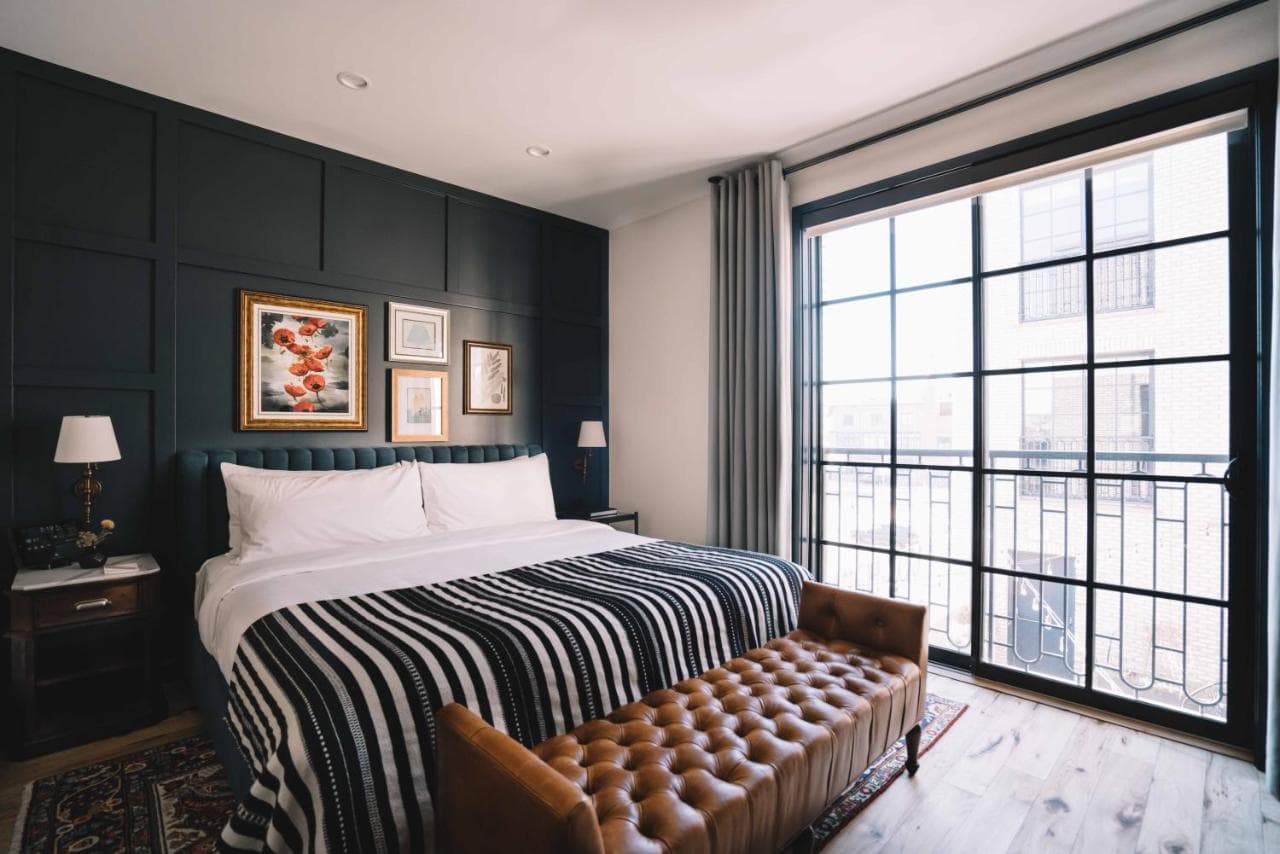 The Ramble Hotel is not only impeccably designed but focuses on creating a space that fosters community and meaningful conversation. But yes, the design is incredible too, clearly inspired by Madame Rambouillet's French Salons of the 17th century.
Downstairs below the guest rooms, you'll find the swanky Death & Co. cocktail bar which is the perfect hangout for a happy hour drink. The Ramble is a great choice for design lovers who want to be centrally located in the heart of the hip RiNo Arts District.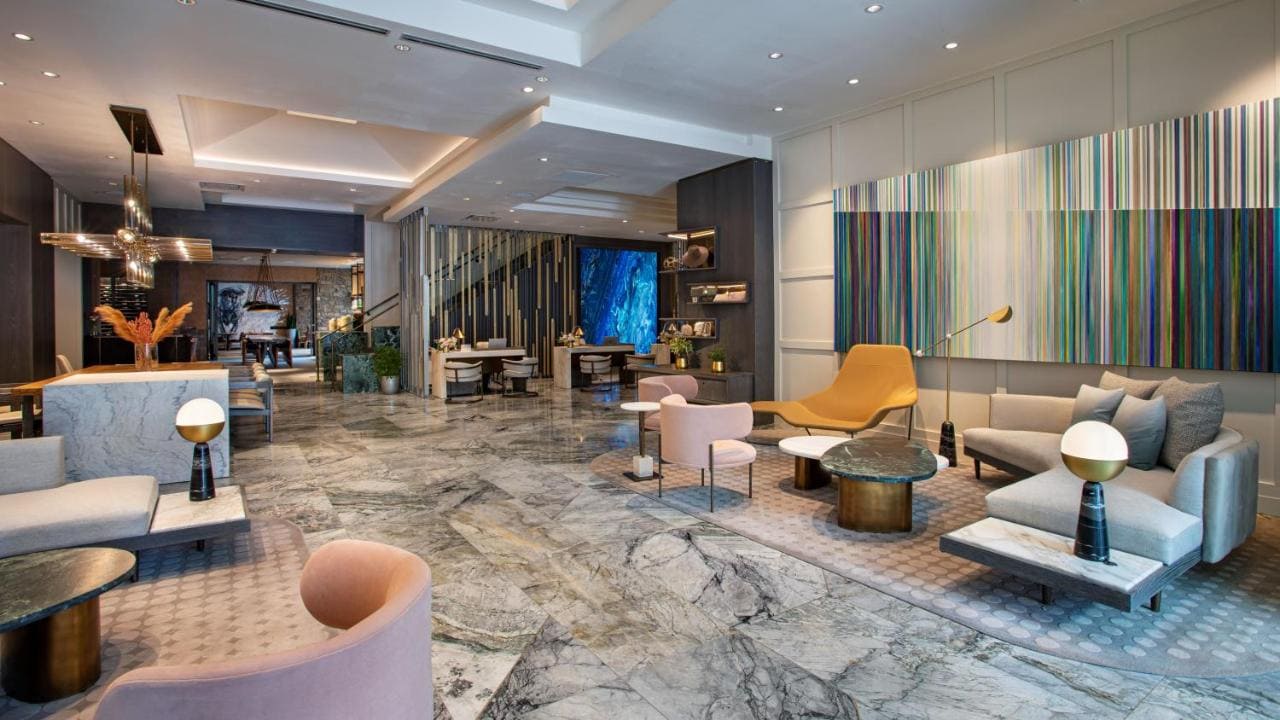 Formerly the JW Marriott, Hotel Clio is a chic and modern accommodation in Cherry Creek that is now a part of the Luxury Collection. The rooms offer stunning views of the surrounding mountains, and the on-site restaurant Toro is incredible. When it comes to location, everything you need is within walking distance, including restaurants, wellness centers, and high-end boutiques.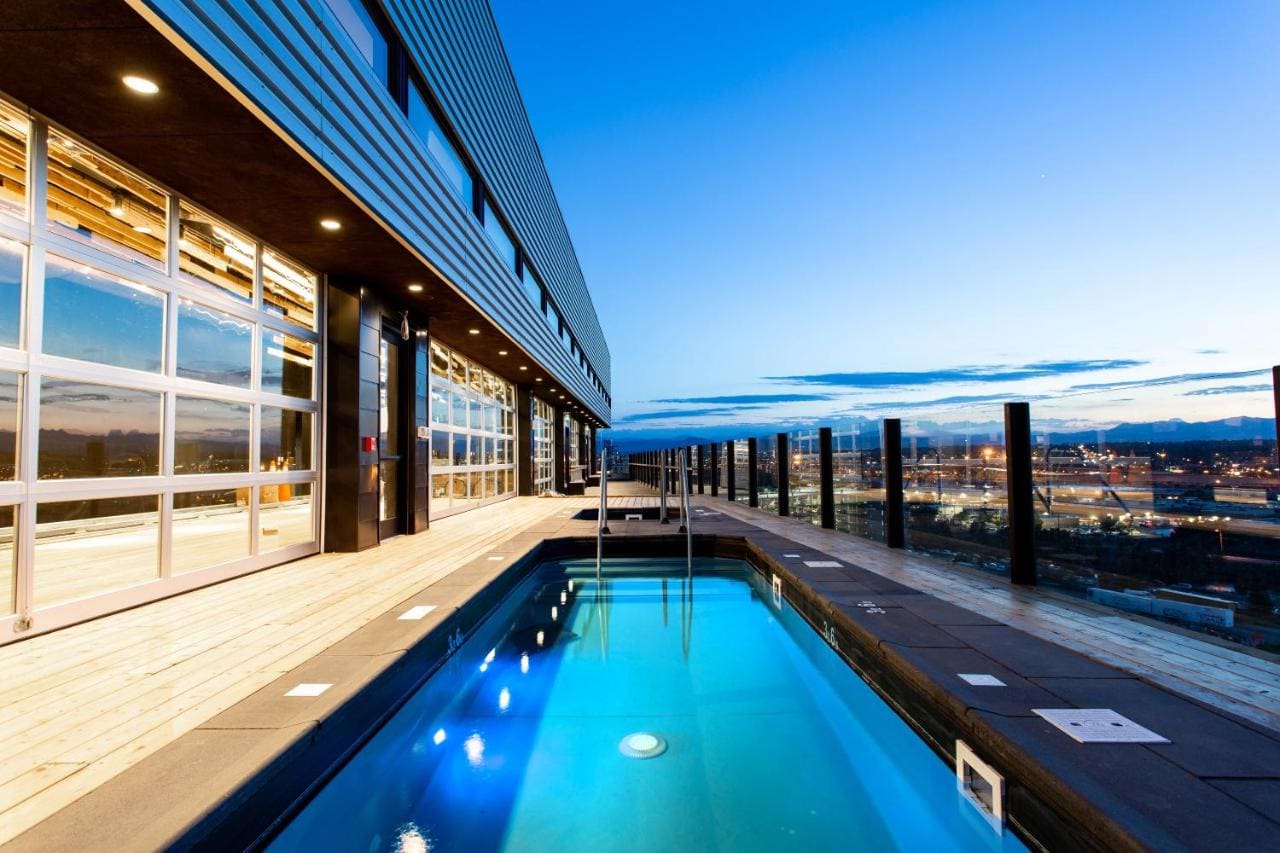 With its architectural and industrial exterior, the Source Hotel is a unique hotel featuring fun and funky rooms with large windows and even a few with glass garage-style doors you can open to the outside. Plus, if you visit during the warmer months, they have an awesome rooftop pool that overlooks the city.
Halcyon is impeccably stylish without being cold, allowing you to feel right at home. Upon arrival, you check in at the kitchen counter where you are served complimentary espresso or a glass of wine. The style is very sleek and modern while still maintaining a sense of coziness.
For lovers of sophisticated luxury, the Ritz-Carlton Denver is the place to be. Located not too far from the beautiful Union Station, the Ritz-Carlton features an in-house spa and sweeping views of the Rockies. The Ritz is known for its first-class amenities and top-notch service, all of which you will receive at the sleek and cozy location in Denver's city center.
Situated right outside Denver's Union Station in LoDo, the Kimpton offers not only a great location but a beautifully designed hotel as well. The interior is very sleek yet timeless, and they even offer free bikes that you can rent to explore the city.
---
Read More City Guides
---
How to Get Around in Denver
The beauty of exploring a city like Denver is its many transportation options. As you might imagine, Uber and Lyft are available if you ever need a ride during your stay. However, if you prefer something a little more affordable, Denver has got you covered.
The city prides itself on its ability to give residents and visitors alike the option to get around conveniently at a low cost all while saving on carbon emissions. Denver's Regional Transportation District (or RTD) consists of commuter and light rail trains and buses to get you to all the nooks and crannies of the Denver metroplex.
The price for public transit is broken down into four fare zones – A, B, C, and airport. If you are traveling within 2 zones, say A and B, you will be paying a local fare. Additionally, if you are traveling through all three zones, it's considered a regional fare. If a trip begins or ends at the airport, you would pay the airport fare.
Commuter trains will get you all around Denver, including to Denver International Airport, but take longer routes and stop less frequently. If you're just hopping from neighborhood to neighborhood, you could take the light rail which is great for getting around the city, but you might have to walk or hop on a bus from the train stop to get exactly where you're going.
With more than 9,000 bus stops across Denver, the bus is another great option for traveling across the city. There are also more than 100 bus routes that go in every direction, and they are fairly simple to follow. Also, when hanging around the city center, you can take the free electric shuttles on the 16th Street Mall through downtown and stop on every corner.
Where to Eat and Drink in Denver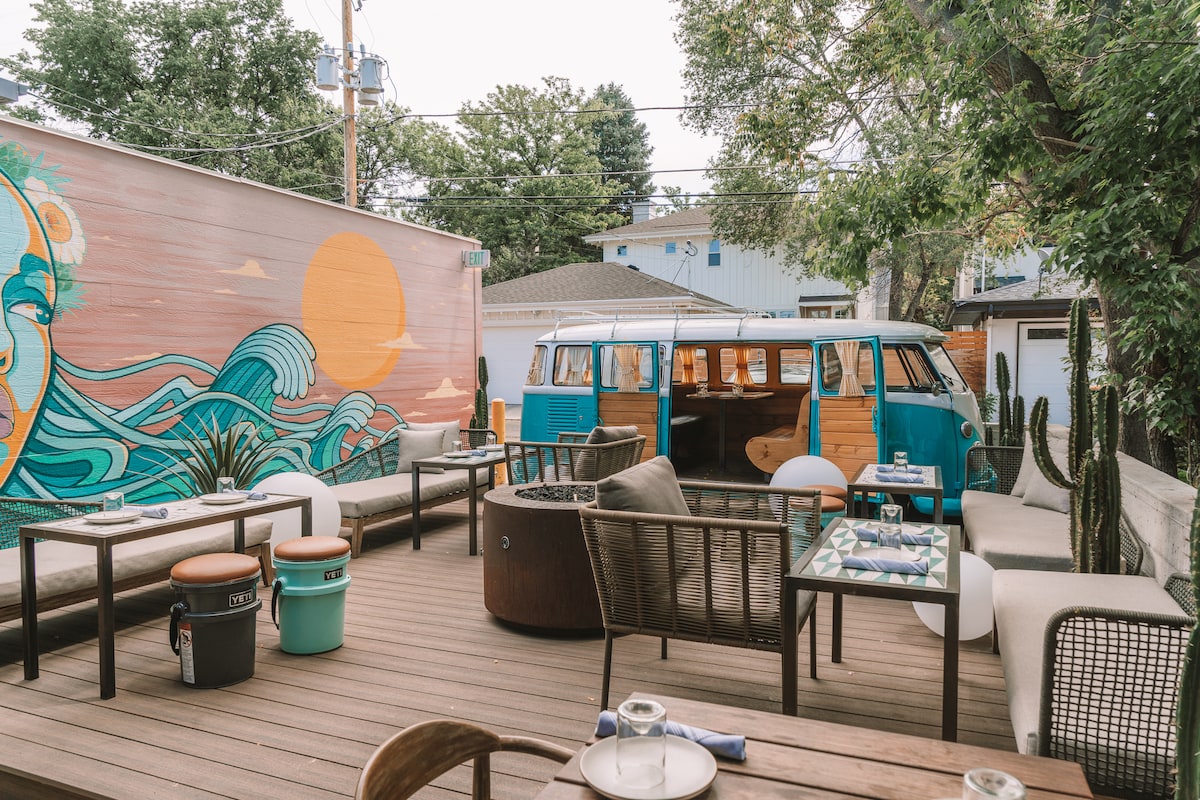 Perdida is a Denver oasis and serves as a gateway to the Mexican coast in this otherwise landlocked city. Located in Wash Park, a more historic, residential neighborhood, Perdida is fun and colorful with an awesome Mexican-inspired menu. The vibe is lively, the food is light and tasty. There is also an awesome back patio with lots of seating—including the star of the show, a vintage VW bus!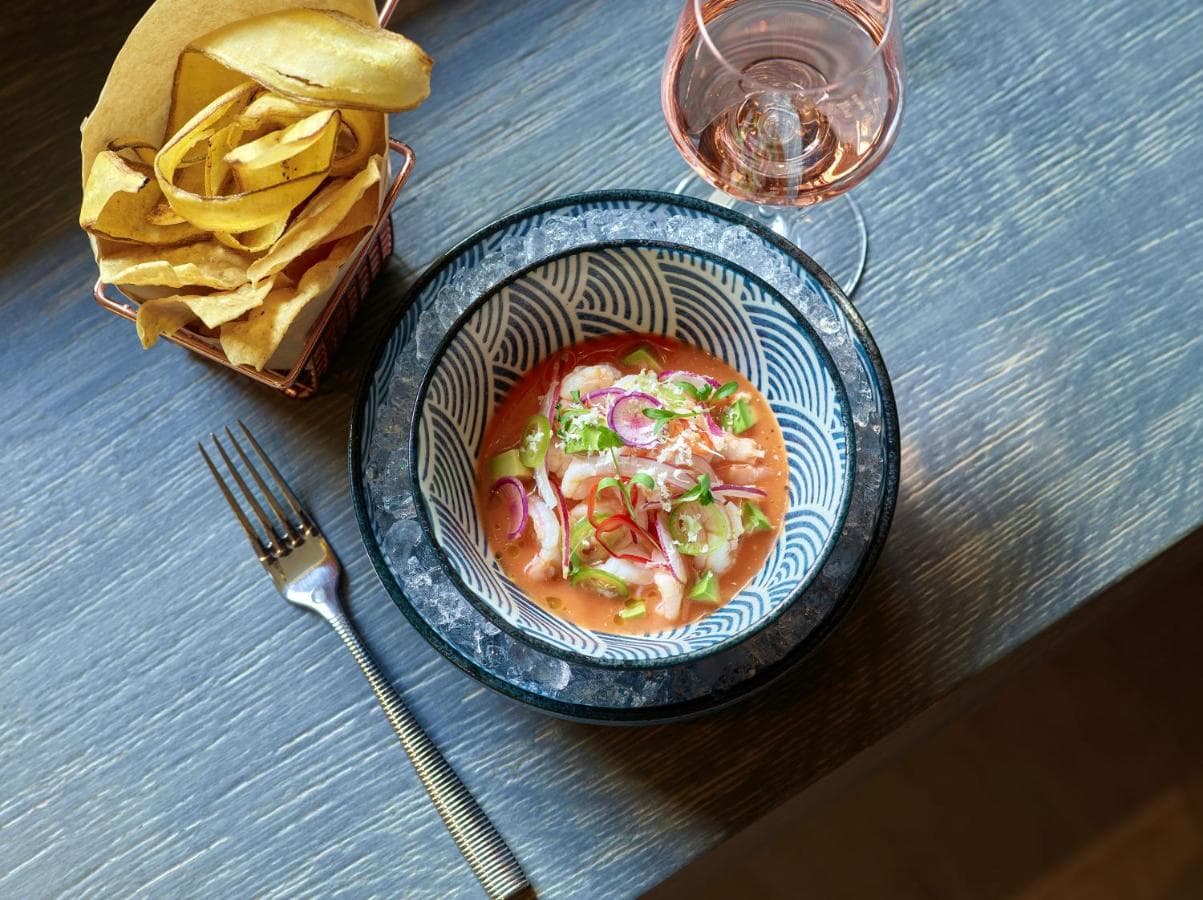 Toro is an incredible restaurant located in Hotel Clio. This sleek spot is known for its refreshing and zesty ceviches, and in all honesty, it's probably one of the best restaurants in all of Denver. This is the perfect place for date night or girl's night out, and you'll definitely want to arrive hungry.
If you're a guest of Hotel Clio, you can also partake in special events like a ceviche-making class. Everything from the sushi rolls to the more authentic Latin dishes like the Lomo Saltado rival even some of the best restaurants in LA.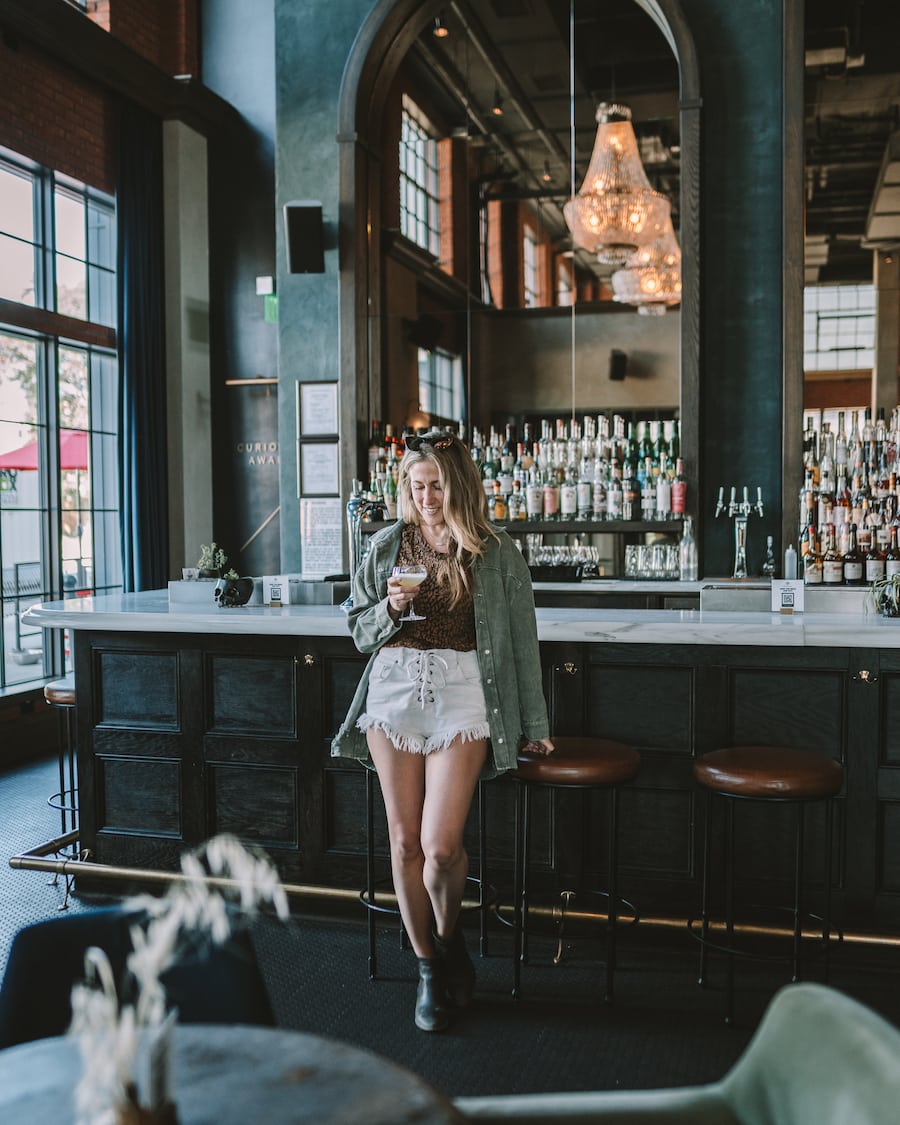 Death & Co. is the place to come for a thoughtfully curated cocktail experience in a glamorous setting. Five pages of intricate cocktails set to the backdrop of leather sofas and high ceilings with elaborate chandeliers and oversized arched mirrors…that's the vibe you get at Death & Co.
Situated in the popular RiNo district, this location is the third from Death & Co. After creating such a unique experience in New York City's East Village, they were able to expand to LA and Denver. We stopped in for drinks and appetizers (the summer salad and croquettes to be exact) and loved every bit of it.
The food is awesome and the cocktails are so well done. I highly recommend the Bum Leg cocktail with rum!
Smack dab in the middle of RiNo (or River North), Denver's artsy industrial neighborhood, is the popular Denver Central Market. Housed in a large 1920s brick building, this food hall is airy and hip with large industrial windows, lots of seating, and stylish booths serving up just about anything you might be in the mood for.
There are 11 vendors in-house, so even the pickiest eaters will find what they're looking for. From ice cream samplers to local pizza and beer, there really is something for everyone.
Be prepared for all the nostalgic vibes at Little Man Ice Cream. Famed for being the best ice cream in Denver, this counter-serve ice cream shop delivers handmade ice cream with familiar toppings such as hot fudge, chopped peanuts, and rainbow sprinkles. Stop by for a sundae, split, shake or scoop in your favorite cone.
If coffee is on your Denver itinerary, you'll want to stop by The Wild. The Wild opened in 2021 and is one of Denver's newest addition to the local coffee shop scene. Hidden right across Wynkoop Street from Union Station, this gem is intentionally sneaky, but it's the perfect place to grab a hit of caffeine before stopping by to admire Denver's most gorgeous train station.
Inside the interiors are stunning and airy with large windows, lots of natural wood, and accents of greenery which spill out to the small yet charming patio. This secret spot doubles as an excellent wine and cocktail bar and a great stop for lunch or dinner.
Also located in the popular RiNo district, this brewery came highly recommended by a friend from Denver. At First Draft Brewery, you get a card to swipe, pour your own beers, and then pay by the ounce. This is perfect for any of you beer lovers out there who want to try a little bit of everything or for anyone who wants a taste before making the commitment to a full pint.
On a weekend in Denver, you don't want to miss this gorgeous hidden bar located on the top floor of Union Station. Paying homage to the era of chic cocktail lounges (very Mad Men, no?), The Cooper Lounge provides an elegant, intimate setting for a cocktail or two.
Plus, it has great food to boot. The atmosphere is chic and stylish with large 28-foot windows that provide a unique view overlooking downtown Denver. Reservations are recommended.
Other Recommendations That We Didn't Get To:
What to See and Do in Denver
Denver Botanic Gardens
Denver Botanic Gardens boasts 24 acres of beautifully manicured gardens. This renowned site has repeatedly been recognized as one of the top botanical gardens in the country.
Staying in line with the state's reputation for natural beauty and sweeping landscapes, the gardens are a great way to take in the natural side of Denver without having to leave the city. Not to mention, they have all kinds of events throughout the year, making it one of the more fun things to do in Denver year-round.
Take a Brewery Tour Along the Denver Beer Trail
You can't spend a weekend in Denver and not try the local beers! The city is famous for beer and has over 150 breweries within city limits. Plus, there's a beer trail and…who doesn't love a good beer trail? The Denver Beer Trail takes you through all the different Denver neighborhoods. Simply pick your favorite and head out to the trail or start at the brewery that calls to you and go from there.
Some of my personal favorites are First Draft Brewing for pours by the ounce (great for tasting lots of different beers), Ratio Beer Works (started by some retired punk rockers who learned to brew beer while on tour in Germany), River North Brewery (a little something for everyone in the heart of RiNo), and Epic Brewing (originated in Utah to brew exclusively high alcohol content beer).
Explore the Street Art in RiNo
For all my street art lovers out there, this is one of the top things to do during a weekend in Denver. Although you will find beautiful murals and artwork all around the city, RiNo is arguably the best place to take to the streets and hunt for murals. Plus, there are lots of great places to stop in the neighborhood for a drink, some food or to check out a local art gallery.
Union Station
Originally opened in 1881, Denver's Union Station has transformed over the years from a transport depot to a train station and cultural hub. Shop, stay, drink and dine in the beautifully renovated space that stays true to its pioneer heritage. Taking inspiration from around the world, Union Station houses eleven eateries all featuring a unique style and cuisine.
From Spanish tapas at Ultreia to epic brunch at Snooze, you're bound to find something you love here. Be sure to swing by the shops, grab a bite, and take in the beautiful architecture at Union Station during your weekend in Denver.
Head to Larimer Square at Night
The oldest and most historic block in Denver has become a hub for independent shops, creative restaurants, and a vibrant nightlife scene. The square is even distinguished as its own unique district on Larimer St from 14th to 15th streets, alley to alley.
With no cars allowed in Larimer Square, it's the perfect place to walk from bar to bar. You can also listen to live music while having a meal or drinks on a patio under the string lights.
Denver Art Museum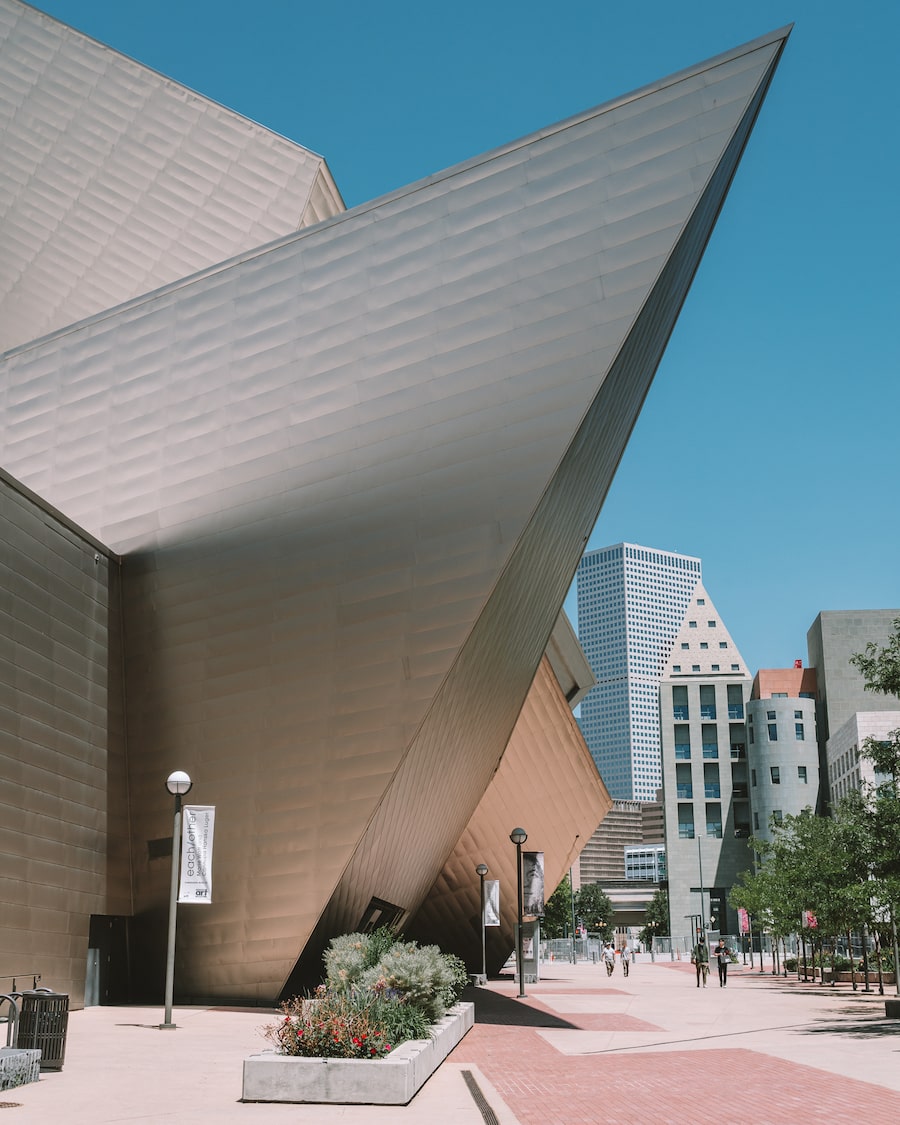 The Denver Art Museum is one of the largest art museums between Colorado and the West Coast. The museum is home to over 70,000 works of art at any given time from cultures all around the world, as well as here at home.
It is a fun and mellow activity for a weekend in Denver and is famed for its collection of American Indian works as well as Western American art. Adult tickets run around $13.
Explore LoDo
LoDo, or Lower Downtown, is Denver's oldest neighborhood and was formed in an effort to preserve Denver's architecture and history. Many buildings in the neighborhood were deemed historical landmarks, and therefore retain their original designs.
The area is now home to some of Denver's most coveted restaurants, art galleries, and boutiques. It is also where you'll find the Museum of Contemporary Art and the Colorado Rockies Baseball Stadium.
If You Have More Time to Escape the City
Catch a Concert at Red Rocks
One of the most famous music venues in the world, Red Rocks is an experience unlike anywhere else. Famously built into the area's "red rocks," the acoustics are unparalleled and you are fully immersed in nature.
Since its opening in 1941, the venue has featured artists from the Beatles to Jimi Hendrix. Located just 30 minutes from Denver, you'll want to catch a show here if you can.
Hike St. Mary's Glacier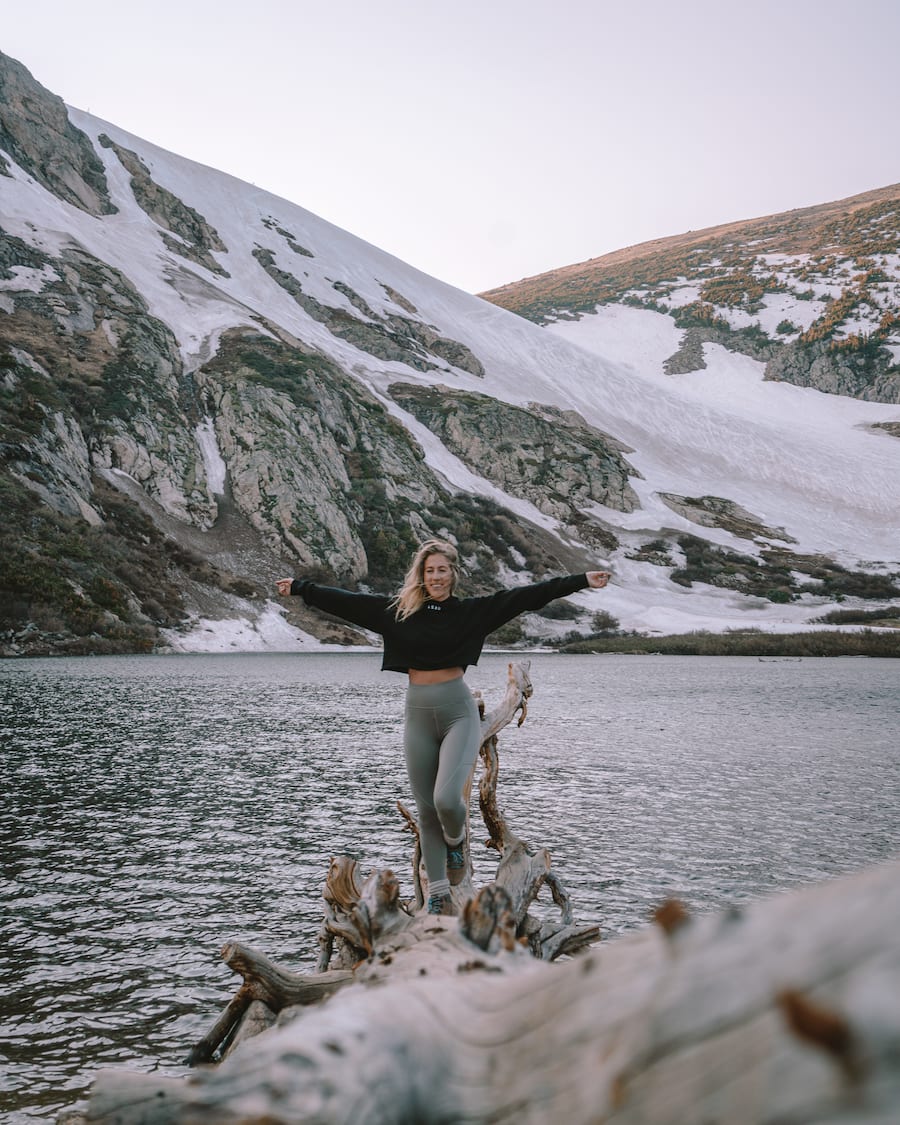 For a nice day trip out in nature and a bit of a workout, St. Mary's Glacier is a great option.
This two-hour round-trip hike is considered to be easy to moderate and rewards you with seriously stunning views, just keep in mind you're working with higher elevation levels here, so don't be surprised if you get more easily exhausted than normal.
It's all worth it though, as the hike ascends through the forest and ends with beautiful views of St. Mary's Glacier, a semi-permanent snowfield located in the Arapaho National Forest.
The drive is about one hour so it's very doable during a weekend in Denver. Just note that it costs $5 to park at the trailhead and you will need to bring your own pen to write down your license plate number on the payment envelope.
Visit Boulder for a Day
Boulder is a city known for its unique city views, vibrant downtown, and happening brewery scene. It is located right at the foothills of the Rocky Mountains, making it super beautiful and an easy to place to visit during a weekend visit to Denver.
Boulder is definitely worth a visit if you are looking to explore another Colorado city and have some extra time to explore!
Did this post inspire you to plan a weekend in Denver? Let me know in the comments below!
---
Planning a trip right now? Don't miss my go-to websites for booking everything from flights and tours, to accommodation and more:
---