I'm always on a mission to explore more of my own country, so when Travel Texas reached out with an opportunity to road trip around the western part of the state (an area I had yet to set foot in) I was so game. Our West Texas road trip would start in El Paso and continue down south towards Big Bend National Park with several key stops along the way.
Why West Texas? 
Texas is obviously big enough to make up several small European countries and varies in activities and landscapes drastically, but over the years living in the U.S. I've heard very little about Texas beyond the same standard cities: Austin, Dallas and Houston. West Texas seemed like undiscovered territory for many Americans, most likely due to the fact that it's a bit more challenging to get to, with El Paso being the largest airport in the region. We were up for the challenge.
After 6 days and over 600 miles explored tracing the area of the state that borders Chihuahua, Mexico, the overarching theme that I felt was one of surprise. Sure there are the iconic aspects of Texas that are beloved and will never go away (don't worry, we spotted plenty of cowboy hats and Tex-Mex joints throughout the adventure). But what I wasn't expecting to get out of this trip were breathtaking views, more outdoor adventure than we could possibly take advantage of in under a week, and an emerging art scene that is drawing visitors from all over the world. West Texas exceeded my expectations in so many unlikely ways.
If you're considering doing your own West Texas road trip, make sure to read on below because I'm highlighting 5 areas that you can't miss along the way including Marfa, El Paso, Big Bend National Park, Fort Davis and the ghost town of Terlingua. I would recommend extending your trip to a week or two if you can and take your time exploring even more of the beautiful places West Texas has to offer.
All the Spots You Can't Miss on a West Texas Road Trip
EL PASO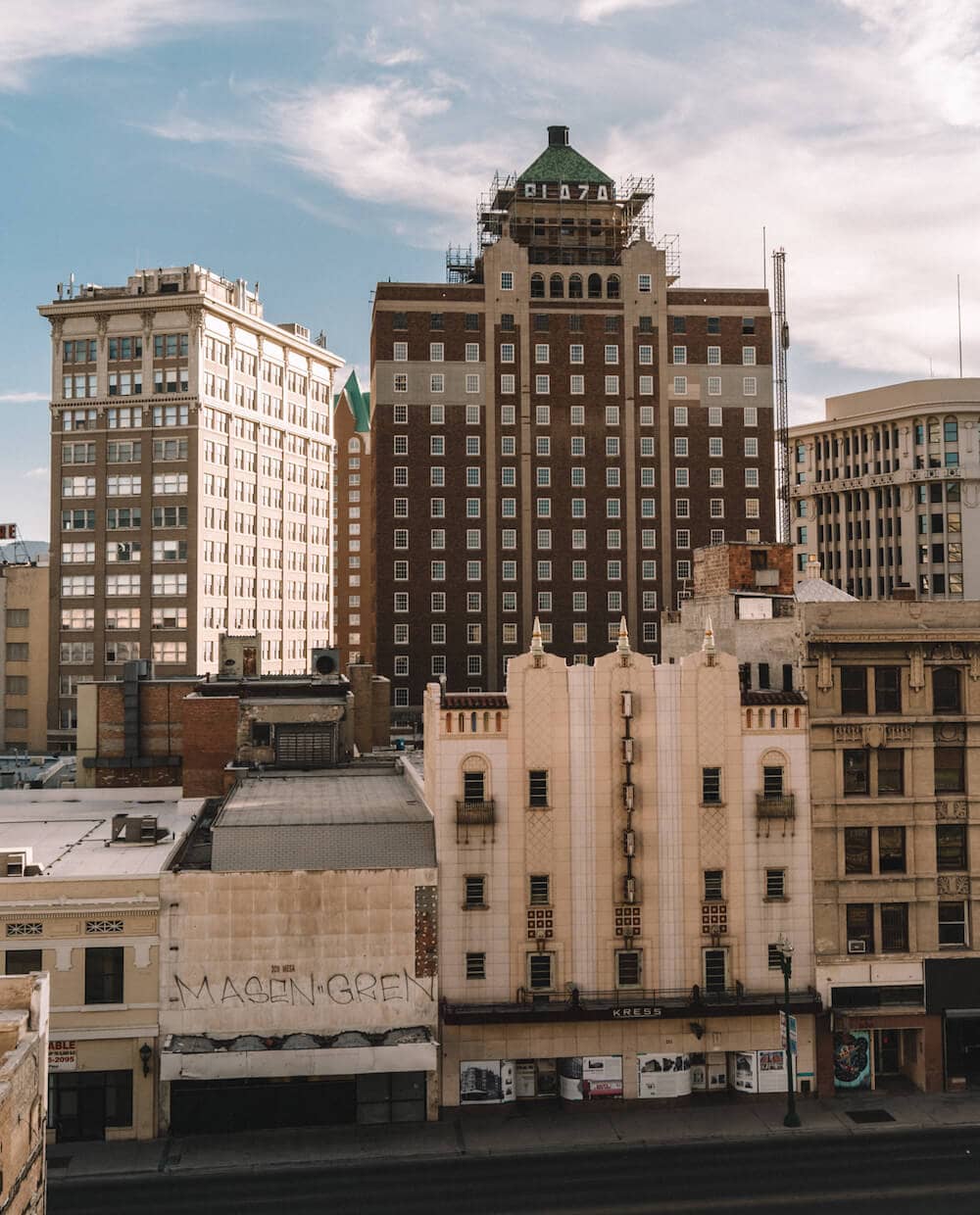 El Paso was the first stop on our road trip around West Texas as it's the easiest destination to fly directly to in order to begin a similar itinerary. Fellow sun seekers like myself will love that El Paso sees around 300 sunny days per year, which is why it's been dubbed the "Sun City." It's hard to pick a bad time to visit El Paso!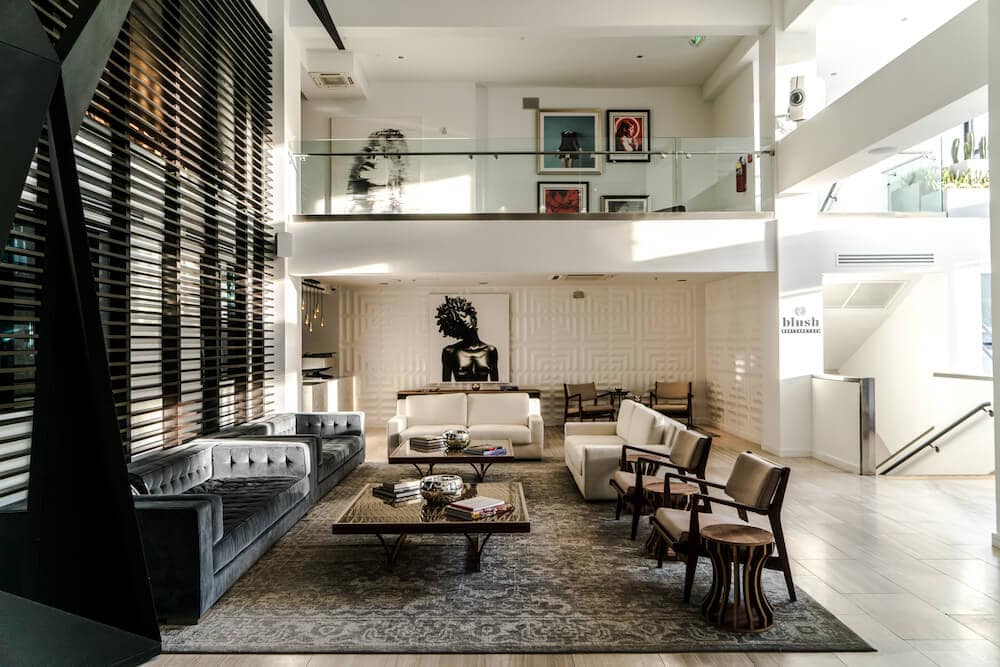 WHERE TO STAY 
We checked in to the Stanton House, which is a relatively new property in the heart of downtown and has been designed beautifully with an upper floor that doubles as its own private art gallery. The on-site restaurant Taft Diaz is another must, serving up unique flavors and combinations I had never tried before.
WHAT TO DO 
Franklin Mountains State Park
Check out the Agave Loop trail to Prospect Mine which is moderate in difficulty and provides awesome views overlooking Mexico, Texas and New Mexico if you continue on to the viewpoint! If you want to go inside the mine, make sure to check out the Franklin Mountains State Park schedule of tours with one of the expert rangers.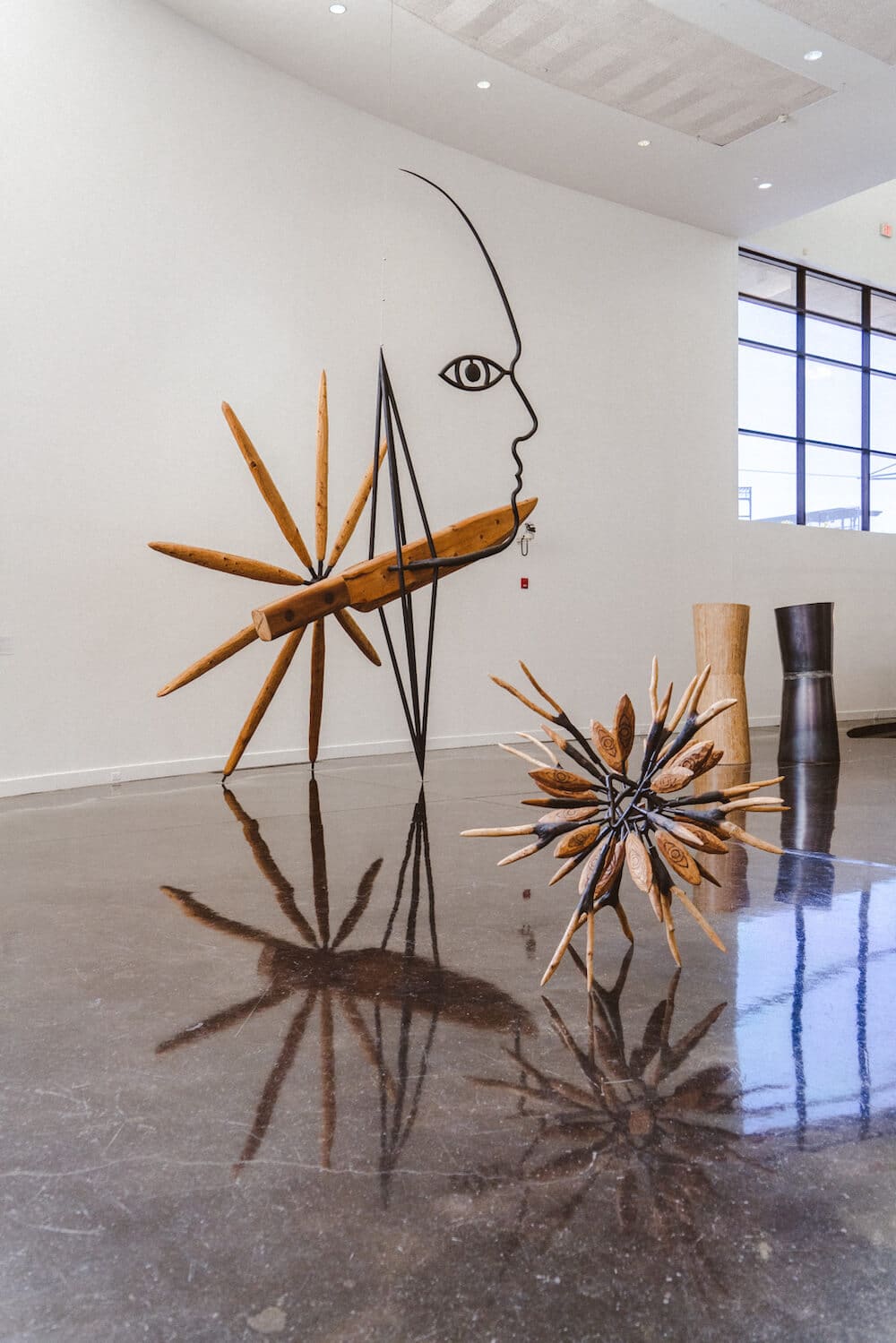 El Paso Museum of Art
This local art museum is 100% free to the public and sees about 10,000 visitors daily. Because the museum is open to anyone, you feel a different sense of inclusiveness and community here than at most city art museums and it's become somewhat of a local hangout for the people of El Paso.
If you're interested in learning about the intersection of American and Mexican culture in El Paso as a city that sits on the border, EPMA will provide a great first introduction.
Hueco Tanks State Park and Historic Site
One of my favorite parks of the entire trip, Hueco Tanks, located in the Chihuahuan Desert, is an ideal spot for bouldering, hiking or just taking a casual stroll through some of the state's most unique landscapes. Keep your eyes peeled for naturally forming pools here (or "huecos") and ancient rock paintings created by Native peoples over many centuries.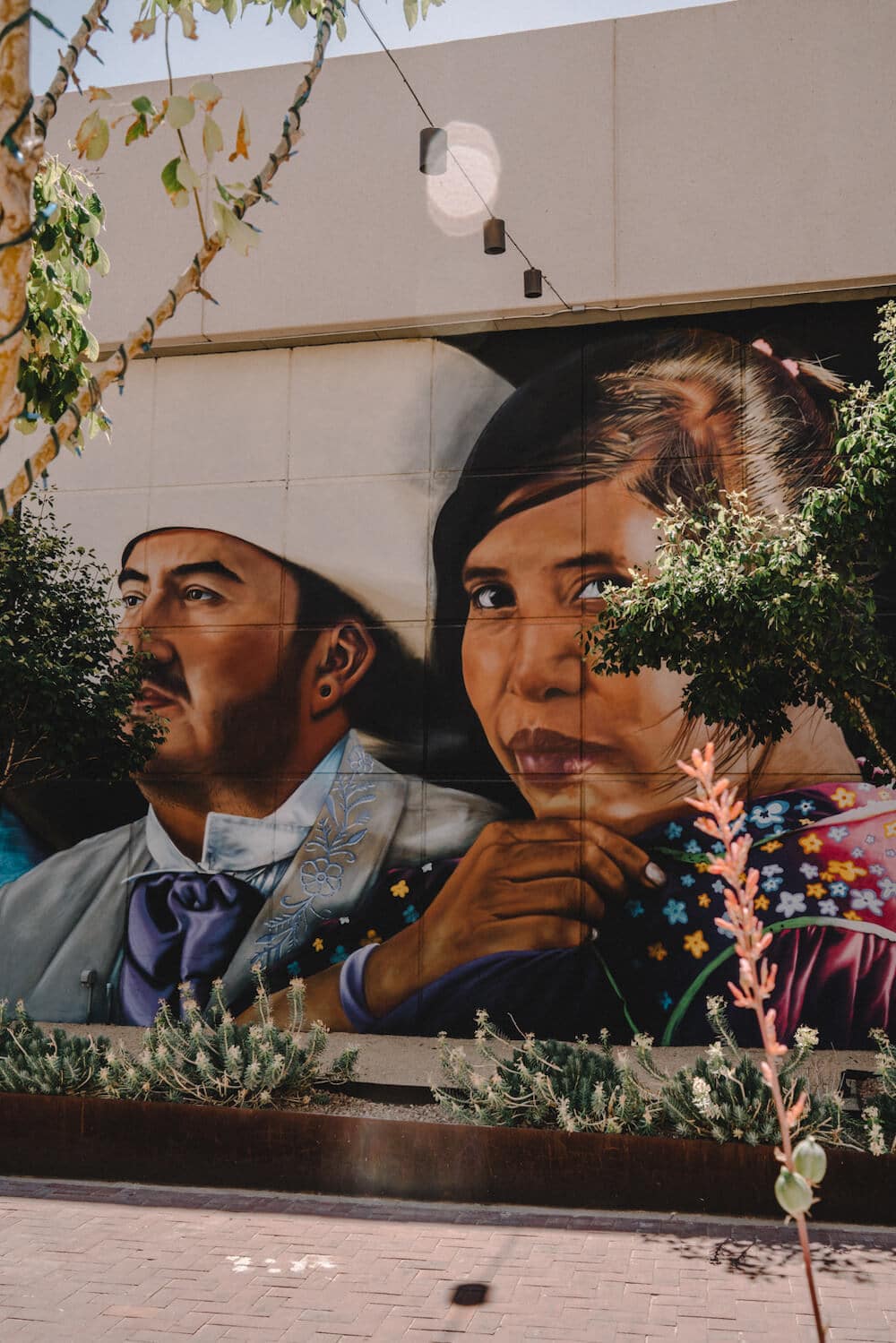 Do a Self-Led Art Walk
I was so impressed by El Paso's commitment to public art in their community. In fact, they currently have a large portion of government funds (much more than your average U.S. city) dedicated to this cause, with  over 50 projects completed and still over 30 in the works.
This story by The Guardian is a great start if you want to do a self-led tour, but simply keep your eyes peeled as you venture around the city and you won't be able to miss the creativity that surrounds you at every corner — from major murals on the sides of buildings to more subtle creations to enjoy at the local bus stop.
WHERE TO EAT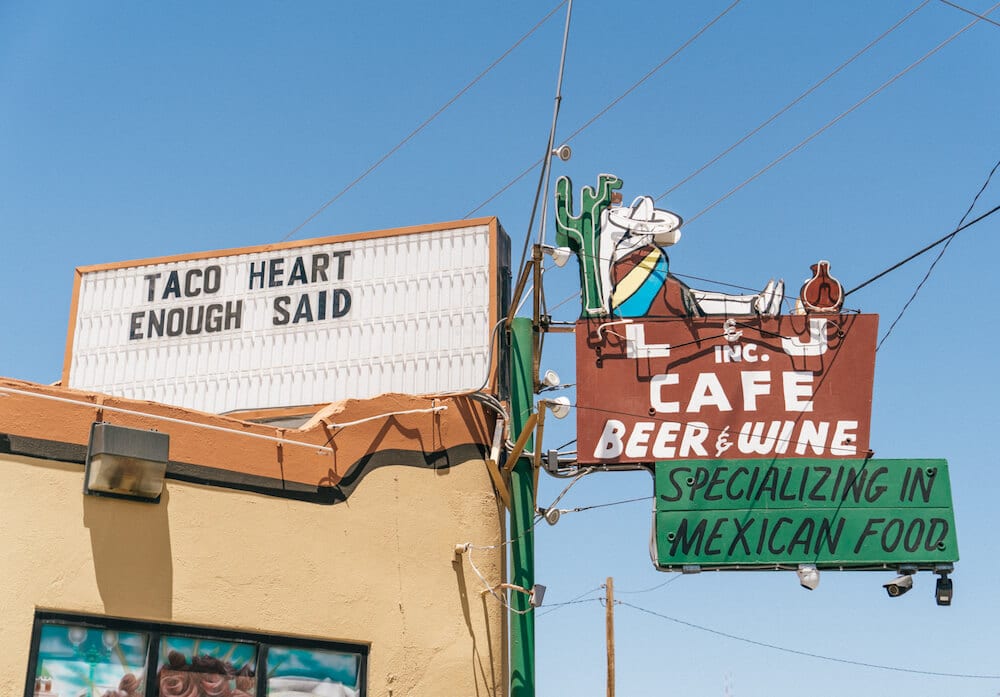 This is a favorite amongst locals and visitors alike and was packed to the brim on a weekday at lunch. After dipping my first chip into the creamy queso I immediately understood why. Don't miss a pit-stop here for some delicious Tex-Mex food.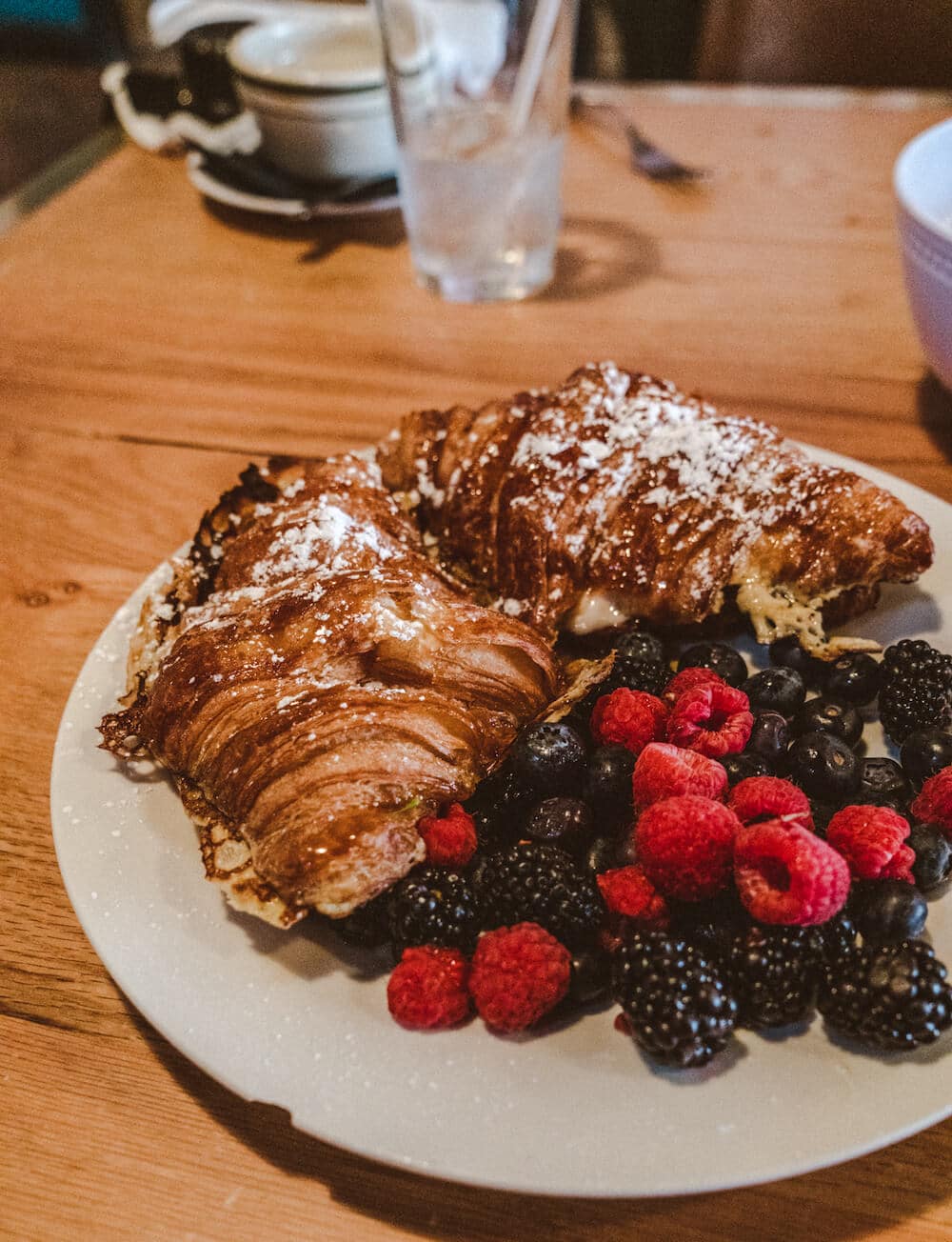 Salt + Honey
Another El Paso favorite for brunch is Salt + Honey, which serves a mix of healthy eats and indulgent dishes like the croissant french toast I ordered. The salt + honey fries are also a must.
Taft Diaz at the Stanton House
Award-winning chef Oscar Herrera has created a menu full of unique and creative flavor combinations at the Stanton House's Taft Diaz restaurant, open for breakfast, lunch and dinner. Some personal stand-outs for dinner were the Marrow & Mussels and the Octopus & Grits.
FORT DAVIS
With a population of just over 1,000 people, Fort Davis is a small community in West Texas with a ton of history and beautiful outdoor landscapes to be explored. The downtown strip feels like a scene out of an old Western film, but just a 5 minute drive down the road and you'll be surrounded by 360 degree views in the local state park that couldn't feel farther away from civilization.
WHERE TO STAY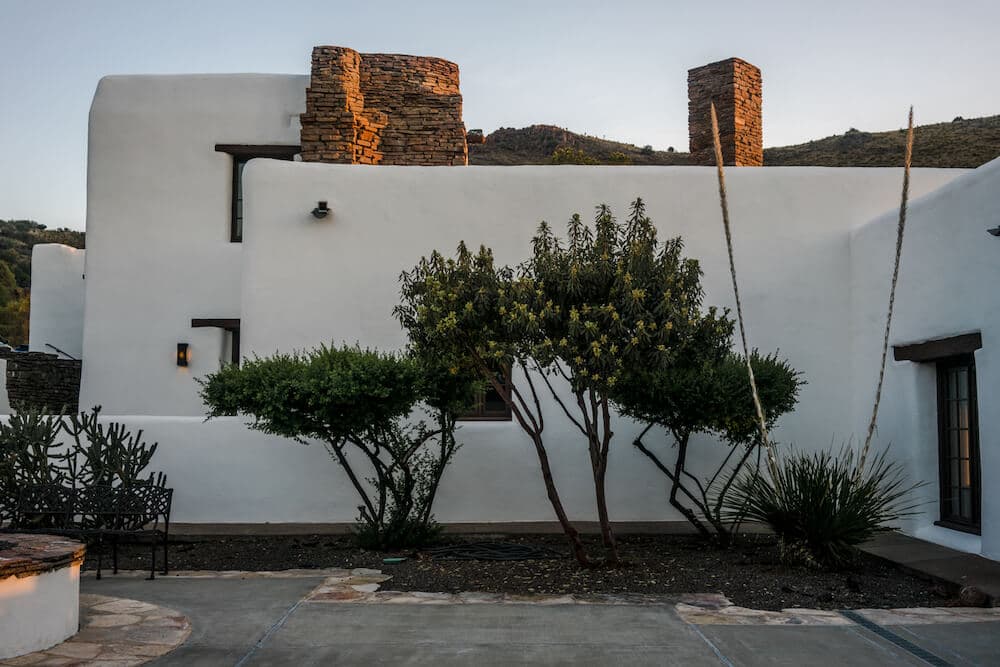 Indian Lodge
Built from iconic white adobe, Indian Lodge is a 39-room historic motel with rustic charm that sits directly in Davis Mountains State Park.
WHAT TO DO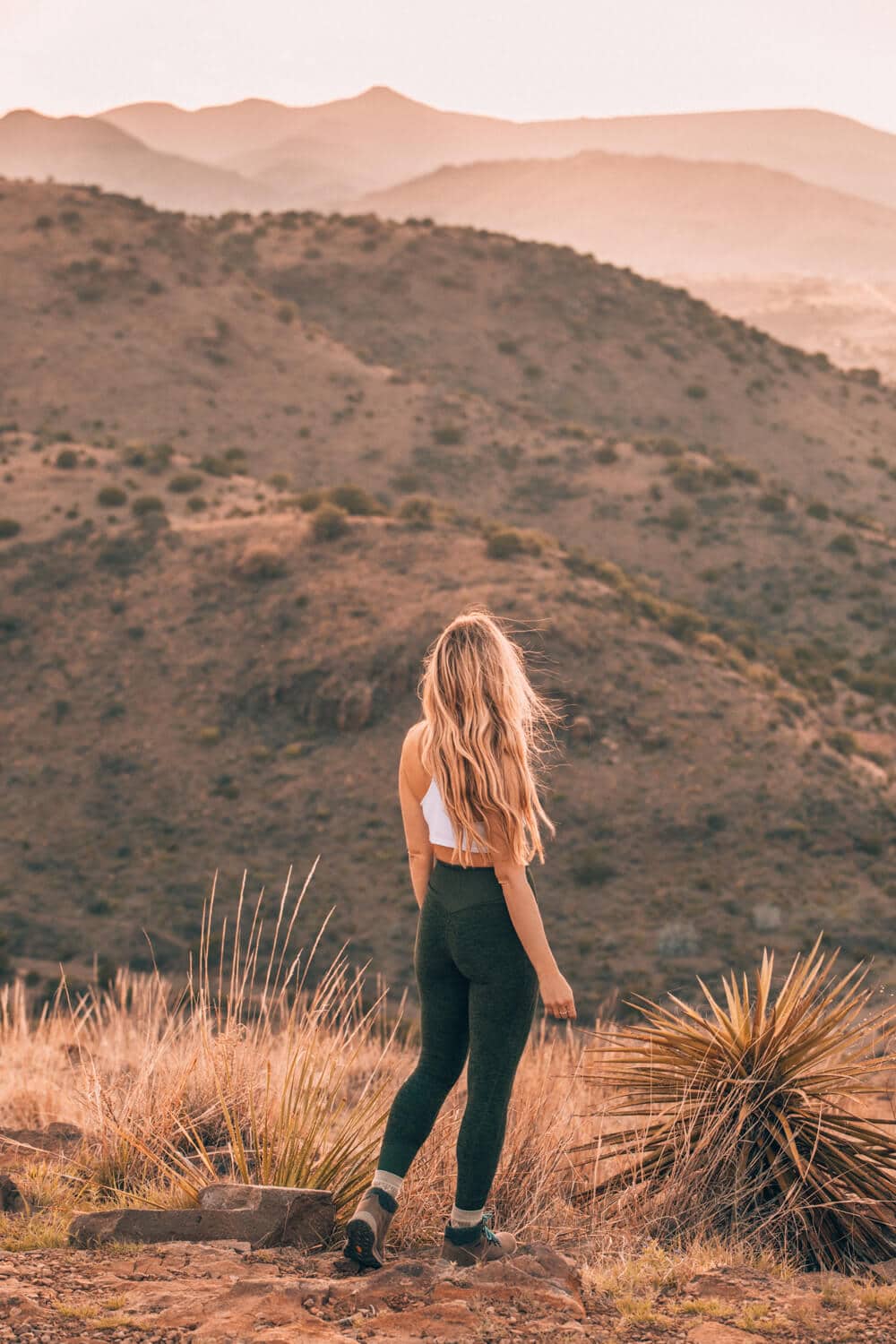 Davis Mountains State Park
Ideal for hiking, bird watching, backpacking, and so much more, Davis Mountains State Park was also one of my favorite spots to catch sunrise and sunset during our week-long road trip. The Davis Mountains are a "sky island" because they are an isolated mountain range surrounded by desert — ie. ideal for epic views.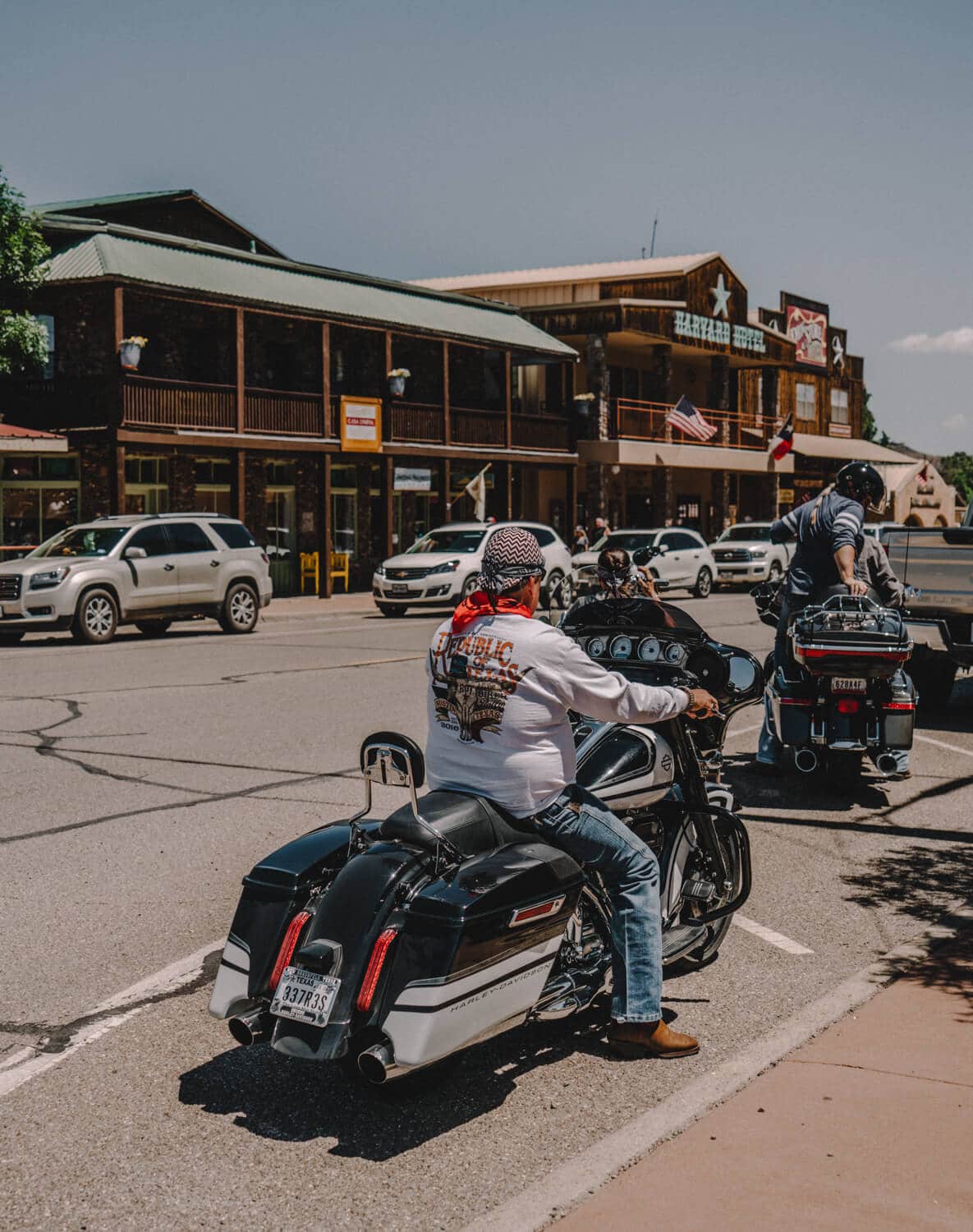 Explore Downtown's Old Western Vibes
Any lovers of old Western films will love the vibe of downtown Fort Davis, which let's be honest — is more like a small street. You don't need more than an hour to take in the downtown scene, but it's a gem you can't miss during your trip.
Visit the Historic Site of Fort Davis
Fort Davis served as a military post between 1854 and 1891 and is one of the best surviving examples of its kind. Here at the official Historic Site of Fort Davis you can learn about what life was like back in that time. I especially enjoyed the brief tour of the soldiers' living quarters where we learned where terms like "hit the hay" come from. You'll just have to visit on your own to get the full story for yourself!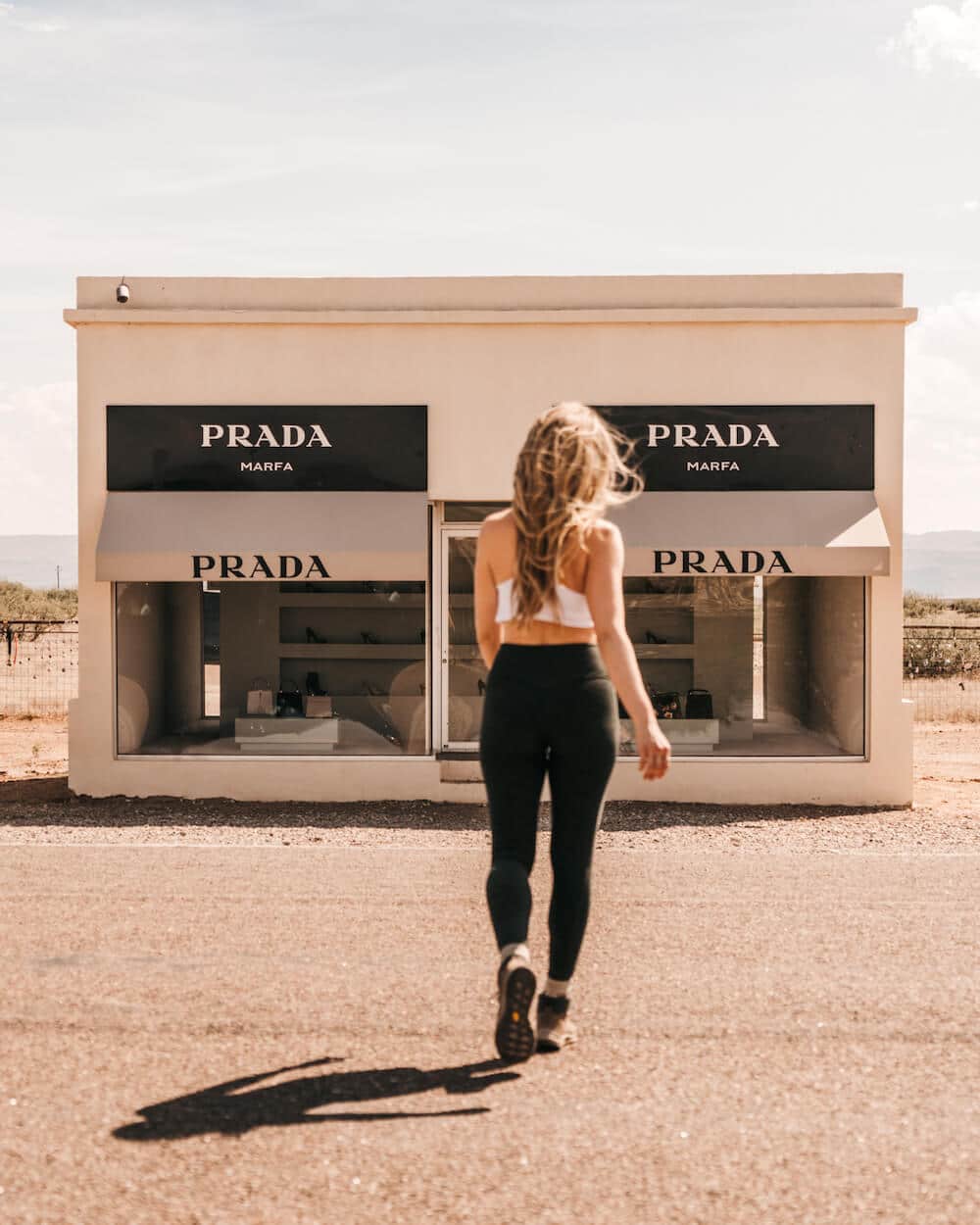 Check out the Prada Marfa Sculpture
No, this isn't a Prada boutique in the middle of the desert. In fact, this permanently installed sculpture created by artists Elmgreen and Dragset has been sitting off of U.S. Highway 90 since 2005 as an artistic interpretation of the landscape. It has also endured multiple vandalizations over the years. You could hit this on your way to Fort Davis or to Marfa depending on which direction you're traveling in, but if you're coming from El Paso chances are you'll pass right on by it.
WHERE TO EAT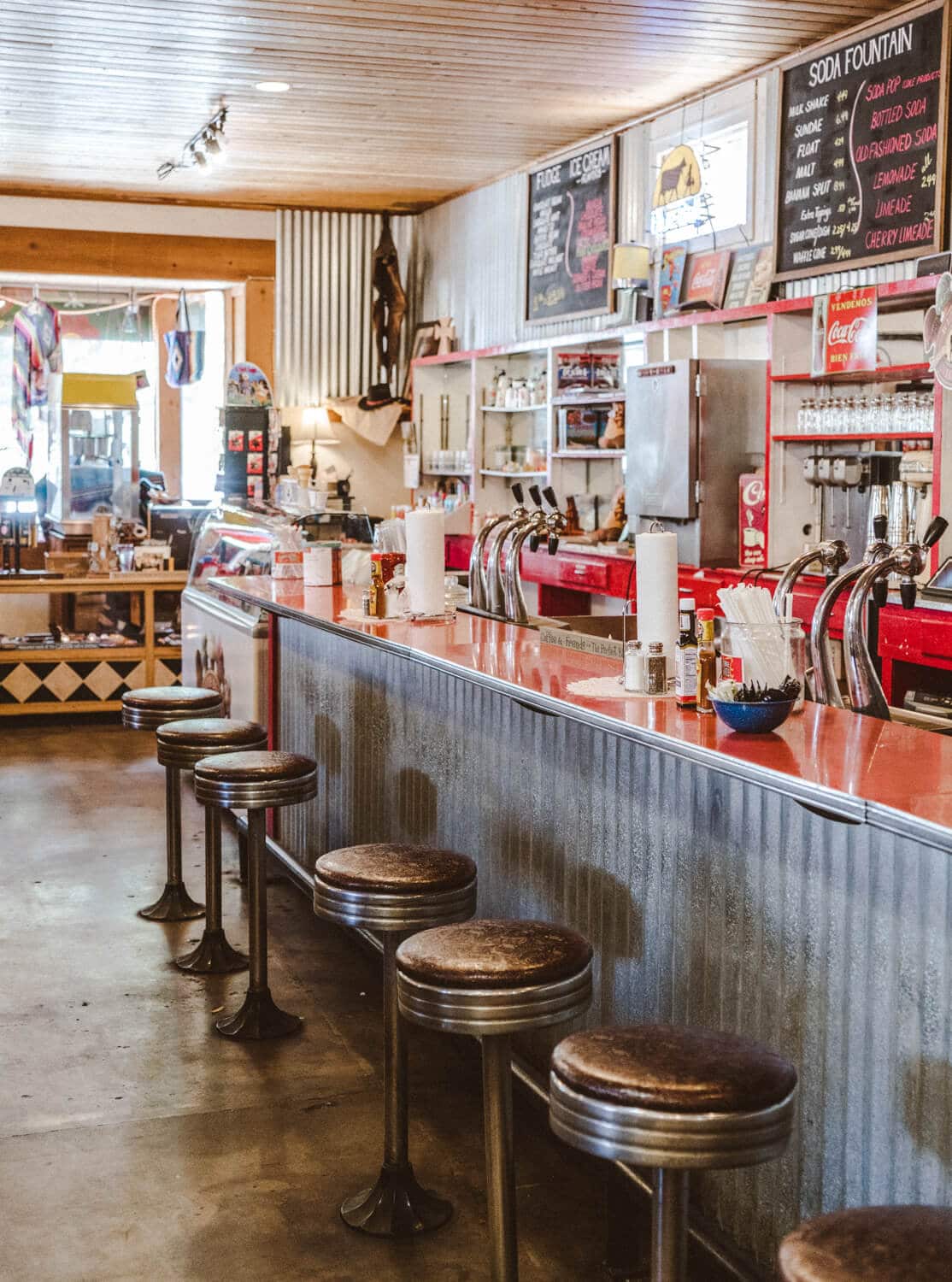 Fort Davis Drug Store
A classic establishment in the heart of downtown Fort Davis, the Drug Store will always live on as my first experience with chicken fingers and real thick Texas gravy.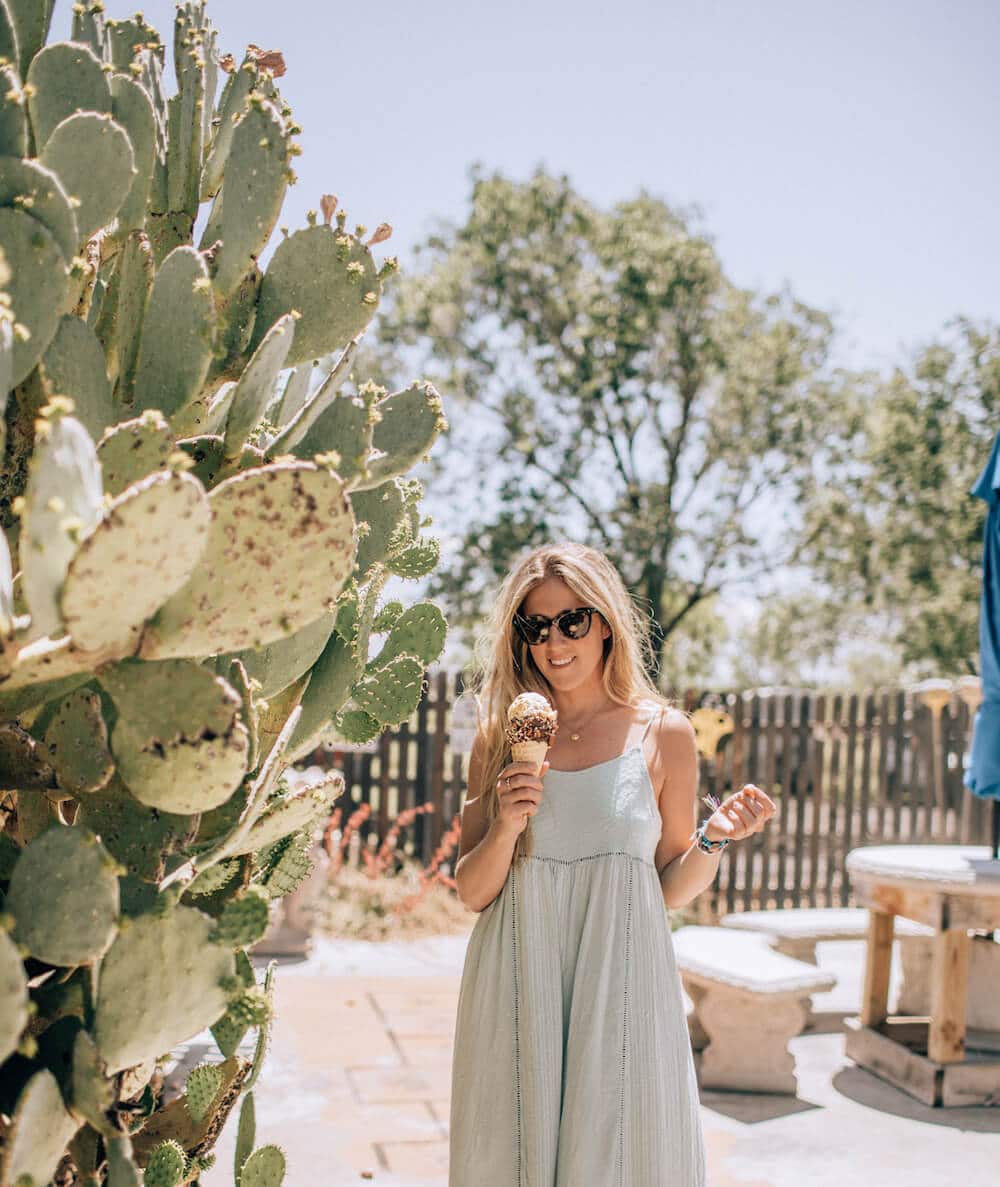 Hebert's Caboose Ice Cream Shop
When the heat gets to ya, head to Hebert's Caboose for a refreshing treat of Blue Bell ice cream served out of a renovated railroad caboose.
TERLINGUA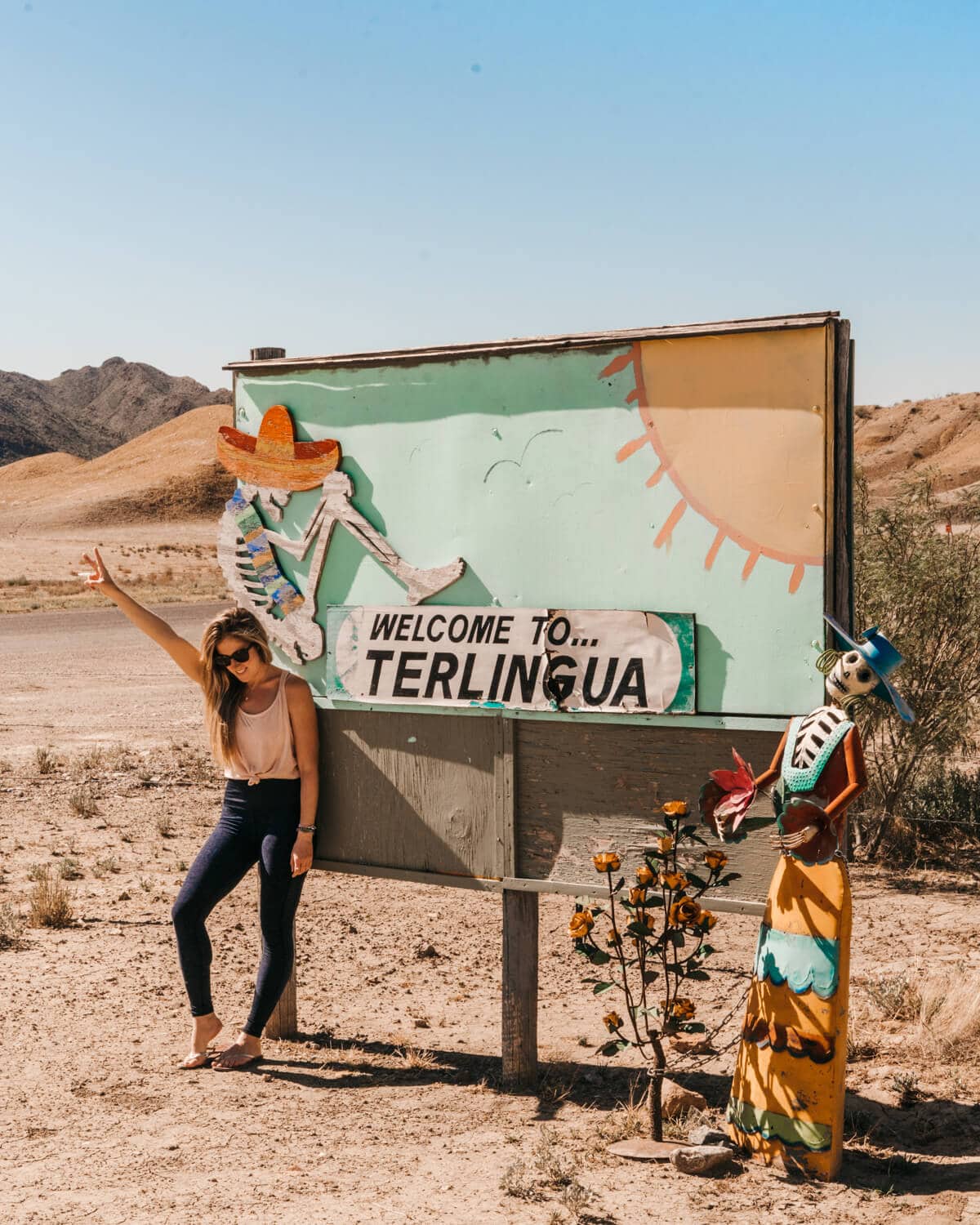 A once mining town in the 1800s, Terlingua is now a ghost town (although a thriving one at that) that serves as an ideal base for exploring nearby Big Bend National Park. But while Big Bend might attract most of the attention, don't miss the gems to be found within Terlingua itself. Don't worry, if you're a scaredy cat like me there are still plenty of non-nightmare-inducing activities to go around!
WHERE TO STAY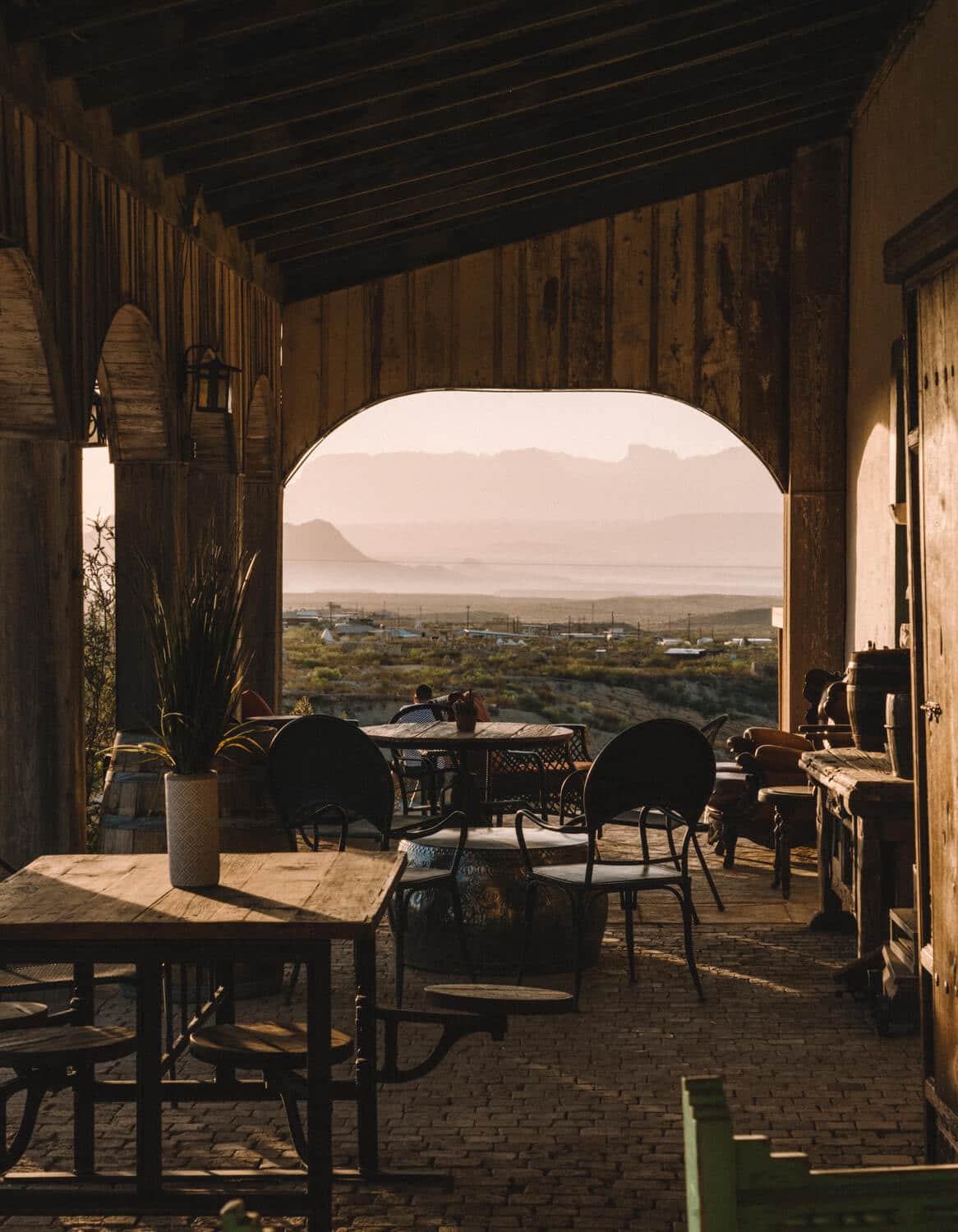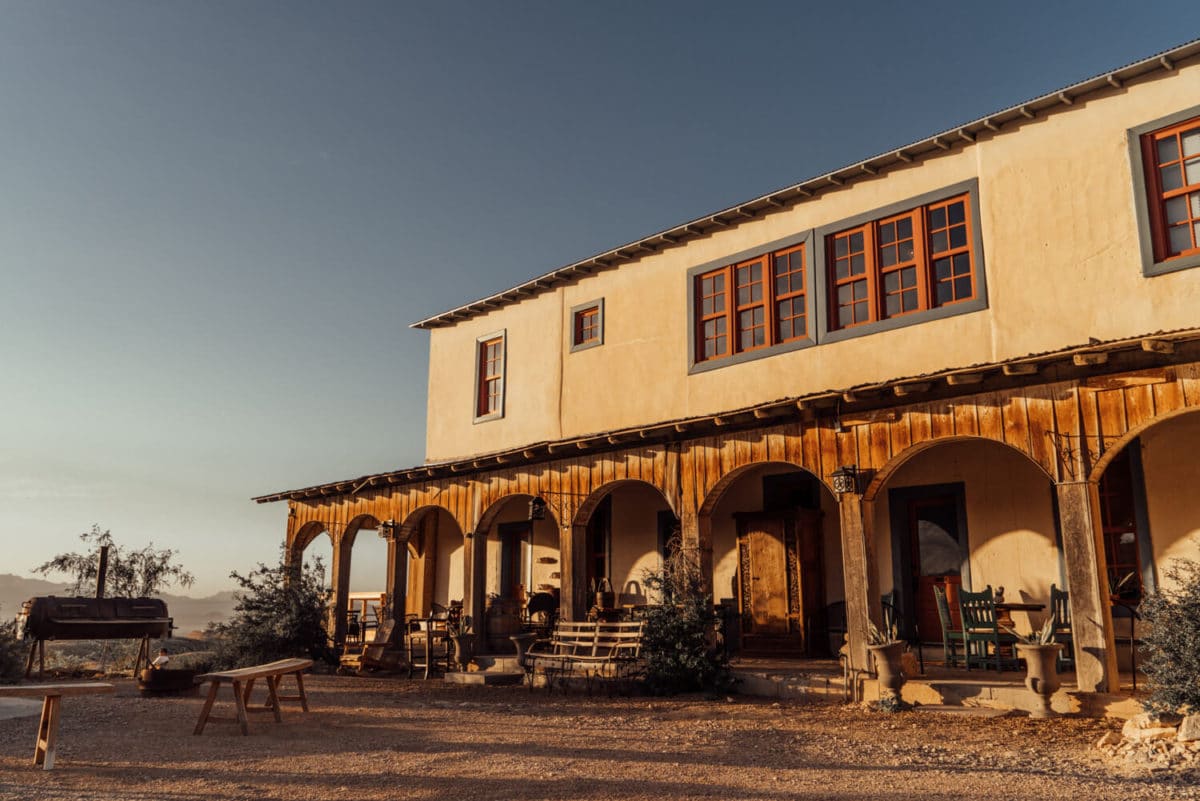 The Perry Mansion
This once-abandoned mansion built in 1909 by the co-owner of Chisos Mining Company has quite a history in the town of Terlingua, but just recently saw finished renovations on all the rooms. You'll have to stay for yourself to find out if you think it's haunted.
If haunted mansions aren't your thing, opt for the Lajitas Golf Resort and Spa which is less of an intimate feel but is absolutely beautiful and boasts plenty of activities on site like paddle boarding down the Rio Grande River.
WHAT TO DO 
Paddle Board on the Rio Grande 
Head over to Lajitas Golf Resort and Spa to rent some paddle boards for the day and cool off from the Texas heat. You'll be able to tell your friends back home that you literally paddle boarded on the border of Texas and Mexico.
Explore the Cemetery and St. Agnes Church
For those who love a little bit of spookiness in their lives, head to the local cemetery and St. Agnes Church at night to see if any spirits grace you with their presence.
Explore Big Bend National Park 
See below for all my favorite spots in Big Bend!
The Great Chili Cookoff
A yearly tradition in Terlingua — and the event of the year — is the Great Chili Cookoff which sees about 10,000 visitors flocking to this tiny destination in the desert. The cookoff usually takes place in October each year, so if that timing coincides with your trip, make sure to book accommodations early and prep your belly for some epic chili feasts!
WHERE TO EAT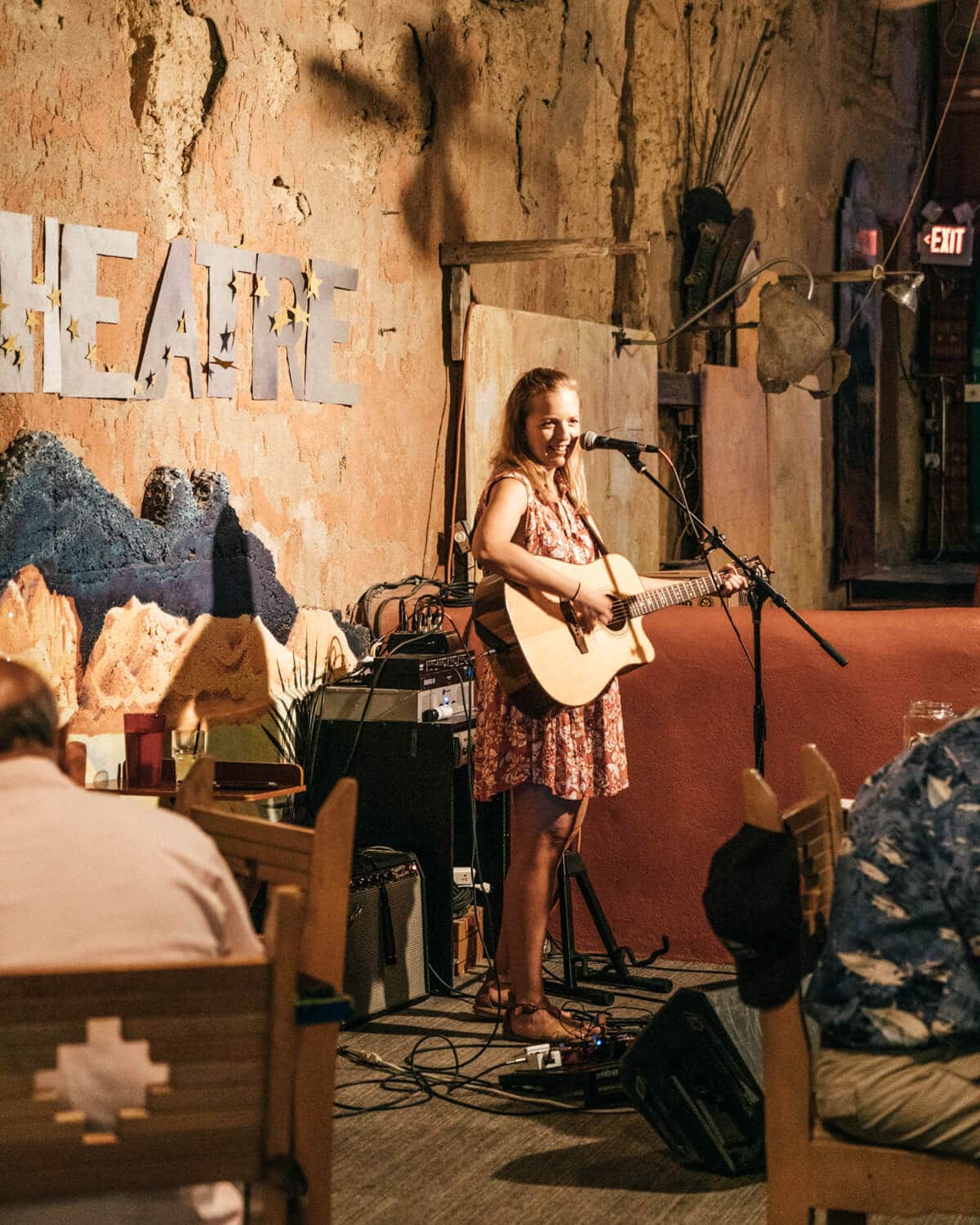 Starlight Theatre
The most hopping joint in town, Starlight Theatre serves a mix of Mexican food and local favorites like brisket and chili.
Taqueria el Milagro
This mom and pop taco shop serves real deal street tacos in a casual outdoor setting. Personally, I found the chicken tacos to be a bit dry but the barbacoa tacos were INCREDIBLE. Just trust me.
Espresso y Poco Mas
Breakfast burritos, ice lattes and wifi — what more could you want in a tiny little ghost town?
**Important note — All places close relatively early in Terlingua, so make sure to eat on the earlier side or grab groceries beforehand so you don't starve.
BIG BEND NATIONAL PARK
One of the most underrated National Parks in the United States (in my opinion), Big Bend National Park might be harder than most to get to but is so worth the effort. I couldn't believe how relatively empty the park was in comparison to so many other parks I've visited in the U.S. There are tons of activities and hikes to keep you busy here, but I love that all of the ones we did offered something unique and interesting. Here are my favorites!
WHAT TO DO IN BIG BEND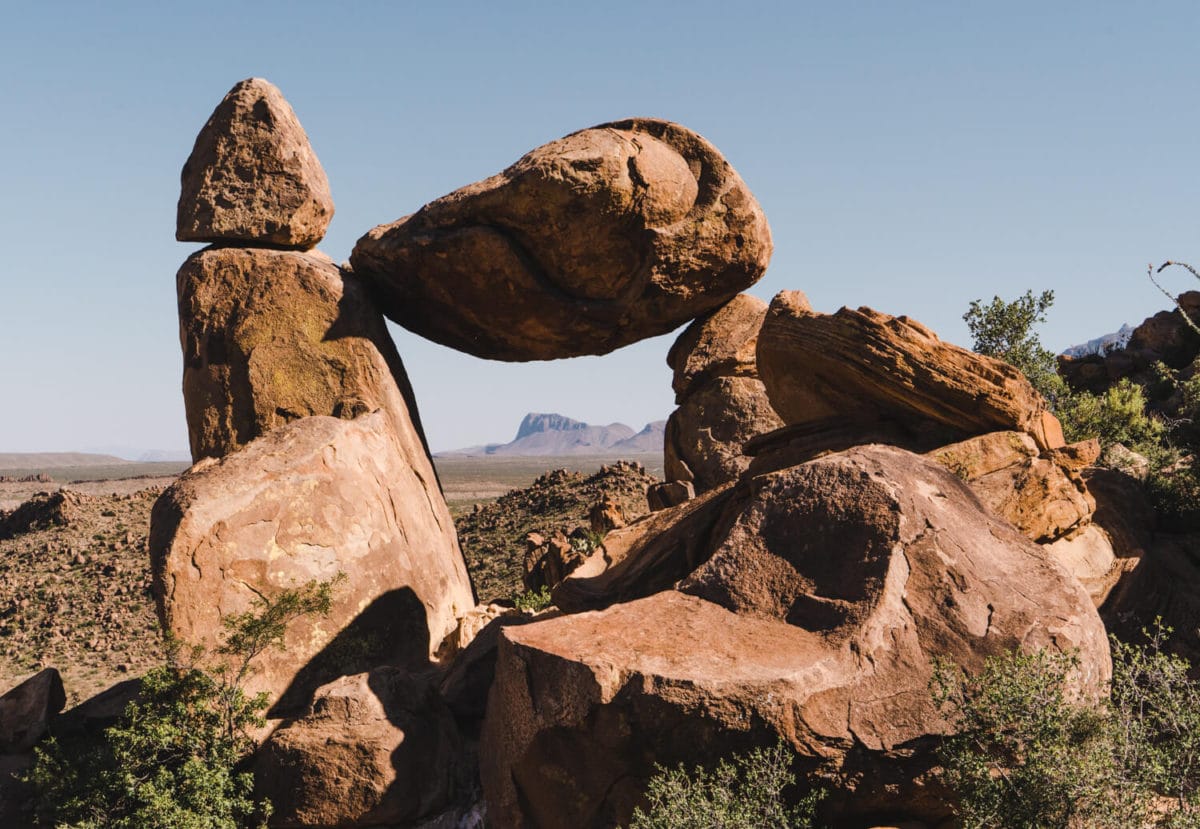 Grapevine Hills Trail to Balanced Rock
The bumpy dirt path to get to Grapevine Hills Trail might deter a few without the proper wheels, but those who stick it out will be rewarded with a beautiful hike up to Balanced Rock, one of the most iconic and beautiful spots in Big Bend National Park.
This is a relatively easy hike starting with a flat walk for most of the 2.2 mile roundtrip trail, which then leads to a final steeper route that takes about 10 minutes at a steeper inclined path amongst the boulders.
Bring your camera because the panoramic views from up top are unreal!
Santa Elana Canyon
This viewpoint can be driven right up to in Big Bend National Park and is ideal for golden hour or sunset when the rocks get lit up in stunning shades of orange.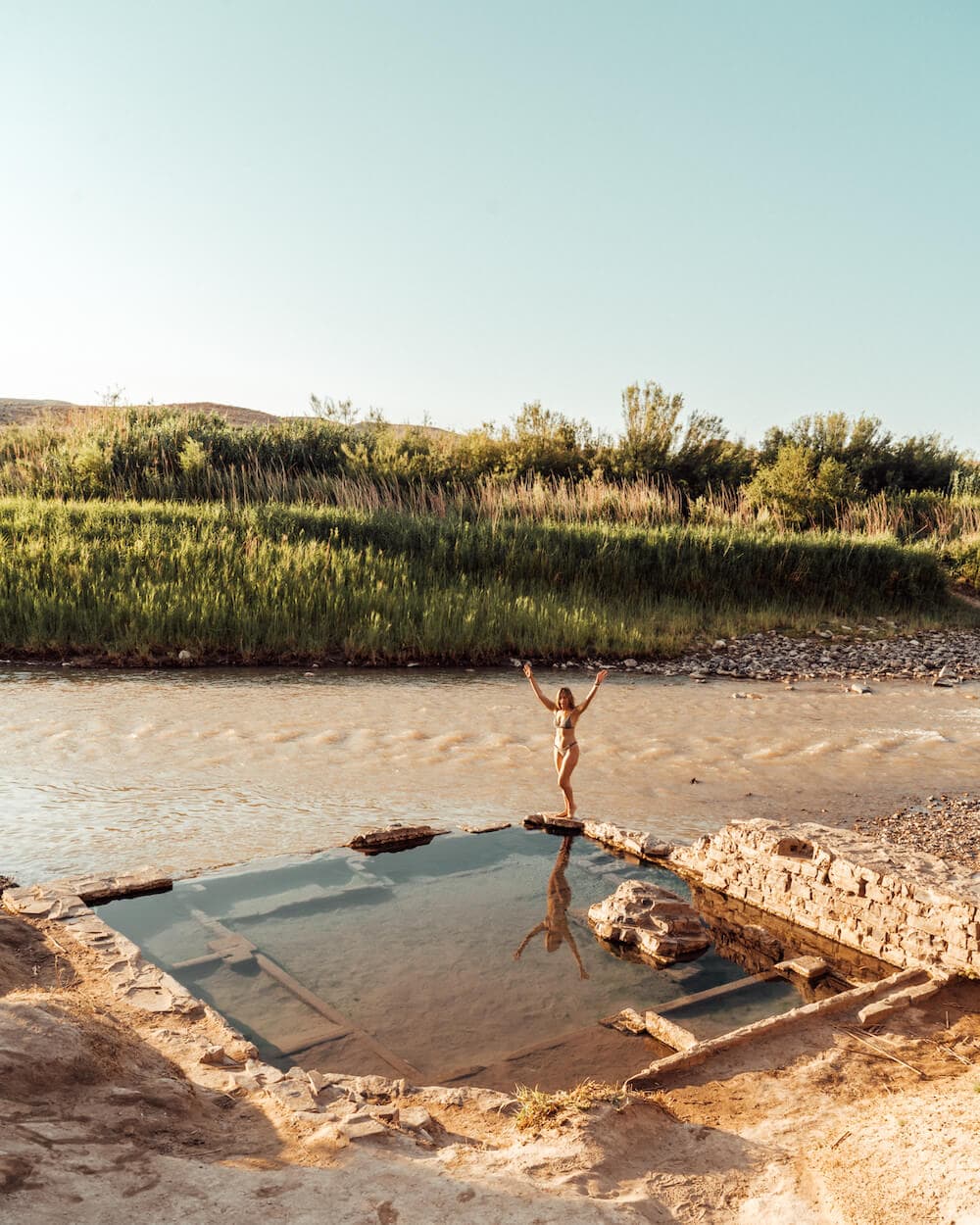 Hot Springs Trail
Another easy loop with a great reward at the end is the Hot Springs Trail which is a little over 1 mile round-trip. Just next to the Rio Grande River you'll find a small hot springs pool with hotel ruins along the way.
MARFA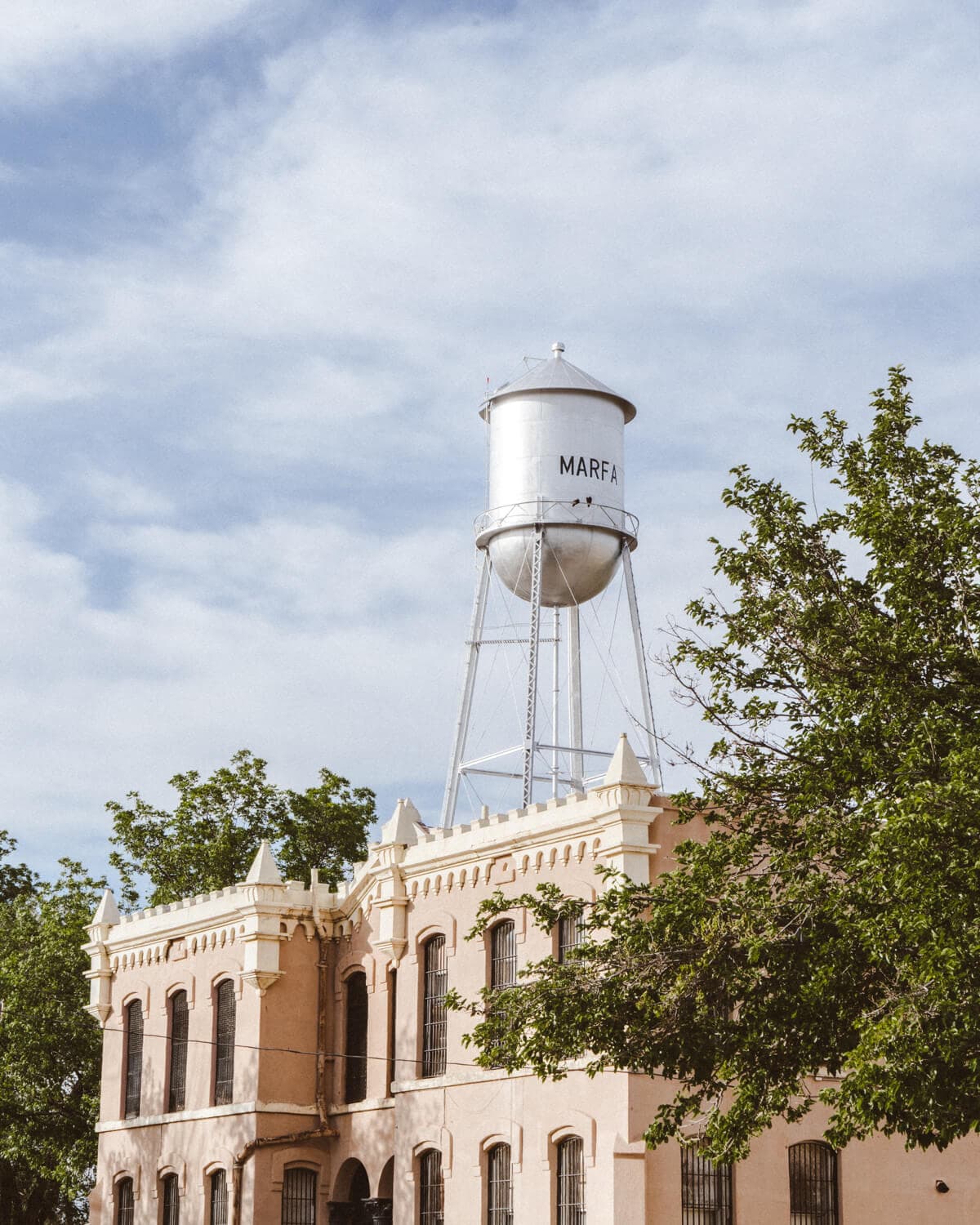 Located between the Davis Mountains and Big Bend National Park, Marfa was once a railroad water stop and only started to become an attractive destination for visitors in the 1970s when New York artist Donald Judd moved to town. He began displaying his own art in Marfa and over the years bought up additional properties to showcase other artists work. Now, five decades later, Marfa has become a cultural hub and destination for artisans and art-lovers alike.
WHERE TO STAY 
Hotel Paisano
For a historic, kitschy vibe, check in to Hotel Paisano which features retro signage out front and old photos inside of James Dean, Elizabeth Taylor and Rock Hudson who stayed at the hotel while filming the 1956 movie, Giant.
El Cosmico
For a more upscale campground vibe, head to El Cosmico which is basically an Instagrammer's dreamscape full of glamping tents and rainbow-colored RVs and airstreams up for grabs.
If these options aren't your speed, two other great places to rest your head are the Thunderbird Hotel and Hotel Saint George.
WHAT TO DO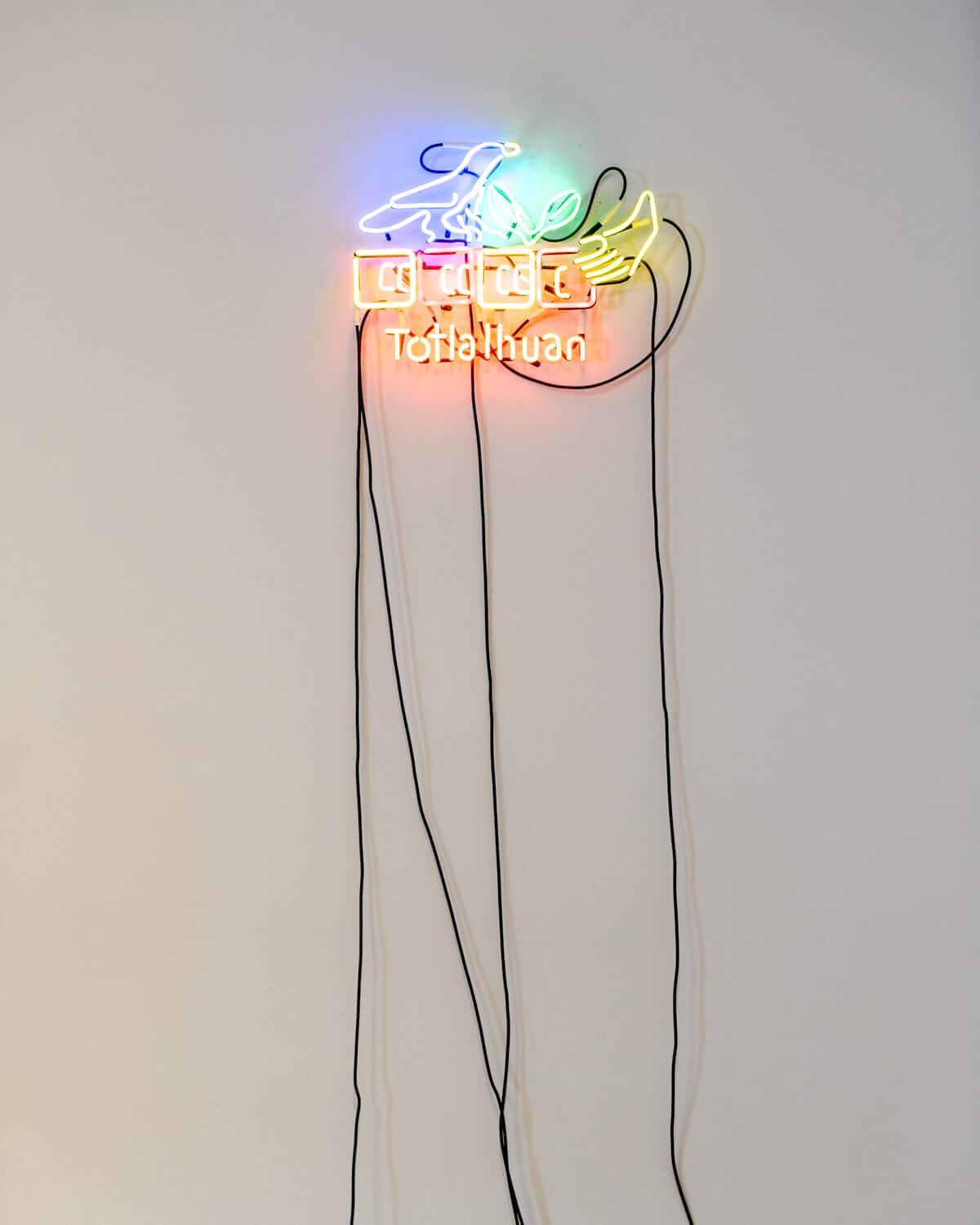 Ballroom Marfa
Our first stop in Marfa was to Ballroom Marfa, a non-profit art space which supports both emerging and established artists and their visions. Be prepared to witness some of the wacky and weird here — all in the name of art!
Shop Locally
Marfa is known for its quirky style and that extends into the local shopping scene as well. On S Dean Street around where it hits East San Antonio, you'll find a mix of homewares, leather goods and even a vending machine housing essentials like glow in the dark condoms.
Explore the Art Scene
A few must-visits along any art-centric trip to Marfa should include a stop at the Chinati Foundation, Ballroom Marfa, Prada Marfa, the Ayn Foundation and the Marfa Book Company which features plenty of art tomes to stock up on for your living room. For those interested in learning more about Donald Judd, you can book a tour of La Mansana de Chinati, Judd's artist's residence and studio.
Drink with the Locals
Want to schmooze with the Marfa locals? Planet Marfa is your spot. This expansive bar features everything from picnic tables and ping pong to a large teepee that holds 20+ people and even an old school bus. It's eclectic in the best kind of way.
For those that want to experience quirky Marfa vibes at their finest, head straight to Casita Bar, which feels more like a high school house party if it were inside a psychedelic trip from the 70s. Casita Bar regularly features local musicians and there's plenty of patio seating to go around.
See the Marfa Lights
The mysterious Marfa Lights have been a legend in this part of West Texas since the first account was made of them back in 1957. Since then, the mysterious lights have been attributed to many things but no firm conclusions have been made!
WHERE TO EAT 
Pizza Foundation
We loved this pizza joint that serves craft brews and fresh pies in a casual warehouse setting.
Other recommended spots to check out: Do Your Thing, Stellina, and Lost Horse Saloon and the Capri.
*** Live Like it's the Weekend was graciously invited to Texas as a guest of  Travel Texas, but as always, all opinions are my own and I would never promote anything I don't freaking love. ***
Planning a trip right now? These are all the websites and services I love for booking everything from flights, tours, accommodation and more:
LOVED THIS POST? PIN IT FOR LATER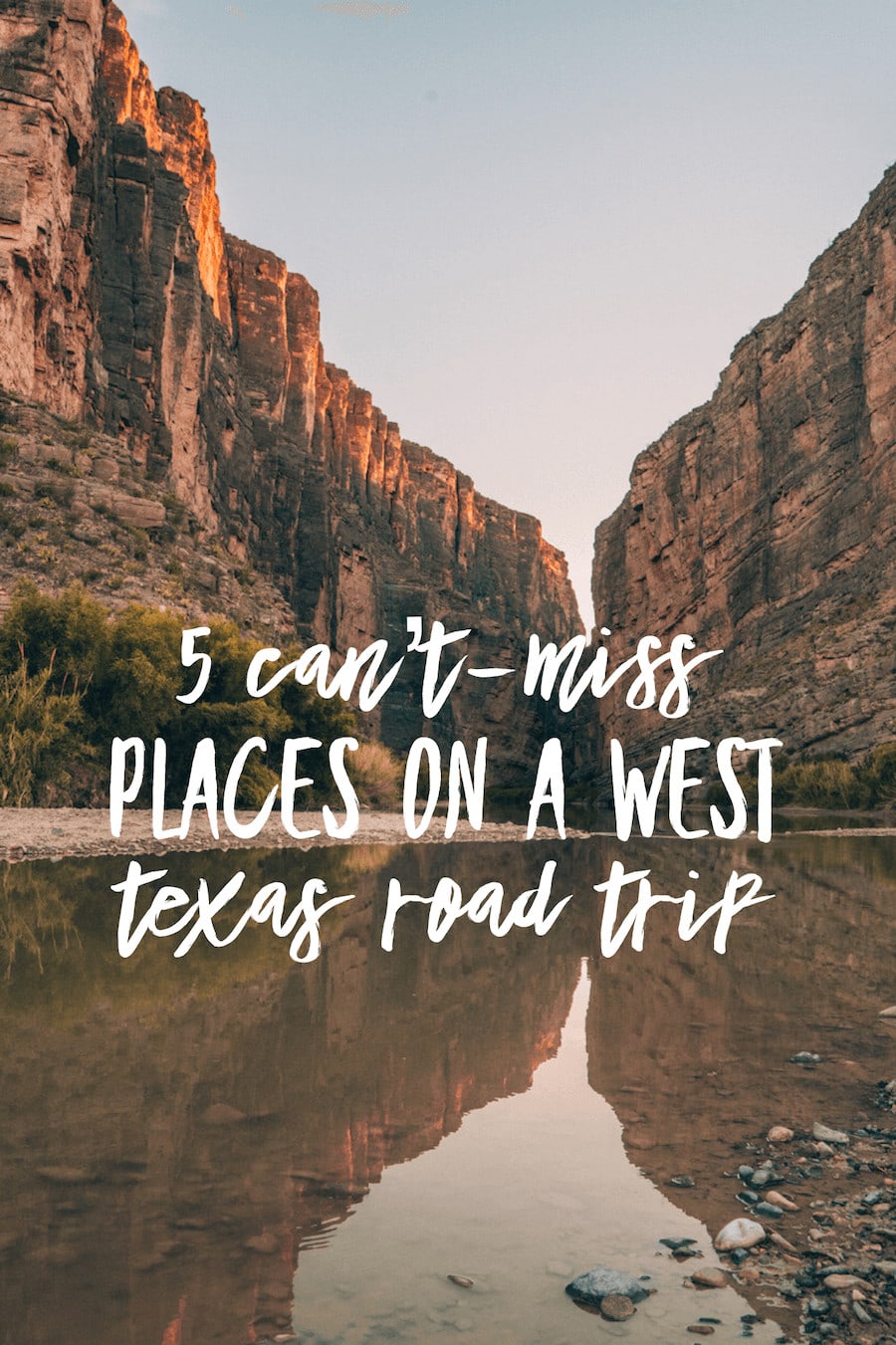 READ MORE