Sometimes it's harder to appreciate the beauty that lives right in our own backyards, and for many Angelenos I feel like Catalina is one of those places. Sure, everyone knows about the island that's just one hour by ferry from the mainland, but has everyone actually made the effort to go? The answer is probably fewer than you'd assume.
I was invited out by the Catalina Island Company last September to experience both the Avalon and Two Harbors sides of the islands (the first time I visited years ago I only camped on Two Harbors), and in this post I wanted to share what to do in Catalina Island, especially if it's your first time!
What makes Catalina such a fun escape from Southern California is how accessible it is to get to, while feeling miles and miles away. The water is way more crystal clear and blue than anything you'd find in Santa Monica (my local beach), which makes it ideal for water activities and sports.
Plus, the island has quite the fun star studded past. Over 500 movies have been filmed here–it's been depicted as everywhere from North Africa to Tahiti–and in 1919, the island was bought by William Wrigley Jr. (yes, of the chewing gum brand).
In the 1930s through 50s, many of Hollywood's A-listers would vacation on Catalina, and while the island brings out quite a varied crowd now, celebrities are still spotted from time to time.
---
This post was created in partnership with The Catalina Island Company, but as always opinions are my own and I would never promote anything I don't freaking love!
---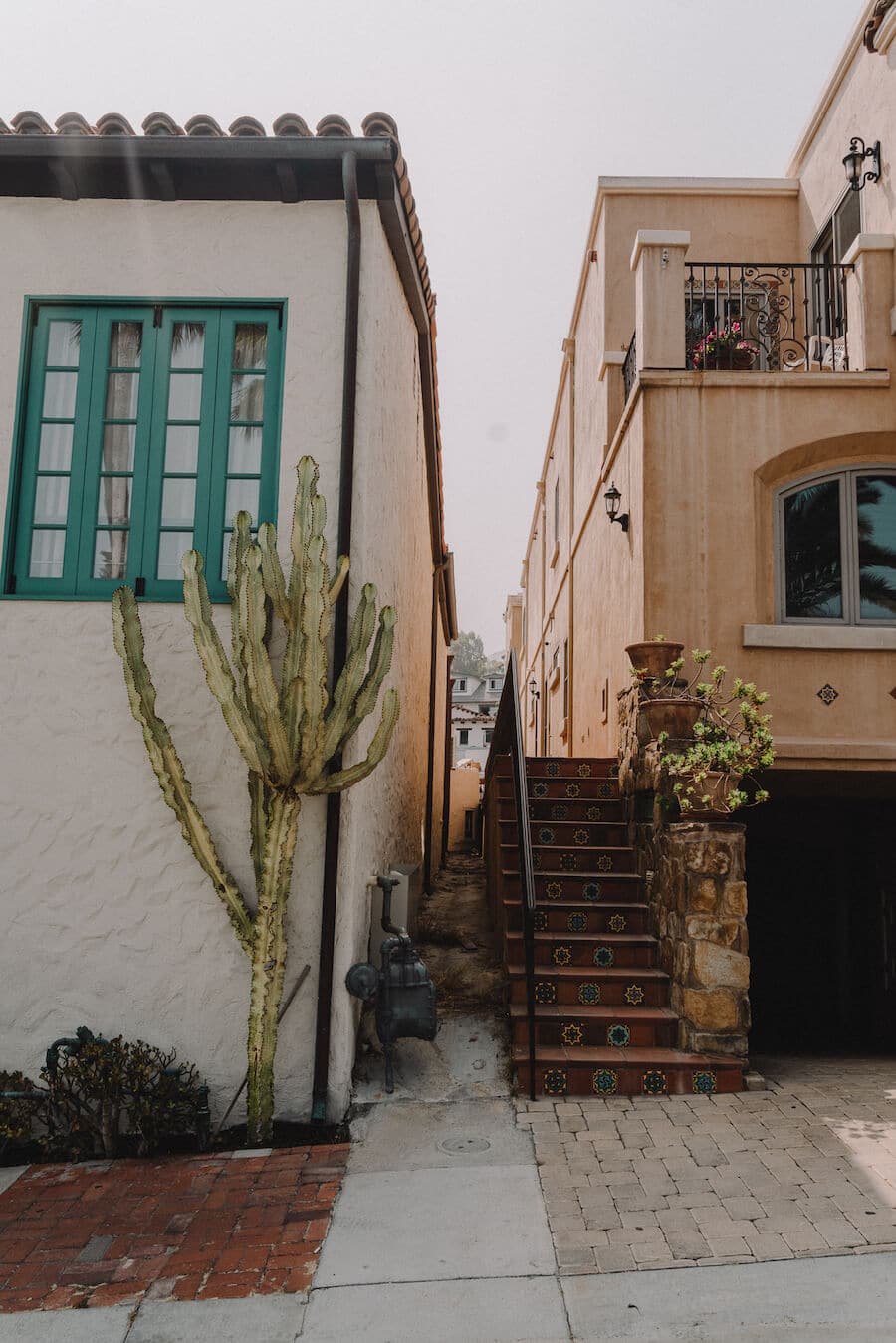 What I personally like about Catalina is how different of an experience it is from LA. The vibe on Catalina remains true to its quaint roots and it hasn't been affected by things that are "trendy" the way that other areas of LA have been.
AKA, if you can only appreciate places with bougie Michelin restaurants, hipster coffee shops and boho boutiques, you might not jive with Catalina. I know, I know, I love them too. But this just isn't what Catalina is about.
However, if you're looking for a slower paced way of life for a few days, you'll ease right in here. The locals that you'll meet have been living on Catalina their entire lives (or at least summering here for just as long), and that makes it a special, tight-knit community. So leave your high heels behind and get ready to soak up some sunshine on this island getaway off the coast of California.
A Few Fun Facts to Know About Catalina Island
It's official name is Santa Catalina Island, but everyone just calls it "Catalina"
It's located 22 miles off the mainland
Out of the 8 channel islands, Catalina has the most populated civilian settlement AND the most diverse animal species
Catalina Island has been owned by the Wrigley family since 1919
How to Get to Catalina Island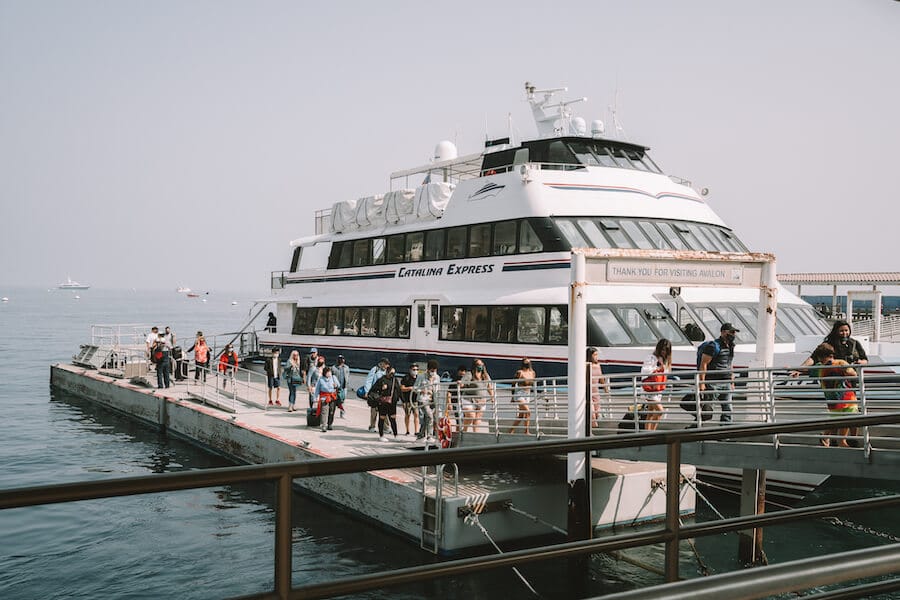 There are several ways to get to Catalina Island, but the easiest, fastest and most affordable mode of transport is via the Catalina Express ferry.
The Catalina Express departs from three different harbors: San Pedro, Dana Point and Long Beach. If you're going to the Avalon side of Catalina you can take any three of these routes, however if you're going directly to Two Harbors, you'll need to depart from San Pedro.
Departing from San Pedro or Long Beach are your best options if you're coming in from the LA area. If you're located south of Newport Beach then Dana Point is probably your best bet.
Also, the Long Beach and San Pedro fares are slightly cheaper by a few dollars. Fares departing Long Beach and San Pedro are about $37 one way for adults. You can check full fares on the Catalina Express website here. Each of these ferry routes takes about an hour one-way, give or take.
If you want to be extra bougie and travel to Catalina in style, there are helicopter transfers via Island Express Helicopters that will get you to the island in an easy 15 minutes flat. This will cost you about $150 one-way or $300 round trip.
How to Decide Which Side of Catalina to Visit?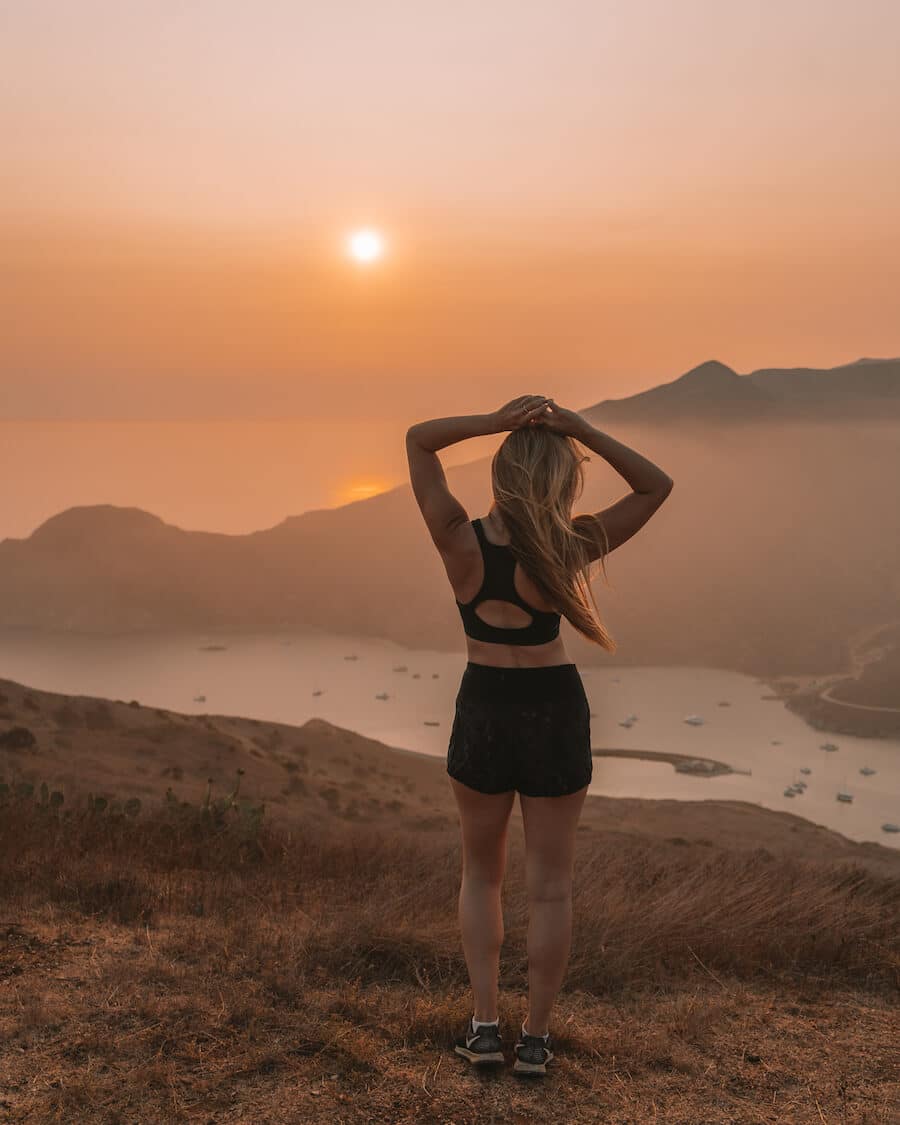 If you want a bustling vibe with plenty of hotel, restaurant and activity options, then Avalon is the place to be. It's WAY more populated than the Two Harbors side which is often described as sleepy and pretty much shuts down by 10 pm.
However, I quite like the peacefulness of the Two Harbors side. To me, the landscape feels more wild and rugged, while Avalon has a more touristy feel, like a seaside town on the Mediterranean.
Where to Stay in Catalina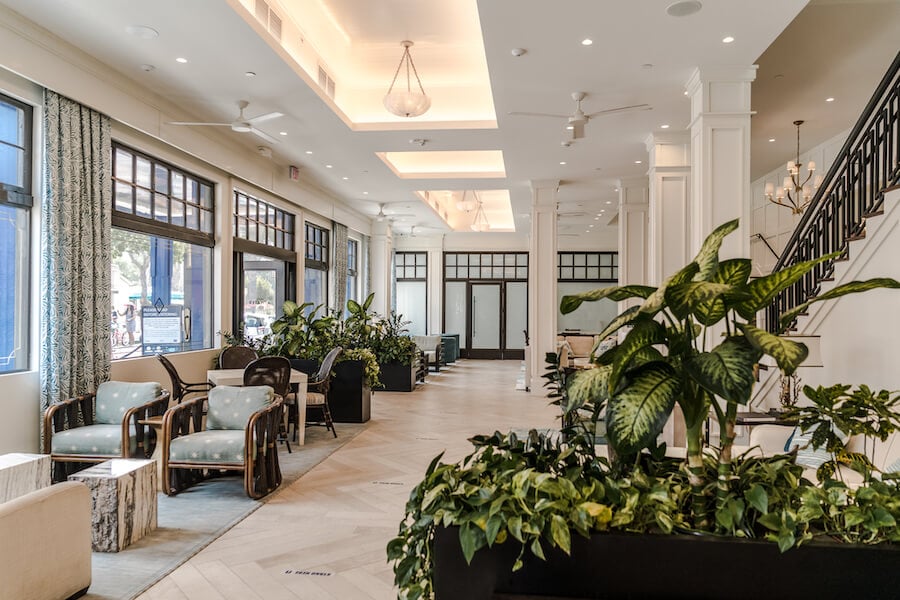 Hotel Atwater
During our time in Avalon, we stayed at the Hotel Atwater which is conveniently located right in the heart of the downtown and within walking distance from the ferry.
This hotel is a Catalina institution, originally established in 1920 as the first hotel built by the Catalina Island Company under William Wrigley Jr. However, despite its historical roots, the hotel was recently renovated in 2019 with an update that feels modern yet retains the coastal-meets-art deco charm of the original property.
We had a really lovely stay here and enjoyed how easily accessible it was to everything on Avalon. The downstairs bistro was especially appreciated each morning for a quick hit of caffeine since there is no on-site restaurant at the hotel.
If you're looking for other potential accommodation options in Avalon, my top picks would be: Zane Gray Pueblo Hotel, Pavilion Hotel, and Bellanca Hotel.
The Banning House Lodge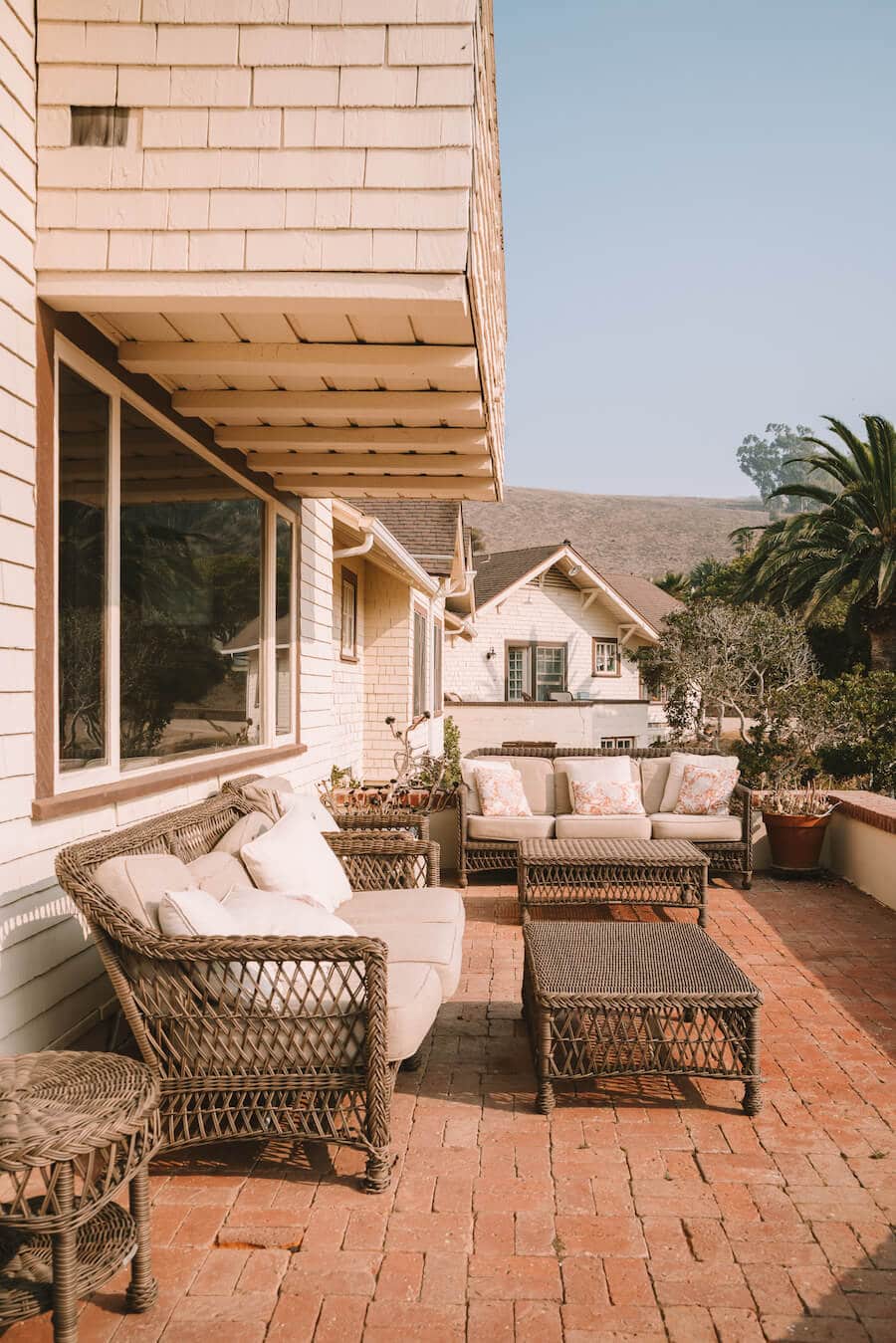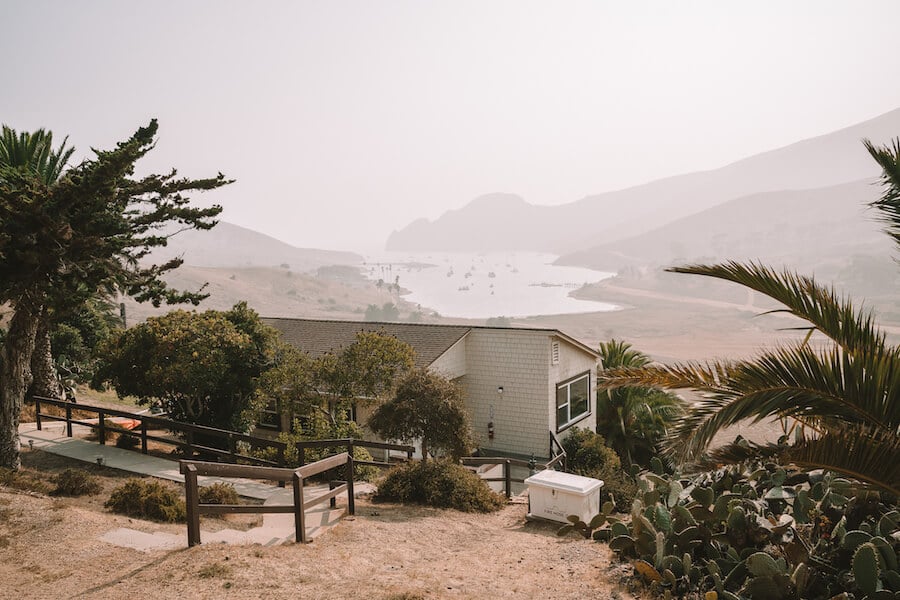 If you're staying on the Two Harbors side of Catalina, then you'll want to check in to the Banning House Lodge because it's actually the only lodging option on this side of the island–unless of course you're down for camping. Luckily, the Banning House is a beautiful place to stay, with intimate crafstman-style accommodations across its 12 rooms.
The bed and breakfast is perched up on a hill, so from one side of the property you can get views overlooking Isthmus Cove, while the side our room was on had unreal views of Catalina Harbor.
The rooms definitely feel more historic–it was originally built in 1910 as a summer home for the Banning brothers–so don't expect super modern accommodations, but it's the perfect peaceful spot to curl up and read a book and sip a glass of wine as the sun sets over the harbor.
Check out my in-depth accommodation guide to the island that covers where to stay in Catalina, from the best hotels, home rentals and even camping sites on both Avalon and Two Harbors!
Getting Around Catalina Island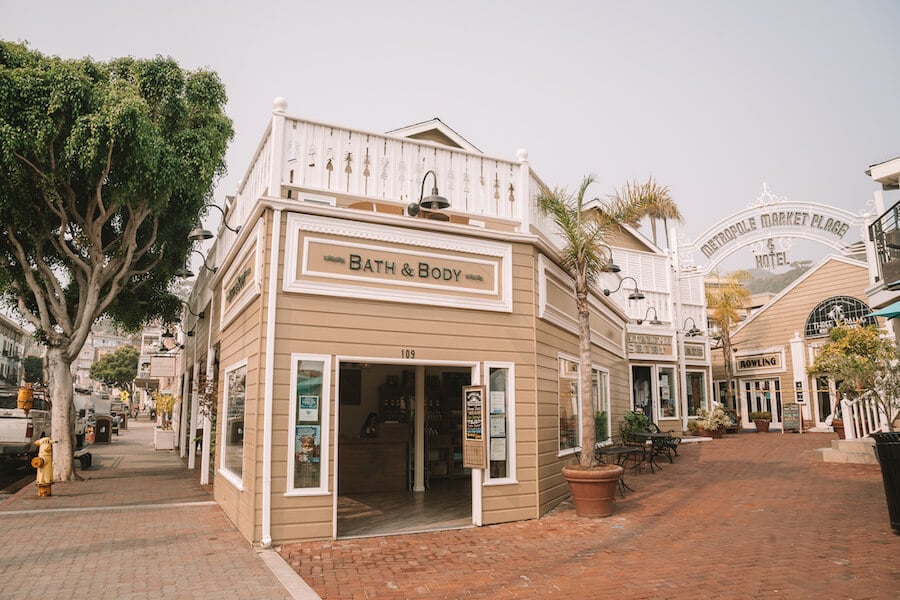 You'll quickly notice the lack of cars on Catalina Island–most everyone gets around by golf cart! However, that doesn't necessarily mean you need to rent one for your whole trip.
Depending on your accommodation, it's highly likely that the ferry is within walking distance to your hotel. Downtown Avalon is so small that everything is mostly in walking distance as well, so you should be set getting around on your own two feet or grabbing a bike to explore the island.
How to Get From Avalon to Two Harbors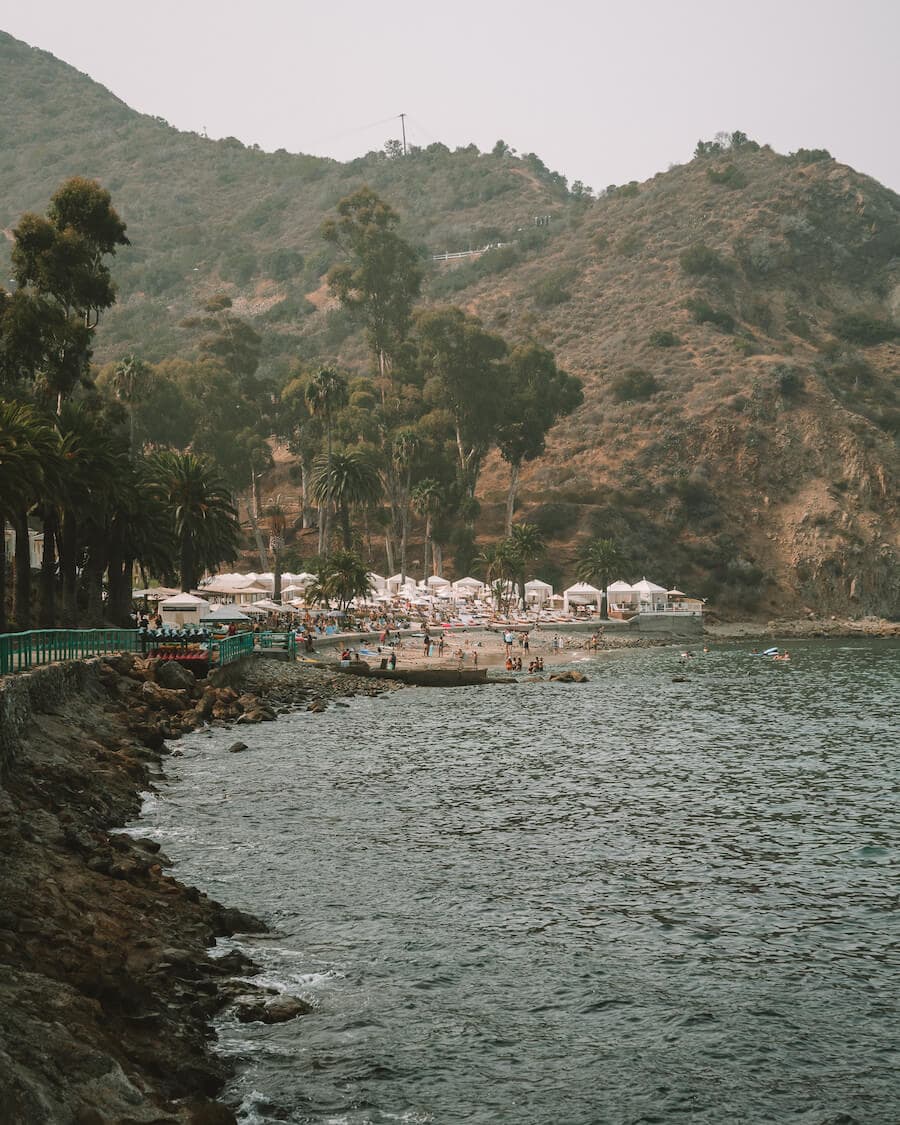 To get between the Avalon and Two Harbors sides of the island, you'll want to purchase tickets for the Cyclone boat, which is the fastest route between the two. The trip takes about 40 minutes, with multiple daily departures during peak season months.
When is the Best Time to Visit Catalina?
California weather is beautiful year-round, but summer months and weekends are the most popular times for people to flock to Catalina. If you would prefer avoiding the crowds for a quieter escape, book your trip on a weekday between spring and fall to still take advantage of the best weather months.
---
More Posts About California Travel
---
What to Do in Catalina Island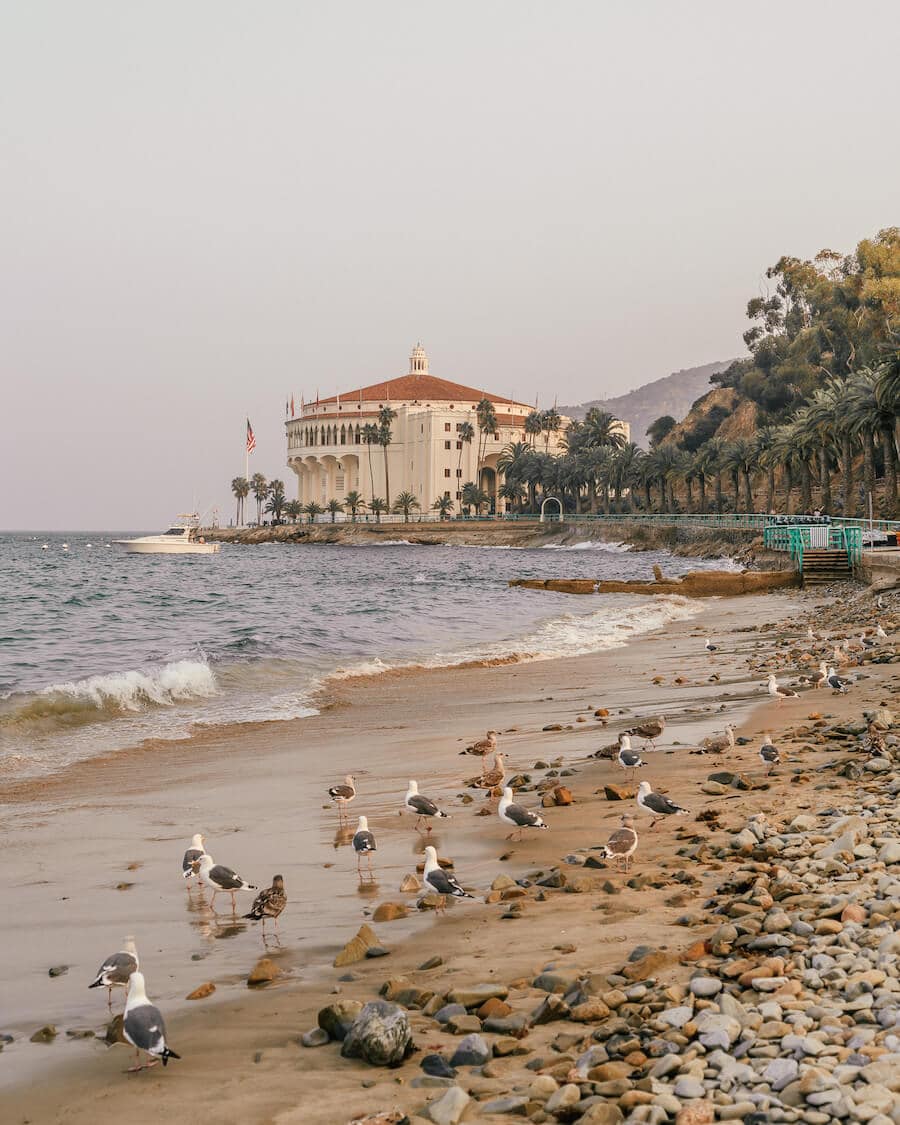 Catalina is kind of one of those places that has a little something for everyone. It's family friendly, but also attracts a partying crowd. You can make a trip here super chill or super active–it's really a choose your own adventure type destination.
Personally, I like to do a little bit of everything to get the full scope of a destination, from relaxing by the beach to strolling the downtown scene, to getting a little adrenaline rush.
However, don't expect Catalina to be anything like the rest of LA county. It still has kind of that old-school charm, so you're not going to experience much in the way of fine dining or bougie bars and restaurants. Everything is pretty laidback and chilled, so pack some flip flops and a cute sundress and get ready to feel worlds away from the mainland.
What to do in Catalina Island for a Day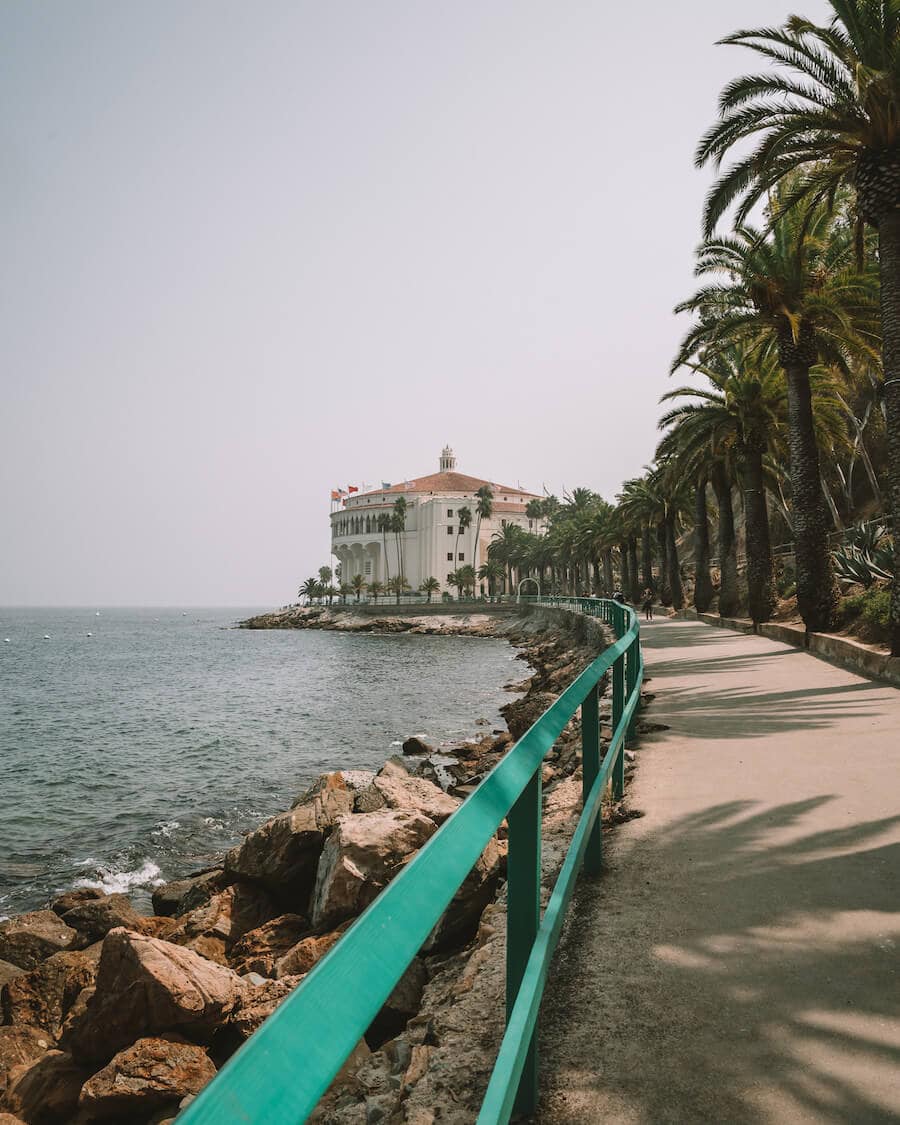 If you only have one day to explore Catalina, then you'll probably want to stick to visiting Avalon Harbor to get a taste of the Catalina Island that most people see.
Start by hitting up the golf cart rental shop just a few minutes walk from the ferry and book it for the day if you can. That way you can see as much as possible and get around efficiently.
With limited time, my top picks for what to do in Catalina Island would be relaxing at Descanso Beach Club and trying a Buffalo Milk cocktail while you're there (the island is famous for them).
Take your golf cart for a spin around the island, stopping at some of the best viewpoints for photo ops, and then book a zipline tour through the Eucalyptus trees at golden hour to finish the day off with some adventure.
Got more time? Great! Here's my full list of what to do in Catalina Island
What to do in Avalon, Catalina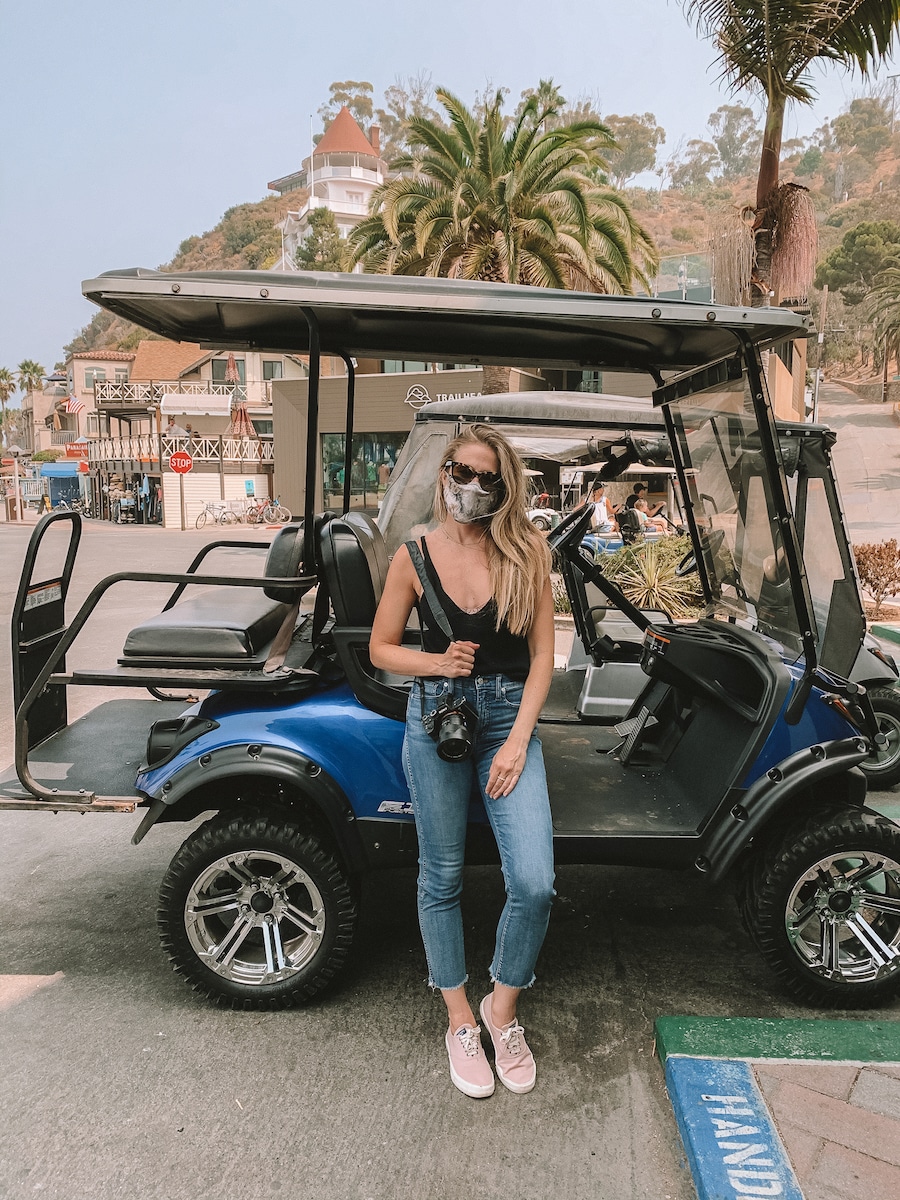 Rent a Golf Cart
This is step #1 when arriving on the Avalon side of Catalina if you want an efficient way to zip around the island. Otherwise you'll be depending on your own two feet, which is also fine since most everything is in walking distance or accessible via tour.
There are a couple golf cart rental shops a few minutes walk away from the ferry port. We went with Cartopia Cart Rentals.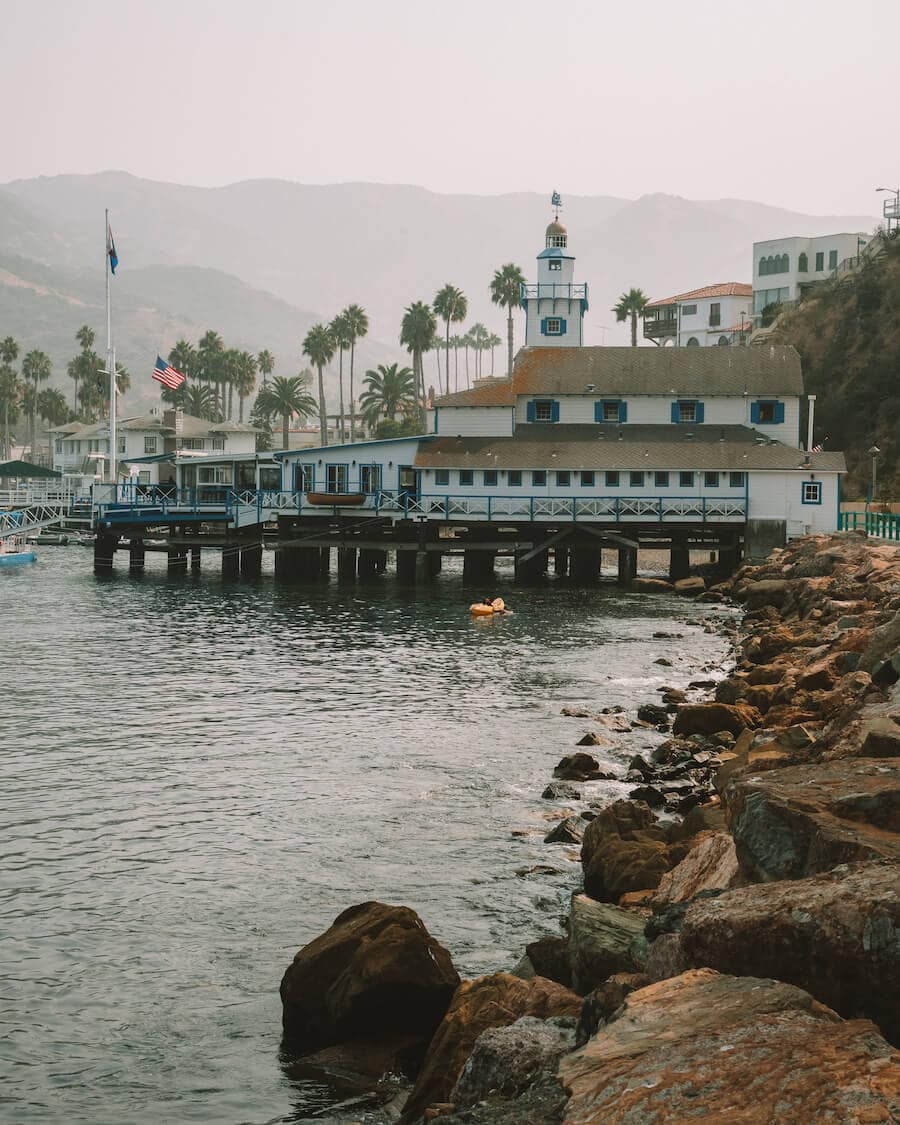 Walk St Catherine Way
Grab some good walking shoes and go for an old fashioned stroll along Avalon Bay. I love St Catherine Way which takes you from the downtown shopping area towards the iconic Casino Ballroom and then hooks around the bend towards Descanso Beach Club.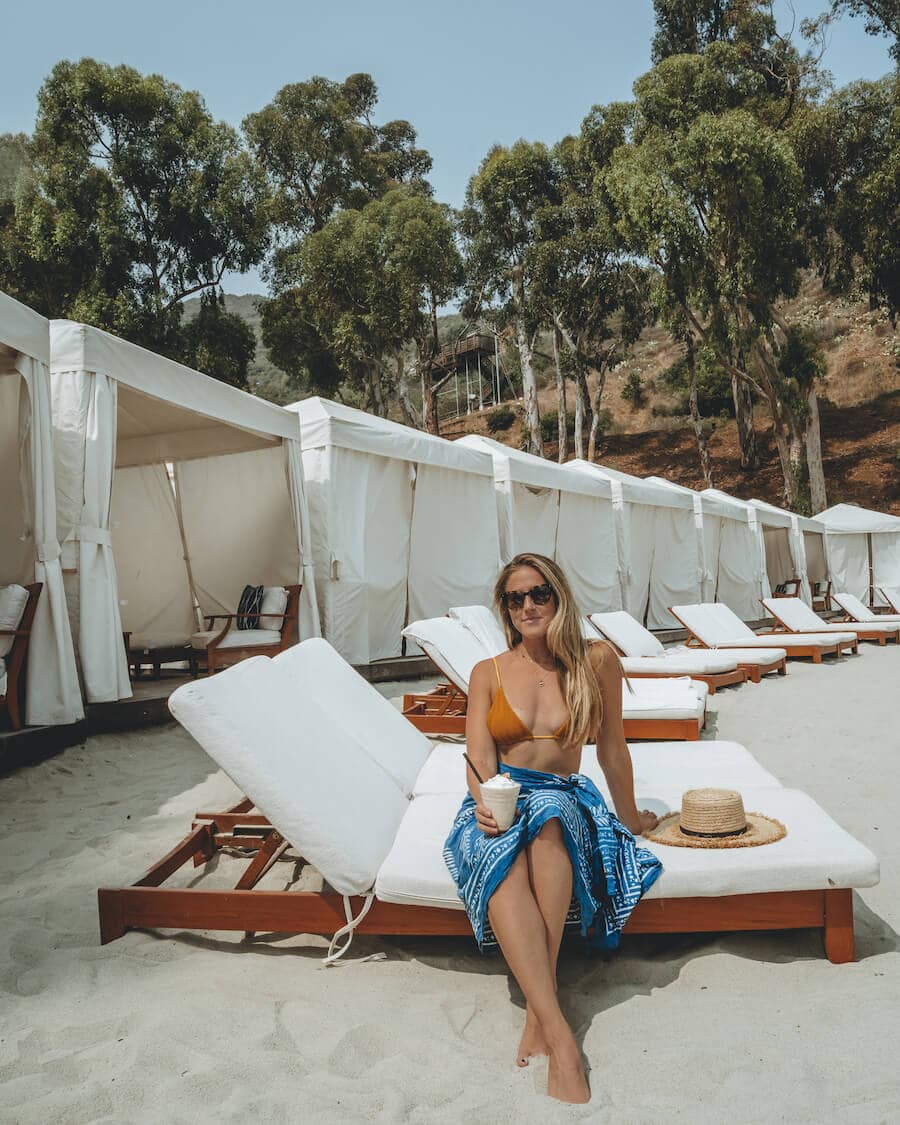 Chill at Descanso Beach Club
I know I mentioned that Catalina wasn't that bougie, but there's one place that is–and that's Descanso Beach Club. If you're truly looking for the utmost relaxation, then this spot needs to be on your itinerary. Their private stretch of sand and pretty white cabanas will help you pretend you're vacationing on the Mediterranean Sea without ever leaving state lines.
What's unique about Descanso is that it's one of the only beaches in Catalina where you can have alcohol. While you're there, definitely order a Buffalo Milk Cocktail which is the signature of the island (beware, they're addicting AF) and a poke bowl. It was truly one of the best poke bowls I've ever had–so good.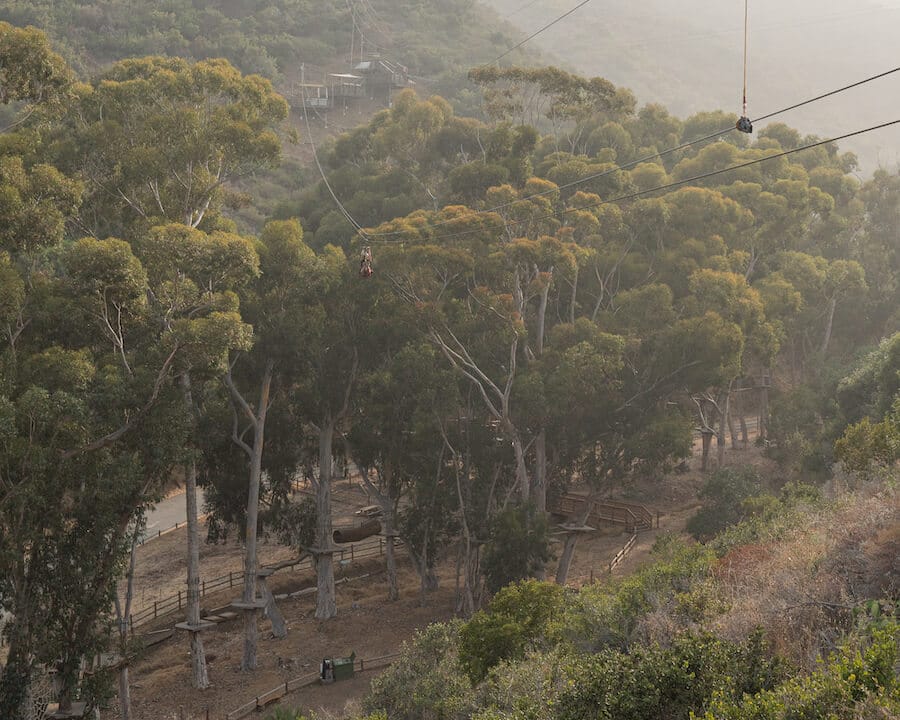 Zip Line at Golden Hour
I'm not a crazy adrenaline junkie, but I do like to keep things exciting and adventurous, which is why I loved our tour with Zip Line Eco Tour.
Ziplining can be a good entryway point into adrenaline-inducing activities without being over the top, and this particular course has a mix of more dramatic ziplines (around 600 feet high) as well as more first-timer friendly ones.
Plus, your guide will provide some historical knowledge of the island and help you spot some wildlife from above. I would suggest booking a golden hour tour–it was gorgeous zipping through the eucalyptus trees this time of day.
Get Up to a Viewpoint
You've probably seen the iconic photos of Catalina from above, overlooking the circular bay dotted with boats with the casino as the crown jewel. However, it's not quite the same as getting the view with your own two eyes.
There are a lot of cool viewpoints on Catalina, but the best one in my opinion overlooking Avalon Bay is Buena Vista Point. Pro tip: You'll probably want to use a golf cart to get up to it unless you're prepared for a solid incline.
Try a Buffalo Milk Cocktail
I don't know about you, but there's something about a super naughty sugar-filled drink that just screams "I'm on vacation," and I enjoyed every sip down to the literally-slurped-up last drop of the island's signature drink. Trust me, IT'S THAT GOOD.
Considered the "official drink of Catalina Island," a Buffalo Milk Cocktail is kind of like a creamy piña colada but with banana flavors instead of pineapple. But don't worry, it doesn't actually include buffalo milk as one of its ingredients. Instead, it's got things like Creme de Cocoa, Kahlua, vodka, half & half, Creme de Banana, and of course some whipped cream on top.
Get Out on the Water
Much of the underwater area around Catalina are marine preserves which protects the unique ecosystem here. Couple that with super clear water, and exploring off land in Catalina is a no brainer.
There are countless ways to get out on the water during your stay in Catalina, whether it's via kayak, glass bottom boat tour or a snorkeling or scuba diving adventure. I haven't personally been diving here yet but I've heard the kelp forests are incredibly unique and attract divers from all over the world.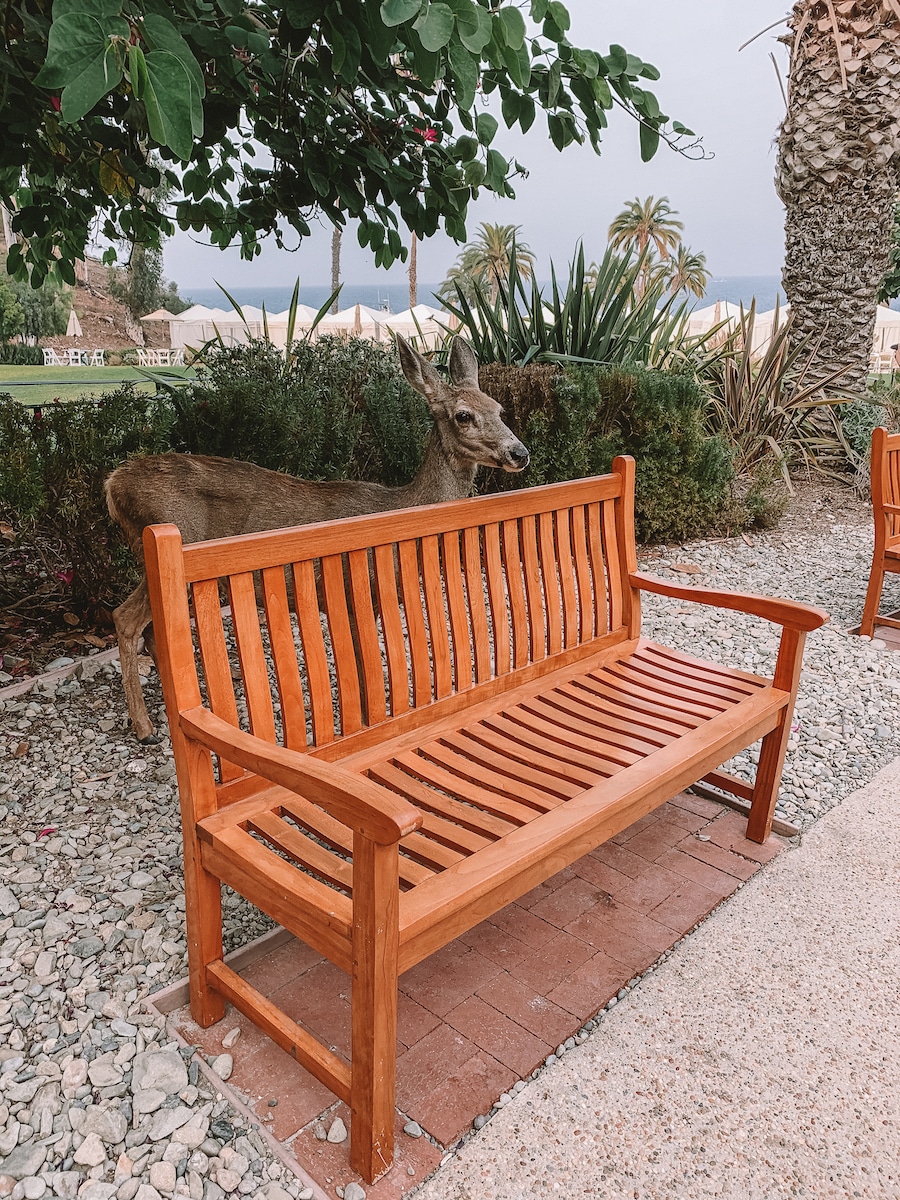 Make Friends with Local Wildlife
Catalina has quite the quirky history in regards to its unique wildlife. Anyone who's lived on the island will gladly recount the stories for you, but apparently in the 1920s, American bison were brought onto the island for a film set and never got returned to the mainland.
But no sadly, they don't just roam the streets of downtown. The best way to see the bison is by booking one of the Jeep tours that tour through the interior.
However, you might be able to meet extremely friendly deer in the more populated areas of Avalon. We ran into some just outside of the zipline tour during our stay.
Go Parasailing
If you're truly looking for the ultimate view overlooking Catalina, it's definitely from the air! Adrenaline junkies will love experiencing a parasailing adventure which takes visitors out over Avalon Bay, up to 800 ft above sea level. There are a few different companies that offer these parasailing tours on Catalina but the prices seem to be steady around $65-$80.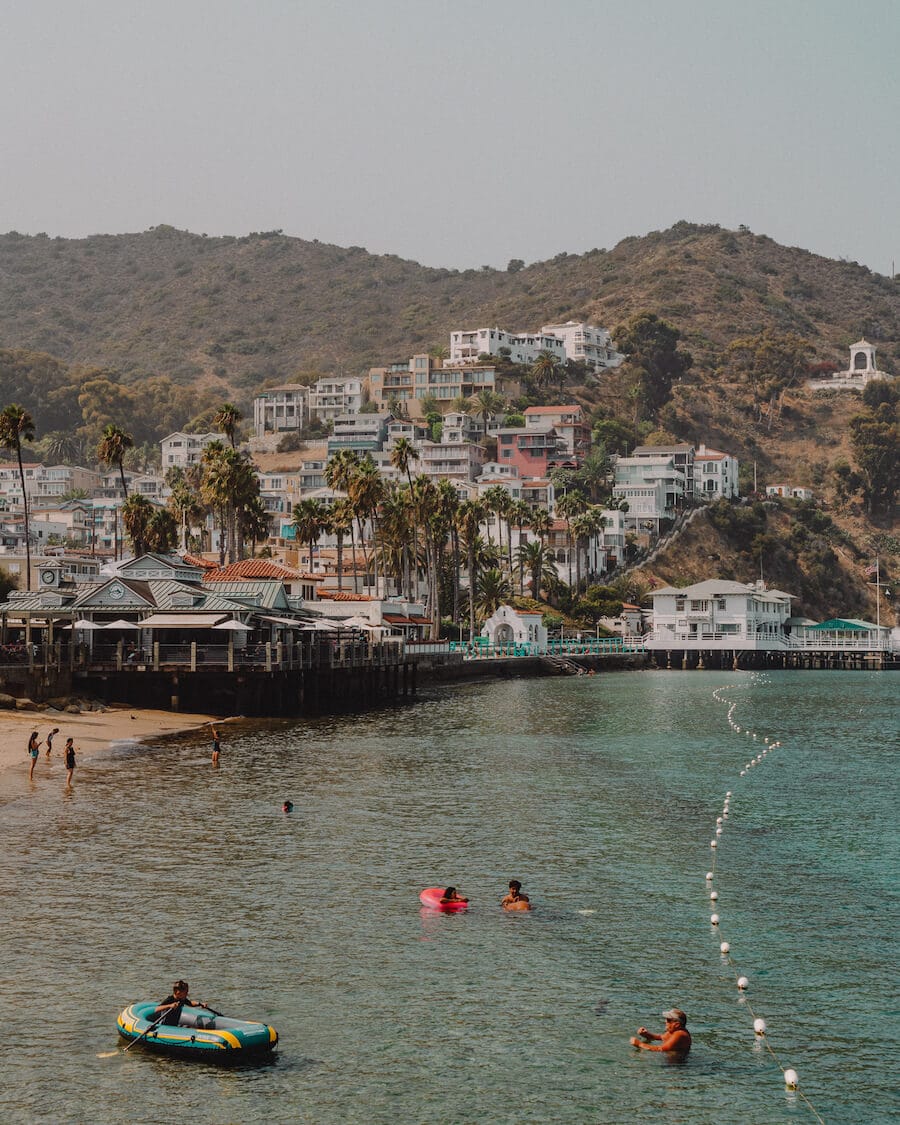 Chill on the Public Beach
If you want to get some sun but don't want to trek to the private beach at Descanso Beach Club, feel free to rock up to the public beach right in the center of town and claim your spot with a beach towel. The public beach section isn't huge, so you might want to go early if visiting on a weekend to get a good spot.
Get a Sweet Treat at Lloyd's of Avalon
This sweet confectionary has been operating on the island since 1934 and makes everything you could ever want to cure a sweets craving. Reward yourself after a long hike or paddle board sesh with an ice cream cone or salt water taffy.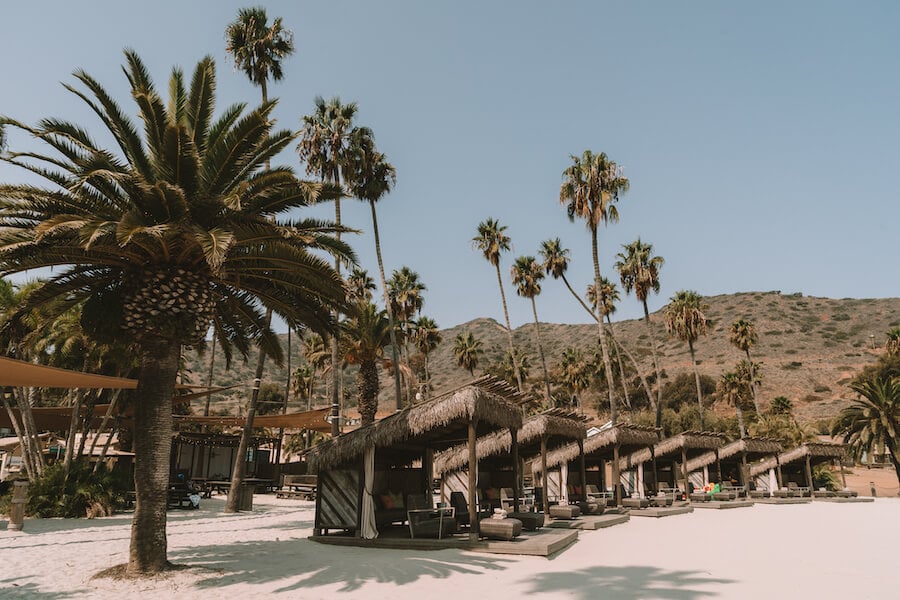 Take a Day Trip to Two Harbors
As I mentioned before, Two Harbors is definitely the sleepier of the two sides of Catalina. I loved staying on the Two Harbors side overnight, but it can also be the perfect day trip from Avalon. To get there, book a ticket on the Cyclone which takes 40 minutes one way.
Once on Two Harbors, you can spend the day at their gorgeous Harbor Reef beach club, hit the hiking trails or rent paddleboards to get a workout on the water.
What to do in Two Harbors, Catalina
Hike the Trail to Cat Harbor Overlook
Directly behind the Banning House Lodge, you'll find a trail that takes you out to the Cat Harbor Overlook with incredible views overlooking a lesser seen side of Catalina.
On beautiful sunny days, the water can shine in brilliant turquoise in blue hues. Sadly we were in Catalina during wildfire season so the sky was a bit hazy, but beautiful nonetheless.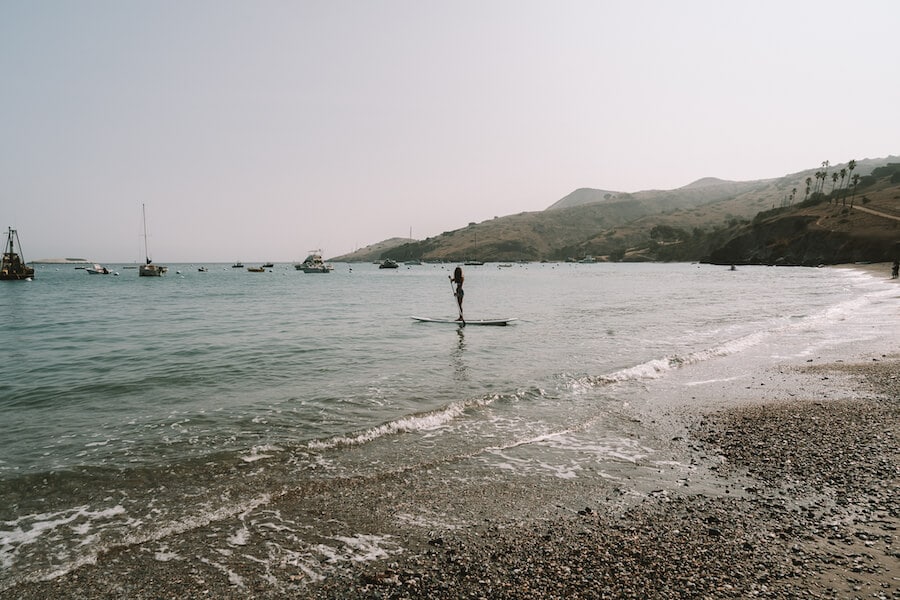 Go for a Morning Paddle Board
A paddle board session in Two Harbors is perfect and peaceful first thing in the morning in Two Harbors. I would recommend going out before the day visitors start arriving in droves from the Avalon side of the island (around 11 am).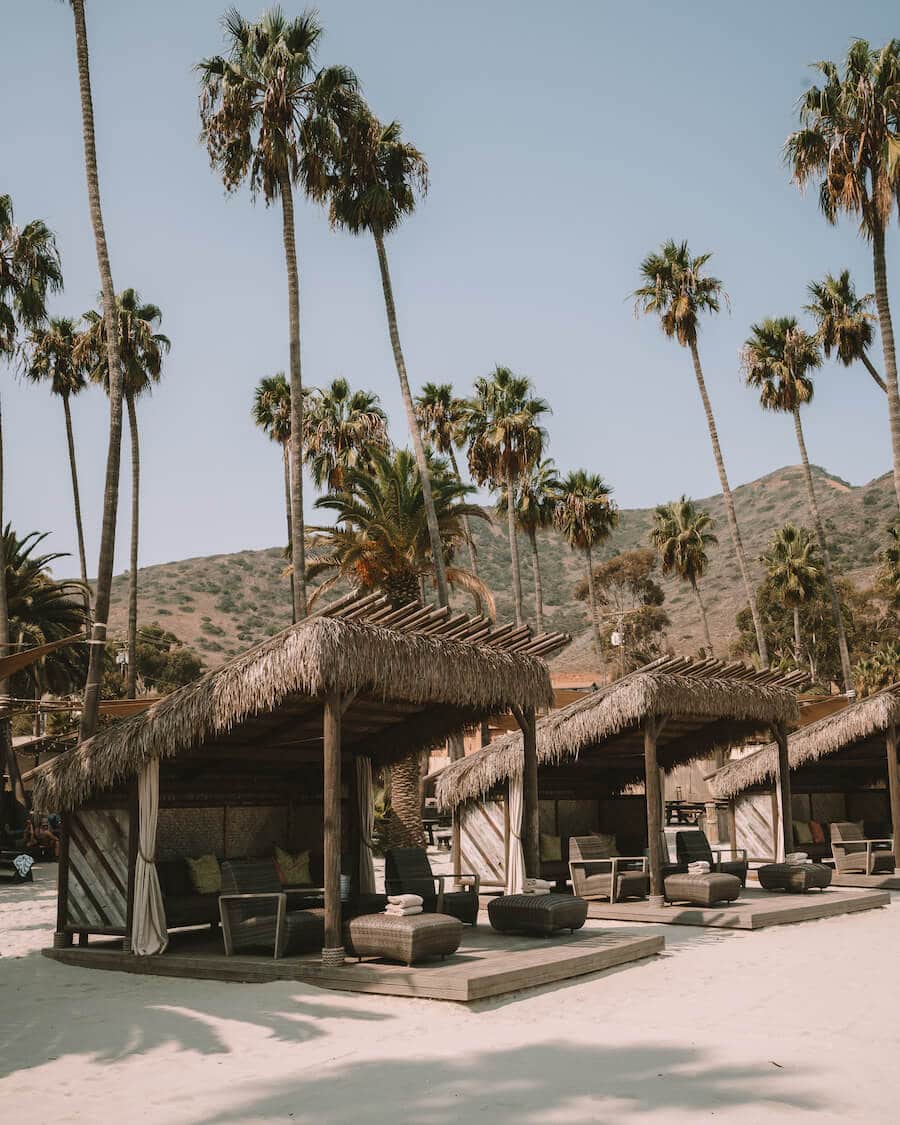 Hang at Harbor Reef
The Harbor Reef is the only restaurant on the Two Harbors side of Catalina and is known as the birthplace of the Buffalo Milk Cocktail.
Usually on weekends, Harbor Reef will have live music from Memorial Day through October, and in recent years they've expanded their seating with a new beach club area featuring cabanas right on the sand and table seating closer to the water.
Have you been to Catalina Island? What are your favorite things to do there? Let me know in the comments below!
---
Planning a trip right now? Don't miss my go-to websites for booking everything from flights and tours, to accommodation and more:
---