Despite the bad rap it sometimes gets, Mexico is one of my all-time favorite countries and one that I plan to return to over and over again.
There is just so much to be explored throughout the various states of Mexico and every trip I go on provides something new and exciting from the last.
I've already been to Mexico nine times over the years and there's still so much more on my Mexico bucket list. If you're interested in what to do in Oaxaca in particular, then you've come to the right place.
My most recent adventure to Mexico was for a girl's trip I planned with two friends to Oaxaca City, located about 300 miles southeast of Mexico City.
Since it's still a lesser-known destination within Mexico, in this post I wanted to share more with you about what to do in Oaxaca, from the best places to eat and drink (spoiler: I hope you like mezcal!), to the best day trips to do during your visit.
You'll be set for your trip with this first-timer's guide!
Don't have time to read the whole post? Explore the very best of Oaxaca's food scene with this personalized tour!

➡️ Spend 4.5 hours eating your way around Oaxaca
➡️ Eat at special restaurants loved by locals
➡️ Explore various markets and street vendors

➡️ Book This Tour Now!
What to do in Oaxaca for First Timer's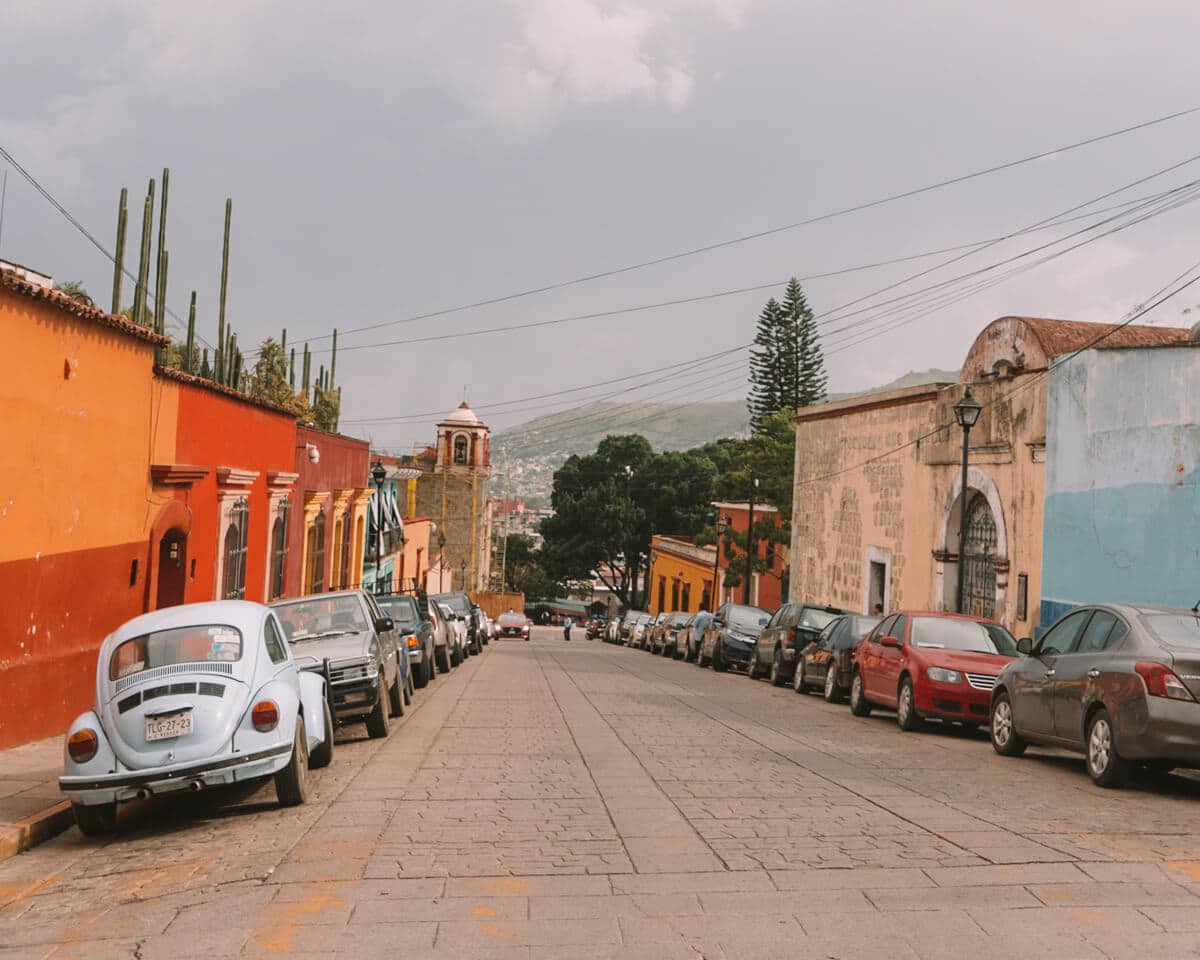 A Few Things To Know Before You Go
Planning Your Trip
There are several airlines that fly directly into Oaxaca including United, Volaris, Aeromexico, Delta, American Airlines and Interjet.
Spanish is the main language spoken in Mexico, but within the state of Oaxaca, there are at least 16 different indigenous languages present with many more dialects in between. It's good to brush up on a bit of conversational Spanish before you visit out of respect to locals, but many Mexicans working in the tourism industry do speak English as well, so you can get by.
What to Pack
The weather in Oaxaca is pretty consistently hot, with year-round high temps typically between 75-90 degrees Fahrenheit. During the colder months of the year (November to March), the temps can dip to as low as 47 degrees at night because of the altitude. Bring sunglasses, hats, and other typical items for a sunny climate and light layers for the evening.
Good walking shoes are a must as you'll be out on foot throughout the city for much of your visit.
Oaxaca has the same outlets as the US — no need to pack adapters for this one
Elevation here is at around 5,000 feet, so if you're prone to altitude sickness, you might want to pack reinforcements.
Getting Around
The Oaxaca airport is about 15 minutes outside of the heart of the city center. Taxis from Oaxaca airport cost 90 pesos per person (approximately $4.60) for the collectivo or 350 pesos (approximately $18) for a private taxi.
Oaxaca is a super walkable city, so as long as you're staying somewhere in the city center, you won't have an issue getting around. Taxis and Ubers are available if need be, but we utilized them minimally.
Safety in Oaxaca
The state of Oaxaca is one of the safest in all of Mexico and there is no reason to avoid traveling here for safety concerns. While Oaxaca is a city, it has a small-town vibe and people are friendly. Just exercise normal precautions when it comes to your belongings and walking around at night.
Be smart and don't walk alone at night or in places that are outside of the city center after dark.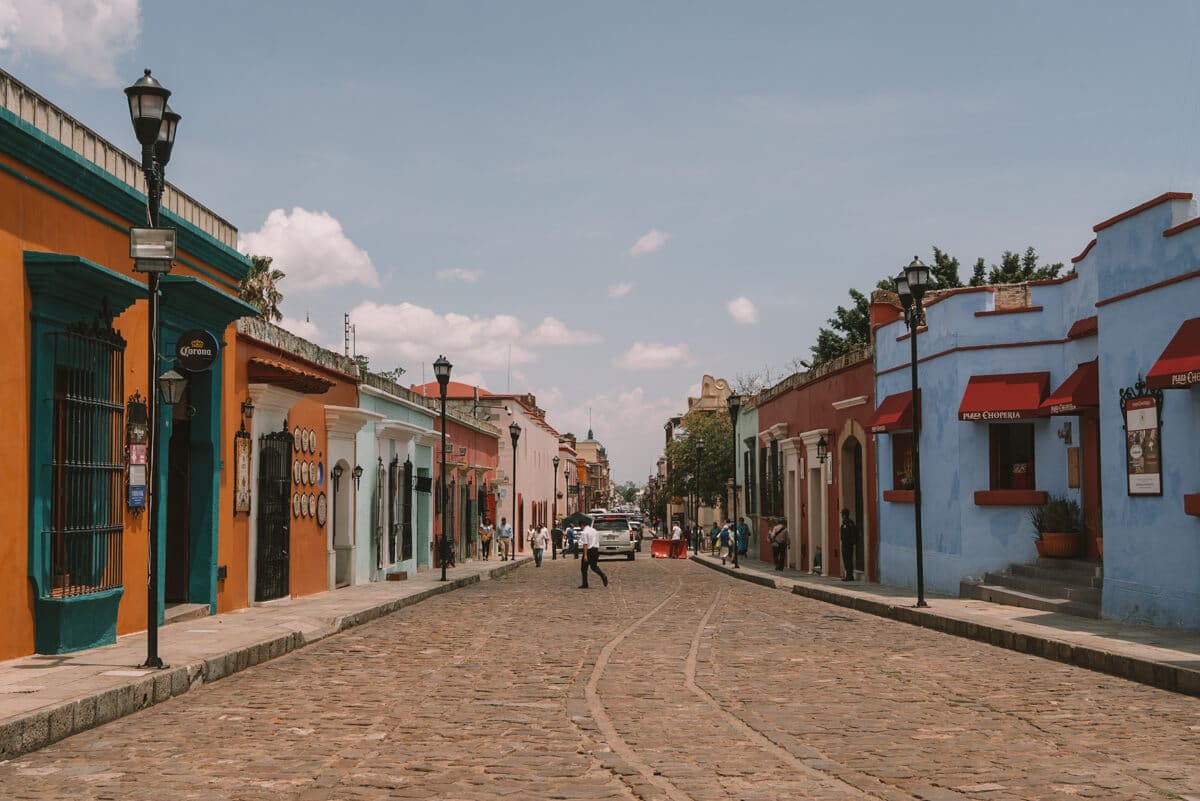 Where To Stay
We stayed at two different hotels during our time in Oaxaca. The first, Quinta Real Oaxaca, is a stunning 5-star historic property that was built in the 16th century as a convent and converted to a hotel in the 70s.
Located just 150 meters from one of the city's main attractions, the Santo Domingo de Guzmán Church, this hotel is conveniently situated in the heart of Oaxaca and made everything easily accessible during our stay.
It is one of the top recommended hotels here and you can't go wrong with this option if you want the convenience to all the top things to do in Oaxaca.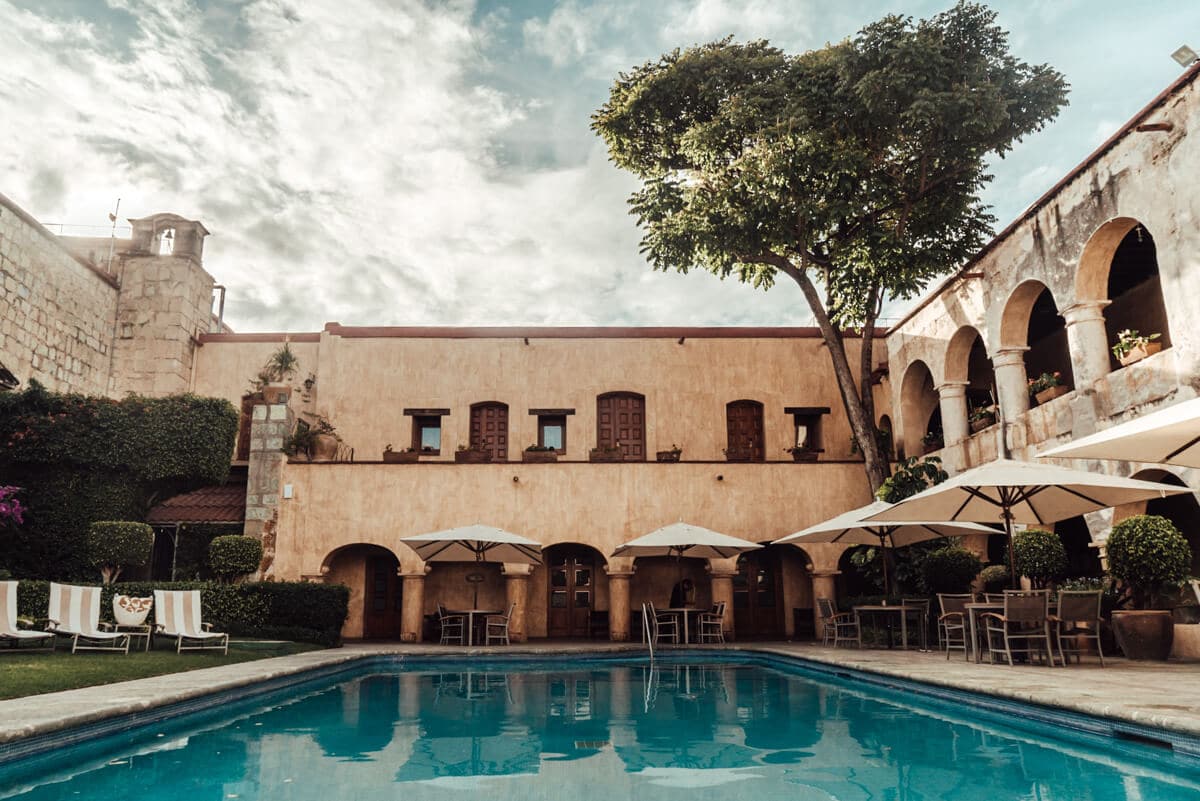 On our arrival back into Oaxaca after a quick jaunt to the coastal part of the state, we stayed one night at the cozy Hotel con Corazón, a brand new hotel to the city with a focus on community and social impact.
This spot serves a delicious breakfast included in your stay and is a great affordable hotel option for a trip to Oaxaca.
Want to check out more of my top picks? Read my full guide on where to stay in Oaxaca City.
What To Eat And Where
For foodie-focused travelers, Oaxaca is a destination in Mexico you can't skip over. Many have proclaimed the state to be Mexico's new food capital and once you visit, you'll understand why for yourself.
While there are more than enough good restaurants to keep you overstuffed throughout your trip, there are also several classic Oaxacan dishes you have to try if you want to get a true sense of the Oaxacan way of life as expressed through food.
What to Eat During Your Trip to Oaxaca
Mole
This is Oaxaca's signature dish, yet the variety of mole sauces to be found throughout Oaxaca is quite impressive. The state boasts seven different kinds of mole — one for each region within the state.
Mole negro is the kind most commonly known (and served) by Americans, but the other 6 range drastically in color, taste and number of ingredients. No trip to the area would be complete without taste-testing this signature Oaxacan sauce.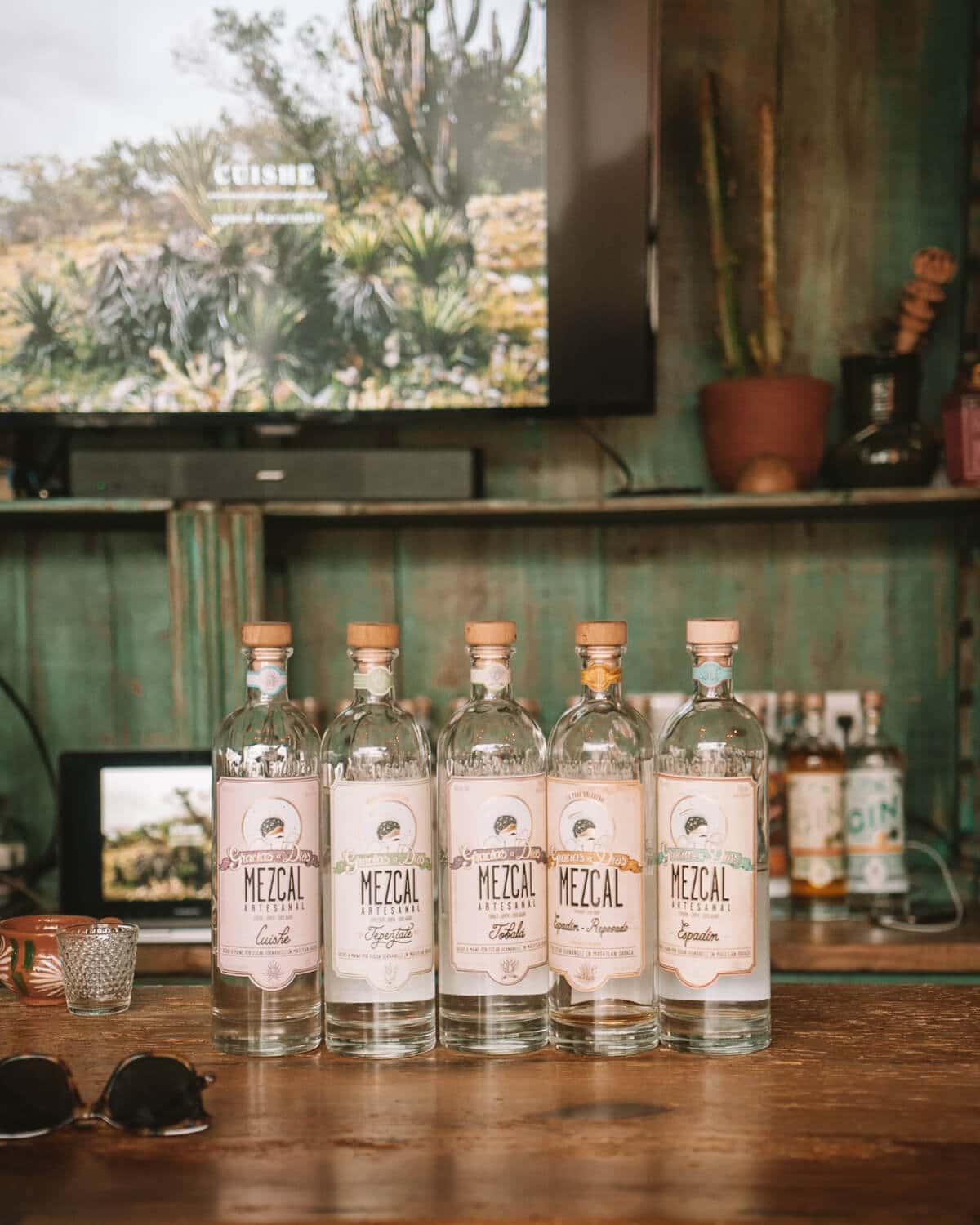 Mezcal
Unlike tequila, which is only made from one kind of agave plant, mezcal is a spirit that can be made from any of the 11 types of agave that are native to the state of Oaxaca.
What's interesting about the process of making mezcal is that the flavor profiles can change quite drastically from a more smokey taste to one that is more crisp and smooth.
Due to Oaxaca's roots as a mecca for mezcal production, many of the area's distilleries have opened their doors to tourists to taste test and learn about the process, and you can find the spirit on pretty much any cocktail menu.
Chapulines
This "protein of the future" has been gracing locals' plates in Oaxaca for quite some time, even if it's just starting to catch on in the U.S.
Chapulines, also known as fried grasshoppers, can be found in everything from taco fillings and as extra crunch on guacamole or garnish for cocktails.
You can imagine how surprised we were to find insects staring up at us from our cocktails on our first night of drinks in the city. Trying these crunchy insects took some getting used it, but the salty flavor wasn't as strange as I envisioned in the end.
Tlayuda
Another dish that is native to Oaxaca is tlayuda — basically, a dinner plate-sized thin tortilla that is partially fried or toasted for a nice crunch. Think of it as a Mexican-style pizza, with toppings like beans, cheese, meets, cabbage, avocado, etc.
Where to Eat in Oaxaca
My favorite meal in Oaxaca was at Los Danzantes, a beautiful patio restaurant with a romantic atmosphere that's been a staple in the city since 2001.
Every dish's flavor was on point, from more classic Oaxacan fare to newer-style creative entrees. Don't miss a drink first upstairs in their stunning cocktail lounge, Selva.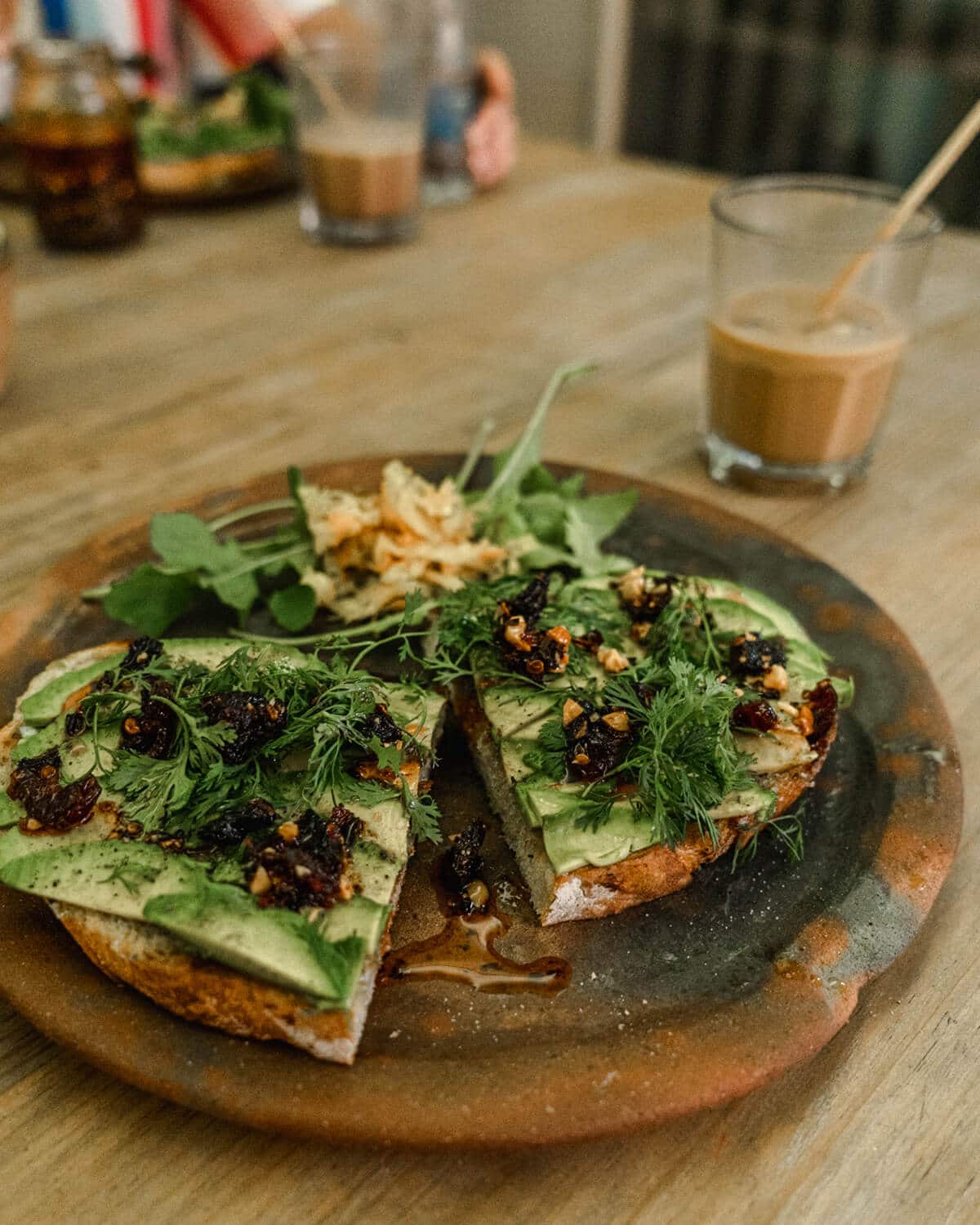 This airy cafe serves a wide range of dishes with a strong emphasis on their to-die-for in-house baked breads.
Their avocado toast is quite possibly the most divine of all avocado toasts I've ever eaten — and trust me, I've sampled many an avo smash in my life, from the shores of Sydney, Australia to Bali, to Los Angeles and everywhere in between.
This one is exceptional and worth straying from Mexican cuisine for one meal (we came back for seconds).
The newest project from renowned chef Enrique Olvera, Criollo is an unassuming restaurant outside of the heart of Oaxaca earning rave reviews for their fixed prixe menu.
Much of the beauty is in the process of the meal — you show up, offer any concerns as far as allergies or food restrictions and the kitchen goes to work, showing up at your table with dish after dish to delight the senses.
In truth, every single plate didn't knock it out of the ballpark for me, but there were enough that did and the overall experience was worth the money.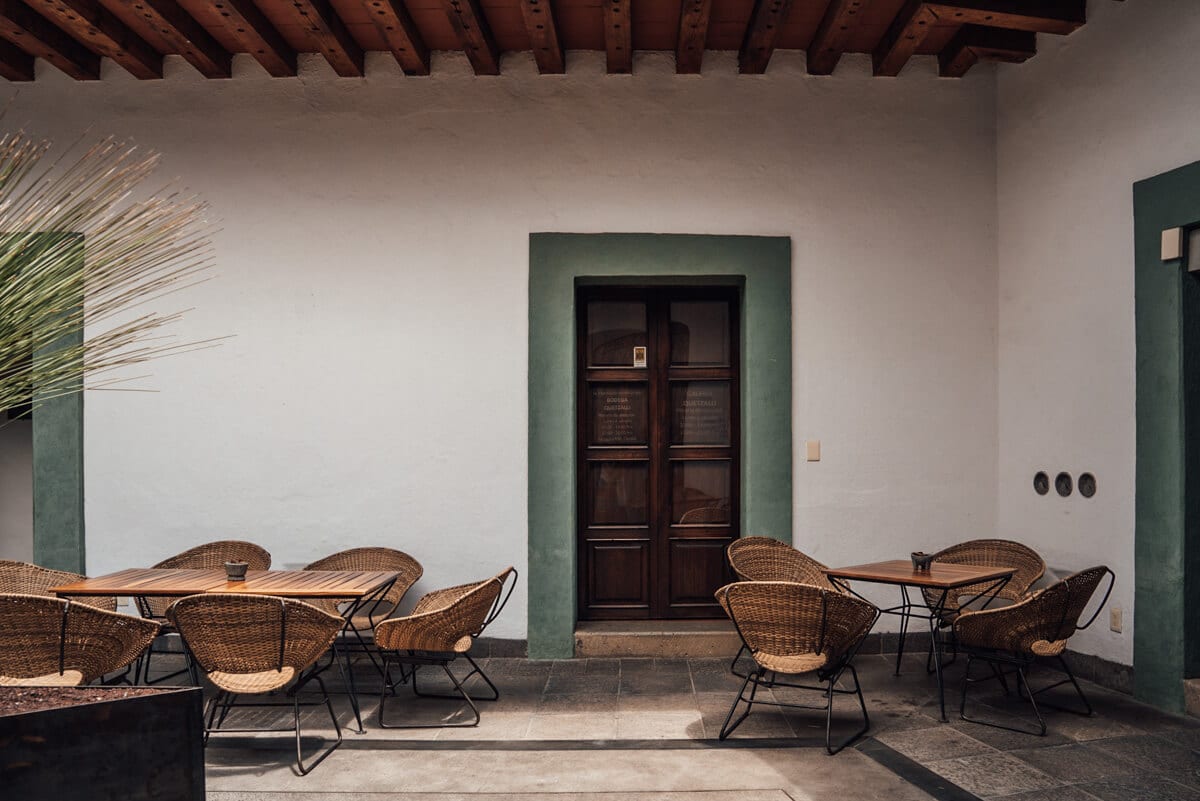 A bit of Montezuma's Revenge prevented our group from enjoying our reservation at Casa Oaxaca on our last night in the city, but this spot is consistently considered one of the best restaurants in Oaxaca.
The menu celebrates the seasonal ingredients represented throughout the different regions in the state of Oaxaca. Reservations are recommended.
This trendy mezcal bar and eatery was our first stop upon arrival to the city, with its central location and live music calling to us from the street corner.
Turns out, it's a great place to tick off a few of Oaxaca's traditional dishes from your foodie bucket list — from mole and tlayuda to chapulines on offer as garnishes on everything from guacamole to your artisanal cocktail.
And of course, there's always mezcal on the menu.
What To Do In Oaxaca City
Explore the Local Markets
Whether you're coming to shop or not, Oaxaca's markets are an experience not to be missed.
Brimming with an overwhelming variety of goods, from woven bags and leather sandals to hats, mole powders, chapulin (the area's famous grasshopper snacks) and everything in between, this is an experience for all of the senses.
Mercado Benito Juárez is probably the most popular in Oaxaca, but some others worth visiting and within easy walking distance from each other are: Mercado 20 de Noviembre and the Mercado de Artesanías.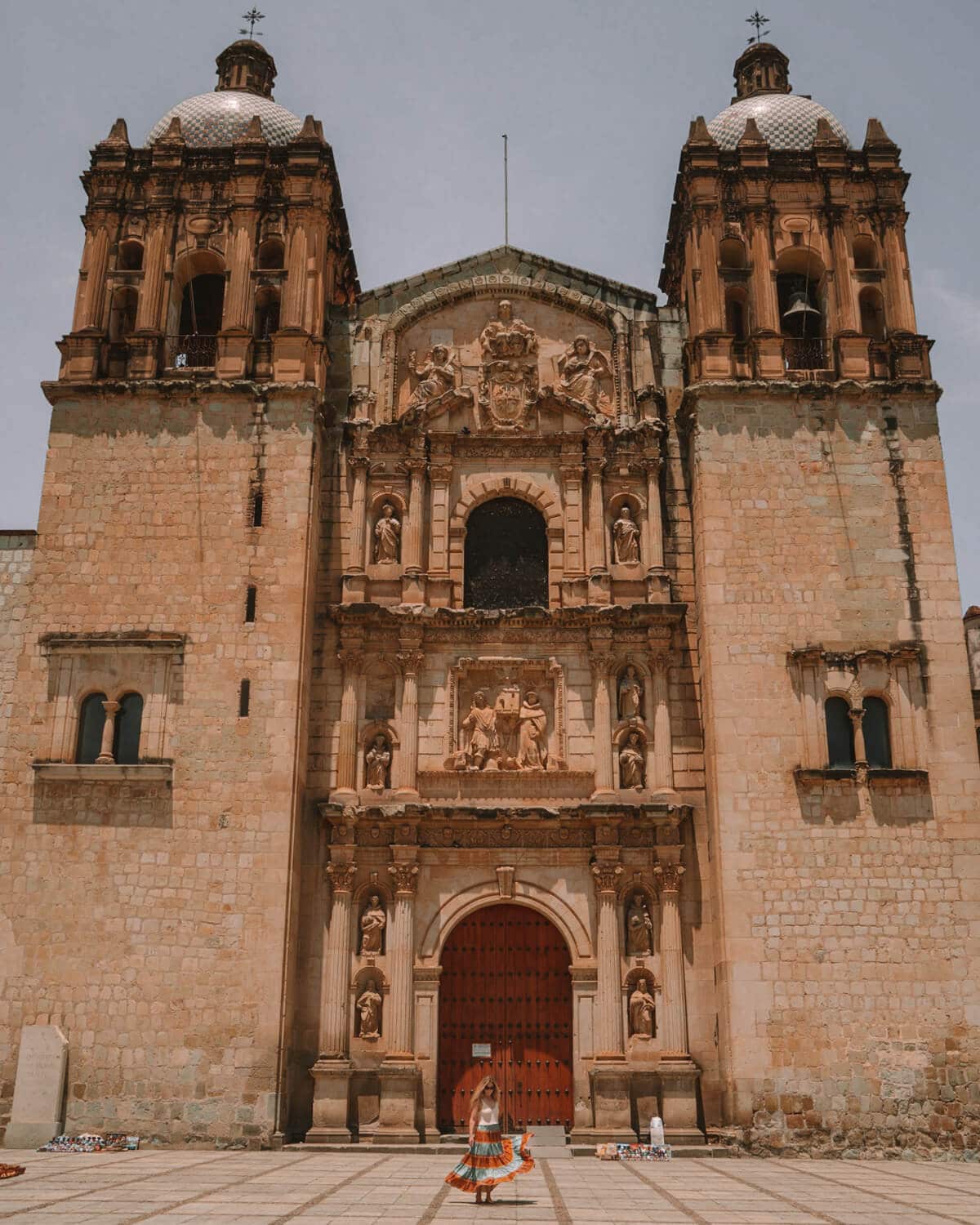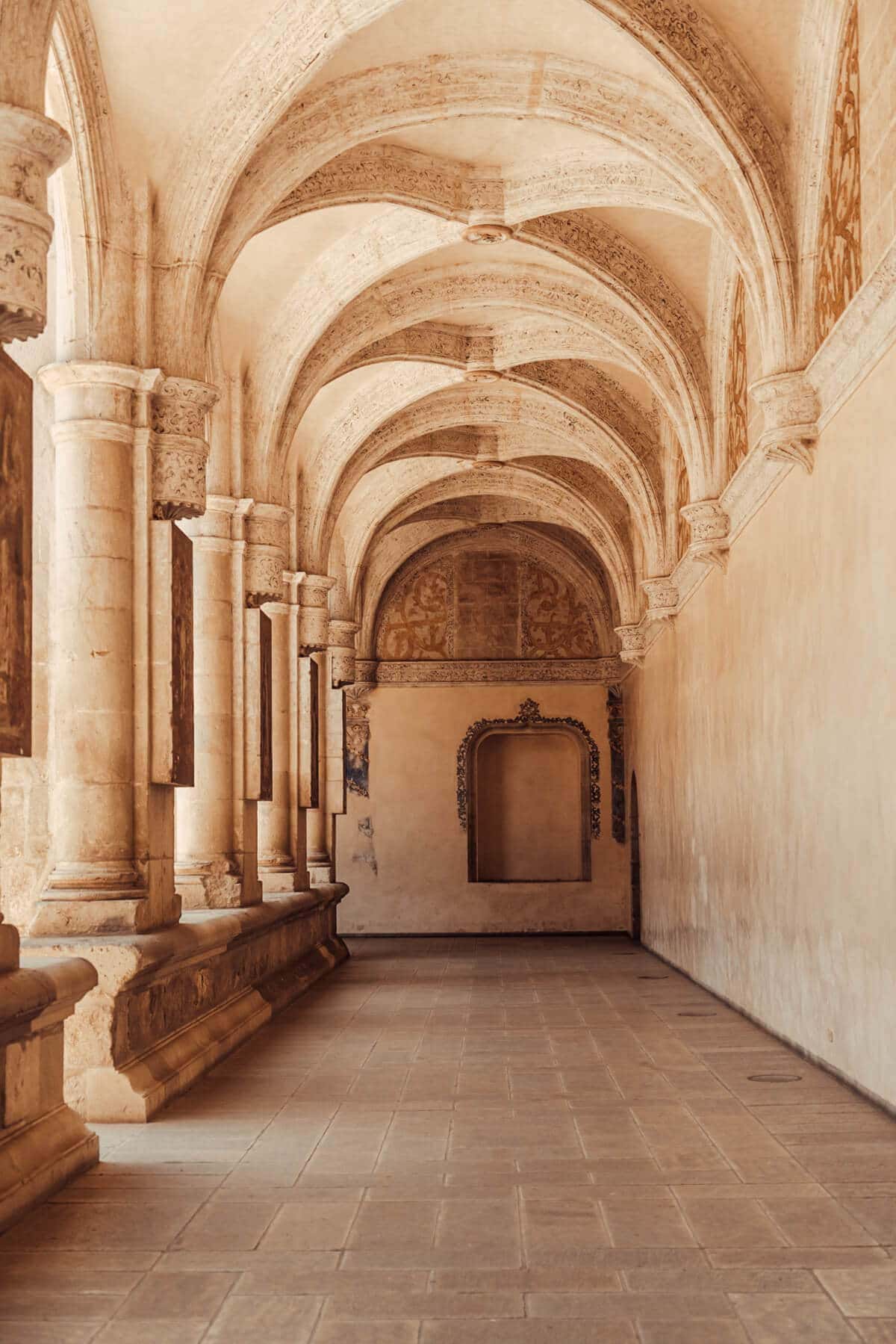 Templo de Santo Domingo de Guzmán
When deciding on what to do in Oaxaca, this spot should be top of your list. One of the most famous sites in Oaxaca City, the Templo de Santo Domingo is a former monastery and stunning example of Baroque architecture.
The structure is quite expansive and is both ideal for a beautiful hour stroll or a fully guided tour if you're interested in learning more about the history of the church.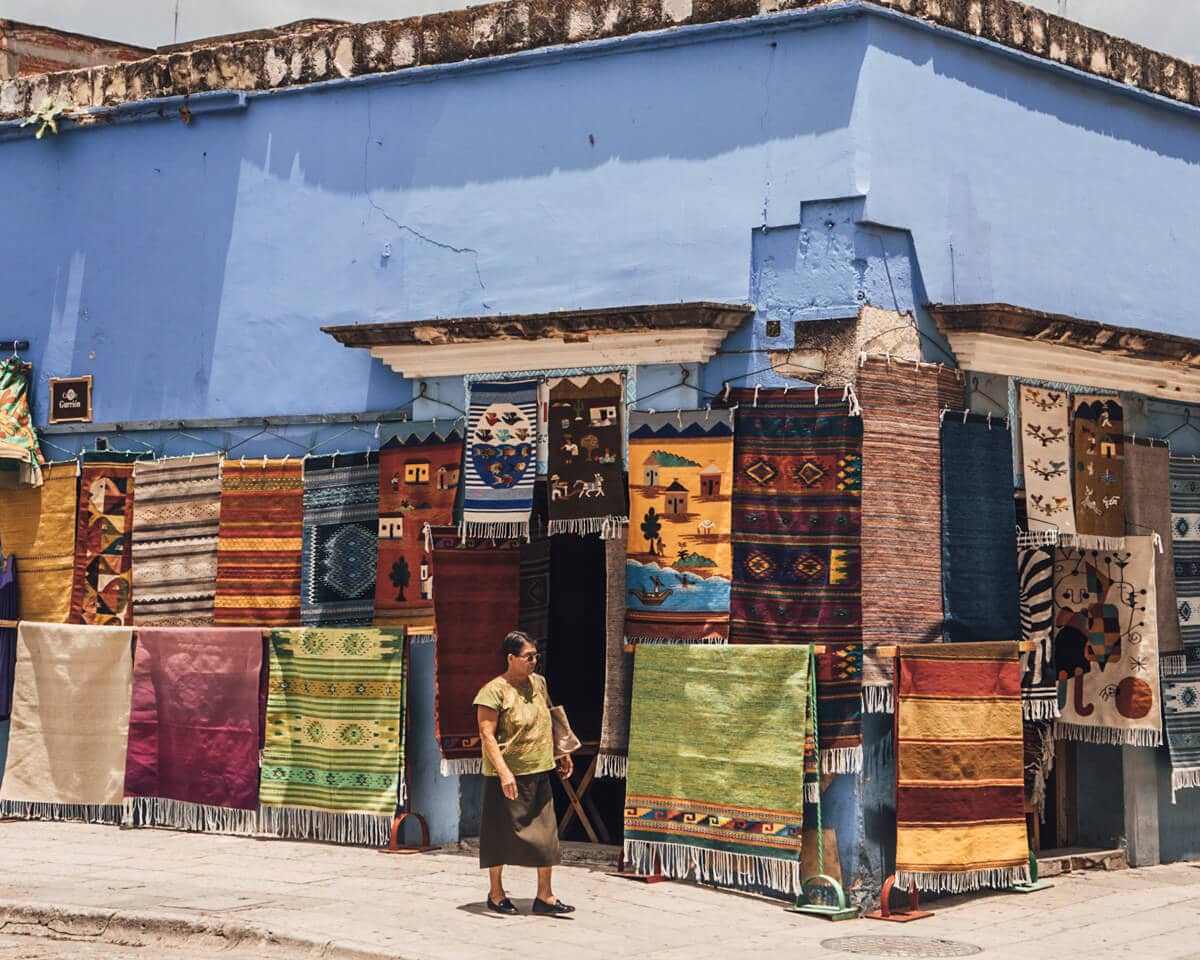 Shop for Local Rugs
Artisan craftsmanship is alive and well in Oaxaca, and you'll notice instantly that there are a plethora of rug shops throughout the city showing off their designs in a rainbow of colors and patterns.
I wanted to take one home so badly, but as per usual there wasn't enough room in my suitcase.
If you're on the hunt for some new rugs for your home, make sure to arrive prepared to hunt down the best one for you. I would give yourself a few days to scope out the scene and price compare before you make final purchases.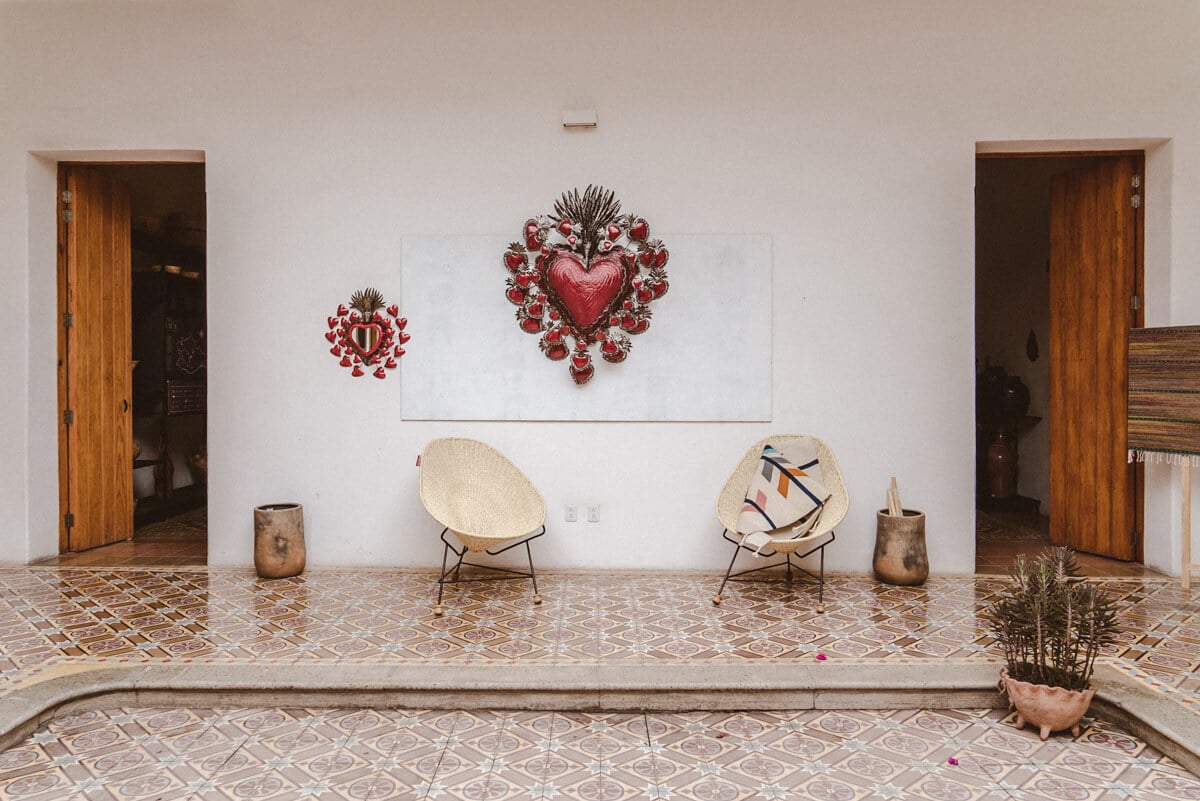 Experience Oaxacan Design
Oaxaca is a mecca for artisan crafts and cool design in Mexico, and there are plenty of spots to take in the culture of the state through its creativity.
You'll undoubtedly stumble upon these gems as you take the city on foot, but one not to miss is the Andares Del Arte Popular showroom which sells a mix of ceramics, furniture and art pieces.
Mezcal Tasting
If you don't have time to do a day trip outside of Oaxaca to all of the distilleries, there are still plenty of places to do mezcal tastings within the city center. Some popular options are La Mezcaloteca and Sabina Sabe.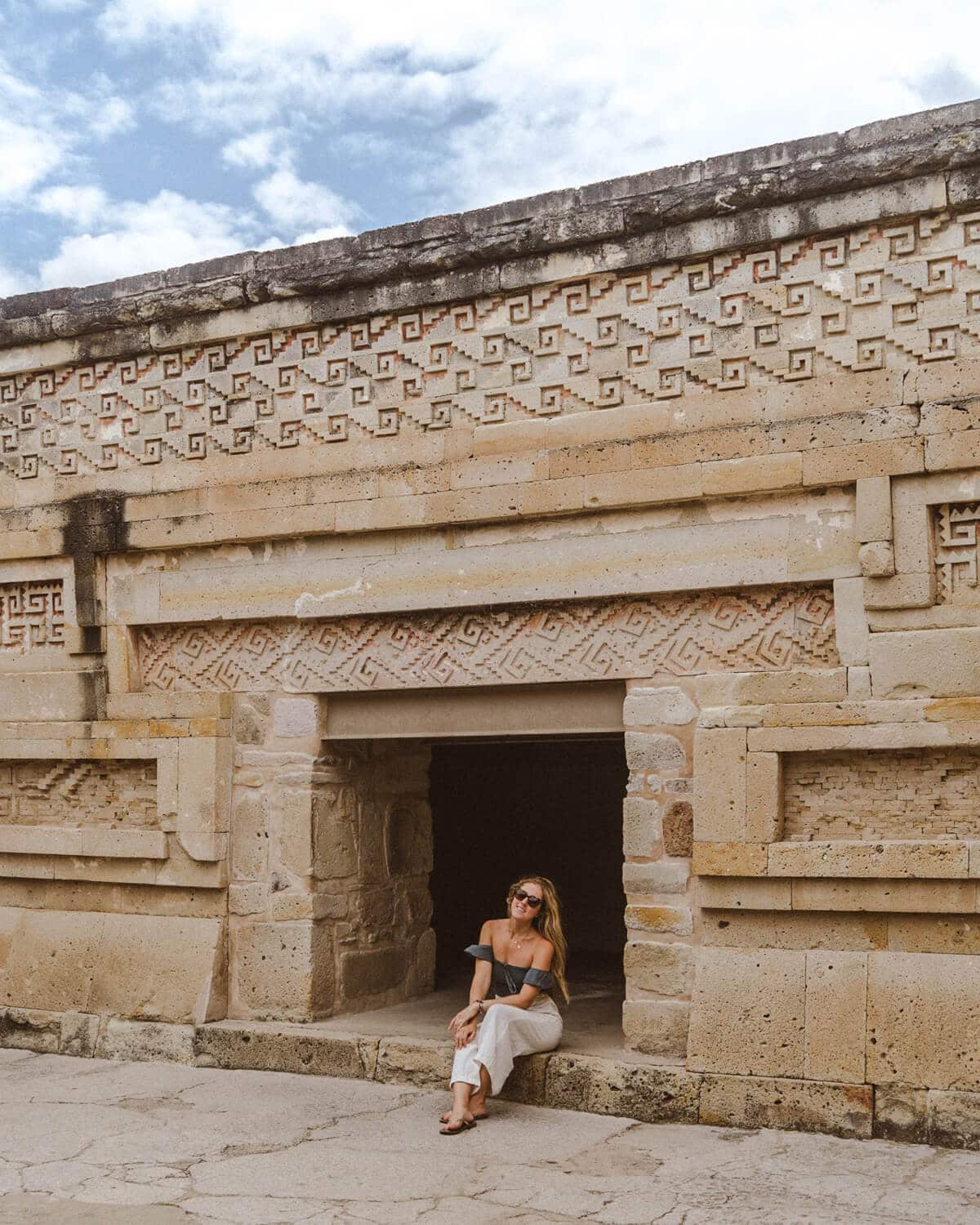 Take a Day Trip
There are tons of exciting places to explore on an easy day trip from Oaxaca City.
From discovering the ancient Mitla Ruins (pictured above) to hiking through the unique natural landscape and pools at Hierve el Agua, there are plenty of ways to break away from the city.
For more extensive mezcal tastings, head to Santiago Matatlan, which has a small population yet is home to over 100 mezcal distilleries.
If you can only pick one, head to Gracias a Dios for a stylish and friendly option with great tours and explanations of how mezcal is produced. I fell in love with this little distillery — everything from their marketing, branding and taste of their spirits is on point!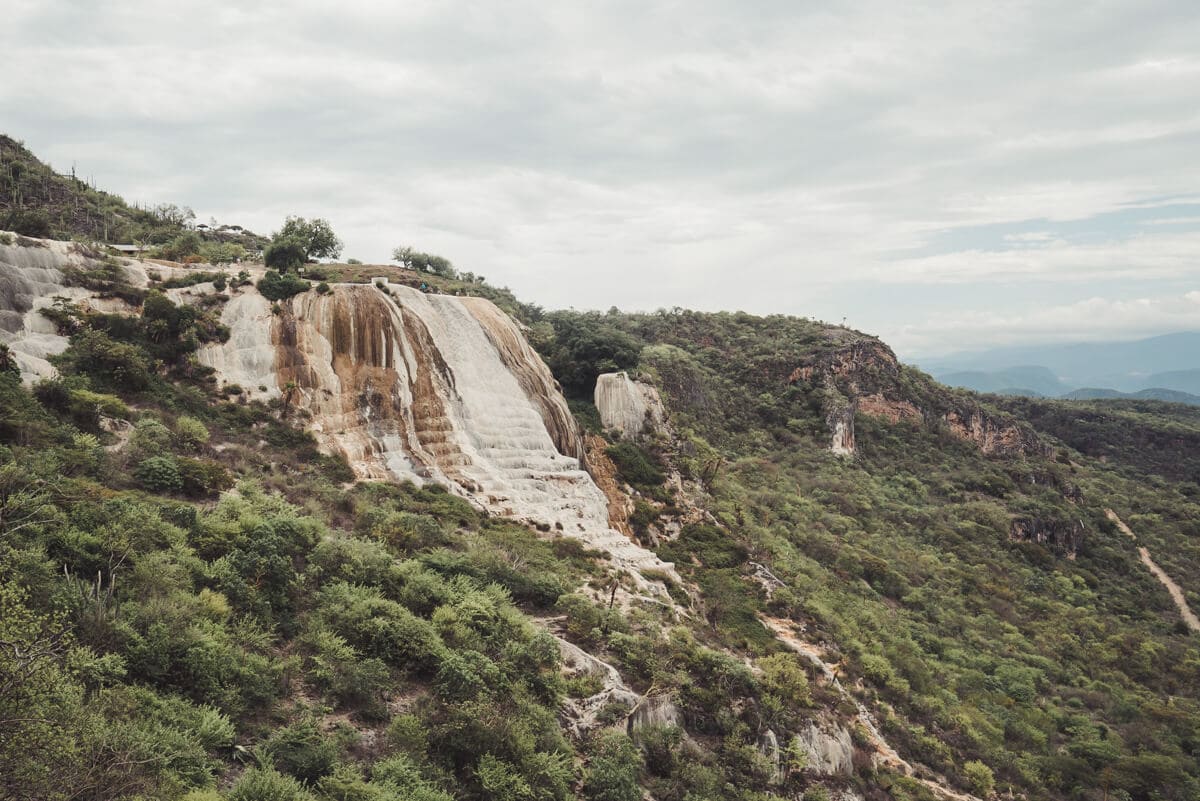 If you're looking for a great private driver to take you on a day trip out of Oaxaca, I can't recommend Edgar and Miguel enough.
They are business partners and we had the pleasure of riding with them both on two separate trips — they really made our journeys around Oaxaca so much more enjoyable and educational!
Contact Edgar: +52 1 951 252 9680
Contact Miguel: +52 1 951218 4700
Go Gallery Hopping
Oaxaca has a thriving gallery scene and we stumbled upon several really cool ones bordering the main square near the Templo de Santo Domingo.
If you're interested in scoping out more of the contemporary art in the city, Lonely Planet has this great starter list to kick you off.
Add on to your trip: Find out how you can travel between Oaxaca and Puerto Escondido to get a mix of both city and beach.
---
Read More Mexico Posts
---
I hope this post gave you a better idea about what this vibrant city has to offer and what to do in Oaxaca if you're visiting for the first time. If you have any questions about the area, don't hesitate to drop them in the comments below!
---
Planning a trip right now? Don't miss my go-to websites for booking everything from flights and tours, to accommodation and more:
---