It seems that everyone I talk to these days has an Iceland trip on their bucket list—and I can't blame them. I loved exploring the Southwestern region of the country during late September and was blown away by the island's beauty.
At the same time, I was equally blown away by how crazy and erratic the weather can be, even within the confines of a single day.
I found packing for this trip much more challenging than most of the trips I embark on, which is why I wanted to write this guide to help you pack for Iceland in the Fall to give you guys all the info you need to know and skip out on the mistakes I personally made!
But why even visit Iceland in the Fall?
Fall in my opinion is a great time to go to Iceland for several reasons. The tourist season definitely starts to slow down after summer, which means more time to enjoy the beautiful sites to yourself (or…well…almost).
Late September/October is also a better time of year than summer to try and see the Northern lights as there are fewer daylight hours. With the pros always comes the cons though, and around this time of year it starts to get chillier and wetter. October is the rainiest season all year in Iceland — but don't let that deter you!
You can still have an amazing trip, you just need to know what to pack!
Packing the right clothing and gear is really the most important thing to consider for any trip to Iceland — the rest you can figure out on the fly if necessary! But there's nothing that will ruin your trip (and your ability to see everything you want to) faster than being unequipped for a torrential downpour or other unexpected elements that Mother Nature throws at you.
Not to get all sergeant safety on you, but on the worst end of the spectrum, wearing the wrong attire can actually be life threatening (ahem, ever heard the term "cotton kills")? Yeah, you don't want to go there.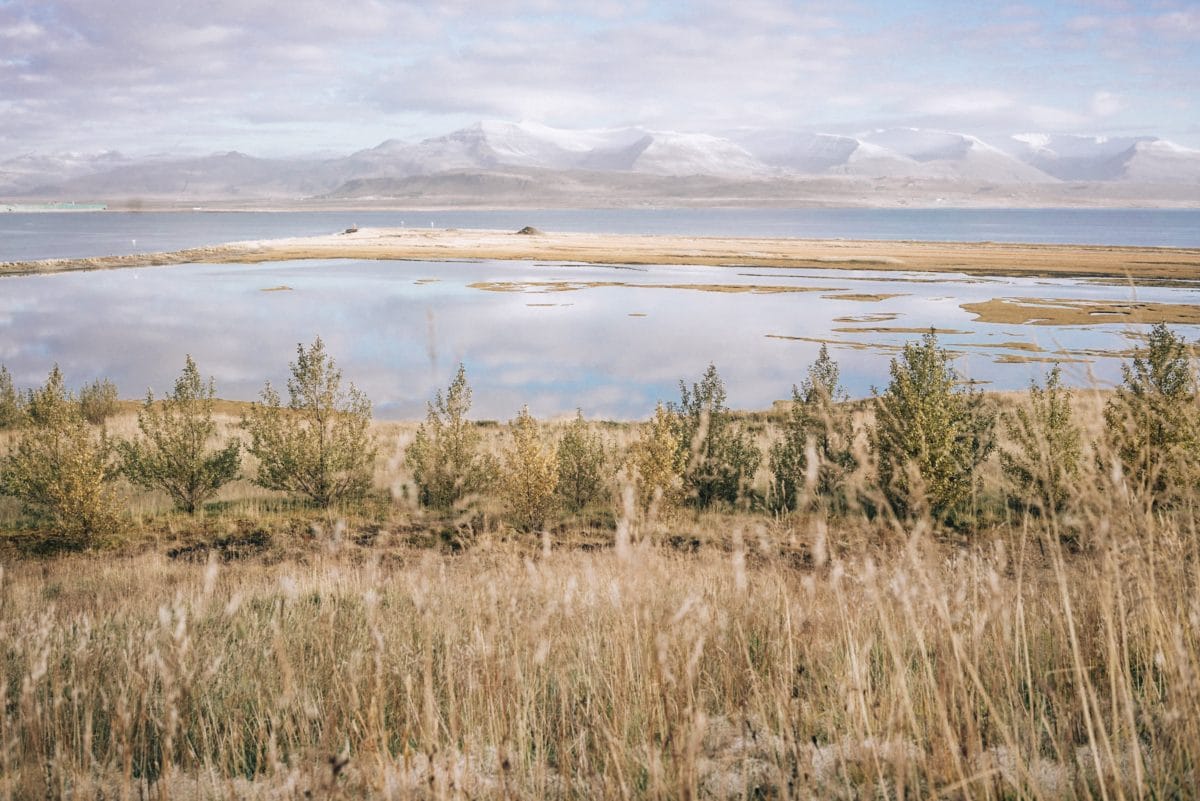 So what's the packing secret?
When it comes to what to pack for Iceland in the Fall, the challenge is being ultra prepared (for literally everything) while fitting all your stuff into the smallest suitcase as possible. I didn't fly carry-on because that's nearly impossible these days with all my tech gear, but I would recommend you attempt to do so if you're flying a low cost airline like WOW or Icelandair — those baggage fees aren't cheap!
It is possible as long as you're willing to just bring the essentials and wear items on repeat. The key is to pack one of each larger item like coats and sweaters and then rotate your smaller pieces that will get dirtier like under layers.
Below, I've put together this ultimate guide for what to pack for an Iceland adventure in the fall, including suggested pieces that I think meet both the standards in practicality and style, because I know you don't want to be looking like a marshmallow in all the pictures from your trip.
A little side note — Even though this is an autumn packing guide to Iceland, many of these items will also apply for a year round trip, with maybe some lighter layers or heavier ones thrown into the mix depending on the season you go. So, without further ado…
Here's What to Pack for Iceland in the Fall
1. Waterproof Jacket (1)
As we go down the list you're going to start noticing a theme here — and that's the word waterproof. You'll want as much of your stuff as possible to be protected from wet conditions, not only so you can stay dry and comfortable, but for your safety as well.

2. Waterproof Hiking Shoes (1)

Again, waterproof is key here. With the many waterfalls and hiking trails you'll want to explore, having a pair of hiking shoes that can brave all of the elements will be paramount in keeping your toes dry and toasty.
3. Wool Socks (Multiple Pairs)
You'll definitely want several pairs of wool socks in your bag for your trip, because it's quite possible that through all of the activities you'll be doing that your socks will get damp at the very least. Do you want to wear damp socks all week? Didn't think so…
When you book your accommodation, ask if they have a dryer of some sort on site and if they do you can get away with packing less socks if you're trying to spare suitcase space.
4. Warm Hats (2 or 3)
In case of rain or wet weather, it's good to have a spare hat on hand so you're not forced to wear your wet one or go without that extra layer on your head.
5. Small Umbrella (1)
I didn't technically use an umbrella during my trip, but looking back this would have been really helpful during rainy days walking around Reykjavik and even on some of our adventures around the South coast that required being out in exposed weather for long periods of time. Try to bring one that's small and easily packable.
6. Thermal Leggings (2 pairs)
A pair of thermal leggings are ideal for keeping your limbs toasty on the colder days during autumn in Iceland. You can layer these under waterproof pants for extra warmth.
7. Waterproof Pants (1 Pair)

Not the sexiest outerwear (I know, I know), but I definitely wish I would have had a pair of these on my recent trip in September. I wore jeans every day, which I wouldn't recommend unless you plan on hibernating every time it rains…and that could be your whole stay!
8. Rain Boots (1 Pair)
If you have waterproof hiking boots, it's not 100% mandatory to have rain boots as well, but I personally think rain boots are a bit more attractive for activities that don't involve intense hiking, like visiting a waterfall or exploring Reykjavik for the day. If you have room in your suitcase, it's nice to have the option to switch it up.
9. Down Jacket (1)
During the Fall, temperatures in Iceland can range anywhere from 50 degrees fahrenheit at its warmest to down to 30 degrees on colder days. Even on super sunny days I found that the wind made it feel absolutely freezing, so you'll want to have a down jacket for those dry periods when you still need to stay warm. Bonus points if you can fit your down jacket under your rain coat!
10. Rain Coat (1)

For warmer, wetter days, coming prepared with a rain coat that can fit over a few light layers is essential to beating the Iceland weather blues.
11. Swimsuit (1)
Yes, you need a swimsuit in Iceland. Between visiting the Blue Lagoon, checking out natural hot springs and spending an afternoon at one of the local pools (they have them in every Icelandic town), you'll need something to wear so you can warm up in typical Icelander fashion. I prefer one-pieces for Iceland since it covers a bit more of the body (I'll take any extra warmth I can get!), but that's up to you.
12. Flip Flops (1 Pair)
If you plan on visiting the Blue Lagoon or going to any natural hot springs, it's a good idea to bring a pair of flip flops along. No, you won't get a ton of use out of them, but they will keep your feet from freezing off on the icy ground while you enter/exit any of the hot springs.
13. Snacks
If you've done any research on Iceland then you've probably already heard that it is crazy expensive. I'm talking $30 USD for a bowl of soup expensive (and that's at a normal cafe, not a fancy restaurant).
You'll save a ton of money if you bring a daily collection of snacks to tide you over in the morning or between breakfast and dinner. I love homemade trail mix, baked coconut chips, dried fruit, etc but my absolute favorite snacks to bring on my travels are RxBars and GoMacro Bars (the Everlasting Joy is my absolute fave) because they're the only things that actually keep me full like a real meal and come in delicious flavors.
14. Insulated Water Bottle (1)
While the weather in Iceland may be up and down, at least you can keep your beverages at a stable temperature with an insulated water bottle. Plus, the tap water in Iceland is amazing so you'll want a bottle to refill with so you don't have to spend a dime on bottled water.
15. Polarized Sunglasses (1 Pair)
Any sunglasses will do just fine, but a polarized pair will decrease glare, which is extra helpful for driving long distances in Iceland's varying road conditions.
16. Gloves or Mittens (1 Pair)
For photography enthusiasts, finding gloves with removable finger tips are awesome so you can still get the shot while keeping your hands warm. Otherwise, any warm pair (preferably wool) will suffice.
17. Day Backpack
In addition to your luggage that you bring on the trip, you will need a day backpack for storing layers on hikes and any camera gear and snacks you bring along the way. Even better if it's waterproof.
18. Power Bank + USB Cord
This is one item I left at home by accident and really struggled without as my rental car didn't have a USB card to charge my phone. If you have a charging case for your phone that's great, but I'd also bring a power bank to have on hand for emergencies so you feel confident that you'll always be ready to navigate when needed or call for help if any safety issues occur.
19. Light Layers
Having a few non-cotton tank tops and long sleeve shirts to layer with each day, will allow you to adjust your temperature if you get too hot or cold during dramatic weather shifts in a single day — Iceland is known for them.
20. Fleece Jacket or Wool Sweater (1 or 2)
A fleece jacket is an awesome choice for an extra layer of warmth over your long sleeve shirt and under a jacket because it's super warm and dries more quickly than other materials. Wool is also a great layering option and will keep you super toasty no matter what the Iceland weather throws at you.
21. A Warm Scarf

No explanation necessary. Don't neglect your neck!
22. One Pair of Jeans
While you won't want to wear jeans out much while exploring the great outdoors, they can be nice to have for days exploring around Reykjavik or small towns where you don't plan on being outside too much.
23. Camera Gear
This will be personal to whatever you use and if you choose to document your trip. You can see all of the camera gear I use and love here. Your iPhone can be sufficient when it comes to taking photos, but if you will be bringing along a more professional camera, I would recommend buying some good cleaning wipes or even a rain cover if you will be shooting in all conditions.
24. Waterproof iPhone Case or Cover
I saw a ton of people using covers like this in the Blue Lagoon and hot springs to be able to take photos while protecting their phone. It's not 100% necessary, but you might want to think about the activities on your to-do list and see if there's a need for this kind of equipment.
25. Headlamp
Since the number of daylight hours begins to wane during the fall season in Iceland, it's smart to have a headlamp on hand, especially if you're self-driving or plan on doing any night hiking (one of my favorite moments of my trip was hiking up to the Reykjadalur hot spring river at sunset and watching the stars while sitting in a natural hot tub). It's not an item you would typically think of, but can really come in handy and allow you to explore more after the sun goes down.
26. Moisturizing/Hydrating Beauty Products
I don't know about you, but every time I travel somewhere cold or with erratic temperatures, my skin and hair completely freak out. I'm prone to dry skin, so I like to bring my favorite products along with me on cold weather trips so I don't have to waste time in my destination hunting for something to soothe my skin. Must-haves for me in Iceland were my Hurraw coconut lip balm, Aussie 3 Minute Miracle Conditioner and Dr. Dennis Gross hyaluronic face moisturizer (see below).
27. Quick Dry Towel
For hot springs hikes and visiting the local pools where you have to pay for a towel, having your own is convenient and will save you money as well.
28. A Foldable and Washable Bag for Dirty Items
It's likely during your trip that your boots or other items you bring will get muddy, sopping wet, etc and it's really helpful to have some sort of container in which to put these items rather than throwing them into your rental car or suitcase. Especially if you won't have time to do laundry before you arrive back home, this extra item won't take up space in your suitcase and is a practical add to your packing list.
29. European or Universal Travel Adapter
Iceland uses European plugs, so whether you buy a European specific adapter or all-in-one around the world adapter, is up to you.
30. Your Debit Card with Pin
If you're renting a car in Iceland, make sure to pack your debit card that uses a pin in your wallet and not just your credit cards. All of the gas stations I encountered needed a card with pin present in order to purchase gas, and I have heard of people struggling to fill up their tanks if they only had credit cards with them. Bring your debit card just to be safe!
31. Undergarments
Of course you'll need to pack a regular bra, a few athletic bras and as many pairs of underwear you think are necessary considering the length of your trip.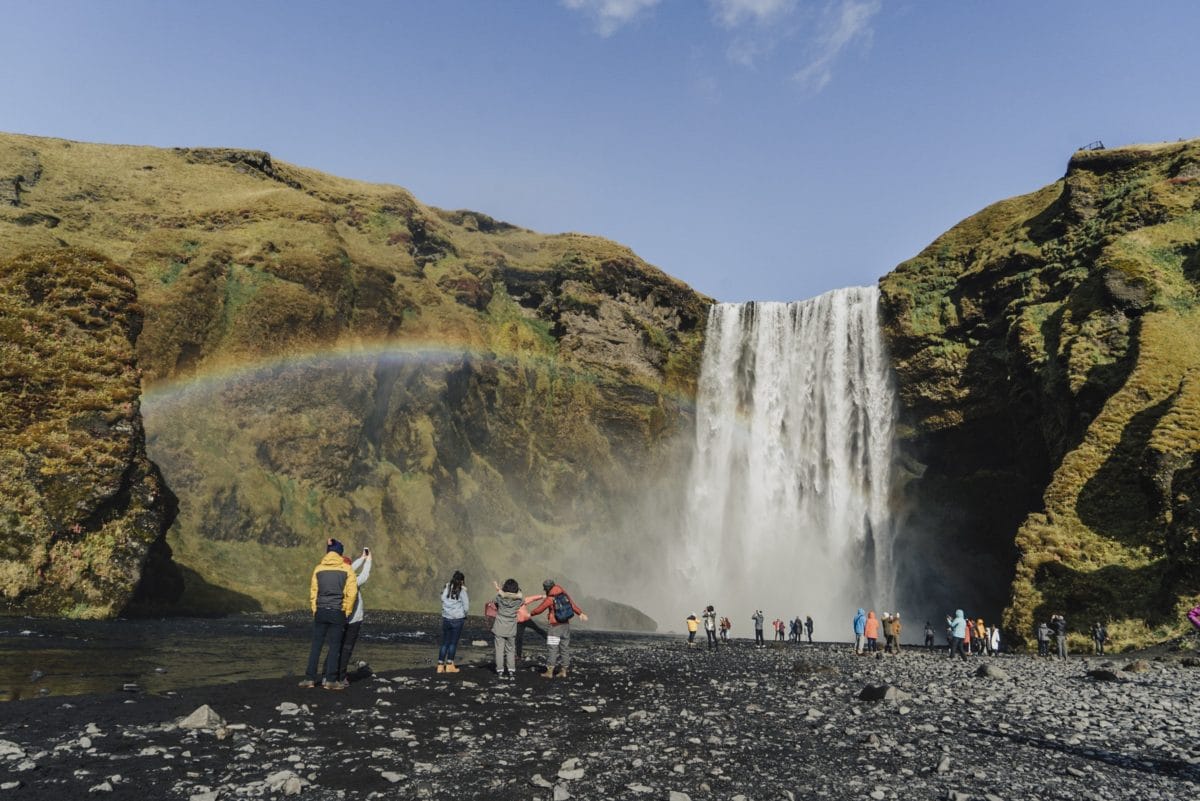 What Not to Pack for Iceland
Small cotton socks that you would typically work out in—you won't use them
Items made from cotton (try to avoid cotton completely where possible)
Anything that will get ruined by the rain
Multiple pairs of jeans
Some Other Helpful Notes
If you forget something you can always buy it there, although it will probably be more expensive in Iceland—best to come prepared!
If you have the luxury of planning your trip well ahead of schedule, set a note on your calendar to take advantage of Black Friday and other sale seasons so you can stock up on winter gear for a fraction of the cost
If you plan on being in a lot of your photos, you'll want to wear brighter colored clothing that won't blend into the background