Did you know that Yellowstone was the first National Park in the US—and the world? Founded in 1872, Yellowstone National Park attracts millions of people to its unique and varied landscape every year. Between technicolor hot springs, rambling rivers, mudpots, unique wildlife (get ready for bison traffic jams) and bursting geysers, there is A LOT to see in Yellowstone. And with over 2.2 million acres of land to explore, going into your trip with a plan of what to see in Yellowstone is imperative.
Yellowstone is also one of the most visited national parks in the United States, second only to the Great Smoky Mountains—and for good reason. Yellowstone is one of a kind. The park sits atop the largest supervolcano in North America, houses some of the most distinctive geothermal features, like half of the world's active geysers (more than 500), and is larger than Delaware and Rhode Island combined!
I have been lucky enough to explore Yellowstone twice now and can attest to the ever-changing landscape of the park as well as the need for a plan when visiting. With so much land to cover (expect to clock some serious miles in the car) and so many incredible things to see, it can be quite overwhelming to show up and try to figure it out on the spot.
Fear not, I've got you covered. In this post, I've narrowed down the absolute best things to do in Yellowstone so you can plan your trip efficiently and with confidence. The list below provides a mix of the most popular sites in Yellowstone with a couple lesser trafficked areas that are personally some of my favorites. Plus, I've included some need-to-know tips for each site to help you make the most of your visit—don't skip reading these!
This list of what to see in Yellowstone is perfect for first-timers to the park who want a little bit of everything. If you follow my lead, I promise you'll depart Yellowstone feeling like you covered a lot of ground and saw the absolute highlights of this incredible national park.
So let's dive in!
But First—A Few Things to Know Before Visiting Yellowstone National Park
Like most national parks in the US, there is an entrance fee to visit. For Yellowstone, it is $35 per vehicle which grants you access to Yellowstone and Grand Tetons National Park. If you plan to explore more National Parks this year, I'd recommend grabbing an America the Beautiful Pass for $80, which allows you access to all National Parks across the country.
Yellowstone is a high-altitude climate so it can be chilly even in the height of summer in the early mornings and evenings. Be sure to bring layers no matter what time of year you visit.
The best time to visit Yellowstone is a debatable topic as there is something special about each season, but ultimately it depends on what you are looking for. The weather is warmest in summer and the park is fully accessible, however crowds are HUGE so it can be hard to find solitude in nature during that time. Late spring and early fall are highly recommended for anyone looking to avoid the crowds but still experience beautiful weather, although some areas of the park might be closed. Winter is also an option although many parts of the park will be closed and you will likely need a guide due to the large amount of snow.
For your safety, ALWAYS stay on the boardwalks near the park's thermal features as they can be very dangerous. Keep a distance from any and all wild animals. For good measure, stay 100 yards from wolves and bears and 25 yards from all other wildlife.
Bring a reusable water bottle. There are free water refill stations throughout the park to keep you hydrated.
Be prepared to drive a lot and make sure you fill up on gas when you can throughout the park. The park is expansive and traffic in summer can be pretty brutal, so it will likely take you longer than you think to get from one stop to the next depending on the time of year you visit.
Something I learned the hard way on my first visit to Yellowstone is that there is zero cell service in the park. Like zilch. Sorry former clients! Download Google Maps ahead of time and a good 'ole fashioned audio book because you're not going to be catching up on emails or texts with your friends, I promise you that 😉
---
What to See In Yellowstone National Park
---
Old Faithful
If you've already been thinking about what to see in Yellowstone, I'm willing to bet Old Faithful is already on the list. Notably one of the most famous sites in Yellowstone, you can't miss Old Faithful if it's your first visit to the park.
The centuries-old geyser is amazingly predictable and erupts about 20 times a day. Named for her predictability, Old Faithful erupts anywhere from 100-180 feet high for about 1-1.5 minutes at a time. Rangers can even predict the next eruption based on the duration and length of the previous one, with 90 percent accuracy at a 10 minute variation—pretty cool, right?
Located in the Upper Geyser Basin (on the western side of the park), this site is easily accessible and the most visitor-friendly with a nearby parking lot, plenty of benches for viewing and a ranger station recording and predicting eruptions throughout the day.
As you might imagine though, being the most famous and easily accessible site in the park, Old Faithful gets VERY busy. As someone who personally prefers things a little more off-the-beaten-path, I'll be honest—this is not my personal favorite place to hang in Yellowstone due to the huge crowds, and I skipped it on my second trip. If it's your first time visiting though, it's a must-see to tick off the Yellowstone bucket list.
---
Some Practical Tips When Visiting Old Faithful:
When you first arrive to the Upper Geyser Basin,

check the predicted eruption time

for Old Faithful so you know how much time you have (or don't have) to kill before the next eruption. You can also check ahead of time on the

National Parks Service site here,

however cell service is VERY LIMITED so that may not be a reliable option.

If you arrive to Old Faithful and just missed the last eruption, you can explore the rest of the Upper Geyser Basin, grab some food or ice cream, explore the gift shop, etc while you wait.
This is a good spot to visit mid-day for lunch as there are a couple different food facilities nearby.
I'd plan for about 2 hours here, as eruptions happen approximately every 90 minutes. You might get lucky though and arrive just in time for the next one and can be on your way more swiftly!
---
Norris Geyser Basin
Located on the west side of the park, Norris Geyser Basin is known for its tumultuous personality. This is the park's hottest and most changeable thermal area as well as one of the most extreme environments on Earth. Researchers once recorded a record breaking temperature here of 459℉ just 1,087 feet below the surface—the highest temperature ever recorded in Yellowstone National Park.
Don't let these crazy temperatures fool you, the basin is still quite beautiful with unique coloring and rare soil compounds. The high silica concentration leads to distinctive milky blue features unlike the other geothermal spots at Yellowstone, while poisonous iron oxide and arsenic compounds produce a gorgeous reddish orange hue also unique to the basin. Alongside a rainbow of colors, you will see plenty of geysers and hot springs here as well.
I didn't know much about Norris Geyser Basin on my first trip to Yellowstone and completely overlooked it, but I'm so glad we visited this second time around. Even though it doesn't have the "wow factor" of spots like Grand Prismatic Spring, it's still one of my favorite areas of the park for its uniqueness.
It's an especially fun one to explore for photographers who love capturing the cool textures and colors of Yellowstone's geothermal features. It's also quite different from the other geyser basins, so you won't feel like you're seeing more of the same.
Norris Geyser Basin consists of two spots worth visiting: the Porcelain Basin (my personal favorite) and the Back Basin. The main attraction to the Back Basin is Steamboat Geyser, the world's tallest active geyser, however it's very unpredictable in the way of major eruptions and you'll have to get extremely lucky to see it in full force. When it does erupt, it's known to emit hot, steaming water over 300 feet high, but if you visit you'll still see it spouting and steaming a bit.
If you have limited time, Porcelain Basin is where I recommend you spend most of your time at Norris Geyser Basin—it's where all the photos here were taken. Porcelain Basin is a super active 0.6 mile loop with plenty of hissing fumaroles and steaming hot springs to keep you busy.
---
Some Practical Tips When Visiting the Norris Geyser Basin:
I recommend planning for at least an hour or two here and to spend most of your time in the Porcelain Basin—I found the Back Basin to be a bit underwhelming.
Please please please stay on the boardwalks here and be careful of hats on a windy day, as you definitely won't be recovering it if it blows off into one of the boiling pools.
This was one of my favorite spots in the park to photograph with my 70-200mm zoom lens as you can get in super close to the colorful geothermal features. Make sure to bring a longer lens to have fun playing with the textures in this area!
There is barely any shade in the Porcelain Basin, so bring lots of water and wear sunscreen.
This is another very busy part of the park where parking can get hectic. Head here in the early morning if you want to avoid the crowds.
---
Lamar Valley
One thing that tops the list of what to see in Yellowstone is definitely the wildlife, and Lamar Valley is the place to do it! After you've gotten your fill of geysers and hot springs, head to Lamar Valley to feel like you've entered a whole different world; the landscape is incredibly scenic, and in the height of summer it's also one of the more calm and peaceful parts of the park.
Yellowstone is famous for its wide range of animal species, especially the kind you don't see everyday. The park is home to over 75 species of mammals, 320 species of birds, 16 species of fish and of course, the grey wolf—and Lamar Valley is the best place to spot them.
With massively expansive views along the Lamar River, the Lamar Valley is often referred to as the Serengeti of America. You will often find herds of bison and pronghorn roaming the valley, maybe even grizzly bears if you're lucky, coyotes, badgers, and bald eagles.
The valley's crown jewel however has to be the rare grey wolf. You will often find wolf enthusiasts here camped out for a hopeful day of wolf sighting. We were actually lucky enough to spot one ourselves on my last visit to Yellowstone!
---
Some Practical Tips When Visiting Lamar Valley:
The Lamar Valley is located at the very northern tip of the park and is not the most convenient area to get to—but I promise, it's 1000% worth it!
If you're trying to squeeze a lot into your Yellowstone itinerary, you could pair this part of the park with a visit to either Mammoth Hot Springs or the Grand Canyon of Yellowstone (both are about an hour drive from Lamar Valley), however if you have more time I would recommend spending a full day driving through this area
While you're in Lamar Valley, plan to stop for lunch at Roosevelt Lodge. We chatted with a Yellowstone veteran who had eaten at every restaurant in the park and mentioned that this was by far his favorite spot. I highly recommend the bison tamales 🙂
Drive carefully through this area as it's not uncommon for bison to cross the road here and cause traffic jams.
For the best chance of spotting and capturing wildlife, visit in the early morning or evening and make sure the passengers of your vehicle are on the constant lookout and drive slowly to be ready to pull over at a moment's notice.
I highly recommend bringing a long zoom lens or binoculars in this area to get the best wildlife viewing.
If you want to focus all your attention on wildlife spotting rather than driving, Lamar Valley is one of the best places to join a guided tour so you can do just that! This private tour on Viator is ideal for getting the most out of Yellowstone's wildlife viewing opportunities. If you want more of a general overview tour of the park that includes Lamar Valley in it, this 2-day tour from Jackson, WY has great reviews as well.
---
Midway Geyser Basin (Grand Prismatic Spring + Excelsior Geyser Crater)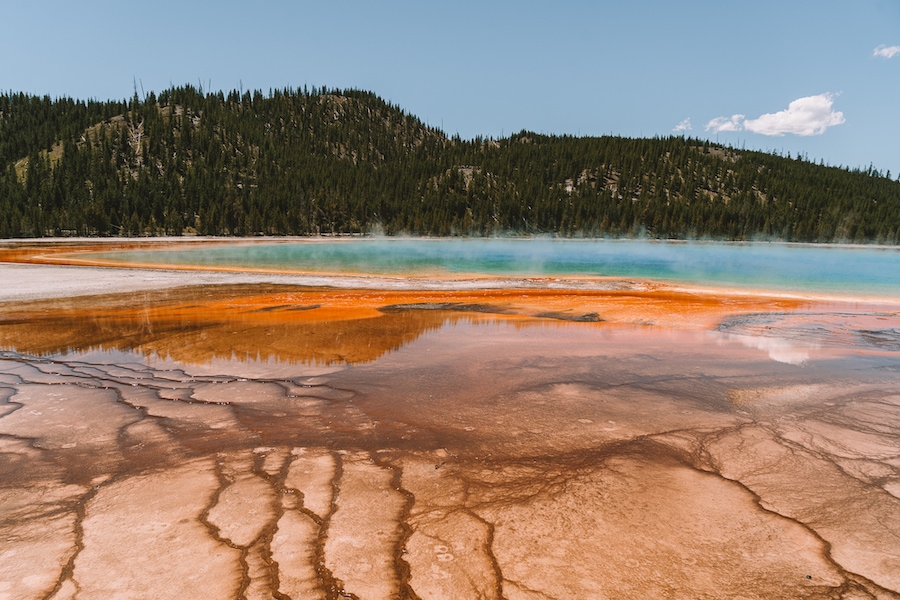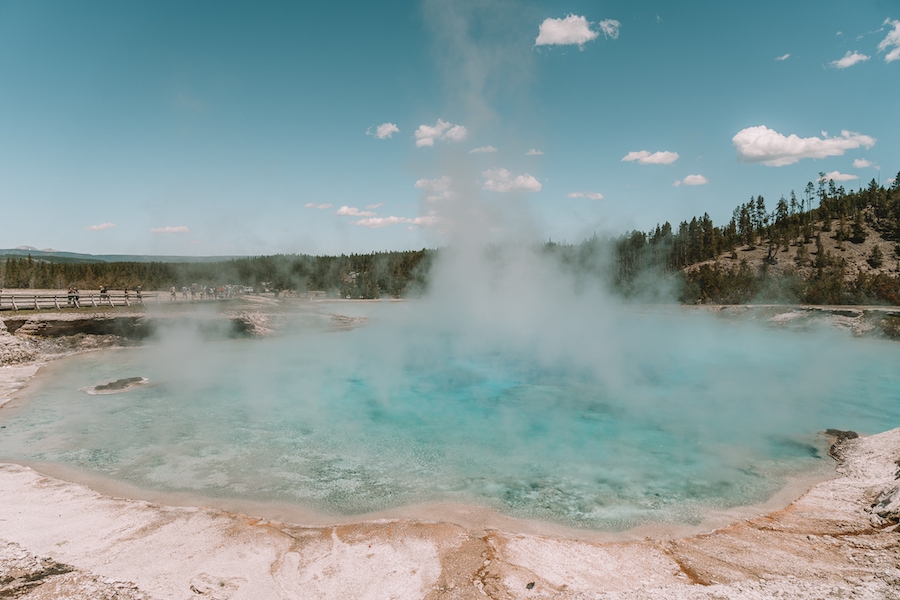 One of my personal favorites and certainly best things to do in Yellowstone National Park is the Grand Prismatic Spring. It's truly breathtaking and one of the most iconic spots to photograph in the park. Plus, as part of the Midway Geyser Basin you'll get the added bonus of seeing the beautiful turquoise Excelsior Geyser Crater along the same boardwalk.
I was a bit heartbroken on my first trip to Yellowstone when we visited here very early in the morning only to find it completely covered in steam. We literally couldn't see 5 feet in front of us from all the mist. When we tried to visit later in the day, the traffic and parking were so crazy that we ran out of time in our itinerary and had to move on. It wasn't until my latest trip to Yellowstone that I really got to see Grand Prismatic Spring in all its glory, and it was so worth the wait. Make sure to read all my pro tips below so you don't make the same mistakes on your trip!
The best part of the Grand Prismatic Spring are the wild textures and colors—yellows, oranges and greens encircling the most vibrant blue you have ever seen. These rainbow hues come from the different species of thermophile—or heat-loving bacteria—living in the much cooler water surrounding the spring. In line with the park's ever-changing landscapes, these colors shift from heavily orange in summer to a deeper green in winter.
Sitting at 370 feet in diameter, the Grand Prismatic is in fact GRAND. The largest hot spring in the US and the third largest spring in the world, Grand Prismatic takes up more room than a football field. What's even crazier? The spring is more than 10 stories deep!
For eye-level views and a cool walk on the boardwalk that overlays the spring's unique textures, head to the Midway Geyser Basin. I also highly recommend making the short hike to the Grand Prismatic Spring Overlook for a bird's eye view (more on that below)!
---
Some Practical Tips When Visiting Midway Geyser Basin:
When to Visit: While visiting in the early morning will avoid crowds here, you run the risk of the spring being covered in steam. Your best bet is to head here mid-day on a sunny day and suck up the crowds to ensure you see the best colors come out at Grand Prismatic.
If visiting in summer, I would factor in 2 hours here to account for parking/traffic and walking the entirety of the path. This will give you plenty of time so you're not rushed and stressed.
If the traffic into the parking lot looks insane, just park on the side of the road leading into Midway Geyser Basin (you'll see many people doing this). The walk isn't that far to get there and will save you time sitting in traffic.
There is no shade here and if you're visiting mid-day it can get very hot. Bring water and sunscreen and wear a hat, but hold onto it! I saw several hats blown into various pools in Yellowstone which is really sad because they pollute the ecosystem.
Don't be fooled by drone shots you've seen of the Grand Prismatic Spring from above—drones are forbidden in all national parks in the US, including Yellowstone. Keep reading to the next section for how to get the best aerial view of the spring!
---
---
Read More USA Parks Posts
---
Grand Prismatic Spring Overlook at Fairy Falls Trailhead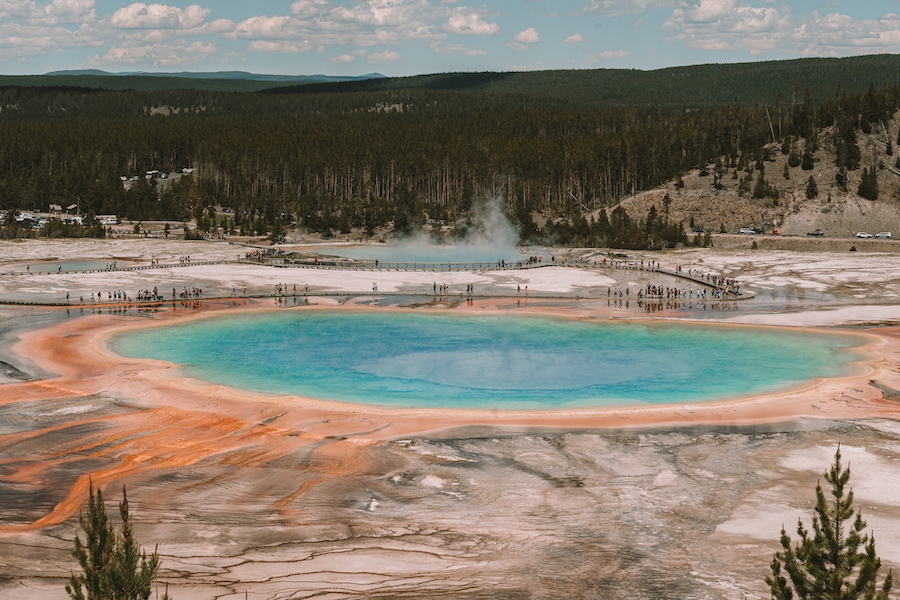 Although seeing this technicolor hot spring is amazing from eye-level, it also deserves an overhead view. From the Grand Prismatic Spring Overlook, you can truly see the rainbow effect of the colors surrounding the spring in full force. The viewing platform gets crowded, but it's worth knocking elbows with people and the short hike to get there.
Just note that what confuses many people is that you can't get here from the Midway Geyser Basin parking lot. Instead, you need to park at the Fairy Falls parking lot and walk the path to the overlook, about 0.8 miles in distance which takes about 20 minutes.
About 0.6 miles into the walk, you will see the path split—one way to the overlook on the left, and the other to Fairy Falls. The overlook is only about 0.2 miles from here so it would be easy to come back and finish the hike to Fairy Falls as well if you want to make it a longer adventure.
---
Some Practical Tips When Visiting the Grand Prismatic Spring Overlook:
Allocate approximately an hour for this adventure—it takes about 20 minutes to walk the path each way if you only stop at the Grand Prismatic Spring Overlook and skip Fairy Falls.
Although you can beat the crowds if you head out early, the hot spring is often covered with a light fog or mist early in the day. For the best views you will want to head to the overlook in bright daylight, as this way you can experience the colors in full effect.
Parking here gets very crowded, so expect to wait.
Because of Yellowstone's Bear Management Area closures, this trail reopens every year in late May
---
Artist's Point at the Grand Canyon of the Yellowstone
Did you know there is a "Grand Canyon of Yellowstone"? That's right, there's another breathtaking canyon right here in Yellowstone National Park with the added features of hydrothermal activity and complex geological history. Running as deep as 1,200 feet, the beautiful valley has been slowly eroded over time by the Yellowstone River which runs the 20 mile length of the canyon.
Because this part of the park is on the opposite side from all the more famous sites like Old Faithful and Grand Prismatic, I feel like this area often gets overlooked, and I haven't personally experienced as much traffic in this section as the others. But if you have more than a day in Yellowstone, I wouldn't skip it. It's definitely one of the most gorgeous things to see in Yellowstone.
There are tons of little trails and lookouts along both the north and south rims of the canyon. I've visited several them, but Artist's Point is hands down my favorite.
Recently renovated for extra safety, the promontory point and observation deck were remade with natural materials to compliment the canyon's natural beauty. Located on the north rim of the Grand Canyon of Yellowstone and East of Yellowstone Falls, there is a nearby parking lot from which you can easily walk to the lookout point.
Hot tip: Not many people surprisingly stick around here for sunset, so plan to hang around if you are looking to watch a spectacular sunset without the crowds.
---
Some Practical Tips When Visiting Artist's Point:
If you're sticking around here for sunset, bring mosquito repellent! The bugs come out in full force here in the evenings.
You really don't need more than an hour at this lookout, but if you want to enjoy all of the many lookouts and hiking trails around Grand Canyon of the Yellowstone, you can make a whole day excursion out of it. Some other popular spots in the area are Uncle Tom's Trail, Inspiration Point and Lower Falls.
If you want to try and catch the famous rainbow over the waterfall at Artist's Point, head there in the morning between 9:30-10:15 AM.
---
Mammoth Hot Springs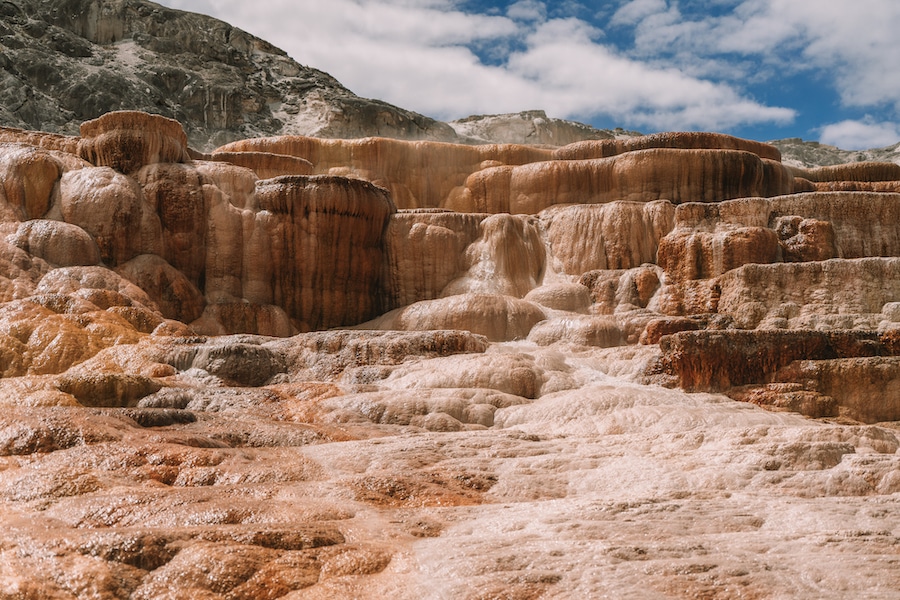 When it comes to what to see in Yellowstone, it's well worth it for a drive to the tippy top of the park to explore Mammoth Hot Springs. While it isn't exactly the relaxing, natural hot tub it sounds like, it is a really cool spot for unique geothermal activity.
Unfortunately you cannot wade in these waters as they are FAR too hot but you can explore their natural beauty by strolling around the boardwalk for a closer look.
While some people have mixed opinions about Mammoth Hot Springs, I'm including them on this list because it's truly unique from anything else in the park. Sure, you could spend days visiting all the colorful pools and geysers that Yellowstone has to offer, but you're going to get bored fast. Visiting this area provides something different and special.
Located near the north entrance of the park, these one-of-a-kind travertine terraces are created by a unique hydrothermal phenomenon. Due to Yellowstone's location on a volcanic hotspot, extremely hot water runs underground, melts the limestone and pushes it above ground to create these cave-like features. Don't miss it!
---
Some Practical Tips When Visiting Mammoth Hot Springs:
You could make this a quick stop with a short walk on the boardwalk to a couple areas, or spend an hour or two exploring the entirety of the path. I personally think some of the coolest spots at Mammoth Hot Springs are some of the earliest along the boardwalk in the Mammoth Lower Terraces Area if you're limited on time and want to skip the Upper Terraces.
Technically you can drive the Upper Terrace Loop if you're short on time, but I prefer walking the boardwalk.
Mammoth Hot Springs is located in a small town center near the north entrance where you'll find plenty of facilities and food options compared to other areas around the park. Take advantage of the bathrooms, gas station and food options here.
Keep your eyes peeled for elk casually chilling around town as you drive through!
There is zero shade along the boardwalk, so bring sunglasses, sunscreen and plenty of water.
Don't miss these highlights at Mammoth Hot Springs: Minerva Terrace, Canary Spring, and Palette Spring.
---
Boiling River
Finally, a spot you can swim in! Not far from Mammoth Hot Springs, Boiling River is one of the few places you can actually swim in Yellowstone National Park, and with hot springs nonetheless. It's one of those spots that is surprisingly under the radar, probably because it's located in one of the lesser trafficked areas of the park, but it's one of the most fun things to do in Yellowstone.
The "Boiling River" is part of the Gardner River where hot springs occur and eventually mix with the cold water of the river, allowing you to move from the natural "hot tub" to colder temperatures as you please. An easy, scenic half mile walk from the parking lot, this is hands down one of my favorite experiences in Yellowstone and I promise it will make your trip so memorable.
If swimming at this hidden gem is top of your list, be sure to plan your trip accordingly as it's not open year round, which I sadly learned on my second trip to Yellowstone. Plus, it sounds like there have been some unfortunate Covid closures as of late—hopefully this will change in time for your visit.
In normal times, Boiling River is open to the public from late-summer through winter and closed during spring and early summer due to unpredictable conditions from melting snow. If planning a trip, be sure to check the current conditions on the National Parks website.
---
Some Practical Tips When Visiting the Boiling River:
Make sure to check current conditions and park closures before you visit to double-check that Boiling River is accessible during your trip.
There are signs indicating where it is safe to swim—DO NOT swim in the areas that are not designated for swimming as you could seriously burn yourself.
What time of day you visit depends on your preference. Early morning is probably less busy, but in summer the cool water coming in from the river can be refreshing in mid-day heat when in combination with the hot spring water.
There are bathroom facilities and a small parking lot at the start of the trail leading to Boiling River.
Boiling River is only open from dawn to dusk, so don't attempt to visit at night.
---
Prefer to Not Plan Your Own Yellowstone Trip? Join One of These Highly Rated Tours Instead
I hope this post gets you excited for what to see in Yellowstone. Have questions? Leave them in the comments below!
---
Planning a trip right now? Don't miss my go-to websites for booking everything from flights and tours, to accommodation and more:
---