When it comes to island fare, fresh fish and tropical fruit are probably the first things that come to mind. However, Kauai is home to a wide array of amazing food trucks, upscale restaurants, and hole-in-the-wall poke shops!
This is your quick guide to where to eat on Kauai if you want the absolute best of the best during your short time on the island.
But why should you trust this list?
Well, beyond doing soo much research ahead of our trip, I also crowd-sourced from a ton of friends and followers on Instagram of their favorite spots plus locals we met on our trip, and these are the ones that kept coming up over and over!
There's a reason why these are tried and true favorites on Kauai.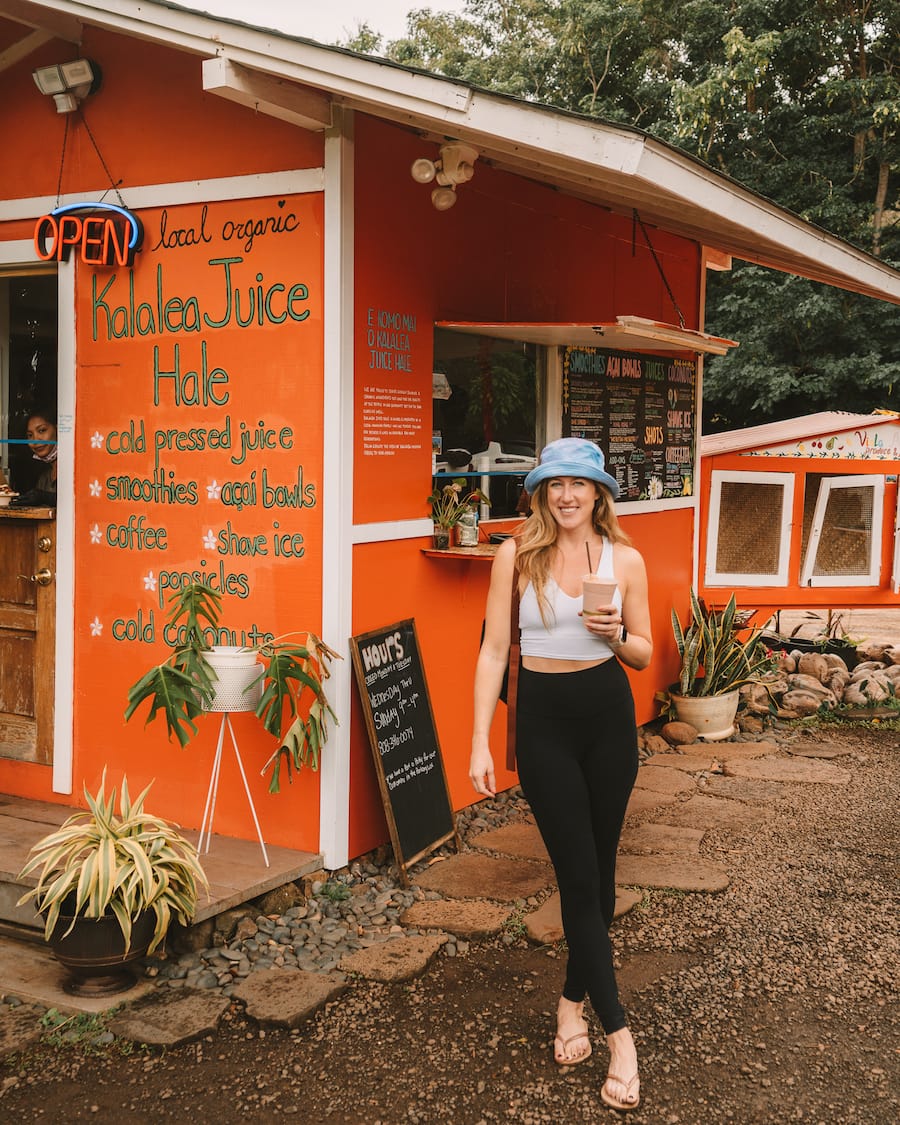 Despite the fact that Kauai is on the smaller side, there are tons of amazing spots to try. During my most recent visit, I was pleasantly surprised to find that the food scene in Kauai is pretty diverse (and delicious).
There really is a restaurant or food truck for every kind of diet and craving.
That said, if you are planning on visiting some of the more popular and upscale restaurants during your trip, definitely plan ahead and make your reservations as soon as possible. We tried to book at a few places two weeks out and still were unable to score some reservations.
While you'll still need to take the initiative and plan ahead, this guide is here to showcase the very best spots on the island and make figuring out where to eat on Kauai much easier!
1. The Fish Express
Your first stop when you land on Kauai and pick up your rental car should be The Fish Express, which is literally 4 minutes outside of the airport. When figuring out where to eat on Kauai, I personally think poke is an absolute must and The Fish Express definitely has the best poke on the island!
This local favorite takes pride in using fresh Hawaiian-caught Ahi Poke, and the high-quality fish results in some of the brightest and most vibrant poke bowls around, though don't expect anything fancy here.
The grab-and-go nature of this local spot makes it the perfect place for an authentic and tasty bite before a hike or beach day or as a pick-me-up after a day of flying. We literally grabbed these, ate them in the car, and couldn't have been happier.
2. Beach House Restaurant
This spot on our best of Kauai cuisine list is an absolute must try for all travelers! Here you're really paying for the view. Located on the island's sunny South Shore, Beach House Restaurant wows guests with a breathtaking oceanside setting and delicious Pacific Rim cuisine.
It's a popular spot for sunset, so make sure to book as far in advance as possible.
In addition to its yummy fish-forward menu, Beach House Restaurant also offers a full list of delicious signature cocktails, wine by the glass, and a selection of draft beers, making it the perfect venue to enjoy a beverage and take in the breathtaking Kauai sunset.
Check out the Monkeypod Mai Thai and get a taste of local flavors like kula organic rum, fresh lime juice, house-made macadamia nut orgeat, and honey-lilikoi foam.
3. Merriman's Kauai
Merriman's Kauai is perfect for those seeking a more traditional sit-down experience. This farm-to-table restaurant ensures that more than 90% of the ingredients used are sourced from local and sustainable farmers and fishermen.
The restaurant occupies what was once an old Hawaii plantation, and the outdoor patio looks over a vast field with distant views of the ocean.
The menu at Merriman's Kauai is full of healthy yet delicious favorites, offering a reprise from the heavy eating that often comes along with being on vacation.
Check out their bright and flavorful salads that highlight island fruits like papaya and spiced macadamia nuts or dive into an artfully-prepared fish that is bursting with Hawaiian flavors.
4. JO2
Just blocks from the beautiful shores of Fuji Beach is Jo2 Natural Cuisine. This was probably the most unique and artful meal we had while on Kauai.
Drawing on influences from French, Japanese, and of course Hawaiian cuisine, this upscale spot is the perfect place for a special night out in Kauai. The menu ranges from small bites to large entrees, and we loved everything we tried here.
For those looking to dive into the full seasonal experience of Jo2, there is a three-course tasting menu that features the chef's favorites.
This $35 experience is available daily from 5:00 PM to 6:00 PM and allows travelers on a budget to enjoy an amazing meal for a fixed low price!
5. Mark's Place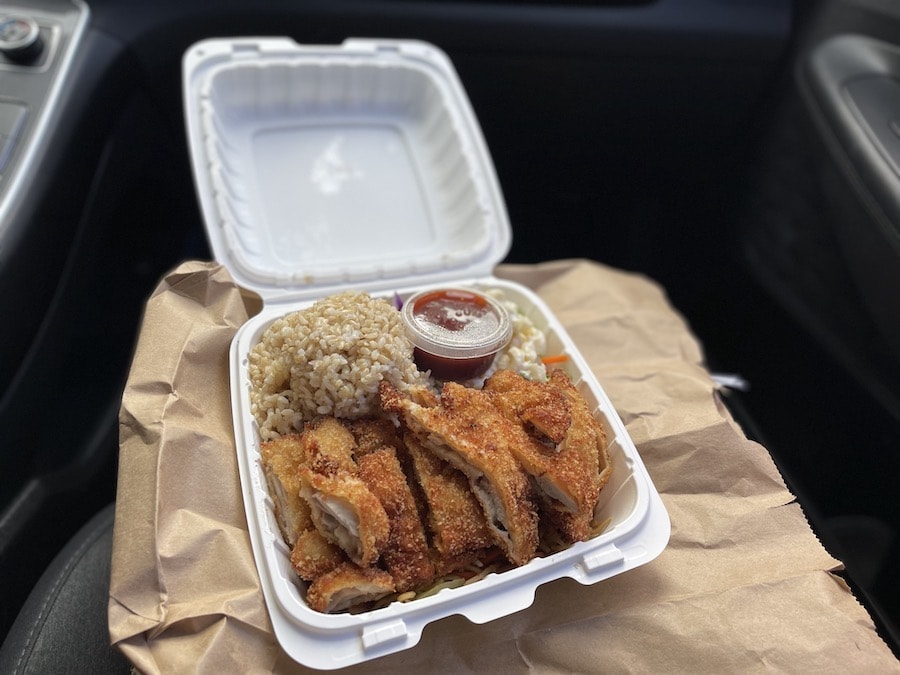 Mark's Place is a no-frills eatery best known for its lunch plates which feature Hawaiian proteins like the classic Loco Moco with white rice and macaroni salad.
These dishes may seem simple, but the bold flavors and spot-on execution make these lunch plates an easy, no-fuss way to sample some local favorites.
Mark's place also offers sides that totally steal the show on their own, including one of Hawaii's most famous snacks, the spam musubi. These tasty seasoned rice balls are topped with fried spam and wrapped in seaweed, and let me just say, don't knock it 'til you try it.
I was a bit grossed out by the concept until I had one and I'm now a complete convert; they're a great snack to have on hand during a hike or beach day.
If you're looking for something easy and quick in the Lihue area, this is it!
6. Tidepools
Modeled after a traditional Hawaiian Village, Tidepools is a drop-dead gorgeous restaurant to sit back, relax and take in some stunning Kauai scenery from the grounds of the Grand Hyatt Kauai.
The unique layout of the restaurant allows you to sit at the base of a waterfall underneath a straw-thatched roof, literally making you feel as if you're floating along with the koi fish in the water as you eat.
The magical vibe of the scenery translates directly to the food and drink menu as well. The menu puts a unique twist on Hawaiian favorites, and the tropical cocktail list offers up bright libations that you can sip on at any time of day.
This is one you'll definitely want to get a reservation for ahead of time as it fills up super quickly, even if you're staying at the hotel.
7. Puka Dogs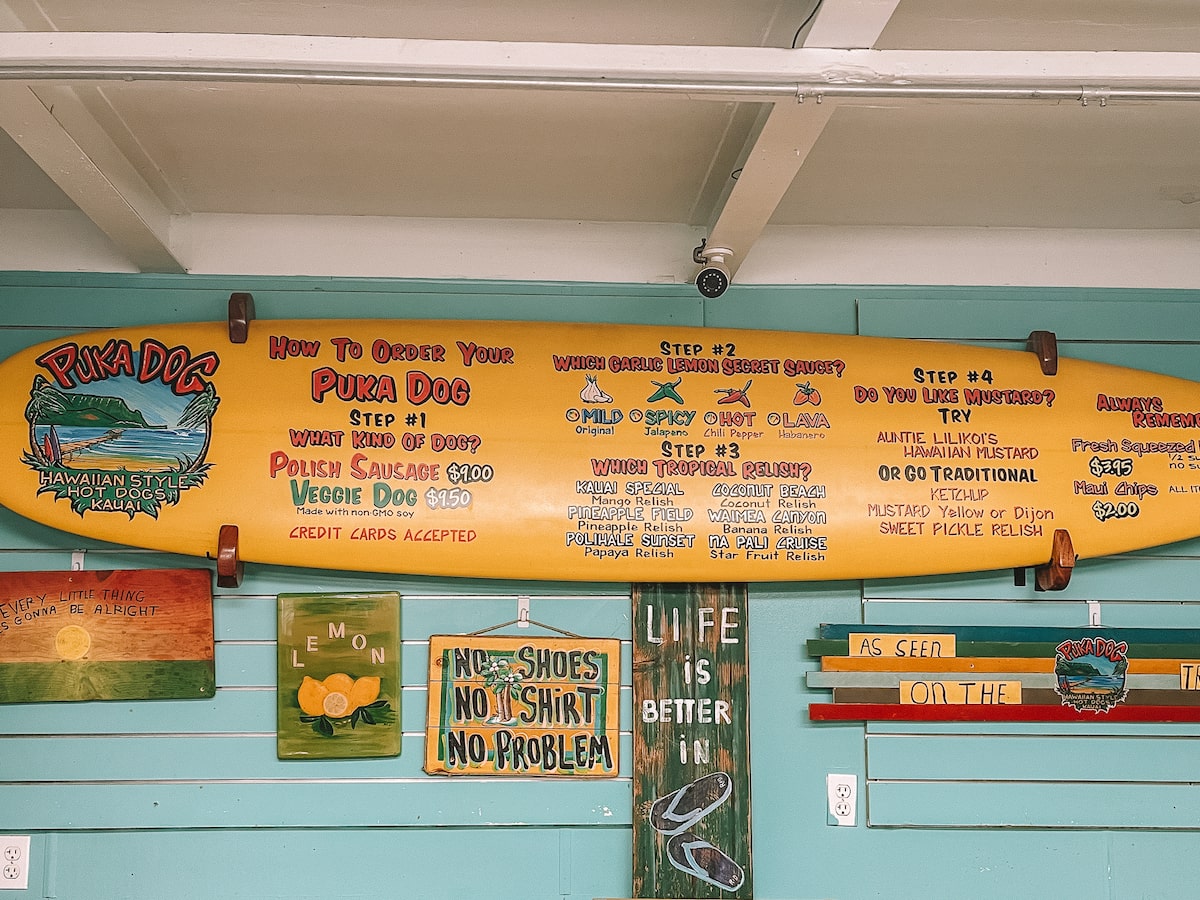 I know hotdogs may not be the first thing you think of when mapping out where to eat on Kauai, but hear me out. Puka Dogs puts an island twist on the all-American dish, and it is shockingly delish!
The menu at Puka Dogs is simple.
Choose from a classic sausage or a veggie dog, top with one of their four unique garlic lemon sauces, choose a tropical relish (the Kauai Special Mango Relish is amazing), and finish with a dash of the Hawaiian Mustard. My boyfriend and I both ordered a couple different flavors to mix it up and do a taste test.
This little grab-and-go eatery is located right in the heart of Poipu Beach literally steps from the stand, so it's a great place to refuel during a beach day; there are also plenty of picnic tables outside where you can sit and enjoy the view.
8. Eating House 1849
Owned and operated by restaurant mogul, Roy Yamaguchi, Eating House 1849 combines bold Asian flavors with Hawaiian ingredients and techniques to create truly one-of-a-kind dishes.
Think spicy ramen with ground pork and shrimp and slow-braised honey mustard short ribs.
Some of the most popular dishes from Eating House 1849 come from the Pupu or "Island Tapas" section of the menu, which is a great way to try a bunch of little bites without over-ordering.
This is definitely the kind of spot that requires a reservation, so be sure to book ahead.
---
Keep Planning Your Trip to Kauai
---
9. Japanese Grandma's
If you find yourself in the historic Hanapepe neighborhood during your Kauai adventure, make sure to stop into Japanese Grandma's.
This adorable spot oozes family-owned comfort and joy from the moment you walk in the door, plus they have a beautiful back patio space where they often have live music while you dine.
Japanese Grandma's offers a full sushi menu complete with specialty rolls, sashimi, nigiri, and my personal favorite, the sushi set. This preset fixture sets you up with everything you need for a full experience including miso soup, a side salad, and an array of sushi favorites.
I'm so happy my friend recommended Japanese Grandma's before our trip because it ended up being one of our most memorable meals.
10. Stevenson's Sushi & Spirits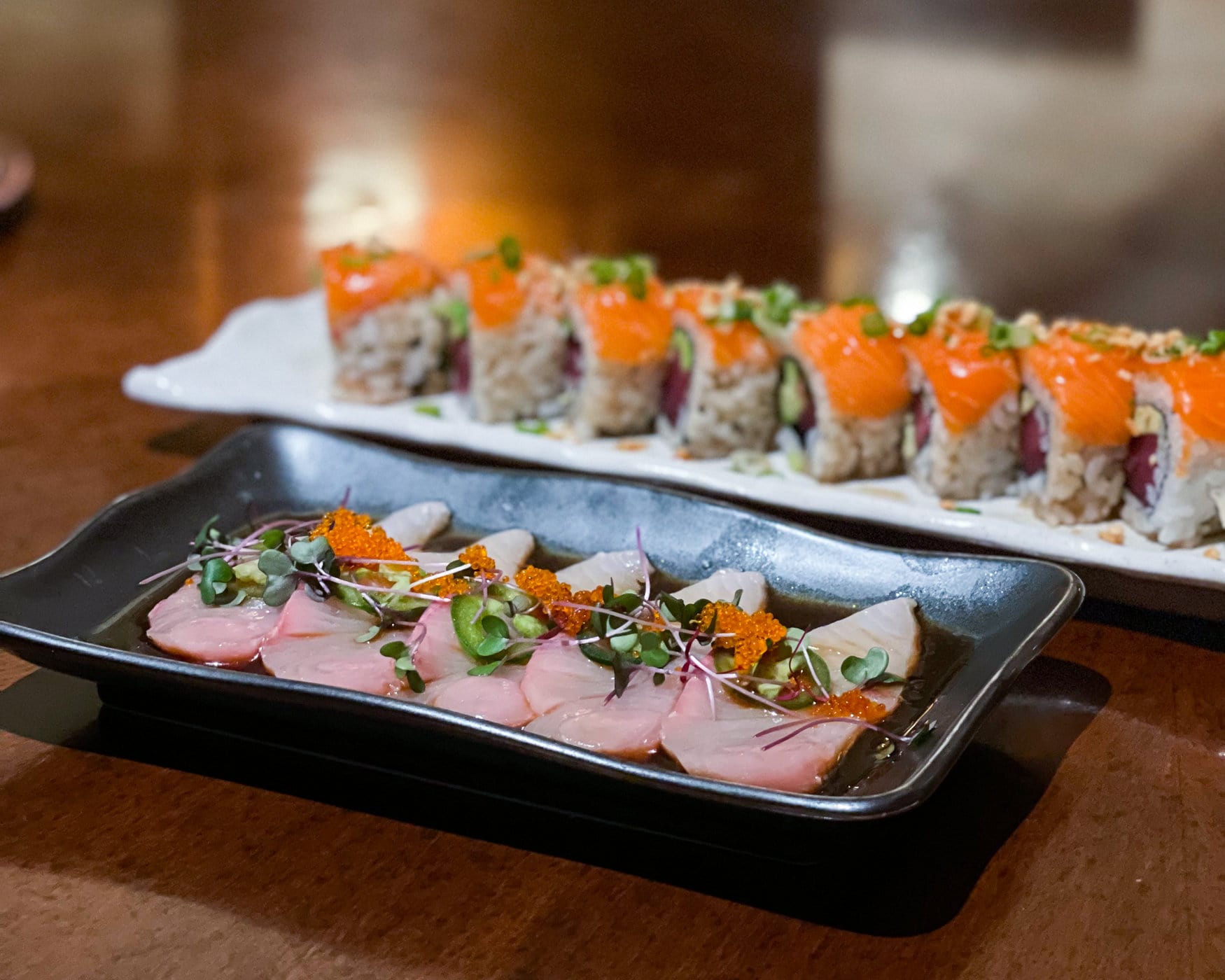 Located in the Grand Hyatt Kauai Resort, Stevenson's Library for Sushi and Spirits is the ultimate bar spot for a drink and sushi appetizer. This place feels very different and more upscale than most places you'll encounter on Kauai.
The warm koa wood decor is sensual and minimalistic and basically begs you to order an Old Fashioned and sip it with a tome in hand, except here the cocktails all have monikers that are fun plays on your favorite classics like Grape Gatsby, War & Peach, and The Smoker & The Rye just to name a few.
Beyond the cool ambiance and playful menu though, the sushi here is incredible, which is no surprise since Hawaii is always a win when it comes to getting fresh fish.
All of the fish served is sustainably sourced so that you can enjoy a guilt-free experience. Plus they offer a unique flight menu that offers flights of Port Wine, Sake, Irish Whiskey, and Japanese Whisky.
11. Waikomo Shave Ice
No vacation in Kauai is complete without shaved ice! While there are plenty of shave ice shops to choose from across Kauai, Waikomo Shave Ice is typically the crowd favorite.
Waikomo doesn't use any artificial flavors or colorings, so everything you taste is bursting with 100% natural island flavor.
The coconut cream sauce and local honey toppings are a must and make this classic dessert the perfect treat on a hot day under the Hawaiian sun.
12. Tahiti Nui
When figuring out where to eat on Kauai, Tahiti Nui offers so much more than a typical restaurant experience! In addition to serving some authentic Tahitian and Hawaiian fare, Tahiti Nui is also a popular spot for live music and innovative cocktails in Hanalei.
On Tuesday and Wednesday nights, Tahiti Nui hosts an open buffet full of their favorite dishes from their menu, complete with a full Hawaiian Luau dinner experience.
Sit back, relax, and enjoy the magic of Hawaiian music, dance, and hula with some yummy eats on the North Shore.
13. Hanalei Bread Company
Let's be honest, we can't have a list of Kauai's best eats without including a charming cafe to kick off each day with. Hanalei Bread Company is a total staple on the North Shore.
This locally owned and operated organic bakery and house-made coffee shop serves bread baked fresh daily, pastries, great coffee, as well as basic breakfast and lunch favorites.
The breakfast burritos are awesome and they also have some solid lunch options like avocado toast and açai bowls.
14. Bar Acuda
Have you ever heard of Hawaiian tapas? Yeah, me neither…until I caught wind of Bar Acuda. This spot has taken the Spanish tradition of tapas and put a Hawaiian twist on the concept and it's one of the most beloved dinner spots on the island.
Tapas is one of my favorite ways to enjoy food throughout my travels as it allows me to sample more of the local flavors, turning the dinner into an entire culinary experience and not just another meal.
For 15 years, Bar Acuda has prioritized using locally sourced and seasonal ingredients to create tasty and innovative shareable plates, and there's a reason it has incredible reviews.
15. Kalalea Juice Hale
This family-owned juice bar just 10 minutes outside of Kapa'a has some of the best açai bowls and smoothies around; some reviewers even give it cred for being the best in all of Hawaii!
Using all fresh and local ingredients, this little stand is a bright orange roadside stop, so you can't miss it. This is the perfect healthy pick-me-up for pre or post-hike or before a day trip out to the beach.
16. Java Kai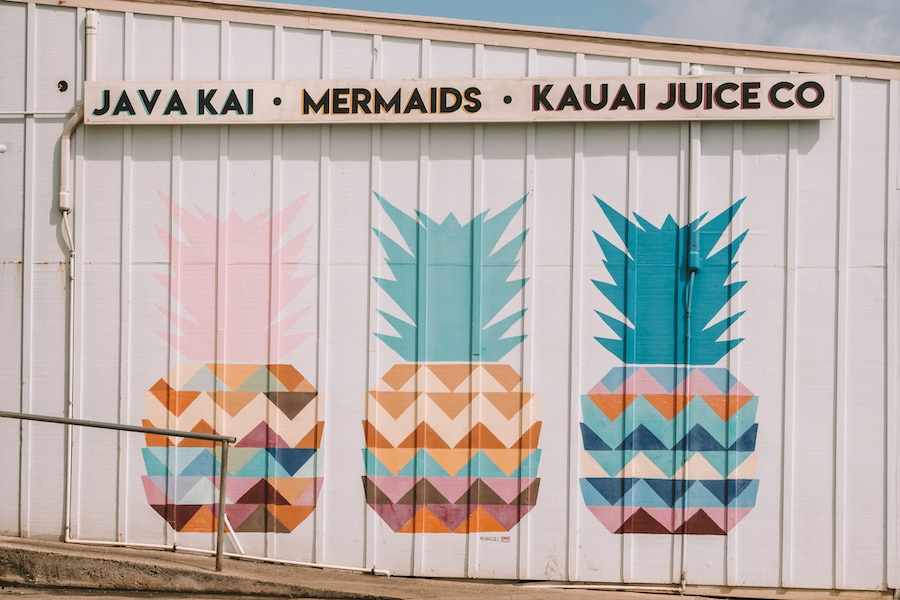 Since you're clearly going to need some caffeine to keep you going for all of Kauai's epic hiking, you won't want to miss Java Kai, which is located in the heart of Kapa'a.
The coffee here is super smooth and creamy with plenty of non-dairy milk options and the surfer vibes are even better.
If you're in the shopping mood, they also have a cute little attached shop with adorable wares for your trip or to take back home with you. There's a reason this place has so many good reviews!
17. Mamahune's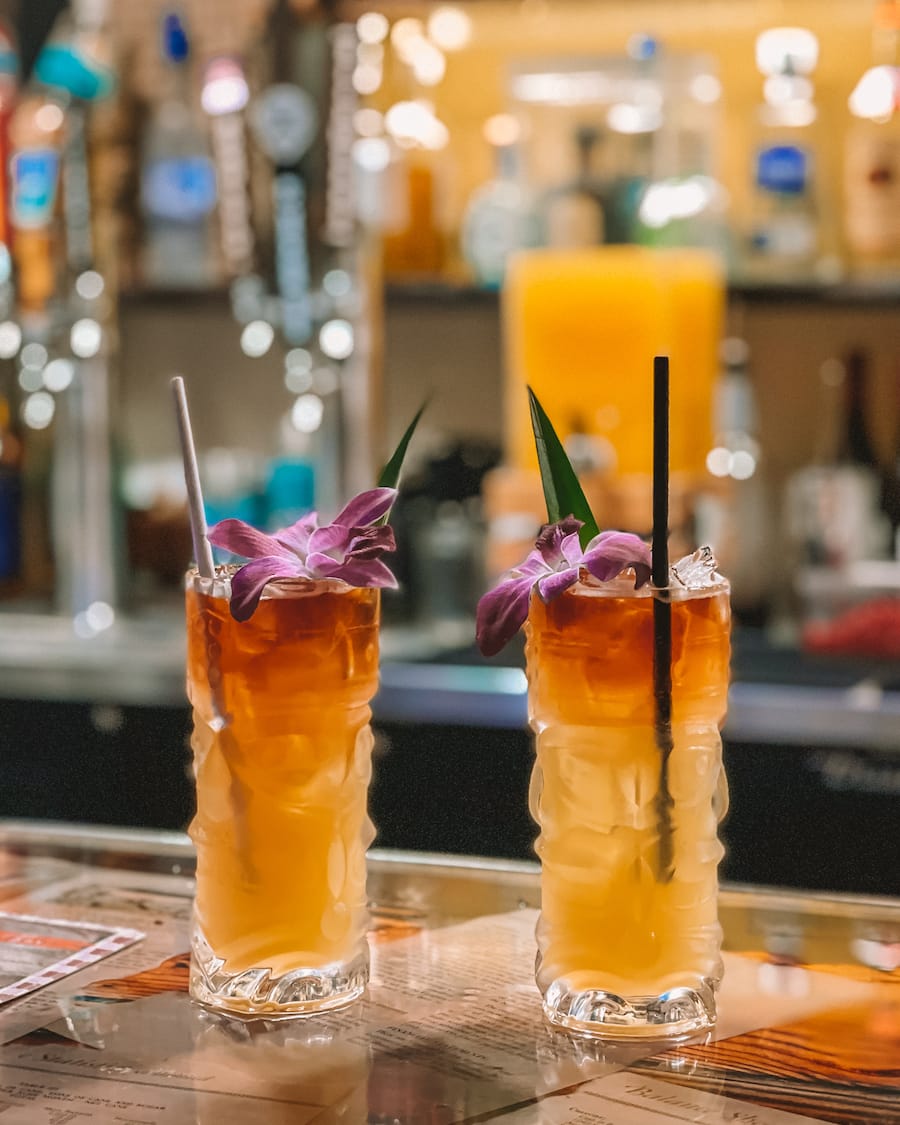 Last, but certainly not least, we have Mamahune's. Believe me when I say you will be hard-pressed to find another spot with such delicious drinks and spectacular views. This is a hidden gem!
If you're looking for that classic tiki bar vibe, this is it.
The cocktail list at Mamahune's is extensive and even includes large batch cocktails designed to share with friends!
In true tiki bar fashion, the outdoor ambiance is super colorful with major island vibes, and it's the perfect spot to let loose and chat up some fellow travelers while you take in the beauty of Kauai's East Side.
Did this post help you figure out where to eat on Kauai? Let me know in the comments below!
---
Planning a trip right now? Don't miss my go-to websites for booking everything from flights and tours, to accommodation and more:
---