Are you in the midst of planning your Alberta adventure and can't decide where to stay in Banff? Well, you've come to the right place. I've been lucky enough to visit this gorgeous town in the Canadian Rockies twice now, and during those trips I've stayed in some of the most beautiful hotels in the area (six so far to be exact)!
In this post, I'm breaking down all the best hotels and Airbnbs in central Banff and the surrounding areas so that you can find that home away from home that is going to make your Alberta adventure extra special.
It's no secret that Banff's stunning snow-dusted mountains and pristine lake waters attract swarms of visitors each year. With mass amounts of tourists though comes an overwhelming amount of different accommodation options, which can be both good and bad. While there are a nice selection of places to stay, it can be challenging to decide on the best area for your trip, as well as the best Banff hotels or vacation rentals to choose from.
Lucky for you, Banff has a little something for everyone; whether you're looking for a rustic cozy cabin retreat, a modern boutique hotel or more of a resort feel, you'll be able to find the right fit for you in this outdoor lover's oasis just 1.5 hours drive from Calgary.
---
Please note I am a member of several affiliate programs including Airbnb Associates, which means I may make a commission (at no additional cost to you) if you click through and make a purchase.
---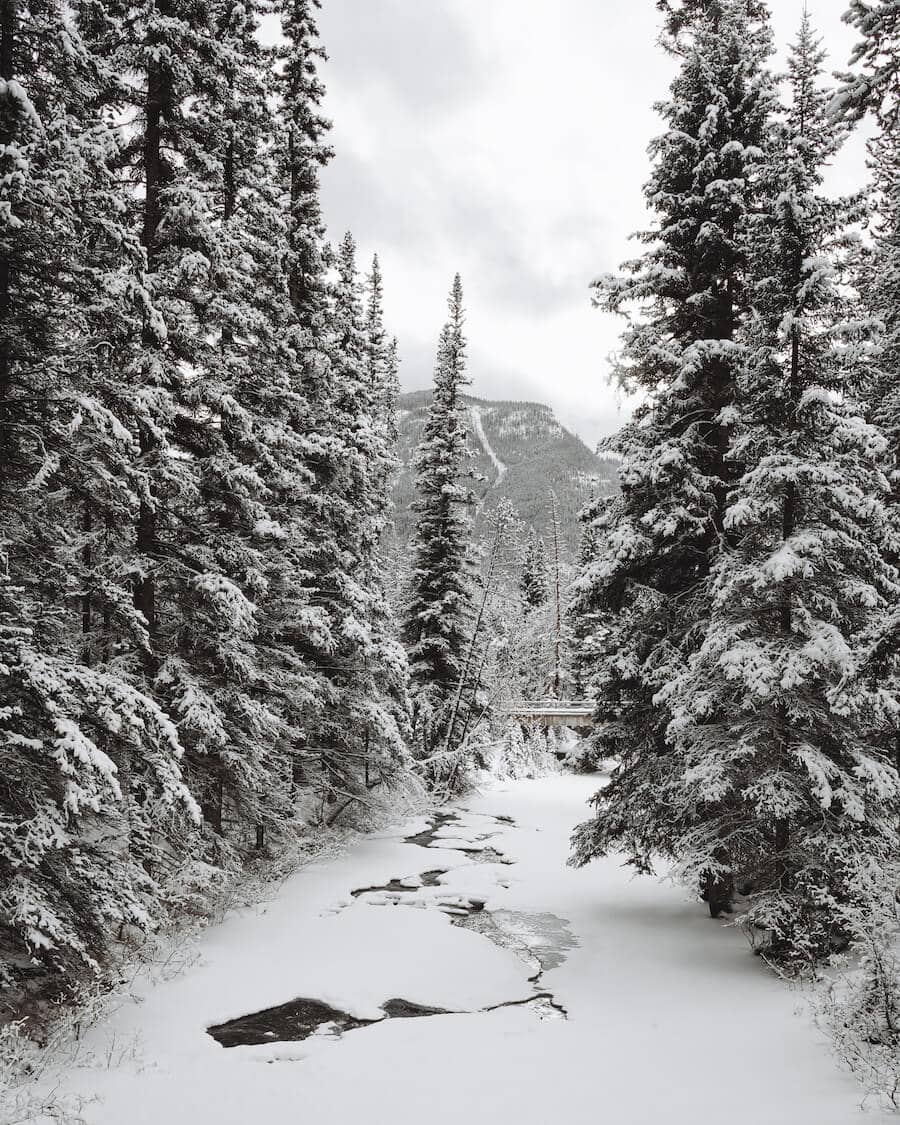 One of the things that makes this area so special is that the town of Banff is actually located within Banff National Park. So if you've ever had staying in a national park and UNESCO World Heritage Site on your bucket list, Banff is going to blow you away!
With all the demand though, the best spots to stay can get booked up weeks (or months!) in advance. I'd recommend reading through this post to find the best option that suits your needs and then booking ASAP so you don't miss your chance to stay in one of Banff's dreamiest accommodations.
Also, if you're a visual person like me, make sure to scroll to the end of the post for a handy map of all the Banff accommodations I've mentioned so you can get a better lay of the land. Seeing things laid out always helps me when choosing where to stay in any destination.
I hope this post provides you with all the information you need on the best places to stay in Banff. Now, let's dive in and chat details!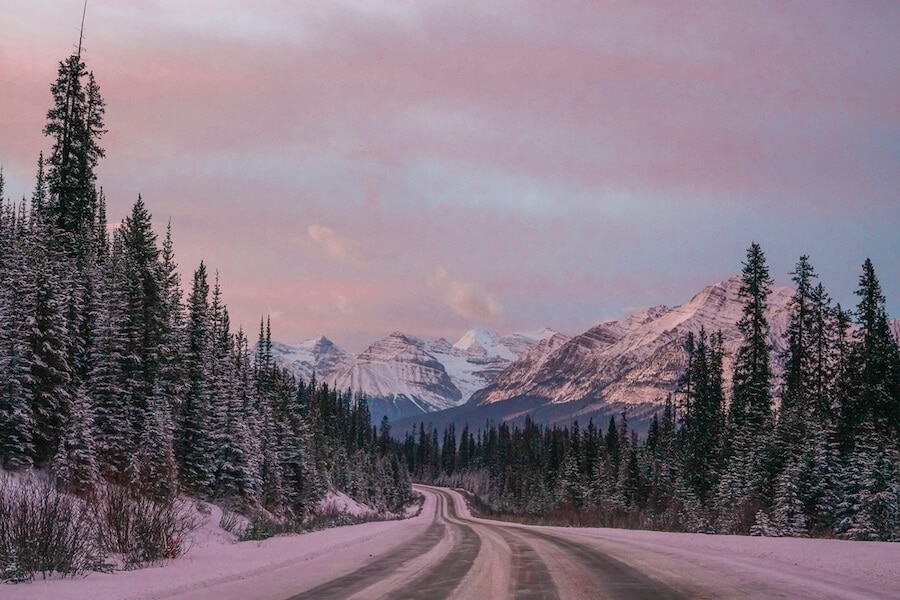 What to Know Before You Decide Where to Stay in Banff
I was a little stumped at first when deciding on where to stay in Banff National Park. Why? This popular destination has so much to offer but it's quite spread out with different little pockets that each offer unique activities and views. In this section I'm breaking down each of the areas of Banff and how to get around them.
How to Get Around Banff
The easiest way to get around and see Banff is to rent a car from the airport and drive at your own leisure. This will give you more flexibility as well if you decide on accommodation that isn't as centrally located. First though, you'll need to fly into Calgary Airport and make the 90 minute drive along the TransCanada Highway to Banff.
What Are The Different Areas to Stay in Banff?
Central Banff
This is the main downtown part of Banff which will center you in the heart of all the shops and restaurants and within walking distance to nightlife. Downtown Banff is still a charming ski town and far from "city life," but definitely has more of a bustling, crowded feel.
Lake Louise
Another popular option is to stay at Lake Louise, which is around a 40 minute drive from Banff town and near some amazing ski slopes. Lake Louise is definitely one of the more famous places in Banff and is a must-visit during your trip, even if you choose not to stay there. Just a warning – Lake Louise tends to attract LOTS of crowds because it's so picturesque.
Moraine Lake
If you want to stay within the Lake Louise village area but with a quieter vibe, opt for accommodation on Moraine Lake which is close by but less populated. In summer, Moraine Lake is known for its brilliant blue water that will have people accusing you of photoshopping your pictures!
Canmore
If you prefer to stay somewhere with a more local feel, opt for Canmore which is a town 20 minutes outside of Banff surrounded by stunning mountains. While it's a lot more residential than Banff and away from the action, it's the perfect place if you're looking for somewhere with fewer crowds and tourists. It's also closer to Calgary, so if your flight is arriving later in the evening, Canmore will be a closer first stop on night one.
Sunshine Mountain
If you're skiing in Banff and want a convenient ski-in ski-out experience, you can stay right in Sunshine Village to make getting from your bed to the slopes a breeze.
Emerald Lake
While technically not in Alberta, Emerald Lake (just over the border of BC, Canada) couldn't be left off the list. It's the largest lake in Yoho National Park and is absolutely magical in winter. While it's around a 70 minute drive from Banff and 20 minutes drive from Lake Louise, it's still close enough to include in your itinerary. The lake is secluded and not very well known to visitors, but it's perfect for anyone wanting to be surrounded by nature and get away to a little romantic escape.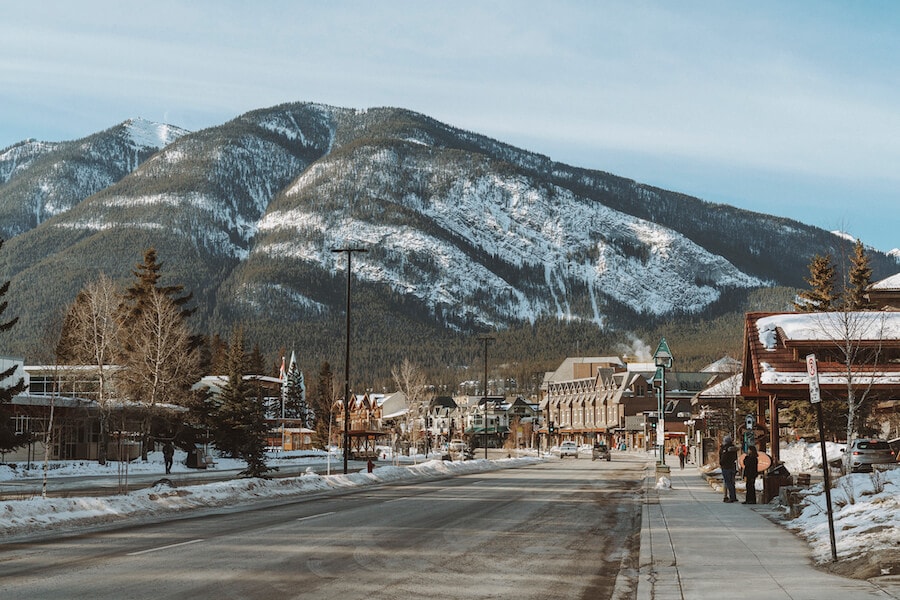 ---
Read More Banff Posts
---
Need Quick Answers? Here Are Some FAQs About Banff Accommodation
Where should you stay when visiting Banff?
This all depends on what kind of accommodation you prefer (Luxury or budget? Rustic or modern? etc), however I'll give you the quick report card on my favorites below.
I would also recommend mixing it up and staying in a couple different hotels during your trip so you can easily scope out a few unique areas in Banff. For example, start by staying in downtown Banff and then book a few nights away in nature on one of the gorgeous lakes.
My top picks for hotels around Banff and the surrounding areas:
Where should you stay if it's your first trip to Banff?
If it's your first trip to Banff, then I would recommend booking at least a couple nights at either the Fairmont Chateau Lake Louise or the Fairmont Banff Springs.
These are the most famous hotels in Banff for good reason, providing luxurious and iconic Banff accommodations and world-class service. Both hotels were built in the 1800s and carry a unique piece of Banff history with them.
Can you stay in Banff National Park?
You bet! The town of Banff is actually located within the national park – how cool is that?! You can find everything from budget to luxury accommodations here. Scroll down to the section on where to stay in central Banff for all the best options.
Is it better to stay in Canmore or Banff?
I'd recommend Banff for anyone visiting for the first time. If you prefer somewhere quieter and away from the action, Canmore is also a great option and is only 20 minutes away from Banff by car.
Is it better to stay in Lake Louise or Banff?
It can be harder to find budget accommodation and evening activities in Lake Louise, but it's also a great place to stay for taking part in some of the best outdoor activities in both winter and summer.
If you're a social butterfly though and will want to mingle with the younger crowd in Banff, then you'll love the cozy bars and array of restaurants to choose from in the downtown area.
What is the best month to visit Banff?
The summer months of June-September are the the most popular months to visit Banff when all the attractions and sights are accessible but this is also high season when accommodations will be in highest demand and tourist numbers skyrocket.
I've personally only visited Banff in winter and I think it's absolutely magical in the snowy months and gives your trip a cozy feel. Plus, if you're into cool winter activities like skiing, dog sledding, and snowshoeing, November through April can still be a great time to visit.
Where to Stay in Central Banff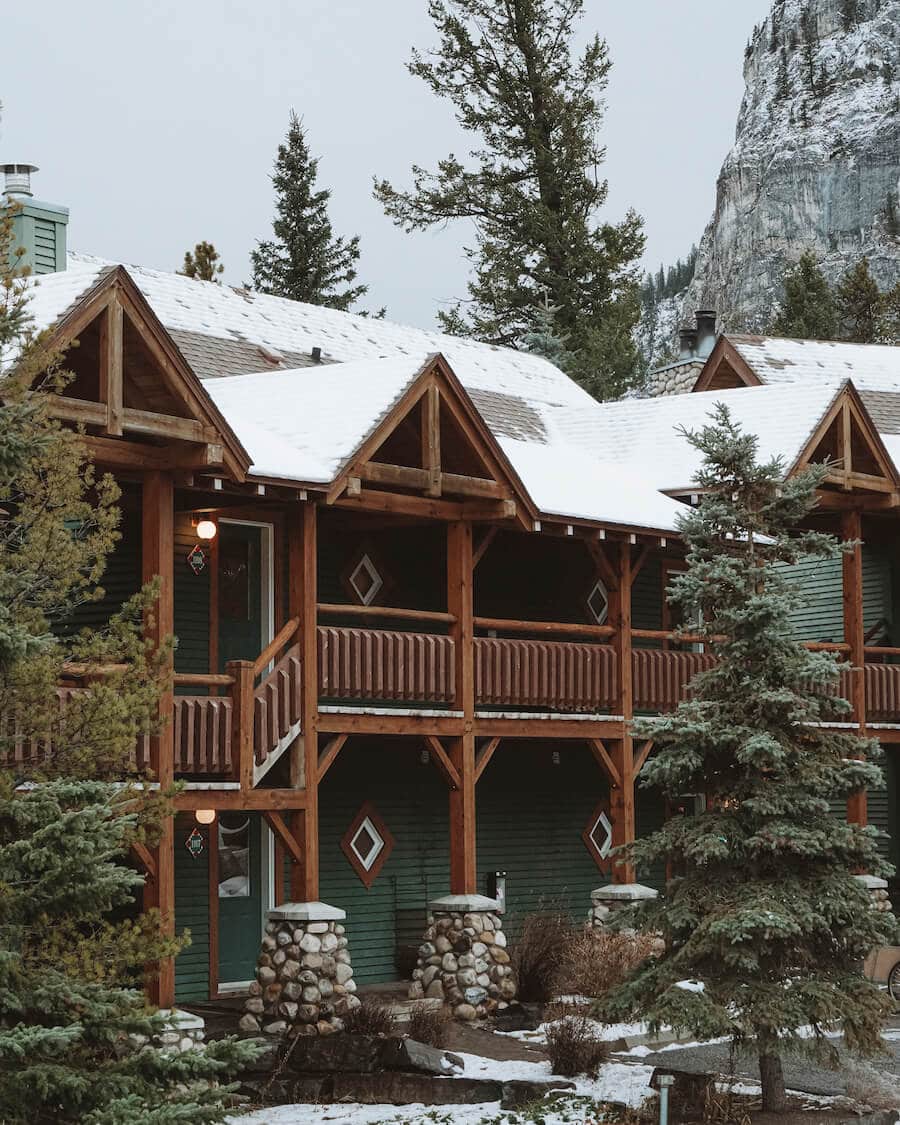 Buffalo Mountain Lodge
I've stayed at Buffalo Mountain Lodge on two different occasions now and absolutely love its rustic cabin feel. The hotel is located 5 minutes from downtown and is the perfect accommodation in Banff if you're looking for a cozy cabin vibe away from the crowds but close enough to visit all the best shops and restaurants in Banff town.
This lodge style accommodation is best known for its peaceful setting atop Tunnel Mountain where 108 rooms have been designed with wood-burning fireplaces and heated bathroom floors. The resort's stainless steel hot tub is perfect for relaxing the muscles after a jam-packed day enjoying Banff's plentiful outdoor activities.
One of the best surprises during our stay was the food at the hotel's restaurant, Sleeping Buffalo. Dinner here is divine and I'd highly recommend the Pacific Halibut. Oh, and wine lovers, you'll want to get a taste of their award-winning selection! Just sayin'!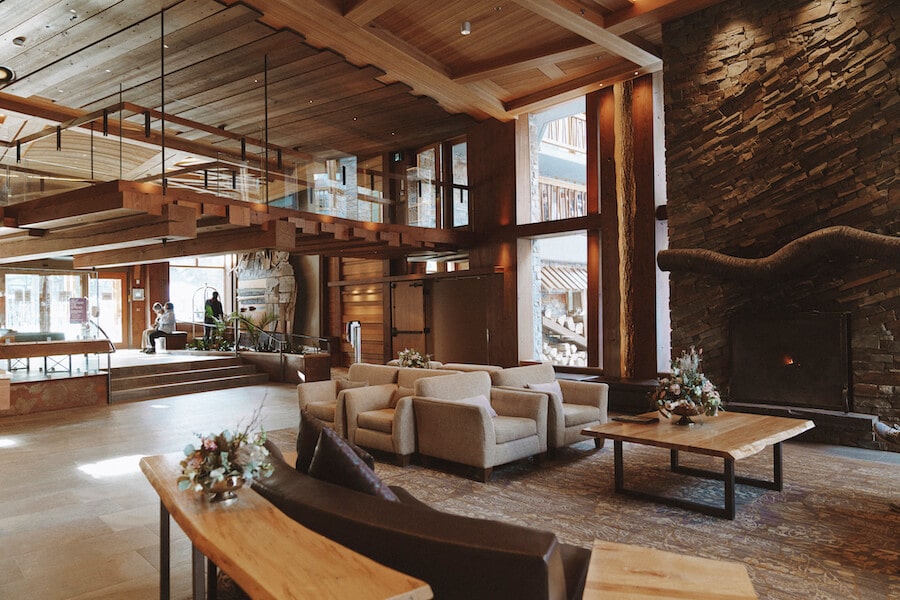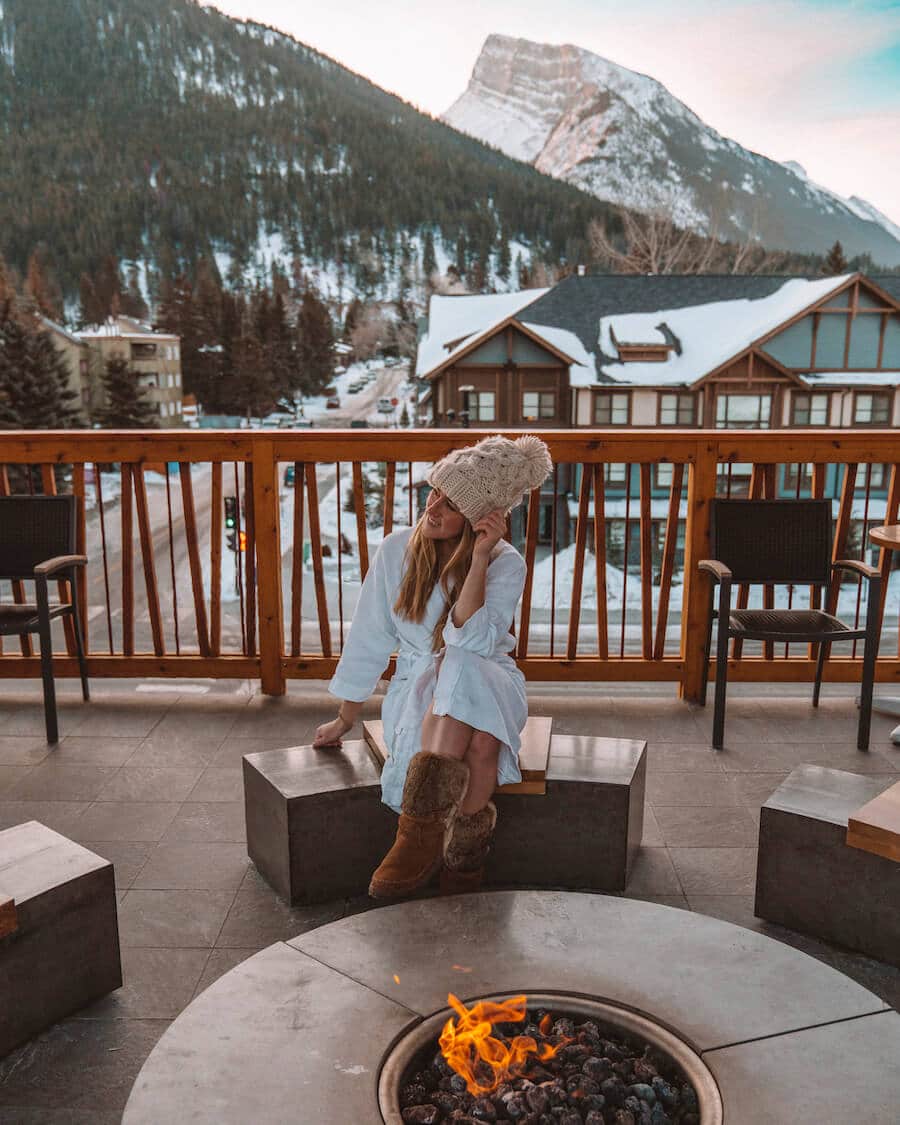 Moose Hotel & Suites
Located right on Banff Avenue, the Moose Hotel & Suites is located within a one minute walk to downtown Banff. Fitting for a younger vibe, it has an amazing rooftop featuring a spacious hot tub and fire pit that provide awesome views of the surrounding Canadian Rockies.
This elegant hotel made from natural materials, is both modern and comfortable, boasting AC during the summer months which is a major plus because not all hotels in Banff provide it.
All in all, this hotel is a great option if you're a first time visitor to Banff wanting to be close to shops and nightlife and appreciate modern design and amenities.
Fairmont Banff Springs
The area's most iconic hotel, Fairmont Banff Springs (also known as "the Castle in the Rockies"), is a world-renowned resort originally built in 1888 and styled after a Scottish Baronial castle.
With its majestic architecture, top notch service, and long history in Alberta, it's one of the best places to stay in Banff for those looking for an out of this world experience with some of the best amenities on offer.
You can't miss their incredible 40,000 square foot Willow Stream Spa, featuring three waterfall treatment whirlpools, an indoor mineral pool, luxurious spa treatments and more.
Summertime visitors will be happy to hear that rooms have AC which can be hard to come by in Banff. For winter-goers interested in skiing, the resort also provides ski passes and rental gear right on property.
Search for more hotel deals in Banff on Booking.com: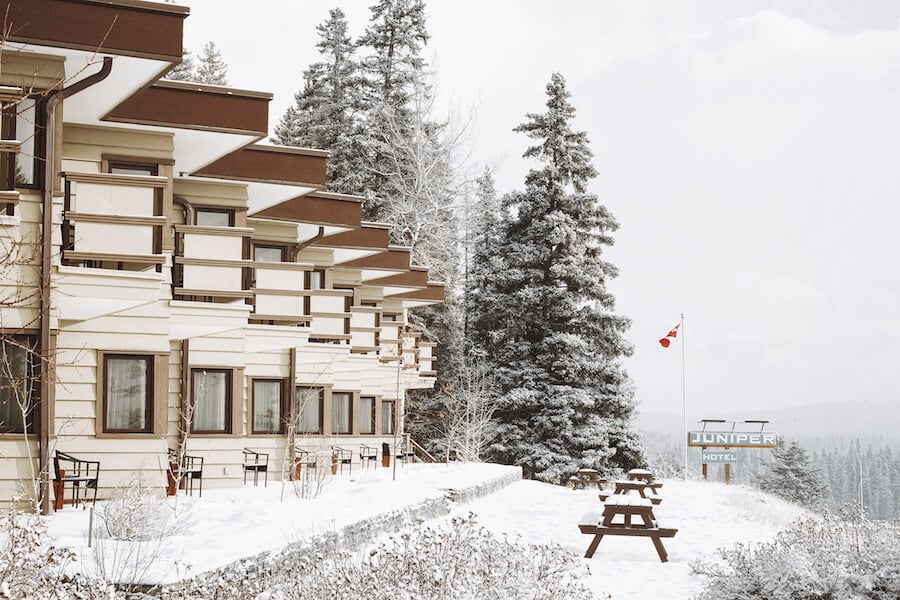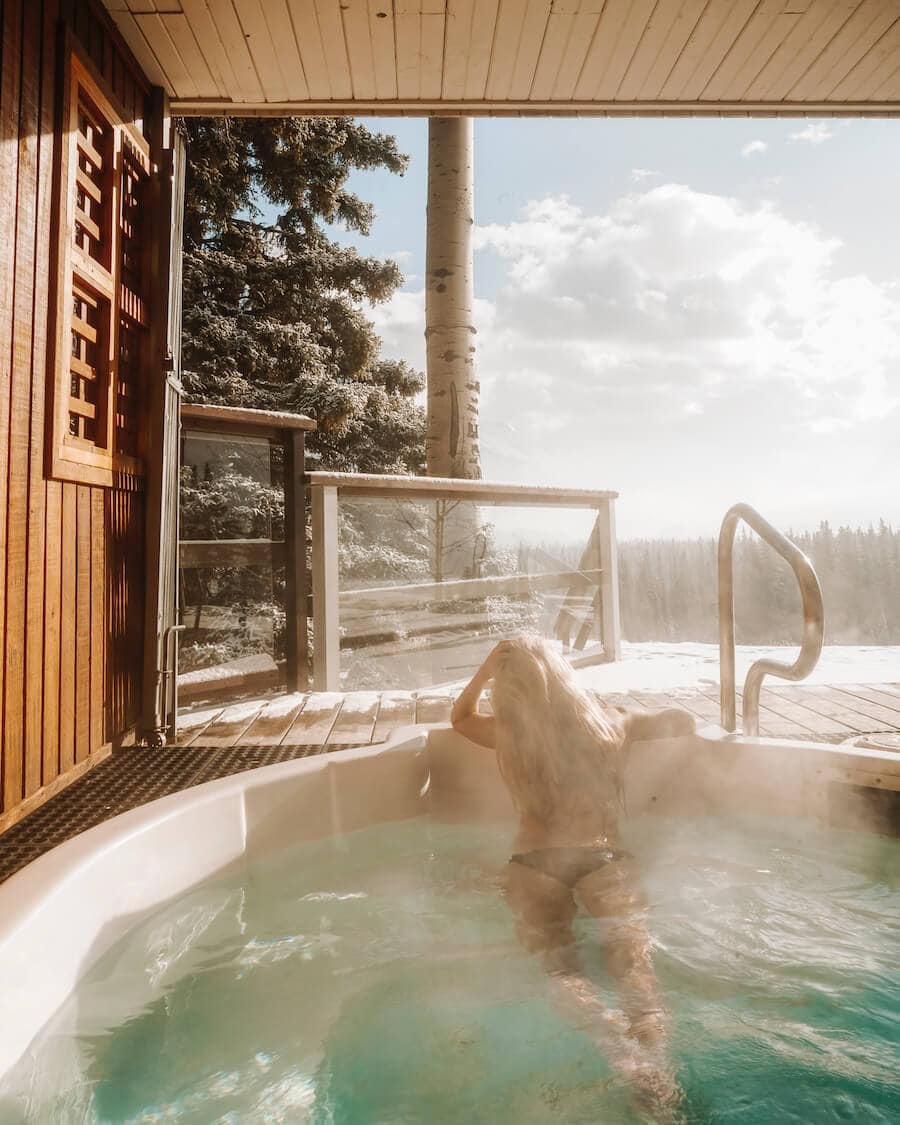 Juniper Banff
The Juniper Hotel is an affordable and modern option in central Banff with stunning views of the mountains. Located at the foot of Mt Norquay, it's also a convenient place to stay for those skiing in Banff in the winter months.
While the hotel is pretty simple, the rooms are well designed and there's a communal hot tub for guests that looks out onto the stunning scenery of Banff National Park. Plus, the on-site Juniper Bistro restaurant is absolutely delicious and worth a visit for brunch even if you're not staying there!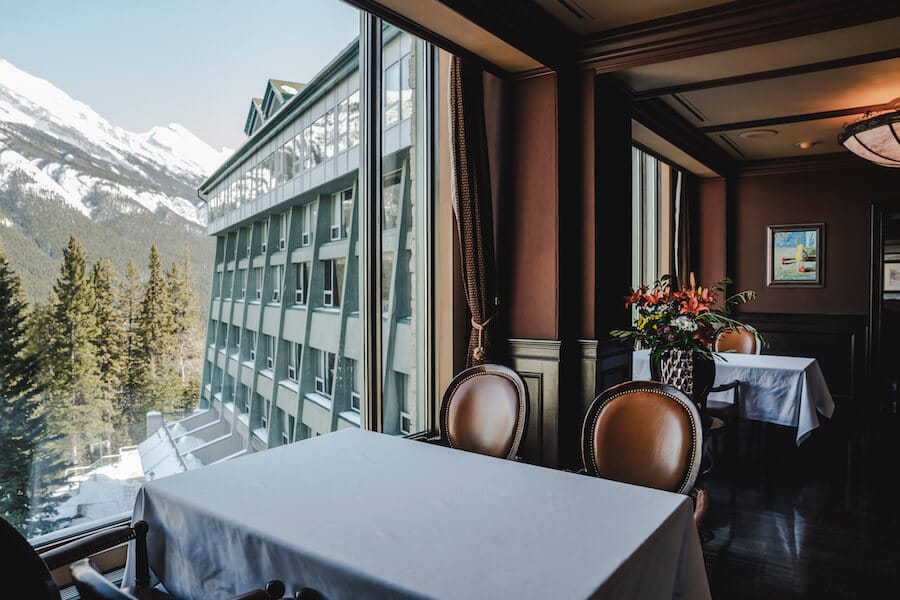 Rimrock Resort Hotel
Situated 6 minutes away from the center of Banff atop Sulphur Mountain, Rimrock Resort is one of Banff's most luxurious hotels and is within easy driving distance to the Upper Hot Springs and Banff Gondola.
While Rimrock isn't personally my style, there are a lot of great selling points for staying here. For one, the incredible locale offers beautiful mountain views to take in the gorgeous Banff scenery right from the hotel. Plus, you get allll the amenities when you stay here – think indoor heated pool and hot tub, full service spa, spacious fitness center and much more.
If you can snag a reservation, you won't want to miss their unique fine-dining experience at on-site French restaurant, Eden, which was awarded AAA Five Diamond status.
Between the luxurious restaurants, sauna, and stylish rooms, this resort has everything you need for a ski break or a relaxing vacation.
Airbnbs in Central Banff
If you prefer Airbnb style condo living, this renovated apartment is modern and conveniently situated on the edge of Banff town.
For larger groups, it doesn't get much better than this bohemian-meets-rustic home located just one block from Banff Avenue in the heart of downtown. Up to 11 guests can stay here!
Use the search box below to find even more Airbnb stays in Banff:
Where to Stay in Lake Louise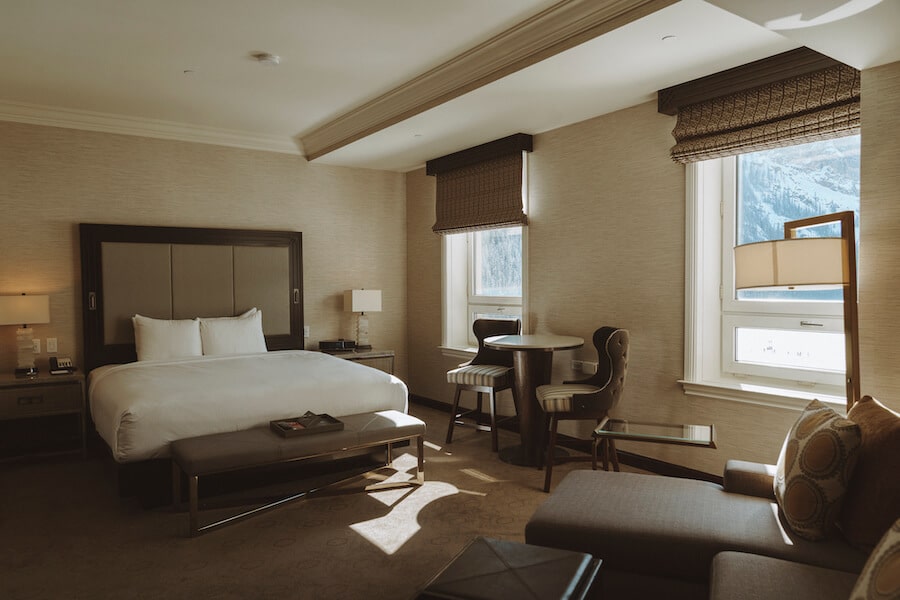 Fairmont Chateau Lake Louise
With 360 degree panoramic views of Lake Louise and the Victoria Glacier, Fairmont Chateau Lake Louise is one of the best hotels in Banff hands down. The surroundings and views are absolutely stunning!
In summertime, the Fairmont Chateau Lake Louise is the perfect picturesque lakeside escape with plenty of hiking trails to keep you busy nearby. In winter, the lake freezes over and provides a fun playground for figure skaters and hockey enthusiasts. The hotel even creates a seasonal ice bar and ice castle for a little extra winter wonderland magic.
This hotel is one of the most luxurious resorts in the area, with beautifully designed rooms and tons of options for pampering whether that looks like a spa treatment or a glass of wine at one of the hotel's many bars and restaurants (the Fairview is my favorite).
Simply put, this hotel is perfect for anyone wanting to spoil themselves in luxury for a few days. Just note that the lake can get crowded with tourists, so if you're looking for a more quiet escape nearby, keep reading.
Search for more hotel deals in Lake Louise:
Moraine Lake Lodge
Moraine Lake Lodge is located within the village of Lake Louise just 20 minutes from the Fairmont property, but is definitely situated on the more beautiful of the two lakes. If you've ever Googled Banff before, there's a high probability you've seen photos of Moraine Lake's brilliant blue color. It's absolutely surreal.
This hotel is a seasonal property only, operating from June 1st to September 30th during the summer season. It's a great base to explore the area of Lake Louise, especially if you're into hiking, fishing, canoeing, or simply relaxing with nature at your doorstep.
Each cabin on property features views of Moraine Lake, and though the design is a modern take on a rustic cabin, I love that they've gone back to basics by intentionally omitting TVs and telephones from their rooms (ok, yes there is wifi). If you're looking to truly disconnect and immerse yourself in a calming, romantic escape, look no further.
Where to Stay in Canmore
Stoneridge Mountain Resort
Nestled in Canmore, the Stoneridge Mountain Resort is ideal for longer stays, with access to a full kitchen, living area and amenities. If you're traveling with a family or group of friends this resort is a great option as they offer one, two and three-bedroom suites throughout the property.
Stoneridge Mountain Resort is within a 15-minute drive of Banff National Park and 10 minutes walking distance to downtown Canmore. Cozy and quiet, the modern suites provide a comfortable place to base your stay with a spacious pool and hot tub terrace waiting for you at the end of a long day exploring.
For winter adventurers who plan on renting a car, you'll love that the hotel has heated underground parking. AKA no need to scrape your windshield for 20 minutes before setting off each day. Now, that's something to celebrate.
Search for more hotel deals in Canmore, AB:
Airbnbs in Canmore
If you prefer more of the homestay experience to a hotel, Airbnbs are a great option and allow for little to no interaction with hosts.
For singles or couples, this stylishly decorated studio condo in Canmore with mountain views is the perfect home away from home for your stay.
This newly renovated apartment in the Rockies is also in a great location and ideal for families with a kid-friendly wading pool and fun 3-story waterslide.
For groups needing a little more space, this 2-bedroom condo is another modern and well decorated option just 10 minutes walking distance from downtown Canmore.
Traveling with a large group of family or friends? This 7-bedroom home is stunning and can accommodate up to 16 guests. Plus, it has all the amenities for a blissful stay including a heated outdoor pool.
Use the search box below to find even more Airbnb stays in Canmore:
Where To Stay In Banff If You're Skiing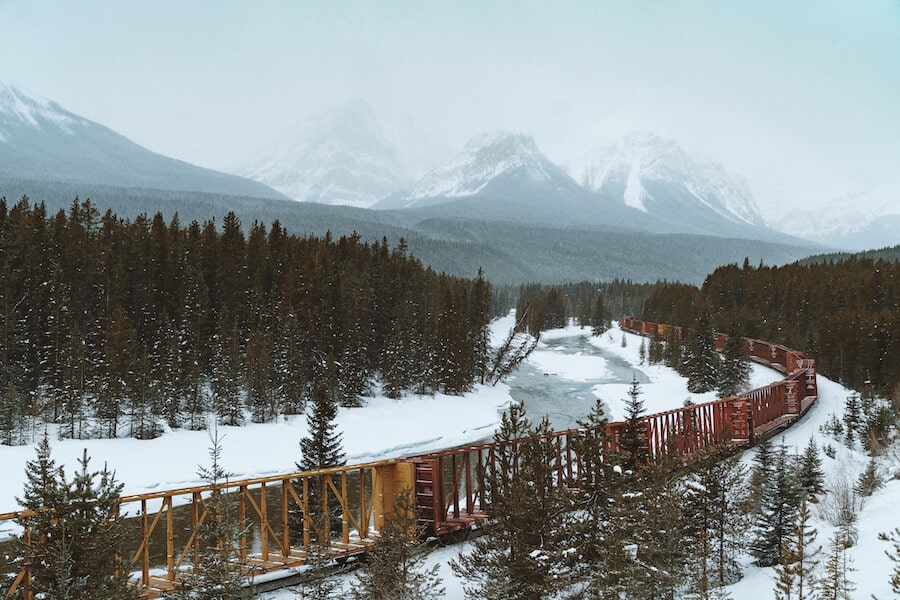 Sunshine Mountain Lodge
If traveling to Banff in winter, you likely have skiing on the agenda. The area is home to three awesome ski resorts worth exploring: Banff Sunshine, The Lake Louise Ski Resort and Mt Norquay.
However, only one of the resorts offers ski-in ski-out accommodation and that's Banff Sunshine's Sunshine Mountain Lodge. Located conveniently in Sunshine Village, it's Banff's hotel right on the slope, giving your ski trip the most effortless convenience.
Not skiing at Banff Sunshine? That's cool too. If you're looking to ski in Mt Norquay, the Juniper Hotel or Moose Hotel & Suites are ideally situated. And to ski near the resort of Lake Louise, Fairmont Chateau Lake Louise will be your best option.
Where to Stay Outside of Banff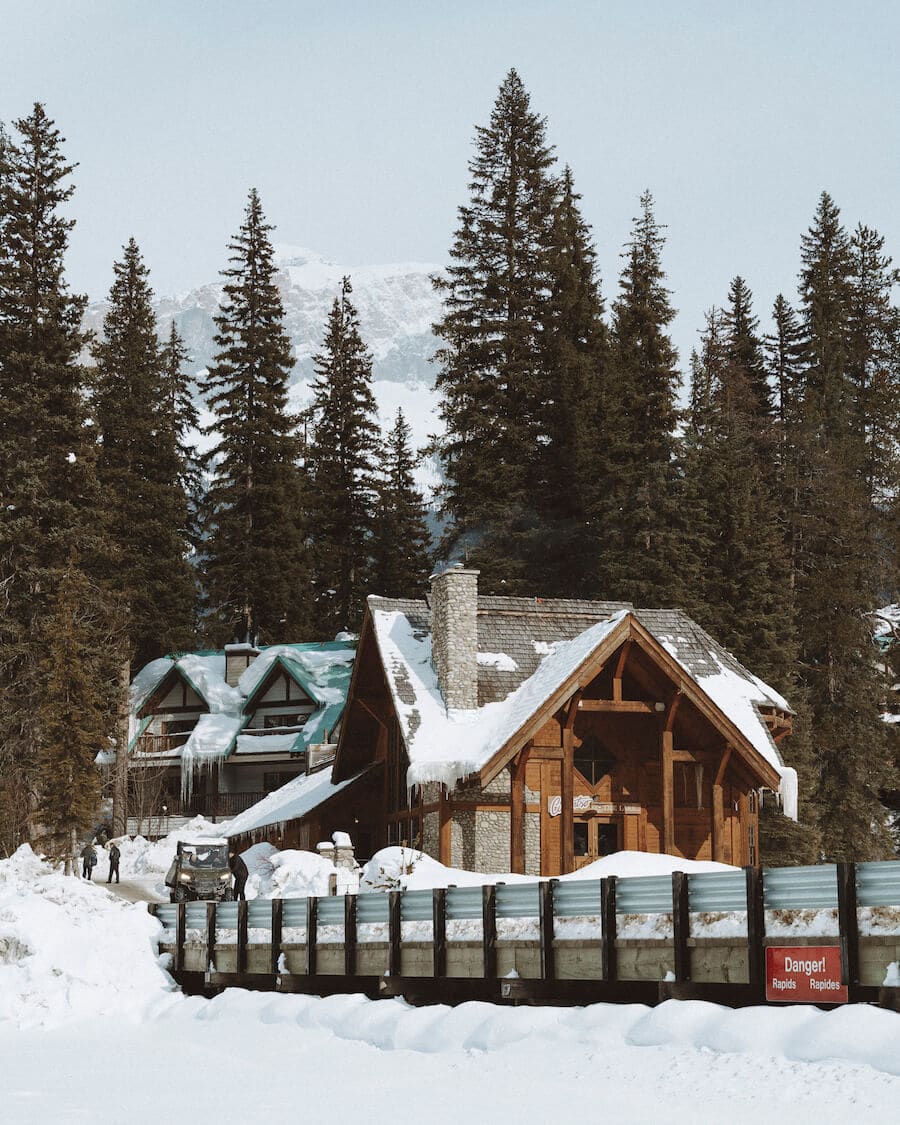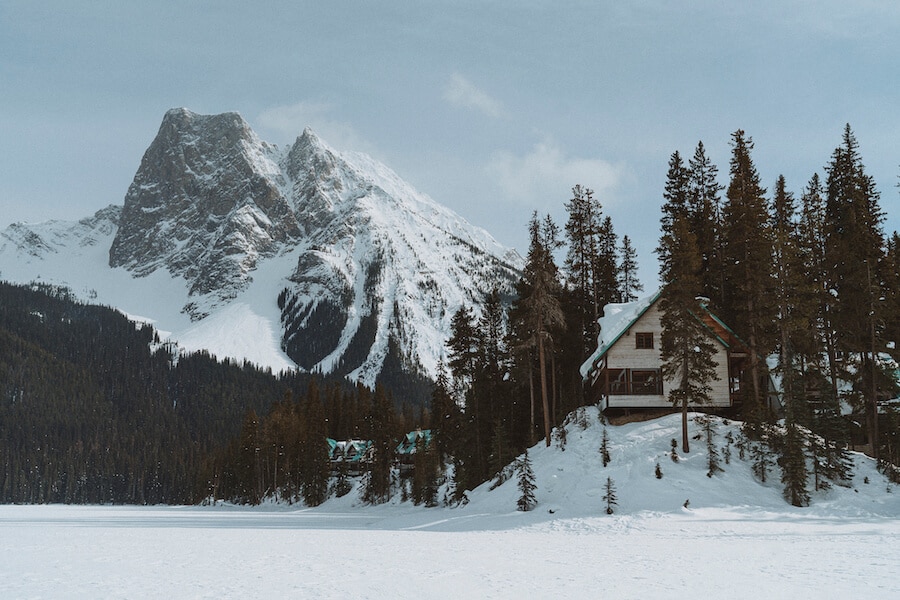 Emerald Lake Lodge
The Emerald Lake Lodge may not be located inside Banff National Park, but if you have an extra day or two, you can't miss this fairytale spot one hour north of central Banff and 30 minutes from Lake Louise. Situated smack dab in the middle of Emerald Lake in Yoho National Park, it's a beautiful place to explore off the beaten trail where fewer tourists linger.
This magical setting is idyllic for canoeing and hiking adventures in summer or snowshoeing and sipping hot cocoa in the winter months.
With cabin style accommodation and a pristine lake on your doorstep, it's perfect for anyone visiting Banff for the second or third time or for those that have a bit of extra time to work with in their Banff itinerary.
FYI, there's no mobile phone signal for those wanting to completely disconnect and immerse themselves in their surroundings. The ultimate isolated getaway in my opinion!
Need to get your bearings? Here's a handy map that will help you to better understand the layout of Banff and the surrounding areas!
So tell me, do you feel more confident now about your choices of where to stay in Banff? Let me know if you have any more questions in the comments below!
---
Planning a trip right now? Don't miss my go-to websites for booking everything from flights and tours, to accommodation and more:
---