It's no secret that Buenos Aires, the cosmopolitan hub of South America, exudes a graceful infusion of European and Latin American culture. Whether you're stopping by for a few days, weeks or months, choosing where to stay in Buenos Aires can be somewhat overwhelming in choice. From the hipster vibes of Palermo to the historic charm of San Telmo, you'll be spoilt with an array of cozy abodes around the city.
I hope this post provides you with useful tips and information on where to stay in Buenos Aires. For a city that starts a night out on the town at 2am (even on a Sunday night!), choosing where to rest your head when the party's over is an important choice to make. It's easy to be drawn to Palermo at first glance, but as you'll see there are amazing things to see and do in each barrio that will not disappoint. Read on for your very own neighborhood guide to the eclectic, seductive and cultural mix that is the Paris of South America!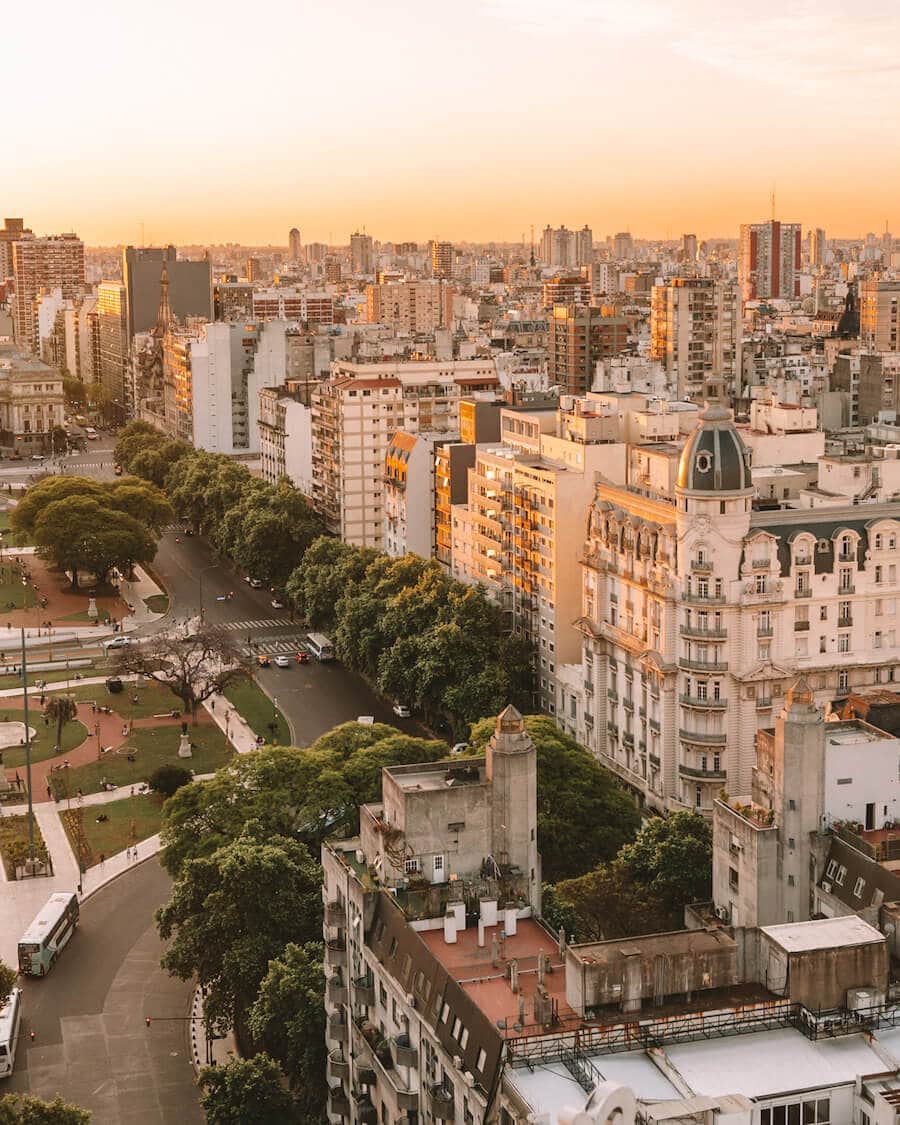 The Best Neighborhoods in Buenos Aires
Palermo
San Telmo
Puerto Madero
Recoleta
Microcentro
Palermo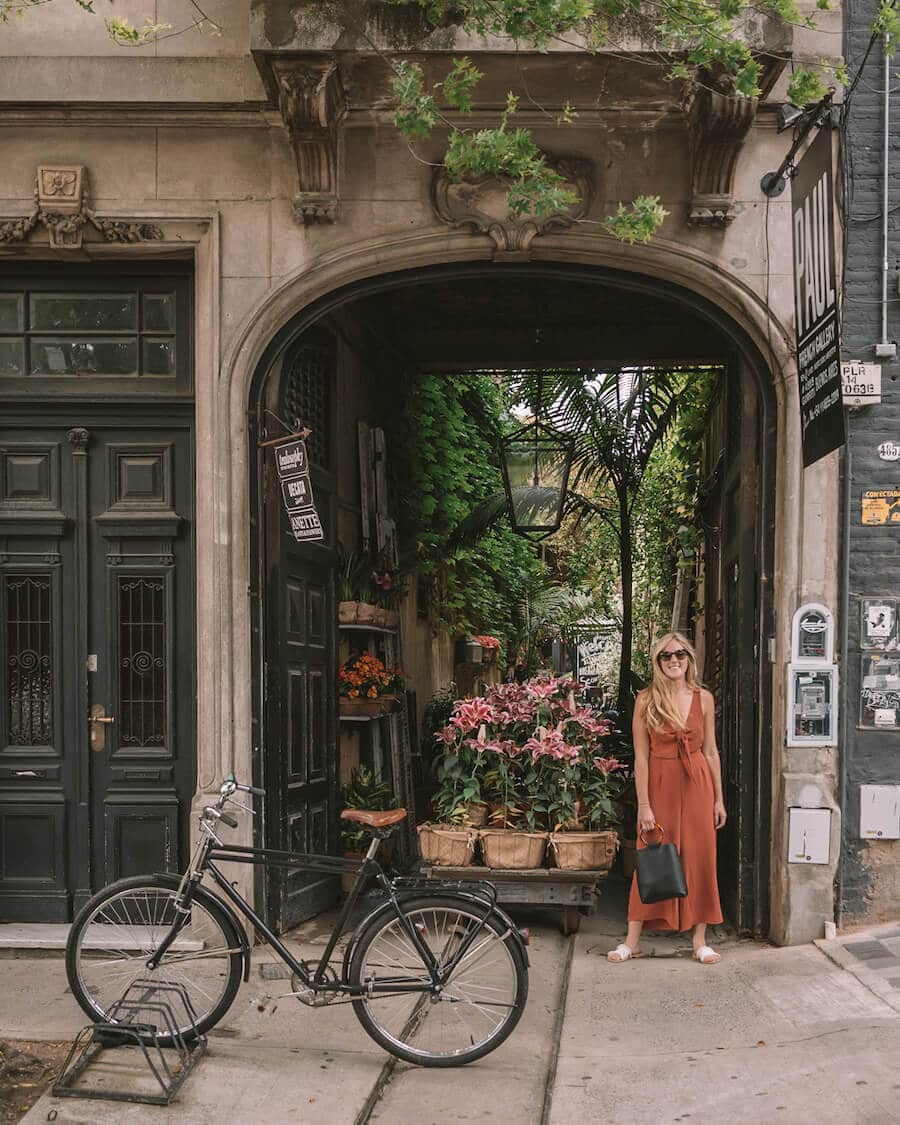 My favorite of Buenos Aires neighborhoods has to be Palermo Soho. With easy access to all the best restaurants, bars and nightlife, this is the place to peruse the cutest boutiques in the city and do a street art tour during the day. At night, it's easy to meet up with friends for a glass of wine at one of the cute bars nearby. PS – If you didn't already know, Argentina has the BEST wine, so this is a must.
Palermo Soho is where I personally stayed during my 2 week trip there with Unsettled. I felt like it was the perfect neighborhood to stay in to get an introduction to the city but also get that sense of living as the locals do.
Further north towards Alto Palermo, the area becomes more commercialized with malls and larger stores, but if you're there over the summer, being in close proximity to green spaces can be a major plus in a bustling city.
And of course a trip to Buenos Aires wouldn't be complete without a tango class or two. Head over to DNI tango nearby for a free session on Saturdays or the popular La Catedral for a milonga you won't forget. For a night on the town, head over to Bar Soria for a happy hour drink and mingle with gregarious Porteños chilling after work.
Palermo is one of the safer barrios of Buenos Aires and is growing quickly as an expat hub. With trendy cafes, it's perfect for people watching, and there are plenty of green spaces to enjoy like the beautiful Japanese Botanical Gardens. Bonus: it's still surprisingly affordable and comfortable for such a popular neighborhood in Buenos Aires.
The Best Hotels in Palermo Soho
Clean, fun and in a great location, Mine Hotel has a funky retro vibe that makes for a lively base in the heart of Palermo Soho. Check out the Mine Hotel
With an outdoor swimming pool and spa facilities, this little oasis is located in the center of Palermo Hollywood and was opened by legendary British music producer Tom Rixton — so expect the cool factor to be off the charts. Home Hotel is located in perfect proximity to a ton of trendy bars and restaurants as well. Check out the Home Hotel
BE Jardin Escondido by Coppola
With only seven intimate rooms, this former home of Francis Ford Coppola is one of the top picks for visitors to Buenos Aires. Check out the BE Jardin Escondido by Coppola
At only $29 per night, you'll really get your bang for your buck at the Hotel Costa Rica, which features beautifully designed rooms and a sun-filled patio to make you truly feel at home. Check out the Hotel Costa Rica
Located in Palermo Soho, this central hotel is clean and minimal with beautifully designed rooms and a rooftop for soaking up the warmer summer days in BA. Check out the Nuss Buenos Aires Soho
The Best Airbnbs in Palermo Soho
This gorgeous loft in Palermo Soho is $89 per night and in the heart of the neighborhood.
Lovely Airbnb for 2-4 people: Starting from $40 a night, this apartment is in a great location close to Plaza Italia.
The Best Budget Accommodation in Palermo Soho
For around $30 a night you can book a one bedroom private hotel located close to the Japanese Gardens at the Coraźon de Palermo Soho. Check out the Coraźon de Palermo Soho.
If you're traveling solo or looking to make new friends during your trip to Buenos Aires, then don't miss the Meridiano Hostel Boutique, located in a renovated 1920s mansion. Check out the Meridiano Hostel Boutique
---
Read More South America Posts
---
Villa Crespo
The quieter and more residential barrio of Villa Crespo is just a short stroll out of the limelight of Palermo. In such close proximity, it's one of the best places to stay in Buenos Aires for those looking for a more chilled out neighborhood with all the amenities on their doorstep. Known for its leather stores on Calle Murillo, Villa Crespo is a great place to go shopping around for a souvenir or two while you're in the area.
Safety wise, take care on some of the darker streets as you would anywhere. There are a lot of people walking back between Palermo and Villa Crespo but if in doubt, take a short Uber ride.
The Best Hotels in Villa Crespo
There aren't a ton of hotel options in Villa Crespo since it's more residential, but there are lots of options for apartment, condo and Airbnb stays. Here are some of the best ones!
Modern apartments in Villa Crespo: Starting from $55 a night, stay at one of these modern apartments with a pool in Villa Crespo.
Loft in Villa Crespo: This spacious loft which is superhosted on Airbnb and only $22 a night is a great base in Villa Crespo's residential area. 
The Best Budget Accommodation in Villa Crespo
Spacious and bright studio: Starting at $25 a night, you can rent an entire apartment with this superhost. 
San Telmo
If you're a foodie lover like me, head to the Sunday market in San Telmo. The oldest barrio of Buenos Aires, San Telmo has a hip, colonial vibe with endless restaurants and cool cafes. Pick up your dulce de leche to take home and head to the famous El Hornero for a taste of Argentina's famous empanadas.
On a Sunday you'll also catch some sultry street tango outside antique shops and around the plazas. For the evenings, book a night at one of the tango shows or grab a steak at one of the mouth-watering parrilla restaurants.
San Telmo is one of the best areas to stay in Buenos Aires if you're looking for more of a traditional and energetic vibe, with architecture that will remind you of European cities like Paris. In the past, San Telmo has gotten a bit of a bad rap for safety in the evenings, but it's improved tremendously over the years. As with anywhere, exercise caution and don't take out valuables if you don't need to.
The Best Hotels in San Telmo
Located close to San Telmo market in a stunning historic building, this stay starts at $70 a night. Check out L'Adresse Hôtel Boutique
With a restored art deco construction and terrace views overlooking San Telmo, Moreno is a great option for lovers of architecture and history. Check out the Moreno Hotel. 
The Best Airbnbs in San Telmo
Impeccable apartment San Telmo: Starting at $36 a night, you can stay with this superhost with a gorgeous double room. 
Palace on the Park: For larger groups, this stunning 3-story home across from Parque Lezama is the perfect way to treat yourself to comfortable luxury during your Buenos Aires stay.
The Best Budget Accommodation in San Telmo
Located in the heart of San Telmo, this newer addition to the neighborhood is a great way to be at the center of it all on a budget. Puerto Limon Hostel is just two blocks away from the Plaza Dorrego and within ten minutes of several major tourist attractions. Check out Puerto Limon Hostel 
Featuring an outdoor pool and clean, minimal rooms, Circus Hostel is the perfect place to base yourself for an adorable stay near San Telmo's historic center. Check out Circus Hostel
Puerto Madero
One of the more recent barrios full of skyscrapers and modern buildings, Puerto Madero is one of the best places to stay in Buenos Aires when you're looking for luxury accommodation. Sitting along the riverside, it's perfect for summer strolls and lazy afternoons in the sun. Head over to Reserva Ecologica nearby on foot or on a bike. In the evening, the area livens up with a hot and trendy club scene.
If you're tempted to do a day trip from Buenos Aires to Uruguay, you'll be well situated near the Buquebus ferry from Puerto Madero which will take you easily to the charming town of Colonia. It's really easy and tickets can be booked in advance at the local downtown office. 
Here you might feel far away from the vibrant energy of Palermo, but it feels safe and easy in Puerto Madero and you'll certainly have a wide choice of hotels to pick from in this area.
The Best Hotels in Puerto Madero
Get a luxury double room starting from $200 a night with an amazing pool if you're looking to cool off during the hot summer days. Check out Hotel Madero Buenos Aires
For the ultimate luxurious stay in Buenos Aires, check into the Alvear Icon Hotel which is part of the Leading Hotels of the World group and will give you that celebrity treatment you're looking for. Check out the Alvear Icon Hotel
The Best Airbnbs in Puerto Madero
Apartment with views of San Telmo and Puerto Madero: For light and bright window-filled rooms overlooking the river, you won't want to miss this gorgeous Airbnb apartment.
Studio Pileta: This funky, vintage-looking apartment has accesss to an indoor pool and all the amenities you'll need during your stay. 
The Best Budget Accommodation in Puerto Madero
Apartment in Puerto Madero: Puerto Madero isn't cheap, but for $50 per night, you can stay in this luxury, well designed complex. 
Recoleta
Affluent, upscale and extravagant, you might forget you're in Buenos Aires for a moment when visiting the Recoleta neighborhood. With some of the city's most luxurious boutique apartments and hotels, Recoleta is sublime in architecture. Home to the famous Cementerio de la Recoleta and the Church of Our Lady of Pilar, you'll spot many tourists paying their respects to many of Argentina's most famous figures buried here, like Eva Perón and former presidents.
One of the best ways to explore Recoleta is to wander on foot; head up to Museo Nacional de Bellas Artes and check out the Floralis Generica, a giant, moving steel flower sculpture that blooms and closes throughout the day. In the summer head to one of the parks outside Plaza Republica Federativa del Brasil, a popular hangout spot for locals and tourists.
The Best Hotels in Recoleta
Starting at $144 a night, the Sileo Hotel offers comfortable, clean and modern rooms. Check out the Sileo Hotel
This neutral-hued space is a calming retreat in the midst of the bustling Recoleta neighborhood and offers afternoon tea in their English winter garden. Check out Loi Suites Recoleta
The upscale Melia Recoleta Plaza Hotel fits the neighborhood with its beautiful rooms and excellent service, but at around $160 per night it's good value to be in the Recoleta area. Check out the Melia Recoleta Plaza Hotel
Starting from $92 a night, stay at a luxury apartment hotel surrounded by chic cafes and designer shops. Check out the Art Suites & Gallery
The Best Airbnbs in Recoleta
Joyful apartment in Recoleta:At $40 a night, this colorful and light-filled apartment is a steal!
Entire Loft: With its charming French country design, this apartment has European influences to match the city.
Recoleta 2 Bedroom with a view: This 2 bedroom 2 bath is great for families or groups of friends exploring Buenos Aires
The Best Budget Accommodation in Recoleta
Situated in a building that's over a century old, guests to the Voyage Recoleta Hostel will get a taste of history during their visit. Check out the Voyage Recoleta Hostel 
Microcentro
As the business hub of Buenos Aires, Microcentro is in the heart of the city and many of the free walking tours will take you through Plaza de Mayo and Av. 9 de julio. Located near many historical sites, Microcentro will put you in close proximity to the Presidential Palace and Obelisco.
This area is for you if you're looking for more of a commercial vibe with a range of 5 star hotels and more boutique accommodation, but it can also be quite chaotic and tourist heavy. What Microcentro may lack in culture and tradition, it more than makes up for in activity — just make sure that's what you're into. During the day it feels very safe walking around, but always be mindful of petty theft, especially from motorbikes riding by close to you. Be especially careful about using your phone for directions in plain sight and try to be more discreet if possible.
The Best Hotels in Microcentro
Just one block from the upscale Santa Fe Ave, CasaCalma feels like an oasis from the very busy streets of Microcentro. They even offer massage sessions and yoga classes by request. Check out CasaCalma Hotel
Starting from $240 a night, enjoy the stunning panoramic views over Buenos Aires at this luxury hotel. Check out Alvear Art Hotel
With a pool deck literally made of dreams, this stay will definitely make you feel like you're OOO. Check out the Hotel Panamericano
The Best Airbnbs in Microcentro
Microcentro apartment: Only three blocks from the Obelisco and with a balcony, prices start from $28 a night at this cute Airbnb.
The Best Budget Hotel in Microcentro
Hermoso Apartment in Microcentro: For a steal of $29 a night, this apartment in the bustling Microcentro neighborhood will provide a great place to rest between sight-seeing without breaking the bank. 
I hope you found this neighborhood guide to Buenos Aires helpful! Let me know if you have any questions or notes in the comments below!
---
Planning a trip right now? Don't miss my go-to websites for booking everything from flights and tours, to accommodation and more:
---