Though it's only 22 miles off the coast of Southern California, Catalina Island feels a world away. It offers panoramic views of the Pacific, beautiful beaches that look like the coast of Italy, epic hikes, downtown charm, and even roaming bison (but that's a story for another time).
If you're looking for all the best things to do in Catalina, make sure to check out my Catalina Island guide. In this post, I'll be breaking down where to stay in Catalina Island to ensure your adventure kicks off on the right foot.
Whether you're local to California or have plans to visit the Southern California area, Catalina Island should definitely be on your bucket list. 
While the island itself is relatively small (standing at around 21 miles long and eight miles wide), the two main towns of Avalon and Two Harbors are on complete opposite ends of the island, so knowing how you want to spend your time is important when planning your Catalina Island trip, so that you can figure out which side of the island to stay on.
You can definitely visit both towns if you'll be on the island for a few days, but you won't want to spend your time traveling back and forth, so it makes sense to pick a home base.
There's a lot to consider when deciding where to stay in Catalina Island, but I'll break down everything you need to know in this post to help make your planning a little easier!
Deciding Between Avalon and Two Harbors
When deciding where to stay in Catalina Island, your first step is choosing between Avalon and Two Harbors. Avalon is the more bustling town center with plenty of hotels and restaurants, while Two Harbors is much more quiet and peaceful with a landscape that feels a bit more wild and rugged.
I've stayed in both Avalon and Two Harbors, and I've really enjoyed my time in both, so it really just depends on what type of trip you're looking for.
Go for Avalon if:
If you want a plethora restaurant options, nightlife, golf cart rentals, tour options, shopping and to be one with the crowds.
Go for Two Harbors if:
The idea of being on a remote island with epic hikes in your backyard sounds good to you. There's only one restaurant here and one hotel option in addition to camping, so in Two Harbors things are much simpler and that can be a lovely thing.
What to Know Before Deciding Where to Stay in Catalina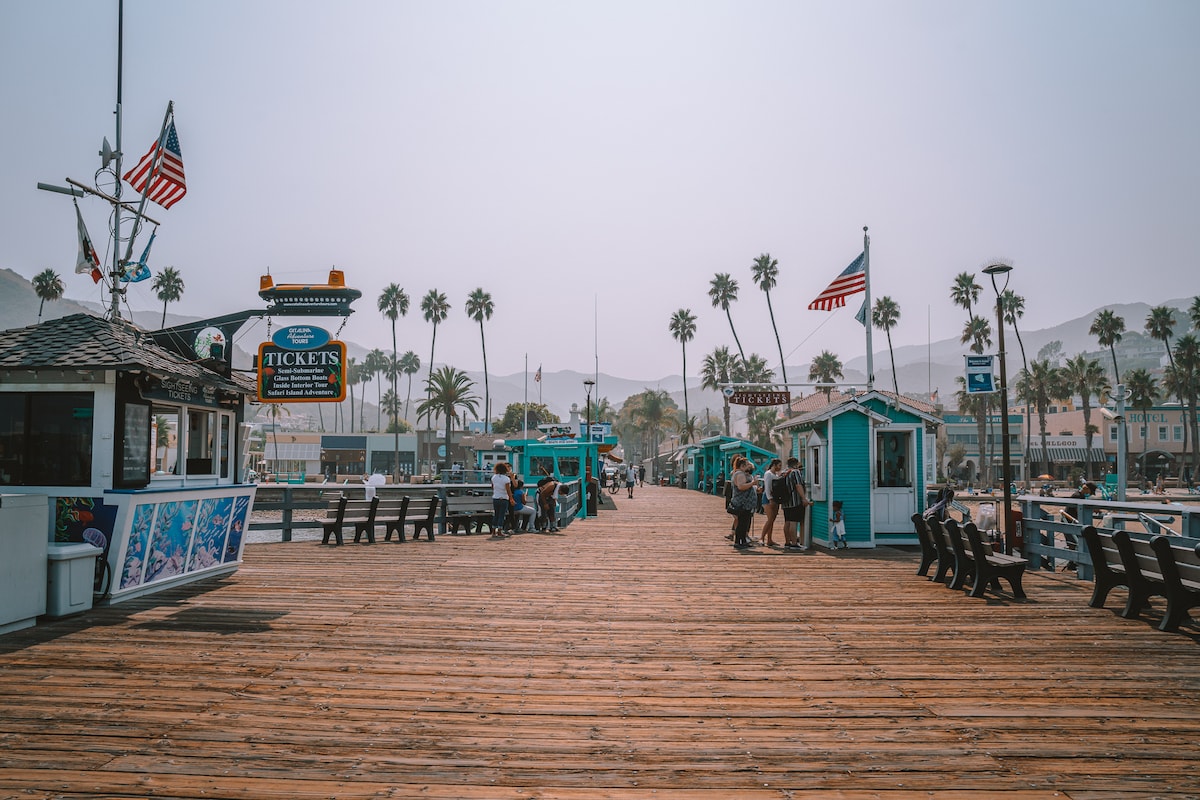 Avalon and Two Harbors are the two main towns on Catalina and they're very different from one another (and on opposite ends of the island). When choosing a hotel, make sure to pick one in the town where you're planning to spend the most time because commuting between the two can be a pain (not to mention really time consuming).
While I love a super modern, design-centric hotel as much as the next traveler, that's not really what you're going to find on Catalina. Here, you can expect the accommodations to have more of a historic charm than trendy and luxe vibe—but this doesn't mean that there aren't amazing options to choose from. The style is just a little different than the hip hotel vibes in LA and San Diego.
Catalina is a very hilly island, so if you're traveling with someone who is older or has limited mobility, you'll probably want to narrow your hotel search to spots that are within walking distance to the main downtown area (don't worry, there are plenty of options).
From snorkeling to lounging in a cabana at Descanso Beach Club, Catalina Island caters to a variety of needs, and pretty much any kind of traveler will find something to do.
---
Read More California Posts
---
Quick Answers to Your Accommodation Questions for Catalina Island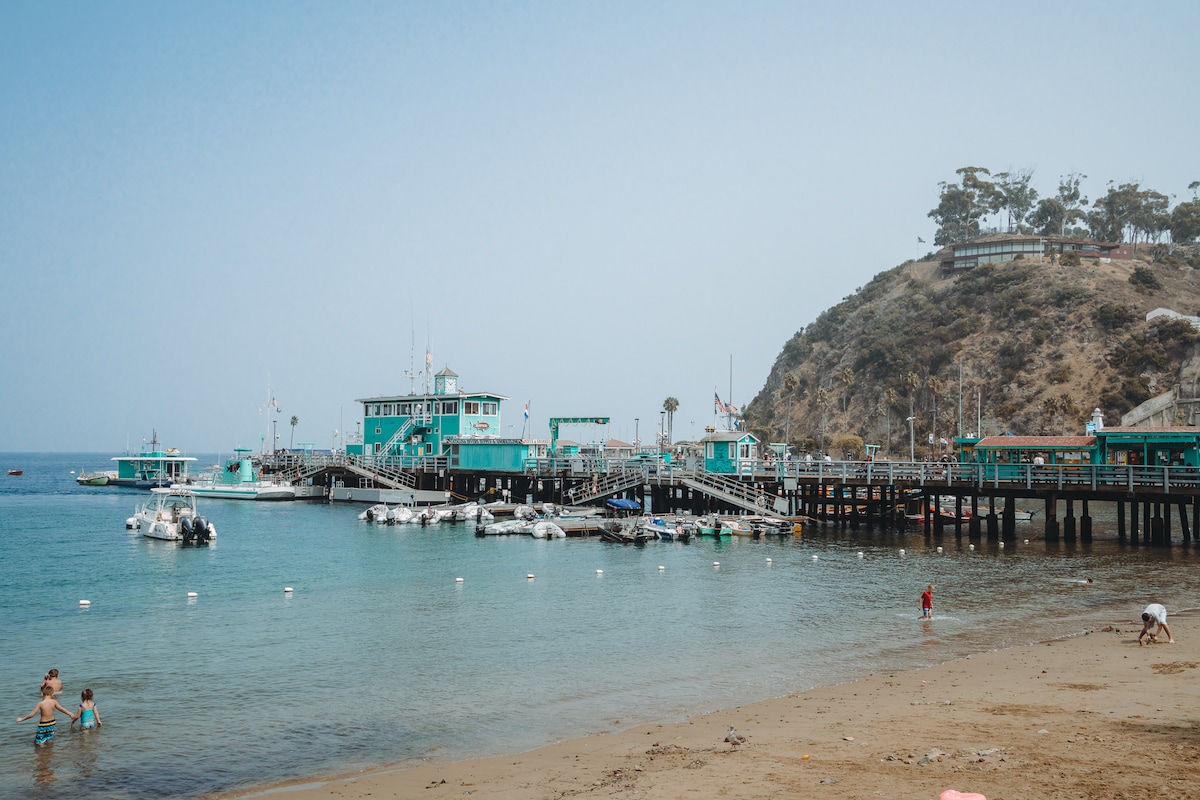 If you don't have time to read through my full write-up about the best Catalina Island hotels, here are some quick answers to some of the questions you might have!
Where is the best place to stay in Catalina Island?
For the Avalon side of the island, I recommend Hotel Atwater. If you'll be on the Two Harbors side, go with Banning House Lodge.
How much does it cost to stay on Catalina?
Like with most places, there is a range. If you're on a tight budget you can camp, but if you are going the hotel route, you can expect to spend anywhere from $250 to $1,000+ per night, with most of the decent spots coming in at around $300-$400 a night (depending on the day of the week and season).
Should I stay in Avalon or Two Harbors?
It depends on the vibe you're looking for. Avalon is a lot busier with more to see and do (and it definitely has more of a nightlife), while Two Harbors is quieter and more remote, making it the better choice if you're seeking solitude and a "get-away-from-it-all" type of trip.
How long should I stay on the island for?
I'd say that two to three nights is plenty of time to stay on Catalina. It's perfect for a weekend or long-weekend getaway, and since it's only a short boat ride away, you can always come back! However, if you are really tight on time, Catalina can be accomplished in a single day. Just do your best to book the earliest and latest boat rides possible.
Best Hotels in Catalina Island
Best Hotels in Avalon
The Avalon side of the island has many hotels to choose from, and there's really something for everyone, along with many options for different budgets and preferences.
Despite the fact that Avalon has way more restaurants, bars, and businesses, you can still find plenty of outdoorsy things to do, and if it's your first time coming to Catalina, I would probably suggest staying in Avalon. With that said, here are some of my favorite hotels in Avalon!
This place is my #1 hotel choice for Avalon and where I stayed while in town. It has been renovated in recent years and they did a great job maintaining the art deco vibes and coastal charm of the original property that is synonymous with Catalina style.
Hotel Atwater is conveniently located right in the heart of the downtown area and within walking distance from the ferry and pretty much everything you'll want to do in Avalon. One caveat is that there's no restaurant at the hotel (though there are plenty within walking distance), but the downstairs bistro does serve coffee in the morning. You're also greeted with sparkling wine on arrival, which is always a plus in my book.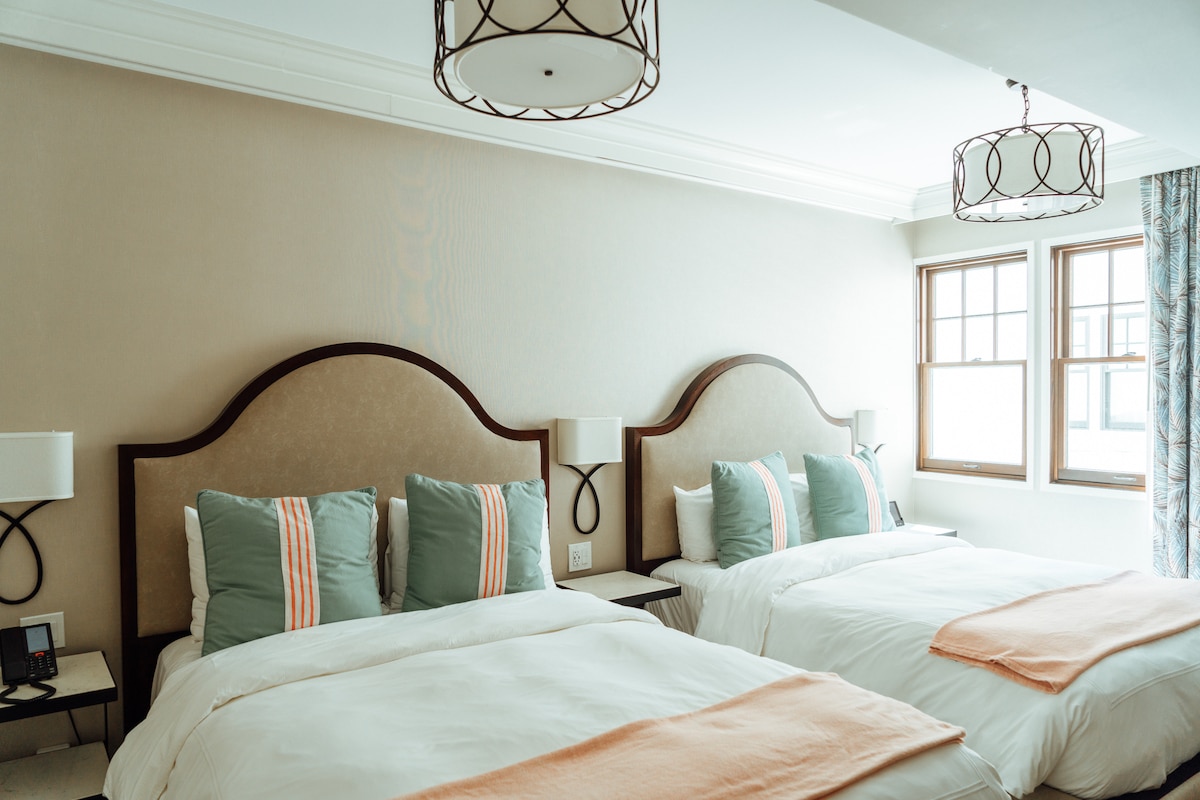 A Forbes Travel Guide 4-star hotel, Mt Ada is perched above the bay with some of the best views in Avalon. Charming and historic, it has only six guest rooms, and because of its size and more secluded location, it's one of the best hotels in Catalina for couples.
There's daily breakfast in the dining room or the wrap-around terrace, appetizers, and wine served every evening, use of the hotel's golf carts to get around, and access to Island Spa Catalina's facilities. Mt Ada definitely comes with a higher price-tag though with room rates upwards of $1,000 in the summer.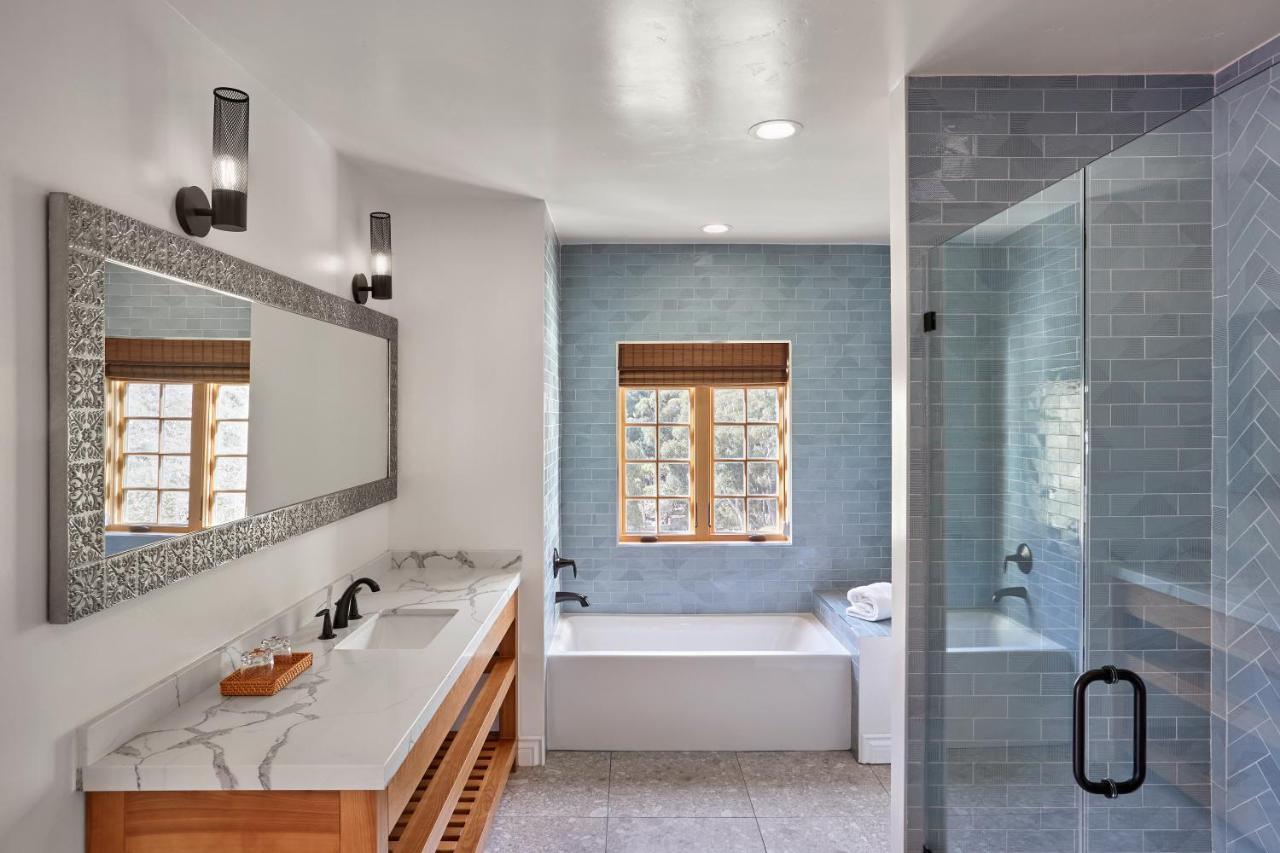 Established in 1926 and beautifully renovated in 2019, the Zane Gray Pueblo Hotel is a high-end boutique hotel featuring modern architecture. It sits on the hillside above Avalon and its 17 guest rooms offer incredible views of the island's hills and harbor.
Amenities include a heated pool, ocean-view rooftop access, indoor/outdoor lounge areas, continental breakfast, pick-up service, and more. Each room has its own charm, but they are all stunning. Out of all of the hotels in Avalon, I would say that this one is the most design-forward.
The biggest con here would be that getting to the hotel and back into town/to the ferry requires a bit more of a walk than say the Hotel Atwater, but there's always golf carts available for rent to help you get around.
Just steps from the beach, the Pavilion Hotel is in the center of Avalon and within walking distance of just about everything. The rooms are pretty standard (and if I'm being honest, a bit dated) but the hotel offers some great amenities like a cozy courtyard with a fire pit where the hotel hosts complimentary wine and cheese receptions, continental breakfast, a $20 credit to be used at Catalina Island Company restaurants (this includes Avalon Grille and Bistro at the Atwater), access to Descanso Beach Club, and free use of hotel bikes.
Centrally located, the Catalina Island Inn is close to everything in Avalon and has beautiful views of the harbor (not every room does though, so if this is important to you, be sure to book a room that has an "ocean view" in the description). The decor here is "contemporary island style" and rooms range from more moderately-priced, simple options to luxury harbor-view rooms and suites.
While the amenities aren't necessarily as impressive as some of the other hotels in the area, this is a great no-fuss place to rest your head after a long day of exploring. It's worth noting that there is no elevator in the hotel, so if climbing a lot of stairs isn't going to work for you, this may not be your best bet.
The Edgewater isn't anything fancy, but has a vintage appeal with modern amenities. It is located only one minute away from the beach, making it an ideal accommodation for those seeking a restorative trip with lots of time to lounge and soak up some sun.
The rooms are cozy, and despite the fact that the furniture and decor is more traditional and classic, they avoid appearing too outdated or stuffy. There is also a really nice terrace where you can enjoy a cup of coffee or a cocktail at sunset. It definitely has a romantic vibe to it, making it perfect for couples seeking an intimate weekend away.
Other Accommodation Options in Avalon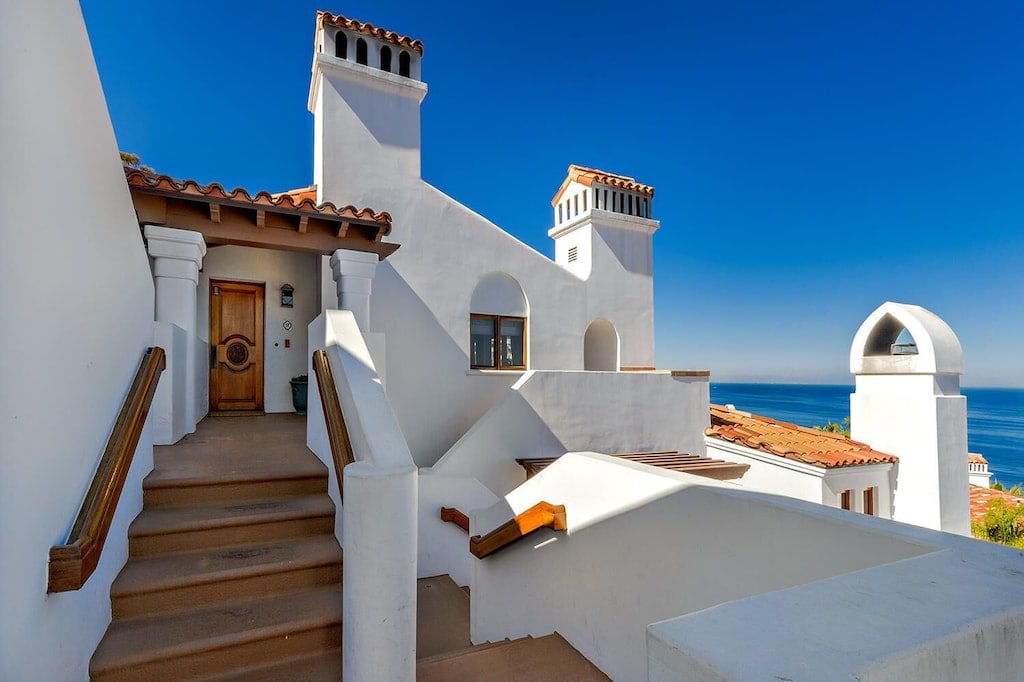 If you're looking for alternatives to hotels when visiting Catalina Island, there are a number of home rental Vrbo options, and for outdoorsy folks, camping is an option as well. Here are a few spots that I recommend!
Modern Villa Vrbo – This one-bedroom, one-bath apartment is perfect for a couple or a small family, and it has all the comforts of home with a stunning balcony overlooking the ocean that will make you feel like you're on the Amalfi coast. I love the super clean, all-white interiors here.
Shabby Chic Vrbo – A little bit larger, this two-bedroom, two-bath property features vaulted ceilings, beautiful ocean views, an expansive patio, and everything you'll need to have a comfortable and memorable stay. Not to mention, the white-architecture will make you feel like you just arrived on the Greek islands!
Camping at Hermit Gulch Campground – Hermit Gulch is the only campground in Avalon, and it is the best place to stay when working with a pretty tight budget. Located in Avalon Canyon near the Nature Center, it offers views of the surrounding hills and easy access to hiking trails. There are 40 traditional tent sites and also nine tent cabins that have cots, a lantern, and a propane stove. Also, reservations are required, so I recommend booking early especially if you're planning on visiting in summer.
Accommodation Options in Two Harbors
While Avalon has more to do, Two Harbors is where you come to get away from it all and really unplug. This side of the island is definitely sleepier than Avalon, and there aren't nearly as many cultural things to do. If your jam is spending quiet time in nature though, Two Harbors is the place to be.
The options for accommodations are much more limited too, and there's only one hotel and a few campsites. That being said, here are your best options for where to stay in Two Harbors!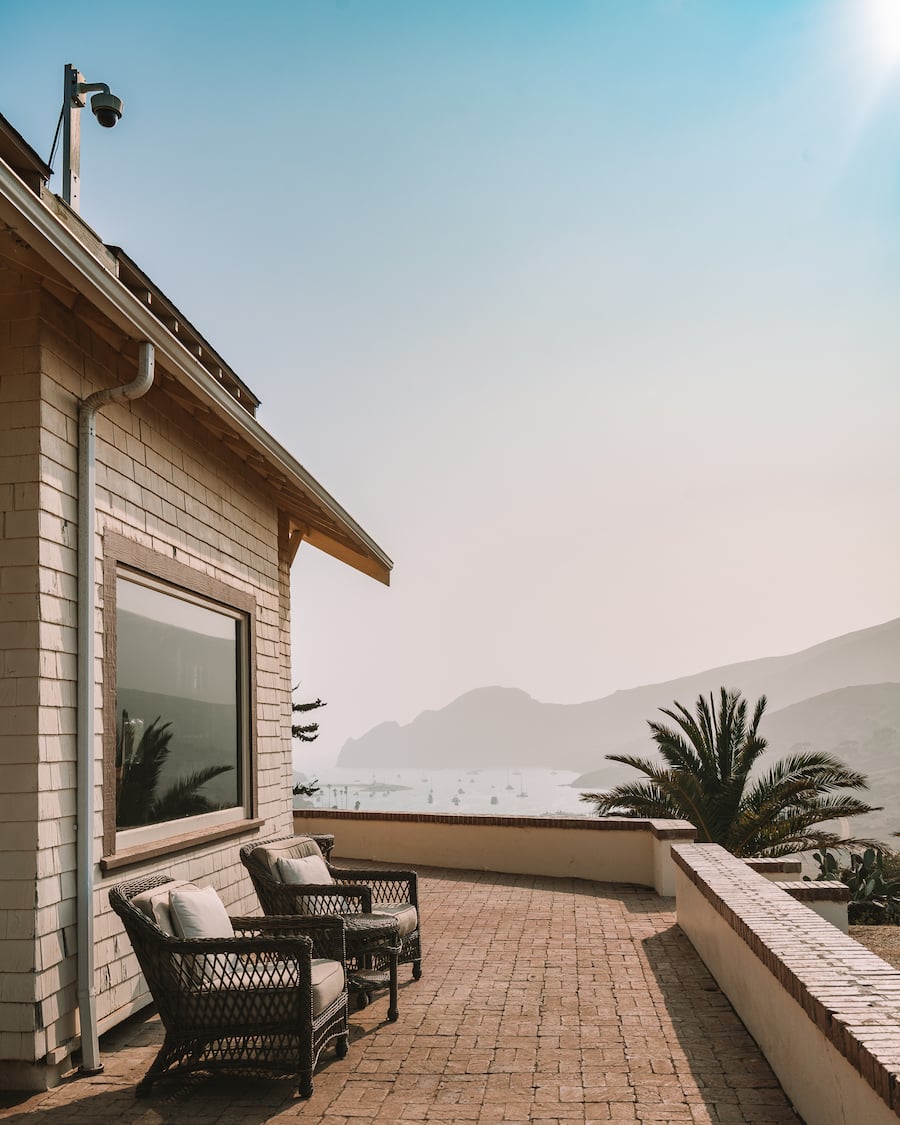 Luckily, the only hotel in Two Harbors is a really lovely spot called the Banning House Lodge. This is where I stayed in Two Harbors, and I loved it (although I've also camped on this side of the island as well many years ago).
Banning House Lodge is an intimate bed and breakfast style accommodation with only 12 rooms. I'd say the style could be described as a historic craftsman, and the best feature of Banning House is 1000% the epic views.
Since it's located on top of a hill, one side of the property has amazing panoramic vistas overlooking Isthmus Cove, and the other side has unreal views of Catalina Harbor. You can have a complimentary continental breakfast delivered to your room every morning, there is wine and cheese waiting for you on arrival, and the hotel offers shuttle services (which can really come in handy).
Camping
Two Harbors Campground is just outside the village on a bluff overlooking the ocean. It has both traditional tent camping and tent cabins with amenities like showers, toilets, and BBQs. For the super adventurous types, there's also Parson's Landing, a secluded beach campsite with eight primitive sites that are only accessible by hiking or kayaking to them.
If you're looking to do some serious hiking and camping on Catalina Island, definitely look into the Trans-Catalina trail, which is a 38.5-mile rugged hike that you can camp all along.
Did this post inspire you to visit Catalina Island? Let me know in the comments below!
---
Planning a trip right now? Don't miss my go-to websites for booking everything from flights and tours, to accommodation and more:
---