Choosing where to stay in Kauai is undoubtedly a challenging decision. In fact, it's probably the hardest aspect of planning any Kauai trip. Trust me I know—I belabored over the decision before our trip so much so that I ended up throwing in the towel and booking us on three different parts of the island for three nights each.
I didn't want to miss out on anything or make the wrong decision, so we just figured we'd experience it all!
Now that our trip has passed and I have a better lay of the land, I'm here to share everything we learned so that you can pick the best part of the island for your trip and avoid our mistakes.
There's no denying that Kauai is one of the most beautiful and untouched islands in Hawaii and every area on the island has something incredible to offer. From the pristine Nā Pali Coast to Hanalei Bay on the North Shore, there is so much to explore.
But each side of Kauai offers its own pros and cons, which can put you in a little pickle when you start weighing the options.
I'm going to try to break it down as simply as possible to help make your decision easier. The good news is, no matter where you stay on Kauai, you'll be able to see it all as long as you have enough time and a rental car. So try not to stress too much.
But first, here's a quick cheat sheet to the four main sections of Kauai where you can base yourself: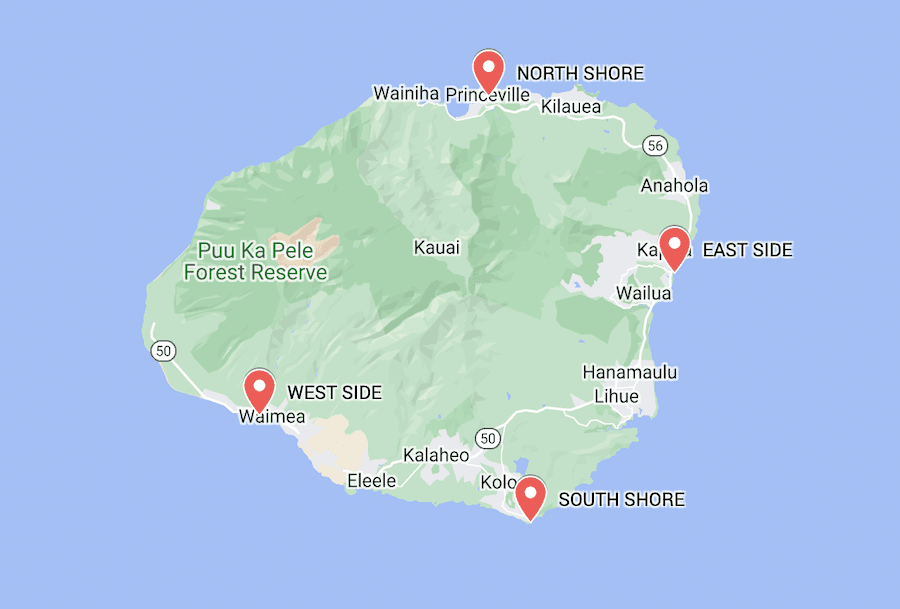 The North Shore: The North Shore is probably the most beautiful part of Kauai (in my opinion), but it is also the most lush and rainy, which means you aren't guaranteed good weather. Here you'll find epic beaches and hikes.
The South Shore: Considered the sunniest part of the island year-round, the South Shore is best to avoid the rain and is home to tons of large resorts, high-end restaurants and family-friendly activities.
The East Side: Situated in-between the North and South Shore, this area has a wide array of restaurants and more affordable hotel accommodations.
The West Side: Definitely the most remote section of Kauai, the West Side is ideal for outdoor enthusiasts who don't mind staying in simpler cottages and inns and want access to lots of hiking along the Nā Pali Coast.
As you can see, there are some pros and cons of each which we'll get into in more detail below. Keep reading for my complete accommodation guide to Kauai and also check out my Ultimate Travel Guide to Kauai if you haven't yet!
Quick Tips Before Deciding Where to Stay in Kauai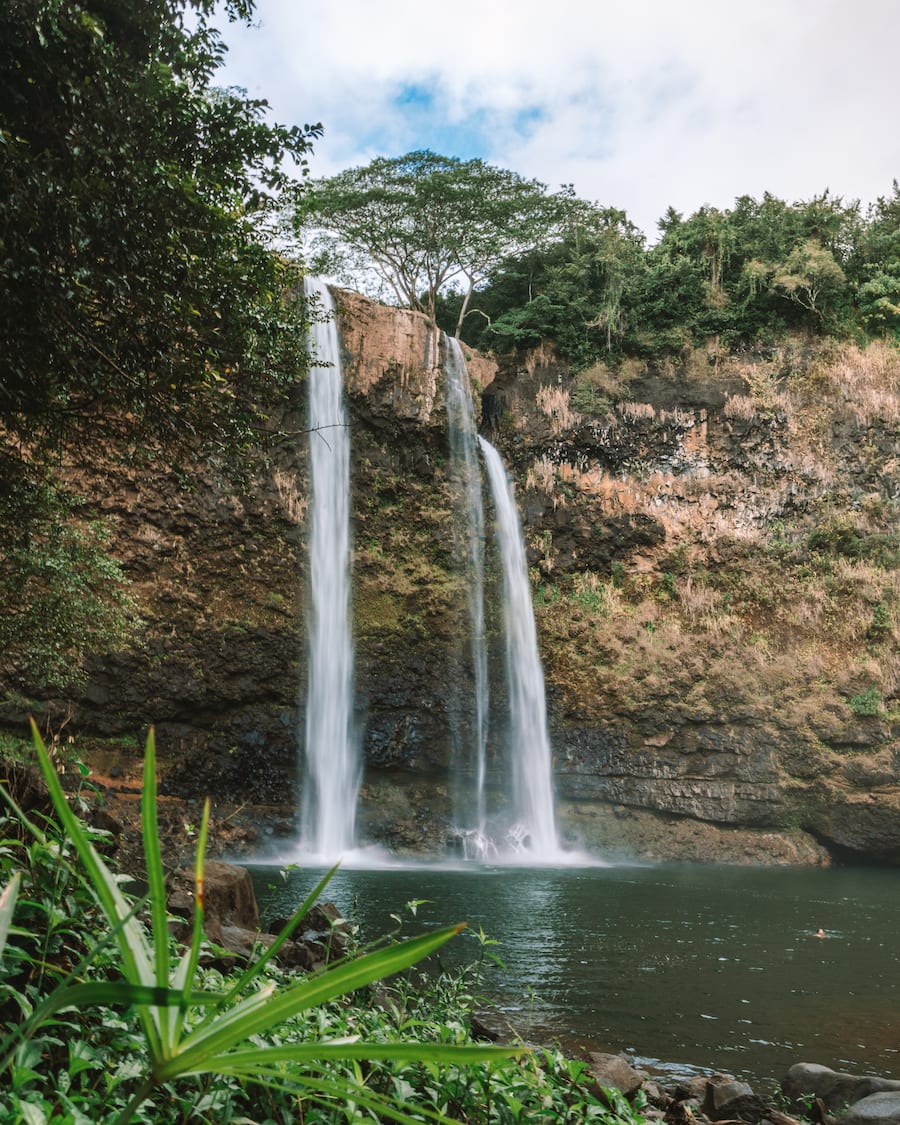 Rent a car! Regardless of where you stay in Kauai, renting a car is a must and will really help you make the most of the island. Since everyone wants to rent Jeeps here, they sell out pretty quick, so try to book as far in advance as possible.
A Note About Booking Rental Cars:
I personally use and recommend Rentalcars.com because they offer a simple solution for comparing rates across all the top brands, they'll price match if you find a lower rate, AND they offer free cancellations on most bookings!
Plan your itinerary by section of the island. There are no shortcuts on the roads in Kauai and to get anywhere you have to go all the way around the coast. For this reason, try to plan your day to day itinerary based on specific areas of the island at a time.
Prepare for lots of wet and rainy weather, as Kauai is one of the wettest places on Earth. Even if you stay in Poipu which is known to be the sunniest part of Kauai, still be prepared for rain.
As you start planning your Kauai accommodation, keep in mind that peak season is around July and August and during the holidays, which will translate to higher prices.
Quick Answers to Your Kauai Accommodation Questions
Can you stay anywhere on the island?
While there are several populated areas on Kauai, there are wide remote sections that are just jungle. For example, the canyons of the Na Pali Coast are completely uninhabited, so unless you're looking to get a permit and do some camping, that area is off-limits.
However, places like Princeville, Poipu, and Kapaa are all great options depending on what you're wanting to prioritize during your visit.
Which is the best side of Kauai to stay on?
That really depends on what you're looking to get out of your trip, but my personal favorite sides are the North Shore (which has epic beaches and a more local feel) and the South Shore, which is great for a true relaxing vacation and higher end resorts.
What is the prettiest part of Kauai?
The Na Pali Coast State Park is the most stunning part of Kauai and is the most iconic scenery of the island, however there are no accommodations other than camping within the park! Your closest access to the Na Pali Coast will be from the North Shore or West Side of Kauai.
When is the best time of the year to visit Kauai?
Early spring in April and May are two of the best months to visit Kauai due to the nice weather and smaller crowds. You should also be able to find cheaper hotels and rental car rates.
What is the most affordable accommodation option on Kauai?
I'm not going to lie, Kauai is an expensive place to visit in general. However, if you're traveling with a larger group, renting an Airbnb or condo is probably going to be your most affordable option. That said, Oahu is currently deciding if they should ban short-term rentals, so it's possible that other islands like Kauai could follow suit. In terms of affordable hotels, the East Side typically has the cheapest options.
What are the accommodations like on Kauai?
Honestly as someone who loves smaller boutique hotels and design-centric stays, I struggled a bit with Kauai accommodations. It's really hard to find that here and a lot of the hotels feel a bit outdated (with the exception of the 1 Hotel in Hanalei Bay which just opened—yay)! However, you can still find great hotels and resorts on Kauai if you're not picky about the design.
Where to Stay on the North Shore Kauai
The two main towns to stay at on the North Shore are Princeville and Hanalei. They are only a 10-minute drive away from one another, but they're very different.
Princeville is a charming town situated on a cliff. Though there is no real downtown area, there is a shopping center that will have everything you need, along with some large resorts and vacation rentals.
Hanalei feels like a small surf town with some of the prettiest beaches you've ever seen. Whenever I've asked people what their favorite part of Kauai is, the answer is often Hanalei. It's perfect for those who plan on spending most of their time at the beach, but it is lacking in large resorts.
Pros and Cons of Staying on the North Shore
One of the biggest pros to staying on the North Shore is that it is absolutely stunning. It's my favorite part of the island and is home to some of the most epic hiking and beaches. You simply cannot visit Kauai without spending some time on the North Shore, so you're going to be hanging out here regardless of whether you stay overnight or not!
When it comes to cons, know that this part of Kauai is without a doubt the wettest and you're bound to run into some rain if you stay on the North Shore. The ocean can also get pretty rough on this side of the island in winter as well.
Things to Do Near the North Shore
Staying on the North Shore of Kauai gives you easy access to popular spots like Queen's Bath, Tunnels Beach, the charming town of Hanalei, and the Hanakapiai Falls trail, which was one of the top highlights of our trip.
The Best Hotels on the North Shore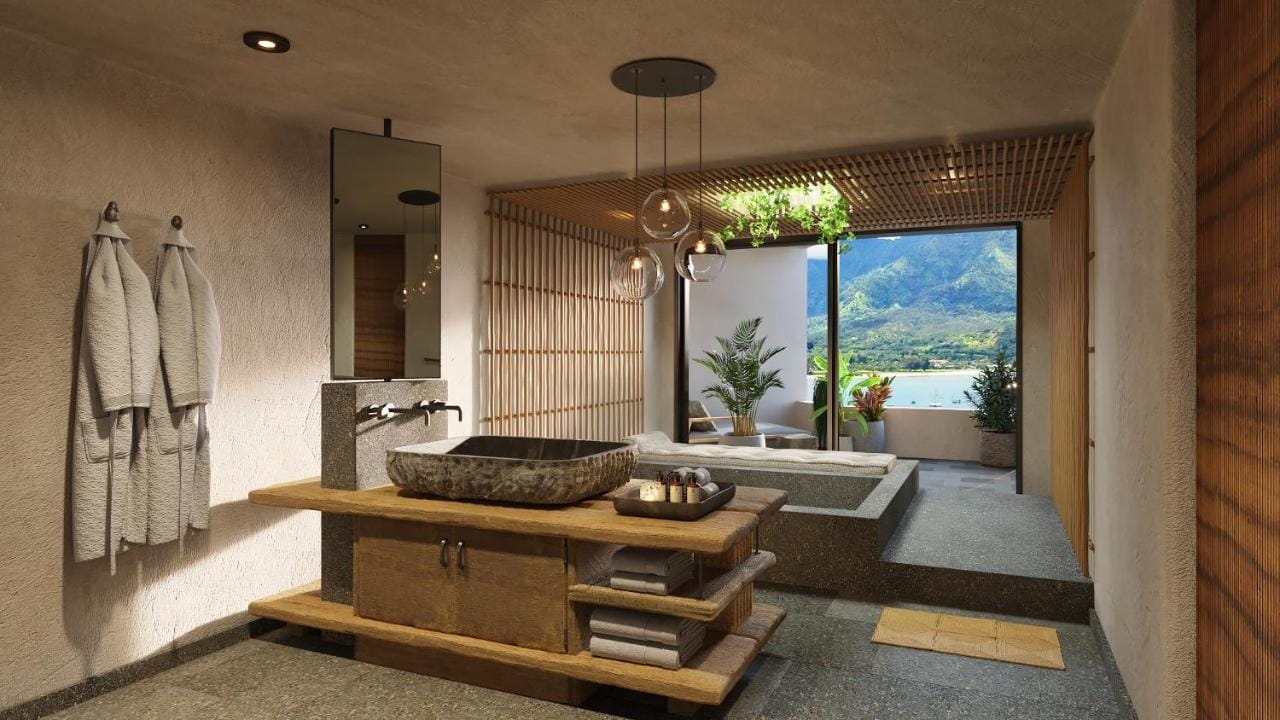 Where to Stay on the South Shore Kauai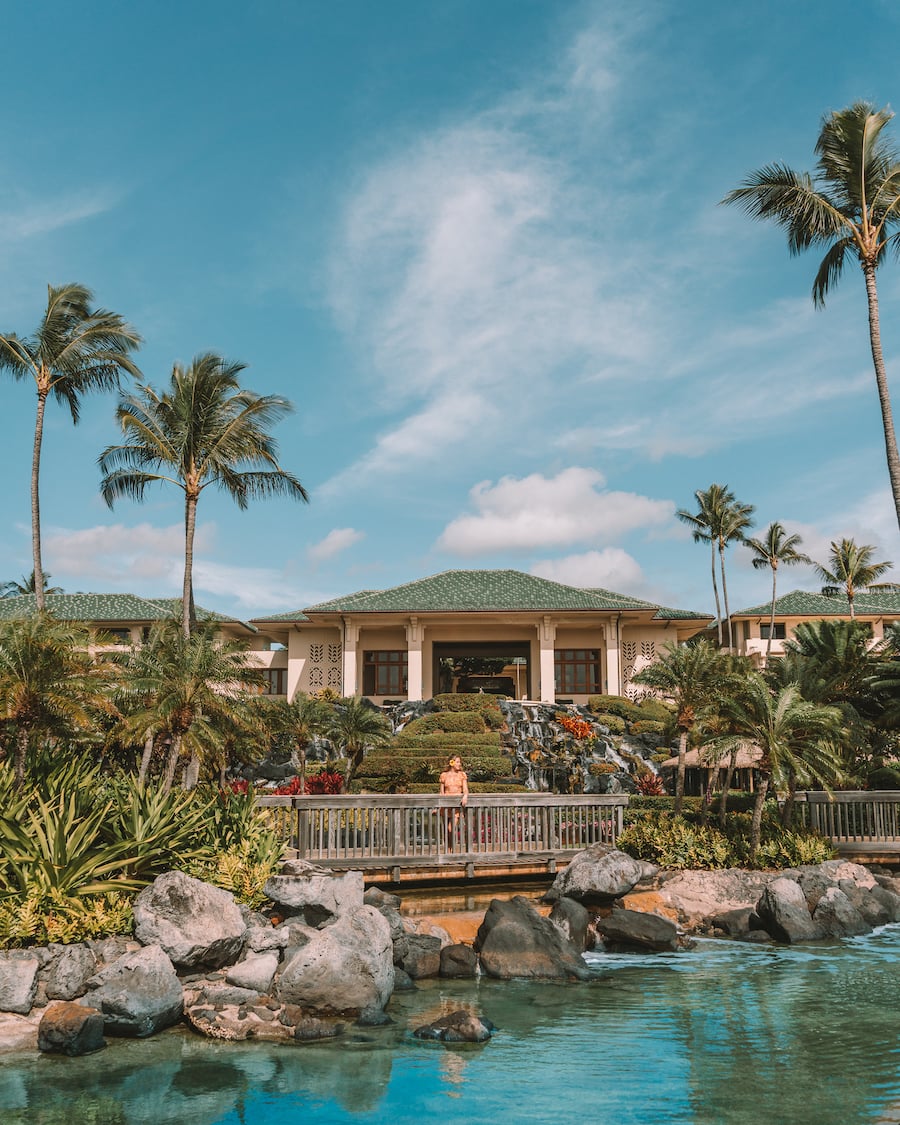 When it comes to staying on the South Shore of Kauai, Poipu is really where you want to be. It's located at the southernmost tip of Kauai and gets the best weather on the island, plus you'll have the closest access to the beach.
Pros and Cons of Staying on the South Shore
The South Shore is definitely one of the more popular areas for tourists to stay in Kauai. The weather on this side of the island stays pretty sunny year-round, making it the perfect place for pool-side lounging and long beach days.
There are tons of big resorts here, which can be a pro or a con depending on how you look at it. While finding accommodations on the South Shore is pretty easy compared to other parts of the island, it can get pretty crowded and sometimes pricey as well. If you're trying to avoid crowds, Poipu is probably not where you want to stay.
If you do want access to some of the most family-friendly beaches and popular restaurants in Kauai though, then you'll love the South Shore. Though that can be super convenient, it also means you really need to plan ahead when it comes to reservations and book ahead.
Things to Do Near the South Shore
Staying on the South Shore will ensure you're close to some of the island's hottest restaurants like Beach House (great for a romantic sunset dinner—but book ahead!), Merriman's and Eating House. Plus, Puka Dogs (a Hawaiian staple) and Waikomo Shave Ice are all nearby.
In Poipu, you're also close to Lawa'i Beach which is one of the top snorkeling spots on the South Shore, the Maha'ulepu Heritage Trail the and the entrance to Waimea Canyon is only 35 minutes from here.
The Best Hotels on the South Shore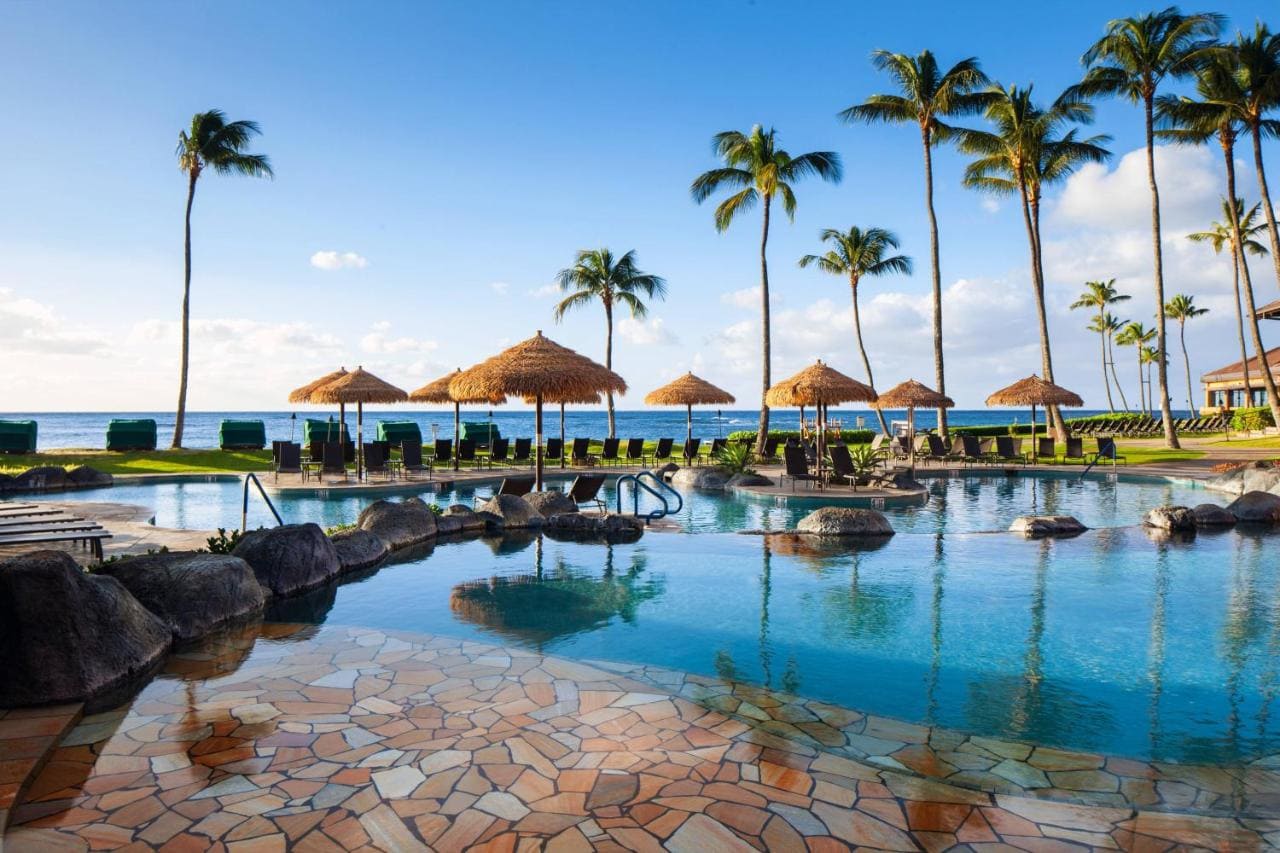 Grand Hyatt Kauai – We absolutely loved staying at the Grand Hyatt Kauai during our trip. This luxury resort is located right on the water and is steps away from the soft sand of Poipu, plus it has literal acres of turquoise pools to lay by all day if you're in that laidback vacation groove. Lush gardens surround the whole property and there are amazing restaurants on site if you'd rather not leave the property all day. I especially loved that the resort backs up right against the Maha'ulepu Heritage Trail so you can enjoy a beautiful coastal walk or jog each morning.
Koloa Landing Resort – The Koloa Landing Resort is a part of the Autograph Collection by Marriott, so guests can expect high-end amenities and a consistent feel of luxury during their stay. There are two huge pools on-site, and many of the suites and villas have spacious balconies with sweeping ocean views. If you're a Marriott loyalty member, this is a great option.
Koʻa Kea Resort on Poipu Beach – What could be better than 24-hour room service and a poolside bar? Ko'a Kea Resort has it all and consistently gets great reviews from guests. Beyond the beauty of the entire resort, the Koa Kea spa is known for using local ingredients in their treatments, and the on-site Red Salt Restaurant serves up super fresh seafood that is caught right off the coast.
Sheraton Kauai – The Sheraton Kauai sits on 20 acres of pristine coastline and offers a huge selection of local activities and outings. From cultural experiences to culinary exploration, this beachside resort showcases the natural beauty of this magical island.
Poipu Plantation Vacation Rentals – If you're looking for something more affordable in Poipu, this vacation rental isn't the most luxurious or updated, but it's a great deal for the proximity to the beach and feels very Hawaiian.
Where to Stay on the East Side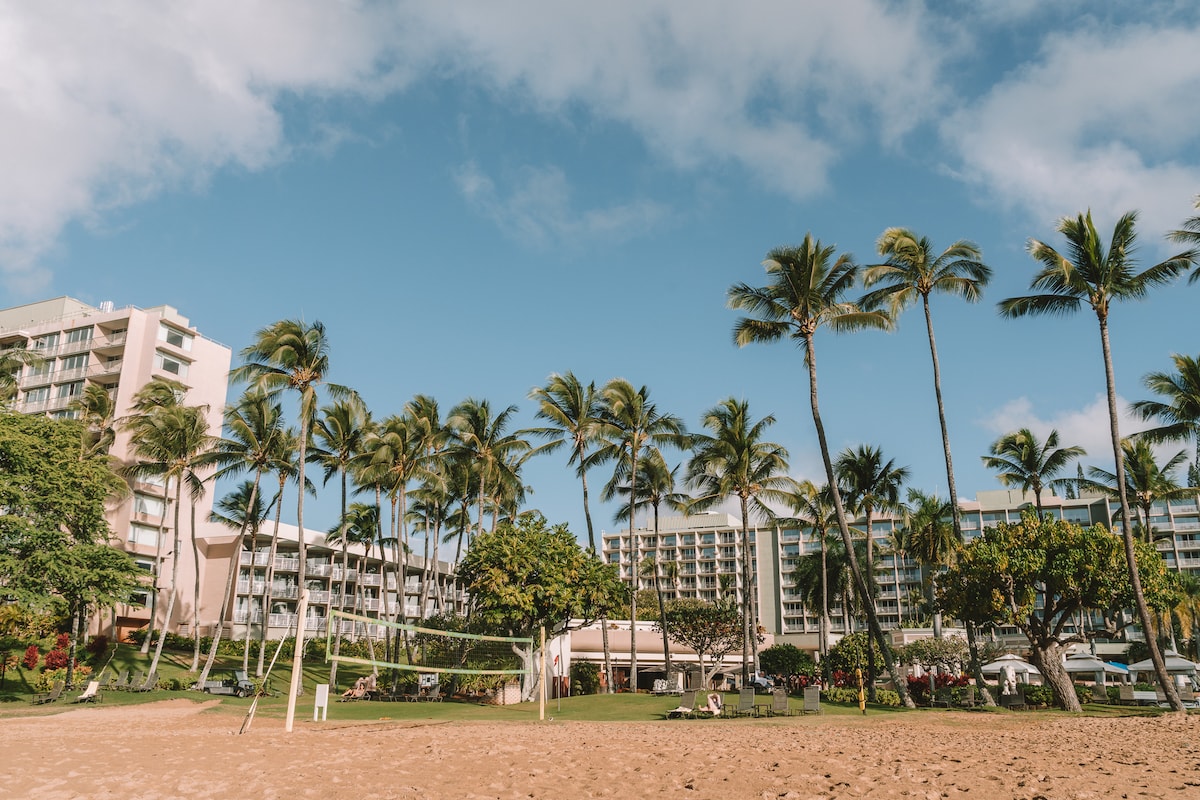 On the East Side of Kauai you have Lihue, which is where the airport is located and Kapa'a which offers plenty of awesome restaurants and shops. I wouldn't say the East Side of Kauai is the most exciting in terms of natural scenery, but there are some great bars and restaurants and fun activities in the area.
Pros and Cons of Staying on the East Side
The biggest pro of staying on Kauai's East Side is convenience as it's centrally located between the South and North Shores. If you're looking to explore as much of the island as possible, the East Side is probably the best area to stay if you want to cut down on driving time between all of your activities.
As I mentioned at the beginning of this post, we stayed in three different hotels on three sides of the island to mix things up and experience a little bit of everything.
We decided to start our trip on the East Side and base ourselves in Lihue at the Marriott Kauai Beach Club for the first few nights mostly because it was very close to our doors-off helicopter tour, which I highly recommend doing by the way! We had heard that these tours can often get rescheduled due to weather.
Sure enough, our helicopter tour canceled the second day of our trip due to weather and rescheduled for the next day, so we were thankful to be based in Lihue for that.
Another pro of staying on the East Side is that you can find more affordable hotel options here if you're not willing to shell out enough for the resorts in Poipu.
That said, if you're looking for a more remote and peaceful experience, the East Side might not be the best place for you. It's pretty busy and sort of acts as the commercial hub for everything on the island.
Things to Do Near the East Side
While basing yourself on Kauai's East Side, you'll be close to the airport and activities like all of the helicopter tours, Wailua Falls and Wailua River which is a popular spot for kayaking. Some of my favorite restaurants and bars like The Fish Express, JO2 and Mamahune's are also in this area.
The Best Hotels on the East Side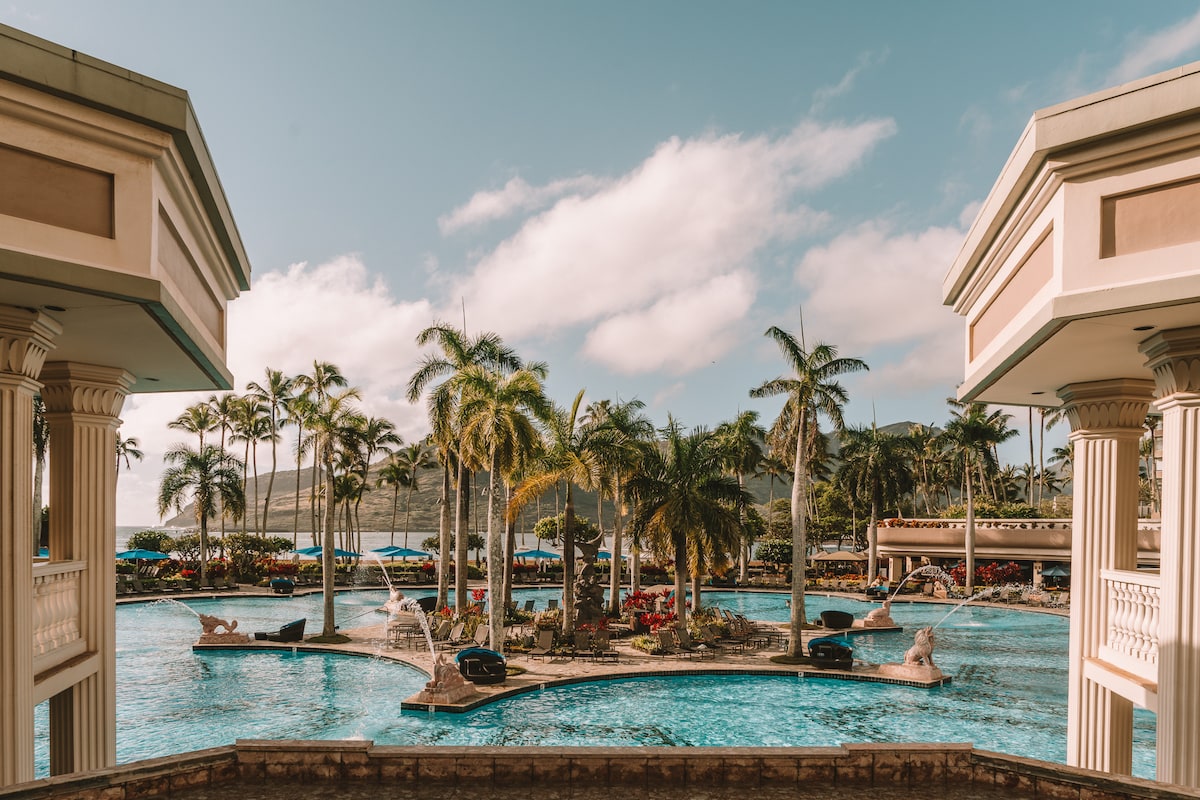 Where to Stay on the West Side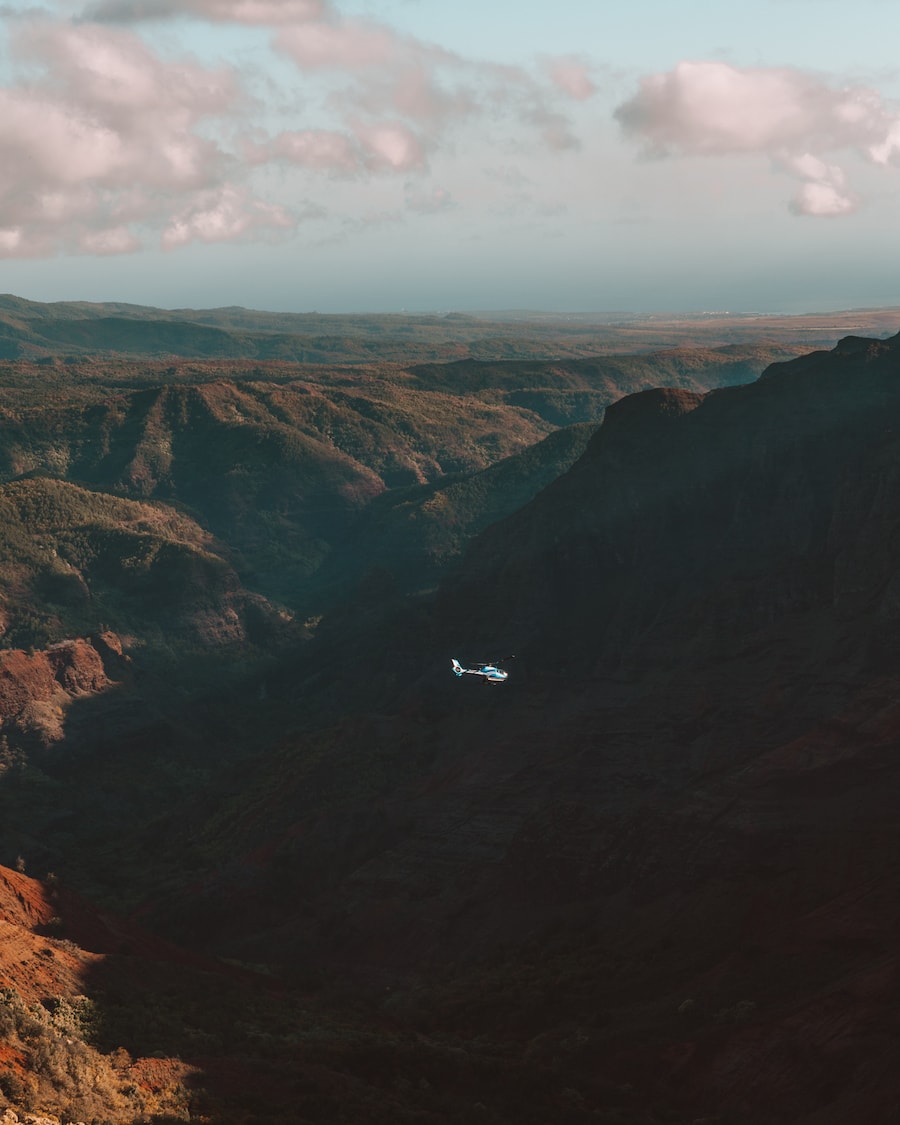 The West Side of Kauai is the most remote part of the island and is home to tons of natural scenery in Waimea Canyon, Polihale State Park, and Kōkeʻe State Park. Options here for accommodation are much fewer than the rest of the island, but the town of Waimea is the best place to base yourself unless you're camping inside the park.
Pros and Cons of Staying on the West Side
As I mentioned, the West Side is the most remote drivable (to a point) area of Kauai, which is great for those looking to get away from it all. Staying here means immersing yourself in nature and avoiding hoards of tourists, which can be really special in a place like Kauai.
That said, much of the West Side is not accessible by car, meaning a lot of the beauty within the canyons or along the Na Pali Coast must be reached by boat or hiking your way around to see the most beautiful parts.
There is also no direct connecting road from the West Side to the North Shore, so in order to get between the two you have to travel around the entire island through the South Shore and East Side first, making day trips to more distant sections of the island cumbersome.
The main highlights on the West Side are Waimea Canyon and Kōkeʻe State Park. While there are a few simple hotel options, camping is also a great idea for those seeking some adventure. Just be sure to prepare ahead and get the required permits if you go this route.
Things to Do Near the East Side
If based on the West Side, you'll be within shorter driving distance to Waimea Canyon and Kōkeʻe State Park and all the beautiful hikes and sites within it. Plus, some of the Na Pali Coast boat tours depart from the harbors here as well.
The Best Hotels on the West Side
Waimea Plantation Cottages – Since the West Side has much fewer lodging options, the Waimea Plantation Cottages are definitely the nicest accommodation option in the area. The cottages are super cozy and cute, and the private porches allow you to enjoy a stunning view while sipping on some coffee each morning!
The West Inn – If you're looking for something super simple, The West Inn Kauai will get the job done. This motel-style accommodation has kitchenettes so that you can make easy meals at home, along with a few outdoor common areas where you can sit and mingle during free time.
Camping – As mentioned before, all camping in Kauai requires a permit (unless you stay on a private campground), so be sure to plan ahead and secure what you need ahead of time. Polihale State Park is a breathtaking beach that is super remote, and it's definitely one of the best camping options in Waimea. The Koke'e State Park Campground is another solid option that is more inland.
More Amazing Places to Stay in Kauai
It doesn't get more luxurious than this massive gated estate in Koloa near Poipu beaches! This huge house is over 4,000 square feet and can fit up to 10 travelers, making it an awesome option for a big group really wanting to go all out in Kauai.
The private infinity pool is definitely the highlight of this property, and this VRBO seriously is the embodiment of indoor/outdoor living. The ocean views are unreal and can be enjoyed from almost every part of the house (I'm envisioning stunning sunset dinners every night)!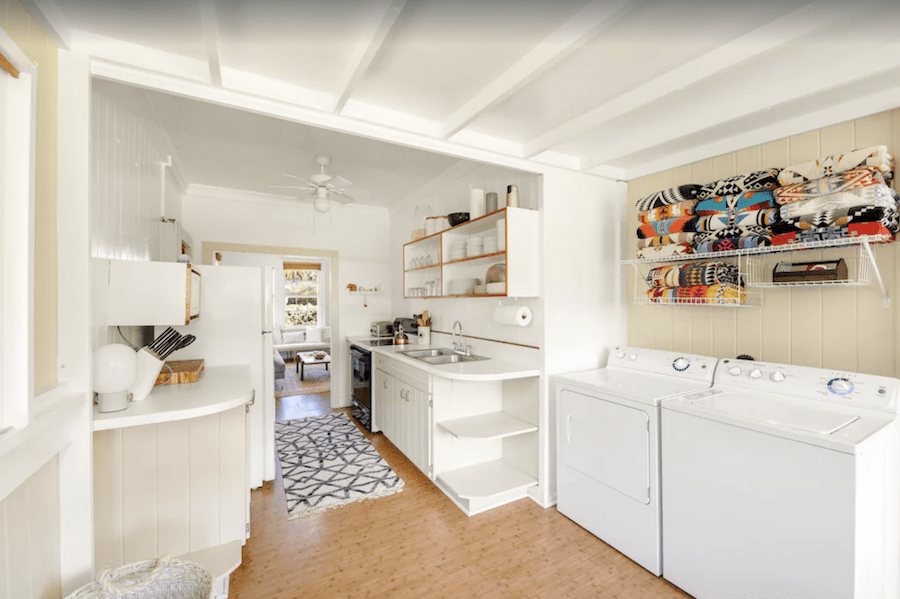 This cozy cottage is the perfect place to live like a local in Kauai. All of the shops and restaurants are a quick bike ride away, and the beach is only steps away, making this the ultimate rental to experience a top-notch stay in Hanalei.
The cottage was originally built in the 1920s, giving it a historic charm that can be seen in everything from the architecture to the decor. While this isn't the most luxe rental available, it's a super inviting and homey spot that is ideal for surfers looking to spend the majority of their time catching waves! This spot sleeps 4.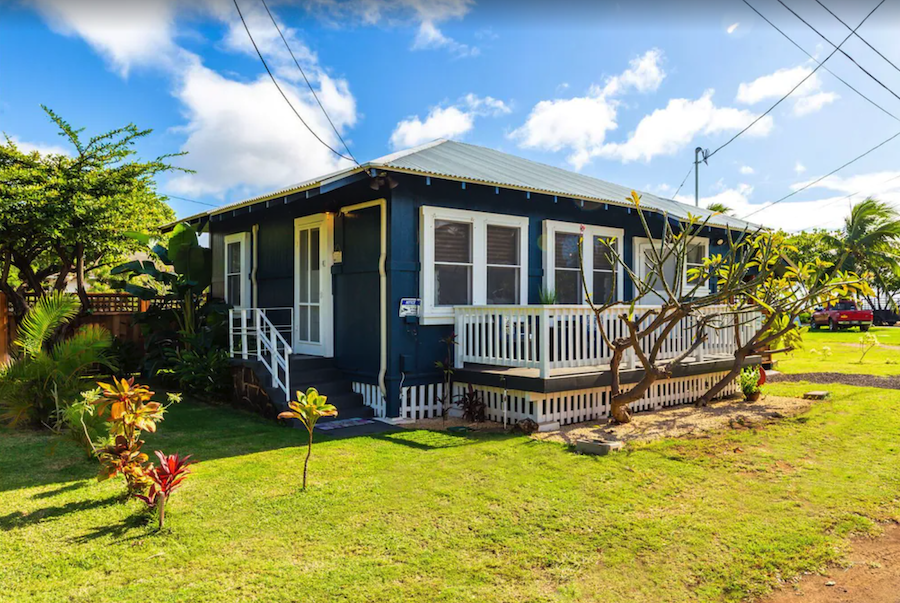 This beach cottage is perfect for four travelers who want to be based as close as possible to all the hiking in Waimea Canyon and beautiful uncrowded stretches of sand. This updated home is just a five minute drive from the beach. The interiors are super cozy and there's a great patio space and backyard to enjoy—and even an outdoor tub!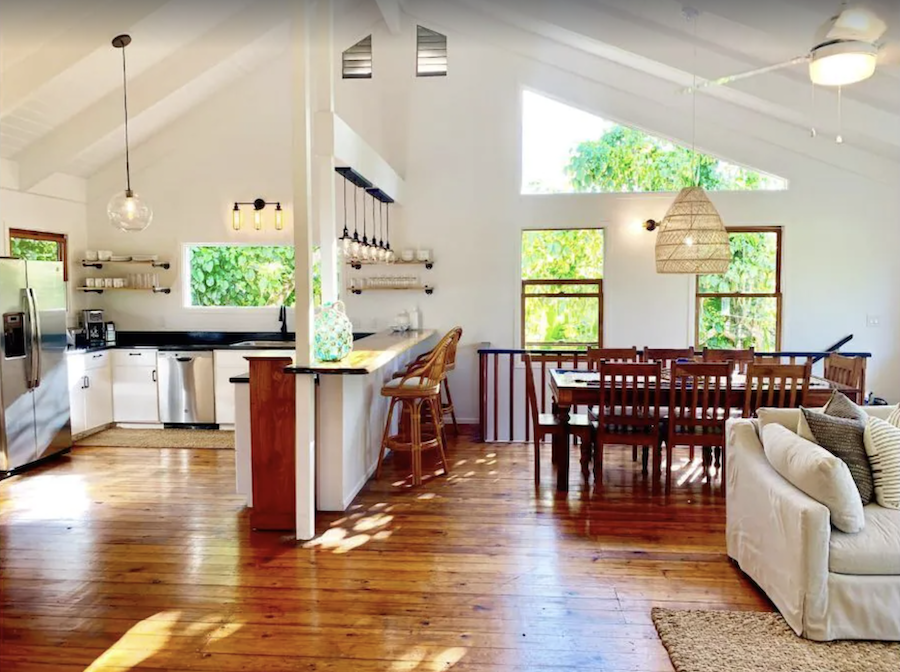 For a large group of 12 friends looking to explore Hanalei, this house is perfect. Just one mile to the Hanalei Pier, this spot is in the heart of the charming North Shore section of Kauai and comes with tons of gear for guests' use including 8 bikes, 12 surfboards, 4 stand up paddle boards, 10 snorkeling gear sets and much more.
Did this post help you decide where to stay in Kauai? Let me know in the comments below!
---
Planning a trip right now? Don't miss my go-to websites for booking everything from flights and tours, to accommodation and more:
---