Imagine arriving in Marrakech for your first time and dusk is just about to fall. As you wait in line at customs you're getting all the travel feels — a little bit of nervousness and excitement to be in a new foreign place. A little bit of uncertainty because it's already dark and you're not entirely sure what to expect or how to get to your accommodation. You hope you can communicate with the taxi driver or find an easy bus to get there. If these are thoughts you've had upon entering a new country, you're not alone. This same inner monologue has crossed my mind many a time upon arrival at a new destination, but I was relieved that such was not the case during our stay in Marrakech with El Fenn.
Straight from the airport, we were whisked away in a brand new SUV into the bustling city streets outside of the medina and then just a short while later we'd arrived to El Fenn, which conveniently sits near the Bab El Ksour gate, meaning there's no need to wander through the maze of the medina with your suitcases rolling behind you for hours (I've heard horror stories).
Once we passed through the mysterious wooden doors to El Fenn, the first order of business was very clear: mint tea. We didn't have to ask, it just arrived before us — and boy did it taste divine after the flight in from London. We were ready for something less metropolitan and getting served mint tea on an ornate silver platter while we sat on plush sofas in a tiled courtyard filled with hookahs and leafy green plants towering overhead seemed to fit the bill nicely. Then just as swiftly as the mint tea arrived, our suitcases disappeared with the bellman to our rooms and after a few eager slurps, we followed him willingly.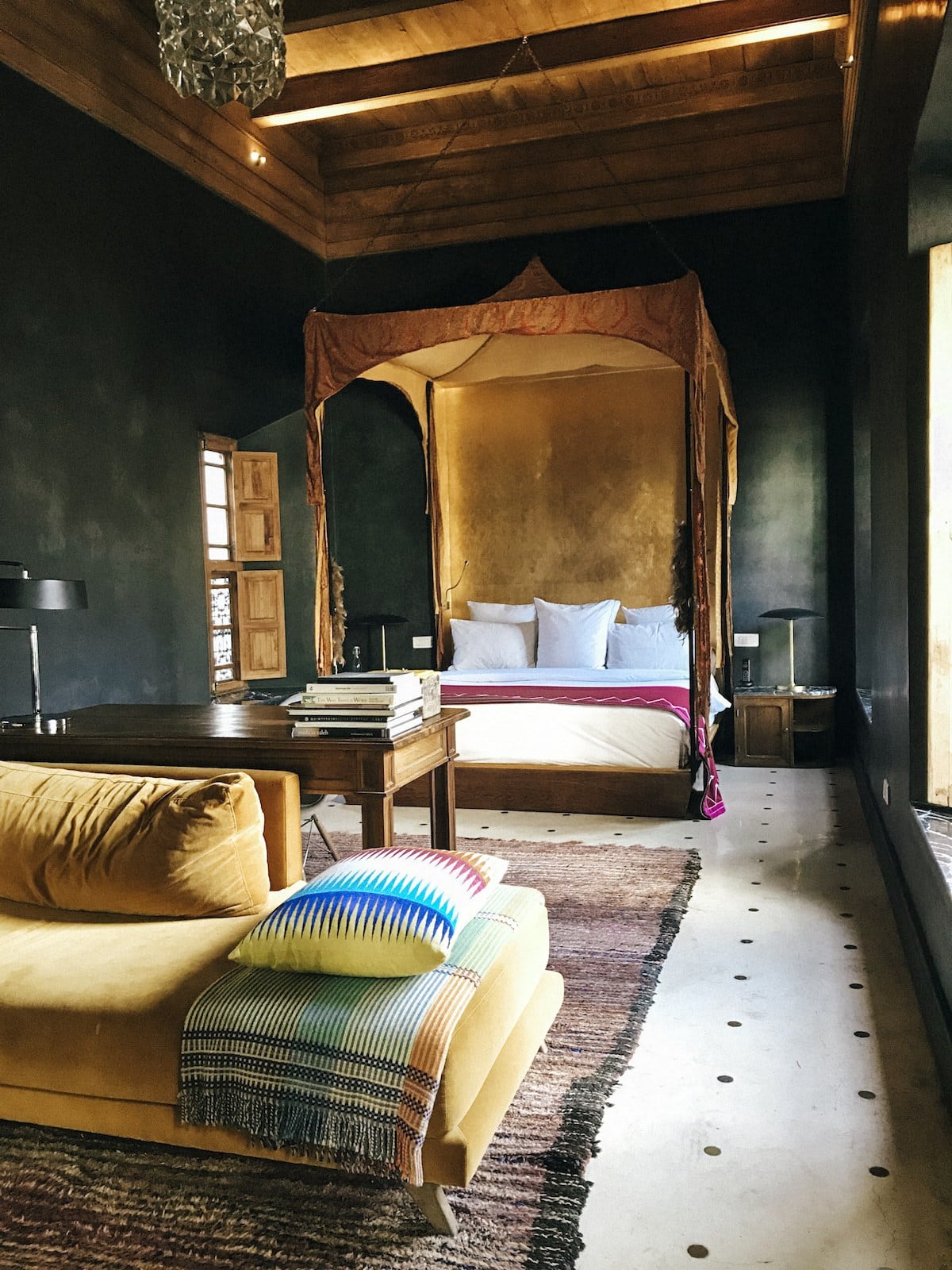 THE ROOMS
Let's get one thing straight: There is nothing boring or basic about El Fenn. Each room is completely unique, with different layouts, color schemes and design details. According to our next door neighbor who we met the following morning, she returns to El Fenn year after year and remarked that our room seemed to attract a lot of honeymooners — and we could immediately see why. Upon entrance into our suite, a massive turquoise bathroom opened up to our left with double vanities and a soaking tub in the center that looked literally built for a queen. Then the pièce de résistance: an exquisite and still entirely turquoise shower that could have fit a whole block of honeymooners, although we didn't have a chance to test out this theory.
I can't speak to the rest of the rooms, but the entirety of ours was drop-dead gorgeous and luxurious in a way that still felt quite homey. Our four poster bed looked like it was straight out of royal quarters, while a wall of windows opened up to views of the courtyard below. I only wish we would have had more time to lounge inside, but alas there was a whole crazy city to explore!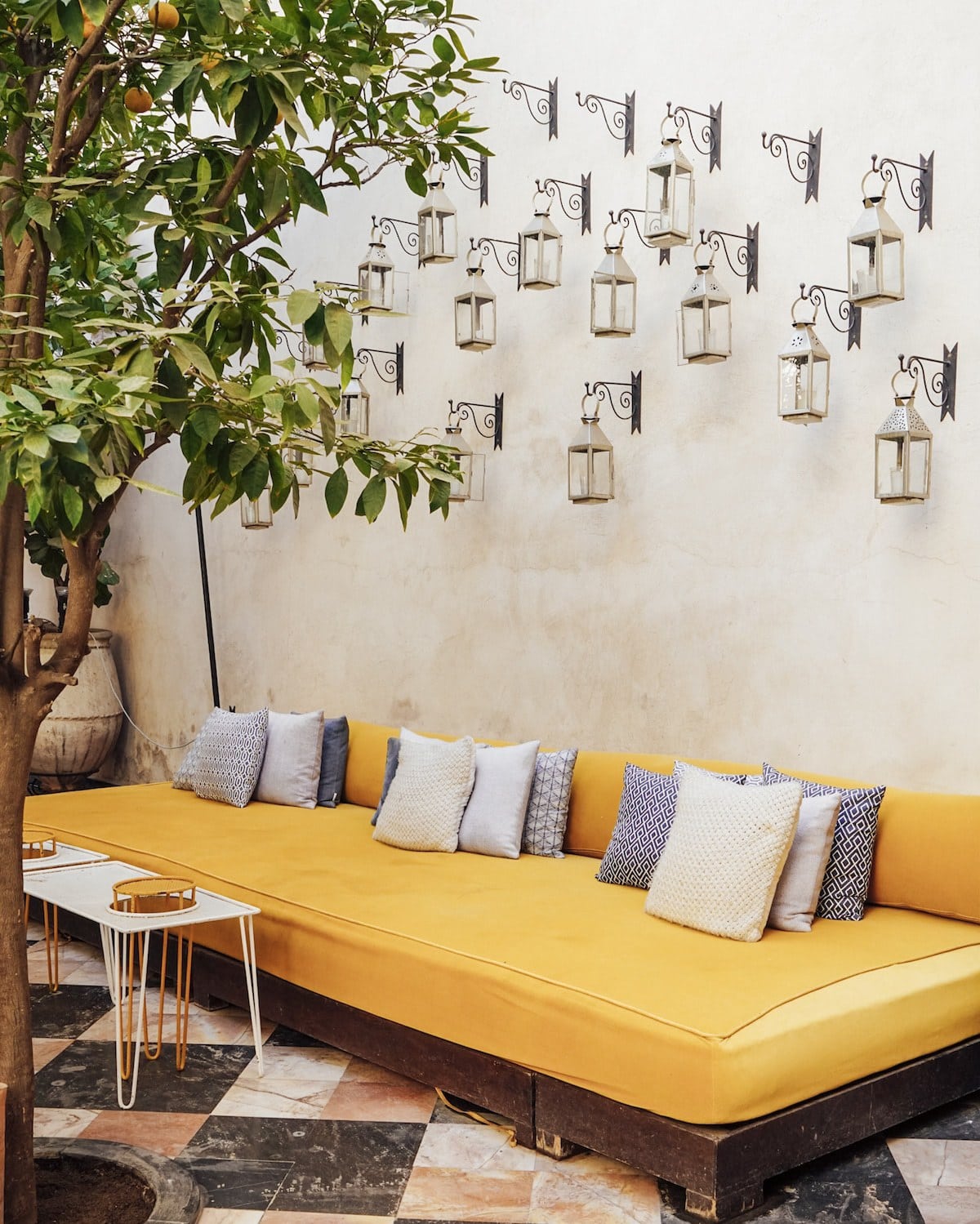 THE GROUNDS
The best way I can describe El Fenn is the ultimate feeling of luxury without an inch of the snobbery. Every corner of the grounds are magnificent (you constantly feel like you're gliding through a living art gallery), yet there's a friendly communal air that makes every guest feel right at home. I especially loved the array of endless private nooks and corners to explore which made each space feel super private despite its shared nature.
On the ground floor you'll find a main courtyard where the front desk is located, and then offshoot hallways from there lead you to the spa (featuring a small pool), another gorgeous courtyard shaded by orange trees, and a third space for rest and relaxation by the main pool. Head all the way to the roof and you'll find even more lounge space, this time overlooking all of Marrakech. There's really no shortage of spots here to put you in the full vacation mindset.
PS – Watch your step while perusing the grounds or you might step on one of the in-house pet tortoises!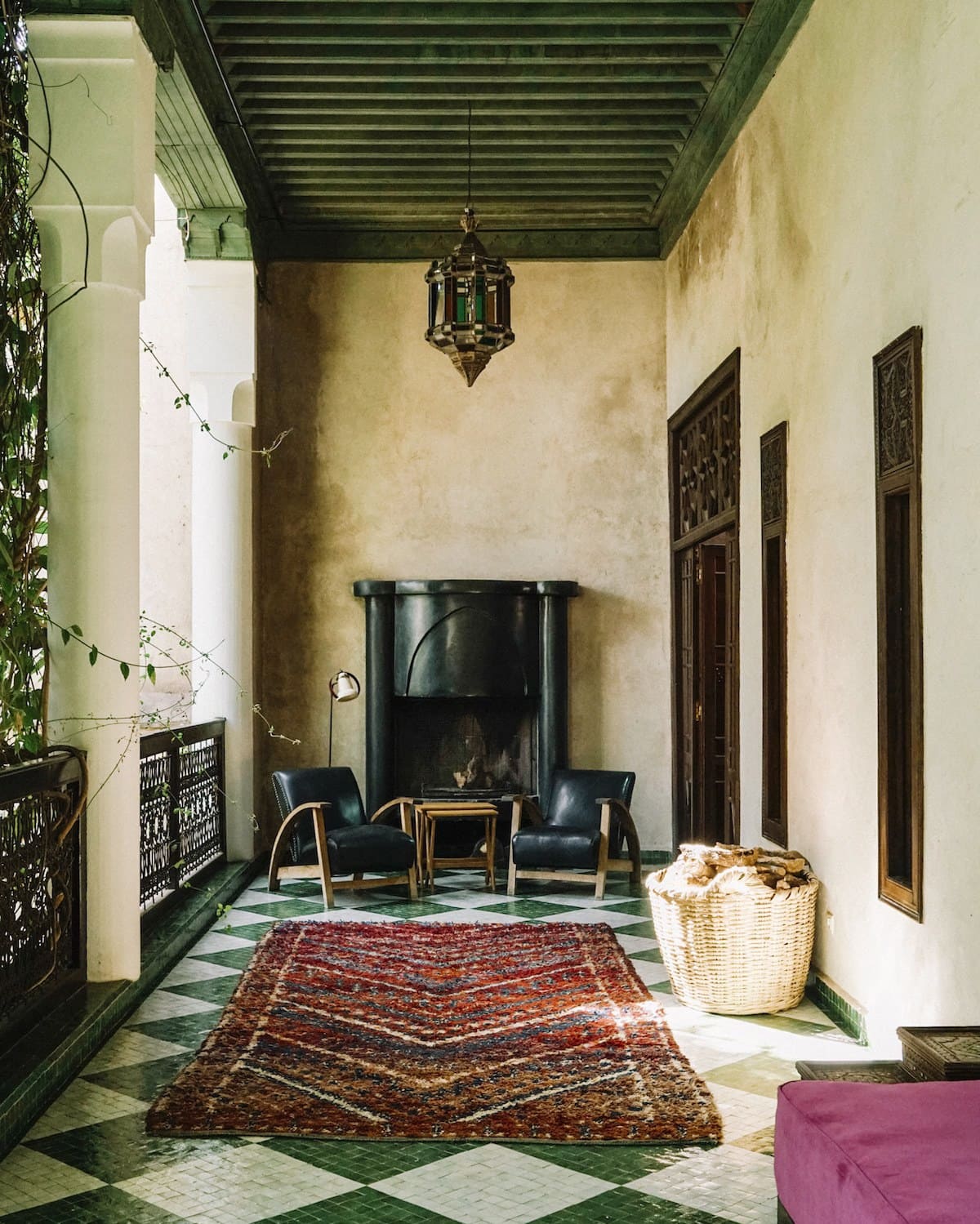 THE DESIGN
Founded by Vanessa Branson (Richard Branson's sister) and her business partner Howell James in 2002, El Fenn is constantly in progress. What started as a six-bedroom property is now 21 guest rooms strong and filled with beautiful contemporary artworks from Branson's extensive private collection.
The best part about the property? It's always evolving. Even the photos currently on the website look different than the El Fenn we witnessed during our time there. This seems to be a genius strategy of the hotel's designer and GM Willem Smit; there's always something fresh to surprise and delight recurring guests year after year.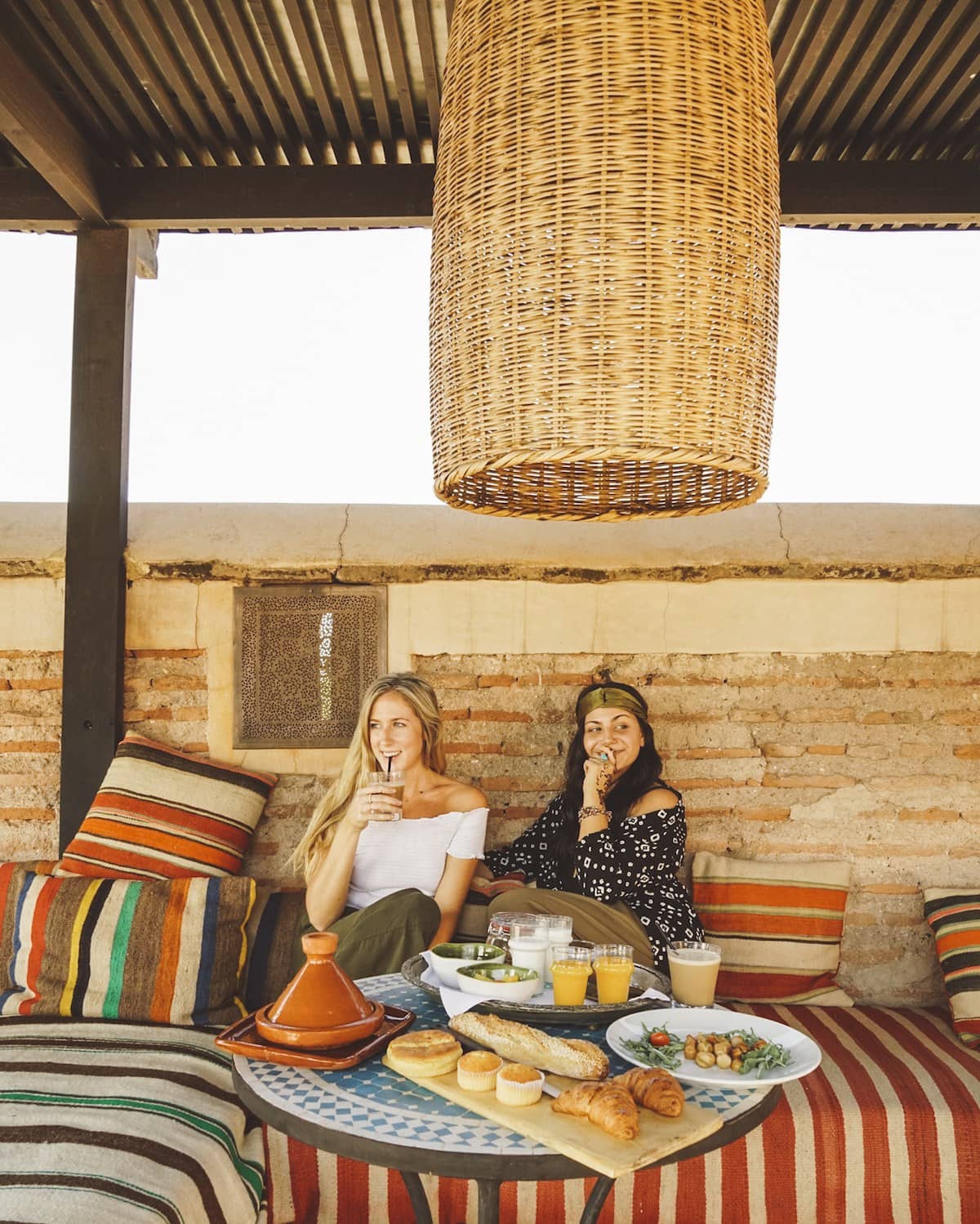 FOOD + DRINK
In addition to daily tea service in the main courtyard, El Fenn's rooftop is the perfect place to enjoy a cocktail or glass of wine as the sun goes down over the city. When you head up to the main roof, make sure to peek behind the kitchen for an extra secret set of stairs where you'll find the highest point on the property. We enjoyed a peaceful sunset on this deck all to ourselves and watching from above as the lights flickered on throughout the medina was nothing short of magical.
We also enjoyed dinner under the stars on our first night at El Fenn, but breakfast on the roof was the real treat in my opinion. With a view of that Atlas Mountains as a backdrop, you can enjoy quite the spread, including everything from bread and pastries to Moroccan eggs, sausages, fruit and more.

THE ANNEX
El Fenn's newest installment, "The Annex," is a private 5-bedroom riad just a short walk into the medina from the main property. Featuring the same brilliant attention to detail when it comes to interiors, The Annex is a beautiful addition to the El Fenn family. Rooms can be booked separately or all together, making this the perfect hideaway (or house party) for groups that want to travel in a pack.
DON'T MISS
Shopping and design lovers, don't miss the boutique on the ground floor which was sadly under renovation during our visit. From a quick peek inside, I can confirm that the art alone was worthy of some serious time spent here. When not under construction, you'll find gems from El Fenn's own unique on-site decor style, as well as expertly curated finds from local Moroccan craftsmen.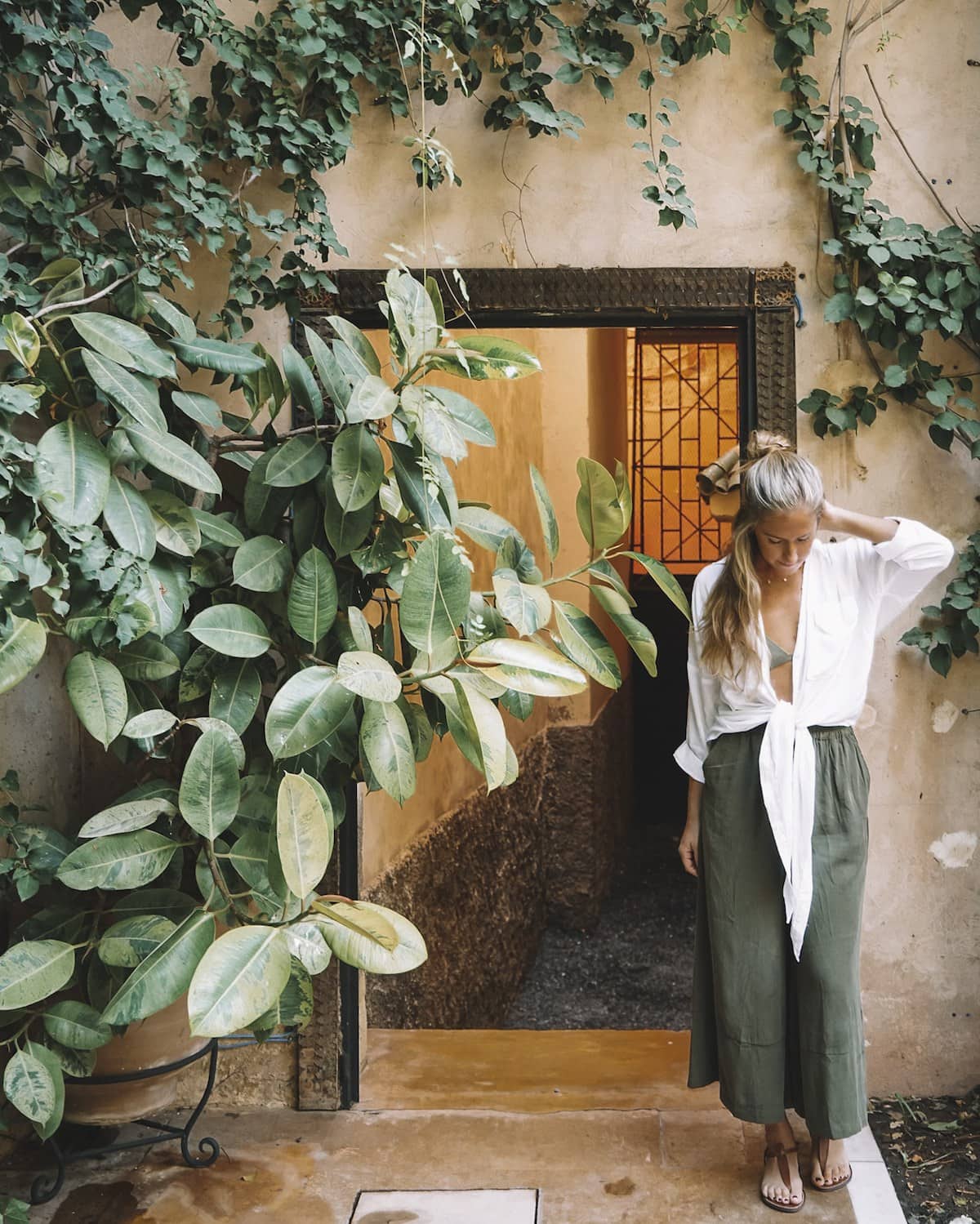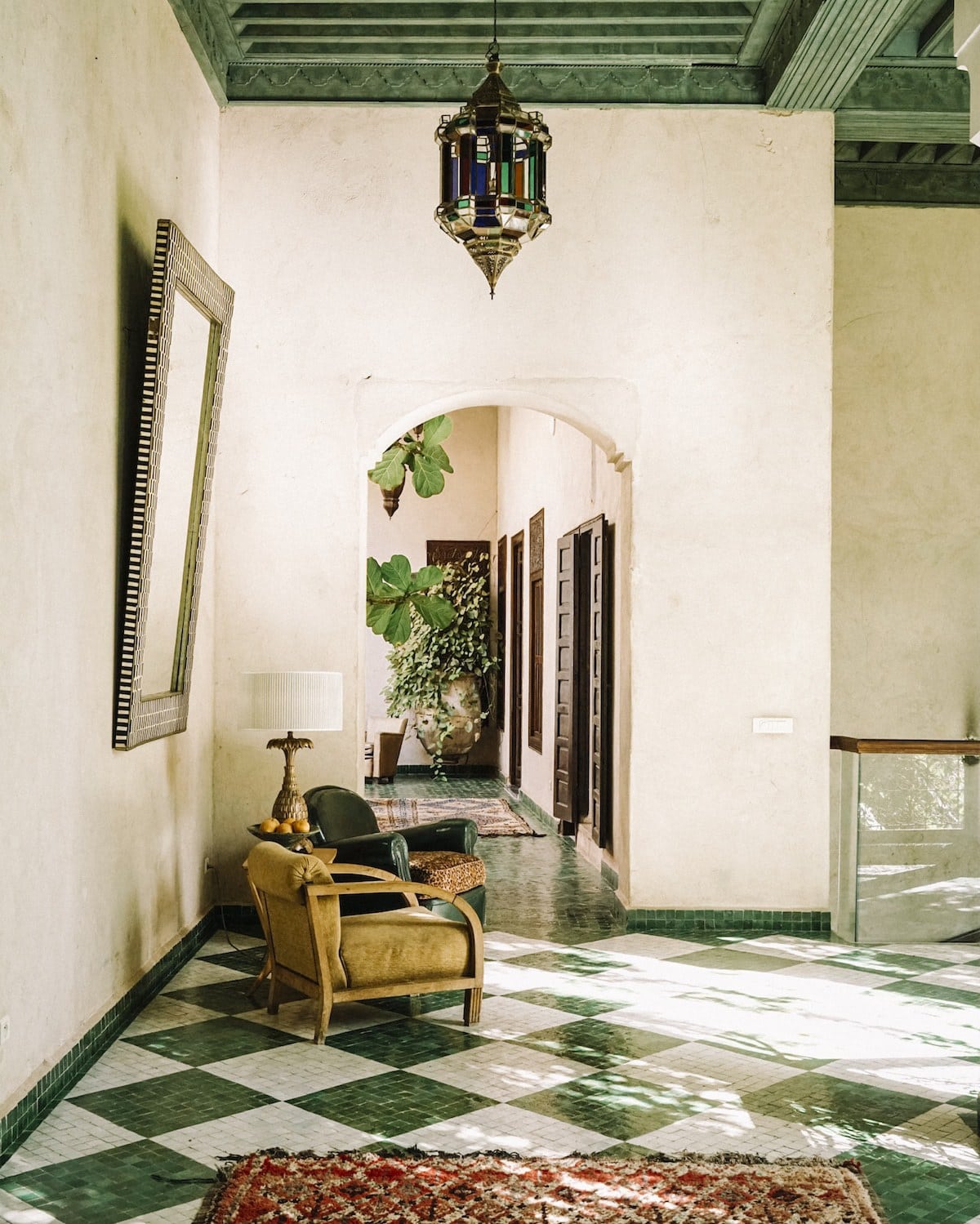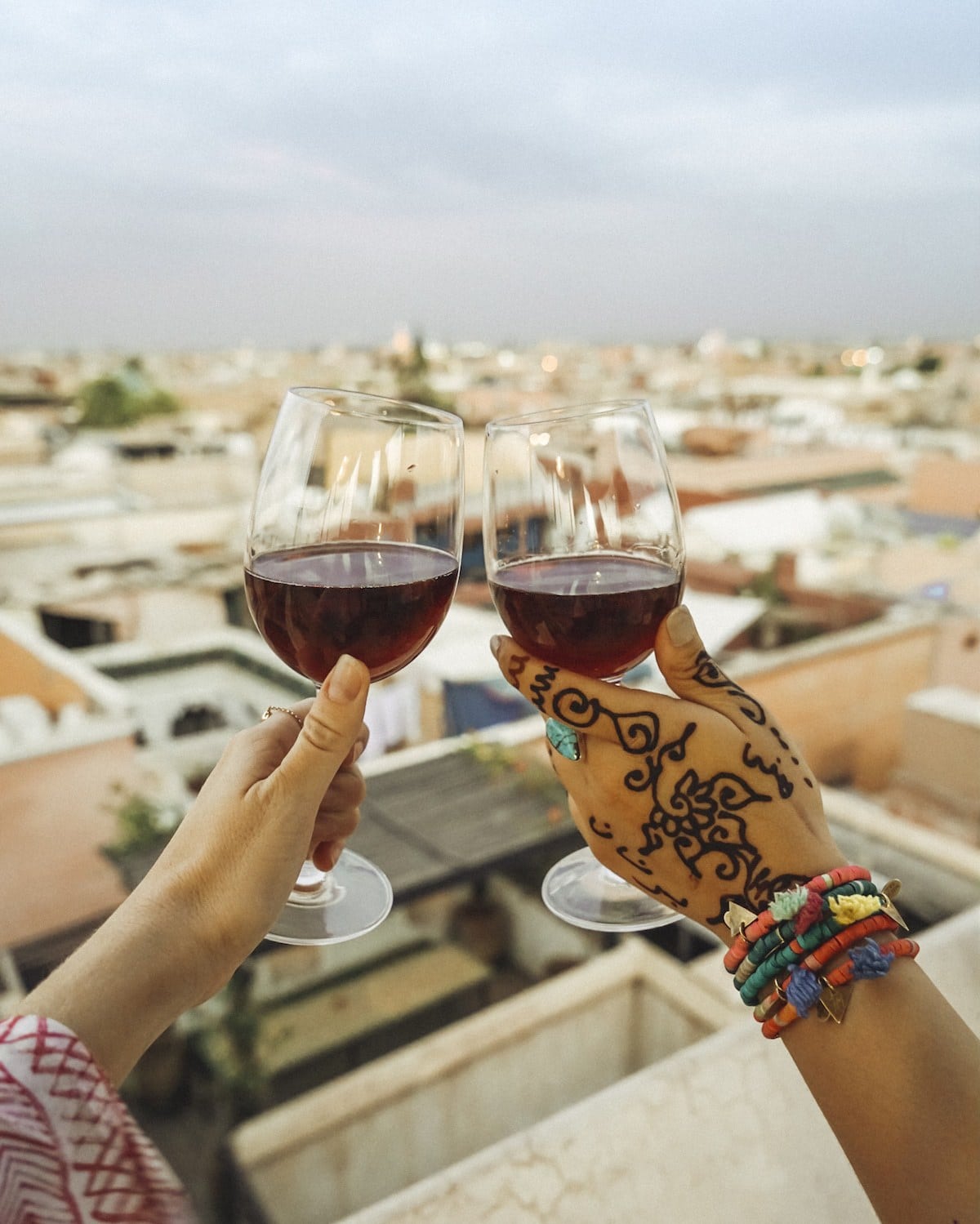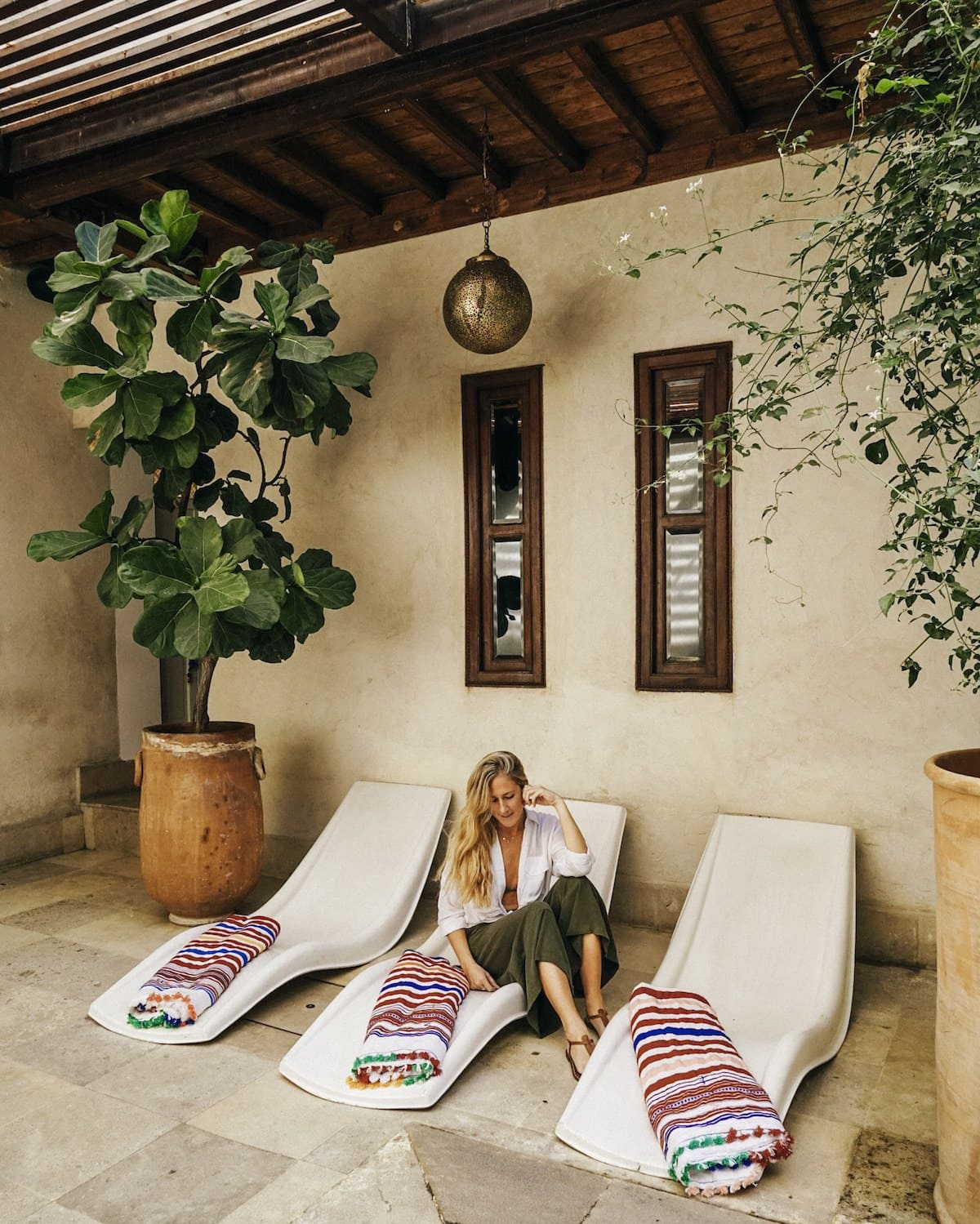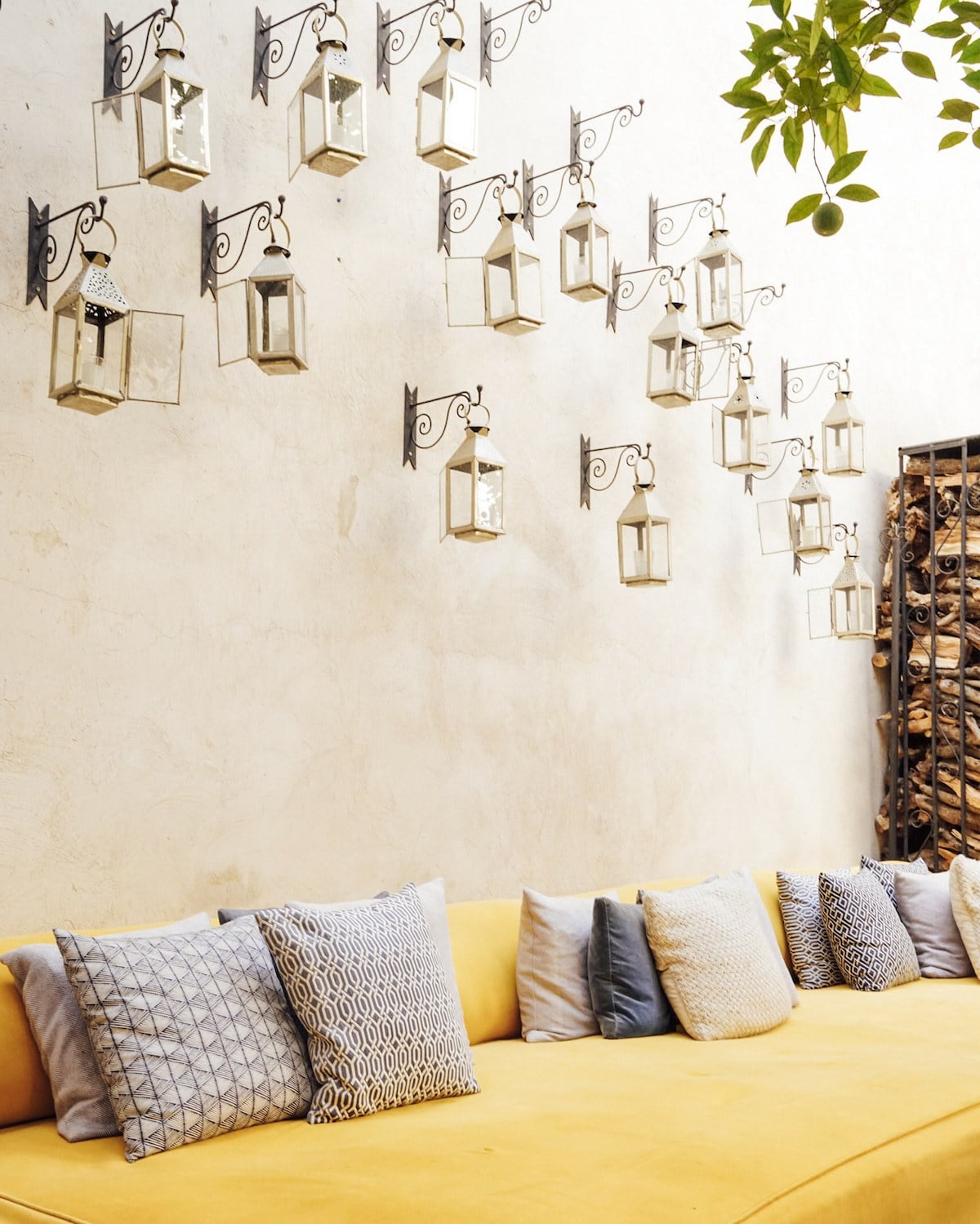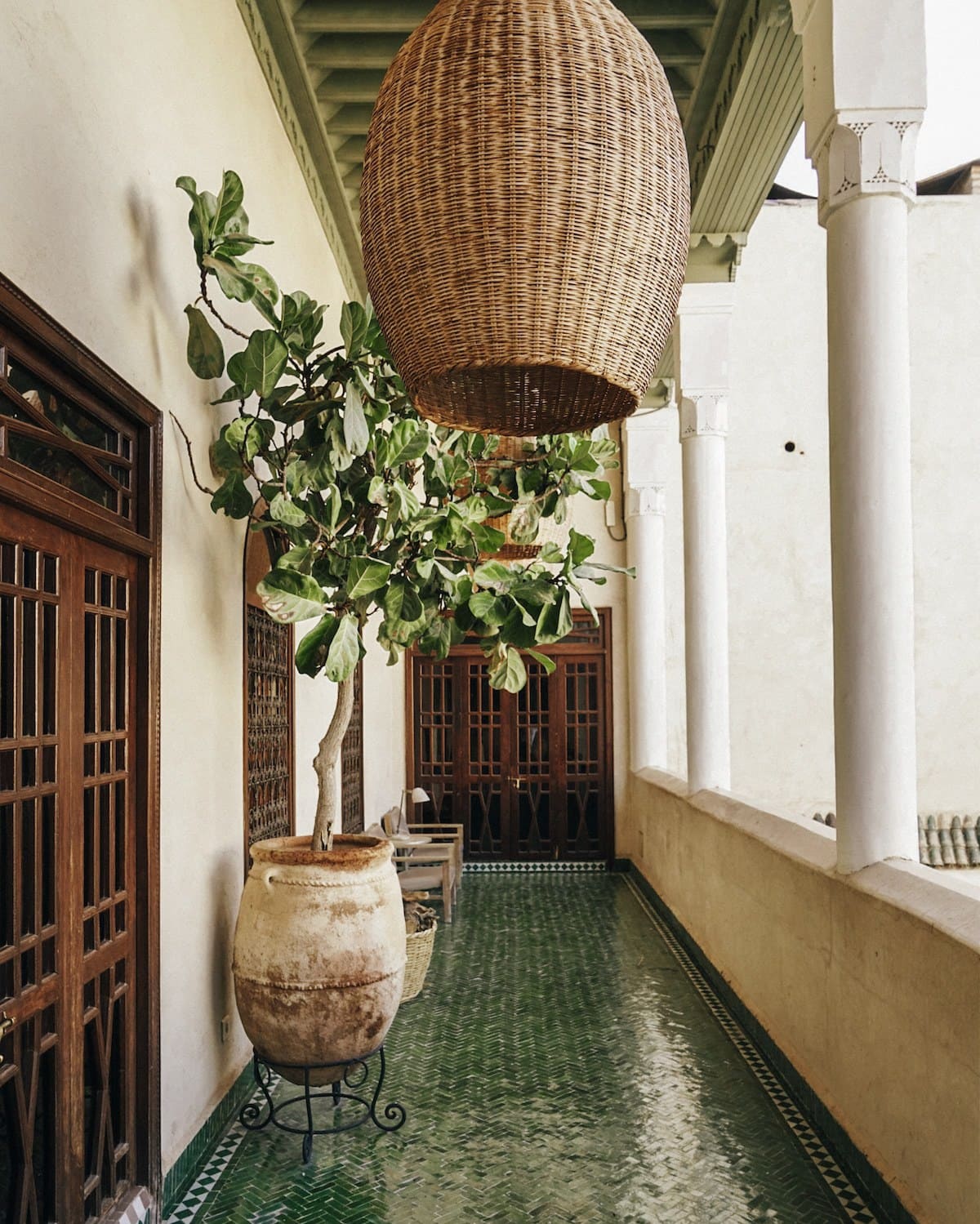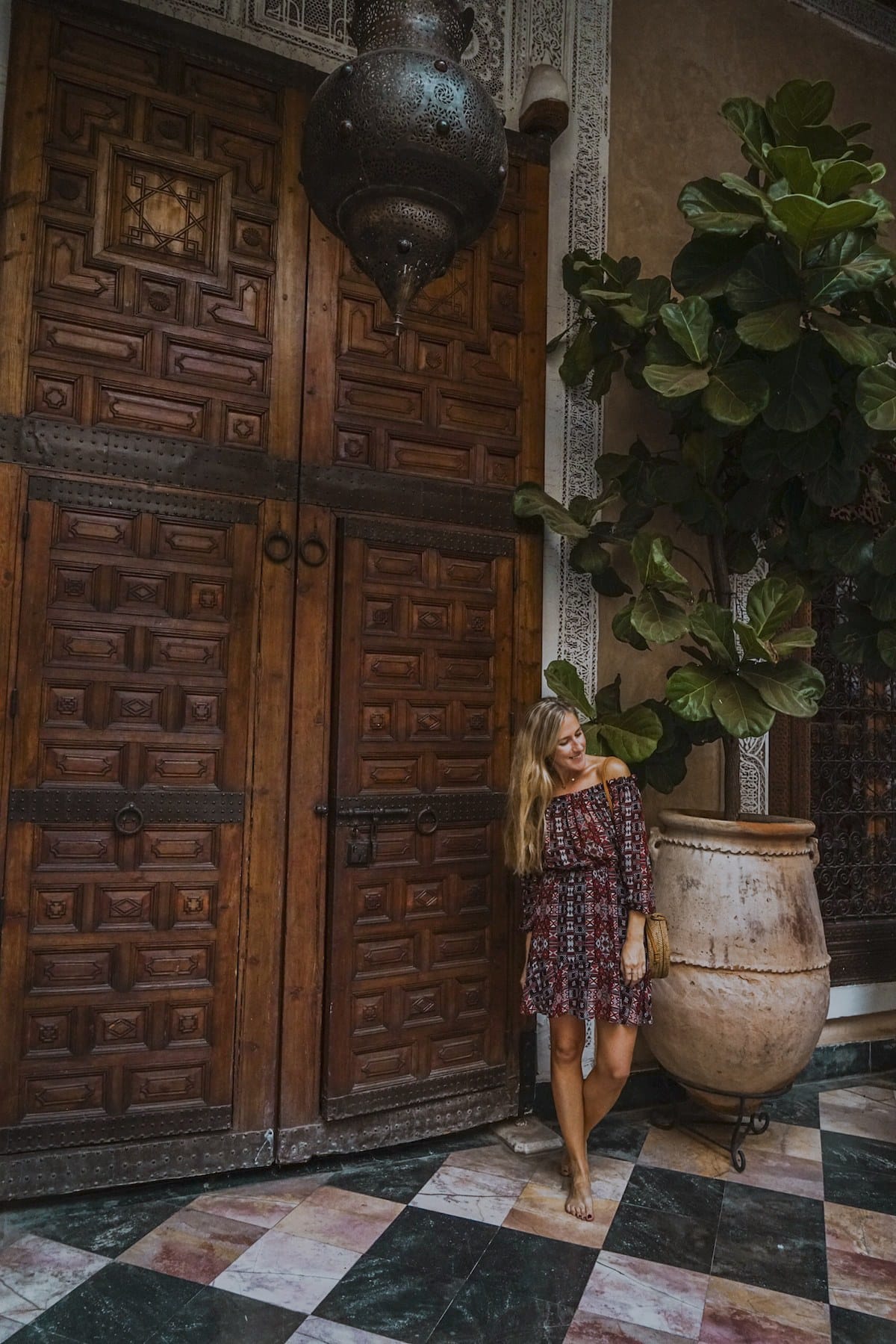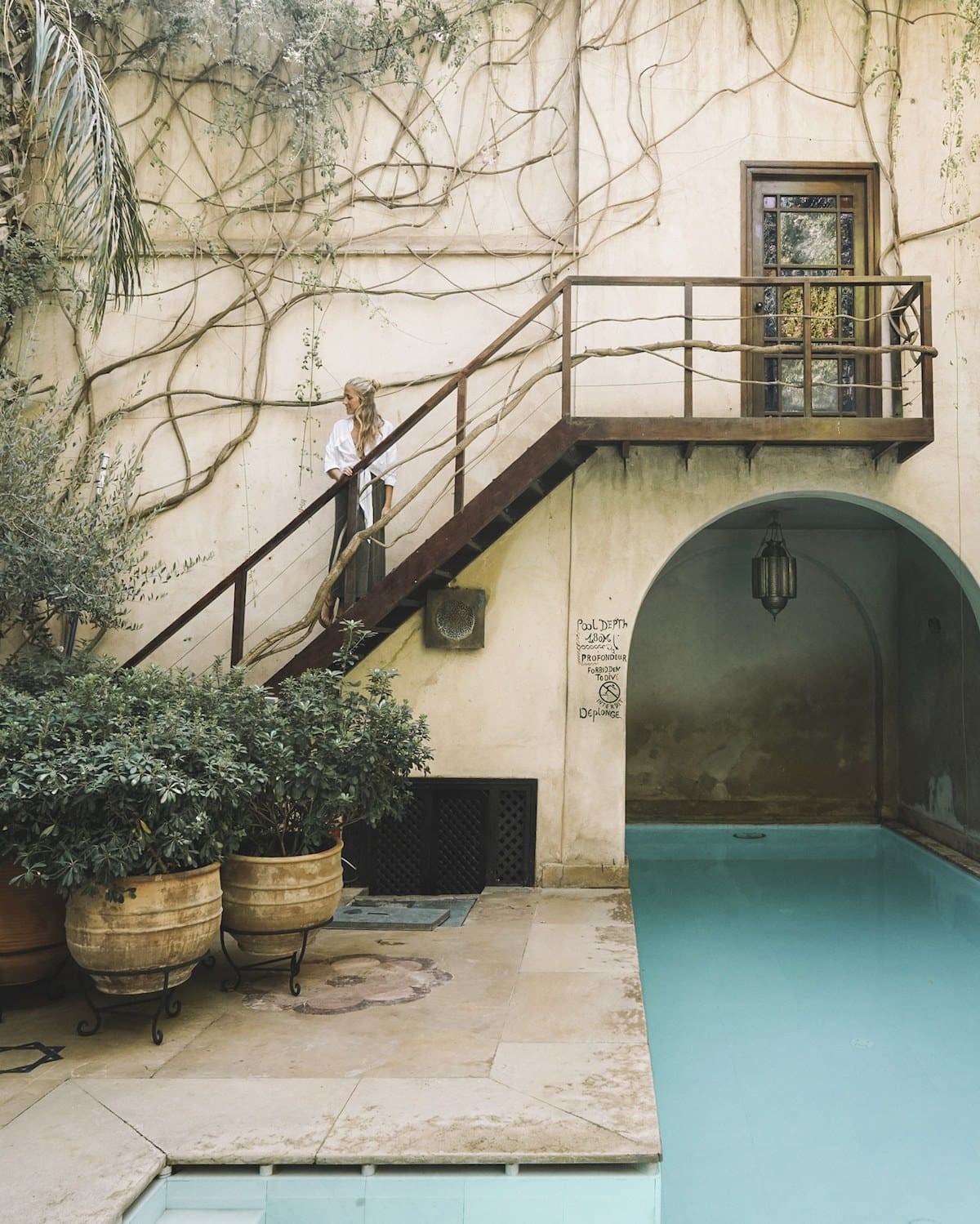 Ready to book your stay at El Fenn? Rooms start at 230 Euros per night. Book now.
***
Live Like It's the Weekend was graciously invited as a guest of El Fenn, but as always, all my opinions are my own and I would never promote anything I don't freaking love. 
PIN IT FOR LATER