If you're stumped on where to stay in Oaxaca, then don't worry because we're about to change that. In this post, I'll break down the best neighborhoods to stay in and the best hotels and home rentals for every budget.
And of course, each place I've selected is brimming with beautiful design—because if I'm going to be coughing up $$ for a place to sleep each night, I want it to be as cute and peaceful as possible to elevate my whole experience.
You'll notice once you arrive in Oaxaca too, that the city has quite an artistic spirit. Artisan crafts, textiles, bold color and unique design abound, so choosing a home base that celebrates these aspects of Oaxacan culture will only bring your trip to the next level.
So how do you decide where to stay in Oaxaca? I know in a big city, it can feel overwhelming choosing the best area to stay in.
Well, the good news is, that despite being a large city with over 600,000 residents, Oaxaca is incredible walkable if you stay in the right neighborhood!
Most everything you're going to want to do in the city is within an easy walking radius of El Centro, so the closer you can be to the city center, the more easy and seamless your itinerary will feel. And I've got plenty of recommendations for you in El Centro!
Keep reading for a breakdown of all the best Oaxaca City neighborhoods to stay in, the best hotels in Oaxaca, and the best Airbnbs and home rentals to make your planning super easy!
What Are The Best Neighborhoods In Oaxaca to Stay In?
El Centro
El Centro is Oaxaca's historic city center. This is where you'll spend your time exploring the most popular tourist attractions within Oaxaca, so it's a great place to stay to be in the heart of it all.
If it's your first time traveling to Oaxaca, this is the top neighborhood to consider so that you can easily explore most everything on foot.
Within the Oaxaca City center you'll find everything from the main city square (Zócalo) and famous Santo Domingo de Guzmán cathedral, to plenty of markets, restaurants, and bars.
Centro is also where you'll find the majority of Oaxaca's main hotels and accommodations, so it won't be hard to find a place to stay in Oaxaca here within any budget level.
Jalatlaco
This is the ideal place to escape the chaotic city center yet still be within walking distance to El Centro.
Jalatlaco is one of the oldest barrios, giving it a rich history that is worth exploring. Plus, it's one of the more artsy, hip neighborhoods, offering a young and fun feel with cool coffee shops, street art and more affordable accommodations.
The streets here are lined with colorful houses and family-owned shops on every corner, so you'll definitely enjoy morning strolls in Jalatlaco.
Barrio de Xochimilco
Looking to live like a local? Xochimilco is just north of El Centro yet still relatively close to some of the best attractions in Oaxaca. This neighborhood is quieter and has more of a local vibe.
It's also Oaxaca's oldest neighborhood, with a village feel, offering areas to explore in the way of more traditional Oaxacan restaurants and artisan workshops.
Reforma
If you prefer to not be in the center of the chaos, then Reforma might be a good option. It's an affluent neighborhood with boutique shops and many upscale restaurants, but not much as far as tourist attractions.
If you're looking for a more luxe and upscale experience when deciding where to stay in Oaxaca, keep this neighborhood in mind, but know that you'll likely need to utilize more transportation options as it can be about 45 minutes on foot into the Oaxaca City center.
Where to Stay in Oaxaca: Best Hotels for Every Budget
If you're wondering where to stay in Oaxaca for your first time, El Centro is hands down the best neighborhood. This is where the most popular historical attractions are located as well as many of the bars and restaurants.
That said, there are plenty of amazing hotels and rentals to choose from in Oaxaca and many of them are quite affordable! Let's take a look at all the best ones below!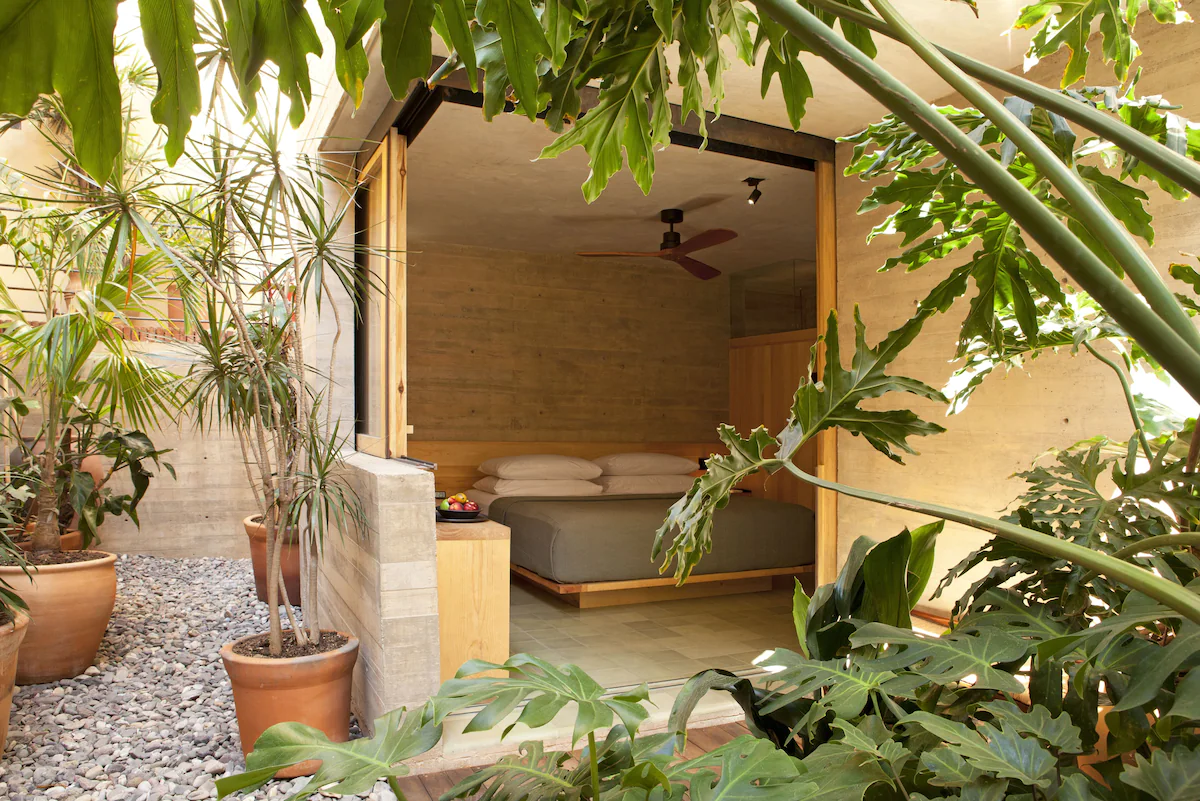 Location: Hotel Escondido is located in El Centro, just 8 minutes walking distance from the Zocalo (main square).
Amenities: Free continental breakfast, free onsite valet parking, pet friendly, on-site pool and garden, room service and a 24-hour front desk.
Best For: Design lovers.
Budget: High-end/luxury.
Hotel Escondido is a 4-star luxury boutique hotel that is both stunning and conveniently located, just a short walk to the main square. With only 12 rooms on site, the hotel has an intimate feel that provides a haven for guests within the center of the city.
The rooms feature beautiful high ceilings that create an open and modern feel, and many guests report feeling like they're staying inside an architectural museum.
Balanced with 19th-century architecture, there's a distinct local Oaxacan vibe here, and both a pool and restaurant on site. It's the perfect place if you're looking for accommodation in Oaxaca City that's centrally located, design-centric, and features all the essential amenities.
Location: Quinta Real Oaxaca is where to stay in Oaxaca for the utmost convenience. Here you're 6 minutes walk from the Church of Santo Domingo and the Oaxaca Cathedral, 7 minutes walk from the Zocalo Square and a 13 minute walk from the Mercado 20 de Noviembre.
Amenities: Buffet breakfast (surcharge) each morning, 24-hour room service, concierge, luggage storage, business center, babysitting services and much more.
Best For: Luxury lovers who want all the top amenities.
Budget: High-end/luxury.
Rich in history, Quinta Real Oaxaca was originally the 16th Century Convent of Santa Catalina de Siena, and has since been converted into a stunning boutique hotel. Staying here feels like you've time-traveled back to another era.
This is hands down one of the best hotels in Oaxaca City, and provides beautiful and spacious grounds to explore all within the hotel. The banquet hall is exquisite, and the corridors and elegant arches are all Instagram-worthy at every turn.
As a bonus, it's located in the center of Oaxaca where you're within walking distance to many of the top sites, including local artisan shops and the Templo de Santo Domingo de Guzmán.
This is one of the places we personally stayed on our trip, and we loved everything about it!
Location: Located on the Western side of El Centro, Hotel Con Corazon is just 12 minutes walking distance from Zocalo Square, and 15 minute walk to the Santo Domingo de Guzman cathedral.
Amenities: On-site coffee shop, free daily breakfast, luggage storage, 24-hour front desk, bike storage, vegan dining options, and more.
Best For: Design lovers on a budget who care about sustainability and supporting mission-driven businesses.
Budget: Great for budget travelers.
---
If you're looking for one of the most affordable places to stay in Oaxaca that is laid-back and modern, then you'll love Hotel Con Corazon.
We stayed here for a couple of nights during our trip and absolutely loved their outstanding daily breakfast made from fresh, local ingredients—and it's included!
Located just a few minutes from the central plaza, this hotel is fun and colorful and features a large communal dining and lounging area for guests to relax in.
What makes Hotel Con Corazon special is its focus on sustainability and their mission to reinvest a portion of profits back into the local community. In the next four years, with the help of five hotels, they aim to support 1500 children to finish their education.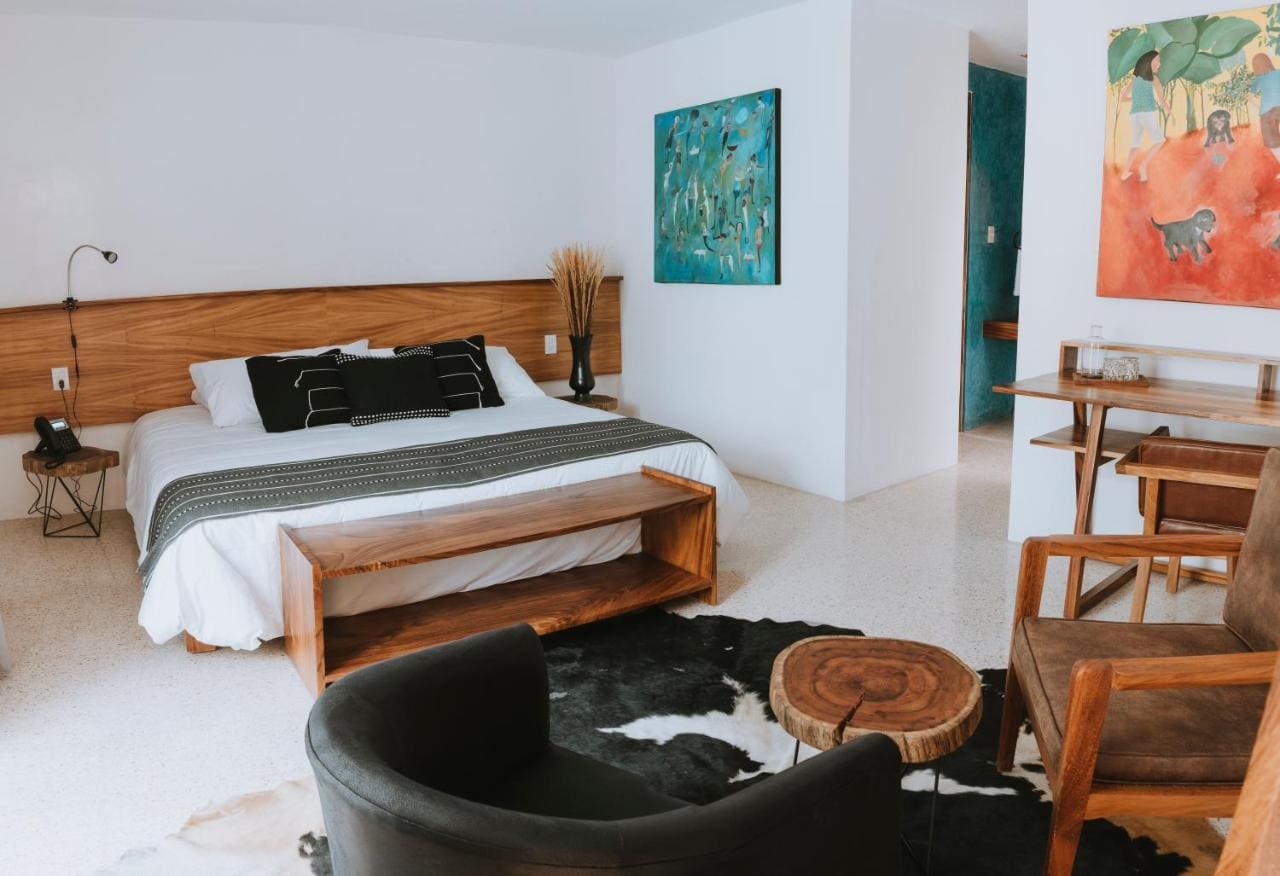 Location: Case de Arte is located in the upscale Reforma neighborhood, close to plenty of higher end shops, bars and restaurants. To walk to the main square of Oaxaca's city center is about 30 minutes.
Amenities: Restaurant bar, concierge, terrace and outdoor pool.
Best For: Those who want something design centric outside of the city center.
Budget: Mid-range.
Art and design lovers will fall in love with Casa de Arte. Part boutique hotel and part art gallery, each of the seven rooms is thoughtfully designed. You'll find work from various local and international artists that are complimented by natural furnishings and fun architectural elements.
What's great is that each of the rooms is completely unique, so this is the kind of place you can return to over and over again and have a new experience.
Fun fact: Each room is named after a local tree, giving respect to the use of natural and sustainable materials such as wood, used throughout the design.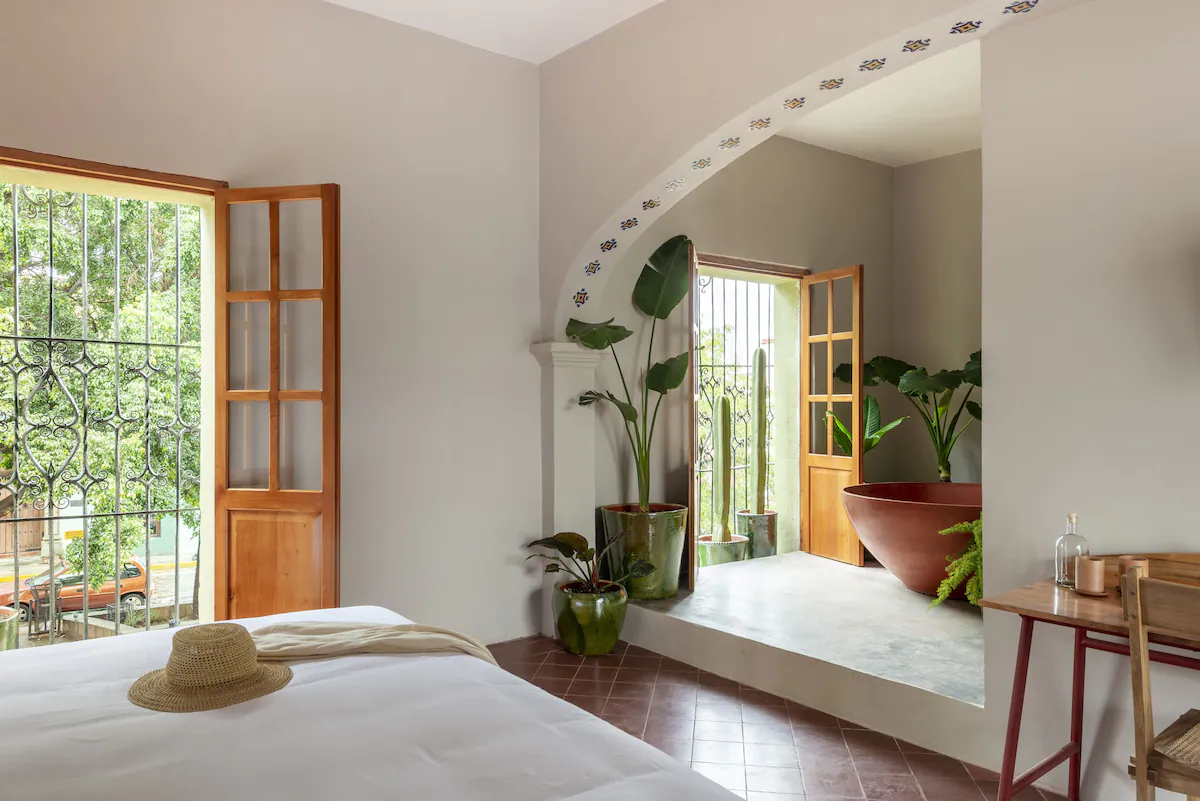 Location: Right in the heart of El Centro, just 7 minutes walk from the Zocalo and 14 minutes from the Mercado 20 de Noviembre.
Amenities: Free daily breakfast, luggage storage, concierge, smart TV and more.
Best For: Those who love a light, bright and airy vibe with a homey feel.
Budget: Mid-range.
A peaceful oasis in the city center, Grana B&B is one of the best places to stay in Oaxaca, rating high on everything from location and design to guest reviews!
It is located just one block from the Templo de Santo Domingo de Guzmán and just 11 minutes from Benito Juarez market.
The rooms are clean and modern, but the star of the show is the kitchen. It's simply gorgeous, with turquoise tiles and vibrant plants thoughtfully scattered about, give a super cozy feel that will instantly make you feel like you've found your home away from home.
If you decide to stay at the Grana B&B, be sure to check out the mountain views from the rooftop. They are top notch!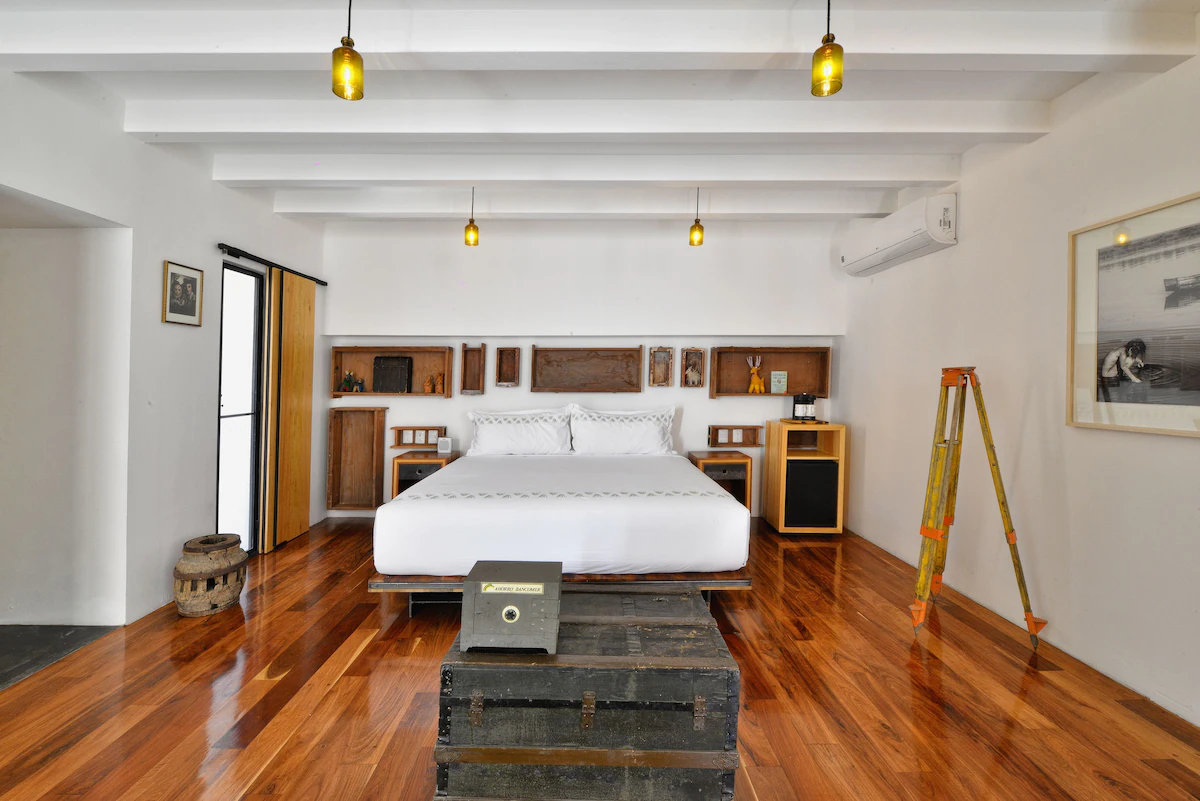 Location: In the heart of El Centro, with views overlooking the Santo Domingo cathedral.
Amenities: Valet parking, pet-friendly, rooftop terrace, laundry facilities, and free breakfast each morning.
Best For: Epic rooftop views and convenience.
Budget: Mid-range.
While Los Amantes isn't my top pick, it does get raving reviews for two reasons: the location and its undeniably spectacular rooftop terrace overlooking the Santo Domingo church.
It's an ideal place to come back to at the end of a long day exploring to enjoy a cocktail in the evening with a view.
Plus, it has a unique design featuring a combo of modern, industrial accents with traditional colonial architecture.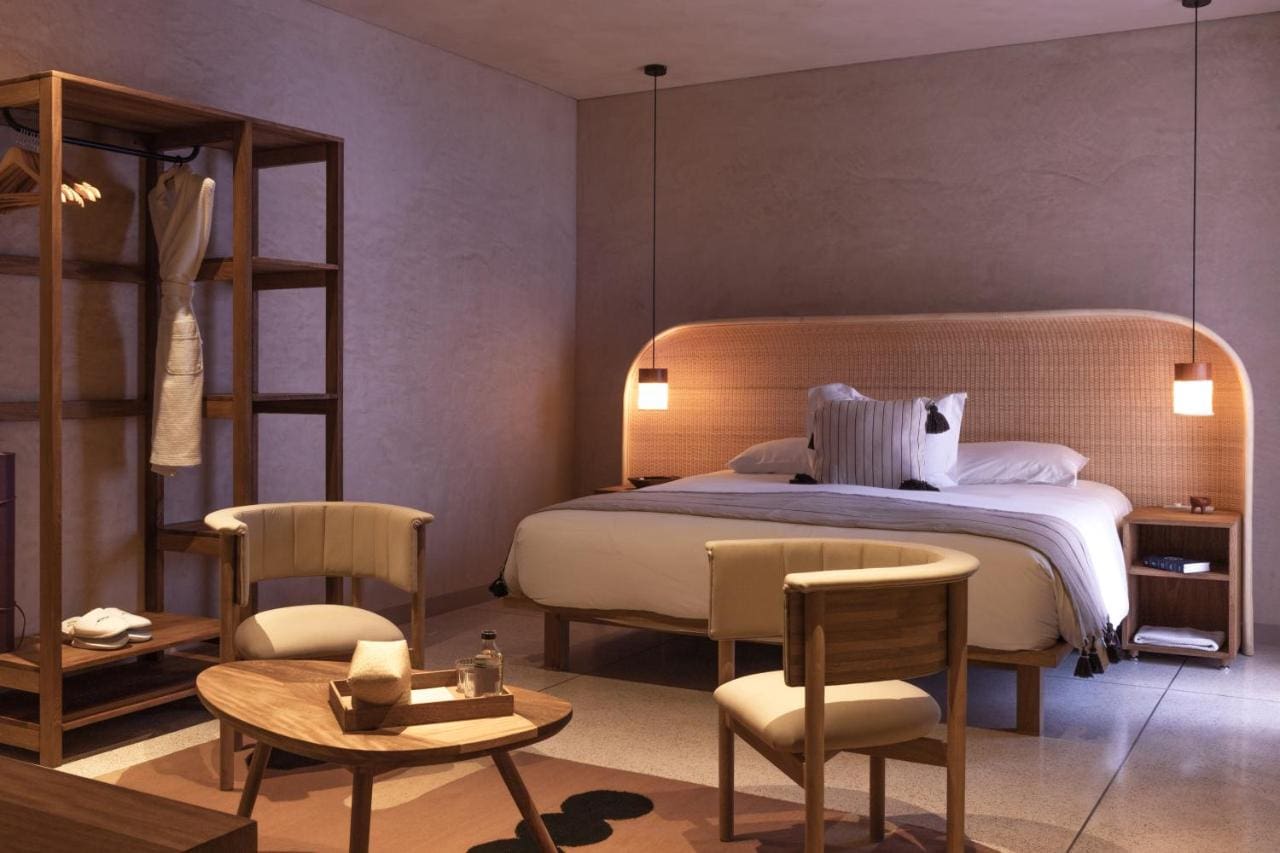 Location: Just two blocks from the Zocalo, Casa Antonieta is in the heart of town within walking distance to everything. Right next door you'll find the Centro Cultural San Pablo convent and the Textile Museum.
Amenities: On-site cafe, room service, airport shuttle, bar, babysitting services and more.
Best For: Beautiful aesthetics that combine historic flair with modern design elements.
Budget: High-end/luxury.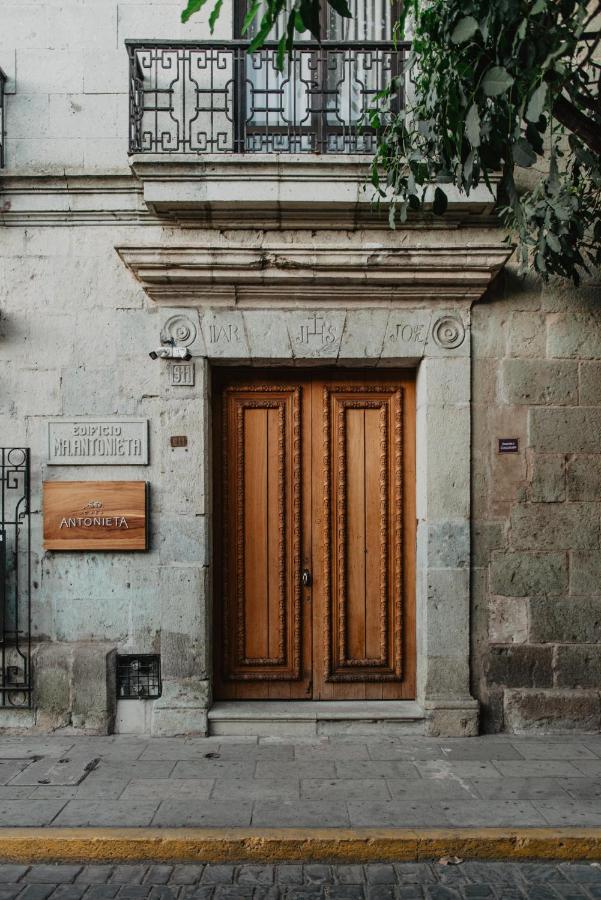 Hands down one of the most beautiful boutique hotels in Oaxaca, Casa Antonieta is a gem housed inside one of the earliest structures in the city from the 1500s. It has been beautifully restored while retaining its majestic sense of the history it embodies.
It has various room styles to suit different aesthetics, but the overall design is stunning, further complemented by a central courtyard with lush green plants snaking up its historic columns.
Situated in the heart of the historic center, this hotel is within a few blocks from Santo Domingo church and the Textile Museum.
One of the highlights of staying at Casa Antonieta is that it's the same owners as Muss cafe, one of the trendiest cafes in Oaxaca, so you can start every morning with an incredible breakfast and coffee in their stunning courtyard.
Overall this hotel is a must-stay for anyone who appreciates good design and great hospitality.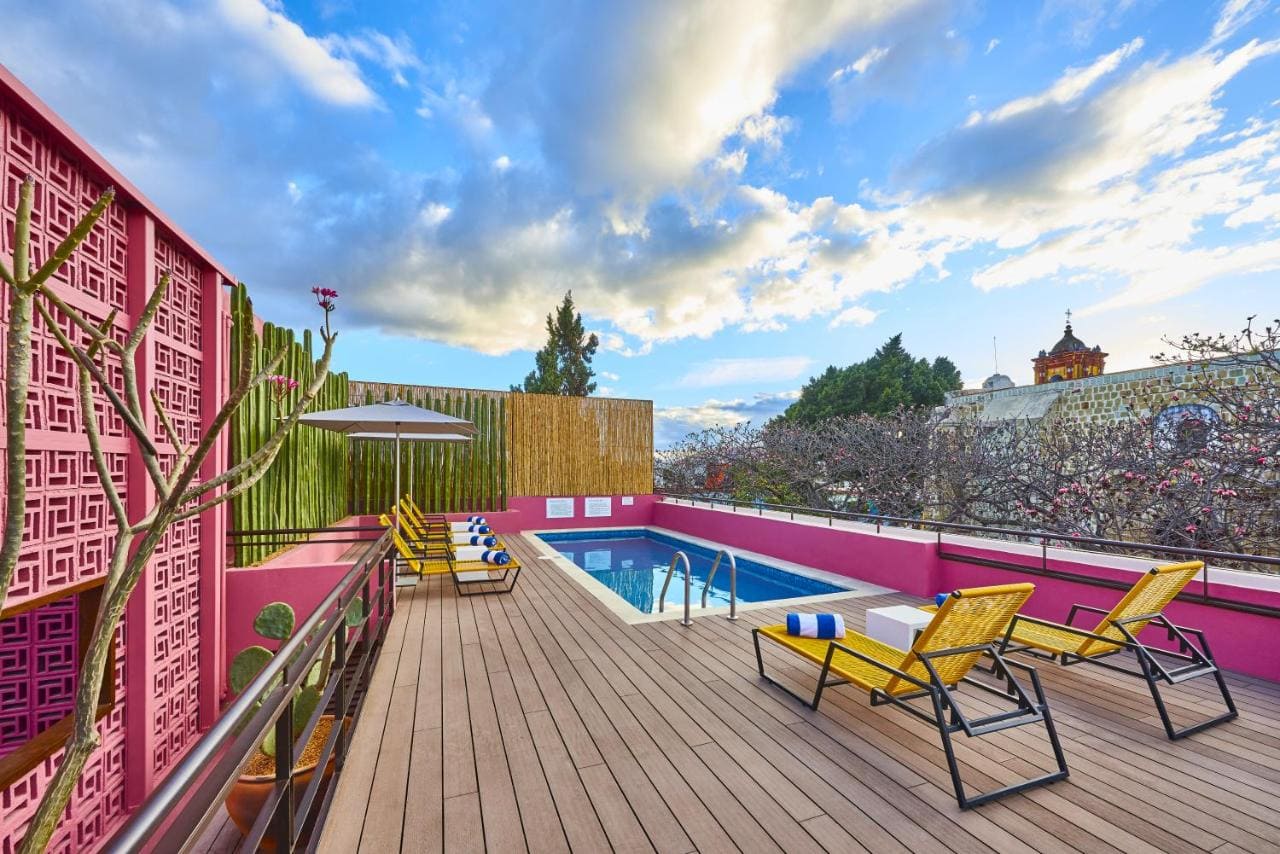 Location: Situated in the Jalatlaco neighborhood, just east of El Centro. The hotel is a 9 minute walk from the botanical garden and Santo Domingo cathedral.
Amenities: Fitness center, business center, outdoor swimming pool, robes in rooms, on-site restaurant and bar.
Best For: Business travelers and fitness junkies.
Budget: Mid-range.
If you're walking down the street, you can't miss City Centro Oaxaca! Decorated in bright pink, this spunky hotel is situated in the Jalatlaco neighborhood, not far from the center of the city.
This is a great hotel option for those who want the amenities of a bigger hotel like a business center and fitness center. They also have an outdoor swimming pool, free parking, and a bar and restaurant on-site.
My favorite part of City Centro Oaxaca is the terrace—it's lined with cacti contrasting with the pink murals that give it a charming and punchy look. It's very photogenic! In the evenings the courtyard is beautifully lit with hanging lanterns.
With pretty affordable rooms rates per night, it's an ideal spot for those who are looking to stay in a modern and vibrant hotel while remaining within walking distance to plenty of tourist sites.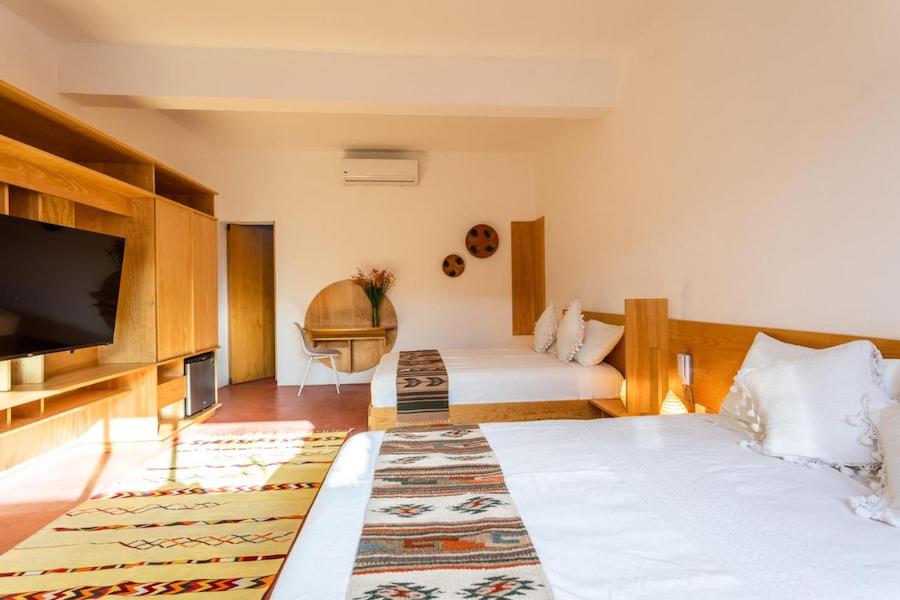 Location: Just west of the Zocalo (main square), it only takes guests 10 minutes to walk into the center of the city.
Amenities: Free breakfast each morning, coffee shop, Netflix, air conditioning and more.
Best For: Budget travelers who care about good design.
Budget: Great for budget travelers.
With prices under $100, Ayook is a great budget travel option for those still seeking great design.
The hotel is conveniently located, just three minutes walking distance to the Basilica de la Soledad, and 10 minutes from the main city square. Plus, they offer free breakfast each morning, offering further savings to their guests!
Where to Stay in Oaxaca: Best Airbnbs and Home Rentals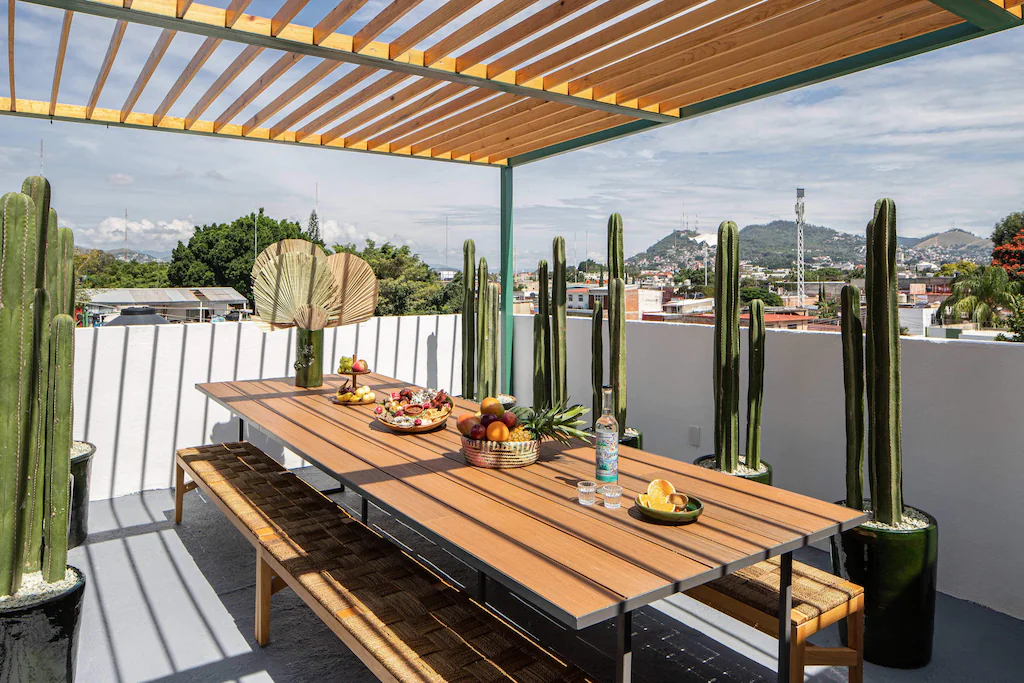 Location: San Jose La Noria neighborhood, just south of El Centro. From here, it's about a 25 minute walk to Oaxaca's main square.
Amenities: Parking, pet friendly, hot tub, rooftop deck, grill, smart TV and much more.
Best For: Large groups.
Budget: Mid-range or budget (depending how many people you split it between).
For larger groups, bachelor/bachelorette parties and families, this villa located in the neighborhood just south of El Centro is perfect. The villa sleeps 20 total, with eight bedrooms and eight bathrooms, and it features tons of amazing outdoor space!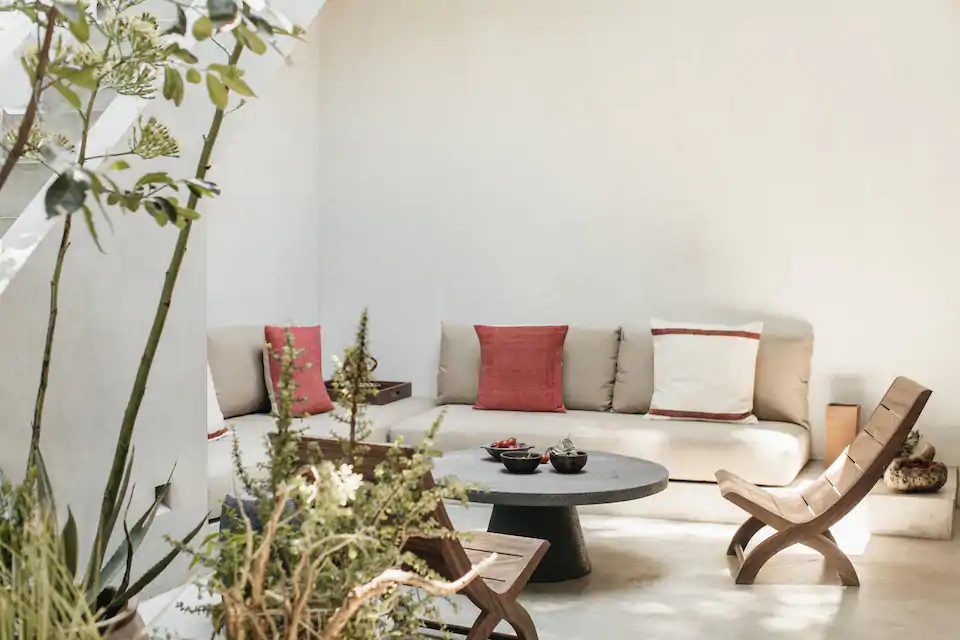 Location: Located on the western end of El Centro, Casa Crillo is about 10 blocks from the main square.
Amenities: Room-darkening shades, Apple TV, Netflix, Sonos sound system, private outdoor pool and more.
Best For: Foodies.
Budget: High-end/luxury.
---
A beautiful oasis to escape to and experience Oaxaca like a local, Casa Criollo combines gourmet food, local art, and design to provide a simple but luxurious retreat.
Located discreetly behind the Criollo Restaurant, the chef Enrique Olvera worked with the architect Javier Sánchez to create a unique space, with sober and neutral tones, where guests enjoy a 5-star breakfast each morning.
What makes Casa Criollo special is its attention to detail; everything from the combination of plants and wooden furniture, impeccable food served at the restaurant to the music has been thought out to create a harmonious experience for guests.
There are two beautiful suites, each with access to a steam room, outdoor pool, and private lounge space for guests. On the outskirts of the historical center, it's around a 15-minute walk to local museums, mezcal bars, and restaurants.
Bonus tip if you stay there: Word is that the entomatadas on the breakfast menu are amazing!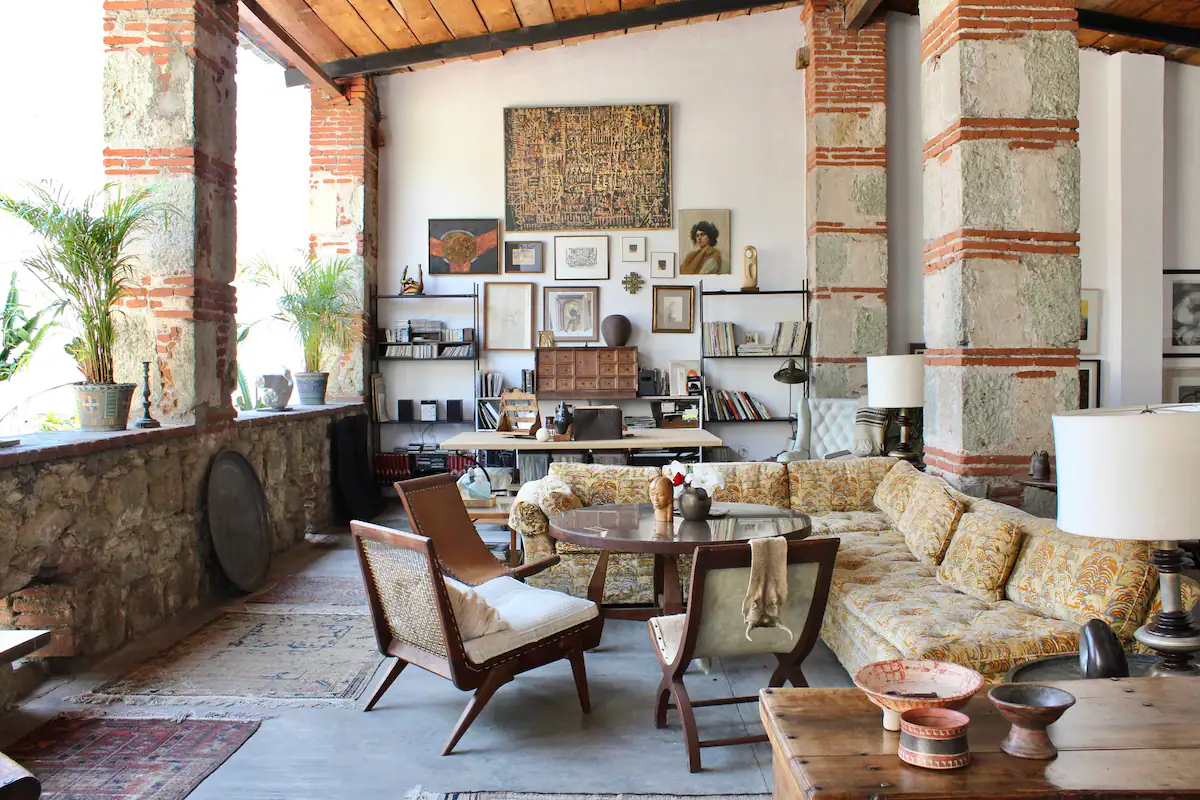 Location: Situated in the Jalatlaco neighborhood, not far from the city center.
Amenities: Full kitchen, reading material/books to enjoy, backyard and patio, free parking and more.
Best For: Antique and art lovers.
Budget: Mid-range.
---
Antique lovers, this Airbnb in Oaxaca is perfect for you. Catherine, the host, spent years traveling around the globe dealing in antique imports and her love of furniture and design brought her to Oaxaca almost a decade ago.
Located not far from the center in the hip Barrio de Jalatlaco neighborhood, this former tannery turned private residence is the perfect place to retreat in the midst of the bustling city.
Her rooms are full of beautiful objects, unique furniture, and art collections, creating a quirky and distinctive space to stay that feels very true to the creative spirit of Oaxaca.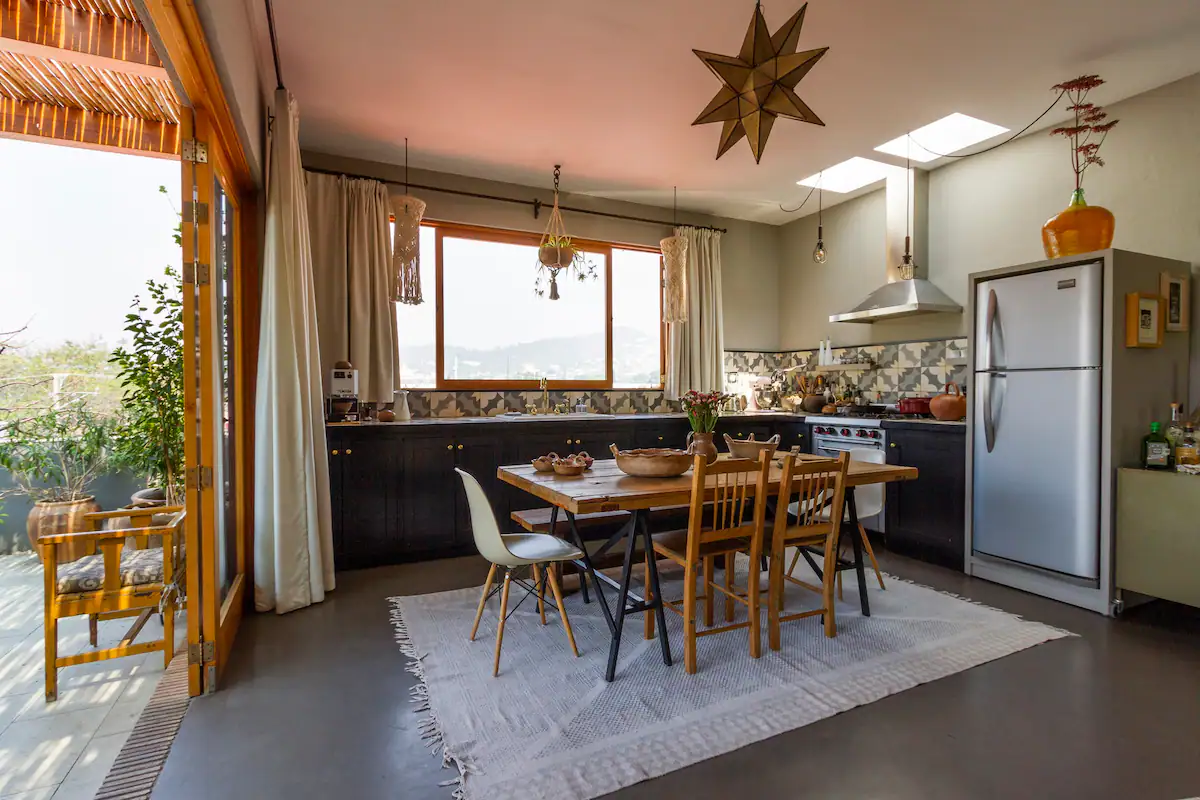 Location: Ideally situated in Barrio de Jalatlaco between El Centro and Reforma.
Amenities: Full kitchen, espresso machine, balcony, free parking, and more.
Best For: Homey vibes in a hip neighborhood and longer stays.
Budget: High-end/luxury.
---
Who needs a 5-star hotel when you can treat yourself to this luxury, modern penthouse a few blocks from the old historical center of Oaxaca City?
One of the most popular Airbnbs in Oaxaca, with epic views of the surrounding mountains, this is the perfect place to kick back in a hammock and gaze up at the starry night sky.
This Airbnb also offers longer stays, so make sure to inquire if you plan on traveling Oaxaca for awhile.
More Tips for Your Oaxaca Trip!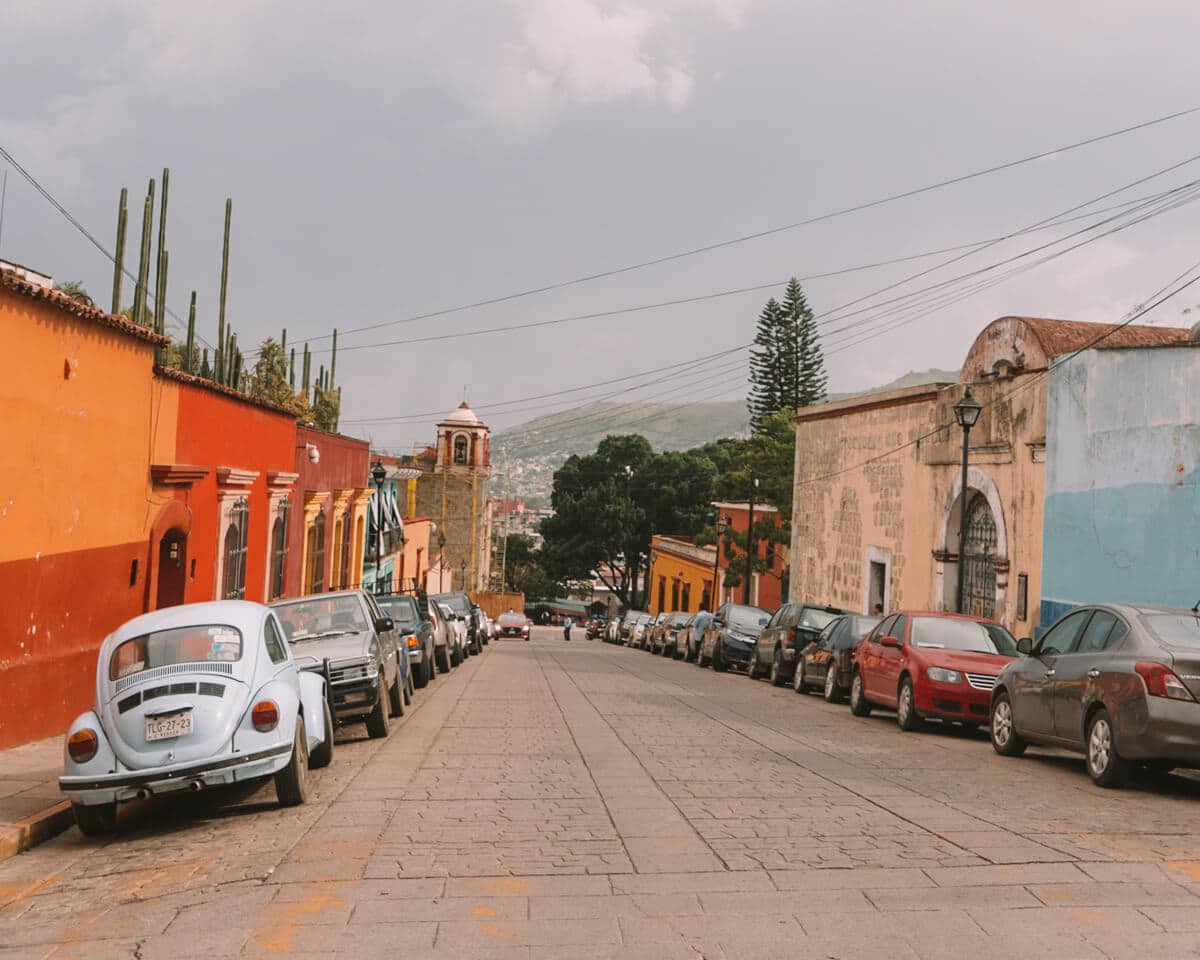 How to Get Around Oaxaca
Most of Oaxaca City can be explored easily on foot. However, if you're not in the mood for a long stroll, you can also flag a taxi during the day or if you find yourself out late at night.
Public buses are an option, but they're not the most efficient on time, so walking and taxis are definitely the top two ways to get around. However, if you're planning on taking a couple of day trips outside of the city, you might want to think about renting a car.
Though a rental car definitely isn't necessary, it can come in handy depending on what you're putting on your itinerary and how far you plan on venturing out.
Is there Uber in Oaxaca City?
Currently there is no Uber or Lyft service in Oaxaca, so you'll need to utilize other modes of transport. Fortunately if you choose your accommodation wisely, everything can be explored on foot quite easily.
Is Oaxaca Safe?
While a lot of areas in Mexico can get a bad rap for serious crimes, Oaxaca City is one of the safest places to travel in Mexico. But as always when you travel, there are a few things to keep in mind:
Petty theft is common, so leave your expensive jewelry at home and dress in a way that doesn't call too much attention to yourself.
Be mindful of who's around you when withdrawing cash from an ATM. Try to always use a reputable bank or an ATM machine inside a public place like a mall.
If you're coming home late in the evening, take a taxi instead of walking back to your hotel, and avoid walking alone at night.
Brush up on your Spanish so that you know even just the most basic words and phrases to help you communicate and get around.
Go easy on the mezcal. While you of course want to let loose and have fun, overdoing it is a recipe for being less aware of your surroundings and thus a bigger target for crime.
If you rent a car, obey all Mexican driving laws.
No matter where you visit, keeping your wits about you and exercising caution is always important (especially internationally). Going to Oaxaca is no different. Overall, I felt incredibly safe here and would 100% go back.
What Are Some of The Top Attractions To Stay Near?
If you're contemplating the best things to do in Oaxaca, here are some of the top attractions that you might want to consider when choosing what part of the city to stay in!
Mercado Benito Juárez: With everything from authentic Mexican products (that are hard to find in the States!), to fresh produce and spices, this market is a fun place to walk around to grab a snack or something to bring home for later.
Templo de Santo Domingo de Guzmán: A former monastery, this church is a major landmark of the city and one of the top things to do in Oaxaca.
Museo de las Culturas de Oaxaca: After visiting the monastery above, you can spend a couple of hours learning about the history of Oaxaca. It's located inside one of the monastery buildings of Templo de Santo Domingo de Guzmán.
The Basilica of Our Lady of Solitude: This stunning sanctuary is a Baroque-style basilica that is known for its low spires and breathtaking towers.
Jardín Etnobotánico de Oaxaca: The botanical gardens in Oaxaca are 100% work exploring. The abundant cacti and agave plants set the backdrop for some stunning, desert-inspired photos.
Mercado 20 de Noviembre: This traditional covered food market is an experience to walk through, with stalls for every type of food and apparel.
Zocalo: This is the main square/city park of Oaxaca, where you'll find vendors and plenty of people gathering, especially during some of the city's biggest events like Day of the Dead!
Textile Museum: This completely free museum is a nice place to learn about some of the traditional regional textiles in Oaxaca.
Read More: Make sure to check out my post on what to do in Oaxaca on your first trip.
Did this post help you decide where to stay in Oaxaca? Let me know in the comments below!
---
Planning a trip right now? Don't miss my go-to websites for booking everything from flights and tours, to accommodation and more:
---
Pin it For Later