From camping under the stars to classic wooden cabins, there is no shortage of accommodation options in and around Yosemite— but that can make deciding where to stay in Yosemite National Park even more of a daunting task.
Do I stay inside the park? Is it better to find accommodation just outside the park borders? What are the pros and cons of each?
These are all questions that are bound to come up as you start planning for your trip to Yosemite.
There is a surprisingly large selection of accommodation options both inside and outside of Yosemite National Park—and quite a variety of accommodations to boot. Almost anyone will be able to find a place that makes them feel comfortable and relaxed, but note that you're not going to find the type of 5-star resorts here that you would in the Maldives.
Yosemite is a place that is understated and laid-back and the accommodations reflect that.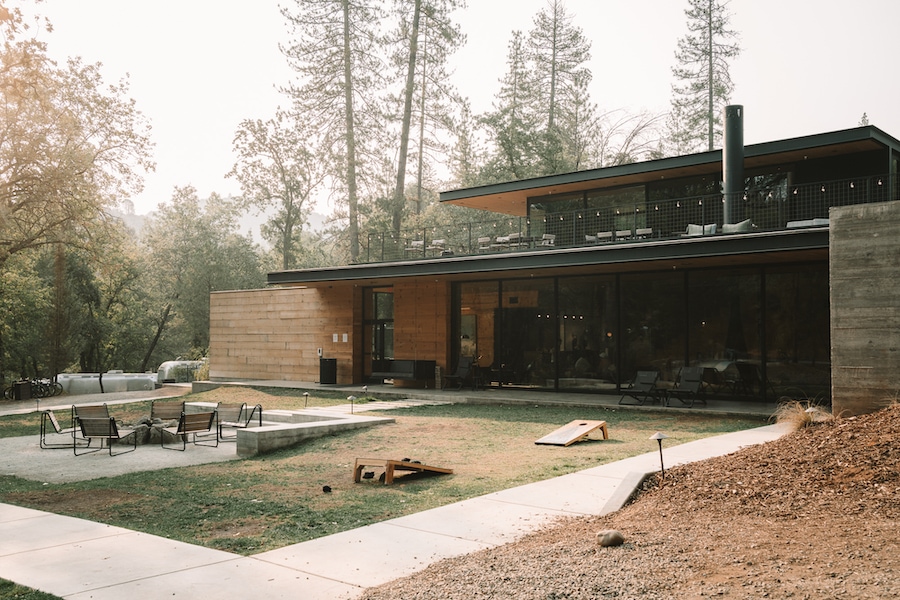 Whether your tastes are satisfied by some good, old-fashioned camping, or you prefer to throw small luxuries into the mix like silk sheets and fine dining, there really is something for everyone in California's crown jewel of national parks!
In order to help you find the perfect accommodations for your trip, I've put together this full guide on where to stay when visiting Yosemite to ensure you make the right decision for you and your travel companions.
Things to Consider Before Booking Yosemite Accommodation
How many days are you visiting Yosemite?
Unless you're planning on doing some more intense backpacking or ranger-led activities, three days in Yosemite should be plenty for basic hiking and sightseeing. That being said, you'll probably want to find one accommodation during your time there and stick with it rather than hopping around.
However, camping in Yosemite is also an awesome experience, so if you are brave enough to do it, you can check out this backpacking gear list you need in order to enjoy your night under the stars.
If you really want to fit as much as possible into your few nights, staying as close to the park or inside the park itself is most ideal to cut down on driving time. However, if your itinerary is more relaxed and you're not fussed about seeing every sight Yosemite has to offer, than you can certainly stay an hour outside the park and still see quite a bit.
How far in advance is your trip planning?
Though Covid restrictions have loosened up and you no longer have to get a permit to visit, reservations during peak hours are required from May 20th to September 30th. Peak hours are considered to be 6 AM to 4 PM, so keep this in mind and plan ahead to ensure that you can reserve your spot.
This is also a factor when it comes to accommodation as many campsites in the park book up well in advance. The further ahead of your trip you can reserve your hotel or campsite, the more options you'll have at your disposal.
What season are you planning on visiting Yosemite?
Though the summer months are the busiest in Yosemite (and the hottest), I had a wonderful time visiting in August. Sure, it was pretty toasty outside and some of the trails I explored were a bit congested, but it wasn't the worst thing in the world.
If you're able to swing it, most people say that May and September are the two best months to plan a visit to Yosemite due to the lack of tourism and cooler temps.
If considering a winter visit, keep in mind that visiting Yosemite in the winter is a bit more restricted as certain roads and trails get shut down due to snow and ice. However, I've also heard from friends who've visited during this time of year that winter in the park provides its own kind of magic.
Take Traffic into Account
If you choose accommodations outside of the park after weighing your options on where to stay in Yosemite (as I did), keep in mind that getting in and out of the valley between the hours of 9 AM to 5 PM can sometimes be a bit of hassle.
We had heard that the traffic during these peak times was especially bad on the weekends, so we made an effort to avoid driving during these hours (aka we got up before sunrise) and didn't run into any trouble.
---
Read More National Park Posts
---
The Different Lodging Options for Staying in Yosemite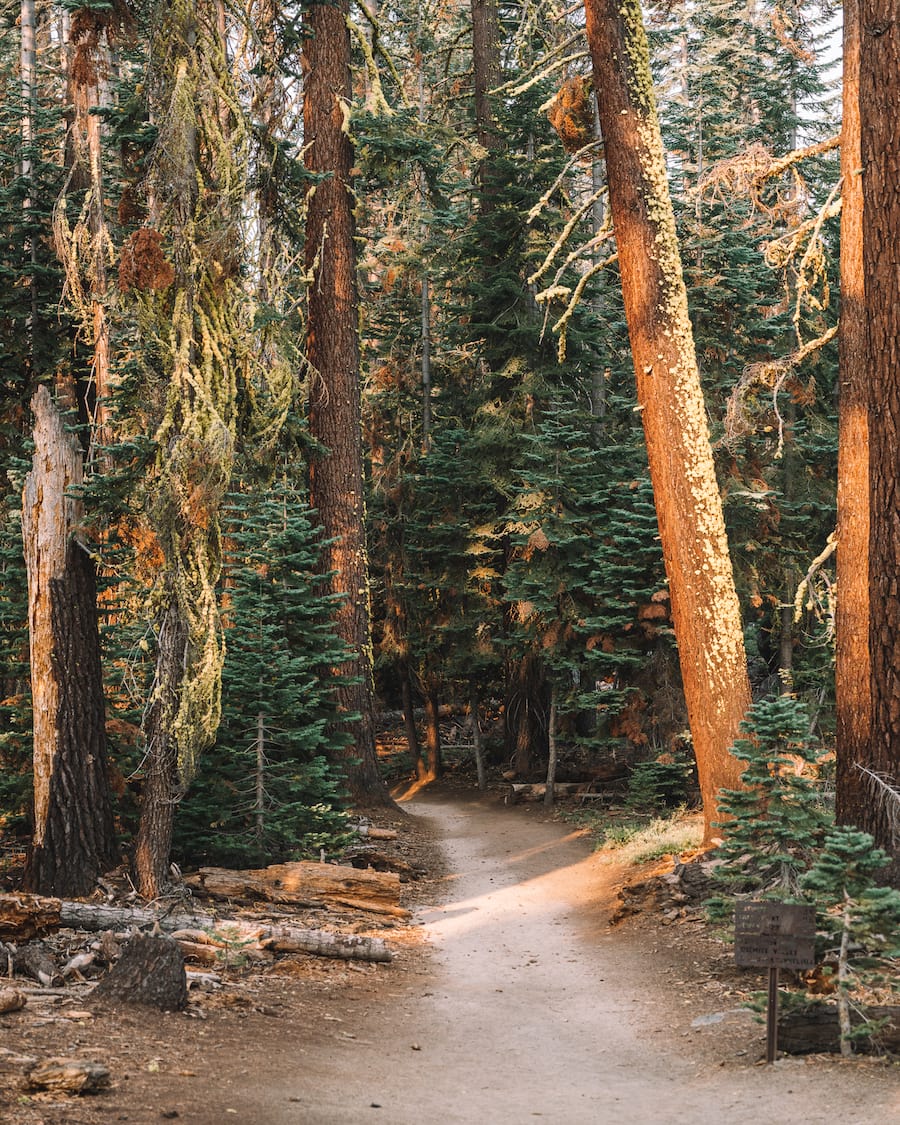 Camping
Pros:
You'll be closest to nature and get the full Yosemite experience
Depending on the campground, these can be some of the most convenient accommodations as you're already inside the park and don't need to drive far to see the sights
Enhances the adventurous elements of your trip
The chance to truly disconnect from the outside world
There are 13 main campgrounds in Yosemite, each with their own unique vibe and amenities
Cons:
You'll often need your own camping gear and accessories to take advantage of the campgrounds
Camping offers less comfort with only basic amenities
If you are a solo traveler, camping can feel a bit more intimidating or vulnerable, and you might feel safer in a more secure accommodation
Keep in mind, it's very common to see bears in Yosemite (which is awesome, but can also make some people nervous), so you need to be really particular and safe about food storage and prep at your campsite
Hotels and Lodges Inside Yosemite
Pros:
Requires less time driving in the car
You can be within walking or hiking distance to some of the most popular sites in Yosemite
At certain accommodations you may be able to avoid driving altogether and instead can take Yosemite's public shuttles or bike
These will be accommodations that are both comfortable and convenient when it comes to location
You have more flexibility during the day as far as making stops back at your hotel or grabbing something you may have forgotten
Cons
These can often be more expensive accommodations than those outside the park
Your options of different accommodation styles are a bit more limited inside the park
If you're traveling with a large group, family or young kids, you may not find the best accommodation for you inside the national park
Hotels and Lodges Outside Yosemite
Pros:
The park can get pretty crowded during the summer, and staying outside the park can feel more peaceful and remote
You are closer to other things outside and around Yosemite like the town of Mariposa if you don't plan on spending all of your time within the national park
There is more variety of accommodations to choose from outside of park grounds if you're looking for something a bit different
Cons:
The biggest con to staying outside of the park is 100% the added driving time
If you plan on spending full days inside the park like we did, you'll want to make sure you're packed up for the day with everything you need as you won't be able to drive back and forth or take breaks mid-day at your hotel
Dealing with potential traffic getting in and out of the park gates at peak times
The Best Hotels and Lodges Inside Yosemite National Park
Compared to other national parks, Yosemite has an impressive array of accommodation options inside the park itself.
From a luxurious hotel that offers fine dining amongst the rocky peaks and wildlife, to cottage suites that give you the perfect amount of isolation and privacy, you will find some stunning options when exploring the best places to stay in Yosemite National Park.
Yosemite Valley Lodge
The Yosemite Valley Lodge is a very traditional lodging property that offers standard accommodations and even offers some on-site dining options. Given its prime location, it makes for a perfect home base for exploring inside the park. Though the rooms are pretty basic, they are cozy and cabin-like.
CHECK RATES FOR YOSEMITE VALLEY LODGE
The Ahwahnee
If you're looking for something a bit more luxurious, The Ahwahnee is the park's only high-end hotel that offers fine dining along with comfortable rooms and amenities. Here though, you're really paying for location. While yes, it is the nicest hotel in the park, some areas of the historic property aren't the most modern and updated and err a bit on the more vintage/rustic side.
Still, for some it's worth the nightly price to be sitting right on the valley floor amongst Yosemite's top gems like El Capitan, Yosemite Falls, and Half Dome. A comfortable bed doesn't hurt when you're trying to rest up for a big day of adventures ahead.
CHECK RATES FOR THE AHWAHNEE
Wawona Hotel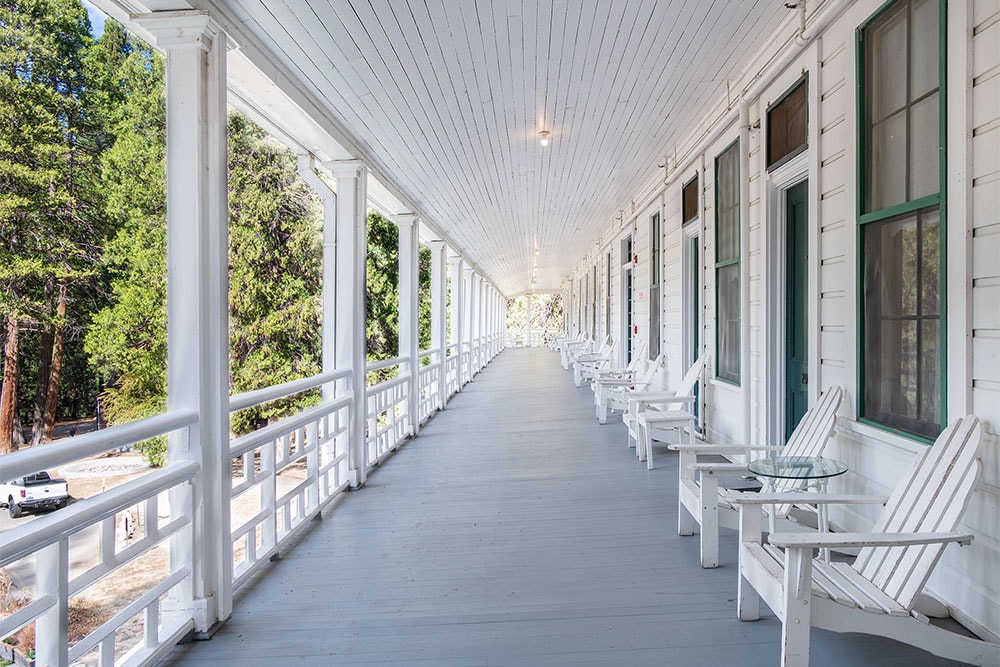 The Wawona Hotel is a Victorian-style accommodation that was originally established in 1856. The hotel is considered a national historic landmark and resides next to the Mariposa Grove of Giant Sequoias, making it a nice place to walk around and explore. There is also a restaurant that serves breakfast, lunch, and dinner so that your basic food needs are all met!
While this hotel is technically located inside the park, keep in mind it's still about an hour drive from the heart of the Yosemite Valley where many of the trailheads to popular spots are located.
CHECK RATES FOR THE WAWONA HOTEL
Curry Village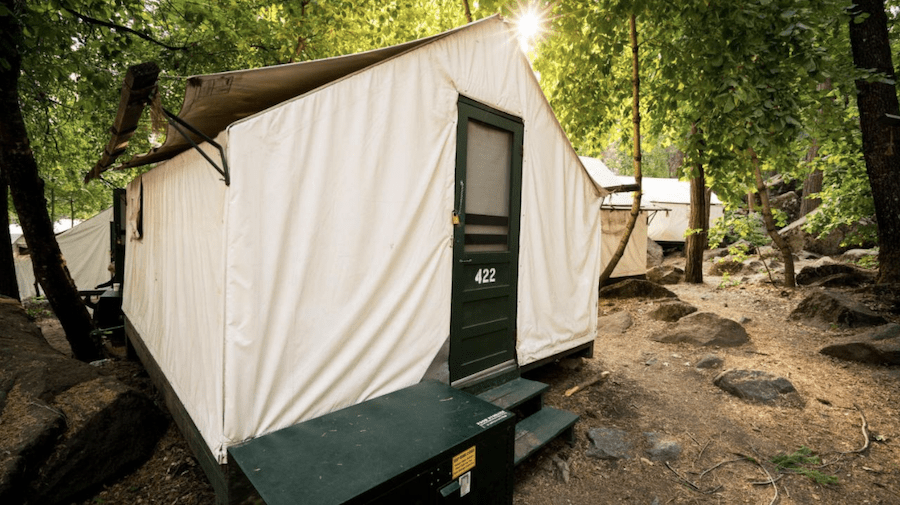 If you're looking for something that's a step up from camping or don't own your own camping gear, Curry Village is a good option. Featuring wooden cabins and canvas tents (ahem, with real mattresses!) just below the iconic Glacier Point, Curry Village has been providing accommodations for visitors since 1899. There are also standard hotel rooms available as well as dining options and group activities and tours located here.
CHECK RATES FOR CURRY VILLAGE
Looking for something more private? Check out these local rentals!
Where to Stay Near Yosemite Outside the Park
While there are plenty of lodging options inside Yosemite National Park if that's what you're looking for, there are also some unique accommodations a bit outside of the valley that are worth considering. Typically, these locations will require at least 30 minutes to an hour of driving to get into the park grounds.
I would consider booking outside of the park if you're looking for more affordable options last minute, are booking with large groups, or only plan on spending some of your time exploring the park.
When I was personally deciding where to stay in Yosemite, I was really intrigued by the AutoCamp Yosemite glamping outpost and felt that staying there would be an experience in and of itself, and I definitely don't regret it. Sure, there was some extra driving time to and from the park, but it's a beautiful drive and you always end up seeing a little more than you probably would have if you only stayed within the park itself.
AutoCamp Yosemite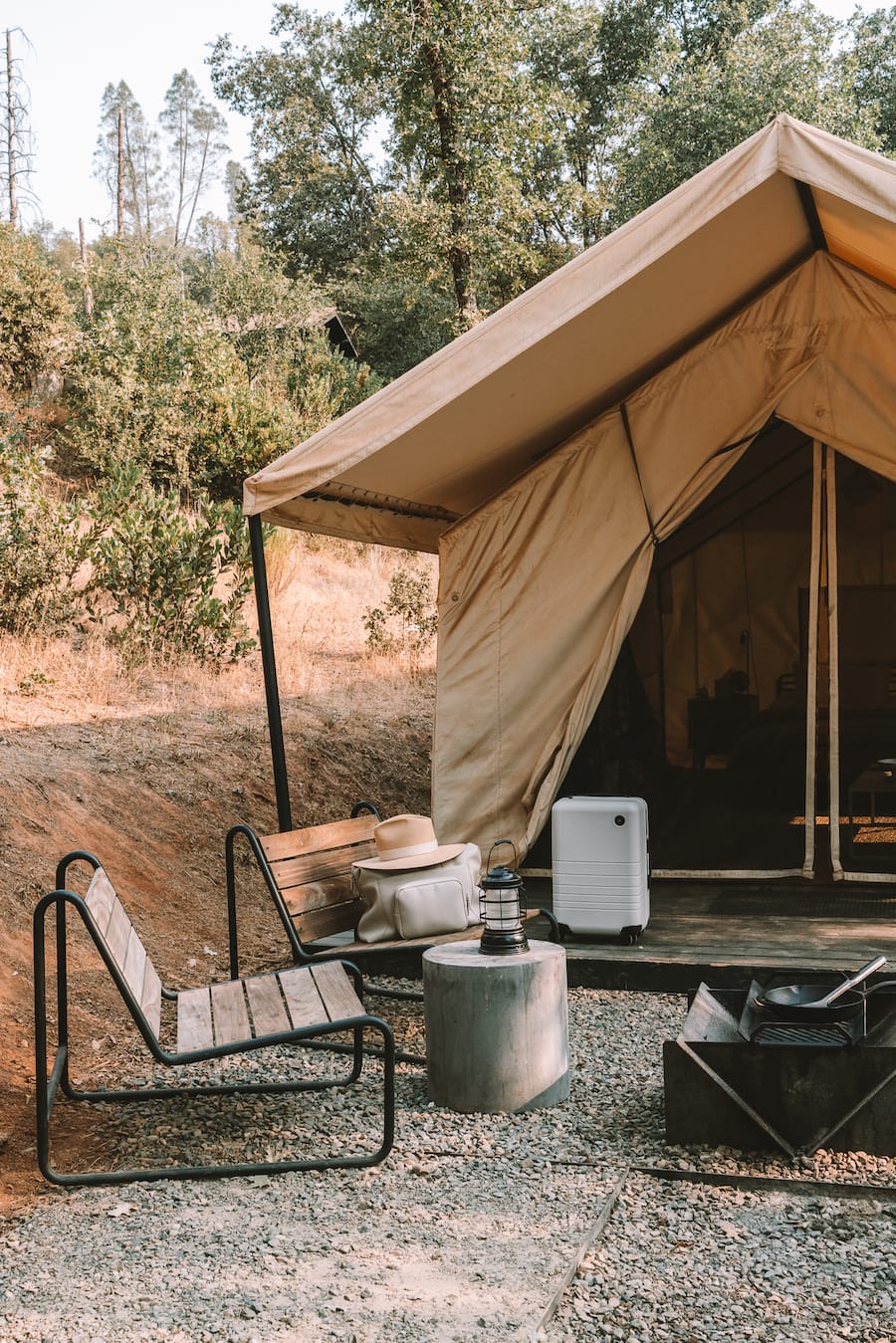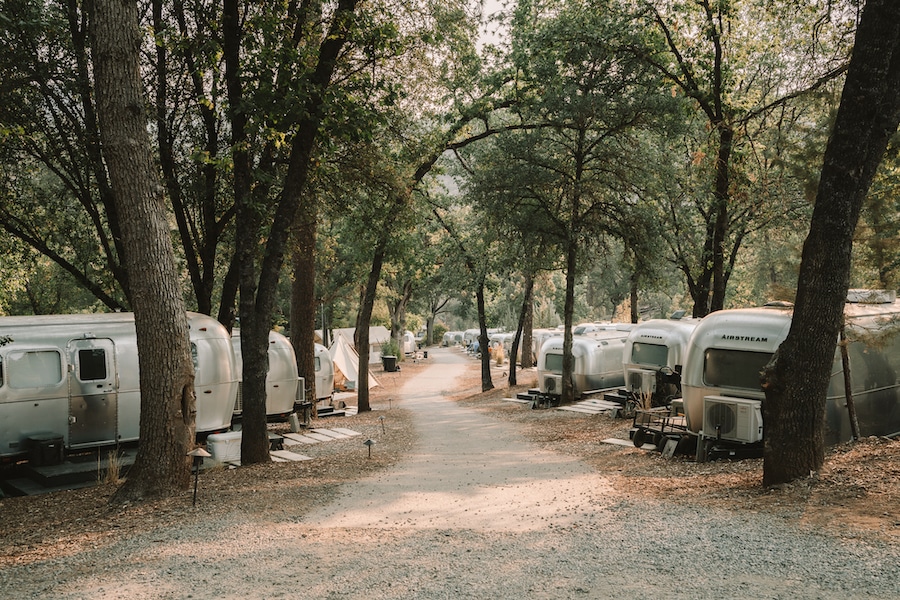 Located about an hour outside of the park, AutoCamp Yosemite is a unique, luxury campground-style accommodation that is definitely one of the top places to stay if you're ok with being a bit further from the boundaries of Yosemite. This is where I personally stayed during my trip and loved it!
What makes AutoCamp so special is how unique and intertwined with nature the glamping and airstream accommodations are without sacrificing on comfort. You literally have every amenity you need, yet you're still able to enjoy all the best aspects of the outdoors here.
When you book AutoCamp, you can choose between sleeping in cabins, Airstream suites or luxury tents, but the main lodge are is super modern and minimalistic, giving the property such a fun and unique vibe.
CHECK RATES FOR AUTOCAMP
Tenaya Lodge at Yosemite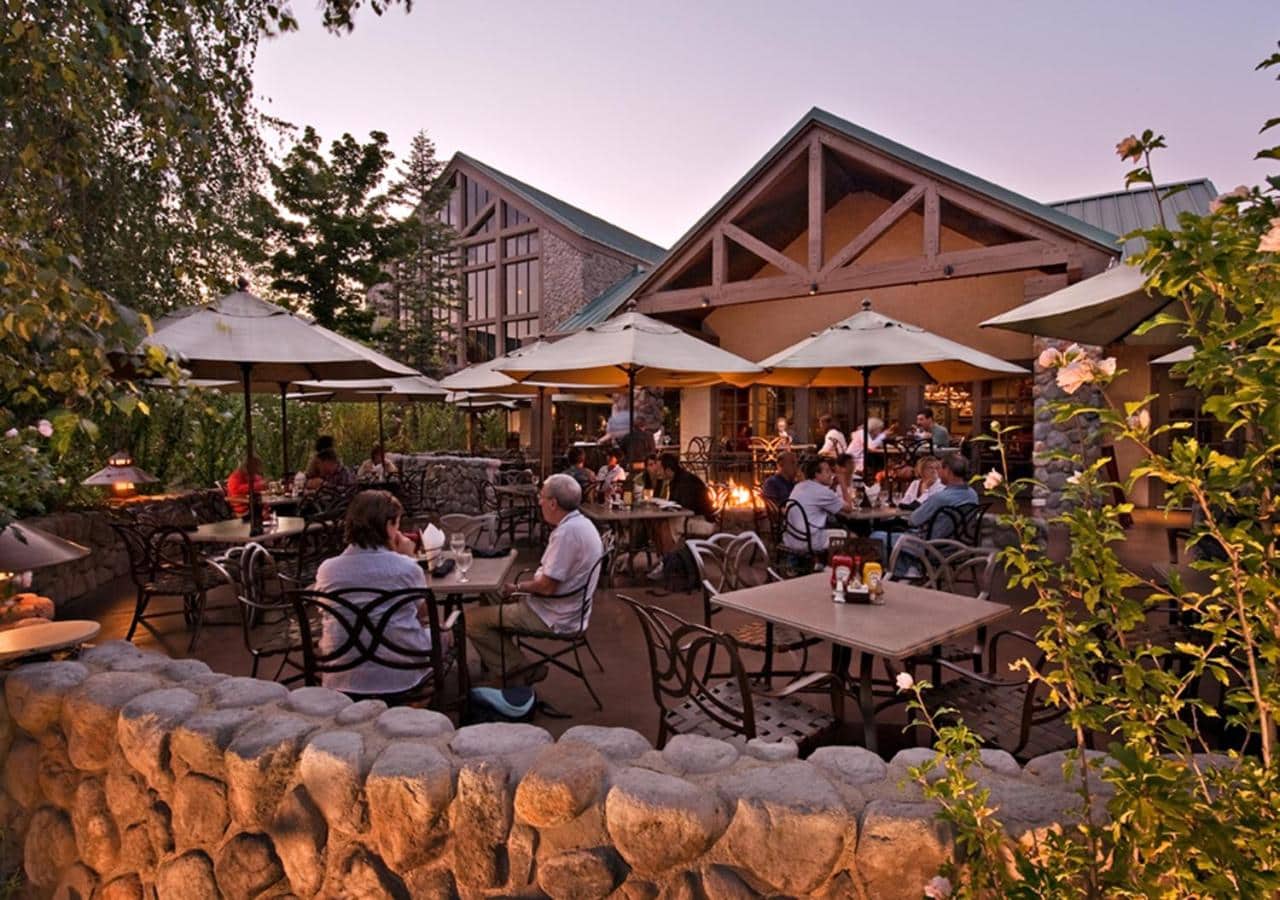 Located just outside of the park's south entrance, Tenaya Lodge at Yosemite is an award-winning hotel that features an on-site pool, spa, and several dining options.
Though it is technically not within the grounds of the national park, it is extremely close and gives you easy access to Mariposa Grove. This is definitely a great option if you're looking for something more on the comfortable and upscale side.
CHECK RATES FOR TENAYA LODGE
White Wolf Lodge
Though it is still about 30 miles outside of Yosemite Valley, White Wolf Lodge is a more secluded place to stay near Yosemite that is a bit closer than AutoCamp.
It has similar glamping vibes with 24 canvas-style tents and four traditional wood cabins, though White Wolf Lodge is definitely more on the rustic side. If you're looking for something somewhere in between a hotel and a campground, this is a happy medium.
CHECK RATES AT WHITE WOLF LODGE
Evergreen Lodge at Yosemite
The Evergreen Lodge at Yosemite is nestled in the woods just on the Northwest border of the national park, giving you easy access to hiking trails and exploring in the area.
Of course, the cabin accommodations are so charming that you'll likely want to stay put to relax or enjoy a cocktail on the cabin's sunset deck, but it's good to know that all the best Yosemite sites are still at your fingertips within about an hour's drive.
CHECK RATES FOR EVERGREEN LODGE
Rush Creek Lodge at Yosemite
If you're looking for modern accommodations that still have that woodsy charm, Rush Creek Lodge at Yosemite is an upscale hotel that has every amenity possible to make your trip as comfortable as can be. From a pool and fitness center, to a spa and adults-only hot tub, you might have a hard time venturing out off the hotel grounds!
This is also one of the most convenient hotels to book outside of the park as it's only a mere half mile from the park entrance gates.
CHECK RATES FOR RUSH CREEK LODGE
Where to Camp Inside Yosemite
If you're planning on camping, know that reservations are currently required year-round at all of the major campgrounds in Yosemite and there are none that are open that are first-come first-serve. This could change though, so make sure to stay updated on restrictions and reservations requirements on the park website here.
Reservations for the campgrounds can be made up to five months in advance on the 15th of each month sharply at 7 AM. Similar to the day passes, camping reservations sell out very quickly, so make sure you have your calendar marked and alarm set so that you can be ready to reserve your site!
Here are some of the most popular campgrounds in Yosemite Valley to consider.
Upper Pines Campground
One of the largest of the reservation campgrounds in Yosemite, Upper Pines Campground features some nice basic amenities such as flushing toilets and food storage lockers to make your time roughing it a little less rough. Just a short drive away you can find Glacier Point which offers sweeping views of the entire valley.
Lower Pines Campground
Within walking distance to Curry Village's general store, restaurant, bars, and amphitheater, the Lower Pines Campground also has toilets, paved roads, and drinking water. Since it is so close to the modern luxuries of Curry Village, it is probably the best option for those who are hesitant or newer to camping.
North Pines Campground
The North Pines Campground is also very close to Curry Village giving easy access to food, drink, and entertainment if needed. The Vernal Falls Trailhead is also within walking distance from the camp meaning you can easily get out in nature and explore without having to hop in the car.
Housekeeping Camp
Though it is not considered an official campground of the park, Housekeeping Camp is a great option to consider for camping lovers who are trying to decide where to stay in Yosemite.
If you don't want to have to deal with the hassle of setting up a tent, Housekeeping Camp provides three-sided concrete structures with canvas roofs and curtains, adding a touch of privacy to the camping experience. It is also perched right along the Merced River, giving you easy access to sandy beaches and crazy views of Yosemite Falls and Half Dome.
Did this post help you to decide where to stay in Yosemite? Let me know in the comments below!
---
Planning a trip right now? Don't miss my go-to websites for booking everything from flights and tours, to accommodation and more:
---