Planning a visit to Yellowstone National Park and wondering where the heck to stay? Since the park is so vast (it's over 3,400 square miles!) and crosses over into three different U.S. states, it can get a bit overwhelming trying to figure out where to stay in Yellowstone.
Do you book accommodations inside the park? Do you stay in bordering towns in Wyoming? Montana? That's where this post will help!
This is your full lodging guide to where to stay in Yellowstone National Park as well as where to stay nearby if options inside the park are fully booked or out of your price range. In this post, you'll get all the information you need to make the right decision for your trip and rest easy that you're squared away with great accommodations!
Yellowstone National Park is without a doubt one of my favorite National Parks in the United States. It really is a place that everyone should visit at least once in their lifetime and because of its sheer size, there's always more to uncover.
The biggest thing you need to know about accommodation in Yellowstone is to BOOK EARLY. Like, if you already know the dates you're visiting and you haven't locked in lodging yet, you've already waited too long. Yellowstone is one of the top most visited national park in the U.S. with around 4.9 million visitors in 2021—that's a lot of people competing for hotel rooms!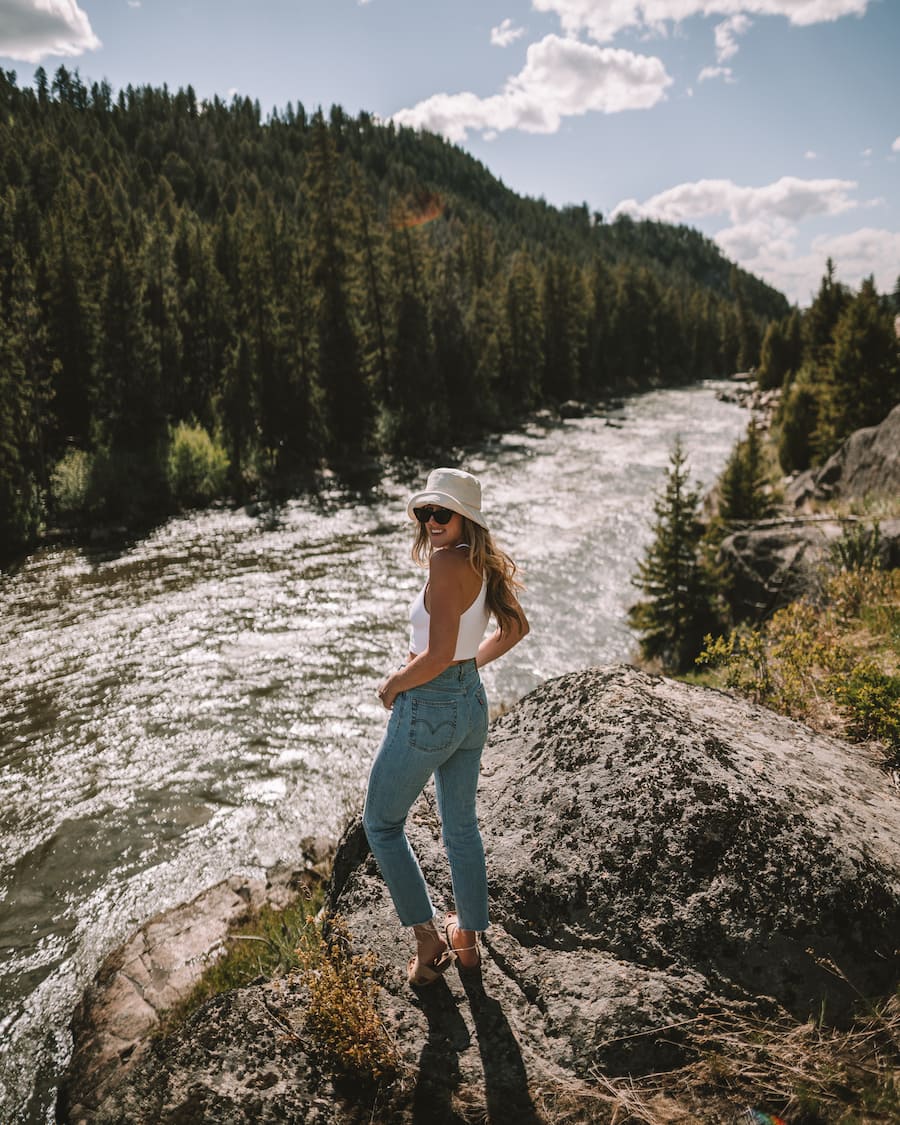 During my past trips to Yellowstone, I have been lucky enough to experience both camping inside the park as well as staying in hotels outside of the park.
I've had the pleasure of staying in nearby Jackson, Wyoming, which is actually closest to Grand Teton National Park, but only a short one-hour drive from the southern tip of Yellowstone National Park. I've also stayed in Livingston, Montana, which is about an hour north in the opposite direction. These may not be the best options for your trip though, and I'm going to get into all that in this post!
Where you decide to stay will depend on a handful of factors, like what you plan to cover on your itinerary, how much time you want to spend in the park, your budget and much more. We'll get into it all below, so keep reading!
Temporary Notice: Yellowstone recently experienced some major flooding in June 2022. While the majority of the park is once again open to visitors, there are still road closures in effect and it's best to always check updates on the National Park Service website before your visit to be up to date on any news that might affect your plans.
Read More: What to See in Yellowstone on Your First Trip!
What to Keep in Mind When Planning Yellowstone Accommodations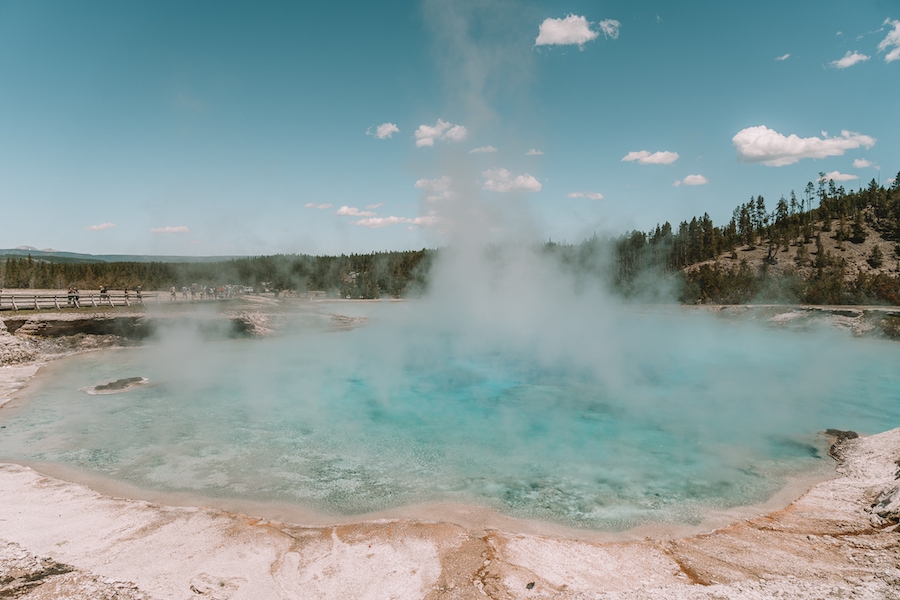 Where you ultimately decide to stay in Yellowstone will depend on several factors and should be tailored to your specific trip needs, so here are a few things to think about!
Are you focusing on a particular area of the park?
Yellowstone is incredibly expansive, and there are a lot of different sights to see that offer different experiences to travelers. If you're there for the geothermal sites, you'll find most of the best ones are located on the western loop. If you're more interested in Yellowstone's wildlife, you'll want to spend more time in the eastern valleys.
Keep this in mind as your peruse accommodation options as you'll want to stay as close to your areas of interest as possible to minimize driving times.
Take driving times and traffic into account
Driving the full Yellowstone loop can take anywhere from 4-7 hours depending on traffic and road conditions, and I know you'd rather be spending your time seeing the sights than being stuck in your car. That's why you really need to be strategic and plan your accommodations ahead of time.
Traffic in Yellowstone can be brutal any time of the year, but it's especially bad during summer. If you're traveling from south to north, you can definitely expect to hit some heavy traffic around the major geyser sections. Plus, no one can predict when bison will decide to cross the road causing a major traffic jam (trust me, this happens more than you might think)!
TIP: I have always found the traffic traveling from north to south a bit more manageable, so if it works for your itinerary to drive in this direction, I highly recommend it!
How many days do you plan to visit?
If your time in Yellowstone is going to be very limited, I would absolutely recommend staying in the park. Doing so will allow you to maximize your time so that you can do and see all of the things that you came for. While there are great hotels outside of Yellowstone, staying within the park is definitely the most efficient and convenient way to go.
On the other hand, if you are able to spend several days or more in Yellowstone, then it can be nice to split your accommodations between different areas of the park as well as neighboring towns to the north and south, so that you can focus on different sections of park at a time and cut back on your driving time.
How far in advance are you planning?
As I mentioned before, Yellowstone National Park is one of the most popular parks nationwide, meaning you need to book as far in advance as you can. If you're planning a trip within the year in high season, don't be surprised if many of the best places to stay in Yellowstone are already booked up.
Is Yellowstone one stop along a bigger road trip?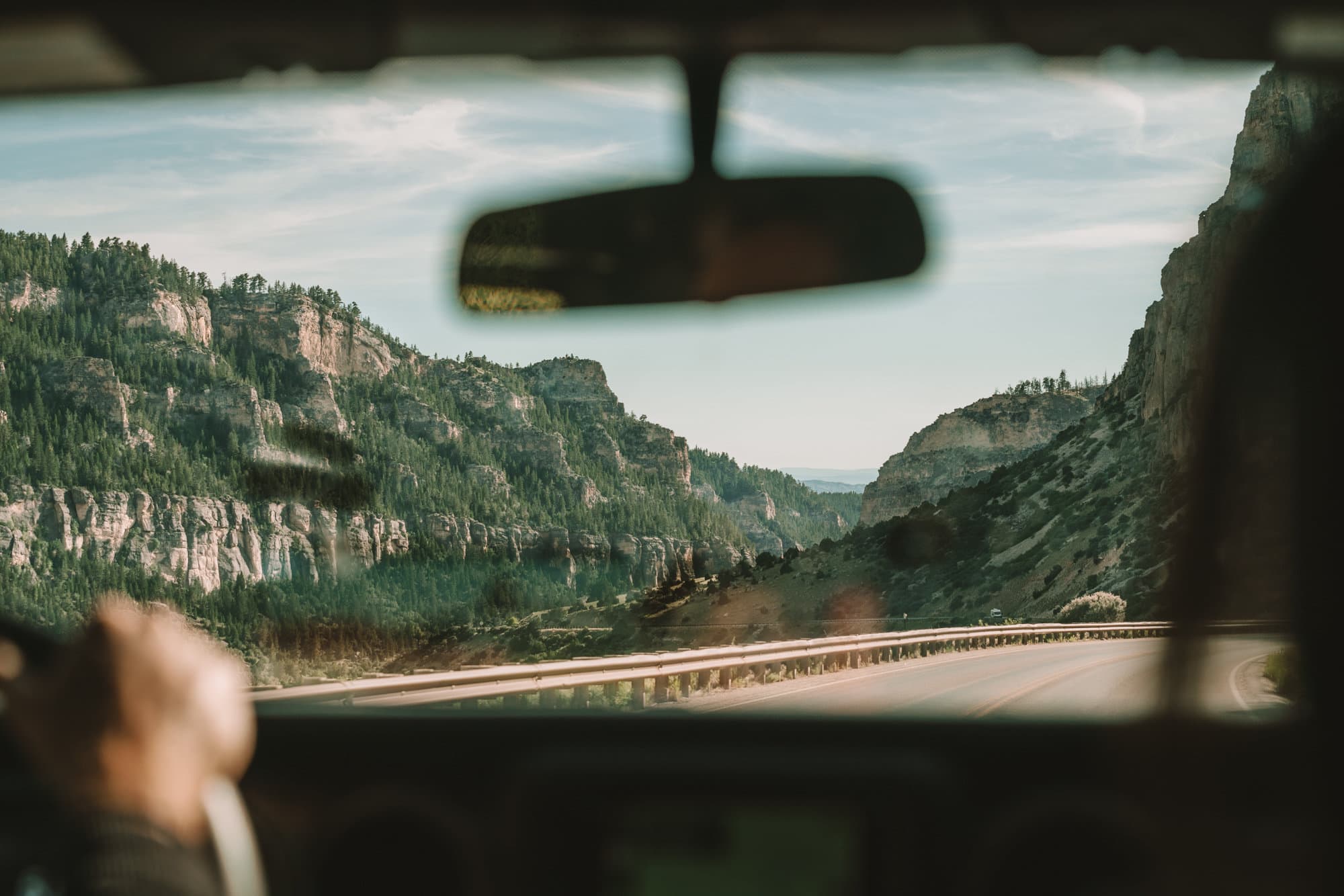 If your visit to Yellowstone is only one destination on a much longer road trip, you'll want to find accommodations that are along your predestined route in order to avoid wasting time and gas backtracking. When planning where to stay in Yellowstone, have your larger road trip route handy and ready to refer to when necessary.
What season are you planning on visiting Yellowstone in?
The time of year that you decide to visit will play a huge role in what's available inside and outside the park. Also, keep in mind that while the winter may seem like a less crowded time to visit, there can be road and lodging closures that might make planning your visit more difficult.
Map of Yellowstone and Nearby Hotels + Lodging
I'm a visual person, so I need to see everything on a map before I plan my trips. Especially when it comes to planning where to stay in Yellowstone, visualizing a map of the area is a must because it paints a picture of just how large the national park is and gives you a better idea of where neighboring towns and accommodations are located in relation to Yellowstone's top sites.
Make sure to expand the Key below to see where I've highlighted the top things to do in Yellowstone along with a list of hotels, campgrounds and all of the park's entrance gates!
Different Lodging Options for Yellowstone
Before we get into all of the specific places to stay when visiting Yellowstone (including the best ones!), I'm going to give you a quick overview here of your different options.
Option #1: Hotels and Lodges Inside Yellowstone National Park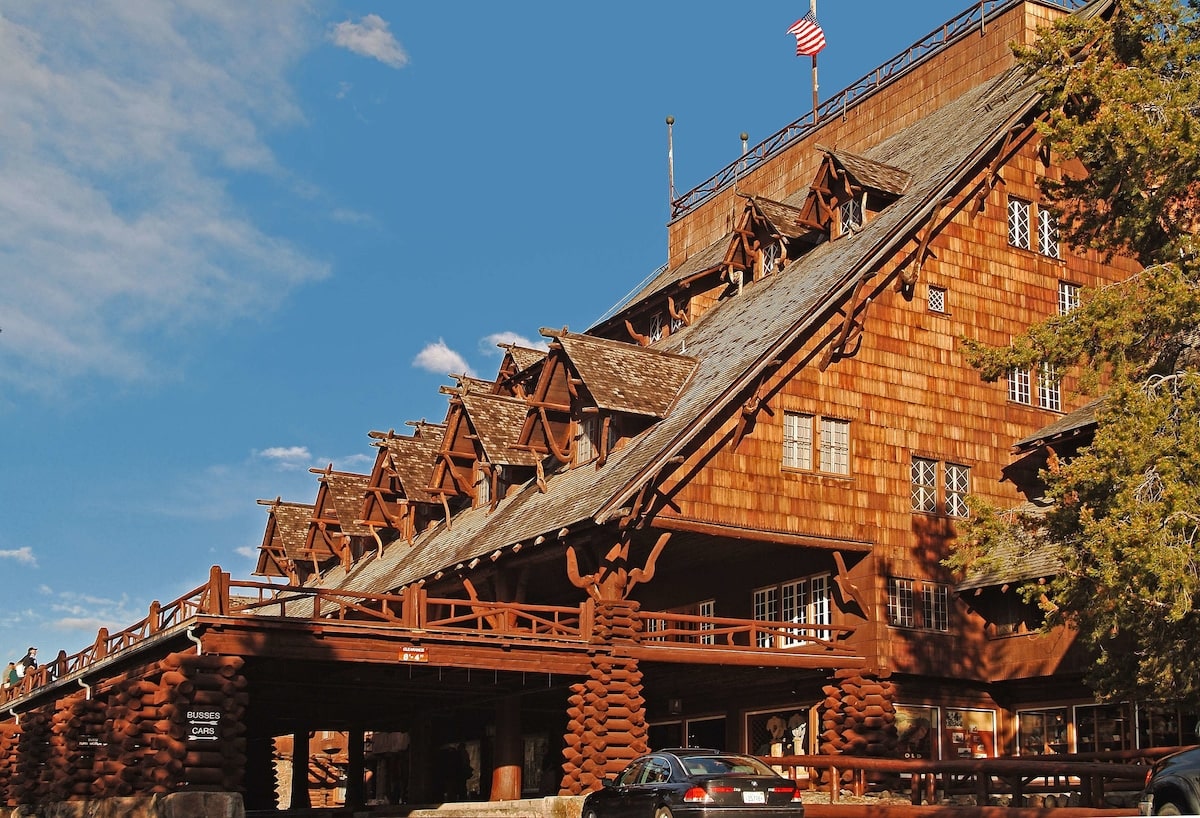 This is obviously going to be the most convenient and comfortable option when visiting Yellowstone, however snagging these reservations requires a larger budget (at least for what you're getting) and a lot of advance notice!
Pros:
Staying inside the park is super convenient and will cut your driving time down immensely.
There are some very cool and unique lodging opportunities inside the park that you won't find anywhere else. For example, Old Faithful Inn is located right next to the famous geyser, and it is the largest log structure in the world!
You get to be right in the middle of it all, experiencing the epic nature of Yellowstone 24/7
Cons:
A lot of the lodging options inside Yellowstone National Park are seasonal, and some of the open windows are pretty tight, meaning you'll have to plan your trip around those dates.
There is often no air conditioning at the park's lodging options.
These are often more expensive and book up really quickly.
A lot of these lodge options are a bit outdated and you're likely to find more modern accommodations outside the park.
You're not going to find your chain Hyatts and Marriotts that you have loyalty with.
Option #2: Camping Inside Yellowstone
If you prefer to be one with nature, camping is a great option in Yellowstone. There are 12 total campgrounds in the park spread throughout, so there are options for any part of Yellowstone you want to explore. I've stayed at two different campgrounds within the park and they were both beautiful, but also keep in mind that all but one require reservations ahead of time.
Pros:
If you like camping, then it doesn't get much better than sleeping under the stars in the middle of Yellowstone National Park. Yellowstone isn't a certified Dark Sky park, but there are many areas that are great for stargazing here.
If you're looking for the most quiet and relaxing accommodations inside Yellowstone, this is it.
Yellowstone offers amazing camp sites within the park at some of the best locations. By camping, you'll have the ability to have many things right at your fingertips, that you might otherwise have to drive far to get to.
Mammoth Campground is one campground that is first come first serve October 15-April 1, so if you're planning a last minute trip, you could still find accommodation at this site if you arrive early enough.
This is the most budget-friendly option.
Cons:
Like with any camping set up, your experience is bound to be a bit less luxurious. You will not have access to the same amenities and comfort that you will at a hotel or resort (but also, that's sort of the point of roughing it).
On a more serious note, bears are a very real thing and a threat in Yellowstone and surrounding areas. Because of that, you'll have to be extra cautious about having any food in your tent or at your campsite.
You'll have to provide all of your own camping gear and equipment.
Option #3: Accommodations Outside Yellowstone
Of course if you can't find anything inside of the park, there are plenty of places to stay near Yellowstone that are just outside of the park's entrances.
Pros:
When researching where to stay in Yellowstone, you'll probably find that accommodations outside of the park are more affordable than ones inside Yellowstone.
Staying outside of the park also gives you more range to see some other sites and attractions other than what's inside of Yellowstone. For example, if you stay in Jackson, Wyoming, you have access to seeing Grand Teton National Park as well and will have access to many more dining options.
Cons:
The most obvious con with finding hotels near Yellowstone (but not actually within the park) is the increased time spent in the car. You will undoubtedly have to spend more time driving with this option.
You'll have to either spend more days driving back and forth or just accept not getting to see it all.
---
Read More National Park Posts
---
The Best Places to Stay in Yellowstone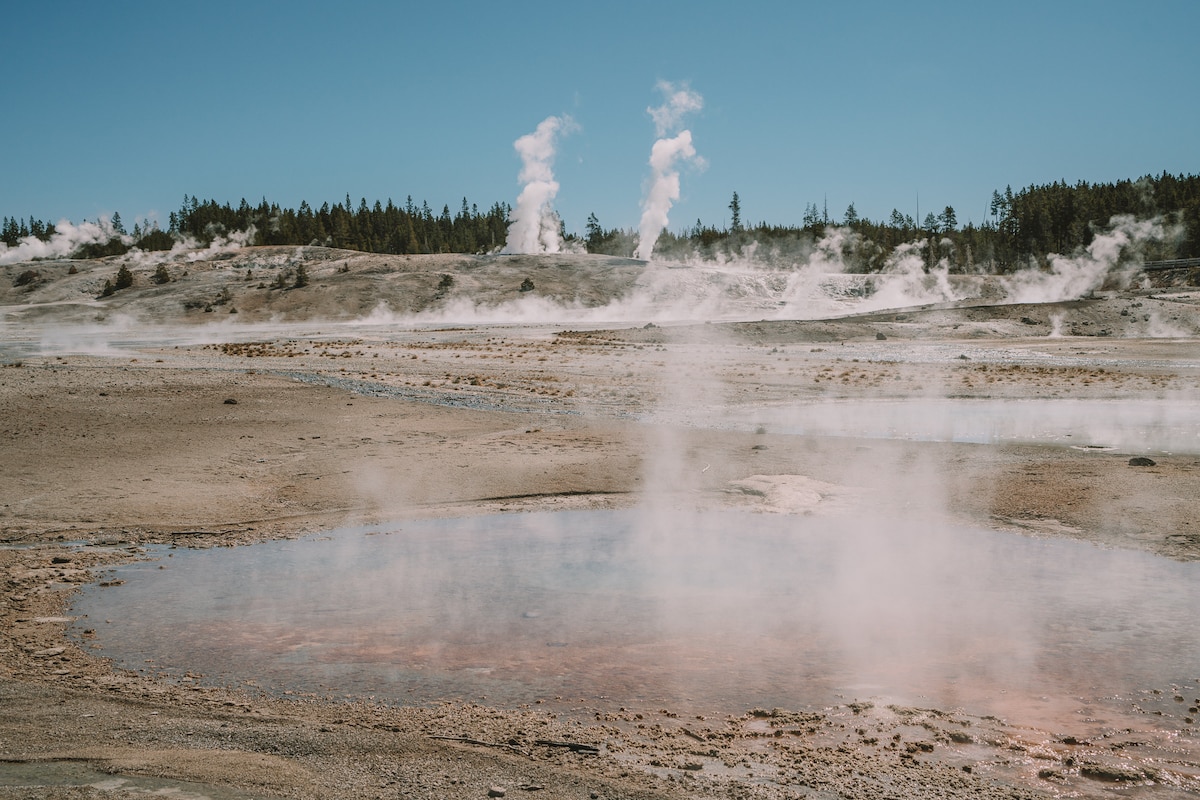 If maximizing your time and avoiding the car as much as possible is a priority for you, then staying inside Yellowstone National Park is the best option for your visit. Still, there is not one magical hotel that is closest to everything. No matter where you stay, you'll still have to drive a bit to certain points of interest since everything in Yellowstone is so spread out.
Keep in mind if you want to stay inside the park, you will need to BOOK EARLY. Seriously, do not wait if you already have the dates of your trip determined.
I'm going to get into the absolute best places to stay in Yellowstone below, but if you just want a quick overview of all your hotel and lodging options inside the park and want to start booking ASAP, here's a quick overview below or use this Expedia link to start checking reviews and prices.
Yellowstone Lodging Options Inside the Park
Old Faithful Inn (closest to Old Faithful and Grand Prismatic Spring)
Old Faithful Lodge Cabins (closest to Old Faithful and Grand Prismatic Spring)
Old Faithful Snow Lodge and Cabins (closest to Old Faithful and Grand Prismatic Spring)
Canyon Lodge and Cabins (closest to Grand Canyon of the Yellowstone)
Roosevelt Lodge Cabins (closest to the Lamar Valley)
Grant Village (good midway point between Old Faithful and Hayden Valley)
Lake Lodge Cabins (closest to Hayden Valley)
Lake Yellowstone Hotel and Cabins (closest to Hayden Valley)
Mammoth Hot Springs Hotel and Cabins (closest to Mammoth Hot Springs and Boiling River)
Now, let's get into the best places to stay in Yellowstone National Park!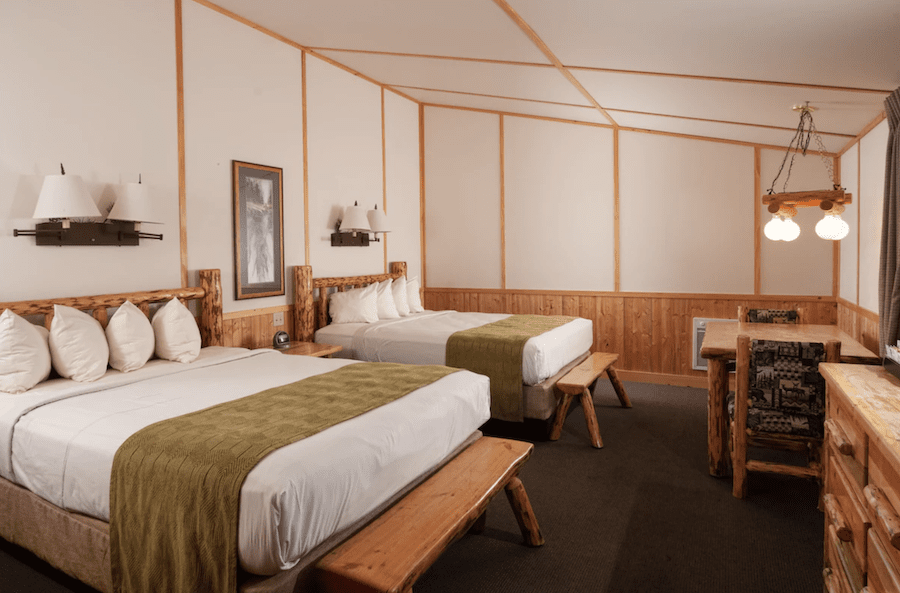 My overall top pick on where to stay in Yellowstone is Canyon Lodge. It has the best reviews, most updated accommodations, and it's as convenient as it gets for Yellowstone lodging. It's really the best bang for your buck, in my opinion.
Also, not all of the Yellowstone accommodations listed have dining facilities, which can be a struggle in a park that is already sparse on food options. Luckily, Canyon Lodge has two restaurant options that you can choose from when hunger strikes.
| | |
| --- | --- |
| Driving time to Old Faithful | 1 hour 5 minutes |
| Driving time to Grand Prismatic Spring: | 55 minutes |
| Driving time to Grand Canyon of the Yellowstone: | 5 minutes |
| Driving time to Mammoth Hot Springs: | 1 hour 10 minutes |
| Driving time to Lamar Valley: | 1 hour |
| Driving time to Hayden Valley: | 20 minutes |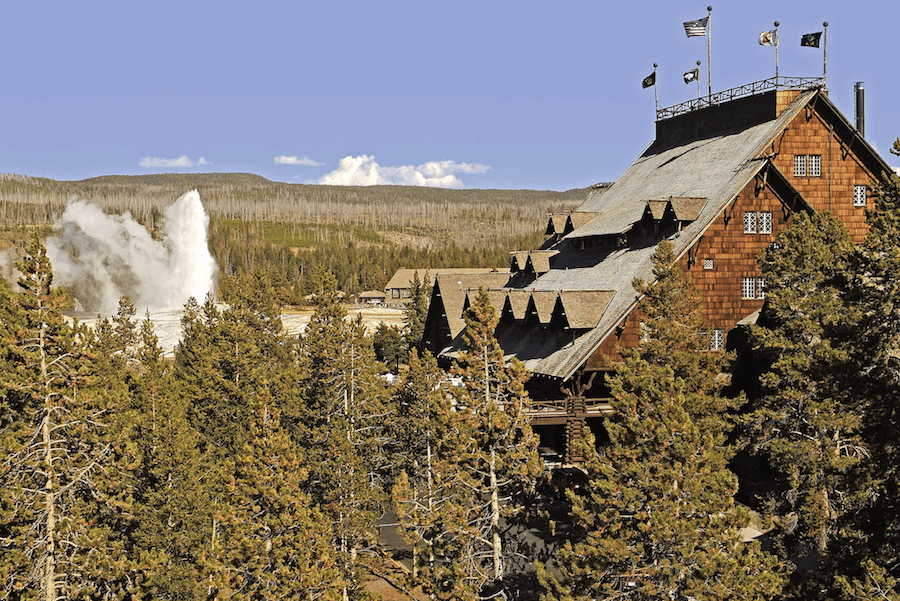 The Old Faithful Inn has been open to the public since 1904, giving this rustic hotel a historic feel as you walk the grounds. It's also the largest log structure in the world!
In addition to being literally right next door to the Old Faithful Geyser, this beautiful hotel is conveniently located on the west side of the park, which is where most of the other popular sites can be found.
The inn also features a restaurant and bar so that you can unwind with a cocktail or glass of wine after a long day of exploring and hiking. Because of its location and history, the Old Faithful Inn is definitely one of the most popular and iconic places to stay in Yellowstone.
However, this hotel is also one that people visit in Yellowstone, regardless of where they're staying overnight, so if you book here just know that you're going to be dealing with a lot of foot traffic! It can feel a bit like Disney Land at times.
| | |
| --- | --- |
| Driving time to Old Faithful | 0 minutes |
| Driving time to Grand Prismatic Spring: | 12 minutes |
| Driving time to Grand Canyon of the Yellowstone: | 1 hour |
| Driving time to Mammoth Hot Springs: | 1 hour 20 minutes |
| Driving time to Lamar Valley: | 2 hrs 20 minutes |
| Driving time to Hayden Valley: | 1 hr 10 minutes |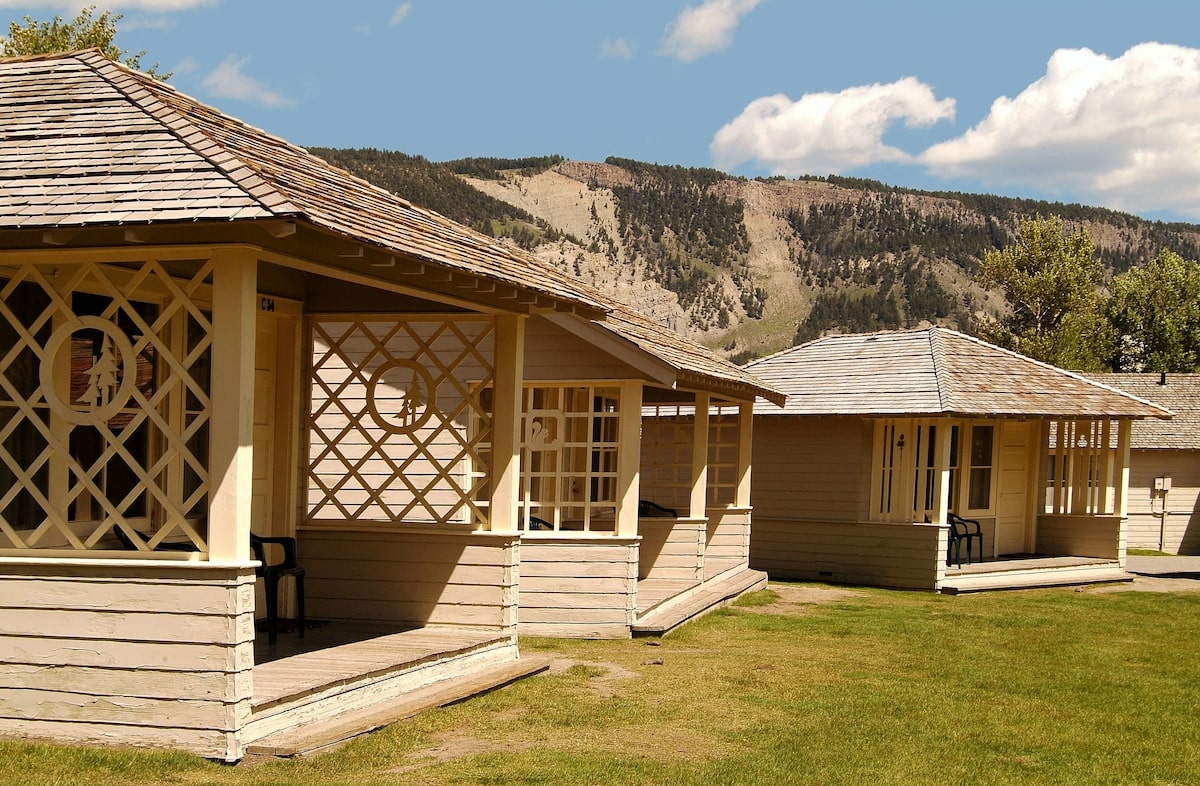 If visiting the famous Mammoth Hot Springs is at the top of your Yellowstone bucket list, then the Mammoth Hot Springs Hotel & Cabins might be your ideal place to stay. This hotel is only a mere 2-minute drive from the hot springs, allowing you to visit them at your leisure.
The hotel is standard but nice, and it also has an on-site bar and restaurant for guests to enjoy. Though you can't actually soak in the real Mammoth Hot Springs, the Mammoth Hot Springs Hotel offers Hot Tub Cabins where you can indulge in a warm soak under the stars.
*Mammoth Hot Springs Hotel & Cabins is currently closed but will be reopening on December 15th, 2022
| | |
| --- | --- |
| Driving time to Old Faithful | 1 hour 20 minutes |
| Driving time to Grand Prismatic Spring: | 1 hour 10 minutes |
| Driving time to Grand Canyon of the Yellowstone: | 1 hour 10 minutes |
| Driving time to Mammoth Hot Springs: | 2 minutes |
| Driving time to Lamar Valley: | 55 minutes |
| Driving time to Hayden Valley: | 1 hour 20 minutes |
Yellowstone Lake is a very popular and peaceful spot to relax in the park. If having access to a body of water is a priority for you when deciding where to stay in Yellowstone, then be sure to check out the Lake Lodge Cabins.
Located right on the edge of the lake, Lake Lodge Cabins is open through the summer, offering simple yet quaint accommodations for those wanting to experience the beauty and wonder of Yellowstone. While this hotel is on the more basic side, it did just recently undergo a renovation and got some nice tuneups.
| | |
| --- | --- |
| Driving time to Old Faithful | 55 minutes |
| Driving time to Grand Prismatic Spring: | 1 hour |
| Driving time to Grand Canyon of the Yellowstone: | 25 minutes |
| Driving time to Mammoth Hot Springs: | 1 hour 20 minutes |
| Driving time to Lamar Valley: | 1 hour 25 minutes |
| Driving time to Hayden Valley: | 15 minutes |
Camping Inside Yellowstone
If you've got the right camping gear for roughing it in Yellowstone, then camping in Yellowstone can be a wonderful option for accommodations—and super budget friendly. Plus, this is one of the best options for last minute planning as there are some campgrounds that open up campsites just a couple weeks in advance.
I have stayed at both the Mammoth Campgrounds, which is located in the northern part of Yellowstone, and well as at Lewis Lake, which is by the southern entrance. At the time, my travel buddies and I did not reserve our spots ahead of time, so we had to wake up extremely early each morning that we were switching locations (I'm talking close to dawn) to ensure that we would be able to find an open spot.
That being said, I would not recommend following my lead. Save yourself some time and stress and reserve your campsite in advance!
Canyon Campground is a centrally located campground that is famous for its prime location. Just up the street from the campgrounds, visitors have easy access to mind-blowing views and lookouts such as Artist's Point. If you travel down North Rim Drive, you can even catch a view of the breathtaking Lower Falls waterfall.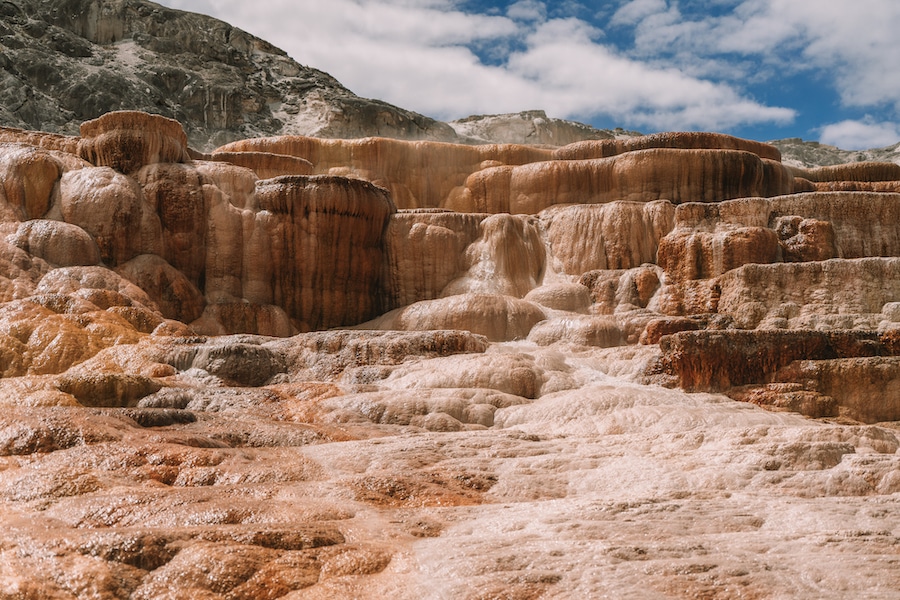 Mammoth Campground is definitely on the far north tip of Yellowstone, but there is still plenty to see if you base yourself here including the Boiling River, Lamar Valley and Mammoth Hot Springs, which are just up the road.
If you're entering the park through the north entrance and traveling south through the park, this is a great spot to base yourself for the first night or two while you cover the nearby sights.
The Grant Village Campground is located right on the beautiful shore of Yellowstone Lake. It is also only a few miles from the magical West Thumb Geyser Basin, meaning that you can walk or hike there if you're up for it.
Though you will have to hop in the car for it, Old Faithful is only a 30-minute drive from this campground, as is the Grand Prismatic Spring, making it a relatively convenient campground to hit some of Yellowstone's most popular sites. Grant Village Campgrounds also offers running water and public restrooms that flush.
Get a full list of the campgrounds inside Yellowstone here!
Where to Stay Near Yellowstone National Park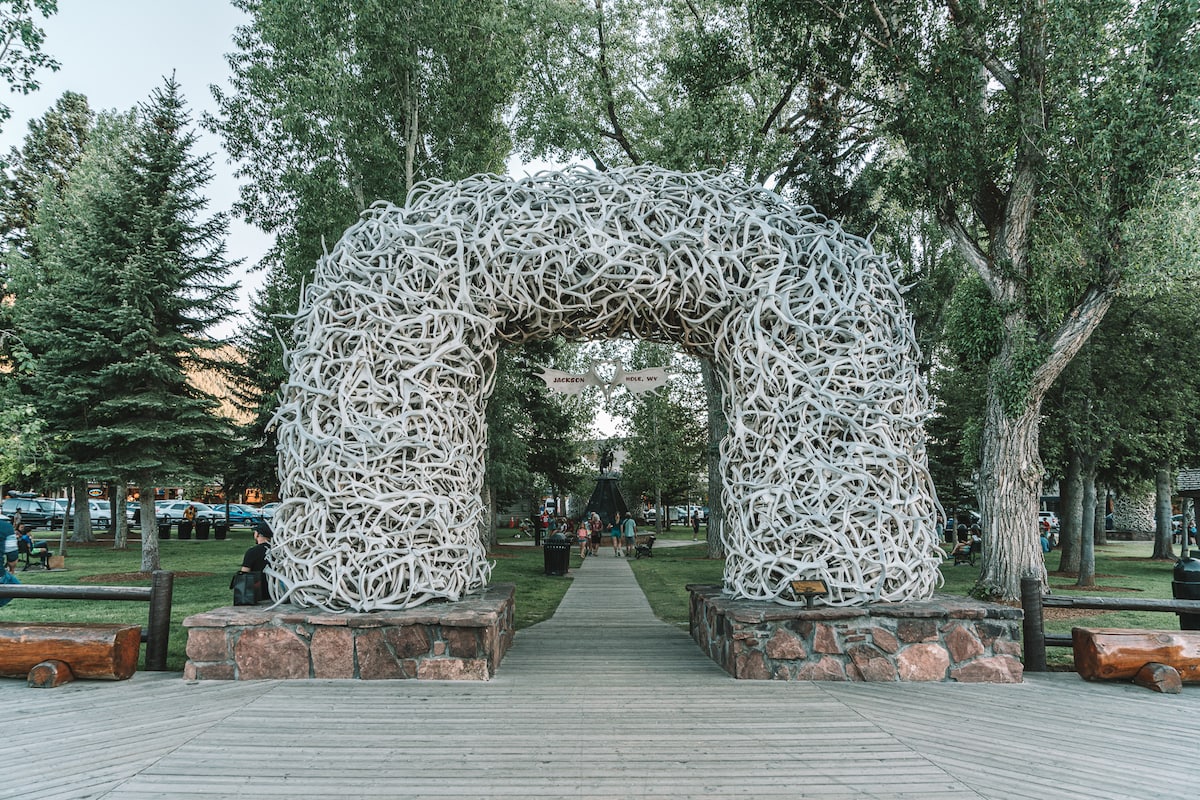 If everything within the national park is booked up, out of your budget, or just not appealing, then don't worry; there are even more hotel and lodging options in nearby towns outside of the park.
You'll also find that there are many more larger chain hotel offerings, so if you're someone who likes to book hotels on points, you're better off booking something beyond national park borders.
The main con of staying outside the park is the additional driving time, which if I'm being honest, can be a lot. But there are also a ton of perks to staying beyond park lines, like nicer accommodations, more modern amenities and a wider variety of options in general. You just have to consider how long you're willing to drive.
There are a handful of nearby towns to Yellowstone that serve as decent options for finding lodging and hotels. Some are more convenient if you plan on spending your full days exploring in Yellowstone, and some are better options if you're on your way in or out of the park or are on a longer trip and want to pair Yellowstone with exploring other areas.
| Towns outside Yellowstone most convenient for exploring the national park: | Distance |
| --- | --- |
| West Yellowstone, Montana | 5 minutes from West entrance |
| Gardiner, Montana | 5 minutes from North entrance |
| Towns outside Yellowstone best for staying before or after visiting Yellowstone: | Distance |
| --- | --- |
| Jackson, Wyoming | 1 hour, 20 minutes from South entrance |
| Cody, Wyoming | 1 hour to the East entrance |
| Livingston, Montana | 1 hour to north entrance |
| Bozeman, Montana | 1 hour, 25 minutes from the North entrance |
| Grand Teton National Park | 30 minutes to South entrance |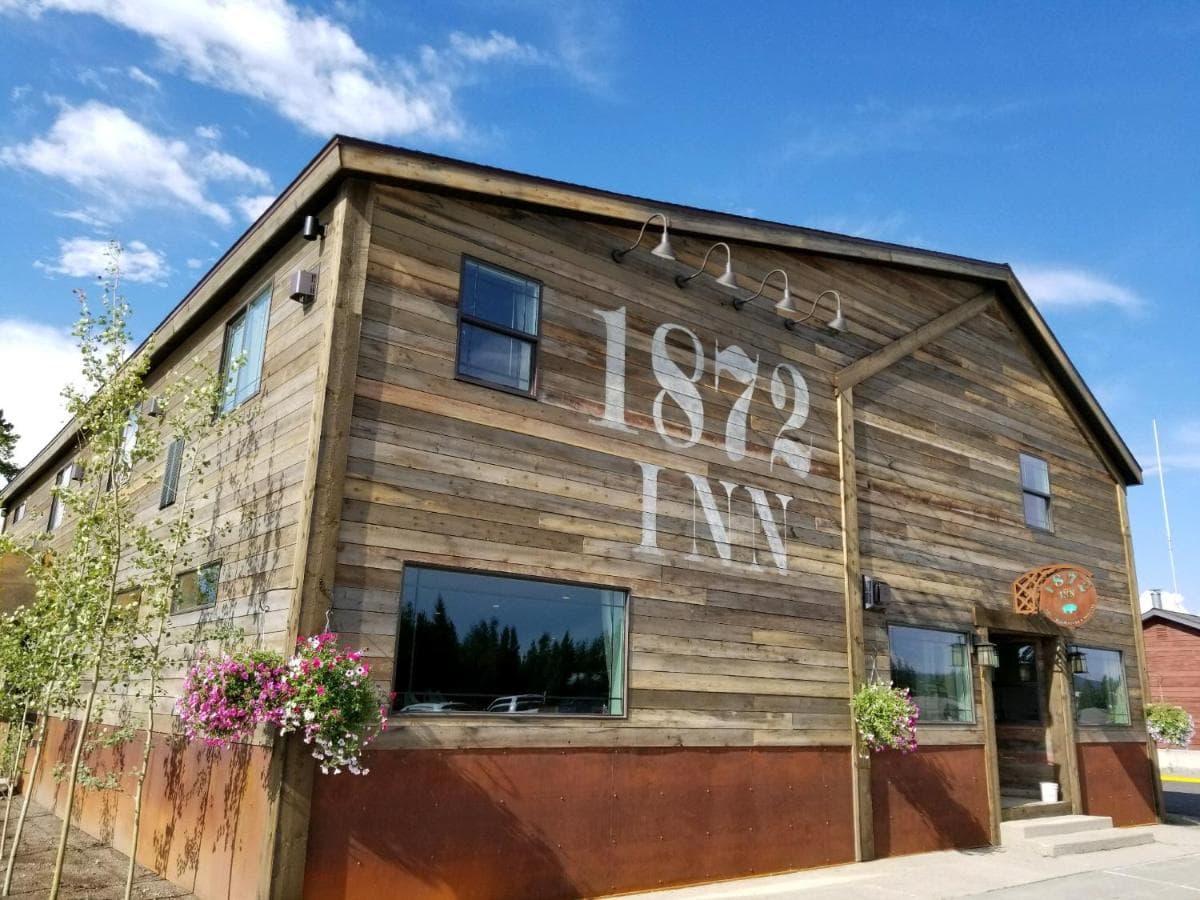 West Yellowstone, Montana
West Yellowstone is definitely the best place to stay outside of national park boundaries while getting as close to all the main sights as you possibly can. Old Faithful Geyser and the Grand Prismatic Spring are both less than an hour away. However, West Yellowstone is a very small town that does not have too much to offer in terms of luxury, dining or nightlife.
1872 Inn – The 1872 Inn is an adults-only hotel and is probably the most luxurious accommodation in West Yellowstone. It is impressively designed and only steps away from the West Entrance of the park.
Under Canvas Yellowstone – Slightly further away from the West Entrance by 15 minutes is the best luxury glamping option near the park, Under Canvas.
Three Bear Lodge – This award-winning and eco-friendly hotel has been offering accommodations since 1932. Three Bear Lodge gives you the cabin feel with basic accommodations to make your stay as comfortable and relaxing as possible.
Explorer Cabins at West Yellowstone – If you want the perks of a hotel, but the isolation and privacy of a house, then the Explorer Cabins at West Yellowstone will give you the best of both worlds!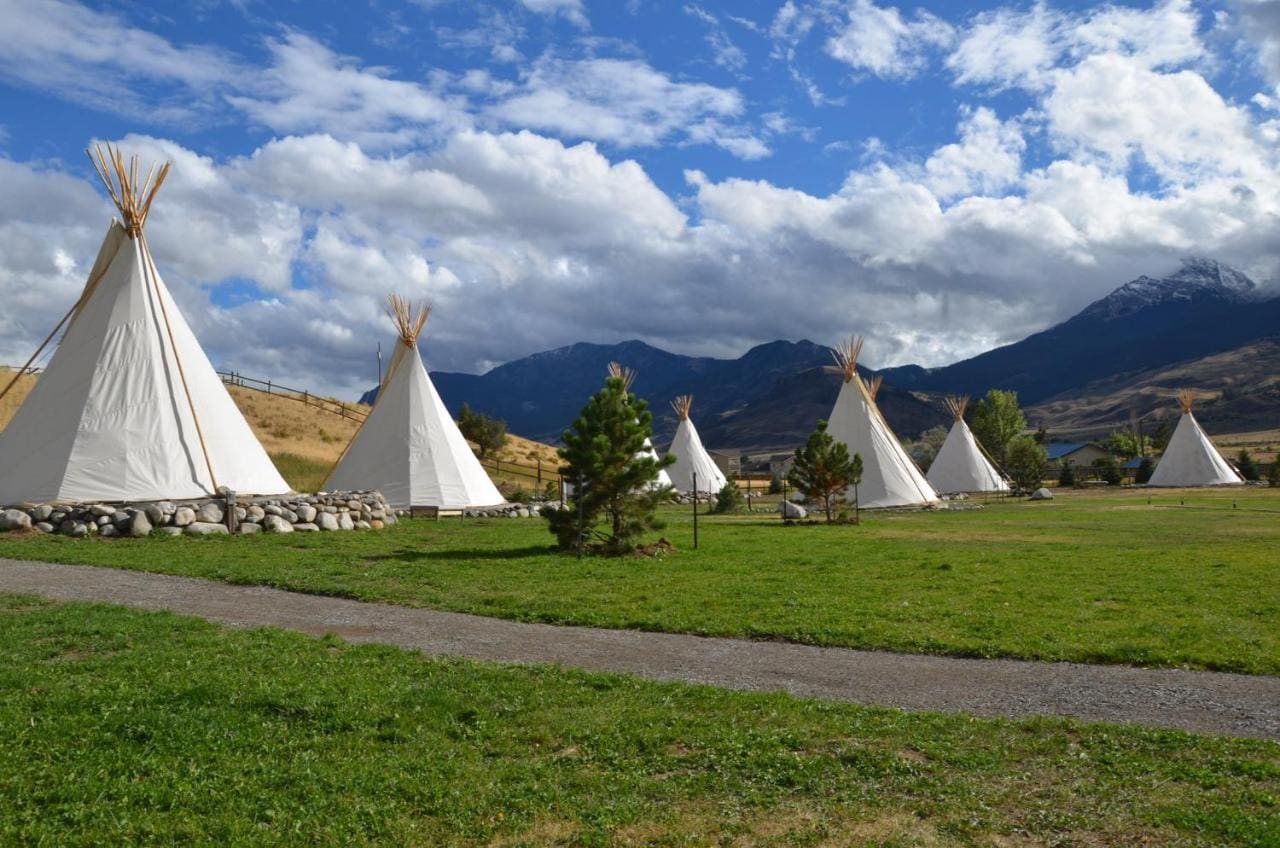 Gardiner, Montana
Temporary Notice: Due to extreme flooding in Yellowstone, Gardiner is currently cut off from Yellowstone national park. Before planning your trip, make sure to visit the National Park Service website for weather updates and closures.
This very small town is located right along the Yellowstone River, allowing for stunning views and breathtaking photos.
The Mammoth Hot Springs are less than 30 minutes away, and this can also be a great place to base yourself when exploring the Lamar Valley and Norris Geyser Basin as traffic in this northern section of the park tends to be easier (though, with that said, you can never predict the bison crossings)!
This town is teeny tiny with a population of less than 900, but there are several good hotel options and even some solid home rentals for larger groups.
Absaroka Lodge – A stunning lodge that overlooks the river, this popular hotel in Gardiner books up quickly.
Yellowstone Riverside Cottages – More of a home rental than hotel vibe, the Yellowstone Riverside Cottages are a great escape for those seeking to find solace in nature and take in the river views. They're also one of the most well reviewed accommodations in Gardiner. Listen to the flowing river as you drift to sleep, each night in your private cottage or suite.
Dreamcatcher Tipi Hotel – If you're looking for a one-of-a-kind stay near Yellowstone, then the Dreamcatcher Tipi Hotel is it. Take glamping to a whole new level by staying in a luxe tipi that is insulated and beautifully designed.
Roosevelt Hotel – If you want more of a hotel vibe, then you'll find it at the Roosevelt Hotel, which offers free parking and wifi to all guests and mixes modern amenities with log cabin charm.
Year Round Cozy Studio – For two travelers, this is the perfect little studio accommodations outside of Yellowstone that is modern and is bound to feel like your home away from home.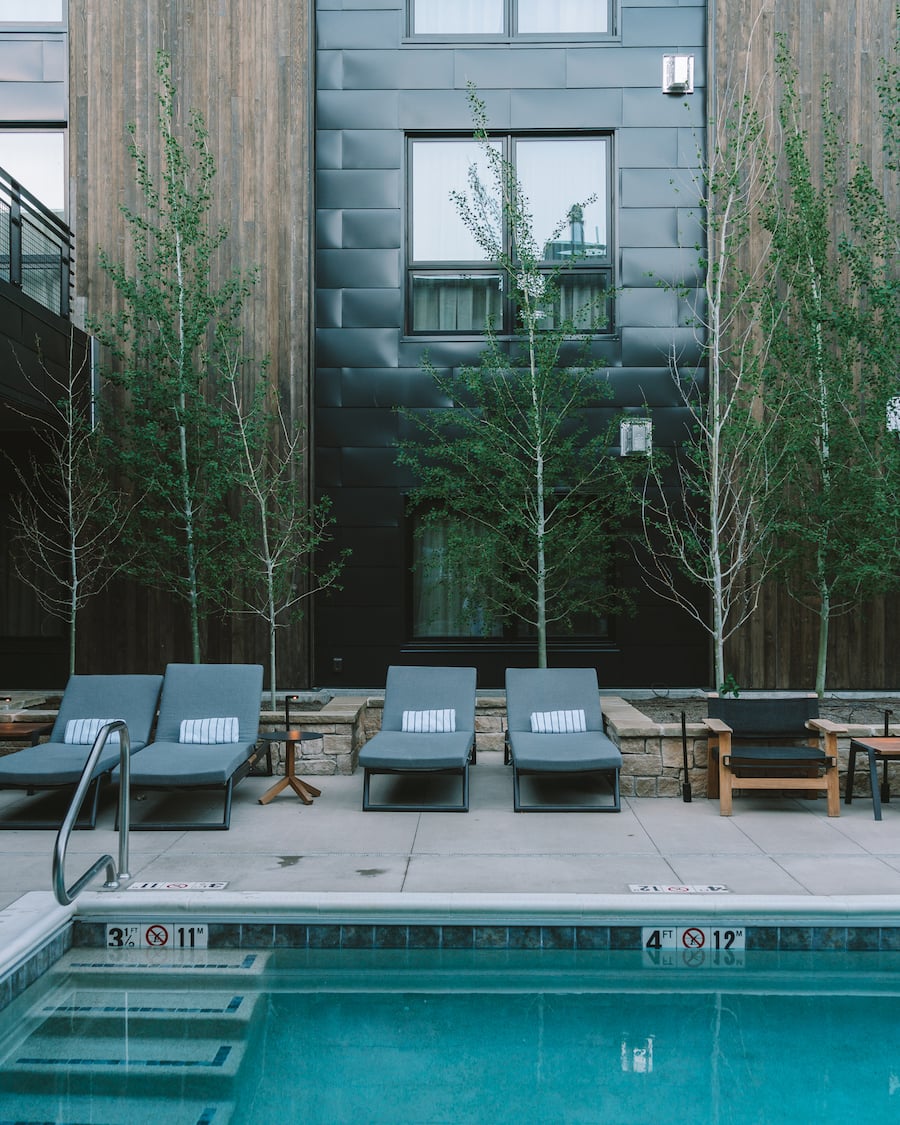 Jackson, Wyoming
Jackson is definitely not the most convenient place to stay when you're trying to explore the most in Yellowstone National Park, but it shouldn't be overlooked as it's worth a whole trip on its own.
If you have time to spend on either side of your Yellowstone adventures, you should definitely check out Jackson and it can be a great place to fly in and out of to give your trip some extra flavor.
Jackson is home to Grand Teton National Park, and has ski mountains, old west gems like the Million Dollar Cowboy Bar, and luxury hotels and fine-dining restaurants. There is a ton to explore in Jackson!
While it can be done, I wouldn't recommend staying in Jackson the whole time if you plan on exploring Yellowstone for multiple days as the driving back and forth will get really old. If you are going to do this anyway, I would highly recommend joining a Yellowstone tour like this one so you can leave the driving to someone else.
Fireside Resort – If you're craving that cabin feel with a little added luxury, the tiny home cabins at Fireside Resort harmoniously blend the outdoor lifestyle with the cozy comforts of hotel accommodations.
The Cloudveil – The Cloudveil is a luxury, boutique hotel under Marriott's Autograph collection and one of the newest hotel openings in Jackson. Located in the heart of Jackson Hole's iconic Town Square, this stunning property is perhaps one of the best places to stay outside of Yellowstone if style and design are your forté.
Other Places to Stay Outside Yellowstone
I'm not going to get into all of the other possible locations you could stay near Yellowstone beyond the information I've provided, as I've already shared my top picks. But if you want to peruse accommodation options further, you can use this widget below to start exploring prices and availability!
So what's the ultimate verdict on where you should stay when visiting Yellowstone?
If you only have a day or two to explore, I would strongly suggest booking something within the national park as far in advance as possible so you can maximize the time you have on your trip. If nothing is available, then book something in West Yellowstone or Gardiner as a second option.
If you're planning on visiting the area for a week or more, you can definitely mix things up by staying a few nights inside the park and then a few nights outside, or basing yourself in a more hopping town like Jackson for the entire week so you can pop into Yellowstone when you want and then explore even more beyond it, like Grand Teton National Park.
If Yellowstone is one stop on a longer road trip itinerary and you're already used to skipping from spot to spot, then making your way through the park from south to north or east to west (or in opposite directions) will be the most efficient method and will cut down on driving and backtracking. For example, you can stay a couple nights near the south entrance, see all the sights closest to that area and then move on to the north section, while changing your accommodation to that area.
This is what I've always personally done, and although it can be annoying to be switching your accommodations so frequently, it can be equally annoying driving for endless hours and getting stuck in the summer Yellowstone traffic.
Was this post helpful in deciding where to stay inYellowstone National Park?
---
Planning a trip right now? Don't miss my go-to websites for booking everything from flights and tours, to accommodation and more:
---