From the moment we turned off the main road, onto the private drive weaving through the rice paddies and palm trees that leads to Alila Ubud, I knew we were about to enter an exquisite oasis. The hotel is situated in the jungle, high above the Ayung River and is built to resemble the layout of a Balinese hillside village. Everything from the calming room design to the lush landscaping will make you feel like you've discovered one of Bali's most secret paradise escapes — and simultaneously found a new home away from home. It doesn't hurt the appeal that this hotel in Bali has one of the most epic pools on the island.
WHY YOU SHOULD STAY
If jungle vibes and picturesque pools are your thing, than booking Alila Ubud should be a no brainer. I guarantee you'll immediately feel like home here — in fact, upon arrival each time to the Alila, the phrase "welcome home" is how you're greeted by the friendly staff. This is the kind of place you could shack up in and never leave, but luckily for those with cabin fever, Ubud town is just a short drive away and activities in the area are fruitful for those with a love of experiences punctuated by authentic culture and natural beauty.
I also love supporting hotels that care about our Earth, and the Alila Ubud is one such place. The hotel takes sustainability very seriously, featuring products in the hotel that are made locally, using local produce in the on-site restaurants and hiring staff from nearby communities to not only improve the lives of Balinese citizens but also reduce their carbon footprint. You can read more about Alila Ubud's commitment to sustainability here.
THE ROOMS
There are a variety of room options at the Alila Ubud (56 rooms in total and 17 villas), but we stayed in a Superior Room (pictured in the first two images), which is the most basic category but still ideally sized for two people. Our room featured a beautiful balcony overlooking the Ayung River Valley where we enjoyed coffee each morning — and the daily march of visiting monkeys who roam the property in search of treats.
If your itinerary is packed with adventures outside of the hotel then this is the perfect room size, however I would recommend upgrading to a Deluxe Room or villa if you're visiting for a special occasion or plan on spending a lot of time at the property relaxing.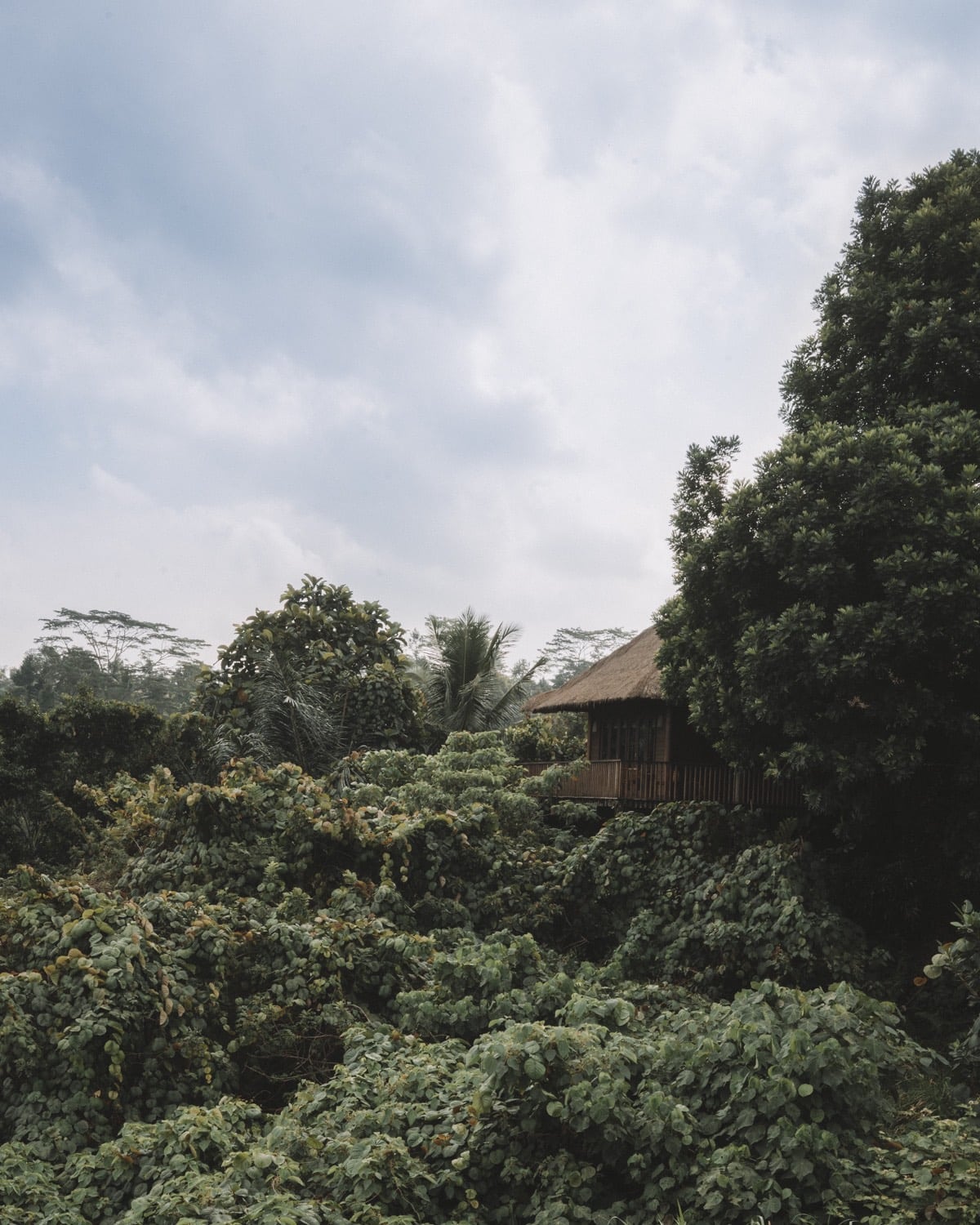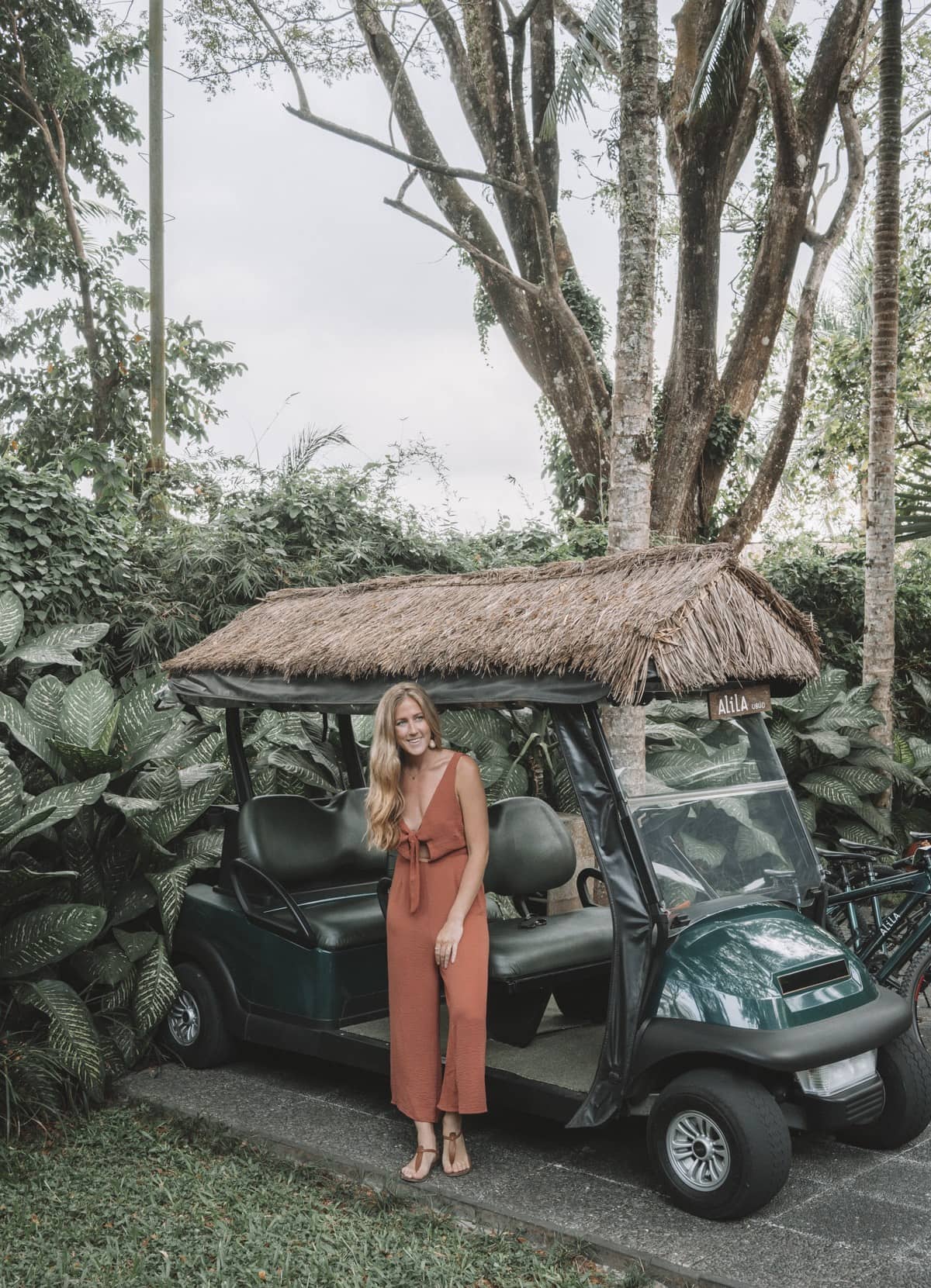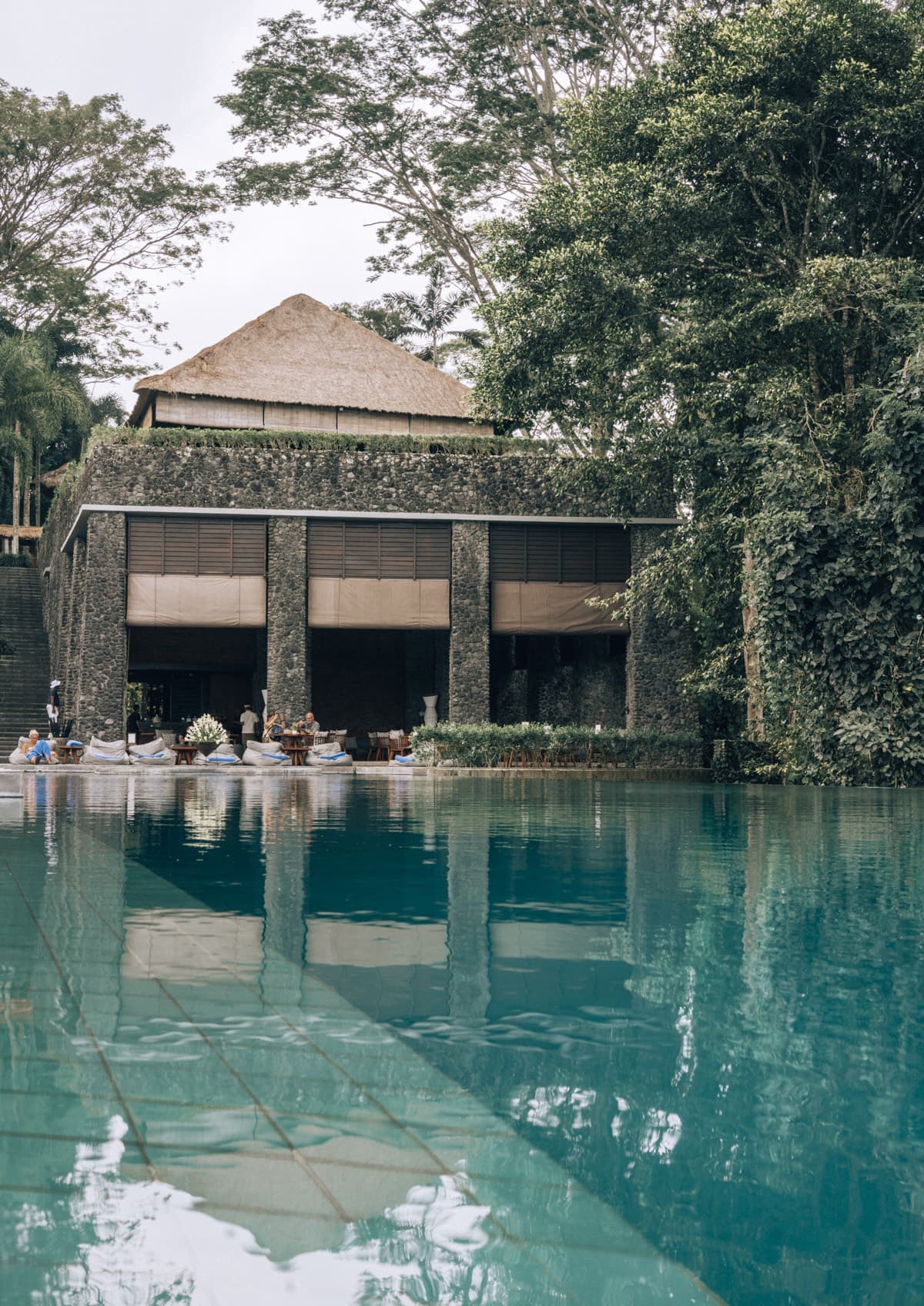 THE GROUNDS
The grounds at the Alila Ubud are quite large and there's so many nooks and crannies to be discovered here. From delightful sculpture gardens to their stunning spa and on-site art gallery, you could kill a good chunk of time taking in all of the beauty of Alila's surroundings.
The most beloved area of the hotel however has to be Alila's famous infinity pool that's been voted one of the top 50 most beautiful hotel pools in the world by Travel & Leisure and sits high up in the jungle overlooking an abyss of trees and thatched huts in the distance. This is the perfect spot to camp out on a sunny day and enjoy a dip to cool down from the Bali heat.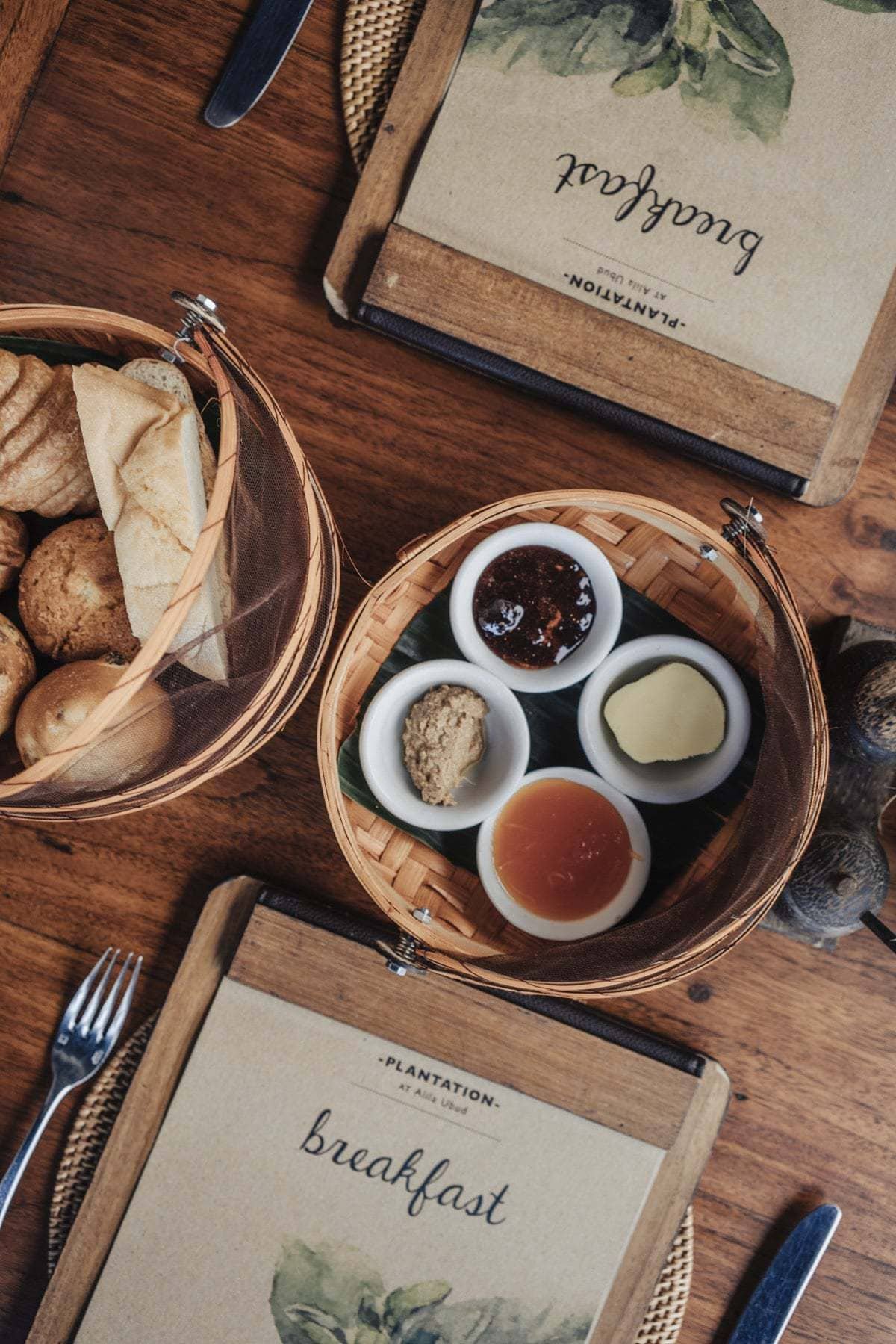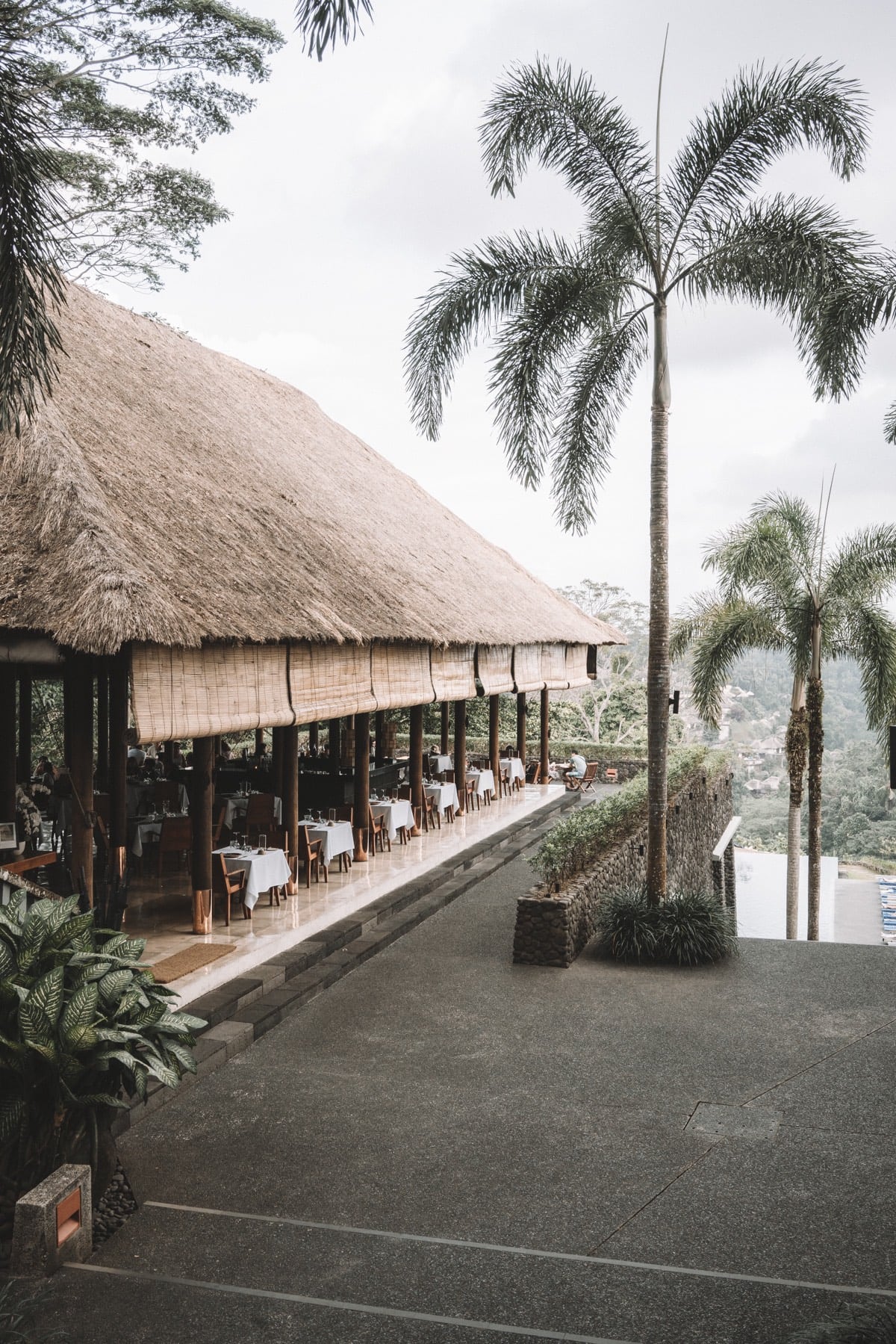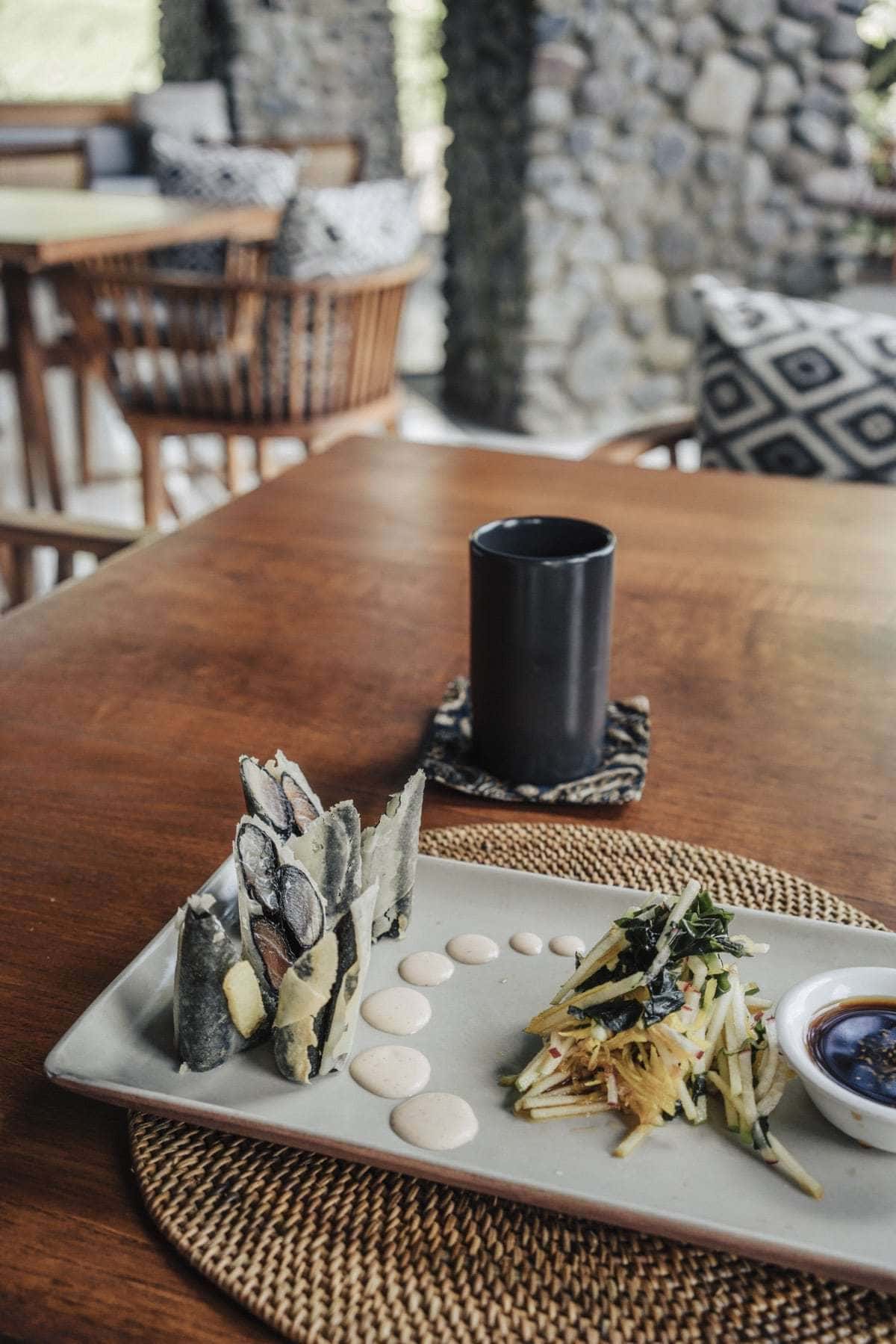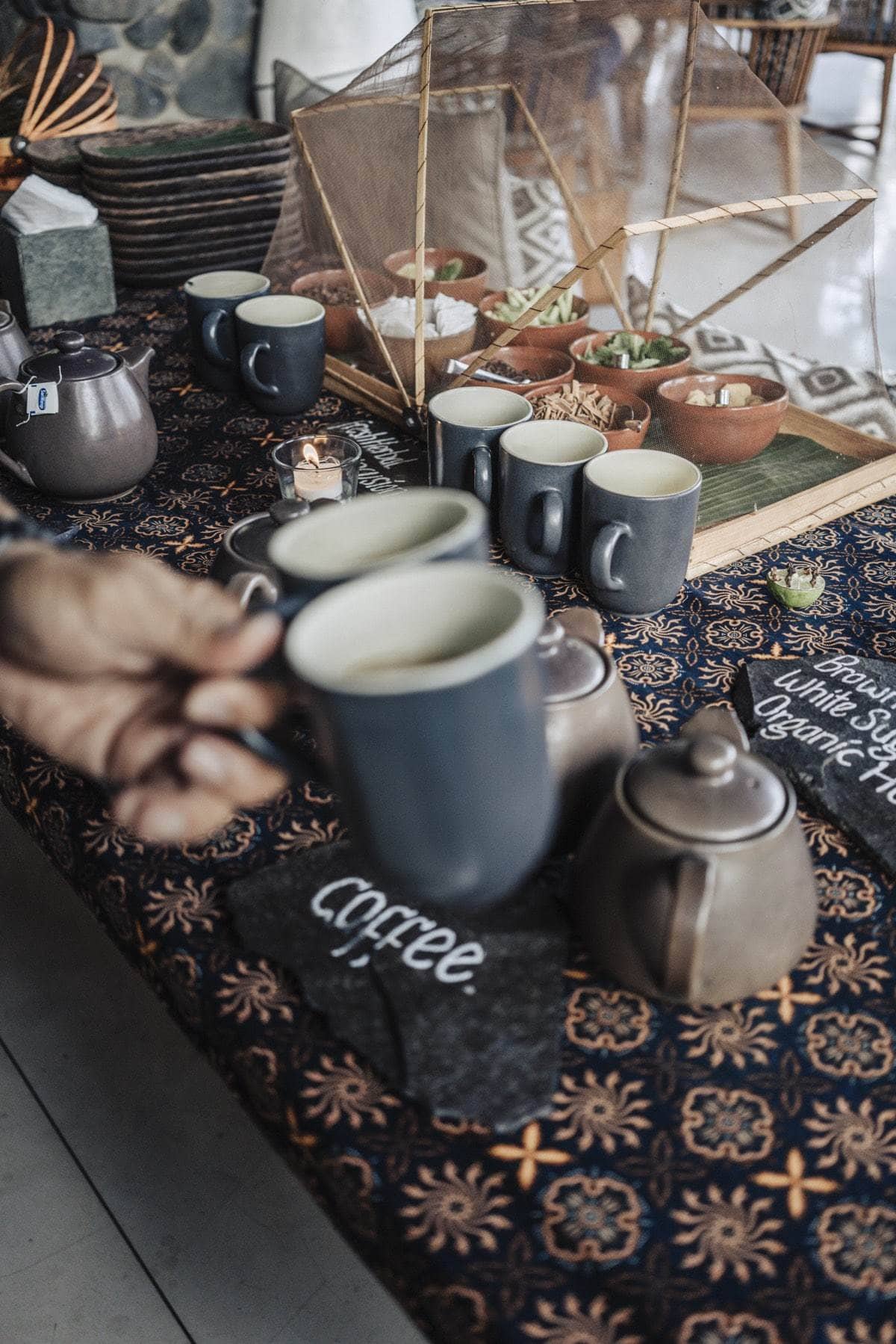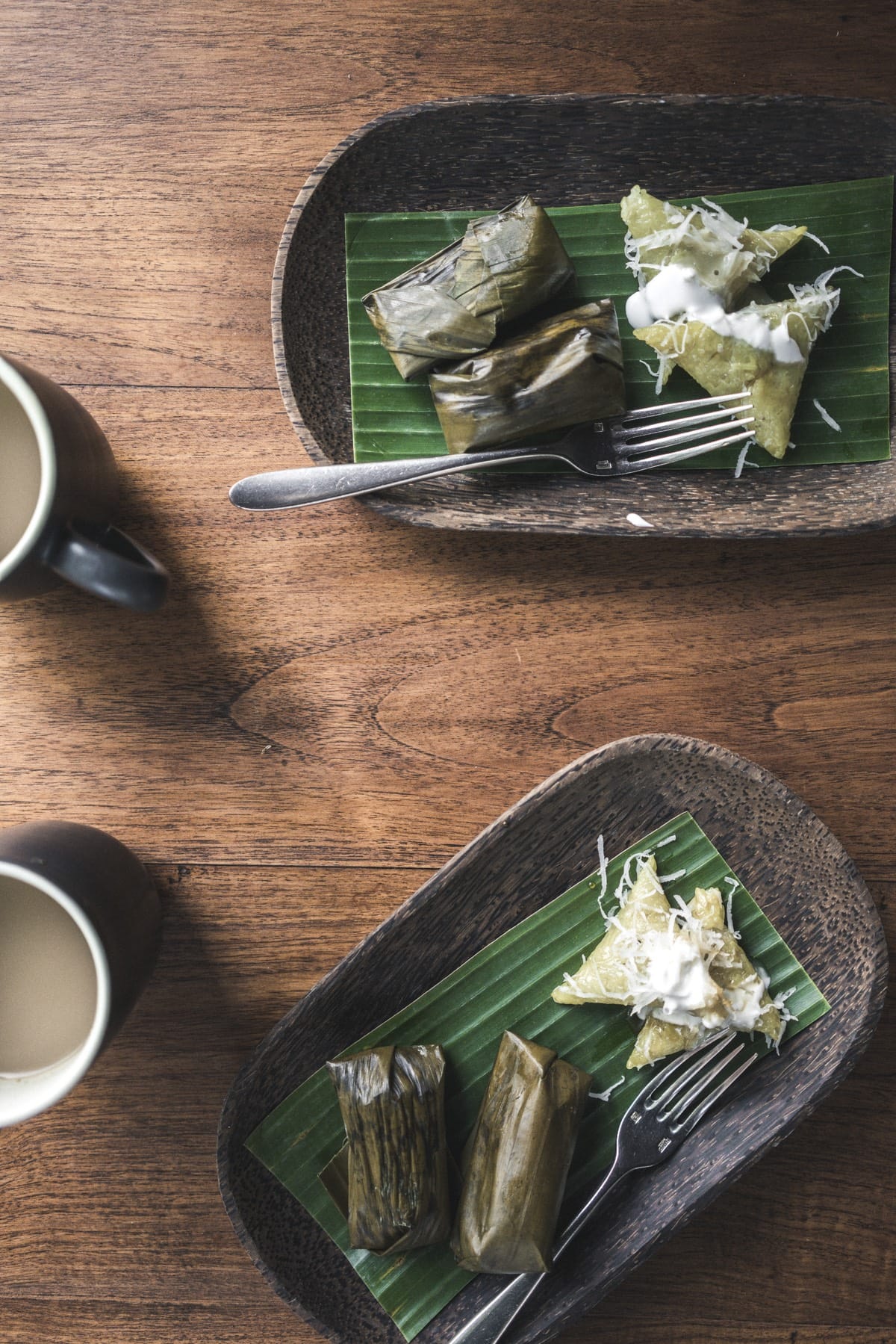 DINING AT THE ALILA UBUD
Between Alila's breakfast tasting menu, lunch and poolside menus at the Cabana Lounnge, afternoon tea and dinner at Plantation Restaurant, you'll never go hungry during your stay. I loved experiencing their ever-changing breakfast menu which always came with a wide selection of pastries, coffee, tea, fresh juices and fruits and a rotating selection of Indonesian style and more Western breakfast options — definitely my favorite meal of the day during our time at Alila Ubud.
Afternoon tea each day was also a delight to look forward to, with traditional Balinese sweet treats served up alongside yummy teas and pool views of course. We didn't get a chance to eat dinner on property, as there were so many local Ubud restaurants we were dying to try, but their commitment to the slow food movement is impressive and is showcased through a menu combining both authentic Indonesian cuisine and dishes inspired by other cultures.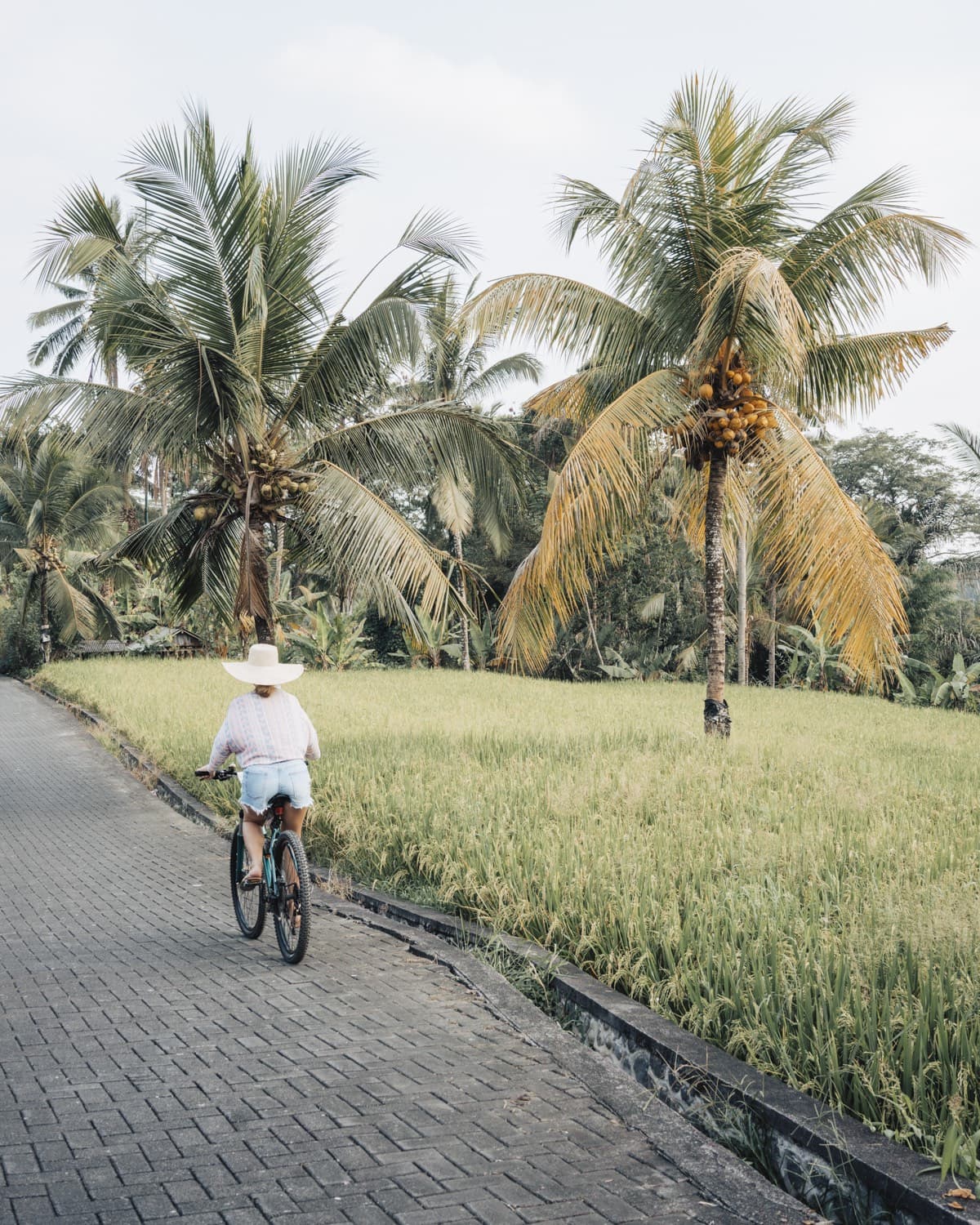 LOCATION
Located in the traditional Balinese hill village of Payangan, Alila Ubud is set about 15-25 minutes outside of the town of Ubud, depending on where you plan to land. But while the hotel may be situated on the outskirts of the main tourist center, Alila offers a free shuttle service multiple times per day to allow easy transport for guests back and forth into town. If the shuttle times don't suit, a taxi from the Alila into town will only cost you about $10 USD one way.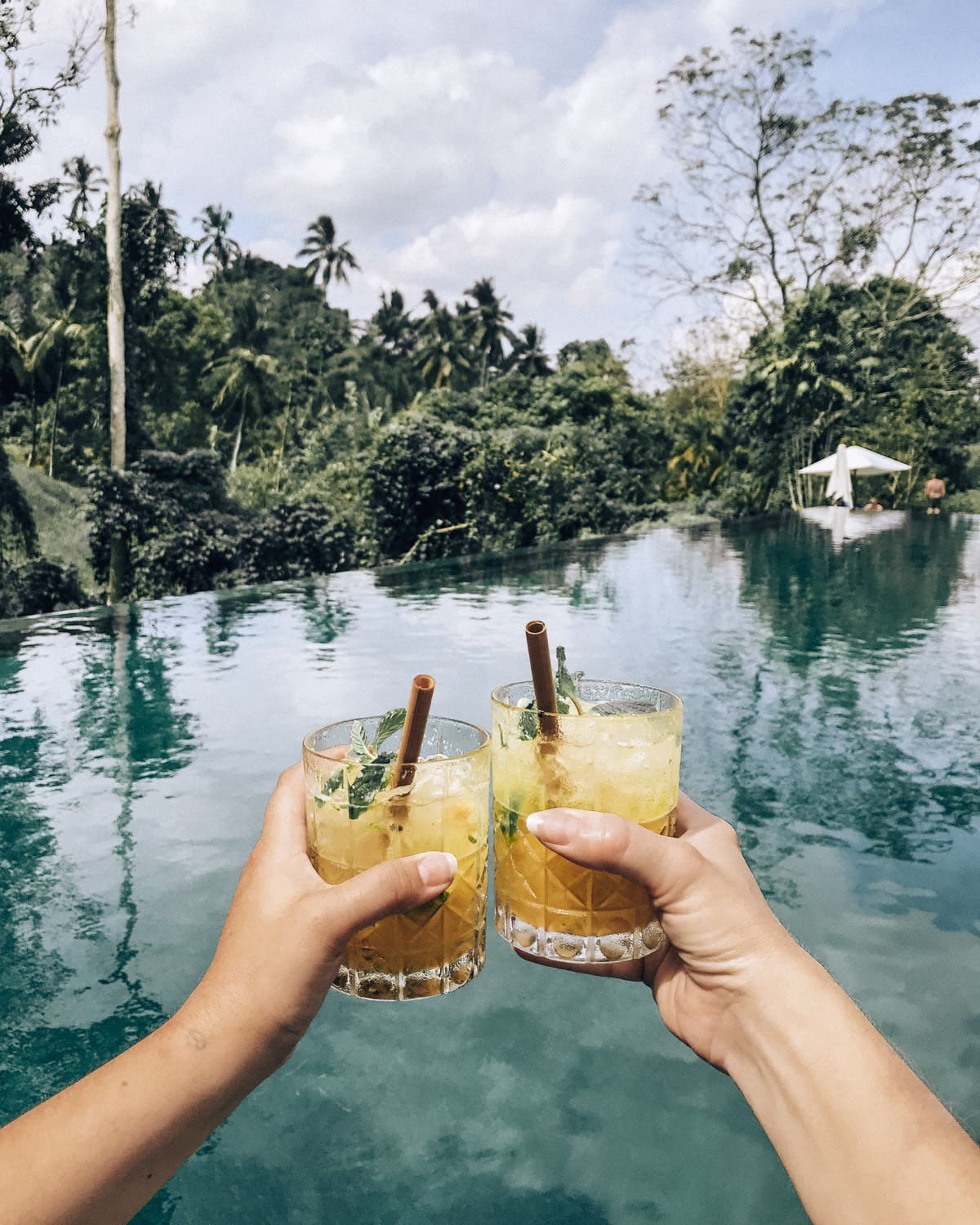 FAVORITE FEATURES OF THE HOTEL
Neutral color palette and how seamlessly the hotel blends into its natural surroundings
Generous breakfast portions that are included in your stay — you can literally order as much as you want from the menu!
The dining terrace which overlooks one of the most epic pools in Bali to capture incredible photos
Two for one cocktails by the pool
Daily entertaining visits from the local monkey population
A FEW HELPFUL HINTS
Ask about the hotel's morning yoga and tai chi class schedule
If you're interested in a great excursion outside of Ubud but within manageable reach of the Alila, consider a visit to one of the incredible waterfalls in the Northern region of Bali such as Sekumpel, Banyumala or Nungnung waterfalls
Keep your eyes peeled for monkey business around the property — these cheeky guys make their rounds through the Alila grounds daily and might try to snatch your afternoon tea snacks if you're not careful
If you're set on a day at the pool, don't wait too late to secure a lounge chair as spots are a bit limited and can fill up quickly on a nice day
Alila Ubud is located at Desa Melinggih Kelod, Payangan, Gianyar 80572 Bali, Indonesia. Rooms at the Alila Ubud start at about $169 per night. Book now with Kiwi Collection.
***
Live Like It's the Weekend was graciously invited as a guest of the Alila Ubud and Kiwi Collection, but as always, all my opinions are my own and I would never promote anything I don't freaking love. 
PIN IT FOR LATER