Hội An, Vietnam is a UNESCO World Heritage site set along the Thu Bồn River, and let me tell you — it's a charmer of a town. It's often listed as people's favorite stop along their Vietnam adventures, and once you visit you'll understand why.
The Ancient Town is alive with authentic Vietnamese markets, tea houses, tailor shops and colorful paper lanterns lighting up the streets at night. Even little boat bars along the river play host to convivial guests who wish to enjoy a waterfront cocktail. You'd almost mistake it for Europe (almost), with its canals and waterways playing a strong role in Hội An's downtown geography, and the amount of bikers choosing two wheels as their mode of transport for exploring only adds to its charm.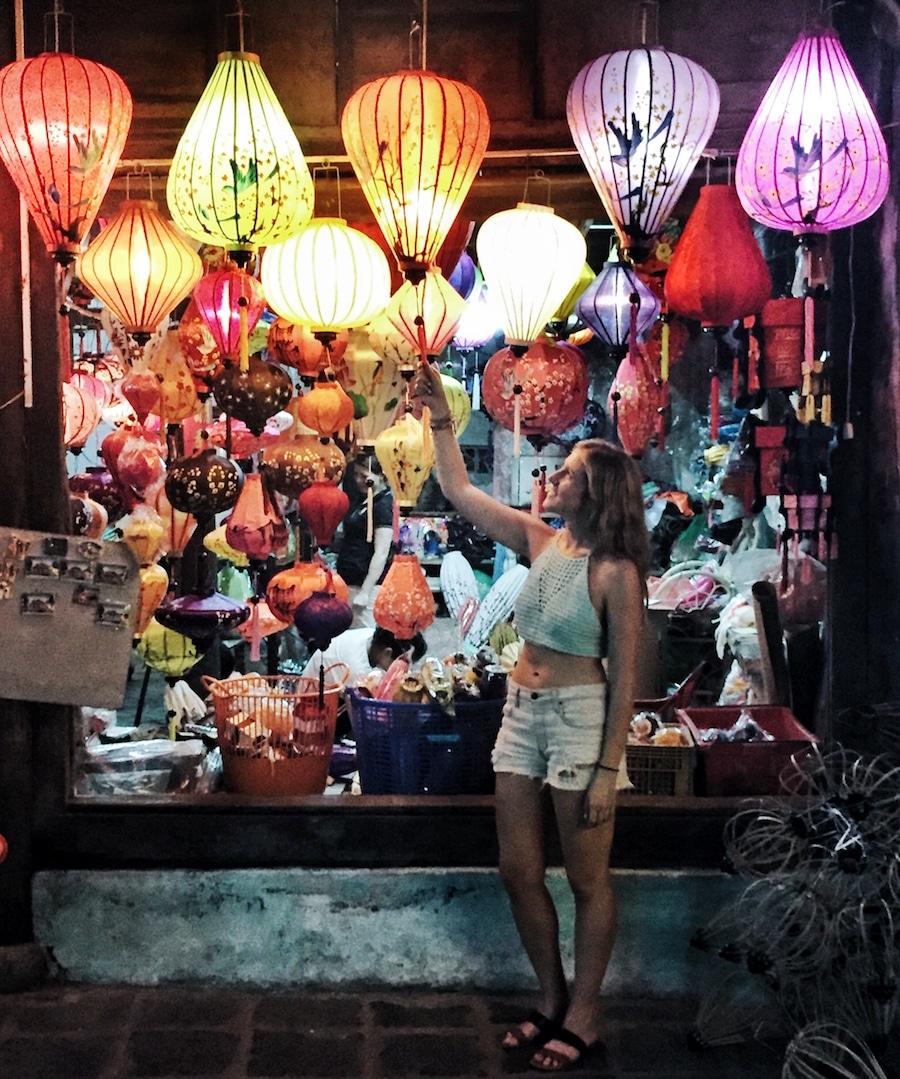 Accommodation Options in Hội An
Put simply, Hội An is a must stop along any trip to Vietnam, but picking accommodation here can be a bit trickier than figuring out what to see and do. I often felt in Southeast Asia that accommodation options were pigeonholed into extremes — either backpacker havens for the ultra cheap traveler, or 5-start luxury resorts. Being the kind of explorer that likes to visit a destination in style but still have money in my bank account for future trips, I found this a bit unsatisfactory…until I stumbled (literally) upon Maison Vy. If you're wondering where to stay in Hội An, Vietnam, look no further.
Maison Vy is one of those places I came across entirely by chance during the early days of my year long round-the-world trip in 2016. I was coming off two weeks of non-stop adventures through Hồ Chí Minh City, Phú Quốc and finally Hội An, and needed a couple nights of R&R before moving north to Hanoi.
Initially I had found a place on Hotels.com (which I use quite frequently on my travels and usually love), but upon arrival found the hotel not as advertised — super dark and dreary with extremely thin walls and an over-proportionate amount of families with small children staying in adjacent rooms. Not exactly the kind of place ideal for recharging my long-term traveler batteries.
So after peeping a much nicer looking Maison Vy across the street, I called up Hotels.com, asked for my money back (they luckily obliged), and proceeded to move myself and my bags to more luxurious digs a stone's throw away.
At the time, this was the biggest splurge I had made on accommodation in my travels as I was mostly staying in hostels, affordable Airbnbs or super budget hotels, which are easy to come by in Asia. But still this spot is an incredible value. Maison Vy only set me back around $90 per night (although it seems that their prices have increased slightly since last summer), and I was happy to treat myself after many, many nights paying approximately $20 on average throughout Asia.
A standard room in Maison Vy now starts at about $118 USD, but for all of the amazing amenities you get, I would say the value is definitely still worth it — as long as you take advantage.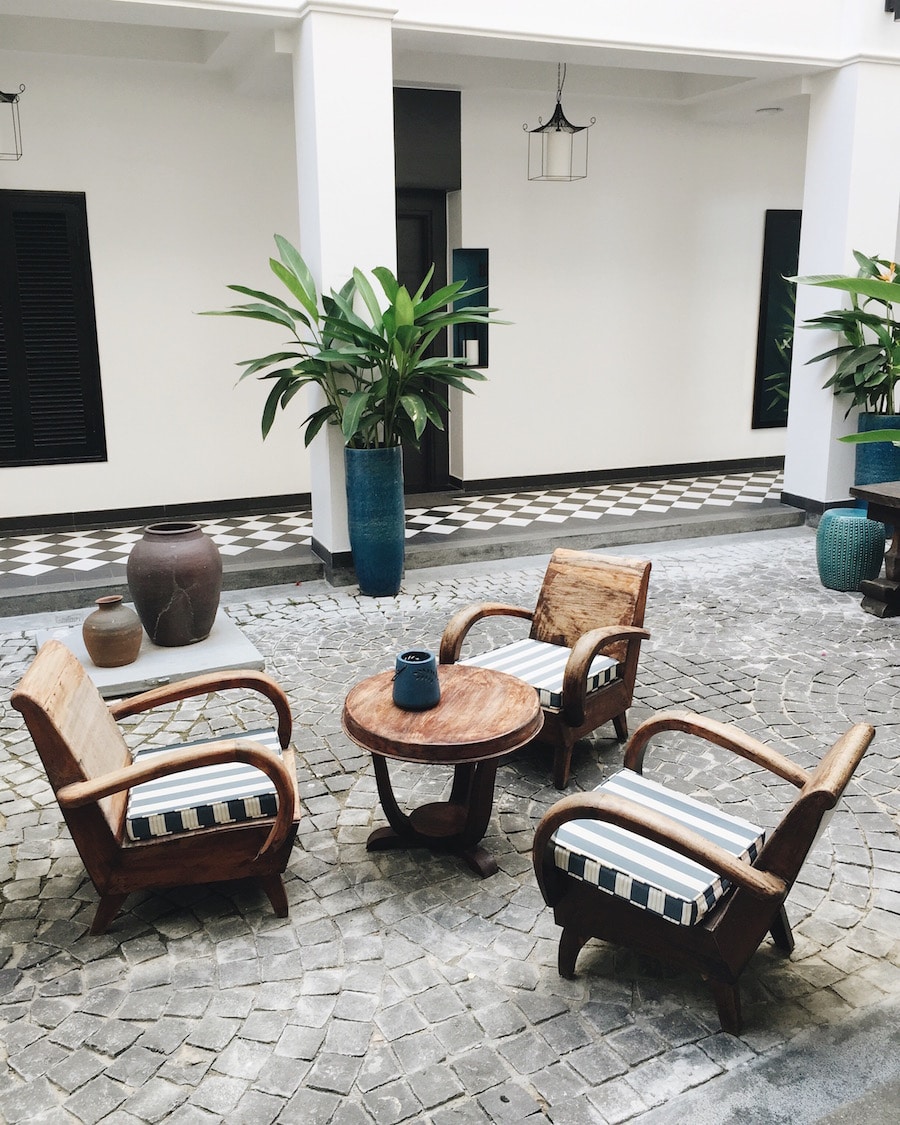 So What's This Maison Vy Place All About? 
Maison Vy is the brainchild of local foodie legend Trinh Diem Vy, who owns some of Hoi An's most beloved restaurants: Morning Glory, Cargo Club, Mermaid and Vy's Market Restaurant and Cooking school. Guests to Maison Vy benefit by default. Not only are delicious breakfasts featuring both Western and Vietnamese offerings complementary, but Vy's Taste of Vietnam program allows guests to earn discounts to her portfolio of restaurants depending on the length of their stay.
For example, if you book directly on their website and stay one night total, you'll be treated to a complimentary chef's selection BBQ dinner. Stay five nights and you earn a free meal (including wine!) at Morning Glory, plus airport transfer in a limousine! And there are many more perks where those came from. You can see the full Taste of Vietnam breakdown on their website HERE.
A daily high tea in the lobby cafe is also complementary and treats guests to a mix of pastries and savory bites like mini banh mi sandwiches and cupcakes. Bottom line: no guest in Ms Vy's house is going to go hungry.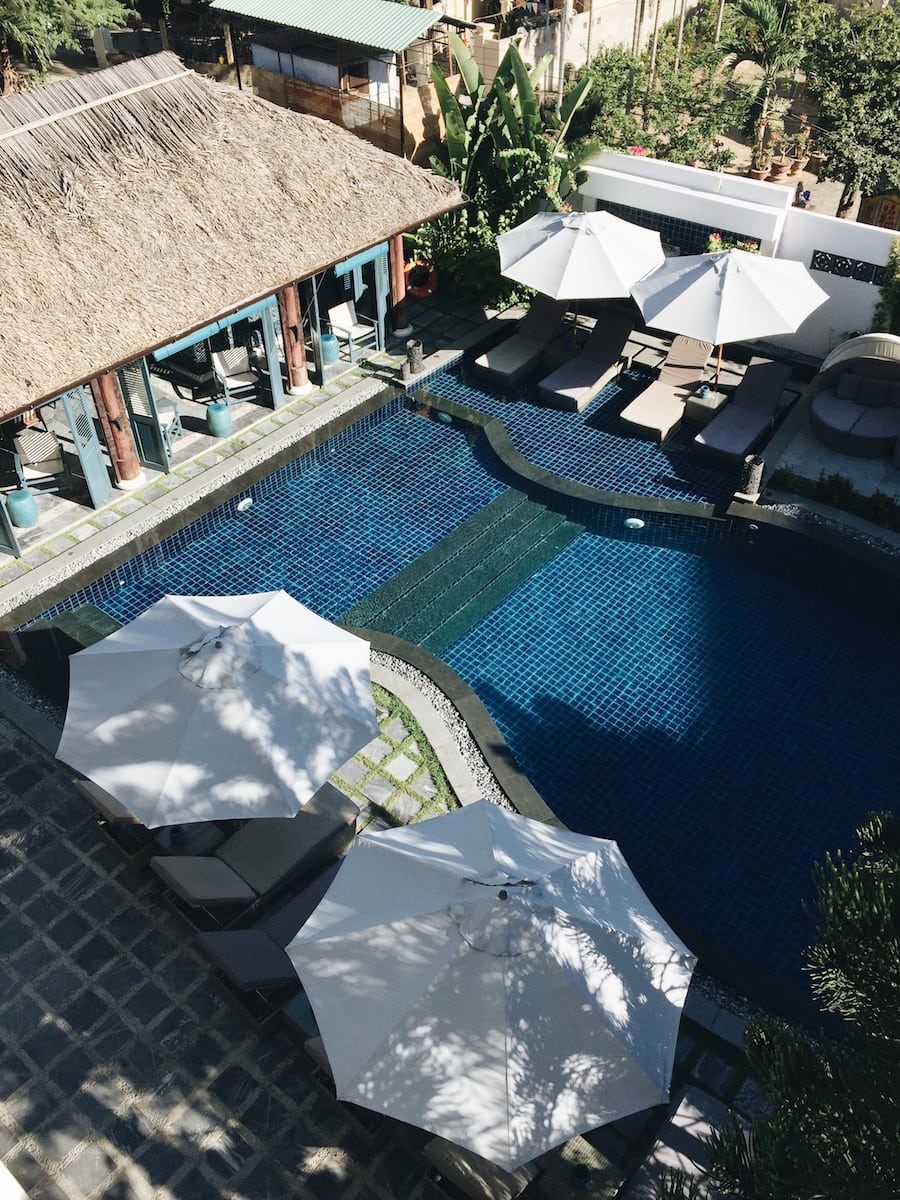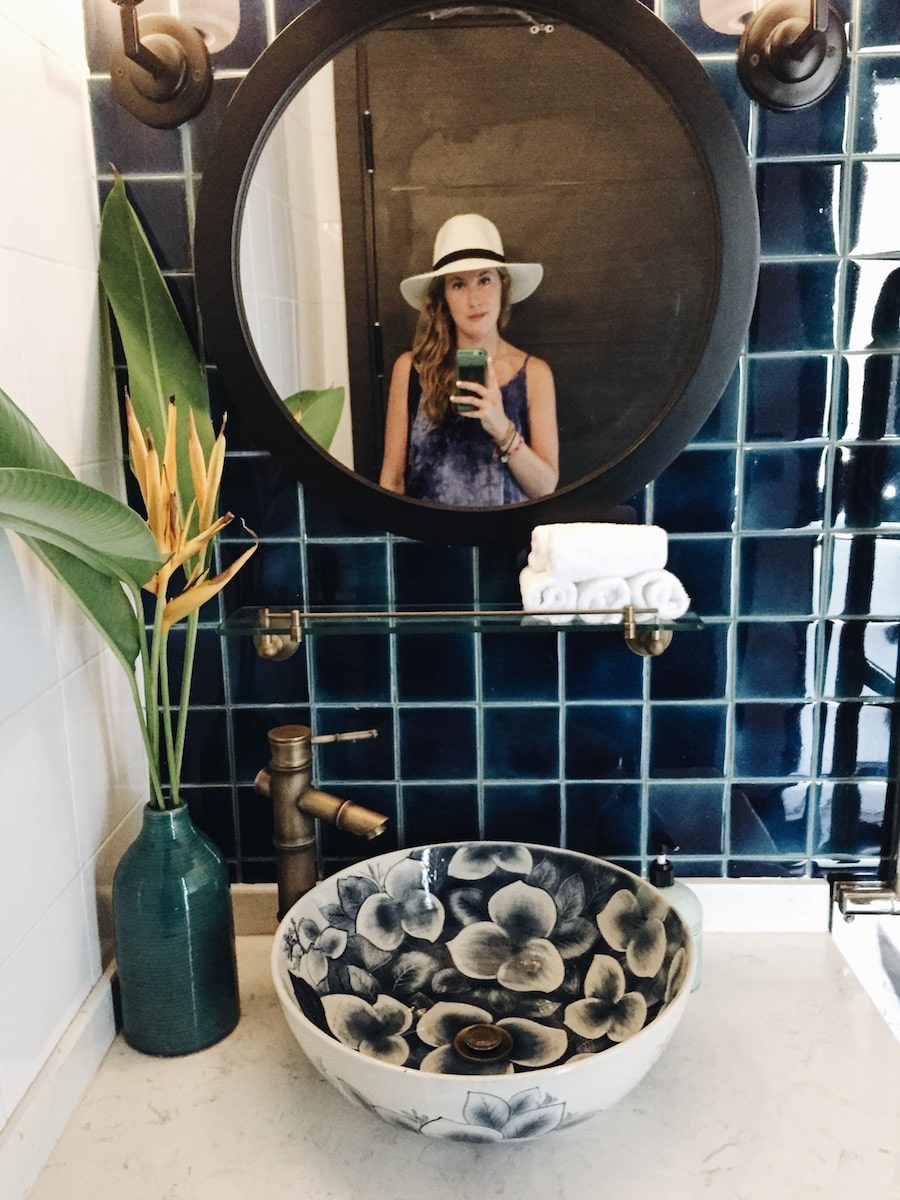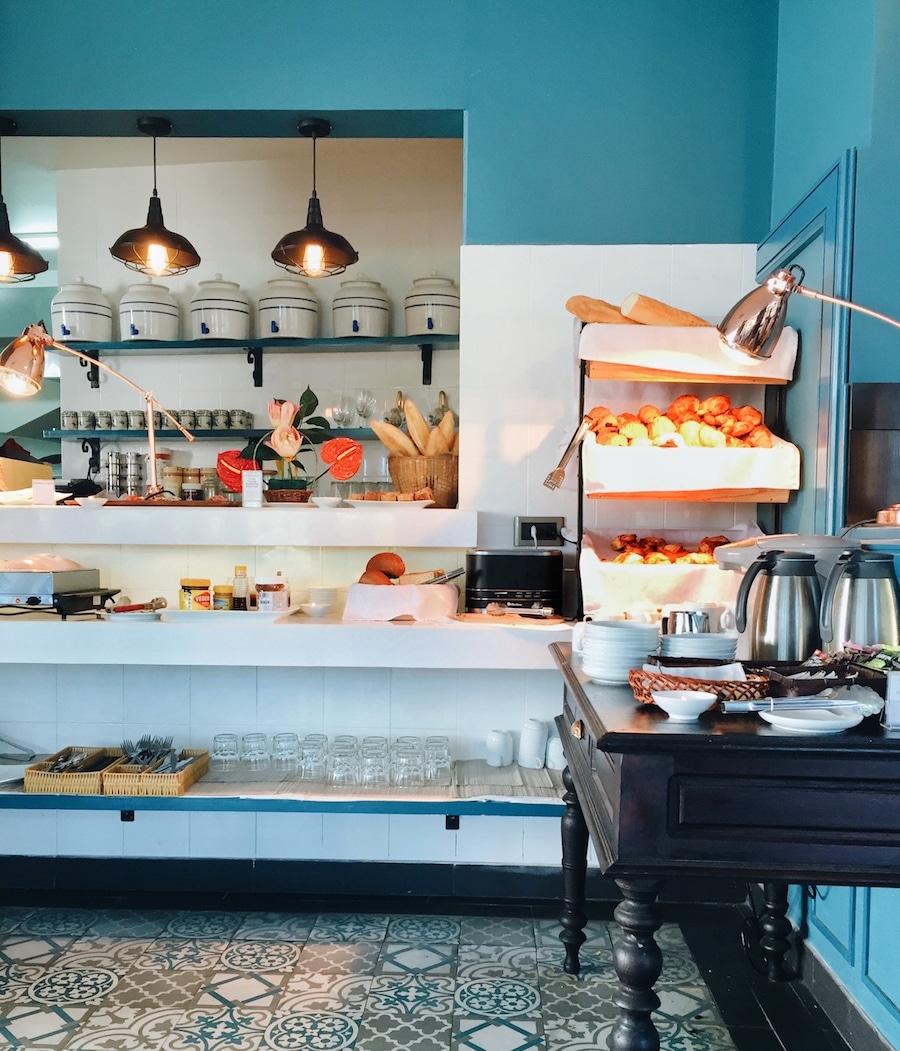 THE ROOMS
The room was my favorite part of my stay at Maison Vy (probably because I spent most of my time in it catching up on work)! The tasteful decor with small Asian-inspired touches was quite a pleasant departure from the basic hotel rooms in Asia I had become accustomed to. The staff here has really given thought to every design detail.
The bathroom vanities are beautifully outfitted with marble countertops and bronze hardware, and the showers are open style, featuring herbal infused toiletries. I love that many rooms come with a personal terrace (mine overlooked the pool), and hotel-wide amenities include a fully stocked mini bar, nightly foot bath, and free WIFI.
LOCATION
While on a map Maison Vy might seem slightly outside of the main hub of Hội An, don't let that deter you. In reality, the hotel is only about a 5 minute walk from the river, and about a 10-15 minute walk away from the center of the Ancient Town. As a solo female traveler, I was a little worried about walking back to the hotel at night, but this ended up being a non-issue. Being set in a quieter neighborhood just makes this locale an even better spot to relax during your stay!
BOOKING
As I mentioned previously, prices per night start at about $118 USD and go from a small standard room (either a king or two twin beds) to a deluxe two-story family room featuring private entrances to each level. I would recommend booking directly through the website as accrued Taste of Vietnam privileges are only given to those who do so — and they are really what makes the hotel an incredible value!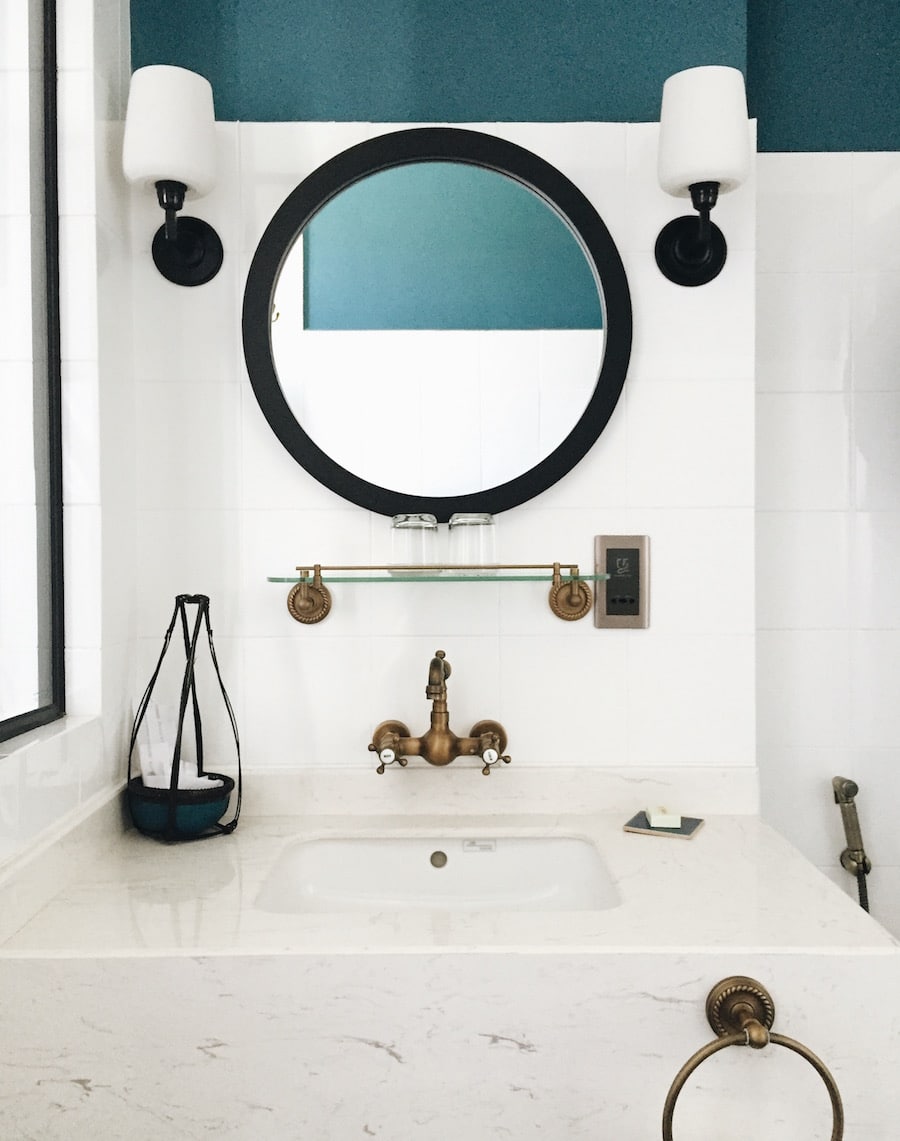 Maison Vy is truly a rare find in this part of the world. It's an affordable boutique hotel with the design sense of a luxury property, and you won't believe how little you paid for the amenities and perks they offer in return. Book now on Maison Vy's website.
PS – This post isn't sponsored in any way, this is just one of my favorite places I've stayed in Southeast Asia and wanted to share it with you all! xx Michelle 
Did this post give you a better idea of where to stay in Hoi An, Vietnam? Let me know in the comments below!
PIN IT FOR LATER