Peru is one of my favorite travel destinations to date, and it really has something to offer every type of traveler. The food, the friendly people, the adventure — honestly the "amazing things about Peru" list could go on for awhile (but let's get to the point).
My favorite thing about this incredible country is that the landscapes here are absolutely stunning and they're completely unique from place to place.
One day you're fighting the altitude for an epic 360 degree view of the mountains unlike anything you've ever seen and the next you're eating sand for fun as you board down a desert dune on your stomach. It's quite thrilling.
From salt mine terraces and snow-capped mountains to canyons twice as deep as the Grand Canyon, here are the sights you won't want to miss on your next trip to Peru.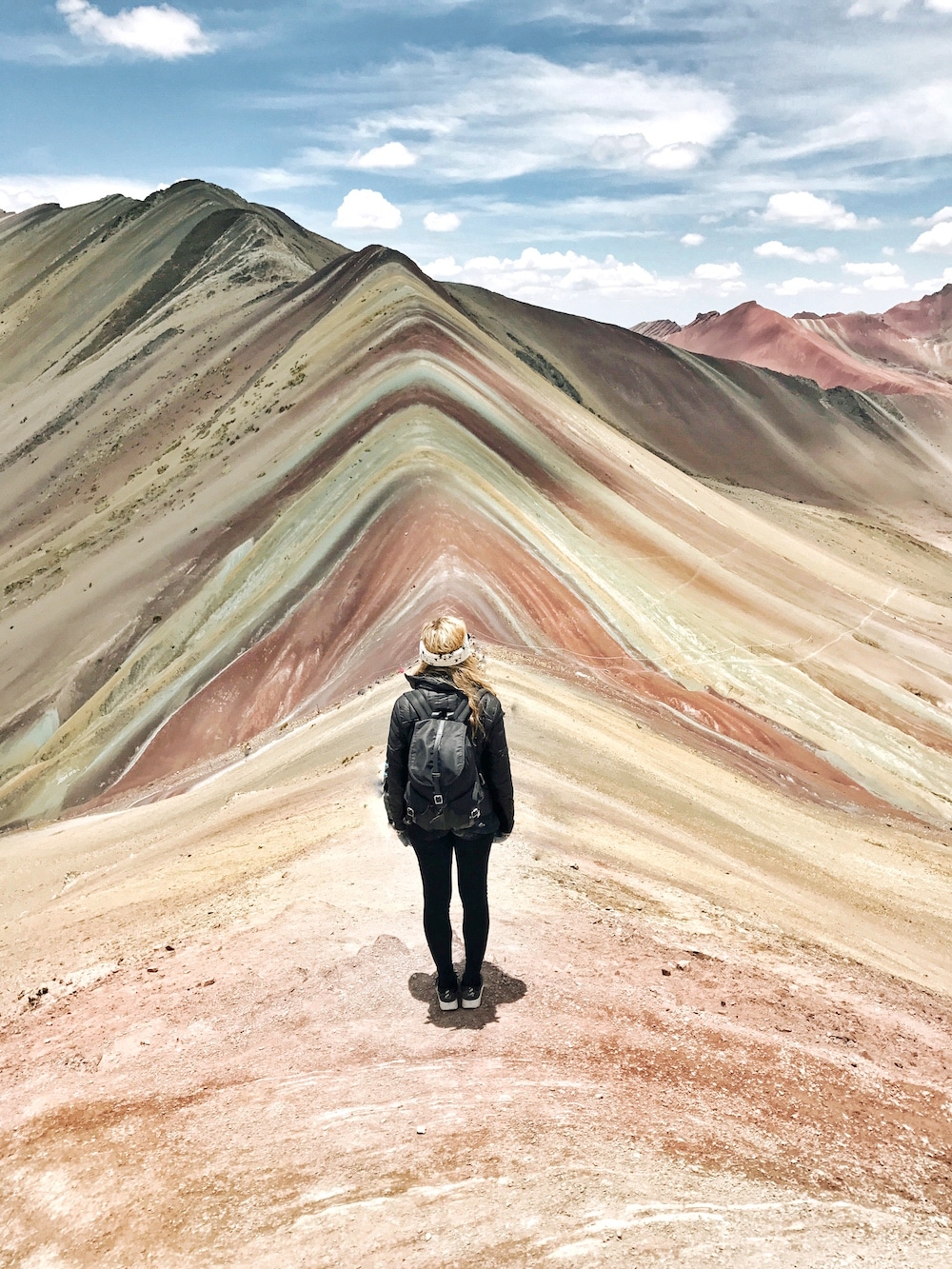 Vinicunca Mountain (Also Know as Rainbow Mountain)
After spotting this colorful, layered mountain on Instagram for the first time, I immediately added it to our Peru itinerary. And I'm so glad I did, because it turned out to be one of my favorite days of our entire trip.
To get to Rainbow Mountain, you'll find tour operators all over Cusco offering day trips here which depart bright and early in the morning from the city (about 3 AM) and return around dinner time. It's about a 3 hour drive to the start of the hike from Cusco and about 3 hours hike to get to the top.
The trek itself can be completed by most athletic levels, but keep in mind that the altitude here is no joke. Even the most experienced hikers will find themselves tiring more quickly, and although most of the way is relatively flat except for the final ascent — the lack of oxygen can make riding horseback up the mountain much more appealing. I hadn't been feeling so well in the days prior, so I opted to take a horse up and walk the second half downhill–best decision ever!
All in all, it's a long day but SO worth it. Sometimes it was hard to believe the views as I felt like I was standing in front of an oversized landscape painting.
As far as tour operators go, we went with Inka Time because they had good TripAdvisor ratings and were less expensive than other companies in town. I have no complaints about their service, however don't expect the guides to be leading you the whole way. They're pretty hands off unless you really need assistance.
Budget: Most tour operators cost s/100 (about $30 USD) including breakfast and lunch. If you want to take a horse it could be an extra s/50-90.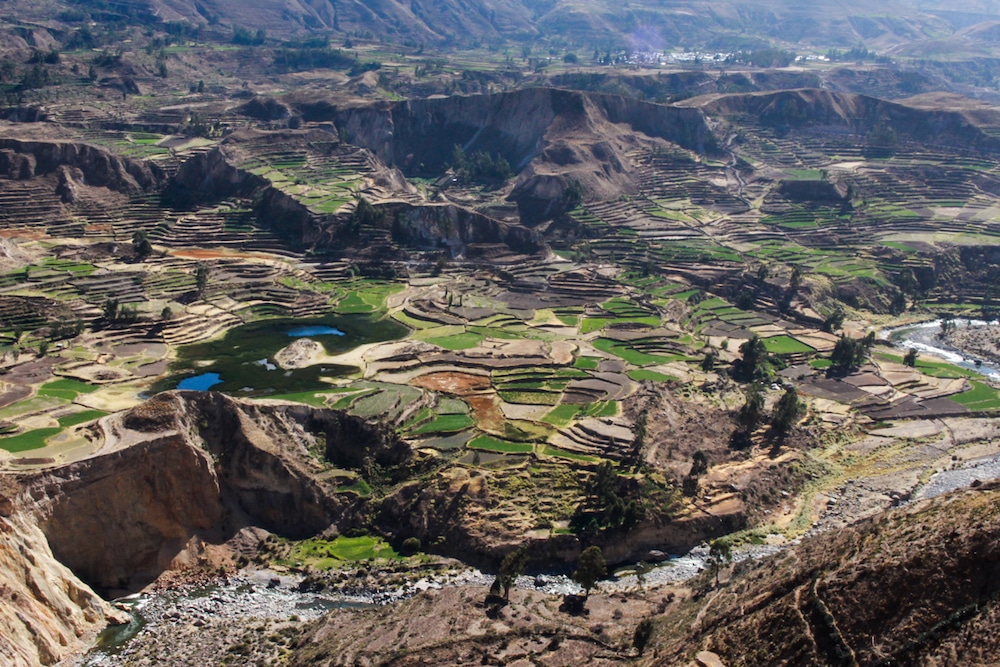 Colca Canyon and Valley 
Get ready for another 3 AM wakeup call if you want to visit the Colca Canyon, the world's second deepest canyon three hours outside of Arequipa. This trip is often done as a 2 day/1 night tour that involves trekking, but as I was limited on time I opted for the day trip that departed from Arequipa before sunrise and arrived back in the city around 4:30 PM.
Almost twice the depth of the Grand Canyon, this stunning area is also a sanctuary for the Andean Condor whose wingspan ranges from about 8-10 ft, which makes them a majestic sight to witness when flying overhead.
A few questions to ask before you settle on a tour operator:
What time will the group arrive to the Condor Pass? Before 9 am is ideal so you don't miss these guys.
What is included in the price? There seems to be extra fees for each part of this tour, so make sure you're clear on what you'll actually be paying total before you commit.
Budget: For a single day tour expect to pay about $50 USD which includes the tour, entrance fee to the Colca Valley, lunch and a few extras here and there like tip.
Salinas de Maras
I love landscapes that look totally alien and foreign, and to the traveler who has never witnessed a salt mine in the flesh, the Salinas de Maras can definitely fall under that category. Believed to be built in pre-Inca times, this terraced landscape of approximately 3,000 shallow salt pools is now hand-harvested by local families who all share the land and split profits.
I was fascinated by the different geometric shapes and patterns that these terraced pools take on and was disappointed by how little time our group was given at this location. If you like to wander and take a lot of photos (like I do!) you'll want AT LEAST an hour here, so make sure to shop around for tour groups and ask them about the allotted time.
Budget: This tour is often packaged with a trip to the Moray ruins from Cusco and costs about S/35 (approx $10 USD) with an entry fee to Maras of S/10.
The Andes Mountains Enroute to Arequipa
I chose to travel from Cusco to Arequipa by plane, mostly because I just didn't have time in my schedule for a day's long journey by bus. Turns out the extra flight cost was well worth it because my face was glued to the window for the entire hour-long flight.
This route flies over the Andes Mountains and is a stunning visual journey, from witnessing active volcanoes and snow-capped peaks to deep canyons and intricate valleys that trace lines through a rich brown landscape.
If you're not on a super strict budget and want to cut down on travel time, I highly recommend this flight — it was one of the most beautiful (if not the most beautiful) flight of my life. Pro tip: Make sure to ask for a window seat on the left side of the plane for the best views.
Budget: Approximately $125 USD for a flight from Cusco to Arequipa on LATAM airlines.
Moray Ruins
Located in the Sacred Valley about 45 minutes outside of Cusco, this Inca archaeological site is unique from the others due to its circular pattern resembling an amphitheater, which has led researchers to believe that these ruins were once used for agricultural experimentations. Each of Moray's different levels could have resembled unique micro climates since the variance in temperature from the bottom floor to the top is a whopping 27 degrees!
Typically done as a half-day tour in conjunction with the Salinas de Maras, you'll want enough time to take pictures and peruse the different levels of the ruins which takes some time to walk (I know they look tiny in this picture, but trust me when I say they are not). When shopping around for tour operators, make sure to ask how much time you'll be given at each site. If it's less than an hour for Moray, move on to the next so you don't feel rushed.
Budget: This tour is often packaged with a trip to the Salinas de Maras from Cusco and costs about S/35 (approx $10 USD).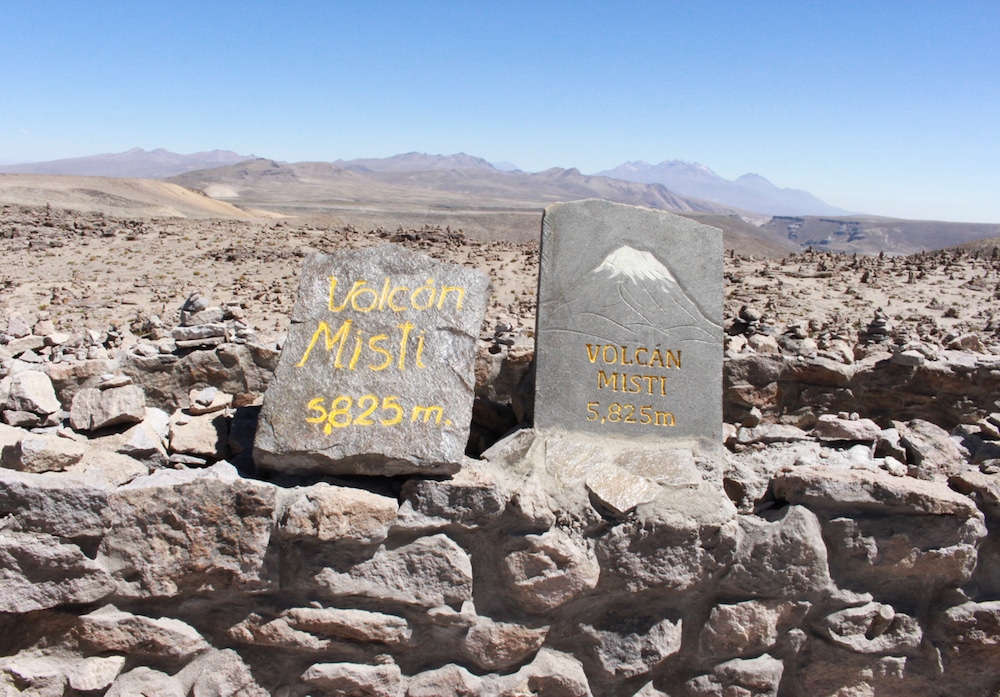 Salinas y Aguada Blanca National Reserve
I had no idea this National Reserve existed until I booked a day tour to explore the Colca Canyon, and it happened to lead us through this stunning park. To my surprise — and great pleasure — our bus stopped off on the side of the road so that we could stand in awe of the lagoons and mountains in the distance and there were no other tourists in sight. I repeat — no other tourists. How often does that happen nowadays?
Turns out, this is an ideal place to spot vicuñas, those adorable long-necked creatures that resemble a mix between an alpaca and a llama but produce more valuable fibers (think upwards of $1000 for a cardigan). Point being: add this spot to your list if you want some serious natural eye candy.
Budget: Included in some Colca Canyon tours. Private tours are most likely available on request.
Huacachina Sand Dunes
Thought rolling sand dunes were reserved for the Sahara? Think again. Huacachina is an odd little town surrounding a man-made lake in the middle of miles of sand. Yes, it's strange, but tourists still make the trip year-round for a few hours of sand boarding and dune buggying.
If you love an activity that gets the adrenaline going while traveling, this is the perfect day trip for you, which can be conveniently finished off by a wine tasting and pisco tour in nearby Ica. We booked the morning tour due to schedule constraints, but I would recommend planning for the afternoon tour so you can witness the sun setting over the dunes.
Budget: Approx S/120 (or $35 USD) for sandboarding and wine tour. Roundtrip bus tickets on Cruz del Sur from Lima to Ica cost S/85 ($25 USD).
Machu Picchu
Obviously no post on Peru would be complete without mentioning Machu Picchu, but I saved it for last to show you that there is SO MUCH MORE to do in this country than visit this world wonder.
With that said, Machu Picchu (which means "old mountain" in the ancient Inca Quechua language) is really as magnificent as everyone says. Something about standing amongst hundreds of years of history, the constantly changing weather — it can go from completely shrouded in misty clouds to perfectly sunny in minutes — and the mystery that still remains about this site all give it a special energy that's unexplainable.
Whether you do the full Inca Trail or just visit for the day, it's well worth the journey. PS – Don't forget to have your passport stamped with the special Machu Picchu stamp on site before you leave!
Pro Tip: Many of these excursions involve early morning wake up calls and varying levels of altitude, so don't forget to pack these essentials:
1) Ear plugs for when your bus driver won't stop telling loud jokes in Spanish at 3 AM.
2) Eye masks for the early morning trips because you will need the sleep to function when you're panting your way up a tall mountain at 16,000 ft elevation — trust me.
3) Many, many layers that you can easily strip off and throw back on because the weather and temperature changes that frequently. Just pretend you're in a constant state of hot flash meets hypothermia and you should totally nail it.
Have any questions about any of the excursions above? Leave me a note in the comments below! 
PIN IT FOR LATER