Since having traveled to Peru, I'm often met with surprise from friends when I list this country as one of my favorite destinations yet. Everyone is so caught up in the wonder of Machu Picchu that they seem to forget (or don't know in the first place) that there are so many more facets of Peru to be explored. The fresh fish, the tasty pisco sours, the soothing coca tea, the incredible influence of Asian flavors — now these are reasons alone to visit Peru.
So for those of you that aren't especially into hiking or exploring Inca ruins — don't feel like the offerings in this country have left nothing to your liking. This place is an epic foodie destination. Even if you skipped Machu Picchu and all outdoor excursions, you could still manage to have the best trip ever. Of course, I'm not suggesting you do that — but that's another story.
So in the spirit of good food, good drinks and freaking awesome ceviche, here's my list of must-try dishes and restaurants to ensure that your taste buds get the ultimate experience next time you find yourself on a Peruvian adventure.
LIMA
El Mercado
Perhaps my favorite restaurant I encountered over the course of three weeks in Peru, El Mercado in Miraflores has the full package. Here you'll find an amazing and diverse menu (you'll want to try everything) and a lively atmosphere that doesn't feel like it exists to please tourists. Instead, you'll dine amongst businessmen on lunch breaks and old friends catching up over a glass of wine. If you want to watch these culinary masters at work (and get a preview of your upcoming meal), I'd recommend sitting at the bar where you can witness each dish being assembled. Make sure to order the pulpa appetizer (octopus) and churros for dessert–they were some of the most memorable dishes I had in all of Peru!
Isolina
Meat lovers, take note. This relatively new hip spot in the Barranco neighborhood has been attracting quite the crowds and was even recommended to Vogue by Gastón Acurio, the most famous chef in Peru. The atmosphere feels very much like a favorite West Village spot you'd find in New York City. Just be forewarned — the menu is extremely meat heavy and the portions are large.
El Muelle
Come here for one thing and one thing only: ceviche! This local favorite with a seaside theme is set in Barranco's up-and-coming arts neighborhood and is an ideal choice for lunch on a sunny day. Snag an outdoor seat and enjoy one of their many ceviche options washed down with a local beer. As you can see, these guys don't skimp on portions, so bring a friend and share a large platter of the fresh fish for two. Trust me, you'll want to save room for dinner.
Chez Wong
I was surprised to find that there is quite a large Asian influence in Peru, and this is most easily witnessed in its food. Chez Wong, an unassuming restaurant that has been featured by Anthony Bourdain and has been considered by many as the best cebicheria in Lima is the perfect place to see this influence in action. The place is totally non-descript and nothing fancy — no signage on the door, no menu, nada.
Inside, you'll witness Chef Wong himself slicing up the largest fish right before your eyes, which of course you'll enjoy minutes later. Every plate is about $25 USD and you can keep trying each upcoming creation until you're full, so it's best to share with a friend if you want to try the most dishes possible. Lunch reservations are recommended!
BLU Gelateria
Depending on the time of year, you may be too chilly to crave anything cold, but this is one place I'd suck it up for. The gelato was delicious and they have a nice array of interesting flavors on offer that are unique to Peru like the lucuma fruit. They'll let you taste test as much as you'd like before ordering, so don't be shy.
La Rosa Nautica
Set at the end of a pier on the coast in Miraflores, location is the key term here. If you want a relaxing afternoon out on the water, this is definitely the place to go. I can't vouch for the food (we only drank wine), but if the reviews are any indication, you'll find plenty of delicious things to eat here as well.
CUSCO
Cicciolina
This centrally-located spot is an absolute must while in Cusco. The food is to-die-for and the service is impeccable. Make sure to try the tapas taster (pictured above), which comes with a set of four small bites and is chosen by the chef. I also devoured the squid ink pasta (featured image), which was pure magic. Don't leave Cusco without trying this place. Just don't.
Barrio Ceviche
Situated directly in the Plaza de Armas, this is another great choice for ceviche with super cute seaside decor and a modern feel. It's the perfect place for a boozy lunch with friends or people watching over the square while you dine solo. If you appreciate a restaurant with attention to design as well as the cuisine, you'll definitely enjoy Barrio Ceviche.
L'Atelier Cafe
This tiny, blink-and-you-might-miss-it spot was my favorite cafe in all of Cusco. Located in the city's hip San Blas neighborhood, it's part boutique, part coffee bar and has a great little upstairs view of the area. Try the chai latte (to die for), but make sure to allow 15 minutes for your order as they brew it on the spot! As they sell an assortment of cute knick knacks and accessories on site, don't be surprised if you leave with much more than a caffeine fix. And don't say I didn't warn you!
La Boheme
When you're officially sick of Peruvian food (if ever), head to La Boheme for French crepes — both savory and sweet. This restaurant also happens to have a sister hostel, so the vibe is definitely young and hip with an area in the back perfect for camping up with your laptop and a hot tea.
Green Point
Before you write this place off for being vegan, go and try it out for yourself. My friend and I probably ate here five or six times while we were in Cusco — it was just that good. Beyond being some of the freshest, healthiest food we ate on our trip, it was also some of the most delicious. In addition, the staff was so kind and welcoming, that we started to feel like we were part of the Green Point family.
Also, I should note that this is the place to go if you're on a budget. They do a 4-course lunch for S/15 (about $5 USD) which includes the salad buffet, an app, juice of the day, main course AND dessert. You can easily box up half of the meal and eat the rest for dinner, it's so filling. If you have free breakfast at your accommodation (which many in Cusco do), then congratulations — you've just eaten for $5 total for the whole day. Amazing.
Chicha
This is Gastón Acurio's best restaurant in Cusco and also where I spent my birthday dinner. It's a nicer place with outstanding service but doesn't feel too stuffy or fancy. My friend and I shared the lamb which was incredible and the desserts are also all winners (I may have tried a few).
Bodega 138
Sometimes it can be hard to find good pizza abroad, but this awesome Italian joint gets it just right. Both the pizzas and pastas are delicious and they also have the most extensive craft beer list I witnessed while in Peru. If you want to try local beers brewed in Cusco or Lima, this is the place to go. Do know that they get pretty packed at night, so plan accordingly.
AREQUIPA
Zig Zag
This is probably one of the more expensive restaurants in Arequipa, but their lunch specials can't be beat for the quality of the meal (you'll get three courses plus bites on the house for about S/64 or $18 USD). If you haven't tried alpaca yet, this is a great place to do it as you can get a three meat taster and avoid making the full commitment! You'll even get your own bib to make sure your clothes remain unscathed. Yep, that's me in my bib. Enjoy.
El Budo Profano
A great choice for vegans and vegetarians — or any sushi lover for that matter — El Budo Profano serves up sushi sans fish with plenty of inventive flavors. I wouldn't quite rank it as #1 in Arequipa like its current TripAdvisor rating at the time of writing, but if you're in town for a few days it's a nice way to mix it up from typical Peruvian fare.
Cafe Vino Eco Bar
This little wine bar situated a short walk away from the Plaza de Armas is a nice little respite from the main tourist traps (ps – avoid the restaurants directly in the square)! I found this to be the perfect place to bring a good book and curl up with a glass of yummy wine. And who doesn't enjoy that?!
Hatunpa
Peru produces over 3,000 varieties of potatoes, and Hatunpa puts this vegetable at the forefront of each of their dishes. It's quite a unique dining experience unlike anything I've tried before, and totally worth it if you're into potatoes. I had no problem getting in, as I arrived early, but tables are pretty limited so make reservations if your plans aren't flexible.
Chaqchao Organic Chocolates
This little shop has some nice varieties of chocolate, but what I enjoyed even more were their coffee and craft beers served in the upstairs location. Don't miss the chance to relax up on the patio for a little break in between sight-seeing and shopping. I especially liked their beer tasting option which allows you to try each of their featured beers of the day for only $6.50 USD. As you can see, they weren't small tastes either.
ICA
Tacama Winery
If you make the trip out to Ica or Huacachina, make sure to stop by Tacama Winery which is a stunning property and hosts a very informative wine/pisco tour and tasting. It's the perfect activity to cap off an afternoon of sand boarding over in the Huacachina dunes.
The Official Foodie Checklist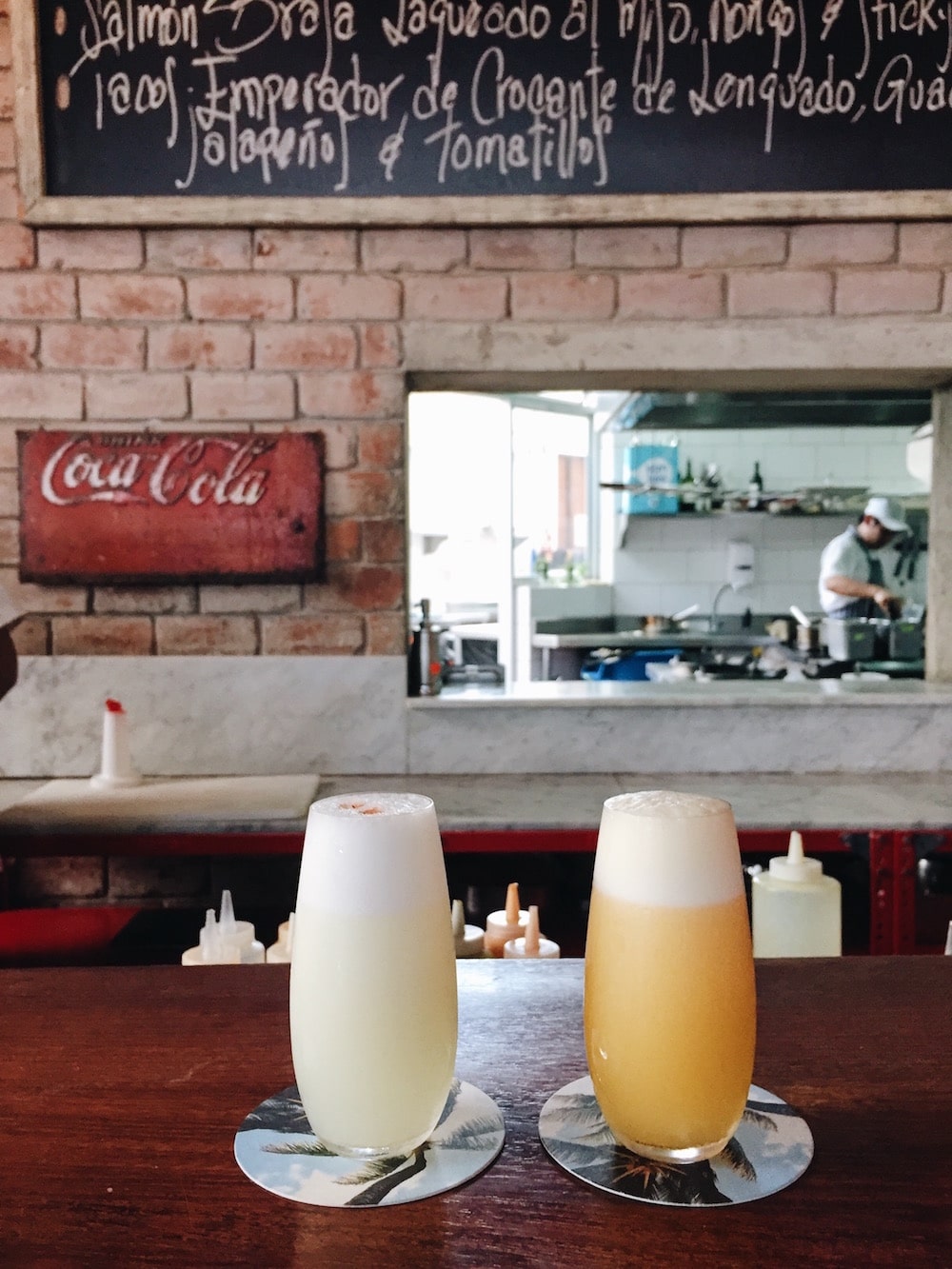 Pisco Sour – The most famous Peruvian cocktail, you simply can't visit Peru without trying this delicious concoction at least once.
Alpaca – A Peruvian specialty, I gave alpaca a try once, although it was difficult considering how cute they are. If you can overlook that aspect, you'll find it pretty tasty. 
Ceviche – This is a must try when in Peru, but unless you're eating at a very reputable establishment, try to eat it earlier in the day when the fish is at its freshest.
Coca Tea – Yes, this is derived from the coca leaf which is famously used to make cocaine, but trust me — coca tea is a very different thing. Peruvians have been drinking it for ages to battle the effects of altitude and this became a daily ritual for me in Cusco. 
Cuy (aka guinea pig) – Another Peruvian specialty, but I couldn't bring myself to try it. If you're more of an adventurous eater, try this in Arequipa where they're known for their fried cooking methods of Cuy (supposedly more tasty this way). 
Lomo Saltado – A very traditional Peruvian dish that you'll see on almost every menu, Lomo Saltado is like Peru's version of stir fry.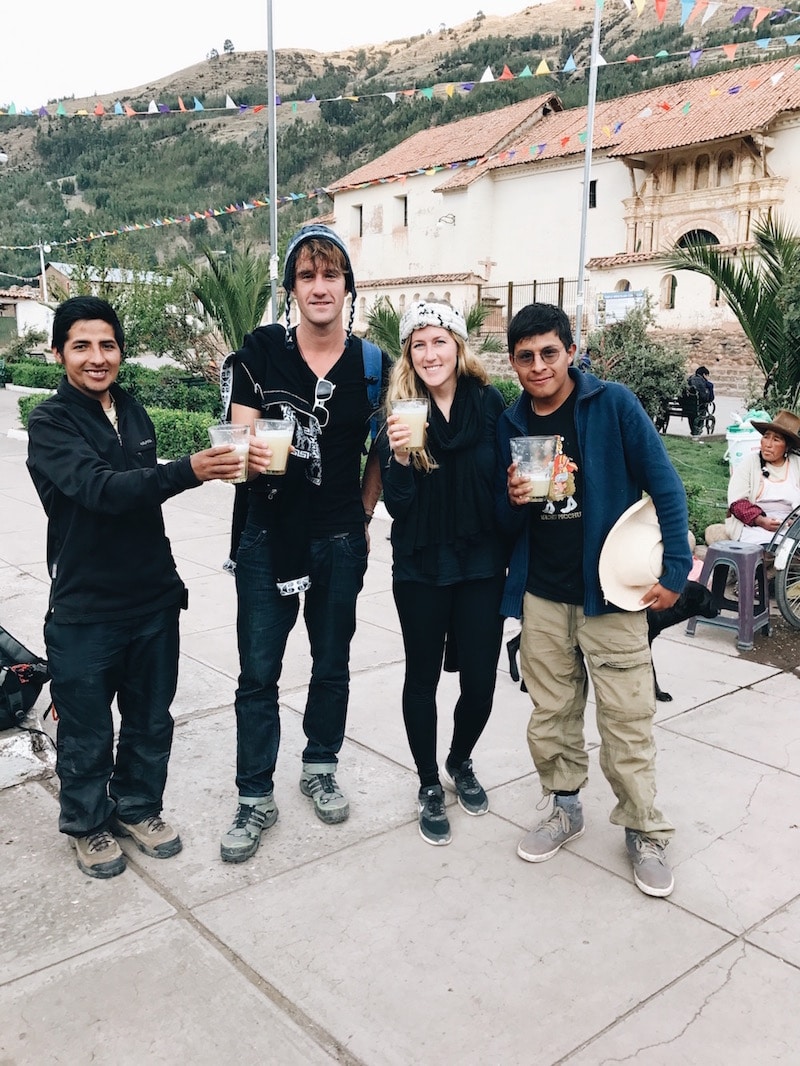 Chicha Corn Beer – Made from corn, chicha beer is a very old tradition in the Andes and is a popular drink amongst locals. It's yellow in color and has a light, sweet taste, making it easy to chug down a large glass in minutes. You'll find it easier to track down in the countryside rather than in city restaurants, but you can spot an establishment by the red flag out front. Also, not to be confused with chicha morada which is a sweet purple non-alcoholic drink also made of corn. 
Potatoes – With over 3,000 varieties of potatoes grown throughout the country (yes, seriously), you'll find potatoes here that are so much more interesting than what you're used to back home. 
Cancha Salada – You'll find these salty dried corn snacks everywhere — from being served as free apps at many restaurants, to being sold at street vendors or at places like the Salinas de Maras. Cheap and delicious and perfect to keep on hand for when hunger randomly strikes. 
Fruit! – With so many different types of fruit on offer here, a trip to the market can become a refreshing culinary tour. Lucuma, Chirimoya, and Camu Camu are just a few unique to Peru. 
Anticuchos – Originating from the Andes, this meat dish often comes in the form of beef heart and can be found at many street vendors and food stalls.
Queso Helado – Mainly found in Arequipa, Peru's second largest city, this "cheese ice cream" isn't actually made from cheese at all. Rather, it's a concoction of milk, coconut, vanilla, sugar and cinnamon — and it's absolutely delicious.
Frog Juice (jugo de rana) – This is technically illegal for Peruvians to advertise and sell, but you can still find it in places like the San Camilo Market in Arequipa. Peruvians will religiously drink it every day claiming its benefits for the brain, bones and basically every part of the body. Something to try for the most adventurous foodies among you. 
Straight Pisco – Pisco, a liquor made from grapes that originated from Peru (although people from Chile will tell you otherwise), has a ton of different varieties. I'm definitely not a Pisco expert, but it was interesting to try on its own to really get a feel for the taste. Ps – it can be strong! 
Causa – These potato based appetizers can come in many shapes and forms but are definitely worth a try at least once while in Peru.
Colca Sour – Found only in the Colca Canyon outside of Arequipa, this unique take on the Pisco sour is made with sancayo cactus fruit and is a delightful rendition of the famous cocktail. Definitely inquire about where to try a Colca Sour if you find yourself in the region. 
***
Have any favorite Peruvian foods that I missed? Let me know in the comments below! 
PIN IT FOR LATER