What are the best desert camps in Oman, and is it actually worth making the trek out to Wahiba Sands or should you skip it altogether?
These are just a few of the questions I'm going to get into in this post. Plus, I'll be sharing some pro tips you need to know when booking desert accommodation in Oman, so keep reading!
One of the things that surprised me in the best way about Oman is just how much there is to do—and with so much variation in landscapes!
Within a single day, you can be exploring city life in Muscat, hiking to hidden turquoise wadis (swimming holes), visiting ancient forts, or scaling the orange dunes of the Wahiba Sands Desert.
Of all the things you choose to put on your Oman road trip itinerary, spending a night or two at an Oman desert camp is definitely one you won't want to miss, as it's such a bucket list adventure.
I'm breaking down all the best desert camps in Oman in this post to help make your planning simple and straight-forward.
If you're feeling a little overwhelmed by the options and not really sure what the experience will truly be like, I get it. Before booking our own desert camp in Oman, we had a lot of questions come up, such as…
How the heck do we even get to the desert in Oman?…Is it safe to drive our own car to the desert camp?…Are the luxury desert camps really worth the price?…What is there to even do in such a remote place?
You get the idea.
Let's clear that all up below, shall we?
The #1 Desert Camp in Oman
Don't have time to read the whole post?
Here is my top pick of all the desert camps in Wahiba Sands:

⭐ 1000 Desert Nights ⭐
Overall, this award-winning desert camp is the most popular for good reason and is where we personally stayed. For the most authentic, yet luxurious experience in the desert, this is the place to book.

BOOK HERE
What to Expect from Visiting a Desert Camp in Oman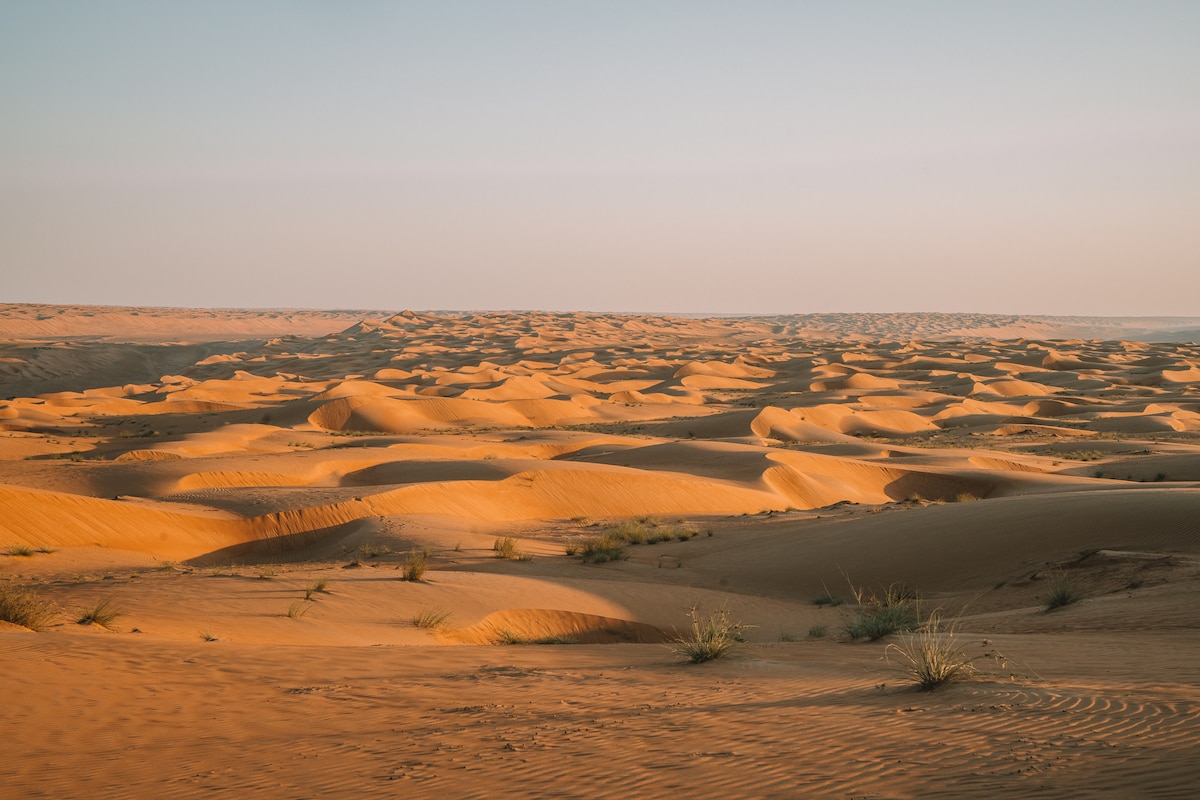 So why visit the Wahiba Sands desert in the first place? Well, this is where you'll have the opportunity to get a taste of the authentic Bedouin life, plus see a completely different landscape in Oman than you'll find near Muscat.
In the Wahiba Sands desert you can partake in all sorts of activities ranging from dune bashing and quad biking to camel rides and stargazing.
Desert sunsets are also some of my favorite in the world, and when you're in the midst of Wahiba Sands, watching the sun set over the windswept dunes will make you truly feel like you've been dropped on another planet with no sense of civilization in sight. It's quite an experience!
The accommodations out in the desert range from very basic glamping style accommodations to more luxury tents that resemble something closer to a hotel room than camping. With more amenities and comfort comes higher prices though, and prices tend to be a bit higher in this area because everything is so remote, so keep that in mind.
Once you arrive at the camp, you're pretty much stuck there, so as you peruse the accommodation options, you'll want to note if they have the activities and type of food you'll enjoy (most camps include breakfast and dinner in the price for this reason).
Wahiba Sands unfortunately isn't the kind of place where you can pop back and forth easily into town, so once you get to your camp, you'll be there 'til you check out—so choose wisely 😊
Below we'll break down all the best desert camps in Oman at a range of prices so you can understand what to expect from each!
Tips Before Booking Your Desert Camp in Oman
Here are some quick pointers you should take into consideration before booking your Wahiba Sands desert camp to ensure you make the right accommodation booking for you and your needs.
Check if Meals Are Included: At most of the luxury desert camps in Oman, meals will be included in the booking price (since there is nowhere else to eat but your camp)! However, although most accommodations offer this, there's a few that do not, so don't assume your meals will be covered.
How Many Nights Should You Book: I think two nights in the desert is perfect. Three will probably feel too long, and one will feel too rushed since check-in and check-out times don't accommodate for a full 24 hours to enjoy each property.
Factor in Additional Costs: Some additional costs to consider on top of the booking price might be a transfer into your desert camp if needed, any meals that aren't included, and activities you want to book through the desert camp.
Consider Booking a Transfer: If you're feeling at all uneasy about driving through sand to get to your desert camp, I highly recommend just coughing up the money and booking a transfer. This will make your trip way less stressful and avoid any car issues you might encounter.
Book in Shoulder Season: The most popular times to visit Oman are from October to March, which means accommodation prices are typically higher. If you're looking to book one of the best desert camps in Oman on a budget, then consider visiting during shoulder or low season.
Book Activities Prior to Arrival (If Possible): First off, double check that the desert camp you want offers the right activities for your group as not every camp has the same offerings. Then, once you book, try to see if your camp will allow you to confirm activities ahead of your arrival. Some only allow doing this once you are on property, but it's worth it to check so you can lock in any bucket list experiences you want to have.
The Best Desert Camps in Oman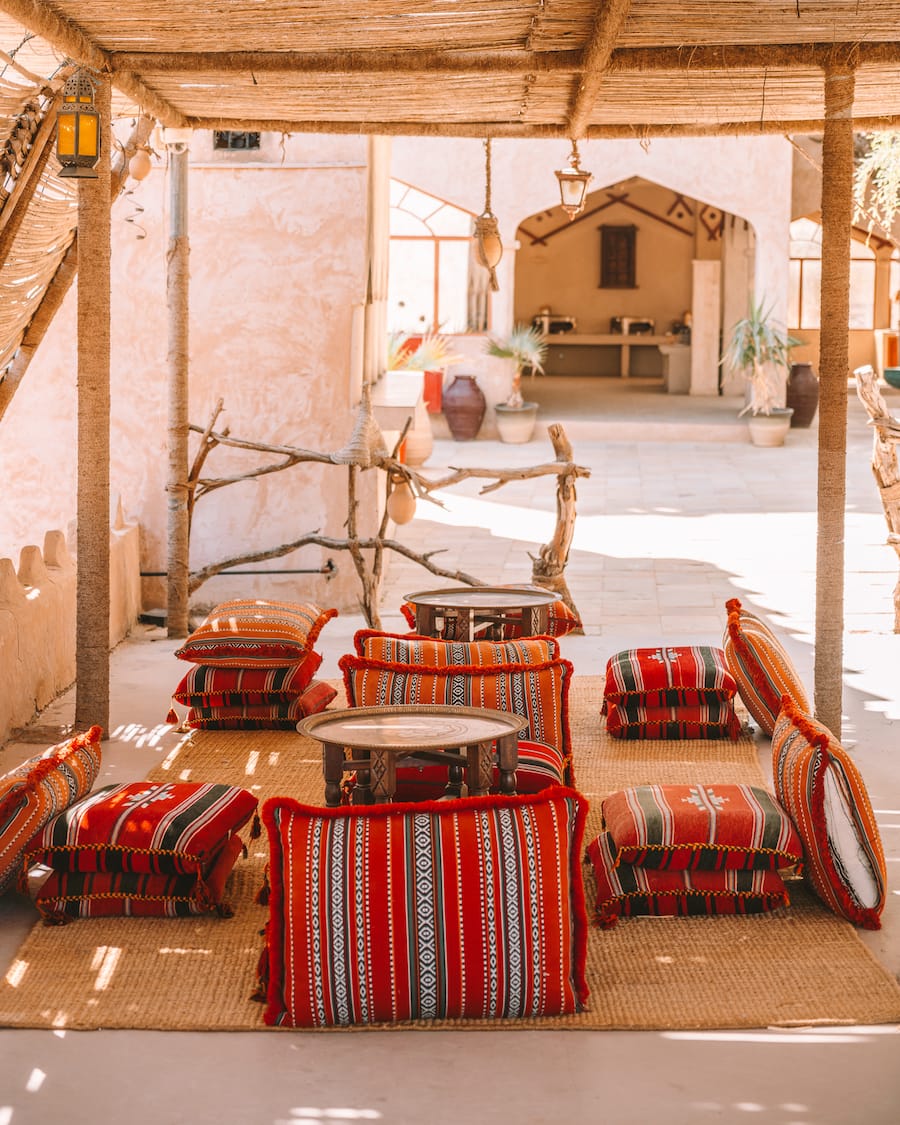 After doing plenty of my own research into the best desert camps in Oman, our group of three girls finally settled on Thousand Nights Camp—and I'm very happy we did!
I personally wanted to stay in a camp that felt high-end so that we would be comfortable, but I didn't want to sacrifice on authenticity and stay in a place that felt too westernized. I loved that the camp was pretty deep into the desert as well (Thousand Nights is one of the furthest from the main town), so we weren't around any signs of civilization or other camps.
Other selling points for us were that Thousand Nights Camp Oman had easy cot add-ons to the rooms, so we could easily share a room with three people. Plus, they offer a lot of different activities, so we knew there would be plenty for us to do and enjoy while there.
We stayed in one of the Deluxe Sheikh Tents which were pretty spacious and had beautiful indoor/outdoor private bathrooms with showers that looked out to the stars.
Thousand Nights Camp At a Glance:
Overall Vibe: The architecture and atmosphere of Thousand Nights definitely has a mystical and magical vibe that feels upscale without sacrificing authenticity.
Room Types: Sheikh Tents available with either 1 king bed or 2 twin beds, larger deluxe tents, Emir Tents (that come with a private pool) and the Sand House, which is a building structure rather than a tent.
Amenities: Thousand Nights Camp is pretty spacious with lots of different areas to relax including a pool, a library, and even a desert ship restaurant. There are yoga classes, business facilities, and board games/puzzles on property.
Activities: Lots of activities on offer including dune bashing, pool, archery, camel riding, outdoor movies and more.
Food: Breakfast and dinner is included. Though Omani food overall doesn't get high ratings in my book, the camp had decent and plentiful options compared to the reviews I've read and heard about some of the other camps.
Getting There: We opted to leave our car in Bidiyah where we met a driver from Thousand Nights to drive us to the camp (for an added fee), and the process was super seamless and straight-forward, not to mention, an adventure unto itself! I 1000% recommend this option if you have any hang-ups at all about driving your own car into the desert.
Service: Super friendly and helpful staff overall.
Kid-friendly: This one seems to be more kid-friendly than some of the other camps, with a playground on site.
Budget: Mostly $$$, but there is a wide range of prices depending on the room category you choose. We stayed in a Sheikh Deluxe Tent, which split between three people didn't end up costing too much, considering breakfast and dinner is included.
Desert Nights Resort is the second most popular desert camp and probably considered the most luxurious in Wahiba Sands. While there are some rooms that are priced comparably with Thousand Nights, other rooms like their pool villas are much steeper.
This was the second option we were looking to stay at during our trip to Oman, but although it looks beautiful from the pictures, in the end, we didn't feel the atmosphere felt as authentic or true to Omani culture as Thousand Nights.
Desert Nights Resort at Glance:
Overall Vibe: Upscale and very photogenic, but the atmosphere feels a bit modern and westernized.
Room Types: Everything from Deluxe Rooms with two twin beds to 1300 sq ft pool villas.
Amenities: Business facilities, laundry, game room, air conditioning.
Activities: Desert Nights includes a short dune drive and camel ride with your night stay. Other activities include live music, bike tours, walking tours, darts, jeep safaris, sand boarding and more.
Food: Breakfast and dinner is included and they serve alcohol here (which is rare for Oman). The quality of the food gets mixed reviews from guests.
Getting There: Transfers can be arranged for guests who don't have their own 4WD vehicle (for an added fee).
Service: The staff and hospitality here get top reviews.
Kid-friendly: Playground on site for kids.
Budget: Wide range of accommodation options and different budgets, but the villas are $$$.
One of the most unique accommodations in the Wahiba Sands Desert, Starry Domes is a campsite featuring multiple geodesic dome rooms that can accommodate up to families of five people.
This is the place to stay if you're looking for a more intimate vibe that's quiet and less built up than the other luxury desert camps.
Starry Domes Desert Camp at Glance:
Overall Vibe: Unique, bohemian vibe that feels quite remote and intimate with fewer guests than other desert camps in Oman.
Room Types: There are several options including double rooms for 2, double rooms for up to 3 people (2 adults and 1 child), and a family room (for up to 5).
Amenities: This property provides air conditioned rooms, BBQ facilities, and each room has their own patios/balconies.
Activities: Camel riding, dune bashing, and movie nights for an additional charge.
Food: Breakfast is included and dinner is an additional charge. Guests consistently rate the food as excellent here!
Getting There: The host will meet guests in Bidiyah to instruct them with how to get to camp and also help with deflation of tires if needed. Otherwise, guests can book a transfer for an additional charge. From Bidiyah it's about a 40 minute drive into the dunes to get to Starry Domes.
Service: Guests give the service here top notch ratings.
Kid-friendly: There is a kid-friendly buffet for meals on property as well as smaller twin beds for children.
Budget: $$
Best Mid-Range Desert Camp: Sama al-Wasil
With glamping tents situated in a circular pattern around a main dining area, Sama al-Wasil is a nice, authentic-style Oman desert camp that's a little more palatable in price if you're on a budget.
When researching all the desert camps, nothing about this one really sparked joy or excited me over the others, so I think it really comes down to your budget.
If you can afford Desert Nights or Thousand Nights, I would prioritize those two options, but this may be a good alternate stay depending on your budget.
Sama al-Wasil at a Glance:
Overall Vibe: Sama al-Wasil has a simple, authentic but nicely designed vibe for those that want the best value for their money.
Room Types: Rooms range from a Standard Chalet with one full bed, to a Family Chalet featuring two queens.
Amenities: Air conditioning, shared lounge/TV area, room service.
Activities: Table tennis, darts, outdoor movies, live music, dune bashing, and camel rides.
Food: Breakfast and dinner are included, but reviewers mention that the food isn't that great or authentic and there are no options for lunch.
Getting There: Transfers with a local Bedouin are bookable for those who do not have their own 4×4 vehicle.
Service: Service here gets pretty high ratings.
Kid-friendly: There is a playground for kids and extra beds available upon request.
Budget: $$
If glamping-style accommodations aren't really your thing, you might prefer to stay at a place like Arabian Nights Resort. All of their rooms are housed within individual little casitas.
A big bonus of Arabian Nights that's hard to find at the other desert camps is that all the beds are king beds.
Arabian Nights Resort at a Glance:
Overall Vibe: Clean, upscale and modern, but lacking the authentic Omani desert vibe.
Room Types: There are several room options available, from a Deluxe Double Room or King Room to a One-Bedroom Suite. All feature king beds which is uncommon for the area.
Amenities: Satellite TV in rooms, bar, outdoor swimming pool, room service and business facilities.
Activities: Bike rentals, badminton, darts, and more.
Food: Breakfast and dinner is included, and the restaurant is open for brunch, high tea, lunch and cocktail hour as well.
Getting There: There is a shuttle service available for an additional charge.
Service: Staff gets high ratings here.
Kid-friendly: Kids meals and kid-friendly buffet on offer. There is an extra charge for additional beds for children.
Budget: $$$
If you want your trip to the desert to really be an adventure, and you don't mind something a bit more rustic, then you should definitely check out this small, intimate camp that's one of the most affordable in Wahiba Sands.
SandGlass is definitely one of the best budget desert camps in Oman. Plus, guests rave about this place for its incredibly friendly owner and the authentic, Omani camping vibes.
SandGlass Camp at a Glance:
Overall Vibe: This camp is very rustic and basic, with a much more intimate vibe, but gets top reviews from guests thanks to the camp's welcoming host, Said.
Room Types: There are only four tents here total.
Amenities: Shared kitchen, BBQ facilities, picnic area, room service and extra long beds.
Activities: Horseback riding, themed dinners, bike rentals, and more.
Food: Food is an added charge but gets great reviews from guests and feels a bit more local and authentic than some of the other camps.
Getting There: SandGlass camp is one of the closest camps to the main town, so it's not as difficult or time consuming to get here.
Service: Guests here consistently give the staff and service high ratings.
Kid-friendly: Extra bed upon request free of charge.
Budget: $
While I don't think that Desert Wonders has the charm of some of the other camps, it does get great reviews and is an ideal affordable option for single travelers and groups of various sizes, as they have quite a variety of bed configuration options.
This camp is also eco friendly and only uses solar to power the camp.
Desert Wonders Camp at a Glance:
Overall Vibe: Basic and rustic, but authentic Bedouin-style campground with an intimate vibe thanks to the friendly owner.
Room Types: Wide range of room options, including a 2-person tent, a Basic Triple Room option, and even a Family Room with 5 twin beds or a Single Room.
Amenities: Picnic area, BBQ facilities, shared lounge area.
Activities: Dune bashing, camel riding tours, and sand surfing.
Food: Breakfast and dinner is included.
Getting There: Desert Wonders has a cool location that's quite separate from the rest of the camps, and there is a transfer available for an added charge.
Service: Guests consistently give Desert Wonders high rankings on service from the staff.
Kid-friendly: There is an extra cost for extra cribs or beds.
Budget: $
What is There to do in Oman's Desert?
Now that you know where to stay in Wahiba Sands, let's talk about what you can actually do there.
There are surprisingly quite a number of activities that can be enjoyed on your trip to Wahiba Sands, however some of the activities are dependent on what your desert camp offers.
Some of the most popular things to do here are dune bashing, sand boarding (or sand surfing), camel riding, stargazing, quad biking, and watching sunset from atop the dunes. Don't forget your camera, because you'll get some great pictures!
Every camp typically offers something a little different, so if there's one thing you're most excited to do while staying at one of Oman's desert camps, make sure to check ahead of time if this is something they offer.
Pro Tips for Your Oman Desert Camp Experience
Once you're ready to arrive in Oman and head to Wahiba Sands for the adventure of a lifetime, there are a few things you'll want to keep in mind to make your experience as enjoyable—and as hiccup free—as possible.
Arrive to Your Camp Before Dark: I can't stress this enough—you do not want to be driving into your desert camp in the dark, especially if you haven't opted for a transfer. Plus, arriving in early afternoon will give you plenty of time to get settled in before heading up to the dunes for sunset (trust me, you won't want to miss this).
Book Activities As Soon As You Arrive: If you haven't already booked activities at your camp, make sure to do this right at check in so things don't book up without you.
Pack Snacks: Most of Oman's desert camps include breakfast and dinner in your stay, but lunch can be a bit of a dead zone depending on the camp you book. Plus, the dinners here are served notoriously late (like 7:30-9:30 pm). I'd highly recommend bringing some snacks to quell any hunger pangs throughout the day just in case.
Leave More Time Than You Think For Hiking Dunes: If you're brave like we were and want the most insane workout ever, then you can attempt to hike up the dunes. However, if you plan on doing this for sunset or sunrise rather than booking a car to dune bash, leave yourself plenty of time! As someone who has hiked up many sand dunes in my day, trust me when I say that, nothing eats away at time like taking one step forward on sand dunes and sliding two steps back.
Oman Desert Camp FAQ
What is the desert in Oman called?
The desert area of Oman discussed in this post is called Wahiba Sands.
Where is Wahiba Sands located?
Wahiba Sands is located about 2 hours from Muscat by car, and it's located near the most Eastern point of the country.
How hard is it to get to the desert in Oman?
It's not as hard as it might seem! The entry point into the Wahiba Sands Desert is typically either at Bidiyah or Al Wasil.
If you've booked a transfer, this is where your guide will meet you in town and where you'll leave your car for the duration of your desert camp stay. This was a very straight forward process through our camp Thousand Nights Desert Camp.
However, if you choose to drive on your own, this process gets a lot trickier.
You'll want to make sure to obtain explicit instructions from your camp ahead of time on how to navigate to your accommodation, though there aren't easy streets to navigate or tons of signs to follow once you really get into the dunes.
What kind of car do you need to drive into the desert in Oman?
If you're self-driving into the desert, you need a 4×4 vehicle in addition to a good deal of confidence driving in sandy conditions.
What kind of accommodations are there in Oman's desert?
Most of Oman's desert camp accommodations are similar to glamping style.
At the more basic camps, you'll have a cot under a tent with some basic restroom facilities (potentially shared), and at the best desert camps in Oman you'll find some are more like hotel rooms inside but just look like a tent from the outside.
Is staying in an Oman desert camp worth it?
If you're debating whether staying at a desert camp in Oman is worth it, let me assure you: it absolutely is.
From the moment you arrive, you'll be transported to another world, immersed in the country's natural wonders and rich cultural heritage, with nothing but dunes in the distance. It's one of the most unique experiences to have on your Oman trip!
The Final Word: Should You Visit One of the Best Desert Camps in Oman?
Yes! There is so much to do in Oman, from visiting ancient forts to exploring the tropical Daymaniyat Islands, but booking a desert camp in Wahiba Sands will be one of the most memorable adventures of your trip.
You'll feel like you're on another planet, get some of the best stargazing around, and experience out of this world sunsets.
For the best experience possible, make sure to book one of the best desert camps in Oman that I've mentioned in this post and you can't go wrong!
---
Keep Planning Your Oman Trip:
---
---
Planning a trip right now? Don't miss my go-to websites for booking everything from flights and tours, to accommodation and more:
---
Pin it for Later!