Oman is one of the most underrated countries I've ever been to. The variety of landscapes and activities to enjoy in Oman alone is incredible, and in this Oman road trip itinerary I'm going to help you recreate the trip of a lifetime.
Between Oman's insane beauty, incredibly friendly locals, modern roads that are easily driveable, and high safety ratings, you have yourself a recipe for an incredible adventure.
This Oman road trip itinerary is extensive and will walk you through literally every detail of an epic trip to this Middle Eastern country.
From exploring the capital city of Muscat, to nights spent stargazing in the desert, to ancient forts, tropical islands, wadis and much more, this Oman itinerary is anything but boring!
Keep reading for everything you need to know about planning a 7-10 day road trip in Oman like a pro.
Quick Tips for Planning Your Oman Road Trip Itinerary
Best Time to Visit: October to March is high season due to the most pleasant temperatures throughout the country. Our trip happened in November and fell on National Oman Day, which we anticipated being disastrously busy, but the truth is we still didn't have any issues with over-crowding at popular sites!
Visa Requirements: Don't forget to check the entry requirements depending on your nationality and type of travel. I used this site to apply for my tourist visa to Oman and got mine approved in less than 48 hours, however always give yourself plenty of time to apply before your trip.
What to Wear: Since Oman is a Muslim country, you'll want to be more covered up, especially when visiting any religious sites. Pack some longer dresses, scarves and sleeved tops to cover your shoulders. You can find more detailed packing tips at the bottom of this post!
What You'll Need: You will definitely want a rental car to explore Oman with ease. Doing an Oman road trip is the best way to see the country and renting a car in Oman is easy and totally safe. The roads are truly some of the most modern and well-kept I've ever driven on—truly! Book a Rental Car Here
Language: Arabic is the official language of Oman, but English is widely spoken. It's the unofficial second language, so you'll find it relatively easy to communicate with locals without too much trouble.
Internet Connection: If you want reliable internet connection in Oman, then you will definitely want to buy a SIM card upon arrival or come with your own WIFI hotspot device. I have the T-mobile international plan which typically gives me worldwide connection, but it still didn't work in Oman. There are multiple stores in the Arrivals section at the Muscat Airport where you can buy a SIM card.
Quick Guide: Where to Stay in Oman
Quick Guide: Book the Best Tours in Oman
Oman Road Trip Itinerary at a Glance
Day 1: Muscat
Day 2: Daymaniyat Islands
Day 3: Bimmah Sinkhole and Wadi Al Arbeieen
Day 4: Wadi Shab and Sur en route to the Wahiba Sands Desert
Day 5: Wahiba Sands Desert
Day 6-7: Nizwa and Birkat Al Mouz Ruins
Day 8: Bahla Fort, Jabreen Castle, and the Al Hamra Mud Village
Day 9-10: Jebel Akhdar
How to Get to Oman
The two main options for arriving in Oman are by air or driving over the border. For most of my US readers, I'm assuming you'll be flying in, but let's break down both options below!
Fly into Oman
The best way to begin this itinerary is by flying into Muscat International Airport (MCT). Muscat is the capital of Oman, so it's a great place to start and get situated before you venture off on your Oman road trip adventures.
The Muscat Airport is quite large and modern and has tons of international connections. I connected in Doha, Qatar before my final arrival in Oman, but Dubai is also another common connecting city.
Drive into Oman
Driving into Oman is also an option if you're road tripping in from neighboring countries like the UAE, Saudi Arabia or Yemen, however this itinerary is focused solely on the areas surrounding Muscat on the Eastern tip of the country, so driving in would only make sense if you're arriving from UAE or at the Umm Alzamool Border Crossing in Saudi.
The best option is to drive yourself, but if you're visiting Dubai before your trip to Oman, you can take a bus service that has daily routes between Dubai and Muscat.
It looks like the main bus company running this route canceled their trips since the pandemic, but this blog guide details an alternate option.
How to Get Around Oman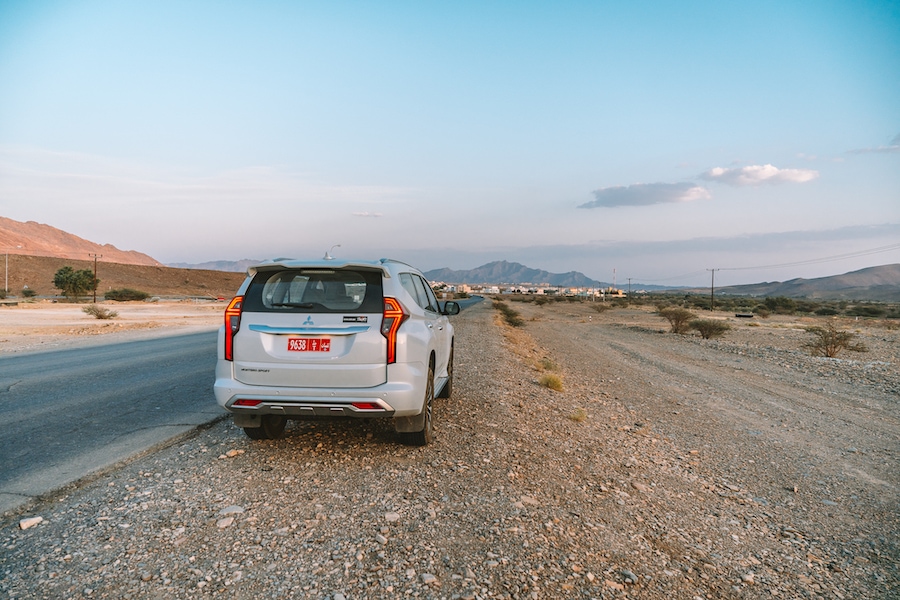 Rent a Car
The absolute best way to get around Oman is by renting your own car, especially because services like Uber and Lyft are not available in Oman at this time.
Renting a car in Oman is convenient, safe and will save you a ton of hassle and logistical planning when trying to reach some of the more off-the-beaten path places I share in this itinerary. Trust me, you're not going to want to miss these spots!
Tip: I would recommend getting an international driver's license if you don't have one yet (it's super easy to do with AAA and only costs about $20)!
Tips for Renting a Car in Oman
Book your car in advance! There can be long lines at the rental car companies at Muscat Airport and I truly can't think of anything worse after an insanely long flight.
Research different car rental companies and compare prices. Another reason why I love booking through Rentalcars.com — they aggregate all of the information from major rental brands all in one place.
Book a 4WD vehicle if you plan on driving yourself in the Wahiba Sands Desert or Jebel Akhdar areas of Oman. I'll share more details on this in those sections later in this post!
Before you pay extra for insurance, check your credit card company to make sure they don't already cover you. Great travel credit cards like the Chase Sapphire Reserve often include car rental insurance if you decline the rental company's collision damage waiver.
Be sure to read the terms and conditions carefully and look out for any hidden fees or restrictions. Many Oman car rental companies have a limit on how many miles you can drive and will charge you a fee if you go over.
Wash your car before returning it! Yes, you read that right. I had never heard of such a thing but apparently it's common for rental car companies to require that you wash the car prior to returning it, otherwise you will be charged a fee. I thought I was being scammed at first, but apparently this is normal in Oman!
Be aware of Oman's driving rules, which are similar to those in other Middle Eastern countries. Wear your seat belts at all times, and texting on a mobile phone while driving is illegal. Speed limits are strict here as well—if you look carefully, you'll notice radar monitored speed traps everywhere, so always be mindful of how fast you're driving.
By following these tips, you should be able to rent a car and drive in Oman without any issues.
Hire a Tour Guide
Don't feel comfortable renting a car in Oman? If you prefer to have someone else drive you around on your trip, there are plenty of great multi-day or day-trip tours on offer that will pick you up and drop off in Muscat.
None of these follow my exact recommended itinerary, but you can certainly piecemeal tours together for a trip that is still incredible and covers many of the best places in Oman.
Here are the best tours to take in Oman:
Take a Bus
Mwasalat is Oman's government-owned transport company that operates an inexpensive bus service that covers most major cities and towns in the country.
However, I wouldn't recommend relying on the bus as it will eat up a lot of your precious adventure time and still not get you to harder-to-reach places on this itinerary.
I promise, it will be 100% worth it to rent your own car to explore Oman or hire a tour company.
Oman Itinerary: 7-10 Day Road Trip
Now, let's get down to the meat of this Oman road trip itinerary! I promise this trip is once-in-a-lifetime and it is going to blow your mind.
We personally spent seven days in Oman exploring as much as we possibly could, but I would recommend more time—ideally 10 days if you have that time available.
Ten days will allow you to explore Oman at a relaxed, leisurely pace for your trip where you'll be able to savor every minute rather than rush around. Honestly, you could easily spend two weeks doing this itinerary with much more downtime added in.
Day 1: Muscat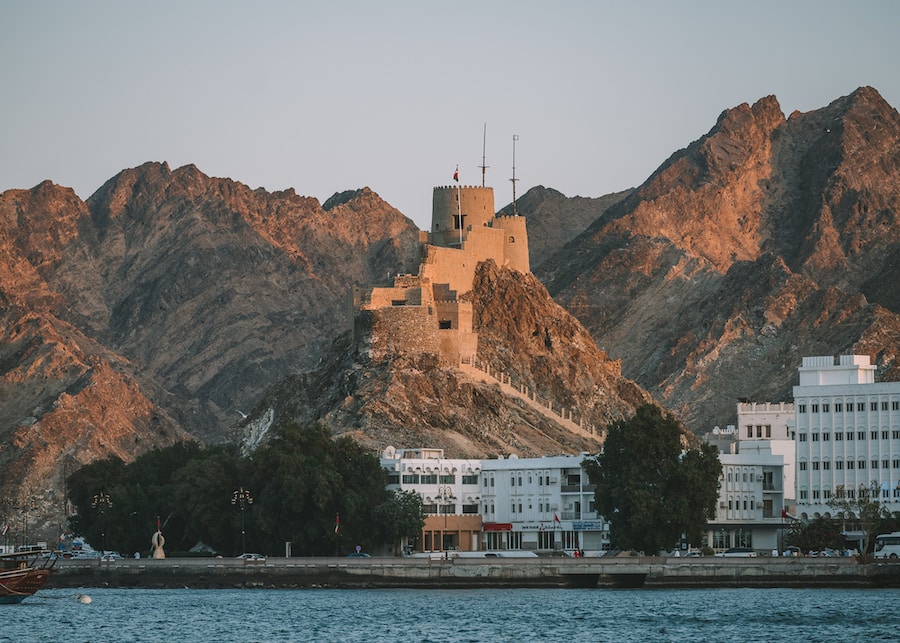 Muscat, the capital of Oman, is the natural starting point for any Oman road trip itinerary because it's the easiest city to fly into. Plus, Muscat is a must-visit destination for travelers looking to experience the rich culture and history of the country.
The city is home to a number of stunning landmarks, including the Sultan Qaboos Grand Mosque, which is known for its beautiful architecture and ornate interior.
Visitors can also explore the Muttrah Souq, a bustling market where you can find everything from traditional Omani handicrafts to spices and perfumes.
Muscat is also home to a number of museums, including the Bait al Baranda, which tells the story of Oman's maritime history. Probably most surprising of all—Muscat has a plethora of beautiful beaches and the water is turquoise and crystal-clear with incredible snorkeling!
Overall, a visit to Muscat is an unforgettable experience that shouldn't be left off your Oman itinerary.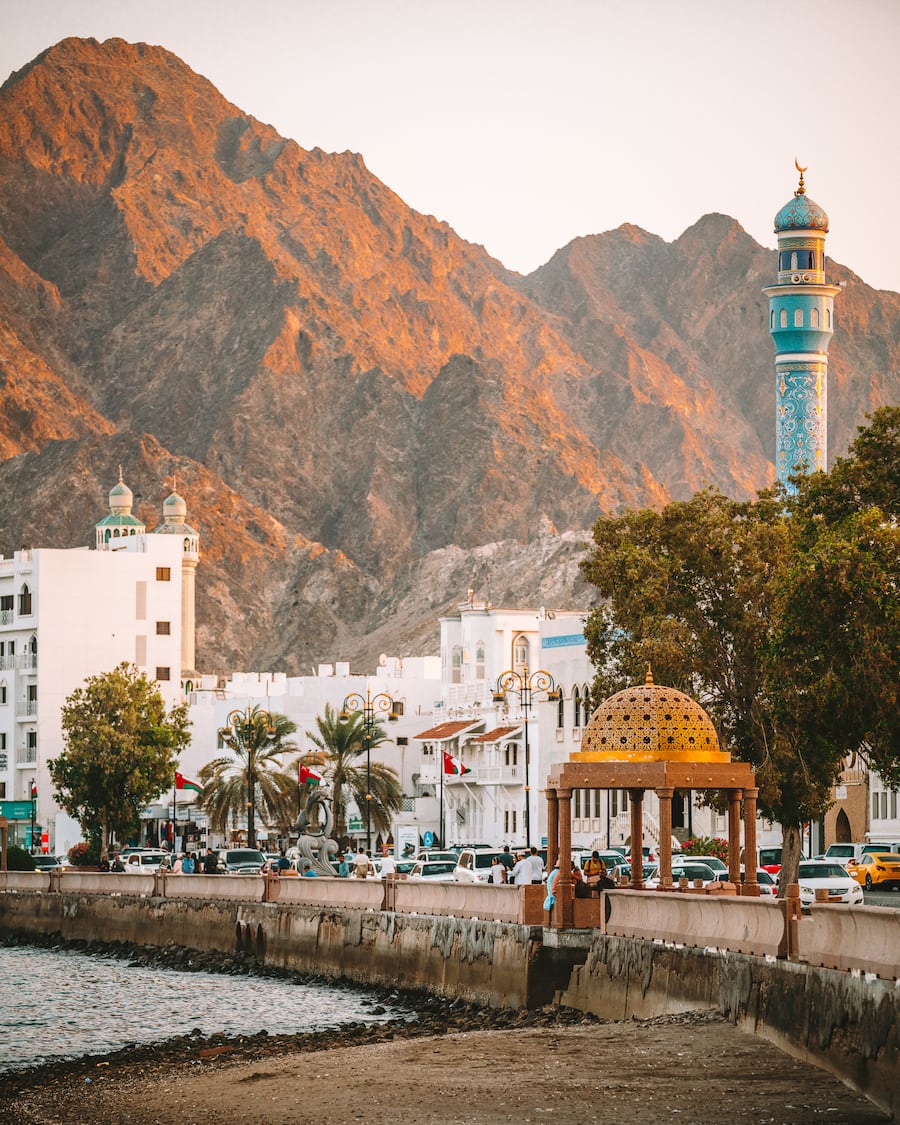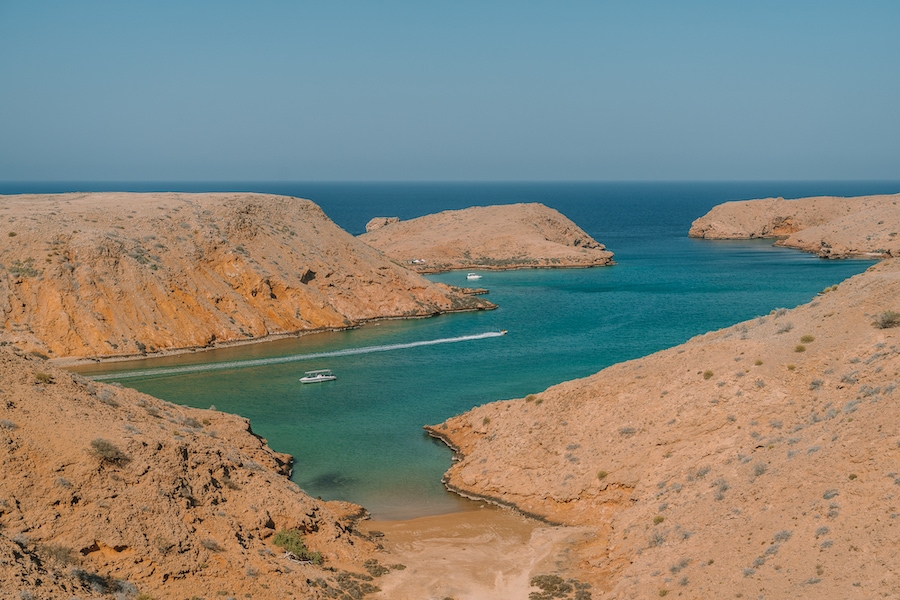 Best Things to do in Muscat
Explore the Muttrah Souk: The Muttrah souk is a traditional market in Muscat where you can find a wide range of souvenirs, including traditional Omani crafts, textiles, and jewelry.
Visit the Royal Opera: The Royal Opera is a modern cultural center in Muscat that hosts a variety of performances, including opera, ballet, and music concerts—even just a visit to the exterior to take in the incredible architecture is worth it.
Go to the Beach: Muscat has some amazing beaches where you can relax, swim, or try water sports. Some popular beaches in the area include Al Qurum Beach and Bandar Jissah Beach.
Explore the Sultan Qaboos Grand Mosque: This is the #1 thing you shouldn't miss while visiting Muscat. The Sultan Qaboos Grand Mosque is the most-visited mosque in Muscat for a reason—and it's free to visit! The mosque is known for its impressive size and intricate details, including the second largest chandelier in the world!
Bait Al Zubair Museum: If you want to learn more about Omani heritage and culture, the Bait Al Zubair Museum is a great place to do that; they house a collection of ancient weapons, costumes, and other artifacts spanning a number of centuries ago.
Grab Photos at Picturesque Viewpoints: There are a lot of beautiful viewpoints in Muscat, but our favorites were the Bandar Al Khairan Viewpoint and the Yiti Round Point of View that overlooks a completely white-washed village in a valley (both pictured above).
Try Traditional Omani Food: During your first couple days in Oman, you'll definitely want to try the local cuisine. Here are some of the top-rated Omani restaurants in Muscat. We chose to eat here our first night in Muscat and loved the food and vibe.
Pro Tips for Visiting the Sultan Qaboos Grand Mosque
1. Dress modestly
The mosque requires that visitors dress modestly out of respect for the Islamic faith. Men should wear long pants and shirts with sleeves, and women should wear long dresses or skirts with sleeves and head coverings. If you don't have a long dress that covers the shoulders, there is a shop on-site where you can rent an abaya and even buy scarves to cover your hair.

2. Remove your shoes
Visitors are required to remove their shoes before entering the interior of the mosque. You can leave your shoes at the designated shoe racks outside the mosque.

3. When to Visit
Visiting hours for non-Muslims are restricted to 8 AM – 11 AM every day except Friday. These are the only times when you can walk into the main prayer hall, so plan your visit accordingly.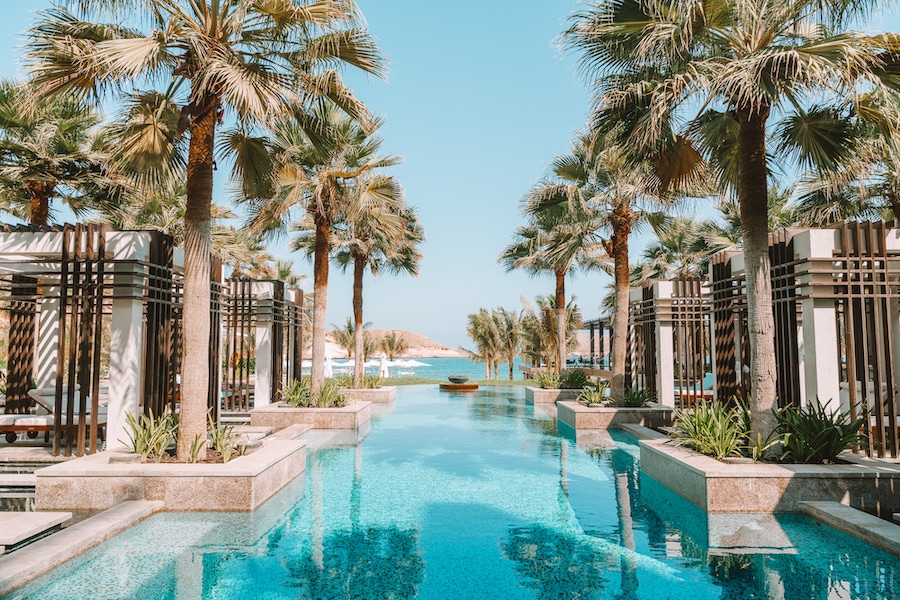 Where to Stay in Muscat
I highly recommend booking one of the beachfront resorts in Muscat, as it's the only location in this Oman road trip itinerary where you'll get a taste of tropical Middle Eastern resort life.
Jumeirah Muscat Bay – This is where we chose to stay for its stunning location situated along a gorgeous turquoise bay. The rooms here were my favorite part, with luxurious bathrooms and balconies overlooking the beach.
Chedi Muscat – Another top-rated luxury beach resort in Muscat, the Chedi is a favorite for its long rectangular pool that stretches out towards the Gulf of Oman.
Shangrila Al Husn – Situated along a stunning private cove, Shangrila is a gorgeous hotel in Muscat that will give you that tropical beach resort feel.
Day 2: Ad Daymaniyat Islands in Muscat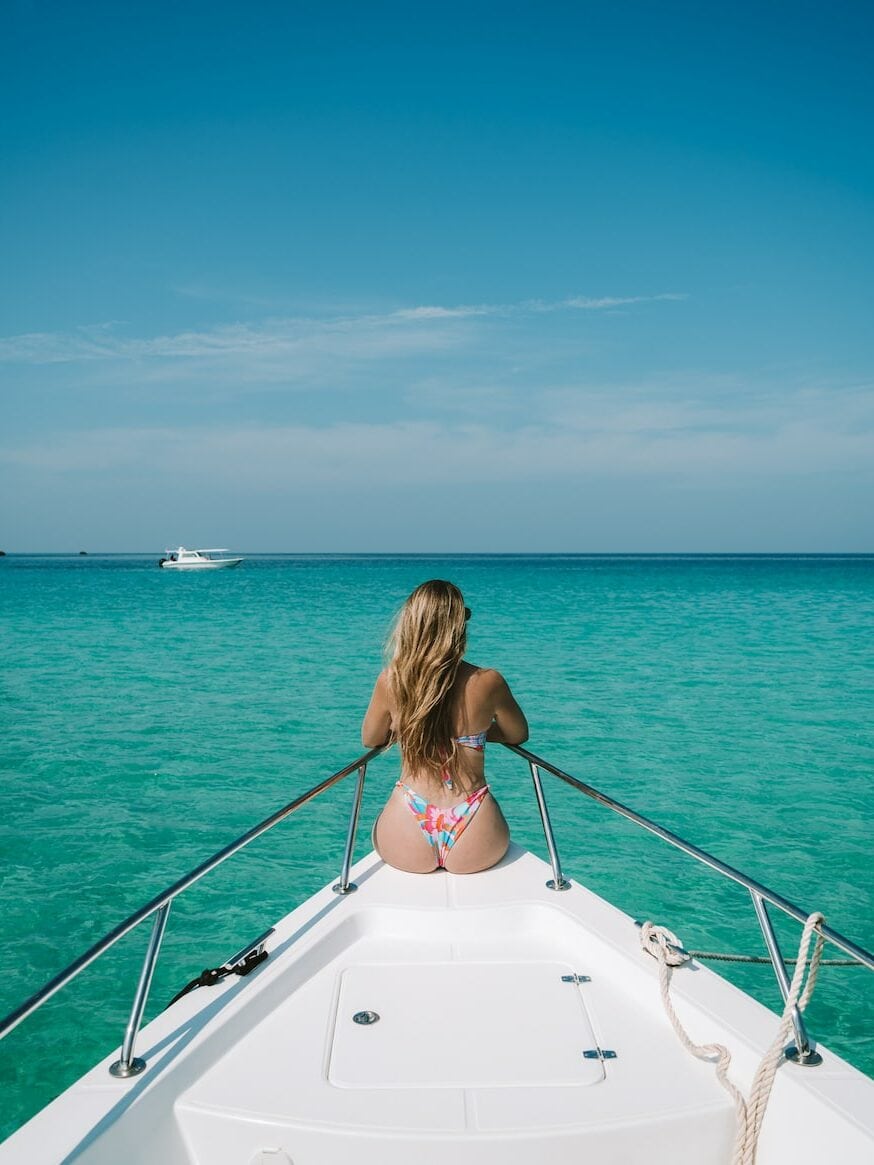 On your second full day in Muscat, you'll want to book a day tour out to the Ad Daymaniyat Islands. I'm including them as a separate day because I really want to make sure you don't miss this one! This was probably our favorite day of our entire Oman trip!
The Ad Daymaniyat Islands are a true paradise for nature lovers, snorkelers and sun chasers—and you won't believe that these tropical islands are just 40 minutes away by boat from the harbor in Muscat.
The islands are home to a diverse array of flora and fauna, including a number of rare species such as the sooty falcon.
One of the main attractions of the Ad Daymaniyat Islands is the opportunity to see a variety of marine life, including dolphins, whales, and fish species.
We didn't personally see any dolphins or whales this time of year, but we did stumble upon a pod of about FOURTEEN sea turtles all feeding together.
And the truth is, we didn't stumble upon them—our incredible tour guide found them for us and it was one of the most magical moments EVER. If you want to visit the Daymaniyat Islands, I highly recomend booking our exact tour here.
This is a must-do experience on your Oman road trip itinerary! Read my full Daymaniyat Islands Guide here.
Book Our Exact Daymaniyat Islands Tour!

These islands are UNESCO protected and trips out here are limited because of that, so make sure to book your tour early to ensure you don't miss this one. This is the exact tour we booked (we opted for private) and our guide was absolutely incredible.
CHECK TOUR AVAILABILITY
Day 3: Day Trip to the Bimmah Sinkhole and Wadi Al Arbeieen
These two destinations are all within a two-hour drive from Muscat and make for a great day trip if you have an extra day before heading into the desert. You can visit both spots or pick and choose as you wish.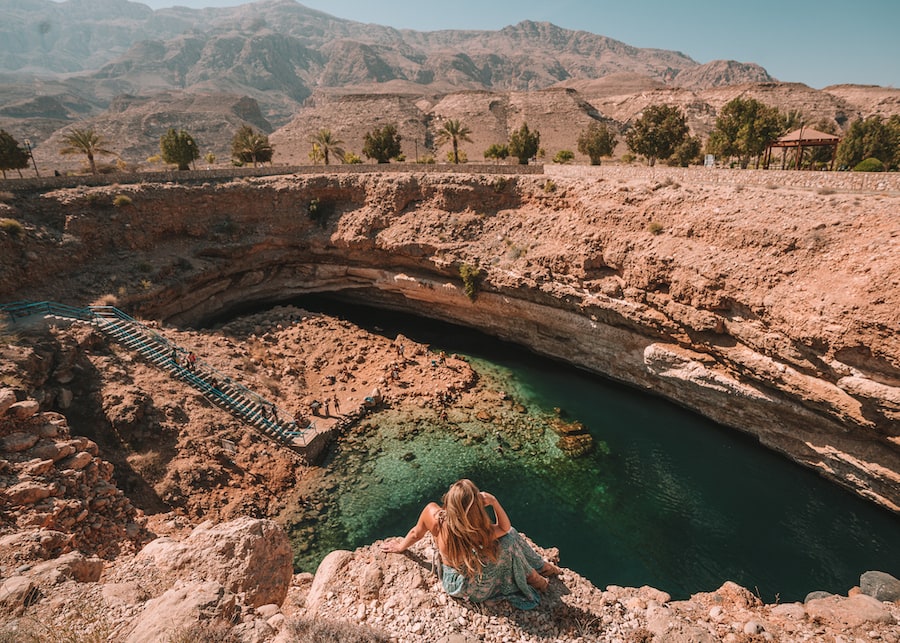 Wadi Al Arbeieen
Start the morning at Wadi Al Arbeieen. This is a valley located in the northern region of Oman and it's known for its rugged terrain and scenic beauty, making it popular among hikers and outdoor enthusiasts.
The valley is home to a number of small villages and farms, and is also a popular spot for camping and picnicking. To get to this wadi though, you definitely need a 4WD vehicle as the terrain requires off-roading.
I would head here earlier in the morning while it's still cooler out for hiking, before heading to the Bimmah Sinkhole.
Bimmah Sinkhole
The Bimmah Sinkhole is a natural attraction located on the north-eastern coast of Oman about an hour and a half south of Muscat. It's a popular destination for tourists and locals due to its unique and picturesque setting.
The sinkhole is a deep, bowl-shaped depression that was formed when the roof of an underground cave collapsed, though locals believe the legend that a meteorite was the true cause.
What makes this sinkhole a must-visit is that it's filled with crystal-clear water that's beautiful to swim in. The depth ranges from a few feet to over 300 feet in the deepest part, and you'll find tons of visitors swimming here to cool off from the hot Oman sun.
Rather than book a hotel near the Bimmah Sinkhole, I would do this one as a day trip from Muscat since it's not too far. While it gets pretty crowded mid-day, that's the best time to visit if you want to see the water brighten up to its full turquoise hue from the overhead sun.
TIP: Bring a picnic lunch to eat after your swim as there are shaded picnic tables here for groups and families to gather.
Day 4: Visit Wadi Shab and Sur En Route to the Wahiba Sands Desert
On day four, you'll be saying goodbye to Muscat and packing up everything you have to head into the desert. Along the way, you'll be stopping at one of the most beautiful wadis in Oman (a wadi is essentially the Arabic term for a wet riverbed inside a valley).
Then, you'll head to the coastal city of Sur to explore before finishing the drive to your desert camp.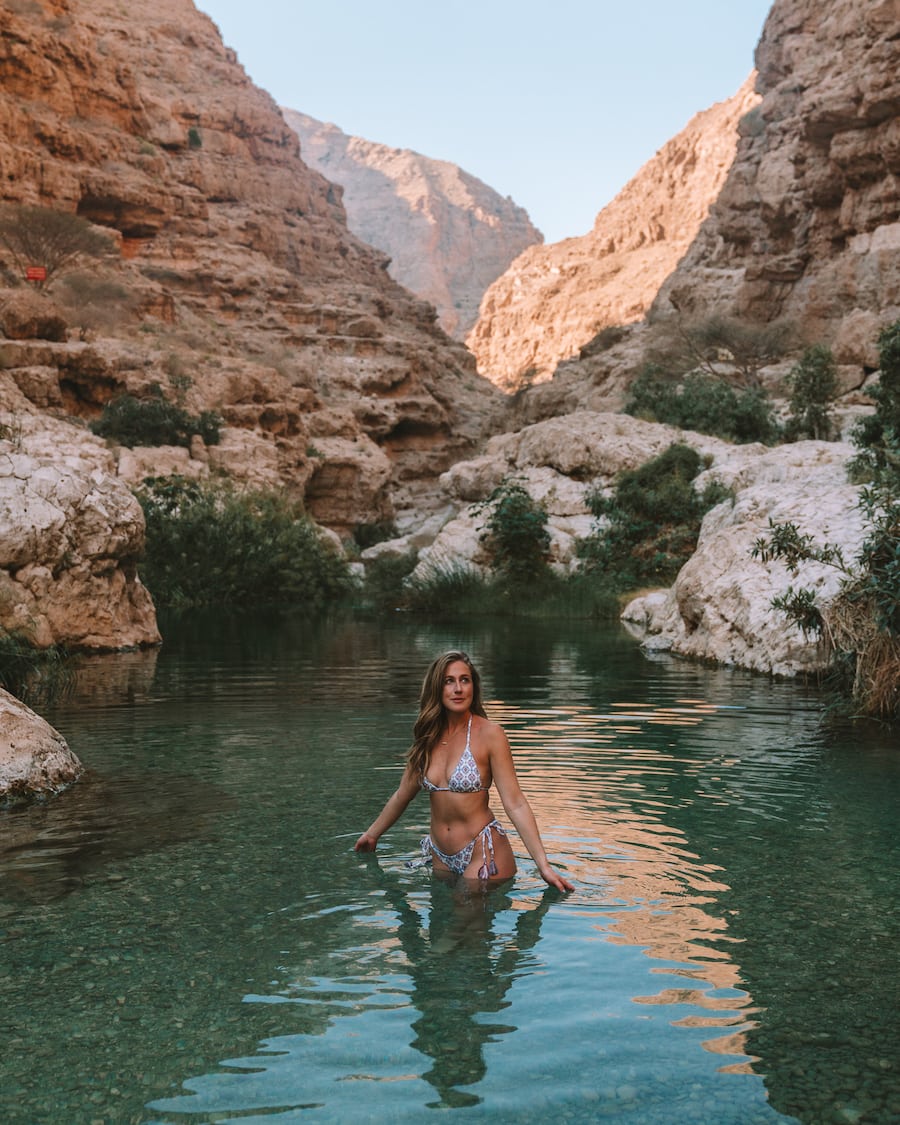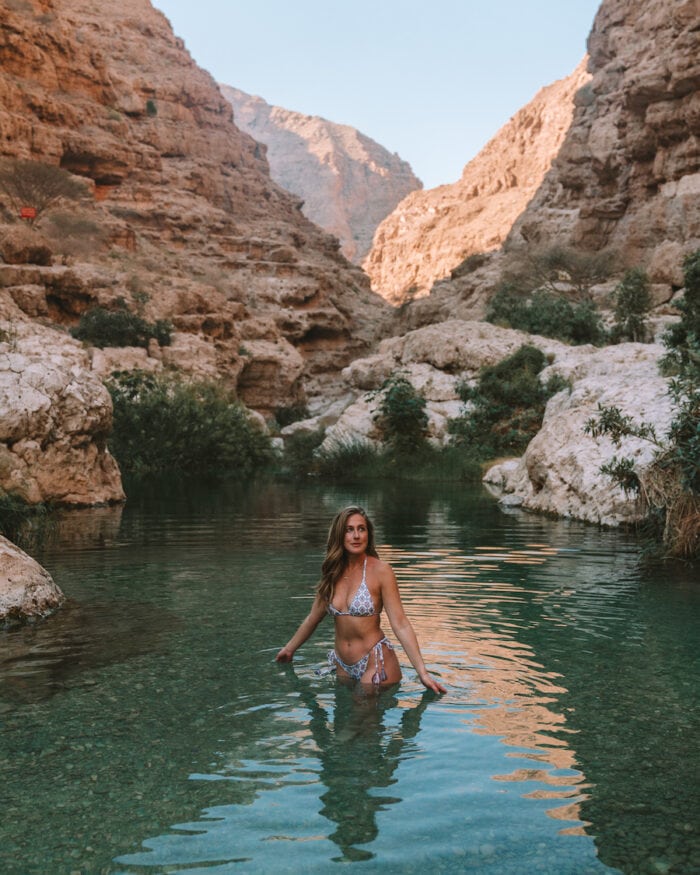 Wadi Shab
Wadi Shab definitely can't be missed on your Oman road trip. It is basically a narrow gorge that runs through the mountains and features crystal clear pools, waterfalls, and natural caves where people go to swim and camp.
This activity is perfect for hikers and swimmers and is absolutely stunning for photographs.
I recommend visiting first thing in the morning before it gets too hot as you'll need to hike in and out about 40 minutes each way. You'll also need to take a very quick boat ride to cross a river to get into Wadi Shab and the boat doesn't open until 8 am, so that is the earliest you can enter into the wadi.
Note that the boat stops running at 5 pm, so you need to time your departure hike appropriately so you don't miss the boat—literally!
How to Get to Wadi Shab: After navigating to the wadi on Google maps, you'll park in the main parking lot next to the cafe (there are restrooms located here).
Then, you'll see some boat attendants under an overpass that require 1 OMR per person to take you to the entrance to Wadi Shab. Once on the other side of the river, it takes about 40 minutes to hike along the path to the main valley.
What to Do at Wadi Shab: There are three pools here to swim in, and they get consistently deeper the further in you go. At the end of the third pool, you'll find a cave and a waterfall to explore.
If you're not an excellent swimmer, you'll want to bring some kind of flotation device or just stick to the first shallow pool as it can get quite deep to the point that you won't be able to feel the bottom.
Important Tips for Visiting Wadi Shab

1. What to Wear: Wear Your bathing suit underneath your hiking clothes as there is nowhere to change and put on hiking shoes you don't mind mind getting wet (trust me on this one).

2. Note the Weather: Be extremely careful if it has recently rained before your visit as the rocks can be super slippery and water levels will rise inside the wadi.

3. What to Bring: Water shoes, a dry bag for your stuff if you plan on swimming, a towel, water and sunscreen.

4. Stay on Trail: There have been deaths at Wadi Shab, so be really mindful of staying on trail where it's safe and maintained.

5. Note the Boat Times: Don't miss the last boat back at 5 pm, because if you don't make it in time for the final boat…well, you might just have to sleep there!
Sur
Located along the coast of the Gulf of Oman, Sur is a charming coastal town that's only 1 hour and 20 minutes south from Wadi Shab. If you have time to stop here before making your way into the desert, it's a great place to explore another side to Oman.
Sur is the capital of the Ash Sharqiyah Region and has a population of about 70,000 residents. The city is known for its traditional dhow shipbuilding industry, and looking out at the wooden ships in the harbor feels like peeling back the curtain on another era in Oman history.
We didn't unfortunately have time to stop here, but if you have time to add this one into your Oman road trip itinerary, I would definitely do so!
A few things to do in Sur:
Al Ayjah Lighthouse – This lighthouse is an iconic landmark in Sur and it's hard to miss as you look out onto the coast. While you can't go inside the lighthouse, you can certainly climb up and enjoy the view from here.
Walk along the Sur Corniche – Basically the waterfront walk in Sur, this is a relaxing way to get outside and experience this charming city.
Bilad Sur Castle – This 200 year old castle was originally built as a defense against threatening incomers.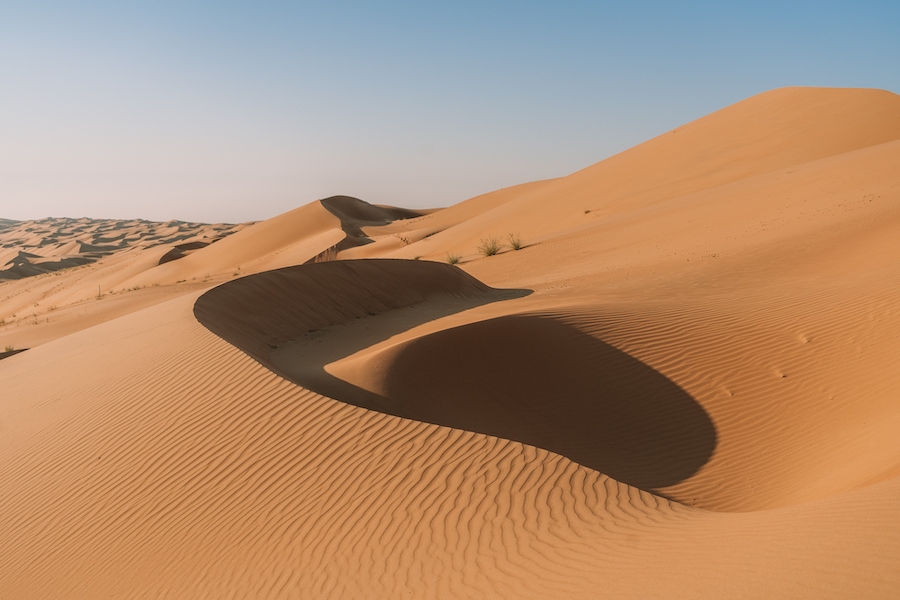 Wahiba Sands Desert
Before sunset, make the drive to Bidiyah, which is the launching point into the Wahiba Sands Desert. I highly recommend having a desert camp booked here for a couple nights so that you can enjoy the desert ambiance to its fullest.
The top two desert camps I would recommend booking are 1000 Nights Desert Camp (where we stayed) and Desert Nights. You'll find that these are definitely the nicest and most reputable desert camps in Wahiba Sands.
How to Get to Wahiba Sands:
You basically have two options for getting into your desert camp: Option #1 – Drive yourself or Option #2 – meet a driver from your camp in Bidiyah where you will leave your car and get driven into the desert by your guide.
If you have any concerns about driving in sand, I highly recommend going with option #2, which is what we did. Some of the drive is along pretty packed, flat sand, but towards the end of the drive it felt like we were driving on rolling dunes, so I feel like you need to be pretty expert level to do this on your own without issues!
If you choose the drive yourself option, you'll definitely want to make sure you have a 4WD car and have properly aired down your tires.
Day 5: Spend a Full Day in Wahiba Sands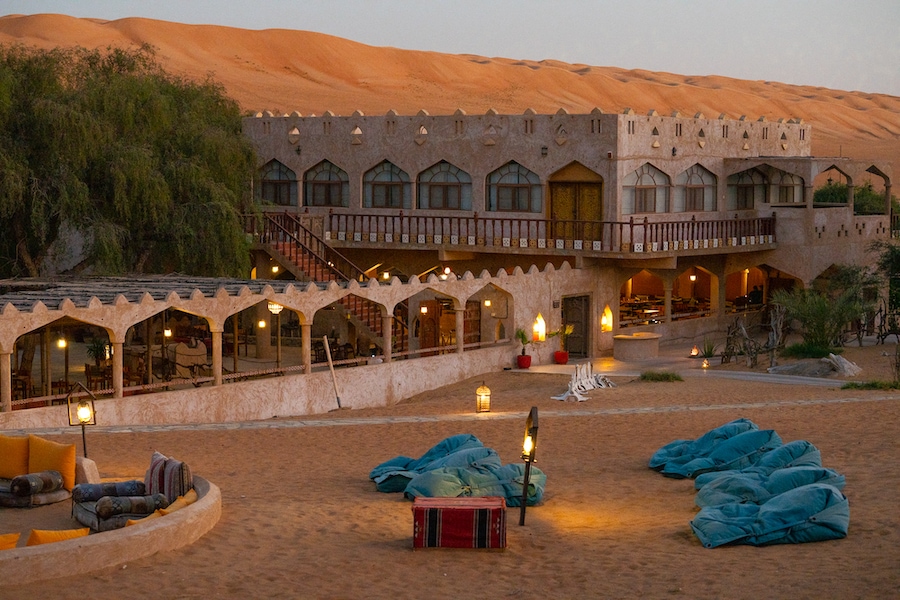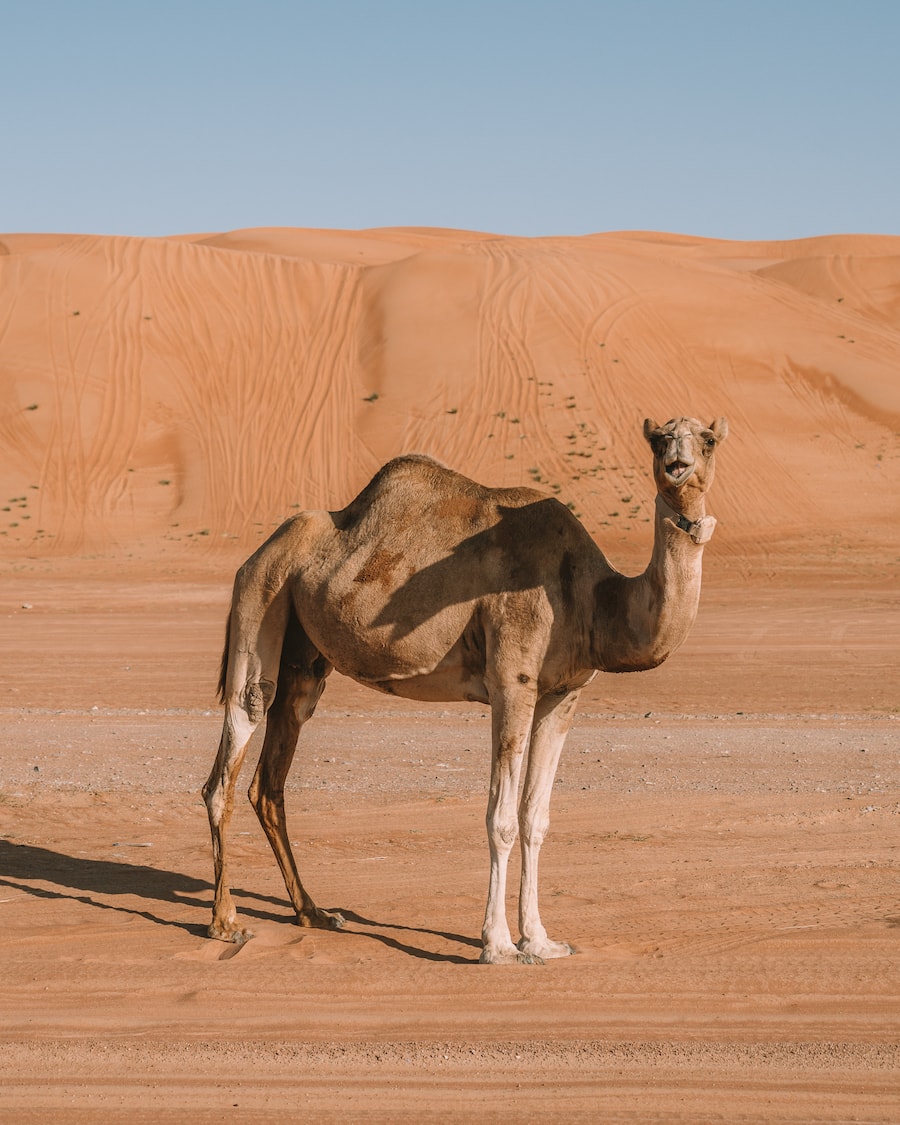 This is your day to relax at your desert camp, enjoy a sunrise or sunset (and some stargazing!) and partake in any activities on offer at your camp.
The Wahiba Sands Desert, also known as the Sharqiyah Sands, is a vast desert region located in the eastern part of Oman. The desert is characterized by vast stretches of golden sand dunes that can reach heights of over 300 feet.
The desert is home to a number of Bedouin communities, who have lived in the region for centuries and maintain a traditional way of life. As you ride into the desert you'll pass by some of these communities—and likely a camel or two!
I highly recommend including this in your Oman road trip itinerary as it's one of the most unique landscapes in the country!
Where to Stay in the Desert:
1000 Nights – This is the camp that we stayed at and is considered one of the more luxury camps, although it's still quite affordable compared to other luxury accommodation in Oman! They had tons of activities on offer like dune bashing and sunset tours, to private dinners and archery.
Desert Nights – This is another top-rated luxury desert camp that's super cute and has a bit of a more modern vibe than 1000 Nights.
▶️ Read my full guide on the 7 best desert camps in Oman for every style and budget!
Day 6-7: Visit Nizwa and the Birkat Al Mouz Ruins
On day six, you'll leave your desert camp at your leisure, grab your car in Bidyah, and drive 2 hours and 15 minutes to Nizwa. Nizwa is a small city near the Hajar Mountain range with a population of around 70,000.
Nizwa Fort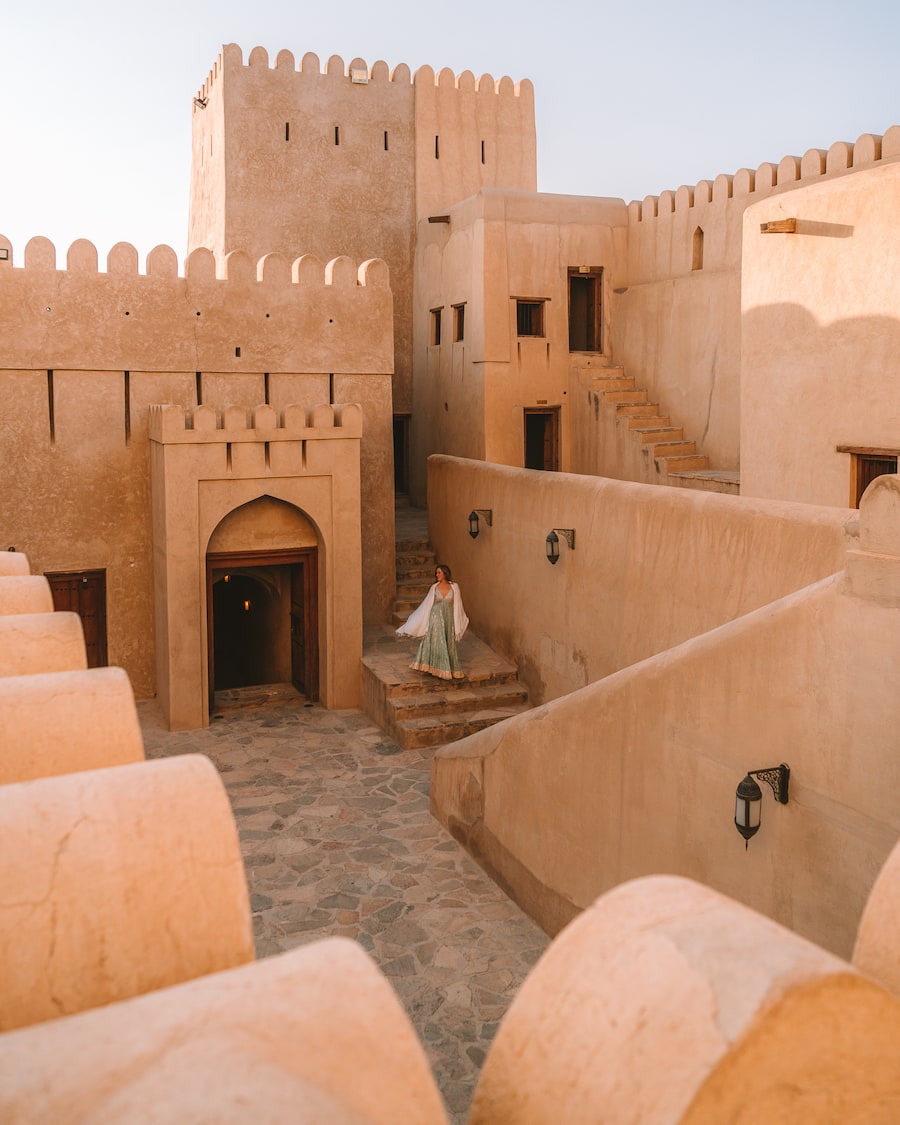 The main draw for visiting Nizwa is the Nizwa Fort, and trust me, it's an absolute must-visit.
The Nizwa Fort is a testament to the rich history and culture of Oman. With parts of it originally built in the 9th Century and then renovated in the 17th century, the fort served as the seat of power for the ruling Imams of Oman.
The fort is a marvel of engineering, with its thick walls and defensive towers designed to withstand attacks from enemies.
When visiting Nizwa Fort, there are tons of little rooms and sections to explore—you can truly get lost here, there's a lot to see!
This is an incredible place to visit any time of day, but sunset is particularly magical and you can watch the sun go down from atop one of the higher levels of the fort which gives you a nice vantage point over the city.
Tips for Visiting Nizwa Fort

1. Entrance Fee: It costs 5 OMR per adult to enter Nizwa Fort, which was one of the most expensive entrance fees we saw throughout the trip (about $13 USD). Children can enter for 3 OMR.

2. When to Visit: Nizwa Fort is open every day of the week from 8 AM – 8 PM, except on Fridays when they close for a short break between 11:30 AM – 1:30 PM. Always double check times on Google before you visit!

3. What to Bring: Your camera, lots of water as it can get HOT, and wear clothes that are modest aka longer skirts, nothing see-through and bring a shawl to cover shoulders.
Nizwa Souqs
When in Nizwa, you can't miss popping into the Nizwa Souqs just steps away from the entrance to the fort. Small but mighty, this little market area was my favorite place to shop in all of Oman and much better than the souqs in Muscat, in my opinion.
If you are in the market to bring home some pottery or other beautiful treasures from Oman, you won't want to miss this place.
Also while in Nizwa, don't forget to wander and allow yourself to get a bit lost. I loved wandering the back alleys here where you'll find random shops, beautiful ornate doorways and some of the unique mud-village construction that is a signature of the area.
We also got some delicious orange juice at this tiny cafe called Clay Cafe that was right across from the entrance to the souqs.
Where to Stay in Nizwa: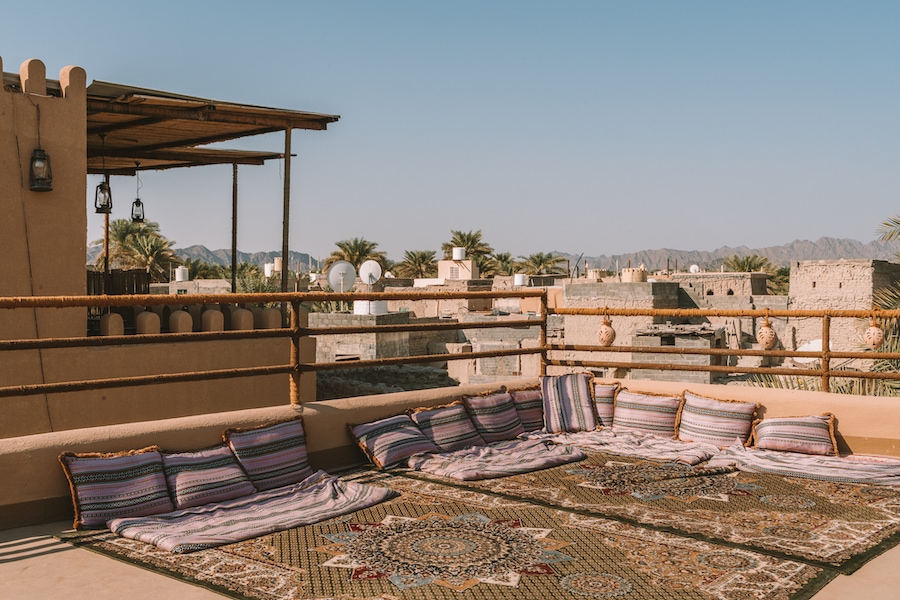 Before you book your hotel in Nizwa, keep in mind that the hotels in Nizwa are much more rustic and basic than your options in Muscat, so don't expect anything too fancy!
Birkat Al Mouz
About 25 minutes from Nizwa are the Birkat Al Mouz Ruins, two separate groups of traditional Omani villages that are mostly now abandoned. You have a few options for including these epic ruins in your Oman road trip itinerary.
You can either squeeze this into one day with the Nizwa Fort if you're on a tight timeline, visit them on their own day if you have the time, or swing by them on your way into the mountains if you're including them in your itinerary.
In my opinion, there are two ways that you need to experience the Birkat Al Mouz Ruins. The first is to actually go into the ruins and walk around them to get an up close look at the unique mud village construction of the area.
The second is to hike to the viewpoint (pictured above) to get an insane overlook of the ruins with the mountains as your backdrop. If you come here at sunset like we did, I promise you will be in for a view you won't soon forget.
Tips for Visiting Birkat Al Mouz Ruins:

1. When to Visit: There are two separate clusters of ruins, so you can visit one—or both!
Definitely visit in full daylight as these ruins are abandoned and I personally wouldn't want to be wandering them at night.

2. Where to Park: There isn't designated parking here or an official entrance (it's free to walk around), so park where you can and enter on foot.

3. Getting to the Overlook: For the overlook, you'll find it atop a hill with a tower on top just on the other side of the palm tree oasis. 4WD cars can technically drive up it, but it's pretty loose sand and rock so I would just recommend parking somewhere at the bottom and walking up. Here are the GPS coordinates.
Day 8: Bahla Fort, Jabreen Castle, Al Hamra Mud Village
On day eight it's time to leave Nizwa and go out exploring more castles, forts and mud villages in the area. The three I'm highlighting here are all within a 40 minute drive of each other.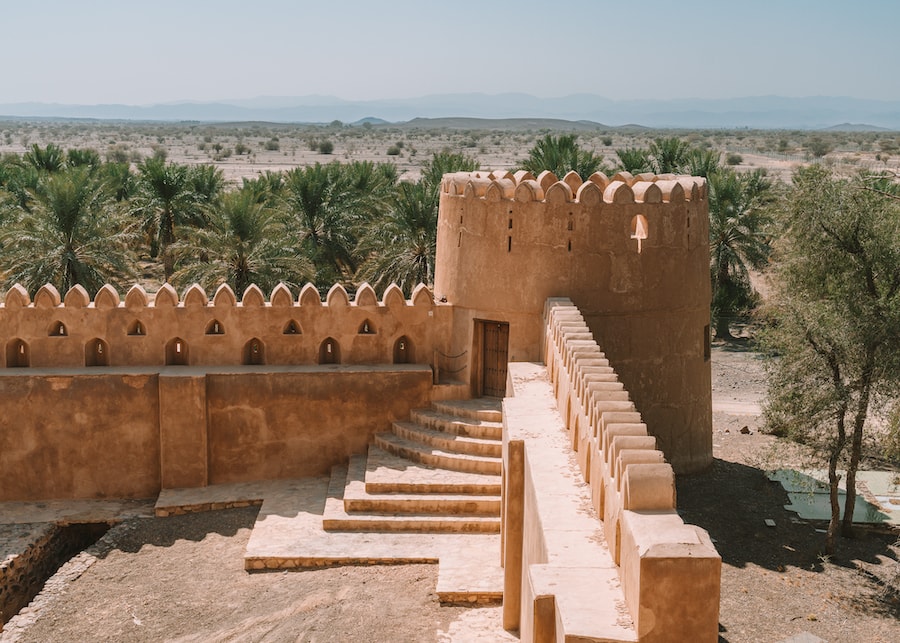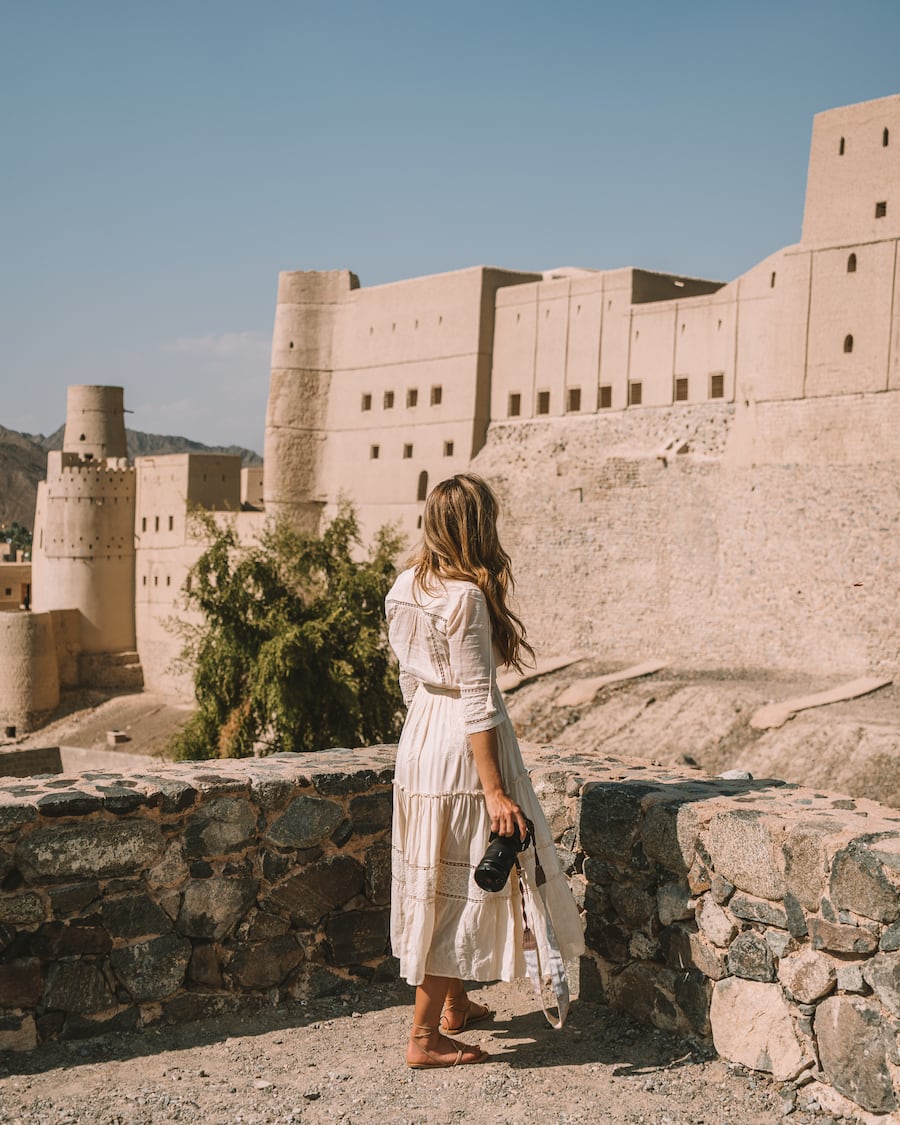 Jabreen Castle
I'm starting with Jabreen Castle because it's closest to Nizwa and is a great stop earlier in the morning before it gets too hot! You'll notice that Jabreen Castle is sometimes spelled "Jabrin" but it's listed as "Jabreen" in Google Maps so we're going with that.
This structure was built in the late 17th century and is considered one of the best-preserved castles in the country. It was constructed using traditional building techniques and materials, including mud bricks, gypsum, and wood and has two main towers.
What amazed me the most from visiting this place is how empty it was! That's the beauty of Oman—it's still an underrated destination, so you're not going to be bumping into other tourists everywhere you go, even at a place as beautiful as this!
Bahla Fort
Bahla Fort is located in the town of Bahla just 12 minutes drive from Jabreen Castle. It's a UNESCO World Heritage Site and is known for its elaborate defensive walls, which make it the largest fort in Oman.
The fort was built around the 13th century and has been extensively renovated and restored over the years. It has quite a complex layout, with many rooms, courtyards, and towers.
Al Hamra Mud Village
Al Hamra is a small 400 year-old village known for its traditional mud houses, which are sometimes built multiple stories high. The houses are made of mud bricks and are cooled naturally by the thick walls, which help to keep the interior temperature comfortable even in hot weather.
Al Hamra is a popular destination for tourists, who come to see the village's traditional architecture and learn about its history. There isn't an entrance fee to visit here, you just drive up, park and walk around at your leisure.
Day 9-10: Jebel Akhdar Mountains
The Jebel Akhdar mountain range in Oman is a must-see destination for nature lovers and adventure seekers and is such a peaceful part of Oman.
The mountains here are known for their dramatic beauty, with terraced fields, gorges, and waterfalls dotting the landscape.
This is the perfect place to cap off your Oman road trip itinerary. This area is home to some of the top luxury hotels in Oman, and because of the majestic beauty and peaceful ambiance here, it really is the idyllic final stop where you can take in everything you've seen the lat week and a half.
This is also the place to treat yourself to top-notch accommodation if it's in your budget!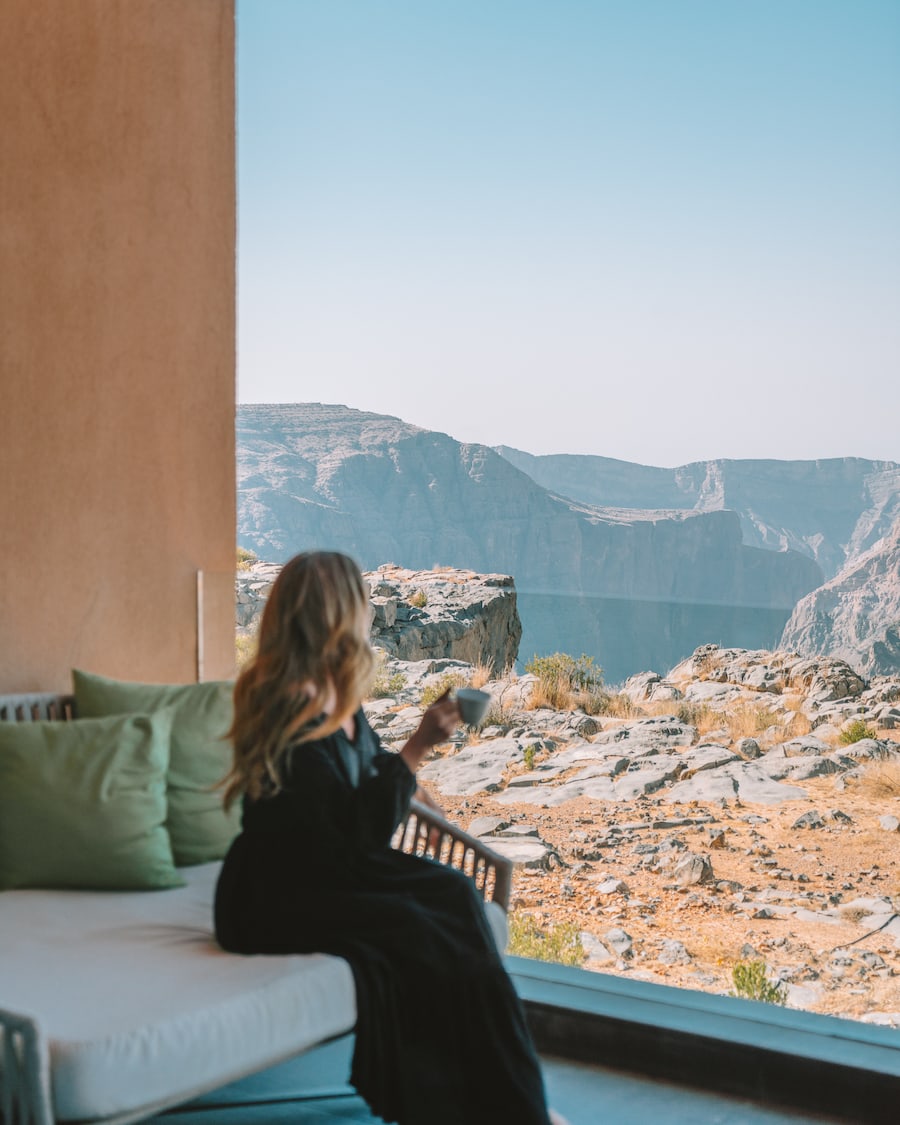 Best Things to do in Jebel Akhdar:
Visit Jebel Shams: Jebel Shams is the highest peak in Oman, and this area is sometimes referred to as "the Grand Canyon of Oman." This area is a stunning place for hiking and photography. The Balcony Walk is one of the most popular hikes in the area and takes you for 2.5 miles along the rim of the canyon.
Stay at a luxury hotel: Some of the best hotels in Oman can be found in this region, with incredible amenities, spas and bet of all, dramatic views overlooking the canyon.
Tips for Getting to Jebel Akhdar:
Book a 4WD: To access this area of Oman, it is required to have a 4WD vehicle. There is actually a road stop where they will check, so keep this in mind if you're renting a car. However, we envisioned some crazy unmaintained road to get there due to the 4WD requirement and it was not that at all! Super smooth and paved, but just very steep!
Google Maps: If you try to put certain hotels in the mountains into Google Maps, you'll notice it might say it doesn't have a route to get there. Once you book your hotel, I would recommend contacting them to get specific instructions so you can properly route yourself without relying on Google Maps.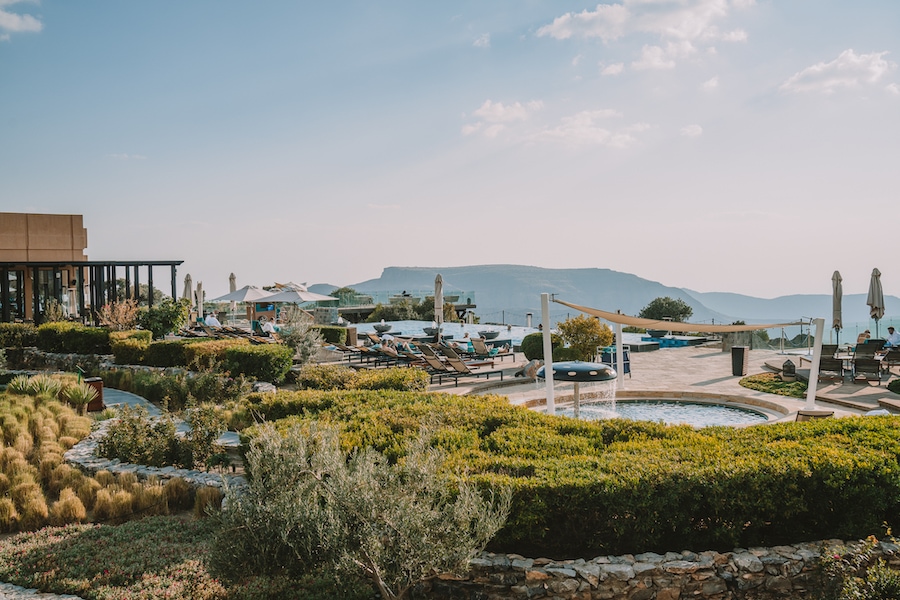 Where to Stay in Jabal Al Akhdar:
Anantara Al Jabal Al Akhdar – This is where we chose to stay to really go all out to end our trip. It was incredibly picturesque, sitting right on the the canyon and we also had the best food of the entire trip here! One of the top benefits of staying with Anantara is their amazing experience offerings that are hard to find anywhere else in this mountainous region. At Anantara they offer things like: A cinema experience under the stars, archery, mountain biking, cultural walks, and even an activity wall that includes ziplining and rock climbing for various levels of experience.
Alila Jabal Akhdar – Another fabulous luxury hotel option in the mountains is the Alila, which is a Hyatt hotel, so this is a great option if you're a Hyatt loyalty member and want to earn points on your stay.
SAMA Al Khutaim-Heritage Home – Located right in the heart of Jabal Shams, this is a great budget-friendly stay situated just steps from the popular Balcony Walk hike.
Helpful Things to Know Before Your First Trip to Oman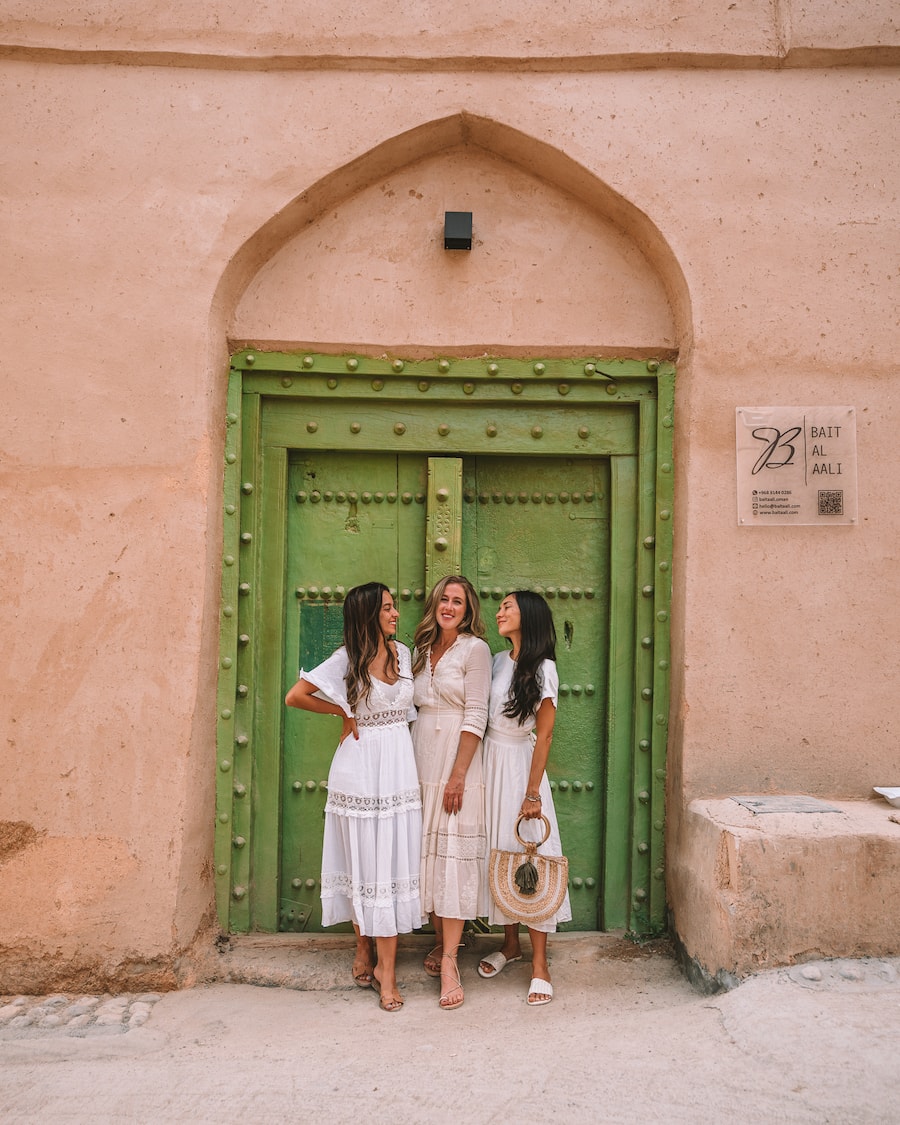 Do you need travel insurance for a Oman road trip itinerary?
I always recommend that travelers buy travel insurance before any trip. It's one of those things that you feel like is a waste of money, until you really need it. And when you really need it, you're really really happy you have it.
I have personally used World Nomads in the past and they've made the claims process super easy and straight forward and saved me $1,500 on a single trip!
Costs of Traveling in Oman
Oman is generally not an expensive country to visit, especially when compared to other countries in the region.
Prices for food, accommodation, and transportation are generally lower than in other Middle Eastern countries, although of course prices can vary greatly depending on where you go, where you stay and what you do.
I also wouldn't categorize Oman as a budget destination by any means and it doesn't cater to backpackers the way other budget countries do.
Here are some examples of expenses we had while in Oman:
Accommodation: This one can vary widely depending on the accommodation you choose. We found hotels for under $100 USD that were decent in the Nizwa area while the hotels in areas like Muscat and the mountains can be as expensive as $1000 per night for 5-star luxury stays.
Food: Prices for meals in Oman range from around OMR 2-5 (USD $5-13) for a budget meal to OMR 10-20 (USD 26-52) or more for a meal at a high-end restaurant.
Rental Cars: The cost for our rental car was about $171 per day for a luxury SUV 4WD vehicle.
Attractions: The most we paid for admission to any site was $13 USD. Some museums and historical sites charge an admission fee, while others are free to enter. However full day or half day tours will cost more depending on the type of tour and length.
What to Pack for Oman
The biggest thing to be aware of when packing for Oman is that it is a predominantly Muslim country, so if you want to be respectful to the local culture, you'll want to avoid showing too much skin or any undergarments.
Despite this, I still found that how people dressed in Oman was a lot more laidback that in other Muslim countries and we saw plenty of people hiking in shorts, wearing bikinis at swimming holes and at the luxury resorts, etc.
Still, I always err on the side of conservative so I never feel uncomfortable or stand out too much in a foreign country. For women, I would definitely focus on packing these clothing staples:
Long dresses (or skirts) that go below the knees and have sleeves
Shawls or scarves you can wear over dresses with thin straps
Sunglasses and sunscreen – the sun is HOT here!
Sleeved shirts
Loose pants
Sandals
Clothing in light colors and lightweight materials
Hat
Comfortable walking shoes
Day bag or purse
Also, if you're into capturing your travel experiences on camera, you'll want to bring your favorite camera and some different lens options as there are so many incredible Oman photography opportunities throughout this itinerary!
Safety in Oman
You're probably wondering if Oman is safe to visit, and the answer is YES! Oman is generally a safe country to visitn and the crime rate is super low.
During this Oman road trip itinerary, I was traveling with two other women and we never felt unsafe at any point. I even spent the entire last day alone driving our rental car back 2 hours to Muscat by myself and I was fine.
However, as with any destination, it is always a good idea to be aware of your surroundings and to take standard precautions to protect your personal safety. Here are a few tips to help you stay safe in Oman:
Avoid walking alone in isolated areas or at night.
Don't leave your belongings unattended, especially in crowded locations like markets or major tourist sites.
Keep valuables like your passport, cash, and jewelry in a safe place, such as a hotel safe or a secure pocket.
Dress modestly, especially when visiting religious sites.
Follow local laws and customs, including those related to alcohol and drug use.
If you ever do encounter problems or need assistance while traveling in Oman, you can contact the local police or the tourist police. The tourist police are specially trained to assist tourists and can be reached by calling 9999.
Oman Road Trip Itinerary Wrap Up
Phew! I hope this extensive Oman road trip itinerary will give you all the info you need to plan an amazing adventure this this incredible Middle Eastern country.
If you have any questions that I didn't cover, make sure to leave a comment below and I'll answer it!
Discover More Unique Destinations: