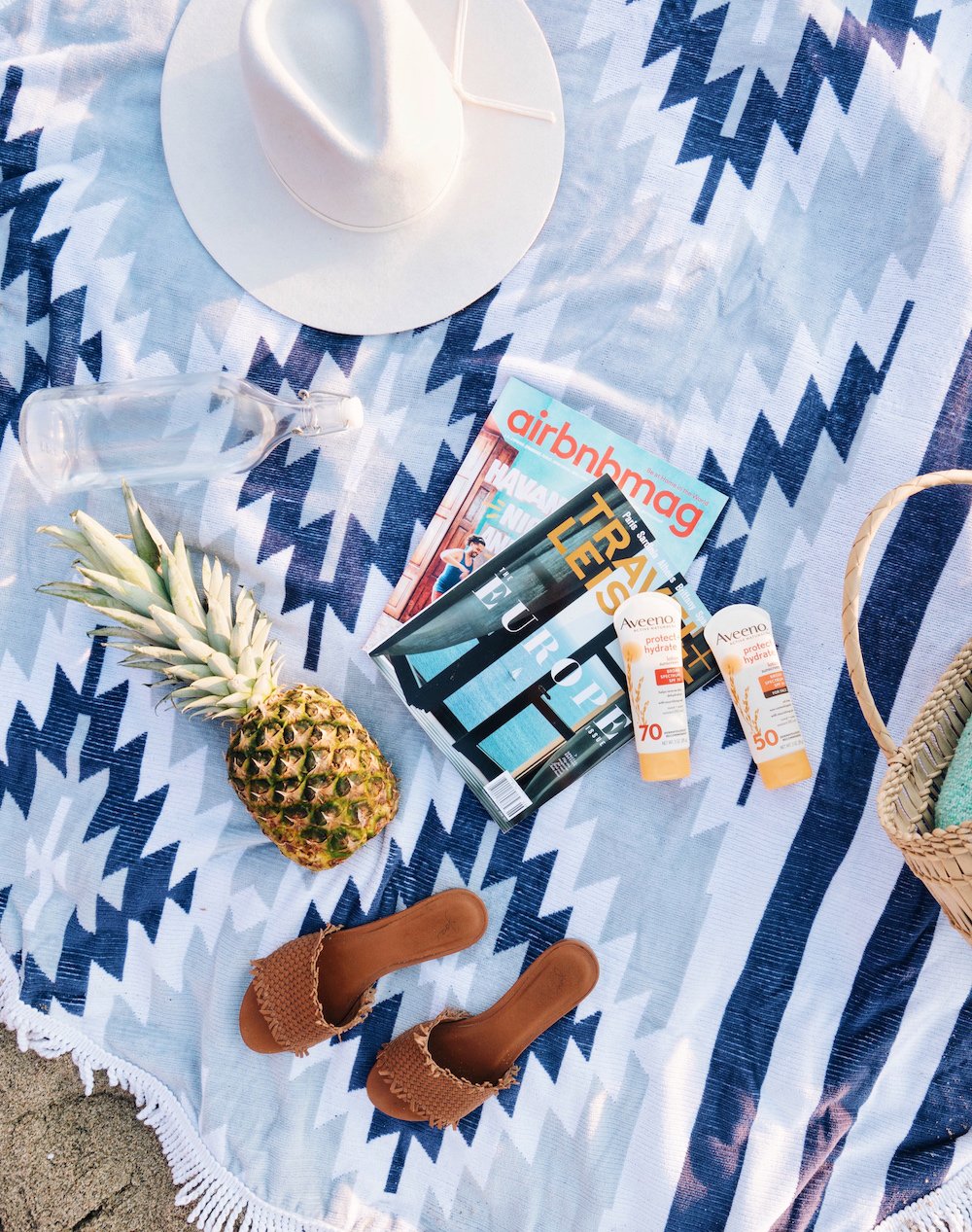 Hover over the image above to shop the Aveeno Protect + Hydrate products on Walmart.com!
Being back in California always feels good, and one of the best perks about it are all of the incredible beaches. My friend Carley (aka @carleyscamera) and I headed out to Point Dume in Malibu last Friday to soak up some rays and salty air, and made sure to have all of the essentials in tow: my favorite round towel by The Beach People, Airbnb's genius new travel mag, and of course, sunscreen!
I've partnered up with Aveeno® to share how integrating their sunscreen products can bring more confidence into your daily routine and help you save time so that you can re-invest those precious minutes back into doing what feeds your soul.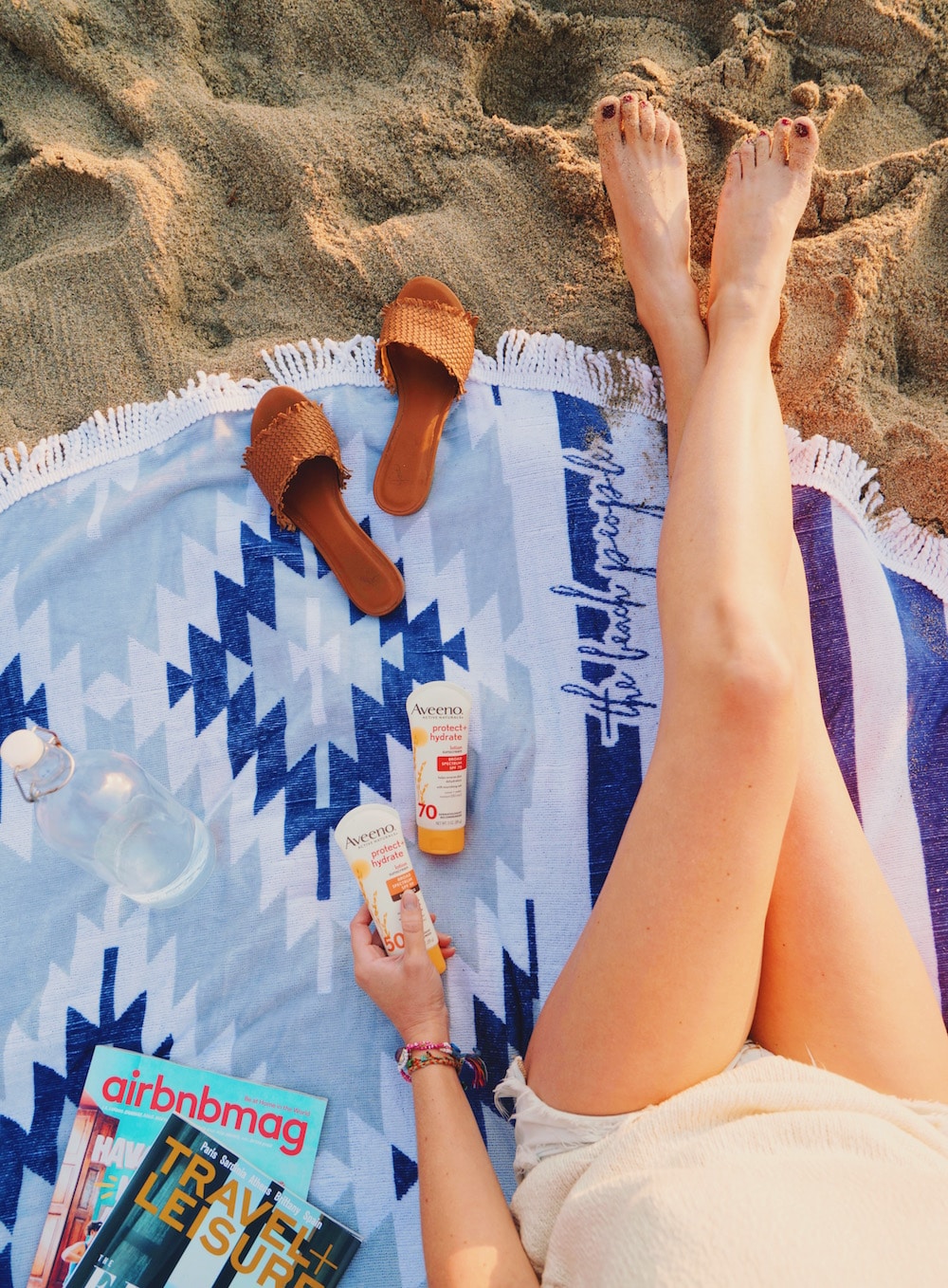 I think turning 30 might have something to do with it, but lately I've been way more into skincare than ever before. I hate to admit this, but it wasn't really something I put much thought into over the last three decades (I can feel you beauty gurus wincing right about now).
Just this last year I've become obsessed with taking care of my skin and ensuring I have SPF on at all times to prevent sun damage, especially since I'm constantly traveling to sunny locations.
Not only that, but I'm a big believer in self-care, and it's been proven that the more you take care of yourself, the more equipped you'll be (physically AND emotionally) to take care of others. So, it seems pretty important that we as women value our time and emotional/physical/spiritual health so that we can better serve the ones that we love.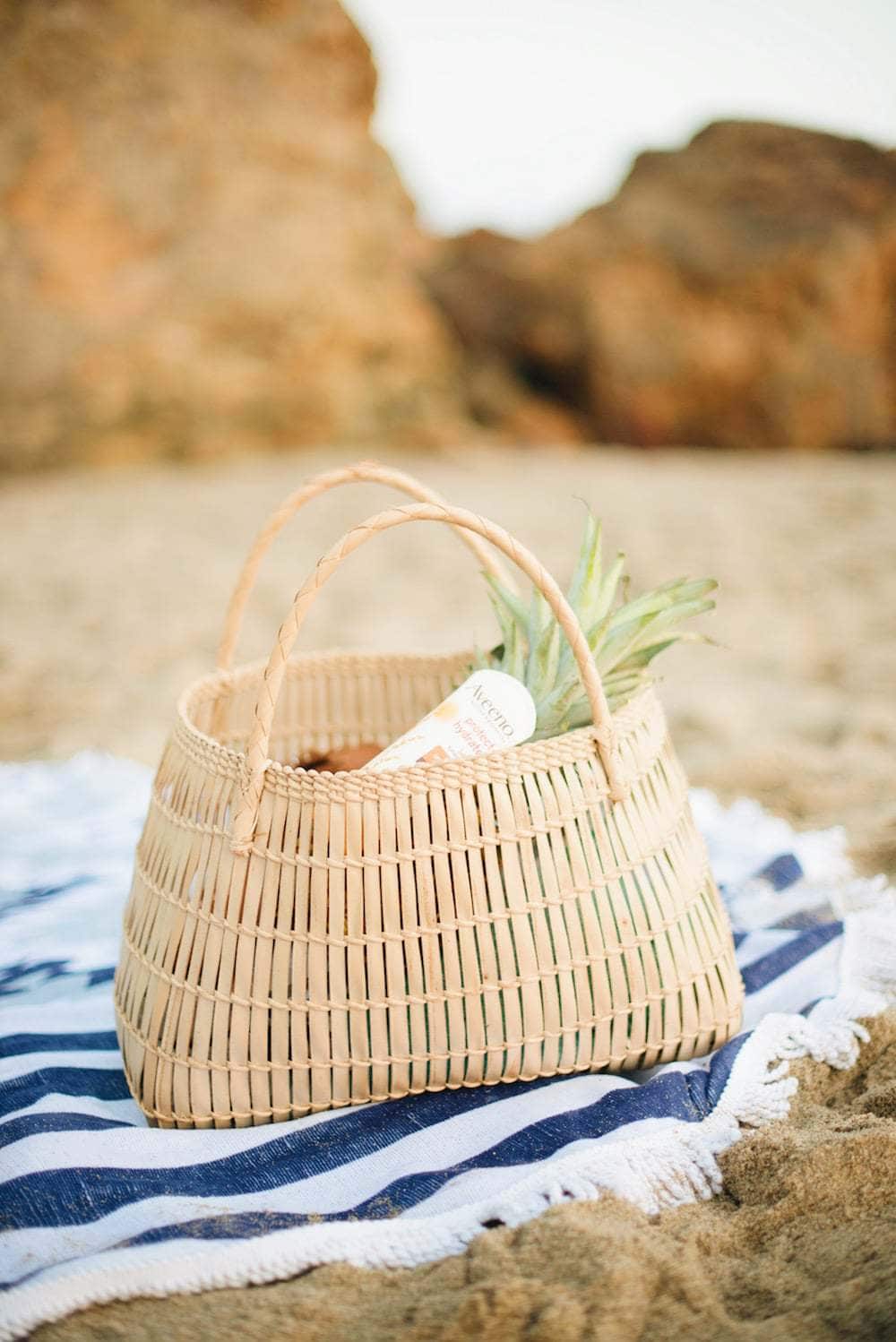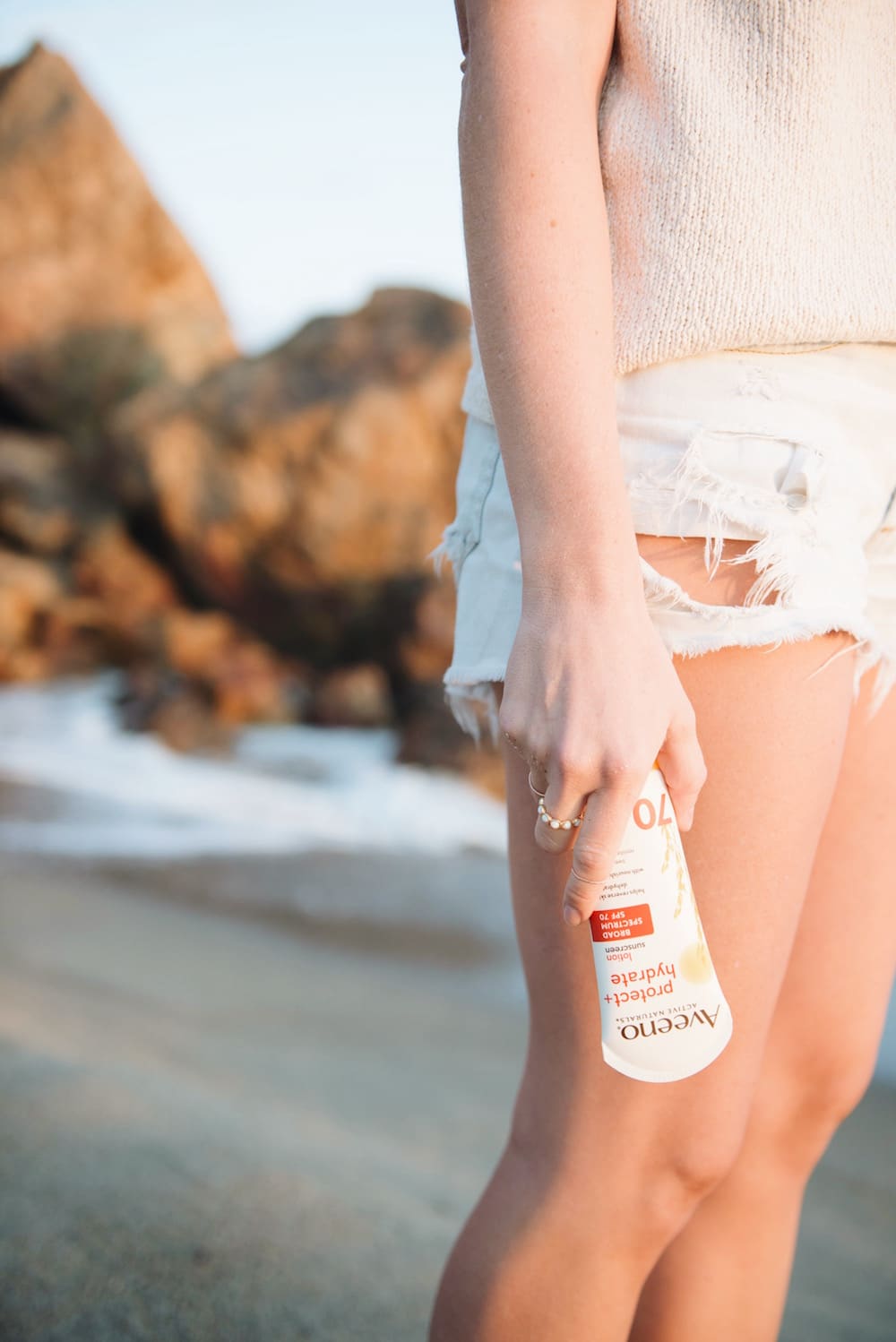 I was super excited to partner with Aveeno® to try out their Protect + Hydrate Lotion Sunscreens for this reason, since its Enviroguard™ technology provides long-lasting, broad spectrum protection against the sun's harmful UVA/UVB rays. The SPF 70 lotion sunscreen is perfect for long days out in the sun, and Aveeno® Protect + Hydrate® Lotion Sunscreen with Broad Spectrum SPF 50 for face makes sure you've covered all your bases from head to toe.
Now that I'm in a fresh new decade, I'm trying to be better about not taking my youth for granted, and pampering my skin plays a huge part in helping me to feel beautiful and healthy-looking. Sometimes it feels overwhelming to invest in ourselves when we have so many items to tick off on our to-do lists, which is why I'm happy to have Aveeno's safe and effective sunscreen range at my fingertips so that I can save time thinking about my skincare routine and re-invest that time back into a moment for me.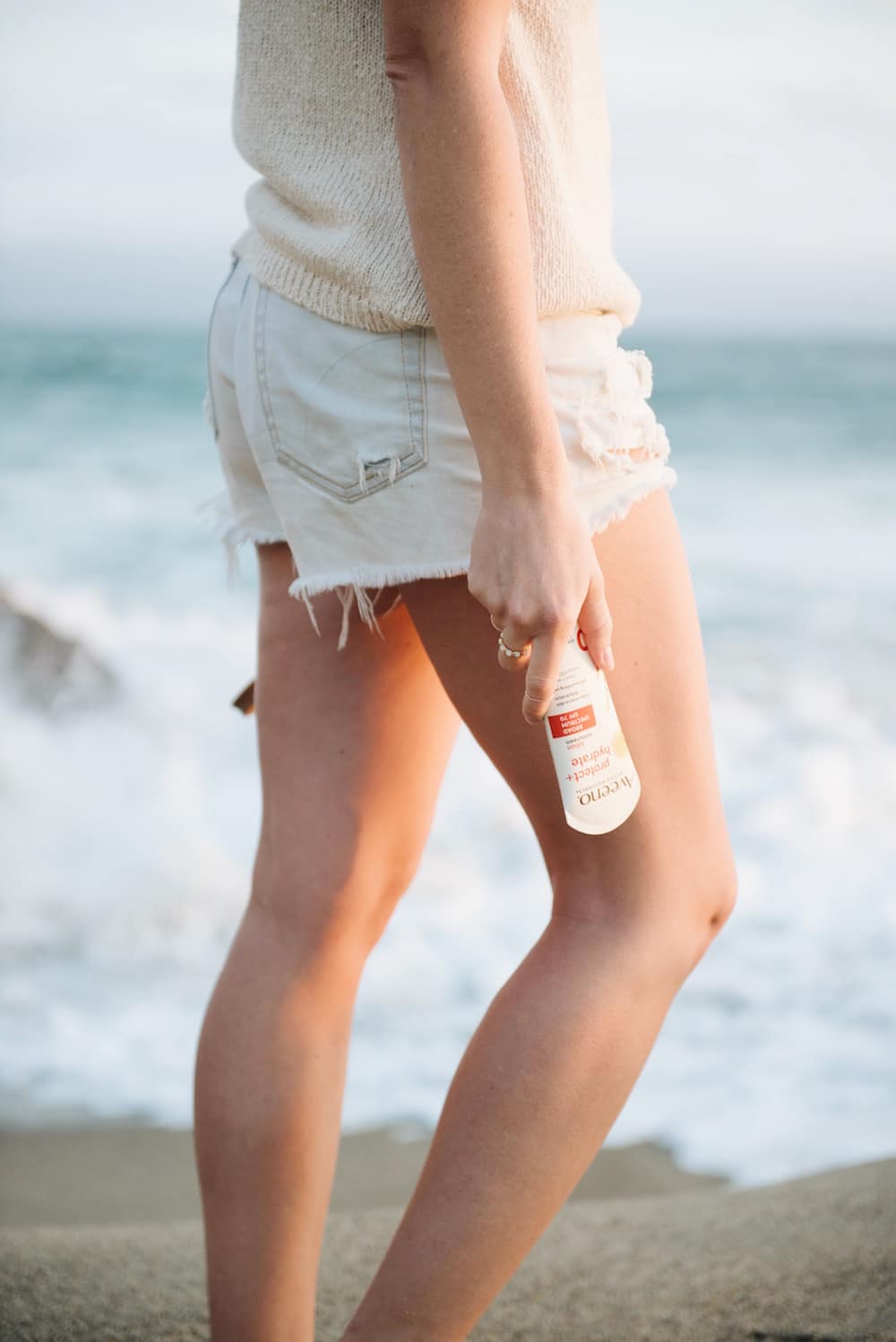 How do you guys invest in yourselves and take time in the day to pamper yourself, physically, spiritually and emotionally? If this isn't something you've put much thought into, I suggest you get out a piece of paper right now and write down a few things that make you a happier, more confident version of yourself. Then make a little time for those things each day.
This post is sponsored by Aveeno, but as always, all my opinions are my own and I would never promote anything I don't freaking love. 
Photos thanks to Carley Rudd